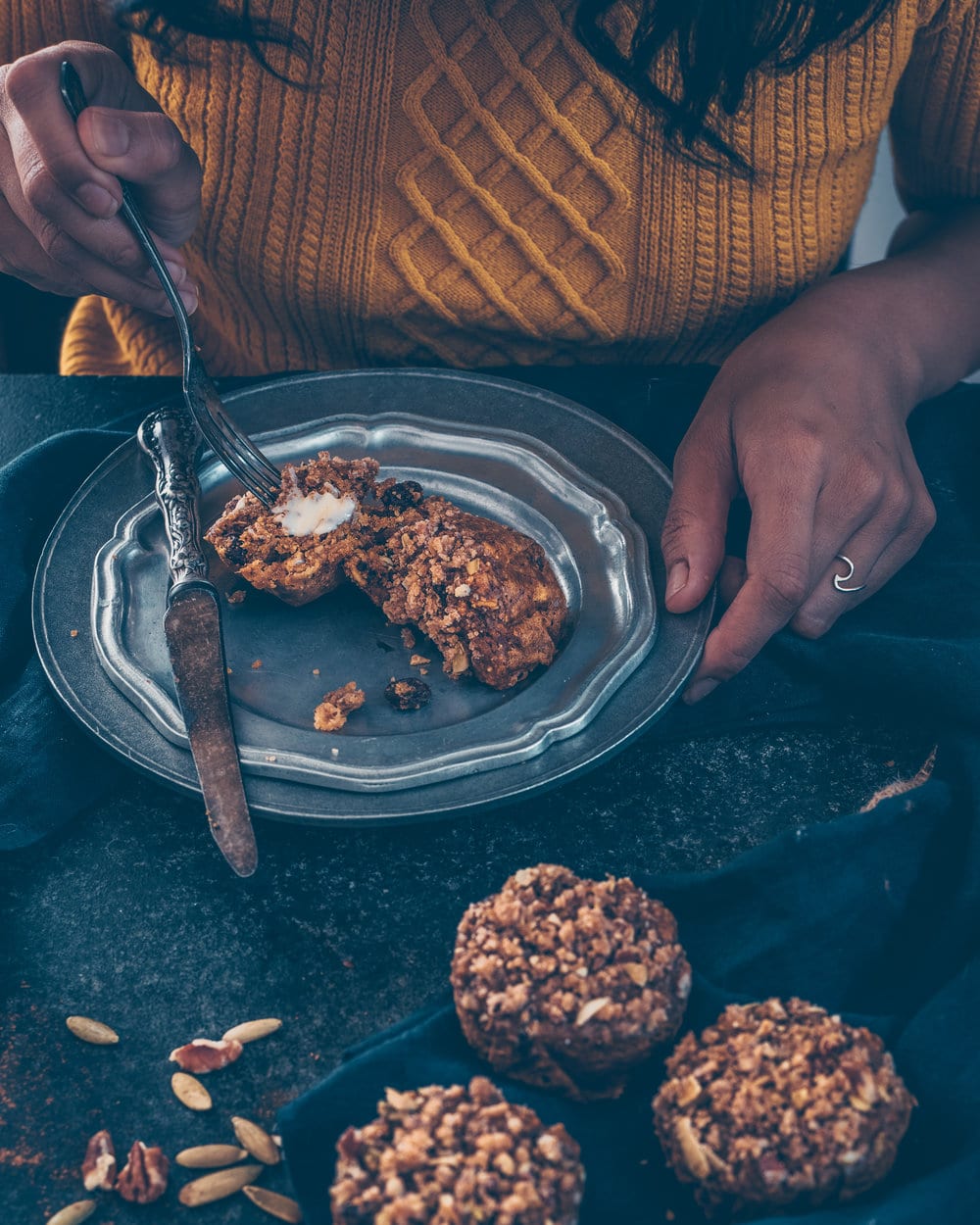 Today I want to share some extra gooey pumpkin spice muffins with you. I know, pumpkin muffins seems pretty #basic. And with the fall season here, there is a lot of basic behavior on display. Here are some of my favorite tell-tale signs of basic-ness.
Announcing to the world that autumn has arrived by posting a photo of yourself wearing a sweater and using the hashtag #sweaterweather. Double points if you're also wearing Uggs.

Lighting a pumpkin spice candle in your apartment to celebrate the first day of fall, even if the aroma is asphyxiating.

Referring to your male friends as "bros" and comparing yourself to the cast of The Hangover.

Posting a duck-face or other mysterious-but-constipated selfie on Instagram. Double points if you use Taylor Swift lyrics as your caption.

Using the phrase "man cave."

Drinking Red Bull vodkas.

Taking a "hotdogs or legs" photo at the beach, and not ironically.

Ordering a pumpkin spice latte at Starbucks, and not ironically.
That last one brings me to a confession: I love a damn good pumpkin dishy food around the holidays.
I hope that the basic-ness of pumpkin muffins is tempered by the fact that these pumpkin spice muffins are insanely delicious and melt in your mouth. Alas, you must judge my basic-ness just as I would judge any other pumpkin-loving, sweater-wearing, selfie-taking basic B .
In all seriousness, these muffins got high approval ratings from friends and family, all of whom were surprised that these were vegan! So enjoy being basic while pumpkin season lasts!
Vegan Pumpkin Spice Muffins
Ingredients
Muffin Batter
1 cup all-purpose flour

2/3 cup rolled oats

1/2 cup almond meal

1 teaspoon ground cinnamon

1 teaspoon pumpkin pie spice

1/4 teaspoon sea salt

1 teaspoon baking soda

1 teaspoon baking powder

1 1/4 cups pumpkin puree (canned or fresh)

1 large ripe banana, mashed

6 tablespoons pure maple syrup

1/2 cup brown sugar

1/4 cup coconut oil

1 teaspoon vanilla extract

2 flax eggs*

1/2 cup almond milk

1 cup raisins
*To make one flax egg, mix 1 tablespoon of ground flaxseeds (flaxmeal) with 2 1/2 tablespoons of water. Stir and let sit for 15 minutes to thicken.
Crumb Topping
1/4 cup all-purpose flour

1/4 cup brown sugar

1 1/2 tablespoons vegan butter

2 tablespoons pecans, finely chopped

2 tablespoons pumpkin seeds, diced

1/8 teaspoon cinnamon

1/8 teaspoon pumpkin pie spice
Directions
Preheat oven to 350 degrees F. Grease and flour a standard 12-cup muffin tin. Alternatively, you can use muffin liners.

In a medium bowl, mix together the dry ingredients with a whisk until combined (flour through baking powder).

In a large bowl, add the pumpkin puree, banana, maple syrup, brown sugar, oil, and vanilla extract. Whisk until thoroughly incorporated, about 1 minute.

To the wet ingredients, add the flax eggs. Drizzle in the almond milk slowly, whisking while you pour.

Add 1/4 of the the dry ingredients to the wet ingredients and stir with a wooden spoon until just combined. Repeat in batches. Do not overmix the batter, as it may get tough. Fold in the raisins.

Fill the muffin tins 3/4 full with the batter.

For the crumb topping, mix all ingredients with your fingers or a pastry cutter until it crumbles and mimics the texture of wet sand. Top the muffins with the crumb mixture.

Bake for 25-30 minutes or until a toothpick inserted in the middle of a muffin comes out clean. Let the muffins cool in their tins for 15 minutes before transferring to a wire rack tray to cool.