This Vegan Sausage & Fennel Pasta with Crushed Tomato Sauce is inspired by Pasta Amatriciana! It's a classic Roman dish that tosses bucatini pasta in a pork and pecorino romano-infused tomato sauce. My version is vegan, of course, but no less delicious. It's rich, hearty, and packed with deep savory flavors. 
Crumbled vegan sausage and fennel are sauteed, then smothered with a rich tomato sauce. All the ingredients simmer together for just 15 minutes, but the sauce tastes like a traditional Italian tomato sauce that's been simmering all afternoon.
Everything is tossed with perfectly al dente bucatini for an unbelievably delicious yet weeknight-friendly pasta dinner.
Table of Contents:
1. Why this recipe works
2. Ingredient notes
3. Tips for making this recipe
4. Frequently Asked Questions
5. Recipe card with notes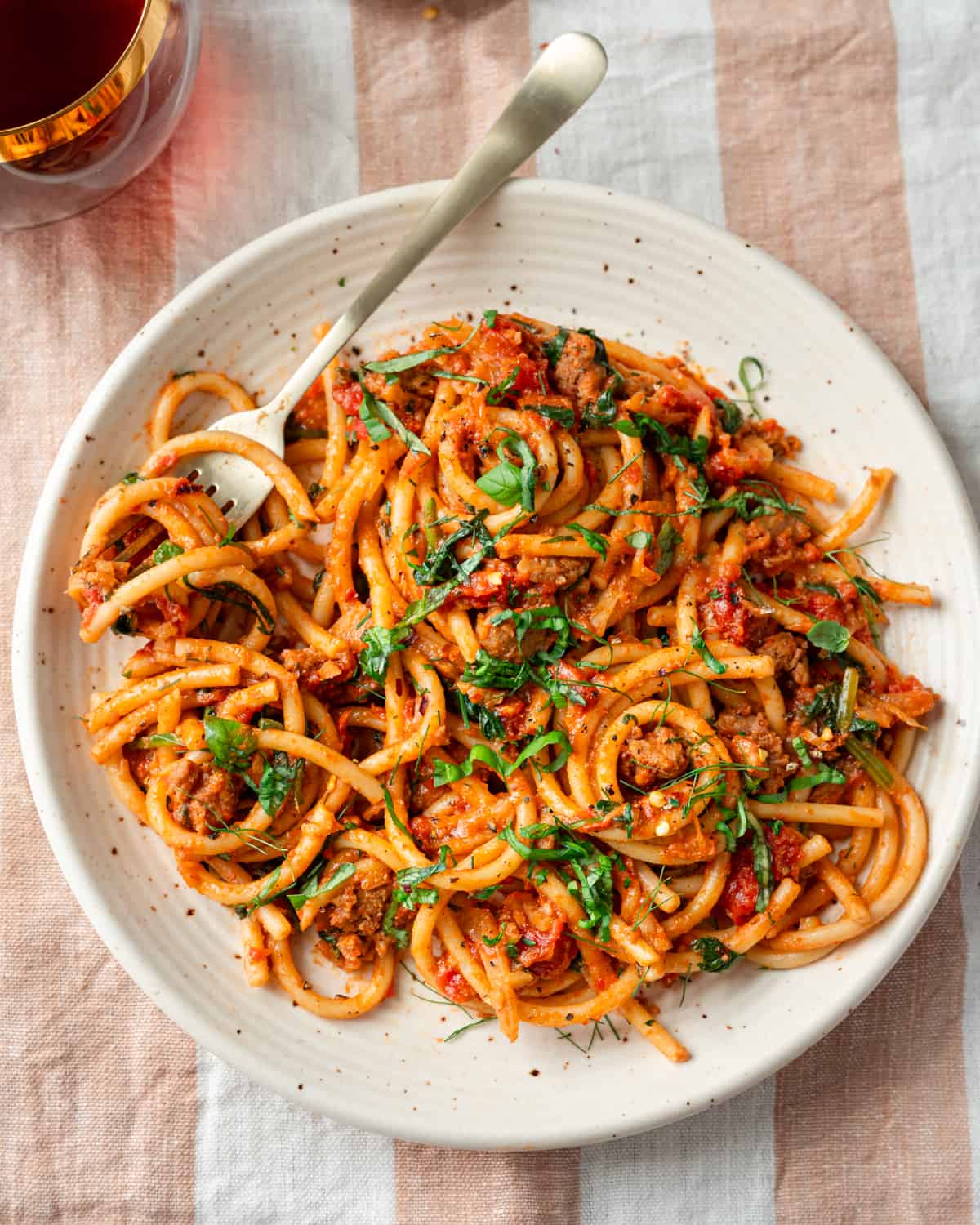 Why this recipe works
Comfort food at its best
The best vegan comfort food is warm, indulgent, and hearty. And this vegan fennel and sausage pasta has everything you want in a big bowl of comfort food:
A rich and meaty tomato sauce;
Slurpable noodles; PLUS
A quick cook time and minimal ingredients.
It's a pasta dinner that will satisfy all of you and your family's hearty pasta cravings, even the picky eaters!
Simple ingredients; big flavor
Vegan pasta doesn't have to be complicated! You can use a handful of high-quality ingredients to produce a beautiful, restaurant-quality meal (have you tried my 10-ingredient Lentil Bolognese with 800+ 5-star reviews??).
Here, you only need 10-ish easy-to-find ingredients to make this flavor-packed and hearty pasta dinner that everyone will adore.
A gourmet weeknight dinner
This recipe needs just 10 minutes of prep time and is easy to put together, even if you're a beginner cook. Everything except the pasta is simmered in one pan on the stove – no complicated steps or techniques needed! Toss to coat, then dig in!
Want to shave a few minutes off of the prep time? Head to the Tips section, where we've included plenty of multi-tasking tips to help you get this hearty dinner on the table even faster.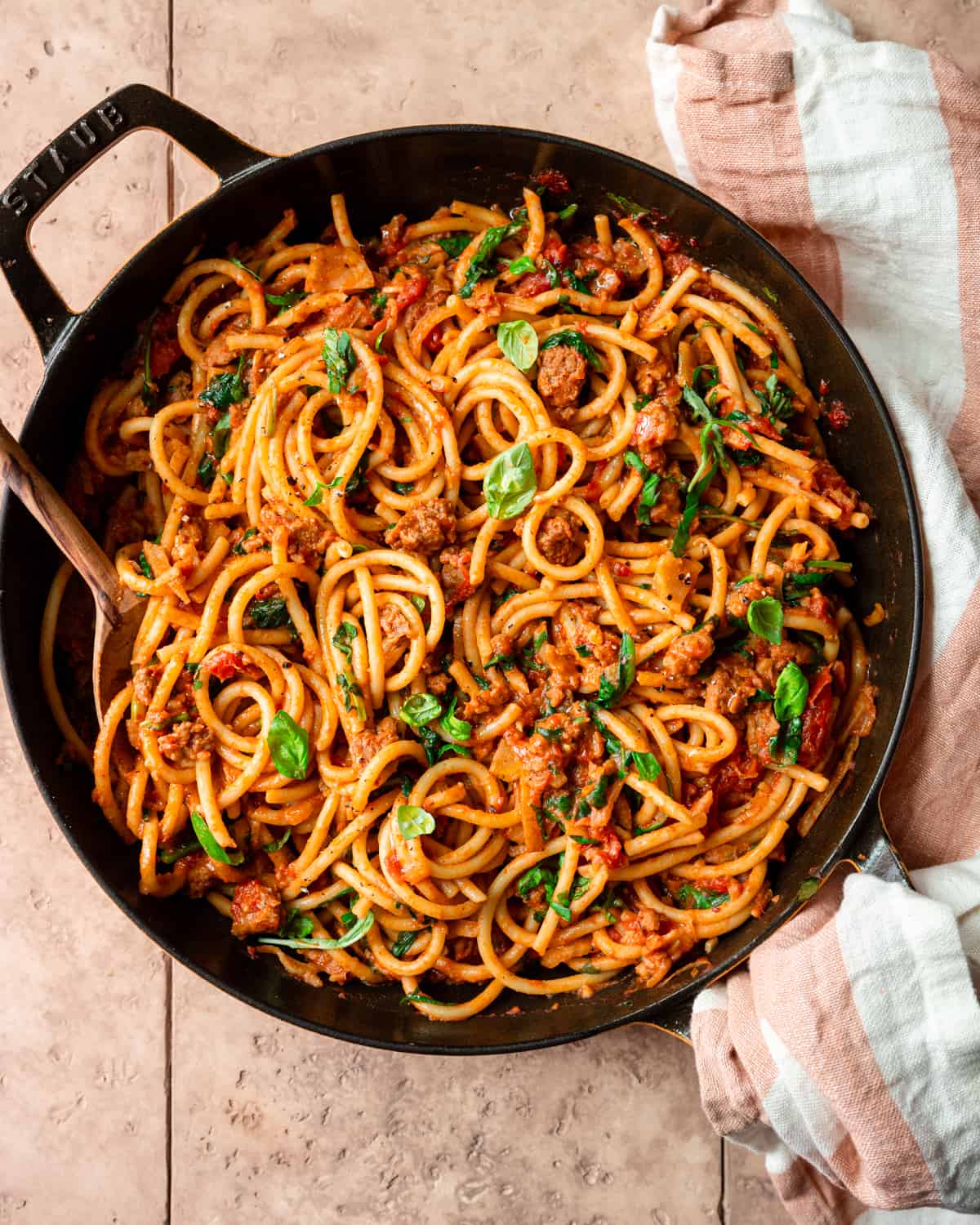 Ingredient notes
Vegan sausage
Meaty and hearty vegan sausage is the star of this comforting meal. While I typically prefer to cook with whole foods, I make an exception from time to time for vegan sausage when it's really worth it.
Here, vegan sausage adds a ton of flavor to the dish with minimal work, allowing you to use fewer ingredients and to get a gourmet-tasting dinner on the table relatively quickly.
Plus, because the sausage is vegan, the tomato sauce takes on all of the sausage's flavor but none of the heaviness or grease you would get from traditional animal sausage!
Tips for buying: Use any Italian-flavored vegan sausage. Spicy Italian sausage will give the sauce a nice spicy bite, too. Head to the FAQs for our recommended brands.
Substitute: If you can't find vegan sausage, use a vegan ground "meat" instead. Just be sure that you like the flavor of whatever you use before adding it to this dish.
Bucatini
Just like the classic Roman recipe, Bucatini all'Amatriciana, we love this dish with bucatini pasta. It's a long, round pasta noodle, similar to spaghetti, but has a hole in the middle. The sauce gets sucked up inside, making every slurpable bite extra delicious.
Tips for buying: You can find bucatini in most well-stocked grocery stores or at Italian markets. There are several brands to choose from, including the Whole Foods 365 brand (which is very high quality for the price).
Substitute: You can easily substitute spaghetti noodles for bucatini, or even a medium-sized ridged pasta, like rigatoni.
Canned tomatoes
Whole peeled tomatoes are another star in this Roman-inspired tomato sauce. Their flavors are on display in every bite, so please use the best-quality canned tomatoes you can find and afford. If you opt for the cheaper, low-quality alternative, the sauce will be too acidic.
Another reason why I love whole peeled tomatoes here? The only ingredients are tomatoes!
Unlike pre-crushed or pre-diced tomatoes, whole peeled tomatoes don't have any additives or extra ingredients, meaning your sauce will have better flavor and texture (pre-diced tomatoes, for instance, typically contain calcium chloride and citric acid, which makes it hard for them to soften).
Another secret to this sauce is to crush the whole peeled tomatoes with your (clean) hands. This method is important for two reasons: (1) it gives the sauce a more interesting texture that's not as uniform throughout, and (2) better flavor.
Tips for buying: Our absolute favorite brand of canned whole peeled tomatoes is Bianco DiNapoli. Other brands that sell good-quality tomatoes that we like are Cento, Mutti, San Merican, and Organic Bello.
Fennel
Sauteed fennel slices give this dish subtly sweet notes that complement the tomatoes perfectly.
Nutritional yeast
Nutritional yeast is one of my favorite ingredients to add to Vegan Pasta Recipes. It adds a cheesy and savory depth of flavor that you would normally get from pecorino romano, parmesan, or parmigiano Reggiano cheese.
Here, it's the key to bringing out the umami flavor in the sausage, making this pasta dish taste undetectably vegan.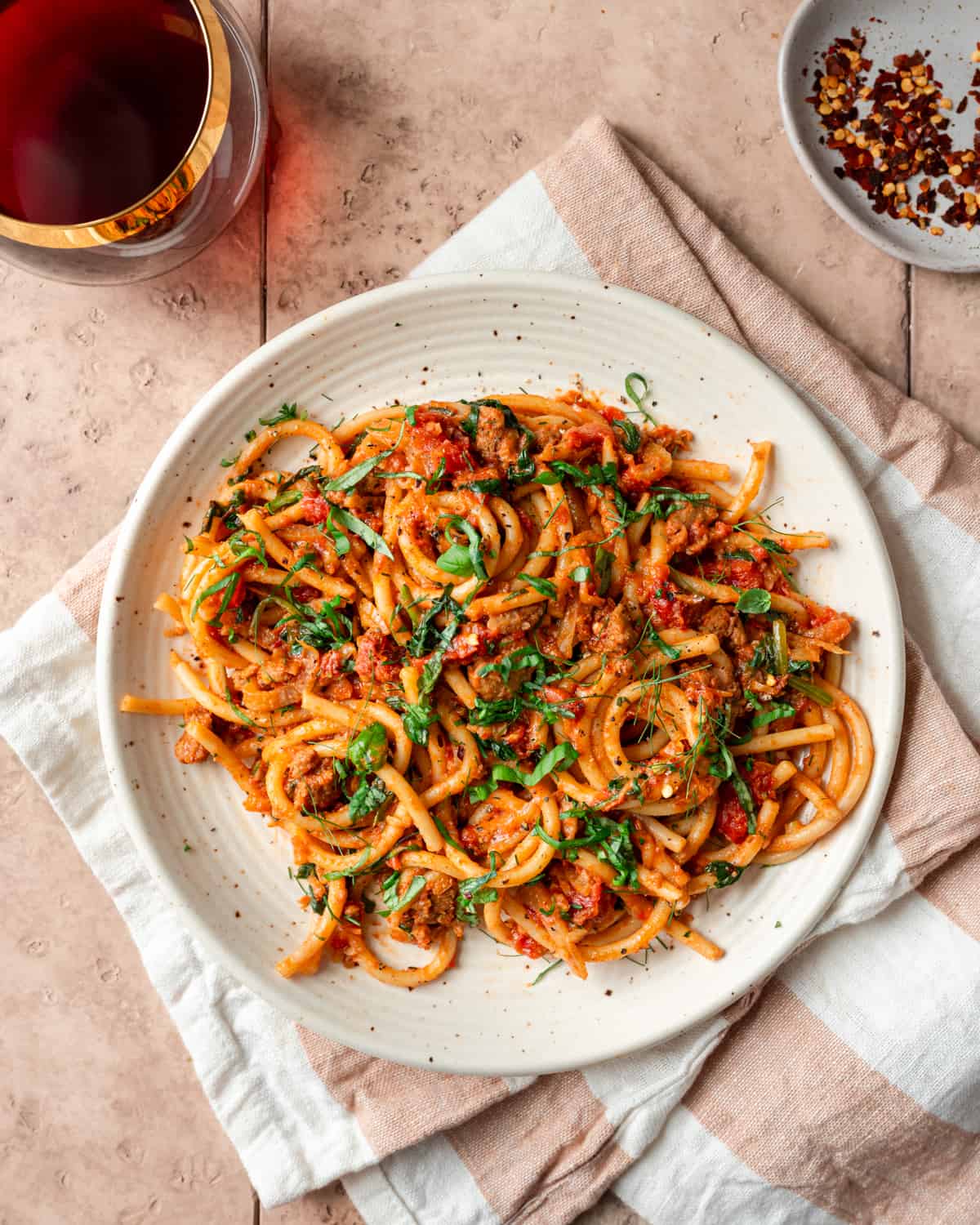 Tips for making this recipe
Multitask
You can shave a few minutes off of the prep time for this pasta dinner by following these multitasking tips:
While you wait for the pasta water to boil, prep the fennel, garlic, and tomatoes, then start cooking the fennel/sausage mixture.
Once you add the tomatoes and start simmering the sauce, start cooking the pasta.
Don't forget to save some pasta water
Starchy and salty pasta water is like liquid gold. When you add some to the crushed tomato sauce, it helps thicken the consistency and ensures that it thoroughly coats the pasta.
It can be easy to forget to save the pasta water, so keep a ladle or measuring cup next to the pot of water to help you remember!
The right tools will speed up prep time
Use a mandoline when slicing the fennel and grate the garlic with a grater to shave a few minutes off of the prep time (affiliate links).
Variations
Just because there are only 10 ingredients in this recipe doesn't mean that you can't customize it! You can play with the flavors or swap several ingredients without losing the gourmet quality. Here's what we recommend:
Don't have fennel? Use a medium or large yellow onion, or 3 to 4 shallots instead (thinly slice them).
Can't find bucatini? Use spaghetti, rigatoni, or even penne rigate.
Feeding kids? Omit the red pepper flakes for less heat.
Don't have vegan sausage? Use any vegan ground "meat" that you like.
Don't love baby spinach? Skip it! Or swap with bay kale.
Love veggies? Add a thinly sliced or diced red bell pepper when you add the fennel to the pan.
Want to make it heartier? Cook three or four vegan sausage links instead of just two.
And if you aren't in a rush to get this recipe on the table, you can zhuzh up the flavor even more by:
Deglazing the pan with ⅓ to ½ cup of dry white or red wine after sauteing the garlic and red pepper flakes. Cook until the smell of alcohol wears off.
Stirring in 2 tablespoons of tomato paste when you add the red pepper flakes. Cook it for a few minutes until it takes on a dark red color.
Folding in a couple of tablespoons of capers when you add the pasta water for a salty, tangy pop.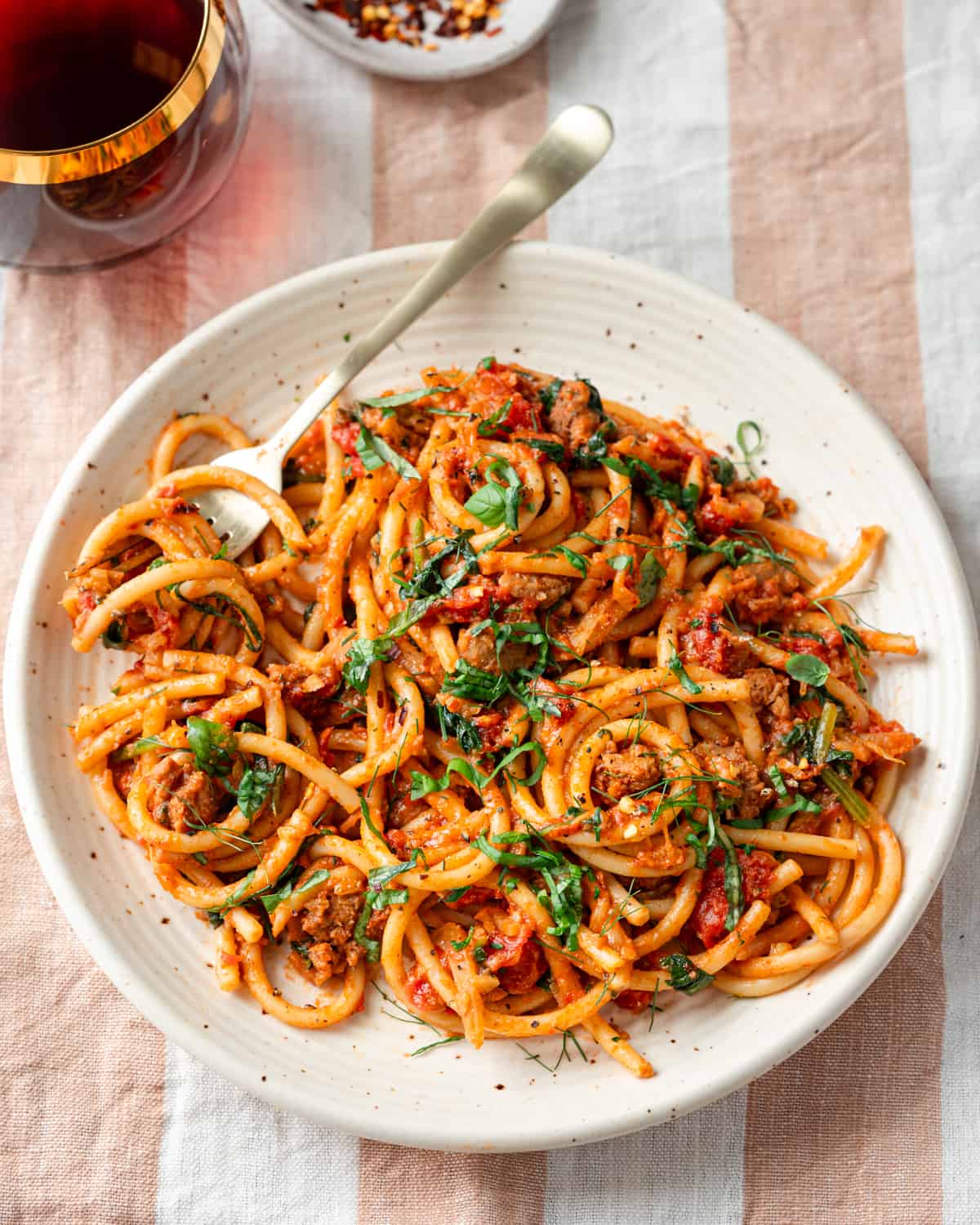 Frequently Asked Questions
What brands of vegan sausage do you recommend? 
Our favorite vegan sausage in this pasta is Beyond Meat hot Italian sausage. It crumbles and cooks just like real Italian sausage, and gives the finished dish a spicy kick. It's also gluten-free, soy-free, and nut-free.

We also like Field Roast Italian sausages, which aren't as meaty but still add a delicious flavor. You may need to slice these, as they don't crumble as well. (PS: these contain gluten but are free of soy and nuts).
I don't have vegan sausage. What else can I use?
Vegan ground "meat" is the next best option. While we don't use it often, when we do, Impossible Burger is our favorite to use in pasta and hearty dishes like Vegan Moussaka. 

Just make sure that the ground "meat" you use has a flavor you already enjoy so the red sauce can taste its best.

We do not recommend using beans or lentils as a substitute for the "meat" in this particular recipe. There's so much flavor in vegan meat products and using a simpler alternative will make this a much simpler-tasting dish without very much pizzazz. 

If you're looking for a savory pasta without vegan meat, try my lentil bolognese or vegan mushroom stroganoff.
Can you make this dish ahead of time?
This dish is best when made fresh, but you can make the crushed tomato sauce ahead of time.

Make the sauce as normal, but don't add the pasta or spinach. Once it cools to room temperature, store the sauce in an airtight container or sealed jar in the fridge for 3 to 4 days.

You can quickly reheat the sauce in a deep saute pan over medium heat, then toss it with the freshly cooked pasta and spinach.
How do you store the leftover pasta? 
Any leftovers can be stored in an airtight container in the fridge for 4 days. Just know that the pasta may soak up the sauce and become soggy the longer it sits, but the textures revives pretty well when heated up in a frying pan on the stove. 
Can you freeze this pasta? 
While pasta does not typically freeze great, this pasta fared decently in our freezer test. Certainly not the same as fresh, but a nice option if you have leftovers. 
If you love this Vegan Sausage and Fennel Pasta, please be sure to leave a rating and review below! It's always much appreciated :) And tag me on Instagram – I love seeing your remakes!
Sausage & Fennel Pasta with Crushed Tomato Sauce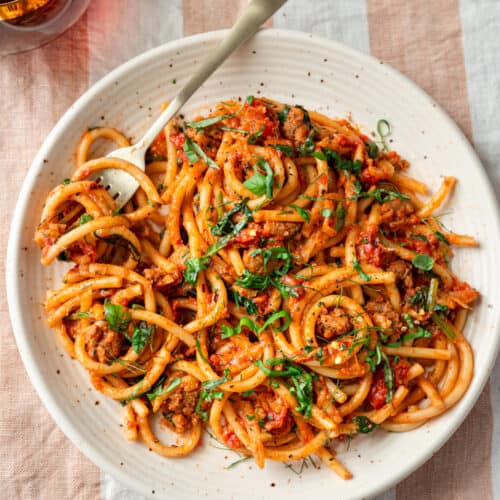 Make this Vegan Sausage & Fennel Pasta a part of your comfort food menu! It's a rich and hearty meal made with 10 simple, yet flavor-packed ingredients. Curl up on the couch with a big bowl or enjoy it for family dinners.
Ingredients
1

large fennel bulb

3

tablespoons

extra virgin olive oil

4

garlic cloves,

grated or minced

½

teaspoon

red pepper flakes

(optional, omit for mild)

2

links of

vegan sausage (7 to 8 oz or ~200g, ideally spicy or Italian-flavored, see Note 1)
Kosher salt and freshly cracked black pepper

¼

cup (20g)

nutritional yeast

12

ounces (340g)

bucatini (or spaghetti or linguine, see Note 2)

1

28-ounce (800g)

can best-quality whole peeled tomatoes (see Note 3)

4

cups (100g)

baby spinach,

chopped (see Note 4

2

large handfuls

(15g) fresh basil, sliced (or flat-leaf parsley, chopped)
Instructions
Bring a large saucepan of water to a boil for the pasta.

Slice off the fennel stalks and reserve any fronds for an optional garnish (roughly chop them).

With the fennel bulb, if the outer layer is very thick, remove it. Slice the bulb in half, lengthwise. Use a mandoline or sharp knife to thinly slice the fennel crosswise, as thinly as you can.

Meanwhile, heat the 3 TBSP olive oil over medium-high heat in a deep sauté pan. Once hot, add the fennel with a pinch of salt. Cook for 4 to 5 minutes, stirring occasionally, until some edges start to brown.

While the fennel cooks, pour the canned tomatoes with their juices into a bowl. Crush them with your hands. Set aside.

Also, crumble the sausage with your hands if you have time (if it doesn't crumble, slice it).

Add the garlic to the fennel and cook for 1 minute, stirring frequently. Now add the red pepper flakes and cook, stirring frequently, for 30 seconds.

Add the crumbled or sliced sausage into the pan. Break it up with a wooden spatula as it cooks, and cook for 4 to 6 minutes, or until browned and a bit crisp (the exact cook time will depend on the brand of sausage used).

Add in the crushed tomatoes with juices, a generous amount of black pepper, and the nutritional yeast.

Stir to coat and reduce the heat to maintain a simmer for 15 minutes, stirring occasionally, until the sauce thickens.

If desired, smash some of the tomatoes with the back of a wooden spoon from time to time.

After you add the tomatoes and the pasta water is boiling, salt the water generously (about 1 ½ tablespoons kosher salt or 2 ½ to 3 teaspoons sea salt). Add the pasta and cook for the minimum amount of time for al dente pasta according to the package instructions. Before draining, reserve 1 cup (240 mL or 2 soup ladles) of pasta water. Drain the pasta but do not rinse it.

Add the baby spinach to the tomato sauce and cook briefly until it just starts to wilt.

Add in the hot cooked pasta plus ¾ cup to 1 cup (180 to 240 mL) of the pasta water.

Turn the heat to medium-high and toss the pasta vigorously with tongs until it's well coated in the sauce and is al dente, 1 to 2 minutes. Add more pasta water as needed.

Season to taste with salt and pepper. Off the heat, garnish with basil or parsley.
Notes
I love this recipe with Beyond Meat hot Italian sausage. Field Roast Italian sausage also works great.
I love this recipe the most with bucatini if you have access to it. Whole Foods sells it under their 365 brand for an affordable price and it's very good-quality!
My favorite canned tomatoes are from Bianco Dinapoli. I also like San Merican, Cento, Mutti, and Bello Organic.
Feel free to use a bit more spinach if you want, as it wilts down alot. You can also use baby kale, just cook it a minute or so longer.
---
Calories:
505
kcal
|
Carbohydrates:
69
g
|
Protein:
27
g
|
Fat:
15
g
|
Saturated Fat:
3
g
|
Polyunsaturated Fat:
2
g
|
Monounsaturated Fat:
8
g
|
Sodium:
358
mg
|
Potassium:
1777
mg
|
Fiber:
11
g
|
Sugar:
4
g
|
Vitamin A:
17891
IU
|
Vitamin C:
60
mg
|
Calcium:
250
mg
|
Iron:
9
mg