This post is sponsored by Country Crock® Plant Butter. All opinions and recipes are my own.
When I asked y'all on Instagram what kind of recipes you wanted to see in December, I got a grab bag of results. But there was one answer that was often repeated: gingerbread.
This didn't come as a surprise. After all, it is December. But since I take your suggestions to heart, I will be delivering on the demand for gingerbread with these Vegan Gingerbread Brownies (I've also linked to more gingerbread-flavored recipes at the end of the blog post).
While there is no shortage of gingerbread cookies or gingerbread cake out on the internet, there does seem to be a relative scarcity of gingerbread brownie recipes, so I hope to change that!
*However, if you are reading this post just for the brownie tips and it's nowhere near the holiday season and you're not interested in gingerbread flavors, you can easily make these regular brownies by omitting the gingerbread flavors.
Omit the gingerbread spices (ginger, nutmeg, cloves, cinnamon). That said, a little cinnamon (say, 1/2 teaspoon) is always a nice addition to any brownie.

Substitute the molasses with maple syrup.
While Gingerbread Brownies might not be a commonly made dessert, I think these brownies might become your new favorite brownie recipe. They combine the spicy warmth of gingerbread with the richness of chocolate. I mean, how bad could that be? (said in my best Ina Garten voice).
And if you want to take these brownies over the top, I'm talking like maximal flavor explosion, there's an espresso glaze to go on top! Yep, gingerbread brownies with an espresso glaze. Because espresso amplifies the deep, rich flavor of chocolate so you're getting even more chocolatey-ness out of these brownies.
Of course, the glaze does add more sugar, so if you are trying to limit your sugar intake a bit, go ahead and omit the glaze. The brownies are plenty delicious without the glaze and stand strong on their own.
There's been a lot written on how to bake the perfect brownie, but very little of it is vegan-specific, so here are my thoughts and tips on baking vegan brownies, specifically fudgy brownies, which I believe are the best kind of brownie.
Tips for Baking Vegan Brownies
Flour
In almost every type of baking, the type of flour matters. I am often asked, "can I swap the all-purpose flour with oat flour" or "can I sub the almond flour with buckwheat flour," and sadly my answer is usually no. Or at least, no, not really.
Flours work in very particular ways, especially non-traditional flours and gluten-free flours. If you think about it for a second, it makes total sense. Obviously, flour made from wheat that that's high in gluten works much differently than "flour" that's made by grounding up high-fat, low-starch, gluten-free almonds!
And when it comes to brownies, all-purpose flour is the best flour. Not almond flour, not oat flour, not cake flour. Regular, plain old all-purpose flour. If I'm being honest, I do use unbleached all-purpose flour and it's often organic, but other than that, it's regular, plain old all-purpose flour.
But I also understand that some of you visiting this recipe are gluten-intolerant. Which is why I am offering a substitution, but with reservations. I have made these brownies with all-purpose gluten-free flour (I use this one from Bob's Red Mill). It works, but the texture is still better and chewier with all-purpose flour.
Which means…if you are not truly intolerant to gluten, do not use gluten-free flour. Use the regular flour. Your tastebuds and taste testers will thank you.
Speaking of flour, I'd also like to point out that the more flour in a brownie recipe, the cakier it will be. In contrast, the less flour in the recipe, the denser and fudgier the brownie will be. This latter point is particularly true when the brownie uses melted chocolate in the recipe, as in this recipe.
I mention this just in case you're curious about what makes for a good brownie. I previously tried these brownies with 1 1/2 cups of flour and they were dry in some spots, which is why I reduced the amount of flour to 1 cup, which made for perfectly fudgy and slightly chewy brownies.
Butter vs. Oil
Another question that bakers face when deciding to make brownies (as well as many other baked goods) is: should I use butter or oil? Oil usually results in more tender baked goods, while butter is more flavorful than oil.
Traditional dairy-based butter contains milk solids, which react with leavening agents (such as baking powder) during baking. This reaction helps the baked goods to rise, which is helpful for certain baked goods; however, for brownies, this rising action results in more cake-like brownies.
If cake-like brownies are your thing, then great, but if I wanted cake-like brownies, I would just eat cake. I want fudgy, dense brownies.
Luckily, since Country Crock Plant Butter is dairy-free and therefore free of milk solids, you can use it and not run the risk of ending up with cakey brownies. This results in more flavorful brownies that are still fudgy and rich, not cakey. Best of both worlds.
Also, I use melted vegan butter instead of softened butter in this recipe. That's because when you beat or cream softened butter, you're adding more air and lift into the batter, resulting in cakier brownies. In contrast, when you use melted butter, you can rely on just a wooden spoon to combine the batter.
Less beaten brownie batter = fudgier brownies.
Also, when you beat more air into the batter, as you would have to with creaming softened butter, you dilute the chocolate flavor.
Less beaten brownie batter = richer cocoa flavored-brownies.
Finally, to melt the butter, I combine chopped dark chocolate and pieces of the Country Crock Plant Butter in a double boiler and melt gently over low heat/simmering water. You can melt the chocolate and butter in the microwave (instructions to do so are in the recipe), but I prefer to be safe and prevent any possibility of burning by using the double boiler method.
Chocolate vs. Cocoa Powder
Have you ever been curious about why some brownie recipes use cocoa powder and some use melted chocolate?
Well, here's what I can tell you. Cocoa powder typically makes for cakey brownies, whereas melted chocolate makes for fudgy brownies. And if you think about it, it makes total sense. From a texture perspective, adding cocoa powder is akin to adding more flour to the recipe, and as I mentioned earlier, adding more flour makes for cakier brownies.
In contrast, adding a melted pool of chocolate essentially adds more liquid, making brownies more moist, dense, and gooey. But if you want to combine cocoa powder and melted chocolate, you get a little bit of both, which often results in chewy brownies. That's what I do in this recipe, which makes for fudgy yet chewy brownies.
I came to this precise combination—3 ounces melted dark chocolate and 6 tablespoons cocoa powder—through experimentation. The first batch I made, I used more cocoa powder relative to dark chocolate and they were too dry. The second batch I made, I omitted the cocoa powder entirely and they were too fudgy and didn't hold their structure.
As for the type of chocolate used, I use a dark chocolate in the 70-75% cacao content range. If you want, you can use a slightly sweeter chocolate, such as 60%. However, I would use a few tablespoons fewer of brown sugar, or omit the espresso glaze; otherwise, the brownies might be too sweet. And if you prefer an even darker chocolate, feel free to use something in the 80-85% cacao content range.
And since I prefer my brownies fudgy, to take them over the fudginess top, I add extra chopped dark chocolate into the batter. I fold chopped dark chocolate chunks in at the end, which brings extra rich chocolatey goodness to the brownies.
Some of the chocolate chunks will almost melt into the brownies, which means rich fudginess but other chunks will stay firm (especially larger sized ones), providing a nice little solid piece of chocolate to bite into. For these chocolate chunks, I use the same dark chocolate used in the batter, but if you have vegan or dairy-free chocolate chips on hand, you could easily use those instead.
Sweetener
First, if you're making brownies with cocoa powder instead of melted chocolate, you'll need to add more sugar. Second, while plain old white/granulated/cane sugar is usually the obvious choice for brownies, I prefer to use brown sugar.
As with cookies, brown sugar results in a moister, chewier texture than white sugar. Who doesn't want more moistness and chewiness in a brownie?
If you want to use a more healthful sugar, you could use coconut sugar in the same amount as the brown sugar. However, since it's quite dry in texture compared to brown sugar, you will lose some of that moistness. Since these brownies are already quite moist and fudgy, that shouldn't be a big problem.
If you want to use maple syrup instead of brown sugar, I recommend reducing the liquid by 2 (or even 3) tablespoons so the batter isn't too runny. Please note that I haven't tried this myself, but am inferring this based on my experience with baking.
Since this recipe also contains molasses to bring those classic gingerbread flavors, the brown sugar + molasses combo brings a caramel-like sweetness with more depth of flavor than your standard brownie.
Egg Substitutes
Traditionally, brownies contain eggs, which serve two purposes: (1) they act as an emulsifier, coating the other liquids and fats to lock in moisture; (2) they serve as a leavening agent.
Luckily, there are several ways you can substitute eggs in vegan brownies. First, the baking powder acts as the leavening agent. For the emulsifier, this recipe uses flax eggs, which I've found to be a good egg substitute for fudgy brownies, but chia eggs would also work.
I have also made brownies with aqufaba with good results!
There are a few other substitutes that could work such as mashed ripe bananas or applesauce, but I can't vouch for them in this particular recipe. Also, if you do experiment, keep in mind that ripe bananas are quite sweet, so you're also adding additional sweetness to the recipe.
Baking Time
If you've ever made brownies that were dry, it's likely because you baked them for too long. I recommend checking your brownies at least 5 minutes before you think they'll be done. Take them out of the oven and insert a toothpick. The perfect time to remove them is when there are moist crumbs stuck to the toothpick, that point of time where you might even think the brownies aren't fully baked yet. If there are no crumbs, sadly, you have overbaked your brownies (oops!).
To be clear, you are looking for crumbs, not wet, gooey batter. If you get liquid batter on your toothpick, the brownies still need a bit more time in the oven.
Also keep in mind that brownies will continue to bake after you take them out of the oven. Especially with brownies that use melted chocolate (as in this recipe), the brownies will set up more as they cool. This latter point makes it all the more important to wait until the brownies are cooled to slice them.
Cooled brownies are easier to slice and therefore look prettier and less messy. Plus, allowing them to cool ensures that your brownies finish baking through during that rest time.
Now that you know literally everything you need to know about baking vegan brownies, here's why you're going to love these Vegan Gingerbread Brownies!
Holiday decadence: they're incredibly decadent and addictive, and who doesn't want a little bit of decadence during the holidays?
Fudgy supreme: these brownies are fudgy, rich, gooey, and a little chewy. No cakey brownies here!
Flavorful AF: these brownies combine the richness of chocolate with the warming nature of gingerbread spice, making this a perfectly cozy winter treat that's packed with caramel-y flavors.
Note: these brownies are equally delicious when stored at room temperature or in the fridge, but they taste considerably different, so you're kind of getting two desserts in one! If stored in the fridge, they taste almost like solidified fudge. If stored at room temperature, they taste more like a traditional brownie.
And finally, let's talk about this Espresso Glaze!
This glaze is totally optional, and these brownies are plenty delicious without it. On the other hand, coffee is chocolate's best friend, and the flavor combination is exquisite.
Coffee is known to magically enhance the taste and flavor of chocolate, which is why I often add espresso powder or a splash of coffee to my chocolate desserts. Here, the slightly bitter, rich, pungent nutty taste of espresso pairs really well with the spicy, sweet, zingy flavors of gingerbread.
It's a unique, sophisticated flavor combination that is worth trying. That said, if you're making these brownies for kids and/or are very sensitive to caffeine, omit the espresso glaze.
Vegan Gingerbread Brownies with Espresso Glaze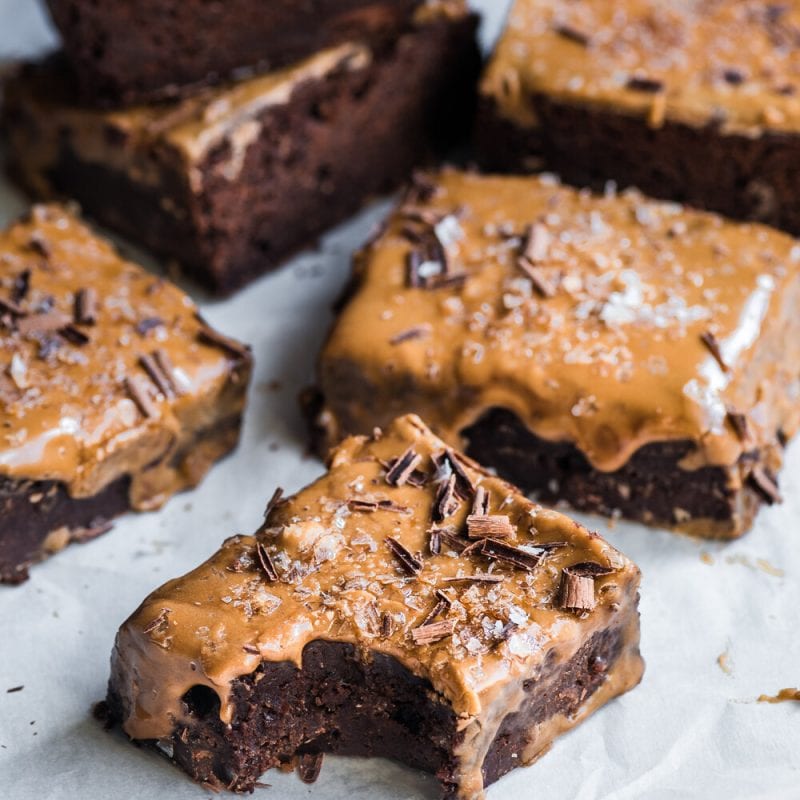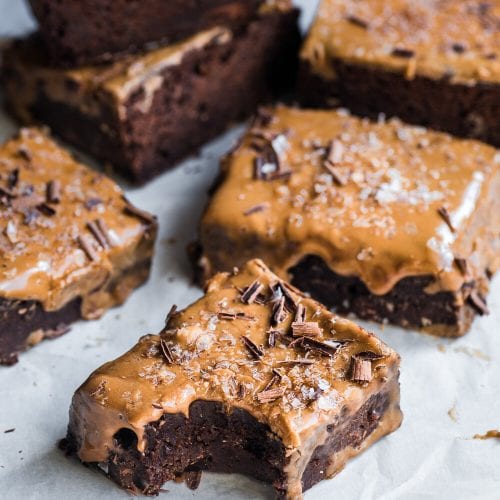 These Vegan Gingerbread Brownies are fudgy and rich and packed with warming gingerbread spices! They're perfect for the holiday season, or any time you want to mix up your brownie game.
Ingredients
Brownies Ingredients
2

tablespoons

(14g) flaxseed meal

1/4

cup

(60mL) warm water

6

ounces

(170g) 70% dark chocolate, divided*

1

cup

(120g) all-purpose flour**

1

teaspoon

baking powder

1/2

teaspoon

sea salt

6

tablespoons

(~30-36 g) unsweetened cocoa powder

2

teaspoons

ground ginger***

2

teaspoons

ground cinnamon

1/2

teaspoon

ground nutmeg

1/2

teaspoon

ground cloves

1

stick

(1/2 cup or 113 g Country Crock's Plant Butter****), cut into small pieces

1/4

cup

(60 mL) plant-based milk (I used almond milk)

3/4

cup

(144 g) loosely packed brown sugar (or coconut sugar)

1/4

cup

(60 ml) molasses (not blackstrap)

2

teaspoons

pure vanilla extract
Espresso Glaze Ingredients
2

teaspoons

espresso powder

(or instant coffee powder)

2

tablespoons

water

1

teaspoon

pure vanilla extract

1

tablespoon

Country Crock's Plant Butter,

softened at room temperature

3/4

cup

organic powdered sugar
Instructions
Brownies Directions
Preheat the oven to 350°F/175°C.

Make the flax eggs. Mix the ground flaxseed meal with the 1/4 cup warm water, stir, and set aside for 15 minutes to thicken.

Prepare a double boiler. Add a few inches of water to a saucepan and bring to a simmer. Nestle a large heatproof glass bowl that sits on top of the saucepan without touching the water to create a double boiler.

Chop 3 ounces of dark chocolate into small chunks and set aside.

Take the remaining 3 ounces of the dark chocolate and chop into small pieces. Place these chocolate pieces and the Plant Butter pieces in the heat-proof bowl on top of the saucepan. Allow the chocolate mixture to melt, whisking frequently until smooth and the chocolate is completely melted. Set aside to cool.

Alternatively, you can add the chocolate pieces and the Plant Butter to a large bowl and microwave it — melt in 25 second intervals until mostly melted and smooth, stirring well between each interval.

In a medium bowl, whisk together the flour, baking powder, sea salt, cocoa powder, ginger, cinnamon, nutmeg, and cloves.

While the dark chocolate-butter mixture is cooling, line an 8×8″ baking pan with parchment paper. Or, grease the pan well.

Once the dark chocolate-butter mixture is cool, pour in the plant-based milk, brown sugar, molasses, flax eggs, and vanilla. Whisk well until smooth and well combined.

Pour the flour mixture into the melted chocolate mixture and stir with a wooden spoon until just combined. Then fold in the reserved 3 ounces of dark chocolate chunks using a silicone spatula. Pour the batter into the lined pan and smooth out the surface out with a silicone spatula.

Bake the brownies for 25 minutes, or until a toothpick inserted in the middle comes out almost clean. I always check my brownies a few minutes before I think they're going to be done. They may appear slightly under-baked, which means they're fudgy and rich, and they will continue to bake after you take them out of the oven.

Allow the brownies cool completely before adding the Espresso Glaze, if using. Pour a light layer of the espresso glaze onto the brownies, smooth out with an offset spatula, and then refrigerate until the glaze is set. Slice brownies into 16 squares. You can store these at room temperature or in the fridge – the texture will vary based on your storage method (see notes above).
Espresso Glaze Directions
Place the espresso powder in a medium bowl. Add the water and vanilla, and stir to dissolve.

Add the softened Plant Butter and powdered sugar and whisk until smooth and you have a thick but pourable glaze texture. If it's too thick, add a spoon of plant-based milk.
Notes
* You can use a more bitter chocolate, such as 80 or 85%. Or, you can use a sweeter chocolate, such as 60-65%. If you use semisweet chocolate, you'll want to use less brown sugar or omit the espresso glaze.
** If you want to use gluten-free flour, see the notes in the blog post above.
*** If you don't want gingerbread flavored brownies, omit the gingerbread spices (ginger, nutmeg, cloves, and cinnamon; or just add 1/2 teaspoon cinnamon) and substitute the molasses with maple syrup.
**** I used the olive oil variety of Plant Butter.
---
Calories:
213
kcal
|
Carbohydrates:
38
g
|
Protein:
3
g
|
Fat:
6
g
|
Saturated Fat:
3
g
|
Polyunsaturated Fat:
1
g
|
Monounsaturated Fat:
2
g
|
Trans Fat:
1
g
|
Cholesterol:
1
mg
|
Sodium:
119
mg
|
Potassium:
227
mg
|
Fiber:
3
g
|
Sugar:
22
g
|
Vitamin A:
39
IU
|
Vitamin C:
1
mg
|
Calcium:
57
mg
|
Iron:
2
mg