If you've been following my food journey for awhile, you know that I love coming up with creative ways to recreate favorite comfort foods and make vegan food taste indulgent AF. And these fudgy Vegan Tahini Brownies are no exception!
They're vegan (obvs) and gluten-free and made with nourishing, perhaps surprising ingredients, but they taste like a gooey, decadent fudgy brownie. The best of both worlds!
The batter is, unsurprisingly, very fudgy and rich, so don't be alarmed if your batter isn't looser like a more traditional brownie batter.
Table of Contents:
1. Why you'll love this recipe
2. Ingredient notes
3. Tips for making this recipe
4. Frequently Asked Questions
5. Recipe card with notes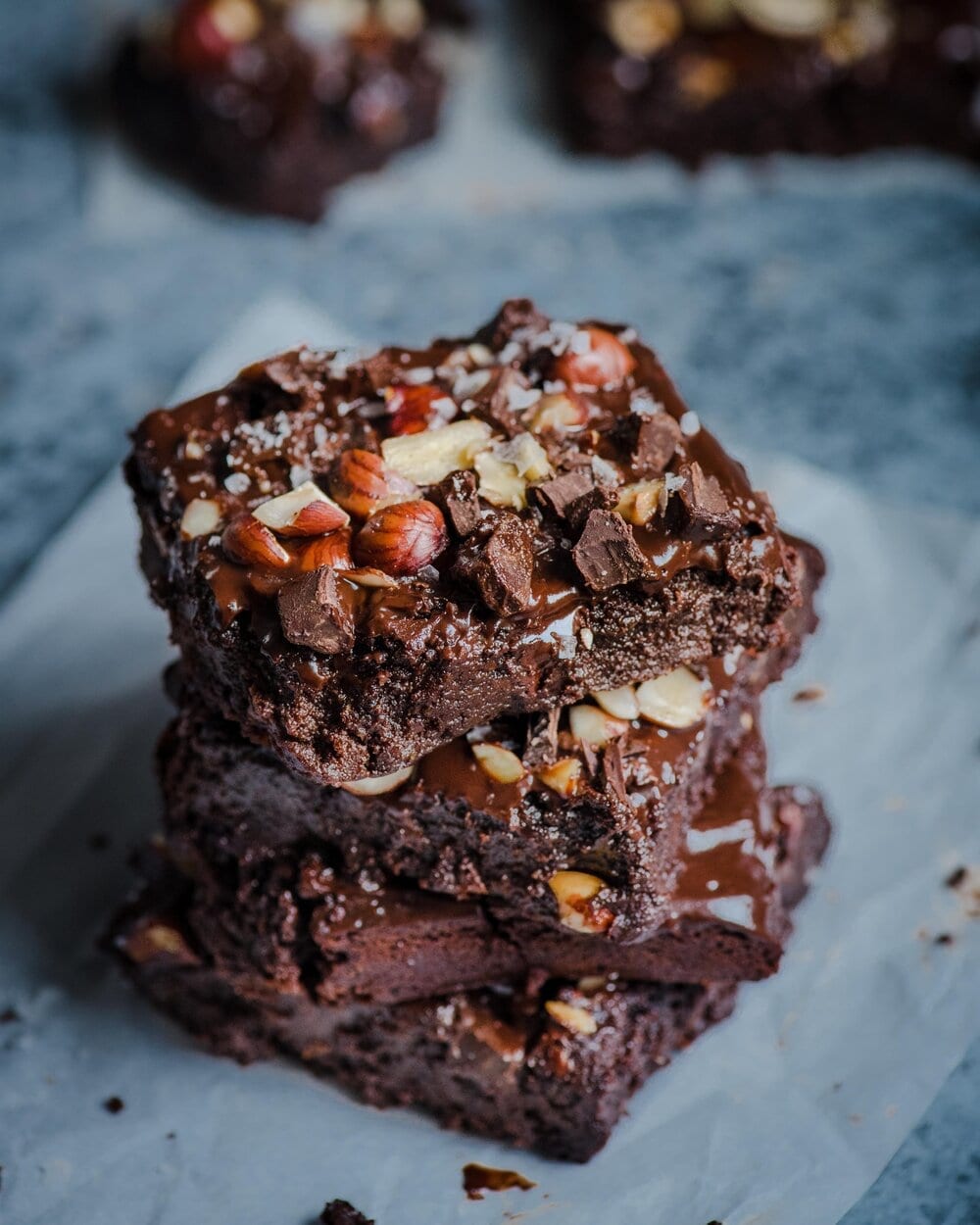 Why you'll love this recipe
Made with wholesome ingredients. They're vegan and gluten-free and made with ingredients like tahini, almond flour, roasted honeynut squash, and coconut sugar.
Pure decadence. But these brownies are fudgy, gooey and taste decadent! A brownie that tastes hella good but that you can feel good about.
The most delightful fall flavors. This is the perfect "rich chocolate meets warming pumpkin spice flavors" that everyone loves about fall. For more pumpkin-chocolate desserts, try out these cheesecake bars or muffins!
Irresistible salty-sweet taste thanks to the salt in the chocolate ganache and the flaky sea salt on top. Did I mention that the chocolate ganache is DELICIOUS by the spoon?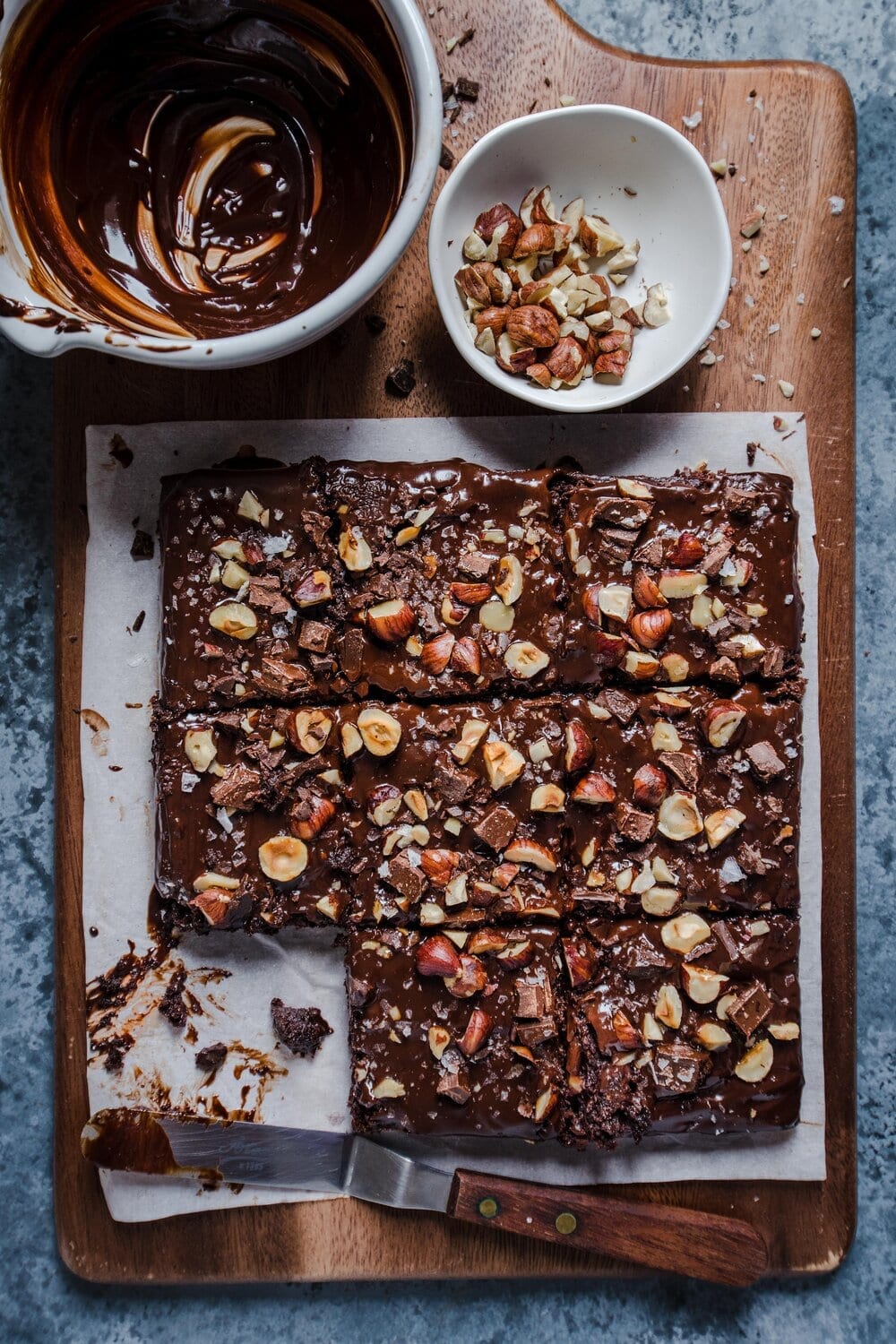 Ingredient notes
Roasted Honeynut Squash. Honeynut Squash is basically a mini butternut squash but it's sweeter and it's only available in the fall.
If you can't find it, read about substitutes in the FAQ section below!
Tahini. Aside from the almond flour and dark chocolate, the tahini is the main source of fat and the reason the brownies don't need any oil (though there is a tiny bit of coconut oil in the ganache). Read about my favorite brands of tahini in the FAQ section below.
I do not recommend using refrigerated tahini, as it gets very thick and can change the texture of the batter. So if you typically refrigerate your tahini, you'll want to bring it to room temperature.
Aquafaba. Aquafaba is simply the liquid leftover from cooked chickpeas. Lightly whipping the aquafaba with an electric mixer, as is done in this recipe, acts as an egg substitute. Usually three tablespoons = one egg. This recipe calls for 6 tablespoons (~2 eggs).
Unsweetened Cocoa Powder. When using cocoa powder, it's important to sift the dry ingredients to prevent those clumps. I know, it takes a few extra minutes and an extra dish to wash, but it's worth it. I promise!
Maple Syrup + Coconut Sugar. I use both in this recipe because I wanted both a liquid and a dry sweetener for texture purposes. If you don't have coconut sugar, you can substitute with brown sugar.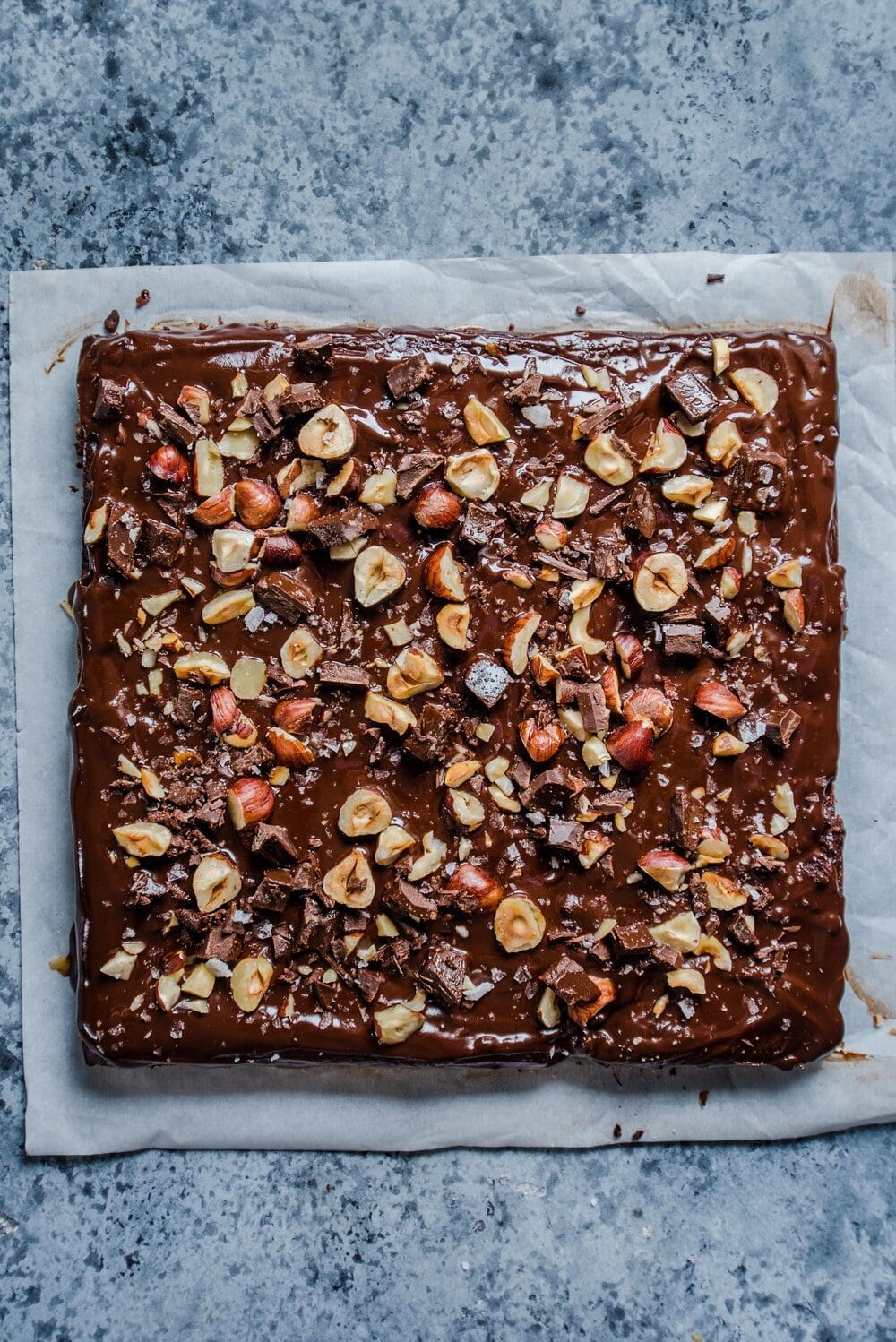 Almond Flour. This is the only "flour" in the recipe, but as I mentioned earlier, it's not really a flour, just almonds, which is why these brownies are gooey and delicate.
Oat Flour. The recipe only calls for 2 tablespoons of oat flour. That's because I tried to keep the recipe grain-free and use only almond flour, but the batter was simply too runny. So the oat flour helps bring the batter together.
See the FAQ section below on how to make your own oat and almond flour, and how to make sure this recipe stays 100% Gluten-Free.
Pumpkin Pie Spice. I make my own pumpkin pie spice (the recipe is below), but this is the season for stocking up on pumpkin pie spice! Trader Joe's has an inexpensive blend, as does Whole Foods' 365 brand.
Note: If pumpkin season is long gone and you don't want a subtle pumpkin-y flavor, just omit the spices. I still like to use a bit of cinnamon (about 1/2-1 teaspoon).
Dark Chocolate Chunks. I used dark chocolate chunks from Whole Foods for the batter (affiliate link), but you could also just take a bar of chocolate and chop it up into bite-sized chunks (you'll need some dark chocolate for the ganache as well). Or use vegan chocolate chips.
Chocolate Ganache. Since the brownies are relatively healthy, I wanted a more decadent topping so I went with an easy but rich chocolate ganache. It's made with dark chocolate, a bit of coconut oil, coconut cream, and sea salt. Trust me when I say it is wildly delicious and addictive by the spoon.
Sea Salt. I do think the sea salt is essential as it brings out the chocolateyness (not a word but you know what I mean) in the chocolate and makes for that ultimate sweet-salty dessert.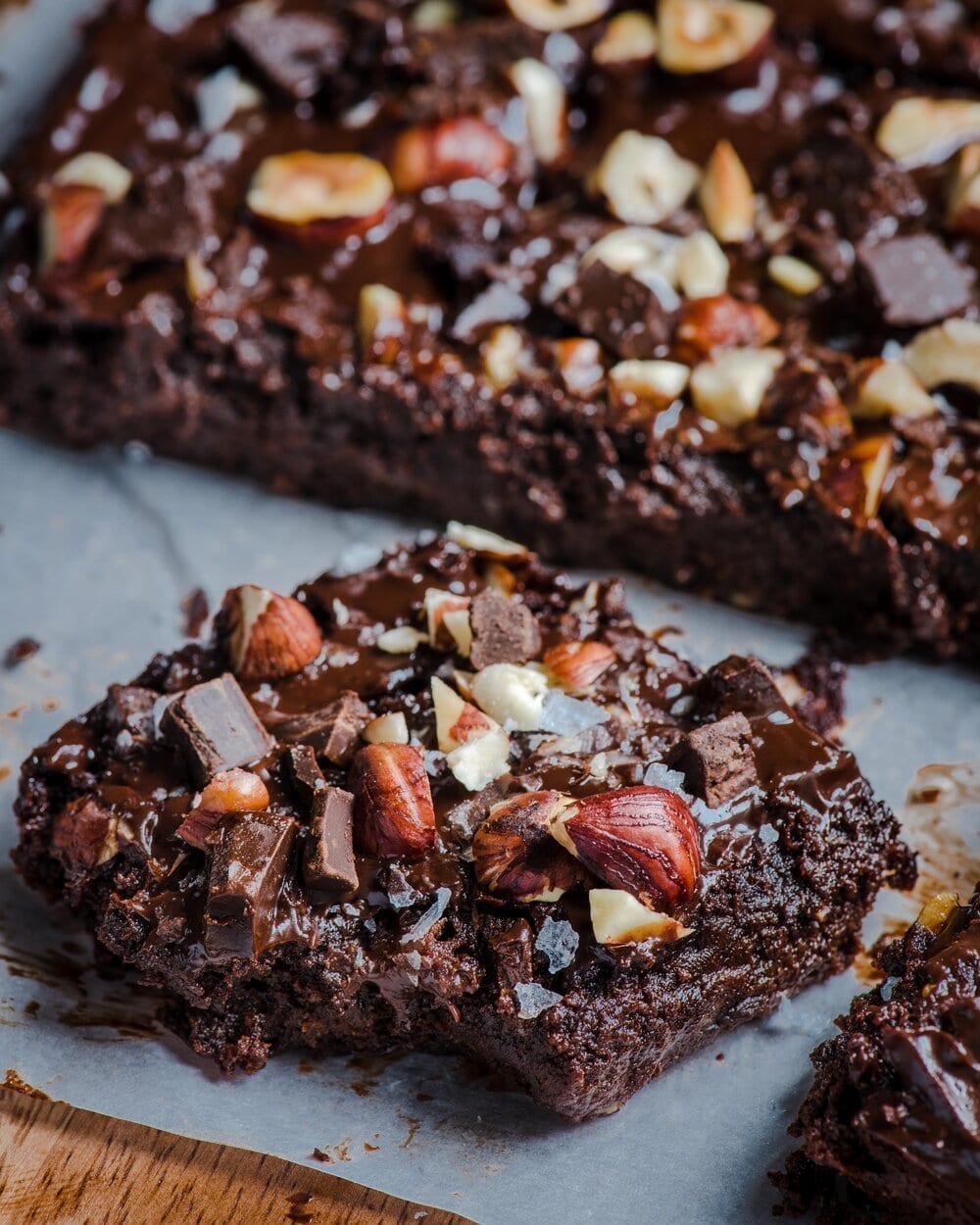 Tips for making this recipe
As I mentioned, since these brownies do not contain any real flour, they are quite delicate and soft so handle them with care! If you want a firmer brownie, pop them in the refrigerator for at least 30 minutes. I also love what refrigeration does to the ganache, so you might want to just store them in the fridge.
I used an 8×8-in square pan, but you could also try these in a 9×5 loaf pan and bake them for longer since the brownies will be thicker in texture.
The photos below show what the texture of the unbaked batter should look like.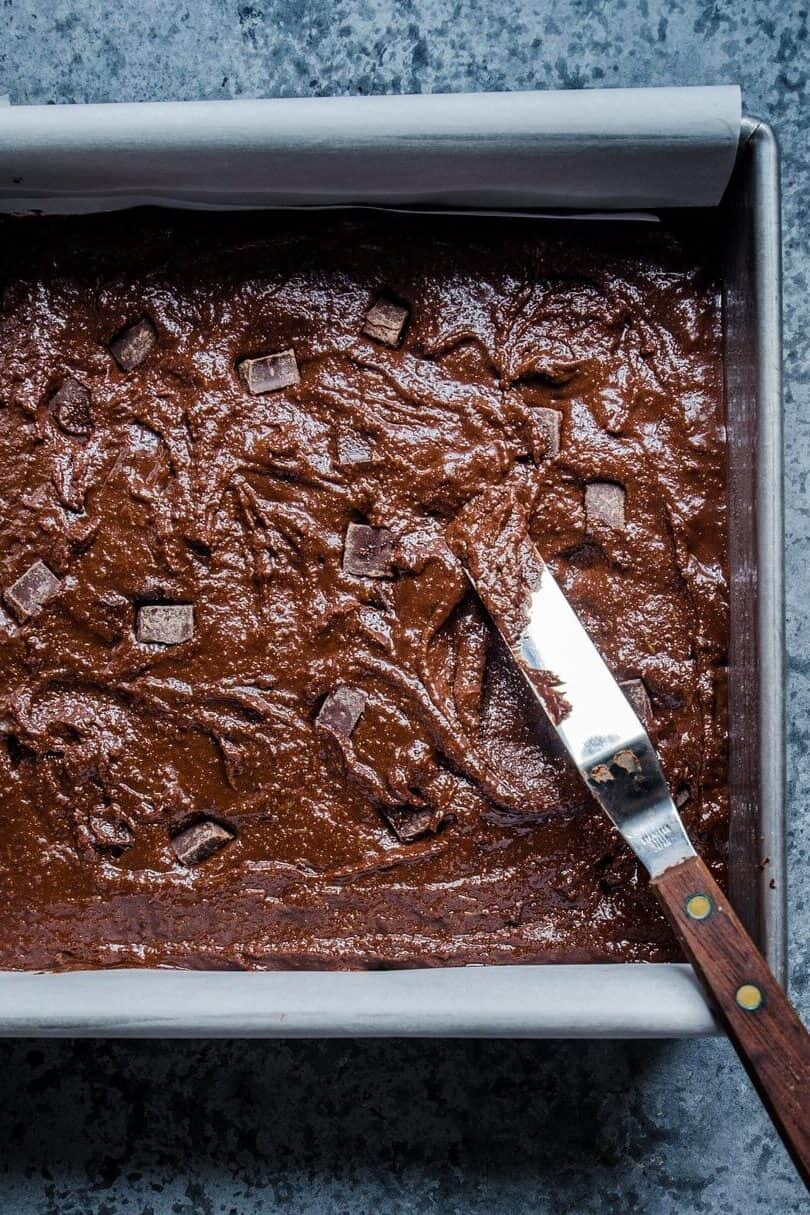 The photo below shows what the texture of the baked brownies should look like.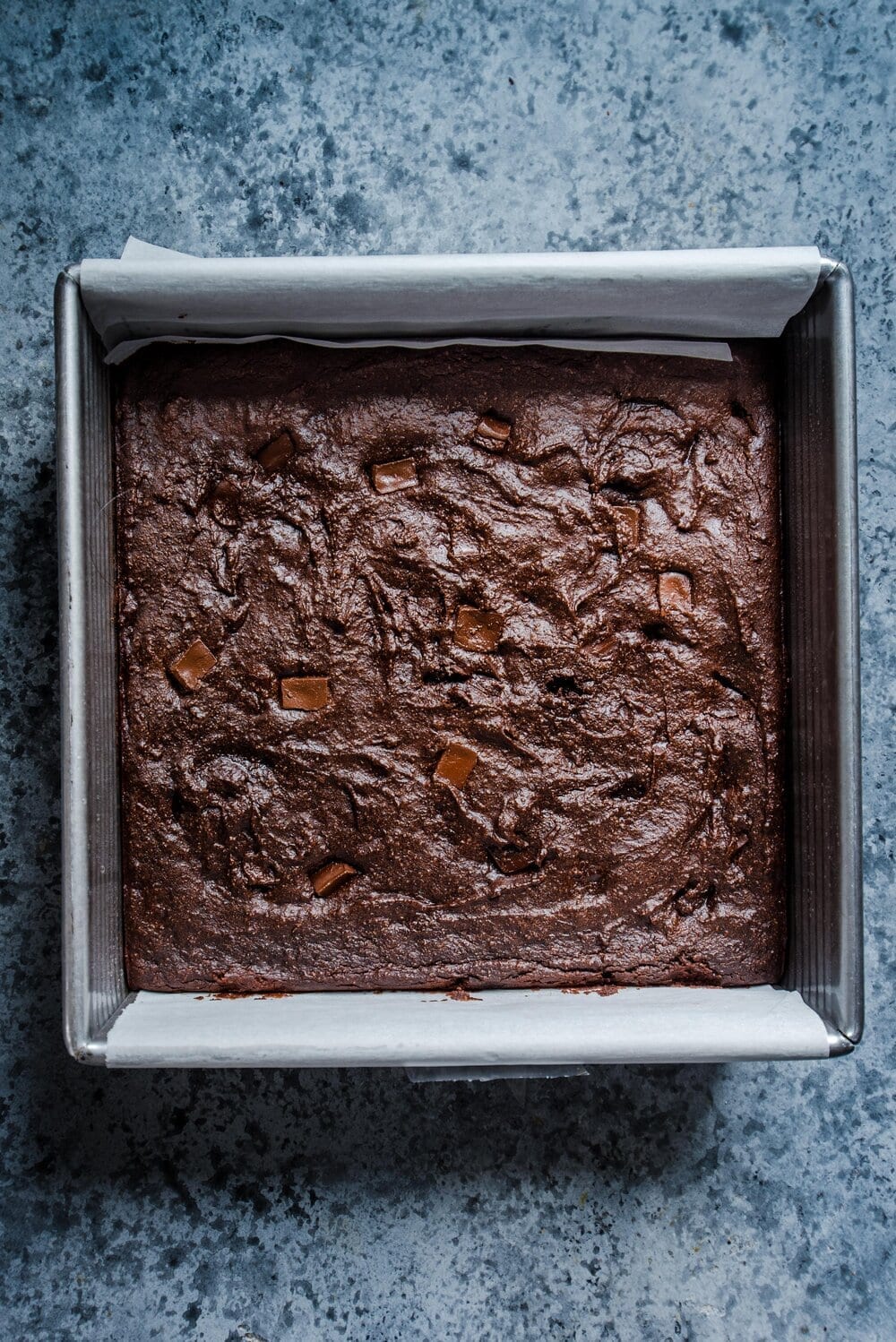 Frequently Asked Questions
Can I substitute the honeynut squash?
You can sub honeynut squash with (a) canned pumpkin puree, (b) cooked & mashed butternut squash (or canned), or (c) cooked & mashed sweet potato (or canned).

Pumpkin and butternut squash are less sweet than honeynut squash, so you may want to add an extra tablespoon or two of coconut sugar. On the other hand, sweet potato is sweeter than honeynut, so consider scaling down the sugar by a tablespoon or so.
I don't have oat and/or almond flour at home, can I make it myself?
Almond flour: I use a store-bought superfine almond flour (affiliate link), but it can be pricy, so here's a guide on how to make your own almond flour if you want.

Oat flour: As with almond flour, you can make your own oat flour simply by grinding up rolled oats in a food processor until they are very finely ground. Luckily, store-bought oat flour is pretty inexpensive.

Just be sure to use a certified gluten-free variety if you or anyone eating this is strictly gluten-free (while oats are naturally gluten-free, there might be some cross-contamination if not labeled certified gluten-free).
Can I customize the toppings?
In my opinion, the chocolate ganache is a necessary component in this brownie recipe.

As for the rest of the toppings, I use some extra dark chocolate chunks (in addition to the chocolate chunks that go in the brownie batter), chopped toasted hazelnuts, and flaky sea salt.

But you can get creative with the toppings. No hazelnuts on hand? Add roasted almonds or hemp seeds for crunch.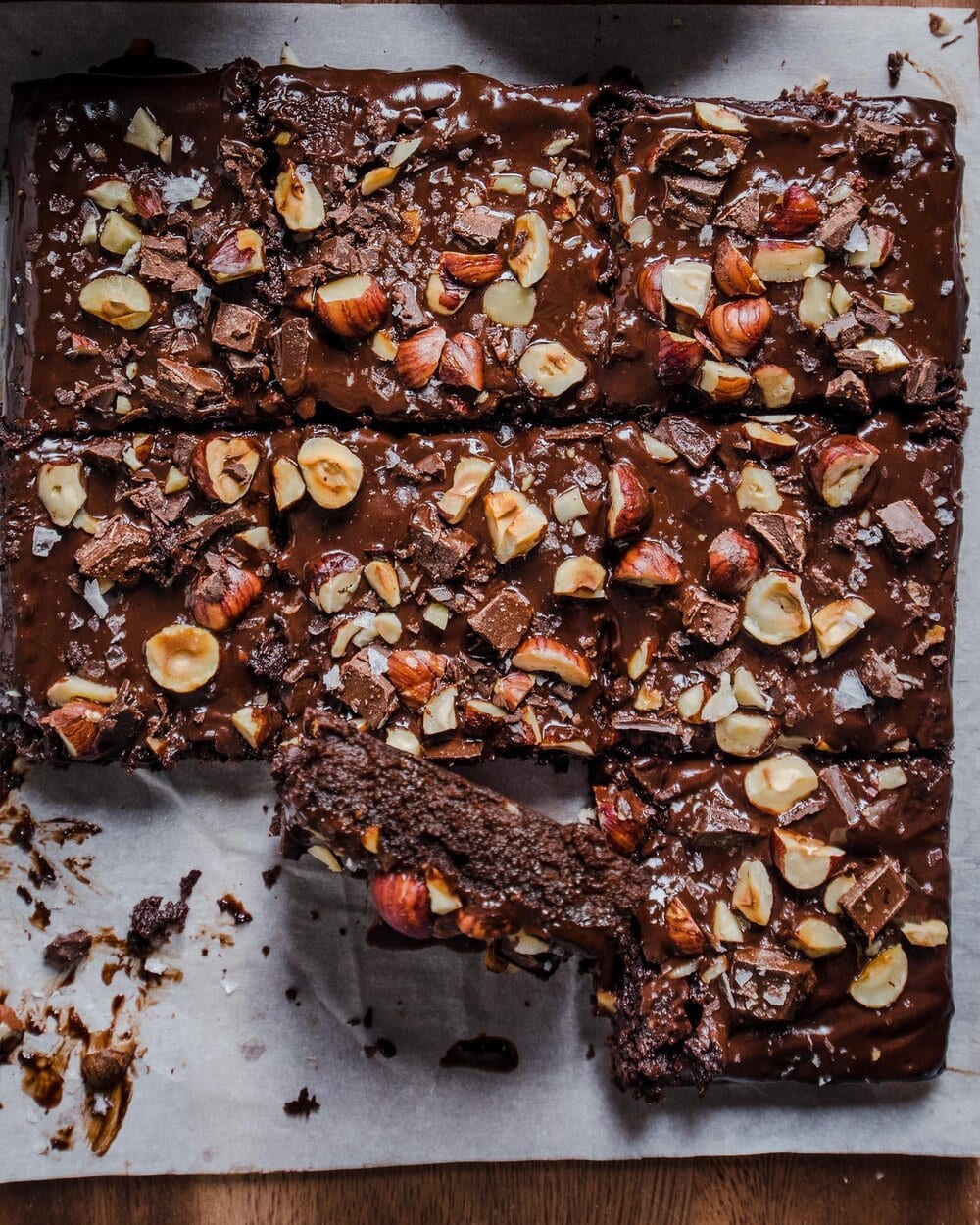 That's all you need to know about these fudgy, gluten-free Vegan Tahini Brownies, so happy baking, my friends!
Vegan Tahini Brownies (Fudgy and Gluten-Free)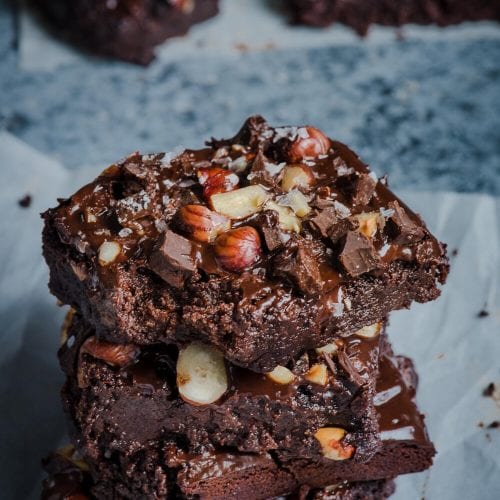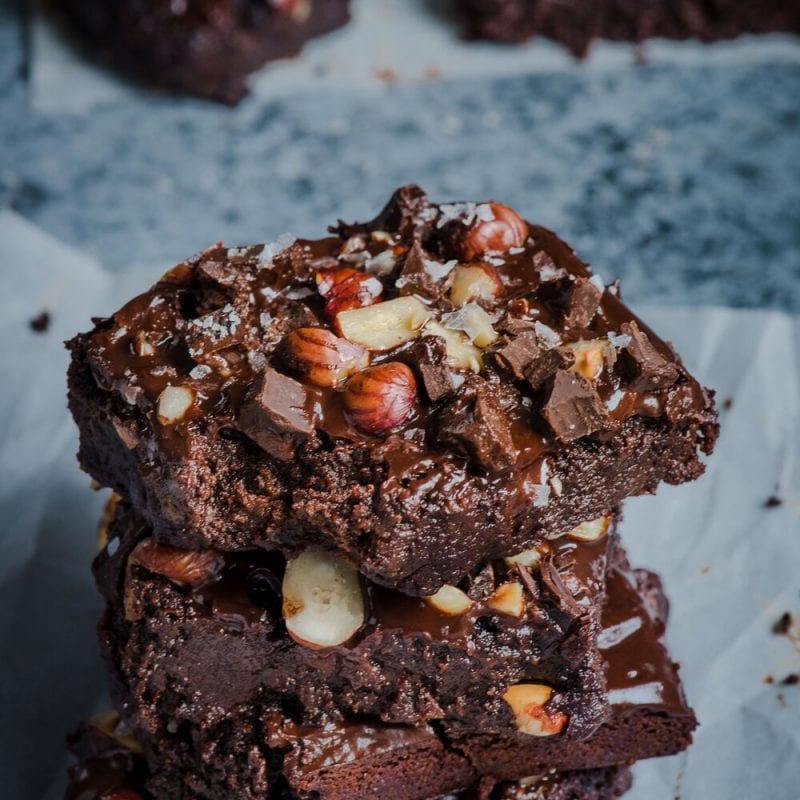 These fudgy tahini brownies are healthy, vegan, gluten-free, and delicious! They're made with wholesome ingredients like winter squash, tahini, and coconut sugar, but are indulgent, gooey, and rich.
Ingredients
6

tablespoons

aquafaba

1/2

cup

unsweetened cocoa powder

3/4

cup

almond flour or almond meal

2

tablespoons

oat flour

(certified gluten-free as needed)

1/2

teaspoon

baking soda

1/4

teaspoon

sea salt
1 tablespoon pumpkin pie spice (can sub store-bought) (See note 1)
1 1/2

teaspoons

ground cinnamon

1/2

teaspoon

ground ginger

1/2

teaspoon

ground nutmeg

1/4

teaspoon

ground cloves

1/4

teaspoon

ground allspice

1/2

cup

cooked honeynut squash (see note 2),

mashed well into a puree

1/2

cup

smooth tahini,

at room temperature

1/4

cup

pure maple syrup

1/2

cup

coconut sugar

1

teaspoon

pure vanilla extract

1/2

cup

dark chocolate chunks or vegan chocolate chips
Toppings
2

tablespoons

dark chocolate chunks or vegan chocolate chips

2-3

tablespoons

roasted hazelnuts

(or almonds), chopped (optional)

Coarse sea salt or flaky sea salt
Chocolate Ganache
3

ounces dark chocolate, roughly chopped

4

teaspoons coconut oil (I prefer the refined variety for a more neutral taste)

1/3

cup coconut cream (from a can of full-fat coconut milk or from a can of coconut cream)

A pinch of sea salt
Instructions
Preheat oven to 350°F/175°C. Line a 8×8-inch pan with parchment paper.

In a medium bowl, sift together the cocoa powder, almond flour, oat flour, baking soda, salt, and pumpkin pie spice.

Pour 6 tablespoons of the liquid from a can of chickpeas into a small bowl. With an electric mixer, beat the aquafaba on medium speed until it starts to get foamy, 60-90 seconds.

In a large bowl, beat together the honeynut squash puree, tahini, maple syrup, and coconut sugar until combined. Add in the aquafaba and vanilla and beat until just combined.

Add the dry ingredients to the wet ingredients, and stir to combine with a wooden spoon until smooth and just combined.

Using a silicone spatula, fold in the 1/2 cup dark chocolate chunks.

Add the batter to the prepared baking pan and spread out, smoothing with a spatula. Bake for about 30 minutes (checking at 25 minutes – see note 3), or until a knife inserted in the middle comes out mostly clean and the edges begin to pull slightly away from the pan. Cool the brownies on a wire rack for 20 minutes before adding the ganache.

Make the Chocolate Ganache: Create a double boiler on the stove. Once the water is simmering, add the chopped chocolate and coconut oil, whisking until the chocolate is smooth and melted. Off the heat, stir in the coconut cream and a pinch of sea salt and whisk until well combined.

Spread the ganache over the brownies and top with the 2 tablespoons dark chocolate chunks, chopped hazelnuts, and flaky sea salt. For a firmer brownie, store the brownies in the refrigerator.
Notes
Note 1: If pumpkin season is long gone and you don't want a subtle pumpkin-y flavor, just omit the spices. I still like to use a bit of cinnamon (about 1/2-1 teaspoon). Note 2: To cook the honeynut squash, I recommend slicing it in half (vertically) and brushing the flesh with a thin layer of refined coconut oil (or other neutral oil) and dust with cinnamon. Bake in the oven, flesh side down on a baking sheet, at 400°F/200°C for 20-25 minutes until fork tender. Alternatively, you could also steam the honeynut squash. Note 3: Be sure not to over bake the brownies. In this case, I checked at 25 minutes but ended up giving them 30 minutes because they seemed a bit too fudgy at 25 minutes. They might not look done, but if you over bake them, they will be dry and not fudgy.
---
Calories:
271
kcal
|
Carbohydrates:
26
g
|
Protein:
6
g
|
Fat:
18
g
|
Saturated Fat:
6
g
|
Polyunsaturated Fat:
3
g
|
Monounsaturated Fat:
5
g
|
Trans Fat:
1
g
|
Cholesterol:
1
mg
|
Sodium:
126
mg
|
Potassium:
277
mg
|
Fiber:
5
g
|
Sugar:
13
g
|
Vitamin A:
635
IU
|
Vitamin C:
2
mg
|
Calcium:
62
mg
|
Iron:
3
mg