A few weeks ago, I made my Buffalo Chickpea Quesadillas for friends. Not to brag (okay, maybe a little bit), but they had to pick their jaws up from the floor. That's how much they enjoyed them. So that got me thinking…what kind of other delicious quesadillas can I make?
My first thought was "Why doesn't anyone eat quesadillas for breakfast…I think that's silly. You should be able to eat quesadillas any time of day." My second thought was "what if I veganized a bacon-egg-and-cheese sandwich (and then turned it into a quesadilla)?"
The bacon-egg-and-cheese is a staple of NYC bodega culture. If you're wondering what a bodega is, check out this article from NPR. At nearly any bodega in New York City, you can order a bacon-egg-and-cheese sandwich. I never ordered that particular variety (even in my pre-vegan days, I was not a fan of bacon), but I did order a bodega egg-and-cheese sandwich from time to time (i.e., when I was hungover).
To sum up, these Vegan Quesadillas with Mushroom Bacon were born out of my love for quesadillas and my desire to replicate a NYC favorite in a new (and vegan) way.
These quesadillas would be incredible at your next weekend brunch, but I also love eating breakfast for dinner, and these quesadillas are good any time of day.
Let's start by talking about the bacon. I mean, the mushroom bacon. If you haven't tried mushroom bacon, you are missing out! It has all of the things people like about bacon – saltiness, smokiness, chewiness….but without the cholesterol and saturated fat. Plus, no adorable piggies had to die.
I think King Oyster mushrooms are the best mushroom variety for mushroom bacon, but they can be a bit hard to find, and shiitake mushrooms work really well too!
First, you want to gently scrub and clean your mushrooms. Then you'll slice them pretty thinly (but not so thinly they'll fall apart in the oven).
Then the mushrooms get marinated in a mixture of soy sauce, sesame oil, olive oil, smoked paprika, maple syrup, and liquid smoke. The soy sauce brings the umami factor, the liquid smoke and paprika bring the smokiness, and the maple syrup brings a very subtle hit of sweetness. If you don't have liquid smoke, feel free to omit it (though it won't have the same smoky flavor). To punch up the smokiness, just use a bit more smoked paprika than called for in the recipe.
Allow the mushrooms to marinate for at least 20 minutes at room temperature. And while that's happening, you can start working on the rest of the quesadillas. Or you can wait until the mushrooms start baking to do that.
Once the mushrooms have been marinated, prepare your baking sheet. I used a large rimmed baking sheet and then fitted it with a wire cooling rack, then spread out a piece of parchment paper on top. The combination of a rimmed baking sheet with a wire cooling rack, according to Serious Eats, is "an unsung hero in the savory world, offering air flow and circulation for even brining, cooking, and cooling."
If you don't have parchment paper, you can use aluminum foil instead. Spread the mushrooms out in a single layer on the baking sheet. If they get very crowded, you might want to use two baking sheets; too much crowding will cause the mushrooms to steam and not get very crispy.
PS: If you want something meatier and more satisfying to add to your quesadillas, my Chipotle copycat Sofritas are a fantastic alternative.
When the mushrooms are done in the oven, they should be a little crispy but a little chewy and nicely browned on the outside.
While the mushroom bacon is happening, it's time to get started on the eggs (i.e., the tofu scramble). I'm using extra-firm tofu, but firm tofu will also work. For the best texture, I usually recommend pressing out the excess water in firm varieties of tofu, as is used here. It's no absolutely essential, but it does improve the texture and removes any excess water.
There are a couple key ingredients that make this tofu scramble delicious. First, kala namak, also known as black Himalayan salt. It's a very pungent rock salt that smells very eggy, and therefore is used in vegetarian and vegan dishes to give a dish that distinctive eggy taste. The smells is pretty intense, but once it's incorporated into the tofu, it adds just a subtle eggy flavor. If you don't need your tofu scramble to taste like an egg scramble, go ahead and just use sea salt instead (it'll still be tasty). You can find kala namak at South Asian grocers or online.
The other key ingredients are turmeric and nutritional yeast. Turmeric primarily lends the scramble a vibrant yellow color so the scramble looks like traditional scrambled eggs. That means it's optional but I love incorporating this anti-inflammatory, antioxidant-rich spice into my diet as much as possible. And nutritional yeast boosts the umami of this dish even more and gives the scramble a subtle cheesy taste.
The remaining ingredients for these quesadillas are store-bought shredded vegan cheese and the Avocado-Tomato Salsa. If you don't want to prep any other ingredients, you can just use a store-bought salsa instead, but the combination of creamy avocados with fresh tomatoes and cilantro really takes this breakfast over the top and make it the ultimate weekend brunch treat! Plus, this salsa recipe takes just five minutes to make and you can easily make it while the tofu is being pressed, or even while the quesadillas are being made on the stove (if you are good at multitasking).
If you try out these epic Vegan Quesadillas with Mushroom Bacon, be sure to leave me a comment below and tag me with your creations on Instagram!
Vegan Quesadillas with Mushroom Bacon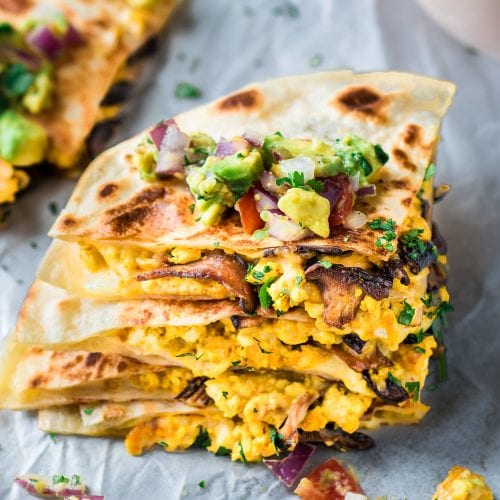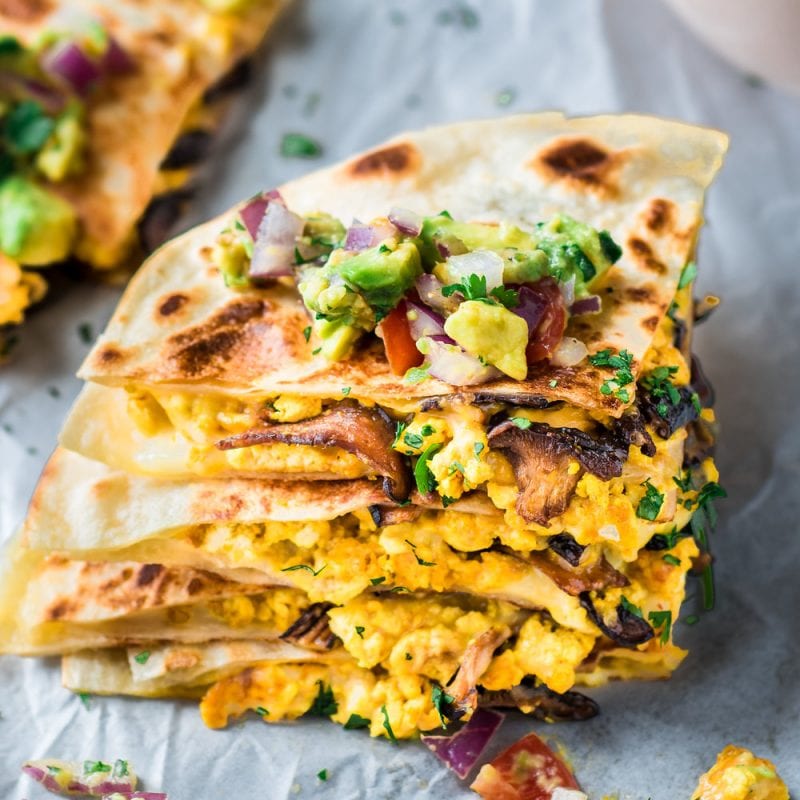 Indulgent vegan quesadillas packed with a hearty tofu scramble, a smoky and chewy mushroom bacon, lots of vegan cheese, and served with an easy avocado salsa! The perfect way to wow your weekend brunch guests, even avowed meat lovers!
Ingredients
Quesadillas Ingredients
Mushroom Bacon

(recipe below)

Tofu Scramble

(recipe below)

2

cups

(~225g) shredded vegan cheese of choice

8

large flour tortillas

(can use gluten-free tortillas)

Cooking oil of choice for cooking quesadillas

For Serving: Avocado-Tomato Salsa

(recipe below or salsa of choice and/or vegan sour cream)
Mushroom Bacon Ingredients
8

ounces

(~225g) of King Oyster mushrooms OR shiitake mushroom caps

2

tablespoons

tamari or soy sauce

(I use reduced-sodium tamari)

1

tablespoon

olive oil,

plus more for brushing the pan

1/2

tablespoon

toasted sesame oil

1/2

teaspoon

liquid smoke

(optional but adds that nice smoky flavor)

1/2

tablespoon

pure maple syrup

1/2

teaspoon

smoked paprika

(use more if not using liquid smoke)
Tofu Scramble Ingredients
1

(14-ounce or ~400g) block of extra firm tofu

1/2

teaspoon

kala namak

(also known as Himalayan black salt (or just use sea salt))

Freshly cracked black pepper to taste

1/2

teaspoon

ground turmeric

1/2

teaspoon

paprika

3

tablespoons

nutritional yeast

1/4

cup

(60mL) unsweetened plain nondairy milk

1

tablespoon

olive oil
Avocado-Tomato Salsa Ingredients
1/2

pint

cherry tomatoes

(~150g), quartered

1/2

small red onion,

chopped

1/4

cup

chopped cilantro

(~15g)

1

jalapeño,

diced

1

lime,

juiced

1/2

teaspoon

kosher salt

2

small ripe avocados,

or 1 large ripe avocado, diced
Instructions
Quesadillas Directions
First, make the Mushroom Bacon.

While the mushrooms are marinating or are in the oven, make the Tofu Scramble.

Assemble the quesadillas. Spread an even layer of the vegan cheese (1/2 cup) onto one of the eight tortillas. Arrange 1/4 of the tofu scramble on top (about 1/3 cup) and 1/4 of the mushroom bacon on top. Place another tortilla on top to cover.

Lightly grease a large skillet with a bit of oil and place over medium heat. Once the skillet is hot, add the prepared quesadilla to the skillet. Place a smaller skillet on top of the quesadilla so that it presses down on the quesadilla, resulting in a nice crispy exterior. Cook the quesadillas for 2-3 minutes or until nicely browned on one side, then flip and cook another 1-2 minutes, or until both sides are crispy and nicely browned. Repeat with the remaining sauce, filling, and tortillas.

Serve the quesadillas with the Avocado-Tomato Salsa or salsa of your choice and vegan sour cream, if desired.
Mushroom Bacon Directions
Adjust oven rack to center position and preheat oven to 350°F./175°C. Fit a cooling rack onto a rimmed baking sheet and then line it with a sheet of parchment paper (or aluminum foil). Brush the parchment paper with a bit of olive oil.

Slice the mushrooms. If using King Oyster mushrooms, slice lengthwise into 1/8th- to 1/6th-inch slices. If using shiitake mushrooms, slice lengthwise into 1/4-inch thin slices.

Combine the tamari, 1 tablespoon olive oil, sesame oil, liquid smoke, maple syrup, and smoked paprika in a shallow dish and whisk to combine.

Add the sliced mushrooms, and stir gently to combine. Marinate the mushrooms at room temperature for at least 20 minutes, or up to 60 minutes.

Arrange the mushrooms in a single layer on the baking sheet.

Bake the mushrooms for 20 minutes. Flip mushroom slices carefully with a thin spatula and continue baking until they are well-browned and chewy but crisp, about 20 minutes longer.

Remove from the oven and transfer the mushrooms to a paper towel-lined plate to drain any excess oil.
Tofu Scramble Directions
Press the tofu: place the block tofu on a cutting board lined with paper towels. Cover the tofu with paper towels and then place a heavy cookbook or skillet on top of the tofu block. Press for at least 10 minutes, or up to 30 minutes.

Crumble the pressed tofu with a fork or your hands into large chunks.

Mix together the kala namak (or sea salt), black pepper, turmeric, paprika, and nutritional yeast in a small bowl. Pour in the almond milk and whisk to combine.

Heat a large skillet over medium-high heat. Once hot, add the olive oil. Then add the crumbled tofu and break it apart as needed with a wooden spoon or spatula. Add the spice mixture and stir until well combined. Cook for 5 to 7 minutes until the tofu is lightly browned.
Avocado-Tomato Salsa Directions
In a bowl, combine all of the ingredients except for the avocado and stir to combine. Then add in the avocado and gently toss to combine, taking care not to mash the avocado. Taste, and add more salt or lime juice as needed.
---
Calories:
502
kcal
|
Carbohydrates:
53
g
|
Protein:
16
g
|
Fat:
26
g
|
Saturated Fat:
6
g
|
Polyunsaturated Fat:
4
g
|
Monounsaturated Fat:
9
g
|
Sodium:
898
mg
|
Potassium:
711
mg
|
Fiber:
8
g
|
Sugar:
6
g
|
Vitamin A:
425
IU
|
Vitamin C:
17
mg
|
Calcium:
167
mg
|
Iron:
5
mg