This Vegan Tuna Salad is a game-changer for lunch. It has the same classic American flavors of tuna salad, but is 100% plant-based.
Plus, it's ridiculously simple to make. Just add a handful of ingredients to your food processor, and lunch is ready in 5 minutes. It's ideal for meal prep and it can be served in so many different ways.
If you miss tuna salad, this recipe is an excellent way to satisfy those nostalgic cravings in a more wholesome, sustainable way.
Table of Contents
1. Recipe video
2. Why this recipe works
3. Ingredient notes
4. Step-by-step instructions
5. Tips for making this recipe
6. What to serve this with
7. Recipe card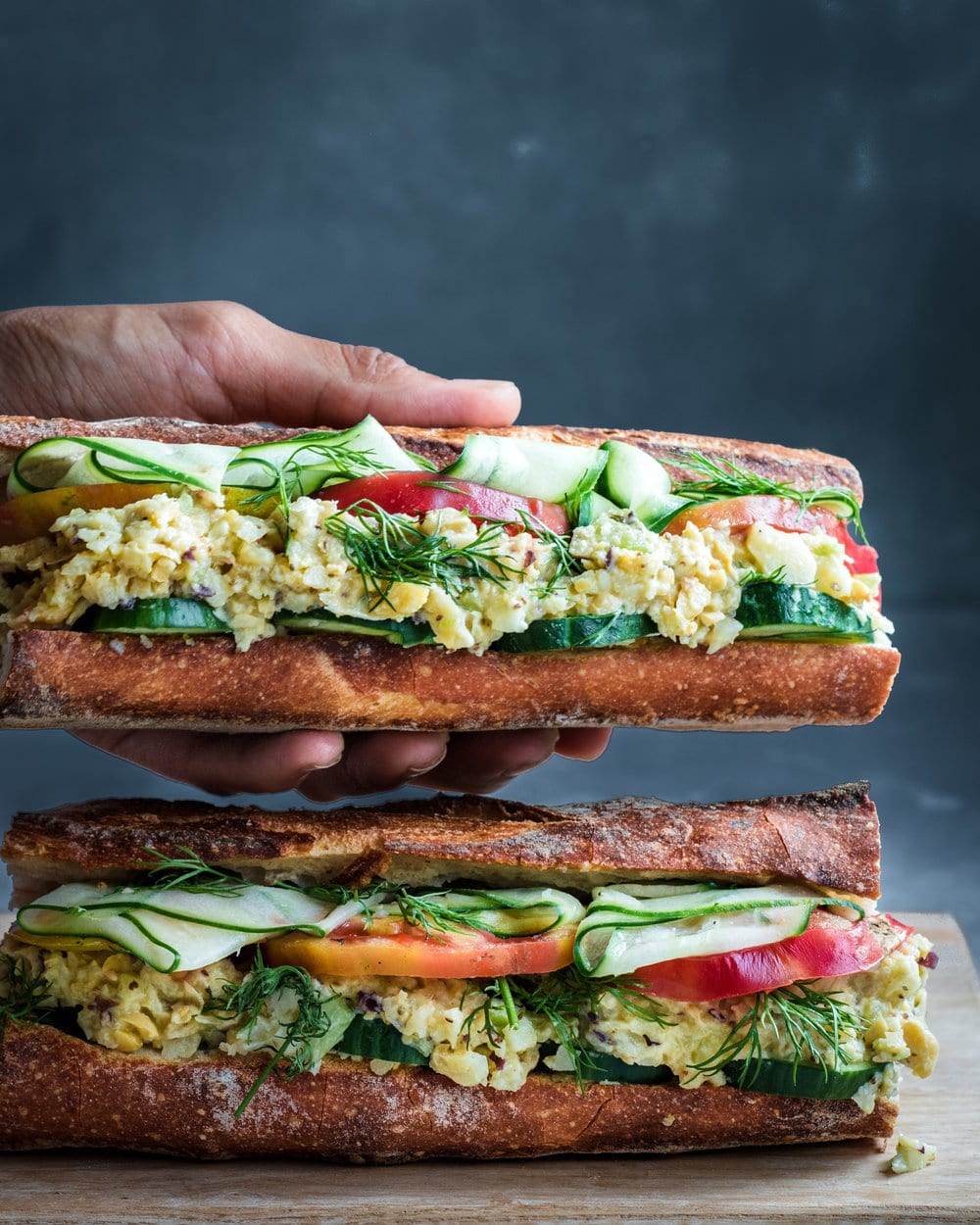 Watch: How to make Vegan Tuna Salad!
Why this recipe works
It tastes so much like tuna salad.
This vegan tuna salad tastes like the real deal through a careful balance of flavors and textures (but no fishies were harmed, it's more sustainable, and there's no mercury to worry about).
First, the texture of canned tuna is easily replicated through a mixture of pulsed chickpeas and buttery, nutty hearts of palm. A mixture of vegan mayo and Dijon mustard add the requisite creaminess and classic creamy tang required of a tuna salad.
Next, the combination of celery, celery seeds, and dill pickle relish add those classic American flavors, evoking those nostalgic childhood flavors. Finally, nori adds that characteristic taste of the sea without tasting fishy.
It's super simple to make.
All you need is 5 minutes and a food processor to make this vegan tuna salad.
The perfect lunch meal prep.
This salad stays well in an airtight container in the fridge for 5 to 6 days, so you can make a double batch and eat it throughout the week. It's also versatile, so you can serve it in multiple ways (check out the "How to serve" section below).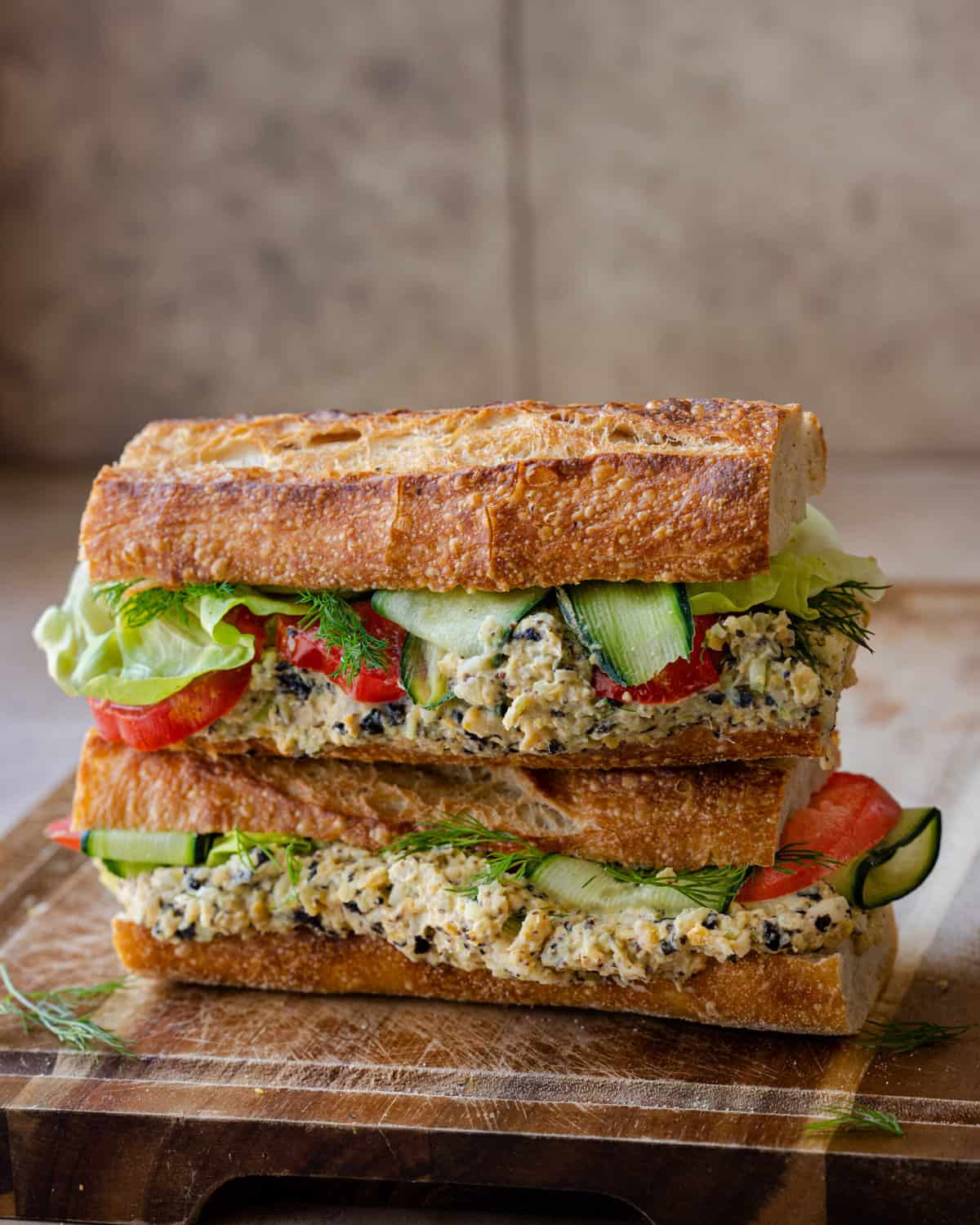 Ingredient notes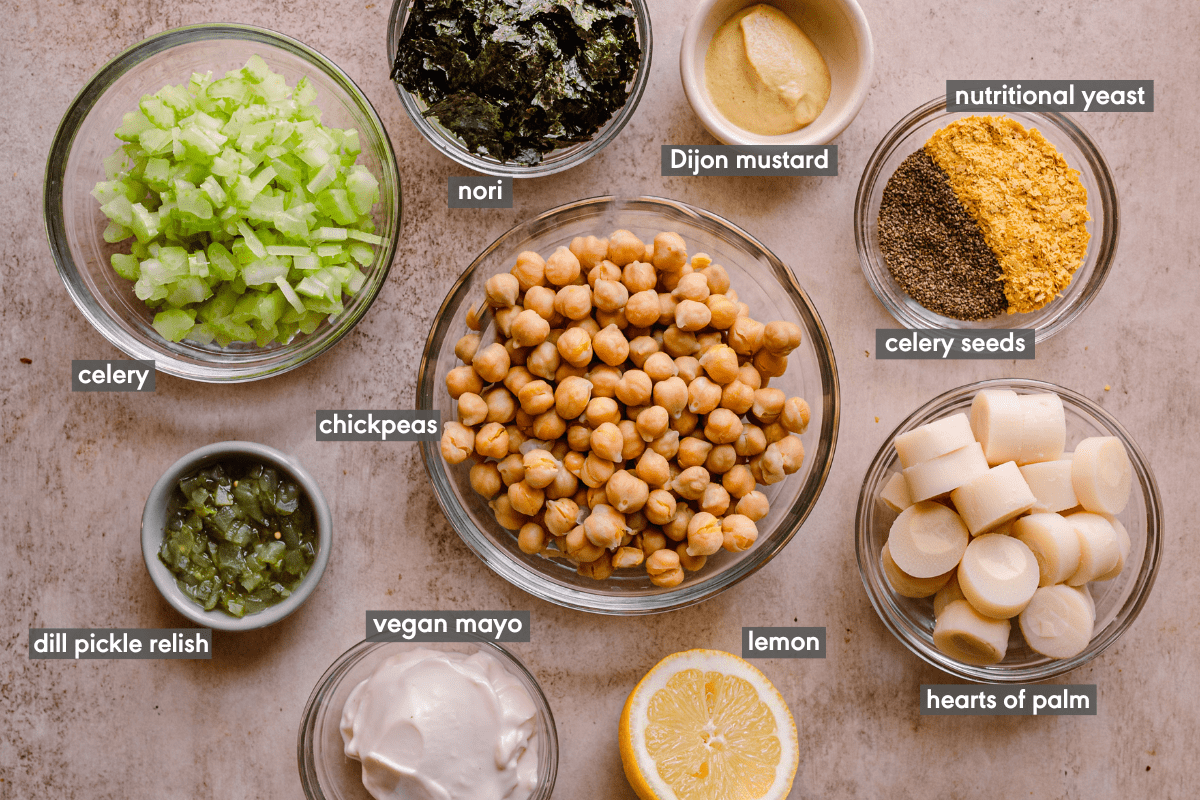 Chickpeas: Like many faux tuna salads, the base of this salad includes chickpeas. When you pulse them in the food processor, they break down and help form the hearty, chunky base of this salad. I use canned chickpeas for ease, but if you cook chickpeas from scratch, it'll make the salad even better.
Hearts of Palm: Hearts of palm make up the other base of this salad. Hearts of palm come from the center of a cabbage palm tree, and are sold in cans. Their tender yet relatively firm texture makes for an excellent alternative in seafood dishes, including this Vegan Ceviche.
If you don't have access to hearts of palm, use an equal amount of chickpeas.
Nori: This is what makes this tuna salad taste like tuna. Nori is an edible seaweed and most often sold in sheets. It has a salty, ocean-like flavor, which makes it an excellent addition in vegan seafood recipes.
For extra flavor, I like to toast the sheet of nori over a low gas flame for about 10 seconds.
Dill Pickle Relish: Any good tuna salad has just the slightest hint of sweetness to balance, well, the fishiness of tuna. This ingredient brings a little sweetness and crunch to the tuna salad that reminds me of the classic tasting salad sandwiches.
Celery Seeds + Celery: Celery seeds bring a distinctly American flavor to many dishes (e.g., tuna salad sandwich, chicken soup, corn chowder. You can find them in the spices/seasoning section of most grocery stores. They bring a light vegetal flavor that balances the rich creaminess of the vegan mayo.
Vegan Mayo: Because classic tuna salad needs a creamy tang and a binder. Our go-to brand of vegan mayo is Follow Your Heart Vegenaise, but we also like Sir Kensington's vegan mayo.
Nutritional Yeast: To mimic some of the umami found in tuna, I add nutritional yeast, but you could also try a tablespoon of white miso paste.
Lemon Juice: The creamy texture and notes of umami need some balance from a fresh squeeze of lemon juice.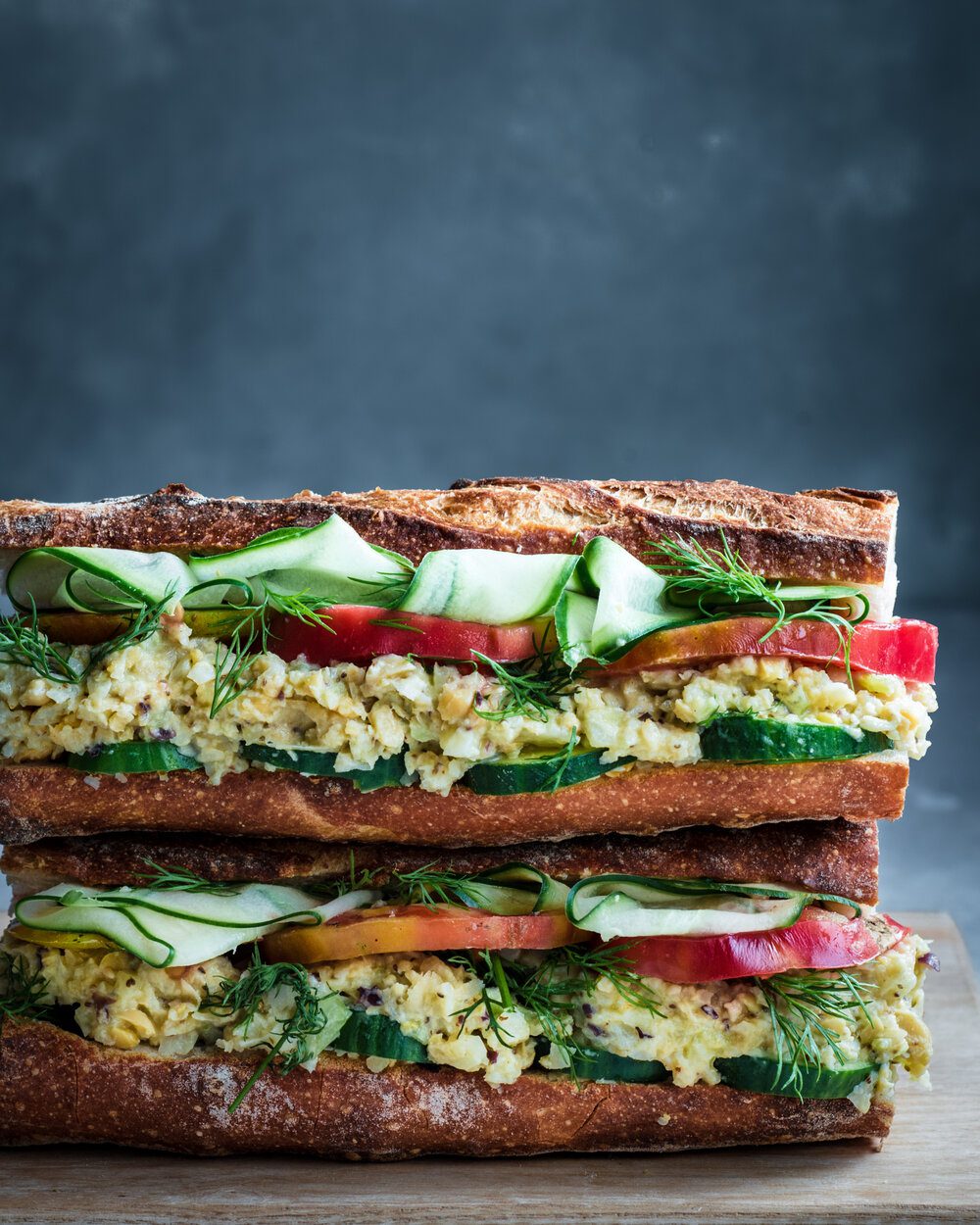 Step-by-Step instructions
Add all of the ingredients to the bowl of your food processor: chickpeas, hearts of palm, vegan mayo, mustard, celery, celery seeds, dill pickle relish, nutritional yeast, lemon juice, and crumbled nori.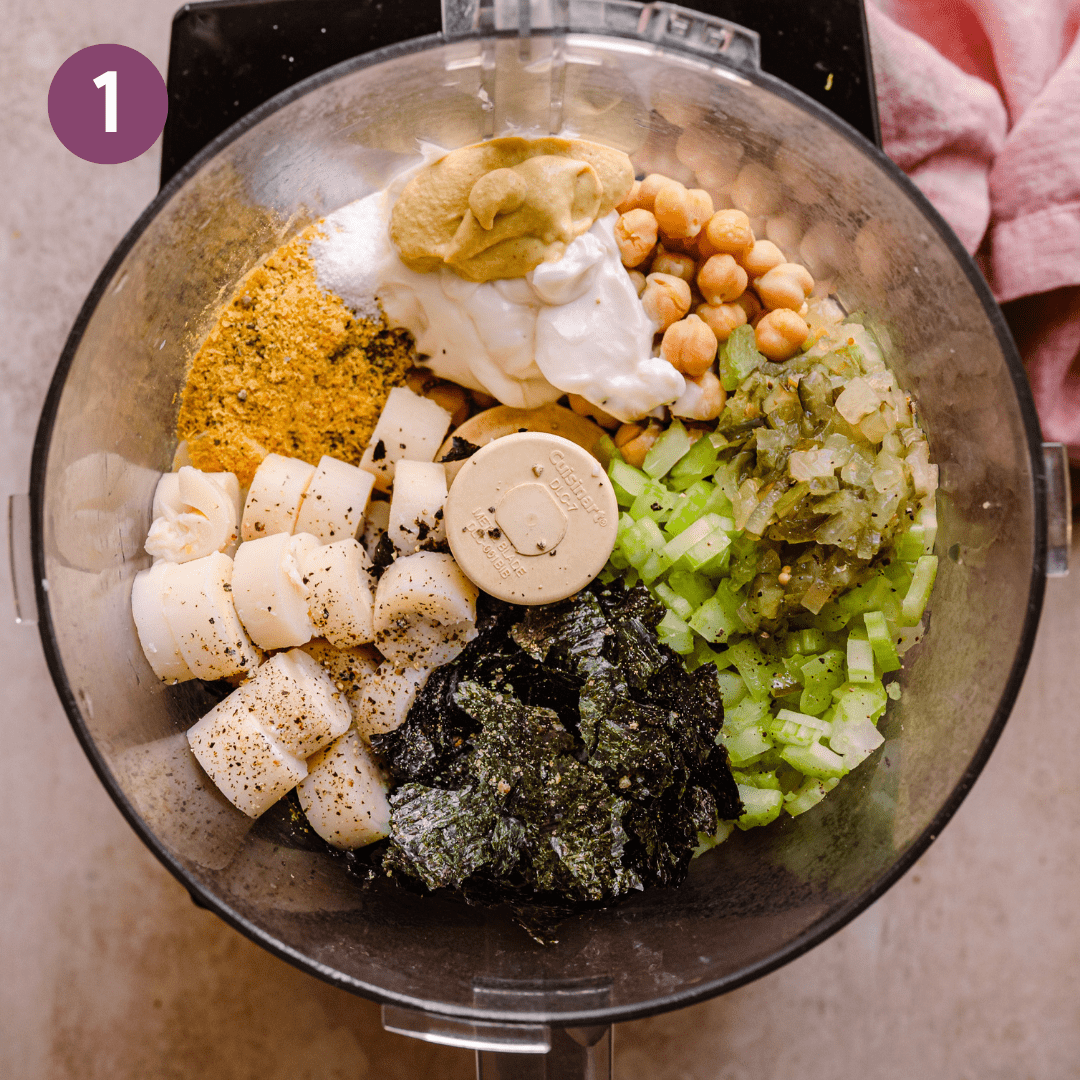 Pulse the mixture until well incorporated but still a bit chunky. Season to taste with salt and pepper, but stir it in by hand to avoid over-blending.
That's it!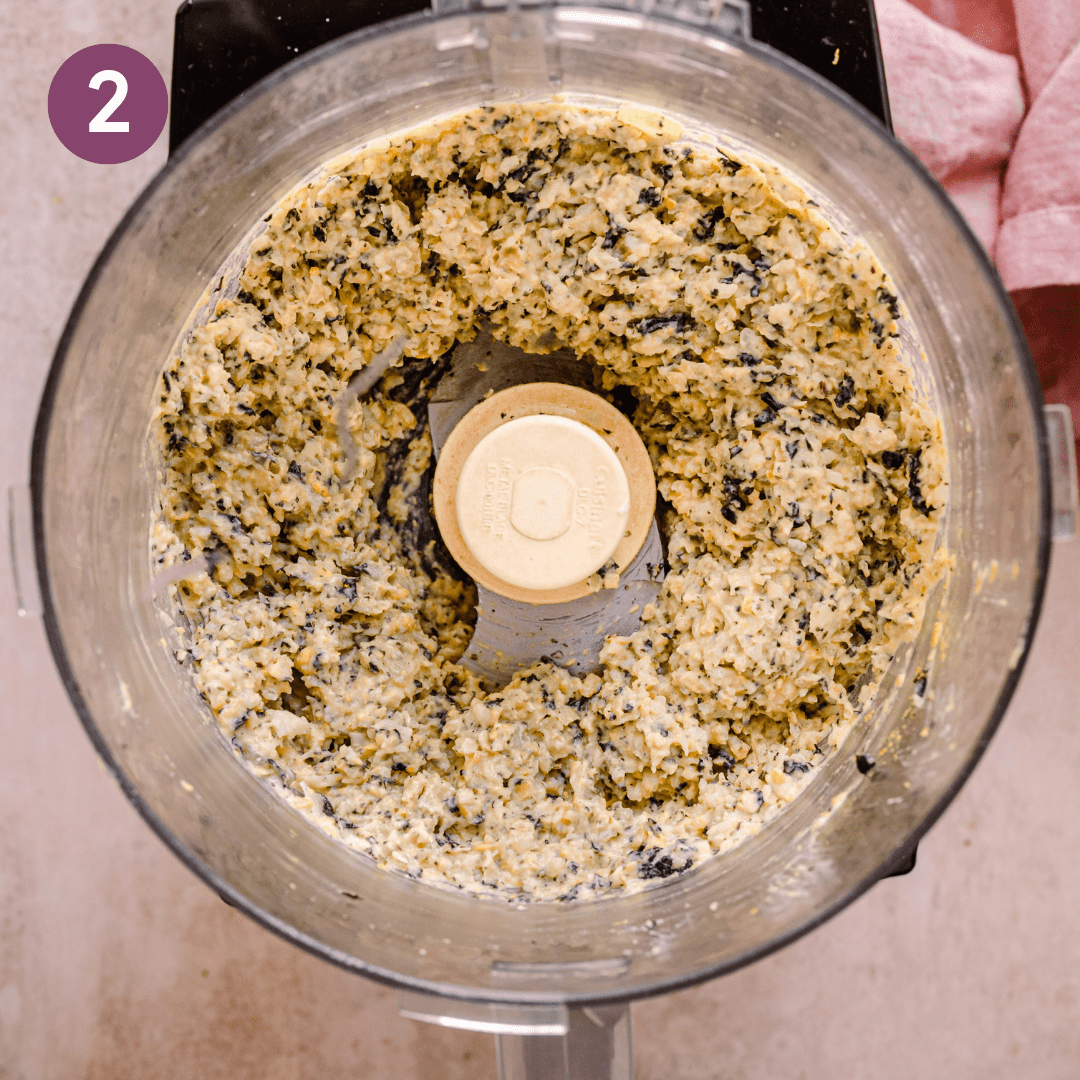 To make a sandwich, scoop a few dollops of the vegan tuna salad onto a slice of bread.
Layer the other half with sandwich fixings, like sliced tomatoes, lettuce leaves, cucumber ribbons. For extra creamy richness, add a thin layer of vegan mayo on this slice of bread before adding the fixings.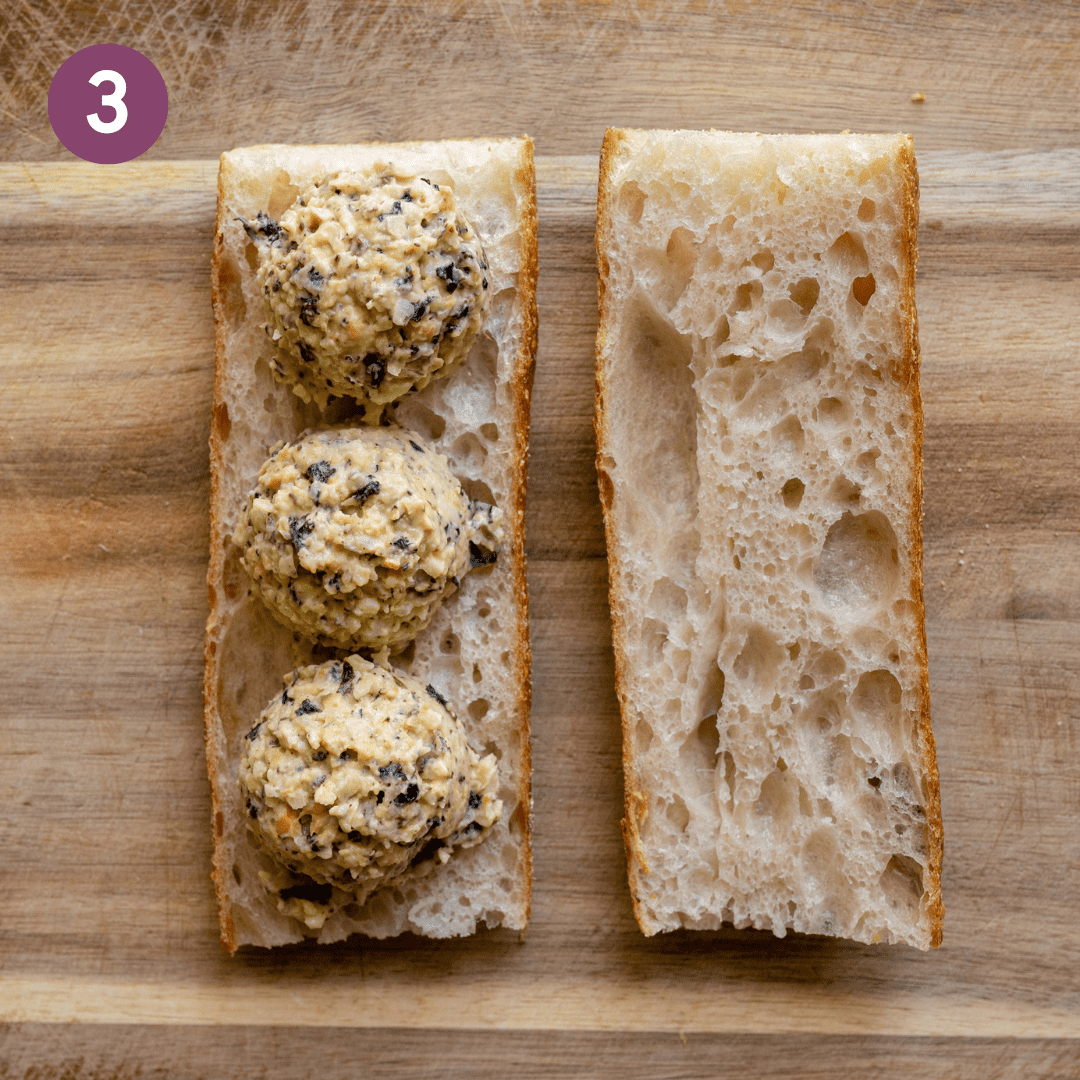 Tips for making this recipe
Use the pulse function of your food processor.
If you blend the tuna salad, it will develop a weird pureed texture, almost like pâté. Pulse about 10 times, or until the mixture is well-mixed but still a little chunky so you keep some texture. If needed, pulse just a few more times.
Make a double batch.
This stores well in the fridge in an airtight container for 5 to 6 days, so you can have it for lunch throughout the week (if you want).
Don't skip the nori.
If you really want to replicate the taste of tuna, the seaweed is necessary. If you don't care about that taste, though, it's fine to omit.
Make it your own.
If you love diced red onion in tuna salad, toss some in. Hate celery? Omit it. Want to up the veggie factor? Diced red bell pepper makes a nice addition. Want an extra tangy pop? Add a tablespoon of capers.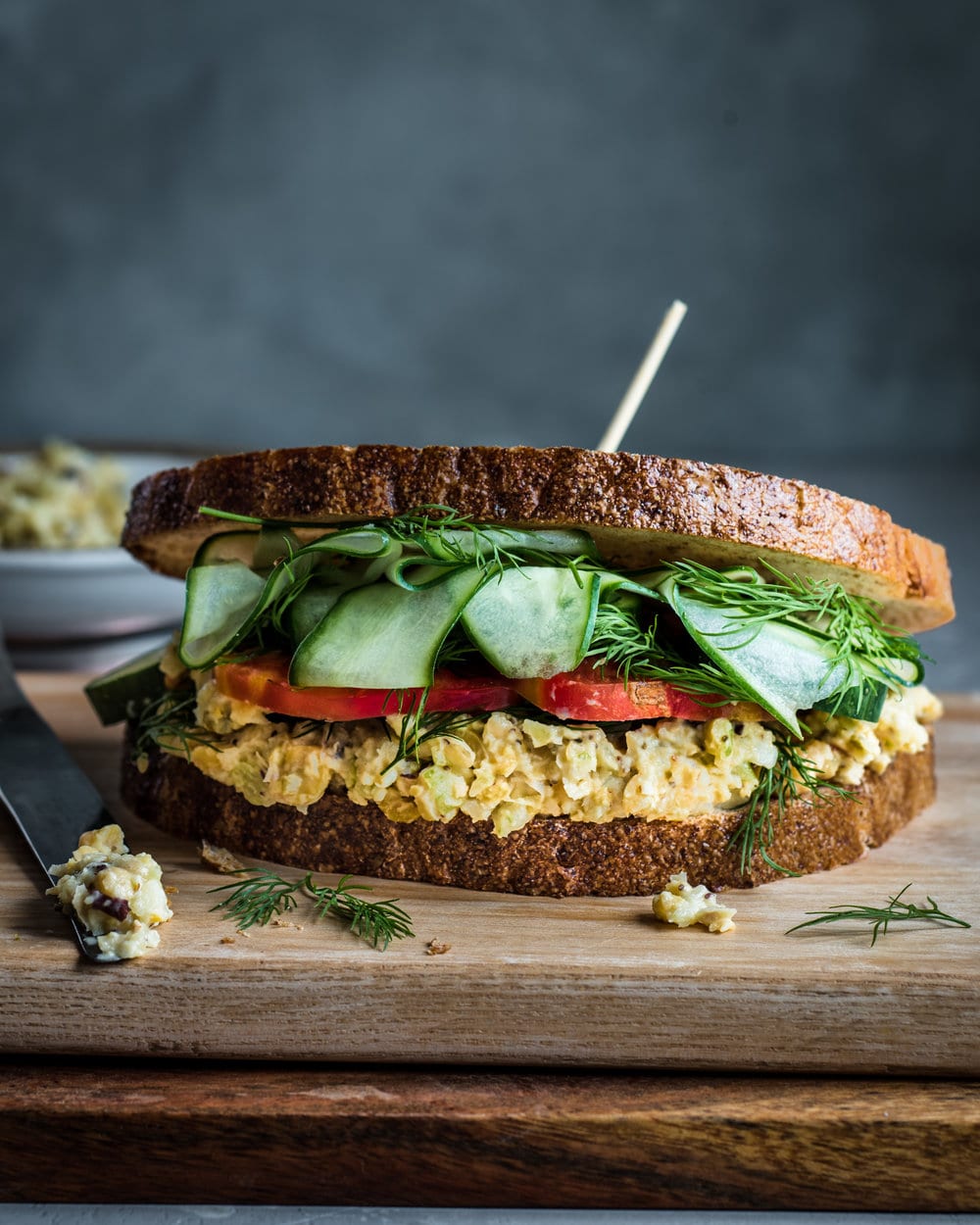 How to serve vegan tuna salad
Dollop it onto sandwich bread and add your favorite fixings for a quick and easy sandwich. Or spread onto a large tortilla for a wrap.
Or, make an open-faced tuna melt. Scoop the tuna salad high onto one slice of toasted bread (for extra richness, spread a thin layer of vegan butter on this slice of bread first). Add one slice of vegan cheese on top. Place underneath your broiler and broil until the cheese has melted (keep a close eye to avoid burning). We like Chao Creamery slices for a neutral taste and easy meltability.
Add a few scoops of tuna salad to a big bowl of chopped romaine, and add pickled onions, corn, cherry tomatoes, or any of your favorite salad toppings. Finish with an olive oil based vinaigrette, or for something richer, use my Vegan Ranch Dressing.
Scoop the tuna salad into lettuce cups for a low-carb lunch option. Add diced avocado to make it more filling.
Serve in a bowl as a party appetizer with crackers, or as a healthy afternoon snack with crudités.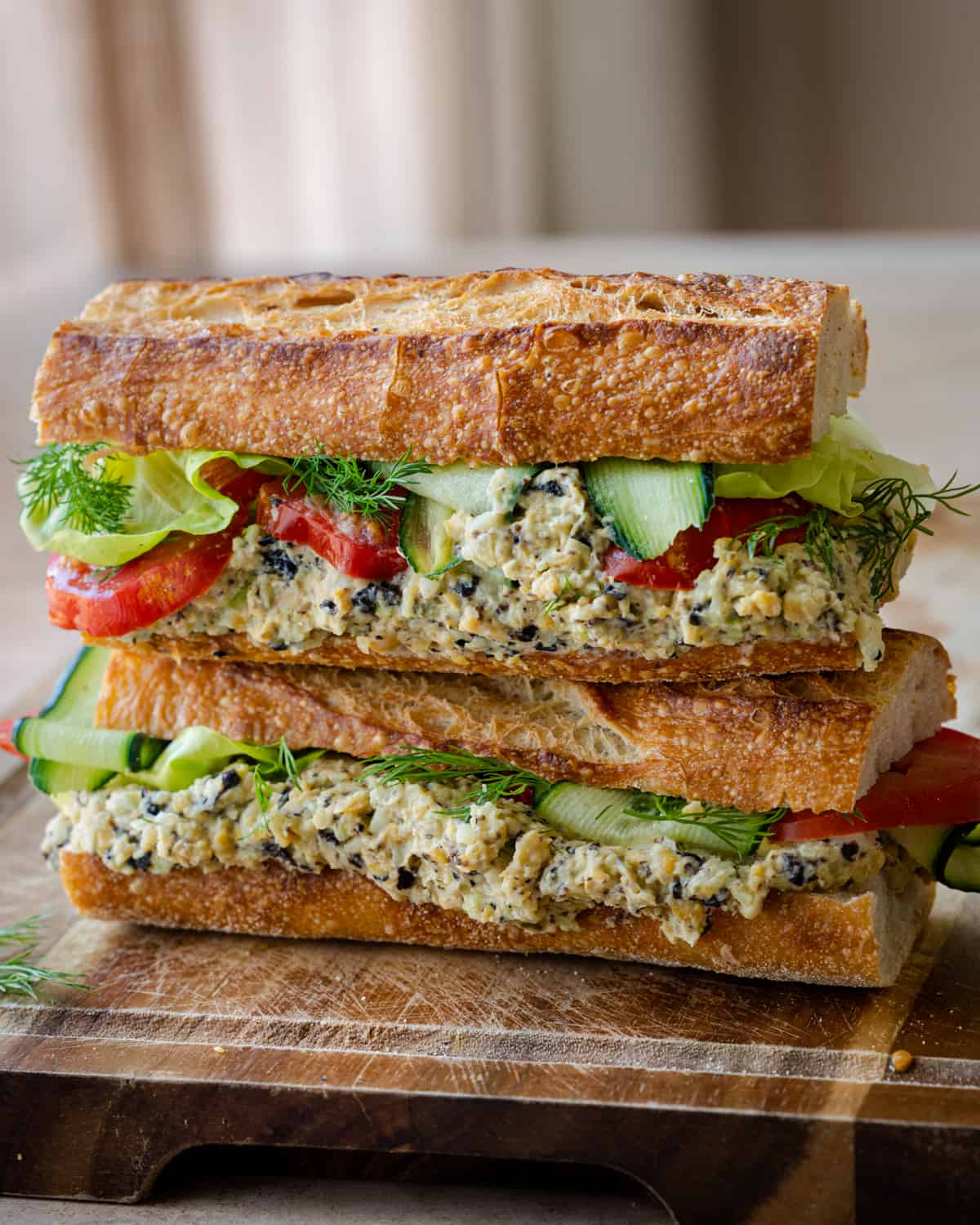 That's all you need to know about this Vegan Tuna Salad! If you love it, please rate and review the recipe below, and as always, I love seeing your recreations on Instagram.
Vegan Tuna Salad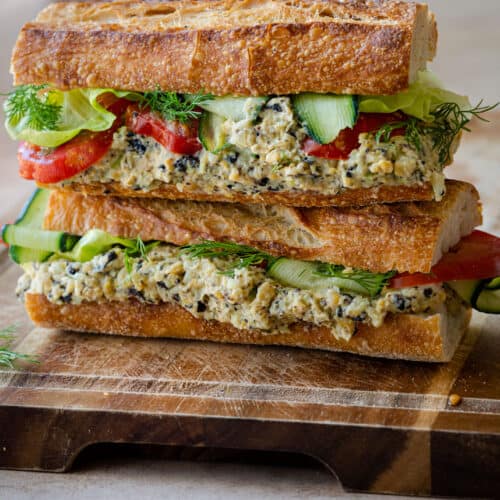 This Vegan Tuna Salad will have you saying "I can't believe it's not tuna!" It's made with chickpeas and hearts of palm for the perfect texture, full of classic American flavors like celery and pickle relish, and seasoned with nori for a taste of the sea. Ready in 10 minutes and perfect for lunch meal prep.
Ingredients
1

(15-ounce/425g)

can chickpeas,

drained and rinsed

1

cup

canned hearts of palm,

drained and rinsed and roughly chopped (165g)*

1/3

cup

(75g) vegan mayo**

1

tablespoon

Dijon mustard

(or spicy brown mustard)

2

celery ribs,

diced

2

teaspoons

celery seeds

2

tablespoons

dill pickle relish

(or sweet pickle relish)

2

tablespoons

nutritional yeast

2

nori sheets,

crumbled with your hands into small pieces

2

tablespoons

freshly squeezed lemon juice

1/4

teaspoon

kosher salt

Freshly cracked black pepper
For serving (sandwich)
8 slices of hearty sandwich bread

or sliced baguette

Sandwich fixings of choice: romaine or leaf lettuce,

sliced or shaved cucumber, sliced tomatoes, fresh dill sprigs, pickles
Instructions
In a food processor bowl, combine the chickpeas, hearts of palm, mayo, mustard, celery, celery seeds, relish, nutritional yeast, crumbled nori, lemon juice, salt, and several cracks of pepper.

Do not blend! Pulse about 10 to 15 times, until incorporated and combined but still chunky.

Taste, adding more salt and pepper as needed. But stir them in by hand instead of pulsing to avoid over-blending.

If making sandwiches, spread the tuna salad onto four slices of bread. Top with your desired sandwich toppings. Top each with another slice of bread (for extra richness, add a thin layer of vegan mayo to this slice of bread). Enjoy!
Notes
*If hearts of palm aren't available, sub with more chickpeas. 
** We like Follow Your Heart Vegenaise and Sir Kensington's vegan mayo in the RPL kitchen. 
---
Calories:
218
kcal
|
Carbohydrates:
21
g
|
Protein:
4
g
|
Fat:
13
g
|
Saturated Fat:
1
g
|
Polyunsaturated Fat:
0.1
g
|
Monounsaturated Fat:
0.3
g
|
Sodium:
243
mg
|
Potassium:
1186
mg
|
Fiber:
2
g
|
Sugar:
10
g
|
Vitamin A:
130
IU
|
Vitamin C:
8
mg
|
Calcium:
33
mg
|
Iron:
2
mg