This Vegan Tuna Salad Sandwich is a game-changer for back-to-school or office lunches!
I recently started a Vegan Alternatives series on Instagram. It came about after I asked a series of questions about which non-vegan foods you struggle with giving up on your quest to adopt a plant-based diet or vegan lifestyle. So far, I've done a series on cheese—how I quit my cheese habit when I went vegan, homemade vegan cheese recipes, and my favorite store-bought options—as well as other dairy products such as milk, yogurt, ice cream, and butter.
Which brings me to my next series (currently in the works), and arguably the most difficult one—meat and fish. While there are considerable store-bought options for meat (from the meaty Beyond Burger to more traditional classics like black bean burgers) and even plenty of homemade recipes for meat substitutes (you should really try the Jamaican Jerk Jackfruit Tacos from my cookbook), there aren't a ton of substitutes for fish.
Yes, there are a couple of wonderful startups that are offering sustainable, plant-based alternatives to fish, like Good Catch Tuna, but for the most part, these products are currently hard to come by and generally pretty pricy.
Which is why I am so excited to share my recipe for Vegan Tuna Salad Sandwich! I'm going to dive into all of the ingredients but first, here's a Youtube video showing you just how easy it is to make this recipe (along with two other delicious vegan back-to-school lunch ideas)!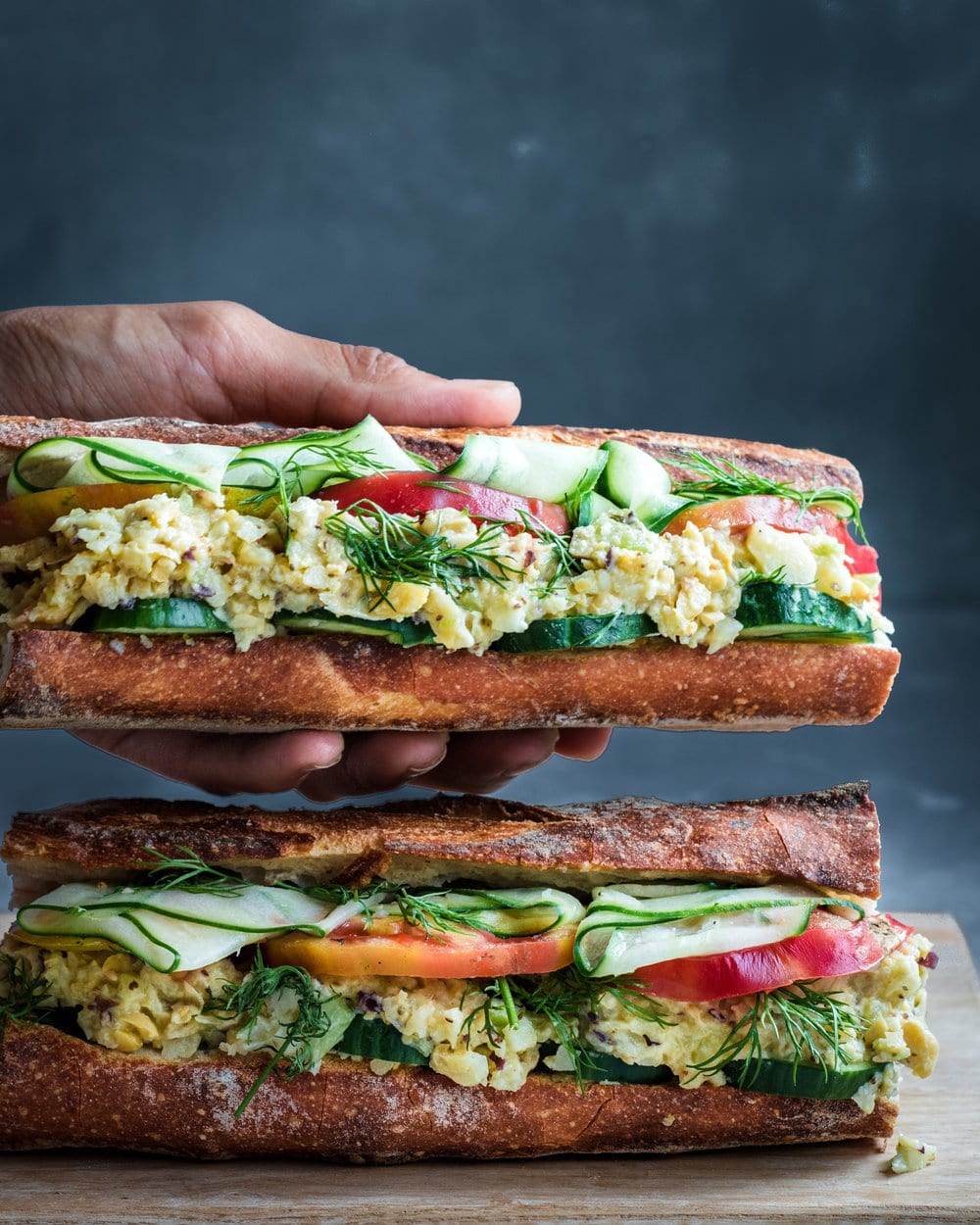 Watch! How to make a Vegan Tuna Salad Sandwich
Skip ahead to the 2:20 mark for a step by step tutorial!
What's in this Vegan Tuna Salad Sandwich?
I tested this Vegan Tuna Salad Sandwich recipe several times before perfecting it so that it truly tastes like tuna salad! Each ingredient plays a certain role, so let's talk ingredients!
Chickpeas: Like many faux tuna salads, this recipe includes chickpeas. When you pulse them in the food processor, they break down and help form the hearty, chunky base of this salad.

Hearts of Palm: But chickpeas aren't the only base in this salad. Hearts of palm comprise the other half. Hearts of palm come from the center of a cabbage palm tree, and are sold in cans. They are sort of similar to artichokes and have a delicate flavor, but they are smoother in texture. They have an almost buttery interior and a slight nutty taste, and their tender yet relatively firm texture makes for an interesting alternative in seafood dishes.

Dulse Flakes: This is what makes this tuna salad taste like tuna. Dulse is an edible seaweed and most often sold in dried, flaked forms. It has a salty, ocean-like, even smoky taste, which makes it an excellent addition in vegan seafood recipes.

Sweet Pickle Relish: While not every tuna salad features sweet pickle relish, any good tuna salad has just the slightest hint of sweetness to balance, well, the fishiness of tuna. This ingredient brings a little sweetness and crunch to the tuna salad that reminds me of the best-tasting tuna salad sandwiches.

Celery Seeds + Celery: One of the most classic ingredients in tuna salad is celery, but because I really want to mimic the flavors of tuna (without using tuna), I am bringing in celery on double duty. This recipe uses both fresh celery (sliced thinly) and celery seeds. Celery seeds, though not talked about frequently, bring a distinctly American flavor to many dishes (think tuna salad sandwich, chicken soup, corn chowder) and can be found in the spices/seasoning section of most grocery stores. They bring a light vegetal flavor that balances the rich creaminess of the vegan mayo,

Vegan Mayo: Because classic tuna salad has mayo! Plus, the filling needs something to bind it together. I love using the Fabanaise from Sir Kensington's.

Spicy Brown Mustard/Dijon Mustard: For the same reason as above!

Nutritional Yeast: Since tuna (and all animal protein is high in umami), I wanted to add a source of plant-based umami. I chose nutritional yeast, but you could also try a tablespoon of mild miso paste.

Lemon Juice: The creamy texture and notes of umami need some balance from a fresh squeeze of lemon juice. As I've written elsewhere, I almost always finish a heavy or creamy dish with some acid at the end.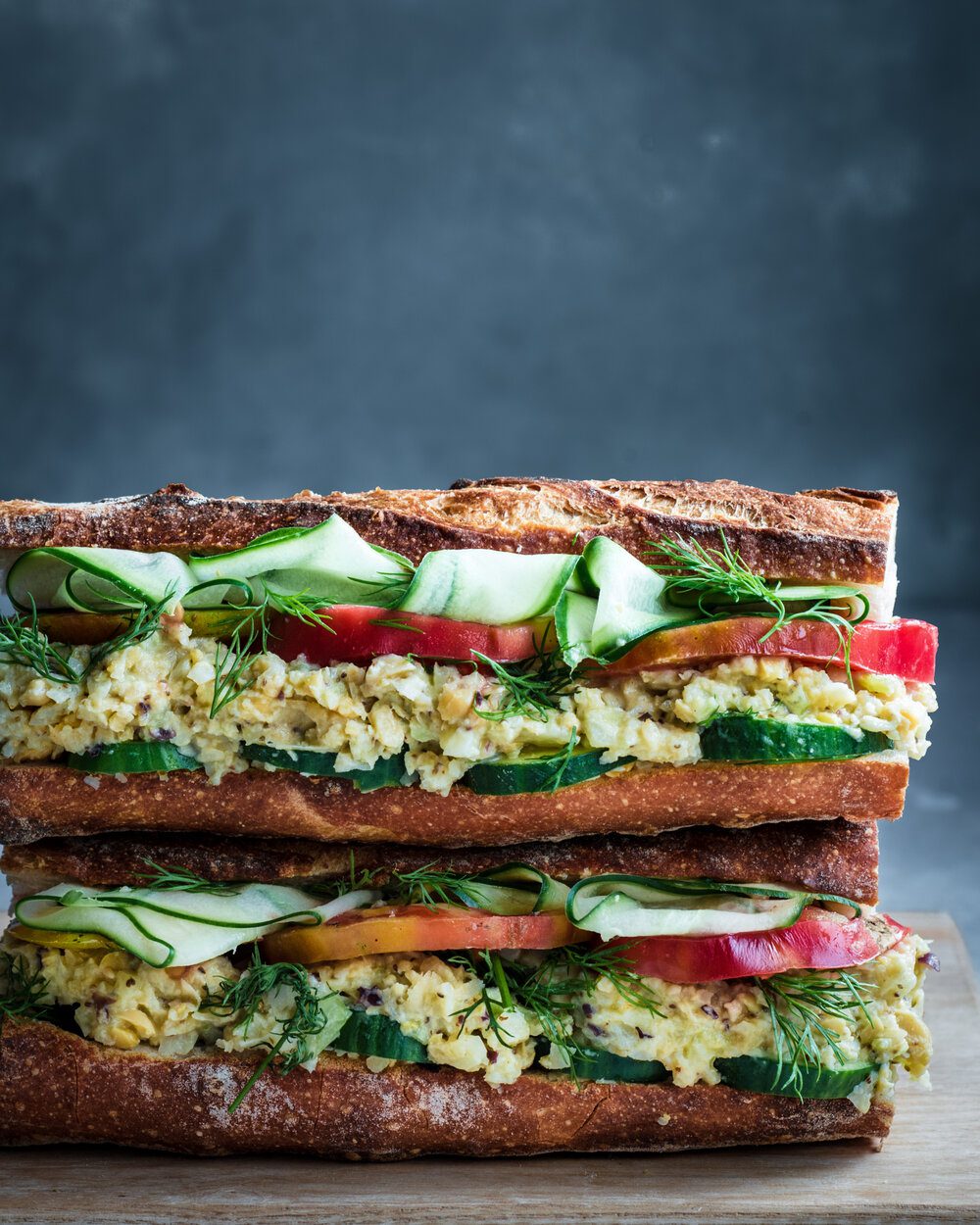 Why you'll love this recipe
Now that I've given you a thorough description of the ingredients, let's talk about why I love this Vegan Tuna Salad Sandwich and think you will too!
It's incredibly simple to make – all you need is 5 minutes and a food processor!

Did I mention it tastes EXACTLY like tuna salad sandwich but (1) no fish were harmed and (2) it's 1000% times more sustainable than eating real tuna? And free of mercury?

This salad stays well in the fridge for at 3-4 days, so you can make a big batch and eat it throughout the week.

It satisfies any craving you might have for fish, animal proteins, umami, etc. Simply satisfying!

It makes a fantastic packed lunch, whether you're in school or heading to the office (see video above)!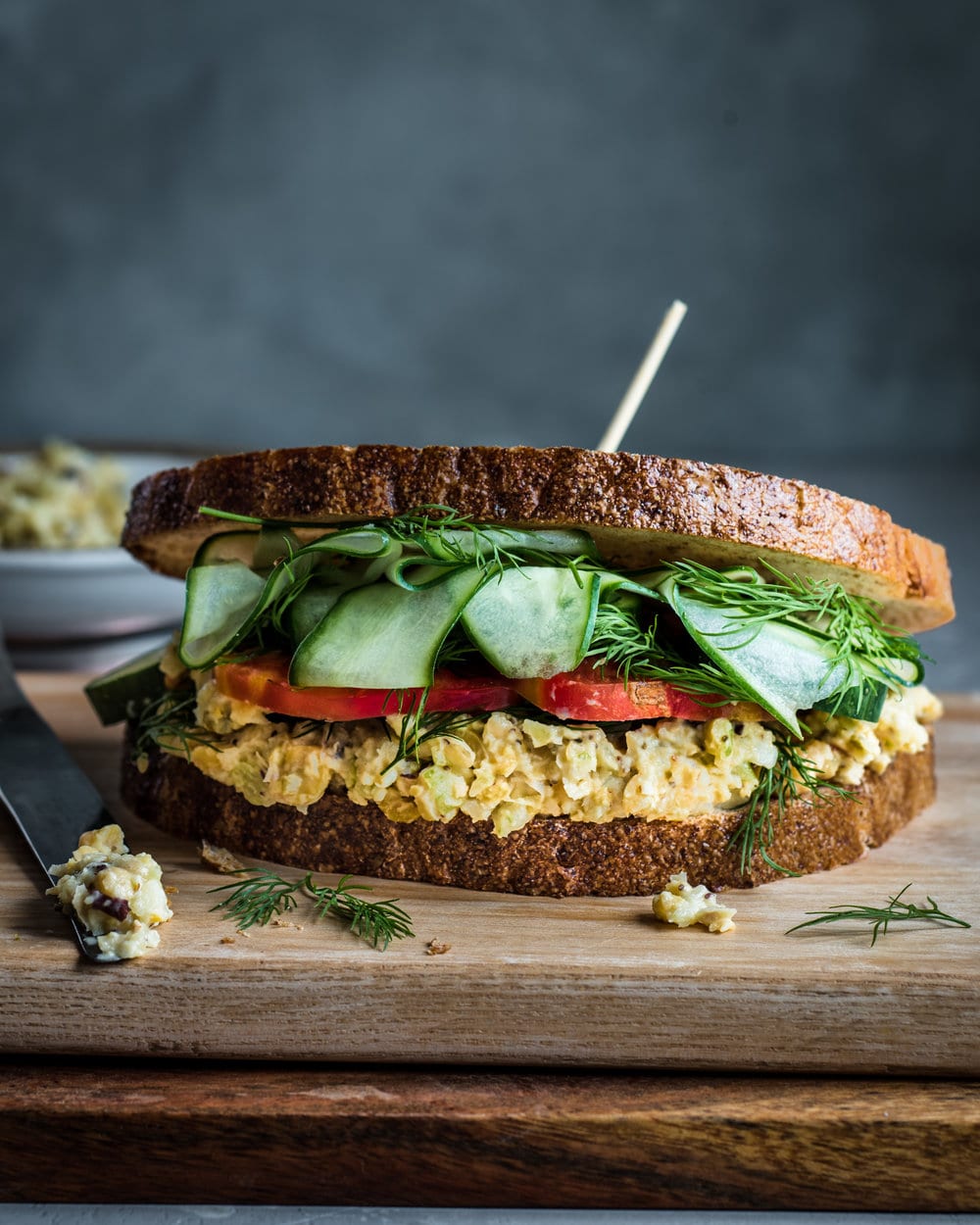 If you try this Vegan Tuna Salad Sandwich out, be sure to leave me a comment below with your feedback . and tag me with your recreations on Instagram!
Vegan Tuna Salad Sandwich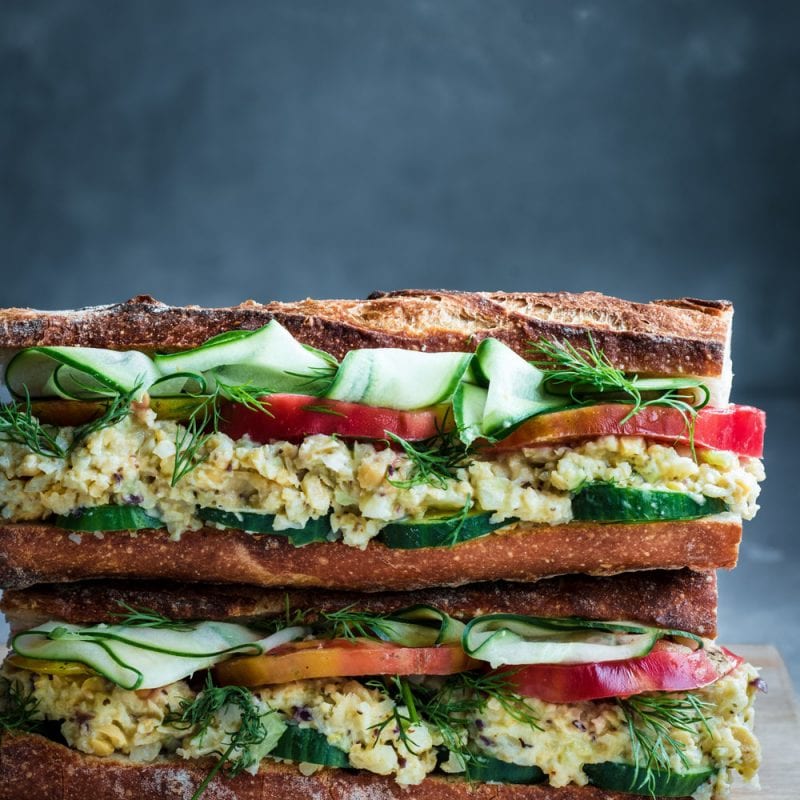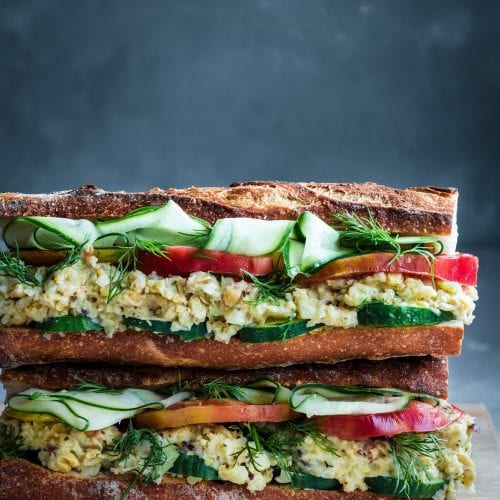 This Vegan Tuna Salad Sandwich is made with chickpeas and hearts of palm, seasoned with dulse flakes for a taste of the ocean, and finished with classic American ingredients like sweet pickle relish. It's the new "I can't believe it's not tuna!"
Ingredients
1

(15-ounce) can chickpeas, rinsed and drained

1

cup

canned hearts of palm,

rinsed and drained

1/3

cup

vegan mayo,

(I used Sir Kensington's Fabanaise)

4

teaspoons

spicy brown mustard,

or regular mustard

2

celery ribs,

diced

2

teaspoons

celery seeds

2

tablespoon

sweet pickle relish

2

tablespoons

nutritional yeast

2

Nori sheets,

crumbled (or substitute with Dulse flakes)

2

tablespoons

fresh lemon juice

Sea salt or kosher salt to taste

For serving: 8 slices of hearty whole grain bread,

or sliced baguette (use gluten-free bread for a gluten-free option)

Optional sandwich toppings: romaine or leaf lettuce,

sliced or shaved cucumber, sliced tomatoes, fresh dill sprigs, pickles
Instructions
Place all of the ingredients for the tuna salad (chickpeas through lemon juice) in a food processor. Pulse 15-25 times, not more than 20 seconds, until well-incorporated and combined but still chunky. Season to taste, adding salt as needed.

Spread the tuna salad onto four slices of bread bread and top each optional sandwich toppings if desired. Top each with another slice of bread and enjoy.
---
Calories:
457
kcal
|
Carbohydrates:
60
g
|
Protein:
16
g
|
Fat:
17
g
|
Saturated Fat:
2
g
|
Polyunsaturated Fat:
2
g
|
Monounsaturated Fat:
1
g
|
Sodium:
794
mg
|
Potassium:
1477
mg
|
Fiber:
10
g
|
Sugar:
15
g
|
Vitamin A:
228
IU
|
Vitamin C:
9
mg
|
Calcium:
162
mg
|
Iron:
5
mg