This Vegan Ranch Dressing is about to become your new best friend.
It's phenomenally creamy, has the perfect amount of acidity to tingle your tastebuds, and packs in a wonderfully herby, oniony, garlicky bite. All the flavors and textures you love about ranch dressing but made vegan! And yes, it tastes exactly like classic ranch.
Even better, it takes just 5 to 10 minutes to whip up and is so much better than any store-bought alternative.
It's the perfect vegan salad dressing for all your crunchy salads, but also works fabulously as a dip for crudités, pizza, vegan wings, and potatoes.
Table of Contents
1. Why this recipe works
2. Ingredient notes
3. Step-by-step instructions
4. Tips for making this recipe
5. Frequently Asked Questions
6. Recipe card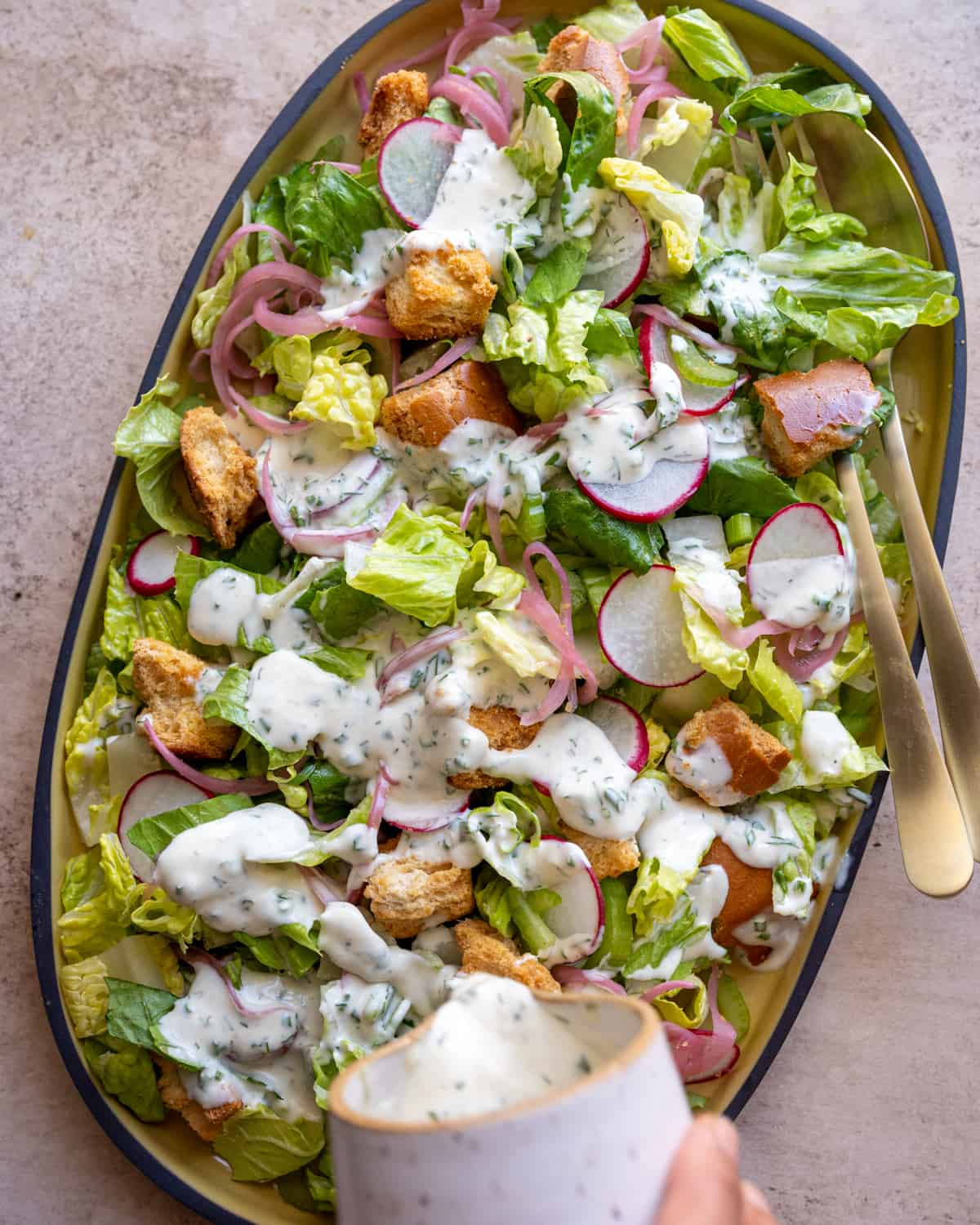 Why this recipe works
It tastes like the real deal (but better).
There are three main components that make up a ranch dressing: (1) creaminess, which comes from some combo of mayo, sour cream and buttermilk; (2) herbaceousness, typically from dill and/or parsley; and (3) alliums (onion and garlic).
This vegan ranch dressing has all of that (and a little extra).
The vegan mayo adds the requisite creamy tang with just a subtle hint of sweetness. And using fresh garlic, dill, and chives adds tons of sharp, garlicky, herby flavor that are mandatory in a ranch dressing.
We did a blind taste test comparing my ranch recipe to three store-bought vegan ranch dressings.

Since I (and my recipe tester Hannah) haven't had classic ranch dressing since going vegan, I asked my partner Max to join the taste test. His favorite way to eat pizza is with a side of ranch, so he's pretty much the ideal taste tester for this.

Max was blown away. And said this was the best ranch dressing he's ever tasted, vegan or not.
It's shockingly easy and quick to make.
This ranch dressing takes 5ish minutes to whip up and requires just one bowl, so you can make it a moment's notice with minimal dishes.
PS: If you are looking for another easy and quick creamy dip, my Vegan Aioli is SO good (and quite wholesome!).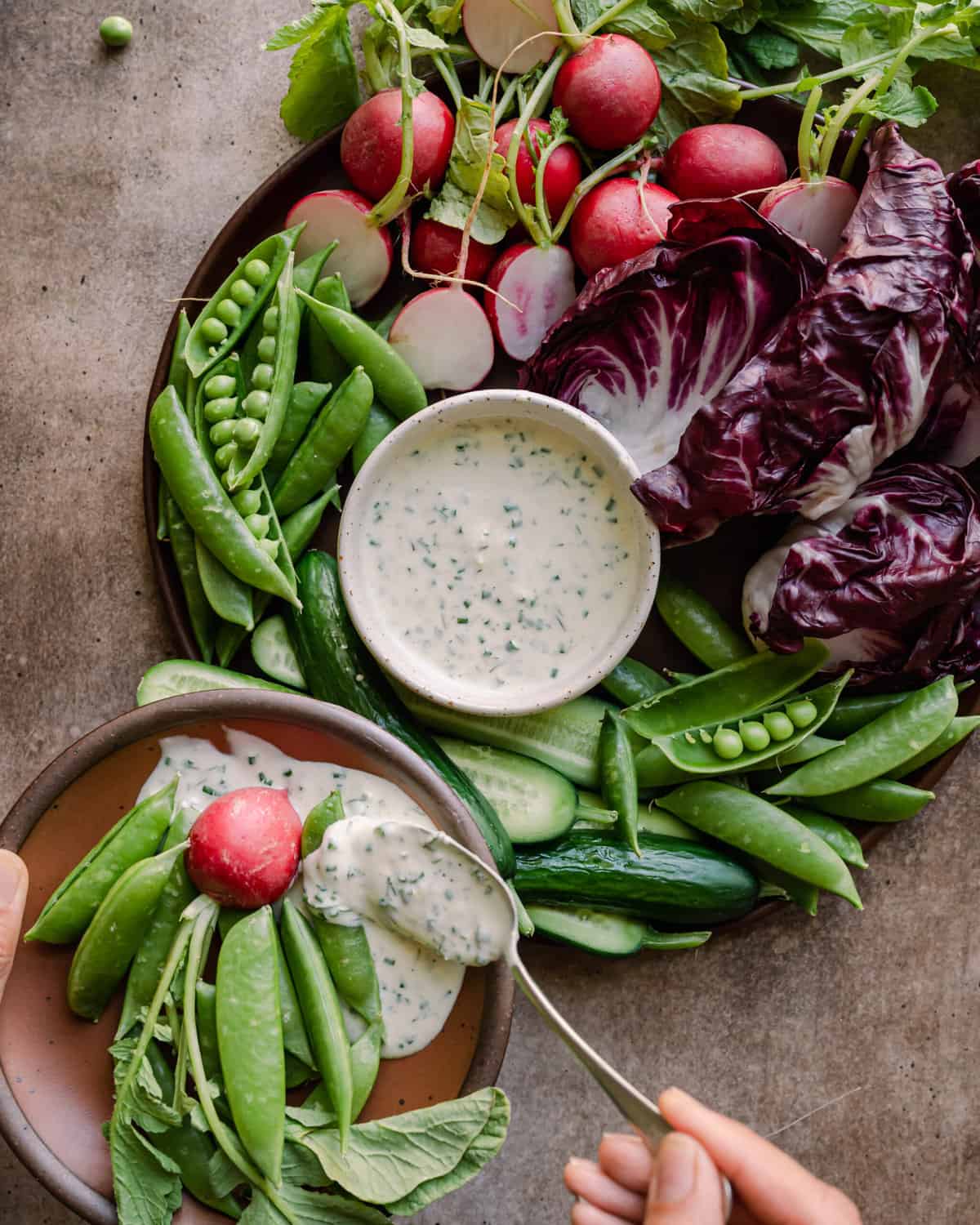 Ingredient notes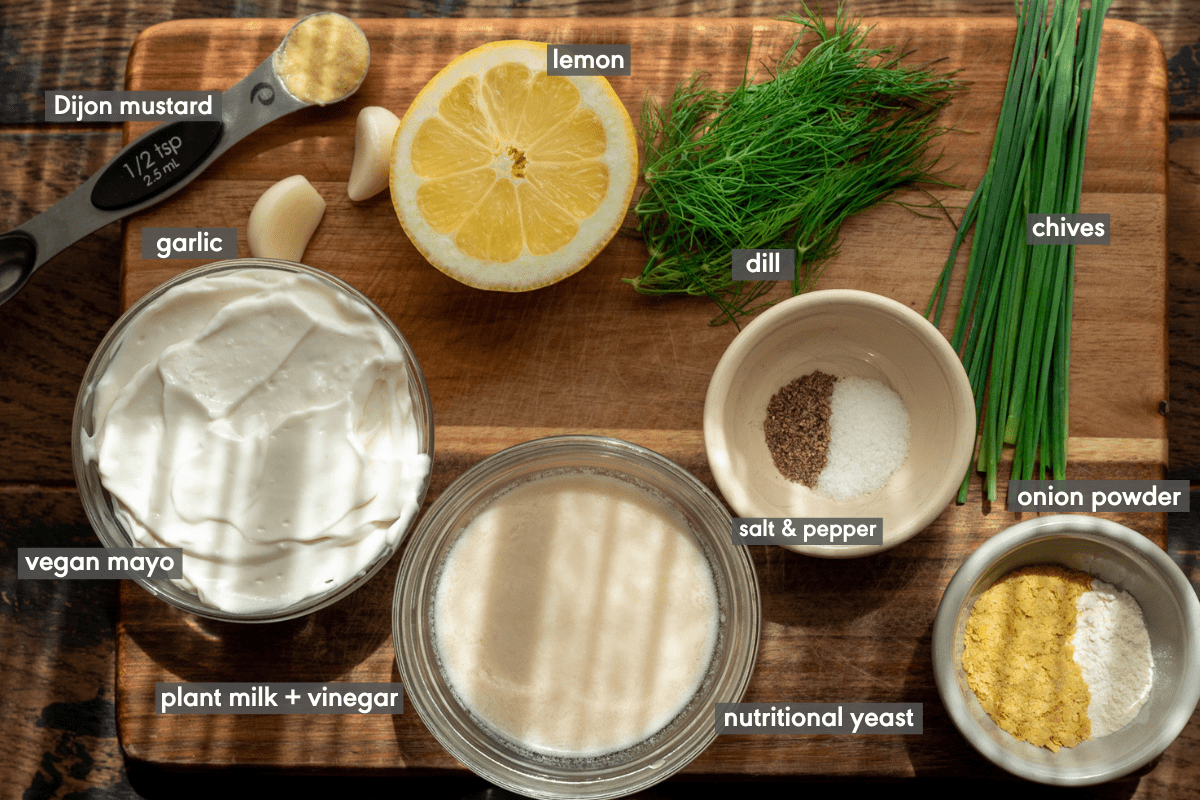 Vegan Mayo. This is the base for our dressing, and it adds both creaminess and tang (and just the slightest hint of sweetness found in ranch).
We typically use Follow Your Heart's Original Vegenaise because it has a great texture, taste, and is widely available.

It's also relatively wholesome for mayo, containing no preservatives or additives and very little saturated fat. Many non-vegan folks even like Vegenaise better than regular mayo!
I also like Sir Kensington's vegan mayo and Just Mayo, though I think the latter may have been recently discontinued. Whichever brand of vegan mayo you use, be sure that you don't mind the taste of it before using it.
If you're soy-free or are looking for a more wholesome option to vegan mayo, check out the FAQ below.
PS: I did try to make an "alternative" ranch" using cashews, then hemp seeds, and then yogurt + tahini. While I love those kinds of dressings in general, they didn't taste like actual ranch dressing. If that's more your style, try some of my other sauces, like cashew cream (choose from several flavor variations) and/or my cilantro crema (made with hemp seeds).
Acidic ingredients. To lighten up the creamy indulgence of mayo, this recipe uses a few different acids. First, apple cider vinegar gets mixed with plant milk, which acts as the "buttermilk" commonly found in ranch dressing. Lemon juice enhances the overall tartness, and Dijon mustard brings a sharp zing.
Garlic. Fresh garlic adds a sharp kick and lots of flavor that you can't get from garlic powder alone, but if garlic powder is all you have, it's totally fine to sub.
Fresh herbs. The flavors of dill and chives are a must in ranch. They add so much herby brightness to this dressing. That said, there are dried seasoning options in the FAQ section below. And if you don't love dill, use flat-leaf parsley instead.
Nutritional yeast. Enhances the savory backbone that vegan mayo provides.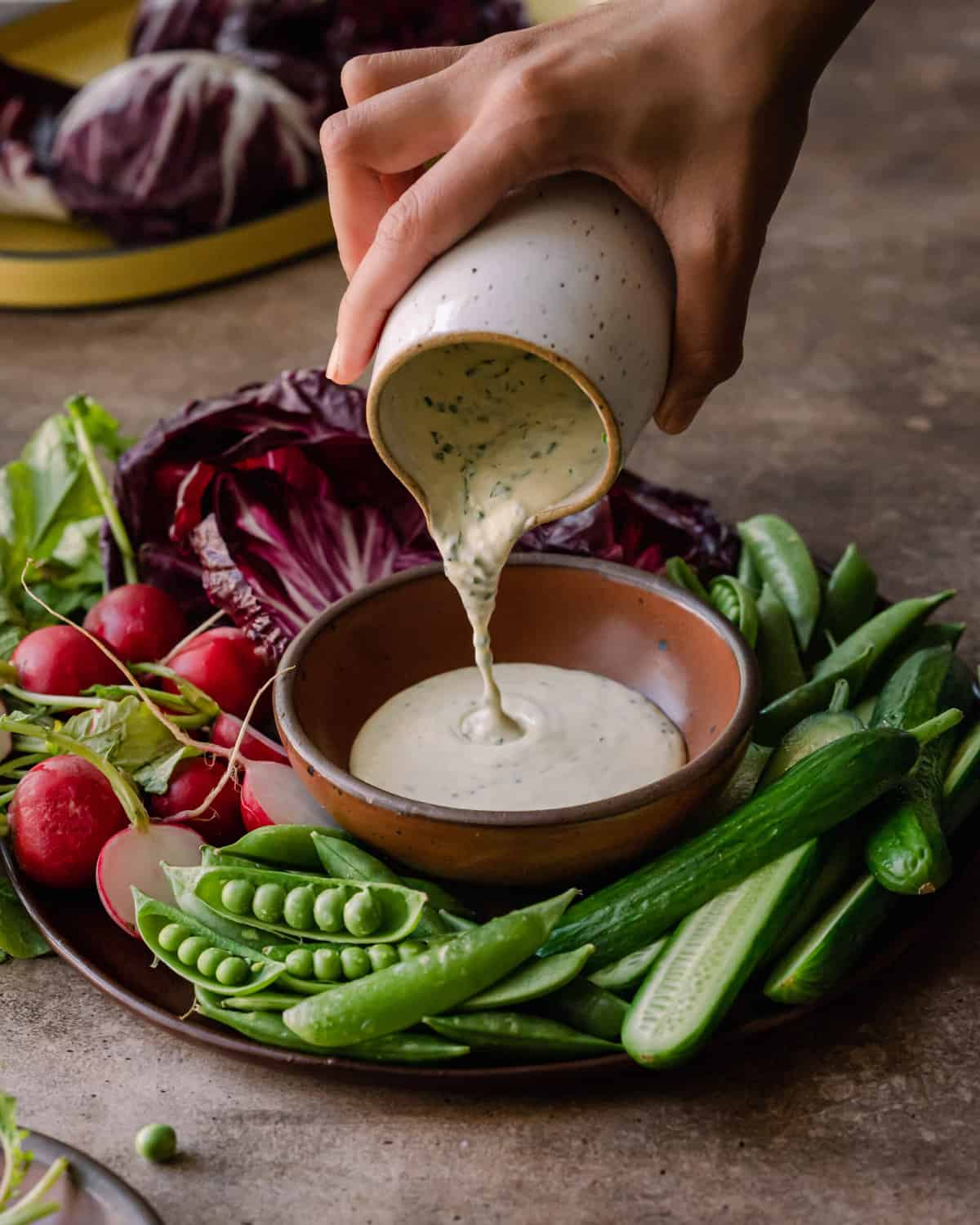 Step-by-step instructions
Combine the plant milk and apple cider vinegar in mixing bowl and wait until it slightly curdles (a few minutes).
Add the remaining ingredients: vegan mayo, lemon juice, garlic, onion powder, Dijon mustard, nutritional yeast, chives, dill, and salt/pepper.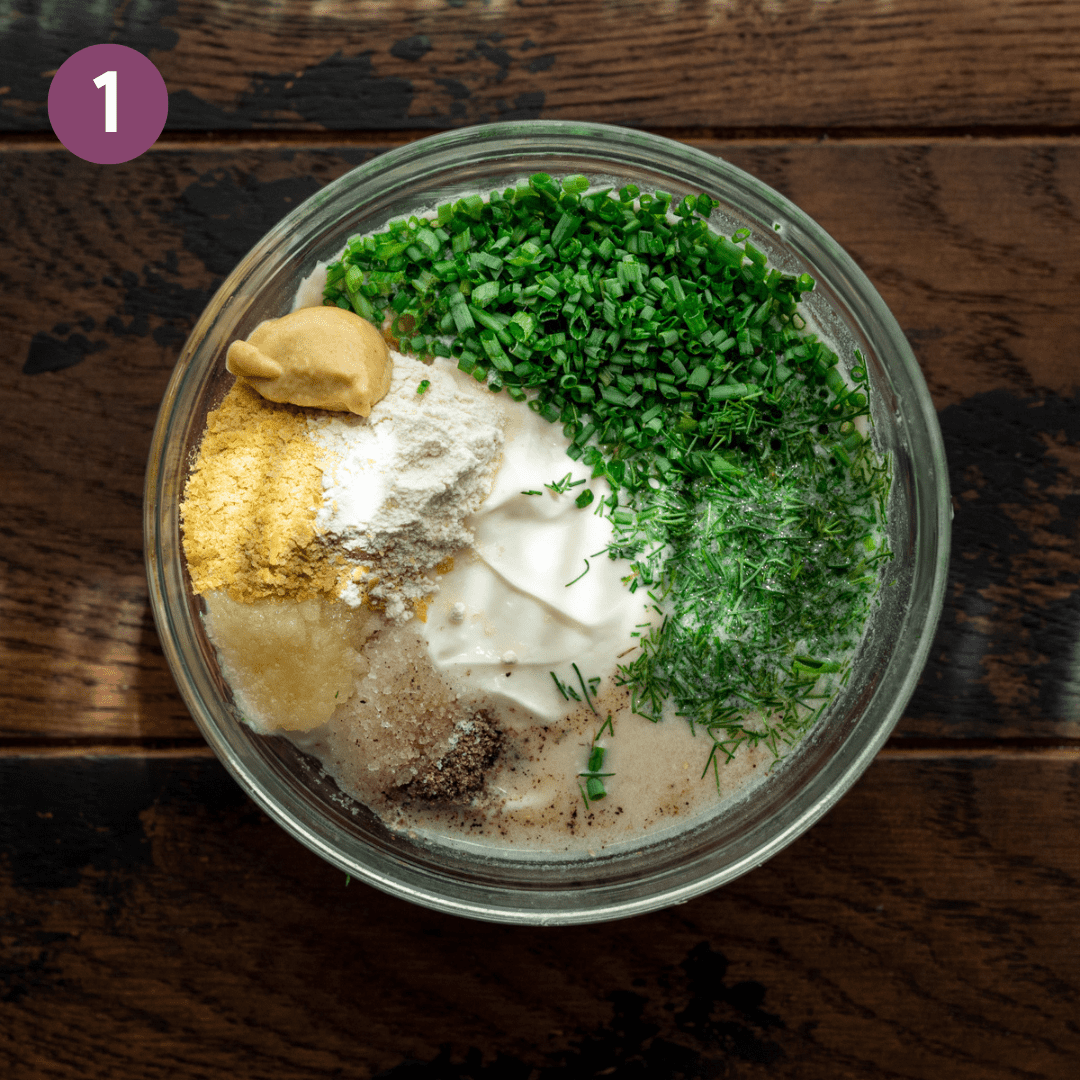 Whisk well to combine. Add more salt/pepper to taste or lemon juice as needed. That's it! Couldn't be easier.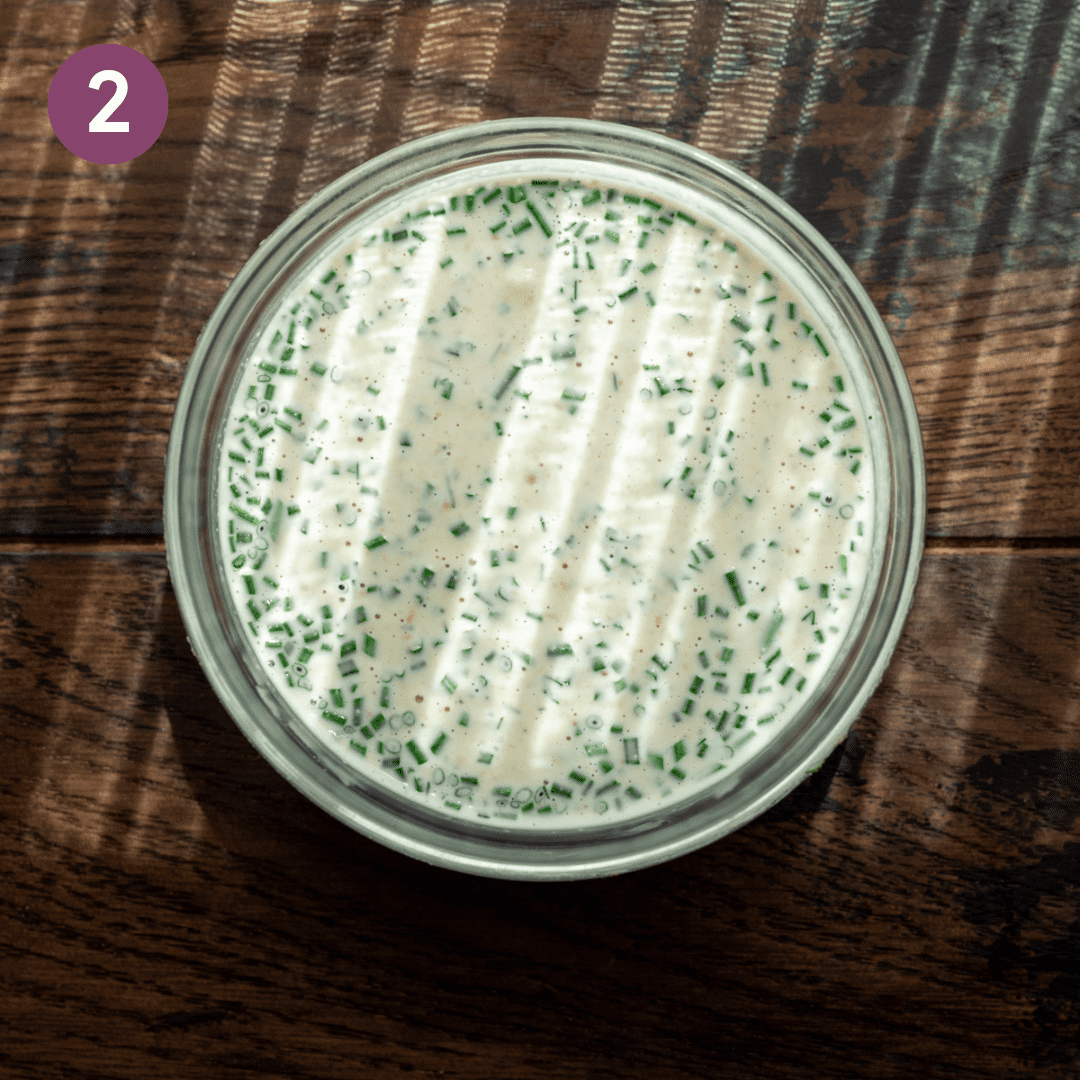 Tips for making this recipe
Adjust the seasonings to taste.
Like extra onion powder or more dill in your ranch? Give it an initial taste, then add more of your preferred flavorings. If the dressing is too sharp for your taste, mellow it out with a tablespoon (or two) of plain-flavored vegan yogurt.
Make a double batch (if you're feeding more than a few).
This recipe makes about 3/4 cup (175g) of dressing, so feel free to make a double batch. It only takes a few extra minutes to chop up more herbs and garlic. And it has a long shelf life (lasts up to 12 days in the fridge).
Serve this ranch in so very many ways.
This vegan ranch is SO good you'll want to put it on so many things. A few ideas to get your imagination going.
Drizzle ranch over virtually any romaine salad, kale salad, cobb salad, or wedge salad. A go-to salad for us is this ranch dressing paired with chopped romaine, pickled onions, whatever crunchy/crisp veggies are in the fridge, and croutons or roasted chickpeas for crunch.
Spoon it over crispy smashed potatoes, potato wedges, or French fries, or serve it as a dip.
Serve as a dip for crudités, which makes for a quick & easy entertaining spread. If you need more dip ideas, I've rounded up 30 excellent vegan dips here!
Dip your pizza into ranch (not my style, but I know lots of folks like this).
While I love my classic but lightened up vegan potato salad, this ranch dressing does make a great sauce for potato salad (or macaroni salad).
I'm gonna go out on a limb and say this ranch would be a superb dip for my Buffalo Chickpea Quesadillas.
Use a spread for sandwiches or veggie burgers.
Use as a dip for any meatless "wings" or meatless tenders (like these Field Roast buffalo wings shown below).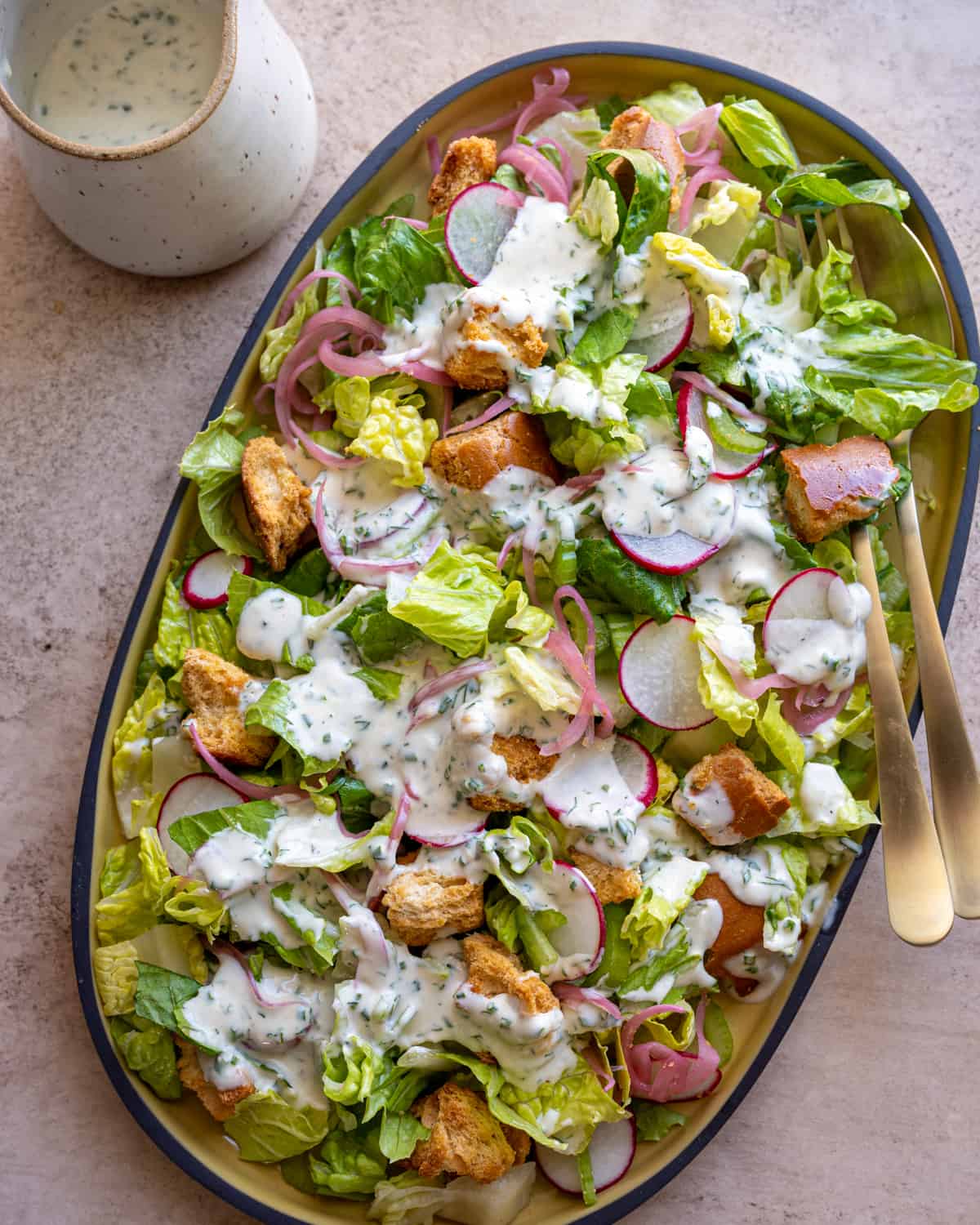 Frequently Asked Questions
What can I use instead of vegan mayo to make vegan ranch?
If vegan mayo isn't your thing, I recommend a thick, tangy vegan yogurt instead (in an equal amount). My suggested brands include: Culina, CocoJune, or GT's CocoYo. Avoid yogurts that are thin, as your ranch dressing will be runny.
Is this vegan ranch dressing gluten-free? Is it soy-free?
Yes, it's gluten-free! To keep it soy-free, use a soy-free vegan mayo, like Follow Your Heart's soy-free Vegenaise or Sir Kensington's vegan mayo.
Can I use dried garlic and herbs instead of fresh?
Sure. Traditional ranch is actually made with dried seasonings, but we preferred the flavor of fresh alliums and herbs. Either option is tasty though.

– 1 large garlic clove = heaping 1/4 tsp garlic powder
– 2 tsp chopped dill = 1/2 to 3/4 tsp dried dill
– 2 TBSP chopped chives = dried chives are hard to come by, so consider using 1/2 teaspoon dried parsley.
How long does this dressing last?
This vegan ranch dressing stores well in an airtight jar in the fridge for up to 12 days!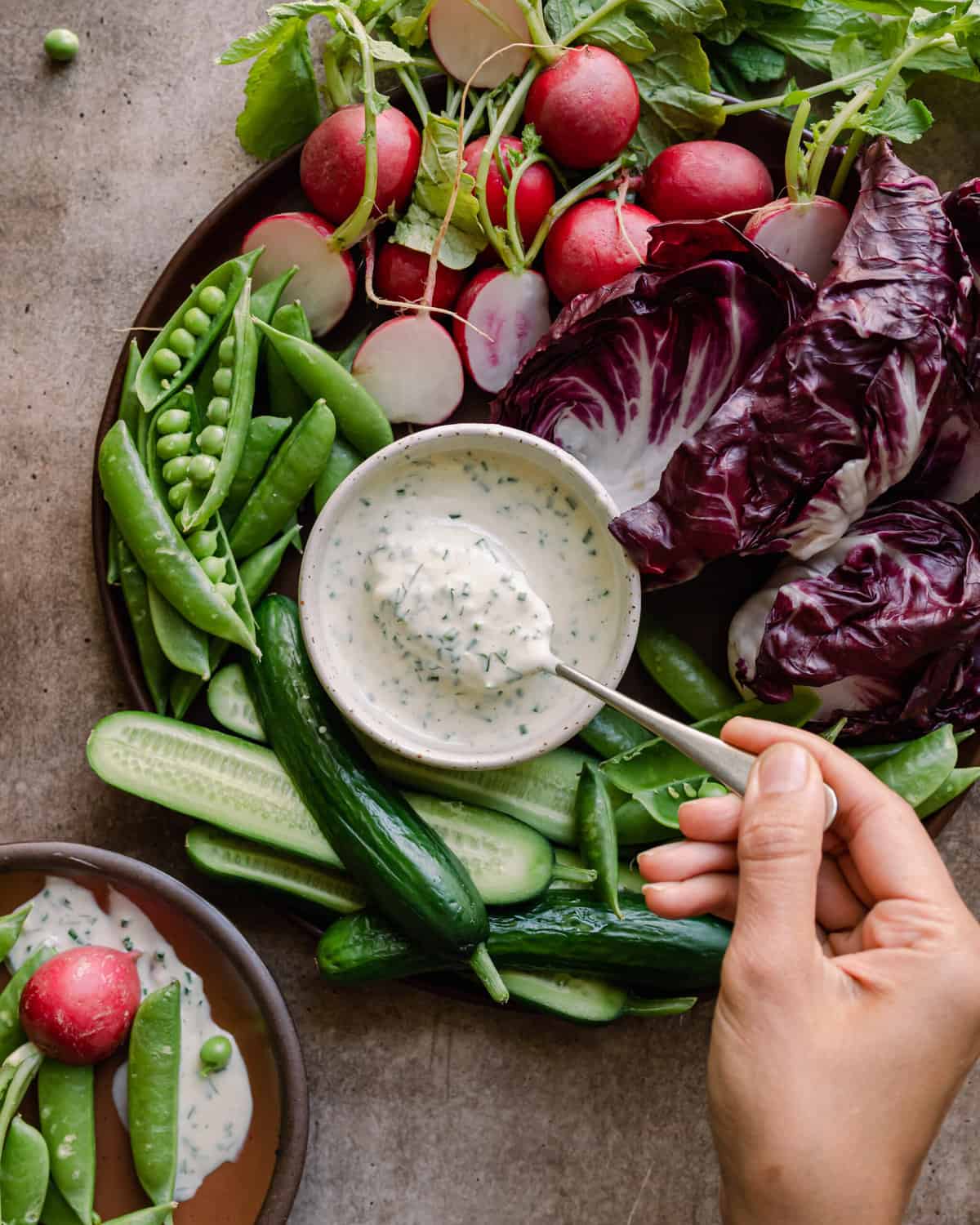 That's all you need to know about this Vegan Ranch Dressing. If you love it as much as we do, please rate and review the recipe below :)
Vegan Ranch Dressing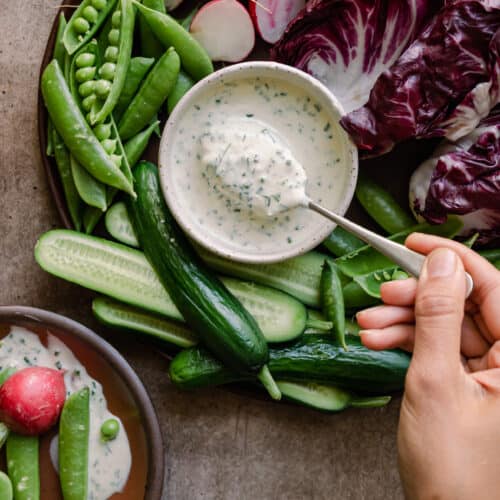 This Vegan Ranch Dressing tastes exactly like classic ranch and is far better than any store-bought alternative. It's creamy with layers of tangy, herby, and garlicky flavors, and takes just 5 to 10 minutes to whip up.
Ingredients
1

tablespoon

unsweetened plant-based milk

of choice

1/4

teaspoon

apple cider vinegar*

½

cup

(112g) vegan mayo**

1

tablespoon

freshly squeezed lemon juice,

more as needed

1

large or 2 small garlic cloves,

crushed with a press or grated

½

teaspoon

Dijon mustard

½

teaspoon

onion powder

½

tablespoon

nutritional yeast

Scant ¼ teaspoon sea salt

Freshly cracked black pepper

2

tablespoons

finely minced chives

(or scallions)

2

teaspoons

of chopped fresh dill

(1 tablespoon if you love dill)
Instructions
Combine the milk and vinegar in a medium bowl, and set aside for a few minutes so it can curdle a bit (like buttermilk).

To the bowl, add the mayo, lemon juice, garlic, mustard, onion powder, nutritional yeast, salt, several cracks of pepper, scallions, and dill. Whisk the dressing until well combined and relatively smooth.

Taste for seasonings, adding more salt or pepper as desired, or more lemon juice or apple cider vinegar for acidity. I sometimes add an extra teaspoon of lemon juice and a pinch of salt.

If the dressing is too sharp for your taste, add a tablespoon of unsweetened vegan yogurt and stir to combine.

Chill the dressing (my preference), or serve now. Store leftovers in an airtight jar for a week, or longer.
Notes
* If you don't have ACV, use distilled white vinegar. 
** Our preferred brand of vegan mayo is Follow Your Heart Original Vegenaise. 
---
Calories:
150
kcal
|
Carbohydrates:
3
g
|
Protein:
1
g
|
Fat:
15
g
|
Saturated Fat:
2
g
|
Polyunsaturated Fat:
0.03
g
|
Monounsaturated Fat:
0.03
g
|
Sodium:
231
mg
|
Potassium:
27
mg
|
Fiber:
0.3
g
|
Sugar:
0.1
g
|
Vitamin A:
56
IU
|
Vitamin C:
2
mg
|
Calcium:
7
mg
|
Iron:
0.1
mg