If you love hearty comfort food recipe that's secretly healthy, you're going to fall hard for this Vegan Gambian Peanut Stew, a plant-based spin on various West African peanut stews. It will keep you satiated for hours, and it's packed with aromatics and spices so it'll satisfy your taste buds and comfort food cravings. But it's also made with wholesome and nourishing ingredients, and is vegan, gluten-free, soy-free, and plant-forward.
Please note: I originally titled this recipe Vegan West African Peanut Stew, but after doing more research on the various differences across West African peanut stews, I came to identify my particular recipe as being most influenced by Gambian Peanut Stew, aka domoda.
This post is sponsored by ALDI USA. Thank you for supporting the brands who help make my work possible!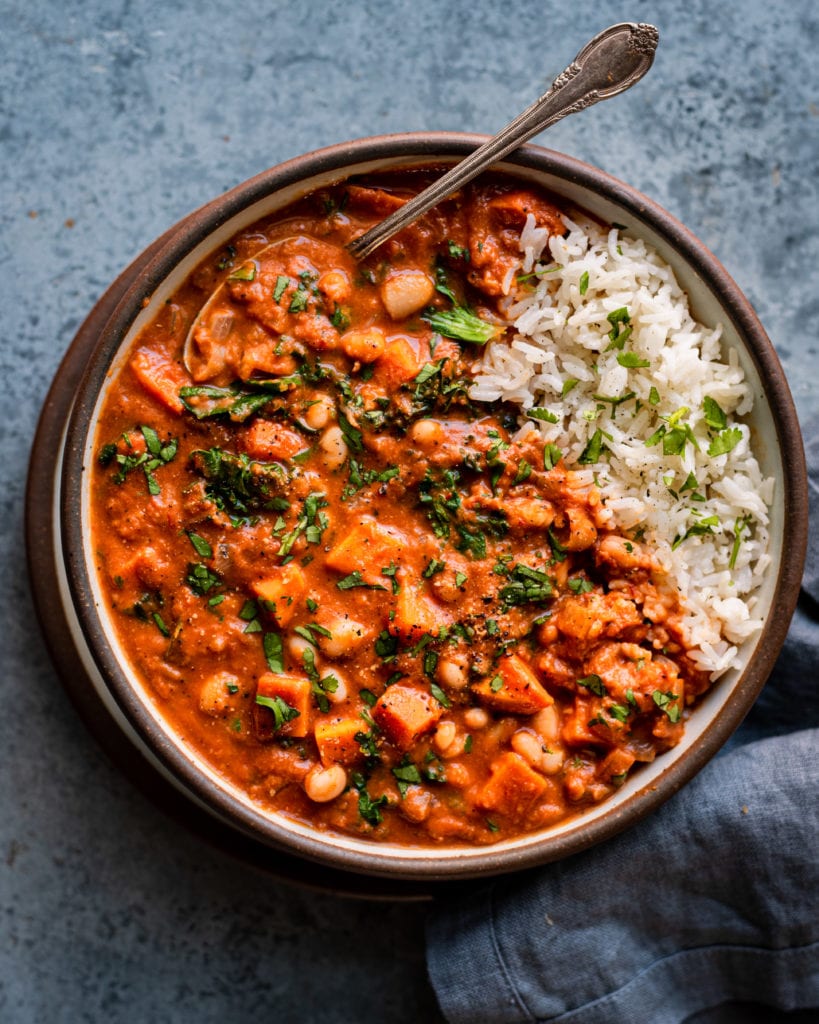 This peanut stew is made with some of my favorite ingredients from the plant world—sweet potatoes, onions, garlic, white beans, kale, and peanut butter (obviously)—and you can find it all at your local ALDI grocery store! Not only can you find these plant-based staples at ALDI, you'll also find them at crazy good prices!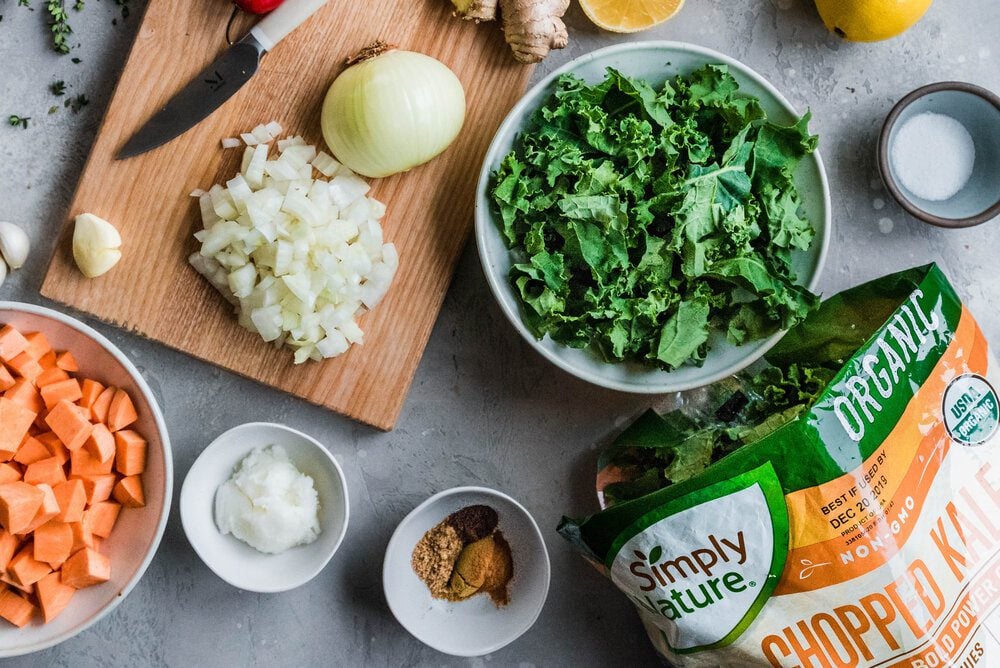 What's in a West African Peanut Stew?
Peanut stews are common in West African countries, including in The Gambia as well as Senegal and Ghana, with variations abounding throughout the regions and across ethnic groups. Before the introduction of peanuts from the New World, this stew was made with groundnuts that are native to West Africa.
Some versions of peanut stew are soupier, others are thick stews served over grains such as millet, rice, or couscous; this recipe falls into the latter camp. Some versions contain okra or hot chilies or tomatoes.
In The Gambia, the dish is called domoda (it's the national dish). You'll find both vegetarian and meat versions, though the vegetarian version is more popular because meat is quite expensive. It usually contains peanut butter or peanut paste, tomatoes and/or tomato paste, chili peppers, and a vegetable such as sweet potatoes, carrots, or pumpkin.
In Senegal, the dish is called mafe. It is made with tomatoes, is spicy, and often served over rice. It's typically made with meat or chicken, but for obvious reasons, my version does not contain meat or chicken.
While peanut butter might sound like an unusual ingredient in a stew, I promise you it blends effortlessly with the spices and aromatics and lends a creamy richness you'll adore. If you want to learn more about groundnut soups from West Africa, check out this blog post from The Canadian African. You can also learn more about West African Peanut Stews here.
Ingredient Rundown
Domoda is a type of West African Peanut Stew, so we obviously have to add some peanut butter!
And I love the Simply Nature Organic Creamy Peanut Butter from ALDI! It's made with just peanuts and sea salt (no added oils or sugar). It's also organic, non-GMO, and incredibly affordable (it's also one of 80 Simply Nature products that earned the Good Housekeeping Nutritionist Approved Emblem. Did I mention it's super creamy, just how I like my PB (sorry, crunchy PB fans)?
LOOOVE peanut butter? Then you have to try my No-Bake Peanut Butter & Jelly Bars, the ultimate easy treat for peanut butter addicts.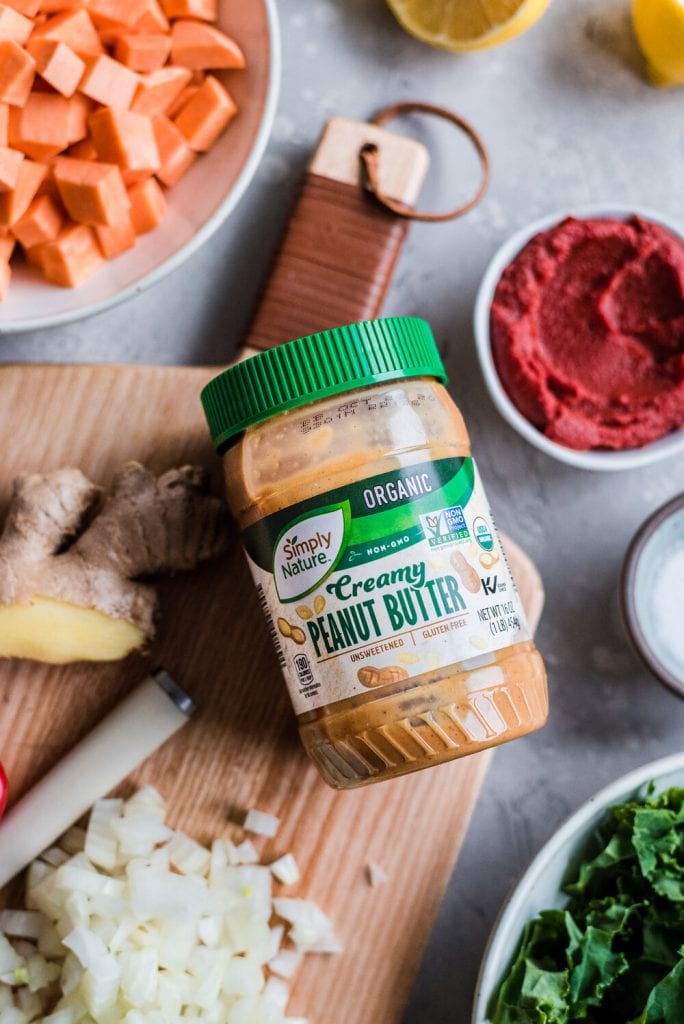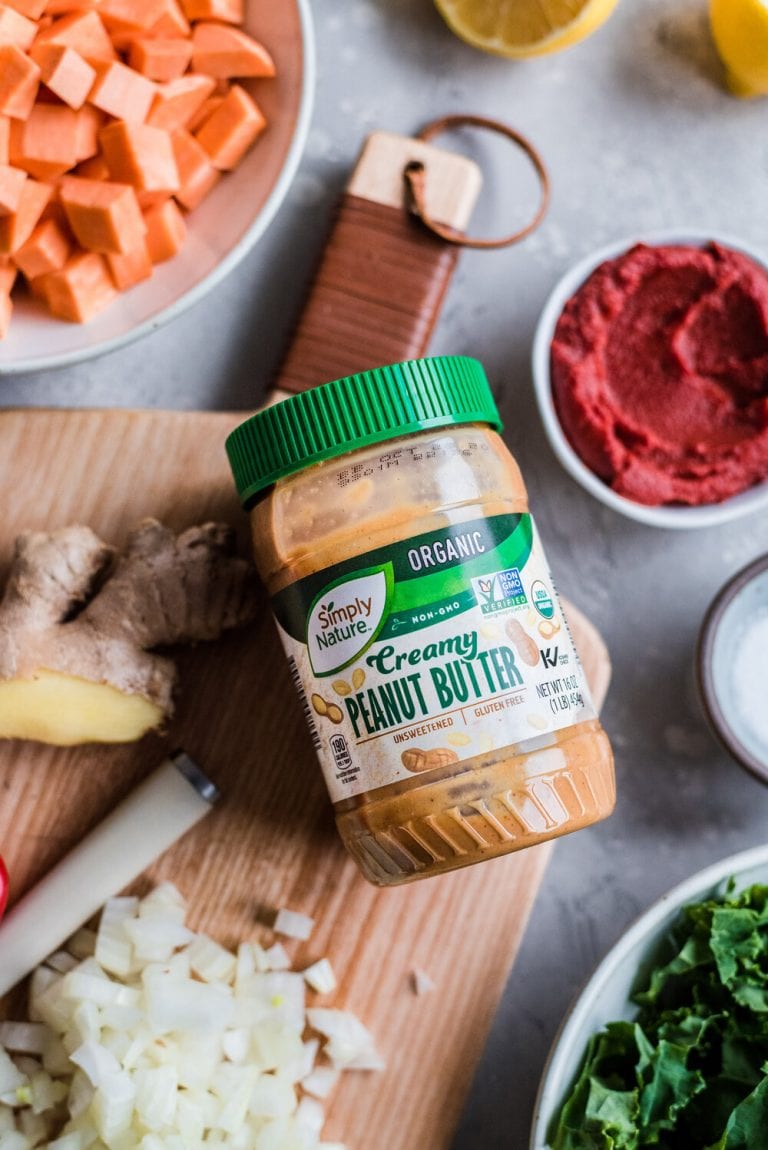 White Beans
As mentioned above, domoda may contain meat or not. While many Westernized versions of this recipe are vegetarian, most of the latter do not contain a primary source of protein. I chose to include white beans for a few reasons. They bring additional protein and make this peanut stew super hearty. Plus, beans (and cannellini beans in particular) lend a creaminess in a healthy way yet satisfying way.
Aromatics
Starting this recipe with sautéing aromatics (onions, garlic, ginger, and jalapeño peppers) helps build layers of flavors. Often, West African peanut stews are made with habanero or Scotch bonnet peppers, but I find those to be too spicy for most of my readers, so I opted for jalapeño peppers here.
Coconut Oil
I sautéing the aromatics in coconut oil for a subtle buttery richness that a neutral oil can't offer. And even better, I found *organic, cold-pressed* coconut oil at ALDI for just $4.89. Of course, the price may vary depending on where you live, but I've never seen that price anywhere else in NYC!
Sweet Potatoes
The sweet potatoes are key in this dish, as they help balance the spices and acidity in this stew. And the longer you cook the stew, the more the sweet potatoes will fall apart and virtually melt into the stew.
Note: Just be sure to dice your sweet potatoes pretty finely; if too large, they won't cook down as quickly and it'll take longer to finish the stew.
Kale
I love finishing stews, soups and curries with kale. Just toss it in towards the end of cooking until they're wilted. It's an easy way to eat more greens that won't make you feel like you're eating yet another kale salad (all the chewing!). And you can find organic, pre-chopped kale at ALDI to save you time!
Love the idea of a hearty yet healthy soup that sneaks in those greens? You'll want to also try this Creamy White Bean Soup with Kale.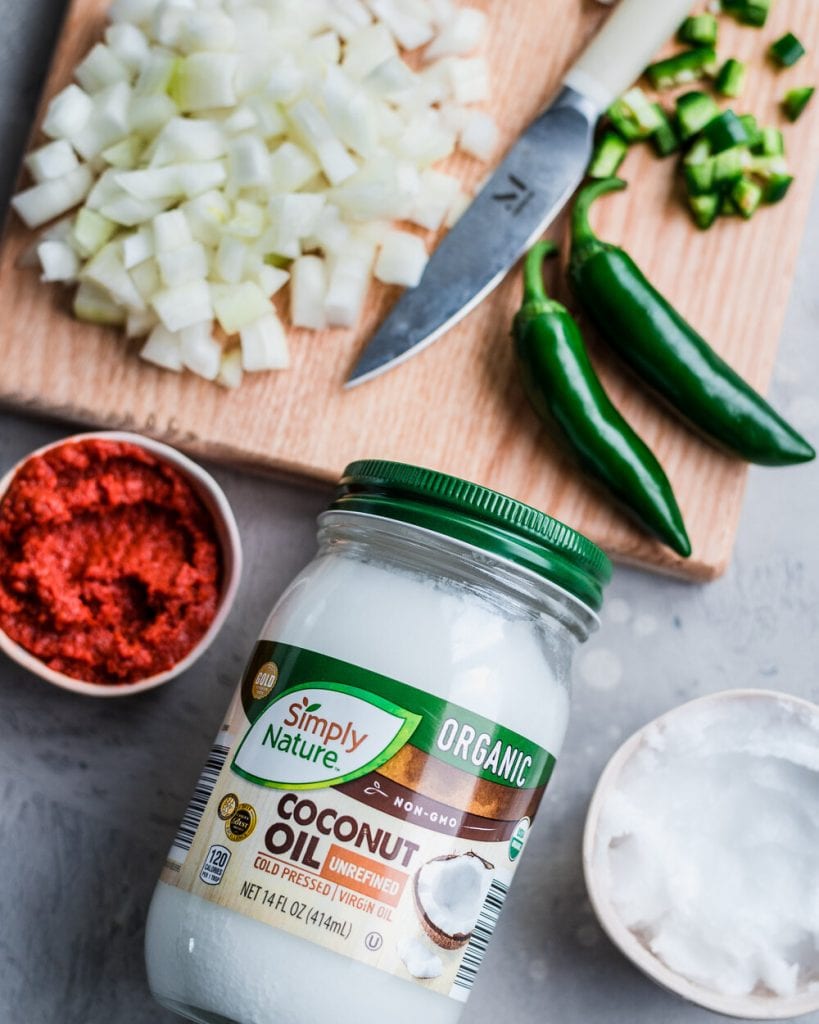 How to make this recipe (step-by-step photos)
Gather and prep your ingredients (chop the aromatics, dice the sweet potatoes, etc.).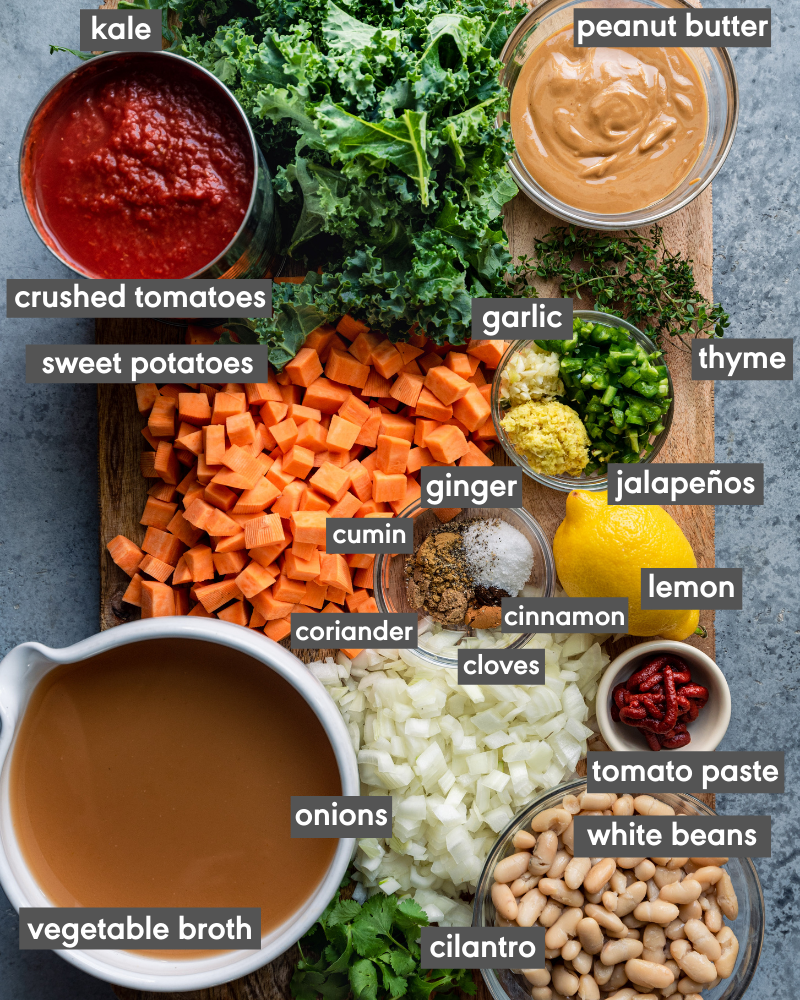 Heat up the coconut oil in a Dutch oven or deep sauté pan (affiliate links).
Saute the diced onions in coconut oil until just starting to brown.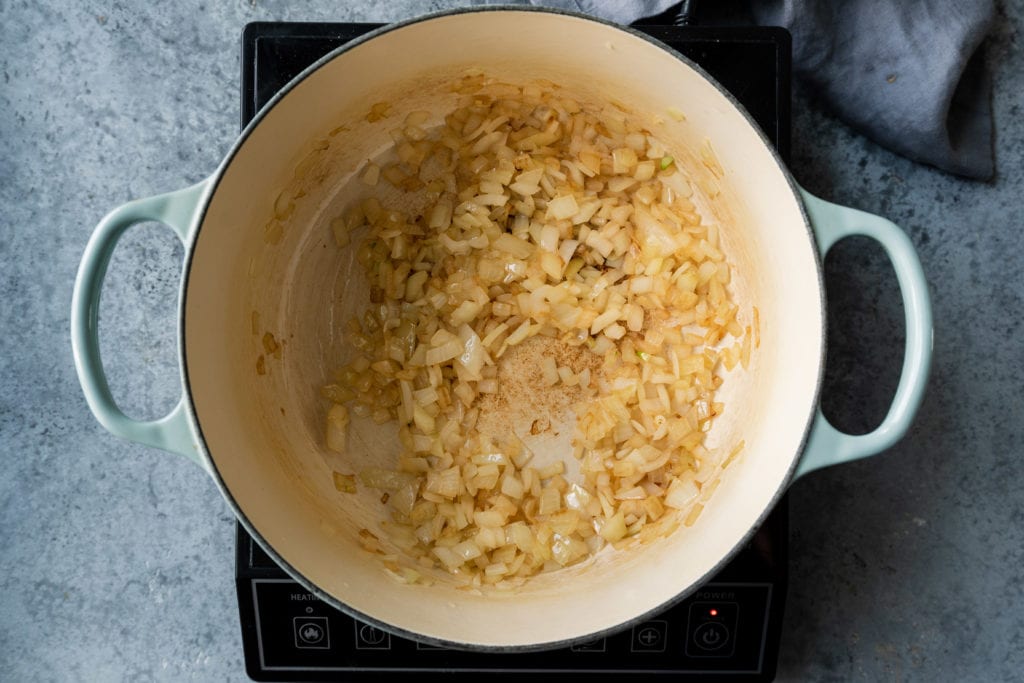 Add the garlic, ginger, and jalapeños and cook for 2 minutes.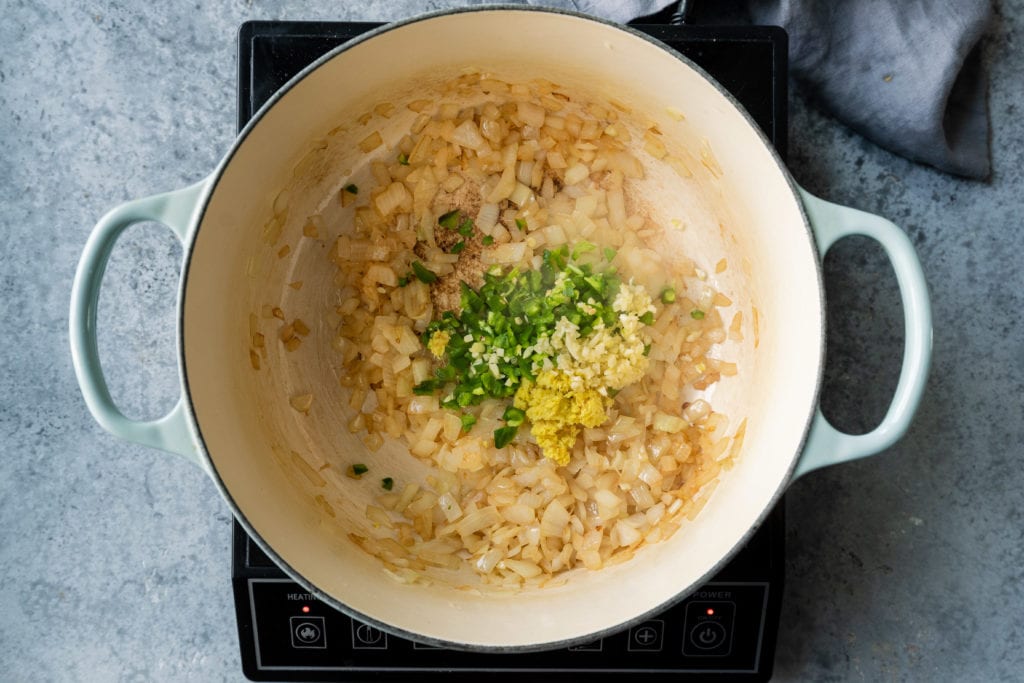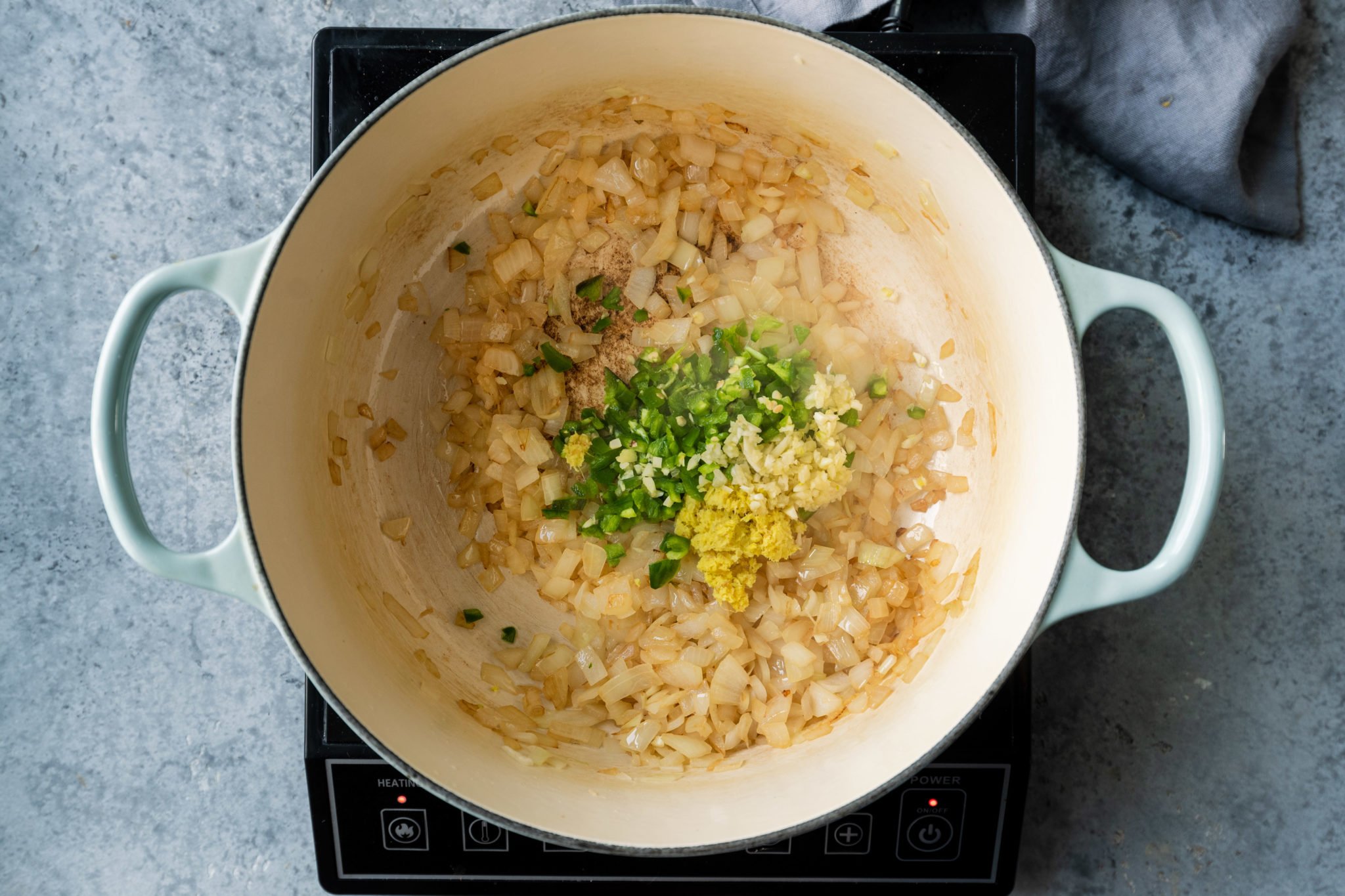 Add in the tomato paste, cumin, coriander, cinnamon, cloves, salt, and pepper.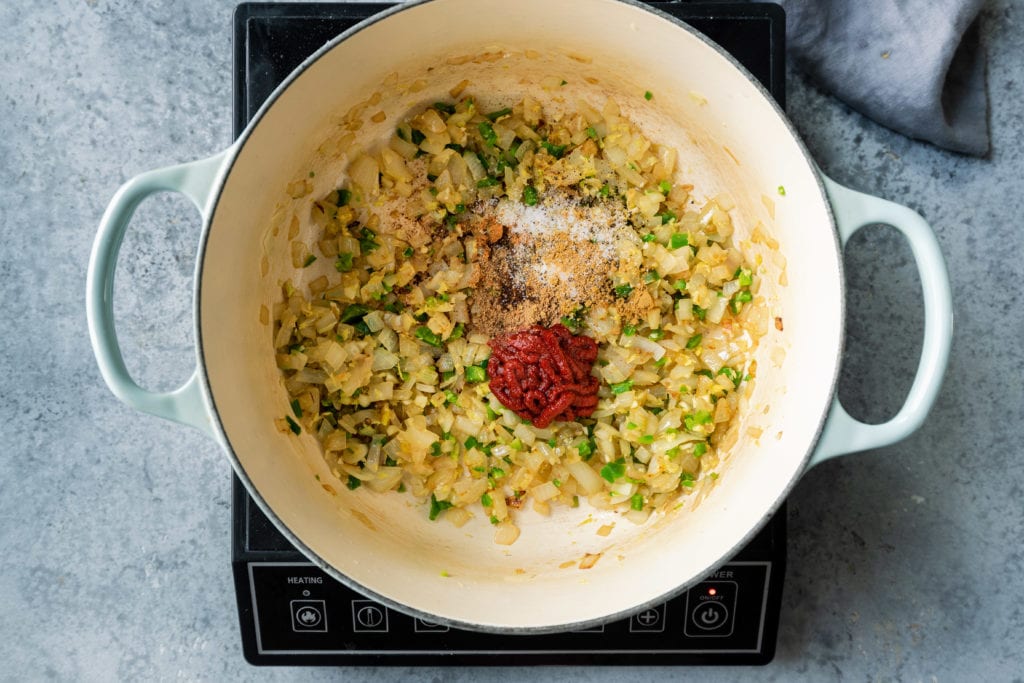 Incorporate the tomato paste and spices into the onions and stir frequently for 2 minutes.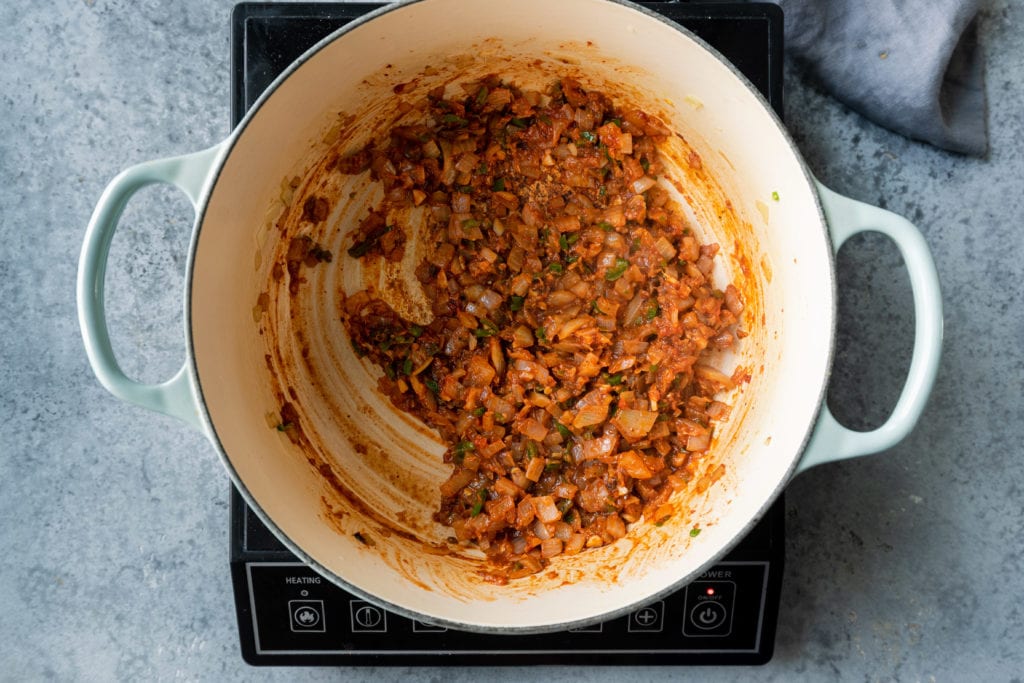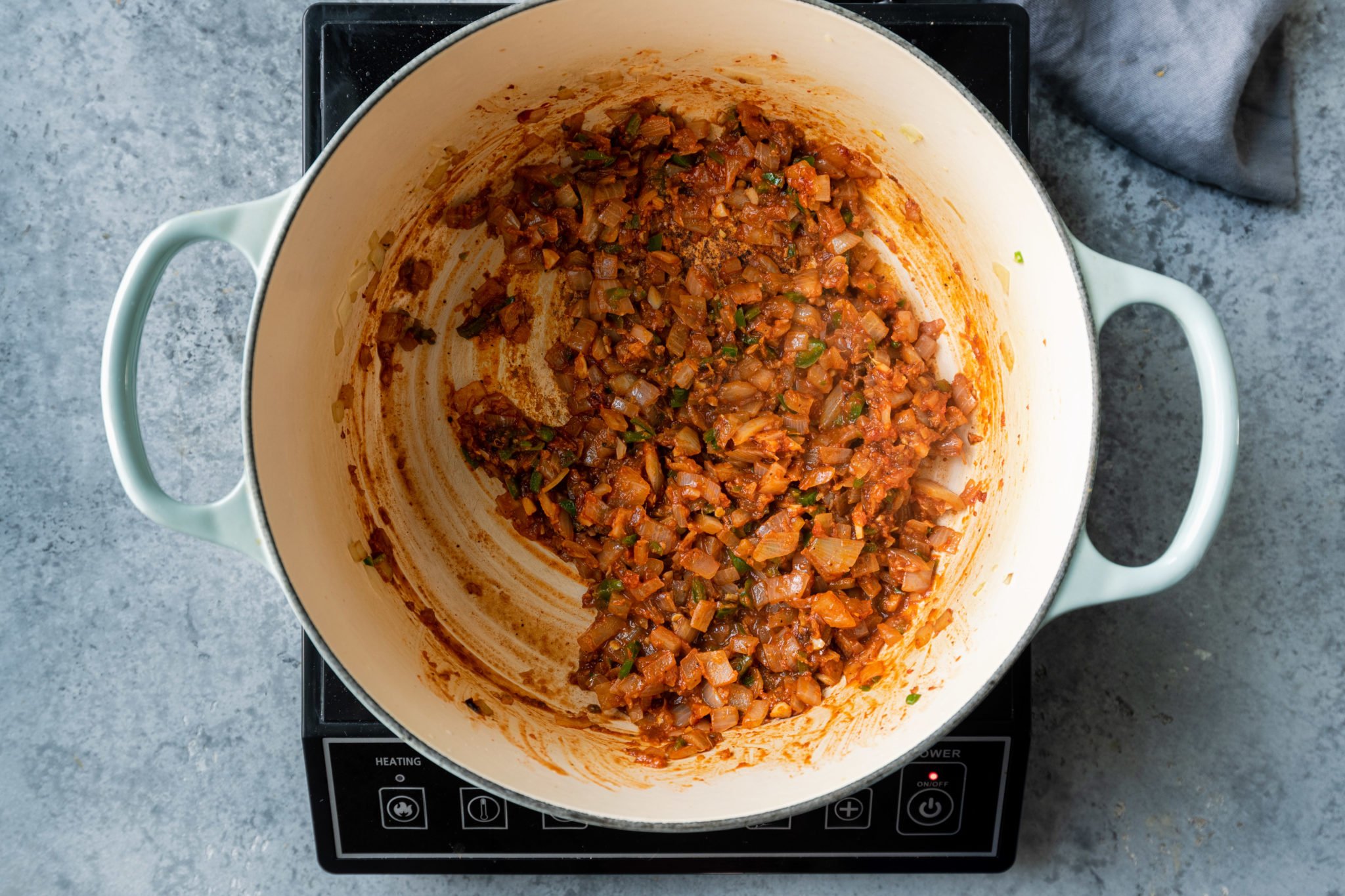 Deglaze the pan with the vegetable broth. Add the white beans, crushed tomatoes, thyme, sweet potatoes, and peanut butter.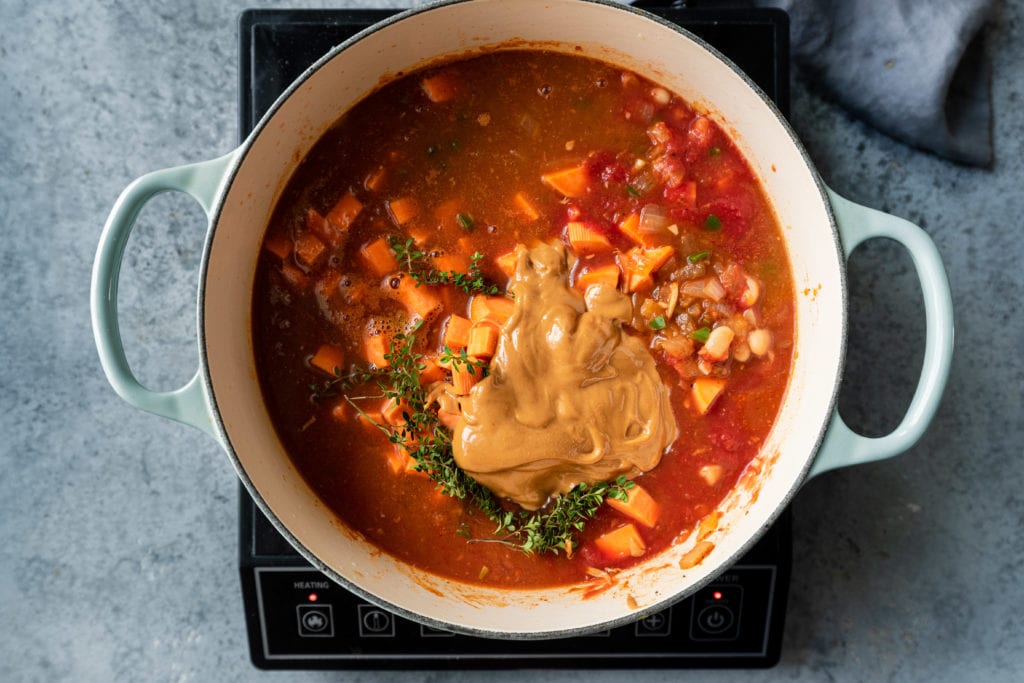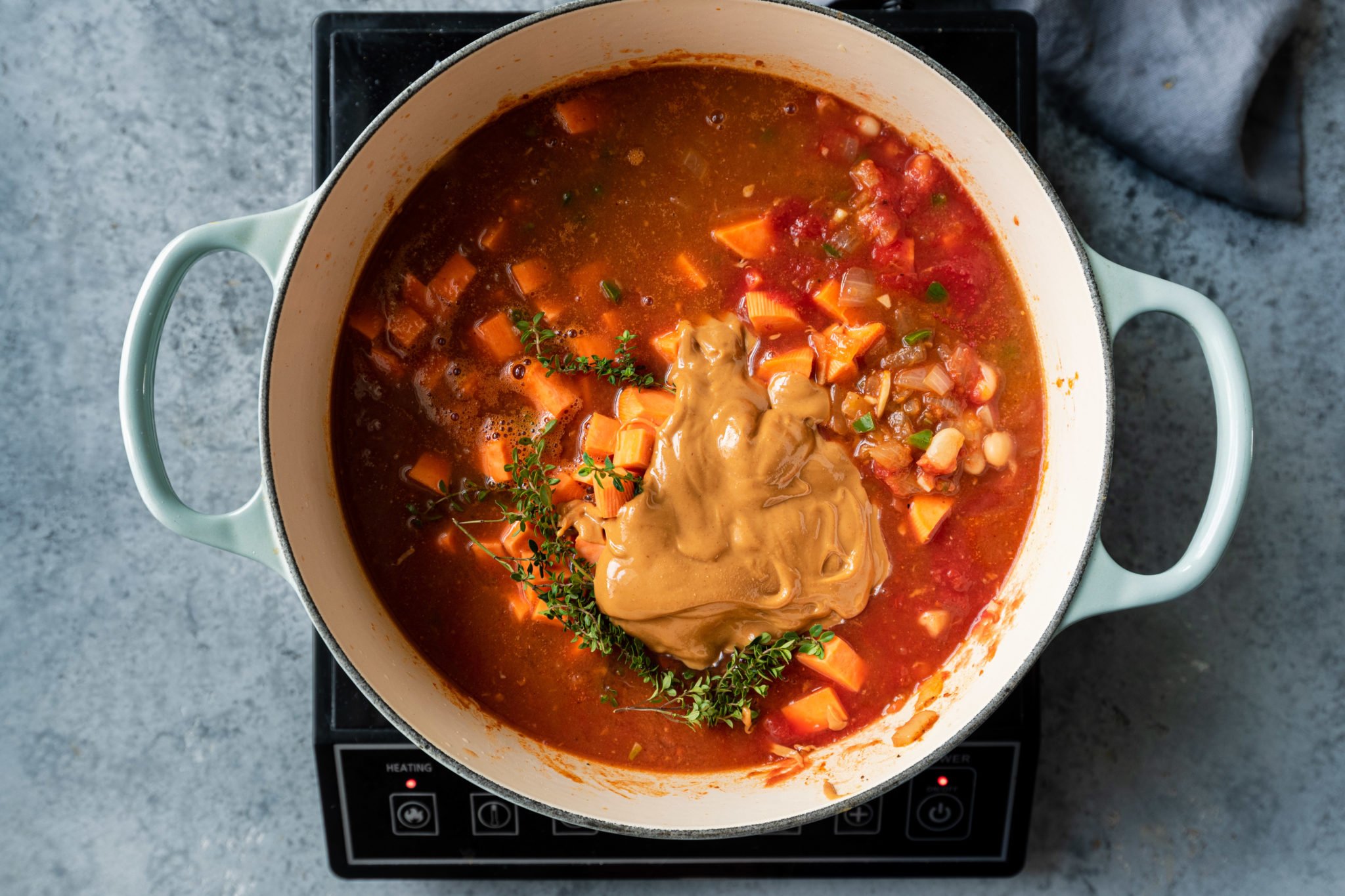 Bring the stew to a boil, then reduce the heat to maintain a rapid simmer for 20-25 minutes until sweet potatoes are tender.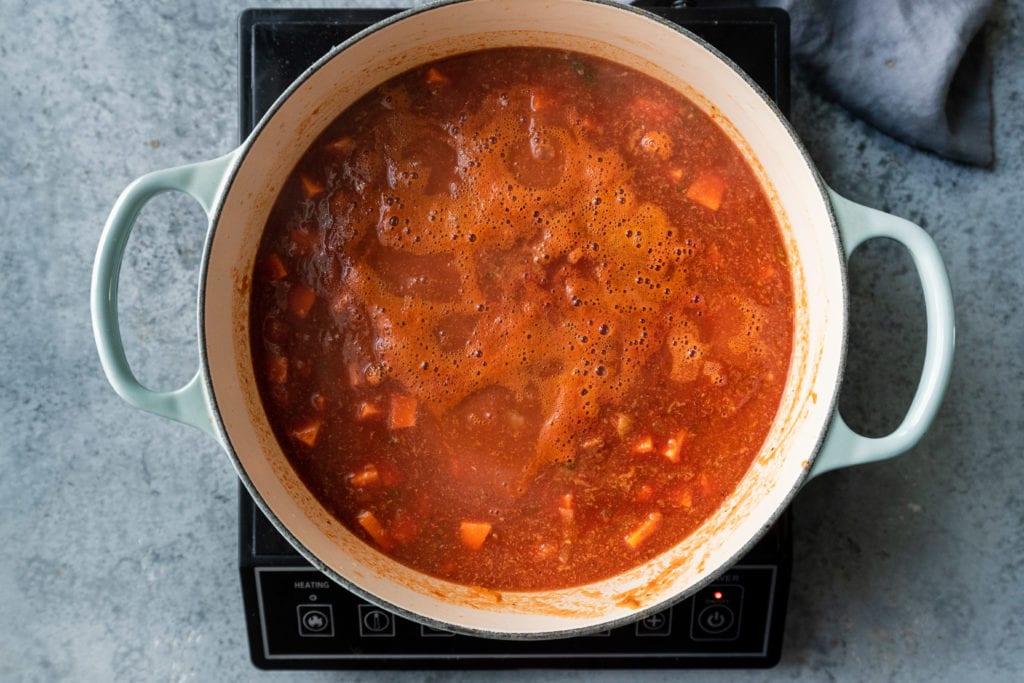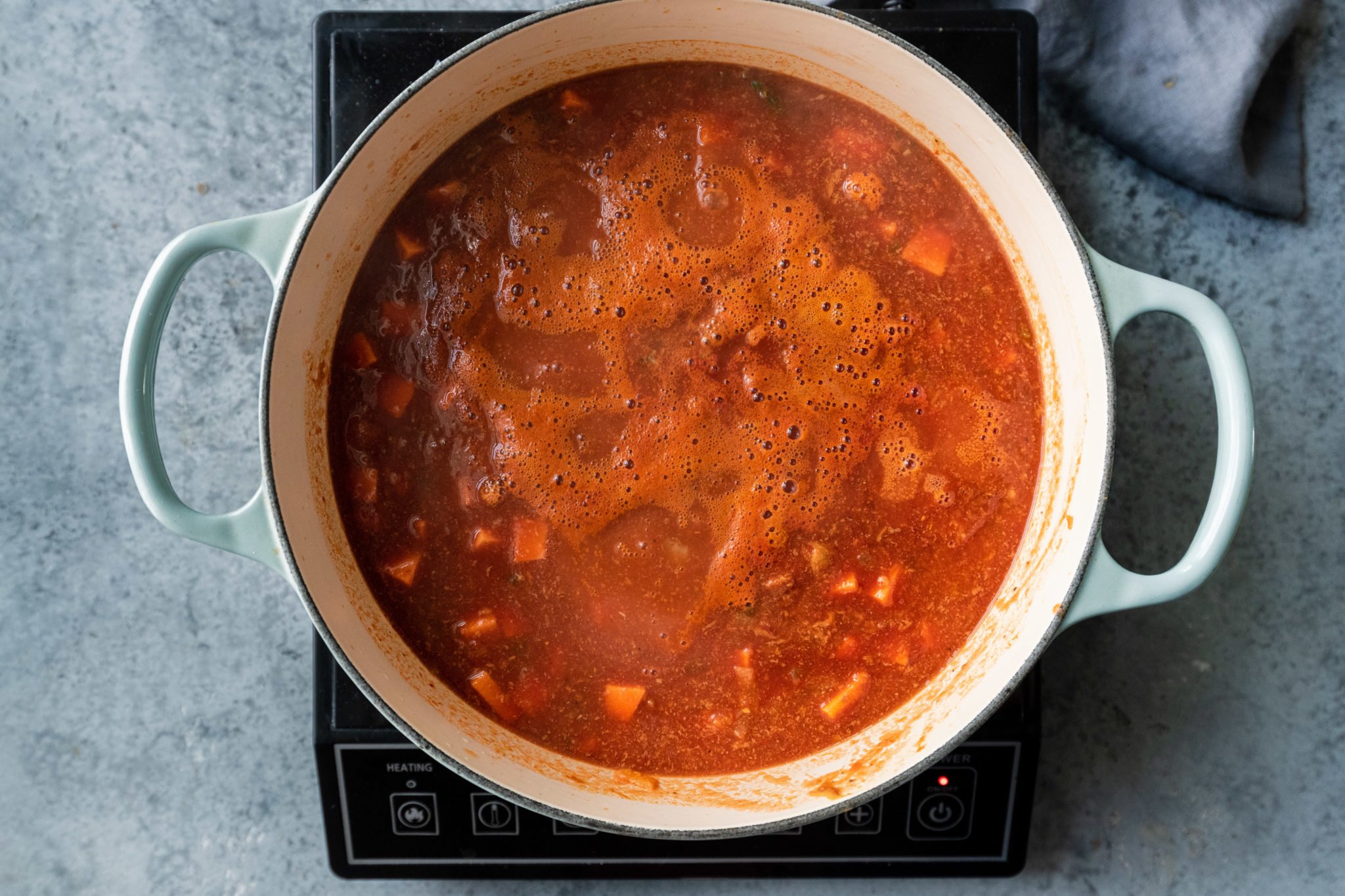 Add the kale and cook for 3-5 minutes until wilted.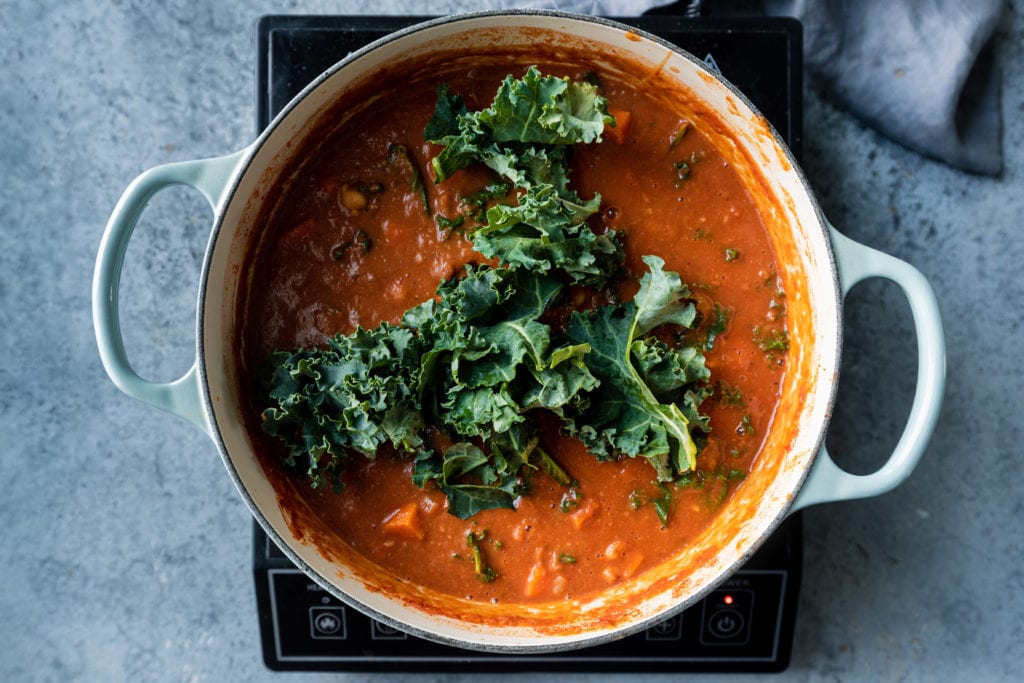 Finish the stew with cilantro and lemon juice and season to taste.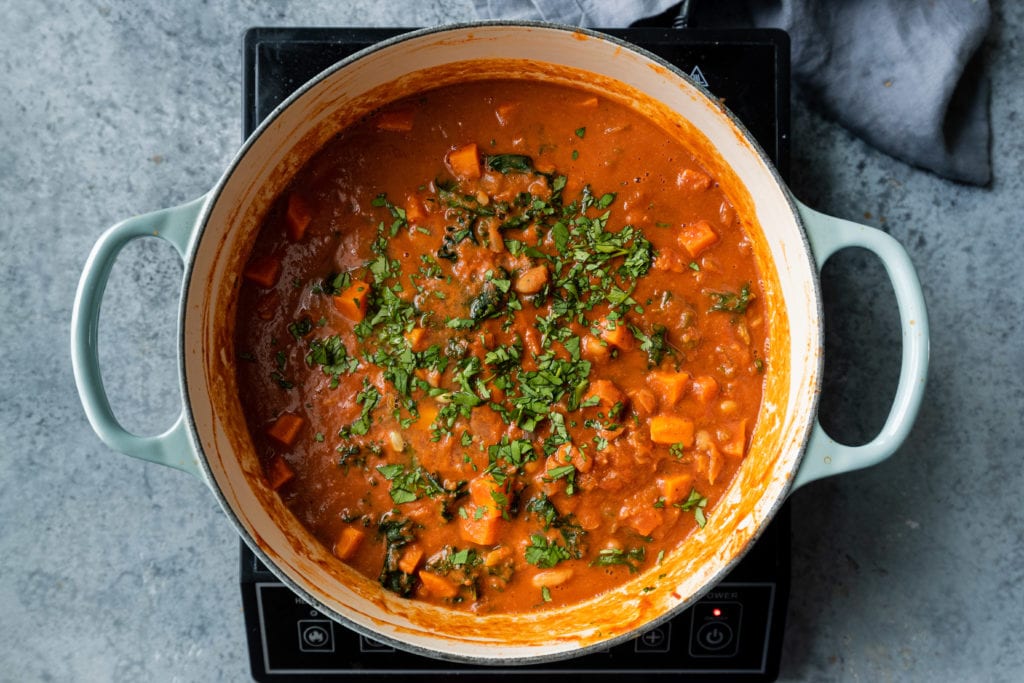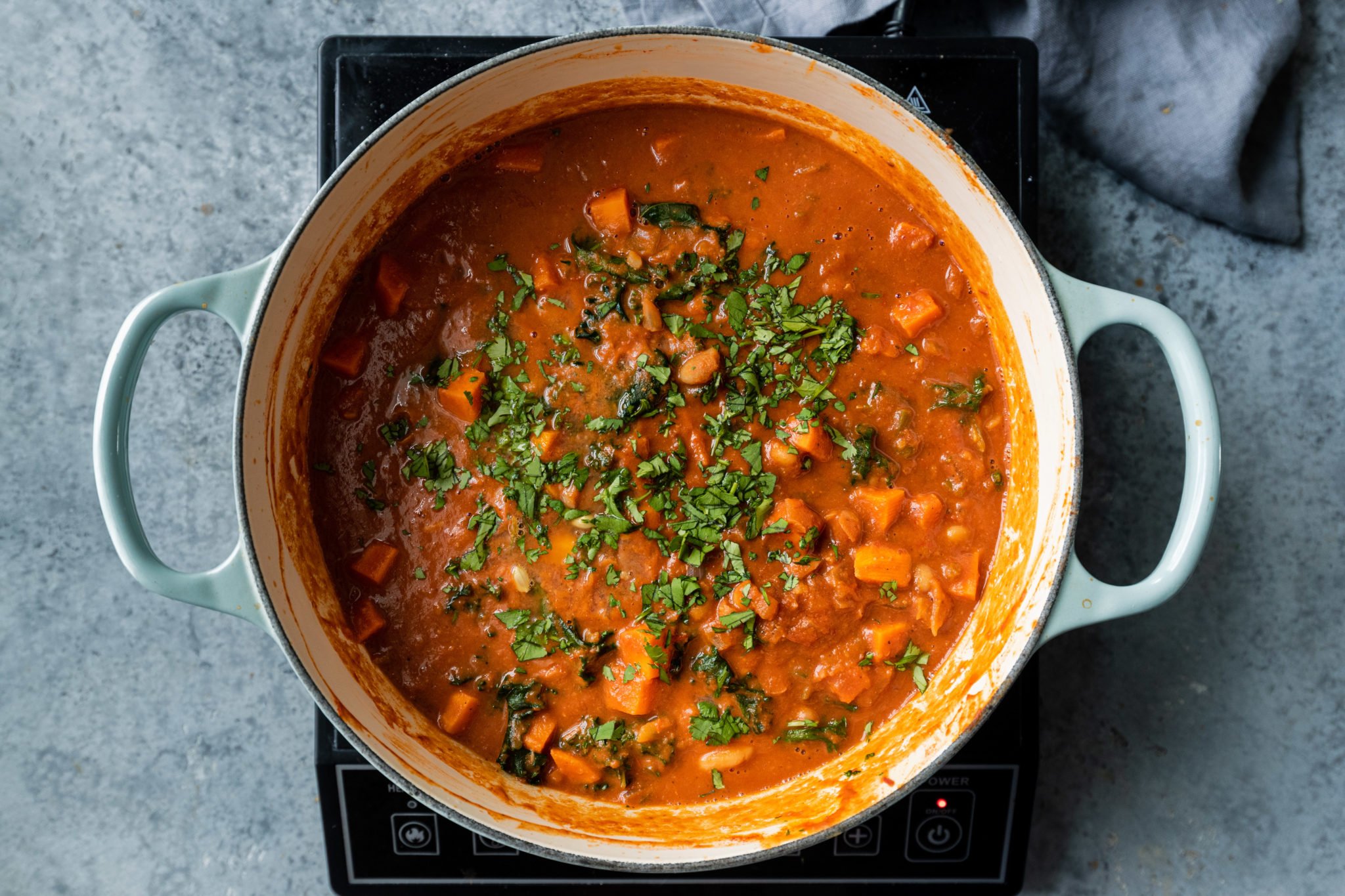 Substitutes for this peanut stew
Peanut Butter. If you're entirely nut-free, the best substitute would be sunflower seed butter (unsweetened variety), though of course it will change the taste somewhat. If you have a peanut allergy but can have other nuts, cashew butter or almond butter would work too (again, different flavor but same consistency) and unsweetened versions are easier to find than sunflower butter.
Spicy peppers. Many traditional West African peanut stews are made with Scotch bonnet peppers. Those rank pretty highly on the Scoville Scale (a scale ranking the spiciness of peppers), so I opted for jalapeño peppers to keep this family-friendly. If you like things spicier, you can try a serrano pepper or cayenne pepper. Or, if you love spicy food, try a Scotch bonnet or habanero pepper!
Kale. The kale cooks down so it softens and isn't tough, but if you're not a fan of kale, you can try another sturdy green, like thinly sliced collard greens, mustard greens, or Swiss chard. Personally, I don't like using spinach, as it wilts too much and I like the body and texture from a sturdier green, but that's also an option.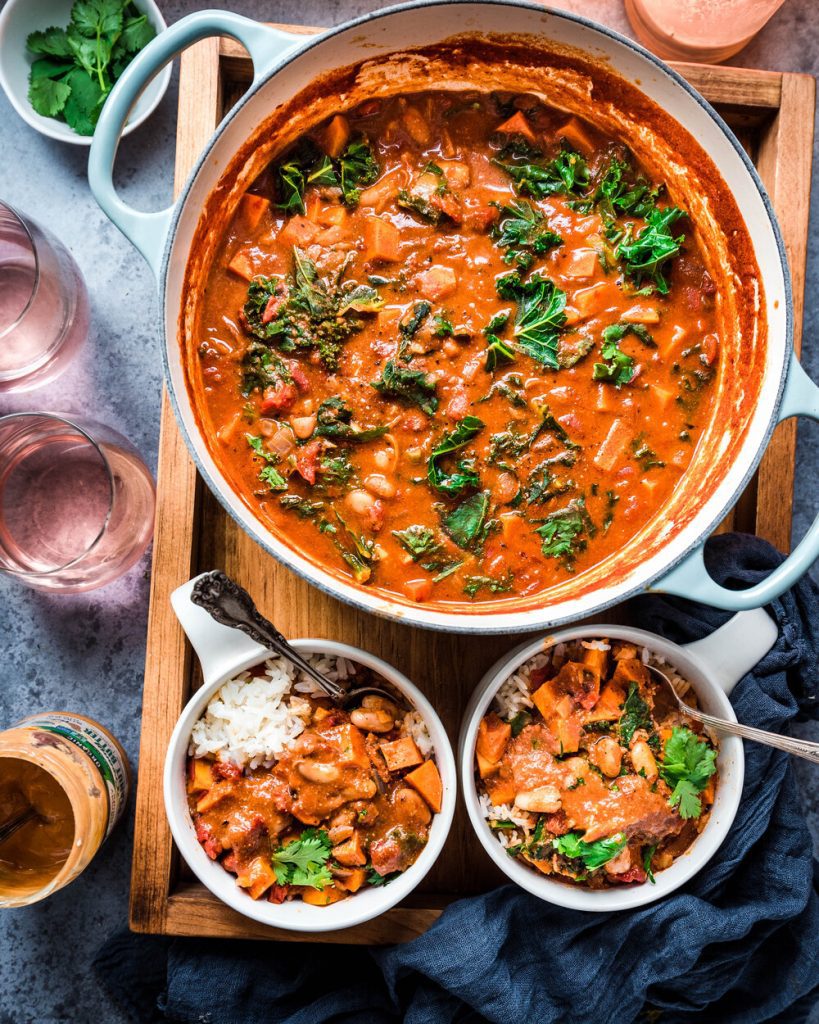 Frequently Asked Questions
How do you serve West African peanut stews?
This stew is hearty enough on its own, but to stretch out your meal (and budget) and make it heartier, you can serve it over your favorite grain. Options include white rice, brown rice, millet, quinoa, or your favorite grain. If you have access to fonio (a type of millet from West Africa), you can try that too!
Can I make this recipe in the Instant Pot?
I actually have a version of this recipe in my cookbook, The Vegan Instant Pot Cookbook (it's a reader favorite!).
How long does this stew last? Can you freeze this stew?
Store leftovers in an airtight container in the fridge for up to 5-6 days. I prefer to store the stew without any rice/grains – the rice tends to harden. The stew also freezes well – you can freeze it for 3 to 4 months. Defrost in the fridge before warming up.
How do you reheat this stew?
I prefer to reheat most leftovers on the stove in a saucepan, but the microwave also works fine.
More Nourishing Vegan Stews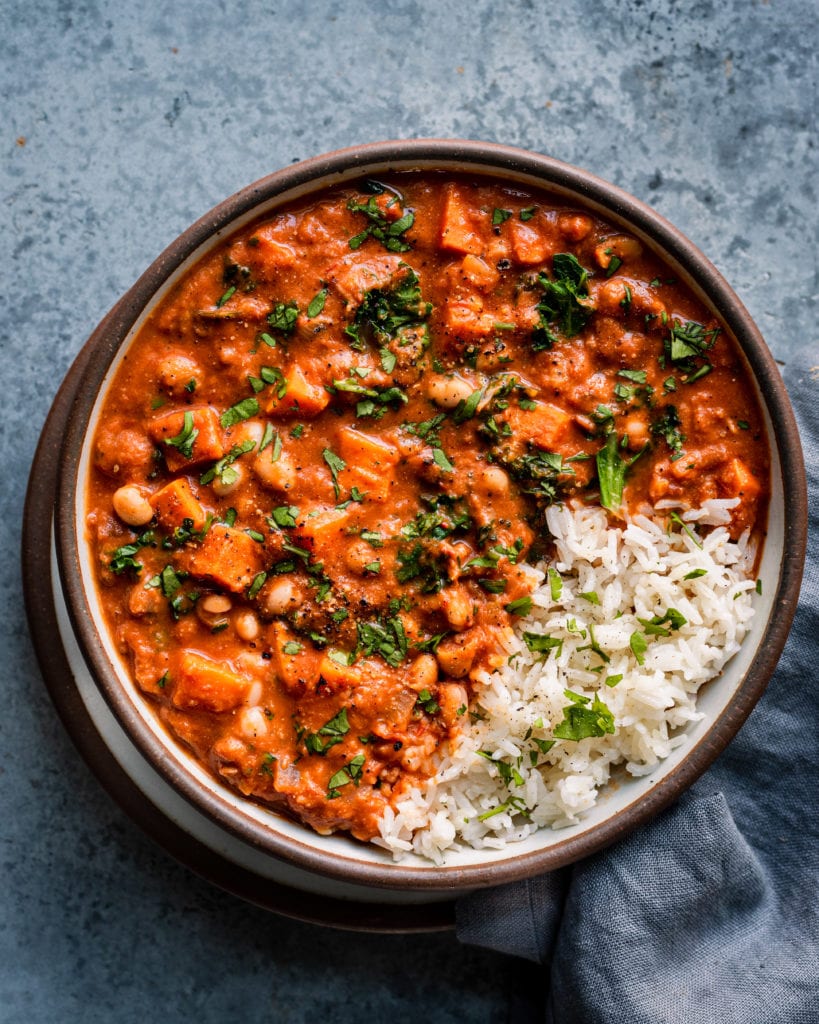 That's all you need to know about making this vegan, gluten-free Vegan Gambian Peanut Stew (Domoda). I hope you head to your local ALDI to stock up on all these wholesome vegan staples and get to cooking! If you try the recipe, be sure to drop me a note below with your review and rating!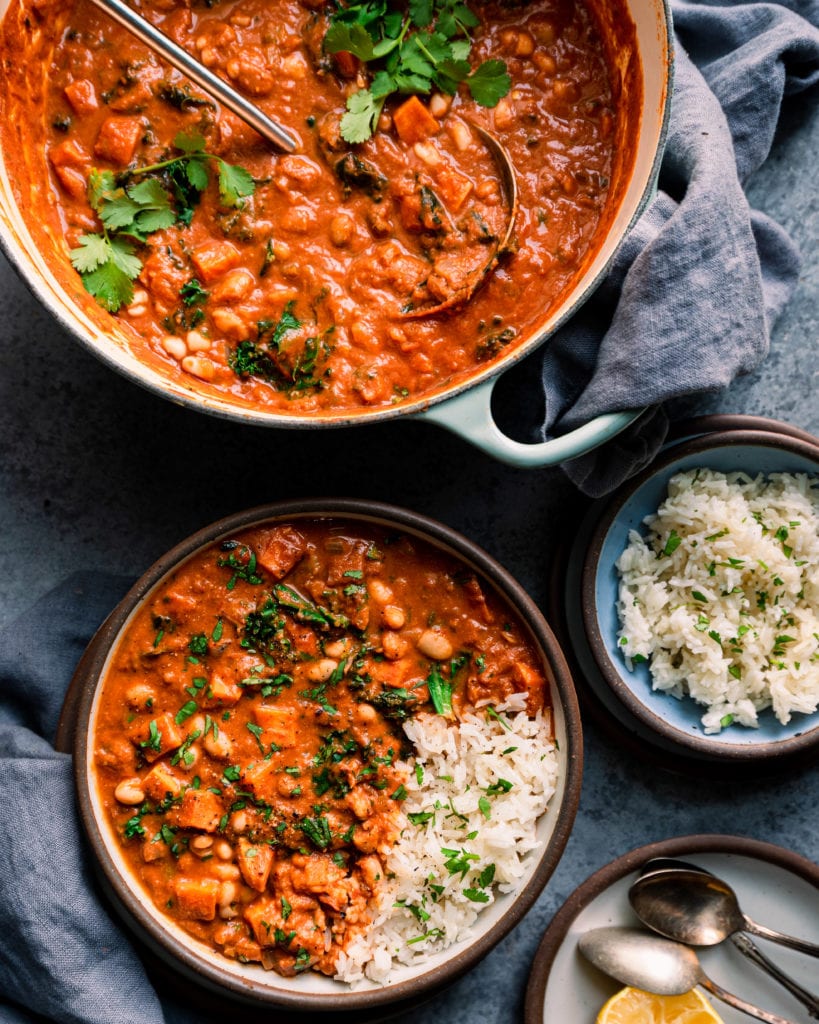 Vegan Gambian Peanut Stew (Domoda)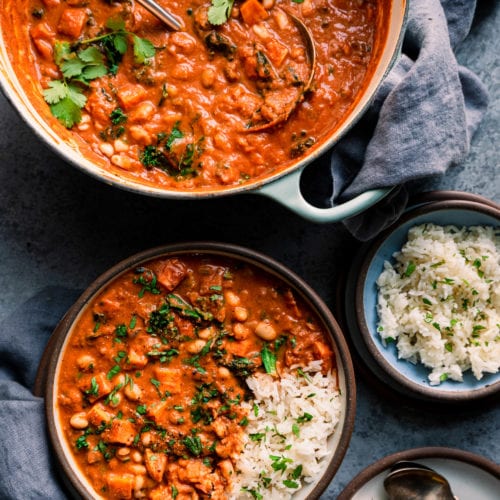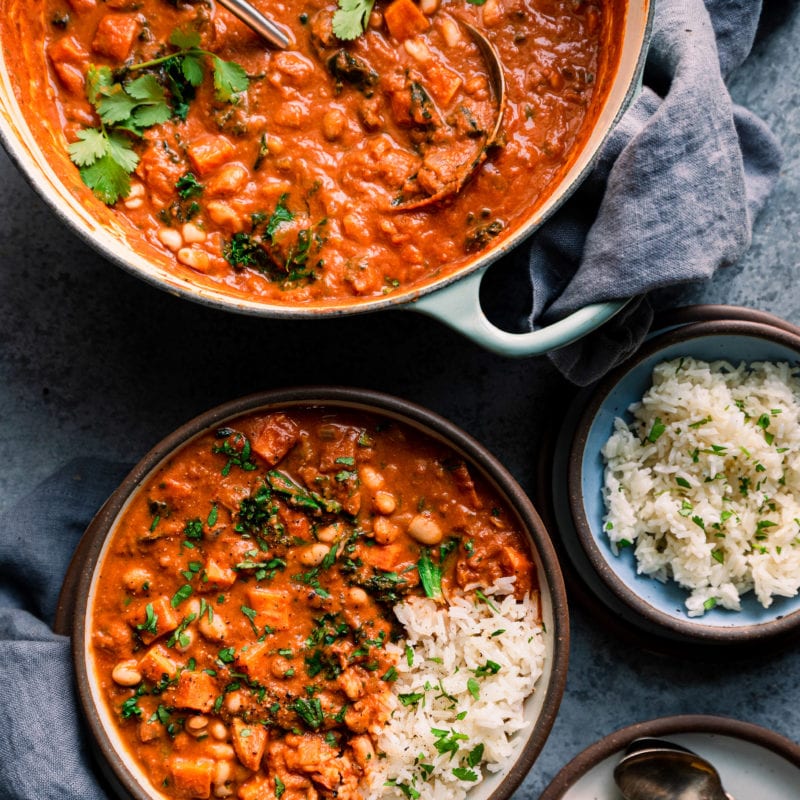 This Vegan Gambian Peanut Stew is vegan, gluten-free, and plant-forward, but it tastes like comfort food! Packed with hearty ingredients like protein-rich white beans, sweet potatoes, and kale, it's a feel-good meal that'll become your new favorite vegan dinner!
Ingredients
1 ½

tablespoons

Simply Nature Organic Coconut Oil

1

large yellow onion,

diced

6

garlic cloves,

chopped

2

tablespoons

freshly grated ginger

1-2

jalapeño peppers,

diced**

2

tablespoons

tomato paste

1

teaspoon

ground cumin

1

teaspoon

coriander

1/4

teaspoon

cinnamon

1/4

teaspoon

cloves

1 ½

teaspoons

kosher salt

Black pepper to taste

4

cups

(945 mL) low-sodium vegetable broth

(or water)

1

small handful of fresh thyme sprigs**

1

pound

(454g) sweet potatoes,

peeled and finely diced***

½

cup

(128g) Simply Nature Organic Creamy Peanut Butter

1

(15-ounce/425g)

can of cannellini beans

(or other white beans such as navy beans)

1

(28-ounce/800g)

can crushed tomatoes

5

cups

(90-100g) chopped organic kale

1

tablespoon

freshly squeezed lemon juice

(or lime juice)

½

cup

cilantro,

chopped
For serving (optional)
white rice, brown rice, millet, quinoa, or fonia
Instructions
Heat a large, deep nonstick pan or Dutch oven over medium-high heat. Add the coconut oil, and once it's shimmering, add the onions with a pinch of kosher salt. Cook until the onions are just starting to brown, about 5 minutes. Add the garlic, ginger, and jalapeño peppers. Cook for 2 minutes, stirring frequently to prevent burning.

Add in the tomato paste, cumin, coriander, cinnamon, cloves, 1 1/2 teaspoons kosher salt, and a generous amount of freshly cracked black pepper. Stir frequently and vigorously for 2 minutes, incorporating the tomato paste and spices into the onions. Add a few splashes of water to prevent the spices from drying out or burning.

Pour in the vegetable broth or water, stirring with a spatula to scrape up any browned bits on the bottom of the pan. Add the thyme sprigs, sweet potatoes, peanut butter, white beans, and crushed tomatoes. Stir well to combine.

Bring the mixture to a boil, then reduce the heat to low or medium-low to maintain a rapid simmer for 20 to 25 minutes, or until the sweet potato is soft and tender, stirring occasionally.

Optional step: The stew should be quite thick by now, but if you want it to be even thicker and creamier, run an immersion blender through half of the stew (don't blend it all – you want to retain some texture).

Add the chopped kale and simmer for 3-5 minutes, or until wilted. If desired, use a fork to smash the sweet potatoes to further thicken the stew.

Stir in the lemon or lime juice and cilantro. Season to taste, adding more salt as needed. Serve plain, or on top your favorite grain.
Notes
*

If you're very sensitive to spicy food, use just 1 jalapeño pepper and remove the seeds and membranes, where most of the heat lives. But if you can handle the heat, leave the seeds in. Really love spicy food? Feel free to use a habanero or Scotch bonnet pepper (the seeds are very spicy so I recommend removing them).
** You can substitute fresh thyme with 1 teaspoon dried thyme. Just add it to the Spice Blend.
***To ensure the sweet potatoes cook through in the time allotted, be sure to finely dice them. If not finely diced, it will take longer for the stew to cook. 
---
Calories:
377
kcal
|
Carbohydrates:
52
g
|
Protein:
17
g
|
Fat:
15
g
|
Saturated Fat:
5
g
|
Polyunsaturated Fat:
4
g
|
Monounsaturated Fat:
6
g
|
Sodium:
1141
mg
|
Potassium:
1196
mg
|
Fiber:
11
g
|
Sugar:
14
g
|
Vitamin A:
16819
IU
|
Vitamin C:
91
mg
|
Calcium:
225
mg
|
Iron:
6
mg