I posted a "what I eat in a day" series of Stories on Instagram the other day, and as soon as I posted a photo of these fudgy vegan brownies (yes, I had three in one day, okay!), the DMs started flooding in.
Recipe pls! omg i need the recipe! NEED this recipe!
So, I had to oblige.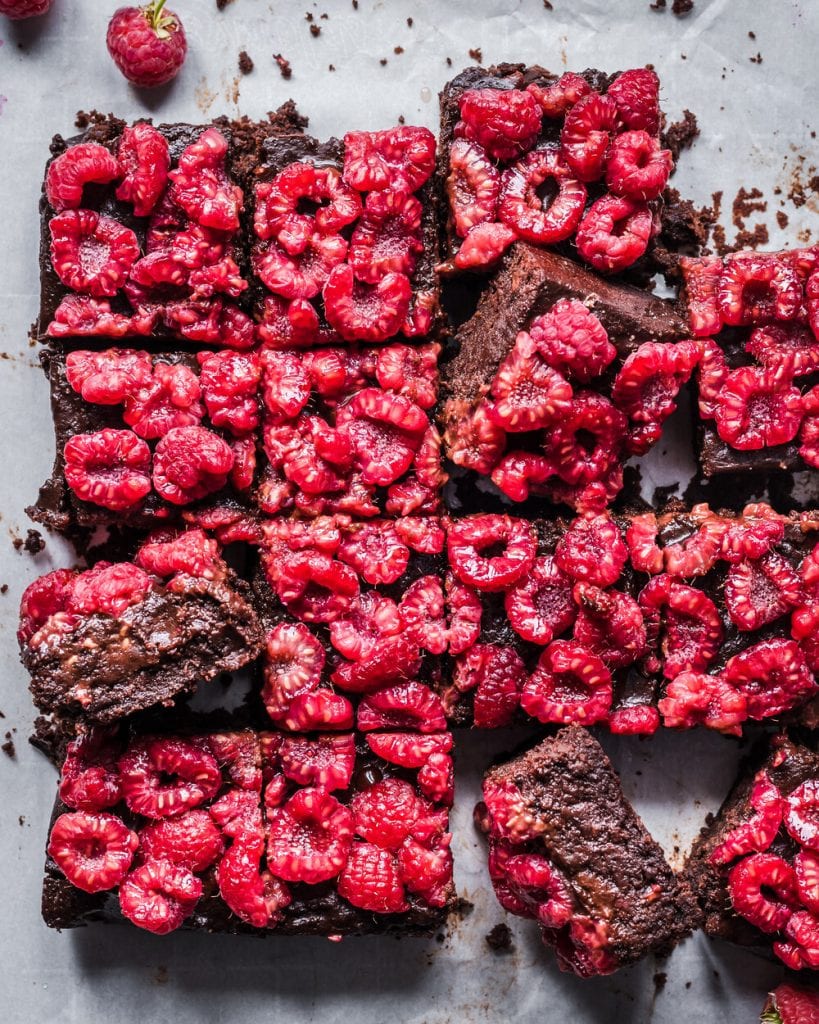 Speaking of decadent, if you want to see the texture of these babies, just take a look at this video montage below. :::::::::::::::::::heart eyes emoji:::::::::::::::::::
These brownies are very fudgy with a slight chewy bite and packed with morsels of dark chocolate. If that weren't amazing enough, they get covered with a three-ingredient chocolate glaze and lots of raspberries. The raspberries are the perfect tart counterpart to the sweet, richness of the chocolatey brownies.
Of course, if you can't find raspberries where you live, you can omit them.
Why you'll love these Fudgy Vegan Brownies
They are double chocolate brownies, but technically they are quadruple chocolate brownies because you use both cocoa powder and dark chocolate on two separate occasions.
These brownies are fudgy, rich, gooey, and a little chewy. No cakey brownies here!
Raspberry and chocolate is my favorite dessert combination, as the tartness of the raspberries cuts the richness of the chocolate perfectly.
I fed these brownies to a group of five omnivores, and they were all amazed. One of my friends ate three brownies in one sitting and happily asked if there were more brownies left. Sadly, he had eaten the last brownie, so the answer was no.
Ingredient Spotlight: Chocolate and Cocoa Powder
When it comes to brownies, brownies made with cocoa powder typically turn out cakey, whereas brownies made with melted chocolate turn out fudgy. And if you think about it, it makes total sense. From a texture perspective, adding cocoa powder is akin to adding more flour to the recipe, and adding more flour makes for cakier brownies.
In contrast, adding a melted pool of chocolate essentially adds more liquid, making brownies more moist, dense, and gooey. But if you want to combine cocoa powder and melted chocolate, you get a little bit of both, which often results in chewy brownies. That's what I do in this recipe, and the result is fudgy brownies with a slightly chewy bite.
And since I prefer my brownies fudgy, to take them over the fudginess top, I add extra chopped dark chocolate into the batter. I fold chopped dark chocolate chunks before pouring the batter into the pan, which brings extra rich chocolatey goodness to the brownies.
Some of the chocolate chunks will almost melt into the brownies, which means rich fudginess, but other chunks will stay firm (especially larger sized ones), providing a nice little solid piece of chocolate to bite into. For these chocolate chunks, I use the same dark chocolate used in the batter, but if you have vegan or dairy-free chocolate chips on hand, you could easily use those instead.
Baking Time
If you've ever baked brownies that came out a bit dry, you likely baked them for too long. I recommend checking your brownies at least 5 minutes before you think they'll be done. Take them out of the oven and insert a toothpick.
The perfect time to remove brownies is when there are moist crumbs stuck to the toothpick. At this point, you might even think the brownies aren't fully baked yet, but brownies continue to cook and set up while resting, especially brownies made with melted chocolate (as in this recipe).
If there are no crumbs, sadly, you have overbaked your brownies (oops!).
To clarify, you are looking for actual crumbs, not wet, gooey batter. If you get liquid batter on your toothpick, the brownies still need a bit more time in the oven.
Also keep in mind that all ovens are different! I include a time range of 20-25 minutes because every oven is different. If your oven isn't calibrated, I highly recommend getting an inexpensive oven thermometer such as this so you know exactly what temperature it is inside your oven.
Tips for making these Fudgy Vegan Brownies
I recommend using a 70% dark chocolate for the best results. If you like your chocolate really dark, feel free to use a more intense dark chocolate in the 80-85% range, but they will be less sweet. Alternatively, you could use a slightly sweeter chocolate, such as 60%.
If you go the latter route, I would use a few tablespoons fewer of brown sugar, or omit the chocolate glaze; otherwise, the brownies might be too sweet.
I use refined coconut oil for the topping so the brownies don't taste coconut-y, but if you don't mind a coconut-y taste, feel free to use unrefined coconut oil.
When you are done making the brownie batter, the texture of the batter will be very dense and thick. It might feel almost like a chocolate ganache. I put together a video for you so you can see what I mean. However, if the batter feels too thick or dry, add in 2 tablespoons of boiling water, 1 tablespoon at a time, stirring to combine until the batter is a bit looser.
Chocolate Glaze and Raspberry Topping
The chocolate glaze is made with just three ingredients—cocoa powder, coconut oil, and agave nectar—and takes 2 minutes to make! I use agave because it is very viscous and help the glaze adhere really well to the brownies, but you could also substitute maple syrup. And once you refrigerate the glazed brownies, the glaze permanently adheres to the brownies, making them even tastier!
When I make really rich chocolate desserts, I like to add something tart to help balance the sweet richness, such as in this chocolate cheesecake with cranberry compote. Similar principle here: the chocolatey fudginess is nicely counterbalanced by the generous amount of raspberries, making each bite a complete delight.
If your raspberries, are on the larger side, I recommend slicing them in half. It makes for a prettier presentation and makes them easier to eat.
How to store these brownies
These brownies are equally delicious when stored at room temperature or in the fridge, but they taste considerably different. When stored in the fridge, they taste almost like solidified fudge. When stored at room temperature, they taste more like a traditional brownie.
If you want to store these brownies at room temperature (in an airtight container), I recommend decorating them with only the amount of raspberries you plan to eat that day, as raspberries stored at room temperature will develop mold after a day or two.
Of course, you can avoid this problem by storing the brownies in an airtight container in the fridge. If stored in the fridge, you can bring them to room temperature before eating if you want a more traditional brownie texture.
If you give these Fudgy Vegan Chocolate Glazed Brownies recipe a try, be sure to tag me on Instagram with your recreations and please leave a comment below!
The Best Fudgy Vegan Brownies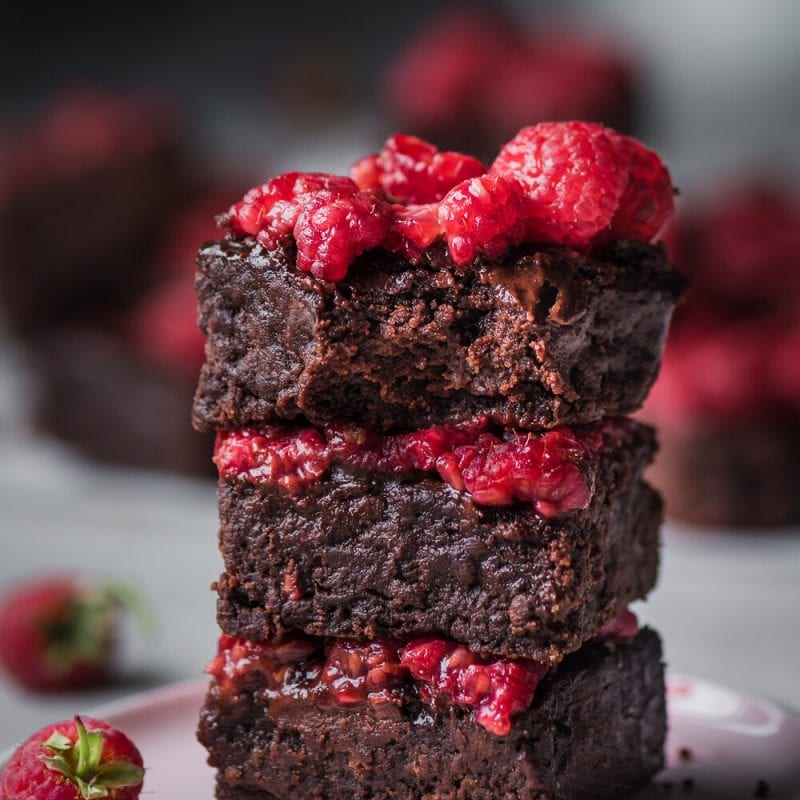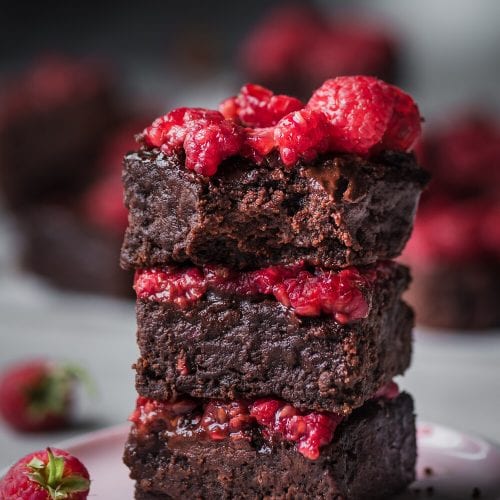 These Fudgy Vegan Chocolate Glazed Brownies are so rich and indulgent, you'd never guess they're vegan! Made with dark chocolate and featuring a 3-ingredient chocolate glaze, these are the best vegan brownies and a must-try for any chocolate lover!
Ingredients
2

tablespoons

(14 g) flaxseed meal

6

ounces

(170 g) 70% dark chocolate, divided*

6

tablespoons

(84g) vegan butter, roughly cut into chunks

1

cup

(120 g) all-purpose flour, spooned and leveled

1/2

teaspoon

baking powder

1/2

teaspoon

sea salt

6

tablespoons

(~30g) unsweetened cocoa powder

2

tablespoons

neutral-flavored oil of choice

(I used sunflower oil)

1/4

cup

(60 mL) plant-based milk (I used oat milk)

3/4

cup

(144 g) loosely packed organic brown sugar (or coconut sugar)

1/4

cup

(60 ml) maple syrup**

1 1/2

teaspoons

pure vanilla extract

2

tablespoons

boiling water,

only as needed
Chocolate Glaze and Raspberry Topping
6

ounces

(170g) fresh raspberries

3

tablespoons

refined coconut oil,

melted

3

tablespoons

unsweetened cocoa powder

1

tablespoon

(20g) tablespoons agave nectar***
Instructions
Preheat the oven to 350°F/175°C.

Make the flax eggs. Mix the ground flaxseed meal with 5 tablespoons water, stir to combine and refrigerate for 15 minutes to thicken. Re-whisk the mixture again before using.

Prepare a double boiler. Add a few inches of water to a saucepan and bring to a simmer. Nestle a large heatproof glass bowl that sits on top of the saucepan without touching the water to create a double boiler.

Chop half of the dark chocolate (3 ounces or 85g) into bite-sized pieces and set aside.

Melt the chocolate and butter. Take the remaining half of the dark chocolate and roughly chop it or break it apart with your hands. Place these chocolate pieces and the vegan butter in the heat-proof bowl on top of the saucepan. Allow the chocolate mixture to melt, whisking frequently until smooth and the chocolate is completely melted. Set aside to cool.

Alternatively, you can add the chocolate pieces and the vegan butter to a large bowl and microwave it. Melt in 25 second intervals until mostly melted and smooth, stirring well between each interval (3 total intervals should be good).

While the chocolate-butter mixture is cooling, line an 8×8″ baking pan with parchment paper.

Mix the dry ingredients. In a medium bowl, whisk together the flour, baking powder, sea salt, and cocoa powder.

NOTE: I recommend sifting the mixture, as cocoa powder can be lumpy.

Mix the wet ingredients. Once the chocolate-butter mixture is cool, pour in the oil, plant-based milk, brown sugar, maple syrup, flax eggs, and vanilla. Whisk well until smooth and well combined.

Combine the dry and wet. Add the flour mixture into the liquid mixture and stir with a wooden spoon until just combined. Then fold in the reserved 3 ounces /85 g of dark chocolate pieces using a silicone spatula. Pour the batter into the lined pan and smooth out the surface out with a silicone spatula.

NOTE: The batter should be rich and dense, but if it feels too thick or dry, add in 2 tablespoons of boiling water, 1 tablespoon at a time, stirring to combine until the batter is a bit looser.

Bake the brownies. Bake for 20-25 minutes, or until a toothpick inserted in the middle comes out almost clean. I always check my brownies a few minutes before I think they're going to be done. They may appear slightly under-baked, which means they're fudgy and rich, and they will continue to bake after you take them out of the oven. Transfer the brownies to a wire rack to cool for at least 30 minutes before adding the glaze.

Meanwhile, make the chocolate glaze. Whisk together the melted coconut oil, cocoa powder and agave nectar until smooth. Slice any large raspberries in half.

Top the cooled brownies with the chocolate glaze and spread evenly, using a spatula as needed. Top with all the raspberries. If you have any leftover glaze, drizzle it on top (I did so in the video). Place in the fridge to fully harden for at least 30 minutes.

For storage tips, see the note in the blog post called "How to store these brownies."
Notes
* You can use a more bitter chocolate, such as 80 or 85%. Or, you can use a sweeter chocolate, such as 60-65%. If you use semisweet chocolate, use less brown sugar or omit the chocolate glaze. You can use chocolate bars, as I did, or chocolate chunks/chips such as this.
** I haven't tried this myself, but I'm pretty sure you can substitute the maple syrup with more brown sugar if you don't have maple syrup.
*** Agave is viscous and helps the glaze adhere really well to the brownies, but you can sub maple syrup.