I'll be the first to admit that this is a rather simple recipe that wouldn't otherwise make it on my blog. BUT, "simple" and "insanely delicious" are not mutually exclusive.
This toast is in fact so delicious that I originally made it for both me and Mr. RainbowPlantLife. But after one bite, I decided that I absolutely needed to devour all six slices on my own. And the reason there are only four pieces of toast pictured in these photos is that I ate two of them before I even began taking photos. And then I took another bite from the remaining four because I just couldn't help my greedy self.
In case you're feeling bad for Mr. RainbowPlantLife, don't. I made up for it by making him cheesy pasta and a decadent chocolate cream tart, so he's doing just fine.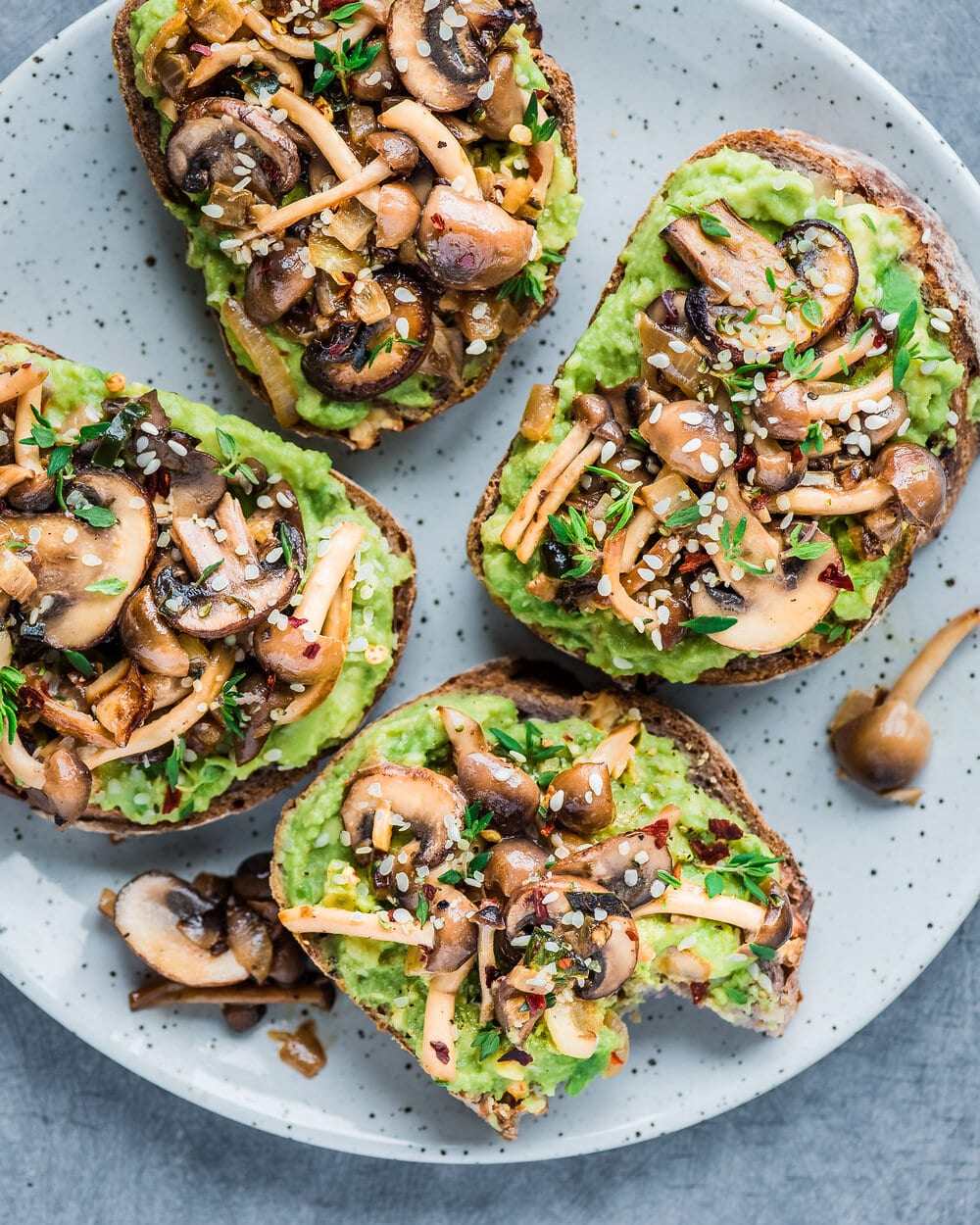 Ingredient notes
Bread. I recommend a hearty, freshly baked bread from your local bakery for this toast (or from your own oven, if you're feeling domestic). No soft white bread, please. However, if you are gluten-free, of course, use a vegan, gluten-free bread that you like.
I used a walnut levain bread, which sounds like a strange choice for this recipe, but the crunch of the walnuts contrasted really nicely with the creaminess of the avocado and the mushrooms.
Mushrooms. I suggest using wild mushrooms in this dish since they contain more flavor than ordinary button mushrooms. But no need to get super exotic if you don't want to – a simple brown cremini mushroom will be perfect. 
Mushrooms are approximately 80-90% water, so you'll need to keep a few things in mind when you cook them. More on that in the "Tips for cooking mushrooms" section below.
Full-fat coconut milk. I finished the mushrooms with a bit of full-fat coconut milk (hence the name: creamy mushroom smashed avocado toast). It adds a little more decadence to this already indulgent dish, but you can omit the coconut milk and still obtain delicious results.
Red wine vinegar. To balance out the creaminess, I added a splash of red wine vinegar at the end since an acidic component is essential to a well-balanced creamy dish. If you omit the coconut milk, you'll want to omit the vinegar as well.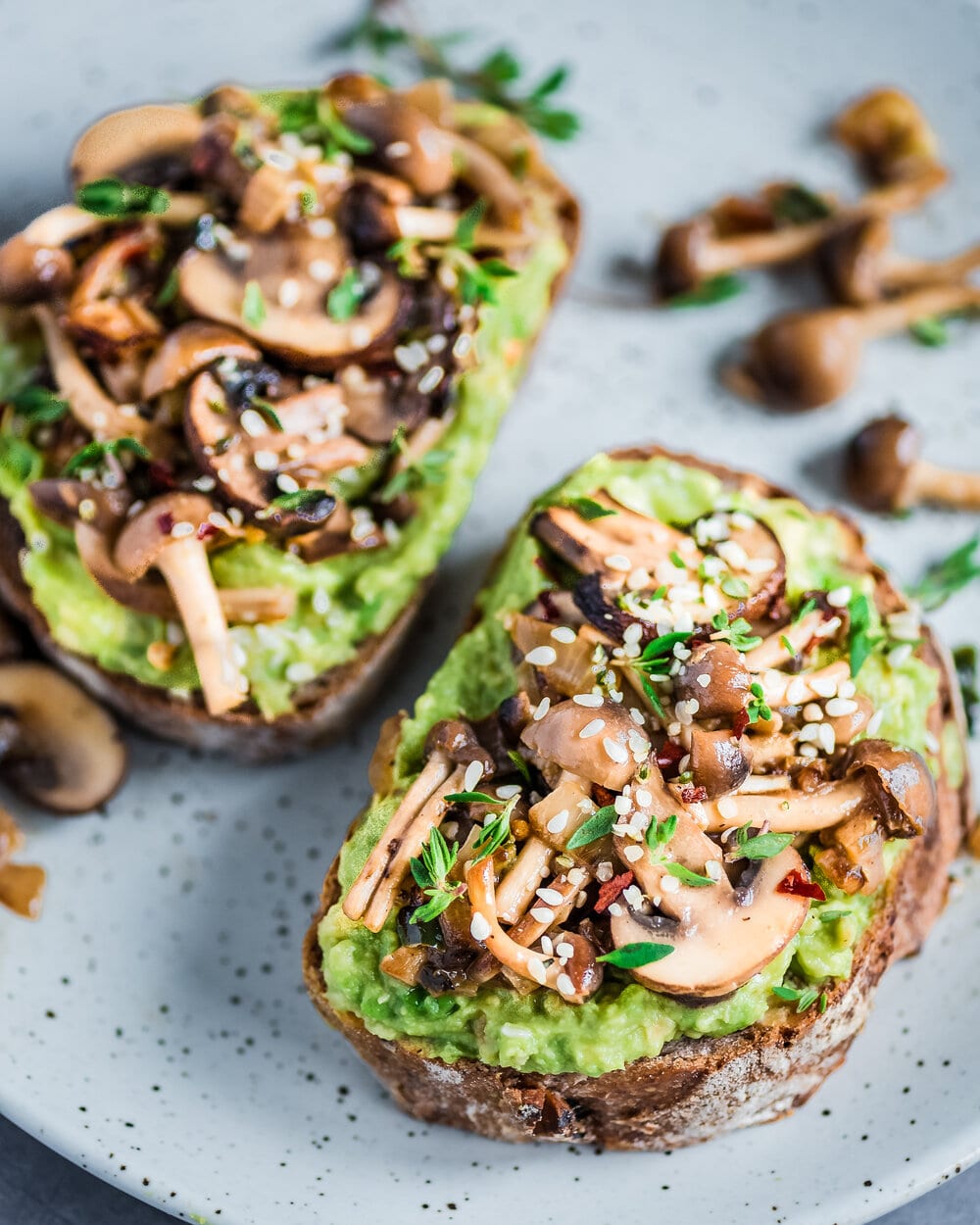 Tips for cooking mushrooms
Mushrooms are like little sponges, so they absorb whatever they're cooked in. That's why mushrooms cooked in olive oil taste different than mushrooms cooked in butter, for instance. This is all the more reasons to infuse a lot of flavor into mushrooms. This recipe does that with shallots, garlic, thyme, chili peppers, olive oil, and coconut milk.
Don't slice mushrooms too thinly, or you'll end up with shriveled up little brown nuggets.
Don't salt at the beginning. Because mushrooms contain a ton of water, you don't want to salt them at the beginning because salt draws out moisture from vegetables. And when you draw out the moisture from mushrooms, you end up with soggy, steamed mushrooms instead of meaty, browned mushrooms.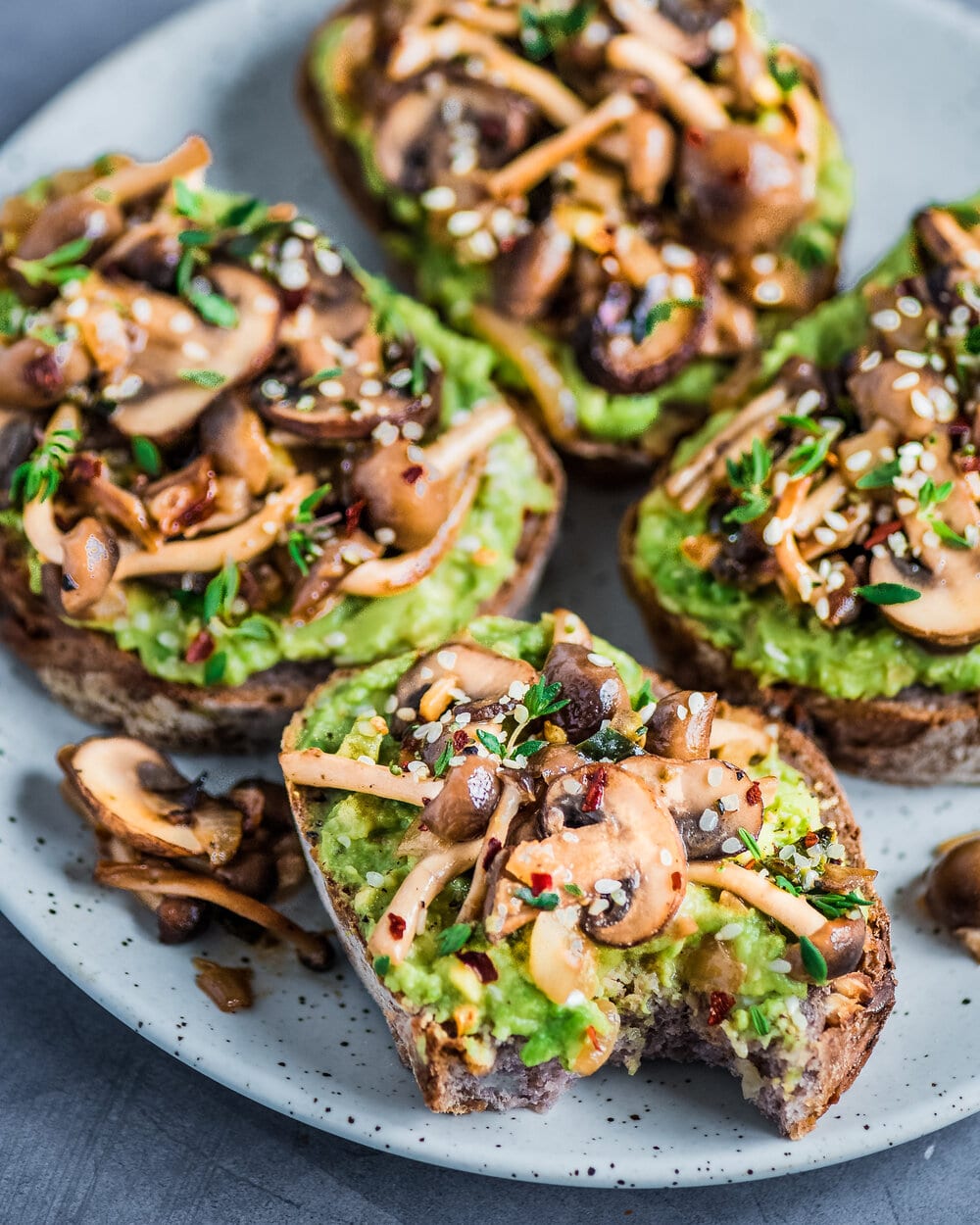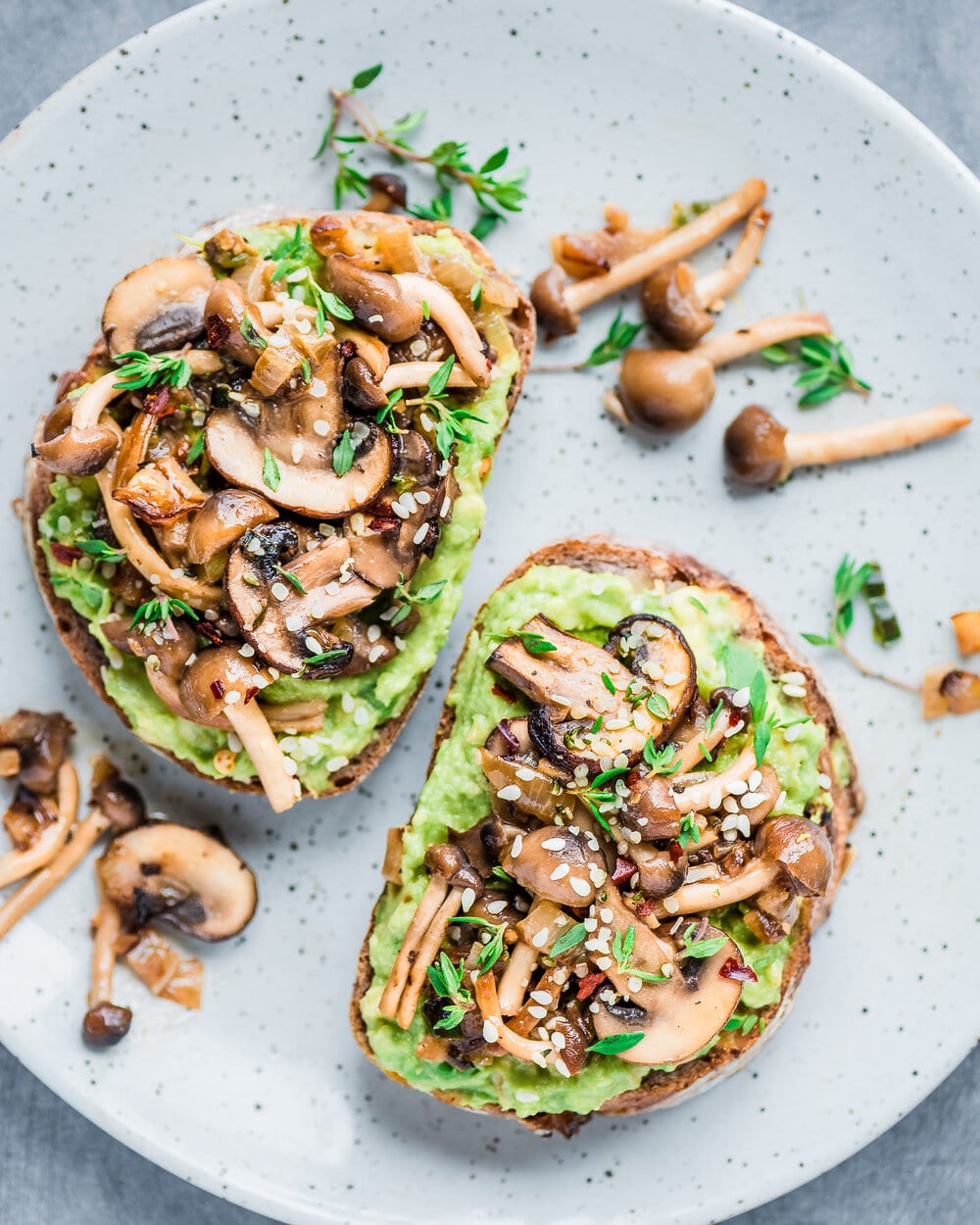 Cook them on medium-high heat. Similarly, because mushrooms are waterlogged little creatures, you don't want to cook them on low heat. That will just cause the mushrooms to simmer in their own brown liquid, and that's no good. Instead, cook mushrooms at medium high heat to help cook off that liquid and you'll end up with a nicely browned mushroom.
Don't toss the mushrooms constantly. Leave them be and let them cook undisturbed for a few minutes on each side to achieve that beautiful golden sear. Hello, crispy, caramelized bits!
Give them some breathing room. Don't crowd your mushrooms into a pan or you'll end up with those sad, watery mushrooms that nobody likes. If you don't have a 12-inch skillet like the recipe calls for, try cooking them in two separate batches.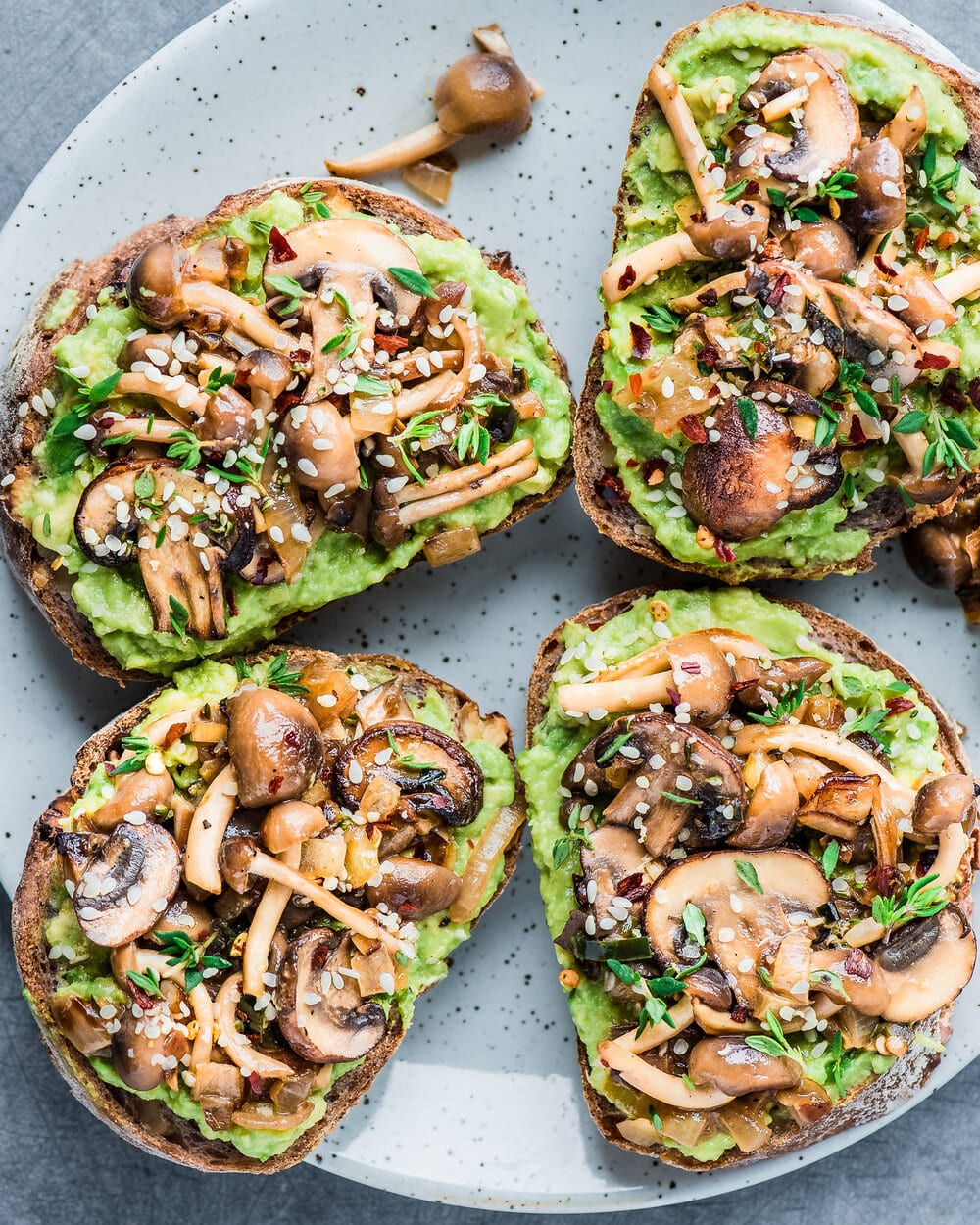 This toast will stay fresh in your fridge for about 12 hours, but I highly doubt it will last that long. If you make this mouthwatering recipe (even if it's too simple to be considered a true recipe), be sure to tag me on Instagram!
Creamy Mushroom Smashed Avocado Toast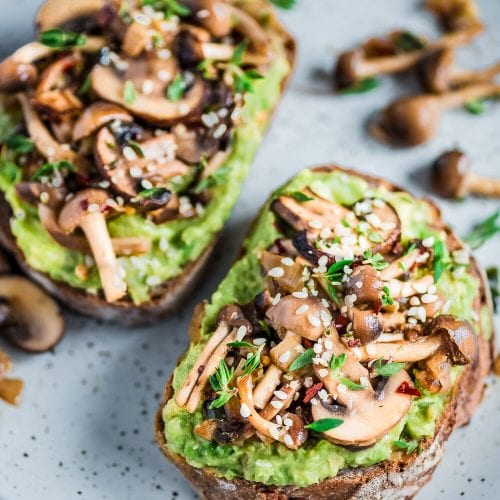 Creamy, umami-packed mushrooms and buttery rich avocado make for the perfect pairing in this elevated avocado toast! Easy, satisfying, and wholesome!
Ingredients
2

tablespoons

olive oil,

divided

3

shallots,

diced (or 1 small onion, diced)

2

cloves

garlic,

minced

1

jalapeño pepper,

diced (seeds intact)

8

ounces

wild mushrooms,

sliced (but not too thinly)

8

sprigs fresh thyme leaves

Sea salt and pepper to taste

1/3

cup

canned coconut milk

1 1/2

teaspoons

red wine vinegar

1

large ripe avocado

1/8

teaspoon

crushed red pepper flakes

Juice of 1/2 lemon

6

slices

hearty bread
Instructions
Heat a 12-inch skillet over medium high heat with 1 tablespoon olive oil. Once the oil is shimmering, add the shallots and cook for 3-4 minutes until softened and beginning to brown.

Add the minced garlic and diced jalapeño pepper and cook for 1-2 minutes until the garlic is golden.

Pour in the remaining tablespoon of olive oil and then add the mushrooms and thyme sprigs. Allow the mushrooms to cook undisturbed for 3-4 minutes, then toss and cook for 2-3 minutes. Once you notice the mushrooms have begun to brown, season them generously with salt and pepper and continue cooking until they are completely browned.

Reduce the heat to low and pour in the coconut milk and stir to evenly combine. Remove the skillet from the heat and stir in the red wine vinegar. Taste the mushrooms for seasonings and adjust accordingly.

While the mushrooms are cooking, prepare the smashed avocado toast. Spoon out the flesh from the avocado and place it in a bowl. Add the crushed red pepper flakes, lemon juice, and sea salt and black pepper to taste. Use a fork to smash the avocado until you have a smoothish texture that retains some chunks. Spread the smashed avocado onto each slice of bread and finish each slice with a few spoons of the cooked mushrooms.
---
Calories:
435
kcal
|
Carbohydrates:
40
g
|
Protein:
12
g
|
Fat:
28
g
|
Saturated Fat:
9
g
|
Polyunsaturated Fat:
3
g
|
Monounsaturated Fat:
14
g
|
Sodium:
269
mg
|
Potassium:
896
mg
|
Fiber:
11
g
|
Sugar:
7
g
|
Vitamin A:
278
IU
|
Vitamin C:
21
mg
|
Calcium:
130
mg
|
Iron:
3
mg