A while back, I filmed a "what I eat in a day" type video for Youtube. Since I wanted to keep things casual, I did what I do most evenings for dinner: make a recipe on the fly with ingredients I wanted to use up. That's how these Crispy Sesame Tofu and Mushroom Lettuce Wraps came about.
I've made crispy baked tofu before, I've made lettuce wraps before, and I've made variations of this sauce before, but I've never combined them together in one recipe. And let me tell you, the combination was straight tasty cakes.
My first time enjoying lettuce wraps was at P.F. Changs in high school. Then, as my palate expanded, I tried a few more varieties of lettuce wraps, including Larb Gai, minced meat served in lettuce wraps popular in Thailand and Laos (in my pre-vegan days, obviously). This version is inspired by all of the above but is of course vegan!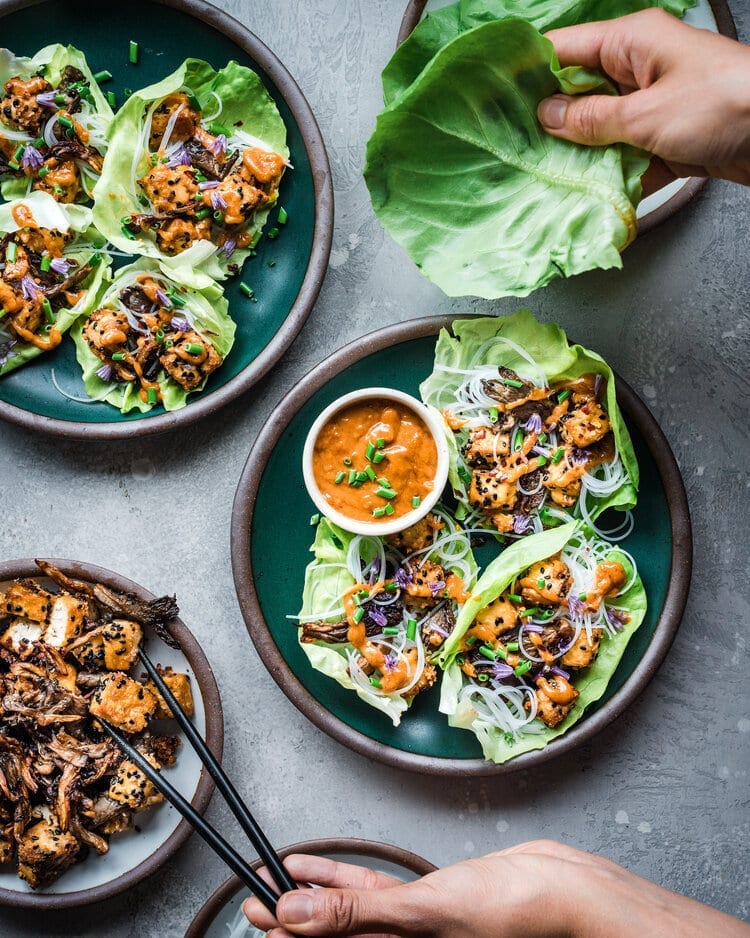 Why you'll love these tofu lettuce wraps
Light yet filling. These lettuce wraps are light and refreshing yet addictively good and they don't skimp on flavor. Unlike many lettuce wraps/cups, these are actually satiating! This combination makes them the perfect summer dinner!
Healthy yet indulgent. Like many tofu recipes, these wraps strike the perfect balance. Meaty mushrooms, chewy yet crispy tofu, a creamy spicy almond-sesame sauce – paired together, they taste indulgent. When paired with lettuce wraps, it's the perfect balance of healthy and indulgent.
PS: Looking for another healthy yet indulgent lettuce wrap filler? Try my Vegan Egg Salad! 
Weeknight-friendly. If you can multitask (i.e., make the sauce and soak/cook the rice noodles  while the tofu and mushrooms cook), this meal takes 45 minutes to make. Okay, you need to press the tofu beforehand, but that takes 1 minute. Okay, fine, 46 minutes!
And for another weeknight-friendly, East Asian inspired dish, check out these Gochujang Noodles. Or, if you want an East Asian-inspired feast, serve these lettuce wraps as an appetizer for my restaurant-style Tofu Stir Fry.
Flavor explosion. This recipe is so packed with flavor that I promise even the biggest vegan skeptics will enjoy it. Max is an alleged hater of tofu and mushrooms and he couldn't get enough of this dish.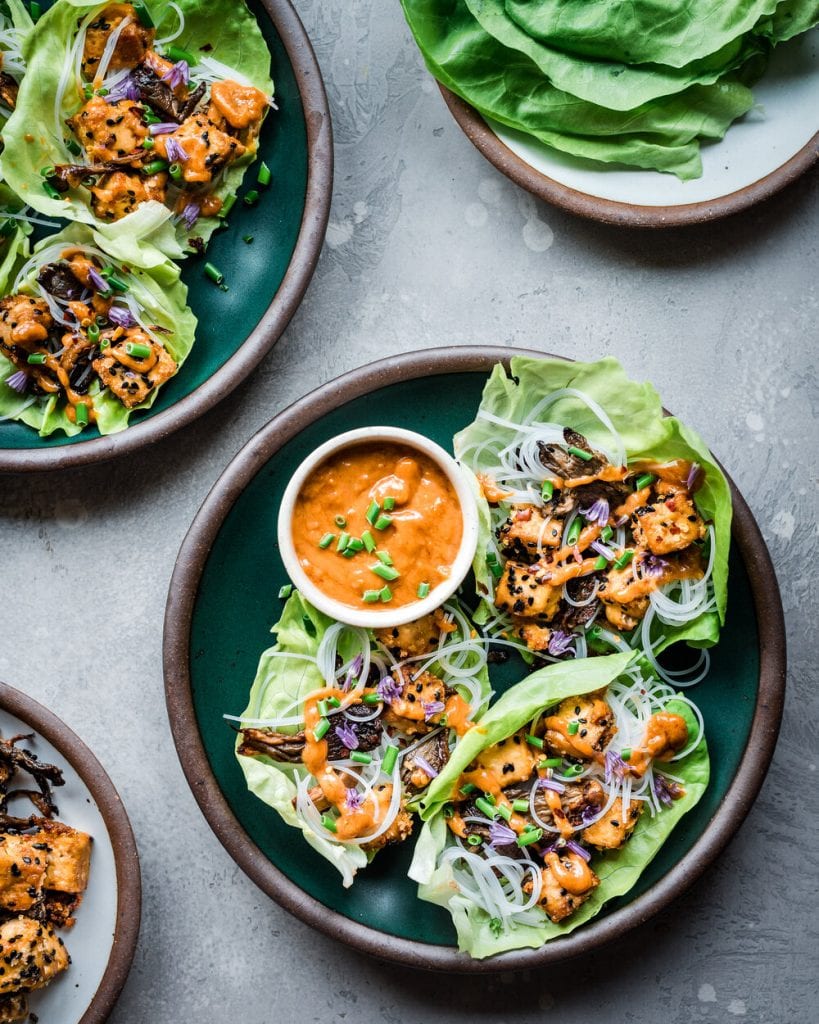 How to make tofu lettuce wraps
One thing I love about this recipe is the tofu and mushrooms can be cooked on sheet pans together in the oven at the same temperature. They both need roughly the same cook time so you could even cook them on the same sheet pan (hey, sheet pan dinner!).
For this recipe, however, the quantity of food is too great to fit on one pan, so I give the tofu and mushrooms their own pan. But, if you were cutting the recipe in half, you could put them on the same pan.
For the tofu, you'll need extra-firm tofu and you need to press it before using. If you skip this step, your tofu will be water-logged and won't crisp up in the oven.
To press the tofu, place the tofu on a cutting board lined with paper towels; place more paper towels on top of the tofu and weight them down with a heavy cookbook or a heavy skillet filled with a few cans of beans. Let sit for 20-30 minutes to remove excess water.
Once the tofu has been pressed, chop it into cubes. Then toss with a mixture of neutral-flavored oil (I use grapeseed oil), toasted sesame oil (one of my favorite ingredients), tamari/soy sauce and a pinch of salt.
Then, you'll toast the tofu with three ingredients that provide the crispy exterior coating: arrowroot powder (or cornstarch), panko bread crumbs, and sesame seeds.
Panko are Japanese-style bread crumbs and I love how flaky and light they are. If you are gluten-free, you can find gluten-free panko.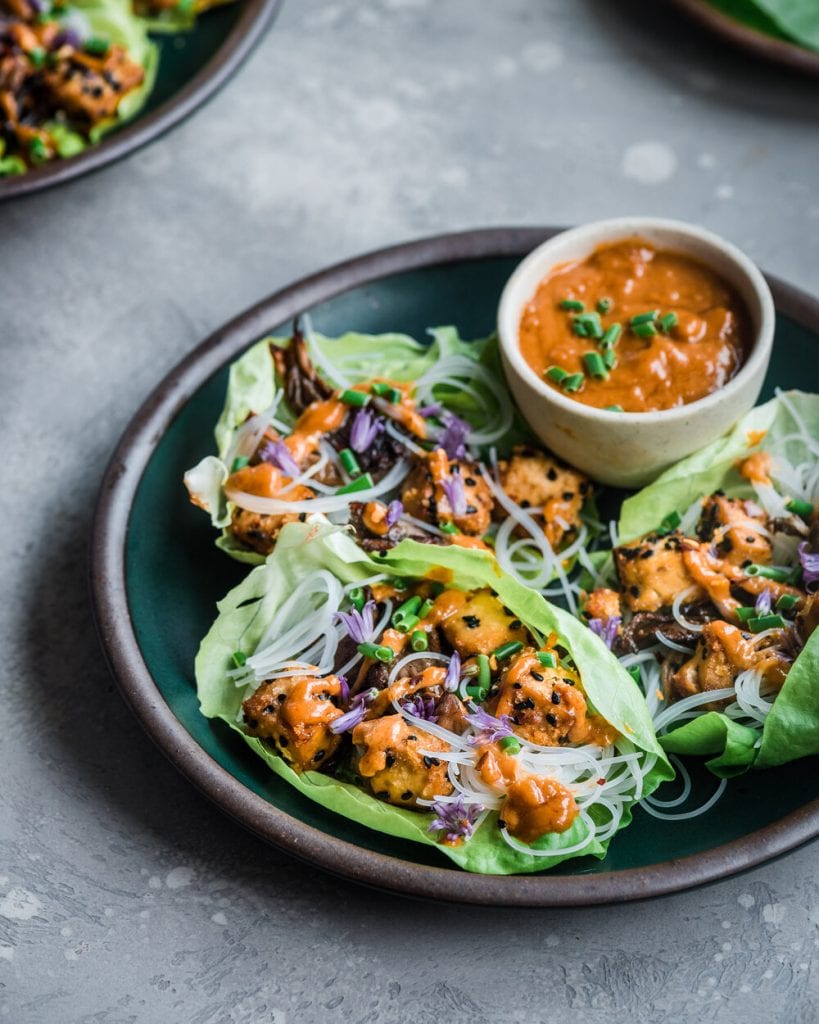 For the mushrooms, I used oyster mushrooms because they are incredibly meaty in texture. In fact, they are often used as a substitute for chicken. When paired with the chewy tofu, it feels like a truly hearty meal that even diehard omnivores would enjoy. Flavorwise, oyster mushrooms have a savory yet mild flavor and are not earthy like some other mushrooms.
Oyster mushrooms are not very dirty compared to many other mushroom varieties, so you just need to dab them with a damp towel. Then, slice of the tough woody ends. Use your hands to separate the bunches into individual mushrooms; for large mushrooms, slice them in half.
Toss the mushrooms with a bit of neutral flavored oil, salt, and pepper. Oyster mushrooms are flavorful that they don't need much more!
If you can't find oyster mushrooms, you can substitute shiitake mushrooms. Remove the caps and slice them, but not too thinly.
Spread out the tofu cubes and mushroom pieces on rimmed sheet pans and bake in the oven until the tofu is crispy and browned, and the mushrooms are beautifully golden browned.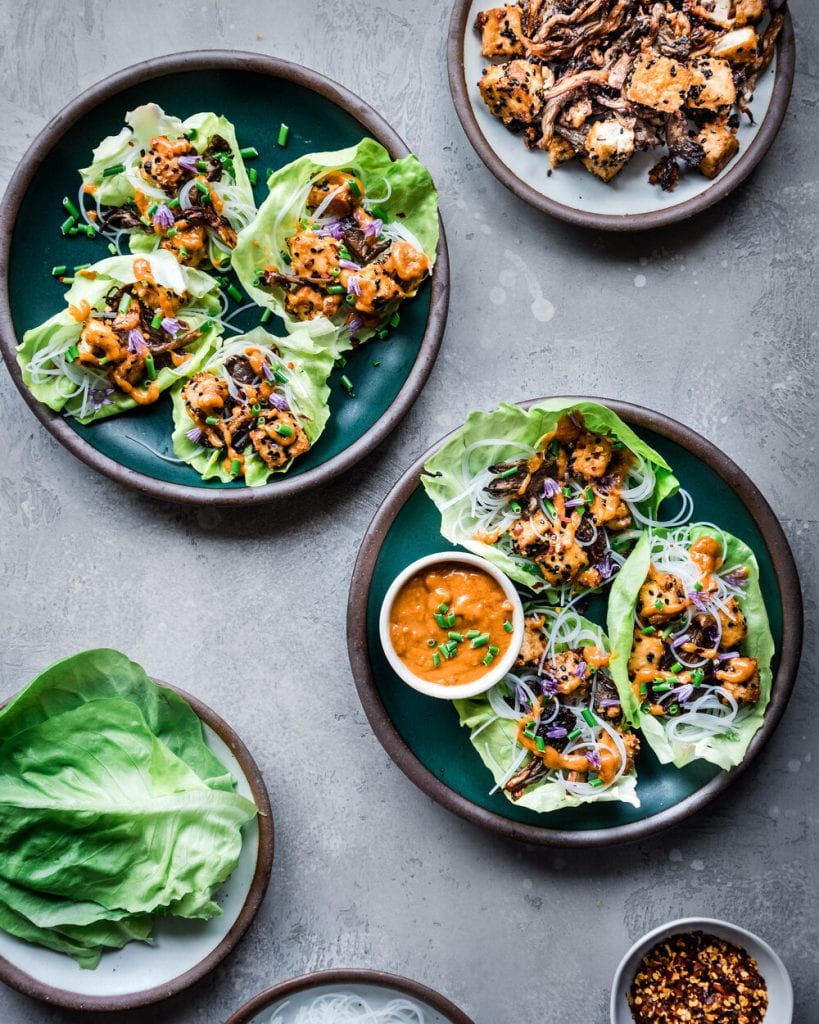 How to make Spicy Almond-Sesame Sauce
This is one of my absolute favorite sauces. It's adapted from a recipe in my cookbook for Sweet Potatoes with Cashew Sriracha Sauce, and it's so good, I promise you'll want to eat it by the spoon. The recipe takes inspiration from both Thai and Chinese cuisines, and it is packed with so much flavor.
It features some of my favorite ingredients: almond butter makes this sauce creamy and rich; the Sriracha gives the sauce a spicy kick; toasted sesame oil brings that irresistible and unique nutty fragrance and depth of flavor; ginger adds that lovely sweet-spicy zinginess; agave helps balance the spiciness and acidity of the vinegar; tamari brings the salty, umami flavors; and garlic, well, just makes everything more flavorful.
Speaking of vinegar, I typically use rice vinegar/rice wine vinegar in sauces like this, but I recently bought some Chinese black vinegar so I used it in this recipe. It's more potent in flavor than regular rice vinegar, so I used half the amount.
Chinese black vinegar is also rice-based but it comes from black glutinous rice and it also contains other grains, like wheat. So, if you are strictly gluten-free, you should avoid it and stick to rice vinegar. The flavor is quite bold—almost smoky but a little sweet.
To make the sauce relatively smooth, I heat up the almond butter in the microwave to make it more stirrable. Then whisk in the remaining ingredients. If you want the sauce to be ultra smooth, just add all the ingredients to a food processor.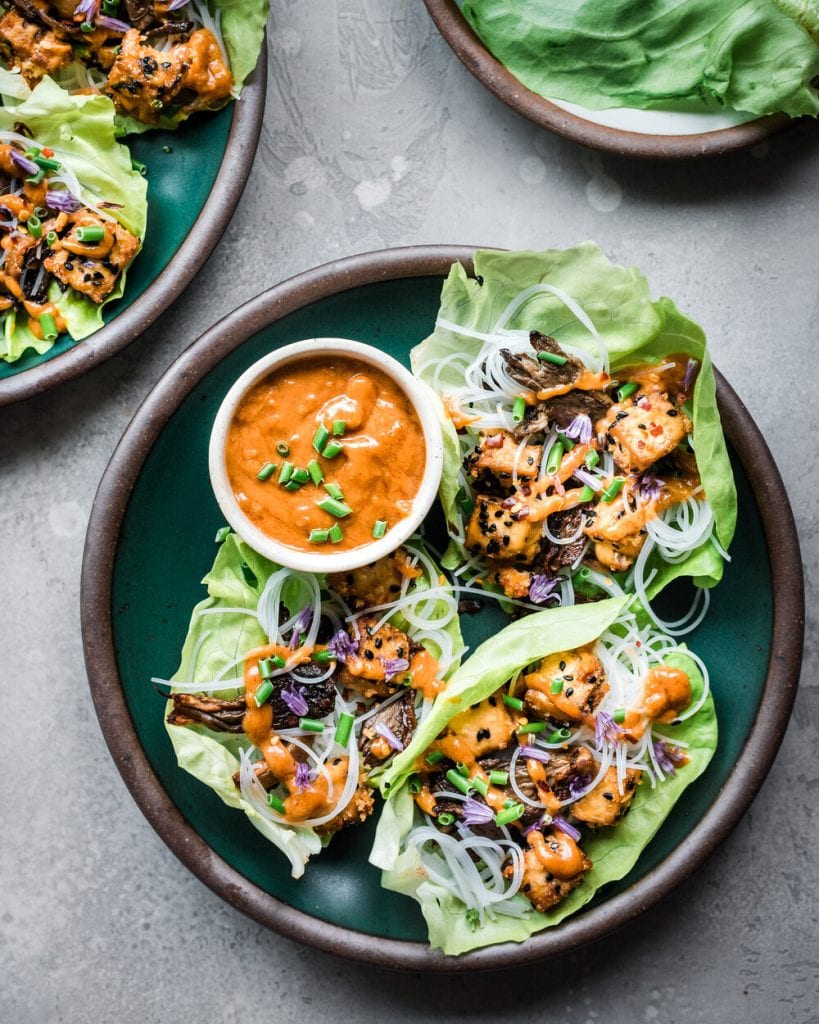 Tips for making this recipe 
1. To make things efficient as possible, start by pressing the tofu. After the tofu has been pressed, the rest of the recipe takes 45 minutes. Of course, you need to multitask.
Once you've put the tofu and mushrooms in the oven, start cooking the rice noodles. For some packages, that just requires you to soak noodles in hot water for 10 minutes, which couldn't be easier. Also, take the time to make the almond-sesame sauce and get your lettuce wraps/cups ready.
2. If you like your tofu extra chewy, I recommend draining your block of tofu and then freezing it (wrap it in plastic or place it in an airtight container). Then, defrost/thaw the block of tofu in the fridge overnight before using (or speed it up by removing it from the packaging and microwaving it in 1-minute intervals).
Freezing creates small holes in the tofu, making the texture spongier. Once cooked, the tofu will be chewier and it'll be easier to crisp it up. Freezing also helps the tofu absorbs flavors more, so you'll get more sesame and umami flavors absorbed into the tofu. Obviously, this requires some advance planning. I have gotten into the habit of just leaving a block of tofu in the freezer.
Want to learn more about how to make tofu taste AMAZING? Check out my comprehensive guide to cooking tofu.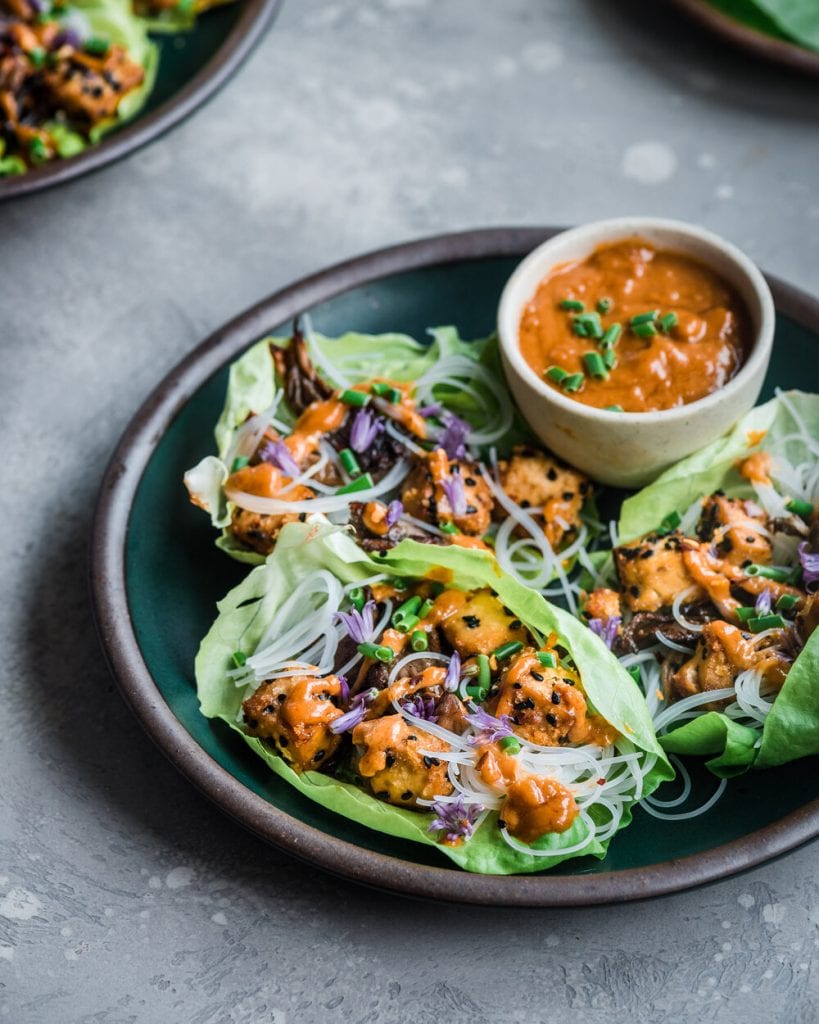 How to customize these lettuce wraps
Lettuce wraps are super easy to customize, so feel free to play around with the components. Replace the sesame-crusted tofu with my crispy-yet-pillowy Fried Tofu (the Five Spice Fried Tofu variation in the post is stellar here), my ridiculously easy Simple Baked Tofu, or my hyper flavorful Marinated Tofu.
If allergic to nuts, swap the almond butter in the sauce with tahini. Or, feel free to use peanut butter if you're a peanut sauce fan.
Garnish the lettuce cups with chopped roasted peanuts or cashews and thinly sliced scallions, or a finely minced fresh chili peppers for heat.
Hope you enjoy these Crispy Sesame Tofu and Mushroom Lettuce Wraps! If you do, please rate and review the recipe with your feedback below :)
Crispy Sesame Tofu and Mushroom Lettuce Wraps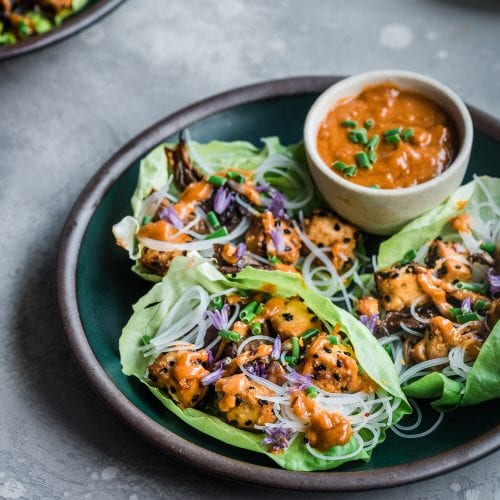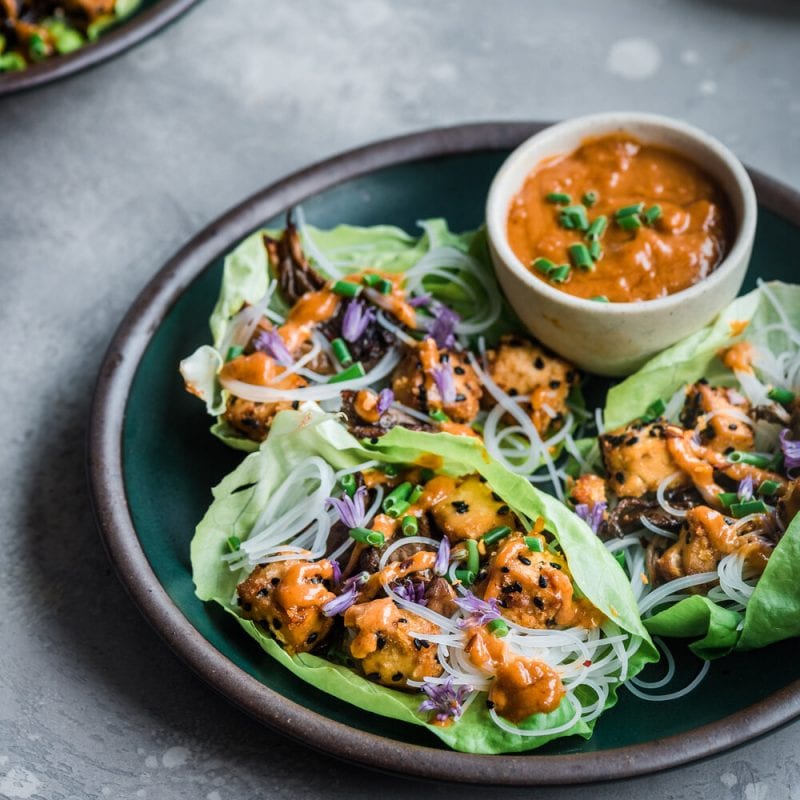 Crispy Sesame Tofu and Mushroom Lettuce Wraps are a light yet flavorful Asian-inspired dinner perfect anytime. Tofu and oyster mushrooms are baked on a sheet pan, then doused in a spicy almond-sesame sauce and served in lettuce wraps.
Ingredients
Tofu and Mushrooms
1

(14- or 16-ounce / 400-454g) block of extra-firm tofu

16

ounces

(454g) of oyster mushrooms (can substitute shiitake mushrooms)

2 - 2 1/2

tablespoons

neutral-flavored oil

(I used grapeseed oil, divided)

2

teaspoons

toasted sesame oil

1

tablespoon

tamari or soy sauce

(use tamari for gluten-free)

1

tablespoons

arrowroot powder

(or cornstarch)

1 1/2

tablespoons

panko breadcrumbs

(if gluten-free, use GF panko or GF bread crumbs)

1

tablespoon

black sesame seeds or white sesame seeds

Kosher salt to taste

Freshly cracked black pepper to taste

1

small batch of rice noodles

(4 to 6 ounces, or 115 to 170g)

1

large head of Bibb or butterhead lettuce*

Garnishes: chopped cilantro,

chopped chives or scallions, and sesame seeds
Spicy Almond-Sesame Sauce
4

tablespoons

smooth,

creamy almond butter

1/2 to 1 ½

tablespoons

Sriracha

1/2

tablespoon

black vinegar,

or 1 tablespoon rice vinegar**

1

tablespoon

agave nectar

(or maple syrup)

1/2

tablespoon

tamari or soy sauce

(use tamari for gluten-free)

1

tablespoon

toasted sesame oil

1-

inch

piece fresh ginger,

minced or grated

3

garlic cloves,

crushed

2

tablespoons

water
Instructions
Preheat the oven to 425°F/218°C. Line two baking sheets with parchment paper (so the tofu and mushrooms don't stick to the pan).

Drain the tofu and press it (how to press tofu instructions are in the blog post under the section "How to make crispy sesame tofu and mushrooms").

Prepare the tofu. Once pressed, chop the tofu into small cubes. Place tofu cubes in a medium or large bowl. Add 1 tablespoon of the neutral-flavored oil, the 2 teaspoons toasted sesame oil, the 1 tablespoon tamari, and 2 pinches of kosher salt. Toss to combine. Then add the arrowroot powder, panko, and sesame seeds. Gently toss to combine, using a spoon or your hands. Spread the tofu out in a single layer on the lined baking sheet.

Prepare the mushrooms. Clean off the oyster mushrooms with a damp towel. Then, slice off the tough woody ends. Use your hands to separate the bunches into individual mushrooms; for large mushrooms, slice them in half. Add the mushrooms to the same bowl used for the tofu; toss with the remaining 1 to 1 1/2 tablespoons neutral-flavored oil, and season with salt and pepper. Place the mushrooms on another lined baking sheet.

Bake the tofu and mushrooms in the preheated oven for 15 minutes. Remove the trays from the oven and toss the tofu and flip each mushroom over. Return to the oven and bake for another 15 minutes, until tofu is crispy and browned and the mushrooms are golden brown and blistered in some spots.

While the tofu and mushrooms are baking, cook the rice noodles according to the package. When they are done cooking, drain the noodles.

1. You can serve the noodles whole, but for ease of eating, I like to use scissors to cut the noodles into bite-sized pieces.

While the tofu and mushrooms are baking, make the Spicy Almond-Sesame Sauce. Add the almond butter to a microwave-safe bowl. Heat for 25 seconds to help loosen it up. Then add the remaining ingredients except for the water and whisk well to combine. Then, stream in the water and whisk to thin out the sauce until pourable but still thick.

Assemble the lettuce wraps: Separate the lettuce leaves. Spoon a small amount of the cooked rice noodles on top, followed by the baked tofu and mushrooms. Spoon the sauce on top. Repeat with remaining lettuce and fillings.
Notes
* I love butterhead and bib lettuce, but if you can't find those, you can use romaine or iceberg lettuce.
** If gluten-free, use rice vinegar instead of black vinegar, which contains grains. Also confirm that your rice vinegar contains only rice, not other grains (some varieties do).
---
Calories:
586
kcal
|
Carbohydrates:
58
g
|
Protein:
18
g
|
Fat:
33
g
|
Saturated Fat:
3
g
|
Polyunsaturated Fat:
17
g
|
Monounsaturated Fat:
10
g
|
Sodium:
903
mg
|
Potassium:
899
mg
|
Fiber:
6
g
|
Sugar:
7
g
|
Vitamin A:
1407
IU
|
Vitamin C:
4
mg
|
Calcium:
126
mg
|
Iron:
4
mg