Every time I've ordered a Greek salad since going vegan, it's felt a little lackluster. It's always nice and light, but it without any feta, it lacks the same salty, briny, tangy bite that a classic Greek salad has.
But, this vegan feta has the same savory tanginess of traditional feta (and lots of herby Greek flavor) but without any of the dairy!
It's surprisingly simple to make, packed with protein thanks to tofu, can be served in small cubes or crumbled, and will stay good in the fridge for a week.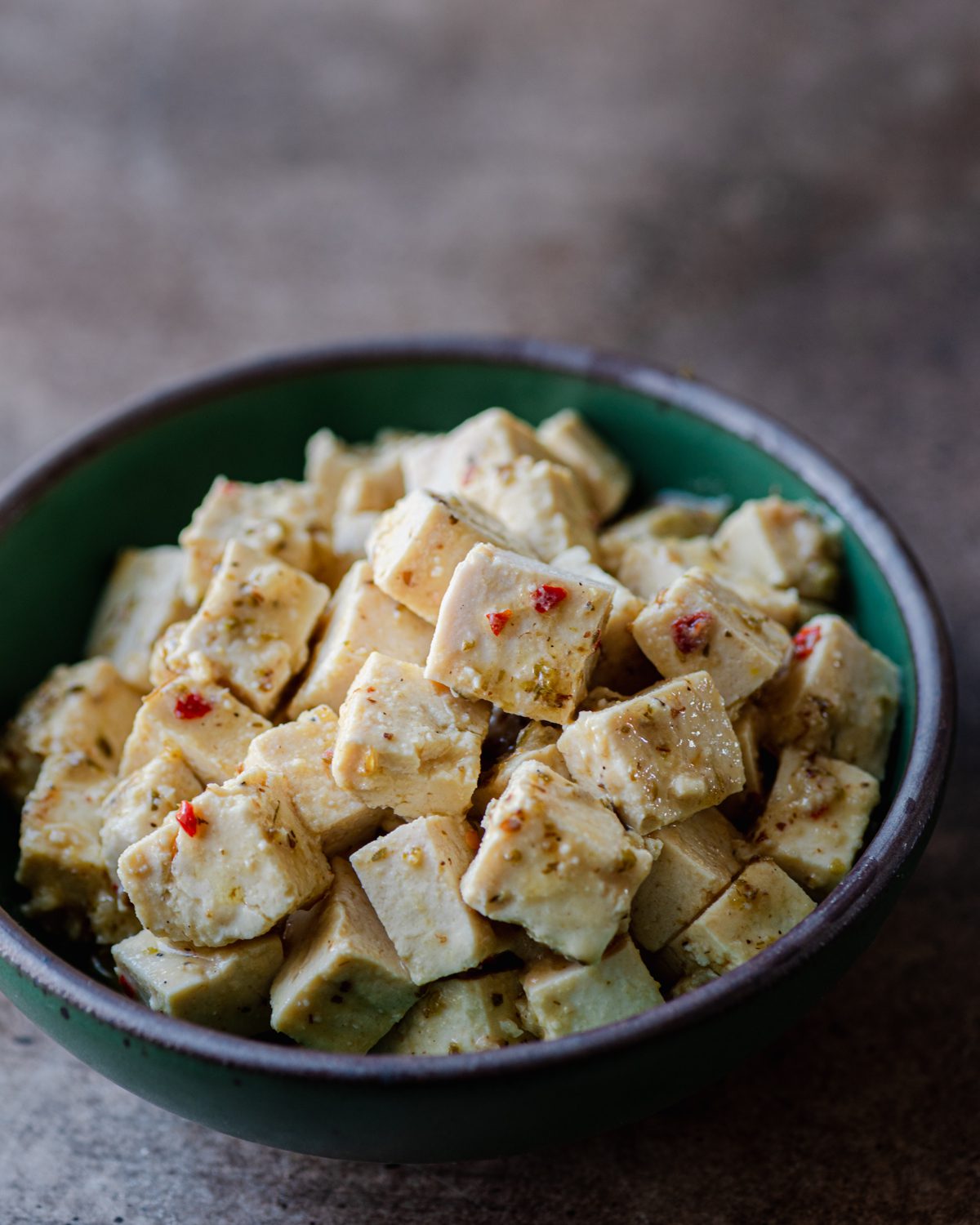 Hungry for more vegan cheese?

Check out my complete guide to vegan cheese! It covers the best vegan cheese recipes to use for every situation (like Fermented Cashew Cheese and Vegan Queso) and reviews the best vegan cheeses you can buy at the supermarket.
Why you'll love this recipe
Easy. This recipe could hardly be simpler – just press a block of extra firm tofu, dice it into cubes, then let it hang out it in a special marinade in the fridge, and you're set!
Wholesome. This vegan feta is a nourishing, protein-packed alternative to dairy-based feta, with none of the lactose but all of the salty and savory flavor.
Versatile. This vegan feta is great in salads (especially a watermelon or cucumber salad), grain bowls, and couscous dishes. It's also delightful on top of flatbreads or pizzas. Or you could stuff it into pasta, eggplant, zucchini, or tomatoes, or even add it to a side of roasted or grilled vegetables.
And it would be a fabulous way to jazz up my Lemon Orzo Pasta Salad as well as the Greek Gigantes Plaki in my cookbook, The Vegan Instant Pot Cookbook!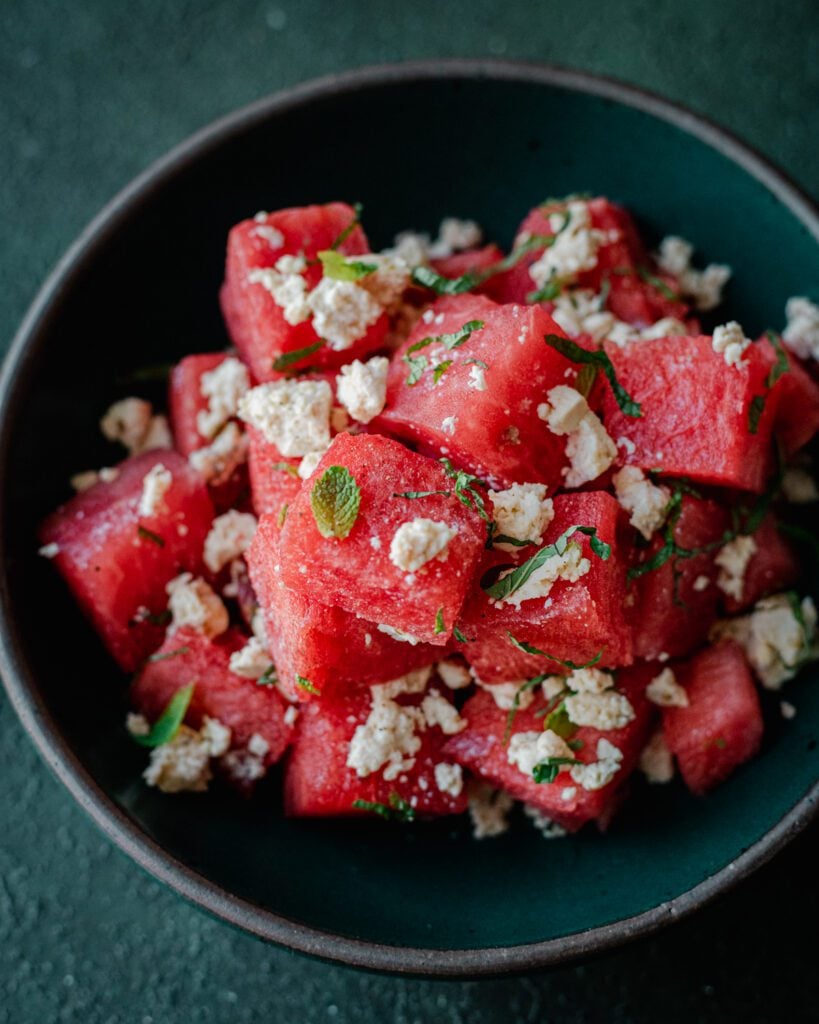 How to make this tofu feta
Remove tofu from packaging and drain any excess liquid.
Wrap the tofu in a clean dish towel or several layers of paper towels, then weigh it down with a heavy cookbook, or a large plate weighed down by a few cans of beans. Press the tofu for 1 hour, changing the towels in between. If you have a tofu press, you can use that for 20 to 30 minutes, releasing and then re-setting the clamps halfway through.
Slice the tofu into 4 vertical slabs, then slice vertically again so you have 8 slabs. Then, dice each slab into small bite-sized cubes.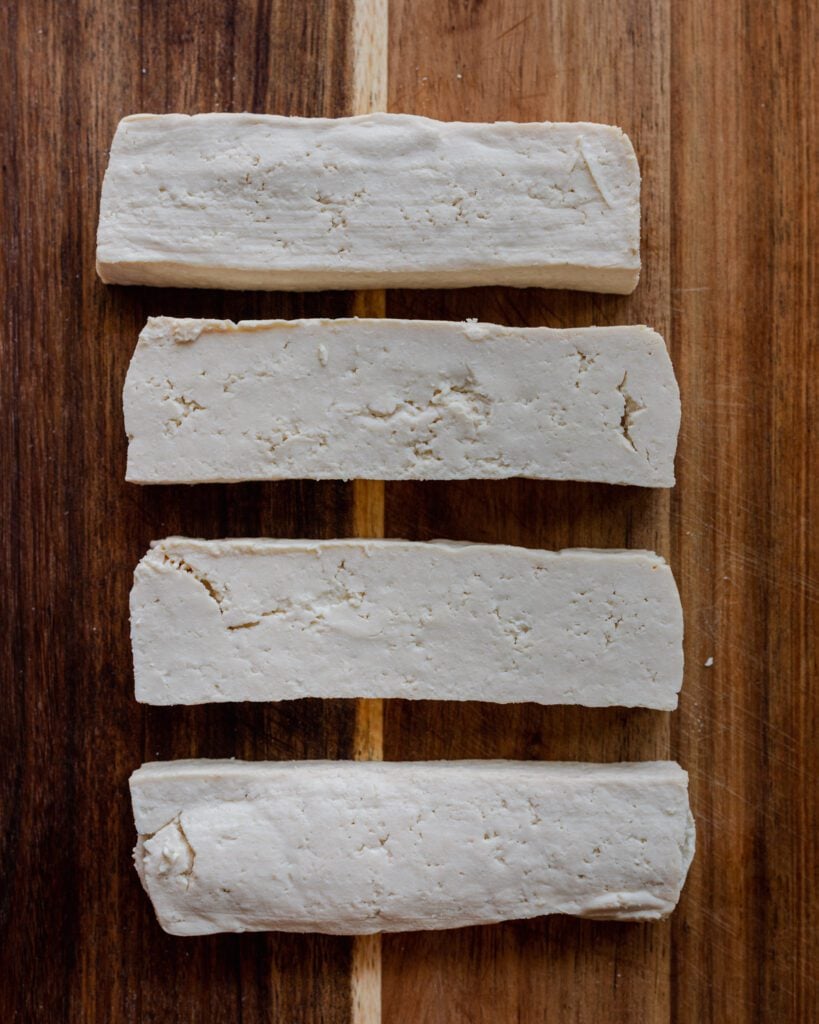 Add the ingredients for the marinade to a medium bowl: miso paste, apple cider vinegar, olive oil, lemon juice, garlic, nutritional yeast, spices, and salt/pepper. Whisk well until the miso is well incorporated.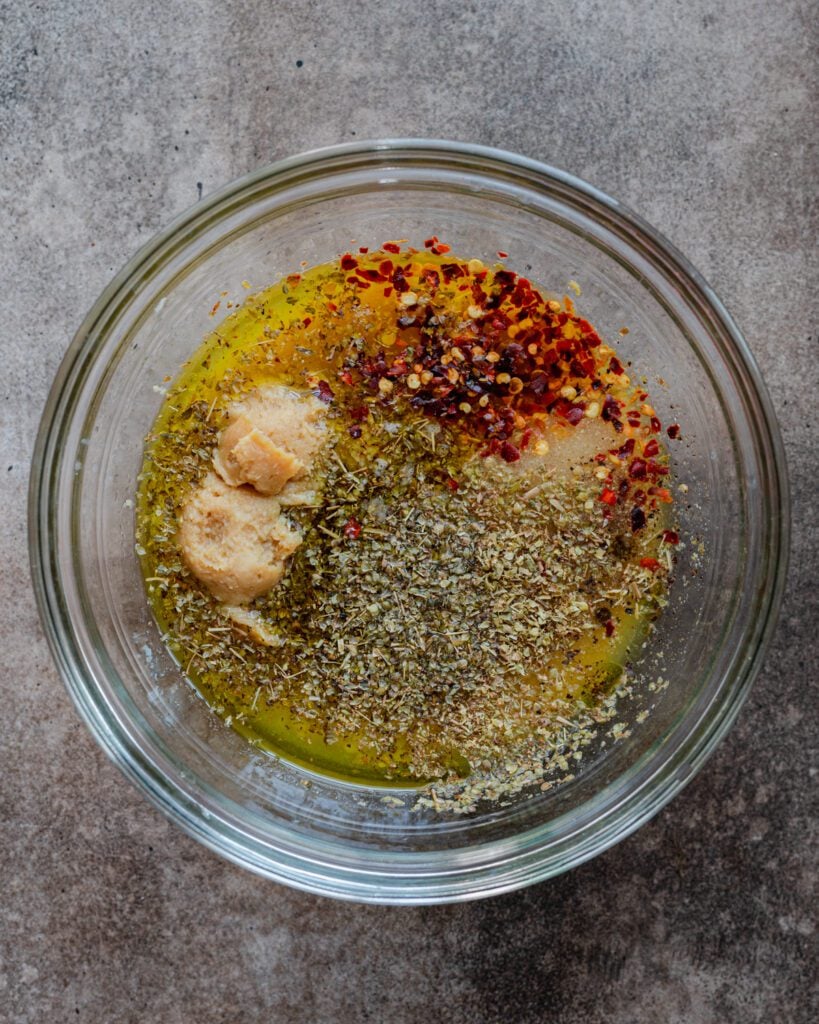 Transfer the diced tofu to a container large enough to hold it, or to a large mason jar. Pour the marinade on top, close the lid, and shake back and forth to distribute the marinade.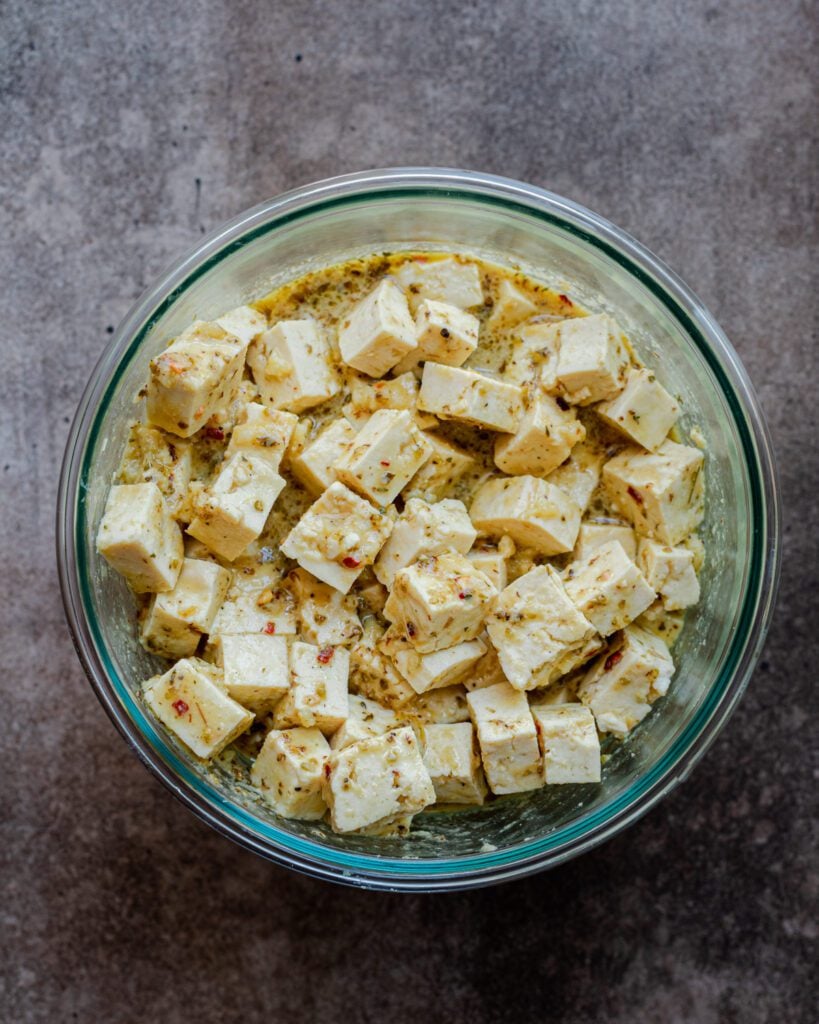 Allow the tofu feta to marinate in the fridge for 12 to 48 hours (I recommend 48 hours).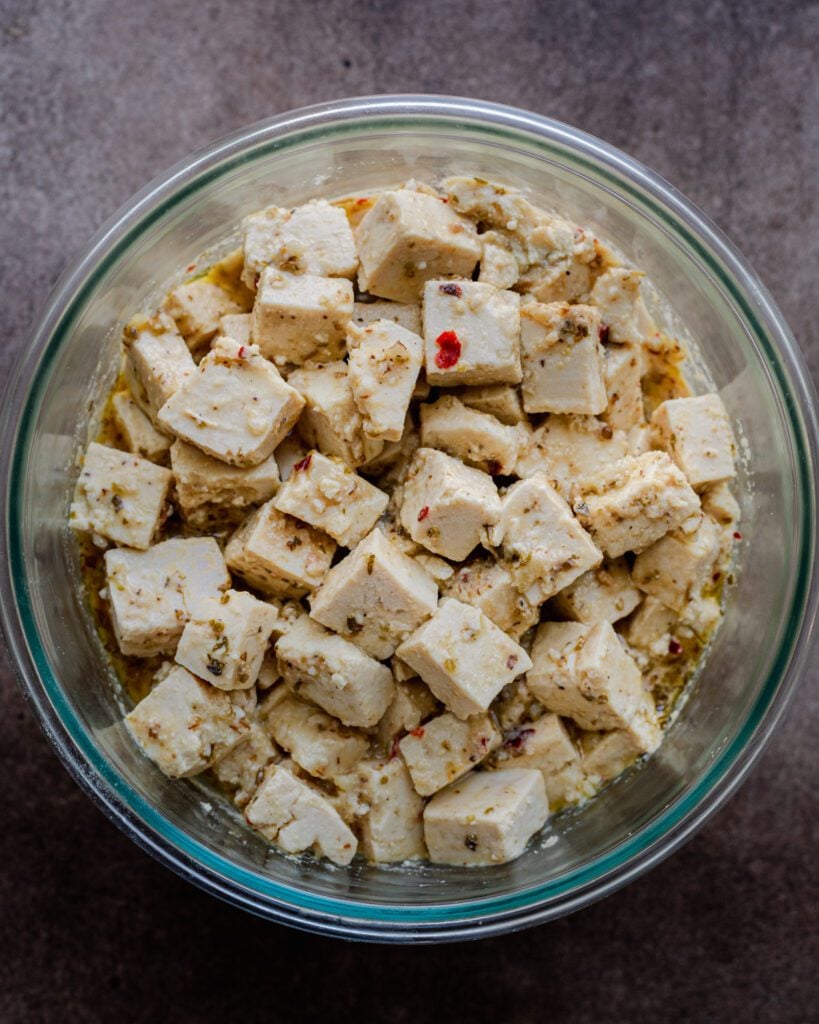 Tips for making this vegan feta
Don't skimp on pressing the tofu.
Pressing the tofu well is important to successfully making this recipe. Pressing the tofu removes water from the tofu, making the texture firmer and allowing the flavors in the marinade to fully absorb.
Marinate the feta for 48 hours if you can.
You can marinate for as little as 12 hours, but the longer it rests, the more the flavors develop and the more it has the briny, salty taste like feta. I prefer to marinate for 48 hours.
More Vegan Cheese Recipes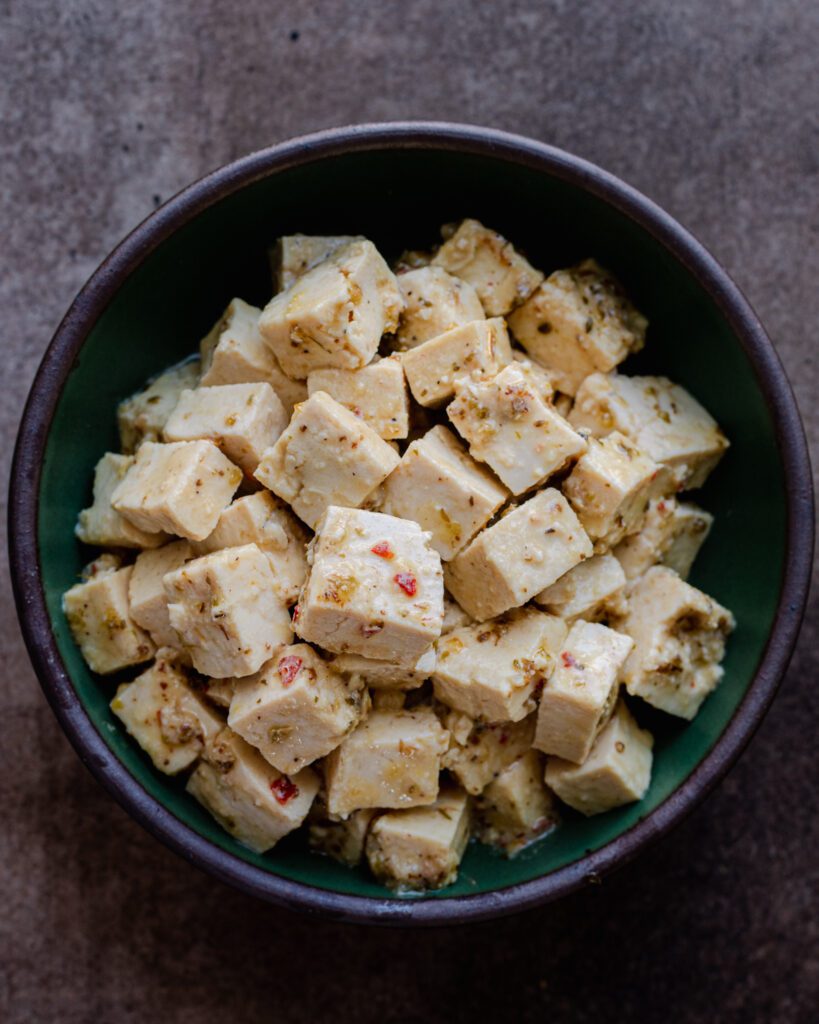 Frequently Asked Questions
How should I use vegan feta?
In all kinds of salads, grain bowls, and wraps! It's particularly good in my Lemon Orzo Pasta Salad (feta and orzo are a natural match!), Grilled Corn Salad, and Instant Pot Couscous and Lentil Salad. 

In summer, we love making a classic watermelon feta salad. Simply mix watermelon cubes or wedges with torn cucumbers, add fresh mint and basil, along with the vegan feta. Drizzle balsamic vinegar and extra virgin olive oil, season to taste with salt and pepper, and enjoy a delicious bite of summer!

If you have my cookbook The Vegan Instant Pot Cookbook, you'll see the vegan feta gets served along the Gigantes Plaki (giant Greek beans stewed in tomatoes…so so good!).

For a simple lunch idea, stuff pita pockets or wraps with hummus, chickpeas or lentils, crunchy raw or pickled veggies, and vegan feta!

You can also toss vegan feta into pasta and pasta salads. If you're having guests over, use it to round out a Mediterranean mezze platter or use it to make a Greek spin on bruschetta.

Can I omit the oil or substitute it?
I personally wouldn't, as feta naturally has some fat, and we want to mimic that rich mouthfeel (tofu is pretty low in fat, especially compared to animal-based feta). That said, at least one reader substituted aquafaba with oil and enjoyed the results (peep the comments!). So, if you're oil-free, that's an option!
How long does the vegan feta last?
Store the feta in the fridge in its marinade, and it will stay fresh for about 7 days.
If you make this recipe, please be sure to leave a comment below or tag me on Instagram – I love hearing your feedback.
Vegan Feta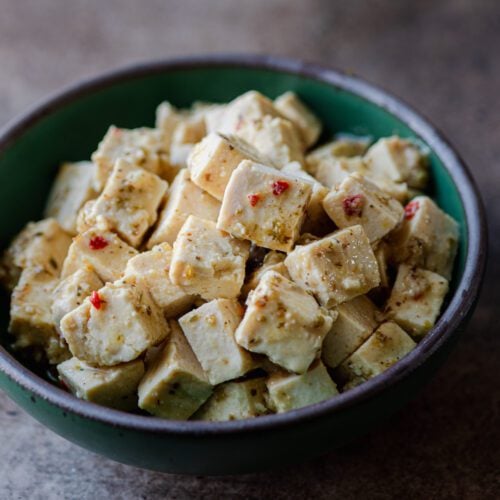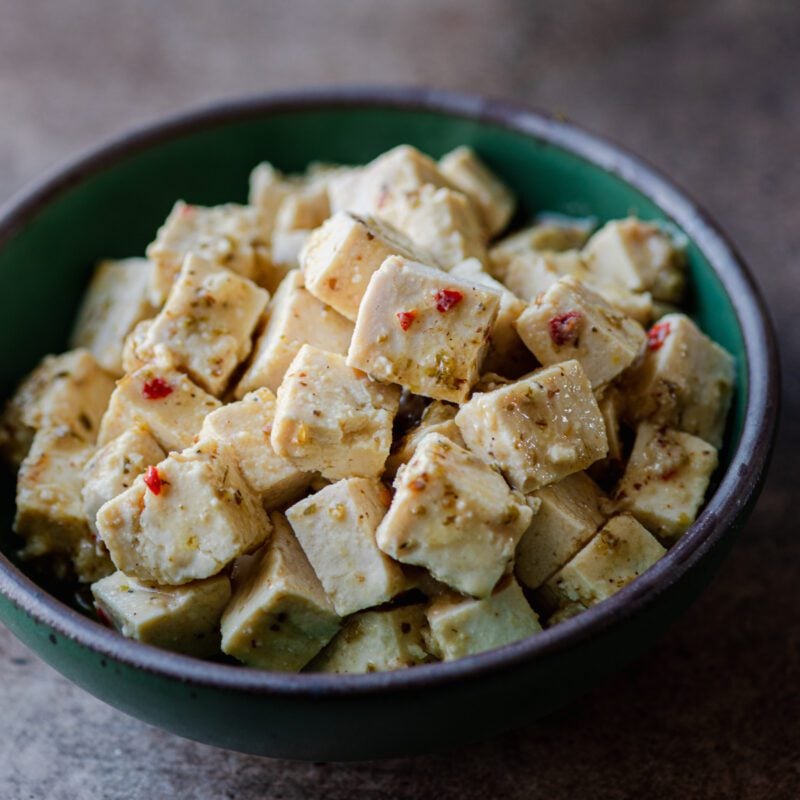 This vegan feta recipe has the classic tangy, salty, savory flavors and firm-crumbly texture of classic feta but without any of the dairy. It's surprisingly easy to make with a block of extra-firm tofu and a few pantry staples. Crumble into salads and wraps, serve on top of crostini, or toss into pasta.
Ingredients
1

14-ounce block of extra-firm tofu

2 1/2

tablespoons

white miso paste

brought to room temperature

1/3

cup

76 mL apple cider vinegar

1/4

cup

60 mL lemon juice

2

tablespoons

extra virgin olive oil

4

garlic cloves

crushed

2

tablespoons

nutritional yeast

1

tablespoon

dried oregano

1/2

teaspoon

onion powder

1/2

teaspoon

kosher salt

1/2

teaspoon

black pepper

½

teaspoon

red pepper flakes

optional
Instructions
Drain the tofu and slice vertically into 4 slabs. Line a cutting board with a few layers of paper towels or a clean dish towel. Place the tofu slabs on top, wrap the tofu in more paper towels or a clean dish towel, then weigh the tofu down with a heavy cookbook, or a large plate weighed down by a few cans of beans (or use a tofu press). Press the tofu for at least 30 minutes (I usually leave it for an hour), changing the towels in between.

Once pressed, cut the tofu into small cubes (you don't want large cubes).

In a medium bowl for which you have a lid, whisk together the miso, vinegar, lemon juice, oil, garlic, nutritional yeast, oregano, onion powder, salt, pepper, and red pepper flakes (if using) until the miso paste is dissolved. Add the tofu pieces to the marinade (you can also add the tofu to a large glass jar and pour the marinade on top). Mix well, shaking the bowl or jar, but don't break up the tofu.

Refrigerate for at least 12 hours, but preferably for 48 hours. The longer, the brinier it'll taste, like classic feta. It will stay good in the fridge for up to 7 days.
---
Calories:
85
kcal
|
Carbohydrates:
5
g
|
Protein:
6
g
|
Fat:
5
g
|
Saturated Fat:
1
g
|
Polyunsaturated Fat:
1
g
|
Monounsaturated Fat:
3
g
|
Sodium:
295
mg
|
Potassium:
159
mg
|
Fiber:
1
g
|
Sugar:
1
g
|
Vitamin A:
54
IU
|
Vitamin C:
3
mg
|
Calcium:
34
mg
|
Iron:
1
mg