Cheese is one of the hardest foods to give up, so I figured I would share my list of the Best Vegan Cheese Substitutes!
Personally, cheese was the most difficult food for me to give up before going vegan. Well, it was until I binge watched ~a dozen documentaries about factory farming and animal abuse on Netflix. Before that point, I had been eating a mostly plant-based diet with the exception of cheese and ice cream.
But after that fateful documentary binge, it was easy for me to say good-bye to cheese and the cheese cravings just vanished into thin air. At least, dairy cheese, that is. Because there is a whole host of non-dairy vegan cheese out there and I'm excited to share my favorites and recommendations with you.
And if you find it hard to believe that my cheese cravings disappeared, just know that I am in Paris right now as I write this blog post. Paris, home of the world's best cheeses, where I pass a fromagerie every hour, where people are always talking (in French, of course) about how good their cheese is. And I haven't been tempted or interested, in the least. The cravings for dairy products have disappeared!
If you want to know more about my vegan story–why I became vegan, what the transition was like, as well as the challenges–you can check out this video! And if you are a newbie vegan or interested in transitioning to a vegan diet but are nervous, I recommend watching this video! It will help you understand the importance of having a solid why–a solid, meaningful reason for going vegan–as well as beginner mistakes to avoid and tips on how to make a vegan lifestyle sustainable for you.
Okay, now let's dive into The Best Vegan Cheese Substitutes! First, I'll mention some homemade vegan cheese recipes and then store-bought vegan cheese alternatives.
Part 1: Homemade Vegan Cheese Recipes
Butternut Cheese Sauce / Crispy Baked Pumpkin Mac and Cheese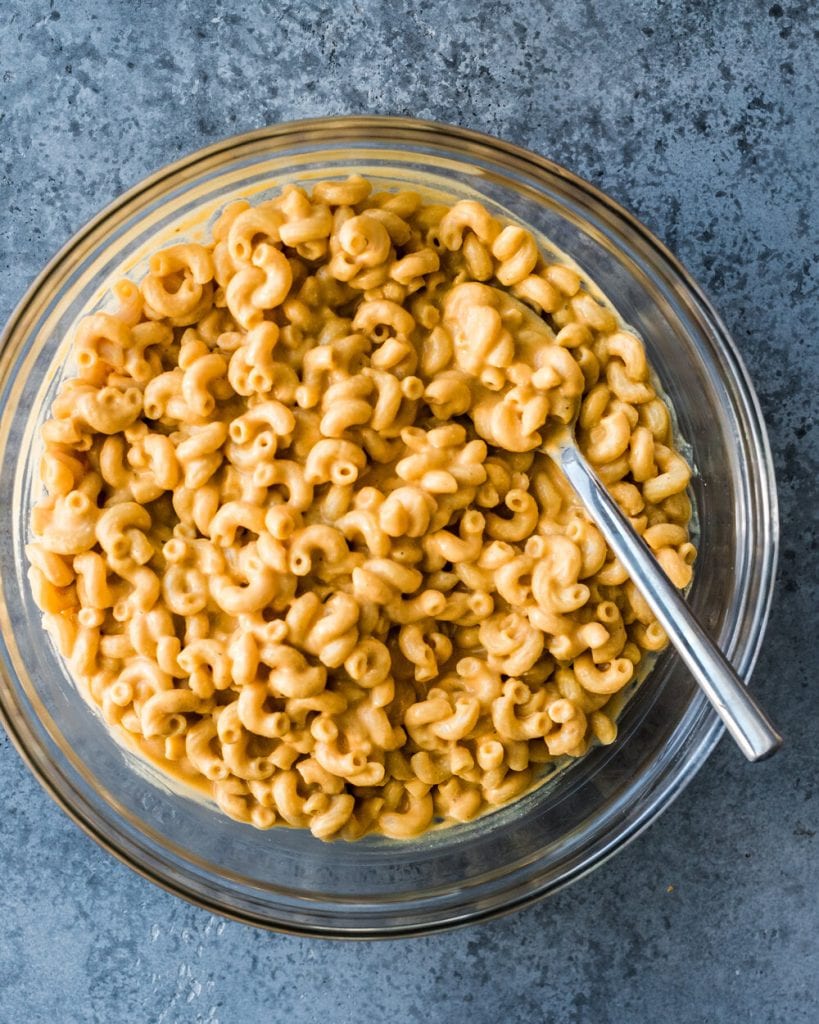 This Crispy Baked Vegan Mac and Cheese and this Creamy Vegan Pumpkin Mac and Cheese are two of my most popular recipes, so what are you waiting for?? The recipes are slightly different, but both taste remarkably similar to cheese and have the creamiest, dreamiest texture! Here's a sampling of some of the reviews for these recipes.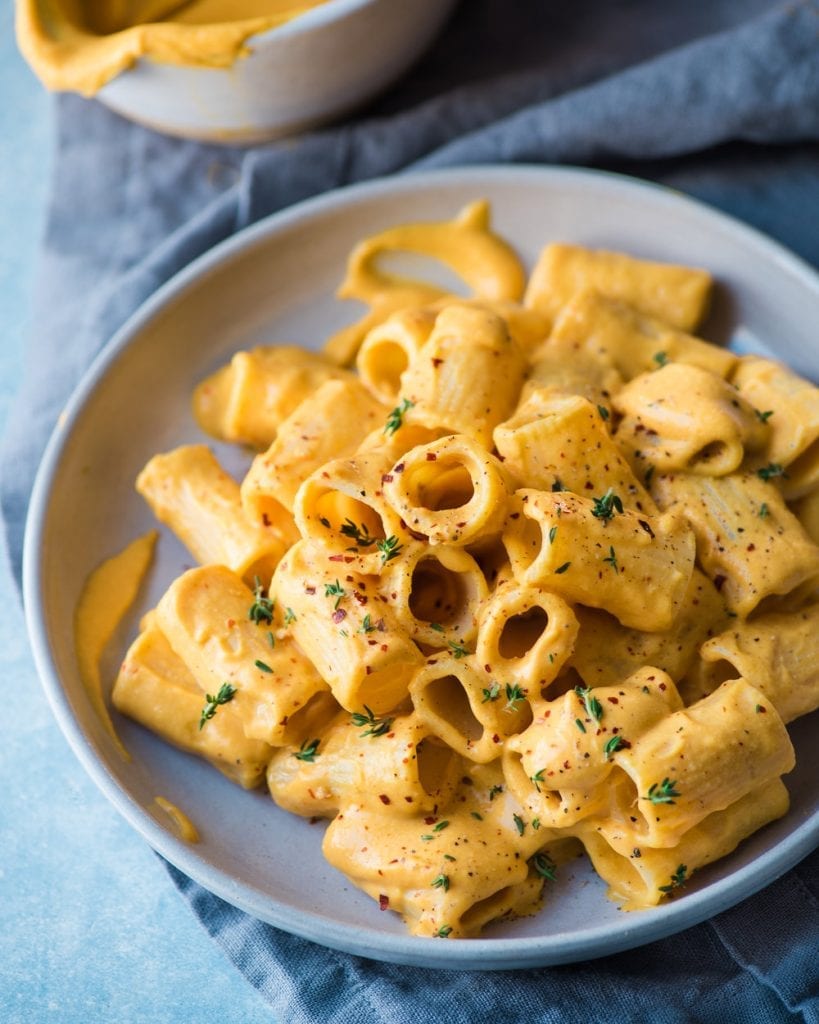 If you are a bit on the lazy side (no shade) and you have an Instant Pot, then you MUST make the Vegan Cheese Sauce and/or Vegan Queso from my cookbook, The Vegan Instant Pot Cookbook! You can order my cookbook on Amazon or find it at stores like Barnes and Noble! For basic info on my cookbook, just head to the Cookbook page on the blog or for even more info, check out this comprehensive blog post about my book.
All you need to do is dump a handful of ingredients into the Instant Pot, let the machine do its magic, and then puree with an immersion blender (or food processor). The recipe does have cashews, but they don't require any soaking, yay!
And I promise you, the queso variation (which requires just a few more ingredients) is the BEST vegan queso you've ever tried!
Nut-Free Vegan Cheese Sauce 
And if you're looking for a really healthy, veggie-packed, nut-free, no-oil-added cheese sauce, then I have another option for you! Admittedly, the other two cheese sauces listed above taste a bit cheesier and more indulgent, but if you're intolerant to nuts or looking for a low-calorie option, then this is the cheese sauce for you!
For step-by-step instructions on how to make the cheese sauce and three recipe ideas for how to use it, check out the video on Youtube. And for the recipe by itself, head to the blog post!
Mexican Cheese Sauce
If you are looking for something a bit different than a cheddar-like cheese sauce, I also have a Mexican-flavored cheese sauce! It's featured in my Buffalo Chickpea Quesadillas, another popular recipe on the blog, but many of you have made the cheese sauce solo and love having it throughout the week!
It's another easy and incredibly satisfying recipe!
Vegan Ricotta (Tofu-Based)
One of my favorite and easy cheese substitutes to make is a tofu-based ricotta. It's incredibly creamy and almost fluffy, like traditional ricotta. It takes about 5 minutes to make and couldn't be simpler!
I have a few variations of this ricotta on the blog as well as in my cookbook! My favorite version is in the Vegetable Lasagna from my cookbook, which I shared on the blog for free, but most of these recipes are fairly similar and all are delicious.
Vegan Feta (Tofu-Based)
Feta used to be one of my favorite cheeses, but once I went vegan, I assumed I'd never taste it again. WRONG! Though feta is very distinctive in taste and therefore harder to replicate than say, cheddar cheese, it is not impossible!
The tofu-based feta in my cookbook is (1) really simple to make (the hardest part is pressing the excess water out of the tofu and waiting for the feta to marinate), (2) has the same briny, tangy, salty flavors you love about feta, and (3) is, of course, cruelty-free!
I serve it alongside Gigantes Plaki in my cookbook for an spin on classic Greek comfort food, but you're going to want to make this tofu feta on the regular and keep a batch in your fridge!
When you want a vegan cheese that's spreadable, this is an easy and pantry-friendly option! Spread it on quesadillas and enjoy gooey melty cheesy heaven, use it as a dip for crackers, or spread onto toasted bread for a grilled cheese.
The base of the cashew cheese is cashews and plant-based milk, and it gets flavored with nutritional yeast for cheesiness and spices for flavor (garlic or garlic powder, onion powder, smoked paprika for a little smokiness). The thickener in this recipe that converts this from cheese sauce recipe to spreadable cheese is the tapioca flour.
Once you blend everything in a high-powered blender or food processor, you'll have a pourable consistency. Pour the sauce into a saucepan and heat on the stove for a few minutes, whisking constantly. Thanks to the tapioca flour, you'll notice that it quickly thickens and eventually firms up and turns almost stringy. Once you have a thick spreadable consistency, take it off the heat immediately (otherwise, it can turn somewhat gummy).
Part 2: Store-Bought Best Vegan Cheese Substitutes
In the beginning of your vegan transition, it can be hard to know which vegan cheeses will satisfy your cheese cravings. And to be honest, it can also be hard no store-bought vegan cheese can 100% perfectly mimic dairy cheese.
Vegan cheeses are made with entirely different ingredients, yes. But once you remind yourself that plant-based cheeses are cruelty-free and don't harm animals, are much better for the environment (raising cattle is, by far, the biggest animal-agriculture based contributor to climate change), and almost always better for your body, it will increasingly become less important to you that vegan cheeses 100% mimic dairy cheese.
Instead, what will become important is having vegan cheese substitutes that taste good and satisfy those cravings while still doing good for the planet, animals, and your body.
With that said, here are some of my favorite store-bought vegan cheese alternatives!
Cream Cheese
Ricotta Cheese
Shredded Cheeses
Block Cheese or Slice Cheese
Parmesan
Cheese Spreads
Feta
Alright, that's it for my lineup of The Best Vegan Cheese Substitutes! Hope you found this guide helpful and informative. If you did, be sure to leave a comment below :)
Hugs and kisses,
Nisha