When I went vegan, the most difficult food to give up, by far, was cheese.
I know I'm not alone in this – when I polled my Instagram audience about the hardest food to give up, the most common answer was cheese.
And perhaps it shouldn't be surprising. Cheese is tangy, salty, creamy and eating it releases an explosion of dopamine in our brains, so much so that some people think it's quite literally as addictive as drugs.
More than that, it's deeply tied to childhood memories; mac and cheese at Thanksgiving, pizza after soccer practice, birthday parties with an enormous rat.
Thankfully, vegan cheese is now an option. It's come along way since the early days, when it tasted like melted candles, to actually being really good.
So, I thought I'd share a comprehensive guide to vegan cheese, whether you're interested in making cheese at home or just want to buy some at the grocery store.
This post is divided into three parts:
What is vegan cheese?
Wikipedia defines vegan cheese as "a category of non-dairy, plant-based cheese analogues." In other words, vegan cheeses look and taste like regular cheese, but are made with plant-based ingredients.
It's important to understand that vegan cheese, being made with different ingredients, does not taste exactly like traditional dairy cheese. However, it does replicate some of flavors and textures that you might remember from dairy cheese, and tastes great in its own right.
The best homemade vegan cheese recipes
The best vegan cheese is the one that helps you satisfy whatever it is you're looking for. Below, I've listed my favorite vegan cheeses for every situation.
If you're in the mood for Mexican…
Then make this vegan queso!
I originally developed this queso as a component in my vegan buffalo chickpea quesadillas. When I read the comments on that post, I noticed readers were going crazy for the cheese sauce, so I made it a standalone recipe.
An addictively good yet extremely easy vegan cheese sauce that tastes just like queso. Less than 10 ingredients and everything happens in a blender. Use it in burritos, quesadillas, tacos, or nachos, or warm it up and serve as a hot queso dip with tortilla chips!
Check out this recipe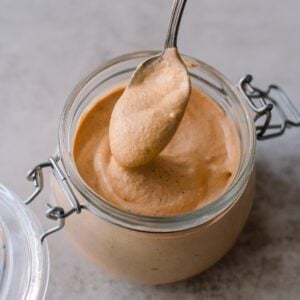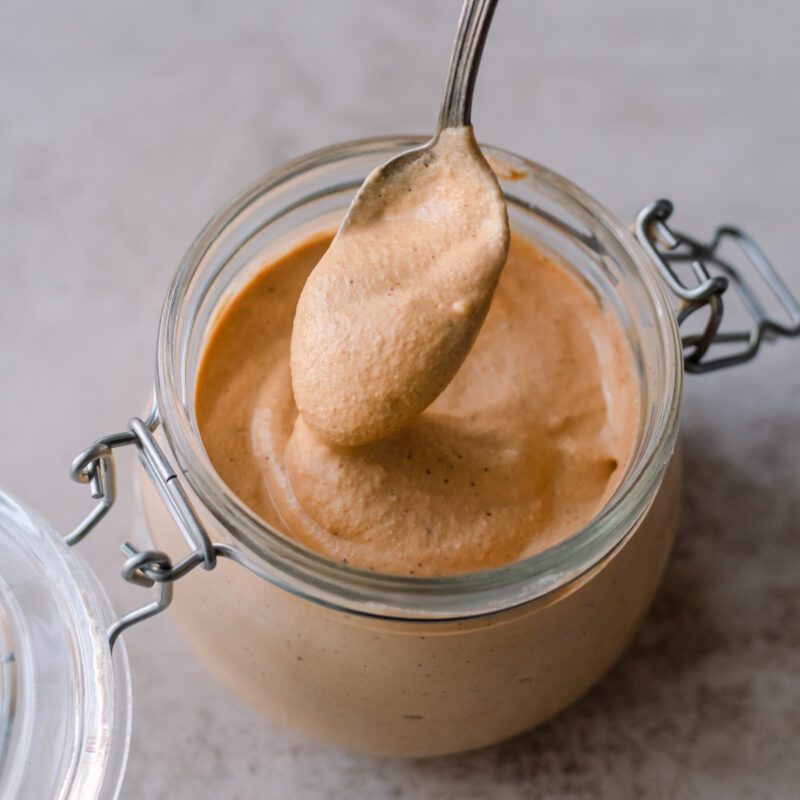 There are so many ways to use this vegan queso. You can try it in my buffalo chickpea quesadillas, vegan crunchwrap supreme, or breakfast burritos. It also works great in vegan nachos or even as a dip with tortilla chips. It's something we do not infrequently in my house!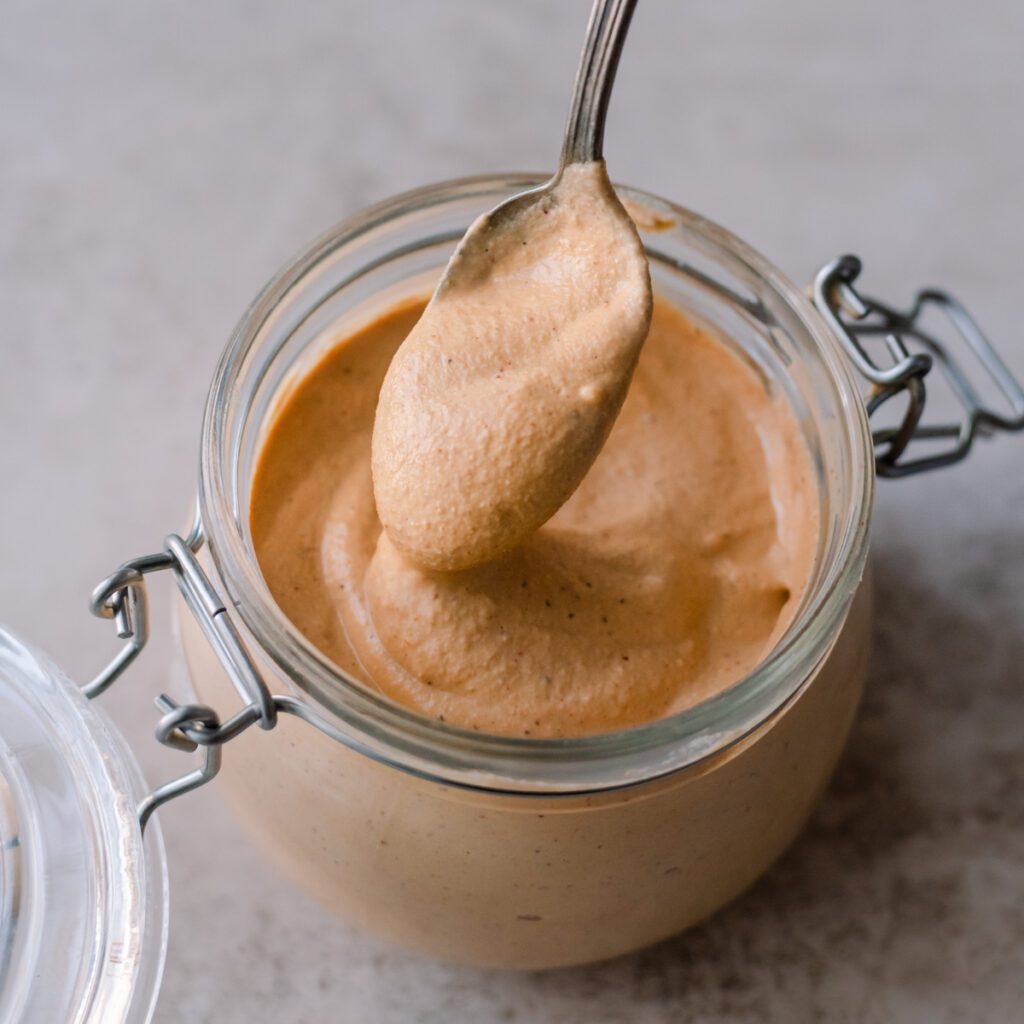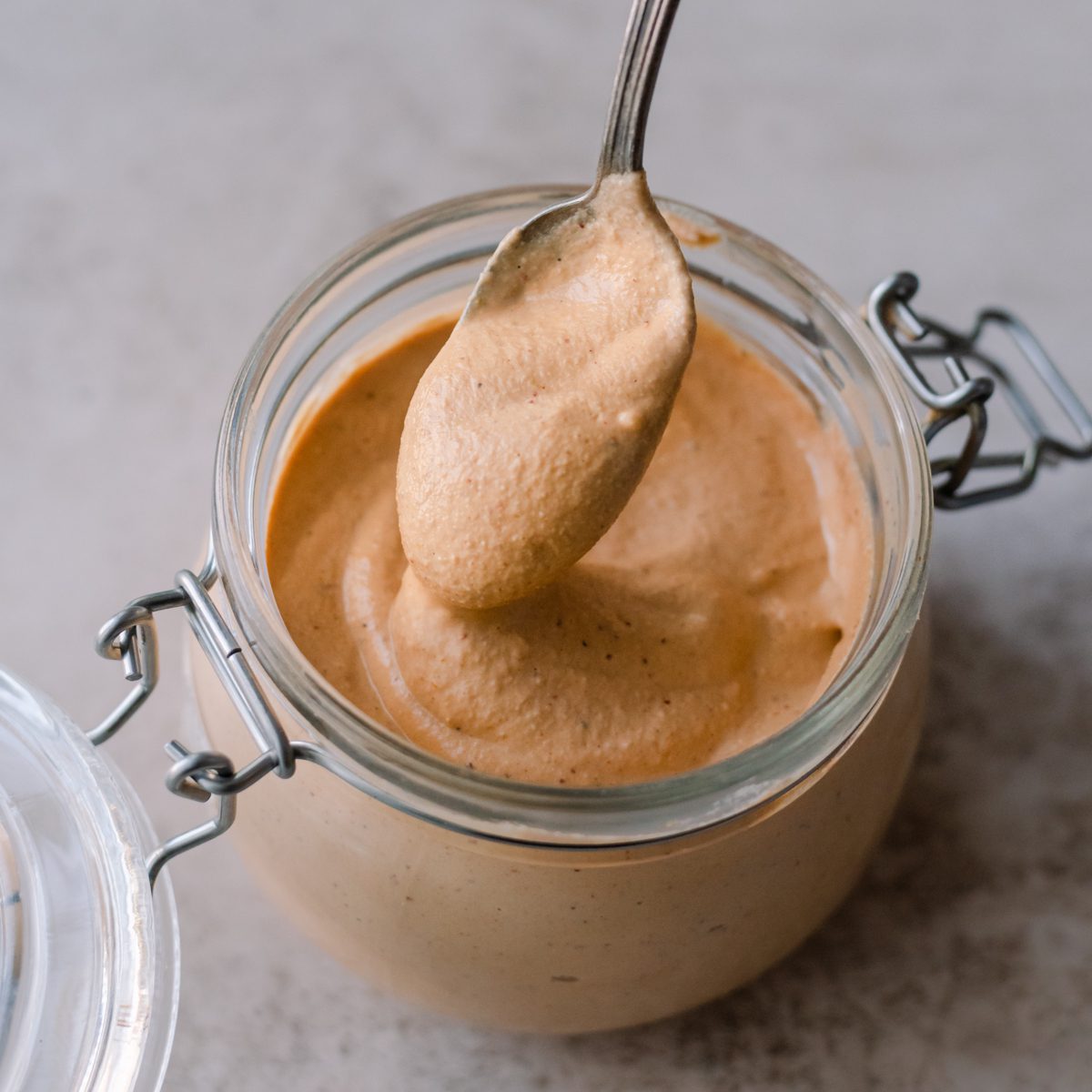 If you're feeling nostalgic…
Then make mac and cheese!
This Crispy Baked Vegan Mac and Cheese and this Creamy Vegan Pumpkin Mac and Cheese are two of my most popular recipes. The recipes are slightly different, but the cheese sauces in each both taste remarkably similar to cheese and have the creamiest, dreamiest texture!
This Crispy Baked Vegan Mac and Cheese is the ultimate comfort food. An incredibly creamy (and easy) vegan cheese sauce gets paired with elbow macaroni, covered in a crispy and buttery breadcrumb, and then baked in the oven.
Check out this recipe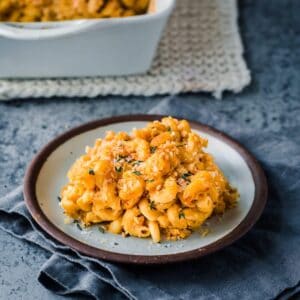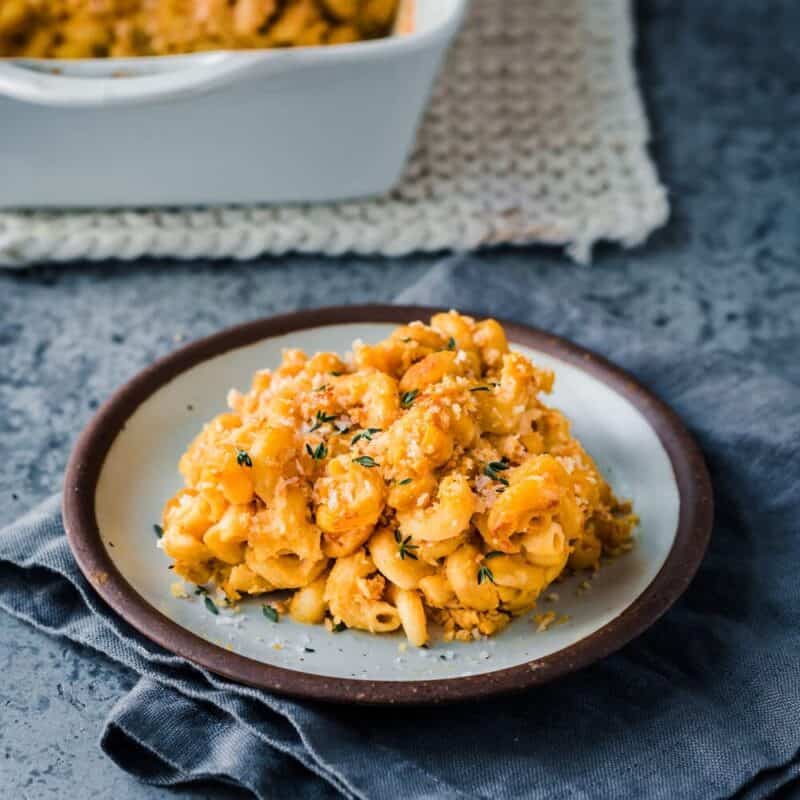 The BEST vegan mac and cheese you'll ever taste! Made with wholesome ingredients like roasted pumpkin and cashews, but super creamy and indulgent, this Creamy Vegan Pumpkin Mac and Cheese is vegan comfort food at its finest.
Check out this recipe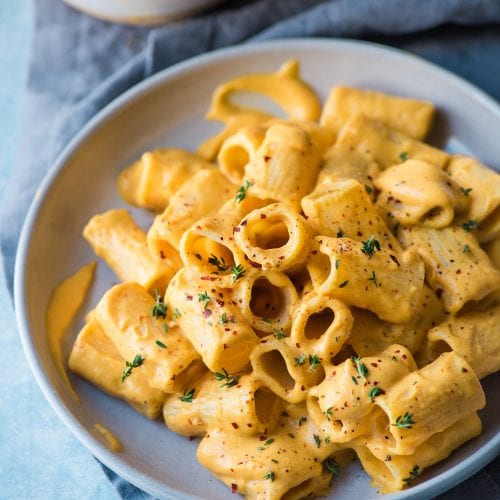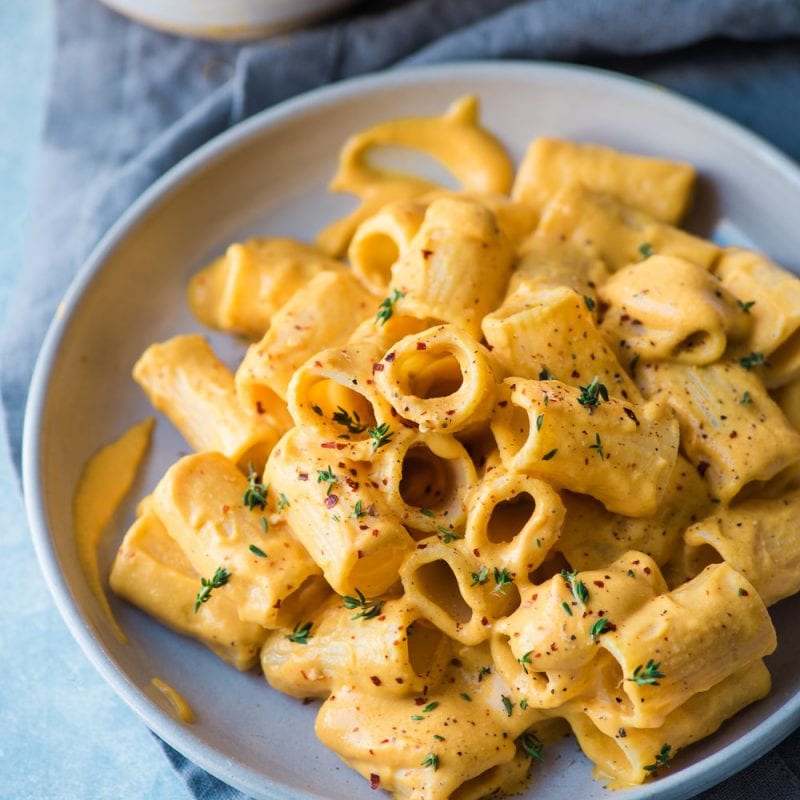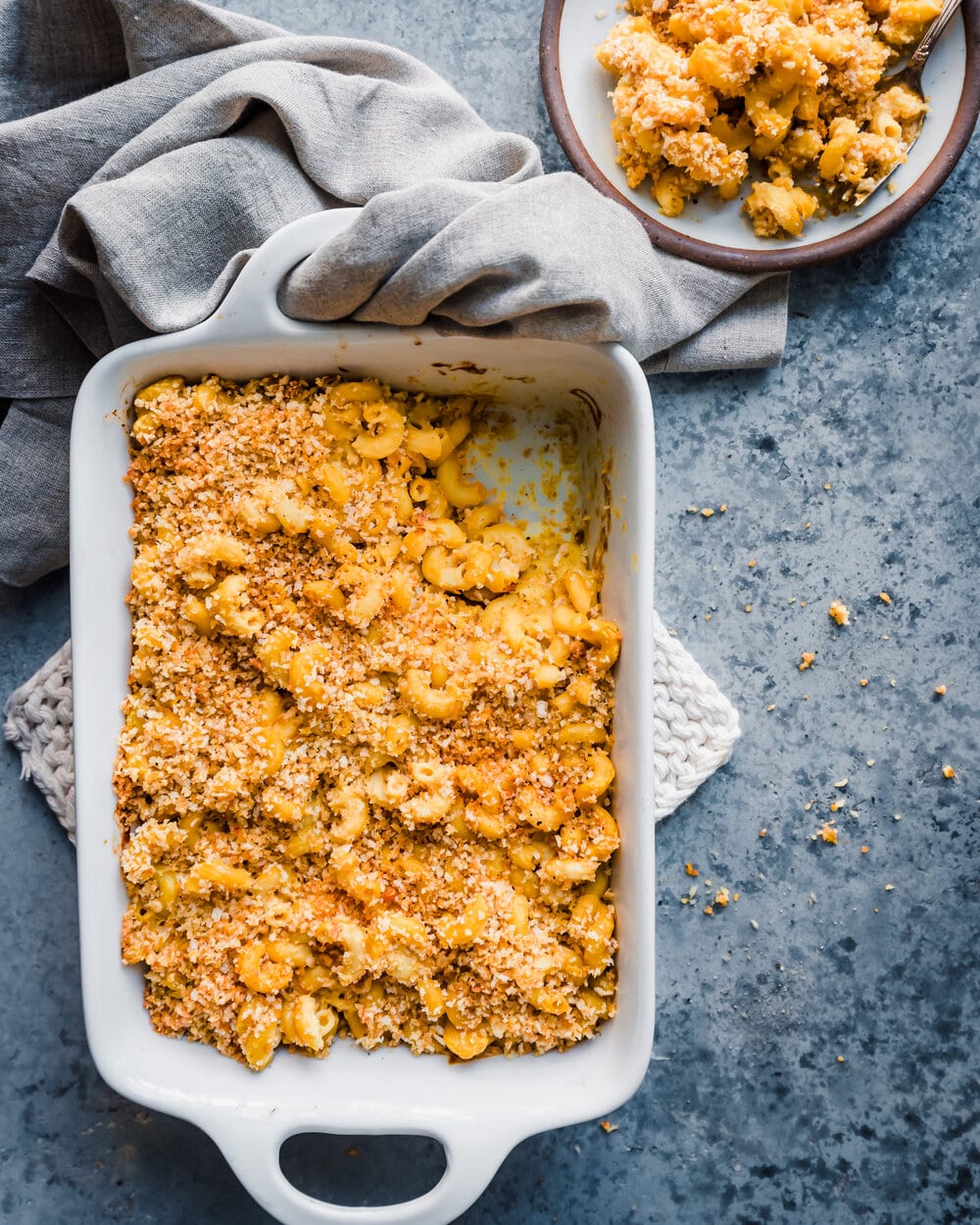 Or if you're in the mood for something even heartier than regular mac and cheese, try this one-pot vegan chili mac!
A protein-packed chili meets pasta in this One-Pot Vegan Chili Mac! Easy and quick and made with simple ingredients, this is a perfect hearty weeknight-friendly and budget-friendly dinner! Easy to make gluten-free, soy-free, and oil-free.
Check out this recipe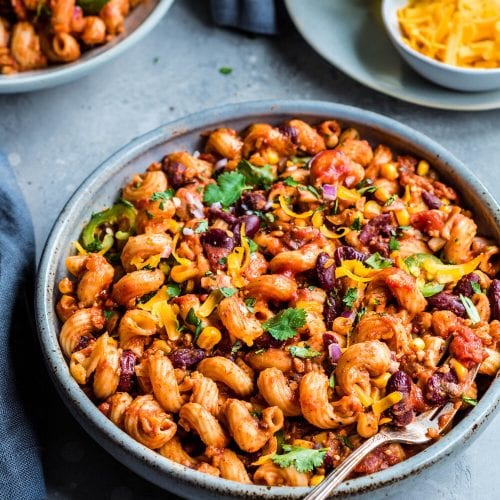 If you have an instant pot…
Then you MUST make the Vegan Cheese Sauce and/or Vegan Queso from my cookbook, The Vegan Instant Pot Cookbook!
All you need to do is dump a handful of ingredients into the Instant Pot, let the machine do its magic, and then puree with an immersion blender (or food processor). The recipe does have cashews, but they don't require any soaking, yay!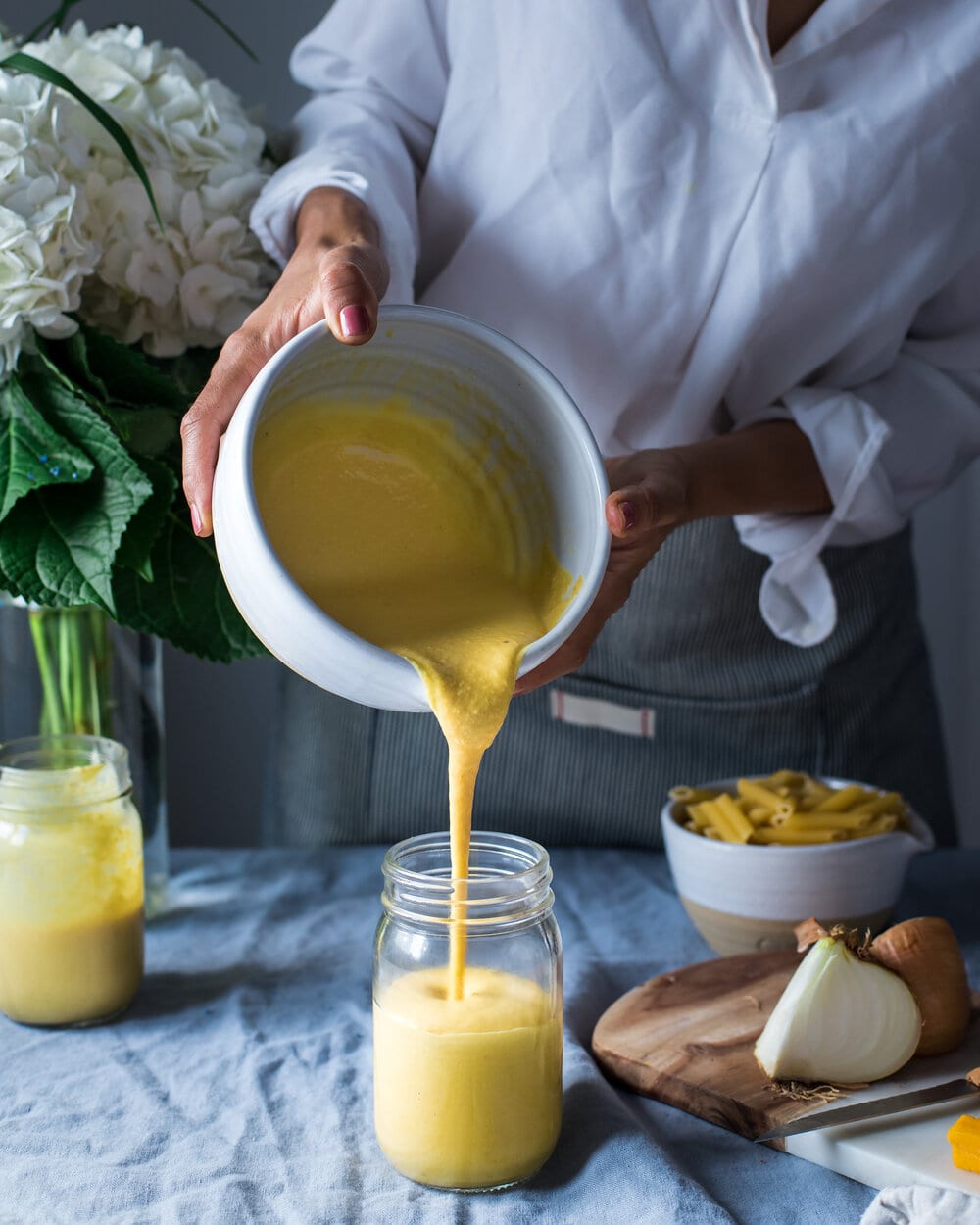 If you have a nut allergy…
Then it's time for you to try my nut-free vegan cheese sauce!
In addition to being nut-free, it's really healthy thanks to some added veggies, and is soy-free and oil-free, too. Admittedly, the some of my other recipes taste a bit cheesier and more indulgent, but if you're intolerant to nuts or looking for a low-calorie option, then this is the cheese sauce for you!
You'll never believe this Nut-Free Vegan Cheese Sauce is, well, nut-free! It's also soy-free, oil-free, and Paleo and has just 30 calories per 1/4 cup! It's creamy and luxurious but made with nourishing, wholesome ingredients. Say hello to mac'n cheese, quesadillas, grilled cheese sandwiches, and nachos!
Check out this recipe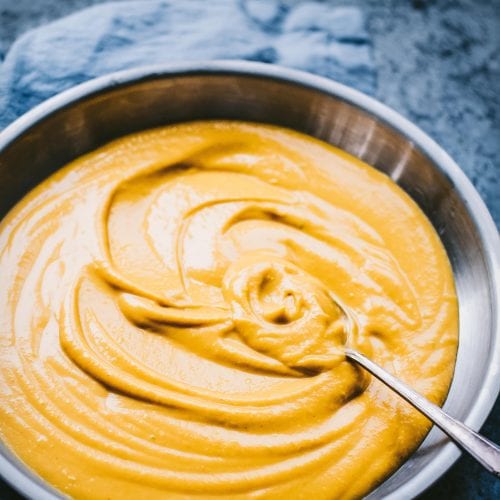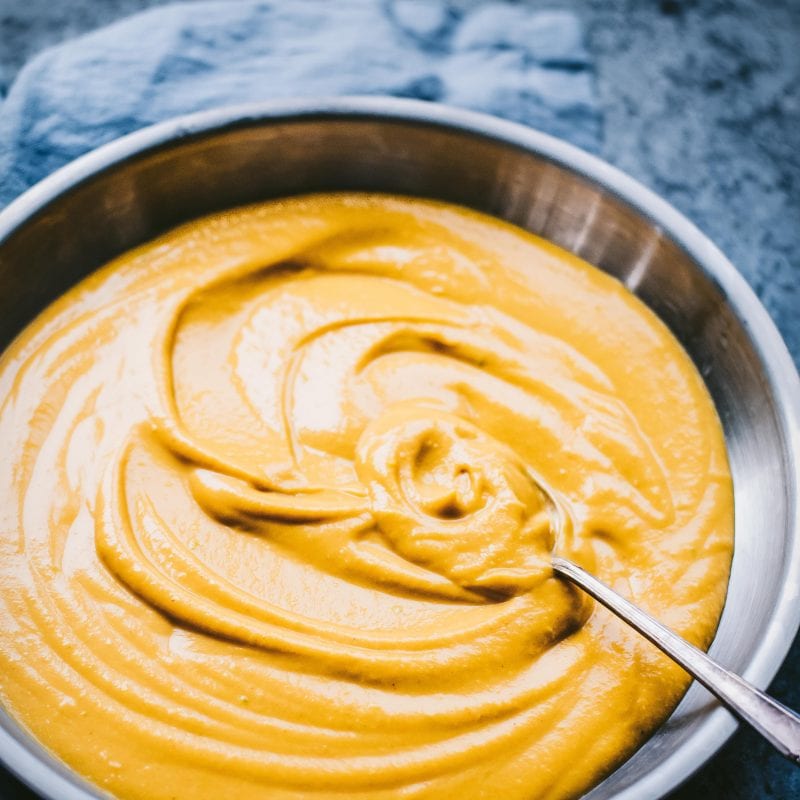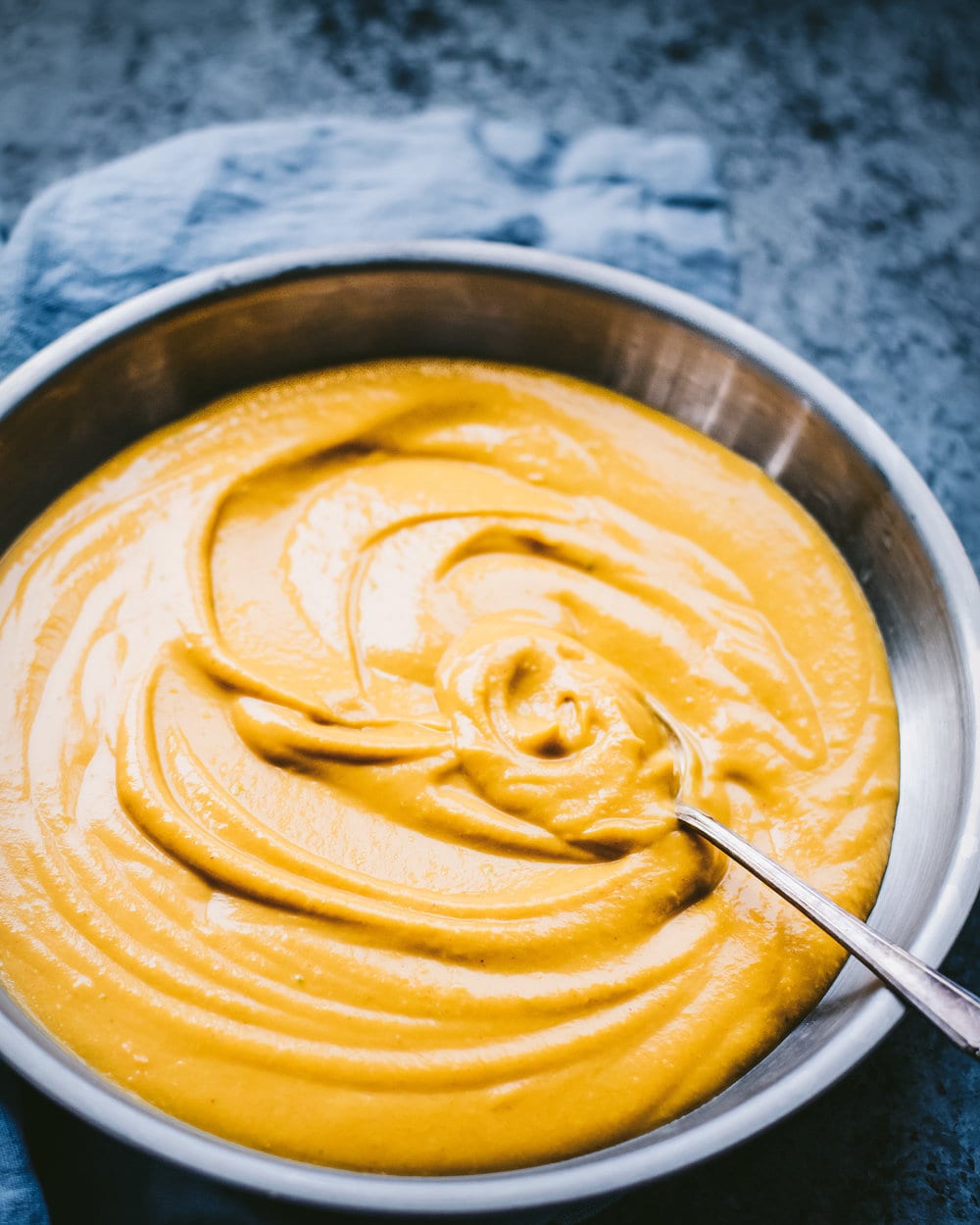 If you're in the mood for vegan pasta…
Then make a vegan ricotta!
One of my favorite and easy cheese substitutes to make is a tofu-based ricotta. It's incredibly creamy and almost fluffy, like traditional ricotta. It takes about 5 minutes to make and couldn't be simpler!
I have a few variations of this ricotta on the blog as well as in my cookbook! My favorite version is in the Vegetable Lasagna, but most of these recipes are fairly similar and all are delicious.
The ultimate fall comfort food, these vegan Pumpkin Ricotta Stuffed shells are cheesy, creamy, chewy, and garlicky. Made with a homemade vegan ricotta spread, pumpkin, and the best garlic béchamel sauce, you'll never put your fork down!
Check out this recipe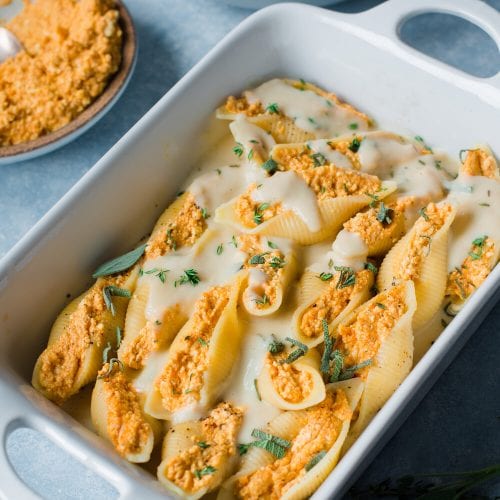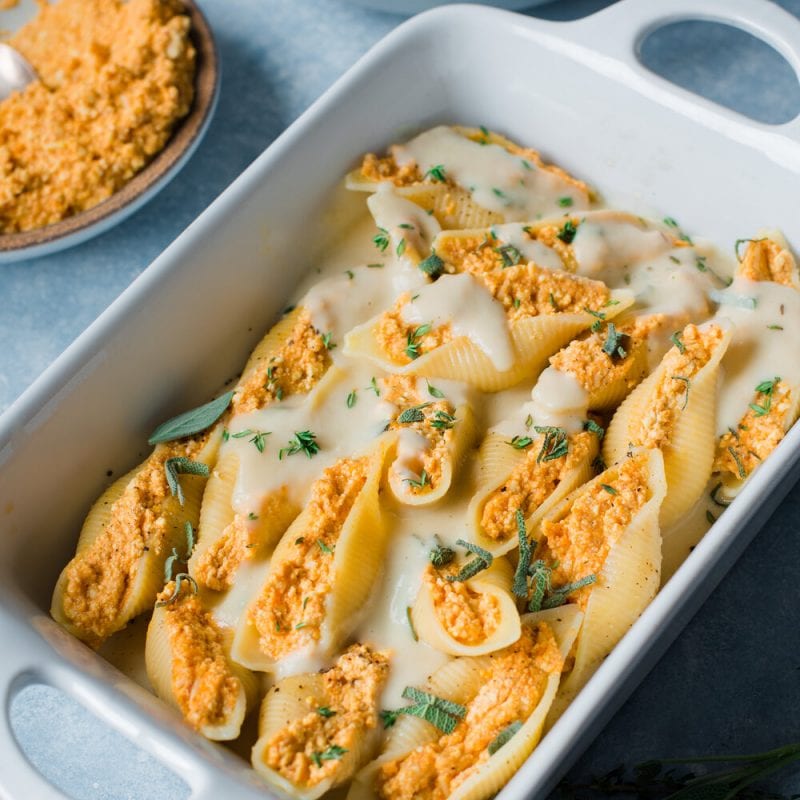 If lasagna is your ultimate comfort food, you need to try this easy Instant Pot Vegan Lasagna! With no-boil noodles and a "bake" time of just 20 minutes, it's a quick and easy alternative to traditional lasagna. And with an addictively rich yet healthy homemade ricotta, it'll become your new favorite lasagna recipe.
Check out this recipe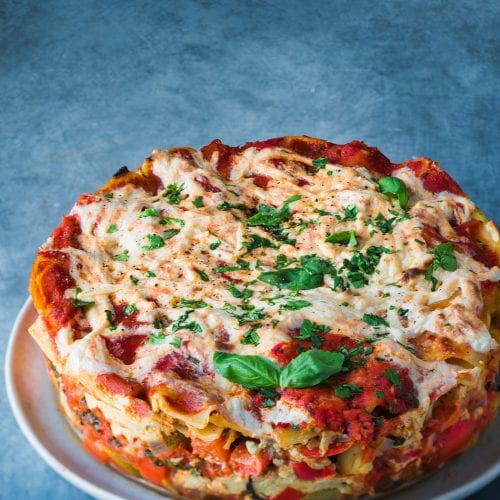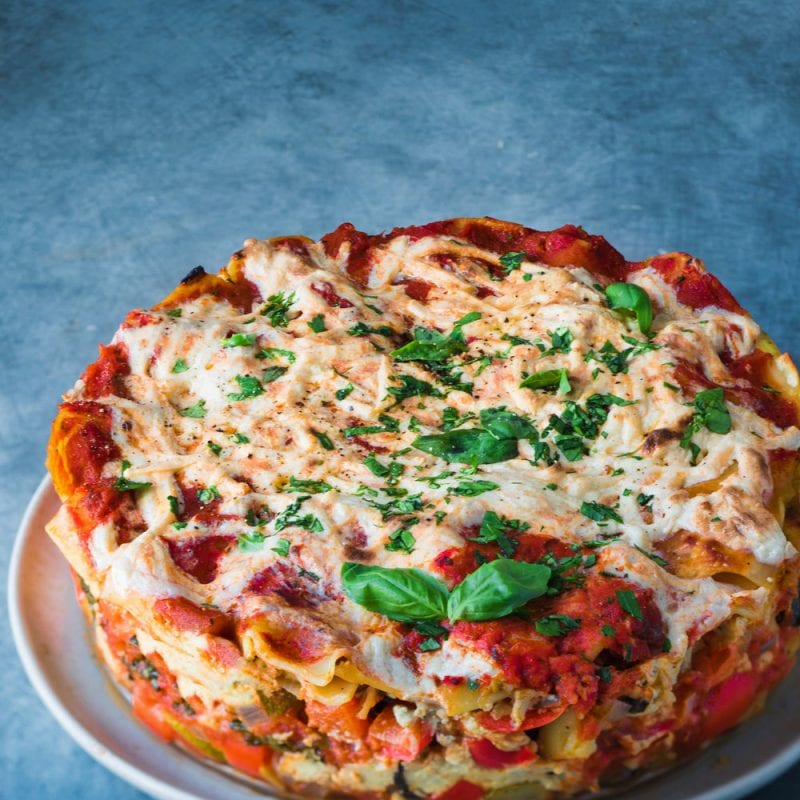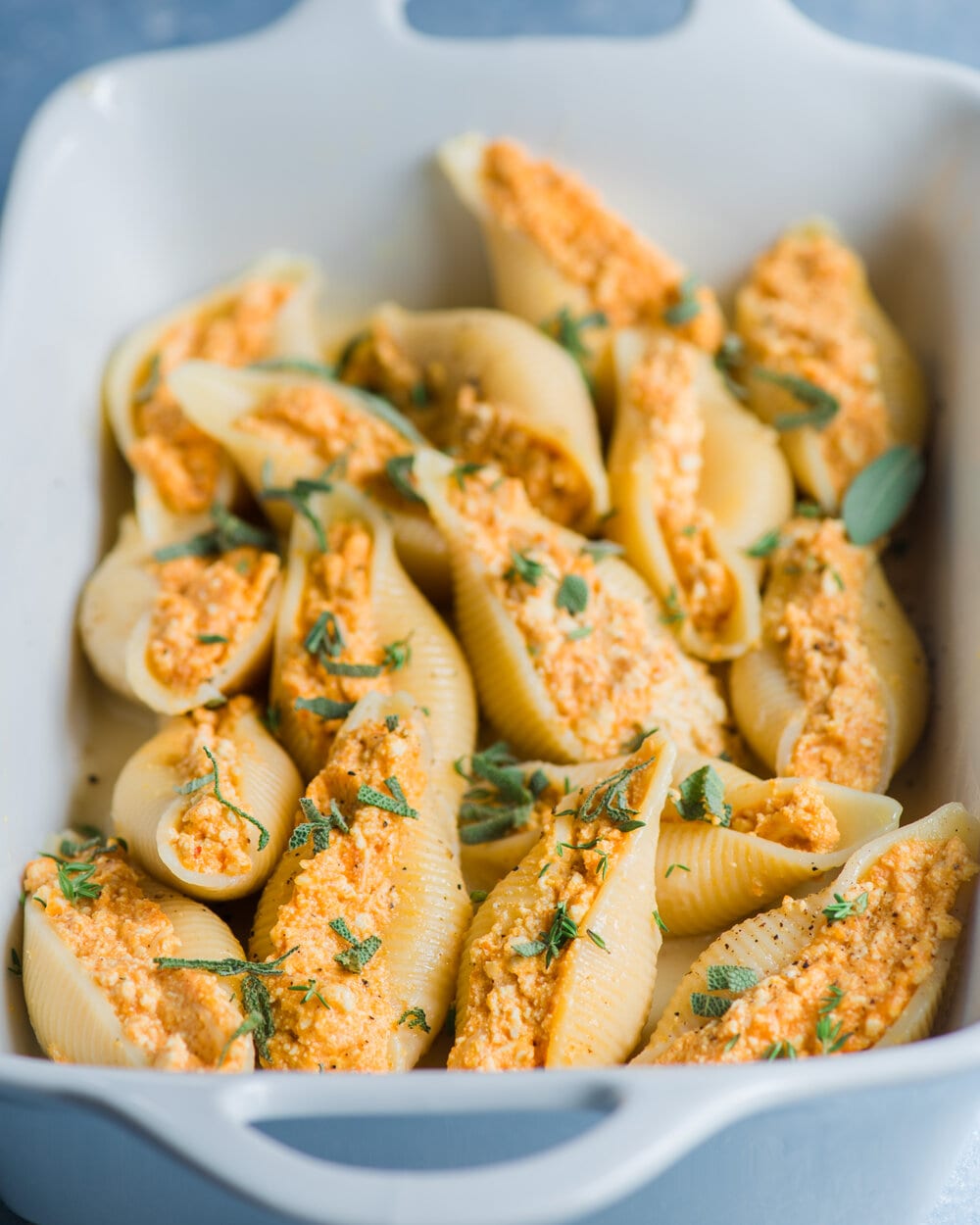 Of course, if it strikes your fancy, you can use the vegan ricotta anywhere you'd use regular ricotta. This asparagus galette is a great place to start if asparagus are in season!
This Savory Asparagus Galette with Vegan Ricotta is an easy yet impressive dinner or weekend brunch idea, and perfect for summer al fresco dining. Asparagus and fresh peas pair perfectly with a flaky buttery crust and homemade vegan ricotta.
Check out this recipe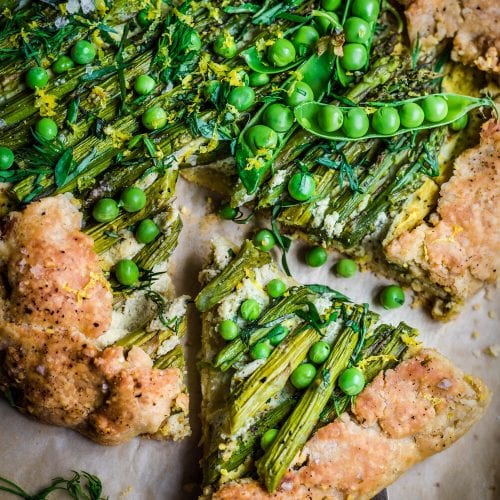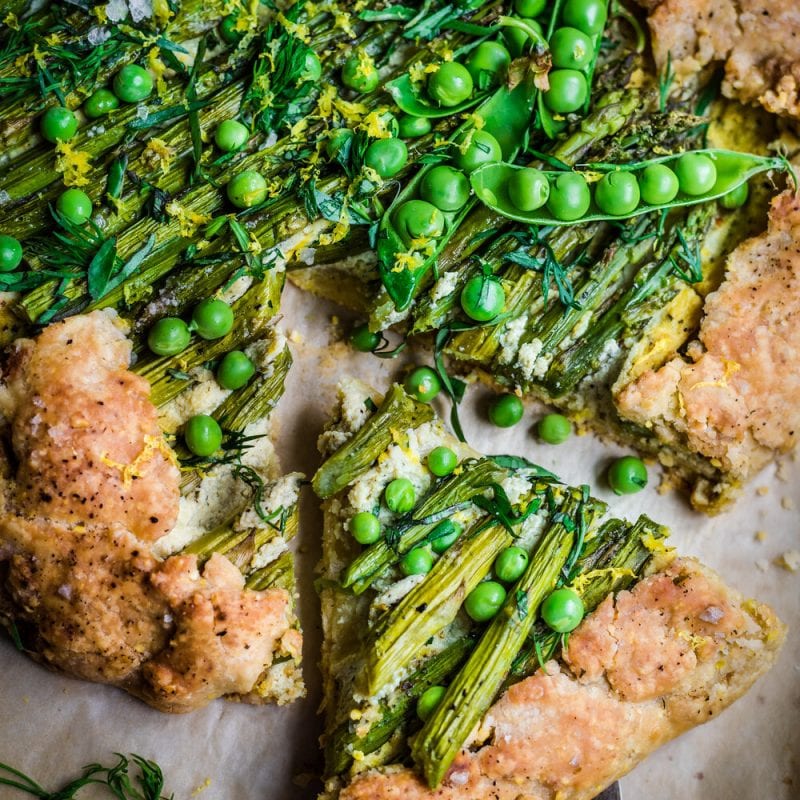 If you're in the mood for Greek food…
Then make vegan feta!
Feta used to be one of my favorite cheeses, but once I went vegan, I assumed I'd never taste it again. WRONG! Though feta is very distinctive in taste and therefore harder to replicate than say, cheddar cheese, it is not impossible!
This vegan feta recipe has the classic tangy, salty, savory flavors and firm-crumbly texture of classic feta but without any of the dairy. It's surprisingly easy to make with a block of extra-firm tofu and a few pantry staples. Crumble into salads and wraps, serve on top of crostini, or toss into pasta.
Check out this recipe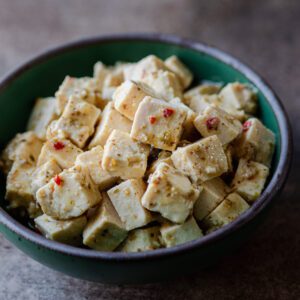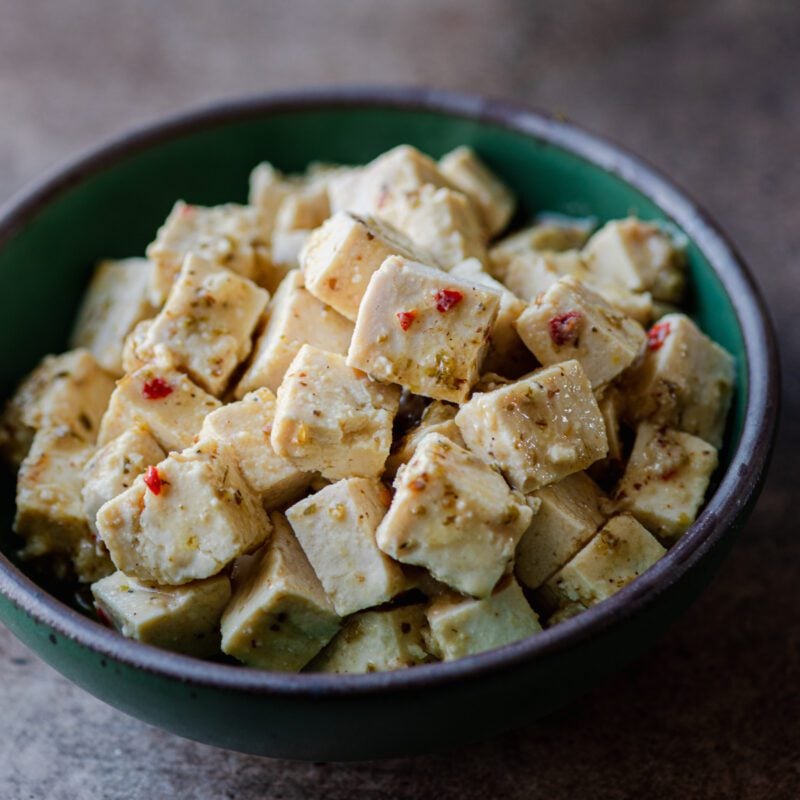 This vegan feta is great in salads (especially a watermelon or cucumber salad), grain bowls, and couscous dishes. It's also delightful on top of flatbreads or pizzas. Or you could stuff it into pasta, eggplant, zucchini, or tomatoes, or even add it to a side of roasted or grilled vegetables.
And it would be a fabulous way to jazz up my Lemon Orzo Pasta Salad, Grilled Corn Salad, or Instant Pot Couscous and Lentil Salad.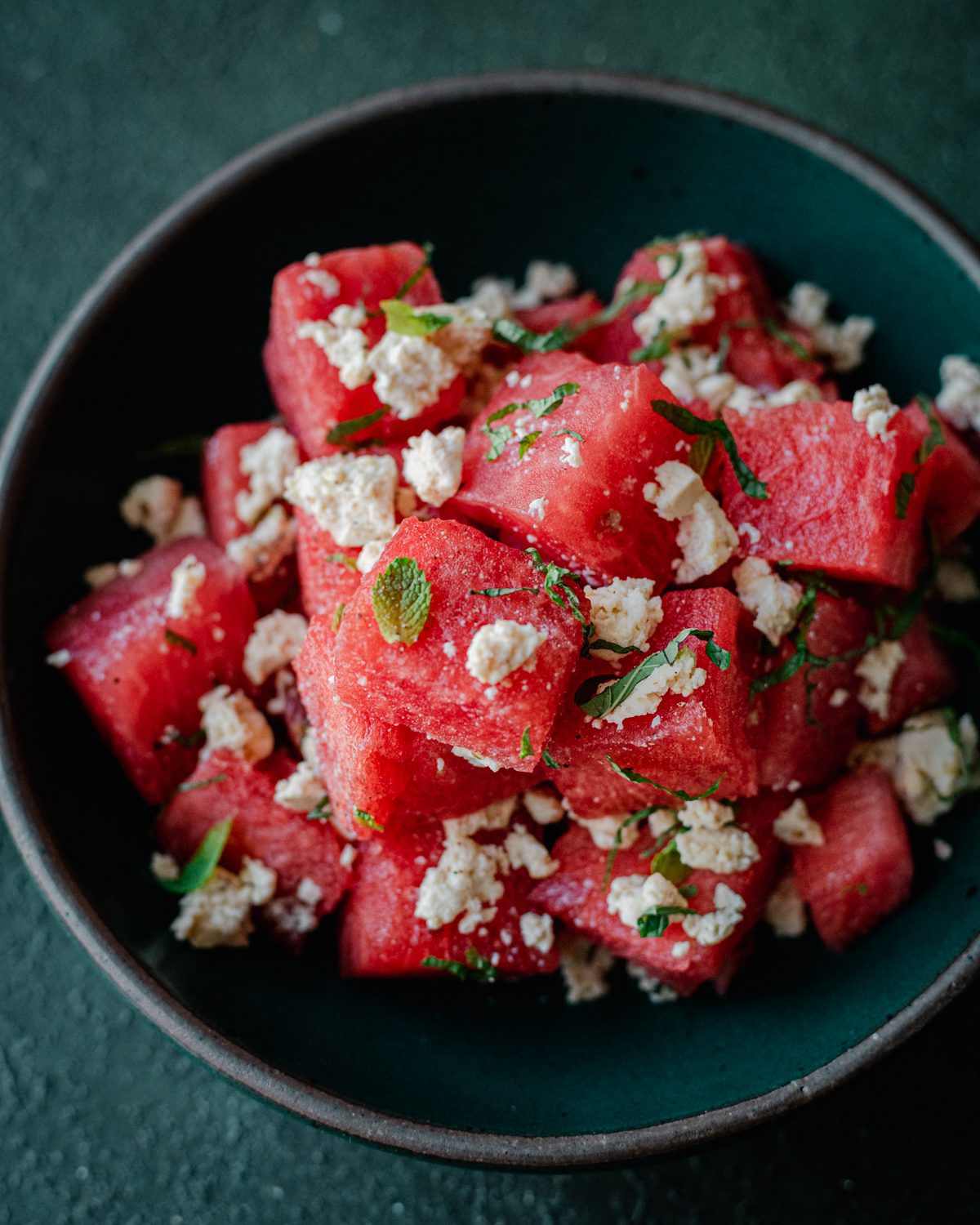 If you're looking for something spreadable…
When you want a vegan cheese that's spreadable, this fermented cashew cheese is an easy and pantry-friendly option! Use it as a dip for crackers, or spread onto toasted bread for a grilled cheese.
This might just be my favorite vegan cheese. Thanks to a 36-48 hour fermentation period, it's got all the complexity that dairy cheese has, without any of the cruelty.
First, a simple mixture of cashews, vinegar, lemon juice, coconut oil, nutritional yeast, and seasonings gets blended until smooth. Then, it ferments for a day or two. Finally, the cheese gets shaped into a log (think a log of goat cheese) and hangs out in the fridge for a few hours. Once sliced, it's easy to spread (and is SO very tasty).
A sliceable, spreadable vegan cheese that will blow your mind! This cashew-based cheese is made with just a handful of ingredients and is an explosion of salty, cheesy, tangy, and umami flavors thanks to fermentation.
Check out this recipe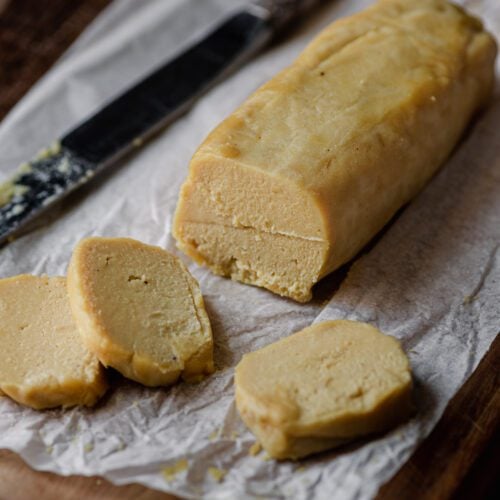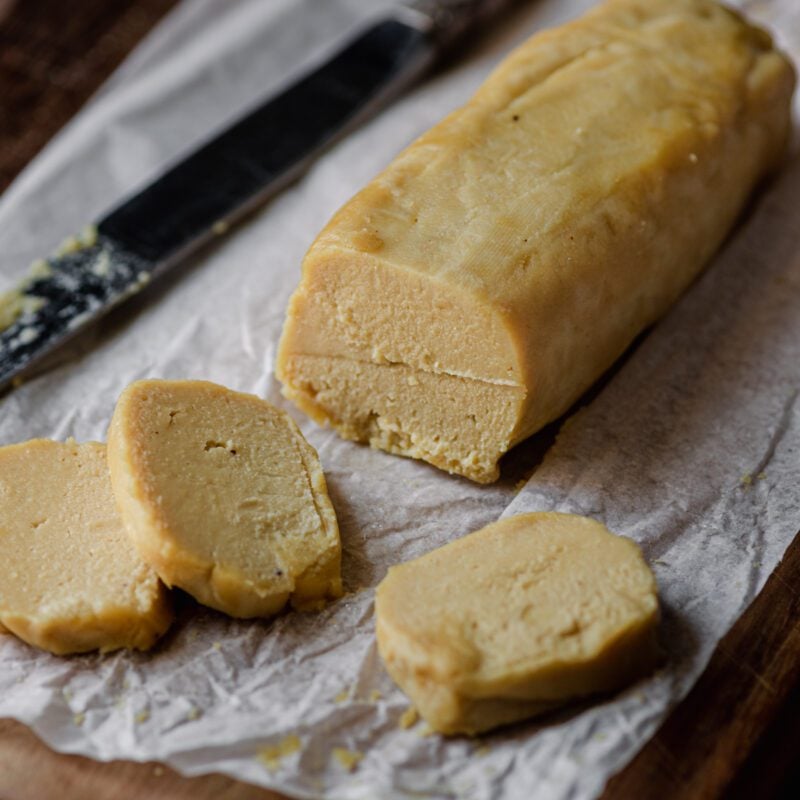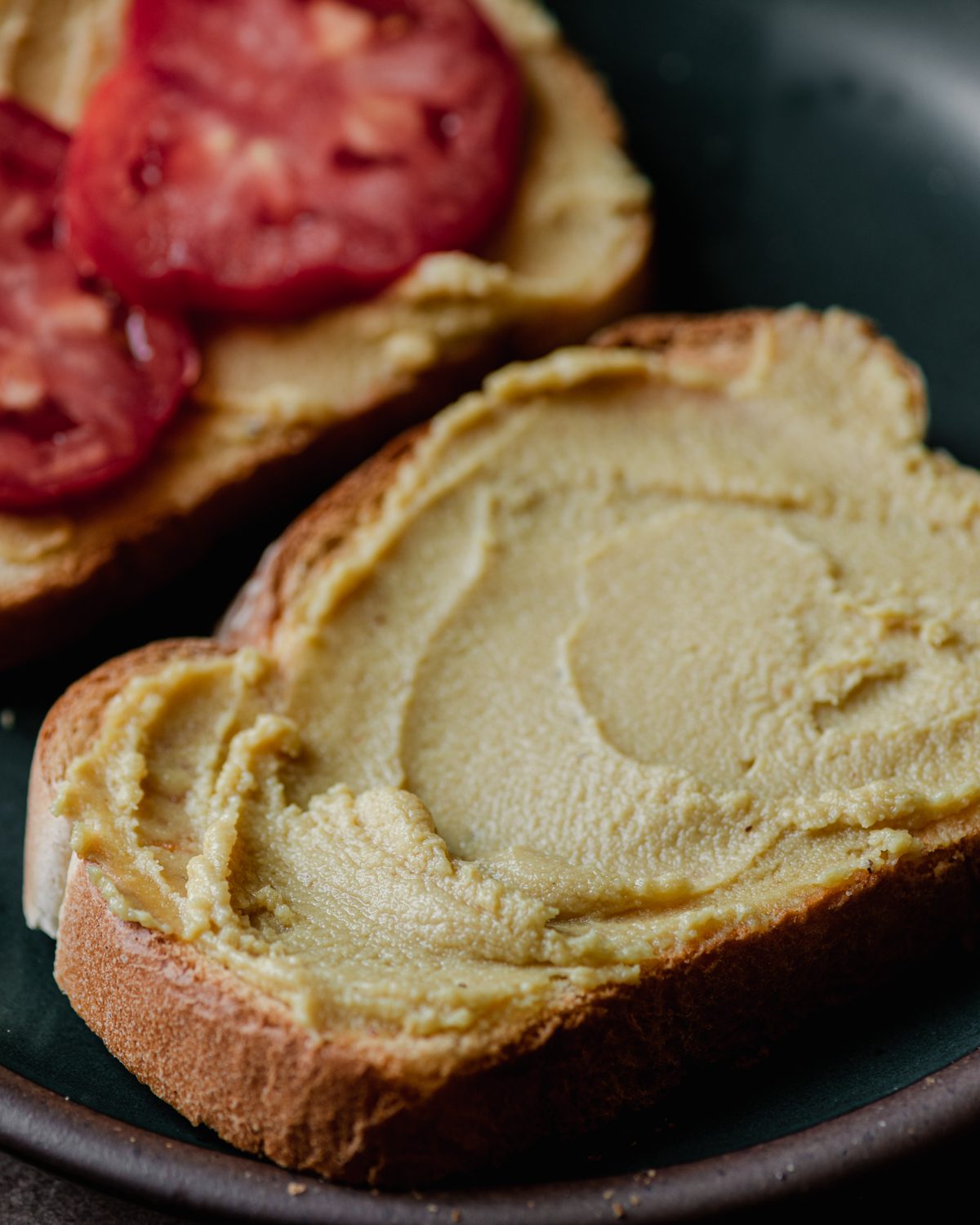 The Best Store-Bought Vegan Cheeses
The quality and quantity of store-bought vegan cheeses has dramatically improved in the last several years. Back in 2016 when I went vegan, there were only a handful of options, most of which were barely edible.
But with so many more choices these days (hi, decision fatigue!), I thought it would be helpful to share a guide to my favorite vegan cheeses.
Cream Cheese
Kite Hill Foods Cream Cheese Alternative

. They make a pretty nice almond-based

vegan cream cheese

(original + a few other flavors) that has a subtle tang and is made with wholesome ingredients.

Tofutti Better than Cream Cheese.

More processed than the above, but this one tastes JUST LIKE dairy cream cheese. I can't even taste the difference. I highly recommend this when you are making a cheesecake or where you really want that authentic cream cheese tastes.
Shredded Cheeses
Parmela Creamery Shreds

. These shredded cheddar-style cheeses are made from cashew milk, aged, and melt really well. Somewhat of a smaller brand, but you can find them at Whole Foods, Wegmans, CostCo, and Sprouts.

Violife Shreds. They have both mozzarella and cheddar shreds. While they don't stretch like traditional cheese (most vegan cheeses don't), they do melt quite nicely (melts better when covered).
Daiya Cutting Board Collection Shreds. A marked improvement from the classic Daiya shredded cheese that's one of the OG dairy-free cheeses. The mozzarella melts really well and tastes pretty good too.
Sliced Cheese
Parmesan
Follow Your Heart Dairy Free Parmesan

. The best store-bought option for pre-shredded parmesan with a nice neutral taste. The shreds are quite large, so if I'm using them raw, I like to chop them up, or if I'm using a lot, pop them in the food processor and pulse a few times.

They also melt really great in the oven!
Goat Cheese
Spero Foods The Goat. The only commercial vegan goat cheese I've tasted that tastes shockingly similar to dairy-based goat cheese! Spreads easy and is so tasty with crackers!
Feta
Violife Just Like Feta: The best store-bought vegan feta I've tried. Sold in a block, it's salty and briny and tastes like a hybrid of goat cheese and feta.
Follow Your Heart Feta Crumbles: Another good vegan feta option, this one is pre-crumbled, sharp and tangy, and even melts well (not that feta needs to melt, but this one does and is great on an oven-baked flatbread). It's also very allergen-friendly.
Spreadable Cheeses
Miyoko's Creamery Cheese Wheels

. Miyokos is a vegan cheese OG (the founder Miyoko Schinner even wrote a book on homemade vegan cheese!) and their cheese are made with really wholesome ingredients. The spreadable cheese wheels are great slathered on baguettes, crackers, crudites, etc.

Treeline French-Style Cheese.

These soft, spreadable cheeses are rich and satisfying but made with wholesome plant-based ingredients (mostly cashews and live cultures). They're perfectly tangy IMO.
Ricotta Cheese
Kite Hill Foods

. Unfortunately the

Kite Hill Foods ricotta

is quite difficult to find (sometimes Whole Foods has it, and other smaller gourmet markets might have it), but if you can find it, it is SO good.

Tofutti

. Really delicious and mimics dairy-based ricotta quite well!
Mozzarella
Miyoko's Organic Cashew Mozzarella

. If you're looking for pre-shredded mozzarella, check out the "shredded cheeses" section

, but if you want a whole ball of mozzarella, similar to buffalo mozzarella, this is the best vegan option in stores.
Alright, that's it from me. I hope you found this guide helpful and informative. If you did (or if you have any feedback), be sure to leave a comment below :)