While we had a very mild and pleasant spring season here in NYC, the last week or so has been pretty steamy. And the A/C in our apartment has been on the fritz, so I've had to find ways to cool down. In addition to cold showers and sitting with ice packs, I've been gulping down this incredibly refreshing Blackberry Basil Lemonade.
Made with fresh blackberries, fragrant basil, and maple syrup, it's a healthy twist on a classic summer beverage. It is the perfect summer beverage, and I know you're going to love it!
Table of contents:
1. Why you'll love this recipe
2. Ingredient notes
3. How to make this recipe
4. How to serve this lemonade
5. Recipe card with notes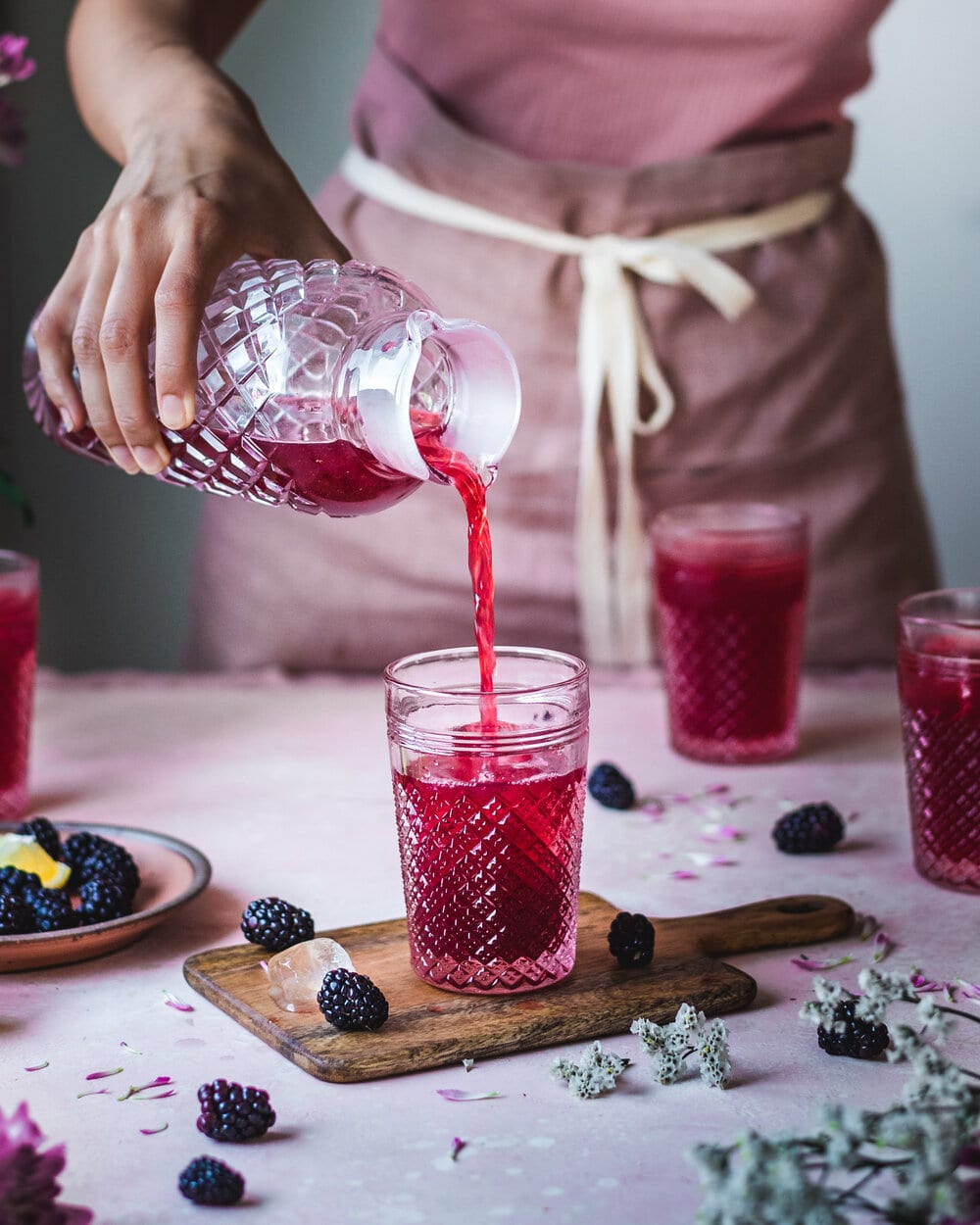 Why you'll love this recipe
5 ingredients. Technically, it's only 4 ingredients if you use plain tap water/filtered water because water is not an ingredient. And it's just 5 ingredients if you use sparkling water. In either case, there are very few ingredients involved!
Easy everyday ingredients. Nothing fancy here: just basil, blackberries, lemons, water, and maple syrup.
Healthy. Traditional lemonade is loaded with refined sugar. My version uses a modest amount of maple syrup, so you can sip on your favorite beverage without downing tons of sugar. This is the "have your cake and eat it too" version of lemonade.
Refreshing, cooling, and flavorful. This is the ultimate refreshing summer beverage! I promise you it is the perfect thirst quencher for your next vegan BBQ. And, of course, it's not your ordinary lemonade. It's beautifully pink/red from the blackberries and it has lovely fragrant notes from the basil.
Ingredient notes
Blackberries. Blackberries are in season right now and once pureed, they make for the most beautiful color. They also pair wonderfully with basil. If you don't have blackberries, strawberries would be an excellent substitute.
Basil. Regular lemonade can be a bit too one-dimensional for my taste, which is why I love adding fresh herbs like basil or mint to lemonade. The basil adds a slightly sweet yet peppery undertone to the lemonade that makes it feel more grownup and sophisticated than traditional lemonade.
Maple syrup. Instead of using refined sugar, I opted for pure maple syrup. Since this recipe makes a lot of lemonade and I have been drinking it every day (sometimes multiple times a day), I love using a somewhat healthy sweetener.
You can use less maple syrup to make it even healthier, or add more water/sparkling water to water it down. Or, if it's not sweet enough for your taste, you can use more maple syrup or use less water.
Lemons. This is lemonade, so fresh lemons are obviously a necessity. Choose lemons that are juicy to the touch – you'll get more lemon juice out of them and therefore have to buy fewer lemons.
Water. Another obvious ingredient. Max and I are big fans of sparkling water so I used half sparkling water and half plain water. It's delicious either way.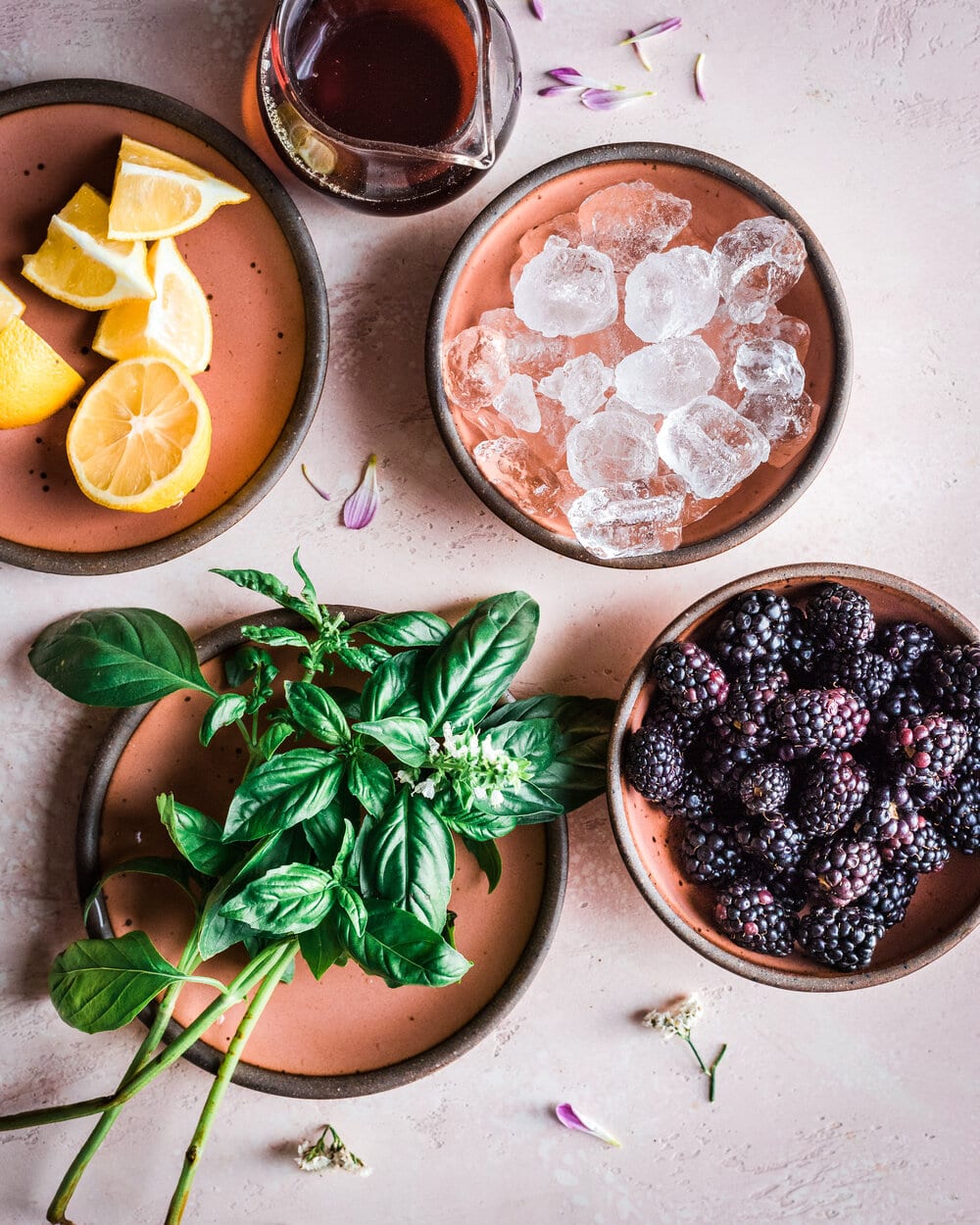 How to make this recipe
Juice your lemons. When juicing this much citrus (1 cup), a citrus juicer or reamer can be handy (affiliate links). Mix the lemon juice with the maple syrup in a large pitcher, then add the water or sparkling water.
Puree the blackberries and basil. Place the blackberries and whole basil leaves in a food processor and blend until completely pureed. Transfer the mixture to a fine mesh sieve (affiliate link) and then use a large spoon to continuously push the blackberry juice out of the sieve. This will take a bit of warm work.
Don't add the blackberry pulp/solid seed mixture to the lemonade. But also, don't throw it away! You can upcycle it into blackberry jam or add it to your next smoothie.
Add the blackberry-basil puree to the pitcher. Stir, taste, and adjust accordingly. Serve over ice.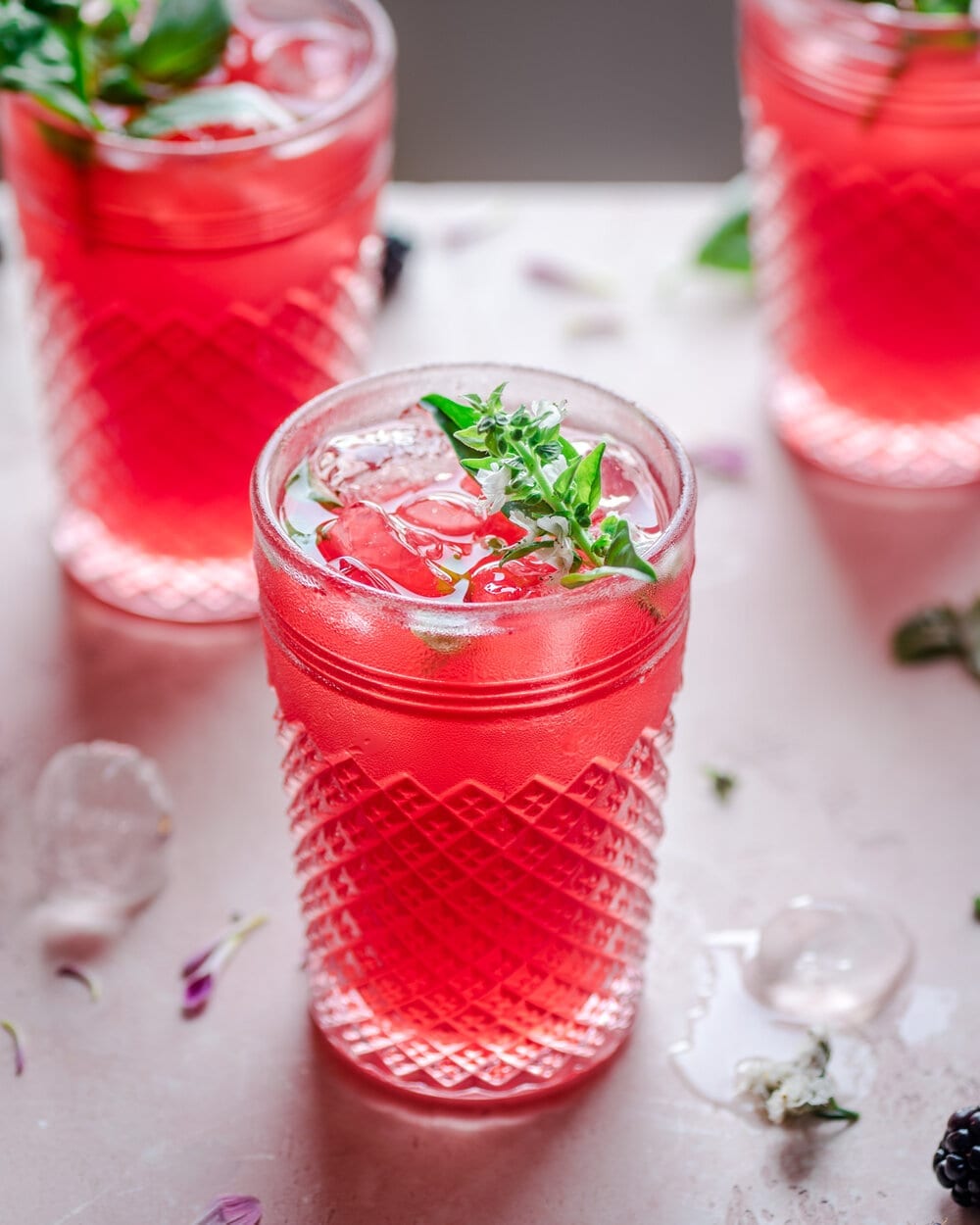 How to serve this lemonade
Obviously, you can serve this lemonade as is! I store a big pitcher of it in the fridge for about a week.
Flavored seltzer water. When we a light and crisp beverage with minimal sugar, we'll mix this Blackberry Basil Lemonade with plain sparkling water. You can adjust the ratios according to your taste.
Cocktails. If you are trying to have some fun this summer (in a socially distant way), you can turn this lemonade into an adult beverage! Simply add 1 – 1.5 ounces of vodka or gin per serving, and stir to combine!
Popsicles. If you have popsicle molds, you can easily pour this lemonade into the molds, freeze, and come back to extremely refreshing and beautiful popsicles!
A picnic spread. Planning a picnic? Pack my Vegan Egg Salad sandwiches, a jar of this lemonade, and a summery salad like this Sweet and Spicy Smashed Cucumber Salad!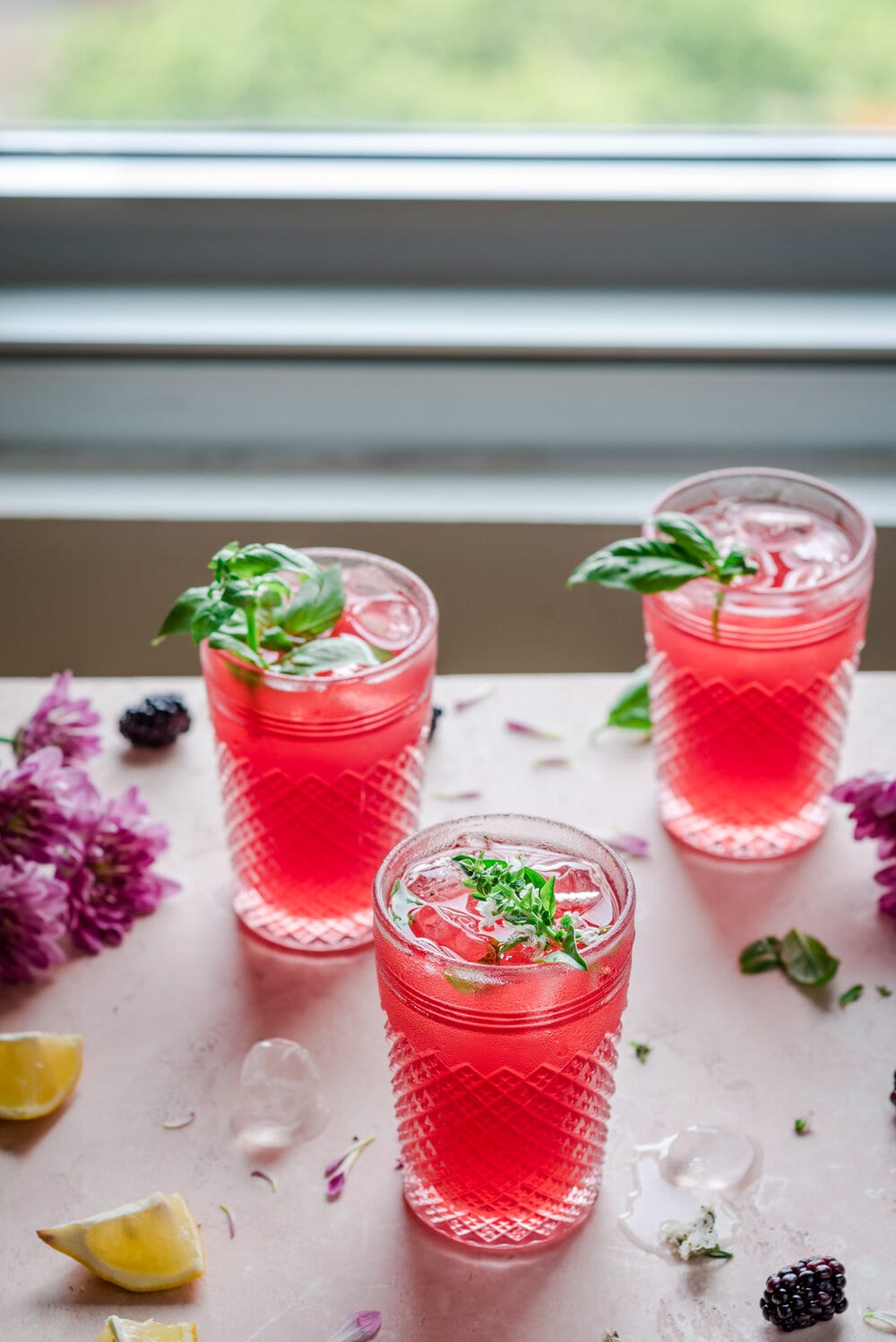 If you give this Healthy Blackberry Basil Lemonade recipe a try, be sure to tag me on Instagram with your recreations and please comment with your feedback below!
Healthy Blackberry Basil Lemonade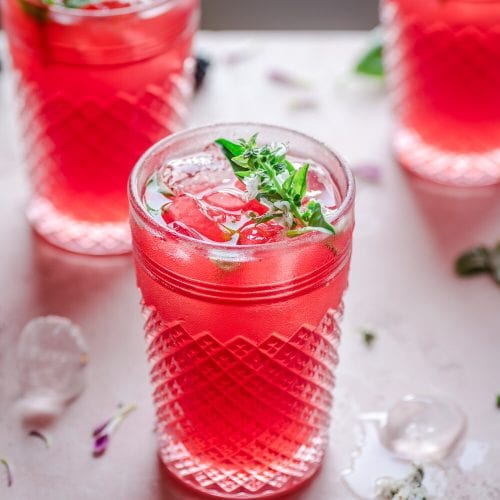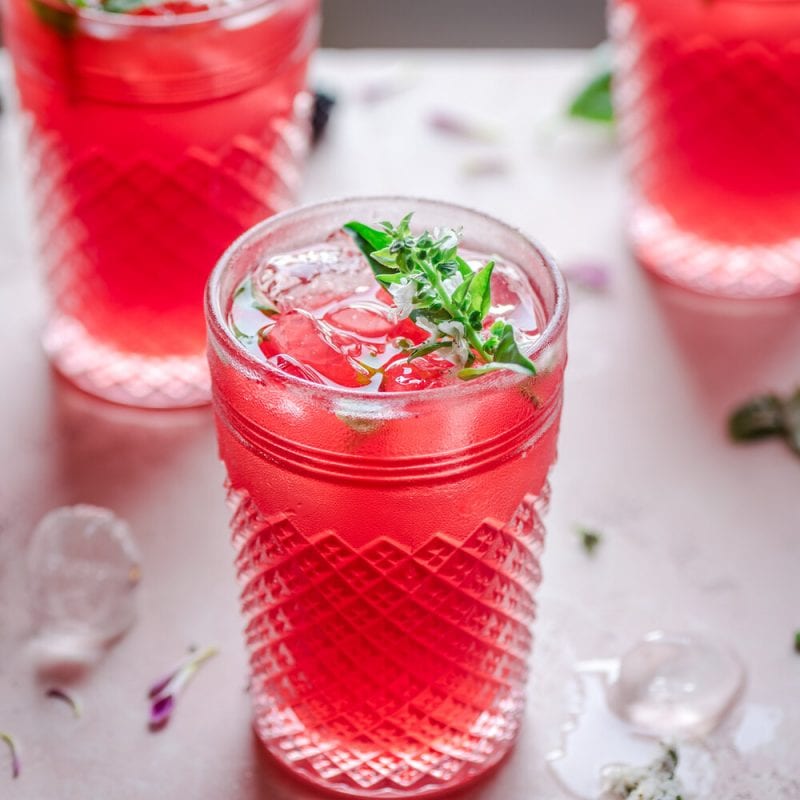 This refreshing Blackberry Basil Lemonade is so unique you'll never want to make classic lemonade again. Made with just 5 ingredients, it's easy to make, refined sugar-free, and guaranteed to cool you down during the summer.
Ingredients
3/4

cup

(~180 mL) pure maple syrup*

1

cup

(240 mL) freshly squeezed lemon juice (about 6 large juicy lemons)

6 to 8

cups

(1.4 -1.9 L) water or sparkling water

12

ounces

(340g) fresh blackberries

1/2

cup

(~10g) basil leaves

Ice for serving

Optional: to make this an adult beverage,

add 1 – 1.5 ounces (30-45 mL) of vodka or gin per serving, and stir to combine.
Instructions
Combine the maple syrup and freshly squeezed lemon juice in a large pitcher. Stir in the water or sparkling water.

Add the blackberries and basil to a food processor. Puree until the berries are completely broken down.

Transfer the blackberry-basil puree to a fine mesh sieve placed over a bowl or over the pitcher. Using a large spoon, continuously press the puree through the sieve so the juice goes into the bowl/pitcher and all the fruit pulp and seeds are left in the sieve. Reserve the pulp and seeds for another use, such as smoothies or jam.
Notes
* To make the lemonade less sweet, you can use less maple syrup or add more water. To make it sweeter, add more maple syrup or use less water.
---
Calories:
214
kcal
|
Carbohydrates:
53
g
|
Protein:
1
g
|
Fat:
1
g
|
Saturated Fat:
1
g
|
Polyunsaturated Fat:
1
g
|
Monounsaturated Fat:
1
g
|
Sodium:
7
mg
|
Potassium:
345
mg
|
Fiber:
5
g
|
Sugar:
42
g
|
Vitamin A:
344
IU
|
Vitamin C:
42
mg
|
Calcium:
99
mg
|
Iron:
1
mg