There's a stereotype that eating well on a plant-based diet is always expensive ("eating well" both from a health perspective and a taste perspective). So I recently challenged myself to eat well on a very tight budget to prove that stereotype wrong. And by very tight budget, I mean $5 a day.
I was pretty excited about this challenge to begin with, but the results honestly blew me away. I cooked and ate so many flavorful and even gourmet meals, found ways to stretch my budget more than I thought was possible, and ate a very wholesome and nourishing diet.
Shopping at my local ALDI grocery store saved me so much money on groceries and made this budget challenge so enjoyable, so thank you to ALDI USA for sponsoring this post! And thank you to my readers for supporting the brands who help make my work possible!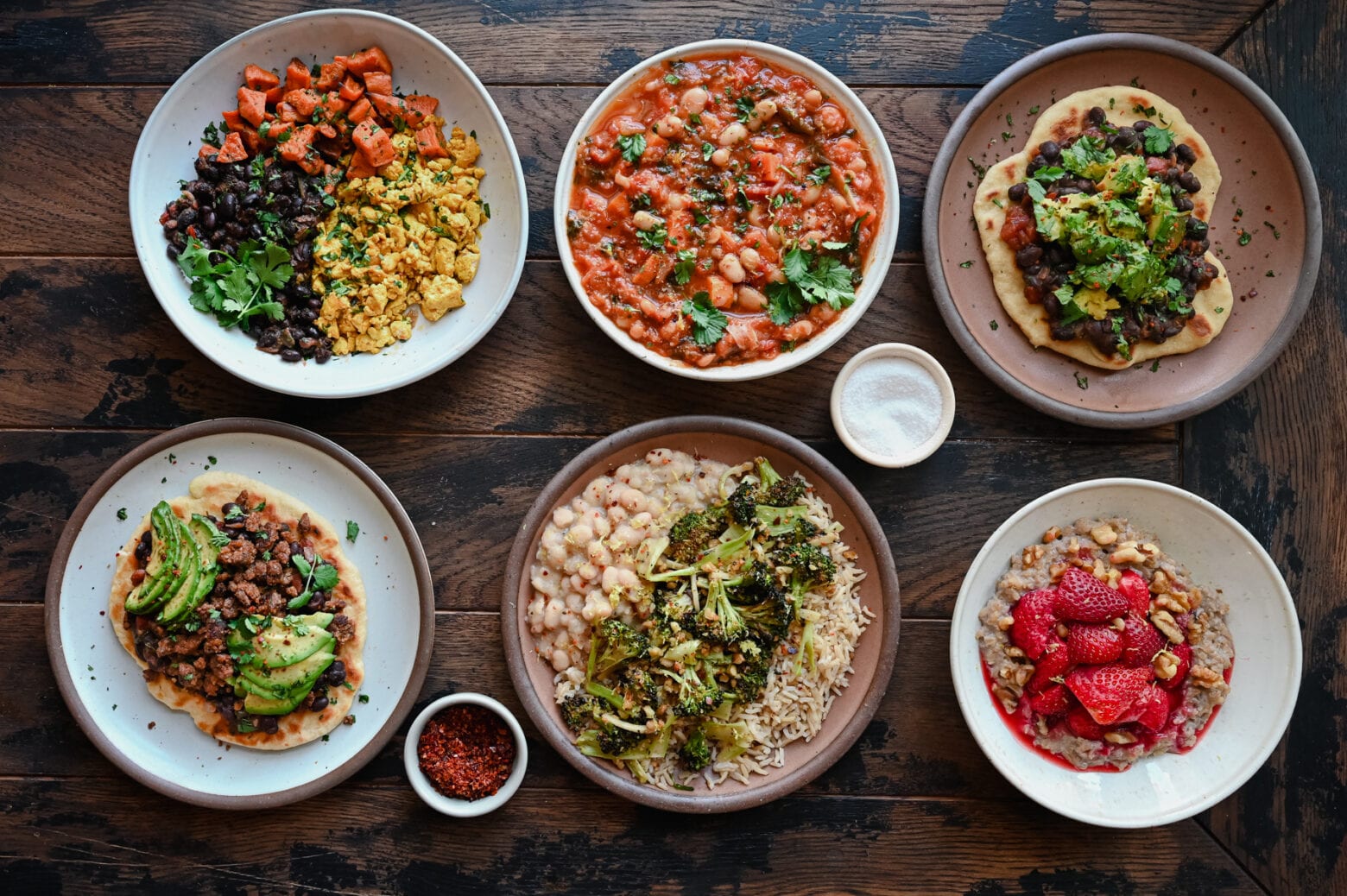 Where can I find…?
Tips for eating well on a budget? Keep on scrolling here.
What I ate for each meal from Monday to Friday? Watch the YouTube video.
The full grocery list and printable recipes of what I ate? Sign up for the PDF guide below.
Tips for eating well on a budget
Focus on real foods
Artisanal vegan cheese might be expensive, but you know what isn't? Vegan staples and whole foods! Think beans, lentils, grains, seeds and nuts, and seasonal produce. If you make these items the bulk of your grocery shopping, it leaves a lot more room in your wallet.
Don't believe me? Watch the YouTube video I filmed alongside this post and you'll be surprised at how much food I was able to enjoy on a budget of $5 a day.
Stock up on plant-based essentials at your local ALDI
Every time I shop at ALDI, I am amazed at their unbeatable prices, from dried beans and rice to organic veggies and plant-based milks. Even items that you'd often associate with a hefty price tag (think: organic, cold-pressed coconut oil and avocados) are always affordable. And I love that they have an always expanding selection of new plant-based products.
You'll also find a great selection of affordable organic products there. A few personal faves include the Simply Nature Organic Extra Virgin Olive Oil, Simply Nature Organic Coconut Oil, Simply Nature Organic Chopped Kale, and Simply Nature Organic Creamy Peanut Butter.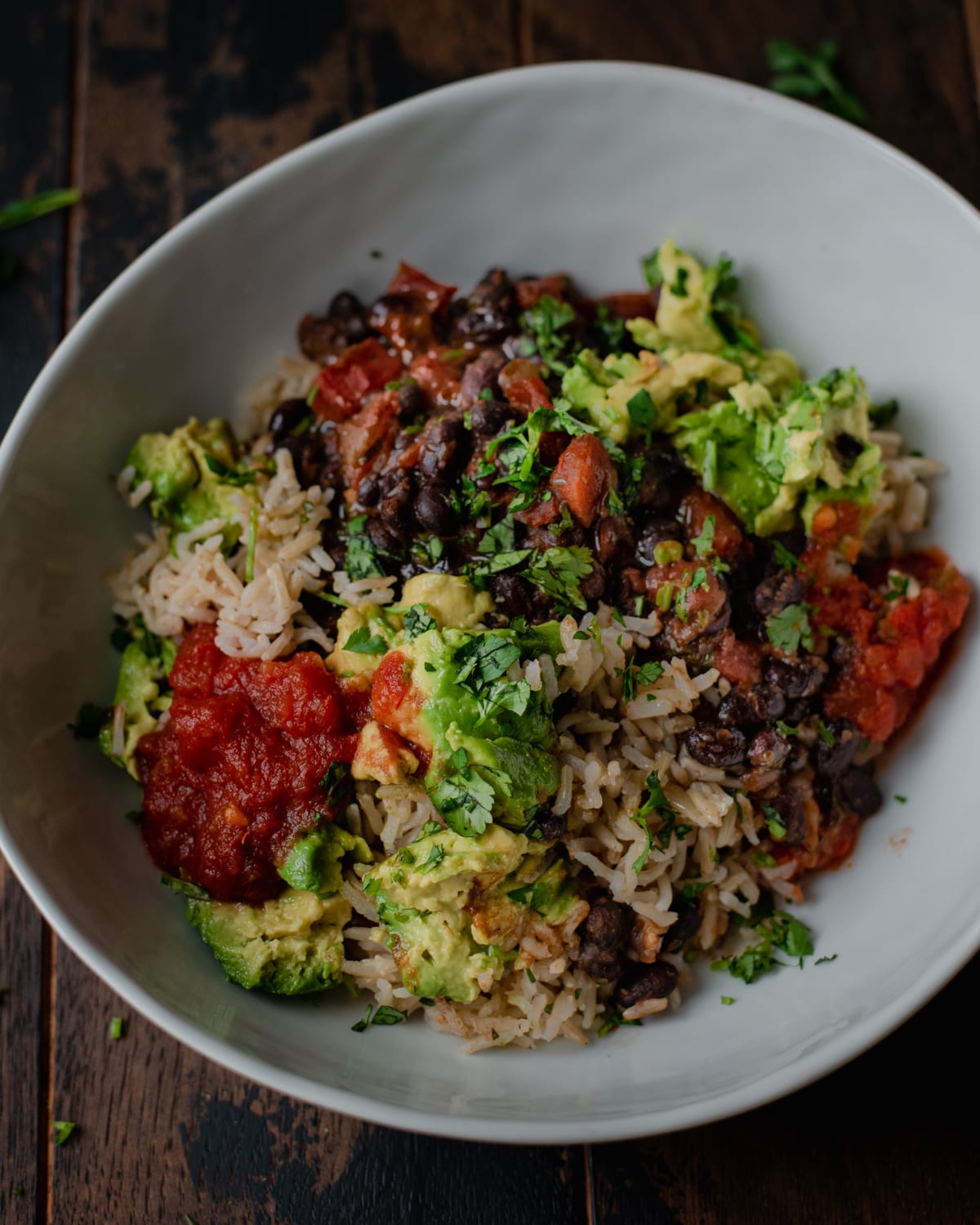 Get creative in the kitchen
When you don't have that artisanal vegan cheese or trendy chipotle mayo to rely on, your cooking skills matter a lot more. So it's time to exercise a little creativity in the kitchen! Here are just a few ideas.
Tired of eating the same quinoa every week? Try toasting it! I am not a big quinoa person, but I love toasted quinoa. It makes it crunchy and nutty. Just spread out cooked quinoa on a baking sheet and broil it in the oven until golden brown and crisp, or toast it in a frying pan with a little bit of oil until crunchy and golden.
Heard dried beans are cheaper than canned (it's true!), but want to make them a little more exciting? Add some aromatics (think: garlic, onion, carrots, dried or fresh herbs, spices) or a vegetable bouillon cube to the cooking water.
Finish cooked beans with a glug of extra virgin olive oil for some richness, salt & pepper, and a splash of lemon juice or your favorite vinegar. It's simple but makes it a lot more interesting than cooking beans in plain ol' water.
Know broccoli is good for you but bored of steamed broccoli? Try roasting, broiling, or blanching it! Roasting broccoli in the oven (all you need is a little olive oil, salt and pepper) caramelizes it and makes it sweeter.
Charring it under the broiler (as I do in one of the recipes in the free PDF guide) lends a slight smokiness that's often missing in plant-based foods. Blanching it (quick boiling, then dumping in ice water) keeps broccoli crisp-tender and bright green so it's never mushy.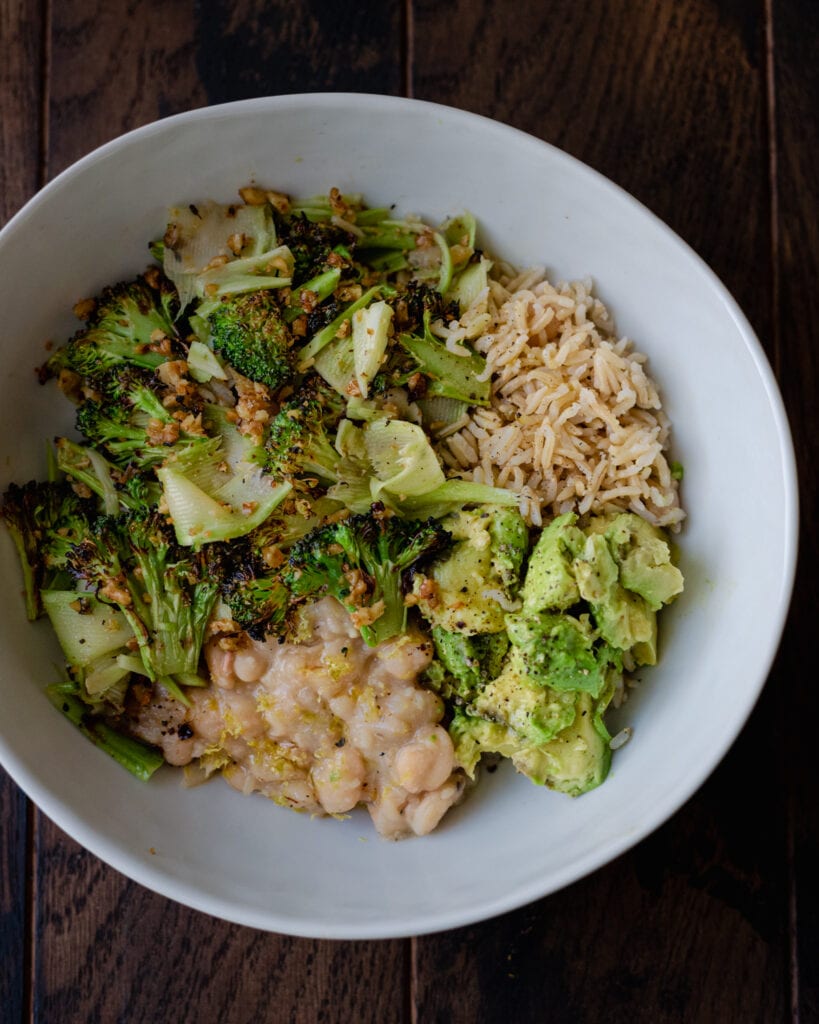 Reuse and upcycle
You can stretch your food budget a lot by reusing the same ingredients/foods in different ways or by upcycling ingredients/leftovers.
For instance, in the week of meals I made for the YouTube video, I cooked a 1 pound batch of dried white beans. I knew I wouldn't eat that many beans in a week (I get tired of eating the same meal after a few times), so I saved half of the beans and turned them into a soup!
Or, in another meal, I made good use of those broccoli stems (which are often tossed) by simply shaving them and turning them into a salad. You can also slice the stalks into coins and add to your next stir-fry.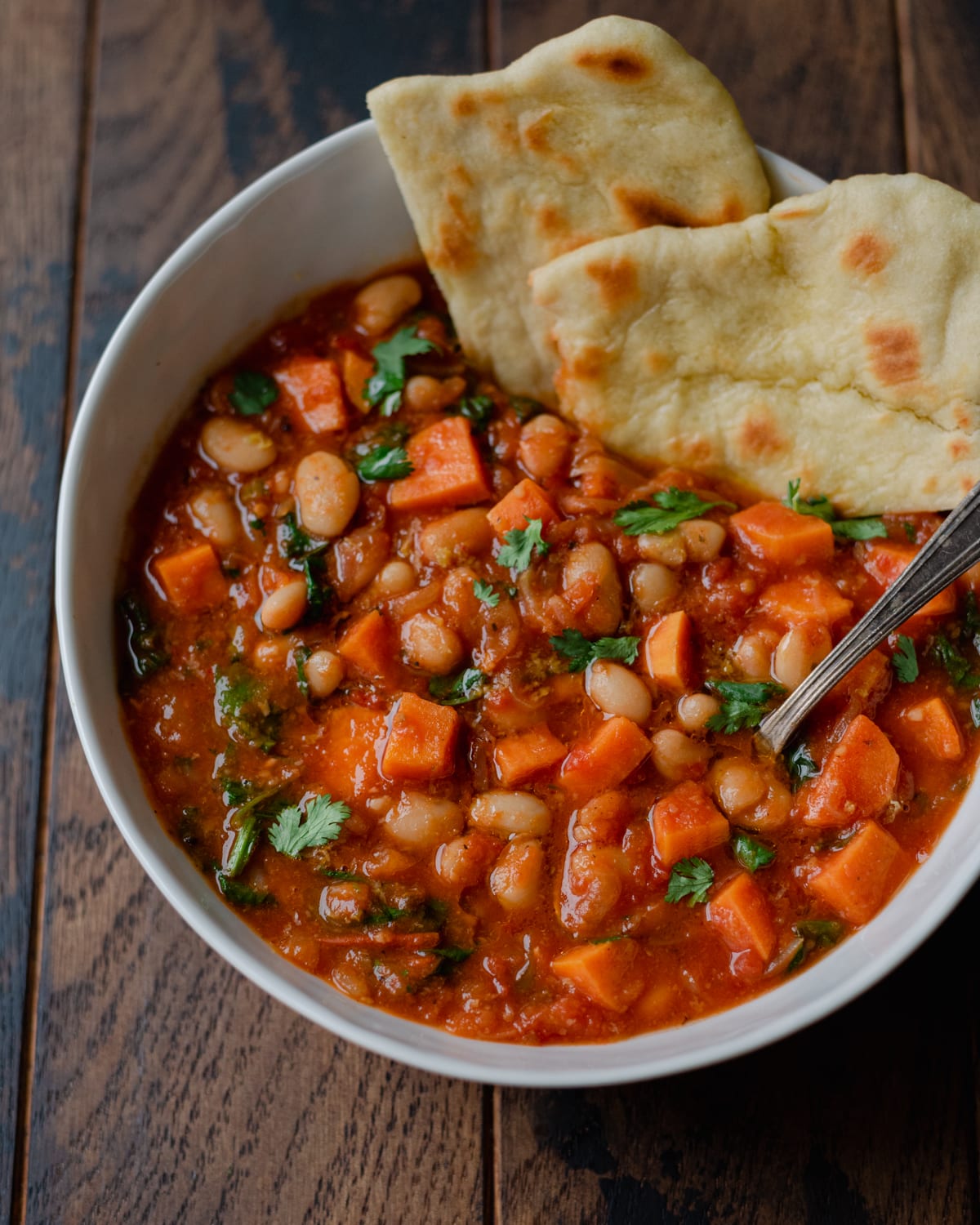 I also cooked a half pound of black beans and made saucy black beans with sofrito (which is amazing!). It made quite a lot of food, but I combined it in so many different ways throughout the week that I never got bored of it.
I served the black beans alongside tofu scramble and roasted sweet potatoes for breakfast, used it to build a burrito bowl, and even loaded it on top of a Mexican-inspired flatbread pizza with avocado.
PS: the flatbread recipe was so easy and is from the blog WellVegan.com.
Here are a few more ideas for reusing and upcycling food
Bought a bunch of carrots or beets with greens attached? Use the carrot greens to whip up a batch of pesto or chimichurri (find my carrot top pesto recipe here). Sauté the beet greens in a little olive oil, or use them as you would Swiss chard.
Got butternut squash peels that are about to be discarded? Coat in a little oil and your favorite spice blend, transfer to a baking sheet and roast at 325ºF for 25 minutes until browned and crispy. Snack on them or use them as a crunchy topper for salads and soups.
Got some fresh fruit that's on its way out? Cook it, juice it, or puree it. Strawberries have a relatively short shelf life, and by day 6 of my YouTube challenge, they were a little sad.
But, once I cooked them down on the stove (with a little lemon zest for flavor), they turned into a jammy compote that made the perfect breakfast topping.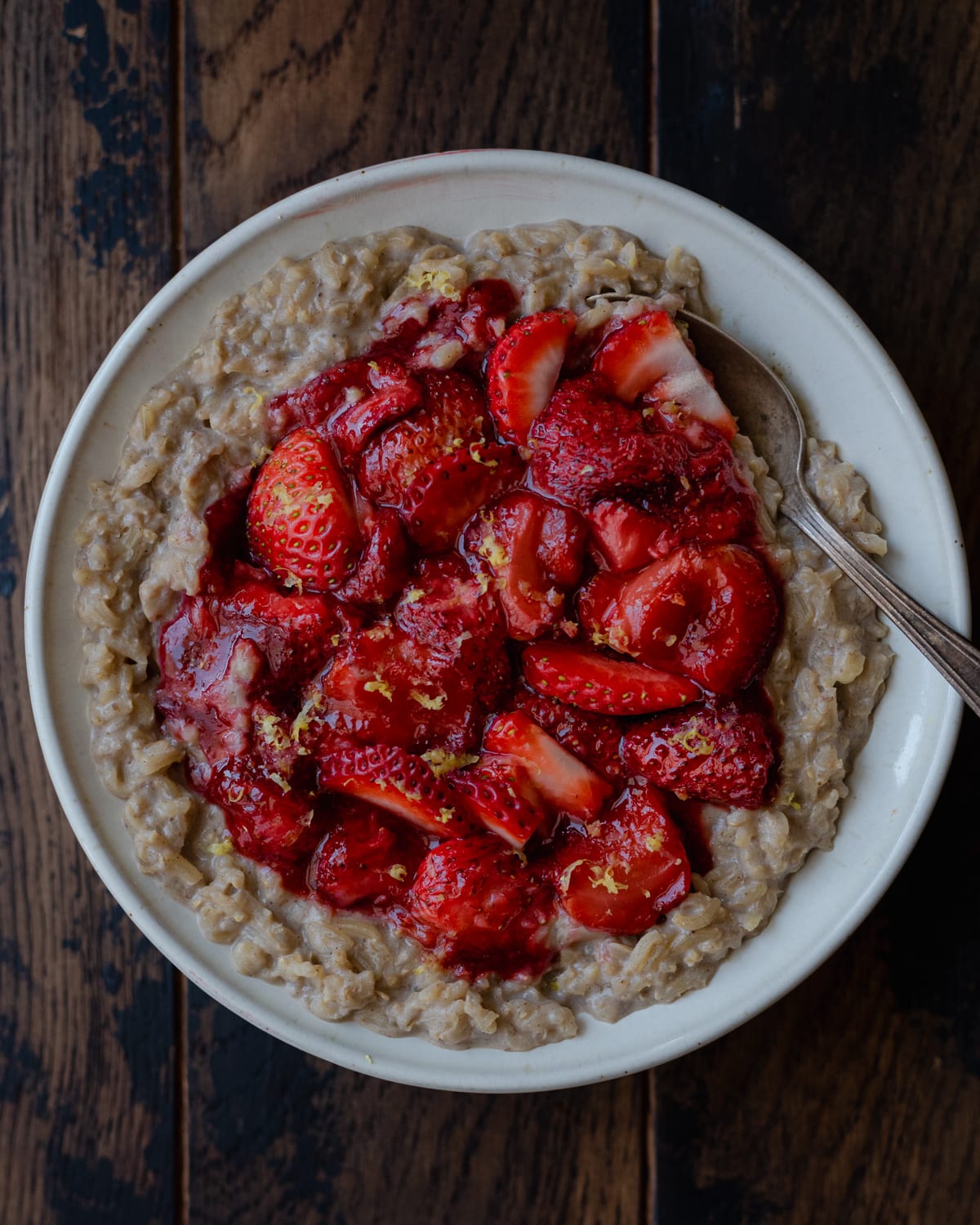 Do you love cooking with fresh herbs but don't know what to do with the stems? The stems of herbs like cilantro and parsley (as well as kale) are totally edible! The tender stems are great in condiments, or you can add them to morning green juices.
If you have extra potatoes on hand that will go bad soon, don't toss! Peel, cube, and toss them into virtually any soup as a natural thickener.
Got a loaf of bread that's gone stale? Tear or cube it up and make homemade croutons (toss with olive oil and bake in the oven) or French toast.
Freeze those bananas. I bought 6 bananas on my ALDI grocery trip for the YouTube video, but I only ate a few during the week before they got very spotty. So I just peeled them, sliced into big chunks, and popped them in a freezer bag. Now, I have enough frozen bananas for 4 to 8 smoothies!
Bought a few too many mushrooms? Turn the leftovers into walnut-mushroom "meat." It sounds crazy, but the combination of just these two ingredients and a some spices makes an incredible meat substitute. It was even approved by my omnivore partner.
You can find my walnut-mushroom meat recipe in the free PDF guide :)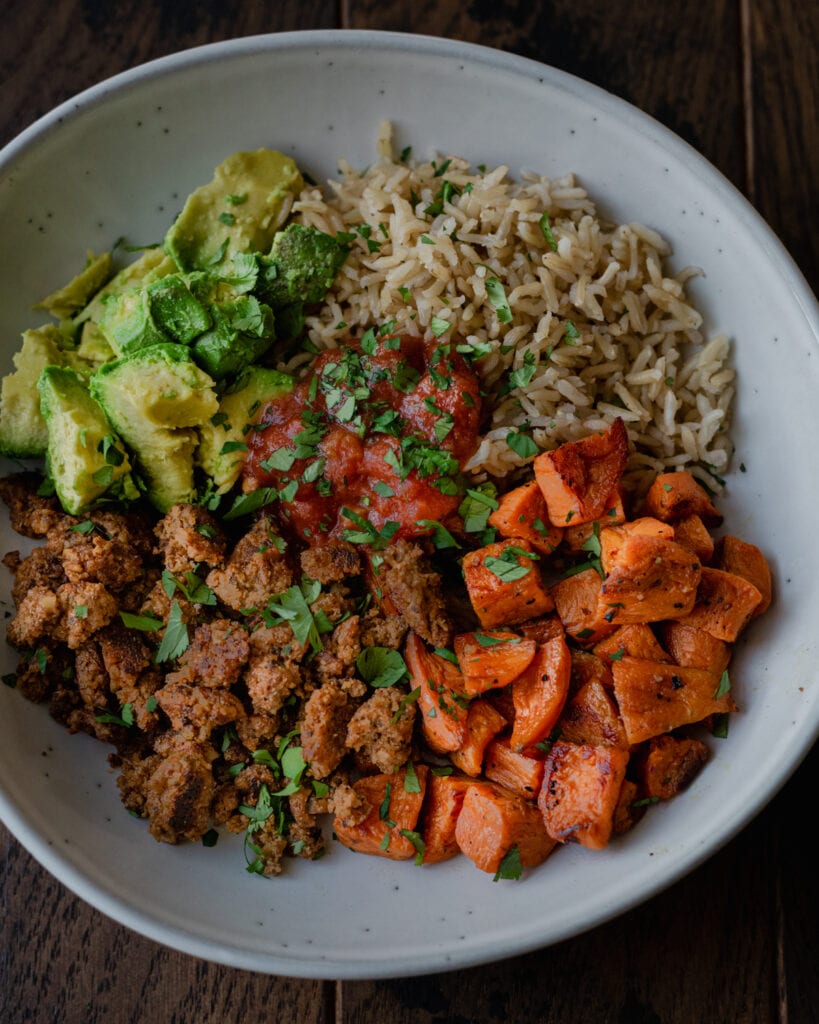 Watch! I ate like a king on just $5 a day
For a look at how I made these recipes and what I ate each day, check out the YouTube video!