Pesto is one of my absolute favorite sauces.
Luckily, it's easy and delicious when made vegan. This homemade vegan pesto couldn't be simpler to make, and it will jazz up nearly any weeknight meal. Use it as a pasta sauce, sandwich spread, turn it into a salad dressing, or dollop over roasted vegetables and grain bowls.
And if you're feeling creative, there are lots of ideas in this post on how to customize pesto so you can make it with whatever herbs and nuts you have on hand.
Table of contents:
1. Why I love vegan pesto
2. Ingredient notes
3. Step-by-step instructions
4. Tips for making this recipe
5. Variations
6. How to use vegan pesto
7. Frequently Asked Questions
8. Recipe card with notes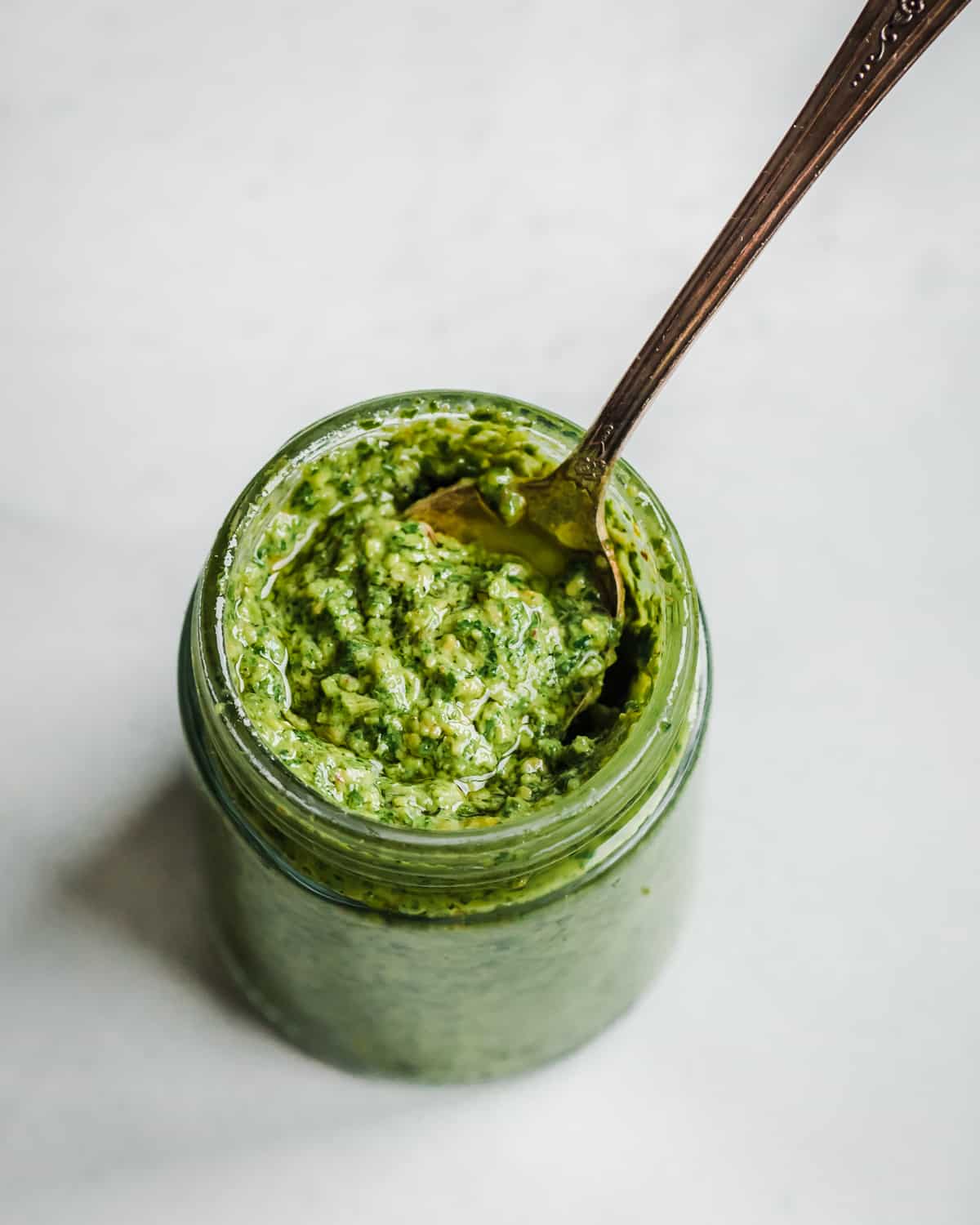 Why I love vegan pesto
The perfect everything sauce
Basil pesto hails from the northern Italian state of Genoa, and typically contains basil, pine nuts, parmesan (and pecorino), garlic, salt, and olive oil. It's always been one of my favorite sauces for its simplicity and perfect combination of richness with fresh flavor.
Since going vegan, I've relied quite a bit on pesto as an "everything sauce"—the flavorful condiment that brings the whole meal together.
If you make a batch of vegan pesto on Sunday, you can pair it with pretty simple staples like beans or tofu, grains, and roasted vegetables to make a hearty yet wholesome and delicious weeknight-friendly meal.
I typically always have at least two homemade condiments or sauces like pesto in my fridge at any given time. Other popular options in my fridge include some sort of cashew cream, tahini sauce, hummus or beet hummus, yogurt sauce like raita or tzatziki, and queso.
More flexible than you might think
Classic basil pesto is best in the summer, when basil is at its peak freshness and flavor.
When basil is not at its peak, I gravitate towards other herbs like cilantro, parsley, and even non-herb ingredients like kale and the greens from carrots, beets, and radishes.
While it might not be traditional, it does make pesto even more versatile to use with all kinds of meals, as you can use the herbs (and nuts) you have on hand! Skip to the Variations section for more ideas!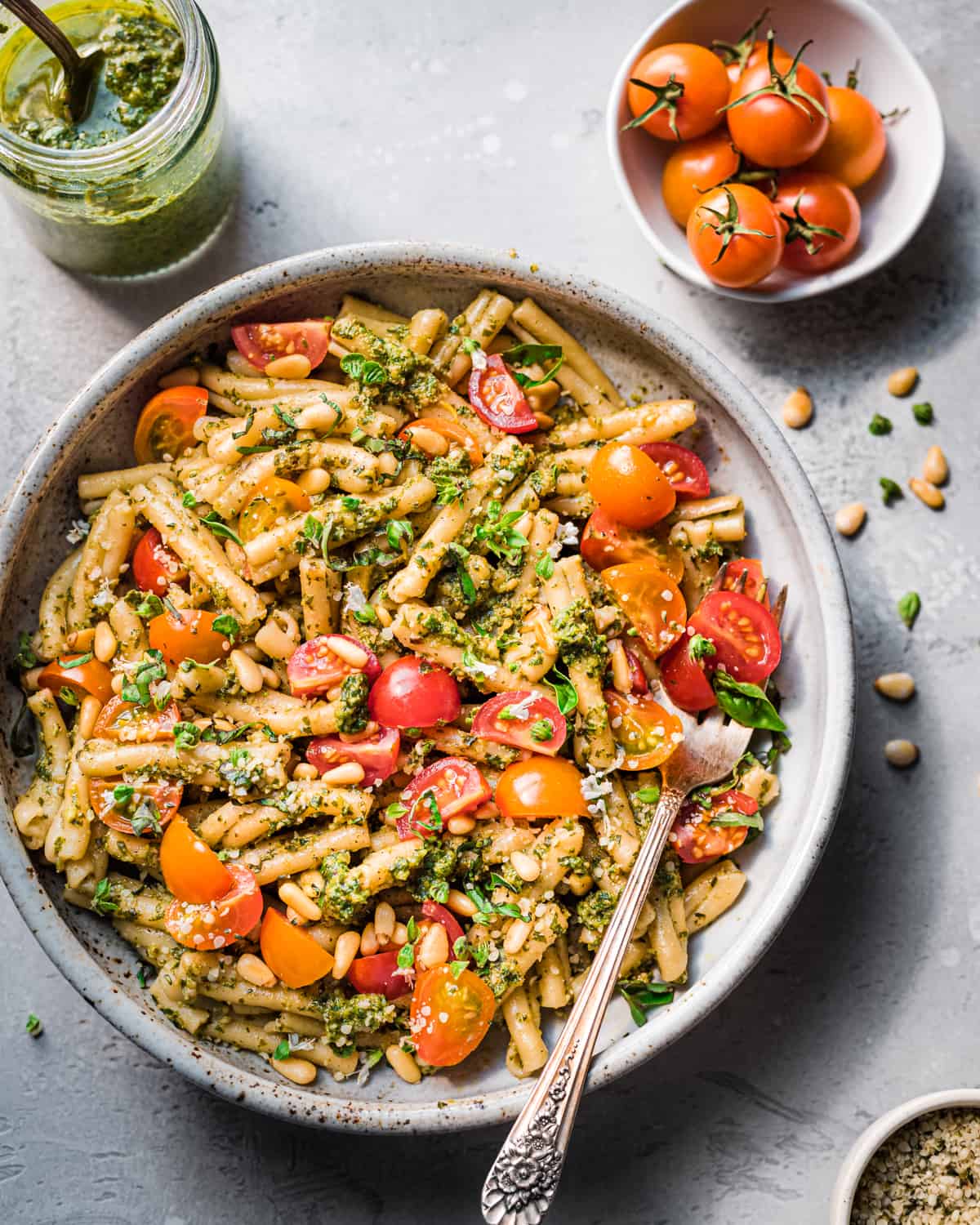 Ingredient notes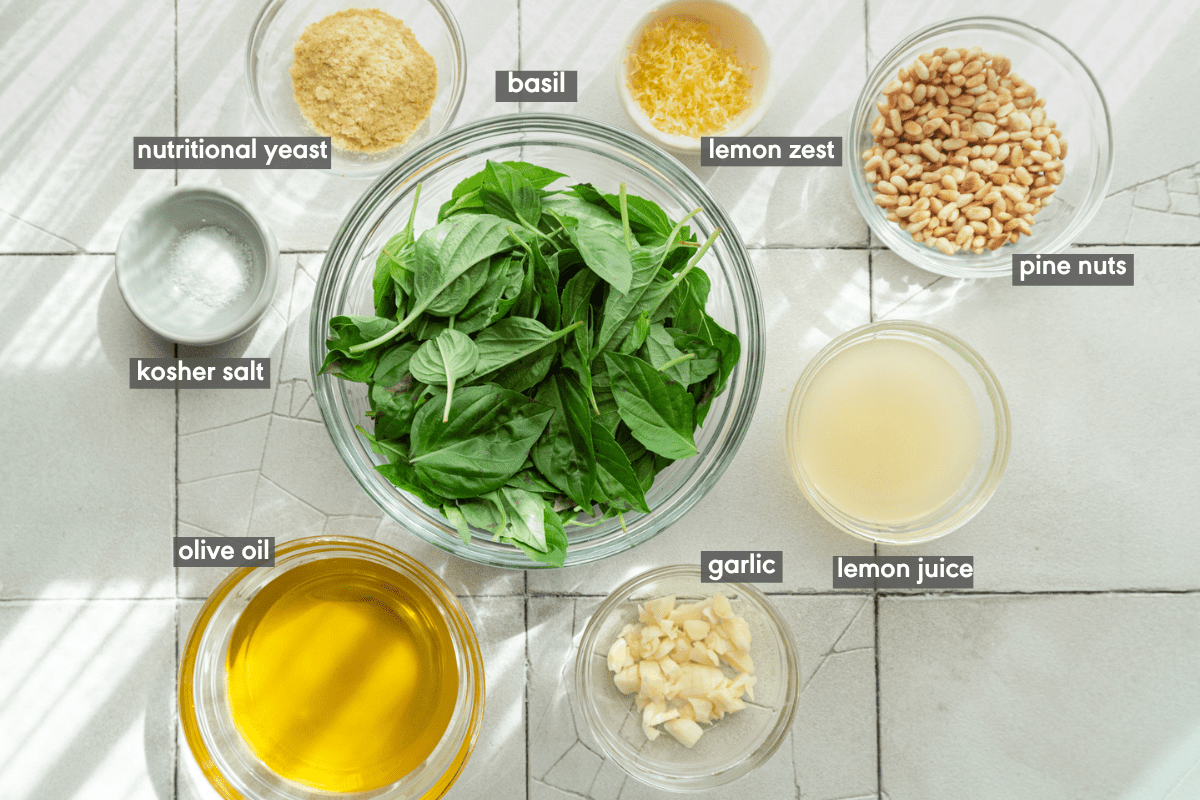 Basil
This fragrant herb with sweet and slightly spicy notes of anise is the star here. If you can find a basil plant at your farmer's market and grocery store, it should last several weeks if you water it daily and leave it near a window. Basil will be at its peak in summer, but you can find it at many supermarkets year round.
Tip: Make a lot of pesto during the summer, then freeze it! Check out the FAQ section for how to freeze pesto.
Pine nuts
Pine nuts (aka pignolias) are the second main ingredient in a traditional basil pesto and make pesto truly amazing. Their buttery texture is smooth enough that they can be easily pounded with a mortar and pestle (not as easy with other nuts).
Substitute: I get it, pine nuts are pricey! The best pine nut substitutes in this recipe are walnuts or pistachios. Or, you can split the difference, and use half pine nuts and half walnuts. If nut-free, use pepitas or sunflower seeds.
Tip: You MUST toast your nuts. This is non-negotiable for flavor.
Garlic
Fresh garlic is key in any good pesto. It brings a punchy sharp flavor and zippy kick. But since garlic cloves vary in size, start slowly so you don't overpower the pesto. Then taste it and add more as needed.
Extra virgin olive oil
Since pesto is raw, the quality and taste of the olive oil will shine through. So this is the time to use your best-quality extra virgin olive oil with fruity, grassy notes (save the less expensive stuff for actual cooking).
Salt
Salt is crucial, as it draws out the flavor from the basil and helps break down the herbs. If you have good-quality sea salt, now is the time to use it!
Lemon
Classic Genovese pesto does not contain lemon, but I've always found that a little lemon zest and juice bring a welcome fresh zing to vegan pesto. Traditional pesto can be a bit rich with the generous amount of olive oil and cheese, so the lemon adds a nice brightness and fresh flavor. If you're a purist, feel free to skip the lemon.
Nutritional yeast
Traditionally, basil pesto is made with lots of parmesan cheese. But I find that if you make pesto with really good-quality ingredients (in-season basil + a nice fruity extra virgin olive oil + toasted pine nuts), you won't miss the cheese.
But, if you want to try and replicate the savory cheesy notes of parm, a tablespoon or two of nutritional yeast is helpful. Or, if you have vegan parmesan cheese, you can use that (just be sure you love the flavor before using it).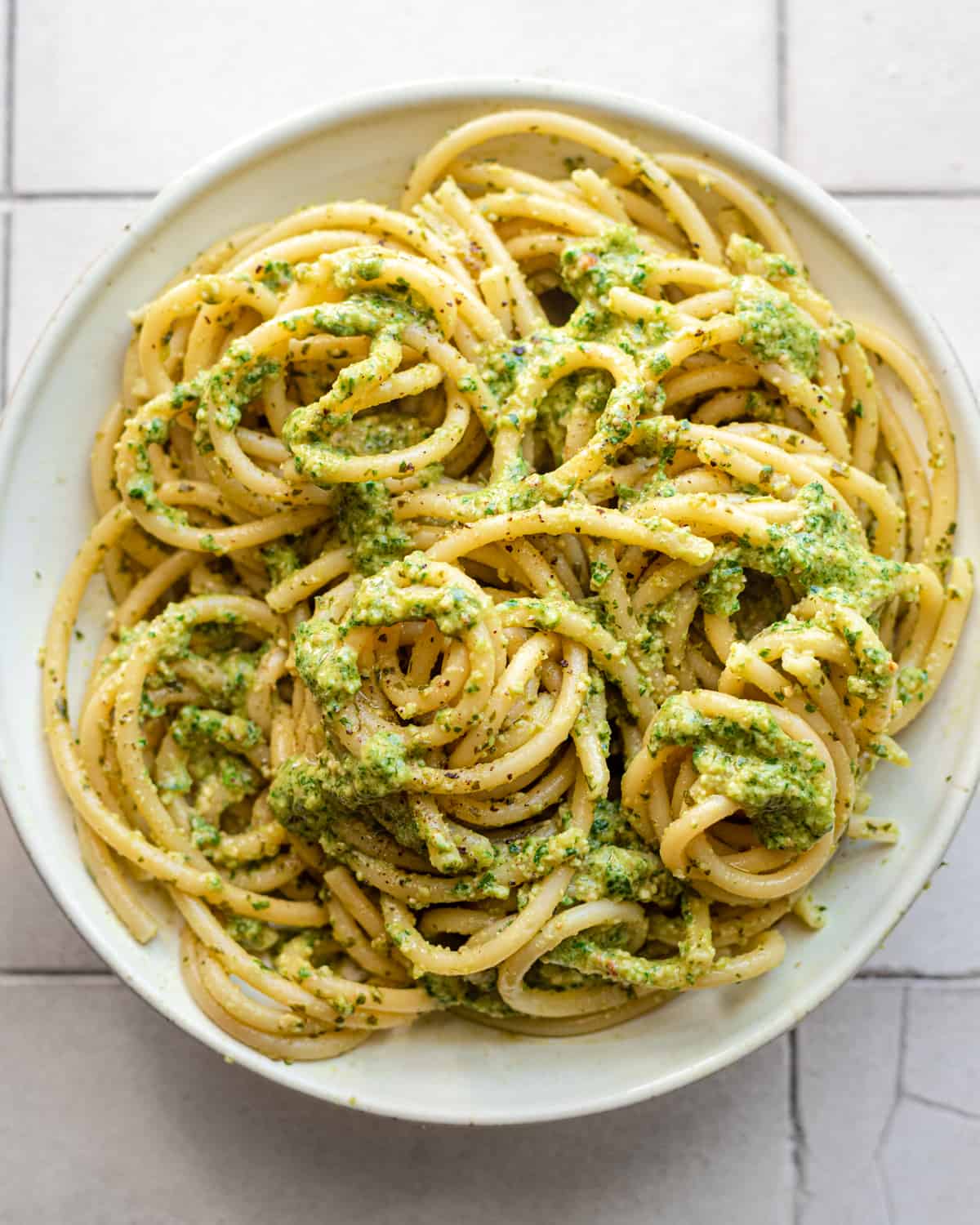 Step by step photos
In a food processor, pulse the toasted pine nuts and garlic until they're in tiny pieces.
Add basil, half the lemon zest, half the lemon juice, salt, black pepper, and nutritional yeast.
Blend until a paste forms, scraping the sides down.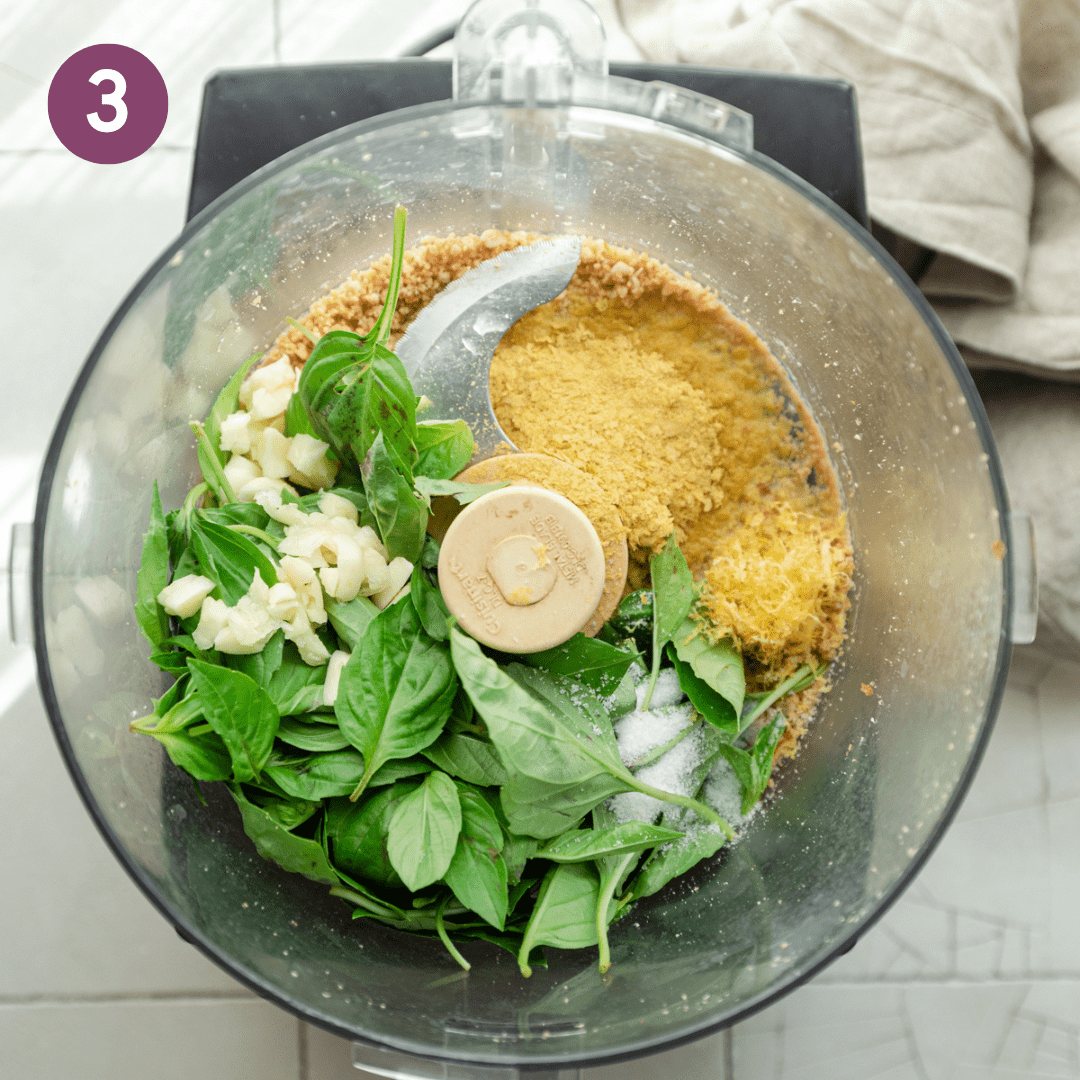 Stream the extra virgin olive oil into the food processor while blending. Scrape down the sides and continue streaming in the oil until smooth and thick.
For ideas on how to use this flavorful sauce, check out the How to use vegan pesto section below. Enjoy!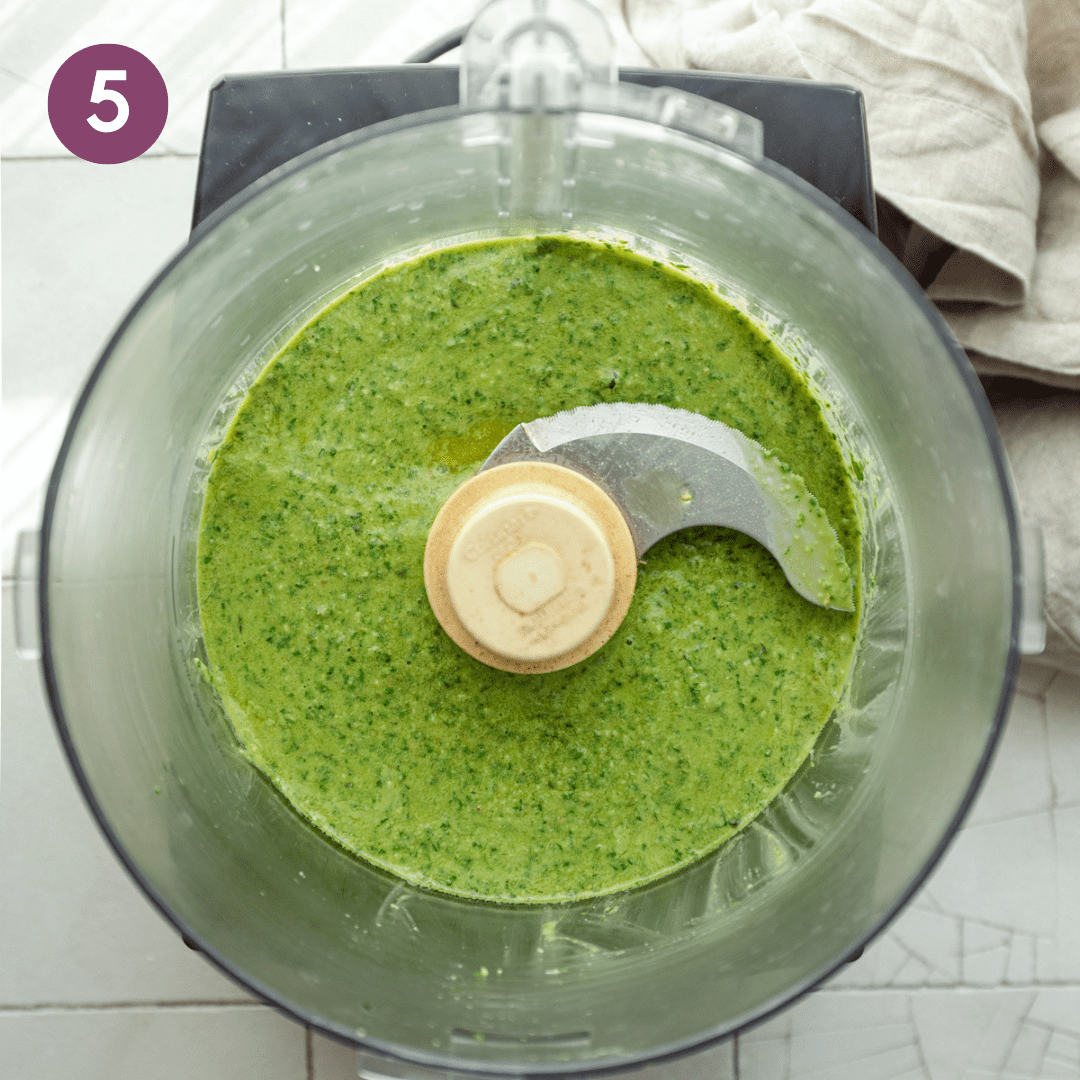 Tips for making this recipe
Mortar and pestle vs. food processor
While you will get the best consistency with a mortar and pestle, I know most folks don't have one of those (or one large enough to make a batch of pesto). Plus, it's more time consuming.
That's why I rely on a food processor. When using a food processor, it's best to (1) pre-chop any tougher ingredients (e.g., garlic) and (2) to pulse the tougher ingredients first (e.g., nuts and garlic) first before adding the other ingredients. This ensures the best possible texture.
If you are interested in using a mortar and pestle, check out this pesto guide on Serious Eats.
Toasting the nuts is essential
If you want the best flavor in your pesto, take the 5 minutes to toast the nuts. Toasting releases the nuts' volatile oils and awakens otherwise dormant flavors (like those rich nutty flavors).
You can toast pine nuts on the stovetop in a dry pan, or on a sheet pan in the oven.
Stovetop: heat a dry frying pan over medium heat for a few minutes. Then add the pine nuts. Toast for about 4 minutes, until fragrant and golden brown, tossing occasionally. Remove immediately from heat

Oven: Preheat to 350°F/175°C. Add pine nuts to a sheet pan in a single layer and toast in the oven for 6 to 8 minutes, stirring once.
Keeping basil pesto green
If you've made basil pesto before and noticed it turned brown after a day or two, that's because when basil is exposed to air, it oxidizes and browns. Depending on the quality of your basil, this may or may not happen to you.
Pesto made with fresh, in-season basil tends to stay green longer than pesto made with out-of-season basil.
To avoid this potential outcome, you can blanch your basil leaves in boiling water for 5 to 15 seconds. As soon as it's done boiling, immediately transfer the basil to an ice bath or rinse under cold water to stop cooking.
Benefits of blanching: Smoother sauce + pesto will stay greener for longer.
Drawbacks of blanching: Raw basil has a heavenly aroma and intense fragrance, so you lose some of that when you blanch it.
If you're planning to consume all the pesto in a day or two, use raw basil.

Or, another way to slow down the browning process is to pour a thin layer of olive oil on top of the pesto before covering with a lid and refrigerating.
Don't skimp on the olive oil
Sorry, folks, pesto is pretty oil-rich. If a recipe says you can replace the oil in pesto with water, they're lying. You'll end up with basil sauce, which is fine, but it's not pesto.
That said, if you do get your pesto to the oiliness that you like, but it's not quite smooth enough, you can add a spoon of water to help bring things together. But I'm talking just a spoon or two of water because pesto should be thick, saucy, and oily, not watery.
Variations
While basil pesto is my favorite during summertime, I also love experimenting with different herbs, nuts, and flavor profiles to develop new iterations of pesto based on what's in season and the ingredients I have on hand.
Herb variations
Instead of basil, you can use other soft herbs like cilantro, Thai basil, flat-leaf parsley, mint, dill, or tarragon (don't go overboard on tarragon though, it's strong).
You can even use greens instead of herbs, like kale (as used in this meal prep video/blog post), arugula, spinach, or watercress.
When in season, you can sub half or all of the herbs with the greens from root vegetables like carrots, radishes, or beets.
Note: Some herbs or greens can be bitter (e.g., arugula, watercress), spicy (e.g., radish greens) or sweet (e.g., tarragon tastes like anise). I typically like to combine these ingredients with other milder, more neutral herbs or greens like basil, parsley, or spinach for balance.
Nut variations
Instead of pine nuts, you can use walnuts or pistachios, or even cashews or almonds. If allergic to nuts, try using pepitas or sunflower seeds.
Southeast Asian-Flavored pesto
Perfect over noodles or as a dipping sauce.
Replace the basil with cilantro. Add in ½ to 1 cup of fresh mint leaves as well.
Use ½ cup dry-roasted peanuts instead of pine nuts
In addition to the garlic, add ½" piece of fresh ginger (peeled and roughly chopped) and ½ or 1 small green chile pepper (for heat, optional).
Instead of lemon, use 1 large lime (half the zest, all the juice).
For savoriness, replace the nutritional yeast with 2 teaspoons of soy sauce.
Replace the olive oil with a neutral-flavored oil; add 2 teaspoons toasted sesame oil if you want a richer, nutty flavor.
Carrot Top pesto
A great way to reduce food waste! Use as a pasta sauce, sandwich spread, or grain bowl topper.
Replace the basil with 2 cups of carrot tops. Feel free to add in 1 cup of soft herbs, such as flat-leaf parsley or dill.
Blanch the carrot tops in a saucepan of boiling water for 2 ½ minutes, then immediately plunge into a bowl of cold water to stop cooking. Dry well before using.
Use pine nuts, or replace with pistachios.
Use more lemon zest and juice to brighten the flavor of the carrot tops.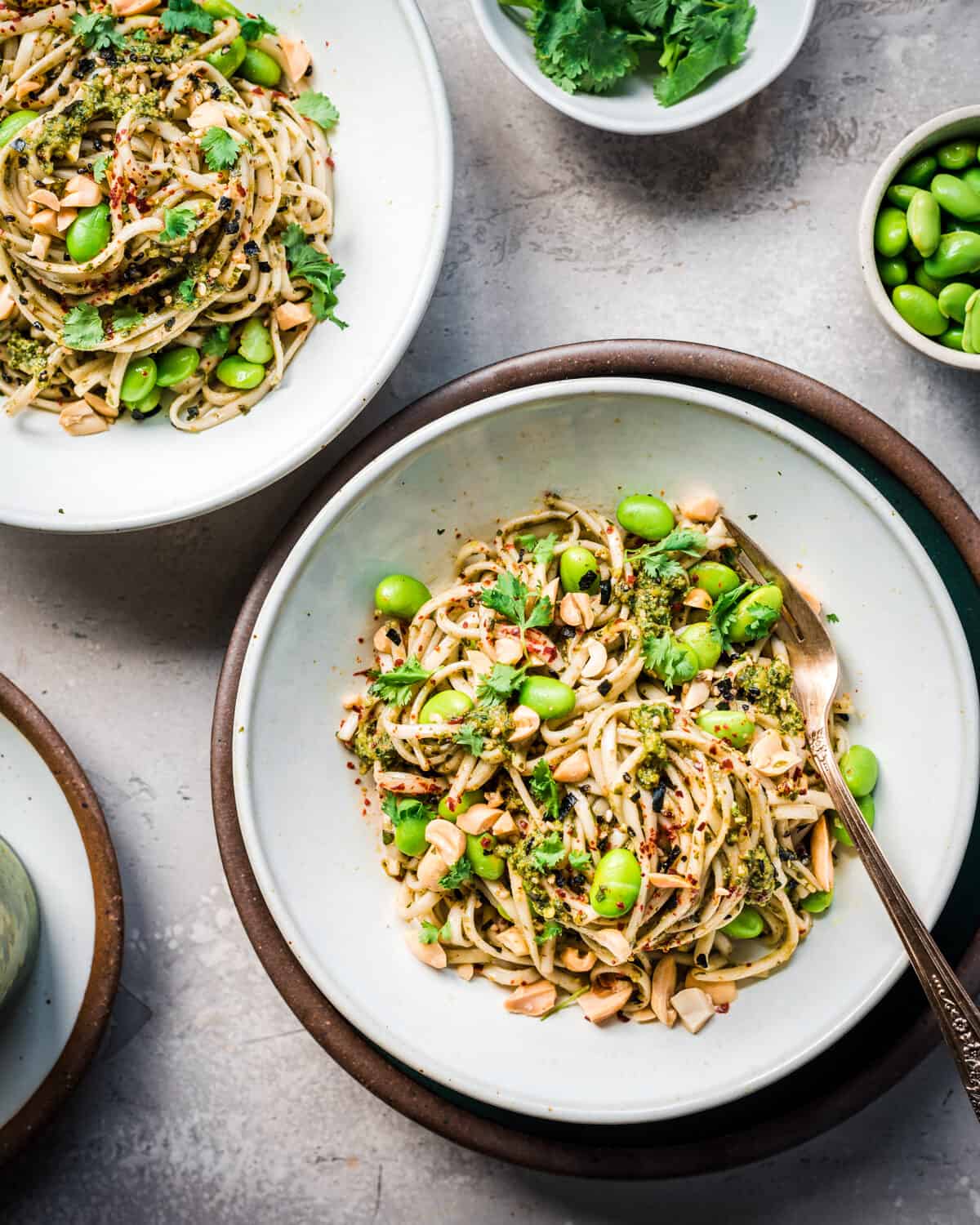 How to use vegan pesto
Pesto pasta (the obvious choice)! Pick a pasta shape with curves and grooves so the pesto can stick to it (e.g., gemelli, cavatappi, fusilli). Also great with pasta salad or even vegetable salads, like spiralized or shredded carrots and zucchini.
A sandwich spread. I love topping my pesto bread with heirloom tomatoes, chickpeas smashed with lemon and salt or pan-fried tofu, and sliced avocado. Or, layer it into a vegan grilled cheese, or mash it up with avocado for an upgrade to avocado toast.
As a dip with crudités or crackers. If you need more dip ideas, I've rounded up 30 Awesome Vegan Dips here.
To jazz up other sauces/dips. Pesto is excellent stirred into creamy dips or sauces like cashew cream, yogurt sauces, creamy vegan aioli, or even a white sauce like a bechamel.
Wrap spread. Spread pesto onto your choice of flatbread or wrap, top with lentils or sliced tofu, and whatever veggies you have on hand for an easy lunch.
Everything sauce. Drizzle vegan pesto onto virtually any grain bowl, stuffed sweet potatoes, crispy smashed potatoes, or on roasted vegetables like cauliflower, broccoli, cabbage, fennel, or eggplant.
Salads and salad dressings. Dollop pesto onto salads like this grilled corn salad, or use it as an alternative to a mayo-based dressing for potato salad. Or, thin out leftover pesto with lemon juice or a good-quality vinegar for a pesto salad dressing.
Pizza. Use pesto as an alternative pizza sauce to a traditional marinara.
Soup. Swirl pesto into soup for an instant flavor upgrade. Replace the gremolata with pesto in my creamy white bean soup, or stir it into my creamy broccoli soup to accent the basil flavors.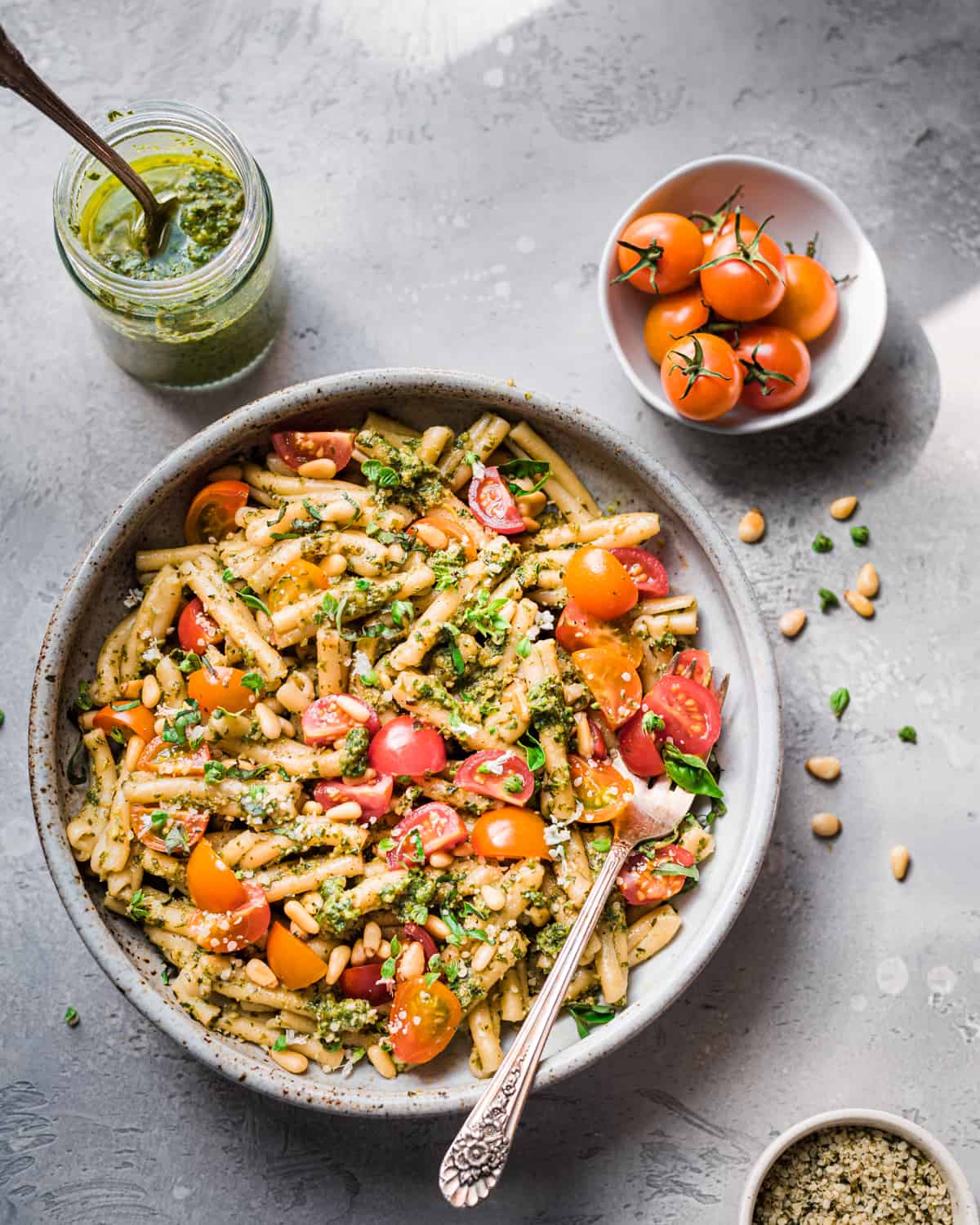 Frequently Asked Questions
Can I make vegan pesto without nutritional yeast?
Absolutely. If you're using high-quality olive oil, toasted pine nuts, and good basil, the nutritional yeast really isn't necessary. You can omit it entirely or you can add a few tablespoons of your favorite vegan parmesan cheese. Just be sure you love the flavor before using it, as some brands have an off-putting aftertaste. 
How long does vegan pesto last in the fridge?
Depending on the freshness and quality of your basil, classic basil pesto lasts about 5 days. When using other herbs, the pesto typically lasts longer, as basil is more delicate.
Can I freeze vegan pesto?
Yes! You can store this vegan pesto in the freezer for up to 6 months. The best way to freeze pesto is to pour it into ice cube trays and freeze. Once frozen, transfer the pesto cubes to a ziptop bag or container. 

When you're ready to cook, no need to defrost them. Just add a cube to a hot pan or a hot dish while it's cooking, and the heat will thaw it pretty quickly.
Watch: How to make vegan pesto!
Easy Vegan Pesto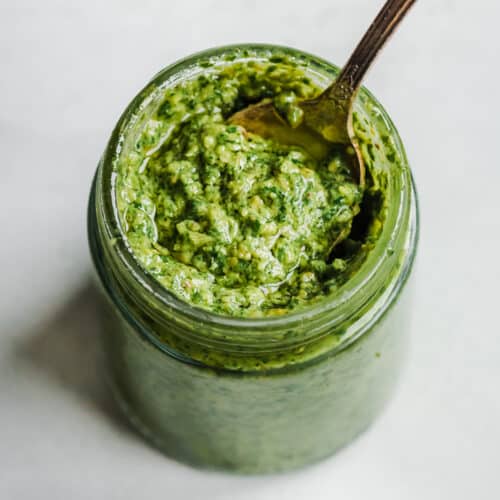 Classic basil pesto made vegan! This versatile herby sauce comes together in just 10 minutes, is packed with fresh, nutty and bright flavors, and is so versatile. Use this vegan pesto with pasta, pizza, sandwiches, salads, grain bowls, and more!
Ingredients
3

cups

loosely packed fresh basil leaves

(36g)

1/3

cup

(45-50g) pine nuts,

toasted (see Note 1)

2

garlic cloves,

chopped

1

medium lemon,

zested and then juiced (optional, see Note 2)

1/4

teaspoon

kosher salt,

plus more to taste

Freshly cracked black pepper to taste

1 1/2

tablespoon

nutritional yeast,

plus more to taste (optional, see Note 3)

1/3

cup

(80 ml) extra virgin olive oil
Instructions
Toast the pine nuts: Heat a skillet over medium heat. Once hot, add the pine nuts and toss occasionally to prevent burning, until they are golden and release a nutty aroma, about 4 minutes.

Add the toasted pine nuts and garlic to a food processor and pulse repeatedly until you have a fine crumb (but not paste). Add the basil, half of the lemon zest, half of the lemon juice, salt, black pepper to taste, and nutritional yeast (if using). Blend until a paste forms, scraping down the sides as you go along. Push the paste into the middle of the food processor.

With the motor running, stream in the extra virgin olive oil to start to form a sauce. Scrape down the sides again, and stream in more oil as needed until you have a smooth yet thick texture. Taste for seasonings, adding more salt, lemon, garlic, or nutritional yeast as needed. If you'd like a smoother texture but have reached the right amount of oiliness, add a tablespoon of water and blend again.

Store in an airtight glass jar in the fridge for 5 days.
Notes
If you need to substitute pine nuts, my favorites in this recipe are pistachios or walnuts.
Lemon isn't traditionally used in classic basil pesto, but I really like a little lemon zest and juice here. Feel free to omit or start with just a little bit.
Add the nutritional yeast for a savory, subtly cheesy flavor. Or, if you have a vegan parmesan cheese you really like, add a few tablespoons (make sure you love the flavor of it though!).
---
Calories:
127
kcal
|
Carbohydrates:
2
g
|
Protein:
2
g
|
Fat:
13
g
|
Saturated Fat:
2
g
|
Polyunsaturated Fat:
3
g
|
Monounsaturated Fat:
8
g
|
Sodium:
74
mg
|
Potassium:
96
mg
|
Fiber:
1
g
|
Sugar:
0.3
g
|
Vitamin A:
477
IU
|
Vitamin C:
4
mg
|
Calcium:
19
mg
|
Iron:
1
mg