I'm just going to go ahead and say it. I love my Instant Pot. It makes cooking big meals so much easier. And it also makes healthy cooking so much easier. From soups and curries to lentils and grains, the Instant Pot can do it all. Well, most things.
Like pasta! Did you know you can make a one-pot pasta meal in the Instant Pot? That's exactly what I did with this vegan bolognese pasta. If you don't want to read and just want to watch the recipe in action, I've included the video below.
And if you want more than 90 incredible vegan Instant Pot recipes, be sure to order my cookbook, The Vegan Instant Pot Cookbook!
And if you do want to read, I have to say that this is my new favorite weeknight meal. It's healthy (if you don't overdo it on the pasta), hearty, and it couldn't be easier to make. After you brown the tofu and vegetables, you just layer in some pasta, marinara sauce, canned tomatoes and vegetable broth and let the Instant Pot do its magic.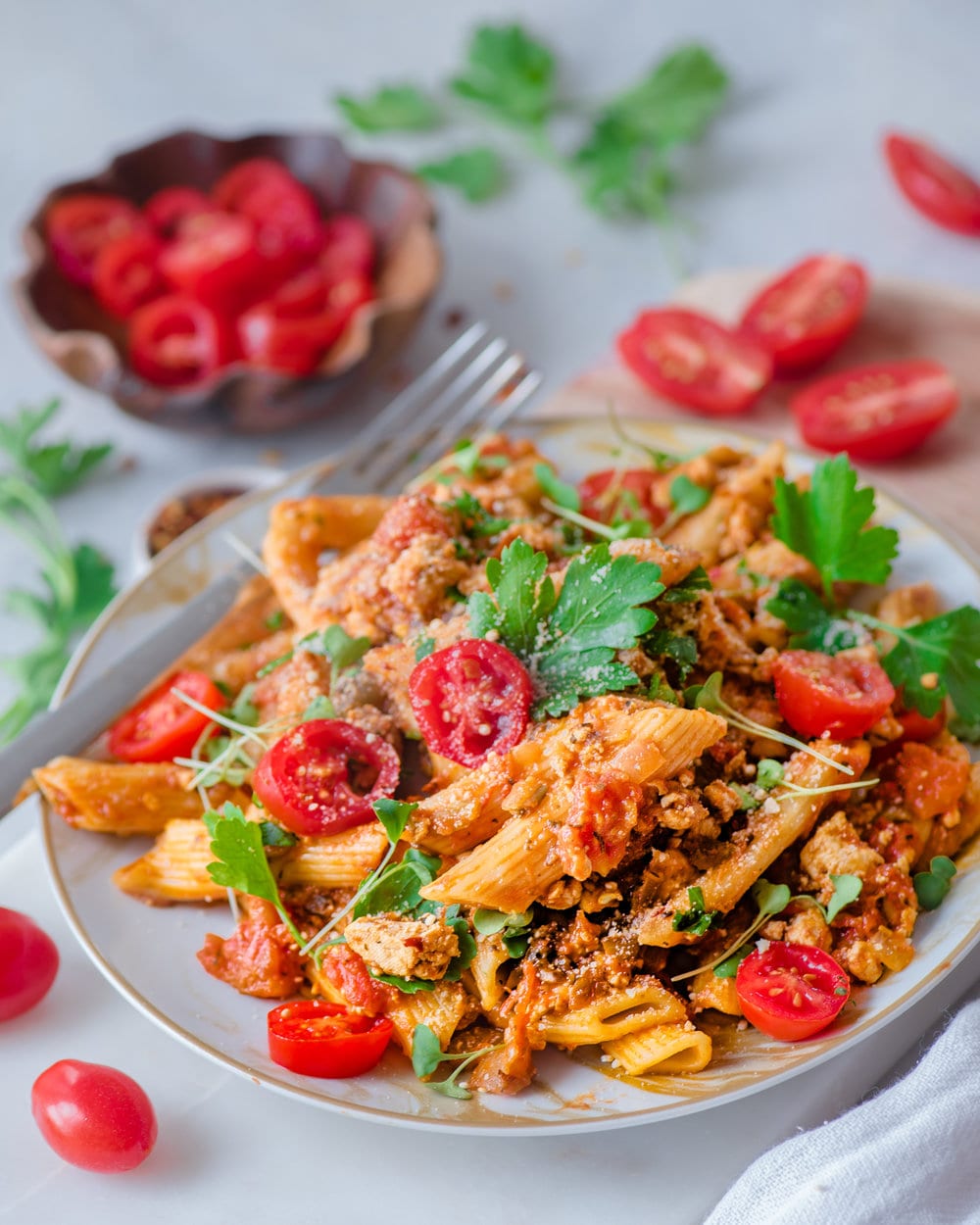 I used penne pasta in my recipe on Youtube, but you can you use any medium-sized pasta shape you like.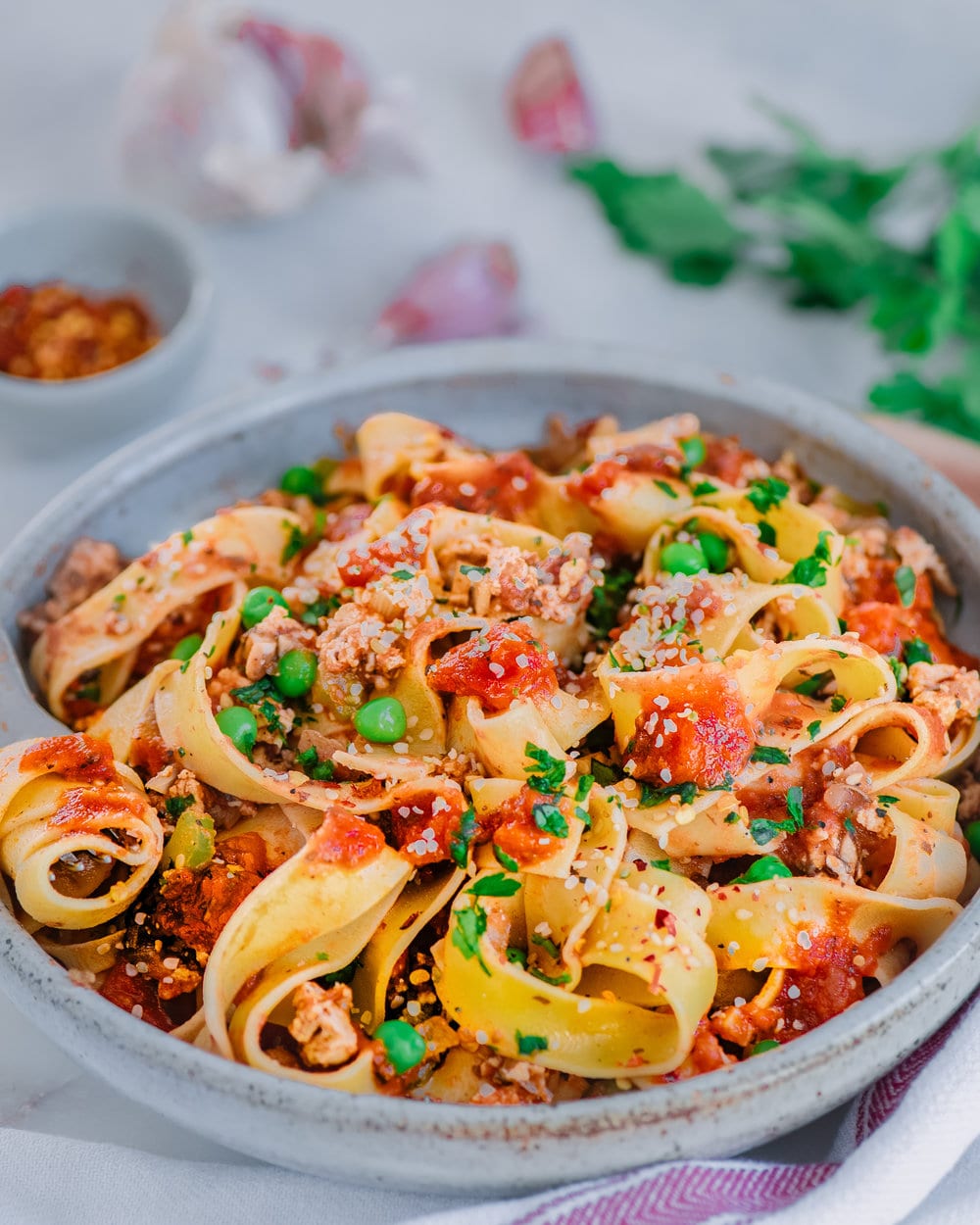 Tips for this recipe:
Don't skip out on pressing the tofu. Tofu has a lot of excess water, so your dish will be watery and less flavorful if you don't remove that excess water.
Be generous with the seasonings. Tofu is pretty bland on its own, so give it a helping hand with lots of spices. Feel free to use fresh garlic instead of garlic powder. Just cook it along with the vegetables.
If you want to beef up this dish even more (sans the beef), add a cup more of mushrooms.
To calculate the exact the exact cooking time once you add all the ingredients, use the cooking time suggested on your boxed pasta, divide it by 2 and then subtract 1 (i.e., 12 ÷

2 – 1 = 5 minutes). If the cook time range includes odd numbers (i.e., 7-9 minutes), round the smaller number down (i.e., to 6), divide it by 2, and then subtract 1 (i.e., 6

÷

2 – 1 = 2 minutes).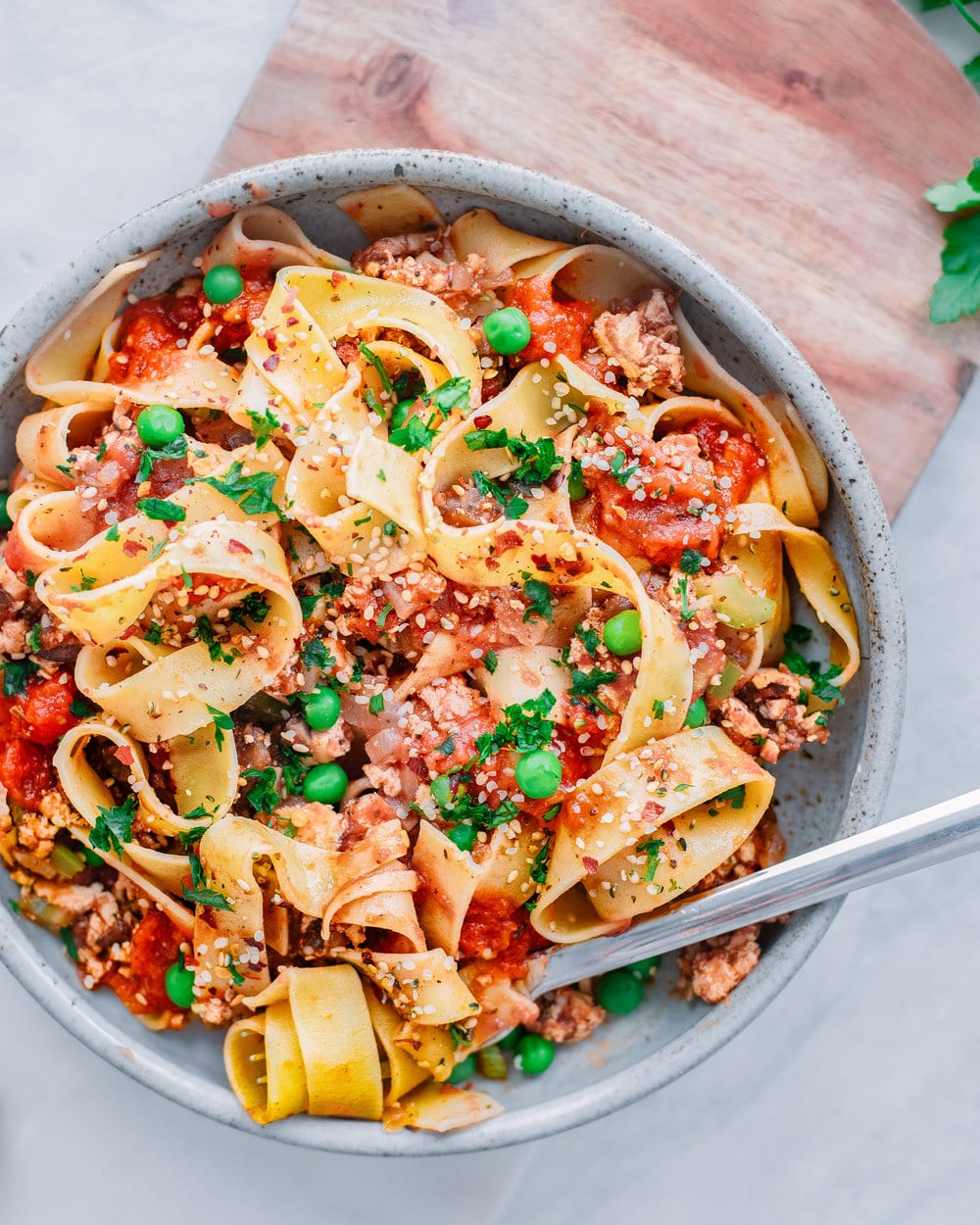 Instant Pot Vegan Bolognese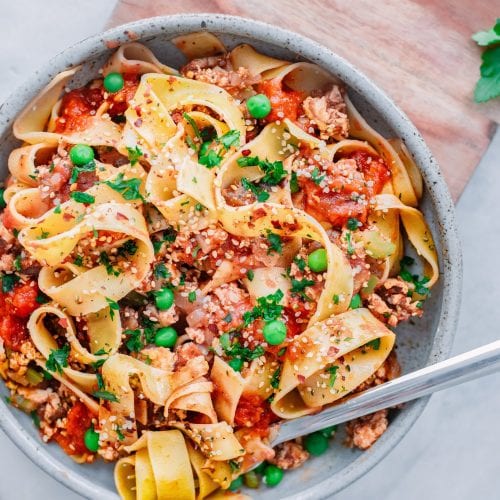 This Instant Pot Vegan Bolognese is made with plant-powered ingredients and is hearty yet wholesome comfort food. And thanks to the Instant Pot, it's an easy dish that's great for weeknight dinners.
Ingredients
1

(16-ounce) block of firm tofu

2

tablespoons

olive oil,

divided

1

teaspoon

chili powder

½

teaspoon

garlic powder

½

tablespoon

dried thyme

½

tablespoon

dried oregano

½

teaspoon

black pepper

½

teaspoon

red pepper flakes

⅛

teaspoon

cayenne

1

medium onion,

finely chopped

2

celery ribs,

diced

1/2

cup

mushrooms,

diced

Kosher salt to taste

1

)24-ounce) jar of marinara sauce (not chunky)

32

ounces

of vegetable broth

1

(14-ounce) can of diced tomatoes

1

pound

dried penne pasta

(or other medium-sized pasta of choice)

Garnishes: flat-leaf parsley, minced & vegan parmesan cheese
Instructions
Press the tofu for 30 minutes to remove the excess water (see video at 00:37 for instructions).

Turn on the Sauté function on the Instant Pot and add 1 tablespoon of the olive oil. Once hot, crumble in the tofu and the seasonings (chili powder, garlic powder, thyme, oregano, black pepper, red pepper flakes, and cayenne). Sauté until tofu begins to brown, approximately 4-6 minutes. Remove tofu from the Instant Pot and set aside.

Add 1 more tablespoon olive oil to the Instant Pot and add the diced onion, celery and mushrooms. Cook for 4-5 minutes until softened, adding salt and pepper to season in the last minute of cooking.

Return the browned tofu to the Instant Pot. If needed, add a tablespoon of vegetable broth or water to deglaze any browned bits stuck on the bottom of the pot.

On top of the tofu and cooked vegetables. Then add the pasta and vegetable broth, pushing the pasta down to make sure it is completely covered in liquid. Gently pour the marinara sauce, and diced tomatoes on top of the pasta but do not stir in (this helps prevent the tomatoes from scorching).

Secure the lid of the Instant Pot and select the Pressure Cook setting at high pressure for 5 minutes (see tips above to calculate the precise cooking time based on your pasta box cook time).

When the time is up, perform a quick pressure release and open the Instant Pot. Stir the pasta well and serve with vegan parmesan cheese and minced parsley.
---
Calories:
439
kcal
|
Carbohydrates:
72
g
|
Protein:
19
g
|
Fat:
9
g
|
Saturated Fat:
1
g
|
Polyunsaturated Fat:
3
g
|
Monounsaturated Fat:
4
g
|
Sodium:
844
mg
|
Potassium:
709
mg
|
Fiber:
7
g
|
Sugar:
9
g
|
Vitamin A:
761
IU
|
Vitamin C:
16
mg
|
Calcium:
156
mg
|
Iron:
4
mg