Is there anyone who doesn't like French Toast? Yes, there is. It's me. Rather, it was me as a child. On lazy weekends when my mom wasn't taking my sister and I to dance/sports/music practice, she would ask my sister and I what we wanted for lunch.
I inevitably would say peanut butter and jelly banana sandwiches or cup noodles. If you don't know what "cup noodles" are, they're instant ramen noodles that come in a paper cup and contain a half day's worth of sodium content. Did I mention I ate a very healthy diet as a child?
My sister's favorites, however, were grilled cheese and French Toast. Call me crazy, but I didn't like either. Perhaps because this was the '90s and Wonder Bread white bread was not only an acceptable food for humans to consume but also a popular one in our house.
My dislike for French toast was twofold: (1) the use of aforementioned Wonderbread and (2) French toast, to me, tasted like soft curdled eggs that had been marinated in sugar. My tastebuds were pretty on the mark since that's essentially what traditional French toast is: bread that's been soaked and softened in an egg-sugar mixture.
Fast forward a few years later and I discovered that you could make French toast with more acceptable forms of bread than Wonder Bread, and I slowly began to change my mind. I learned that heartier, sturdier forms of bread are much better are absorbing the egg mixture, which means that French Toast doesn't have to like soft curdled eggs that have been marinated in sugar.
My first real success with French Toast occurred on New Year's Day while I was in college. I made a Bananas Foster French Toast for my family, and let me just say, it got rave reviews. I suppose if you drown anything in sugary bananas, whipped cream, and maple syrup, it will likely get rave reviews.
After all, if everyone is experiencing an intense dopamine high from sugar overload, they will tell you that they love you and everything else in front of them.
Fast forward a decade later and now I'm vegan. Good-bye, soft curdled eggs marinated in sugar. If you've tried vegan French Toast before, you might have liked the taste but you were probably missing that traditional "eggy" French Toast mouthfeel since, after all, there are no eggs in vegan French Toast. However, this recipe actually tastes like classic French Toast because I use an egg substitute. Sort of. It's tofu.
Before you go poo pooing tofu, just hear me out. When you blend tofu together with the plant milk and other ingredients, it becomes smooth and creamy, which makes it a great dipping base for the toast. And, tofu has an eggy texture and mouthfeel, which is what helps this taste like traditional eggy French toast.
In terms of bread, be sure to use a hearty, rustic bread that will stand up. No Wonder Bread (or even whole wheat sandwich bread), or you'll end up with soggy tofu bread. Not appetizing.
And to get that golden crisp crust that is emblematic of a good French toast, coat the pan with some vegan butter. And add some vegan butter to the batter. You can use coconut oil if you prefer not to use fake butter.
I turned this basic French toast into peanut butter and jelly banana French Toast because it combines two classic childhood favorites: peanut butter and jelly banana sandwiches (which I loved) and French toast (which I did NOT love). So this recipe is my homage to my and my sister's childhood with our mother who loved us even more than I loved cup noodles (and I loved those hypertension-filled noodle cups A LOT).
You can, of course, serve this French toast without the peanut butter and jelly banana filling. Just drizzle on some maple syrup and cinnamon. Or a dairy-free whipped topping. Or even a vegan yogurt if you're going for something healthier.
But, if you love PB&J as much as I do, I think (I know) you will LOVE this recipe. It's decadent and a delicious throwback to childhood. At least it's a throwback to my childhood. Maybe you had a healthier diet as a child.
I hope you enjoy this recipe, and if you make it, make sure to tag me on Instagram @rainbowplantlife so I can share it!
Vegan Peanut Butter and Jelly Banana French Toast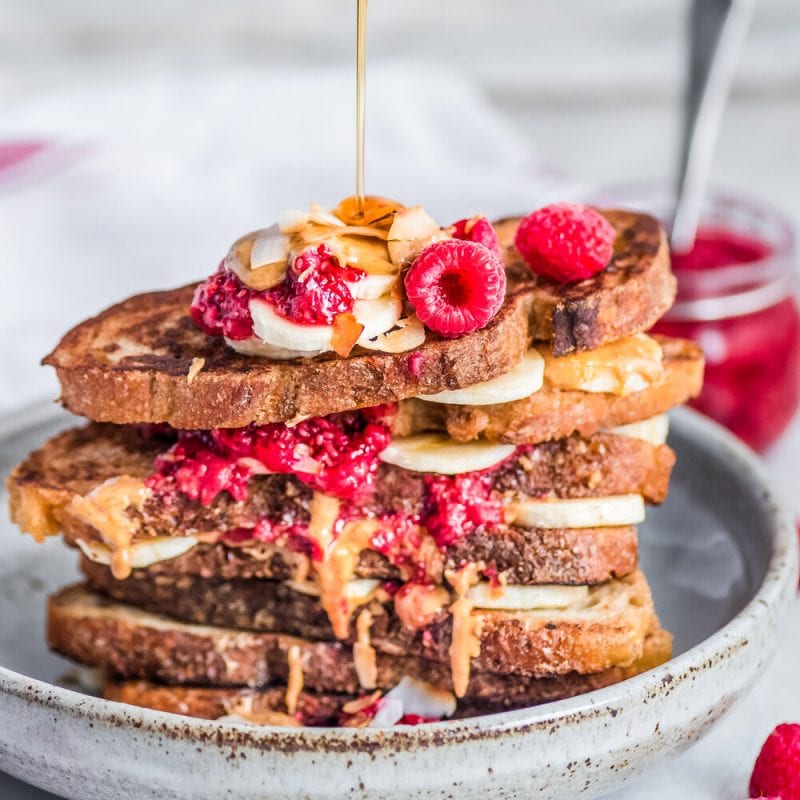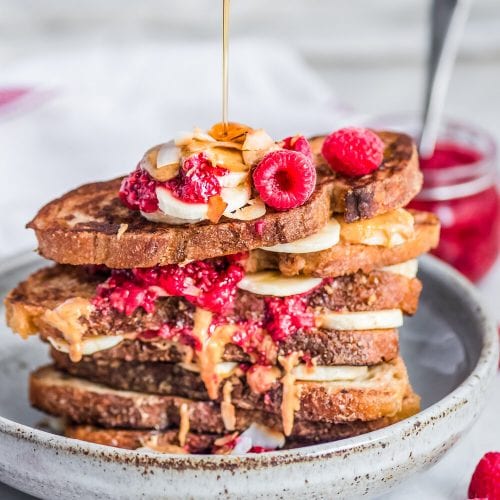 This vegan Peanut Butter and Jelly Banana French Toast features everyone's favorite classic flavor combination: peanut butter and jelly, but in French toast form! A throwback to childhood that makes a delicious, indulgent vegan brunch!
Ingredients
2 1/2

cups

plant-based milk

1

ripe banana,

mashed

8

ounces

extra firm tofu

2

teaspoons

vanilla extract

1

teaspoon

ground cinnamon

1/4

teaspoon

sea salt

2

tablespoons

vegan butter,

plus extra for brushing the griddle/pan

12

thick slices of day-old bread
For serving
Raspberry or Strawberry Jam

(store-bought or homemade recipe below)

Peanut Butter

Sliced bananas

Maple syrup
Instructions
Add the milk, mashed banana, tofu, vanilla, cinnamon, salt and 2 tablespoons vegan butter to a blender and blend until completely smooth. Let the batter rest for 5 minutes. Transfer to a pie pan or shallow plate.

Preheat a griddle or a large skillet over medium heat.

Brush the griddle or pan with a little vegan butter. This prevents the French toast from sticking and it also helps develop the golden brown crust.

Dip a slice of the bread into the almond milk mixture and coat well on both sides for about 5-10 seconds.

Once the vegan butter is melted, transfer slices of coated bread to the heated skillet. You can cook multiple slices at once but be sure to give each slice of bread enough room to flip it. Cook for 4 minutes on each side or until evenly golden brown. If your French toast appears to be browning too quickly, turn down the heat on your griddle or pan.

To serve, layer slices of French Toast with peanut butter, chia jam, and sliced bananas. If desired, drizzle a bit of maple syrup on top.
---
Calories:
324
kcal
|
Carbohydrates:
17
g
|
Protein:
14
g
|
Fat:
24
g
|
Saturated Fat:
5
g
|
Polyunsaturated Fat:
7
g
|
Monounsaturated Fat:
11
g
|
Trans Fat:
1
g
|
Sodium:
592
mg
|
Potassium:
415
mg
|
Fiber:
4
g
|
Sugar:
8
g
|
Vitamin A:
288
IU
|
Vitamin C:
3
mg
|
Calcium:
230
mg
|
Iron:
2
mg
Raspberry Chia Jam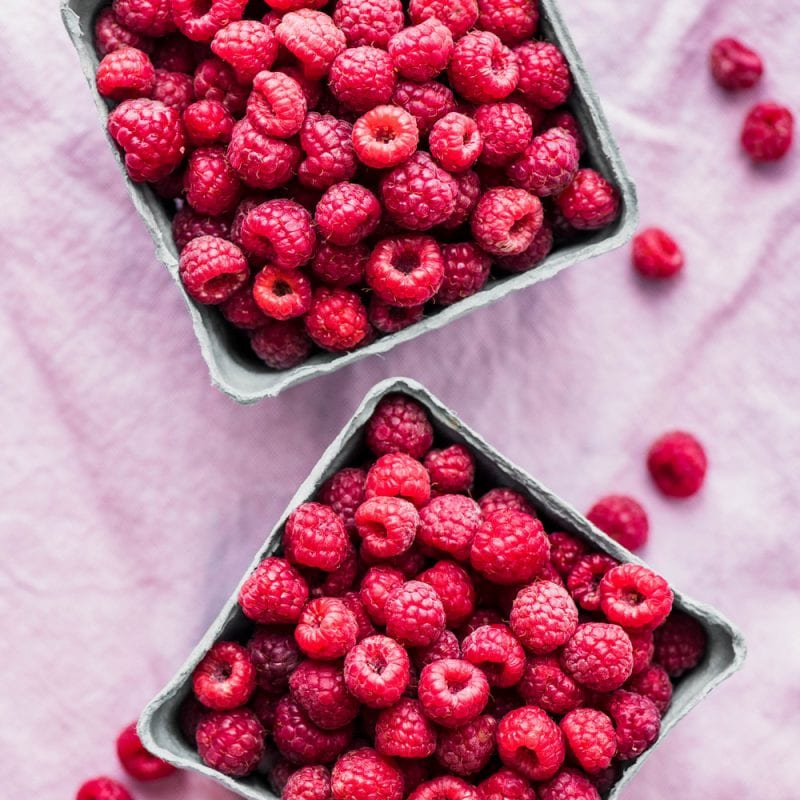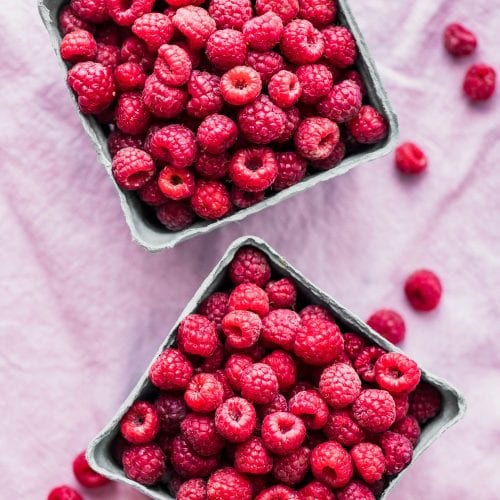 Ingredients
1 1/2

cups

fresh raspberries

1 1/2

tablespoons

pure maple syrup

1 1/2

tablespoons

chia seeds

Zest of 1/2 orange
Instructions
Heat a small saucepan over medium-low heat and add the raspberries. Cook for 5-7 minutes until they are softened and broken down, then smash them with the back of a fork.

Turn off the heat and add the maple syrup, chia seeds, and orange zest and stir well. Return the heat to low and stir for another 2 minutes until thickened. Turn off the heat and let sit for 5 minutes. The jam will get even thicker as it rests in the fridge.

Store in a glass jar or airtight container in the fridge for 1-2 weeks.
---
Calories:
33
kcal
|
Carbohydrates:
6
g
|
Protein:
1
g
|
Fat:
1
g
|
Saturated Fat:
1
g
|
Polyunsaturated Fat:
1
g
|
Monounsaturated Fat:
1
g
|
Trans Fat:
1
g
|
Sodium:
1
mg
|
Potassium:
52
mg
|
Fiber:
2
g
|
Sugar:
3
g
|
Vitamin A:
9
IU
|
Vitamin C:
6
mg
|
Calcium:
24
mg
|
Iron:
1
mg