I never really understood why people were obsessed with potatoes. Potatoes were fine, but as someone who never eats more than a handful of French fries and only likes eating mashed potatoes once a year, I didn't get the hype.
But in the last six months, I've been making a lot of crispy smashed potatoes, and now I get it. They're freaking addictive. And I apologize for my earlier wayward thinking.
These crispy smashed potatoes with ginger tahini dressing feature a perfectly crispy potato (golden brown and crisp on the outside, fluffy and tender on the inside) with a finger-lickin-good creamy sauce that's so good, you'll want to eat it by the spoon. It's a great crowd-pleasing dish to serve at a get-together or party, or as an appetizer or side dish for a family meal. Or, if you're like me, you'll just eat a plate of these for dinner and call it a fantastic night.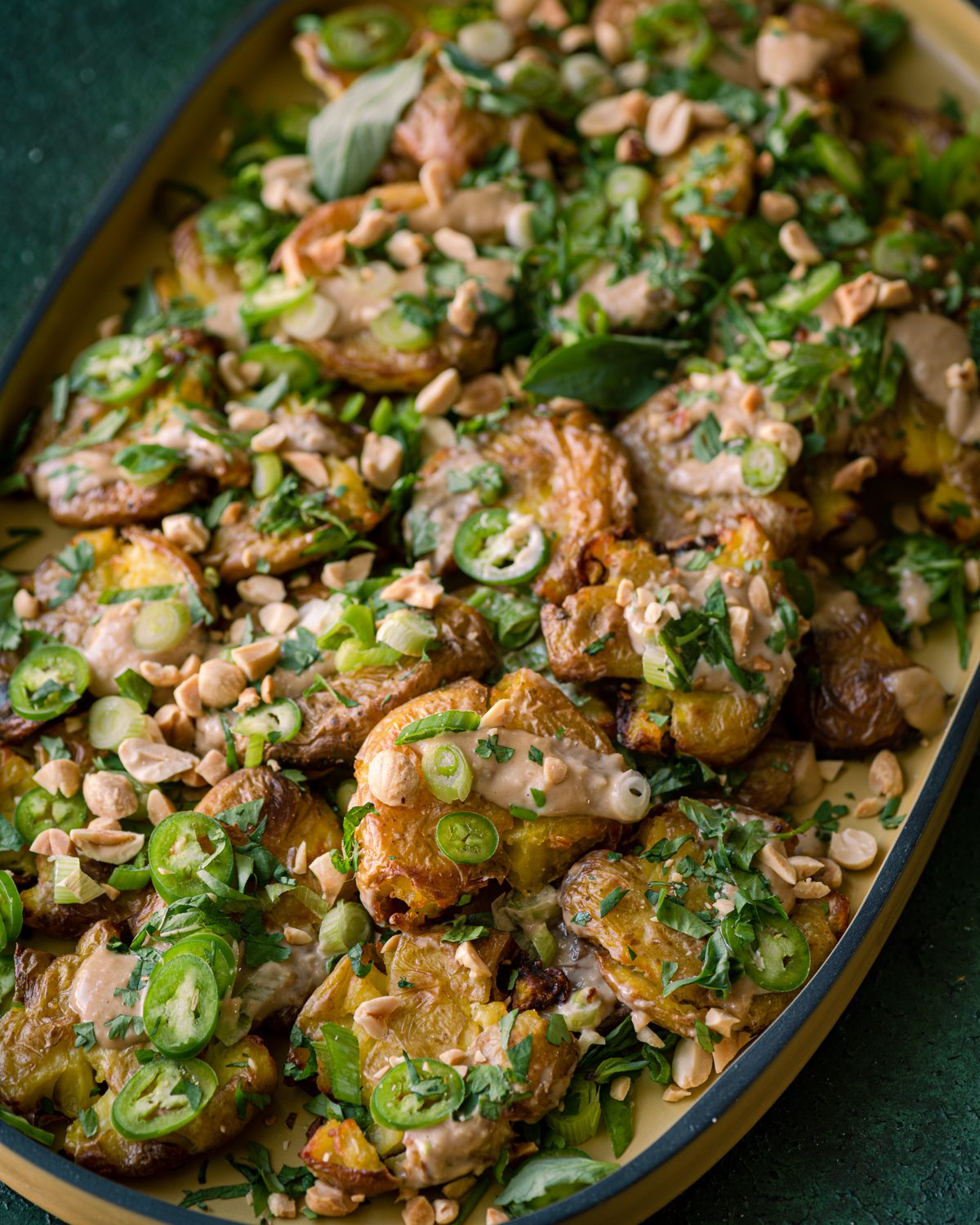 Why you'll love this recipe
Texture heaven: Baby potatoes are first parboiled until tender, then coated in olive oil and salt and roasted at a high temperature until they're perfectly crispy and brown on the outside but still fluffy and tender on the inside. Then they're drizzled with a luxuriously creamy sauce and topped with fresh scallions and crunchy peanuts on top. So many good textures combined in one dish!
PS: If you want more fun yet easy ideas for tahini, you must try my Creamy Herbed Potato Salad and Tahini Pasta!
Easy but gourmet. The presentation on this dish is a 100 and the flavors feel gourmet. That said, it's actually really easy to make. Plus, smushing potatoes is very therapeutic.
Flavor town. The rich, buttery, subtle sweetness of baby golden potatoes meets a slightly tangy, slightly sweet sauce that is brimming with the warm, peppery heat of fresh ginger and the nuttiness of toasted sesame oil. This mixture gets topped with the herbaceous flair of fresh mint and cilantro and the spiciness of chili peppers. Each bite is a party in your mouth!
Guaranteed to please. Whether you've got guests visiting, are hosting a little shindig, or just serving a family meal where you want to impress, this crispy smashed potato dish will wow all of your guests with its unique flavors and textures.
Looking for more fun potato recipes? Be sure to try my Indian Aloo Gobi or my creamy Scalloped Potatoes!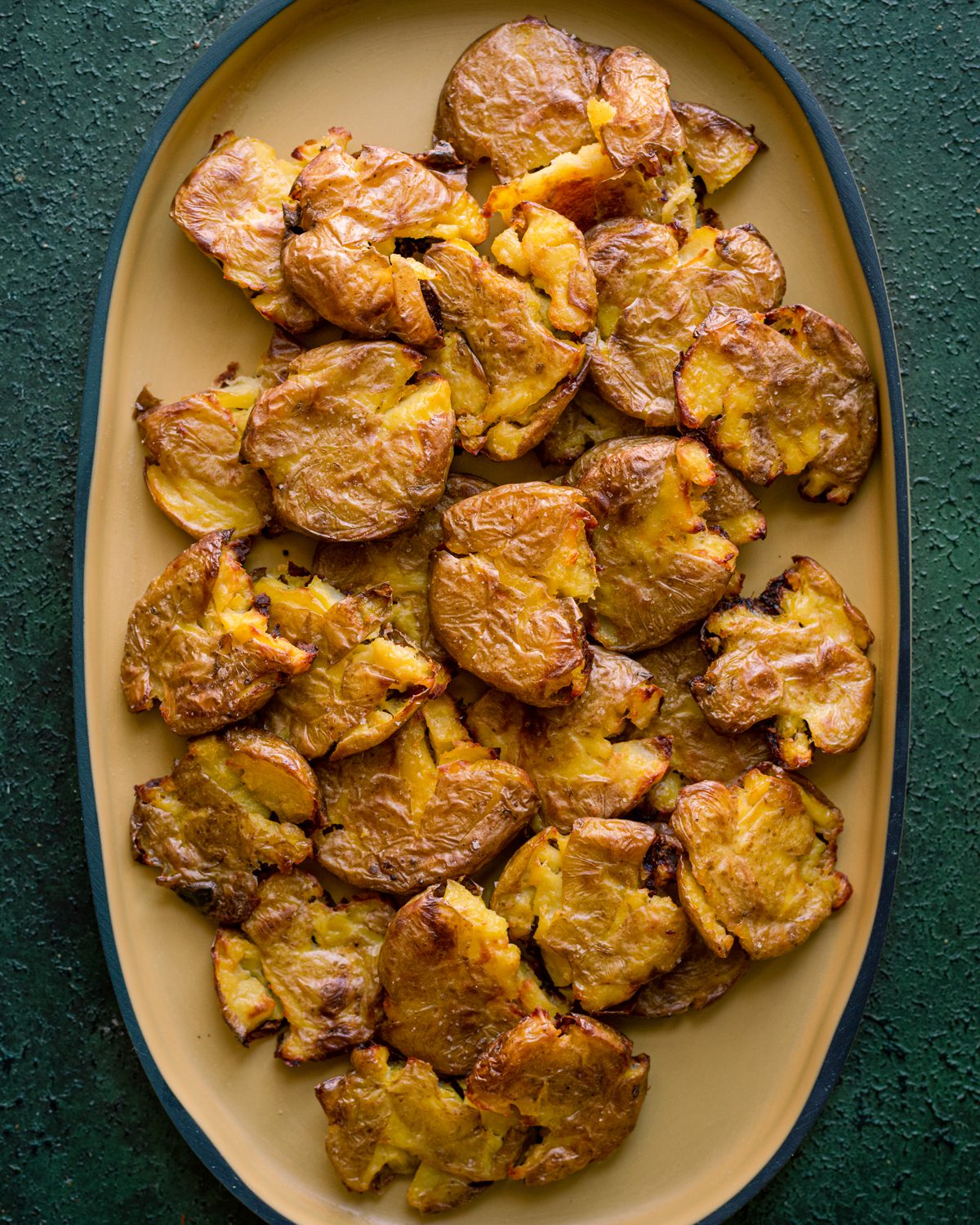 Tips for the perfect crispy smashed potatoes
Size and color matter
First, the type of potato matters. Size-wise, these are best with mini or baby-sized potatoes, or even peewee potatoes (if you want one-bite potatoes).
I've made this dish with small-sized Yukon Gold potatoes, which are larger than the baby potatoes, and they were fine but not spectacular. They were harder to smash neatly and they didn't get as crispy.
Color-wise, these are best with baby golden potatoes, also known as baby yellow potatoes, baby Dutch yellow potatoes, mini golden creamer potatoes, two-bite honey gold potatoes, or petite gold potatoes.
I've also made this dish with baby red potatoes (as you'll see in one of the step-by-step photos) and they are definitely good, just not as good as the golden ones. Golden/yellow potatoes are less waxy and starchier than red potatoes. Translation: they get very crispy on the outside but stay fluffy and tender on the inside.
Red potatoes, on the other hand, get perhaps even crispy on the outside but they don't stay fluffy and tender on the inside. Translation: you don't get the best of both worlds IMO. That said, this recipe is still great with baby red potatoes.
Summary: this recipe is the most incredible with baby or mini golden/yellow potatoes.
Parboil, then roast
To get perfectly crispy potatoes that are still tender on the inside, you need to parboil your potatoes before roasting them. You parboil them whole, drain them, and then smash down on them and coat in oil/salt before roasting.
If you don't parboil them, the skin remains kind of tough and less able to absorb the oil into its nooks and crannies when roasting in the oven.
As food science guru J. Kenji Alt-Lopez says in his crispy roast potato recipe, parboiling the potatoes creates "tons of starchy slurry for added surface area and crunch" and makes the potatoes "incredibly crisp and crunchy on the outside, with centers that are creamy and packed with potato flavor."
Salt generously
Speaking of parboiling, when you boil the potatoes you want to boil them in very salty water. Much saltier than your pasta water. This is because as Molly Baz puts it in her article on how to boil potatoes, "potatoes are large, dense items. Salt has to penetrate a lot of mass in order to make it all the way through to the potatoes' middles by the time they're finished cooking."
If you don't salt your potato water, you end up with sad, bland potatoes. Even if you salt them before roasting, they still won't be nearly as flavorful. And don't worry, the vast majority of that salt in the potato water gets drained off when you drain the potatoes.
Don't crowd the pan
This recipe uses two sheet pans instead of one because if you crowd potatoes too closely together in the oven, they will steam instead of roast. Say goodbye to that crispy brown skin! Here are the sheet pans I use (affiliate link).
Be generous with the oil
I've tried making crispy smashed potatoes with half the amount of oil (I know some of my readers are oil-conscious), but it just doesn't work. They end up stuck to the pan and not nearly as crispy. Roasted potatoes need a generous amount of oil. It is what is!
Don't flip the potatoes
For truly crispy exteriors and edges, don't flip the potatoes while they're roasting. They won't burn, I promise! But since we're using two pans, it's helpful to rotate their positions/racks halfway through roasting. This is because most ovens are warmer either in the bottom or the top, so switching their location means each tray of potatoes gets even heat distribution.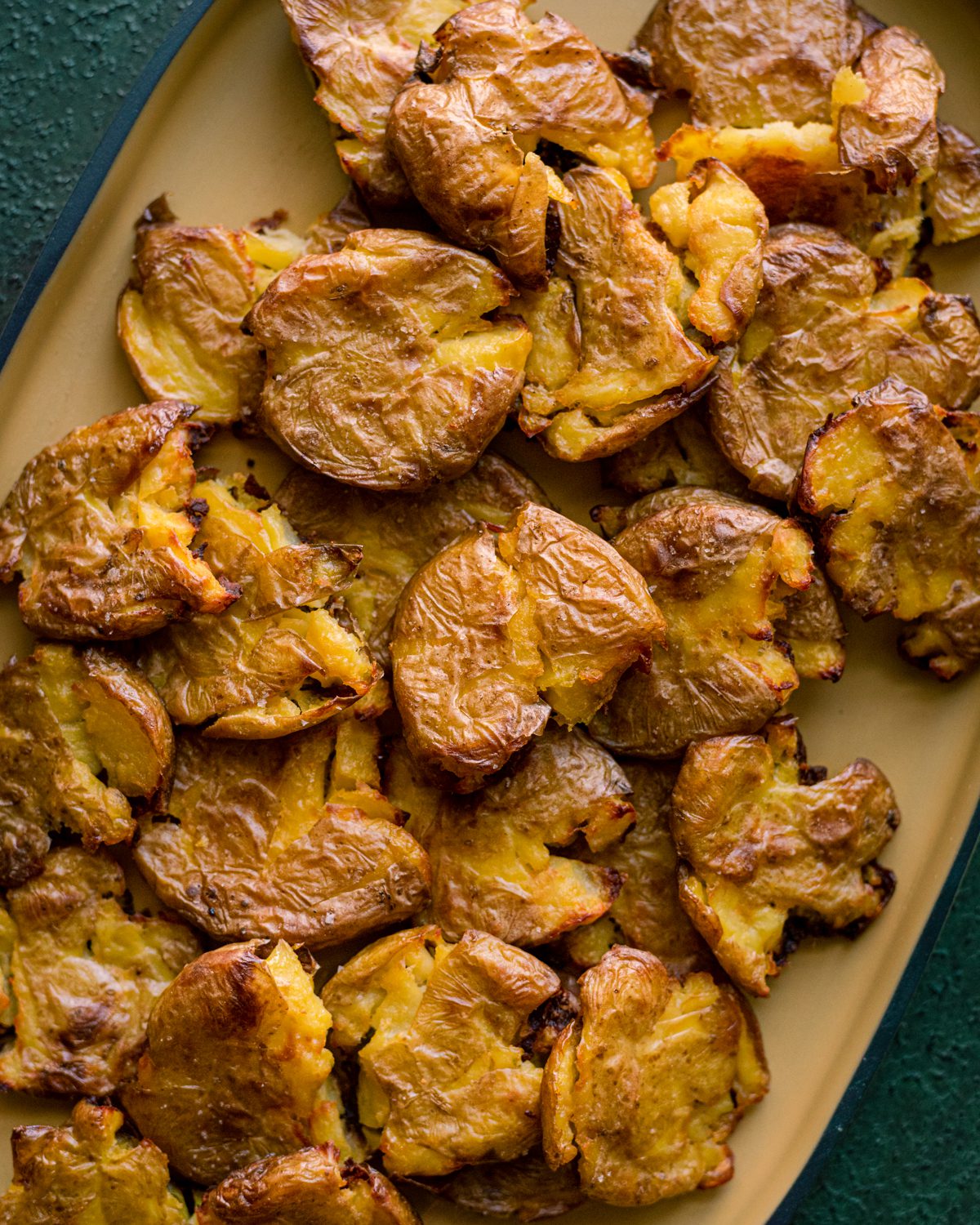 How to make this recipe
Cover the potatoes with cold water, season very generously with salt, and bring to a boil. Reduce heat and simmer for 12-15 minutes until just fork tender. Drain the potatoes.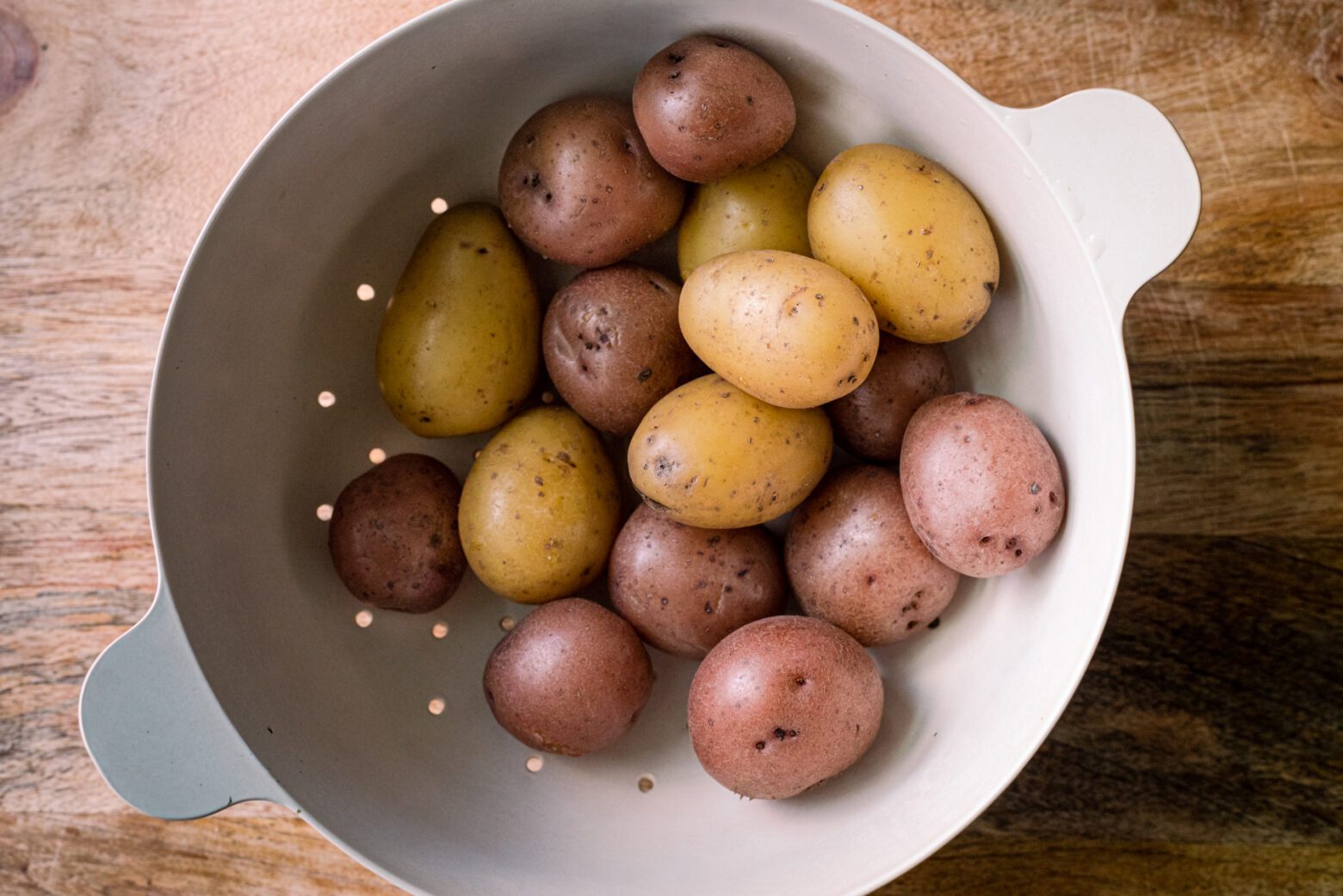 Transfer the potatoes to two rimmed sheet pans. Using the bottom of a mug, measuring cup, or glass, smash down on them. Use a pastry brush or your hands to coat them in oil, flip and repeat. Season with salt and pepper.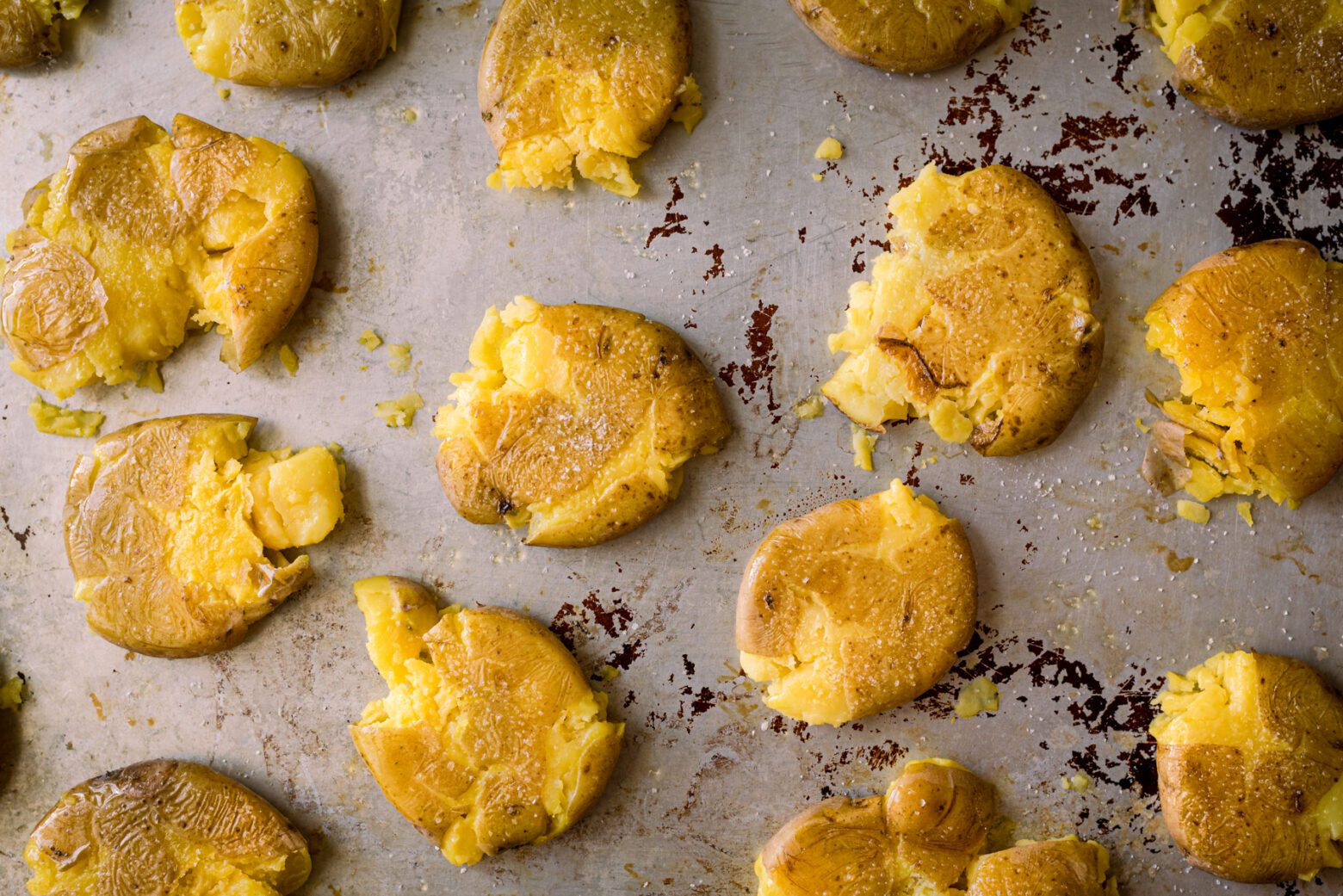 Roast the potatoes at 450ºF/232ºC for 30 minutes, rotating the location of the pans in the oven halfway through, until crispy and brown on the outside but tender on the inside.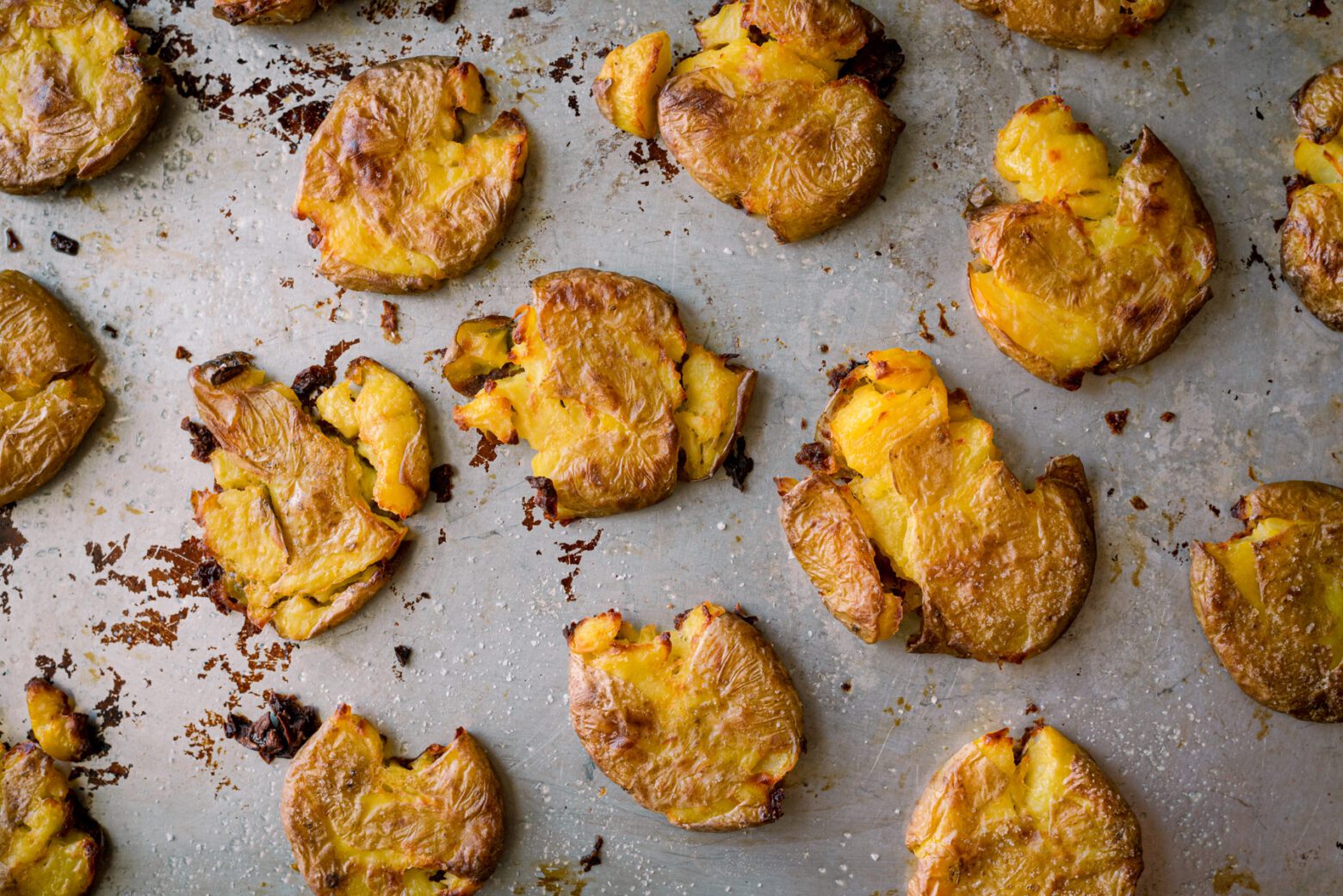 For the ginger-tahini sauce, add all the ingredients to a food processor.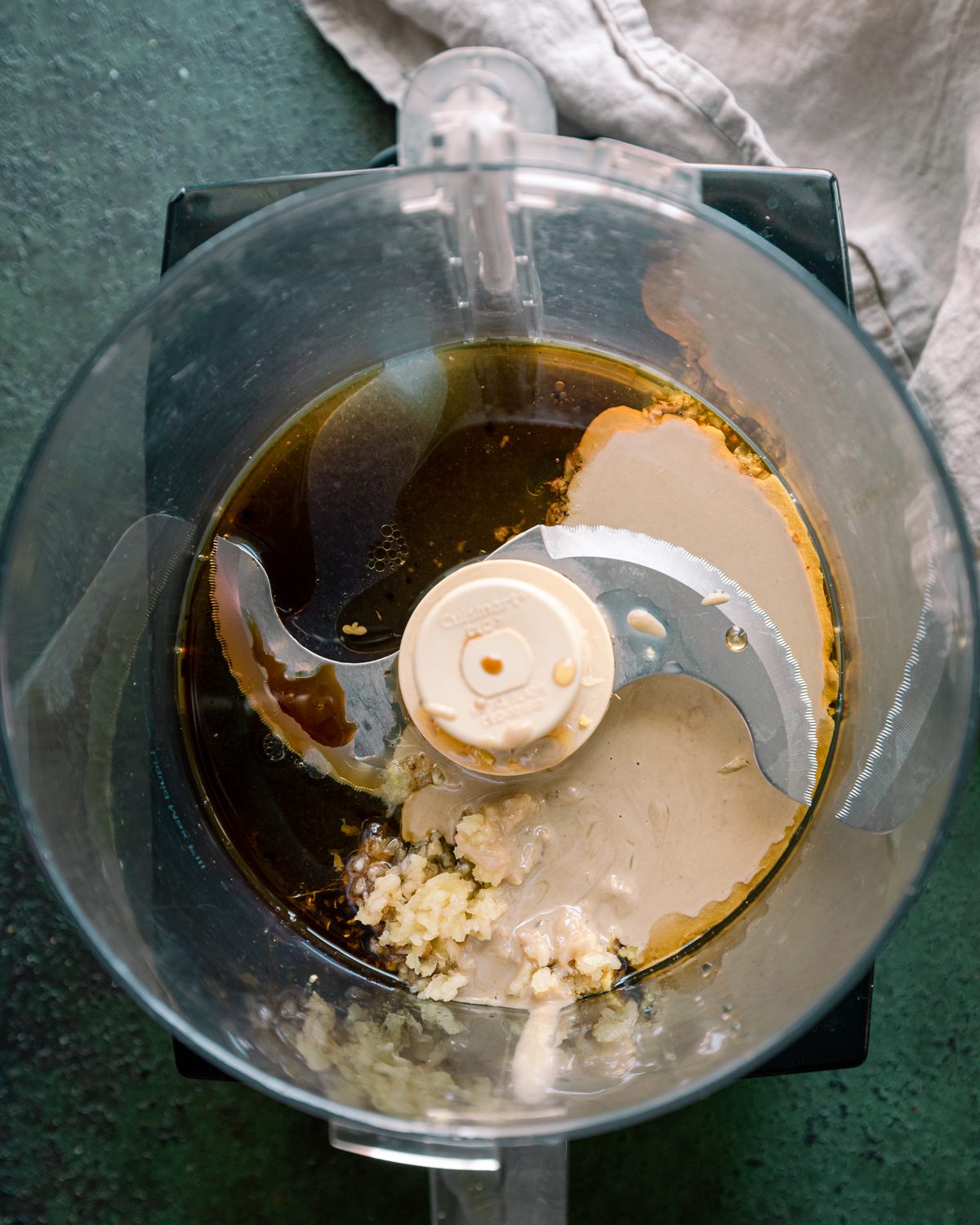 Blend until smooth, creamy and thick but pourable.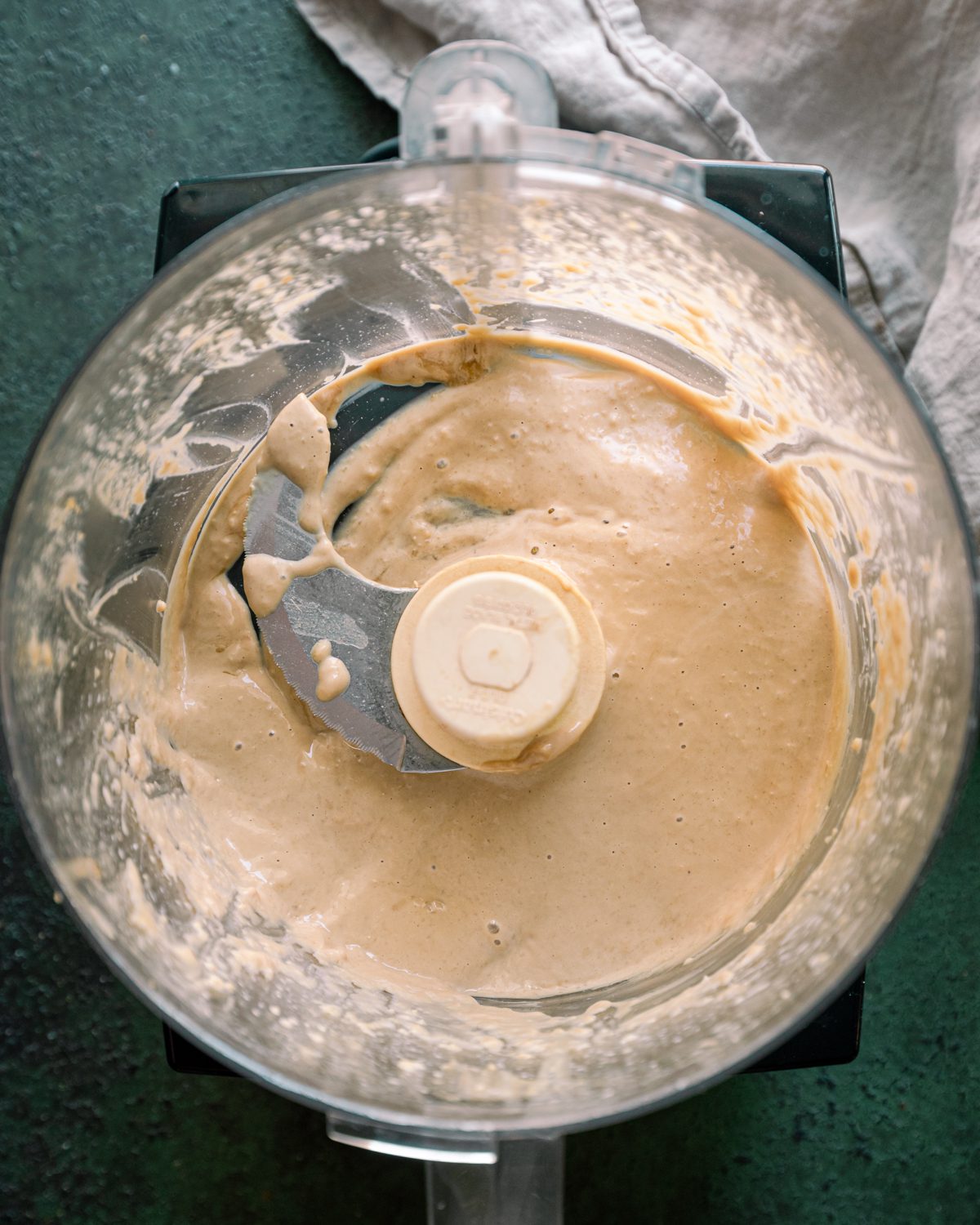 Transfer the roasted potatoes to a serving platter. Drizzle some of the sauce on top.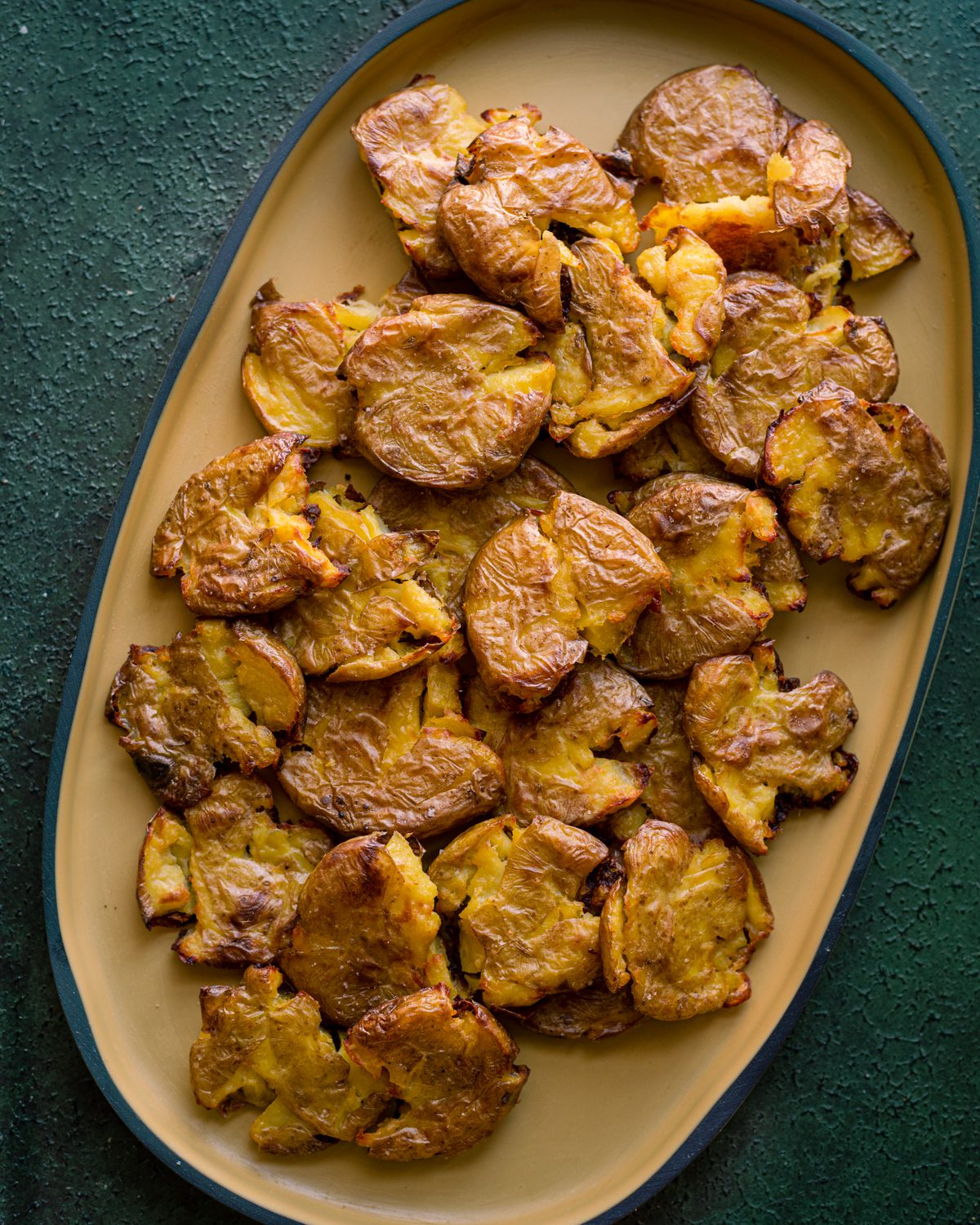 Scatter the sliced scallions on top. Scatter the sliced chili peppers, mint/Thai basil and cilantro on top.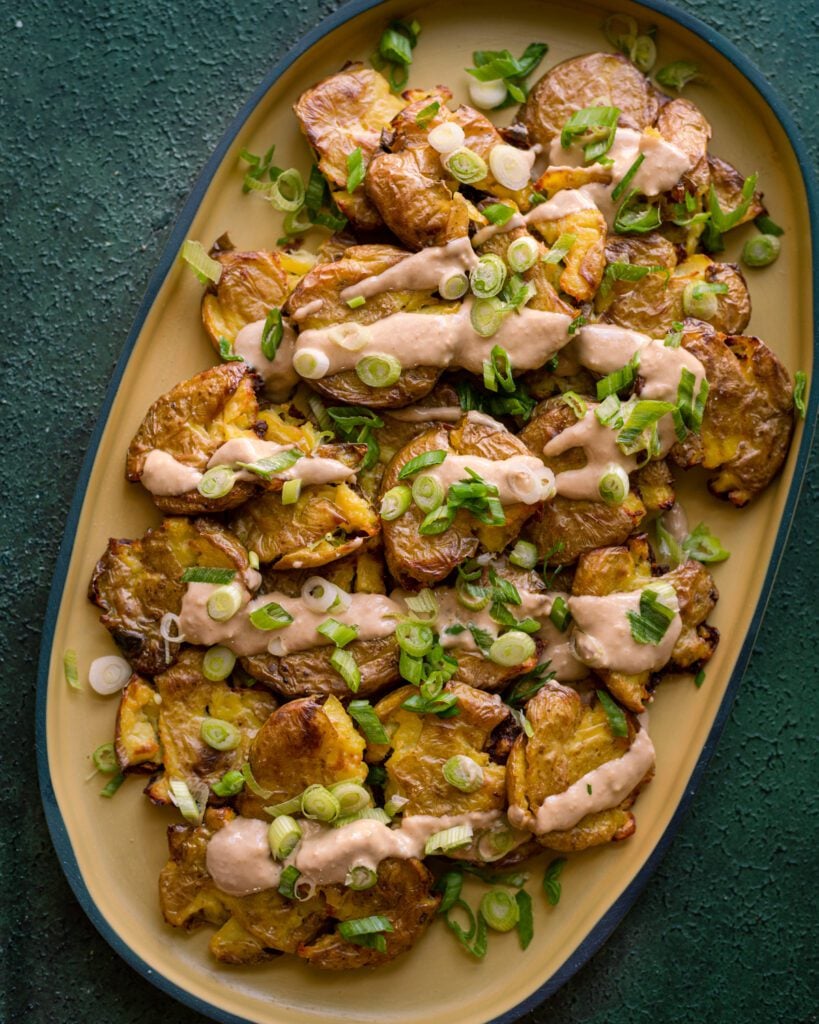 Add the roasted peanuts on top and serve with remaining sauce on the side for dipping.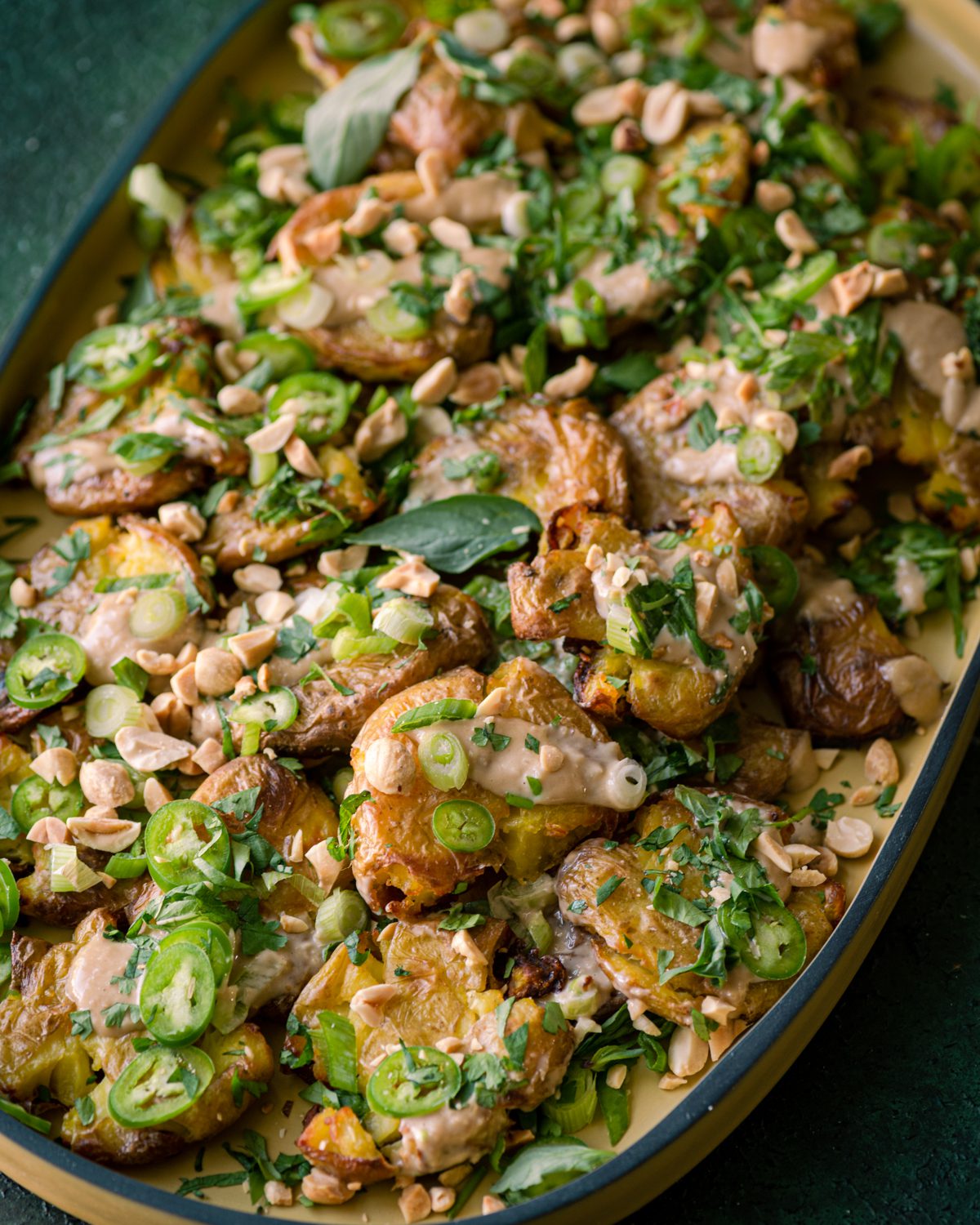 Frequently Asked Questions
Can I substitute…?
Ran out of fresh limes? Rice vinegar is a good substitute for the lime juice. Don't have tahini? Unsweetened creamy almond butter or cashew butter would work well. 

Can't tolerate spicy food at all? Skip the serrano pepper. If you can tolerate some spice, use a jalapeno pepper, and/or remove the seeds.

Allergic to peanuts? Substitute with roasted cashews; if you can't have those roasted almonds could also work. If you're nut-free, just omit the nuts entirely (it's still very good!).

I provide the option of using fresh mint or Thai Basil, but since Thai Basil is pretty hard to find outside of Asian grocery stores, it's totally fine to stick to mint. 
How long will do crispy smashed potatoes last? 
If you're planning to keep leftovers, store the potatoes separately from the sauce. The potatoes will last for 4 to 5 days in the refrigerator in an airtight container, but they are definitely best served when fresh. And if you're anything like me, there will be no leftovers ;) 

If you have leftovers of the sauce, store it in a small jar in the fridge for up to 1 week.
Can I double the recipe? 
Sure! You will just need to bake the potatoes in 2 batches (unless you have a giant oven that can fit four baking sheets…or if you have 2 ovens, like my parents and many of my Indian aunts lol). This is a great option if you have lots of guests coming over! 
Can I make the potatoes without the dressing?
Sure! These crispy smashed potatoes are delicious enough to eat plain. Or, if you want a more traditional flavor profile, these potatoes are stellar with my Vegan Aioli or Vegan Ranch Dressing.
That's all you need to know about these crispy smashed potatoes with ginger-tahini dressing. If you love the recipe, please be sure to rate and review it below and tag me with your remakes on Instagram!
Crispy Smashed Potatoes with Ginger-Tahini Dressing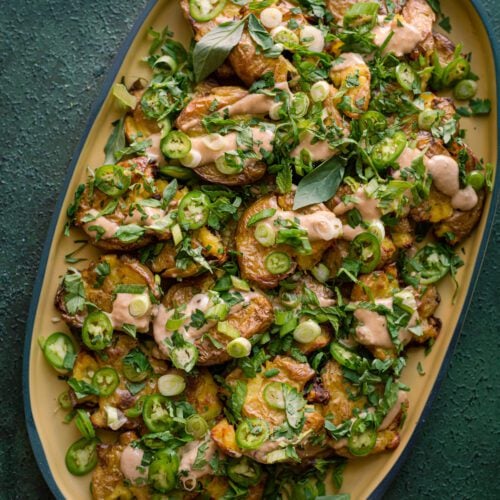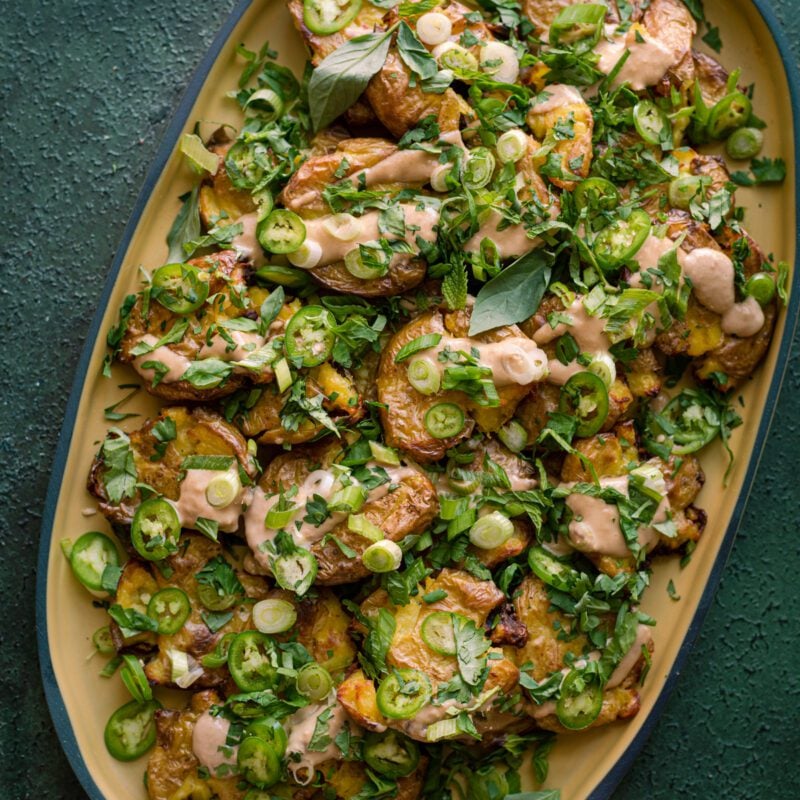 The most perfect crispy smashed potatoes get drizzled with a tangy, slightly sweet, and nutty ginger-tahini dressing and then topped with fresh mint, cilantro, chili peppers, and roasted peanuts. An addictive blend of textures and gourmet Asian-inspired flavors.
Ingredients
Potatoes
3

pounds (1.4 kg)

baby or mini golden/yellow potatoes*

4

tablespoons

Diamond Crystal kosher salt** or 2 tablespoons sea salt,

plus more to season

4 to 5

tablespoons

extra virgin olive oil***
Ginger-Tahini Sauce
2

tablespoons

freshly squeezed lime juice

1 ½

tablespoons

toasted sesame oil

¼

cup (56g)

tahini

1

tablespoon

tamari or soy sauce

2

teaspoons

maple syrup

1-

inch

piece ginger,

grated

3

garlic cloves,

crushed with a press or finely minced

2

tablespoons

ice water
Toppings
2

scallions

(top 1 inch trimmed), sliced thinly on a bias

1

serrano pepper,

sliced thinly on a bias (use jalapeño for less heat)

¼

cup (4g)

fresh mint leaves or Thai basil leaves, torn

½

cup (6g)

cilantro leaves and tender stems, chopped

¼

cup (28g)

roasted peanuts, chopped****
Instructions
Preheat the oven to 450ºF/232ºC.

Parboil the potatoes. Add the potatoes to a large saucepan. Cover with cold water and season with the kosher salt or sea salt. Bring to a boil, then reduce the heat to maintain a decent simmer for 12 to 15 minutes, dependent on size, until just fork tender but not too soft. Drain the potatoes in a colander and pat dry if there's any water clinging to them.

Smash the potatoes. Transfer potatoes to two rimmed baking sheets. Use the bottom of a glass, measuring cup, or mug to firmly smush down on the potatoes (but not too firmly, you don't want them to fall apart into a bunch of pieces).

Roast the potatoes. Drizzle some of the olive oil on top of the potatoes and coat the top side; gently flip, add more oil, and coat the other side of the potatoes. If the potatoes feel dry, add a bit more oil

Note: you can also pour the oil into a small bowl and use a pastry brush to coat the oil onto the potatoes. This technique allows you to use a bit less oil and also ensures a more even coating of oil, but is a bit more time consuming.

Season the potatoes with some kosher salt or sea salt. Roast in the preheated oven for 30 minutes, switching the pans' location in the oven halfway through (but do not flip the potatoes), or until the potatoes are crispy and browned.

Meanwhile, make the Ginger-Tahini Sauce. In a food processor, combine the lime juice, sesame oil, tahini, tamari, maple syrup, ginger, and garlic until well combined and relatively smooth. Add the ice water and blend again until the sauce is thick but pourable. Season with a pinch of salt as needed.

Pile the warm potatoes on a serving platter. Drizzle some sauce on top. Scatter the scallions, sliced serrano pepper, mint or Thai basil leaves, chopped cilantro, and peanuts on top of the potatoes. Serve remaining sauce on the side for dipping.
Notes
* See the "Tips for the perfect crispy smashed potatoes" section for common names for this potato type. If not available, substitute with baby red potatoes.  
** If using Morton's kosher salt, use 2 tablespoons. 
*** If using a pastry brush, you can probably use the lower end of the oil amount.
**** Can substitute with roasted cashews, roasted almonds, or omit entirely if allergic.
---
Calories:
291
kcal
|
Carbohydrates:
34
g
|
Protein:
6
g
|
Fat:
15
g
|
Saturated Fat:
2
g
|
Polyunsaturated Fat:
4
g
|
Monounsaturated Fat:
8
g
|
Sodium:
624
mg
|
Potassium:
816
mg
|
Fiber:
5
g
|
Sugar:
3
g
|
Vitamin A:
119
IU
|
Vitamin C:
37
mg
|
Calcium:
45
mg
|
Iron:
2
mg