This post is sponsored by Country Crock® Plant Butter. All opinions and recipes are my own.
Difficult times call for finding therapy in everyday actions. For me, this has involved three main things.
One, my daily meditation practice—I've been meditating daily for the last several months, but in the last few weeks, I've started meditating twice a day to stay even more calm and present.
Two, enjoying nature—I wake up extra early in the morning so I can walk to our local park and not run into very many people and practice safe social distancing.
And three, baking. The motions of sifting flour, weighing sugar, and snacking on batter along the way are very calming for me, and I know I'm not the only one! Baking cookies and cakes and other comforting treats while you're self-isolating is truly therapeutic, so I'm excited to share this recipe for Chocolate Chunk Vegan Pantry Cookies!
The original title for this recipe was "Vegan Almond Oatmeal Chocolate Chunk Cookies" but it sounded too wordy and didn't encapsulate what I love most about this recipe: that it has every cookie ingredient you love!
When I told Max a few days ago that I was going to do some baking therapy, he made one request. "No healthy cookies or whatever. I need the real stuff right now." That made me laugh out loud, but also gave me the inspiration for these cookies.
I wanted to create an "everything cookie" packed with all my favorite cookie mix-ins, a cookie that was indulgent and 100% satisfying (but maybe still a tad bit healthier than your standard cookie).
Table of contents:
1. Why you're going to like these cookies
2. Ingredient notes
3. Substitutions for this recipe
4. Tips for making this recipe
5. Recipe card with notes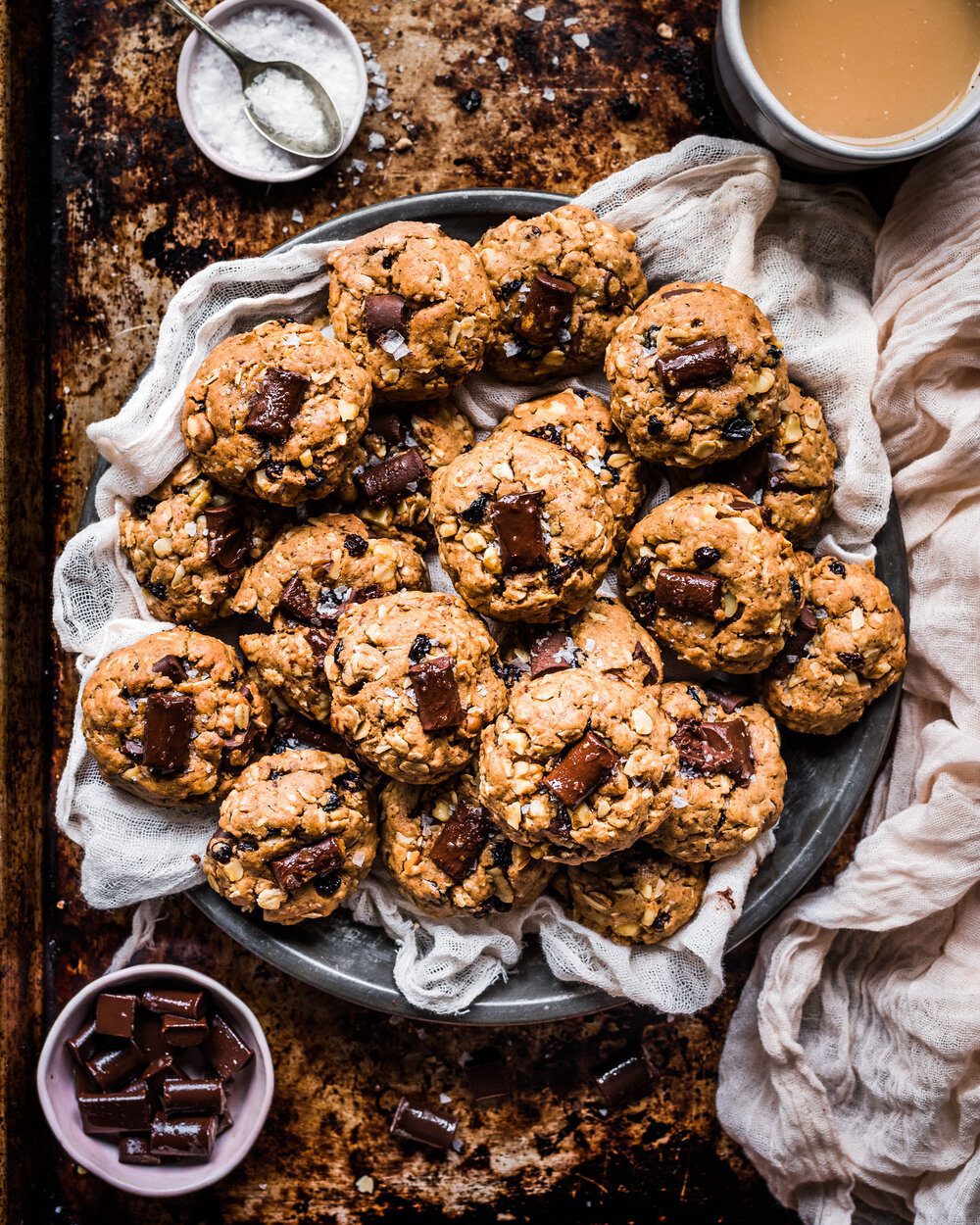 Why you're going to like these cookies
Everything cookie. These cookies truly have everything you love in cookies: chocolate, nuts, oats, chewy dried fruit. Yep, it's all in there!
Indulgent but sort of healthyish. Despite being vegan and made with some better-for-you ingredients like vegan butter, flax eggs, almond butter, coconut sugar, and oatmeal, these cookies are very indulgent. Max, who's not vegan and specifically asked for "not healthy cookies" gave them his seal of approval.
Edible dough. Like all eggless cookie doughs, this cookie dough is not only safe to eat but also incredibly delicious. The recipe says "makes 24 cookies," but you'll probably end up with 22ish cookies because the dough needs to be snacked on.
Easy to customize. As you can find in the section below on "substitutions," these cookies are easy to adapt to what you have available in your pantry.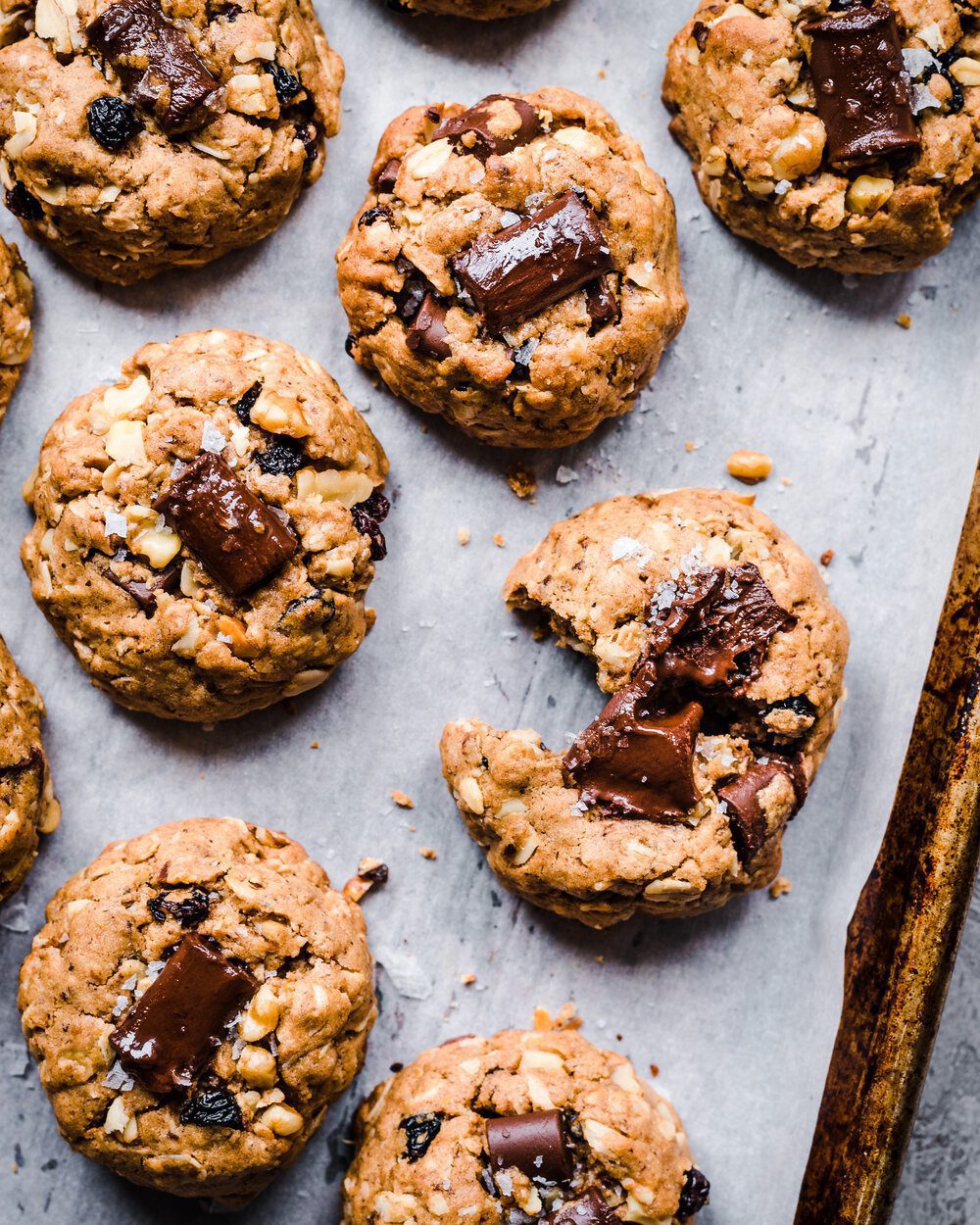 Ingredient notes
Country Crock Plant Butter
As requested by Max, these cookies had to be rich and indulgent, so I knew I had to use my favorite vegan butter, Country Crock Plant Butter!
The Plant Butter not only brings that chewy texture you associate with a chocolate chip or oatmeal raisin cookie, but also a delectable buttery taste that isn't often associated with vegan baked goods. You'll cream the Plant Butter with some nut butter and sugar, and as you do so, you'll notice that it creams just like traditional dairy-based butter!
The recipe calls for bringing the Plant Butter to room temperature. To make the softening process quicker, simply slice the Plant Butter into small pieces. It'll come to room temperature in about 15-20 minutes.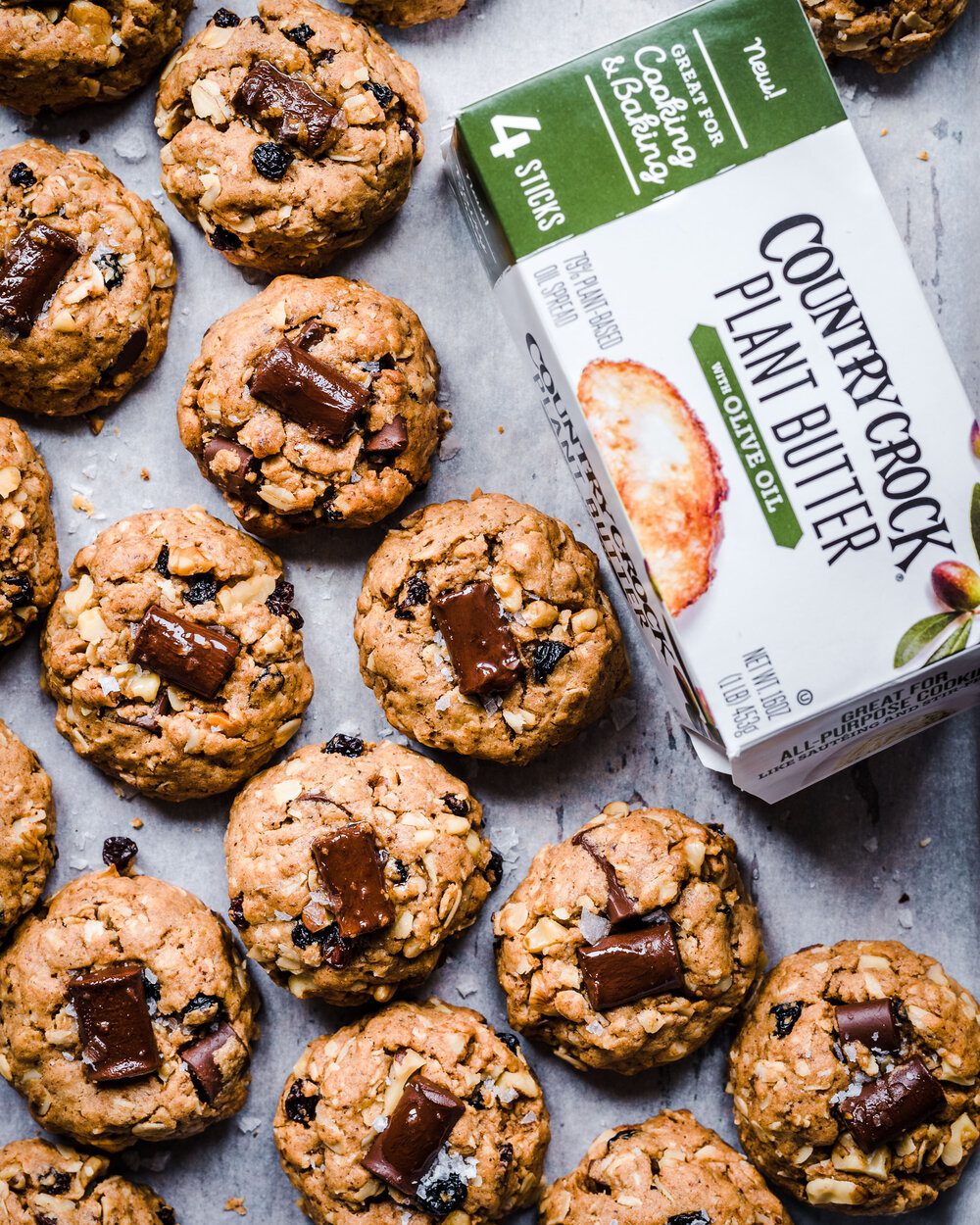 Almond Butter
I adore baking with almond butter. Like vegan butter or oil, it's a source of fat, so it brings richness and moisture to the cookies. But it also brings a subtle nuttiness to the batter that I just love, especially in these cookies.
You want to make sure that use a smooth/creamy variety, not a crunchy variety, and stir it well before adding it in. I prefer almond butter brands that have no added oil or sugars, but if yours does have added sugar, you maybe want to use a tablespoon less of sugar.
Coconut Sugar or Brown Sugar
To keep these cookies a little healthier, you can use coconut sugar, which is a low GI sweetener. However, I do prefer them slightly better with sugar, as it has more moisture than coconut sugar and therefore makes the cookies moister (in a good way).
Flax Eggs
When I want a baked good with a chewy texture, my go-to egg replacement is a flax egg. I think it works perfectly in this recipe to create a cookie that has chewy edges but slightly gooey, soft centers.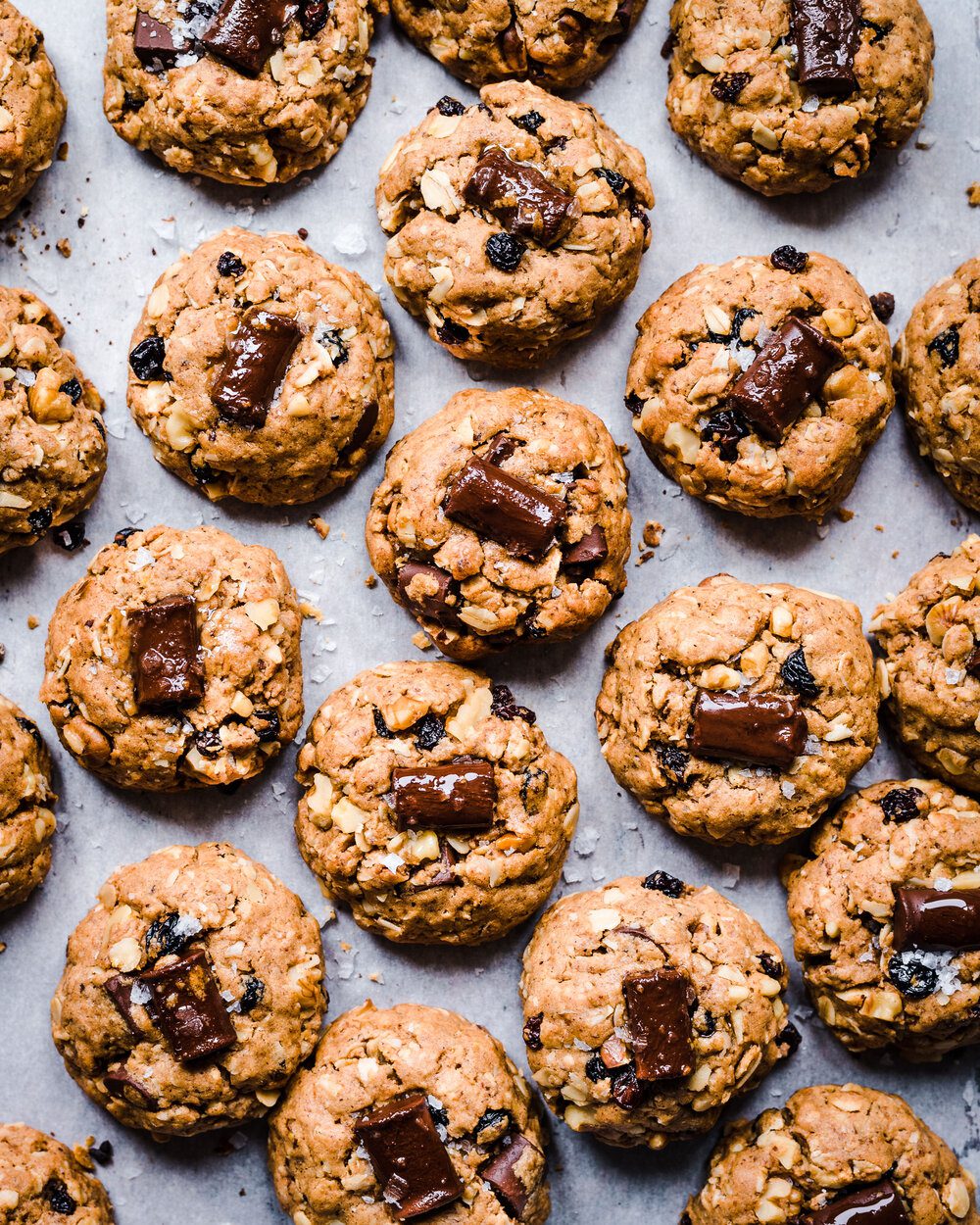 All-Purpose Flour
I was lucky enough to run out of flour shortly before self-isolating took effect, so I bought a huge bag of flour shortly before it became a hot commodity!
Full disclaimer: I have not tried making these gluten-free but I suspect they should work with an all-purpose gluten-free baking flour. But again, I can't guarantee how they'll come out (if you try it, please leave your feedback below!).
Vegan Chocolate Chunks or Chips
I used vegan semi-sweet chocolate chunks from Enjoy Life Foods, though I typically would opt for dark chocolate chunks, such as these Whole Foods 365 brand of dark chocolate chunks. Since I haven't been to Whole Foods in a month and it's hard to get groceries delivered in NYC right now, I used what I had (I have an Enjoy Life vegan chocolate stash in my freezer, no shame!).
If you don't have chocolate chunks, of course chocolate chips works just as well. And if you don't have those either, you can just chop up some dark chocolate or vegan chocolate into small pieces.
Walnuts
A chunky everything cookie needs some kind of nut, so I chose walnuts for a few reasons. One, they're the healthiest nut IMO (packed with omega 3 fatty acids); two, they're relatively inexpensive for nuts (especially if you buy walnut pieces instead of whole walnuts); and three, I have a decent amount of walnuts at home.
Currants or Raisins
I used currants because I had some in my pantry, but I also like how tiny they are so they don't take up too much space in the cookie. In an oatmeal raisin cookie, the raisin is front and center. But these are not oatmeal raisin cookies, so I want the raisin element to be more of a background element that you taste but that doesn't overwhelm.
And since raisins are bigger than currants, I thought the currants would be more unassuming in the cookie (they were). That said, if you don't have currants, raisins are totally fine. If you have the time (I know you do right now!), you could chop up the raisins into smaller pieces.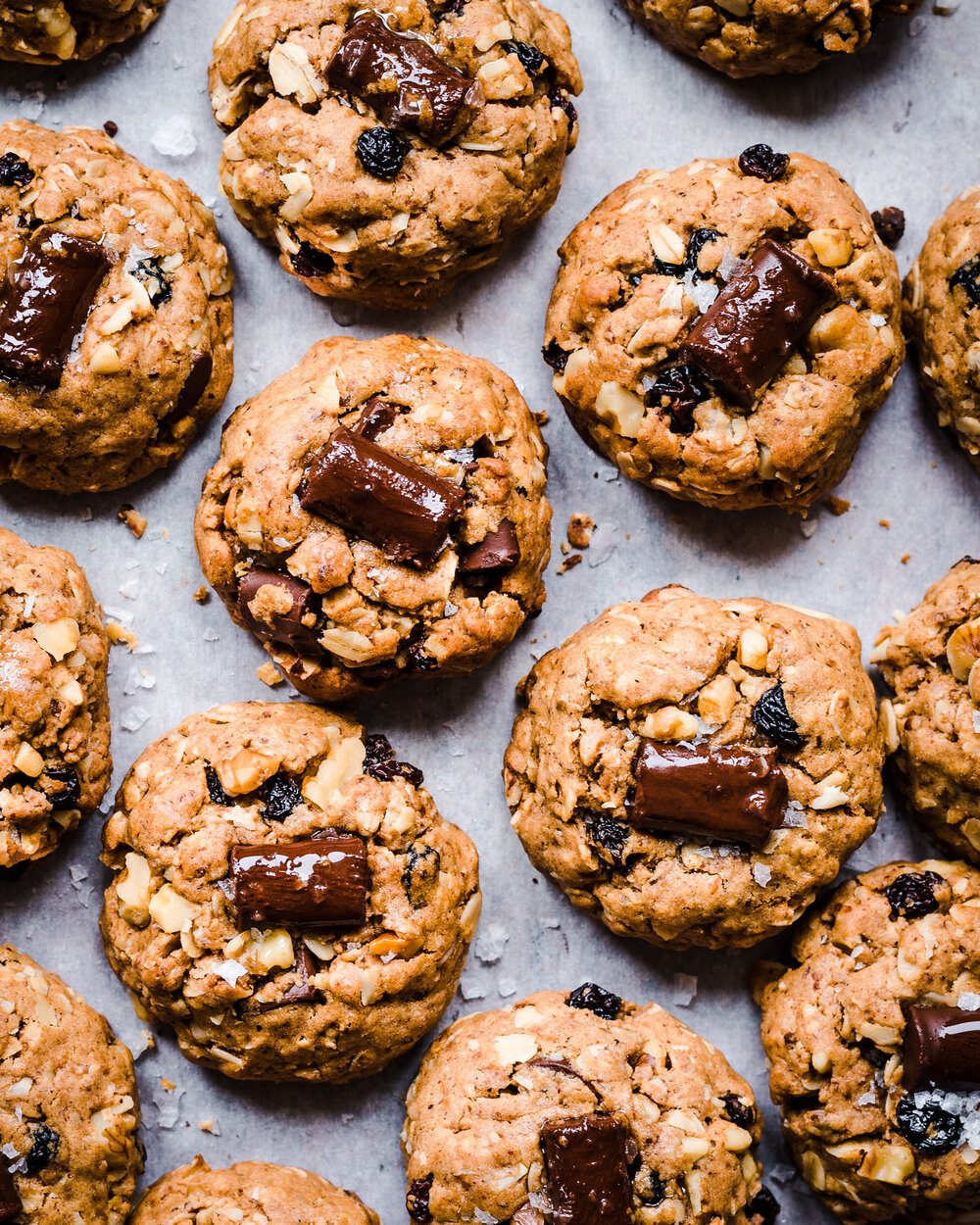 Substitutions for this recipe
Almond Butter
You can use another nut butter, such as peanut butter or cashew butter. Peanut butter will give them a marked peanutty taste. You could also use tahini for a nut-free variation. The tahini brands I regularly use are Soom Tahini, Seed + Mill, and the Whole Foods 365 brand (affiliate links). If you typically refrigerate your tahini, bring it to room temperature and stir well.
Flax Egg
No ground flax meal at home? Try making a chia egg! Just use 2 tablespoons chia seeds and 5 tablespoons water. Stir and allow it to rest for at least 5 minutes until it thickens into a gel-like texture.
Mix Ins
You can substitute vegan/nondairy chocolate chunks with chocolate chips, or just finely chop up your favorite chocolate bar.
If you don't have walnuts, pecans would be the next best substitute. If you're allergic to nuts, omit them entirely or substitute with something like sunflower seeds or hemp seeds for a nice crunch (and be sure to use tahini in lieu of the almond butter).
As I mentioned above, if you don't have currants, you can chop raisins into smaller pieces. But you could also use dried cranberries or cherries!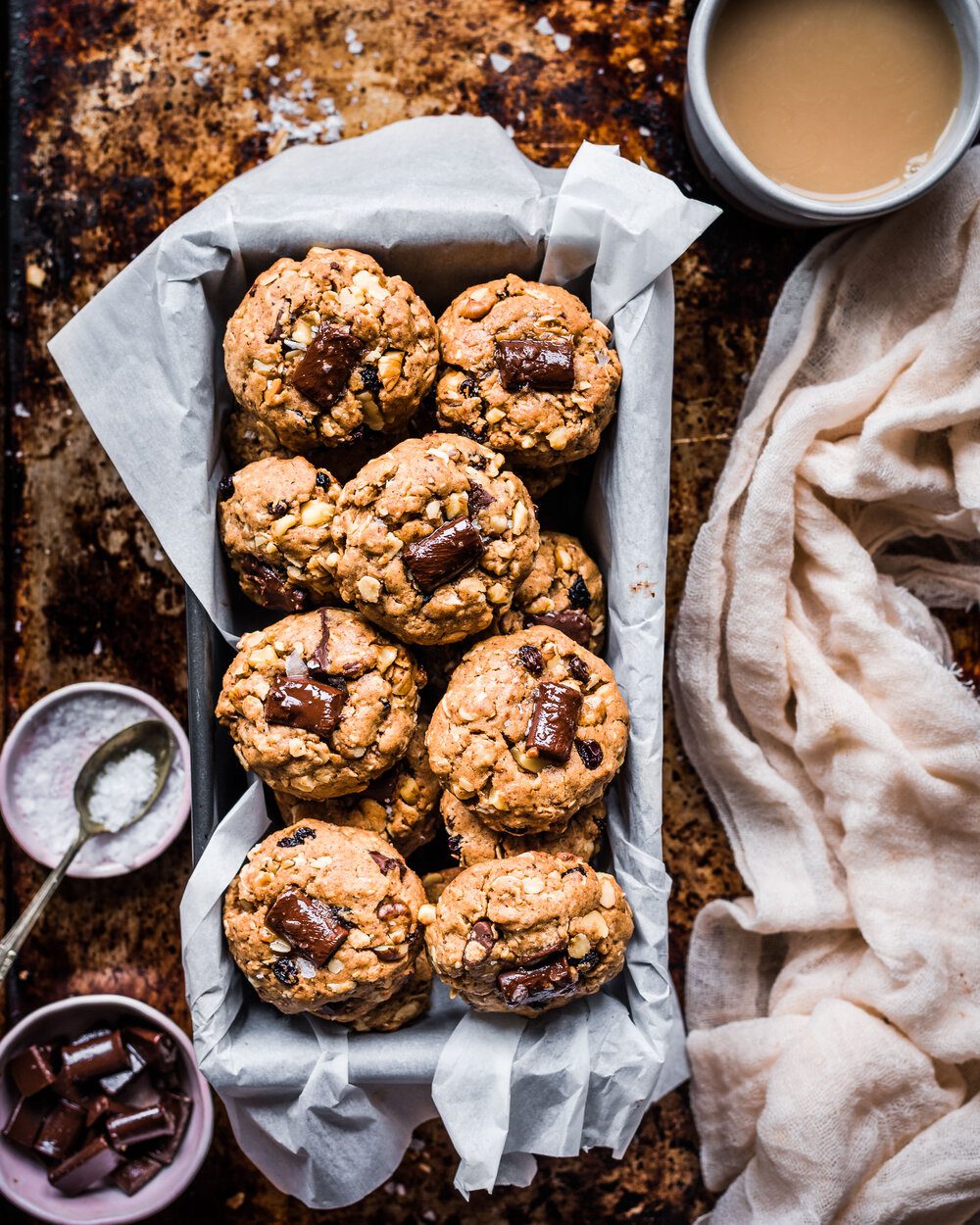 Tips for making this recipe
1. Start by removing the Plant Butter from the fridge so it can come to room temperature. Then make the flax egg and let it rest in the fridge for 15 minutes.
2. Once you've mixed the dry and wet ingredients, the dough should be fairly thick but still a bit moist. If it feels dry or crumbly, add in a splash of plant milk until it moistens up a bit. I find that using brown sugar (in lieu of coconut sugar) makes for a slightly more moist dough.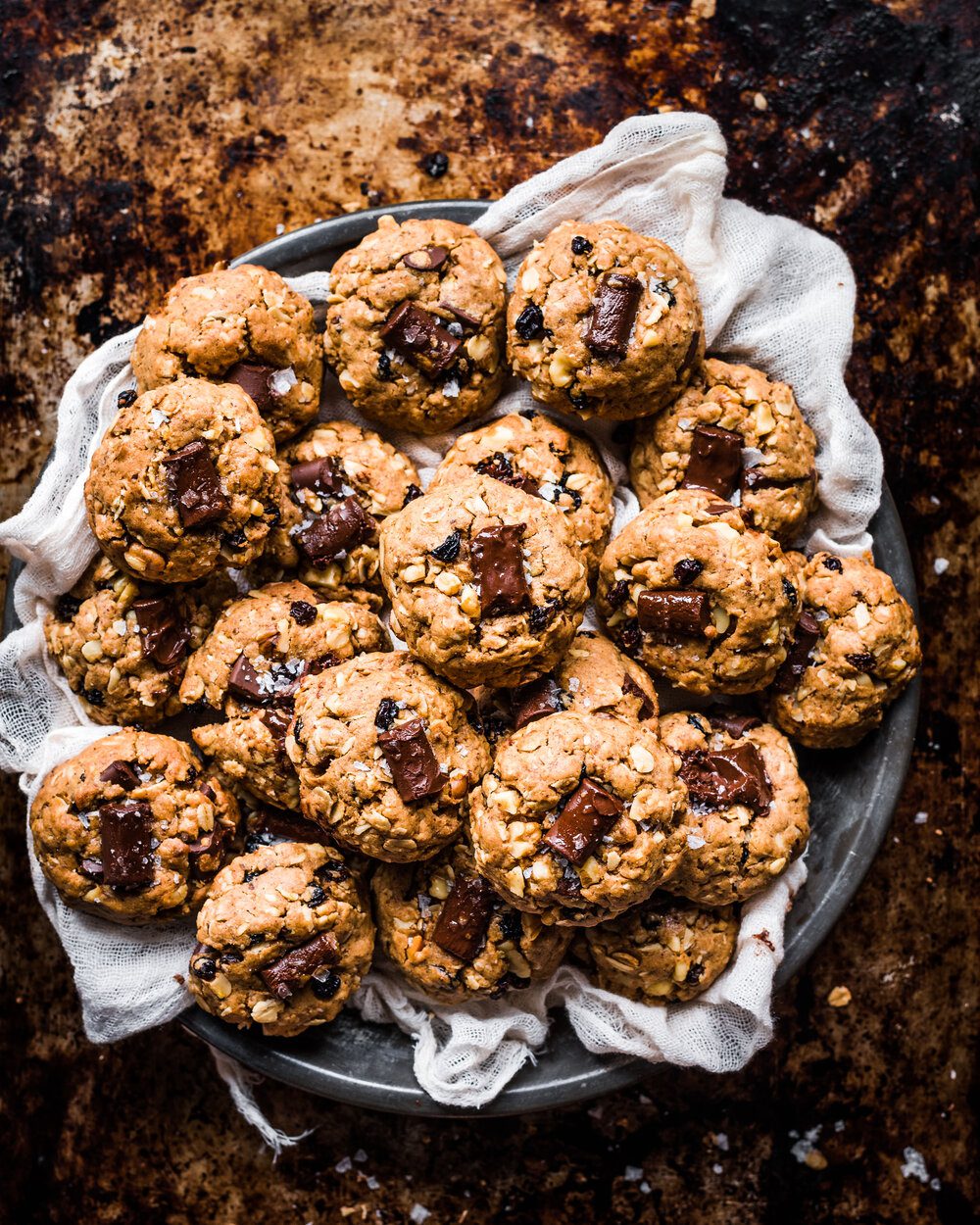 If you give these Chocolate Chunk Vegan Pantry Cookies a try, be sure to tag me on Instagram with your recreations and please comment with your feedback below!
Sending you all positive thoughts, warm wishes, and hugs from a safe 6-foot distance!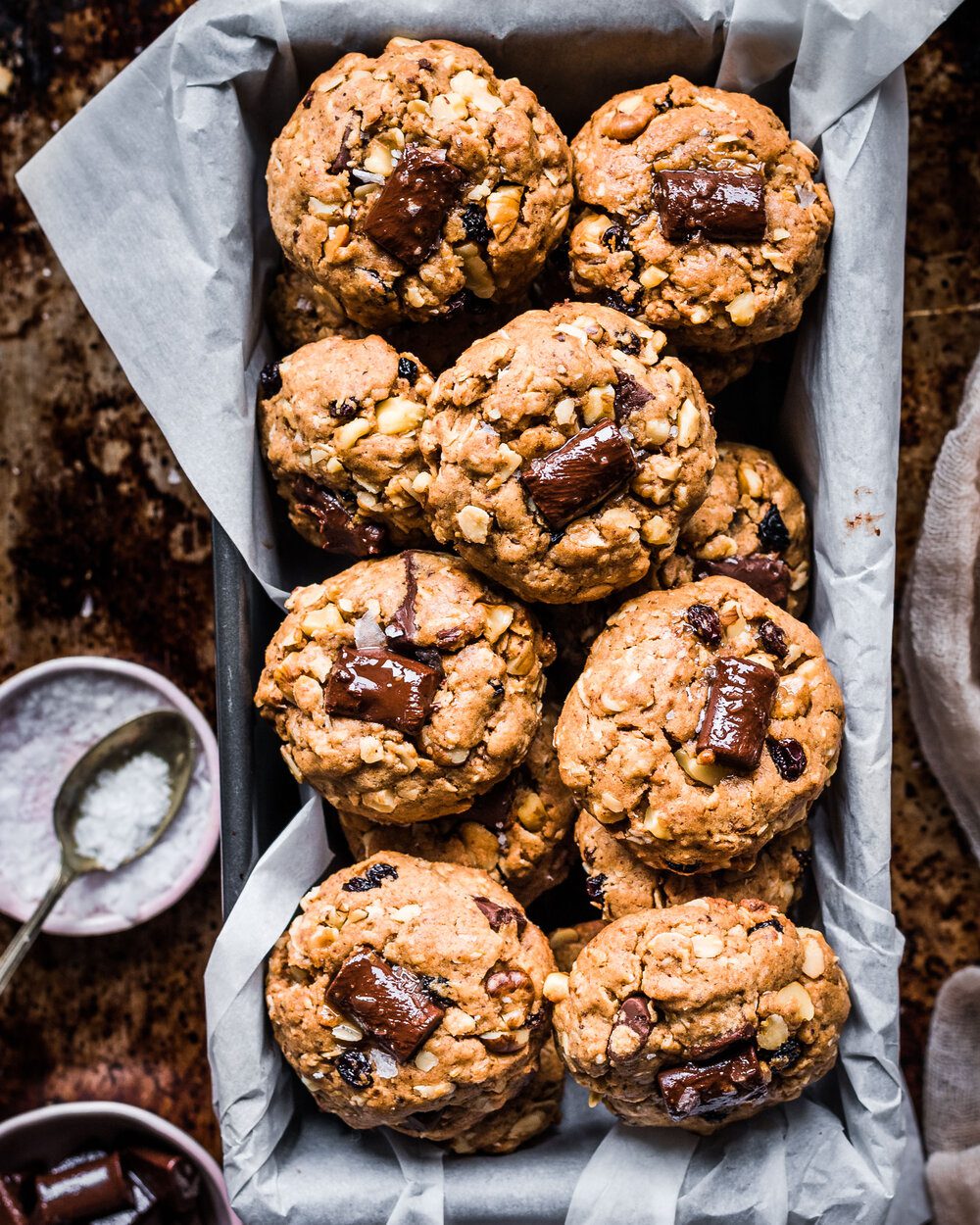 Chocolate Chunk Vegan Pantry Cookies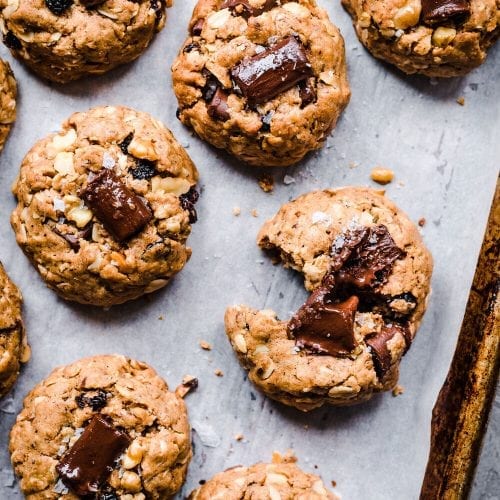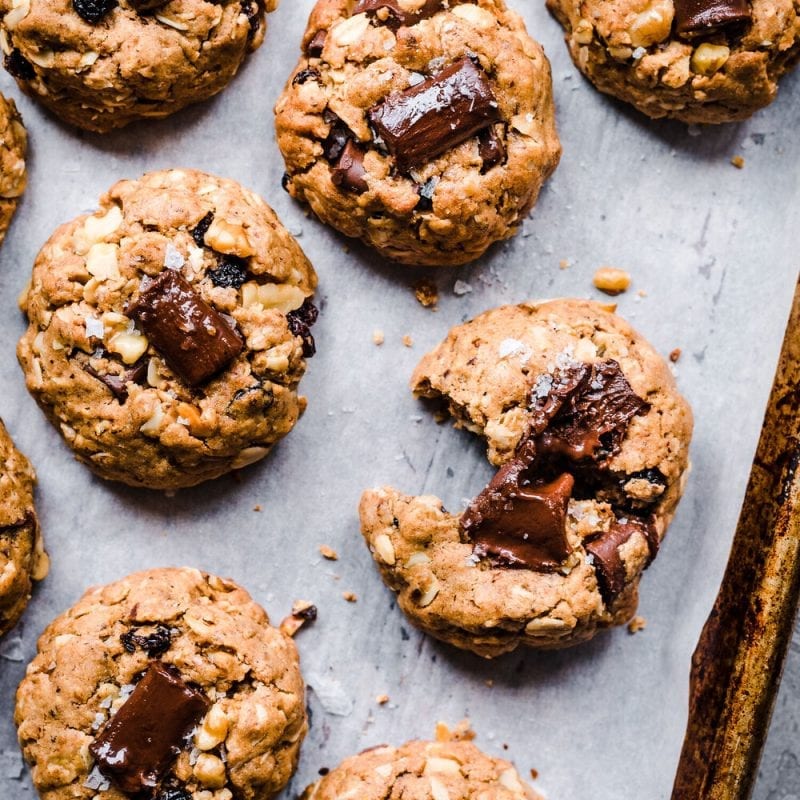 These Chocolate Chunk Vegan Pantry Cookies are made with all your favorite vegan cookie ingredients, like chocolate chunks, oats, nuts, and dried fruit. They're perfectly chewy, indulgent, and irresistible!
Ingredients
WET INGREDIENTS
6

tablespoons

(84g) Country Crock's Plant Butter, softened at room temperature

6

tablespoons

(96g) smooth/creamy almond butter, stirred well*

1

cup

(150g) brown sugar or coconut sugar**

2

tablespoons

(14g) ground flaxseed meal

1 1/2

teaspoons

vanilla extract
DRY INGREDIENTS
1 1/2

cups

(180g) all-purpose flour, spooned and leveled (can sub with gluten-free all-purpose flour)***

Heaping 1/4 teaspoon sea salt

1

teaspoon

baking powder

1/2

teaspoon

baking soda

1/2

teaspoon

ground cinnamon

1 1/2

cups

(145g****) old-fashioned rolled oats (use certified gluten-free rolled oats as needed)
MIX-INS
5

ounces

(142g) vegan chocolate chunks or vegan chocolate chips, divided*****

3/4

cup

(84g) walnuts or pecans, chopped into small pieces

1/2

cup

(75g) currants (or raisins, preferably chopped into smaller pieces)

Flaky sea salt

(optional)
Instructions
Remove the Plant Butter from the fridge to come to room temperature. Whisk together the flaxseed meal with 5 tablespoons (72 mL) water until well combined. Place in the fridge for 15 minutes to help it gel and set. These are your "flax eggs."

Preheat the oven to 325°F/163°C. Line two half-sheet pans or large cookie trays with parchment paper.

Cream the wet ingredients. Use the bowl of a stand mixer fitted with the paddle attachment, or use a large bowl with an electric handheld mixer. Add the softened Plant Butter, almond butter, and coconut sugar or brown sugar and beat well until the ingredients are well incorporated. Add in the flax eggs and vanilla extract, and mix again until everything is well combined.

Mix the dry ingredients. In a medium bowl, whisk together the flour, salt, baking powder, baking soda, and cinnamon. Stir in the oats to combine.

Combine the wet and dry. Add the flour-oat mixture to the butter mixture. Using the mixer on low speed, beat until the dough is well combined.

1. NOTE: The dough should be thick yet still a bit moist, but if the dough appears very dry and crumbly (likely a result of adding too much flour), add in a spoon or two of plant-based milk to give it some moisture.

Fold in the mix-ins. Using a silicone spatula, fold into the batter all but 1 ounce (all but 28g) of the the chocolate chunks/chips, along with the walnuts/pecans and currants/raisins. Set aside the remaining chocolate chunks/chips.

Use your hands or a 2-tablespoon cookie scooper to scoop the dough and roll into uniform-sized balls. Line them on the baking sheet (up to 12 per half sheet) and gently press down on the dough a bit to slightly flatten. Add a piece or two the reserved chocolate chunks/chips in the center.

Bake the cookies for 10 to 12 minutes, or until lightly golden. They'll look somewhat unbaked, but they'll continue firming up a bit as they rest. Remove from the oven immediately sprinkle with a bit of flaky sea salt, if desired. Let the cookies rest in the pan for 5-10 minutes before transferring to a wire rack to cool completely. Devour. Best when still warm :)
Notes
* See "substitutions" notes above for substitute options.
** I prefer brown sugar, as it results in slightly more moist cookies.
*** I highly recommend weighing your flour on a scale (and most baking ingredients, in general). Please do not scoop the flour out of the bag/container with a measuring cup. This almost guarantees that you will use more flour than called for in a recipe, which will result in a dry cookie dough. If you don't have a scale to measure the flour out in grams, be sure to use the spoon and level method for measuring out flour. Use a spoon to scoop out the flour into a dry measuring cup until just full, then use the back of a knife to level of the top.
**** For gram quantities, it will vary based on the brand of oats you use. I used this brand.
***** Reserve about 1 ounce (28g) of the chocolate to press into the cookies just before baking.
---
Calories:
185
kcal
|
Carbohydrates:
23
g
|
Protein:
3
g
|
Fat:
10
g
|
Saturated Fat:
2
g
|
Polyunsaturated Fat:
3
g
|
Monounsaturated Fat:
3
g
|
Trans Fat:
1
g
|
Sodium:
90
mg
|
Potassium:
102
mg
|
Fiber:
2
g
|
Sugar:
9
g
|
Vitamin A:
3
IU
|
Vitamin C:
1
mg
|
Calcium:
43
mg
|
Iron:
1
mg