Y'all, I cracked the code for incredible vegan BBQ sauce.
Okaaay, so most barbecue sauces are already naturally vegan (aside from some containing regular granulated sugar, which is sometimes not vegan because it's processed with animal bone char). But I am still pretty impressed with the results.
I didn't grow up eating very much barbecue (I grew up with Indian immigrant parents who were vegetarian!), but I did sample a lot of BBQ sauce over the last few weeks to ensure that my recipe tastes exactly like what you expect and want barbecue sauce to taste like.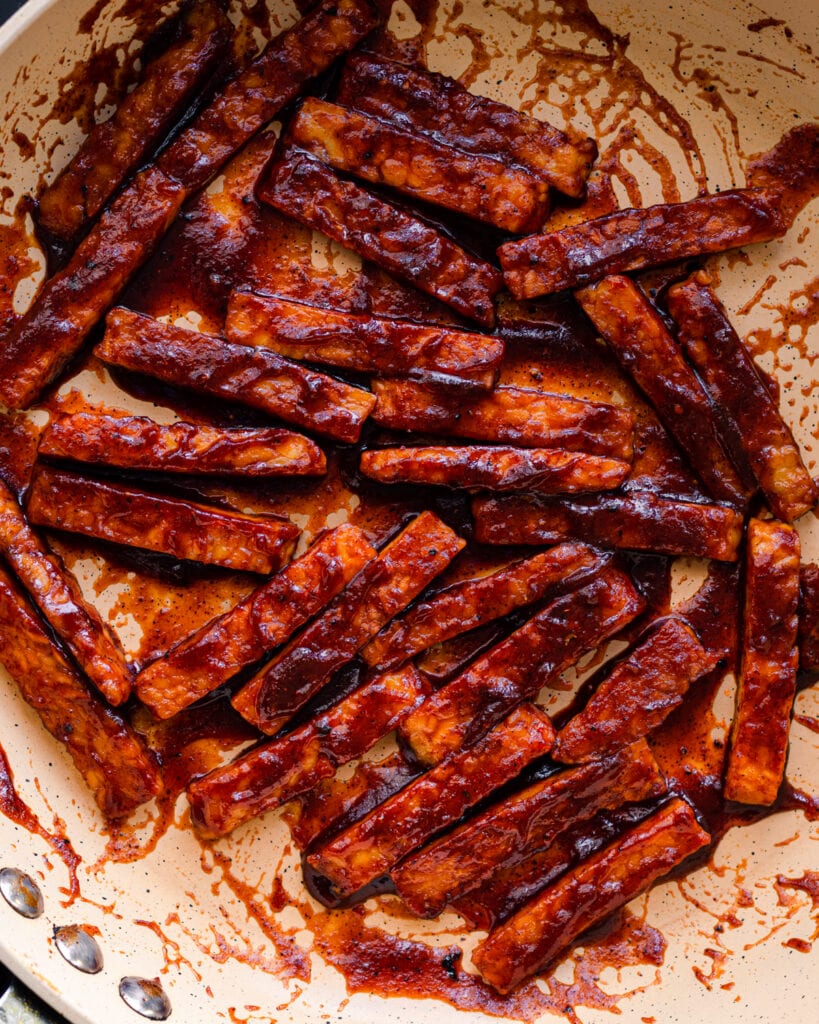 Why this recipe works
Balanced flavors. I tried several barbecue sauces that I found online before I finalized my recipe. And while all of them tasted like barbecue sauce, one was too sweet, another not sweet enough, and a couple were not smoky enough.
This version, I'm proud to report, is sweet yet tangy, quite smoky, and a little spicy. The sweetness comes from organic ketchup and maple syrup. Molasses offers a robust warmth, slight sweetness, and subtle smokiness.
Apple cider vinegar brings a noticeable tang that I found lacking in store-bought BBQ sauce, while soy sauce and vegan Worcestershire sauce provide that powerful umami depth of flavor. A blend of spices adds extra BBQ flavor (with a hint of spice from cayenne) and, finally, liquid smoke offers that quintessential smoky flavor.
Excessive testing. Did I mention I also did repeated side-by-side tests with a well-known, store-bought barbecue sauce? And that I continued tasting 1/2 teaspoon increments of that sauce vs. my sauce? And that after consuming the 4th tablespoon of barbecue sauce, I finally tweaked my recipe to the point where it tasted as close as possible to the store-bought brand? Yep, I did all that!
Versatile. I've used this vegan BBQ sauce to make BBQ Glazed Tempeh (a great way to make tempeh more palatable for tempeh-skeptics), BBQ grilled tofu, BBQ jackfruit, and even mixed it into a pot of beans.
Lasts for weeks! I'm not sure about the science behind this, but this homemade BBQ sauce stays good for a very long time. Mine has been in the fridge for 3 weeks and is still good!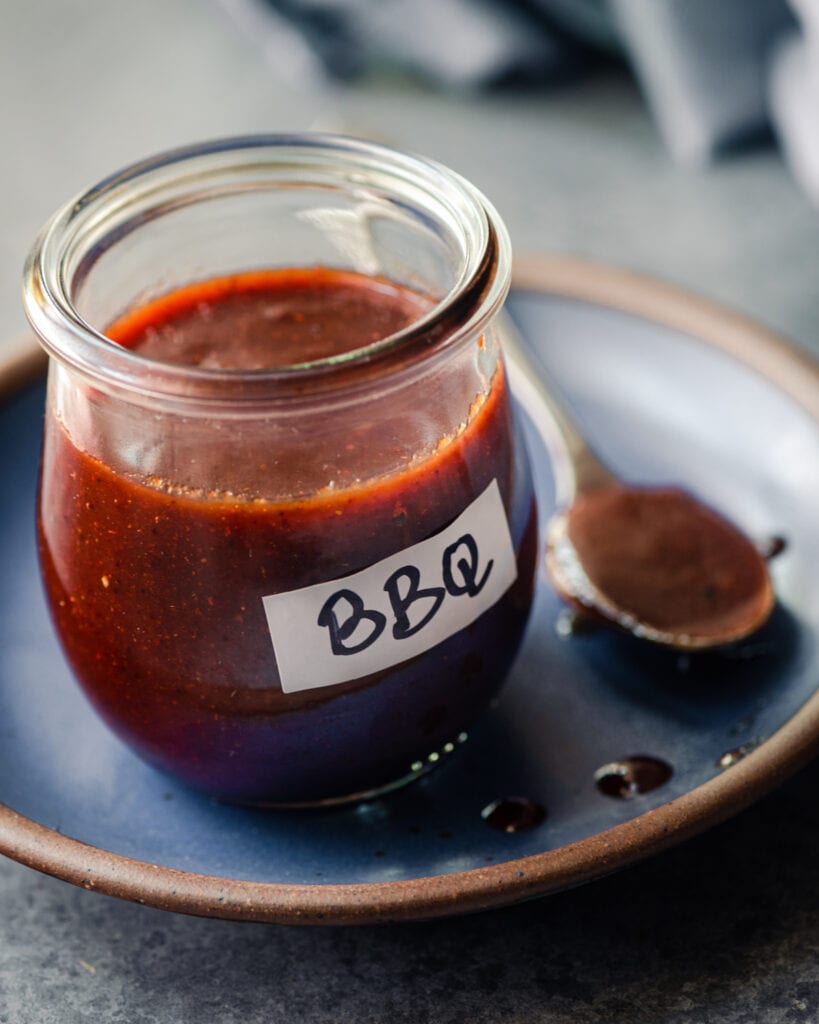 How to make vegan BBQ sauce
Plop your organic ketchup in a mixing bowl.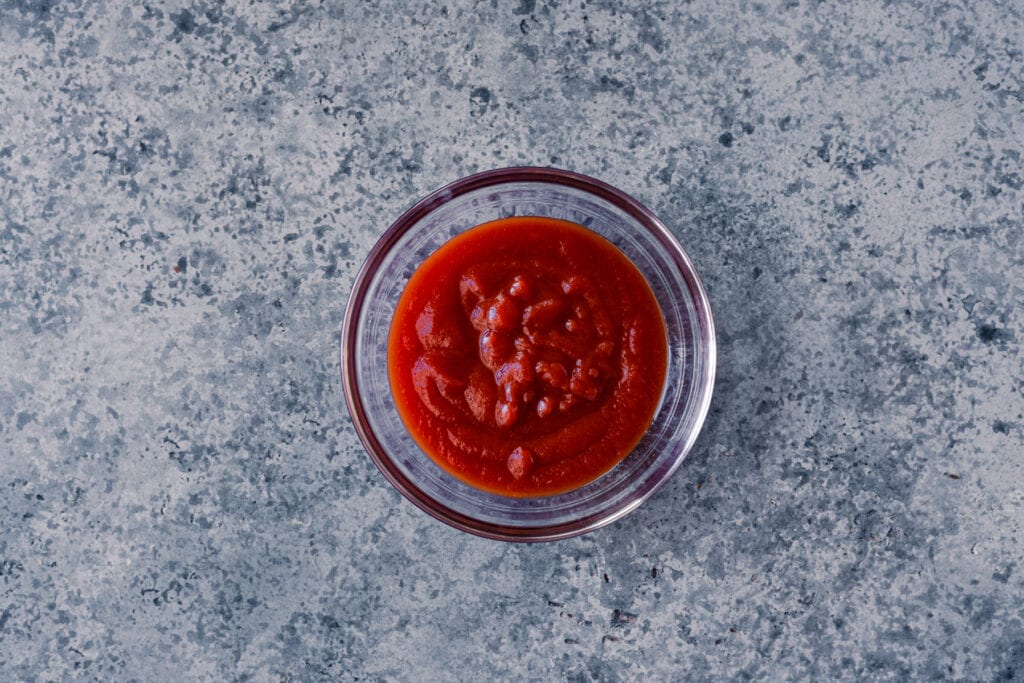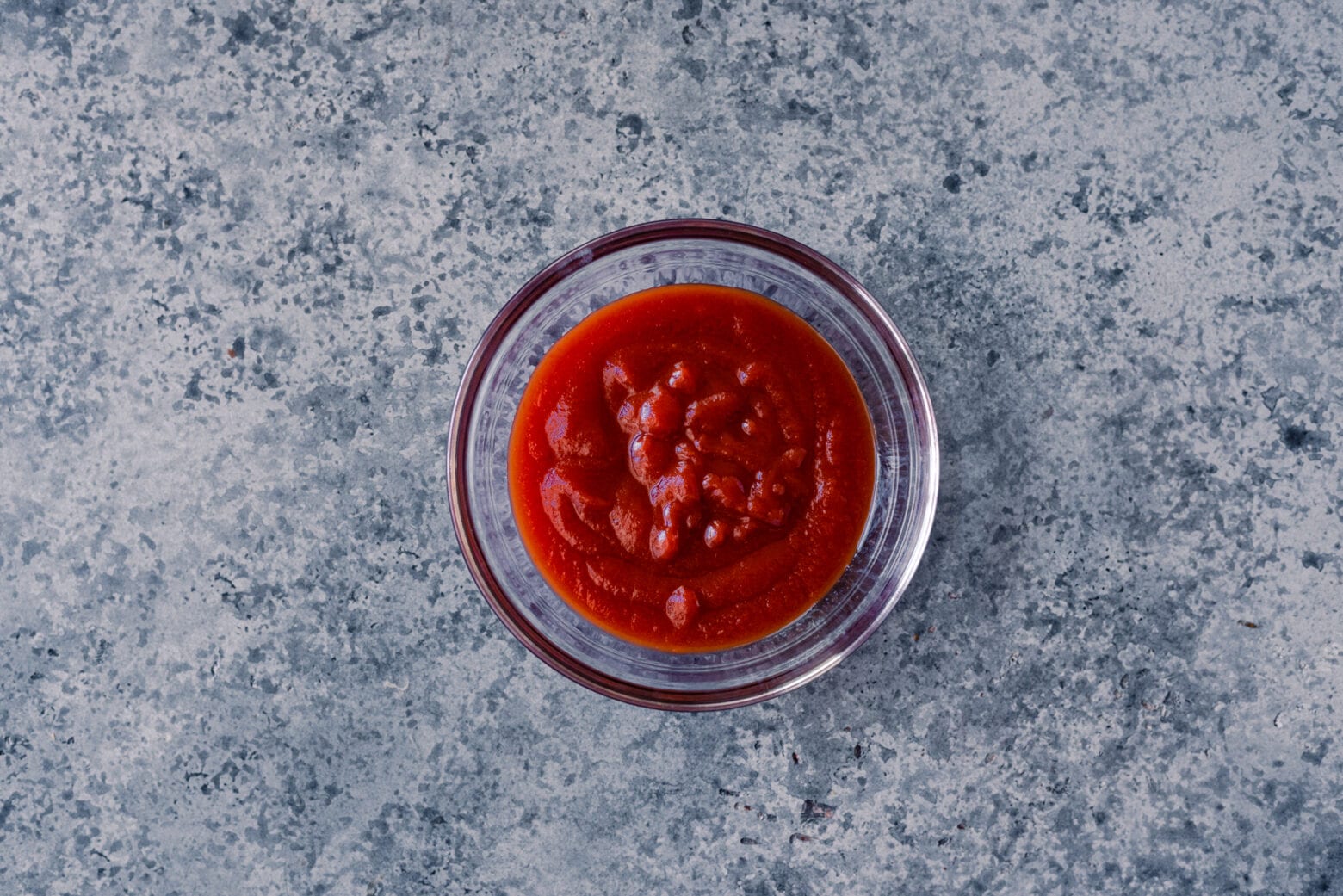 Pour in the soy sauce or tamari, vinegar, maple syrup, molasses, vegan Worcestershire sauce, and liquid smoke. Add the BBQ spice blend.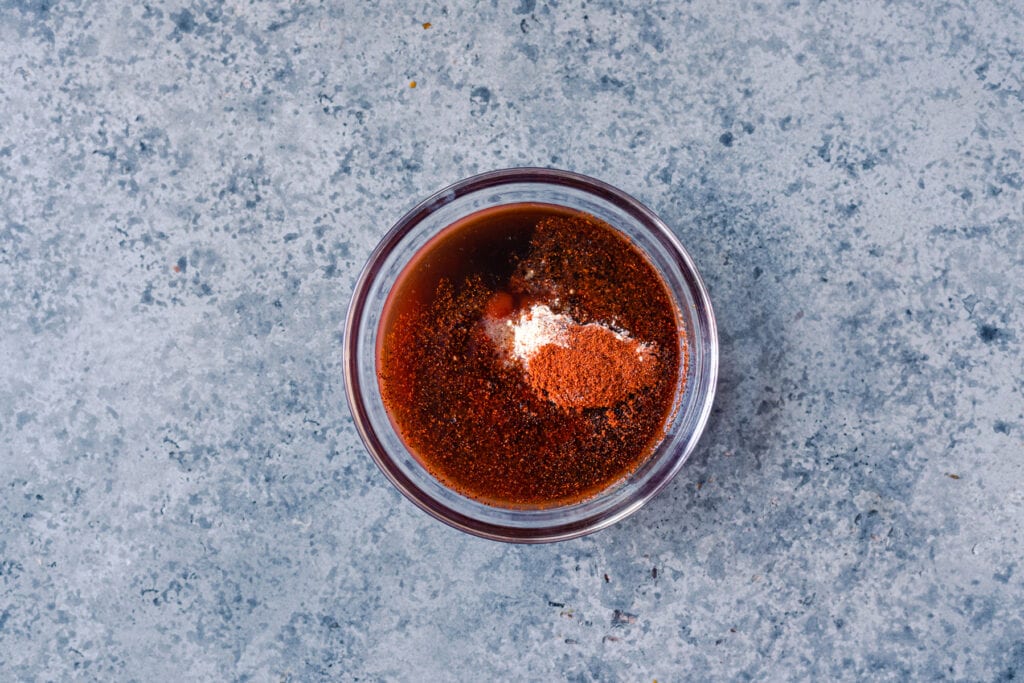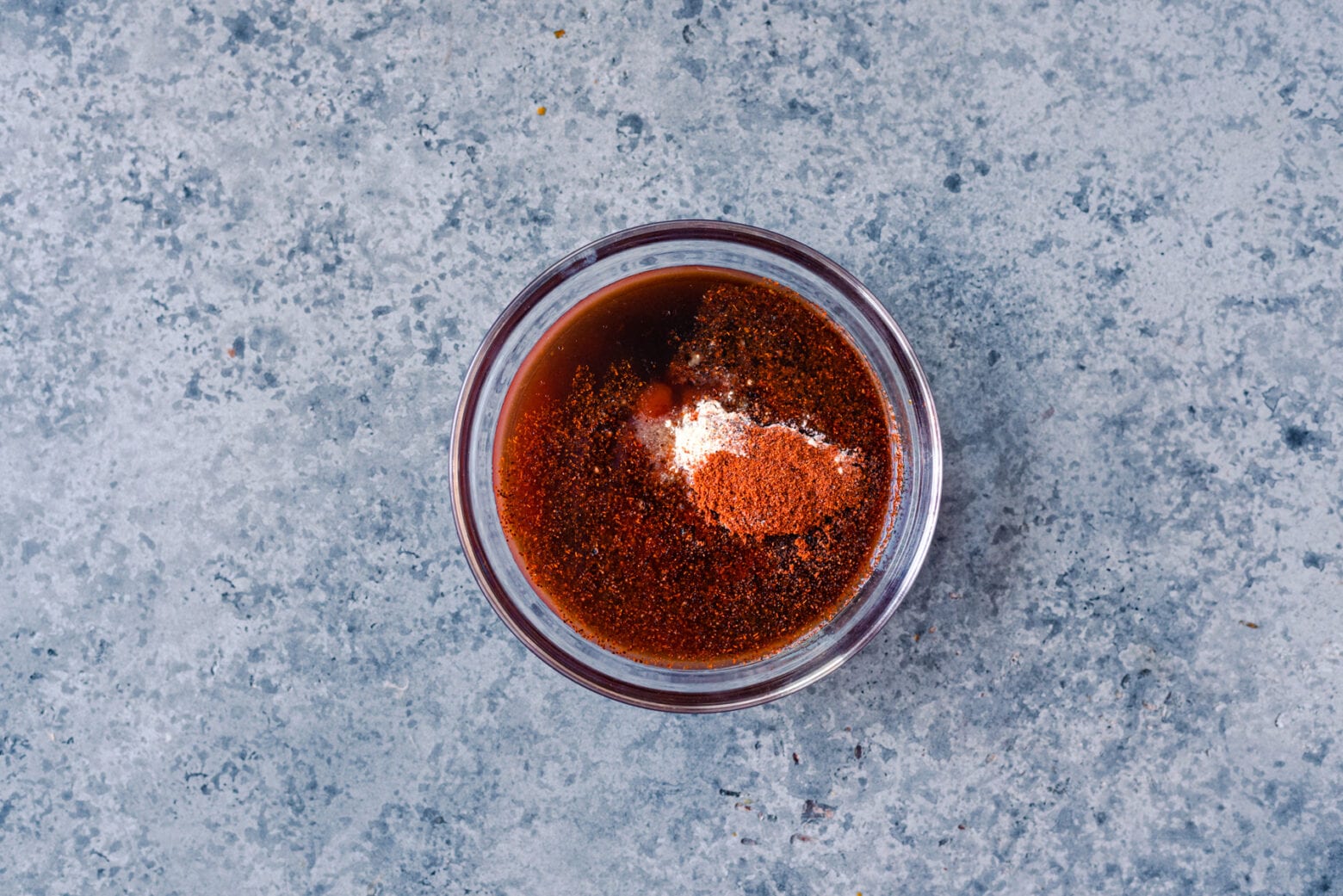 Whisk the ingredients to combine. Add the sauce to a saucepan or small frying pan and heat through for 5 minutes. That's it!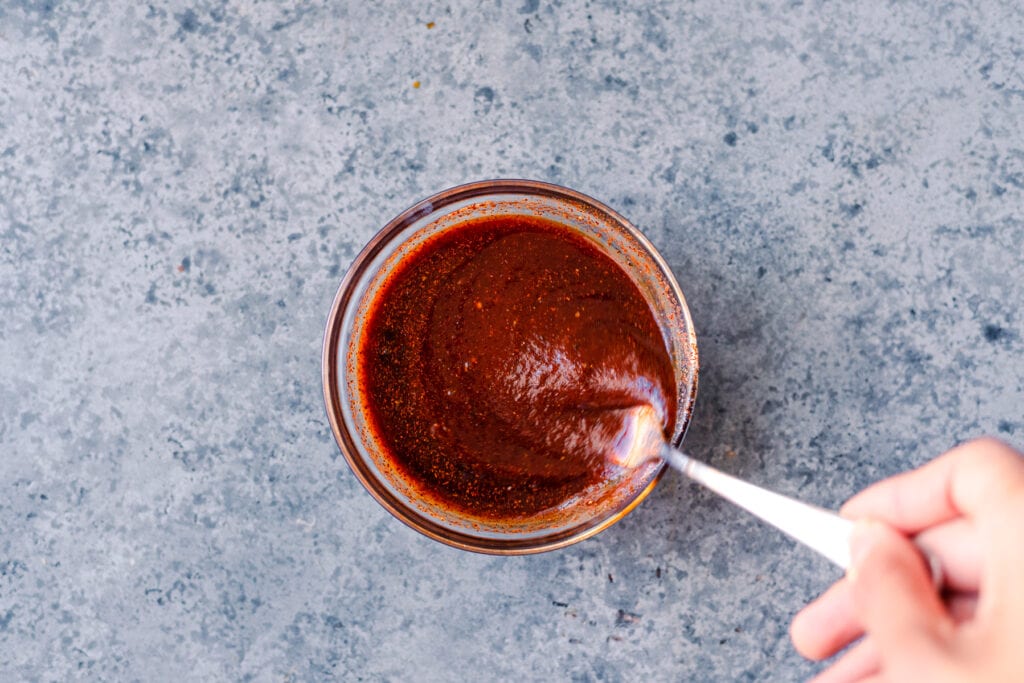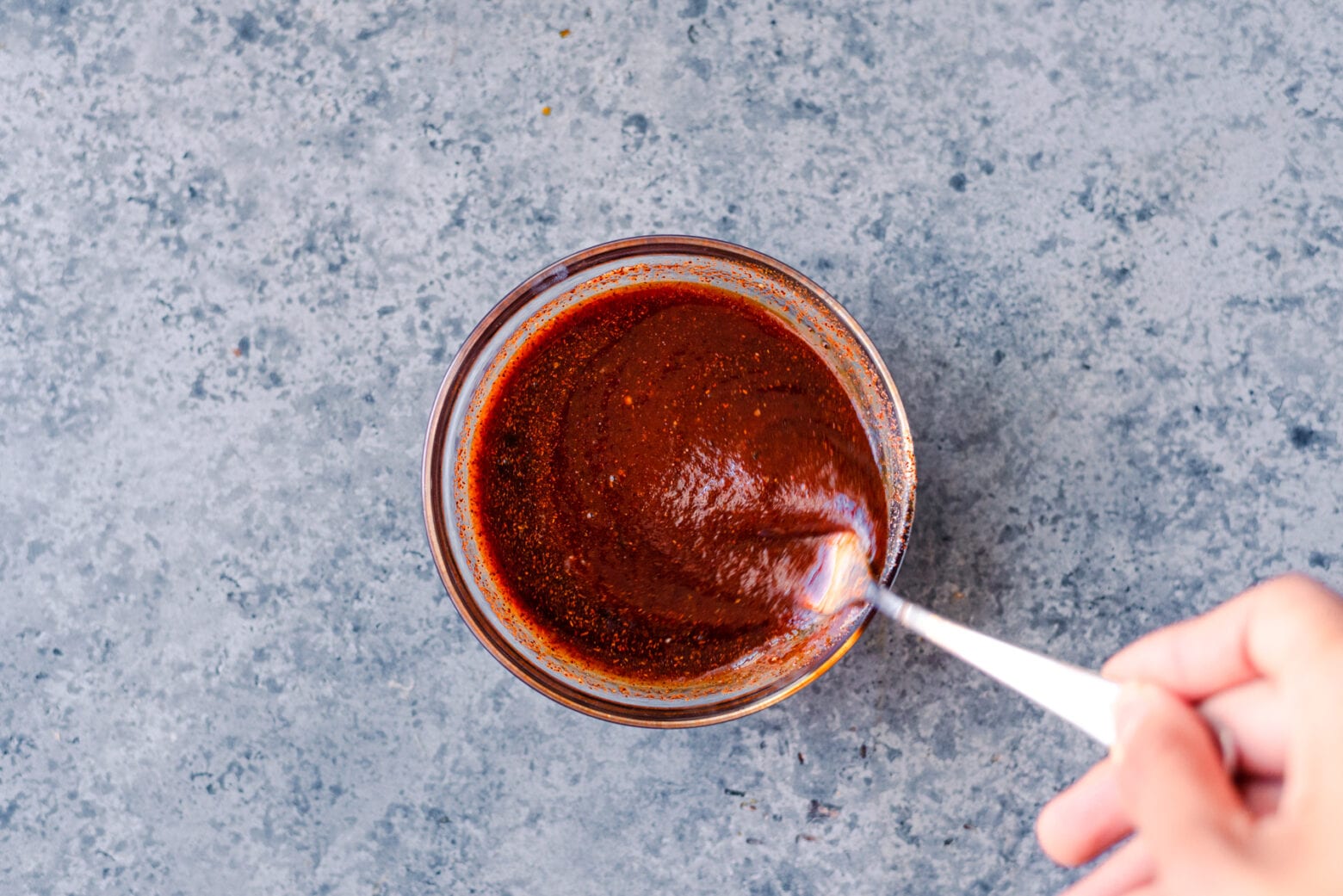 How to thicken BBQ sauce
The recipe calls for simmering the sauce for about 5 minutes. This will slightly thicken it, but if you want a thicker texture, here are two methods.
Simmer the BBQ sauce over low heat for 10 to 15 minutes, stirring often (at least once a minute), until the water evaporates and the sauce nicely coats the back of a spoon.
For an even thicker sauce, use a thickening agent like cornstarch or arrowroot powder. First, heat the BBQ sauce on the stove until simmering. Mix together 1 1/2 tablespoons arrowroot powder or cornstarch with 3 tablespoons cold water. Whisk well to create a slurry. Pour the slurry into the simmering sauce, whisking until thickened. It should only take 1 to 2 minutes.
Note: the sauce will also thicken a bit after resting in the fridge. And depending on how you use the sauce, you might not need to thicken it at all. In this BBQ Glazed Tempeh LINK, I don't thicken it at all and it works great (the sauce also thickens as it coats the tempeh).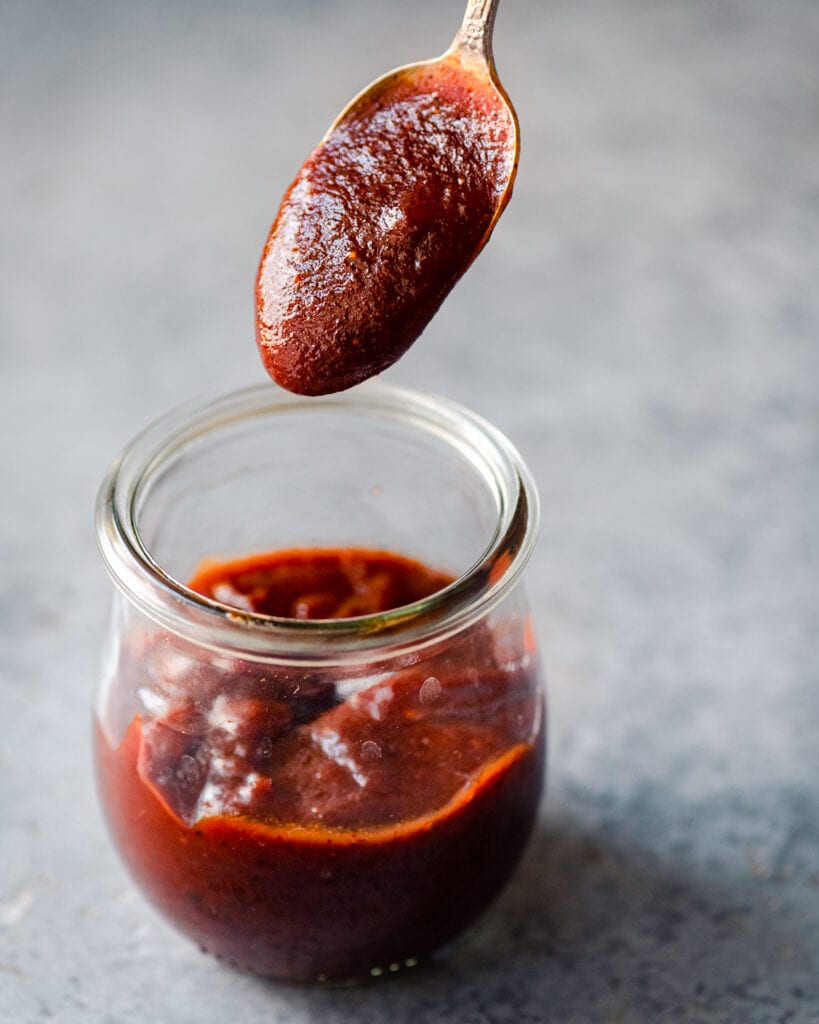 Ingredient Notes and Substitutions
To make this BBQ sauce gluten-free, (1) use tamari (gluten-free soy sauce) instead of soy sauce and (2) omit the vegan Worcestershire sauce (most vegan Worcestershire sauces contain wheat). If omitting the Worcestershire, taste and add a bit more soy sauce or a couple pinches of salt as needed.
There is, however, at least one vegan and gluten-free Worcestershire sauce I've seen online. Or, you can try my homemade vegan and gluten-free Worcestershire sauce (see the next section).
If you can't find liquid smoke, use more smoked paprika. Start with an extra 1/2 teaspoon and work your way up to 1 1/2 teaspoons, as needed.
I prefer using organic ketchup because some standard ketchup brands use high fructose corn syrup and others that use conventional sugar may not be vegan. Annie's organic ketchup is pretty great.
If you want some extra heat and smokiness in your sauce, add 1 or 2 chipotle peppers in adobo sauce (finely minced, so it blends into the BBQ sauce); or just add a teaspoon or two of the adobo sauce. Or, try 1/4 to 1/2 teaspoon of chipotle chili flakes.
If you can't find vegan Worcestershire sauce, (1) omit it or (2) try my very easy homemade recipe (it's below). I have used Annie's vegan Worcestershire sauce and the Whole Foods 365 vegan Worcestershire sauce with great results. Other vegan Worcestershire sauce brands include Sprouts, Simple Truth, and O Organics.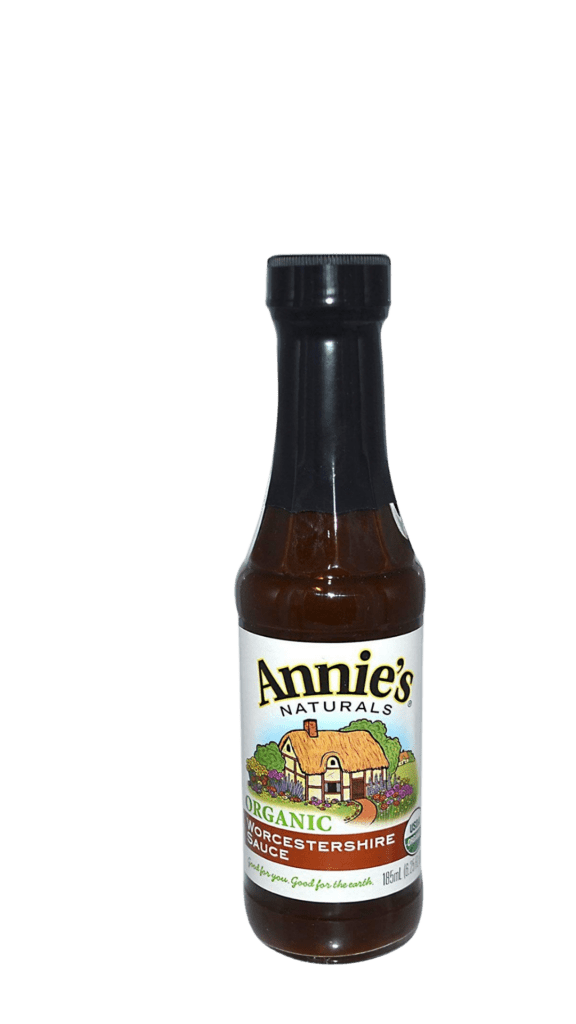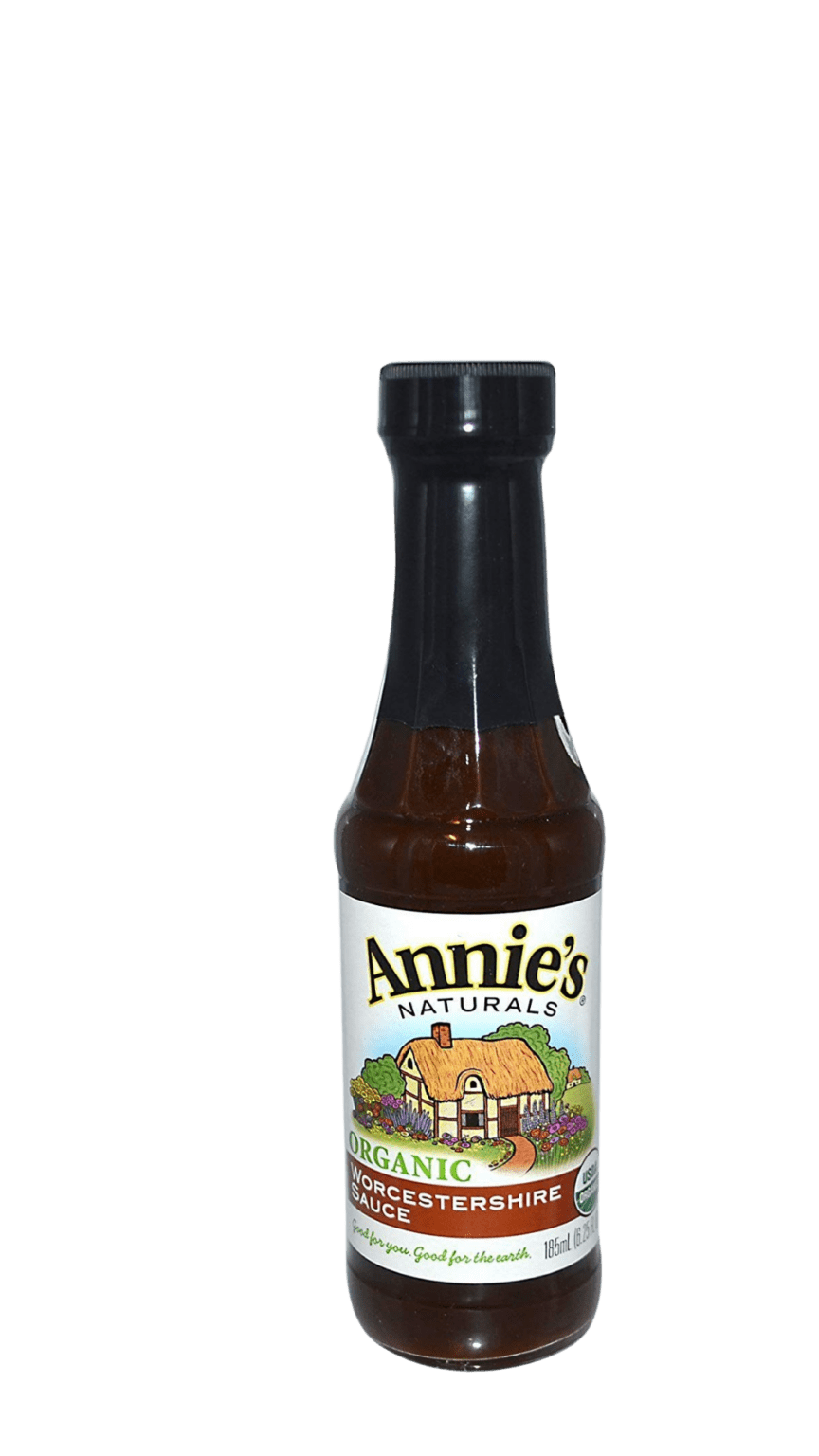 This is one of the vegan Worcestershire sauces I love using. Tangy, umami, and nicely spiced.
How to make vegan Worcestershire sauce
This recipe is vegan and gluten-free and comes from my cookbook, The Vegan Instant Pot Cookbook!
Makes about 1/3 cup
3/4 cup apple cider vinegar
3 tablespoons organic brown sugar
1/3 cup reduced-sodium tamari or soy sauce
3/4 teaspoon onion powder
1/4 teaspoon ground cloves
1/4 teaspoon ground cinnamon
1/2 teaspoon freshly cracked black pepper
Add all of the ingredients to a medium saucepan over medium-high heat. Bring to a boil, then reduce he heat to medium-low and simmer until the sauce has reduced by nearly half and has thickened considerably, 15 to 20 minutes. Store leftovers in a covered glass jar for up to 3 months.
Ideas for using BBQ sauce
Here's how to make delicious BBQ grilled tofu.
Slice a 14-ounce or 16-ounce block of extra-firm tofu, crosswise, into ⅓-inch slabs. Arrange on a cutting board add a few paper towels on top. Weight with a heavy cookbook and press for 15 minutes.
Transfer tofu to a shallow dish. Pour 3/4 cup of the BBQ on top, using a pastry brush to evenly coat it. Marinate 15-30 minutes at room temperature, or up to 1 hour in the fridge. Set aside 1/4 to 1/2 cup more sauce for grilling.
Preheat a gas grill (between medium and medium-high) with the lid on for at least 10 minutes to get really hot. Scrub down grates with a heavy-duty grill brush to remove any gunk.
Set a small bowl with a few tablespoons of oil near the grill and oil up a wad of paper towels. Use tongs to rub the preheated grill grates with the oil-soaked towels. Let the oil smoke for 30 to 40 seconds, then rub with oil again. Repeat three times total to build up a good layer of seasoning.
As soon as you add the tofu, turn the burners directly under the tofu to low heat and close the lid. Grill for 8 to 10 minutes, or until nice grill marks form. Carefully flip tofu and grill for another 7 to 10 minutes. Brush reserved BBQ sauce on the tofu as it grills. Take off the grill and brush with more sauce.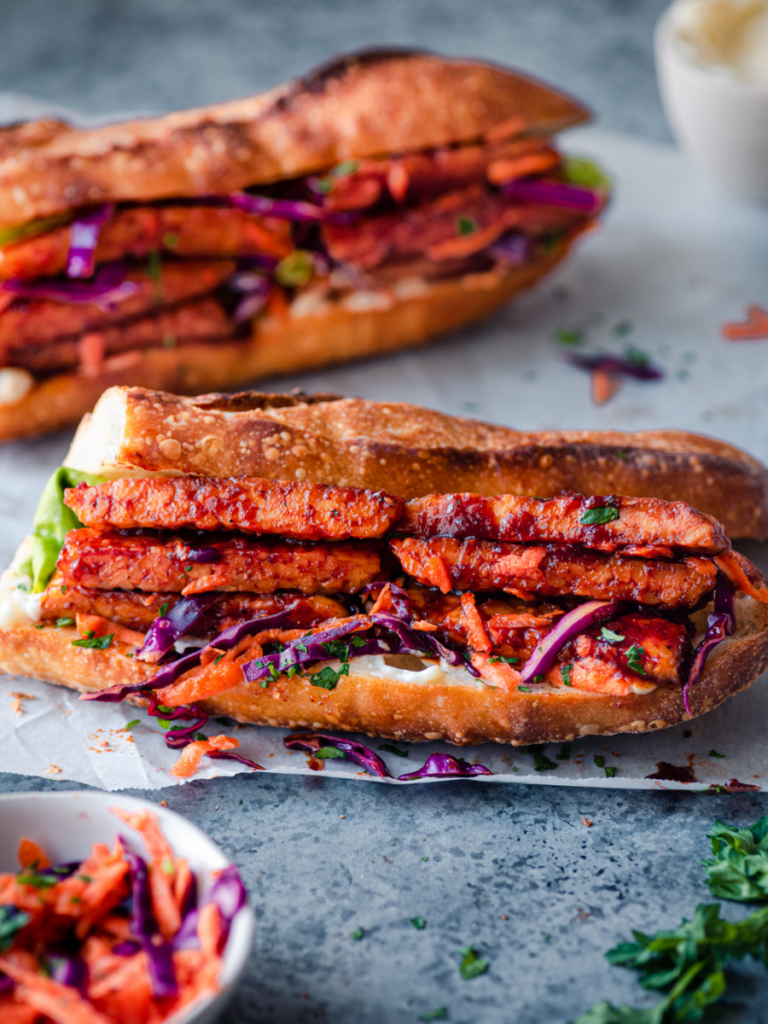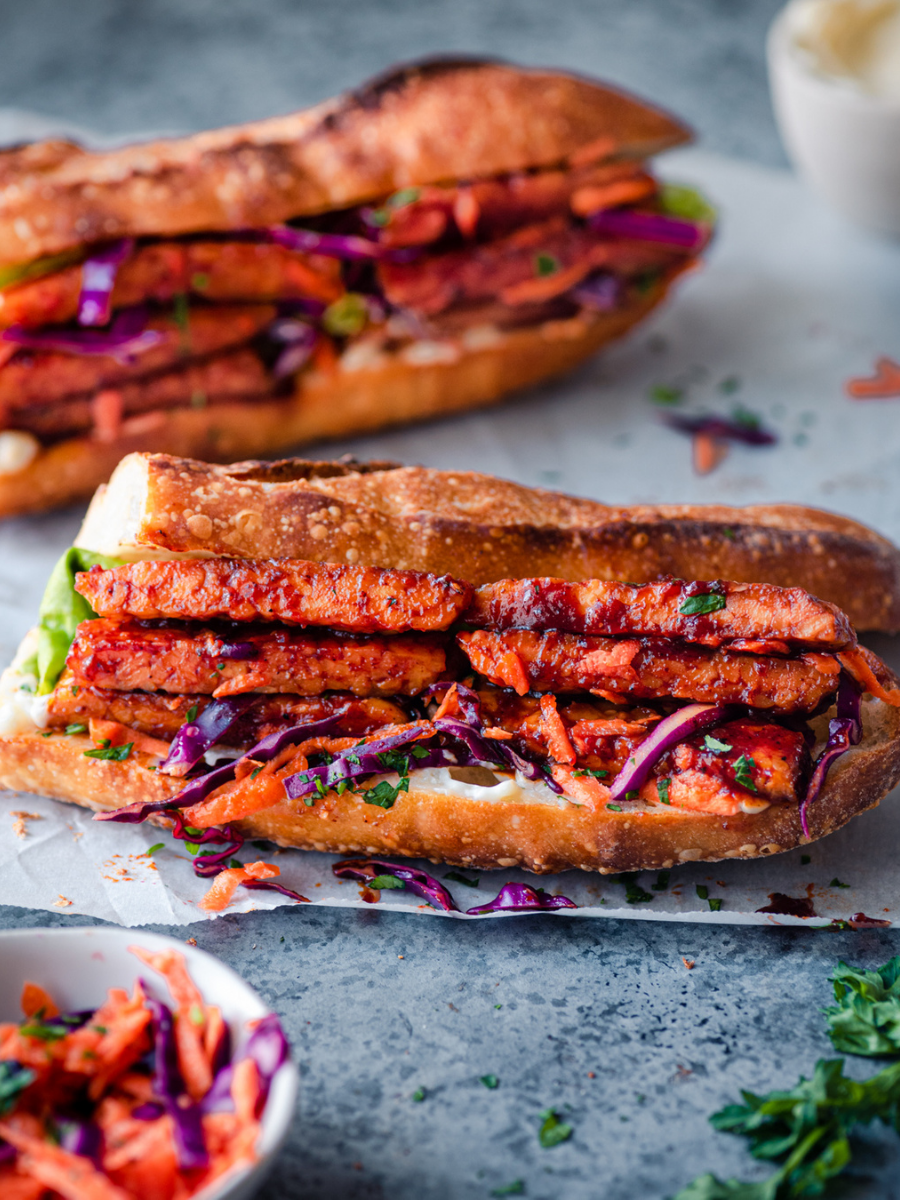 Use it to make BBQ Glazed Tempeh!
I also love using this BBQ sauce for my BBQ Glazed Tempeh LINK. It's a fantastic way to take nutrient-rich tempeh from meh to amazing. You can serve the BBQ tempeh in a sandwich (I layer mine with vegan mayo, lettuce, and a quick carrot-cabbage slaw). Or in an epic grain bowl/salad with vegan ranch dressing!
You can serve BBQ tofu or BBQ tempeh at your next cookout. It's fantastic paired with this Herbed Potato Salad! Or, if it's winter time, try pairing either with this Crispy Baked Mac and Cheese or Miso Butter Mashed Potatoes.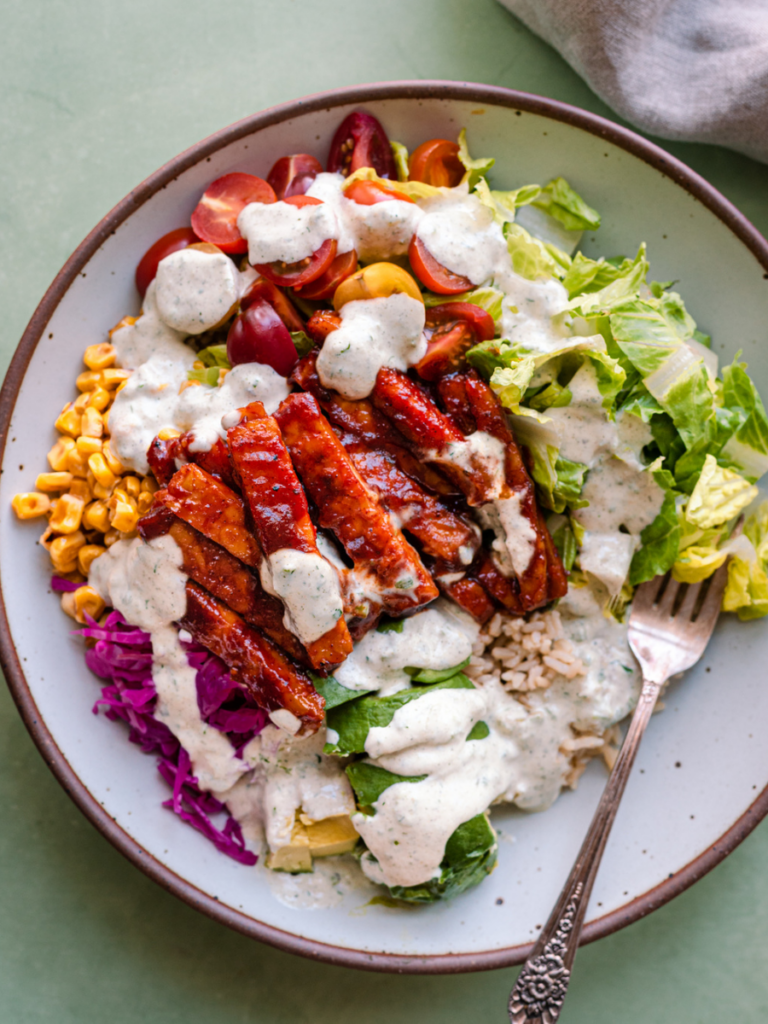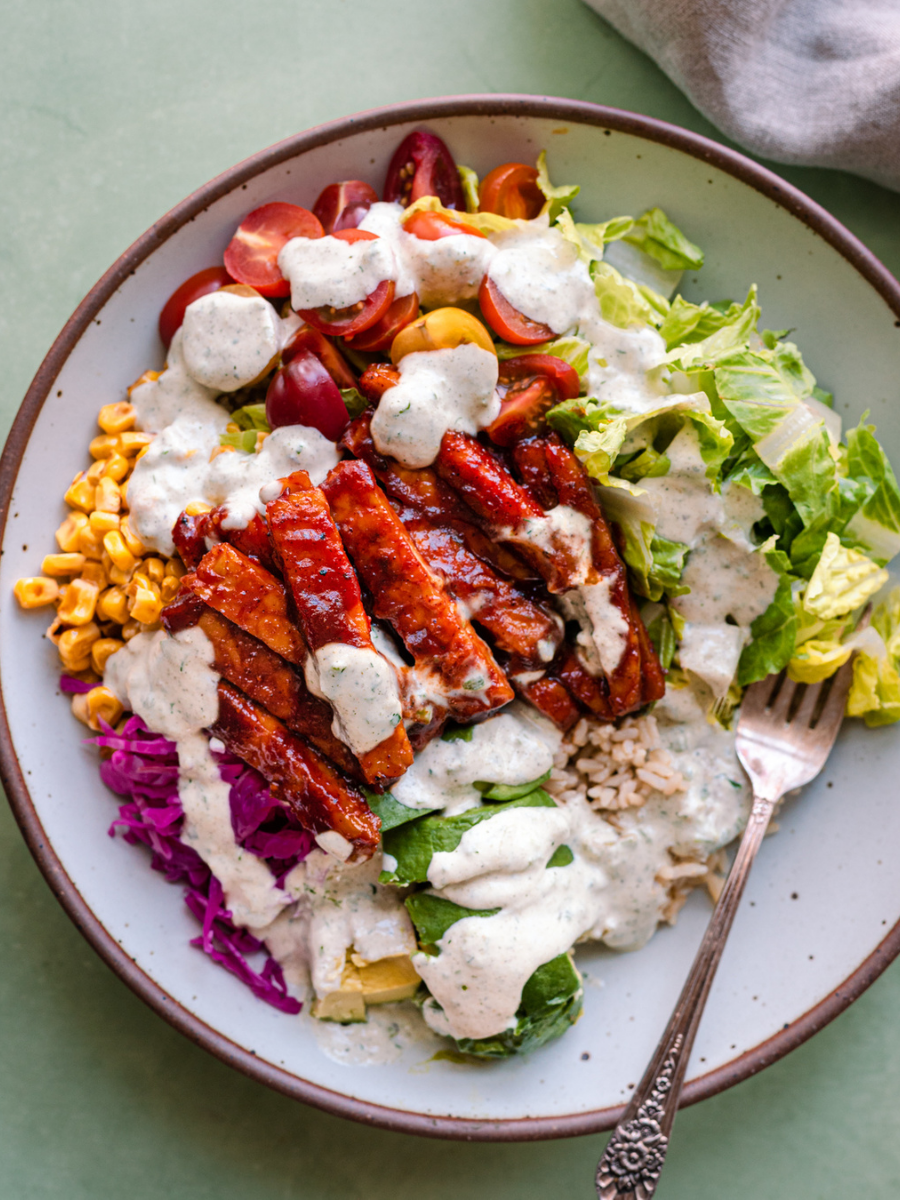 That's all you need to know to make this easy but delicious vegan Barbecue Sauce! Enjoy xo.
Vegan BBQ Sauce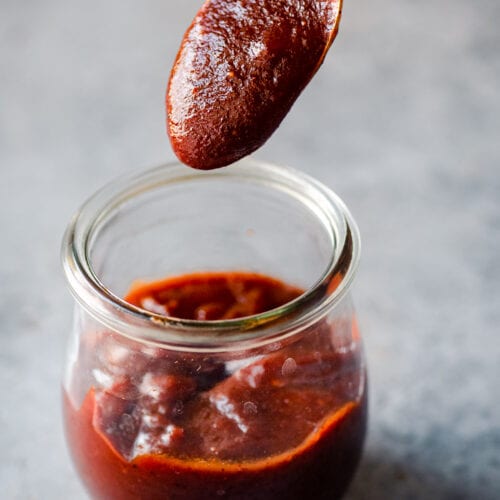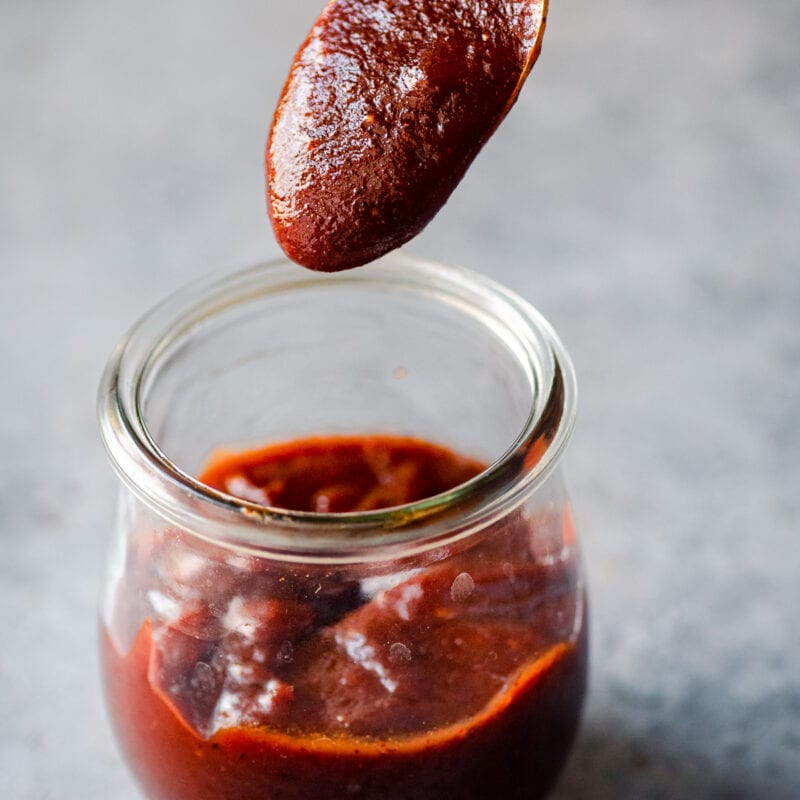 This vegan BBQ sauce is perfectly sweet yet tangy, smoky, and a little spicy. It's simple to make and tastes just like your favorite bottled BBQ sauce. Plus, it's ready in just 10 minutes!
Ingredients
1

cup

(275-280g) organic ketchup

4

tablespoons

(80g ) maple syrup

3

tablespoons

apple cider vinegar

2

tablespoons

soy sauce or tamari

2

tablespoons

molasses

1

tablespoon

vegan Worcestershire sauce*

1

tablespoon

liquid smoke**
BBQ Spice Blend
1 1/2

teaspoons

smoked paprika

1 1/2

teaspoon

chili powder

3/4

teaspoon

black pepper

Heaping 1/4

teaspoon

onion powder

Heaping 1/4

teaspoon

garlic powder

⅛

teaspoon

cayenne pepper

(optional)
Optional Thickening
1 1/2

tablespoons

arrowroot powder (or cornstarch)

3

tablespoons

cold water
Instructions
Add all of the ingredients to a mixing bowl. Whisk well to combine. Taste, adding a pinch of salt or pepper as needed. For more sweetness, add a bit more maple syrup. For more smokiness, add a few drops more of liquid smoke or a few dashes of smoked paprika.

Transfer the BBQ sauce to a small frying pan and simmer for 3 to 5 minutes, stirring at least once a minute.***

Take off the heat. Once cool, transfer to an airtight jar and refrigerate. It will thicken as it chills. Store for 2 to 3 months (yes, months is right; the high acidity content keeps it fresh).

To thicken the sauce even more, whisk together arrowroot powder and cold water until smooth and no clumps remain. Add the slurry to the simmering sauce (from step 2) and whisk frequently for 1-2 minutes, or until the sauce is thickened. Take off the heat (don't let it keep simmering, or the arrowroot powder can start to congeal).
Notes
*See the "ingredients and substitutions" section in the blog post for vegan-friendly Worcestershire sauce brands. Or, try my homemade blend (included in the blog post). 
** If you don't have liquid smoke, add more smoked paprika. Start with an additional 1/2 teaspoon and use up to 1 1/2 teaspoons. 
*** If you are making the BBQ Tempeh recipe, you do not need to simmer the sauce for this long. Just 1-2 minutes is fine. 
---
Calories:
57
kcal
|
Carbohydrates:
14
g
|
Protein:
1
g
|
Fat:
0.1
g
|
Saturated Fat:
0.02
g
|
Polyunsaturated Fat:
0.1
g
|
Monounsaturated Fat:
0.02
g
|
Sodium:
305
mg
|
Potassium:
157
mg
|
Fiber:
0.3
g
|
Sugar:
11
g
|
Vitamin A:
310
IU
|
Vitamin C:
1
mg
|
Calcium:
22
mg
|
Iron:
0.5
mg