This vegan potato salad is guaranteed to make you the star of your next summer BBQ or potluck.
It feels funny to write that because, well, I used to hate potato salad. The potato salad I grew up on was dowsed in gloopy mayonnaise, served out of industrial-sized plastic buckets at school events and fundraisers. Yuck.
But, here I am, two decades later, sharing a potato salad recipe that I genuinely love. It features perfectly cooked baby potatoes coated in an incredibly creamy dressing that's tangy and packed with so many fun flavors. Plus, despite being made without mayo, it's perfectly creamy and indulgent while still being pretty wholesome.
Table of Contents
1. Why you'll love this recipe
2. Ingredient Notes
3. Step-by-step instructions
4. Tips for making this recipe
5. Frequently asked questions
6. Recipe Card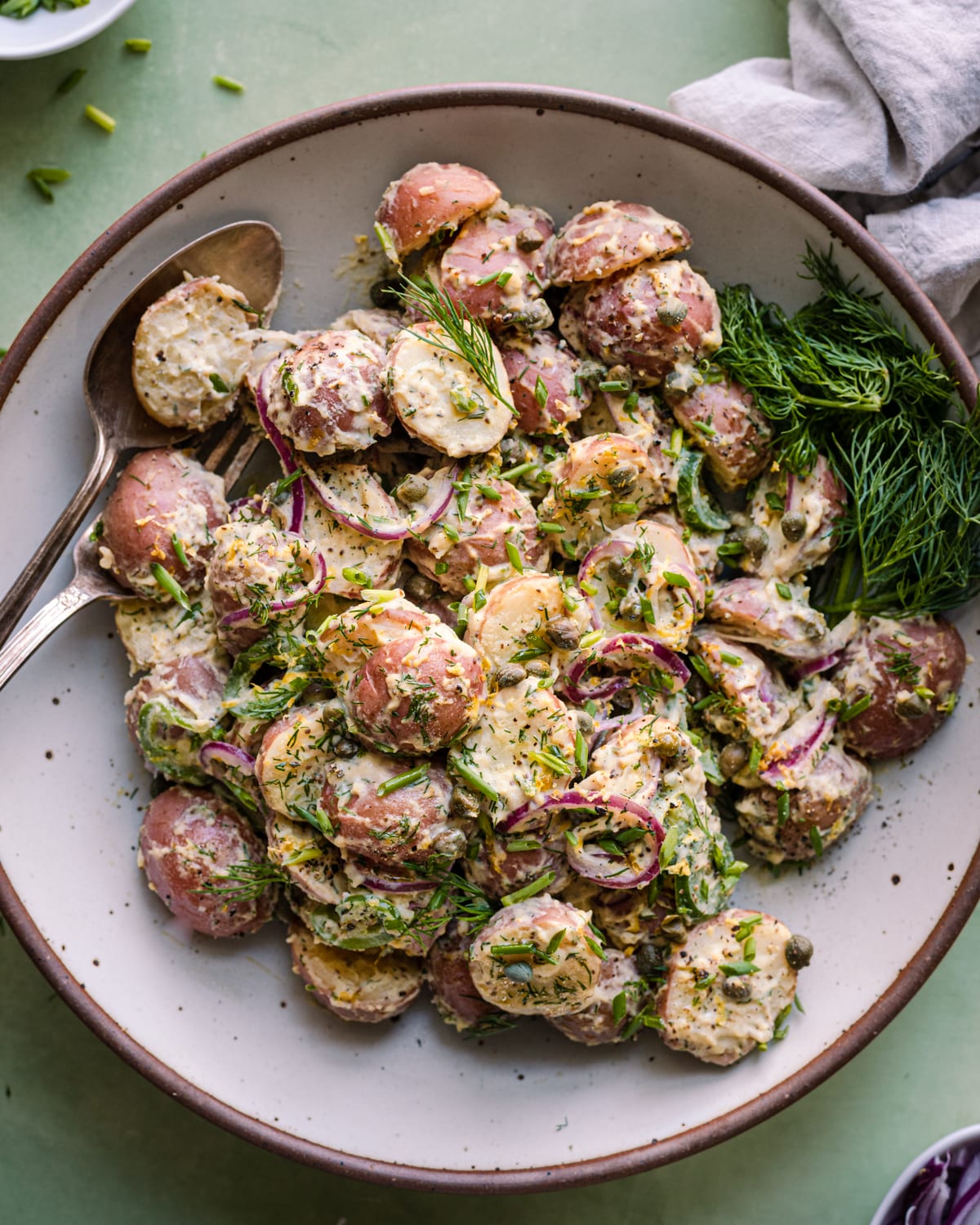 Why you'll love this recipe
Replacing mayonnaise with something better. If you grew up in the United States, you probably have at least one childhood memory of a repulsive potato salad drenched in mayonnaise.
Here, that's not a problem because mayo is replaced by a combination of tahini and coconut yogurt, two plant-based superstar ingredients. They add creaminess and flavor without weighing the potatoes down. The result is a potato salad that's not only unbelievably delicious, but also gluten-free, soy-free, nut-free, and without added oil.
Way more flavorful than classic potato salad. A traditional potato salad always felt lacking in flavor to me (perhaps, I couldn't taste the flavors because all I picked up was copious amounts of mayo). So, I carefully crafted this recipe to add lots of punchy and fun flavors.
It's tangy from two kinds of mustard as well as capers, fresh and citrusy thanks to lots of dill and lemon, sharp from red onions and chives, earthy and vegetal from celery seeds, and has a unique kick thanks to jalapeño peppers.
Summer perfect and easy. Potato salad is a quintessential summer recipe, and I promise that one bite of this recipe will bring the taste of summer. Bring it potlucks, barbecues, and picnics! Plus, it's easy to make ahead of time and can be made in 30 minutes.
For more perfect-for-summer non-traditional salads, be sure to try my Actually Good Quinoa Salad, Vegan Pasta Salad, Roasted Beet and Fennel Salad, Spicy Korean Cucumber Salad, or Charred Corn Salad with White Beans.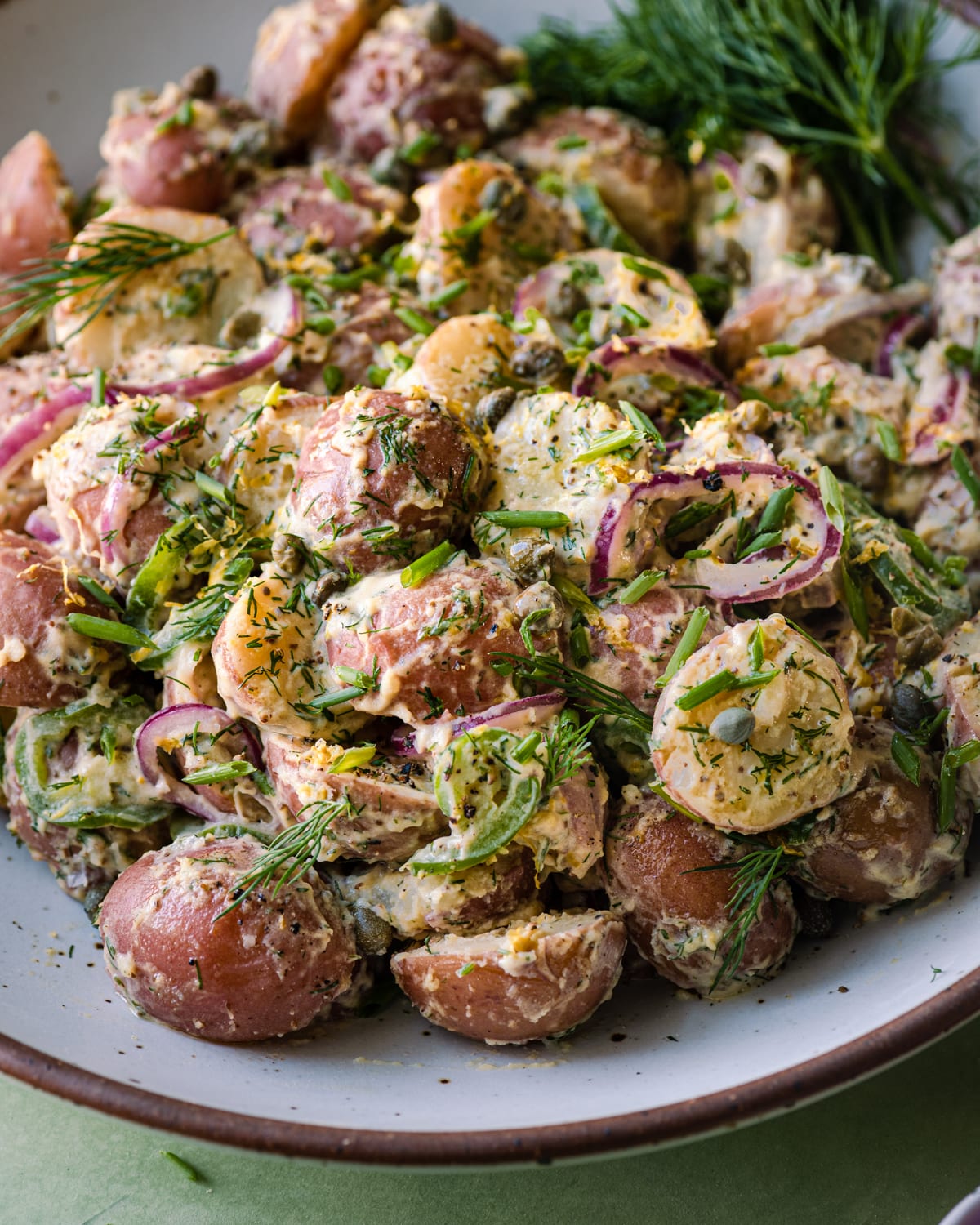 Ingredient Notes and Substitutions
This ingredient list for this vegan potato salad deviates from the standard gloopy mayo-based potato salad in a few important ways.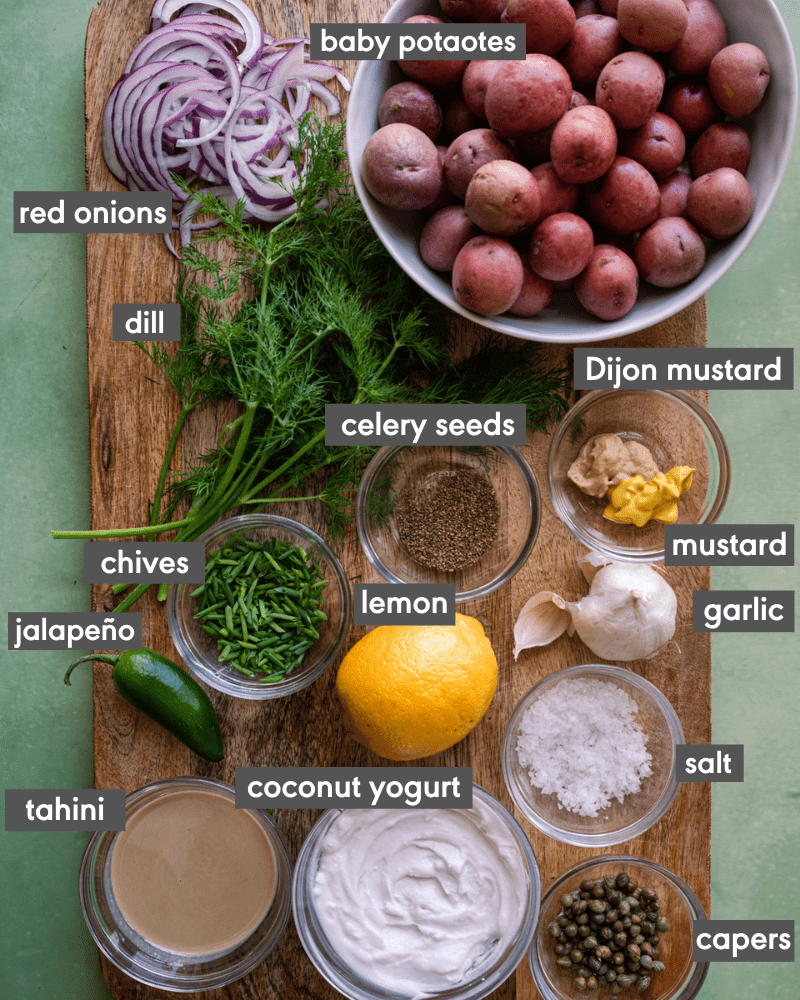 Red potatoes. A waxy, thin skinned potato works best here. Their small size mean they cook quickly and they hold their shape well. See the Tips section for alternatives and additional detail.
Tahini. Tahini adds a creamy and slightly nutty flavor to the potato salad, enhancing its richness and depth. My preferred brands are Soom Tahini, Seed + Mill, Beirut Tahini Sesame Paste, and Baron's (affiliate links).
Unsweetened coconut yogurt: Coconut yogurt provides a delightfully tangy taste. I recommend using the best variety you can find, as it's a key ingredient. My favorite coconut yogurts are thick and tangy: CocoJune, Culina, and GT's CocoYo. And this should be obvious, but you need to use a plain, unsweetened variety (no one wants raspberry-flavored potato salad!
Substitute: If you can't find a good-quality plain coconut yogurt, you can use use vegan sour cream. My preferred brands are Kite Hill Foods and Tofutti. If using sour cream, you'll likely need to use less lemon juice and salt.
Mustard. Dijon mustard and yellow mustard combine to lend a sharp and tangy flavor, which helps to balance the richness of the other ingredients.
Celery seeds. Celery seeds contribute a subtle and slightly bitter flavor, reminiscent of celery, which complements the other ingredients and adds a pleasant herbal note.
Fresh dill leaves. Fresh dill leaves offer a fresh and herbaceous taste, bringing a unique and vibrant flavor to the potato salad. I know not everyone is a huge fan of dill. If you're not, substitute with flat-leaf parsley or just use less.
Capers and caper brine. They add tangy and briny flavor, providing a unique and slightly acidic taste that complements the other ingredients.
Substitute: Don't have capers? You can substitute them with 1 finely chopped dill pickle and 1 to 2 tablespoons of the pickle juice.
Jalapeño pepper (optional). If included, jalapeño pepper adds a spicy kick to the salad, balancing the flavors with its heat.
Step-by-step instructions
Cut small potatoes in half (larger potatoes in chunks) and cover with cold water; season with salt. Simmer just until tender – a fork pierced into the potatoes should offer the slightest bit of resistance. Drain the potatoes and rest in the colander for 5 minutes to dry out but keep warm.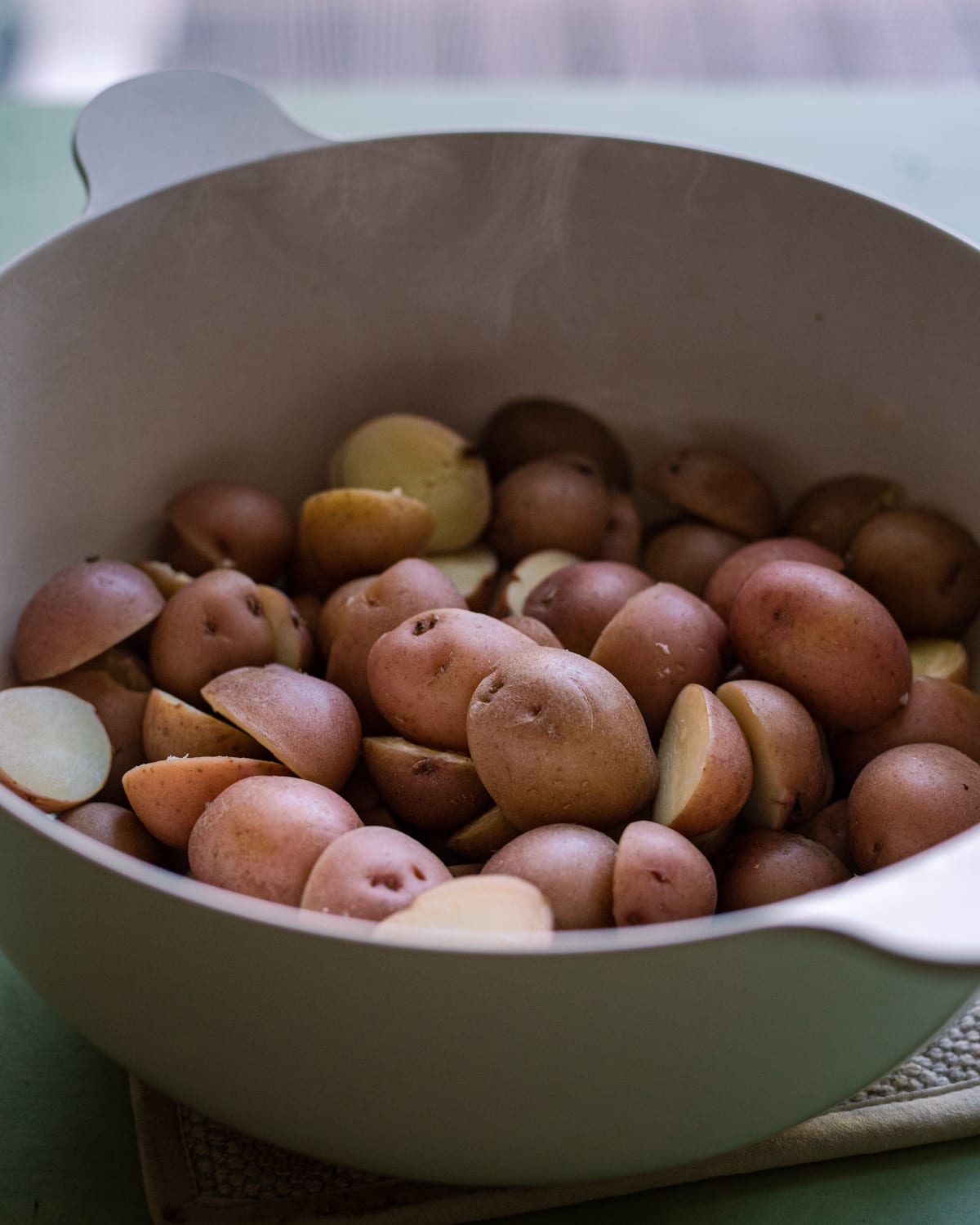 Meanwhile, make the dressing. Whisk together the tahini, coconut yogurt, and mustards.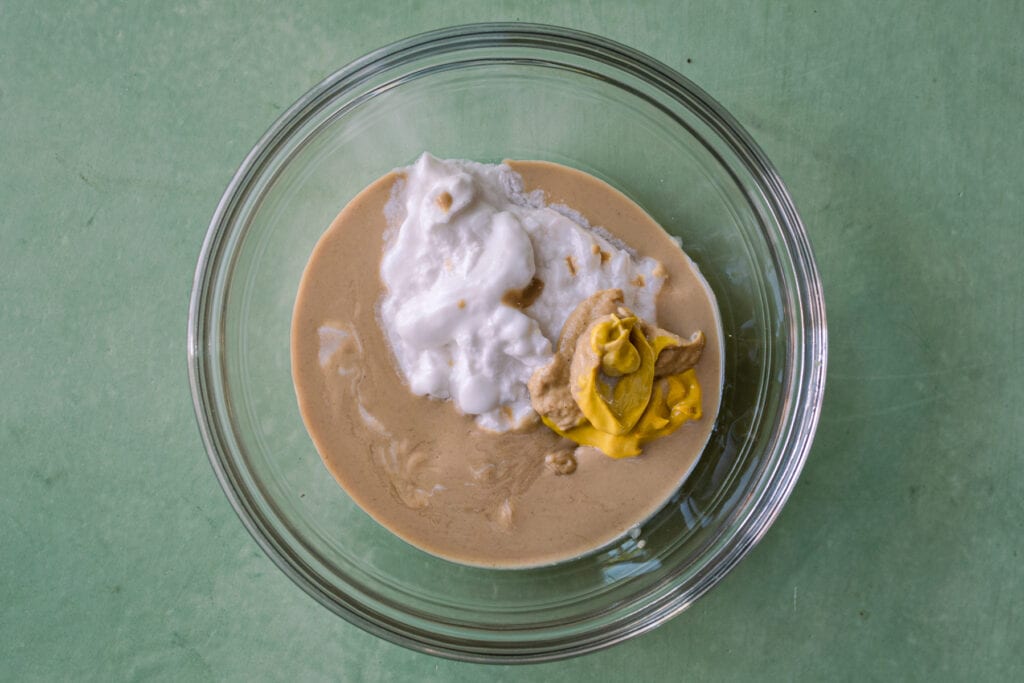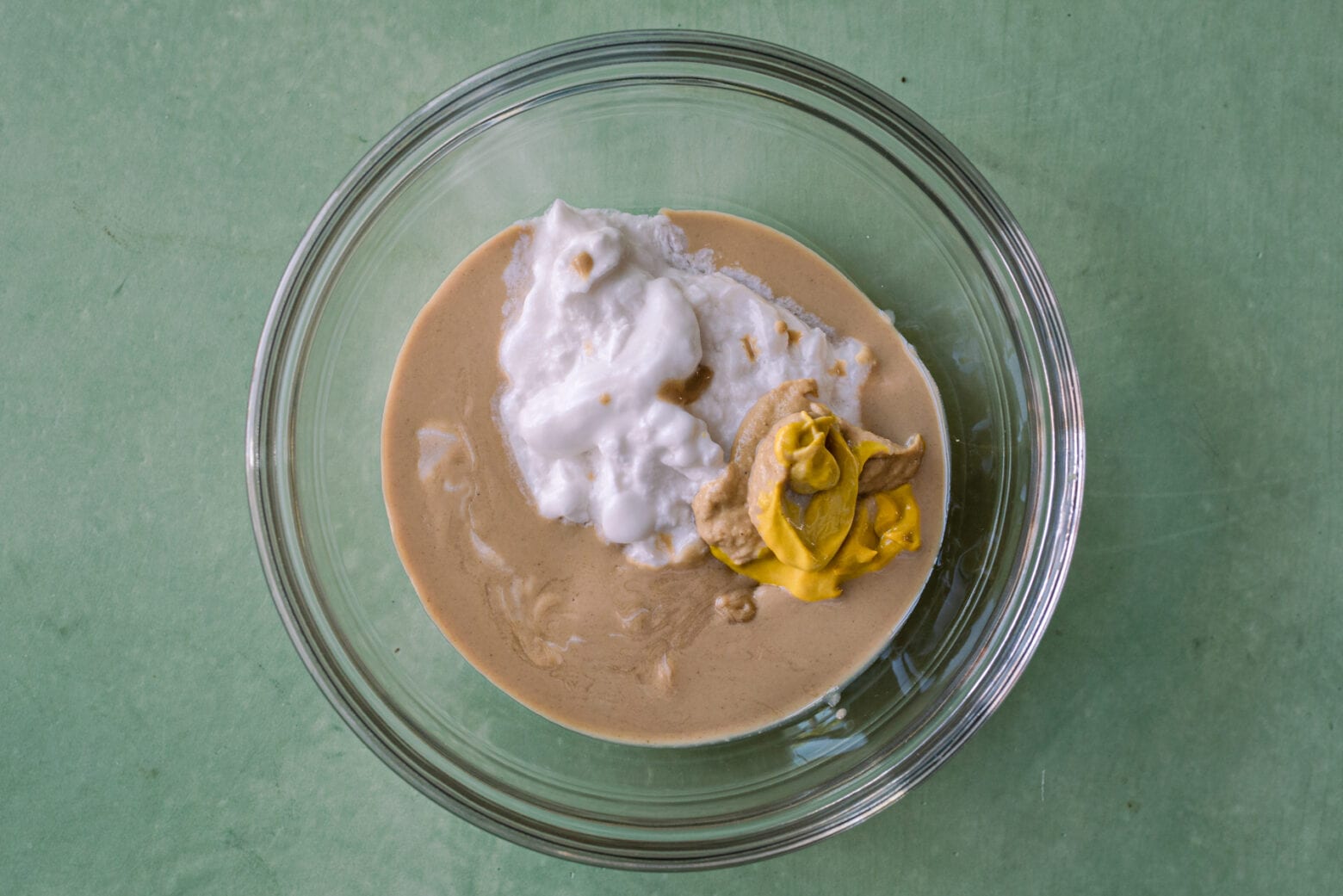 Add in the garlic, lemon zest and juice, celery seeds, caper brine, salt and pepper. Whisk the dressing until well combined.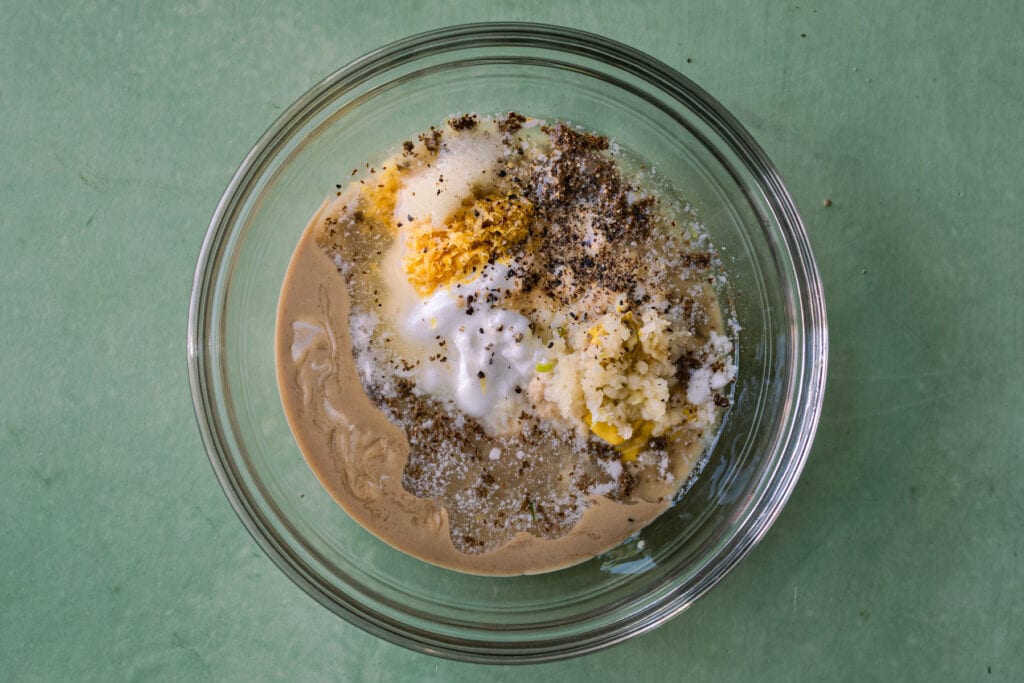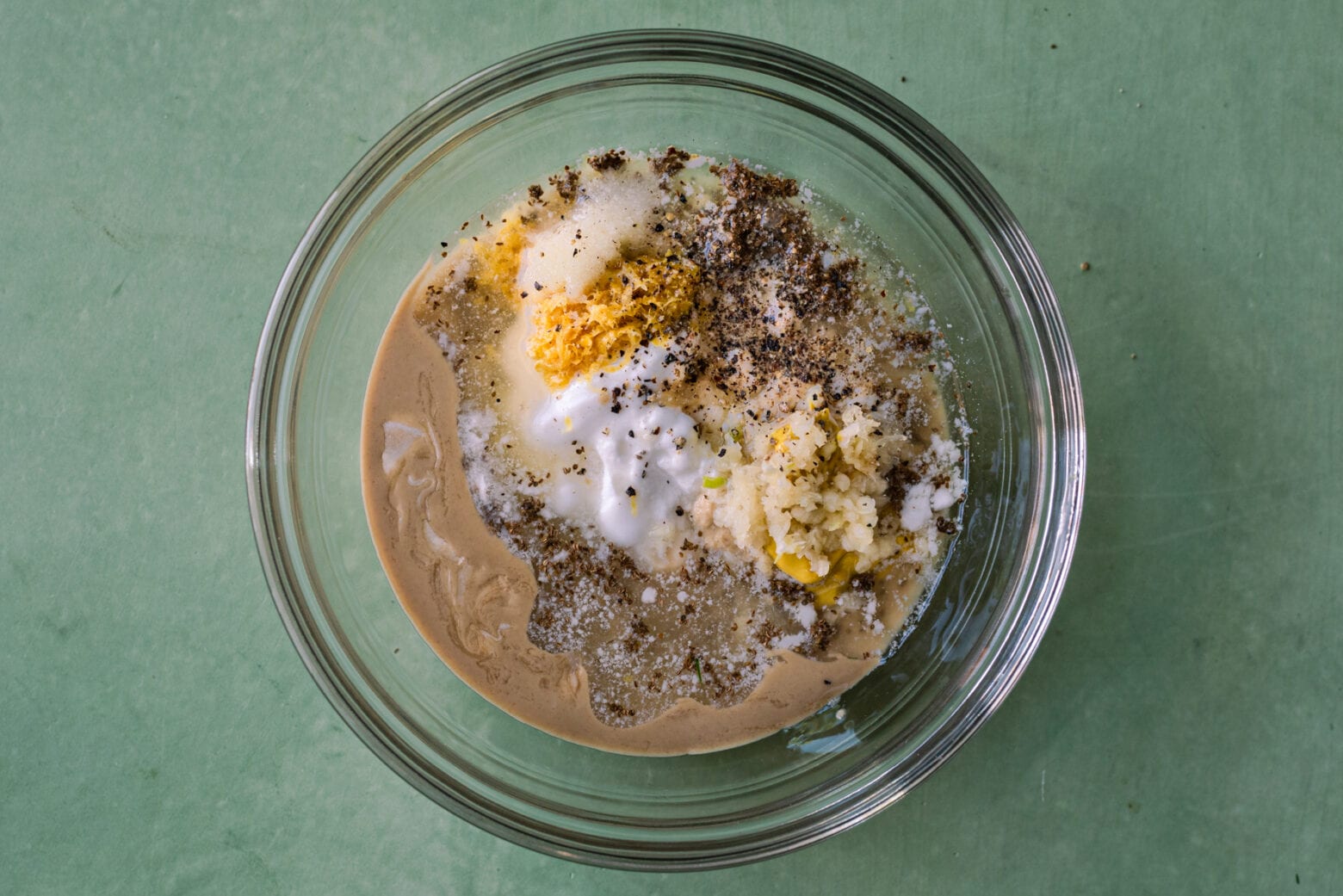 Add in 1 tablespoon of the chopped dill and stir to combine.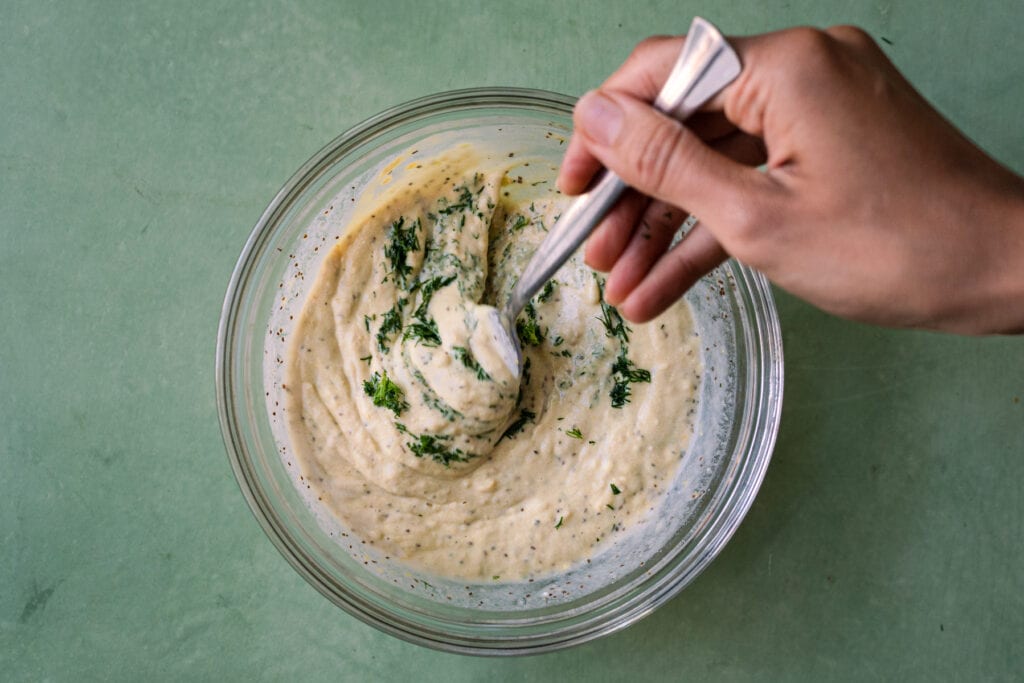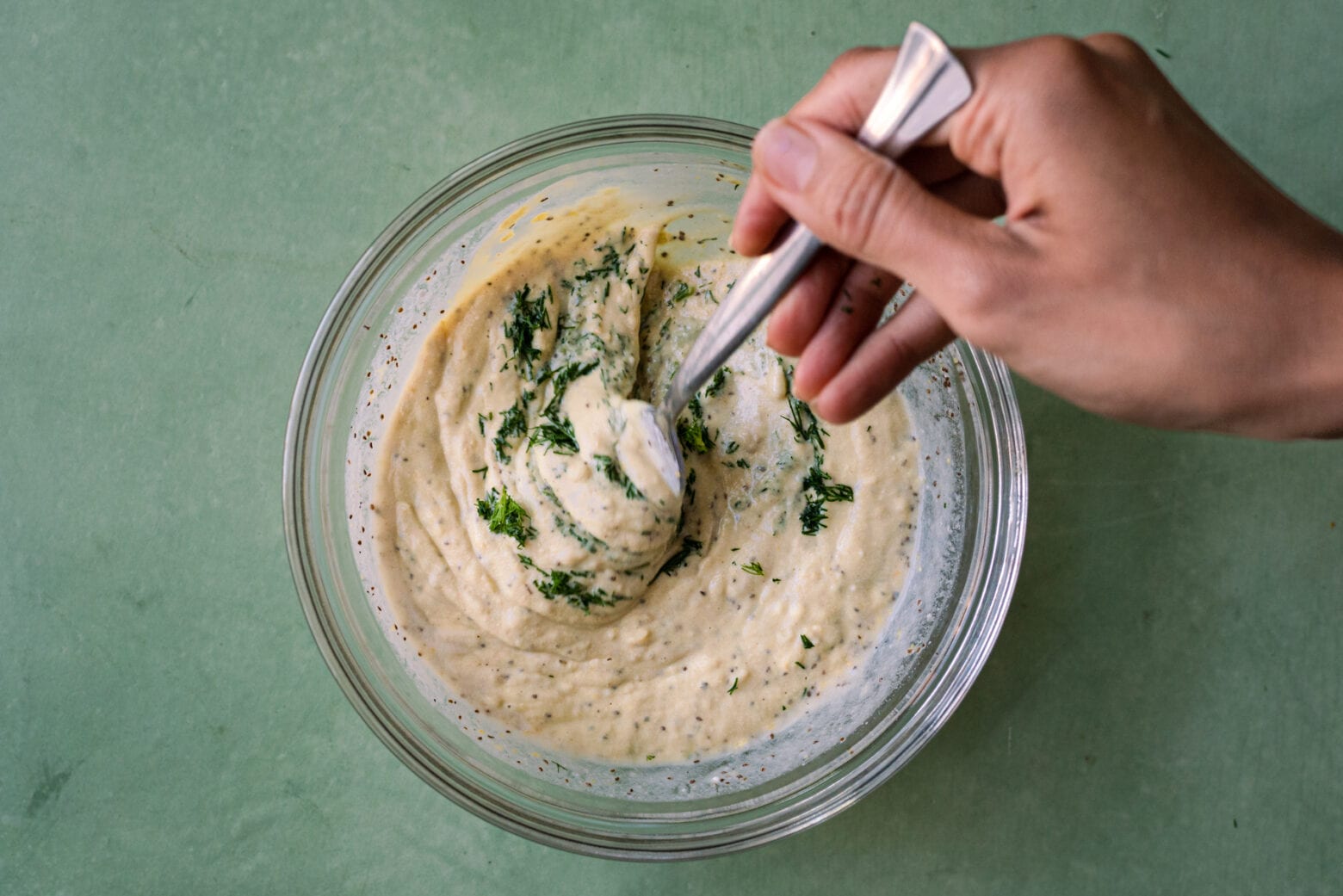 Coat the warm potatoes in the dressing, gently tossing.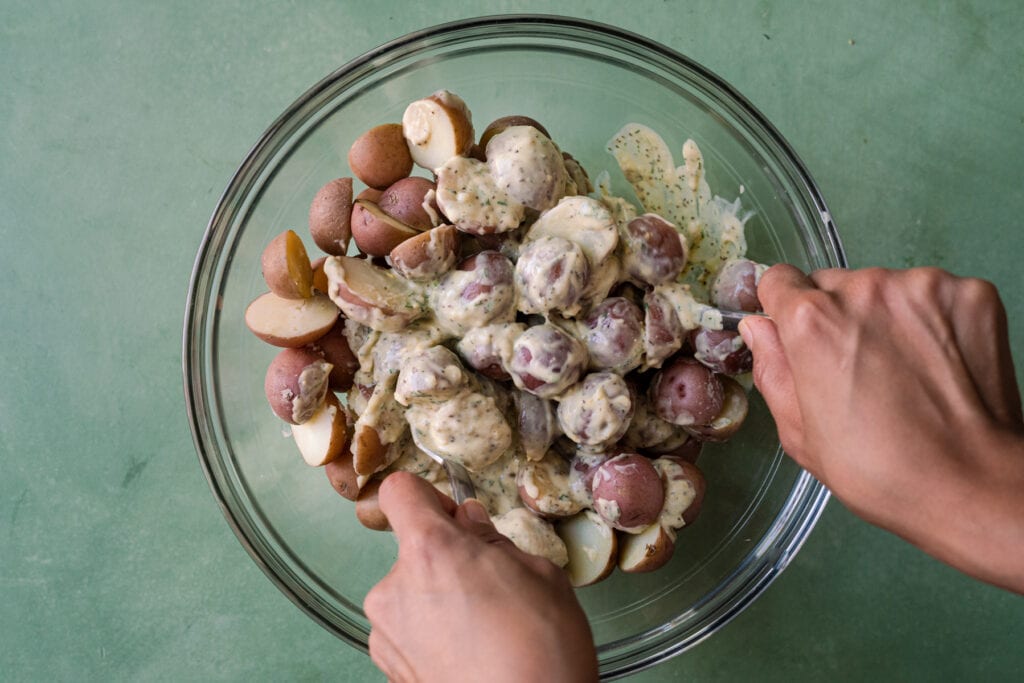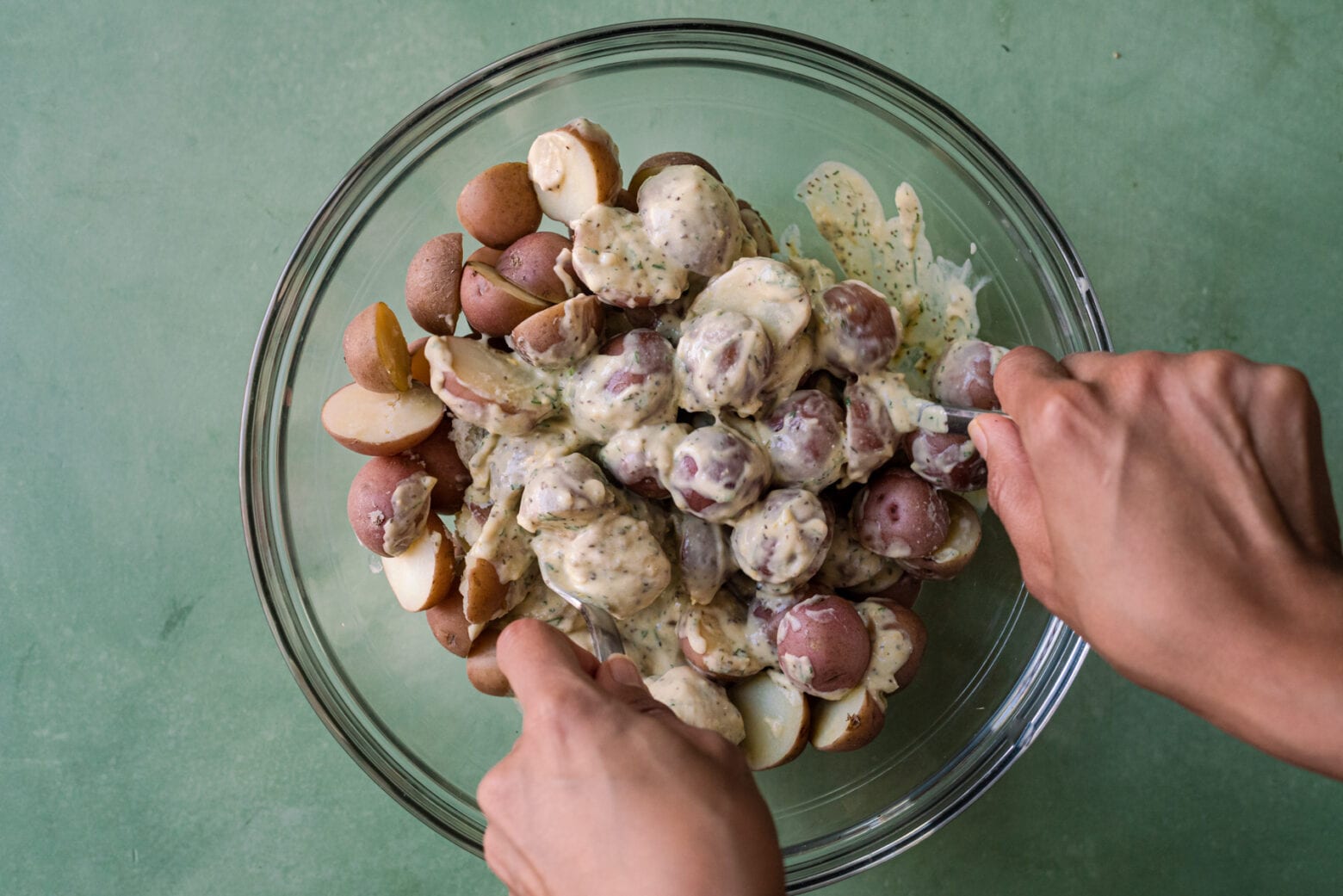 To the potato salad, add the capers, red onions, jalapeños (if using), and toss gently.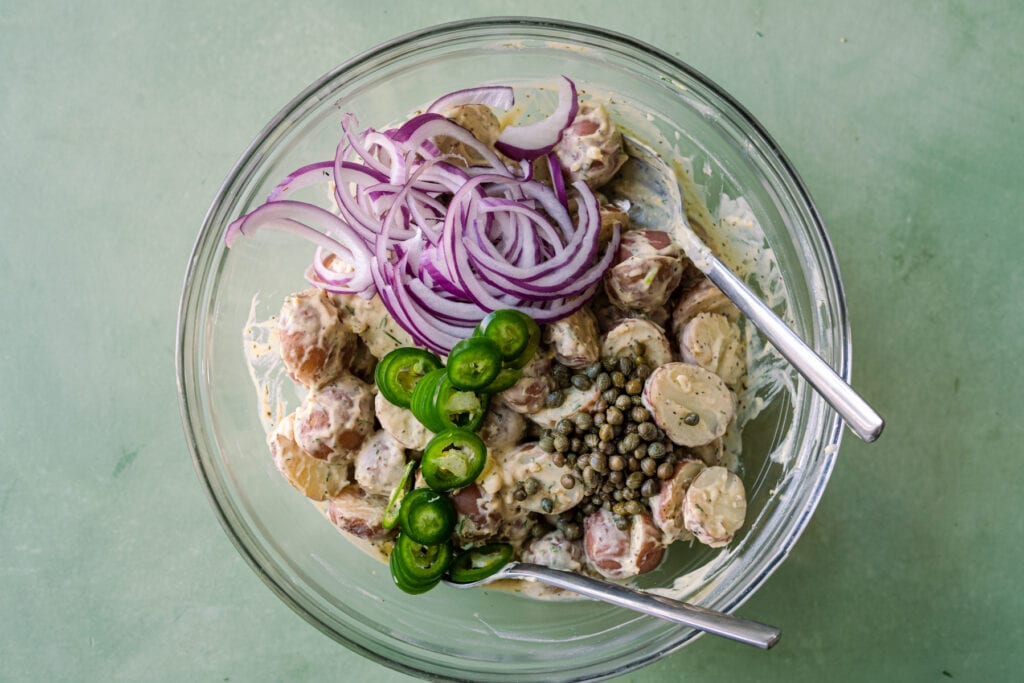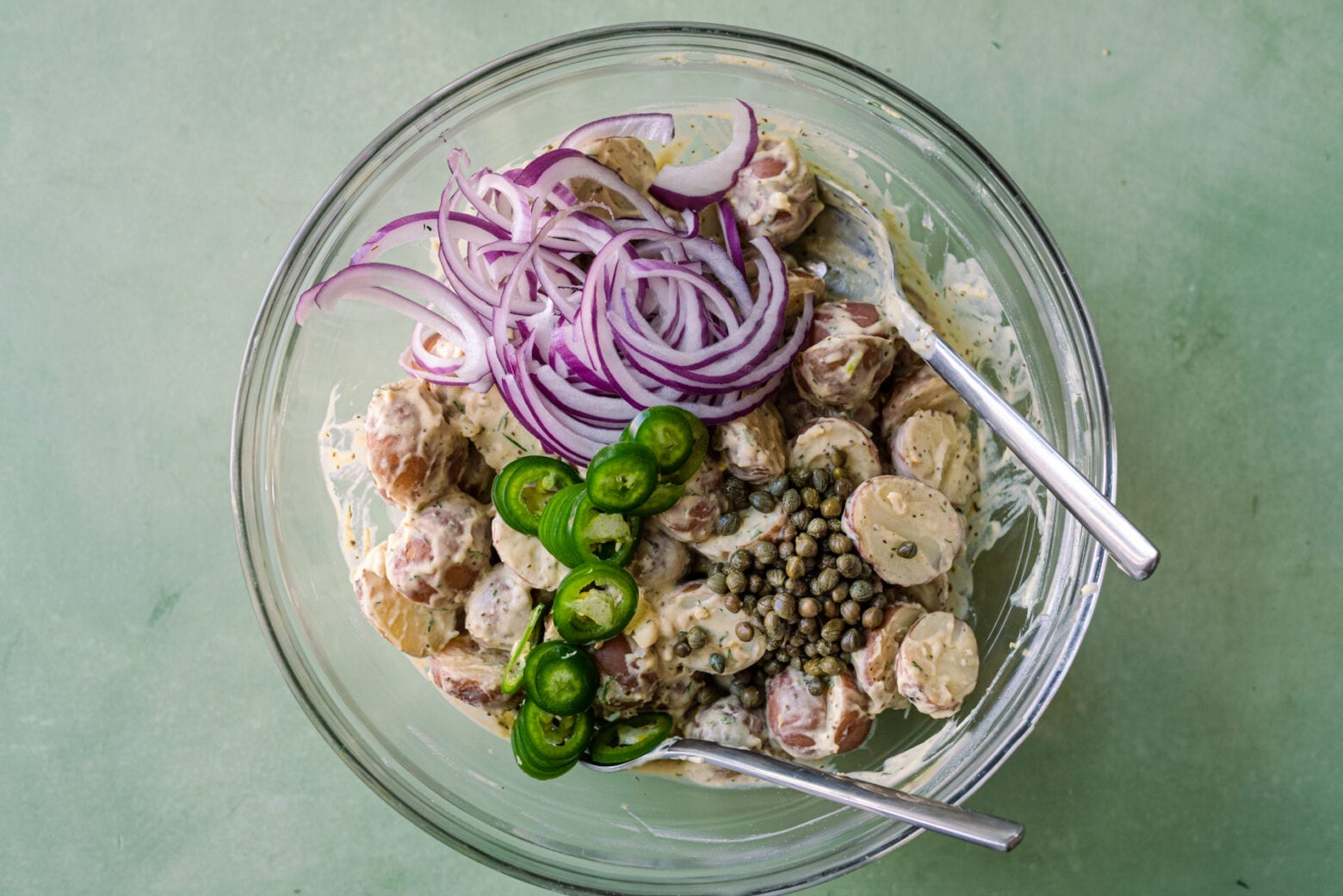 Finish with the remaining dill and chives, and season to taste with salt and pepper.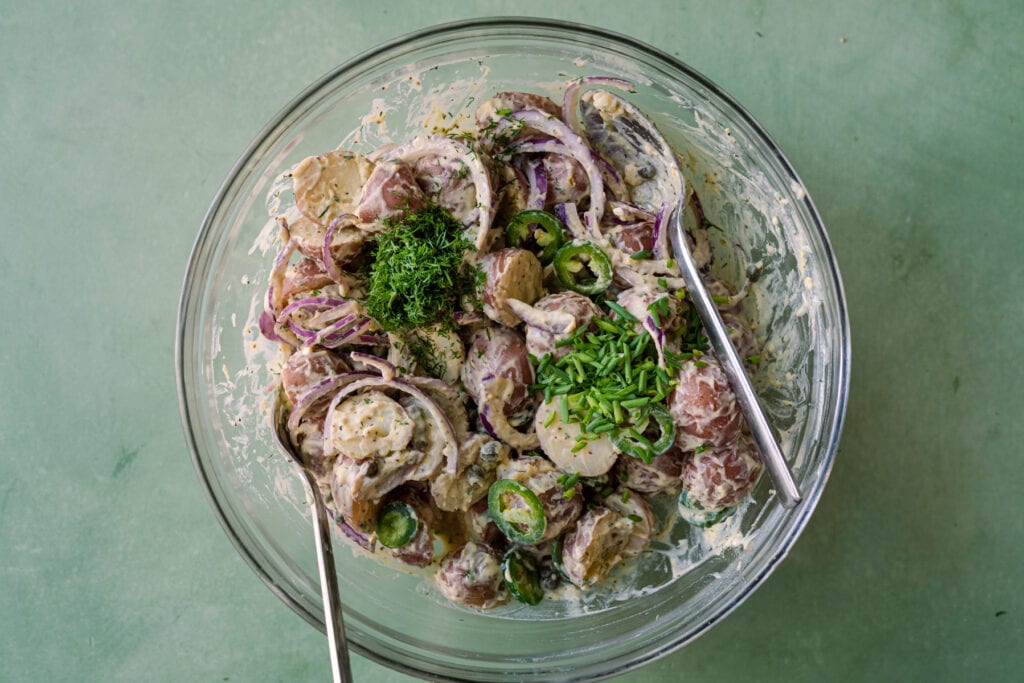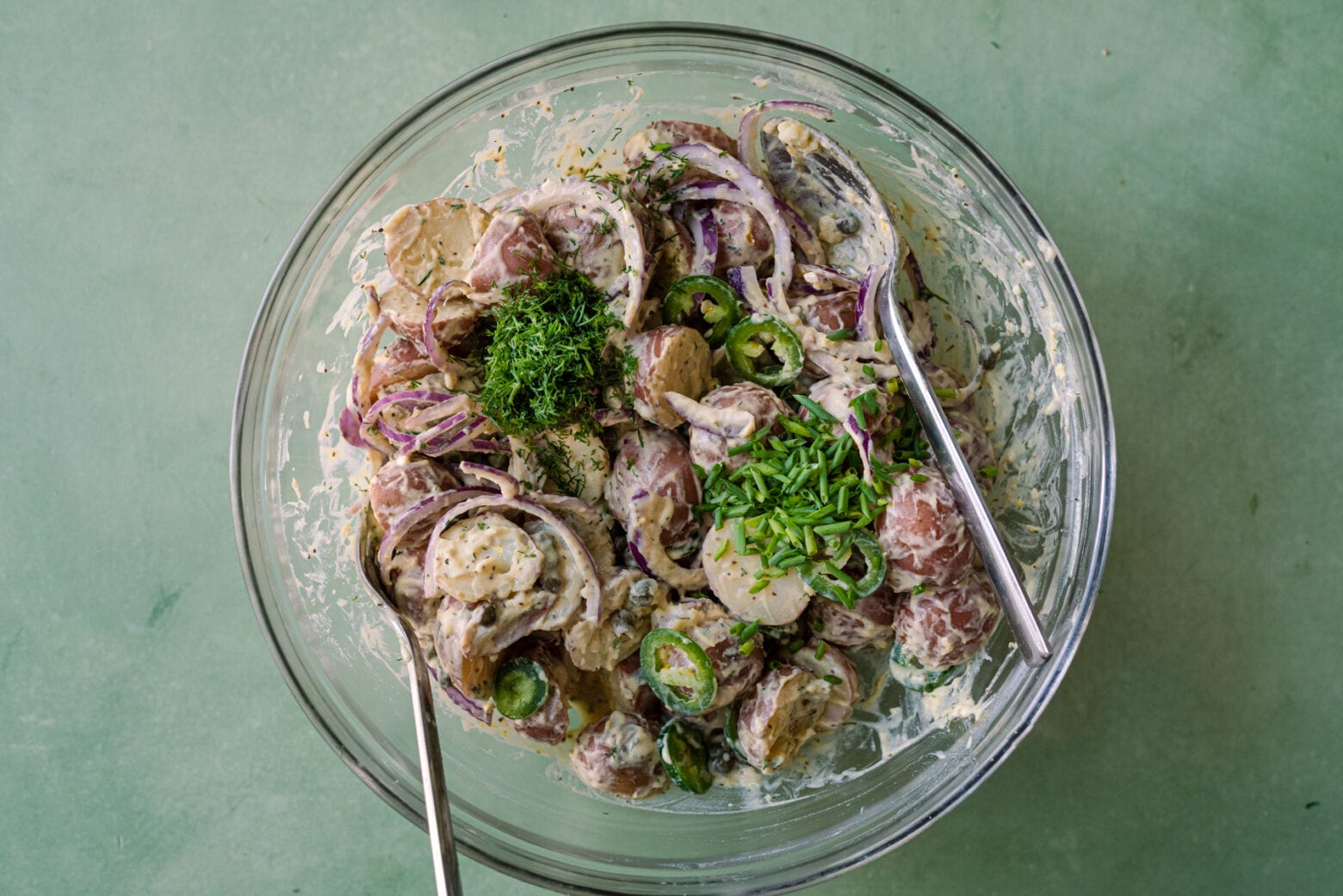 Serve warm or chill for at least one hour.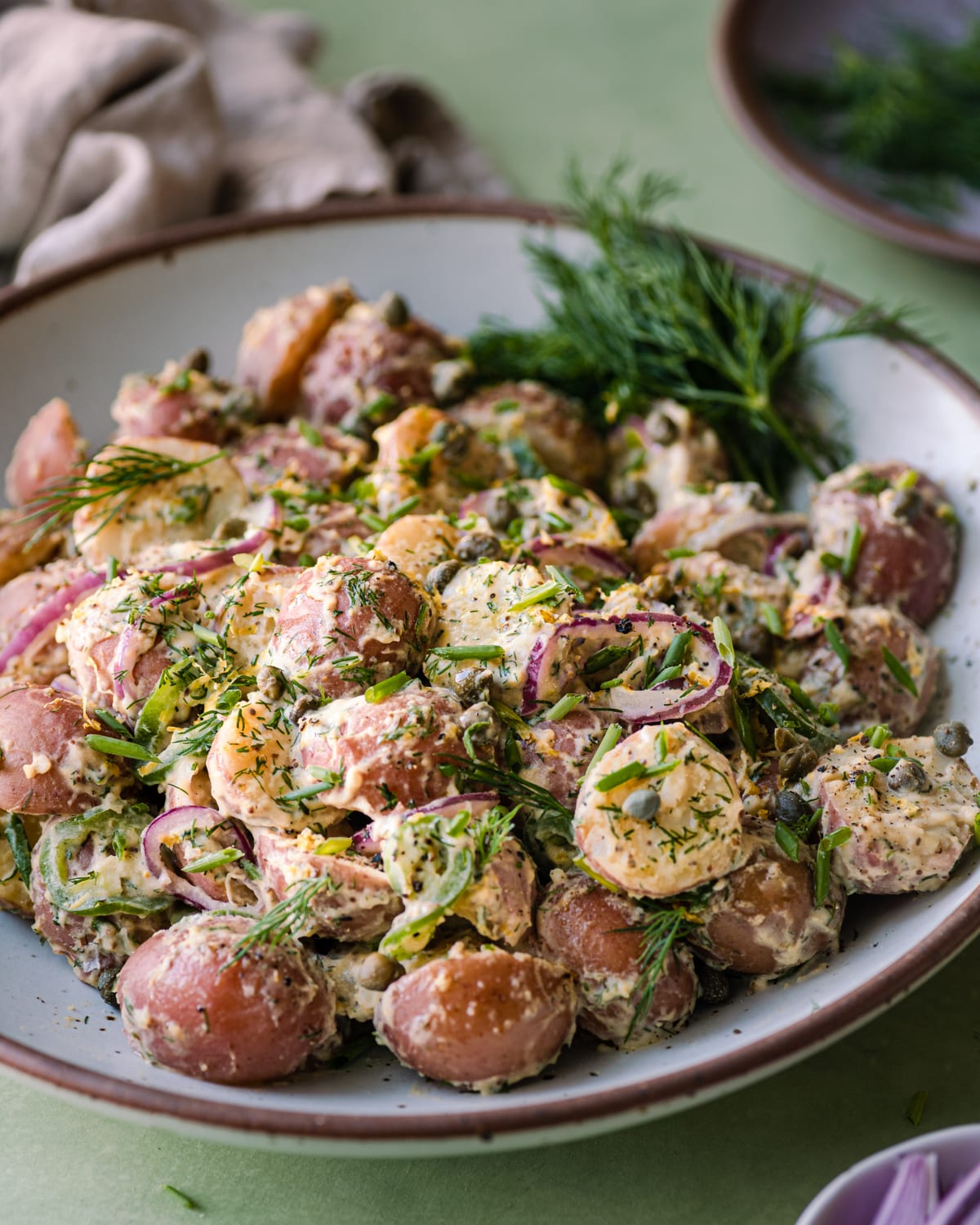 Tips for making this recipe
Pick small, waxy potatoes
For potato salad, you want distinct pieces of potatoes, not mushy blobs stuck together So a waxy, thin-skinned potato is best, as they have the least amount of starch and keep their shape when boiled. Thin-skinned potatoes also cook more quickly, and to keep things even speedier, I use small-sized potatoes (they cook in just 8 to 12 minutes).
The most common varieties of small, waxy potatoes to use in this recipe: baby red potatoes, fingerling potatoes, and new potatoes. At some grocery stores, you might also find "peewee potatoes" (also great and very cute).
If you can only find full-sized red potatoes, cut them into chunks about the size of the halved baby potatoes (see the photos in in the "how to make vegan potato salad" section for a visual reference). And if you can only find Yukon gold potatoes, these are your next best bet. They are not as waxy, but also not as starchy as Russets (I do not recommend using those in this recipe). Again, cut them into chunks.
Cook potatoes in cold water and season with salt
Cooking potatoes in cold water helps them cook more evenly. They're dense little guys and require more time to heat through than most other veggies (are potatoes considered veggies? thoughts?). Adding them to boiling water can lead to mushy on the outside and undercooked on the inside.
And seasoning the water with salt is essential for a rounded depth of flavor. If you wait to add salt at the end, it won't penetrate into the interior of the potatoes.
Don't overcook the potatoes!
Soft potatoes are great for creamy mashed potatoes, but not for potato salad. For reference, I simmered these baby red potatoes for just 8 minutes.
Tip: To test whether the potatoes are done, insert a fork into a potato. It should give just the slightest resistance. You do NOT want to wait until they fall apart when forked.
Allow the potatoes to dry
I allow the potatoes to briefly dry in a colander for 5 minutes to drain off excess water. Drier potatoes will enable the dressing to better cling to each potato, making for a delightfully saucy potato salad.
Dress the potatoes while warm
The nice thing about making a non-mayo-based potato salad, is that you can serve it warm (if you wish). I love serving it warm after making it – it feels a little more grown up and elegant. And since we're not using any egg-based ingredients, it's okay to dress the potatoes while warm. Dressing while the potatoes are still warm helps them absorb more of the dressing and the flavors.
That said, if you have leftovers, this potato salad is also very tasty once chilled.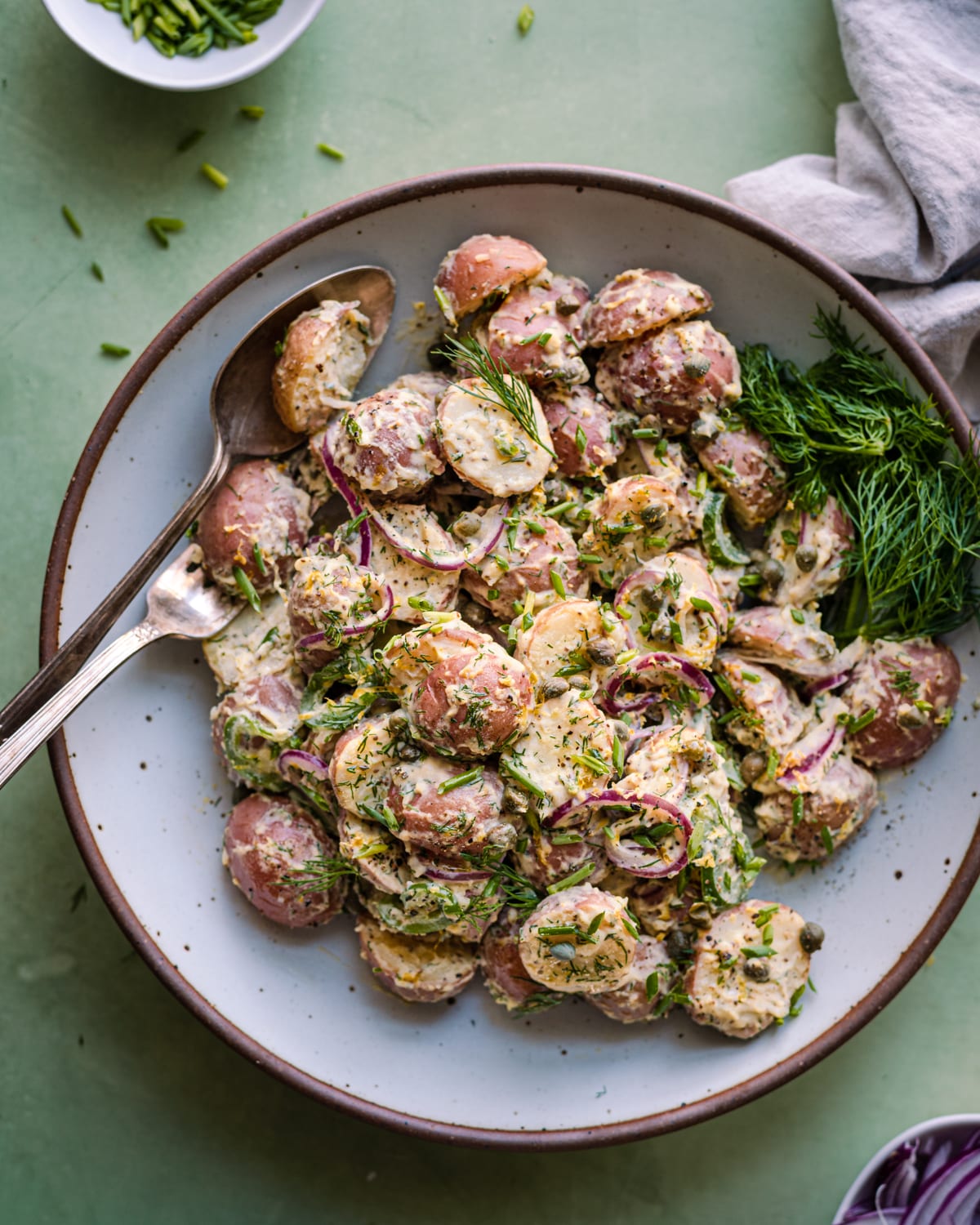 Frequently Asked Questions
What should I serve potato salad with?
This potato salad makes a wonderful addition to any barbecue, potluck, or picnic. It would be just perfect next to a veggie burger or some charred veggies hot off the grill.

It would work beautifully alongside these grilled tofu skewers. And I have a whole guide to vegan grilling for you to check out.

For a comfort food pairing, serve alongside my Crispy Baked Mac and Cheese.

And if you have my cookbook, The Vegan Instant Pot Cookbook, this potato salad would be FABULOUS with the Baked Beans in Chapter 2.
Can I make this ahead of time? How do I store it?
Sure, if you don't care to serve it warm, you can certainly make it ahead. It will stay good in an airtight container in the fridge for 3 to 5 days.
How can I customize this potato salad?
Glad you asked! There are lots of options.

Substitute the capers for pickles (see the "notes" in the recipe card). Swap the celery seeds with finely celery leaves (or thinly sliced celery).

Not a dill fan? Add some parsley for color and freshness instead. You can also replace the chives with thinly sliced scallions. Got baby mouth? Skip the jalapeño. Or for more tangy, add a spoon or two of pickled jalapeños.

For a nutrition punch, add 1/2 cup of blanched green beans or asparagus, or thinly sliced raw radishes, red/yellow bell peppers, or finely shredded red cabbage. The potato salad is quite saucy so it should be able to coat this amount of veggies.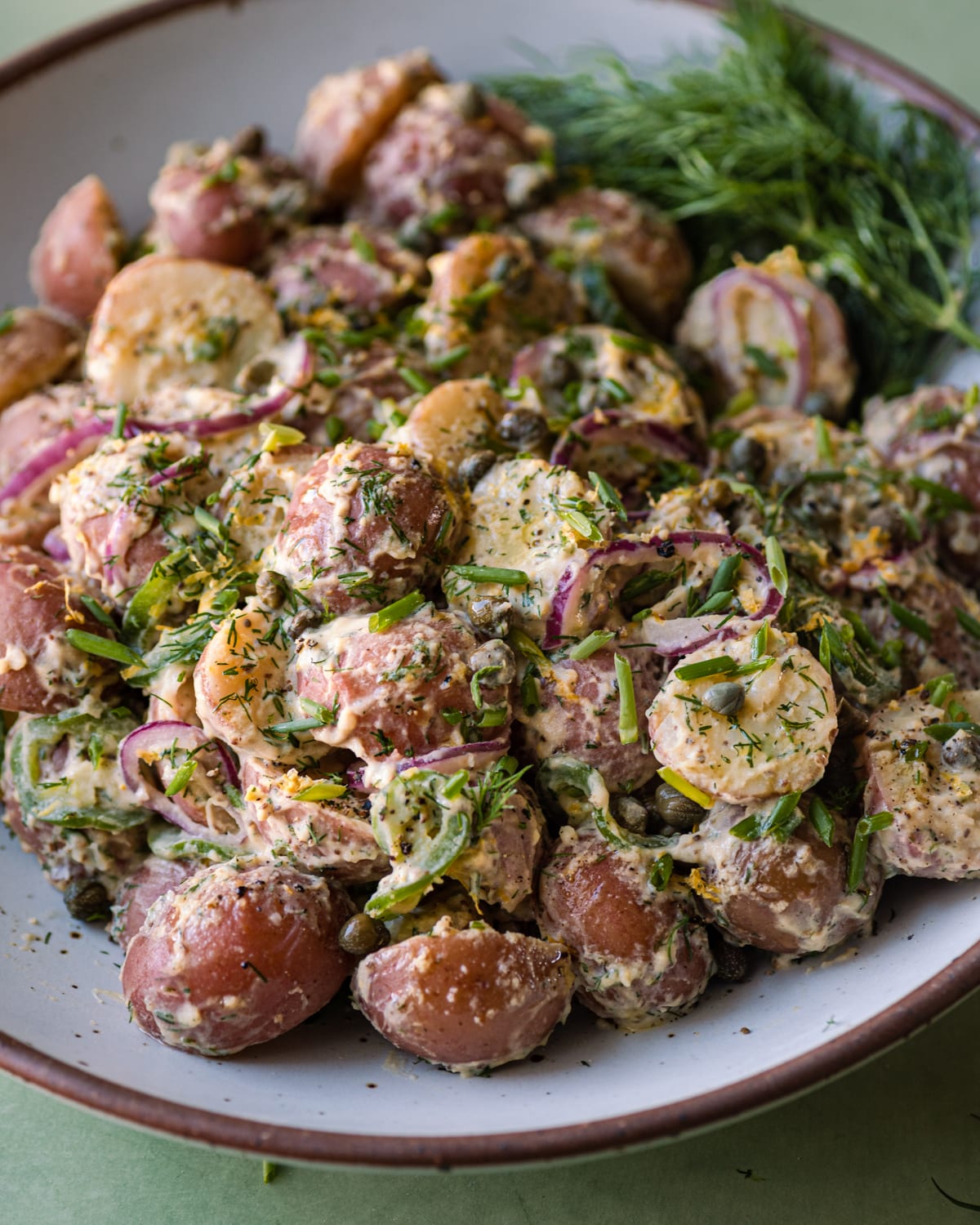 Watch! How to Make Vegan Potato Salad
If you love this herbed vegan potato salad, please leave a rating and review with your feedback and tag me on Instagram with your remakes :)
The Best Vegan Potato Salad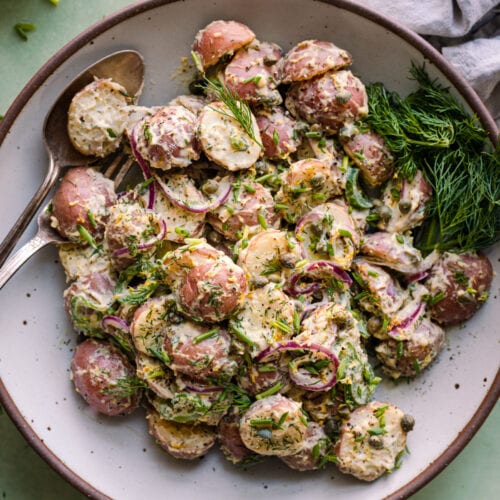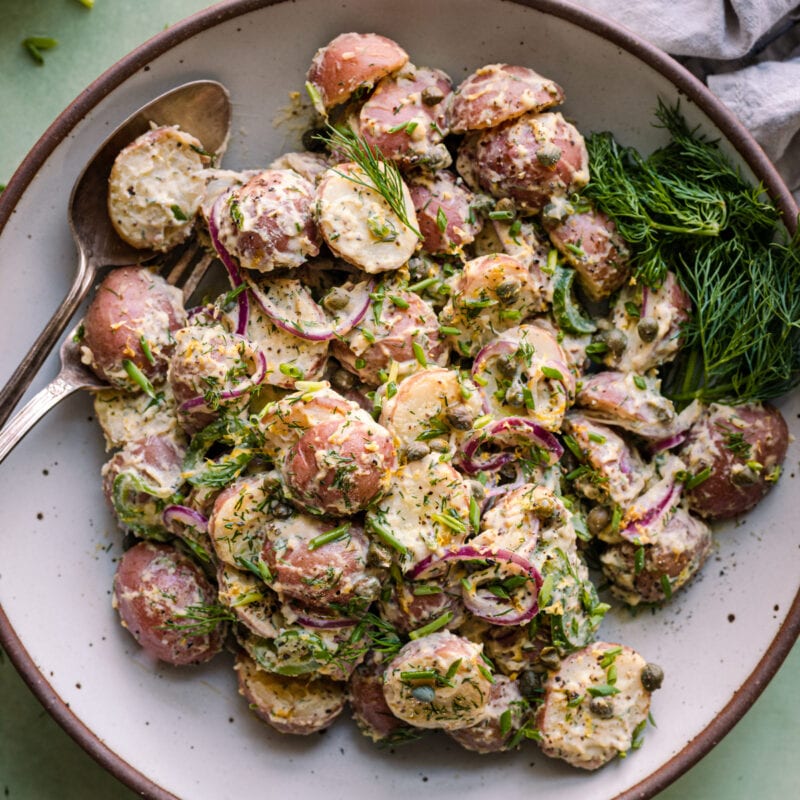 Just as creamy as classic potato salad but so much better for you and more flavorful! This mayo-free vegan potato salad features perfectly tender potatoes coated in a creamy, tangy dressing that's packed with fun flavors and takes just 30 minutes. Perfect side dish for BBQs, potlucks, and picnics. 
Ingredients
2

pounds

(900g) baby red potatoes,

fingerling potatoes, or new potatoes
Dressing
¼

cup

(56g) tahini

well-stirred

4

ounces

(112g) unsweetened coconut yogurt*

2

teaspoons

Dijon mustard

2

teaspoons

yellow mustard

2

garlic cloves,

crushed with a press or finely minced

1

medium lemon,

zested (2-3 teaspoons zest)

3

tablespoons

freshly squeezed lemon

1

teaspoon

celery seeds

(optional but recommended)**

1

teaspoon

kosher salt

Freshly cracked black pepper

⅓ to ½

cup

(5 to 8g) fresh dill leaves,

finely chopped***

1

tablespoon

caper brine****
Salad ingredients
2

tablespoons

capers, drained

½

cup

(50-55g) thinly sliced or shaved red onions

1

jalapeño pepper,

de-seeded and thinly sliced (this is optional; keep the seeds in for a spicy kick)

1 to 2

tablespoons

chopped chives

(or thinly sliced scallions)

Flaky sea salt
Instructions
Wash and scrub the potatoes but leave the peels on. Cut baby/new/fingerling potatoes in half; cut larger potatoes into chunks.

Transfer the potatoes to a saucepan and cover with an inch of cold water. Season generously with kosher salt. Bring to a simmer and maintain a decent simmer for 8 to 12 minutes until just tender. If the fork pierces the potatoes with the slightest bit of resistance, the potatoes are done.

Note: For reference, the halved baby red potatoes I used took only 8 minutes.

Meanwhile, make the dressing. In a large bowl, whisk together the tahini, yogurt, Dijon mustard, yellow mustard, garlic, lemon zest, lemon juice, celery seeds, caper brine (not the whole capers), 1 teaspoon kosher salt, and pepper until well combined. Add 1 tablespoon of the chopped dill and stir together.

Note: If the dressing is too thick, whisk in a tablespoon of cold water.

Once the potatoes are cooked, drain them in a colander (reserve a little of the cooking liquid in case it's needed). Let the potatoes rest in the colander for 5 minutes to dry out, but don't wait until they have cooled down.

Add the warm potatoes to the dressing and coat evenly and well. If needed, add a spoon of the cooking water to bring everything together (I didn't need to).

Add the capers, red onions, and jalapeños to the potato salad, and toss again gently. Sprinkle the remaining dill and the chives on top before serving. Season to taste with salt and pepper.

Serve warm, or chill for at least 1 hour.
Notes
* If you can't find a good-quality plain coconut yogurt, you can use use vegan sour cream. My preferred brands are Kite Hill Foods and Tofutti (this one is quite thick, so you might need to add a spoon of water). If using sour cream, you'll likely need less lemon juice and salt. 
** If you don't have celery seeds but have celery salt, substitute 1:1 and use ½ teaspoon kosher salt instead of 1 teaspoon. Or, add 3 tablespoons finely chopped celery leaves when you add the dill to the dressing.
*** Use the lower end if you're not a big fan of dill (I love dill, so I use the full ½ cup)
**** Don't have capers? You can substitute them with 1 finely chopped dill pickle and 1 to 2 tablespoons of the pickle juice.
---
Calories:
196
kcal
|
Carbohydrates:
32
g
|
Protein:
6
g
|
Fat:
6
g
|
Saturated Fat:
1
g
|
Polyunsaturated Fat:
2
g
|
Monounsaturated Fat:
2
g
|
Sodium:
540
mg
|
Potassium:
813
mg
|
Fiber:
4
g
|
Sugar:
4
g
|
Vitamin A:
118
IU
|
Vitamin C:
33
mg
|
Calcium:
75
mg
|
Iron:
2
mg