One bite of this creamy Vegan Broccoli Soup and you'll be shocked you're eating broccoli. It's a rich, flavor-forward and slightly cheesy soup that's supremely comforting and indulgent.
Made with a short list of plant-based staples, like nuts, veggies, and beans, it's a complete meal that you (and your family) will never know is healthy and nutrient-dense.
You'll love this soup's creamy texture, but to really take it over the top, shower it with the crunchy nutty crumbles before serving. A mix of toasted breadcrumbs, nuts, and simple seasonings adds a crispy contrast to the velvety, creamy soup that is :::::::::.chef's kiss:::::::::.
Table of contents:
1. Why this recipe works
2. Ingredient notes
3. Step-by-step instructions
4. Tips for making this recipe
5. Flavor variations
6. Frequently Asked Questions
7. Recipe card with notes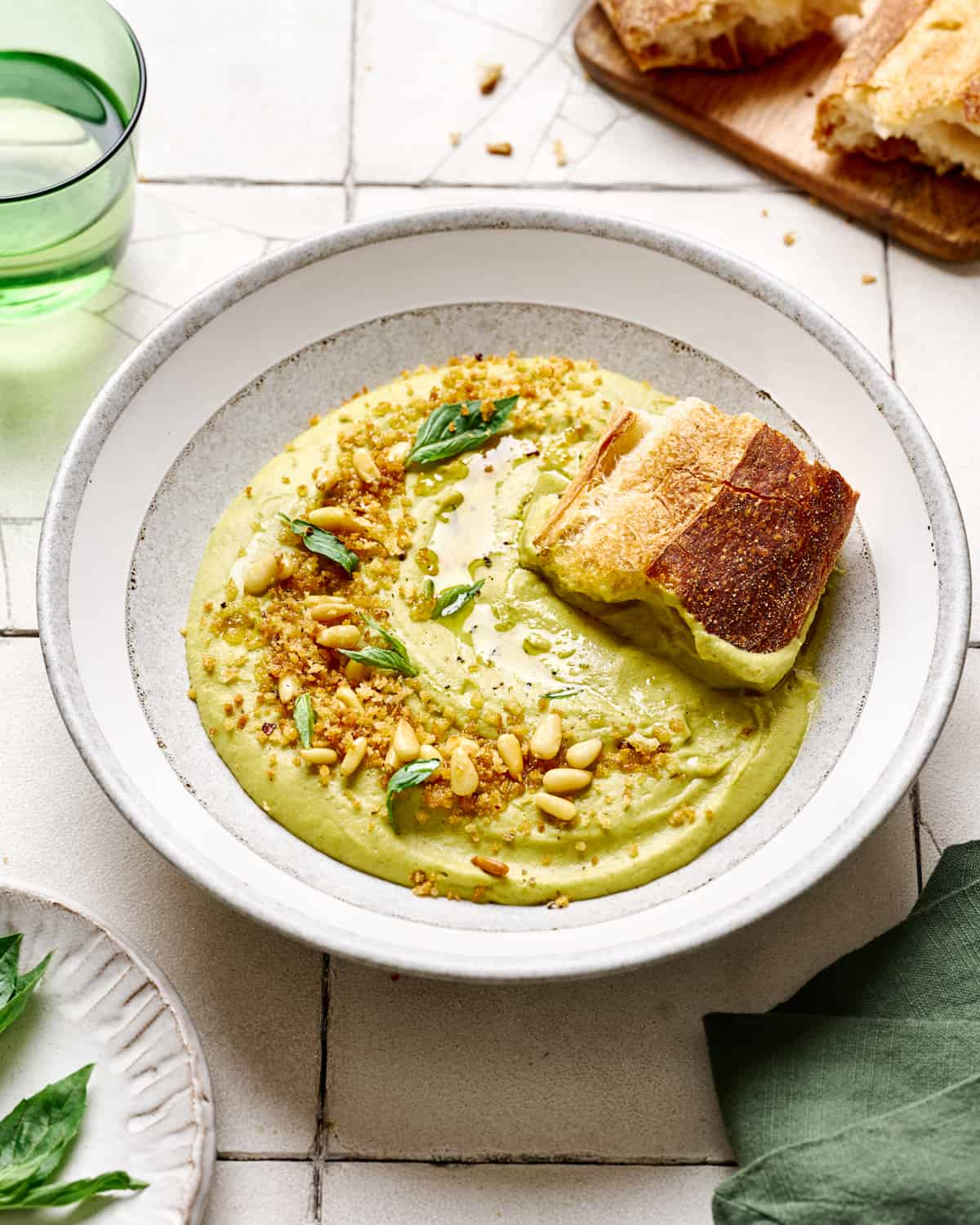 Why this recipe works 
The ultimate mash-up.
Two of my fan-favorite recipes came together to form this new hit: (1) my Creamy Cauliflower Soup and (2) Broccoli and White Bean Soup (recipe in my cookbook!).
Both are well-loved because the ingredients are simple and the recipes are easy yet very tasty. The same goes for this comforting dairy-free broccoli soup!
Rich and indulgent, but secretly good for you.
This soup has a mega luxe consistency thanks to cannellini beans and raw cashews. Once they're softened and blended together, they turn velvety smooth. Your family members will have no idea this is dairy-free.
With each spoonful, you may think, "This soup is delicious and rich. How can it be good for me?"
Well, to start, broccoli is a superfood (and not one of those trendy superfoods you've never heard of). Cruciferous vegetables are known for their cancer-fighting properties (broccoli specifically contains unique anti-cancer compounds and antioxidants), along with fiber and a long list of vitamins and minerals.
The second ingredient that makes this recipe so special (and healthy) is cannellini beans. Just like black beans and chickpeas, cannellini beans are loaded with protein and fiber, and are low on the glycemic index, making them a wonderful choice for anyone watching their blood sugar levels.
And raw cashews add a good deal of healthy fats, plus extra protein and minerals.
An easy and weeknight-friendly flavor bomb.
Rich and creamy, wholesome, AND simple…this soup has it all! Budget-friendly vegetables, seasonings, and condiments work their magic and leave you with an herbaceous and savory soup that is weeknight friendly.
Plus, blending the soup at the end means no fine dicing or mincing is required, so you save on prep time.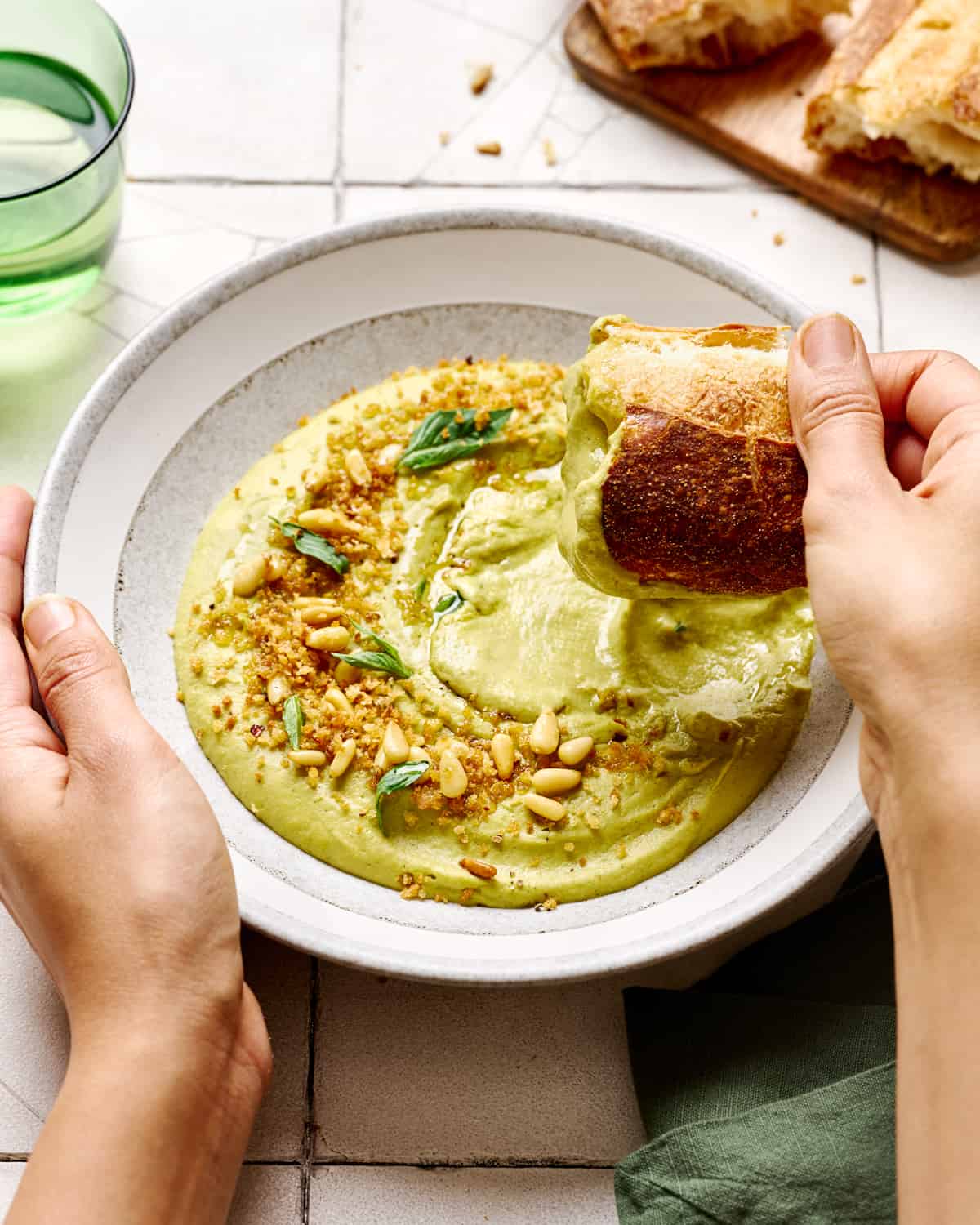 Ingredient notes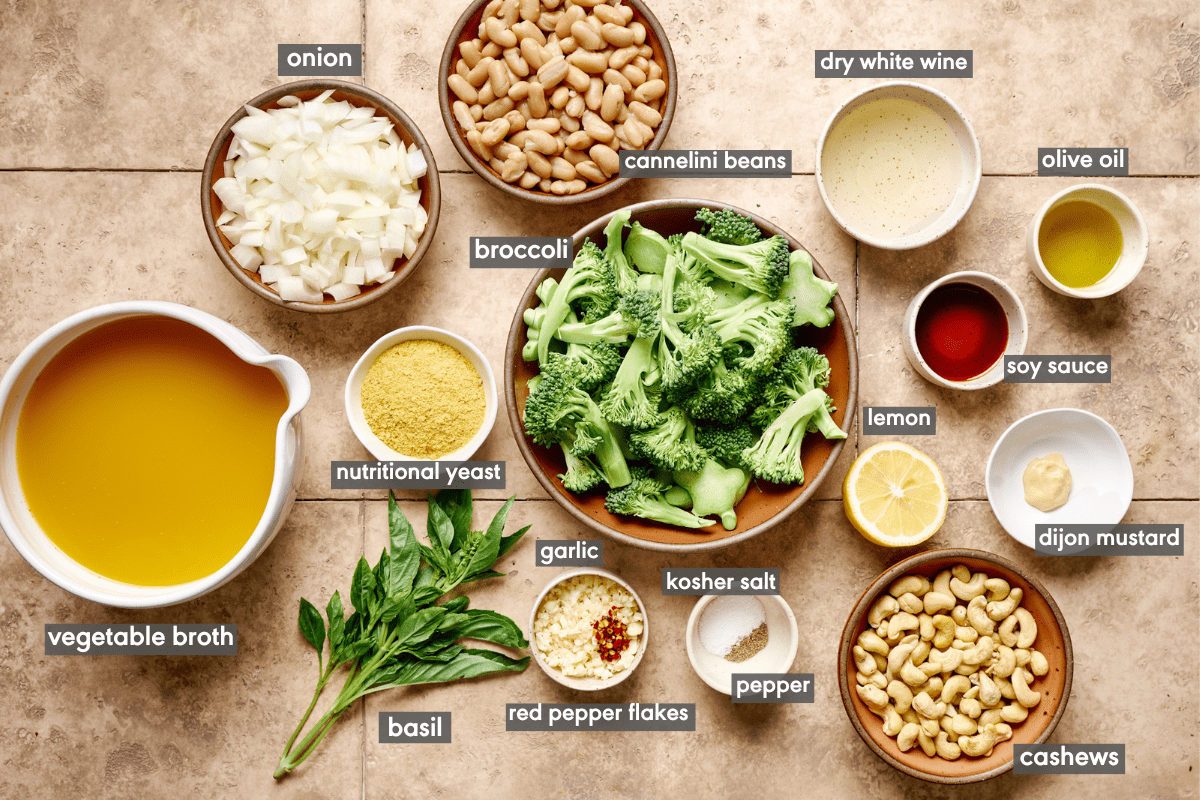 Cashews
You'll find softened and blended cashews in many of my recipes, like Vegan Mushroom Soup and Vegan Palak Paneer, because they add a uniquely rich creaminess and act as a natural thickener.
Nut allergy? You can try using 1 (13.5-ounce) can of "lite" coconut milk to replicate the creaminess the cashews would add.
Broccoli
Broccoli is obviously super healthy, but it's also just really delicious. I love it in pasta, rice bowls, stir-fries, and so much more.
But, if you've got picky eaters in your family, fear not! Since the soup gets blended, the broccoli is basically unidentifiable! They'll just think they're eating a creamy, delicious soup that just happens to have flecks of green in the bowl.
Substitute: If you don't have fresh broccoli, you can use frozen (though we haven't tried it ourselves).
Basil
Fresh basil leaves add a lovely herbaceous flavor to this vegan broccoli soup. You can buy basil at most grocery stores, sometimes in potted plants or in pre-clipped boxes.
Substitute: Can't find fresh basil? Use fresh flat-leaf parsley or a smaller amount of fresh dill as a substitute. The flavor will be good, but a bit different than if you used basil.
Soy sauce and dijon mustard
These may sound like strange ingredients for soup, but just a little of the two goes a long way. First, soy sauce (along with nutritional yeast) gives this soup an irresistible savoriness. And the bright tang of dijon mustard awakens the soup at the end.
Substitute: Use tamari or gluten-free soy sauce if you're gluten free. If allergic to soy, omit the soy sauce and season with a little extra salt.
Step-by-step instructions
Sauté the onion and garlic. Heat the oil in a large pot over medium heat. Once it's warm, add the onion and a pinch of salt. Cook until they start to turn golden. Add the garlic and pepper flakes next.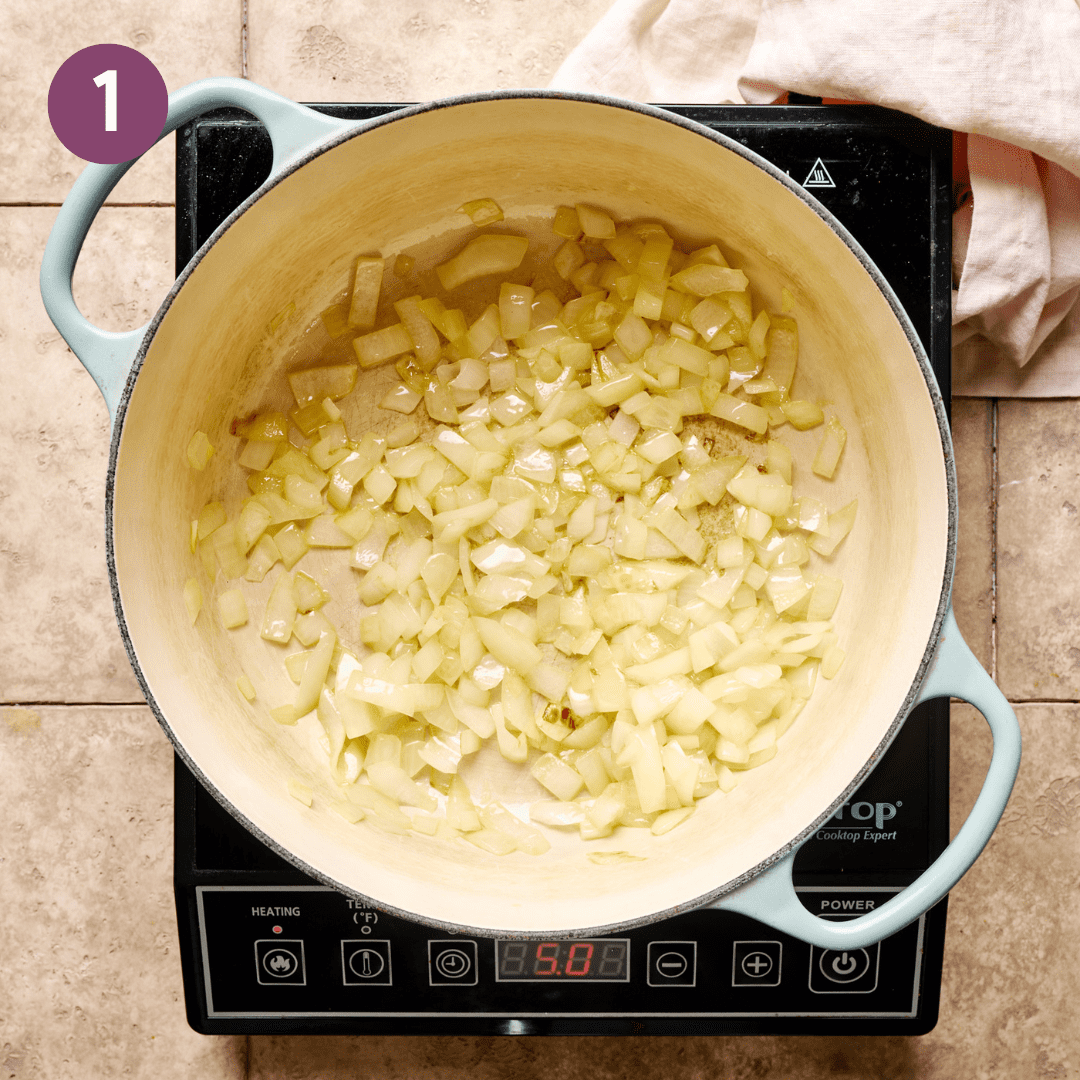 Deglaze the pan with white wine. Scrape up any of the stuck browned bits on the bottom of the pan (that's where the flavor is!). Let the mixture simmer until most of the wine has evaporated.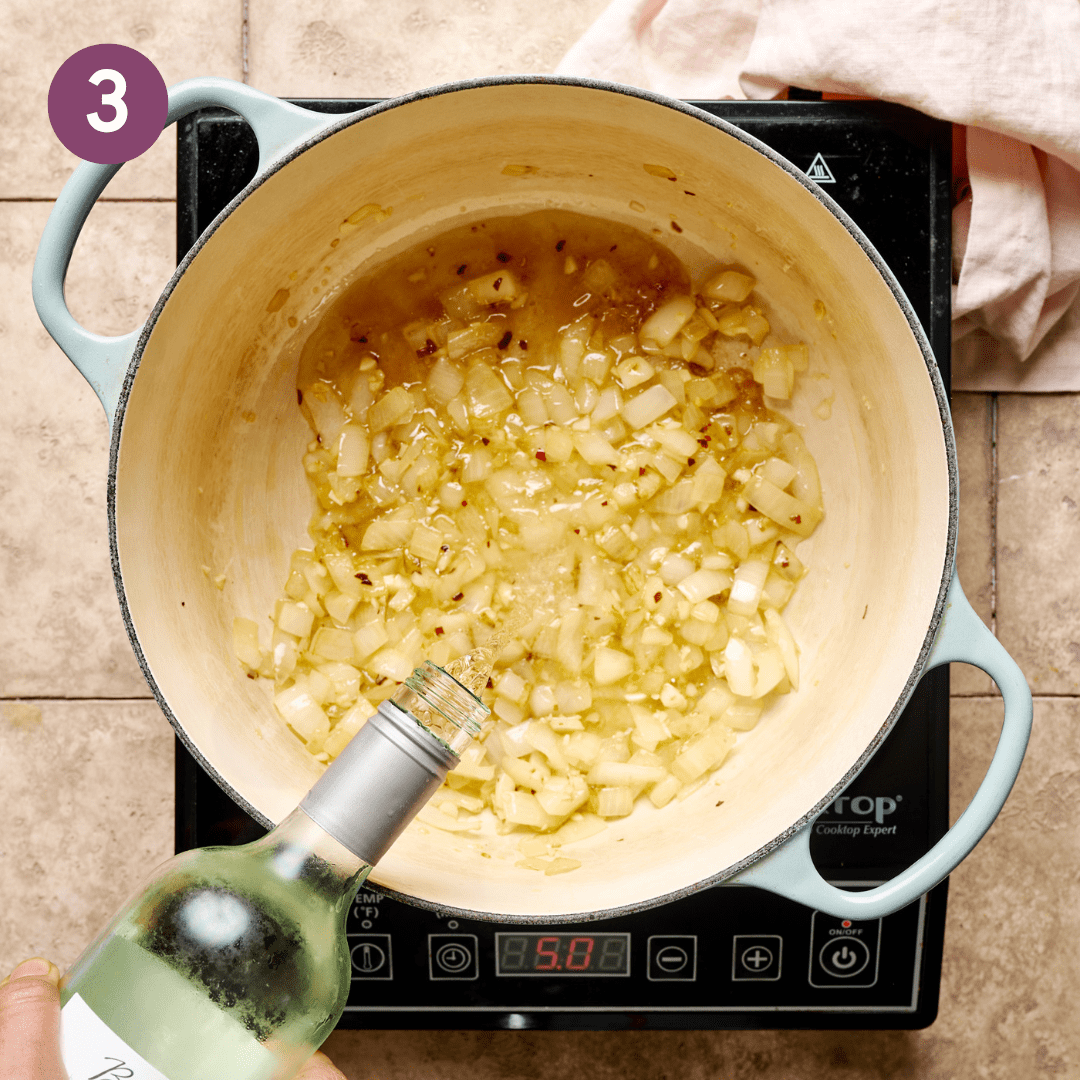 Now add the broccoli to the pot. Let it sauté for a few minutes, then add the cannellini beans, cashews, broth, salt, and black pepper. Stir and bring it up to a boil. Turn down the heat to a simmer, leaving the soup to cook until the broccoli is tender and soft.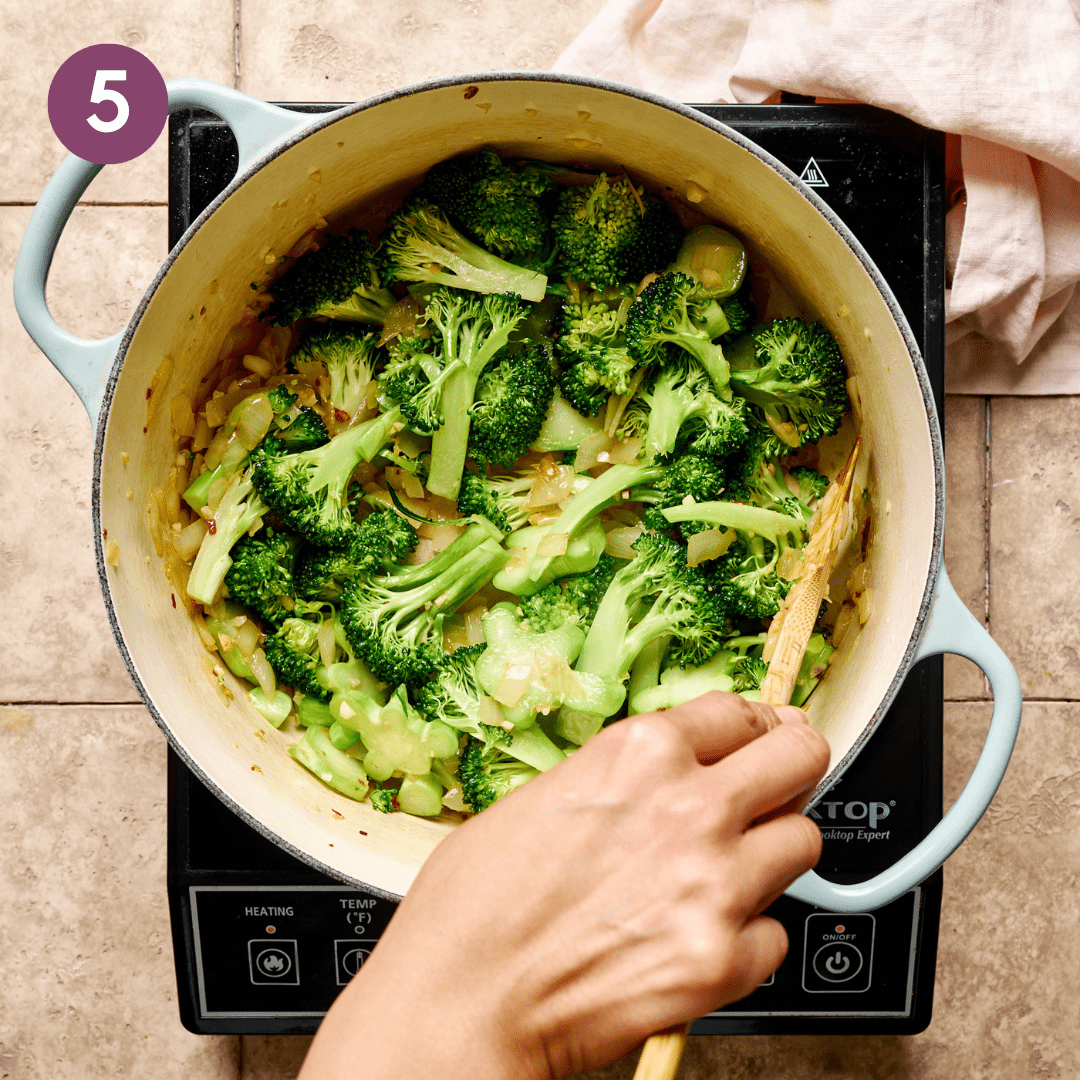 Prepare the crispy nutty crumbles while you wait. Heat the oil in a frying pan over medium heat, then add the panko and pine nuts. Stir every so often, toasting until they become golden brown. Add the red pepper flakes and salt, then transfer the mixture to a bowl.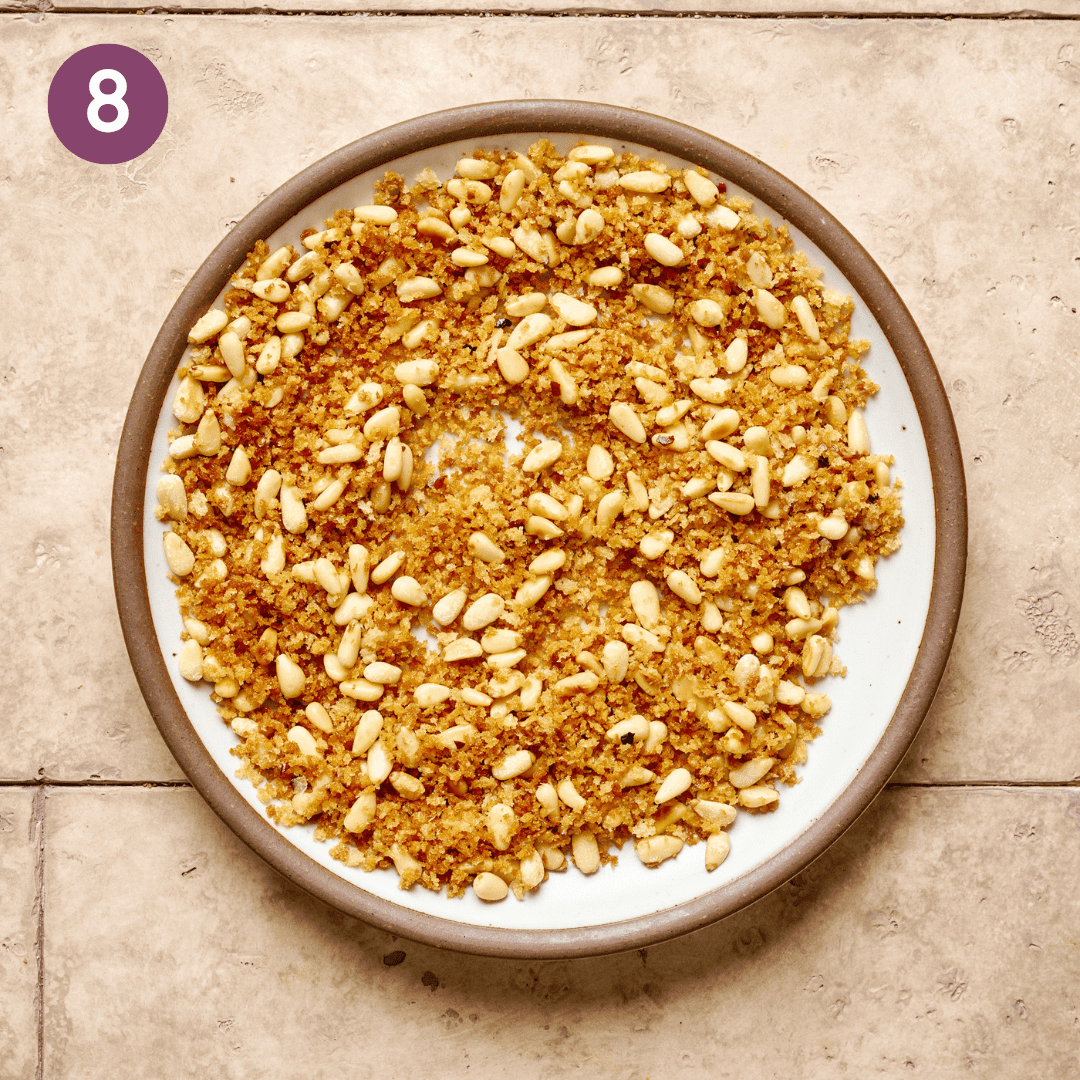 Now that the soup is just about done, pour it into a large blender bowl. Add the basil, soy sauce, dijon mustard, nutritional yeast, and lemon juice. Blend until smooth.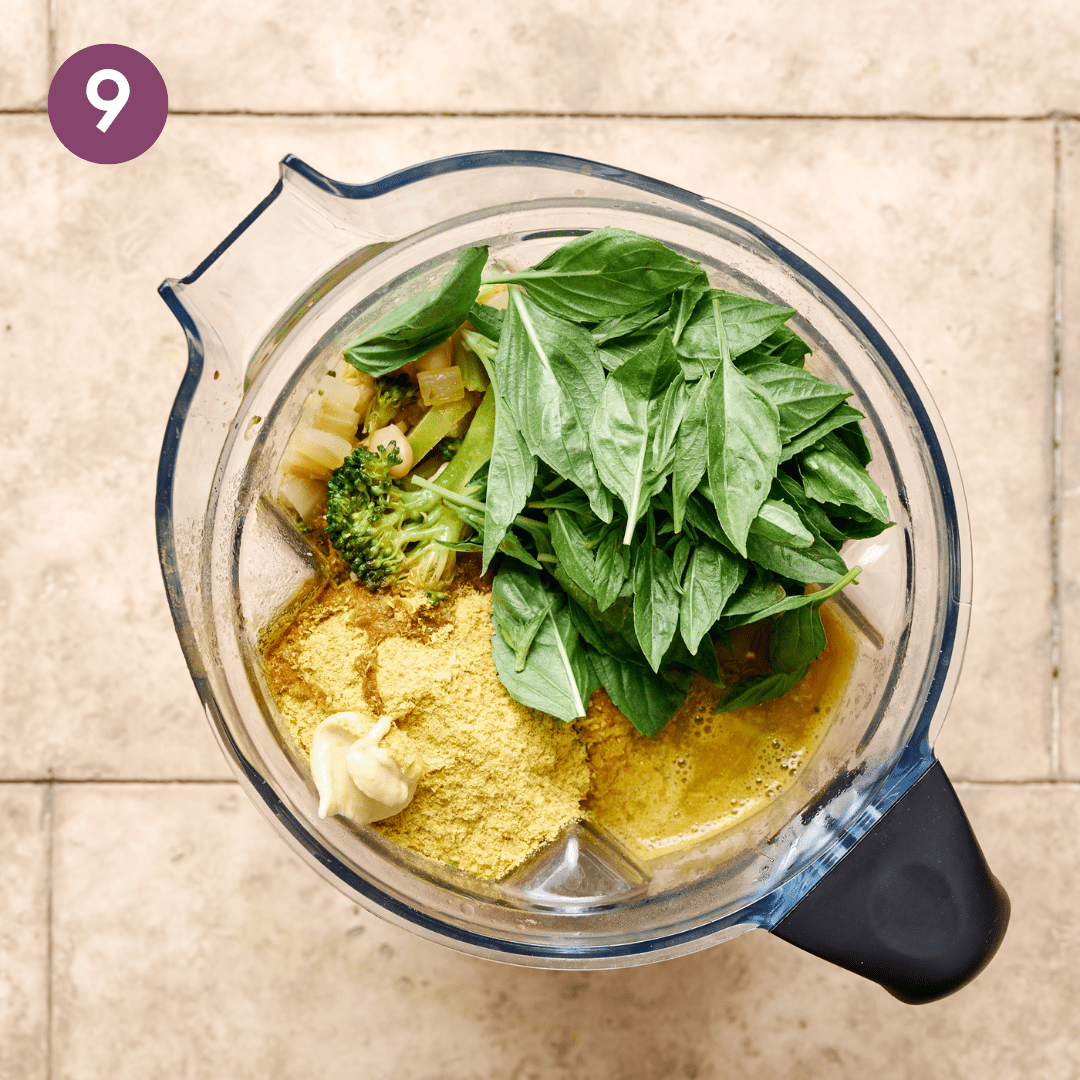 Ladle the soup into bowls and add a drizzle of olive oil and the crispy nutty crumbles on top. Serve with bread and enjoy!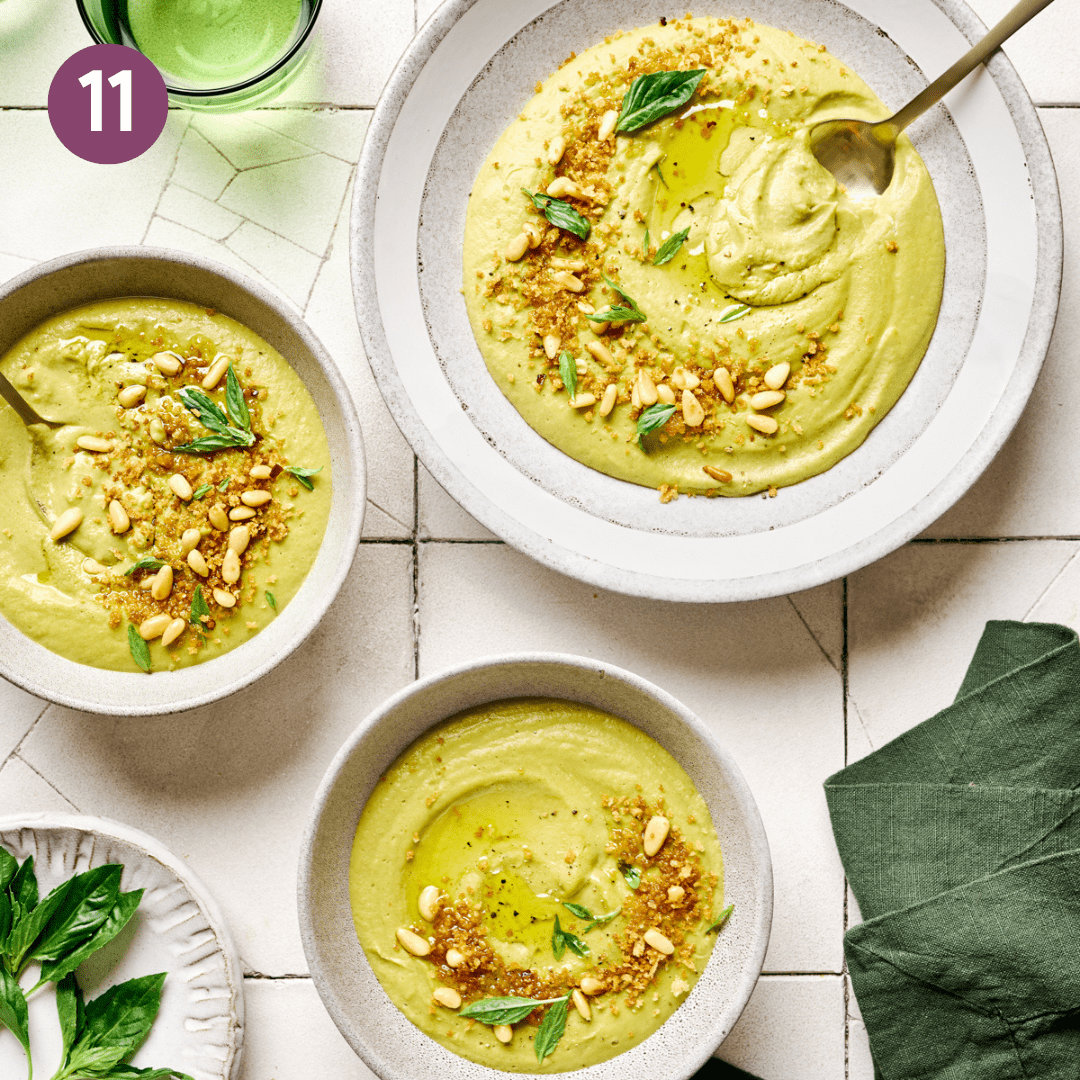 Tips for making this recipe
Don't skip the crispy topping!
Yes, the soup is lovely on its own. But when you add the crispy nutty crumbles on top, it's fantastic!
The soup is rich and creamy, so the crunch from the nuts and panko adds the perfect contrasting texture. Plus, the subtle kick of heat from the red pepper flakes takes it over the top.
And don't skip the drizzle of extra virgin olive oil at the end. Just a tiny bit adds an incredible mouthfeel and lovely flavor.
Or the bread for dipping.
A bowl of velvety soup just isn't complete without a slice or two of crusty bread. It's the ultimate dipper!
Use a large blender, or blend in batches.
You need a large blender (at least 64 ounces) to blend the entire batch of soup at once. If you have a smaller blender, blend it in two batches.
Also, don't blend the soup while it's boiling hot. Let it rest off the heat for a few minutes. And replace the blender center cap with a dish towel to prevent steam from building up in the blender.
Save time.
You can cut down on the cook time by making the crunchy nut crumbles ahead of time. Store them in a jar or container at room temperature for several weeks.
You can use leftovers as toppers for other soups like my White Bean Soup with Kale, or sprinkle them over Mediterranean Lentil and Grain Bowls or all kinds of salads.
You can also swap the broccoli for pre-cut broccoli florets to shave off a few minutes of chopping.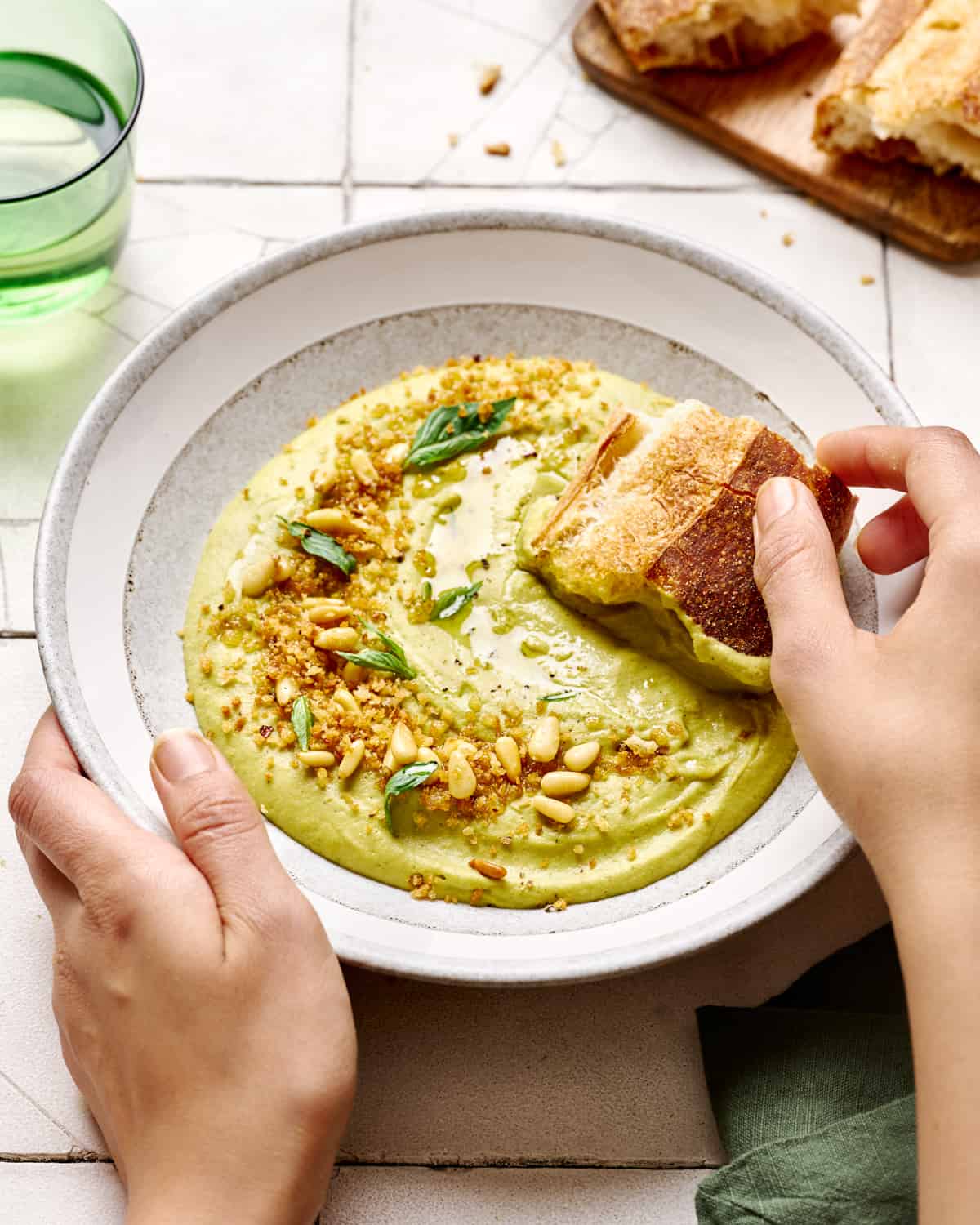 Flavor Variations
You can replace half of the broccoli florets with cauliflower florets.
Use leeks instead of onions for a milder, herbaceous, and slightly sweeter flavor profile.
Blend in an extra ¼ cup of nutritional yeast for a cheesier flavor that's closer to a broccoli cheddar soup.
A spoonful of Vegan Pesto stirred into the soup adds a bright, herby freshness.
Top the bowls of soup with homemade croutons instead of the nutty crumbles.
For freshness, use the leftover fresh basil leaves as a topping.
Char leftover broccoli florets in a skillet and use them as a topping.
Give it a spicy kick with a drizzle of chile-infused olive oil on top. We love this one from Brightland.
Frequently Asked Questions
What should I serve this soup with?
A big hunk of crusty bread with this soup is a must. We like it with a seeded whole grain loaf or sourdough, but vegan garlic bread would be delicious, too. 

To make it a part of a well-rounded spring meal, serve the broccoli soup with this Roasted Beet and Fennel Salad.
I can't find cannellini beans. What can I use instead?
A smaller white bean, such as navy beans or Great Northern Beans, would work fine. The soup might be a bit less creamy but the difference will be minor.
How do I make this soup gluten-free?
Substitute the soy sauce with tamari or gluten-free soy sauce. Use gluten free panko in the crunchy topping or, if you can't find it, use a crunchy nut like almonds. Crunchy roasted chickpeas also make for a great topping if you would rather skip the nuts and bread.
How do I store and reheat this dish? Can I freeze it?
You can store the leftovers in an airtight container in the fridge for 3 to 5 days. It also freezes well! I like to freeze single-serve portions using my Souper Cubes (affiliate link). Each individual block defrosts in a pot on the stove in just 5 minutes, leaving you with a no-fuss, good-for-you dinner even on the busiest of weeknights!

The cashews in the soup cause it to thicken quite a lot as it rests and cools down. If it's too thick upon reheating, thin out the batch with a splash of vegetable broth (if you bought a standard 4-cup/32 ounce carton of broth, you should have ½ cup leftover). Even a little water is fine. 

I like reheating the soup in a saucepan on the stove but the microwave works well, too. Since it's quite thick, you'll want to stir frequently as you reheat. 
That's all you need to know about making this dreamy, creamy Vegan Broccoli Soup! If you love this recipe, please rate and review it below!
Creamy Vegan Broccoli Soup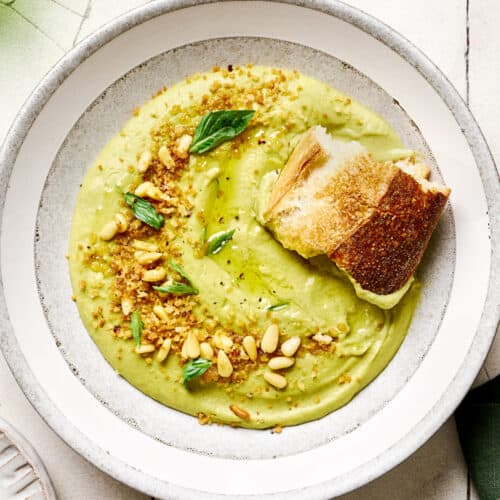 This rich and creamy Vegan Broccoli Soup will feed your soul. It's an easy comfort food made with simple ingredients but delivers big-time on flavor. Served with crunchy nutty crumbles on top, it'll leave you wanting more!
Ingredients
2

tablespoons

extra virgin olive oil

1

medium yellow onion,

chopped

4

garlic cloves,

minced

¼

teaspoon

red pepper flakes

(adds a spicy kick; omit for no heat)

¼

cup

(60 mL) dry white wine (optional)

1

pound

(450g) broccoli,

cut into florets and stems thinly sliced

1

(15-ounce/425g) can of cannellini beans,

drained and rinsed (see Note 1)

1

cup

(140g) raw cashews

(see Note 2)

3 ½

cups

(840 mL) low-sodium veg broth

(see Note 3)

1 ½

teaspoons

kosher salt

Freshly cracked pepper
For Finishing
1

heaping cup

(20g) fresh basil leaves

1

teaspoon

soy sauce

(or tamari for GF)

½ to 1

teaspoon

Dijon mustard

(see Note 4)

¼

cup

(20g) nutritional yeast

1 to 2

tablespoons

freshly squeezed lemon juice

A drizzle of good-quality extra virgin olive oil
Crispy Nutty Crumbles (optional but recommended) (see Note 5)
2

tablespoons

extra virgin olive oil

2/3

cup

(60g) panko brea crumbs

(see Note 6)

1/2

cup

(70g) pine nuts

(or raw cashews, finely chopped; see Note 7)

1/4

teaspoon

red pepper flakes

(for a kick; omit for mild heat)

1/4

teaspoon

flaky sea salt
Instructions
Heat a large Dutch oven over medium heat with the olive oil until warm. Add the onion and a pinch of salt and cook for 6 minutes, or until starting to turn golden. Add the garlic and pepper flakes and cook for 1 to 2 minutes, tossing frequently to prevent sticking.

Pour in the wine (if not using, add a splash or two of your veg broth). Use the liquid to deglaze the pan, scraping up any browned bits on the bottom of the pot. Simmer until the wine has mostly evaporated and the smell of alcohol has dissipated, about 3 minutes.

Add the broccoli florets and stems and sauté for 2 minutes. Add the cannellini beans, cashews, broth, salt, and black pepper to taste. Stir to combine. Bring to a boil. Reduce the heat and simmer partially covered for 15 minutes, stirring a couple times, until broccoli is tender and soft.

Meanwhile, measure out the Finishing Ingredients and prepare the Crispy Nutty Crumbles.

For the Crispy Nutty Crumbles, add the oil to a large frying pan over medium heat and allow to warm. Add the panko and pine nuts (or chopped cashews) and stir occasionally for 4 to 6 minutes, until nuts and panko are starting to turn golden brown. Add red pepper flakes and salt for 30 seconds. Take off the heat and transfer to a bowl immediately to stop cooking.

a. Store cooled leftovers in a jar in the pantry for a few weeks. You'll likely have leftovers. Add them to other soups, salads, and grain bowls.

Carefully pour the soup into a large high-powered blender. Remove the blender cap and cover with a dish towel to allow steam to escape. Add the basil, soy sauce, dijon mustard, nutritional yeast, 1 tablespoon lemon juice. Blend until pureed and smooth. Taste the soup, adding lemon juice or salt as desired. I usually add an extra ½ tablespoon lemon juice and ½ tsp kosher salt.

a. NOTE: If your blender is smaller than 64 oz/2L, you'll need to blend in two batches.

Transfer soup to four bowls. Drizzle a bit of olive oil on top and sprinkle a few spoons of Crispy Nutty Crumbles. Serve with crusty bread.
Notes
1. Cannellini beans are also sold as "white kidney beans." If you can't find them, a smaller white bean, such as navy beans or Great Northern Beans, work fine.
2. Allergic to cashews? You can try 1 (13.5-ounce) can of "lite" coconut milk.
3. If you buy a standard 4-cup/32 oz carton of broth, refrigerate the remaining ½ cup and use as needed to thin out leftover soup (it thickens as it rests).
4. Start with ½ teaspoon Dijon mustard, blend, and taste. Add more as needed. When combined with the crispy nutty crumbles and drizzle of finishing olive oil, I prefer 1 teaspoon mustard. But if eating the soup on its own, ½ teaspoon works better.
5. The crispy nutty crumbles is technically optional, but they take this soup over the top! You will have leftovers of it, but it stays fresh for several weeks and is great topper for any soup or salad. You can also halve the recipe. The crumbles are not included in the nutrition facts. 
6. If gluten-free, sub with gluten-free panko, or substitute the panko with a crunchy nut like almonds. Another alternative: roasted chickpeas for crunch (and protein).
7. If you have pine nuts at home, use those, as they add this subtle cheesy flavor that is nothing short of amazing. But raw cashews also work well, and you'll already be using those in the soup.
---
Calories:
460
kcal
|
Carbohydrates:
49
g
|
Protein:
21
g
|
Fat:
23
g
|
Saturated Fat:
4
g
|
Polyunsaturated Fat:
4
g
|
Monounsaturated Fat:
14
g
|
Sodium:
561
mg
|
Potassium:
1231
mg
|
Fiber:
12
g
|
Sugar:
6
g
|
Vitamin A:
1009
IU
|
Vitamin C:
107
mg
|
Calcium:
165
mg
|
Iron:
7
mg
Recipe: Nisha Vora / Rainbow Plant Life | Photography: Megan Morello