If you've been following along the blog for awhile, you know that I love sharing a mix of healthy yet creative recipes and straight up comfort food. This Vegan Cinnamon Roll Cake, as you might have guessed from the title of the recipe, falls squarely into the latter camp.
It is the most decadent and delicious cake, and I do not say that with any exaggeration. I couldn't stop eating it (I ate three slices in 30 minutes flat) and my friends couldn't stop raving about it #notsohumblebrag #buttrue
Table of Contents:
1. Why you'll love this recipe
2. Tips for making this recipe
3. Ingredient notes
4. Recipe card with notes
Why you'll love this recipe
What I love the most about this cake is that it tastes just like a damn cinnamon roll but it's much easier to make! To be honest, making cinnamon rolls (or anything with yeast) stresses me out a bit, and I don't like having to wait for the dough to rise. I know, I know. I sound lazy and impatient (that's not necessarily untrue). So, I decided to create a cake that tastes just like a cinnamon roll, and it's perfect for anyone who is similarly lazy and/or impatient.
What I also love about this cake is the texture. It is light and fluffy and tender, yet buttery and rich. It's truly the best of both worlds. If you've ever been disappointed by cake because it's dry or dense, then you really need to try this recipe because it has the best texture of any cake I've ever made. I know, another strong statement, but I am NOT exaggerating!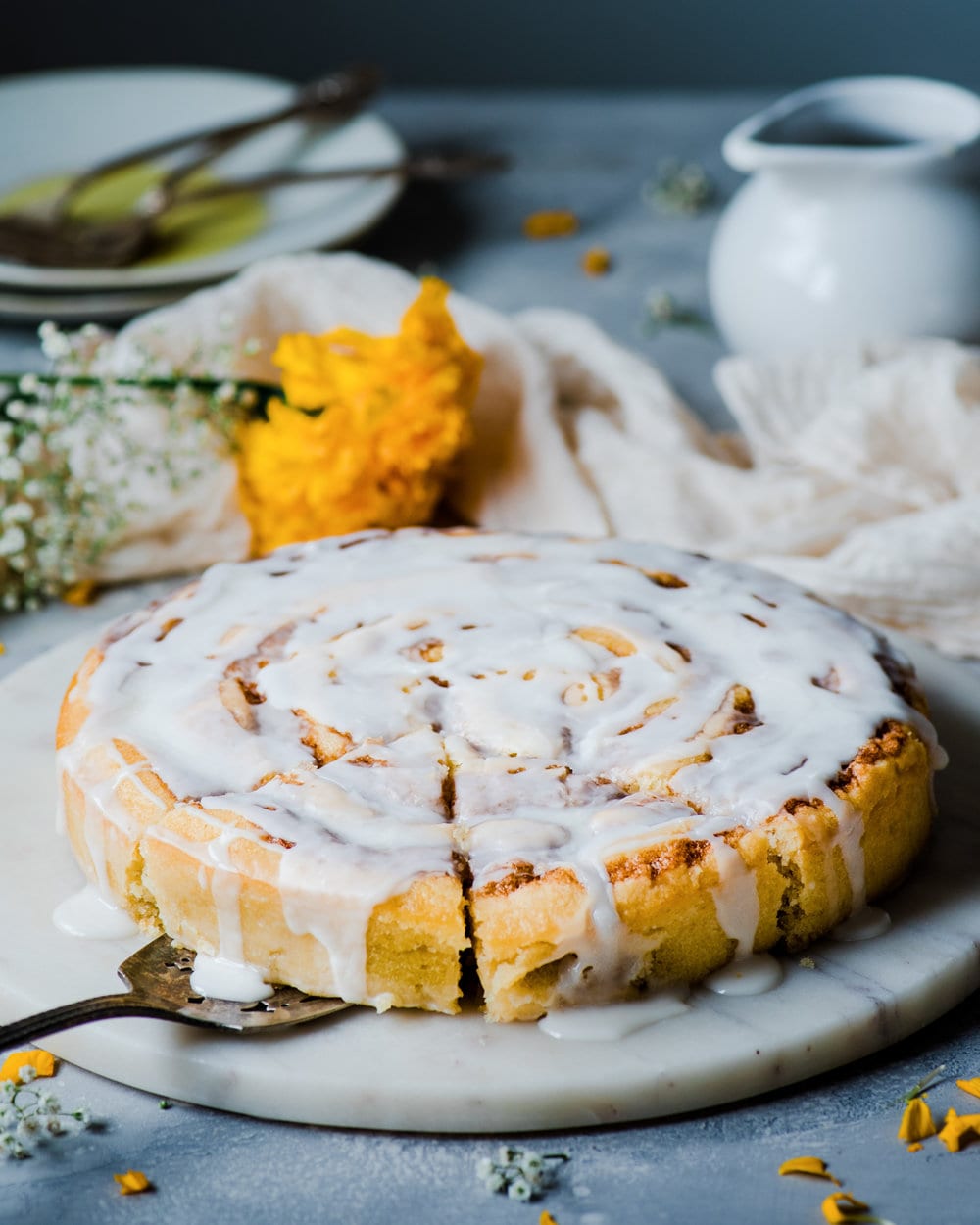 Tips for making this recipe
Here are my tips for nailing that fluffy cake texture so you can trick yourself into thinking you are eating light-as-air cake, even though it's actually buttery-and-decadent cake. #mindtricks
Vegan Buttermilk
If you're familiar with baking, you might know that buttermilk is often added to baked goods because it's acidic, and a slightly acidic batter tenderizes the gluten in flour, breaking down those tough glutenous strands so the baked goods come out tender and moist.
Since traditional buttermilk is made with, well, milk, it's decidedly not vegan. Luckily, there's an incredibly easy substitute that works really well: mixing plant-based milk with apple cider vinegar (white wine vinegar is too harsh). After you mix these two ingredients and set it aside for a bit, you'll notice it'll start curdling, just like buttermilk. Any plant-based milk works fine, but I've noticed that you get the most curdling action with soy milk.
Side note: curdling action looks like cuddling action, but they are two very different things.
Aquafaba
Aquafaba, like vegan buttermilk, is another creative substitute for a common ingredient used in baked goods: eggs. If you're wondering what aquafaba is, it's simply the liquid leftover from cooked chickpeas.
When aquafaba is heavily whipped, it turns into a fluffy white concoction that mimics the properties of beaten egg whites in baking. Genius, right? And even lightly whipping aquafaba, as is done in this recipe, brings a fluffy texture and a nice lift to baked goods.
Cake Flour
There's a reason cake flour is called cake flour. It's especially great in cakes because it has a softer and more delicate texture than all-purpose flour, resulting in cakes with a finer, more tender crumb. While all-purpose flour is fine in many cake recipes, if you really want a light and extra fluffy cake, cake flour is the way to go.
Baking Soda and Baking Powder
As you probably know, baking soda and baking powder are both leavening agents. Baking soda is much stronger than baking powder in terms of how much rise you'll get from baked goods.
Baking soda also requires the recipe to have some sort of acid to start reacting with it, and the acidity in apple cider vinegar is the perfect neutral-tasting option that will help activate the leavening action of baking soda, thereby enhancing the amount of rise in your cakes.
Baking soda also requires some sort of acid because it is alkaline, and without an acid to neutralize it, an excess amount of baking soda can leave a soapy taste in your mouth! The acidity in the buttermilk cancels out baking soda's alkaline nature, but the alkaline nature of baking soda, then in turn, cancels out the tanginess (acidity) in the buttermilk. Since a subtle tanginess is welcome in a cake like this (as opposed to say, a chocolate cake – I talk about this more in this post), I also use some baking powder here. The additional leavening agent not only slightly increases the rise in this cake, but baking powder also brings in a tiny bit of its own acid (not nearly as much as baking soda), which allows just a tiny bit of that buttermilk tang to remain in the batter.
Mixing the Cake Batter Just Enough
This last tip is incredibly important. Too often, cakes turn out dense or dry because the batter has been overmixed. Many home chefs think that the wet and dry ingredients have to be 100% incorporated and the batter must be 100% smooth. But in many cakes (and certainly things like pancakes and muffins), it's okay to have a little bit of flour that isn't 100% perfectly mixed in.
The chief reason you want to avoid overmixing the wet and dry ingredients together is that it causes the batter to become denser. This is because when you mix flour with liquid, it activates the proteins found in gluten that give baked goods their structure. Overmixing can cause the gluten to get elastic and tough, resulting in a dense, perhaps even chewy texture.
My advice: as soon as you get a 95% uniform dough, stop mixing.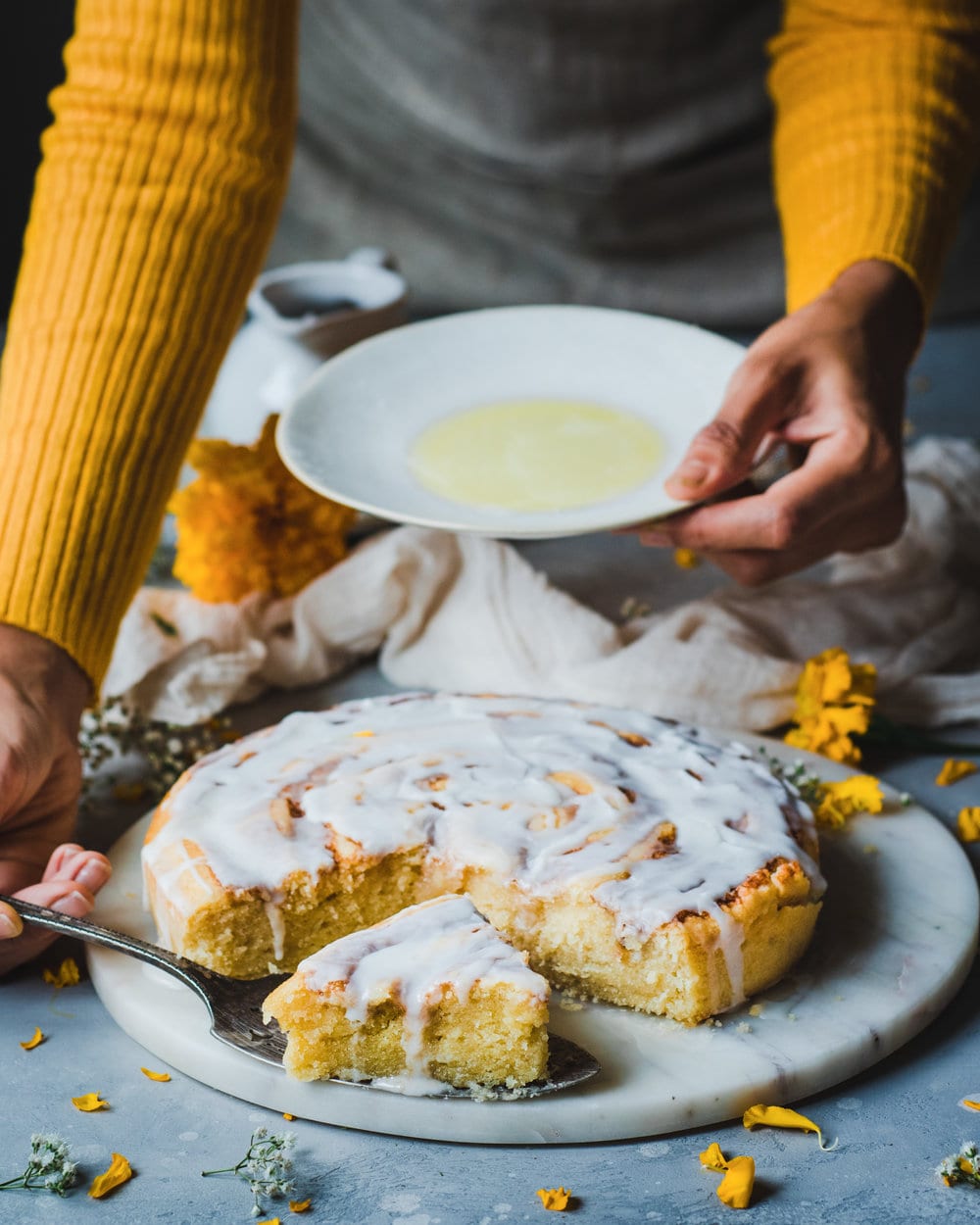 Ingredient Notes
Okay, now that I've given away all of my secrets for how to bake a light and fluffy cake, a few more notes about the ingredients and tips for success!
I use vegan butter in both the cake batter and in the brown sugar-cinnamon swirl filling. The first step in this recipe reminds you to take your butter out of the fridge so you can soften it at room temperature. This recipe will NOT work with cold butter.
The recipe also calls for sunflower oil, though you can use any relatively neutral oil you like. The reason I use both oil and butter is that butter brings that rich buttery taste (obviously), but using butter alone can result in a cake that feels too heavy.
For the brown sugar-cinnamon swirl filling, I scoop it into a piping bag, and then carefully pipe out a big concentric circle on top of the cake batter. That's what makes it look like giant cinnamon roll! But, if you are feeling lazy (hey, it happens), you can just dollop rounds of the filling along the top of the cake and use a skewer or knife to create a swirl pattern. It won't look as cool but it will still taste delicious!
And finally, you'll notice that there's a sugar icing involved because, well, cinnamon buns wouldn't be cinnamon buns without that icing/frosting. But, I recognize there's quite a bit of sugar in this cake, so feel free to cut the sugar icing recipe in half and just add a light drizzle over the cake.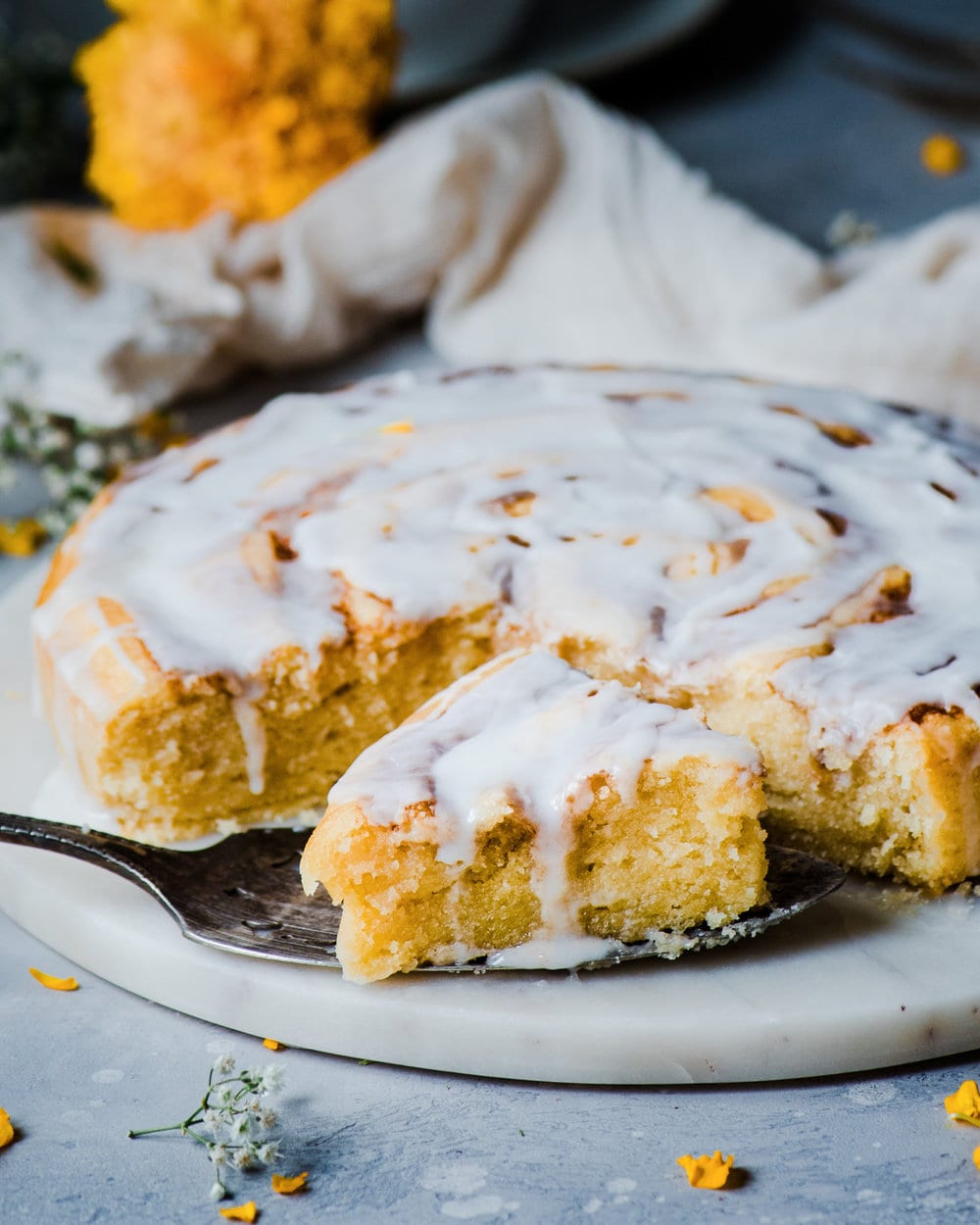 If you love this Vegan Cinnamon Roll Cake, please rate and review the recipe below. It's always much appreciated :)
Vegan Cinnamon Roll Cake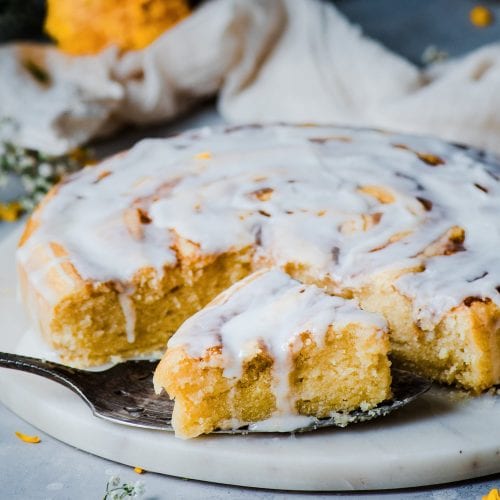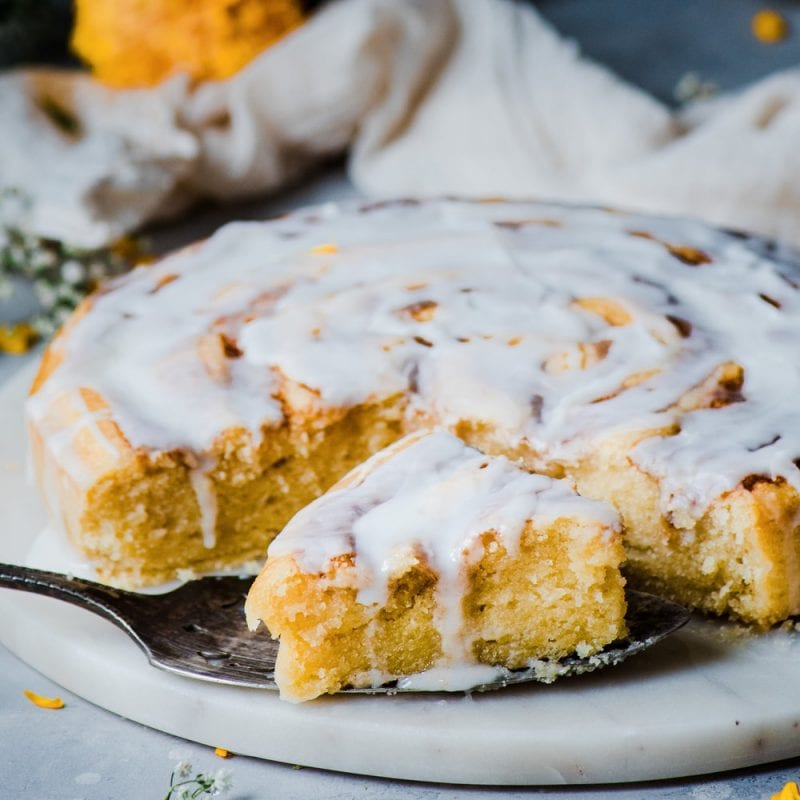 Imagine a giant cinnamon roll except you don't have to wait for the dough to rise and it's easier to make! That's exactly what this Vegan Cinnamon Roll Cake is! Buttery and rich yet light and fluffy thanks to a few secret ingredients and tricks!
Ingredients
Cake
1/3

cup

vegan butter,

softened at room temperature (I used Country Crock's olive oil-based Plant Butter)

3/4

cup

+ 2 tablespoons nondairy milk at room temperature

(I used almond milk)

1 1/2

teaspoons

apple cider vinegar

2

cups

256 g cake flour (spooned and leveled)

A heaping 1/4 tsp fine sea salt

2

teaspoons

aluminum-free baking powder

1/4

teaspoon

baking soda

1/3

cup

sunflower oil,

or other neutral-tasting oil

3/4

cup

+ 2 tablespoons organic cane sugar

1/3

cup

aquafaba,

the liquid from a can of chickpeas

1

teaspoon

pure vanilla extract
Cinnamon Swirl Filling
1/2

cup

vegan butter,

softened at room temperature (I used Country Crock's olive oil-based Plant Butter)

1/3

tightly packed cup organic brown sugar

2

teaspoons

ground cinnamon

1

tablespoon

flour,

you can use more of the cake flour, or all-purpose flour
Sugar Icing
1

cup

organic powdered sugar

2

tablespoons

nondairy milk

1/2

teaspoons

pure vanilla extract
Instructions
Take the vegan butter for the cake and cinnamon swirl out of the fridge to soften.

Line the bottom of a round 9-inch cake pan with parchment paper and grease the sides to prevent sticking. Preheat the oven to 350°F/175°C.

Make the vegan buttermilk. Combine the 3/4 cup + 2 tablespoons non-dairy milk and apple cider vinegar and stir. Set aside to curdle.

Prepare the aquafaba. Pour 1/3 cup of the liquid from a can of chickpeas into a medium bowl. You can also use the liquid from chickpeas cooked from scratch. With an electric mixer, beat the aquafaba on medium speed until it starts to get foamy, about 45-60 seconds.

Whisk together the cake flour, salt, baking powder, and baking soda in a medium bowl.

In a large bowl, add the softened 1/3 cup vegan vegan butter, cane sugar, and oil until well incorporated and fluffy, 45 seconds or so. Add in the whipped aquafaba and vanilla extract, and mix until just combined, 15-20 seconds .

Add half of the flour mixture into the butter-sugar mixture, beating on low speed until just combined. Then add the vegan buttermilk and beat until just combined. Finally, add in the remaining flour mixture until you have a mostly smooth batter, but do not overmix (it's okay if there are a few flour pockets remaining) to prevent the cake from getting dense. The batter should be light and fluffy. Transfer the batter to the prepared 9-inch cake pan.

Make the cinnamon swirl filling: Add the 1/2 cup butter, brown sugar, cinnamon, and 1 tablespoon flour to a medium bowl. Using an electric mixer on medium speed, cream together until evenly combined.

Scoop the cinnamon swirl filling into a piping bag or a ziplock bag with the tip cut off. Starting in the center, pipe the filling into a concentric circle to mimic the look of a cinnamon roll. Alternatively, you can simply dollop the cinnamon filling evenly over the cake better and use a skewer or knife to marble and swirl over the cake.

Bake the cake for 40-45 minutes, or until a toothpick inserted in center comes out mostly clean, and it feels firm to the touch and the edges are lightly browned. My cake was done in exactly 40 minutes.

Remove the cake from the oven and allow to cool on a cooling rack for 10-15 minutes before removing from the cake pan and serving.

Make the sugar icing while the cake is resting. Add the powdered sugar, 2 tablespoons nondairy milk, and vanilla to a medium bowl. Whisk until smooth, but still thick and viscous. Add more milk as needed. Drizzle the icing over the warm cake and serve warm.
---
Calories:
332
kcal
|
Carbohydrates:
45
g
|
Protein:
3
g
|
Fat:
17
g
|
Saturated Fat:
3
g
|
Polyunsaturated Fat:
3
g
|
Monounsaturated Fat:
9
g
|
Trans Fat:
1
g
|
Sodium:
259
mg
|
Potassium:
45
mg
|
Fiber:
1
g
|
Sugar:
28
g
|
Vitamin A:
611
IU
|
Vitamin C:
1
mg
|
Calcium:
83
mg
|
Iron:
1
mg