Back in law school, I didn't have much time for elaborate cooking, but I did eat almost all of my meals at home. One of my weekly meals was a tofu and noodle stir-fry that I made with soba noodles, a bag of seasoned frozen vegetables, and tofu marinated in Trader Joe's Soyaki sauce. It was incredibly simple (I literally just dumped some of the sauce on the tofu and left it in the fridge for an hour, and steamed the frozen vegetables. It wasn't gourmet but I remember enjoying it on the regular.
This Spicy Sesame-Cashew Noodle Salad is my grown-up version of that law school-favorite. It's made with nutrient-rich whole foods, tastes incredible, and is easy to make! What more could you ask for? Plus, it's packed with protein!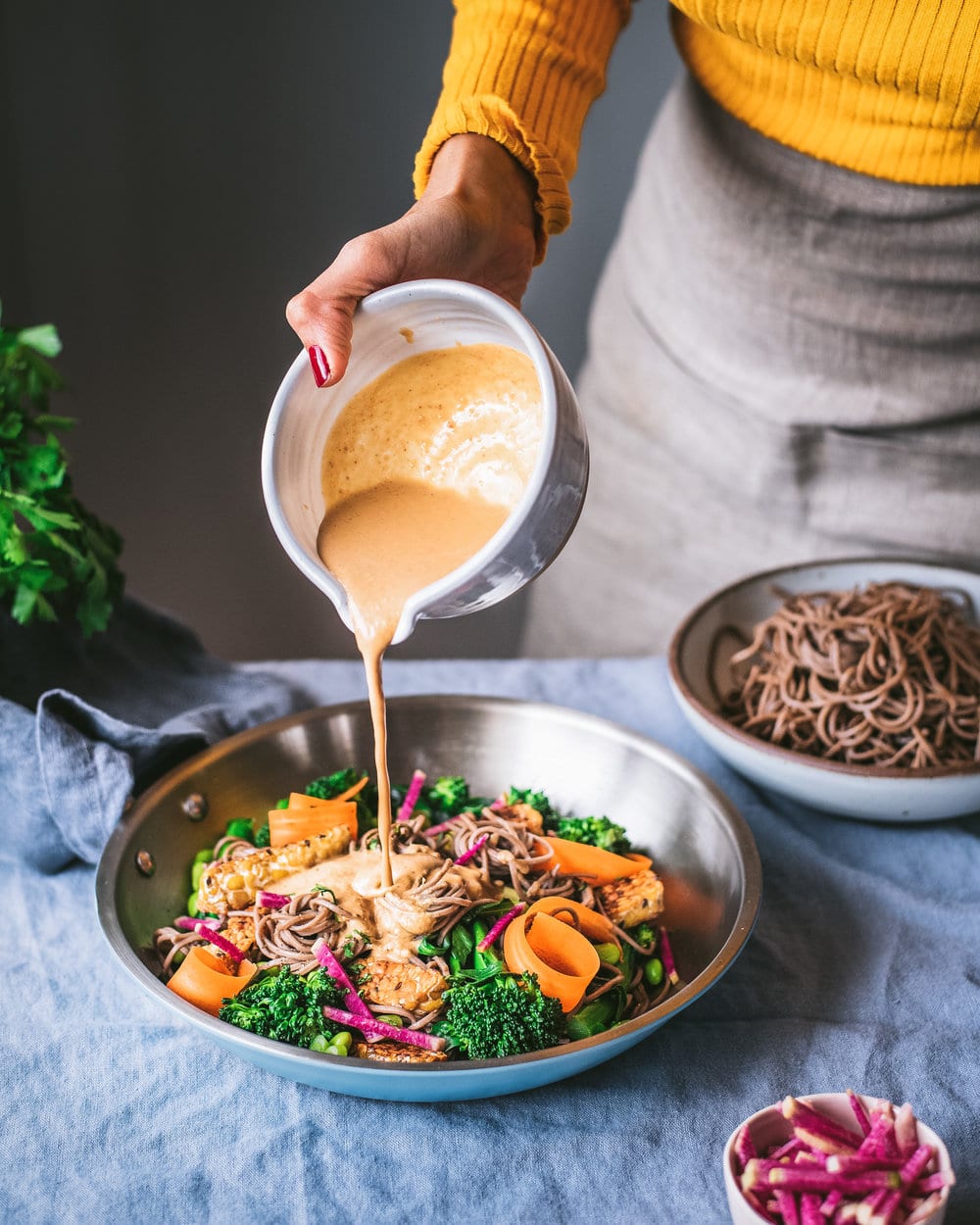 Ingredient notes
Soba noodles
They're my favorite because they have this hearty, nutty taste and are packed with protein (1 serving has 8 grams of protein). Feel free to use another type of noodles, such as brown rice noodles, rice noodles, or spelt noodles. Soba is simply the Japanese word for buckwheat.
If you buy 100% soba/buckwheat noodles, they will be gluten-free, as buckwheat is a pseudo-grain that's naturally gluten-free. However, many commercial varieties of soba noodles are made with part buckwheat flour, part wheat flour and are therefore not gluten-free.
Tempeh and edamame
This noodle salad also gets a ton of protein from tempeh and edamame. Tempeh is another one of my favorite foods, though for some reason, I don't eat it very often (I am trying to change that with this delicious recipe)! It's made from fermented whole soy beans and is minimally processed, making it a highly nutritious, protein-rich option.
Just three ounces of tempeh has 16 grams of protein, 7 grams of fiber, and of course absolutely zero cholesterol. You can bring that nutrition fact up anytime someone insists that a vegan diet can't provide enough protein!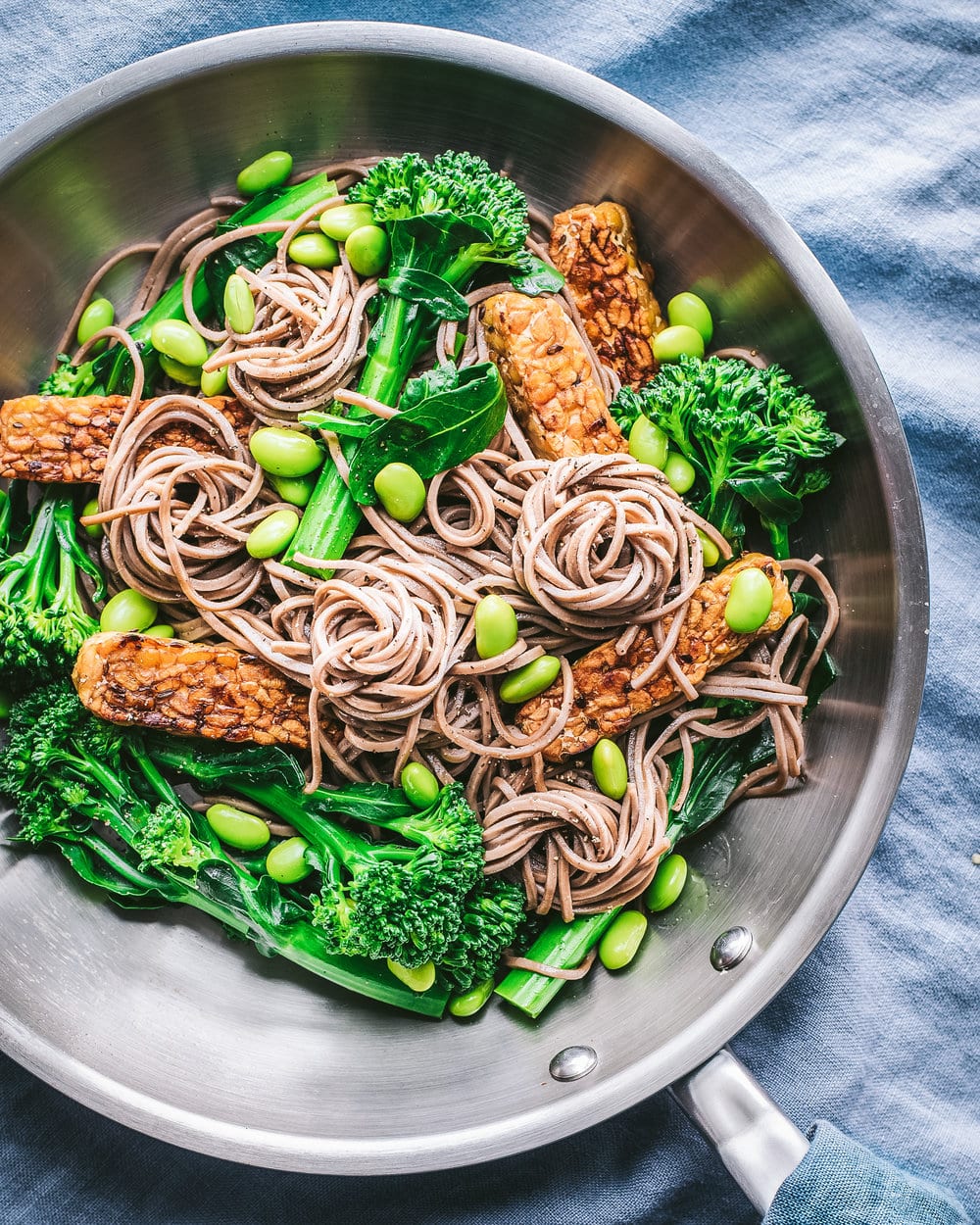 The sauce
Now for my favorite part, the spicy sesame-cashew sauce! This sauce is unreal. Like finger-lickin' good. It's spicy, a little sweet, a little tangy, and bursting with flavor. When it's not dressing this noodle salad, I also use it as a dipping sauce for spring rolls/dumplings/various finger foods (just leave out the water called for in this recipe).
I love the flavor combination of cashew and sesame, but if you can't find cashew butter and/or don't make it home, almond butter will do the trick. I recommend using peanut butter only if you really love the taste of peanut butter because it has a more pronounced, less subtle taste than either cashew butter or almond butter.
I used a whole teaspoon of crushed red pepper flakes because I LOVE very spicy food, but for most people, a half teaspoon will be sufficient. And if you're sensitive to spicy food, just a pinch will do (or omit it entirely).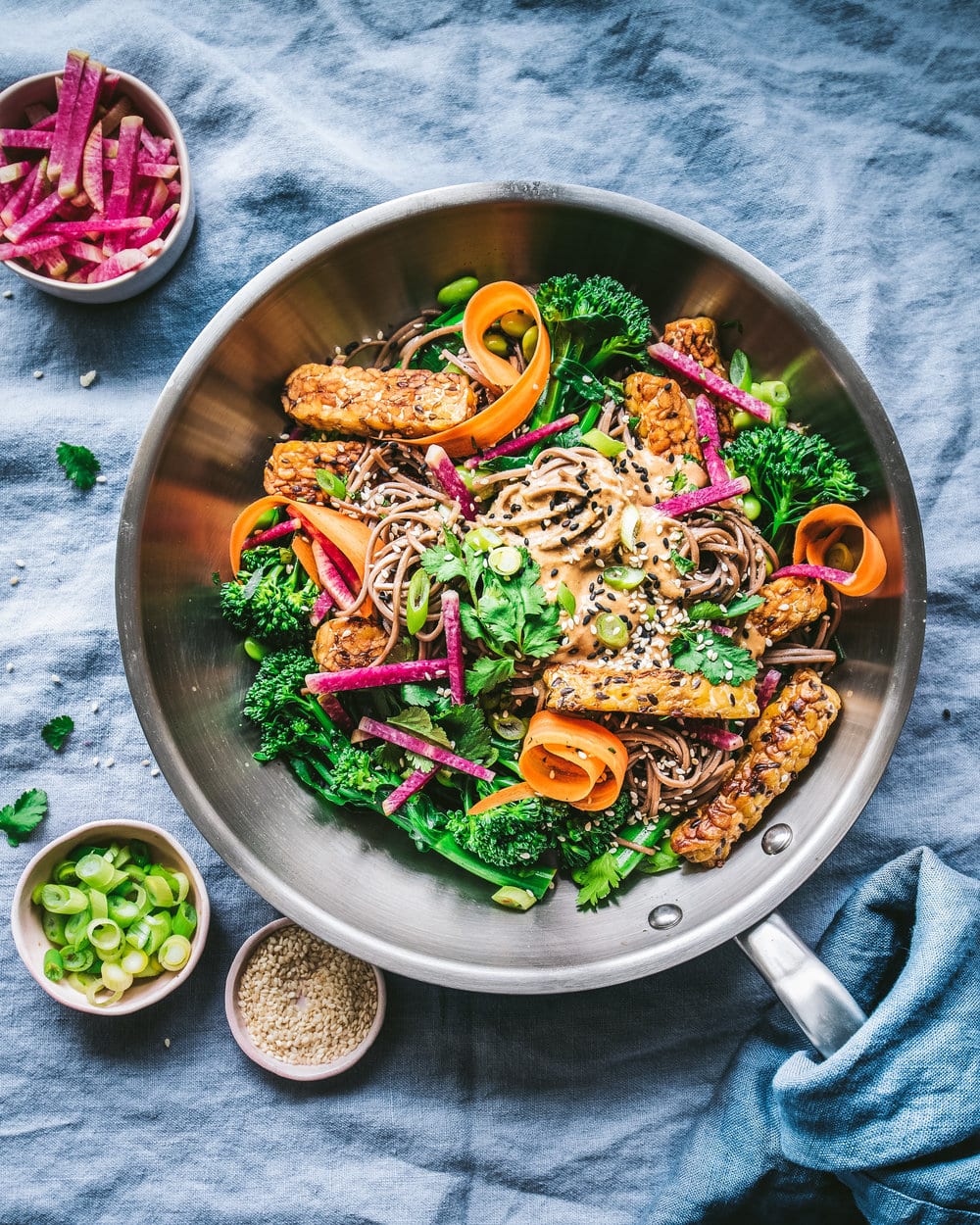 Tips for making this recipe
Steam the tempeh. Typically, I steam the tempeh for 10 minutes before further cooking it because it removes that slightly bitter taste, but I find that the combination of thinly slicing them and brushing on the tamari or soy sauce masks that taste. However, if you are ultra-sensitive to bitter food, I recommend steaming the tempeh for 10 minutes before pan-frying it. The pan-frying part couldn't be simpler. You just need a tiny bit of cooking oil, a hot pan, and some tamari or soy sauce!
Serve either warm or cold. This is a noodle salad, but it can be served warm or cold. I served it warm when I first made it, and then ate leftovers both cold and hot.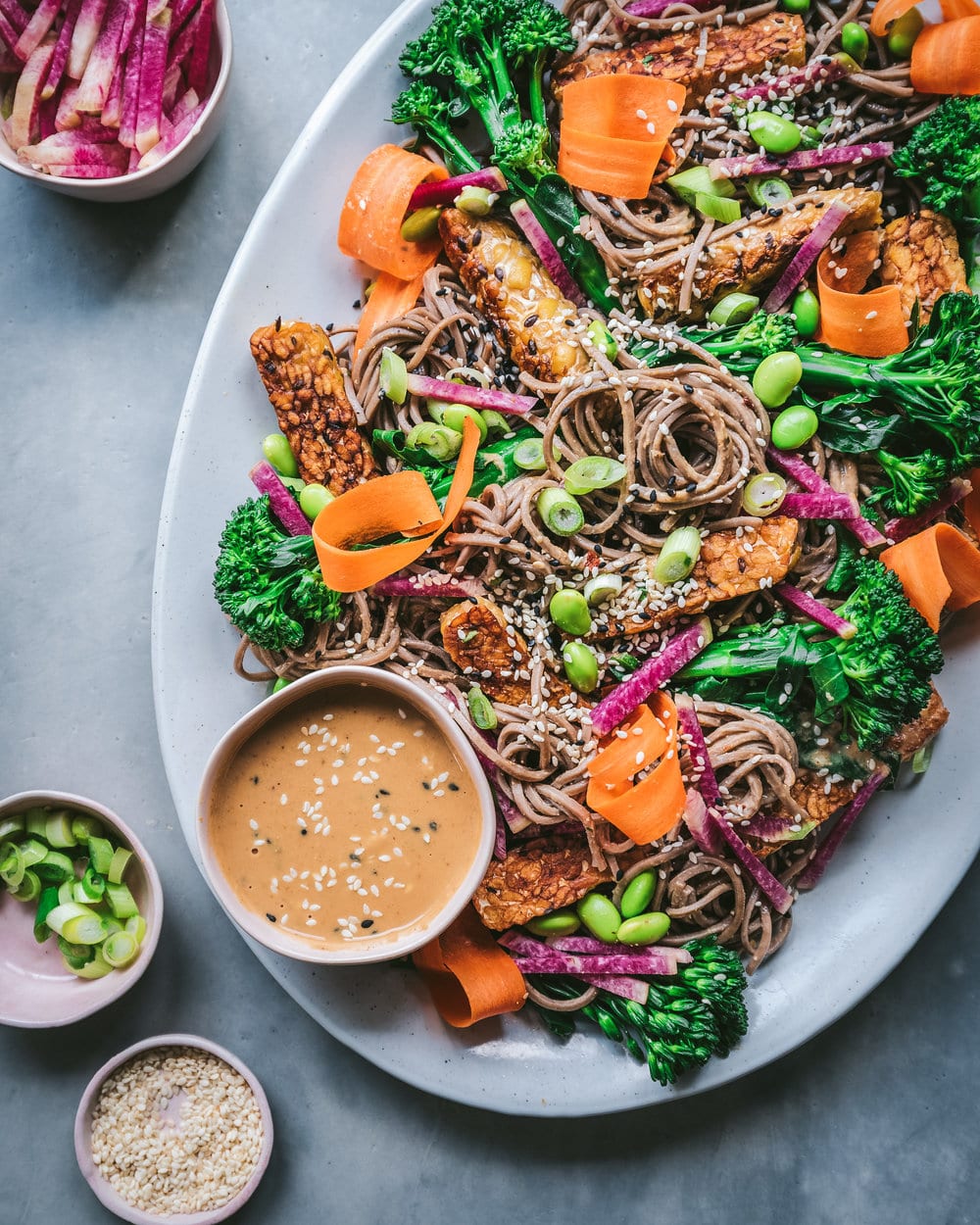 I hope you enjoy this recipe for Spicy Sesame-Cashew Noodle Salad, and if you make it, please drop me a comment below and tag me on Instagram!
Vegan Sesame-Cashew Soba Noodle Salad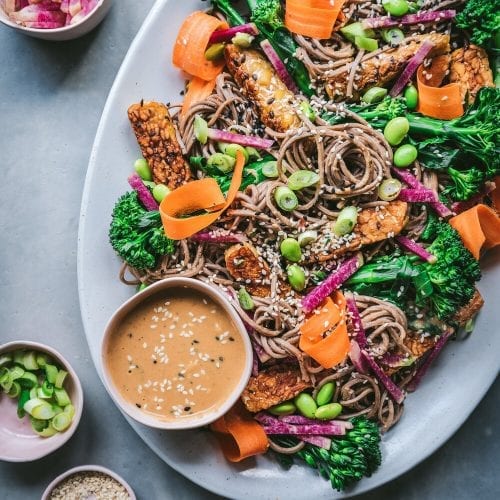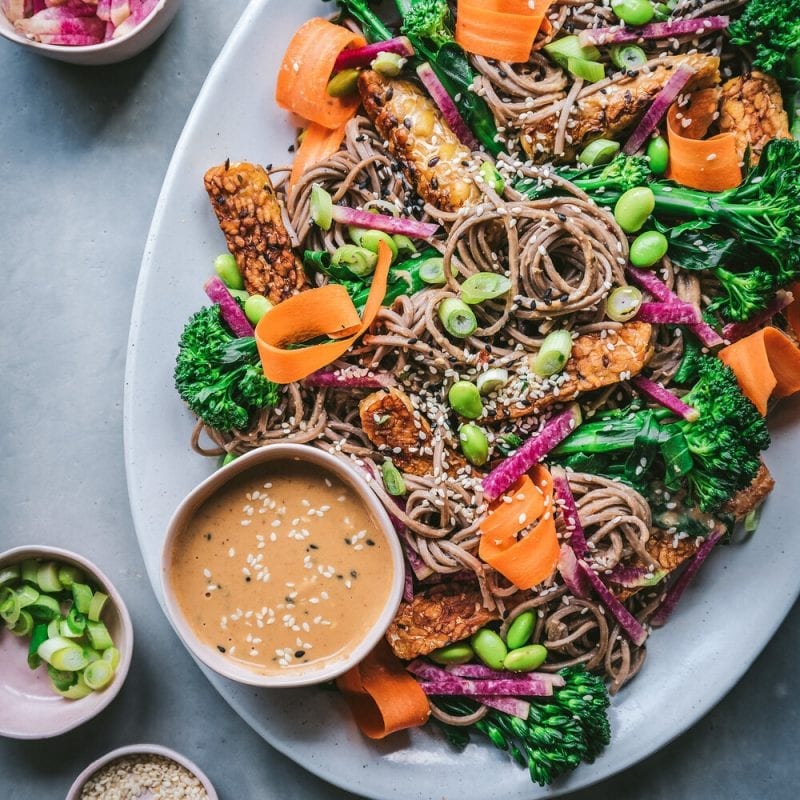 Hearty soba noodles meet a creamy and spicy sesame-cashew sauce and are paired with seared tempeh and fresh veggies in this Vegan Soba Noodle Salad. Packed with flavor but easy enough for a weeknight dinner!
Ingredients
8

ounces

buckwheat soba noodles or brown rice noodles

(check label to ensure gluten-free*)

1

head of broccolini,

or broccoli, thick stalks removed and cut into florets

Spicy Sesame-Cashew Sauce

(recipe below)

Pan-Fried Tempeh

(recipe below)

1 ½

cups

shelled organic edamame

3

large carrots,

peeled and shaved into ribbons

2

watermelon radishes,

sliced into thin strips

½

cup

fresh cilantro,

finely chopped

1

bunch scallions,

sliced on an angle

For serving: Black or white sesame seeds
Spicy Sesame-Cashew Sauce
¼

cup

cashew butter

1 ½

tablespoon

fresh lime juice

2

teaspoons

reduced-sodium tamari or soy sauce

1

tablespoon

coconut nectar,

brown sugar, or agave nectar

1

tablespoon

toasted sesame oil

½ -1

teaspoon

crushed red pepper flakes

(to your spice preference)

2-

inch

piece fresh ginger,

grated or finely minced

½

cup

water
Pan-Fried Tempeh
1

tablespoon

refined coconut oil or neutral oil of choice

8

ounces

tempeh,

cut into ½-inch slices

2-3

teaspoons

reduced-sodium tamari or soy sauce
Instructions
Bring a large saucepan of salted water to a boil. Once the water is boiling, add the soba noodles and broccolini (or broccoli) and cook according to the package instructions. My noodles had a cook time of 5-6 minutes, which is the perfect amount of time for broccoli. If you are using noodles with a longer cook time, add the noodles first and then add the broccoli when there is 5-6 minutes left of cook time on the pasta. Drain in a colander and rinse well under cold water and toss to remove some of the starch. Alternatively, you can steam or blanch the broccoli in a separate pot or using an Instant Pot.

Meanwhile, make the Pan-Fried Tempeh. Heat the oil in a large frying pan over medium-high heat. Once the oil hot, add the tempeh slices in a single layer. Brush the top layer with a bit of the tamari. Cook the temeph slices, undisturbed, for 3-5 minutes, or until nicely browned. Flip and cook on the other side until well browned, brushing again with the tamari.

To make the Spicy Ginger Sesame Cream, place all of the ingredients in a high-speed blender and blend until smooth and creamy. Alternatively, add all of the ingredients except for the water in a medium bowl and whisk until well incorporated; add the water gradually, whisking to thin.

To assemble the salad, toss the cooked noodles with the Spicy Ginger Sesame Cream. Add the cooked tempeh, along with the edamame, carrot ribbons, radish slices, cilantro, scallions, and sesame seeds.
Notes
*Only noodles that are 100% buckwheat are gluten-free. Some soba buckwheat noodles are made with wheat flour, such as these noodles.
---
Calories:
633
kcal
|
Carbohydrates:
81
g
|
Protein:
34
g
|
Fat:
25
g
|
Saturated Fat:
7
g
|
Polyunsaturated Fat:
7
g
|
Monounsaturated Fat:
9
g
|
Trans Fat:
1
g
|
Sodium:
757
mg
|
Potassium:
1626
mg
|
Fiber:
11
g
|
Sugar:
10
g
|
Vitamin A:
10172
IU
|
Vitamin C:
158
mg
|
Calcium:
246
mg
|
Iron:
7
mg