Thank you to ALDI for sponsoring this post! And thank you to my readers for supporting the brands who help make my work possible.
Is there anything more comforting during fall than a bowl of butternut squash soup? I don't think so!
Every spoonful of this Butternut Squash Soup with Crispy Lentils features wholesome ingredients and warm spices, like butternut squash, lentils, cumin, and cilantro. It's pureed until smooth, leaving you with a luscious and creamy meal to warm you up on chilly fall days.
To finish it off, crispy roasted lentils are sprinkled on top for crunch, complexity, and protein. It's the best way to turn this appetizer into a main meal!
Table of Contents
1. Why this recipe works
2. Ingredient notes
3. Step-by-step instructions
4. Tips for making this recipe
5. Frequently Asked Questions
6. Recipe card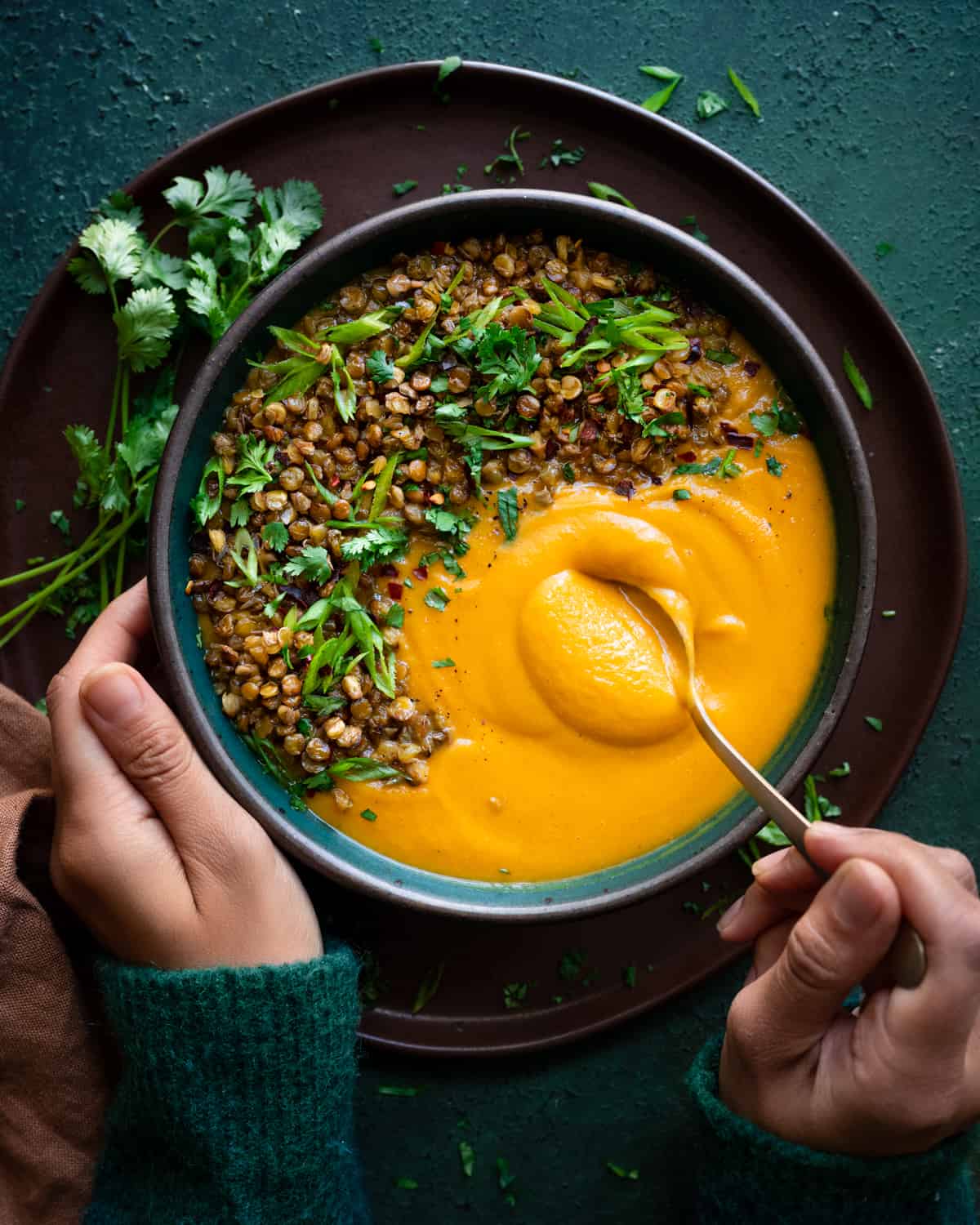 Why this recipe works
The most comforting yet wholesome fall recipe.
Roasted butternut squash has magical, comforting qualities, like a velvety, thick texture and a sweet, earthy flavor. It doesn't even need coconut milk or cashew cream once it's pureed—it's creamy all on its own!
In addition, the handful of budget-friendly warm spices from ALDI give this soup extra comforting characteristics. Red pepper flakes add a subtle heat, cumin builds on the squash's earthiness while highlighting another layer of warmth, and cinnamon brings out the natural sweetness.
Despite being cozy, it's wholesome and vegan, gluten-free, soy-free, and nut-free.
Gourmet flavors without extra work.
I've gotten to know winter squash quite well (as evident in my Butternut Squash Curry and Thai Pumpkin Soup recipes), and it can be time-consuming to prepare. So, I skipped all the peeling and dicing in this recipe (without any sacrifice in flavor).
By cutting it in half, scooping out the seeds, and slicing a crosshatch pattern in the flesh, you achieve deeply flavored roasted squash without the wrist-aching peeling and chopping.
The baseline of flavor here comes from a short list of affordable aromatics and spices. By sautéing them ahead of time, their gourmet flavors are put on display without having to slow simmer the soup.
Looking for more creamy but wholesome vegan soups? Try my Vegan Broccoli Soup or Vegan Cauliflower Soup!
Finished with a crispy surprise.
Have you had the pleasure of trying roasted lentils before? They become delightfully crispy and add a fabulous surprise texture once topped on the creamy soup. You can even double up on the roasted lentils and use any extras on salads, grain bowls, or stuffed sweet potatoes.
Serving toasted bread on the side adds a chewy crunchiness at the end. Dip a piece in the soup to enjoy all of the best textures in one meal: creamy, crunchy, chewy, and crispy.
Ingredient notes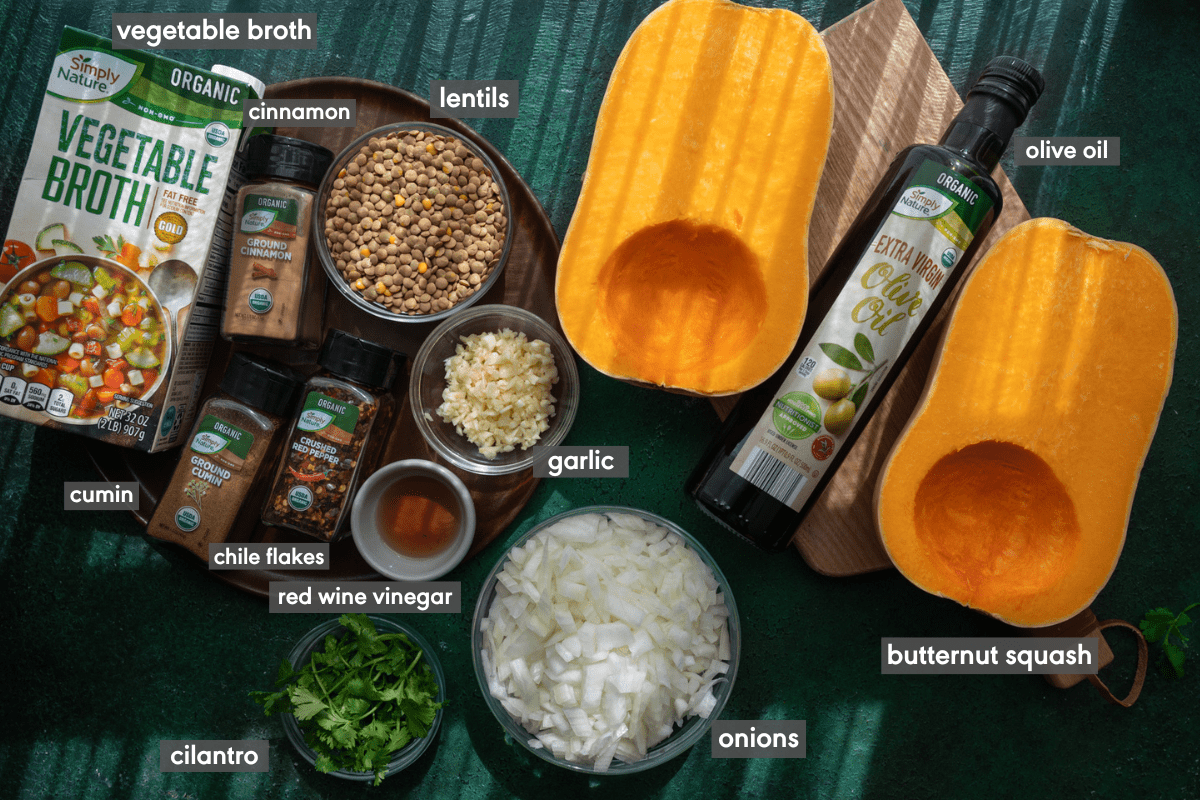 Butternut squash. A large squash (around 3 to 3.5 pounds) or two small squashes will do. The squash is halved, then roasted to fill this soup with layers of deep, earthy, subtly sweet flavors that you wouldn't get if the squash was simply sauteed or boiled.
Green lentils. Dried lentils are a pantry staple I always pick up from ALDI because they're one of the most affordable and easiest ways to bulk up meals. Both green or brown lentils can be used here, as they both crisp up well in the oven and act as a crunchy element on top of each bowl of soup.
Extra virgin olive oil. I like to keep Simply Nature Organic Extra Virgin Olive Oil from ALDI on hand. The organic label doesn't come with an extra price tag and the quality is fantastic.
Garlic + aromatics. Savory garlic, onion, and a warm spice blend add layers of comfort and depth.
Bread. A creamy soup always needs some bread for dipping. Both Specially Selected French Baguette or Specially Selected Italian Bread Loaf from ALDI add a contrasting chewy, crunchy texture when dipped into the luscious soup.
Step-by-step instructions
Cook the lentils. Cook the lentils in a pot on the stove or in your pressure cooker, but only until al dente (not soft!). Drain the lentils and lay them on a kitchen towel to dry (this is important for the roasting step).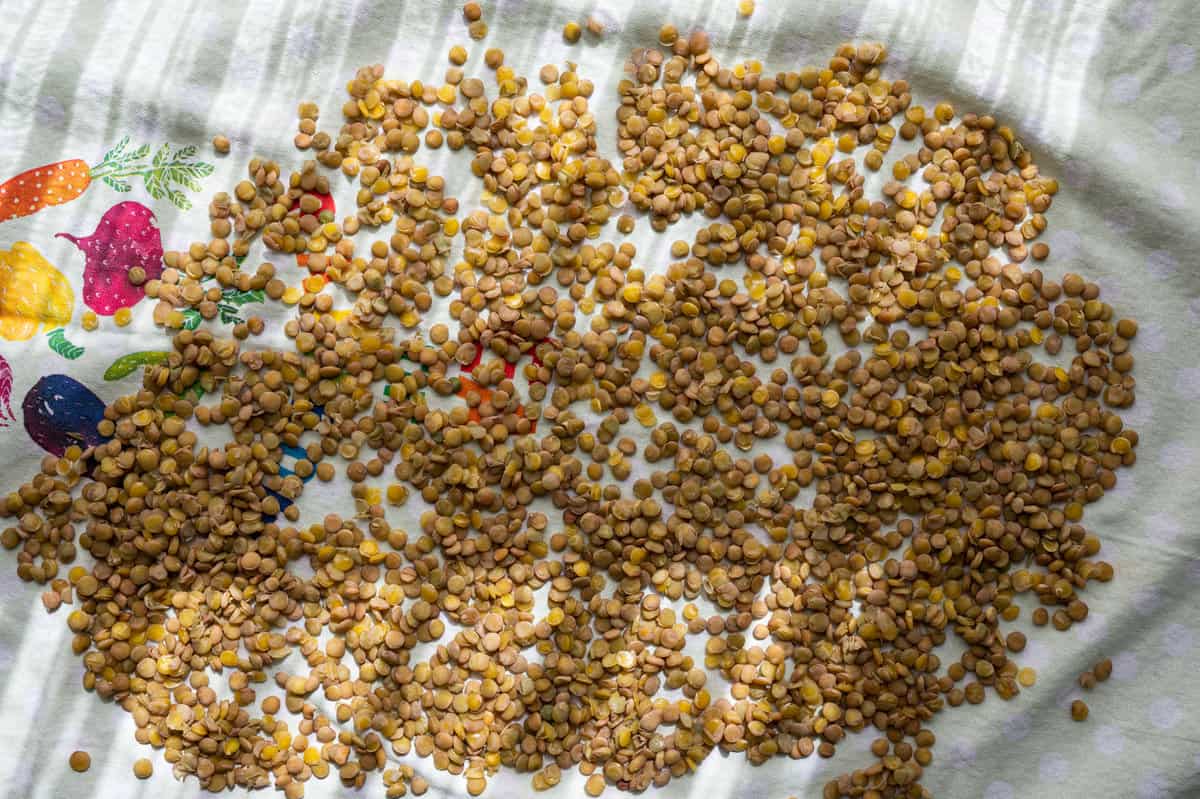 Roast the squash. Cut the squash in half lengthwise, scoop out the seeds, and use a paring knife to cut a crosshatch pattern in the flesh. Rub the flesh with olive oil, salt, and pepper.
Having trouble slicing your squash in half? Just pop it in the microwave for 2 to 3 minutes to soften slightly.
Place the squash flesh side down on a lined baking sheet. Roast in the oven at 400ºF/205ºC for 30 to 40 minutes, until brown and tender.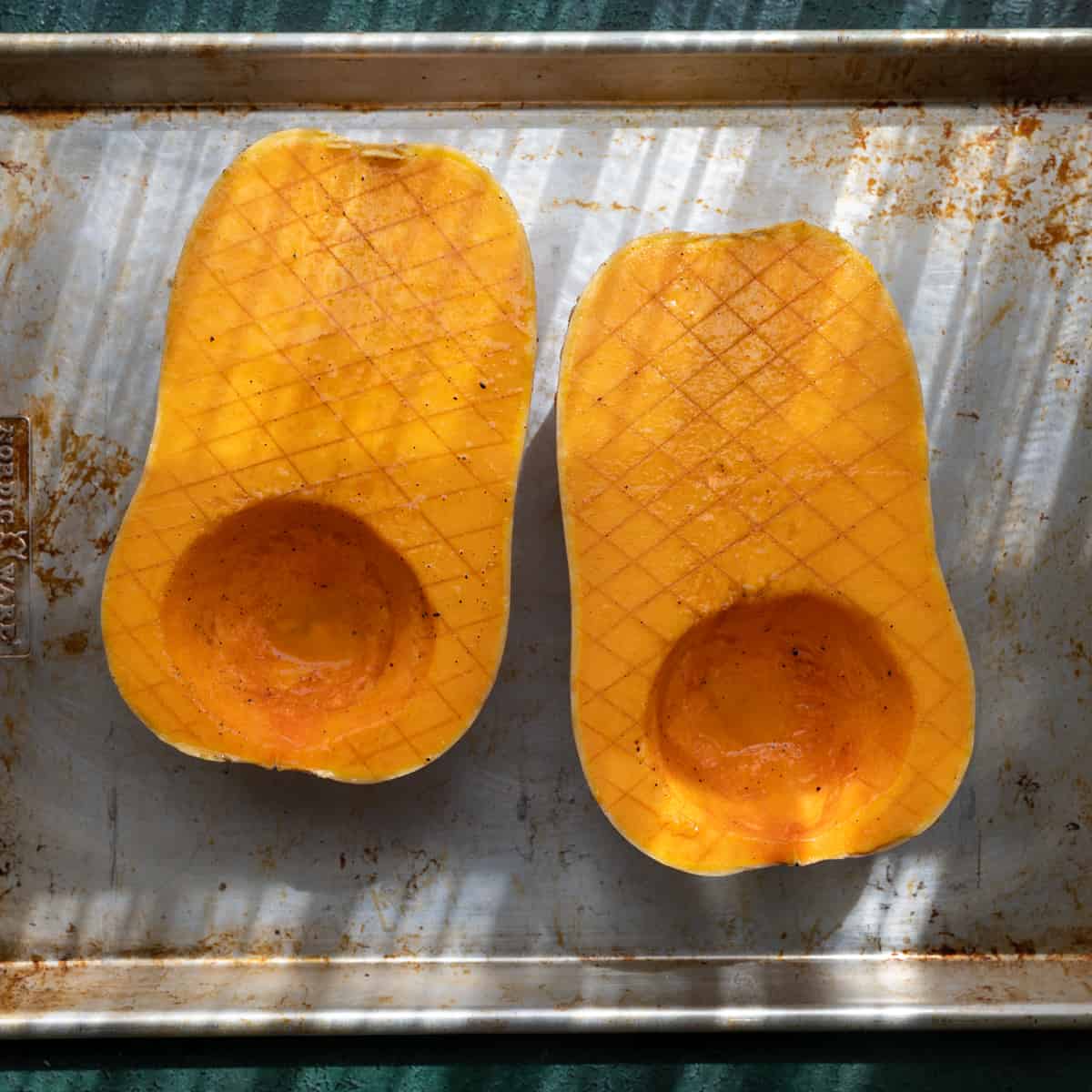 Roast the lentils. Transfer the cooked and dried lentils to another sheet pan. Drizzle them with olive oil and sprinkle with salt and pepper. Spread them out in an even layer, then roast until crisp, about 25 minutes (same temperature as the squash).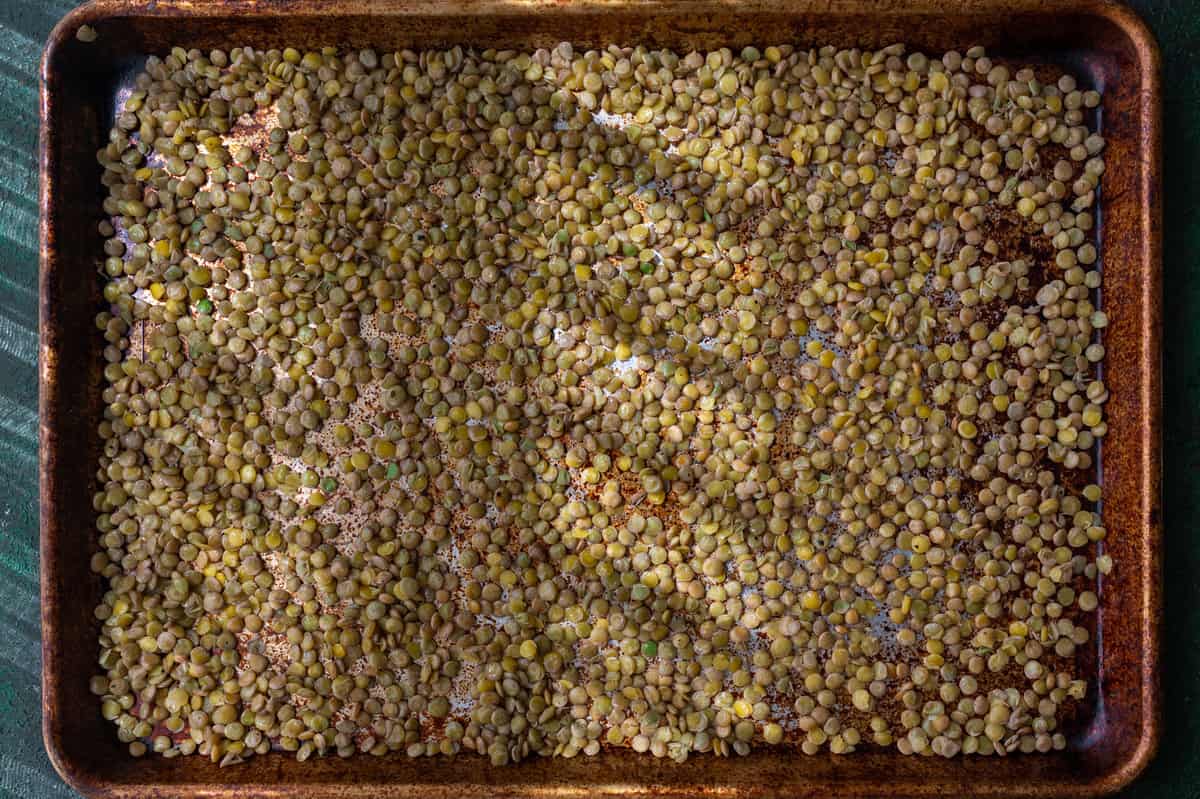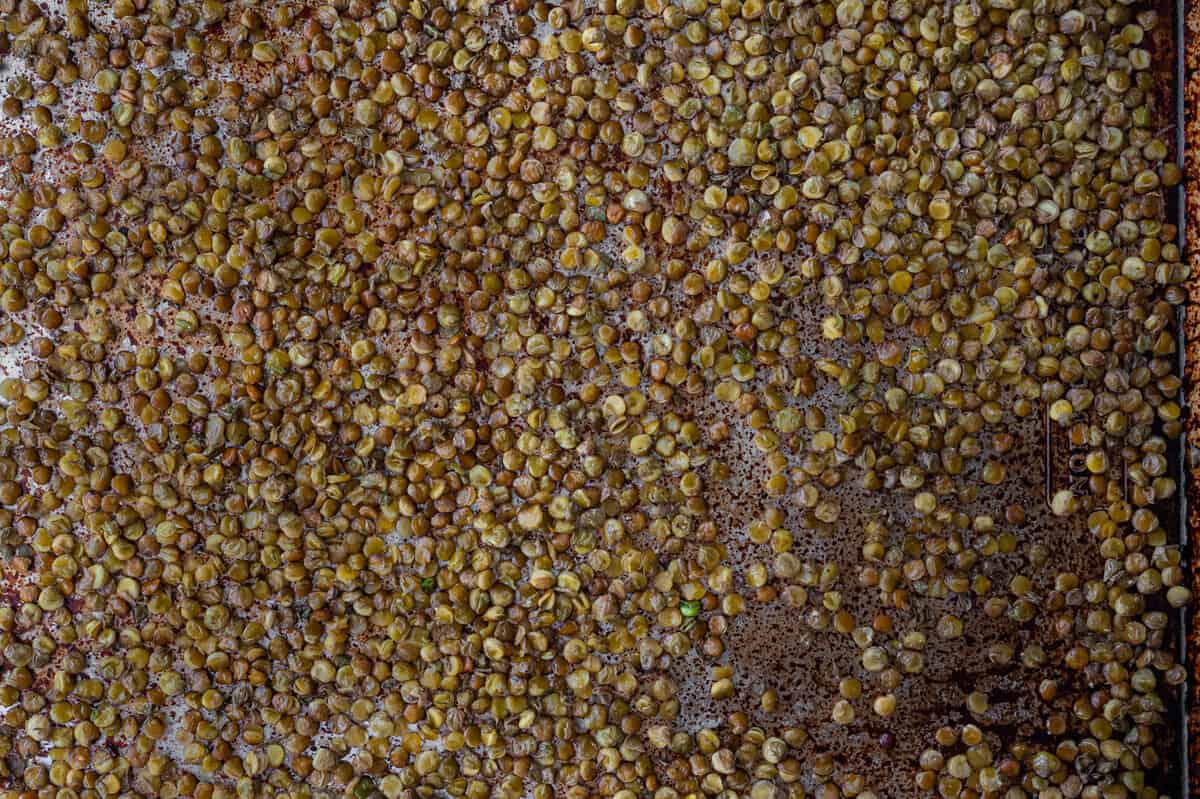 Cook the aromatics. When the squash is almost done roasting, heat some olive oil in a saucepan over medium-high heat. Add the onions and sauté until soft and fragrant. Next, add the garlic and sauté until aromatic.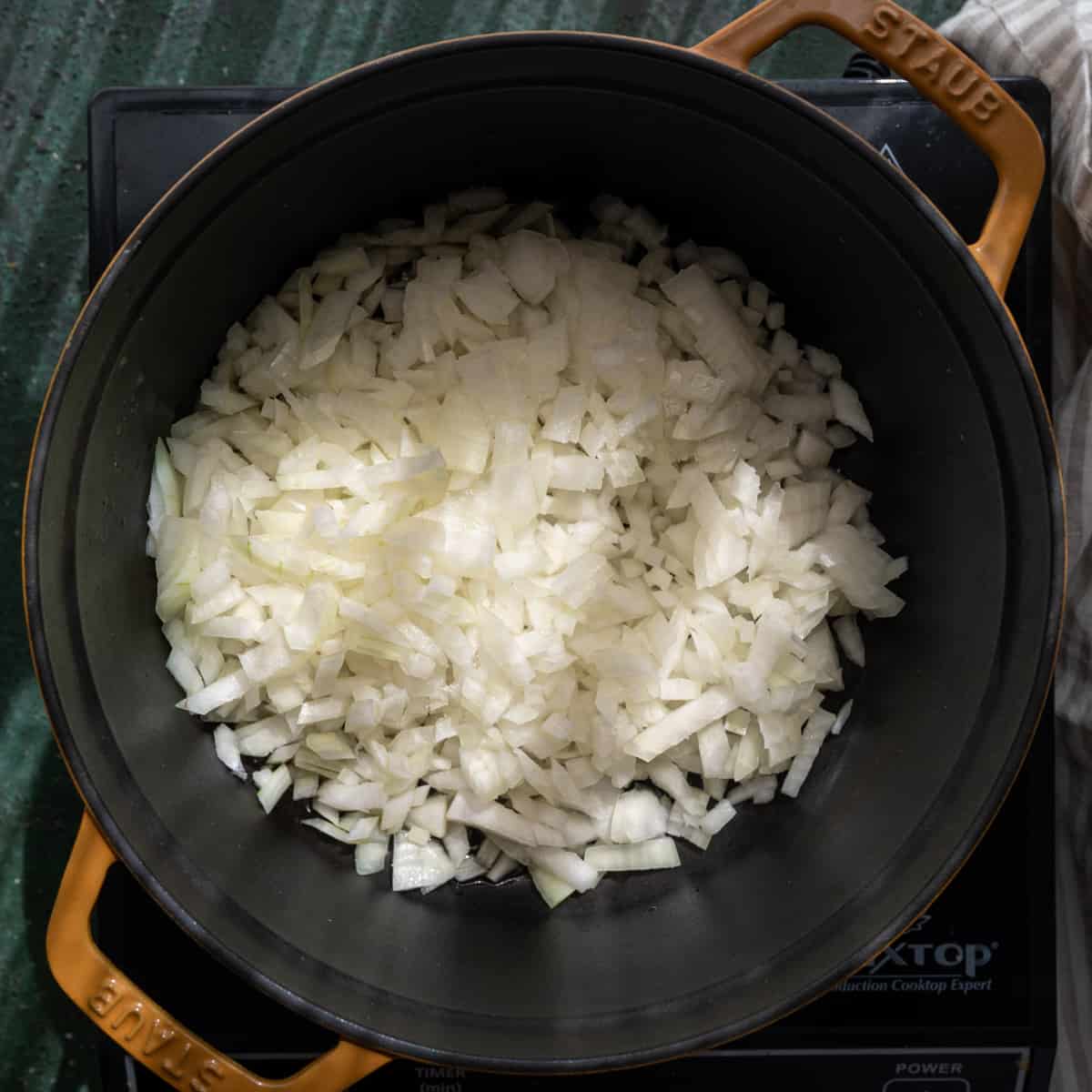 Add the spices and stir to coat the onions for 30 seconds. Deglaze the pan with the broth, making sure to scrape up the brown bits stuck to the bottom. Simmer for 5 minutes.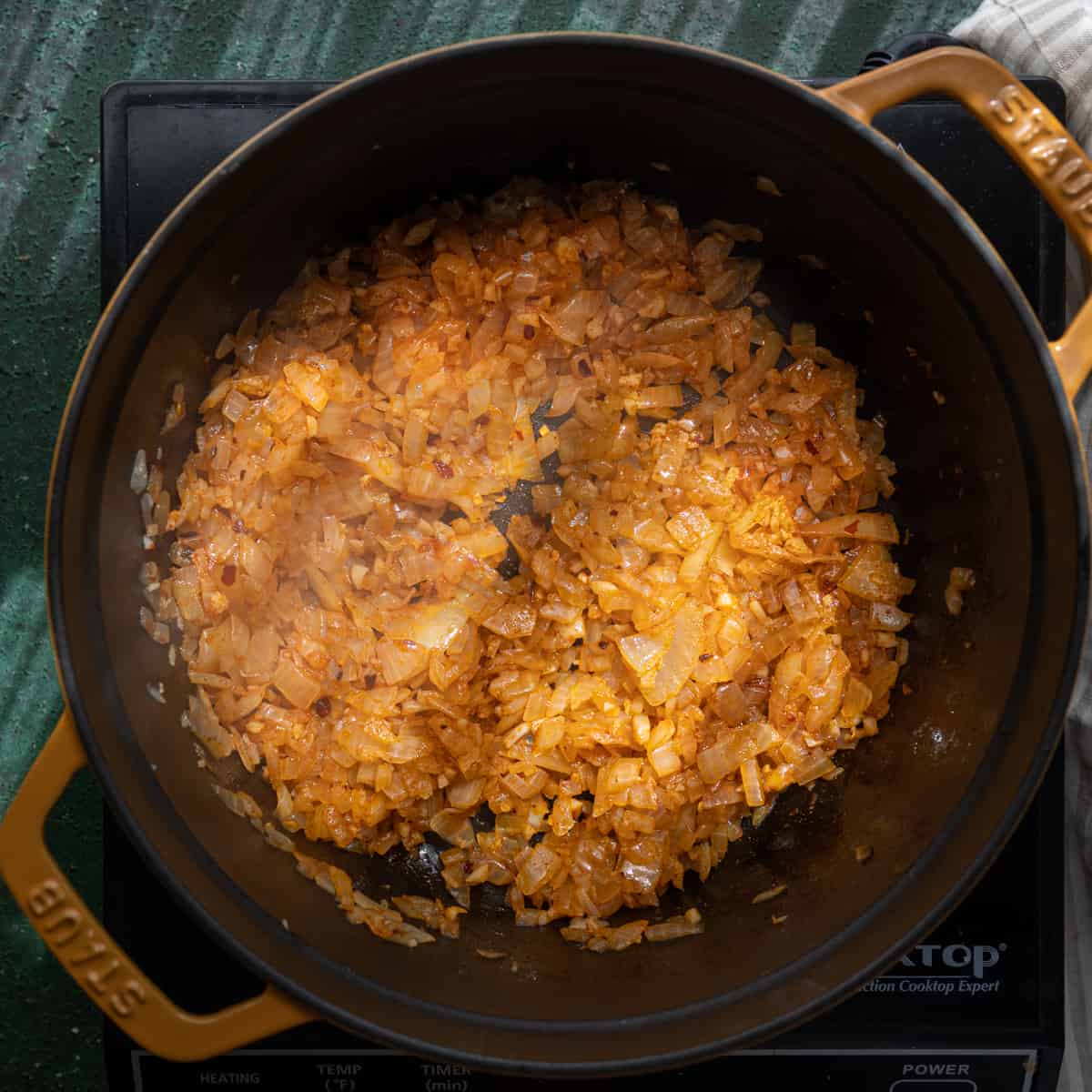 Blend the soup. Transfer the roasted squash flesh to a stand blender. Pour in the broth and onion mixture and season with salt, pepper, and red wine vinegar. Blend with the center cap removed (to allow the steam to vent) until the soup is smooth and creamy.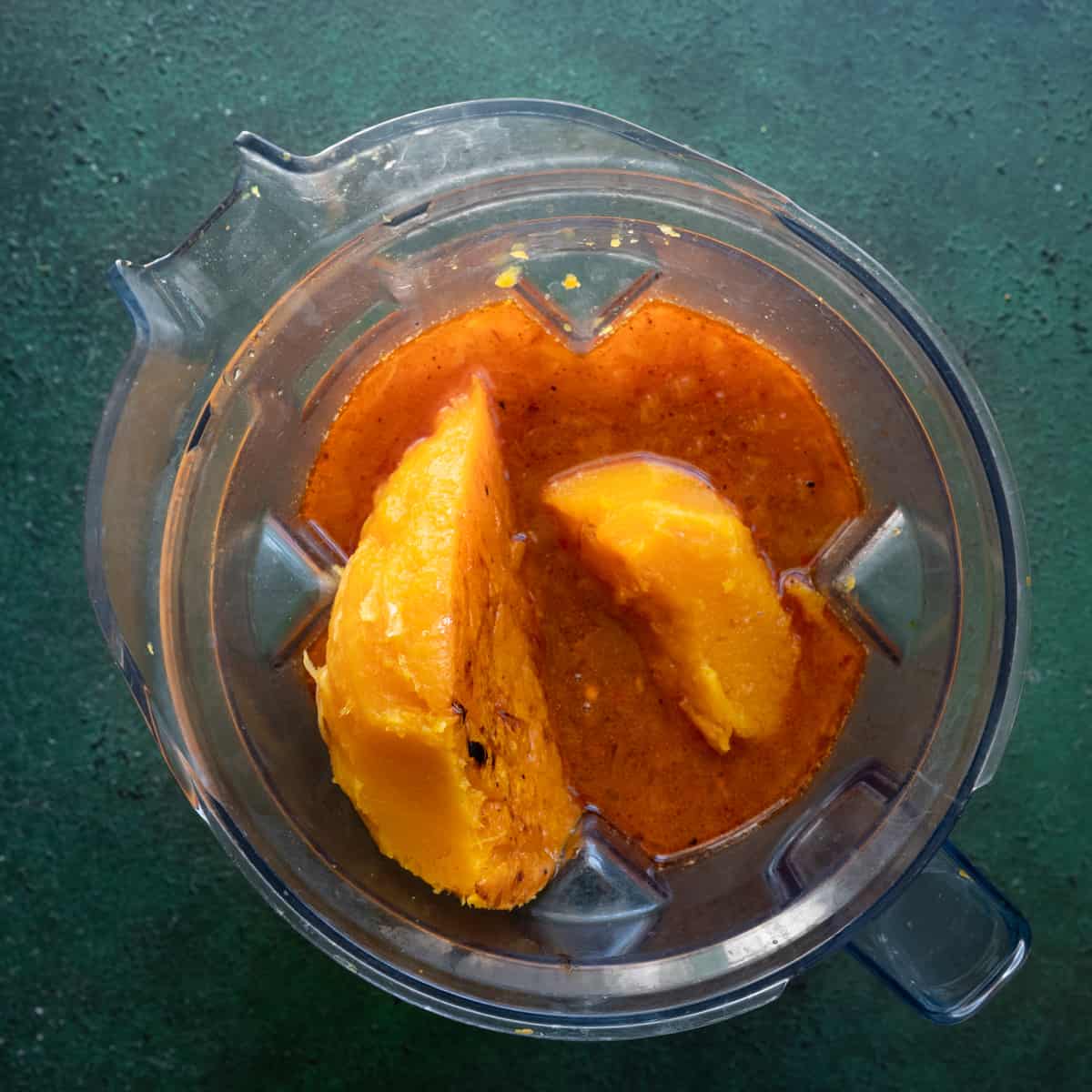 Taste and adjust the seasonings as needed. Pour into bowls and top with crispy lentils and chopped cilantro and green onions. Serve the toasted bread on the side and enjoy!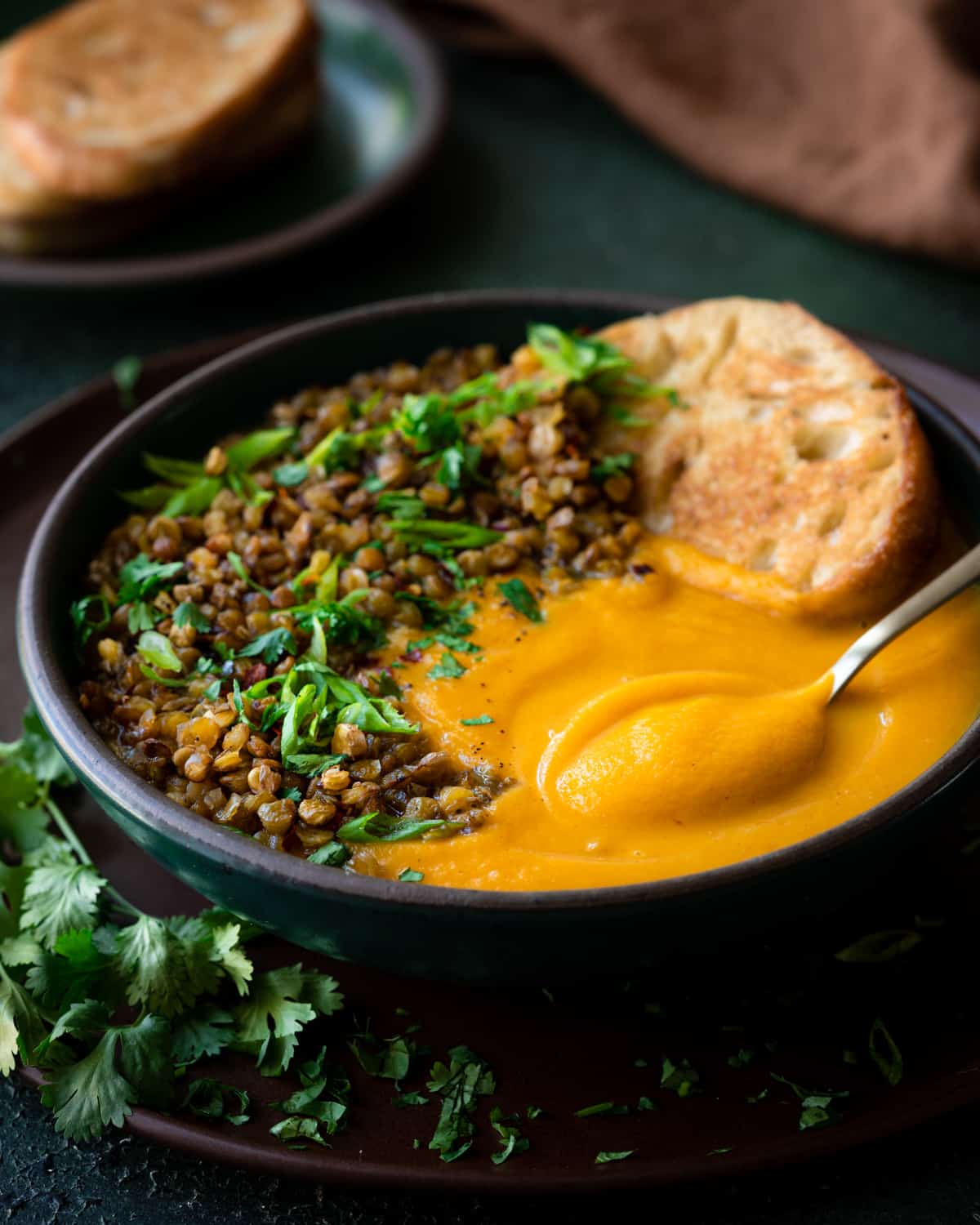 Tips for making this recipe
The secret to crispy lentils.
Only lentils that are barely cooked will crisp up in the oven. If you cook them until they're soft, they won't dry out as well.
It's also important that you give the lentils time to dry after cooking. Cooked and dried lentils = crispy, crunchy roasted lentils.
To dry the lentils, lay them on a clean kitchen towel and spread out. Rest for 10 minutes (or longer). If they still seem a bit wet, drape the towel on top and very gently pat them dry (don't smush them!).
Achieving the right texture.
A regular stand blender will beautifully puree the soup, giving it a silky, creamy texture. If you want to wash one fewer dish and don't mind a more rustic texture, blend the soup with an immersion blender or keep some of the roasted squash on the side and stir it in after blending.
Save time by multitasking.
The components in this recipe are easy to tackle, but there's a right way to get them done efficiently:
(1) Prep the squash while the lentils are simmering
(2) Roast the squash, then prep the aromatics, and wait for the cooked lentils to dry
(3) Roast the lentils when the squash is 25 minutes away from being done
(4) Cook the aromatics on the stove with broth and toast the bread when the lentils and squash are almost done roasting
(5) Blend to soup, top with lentils and bread, and you're done!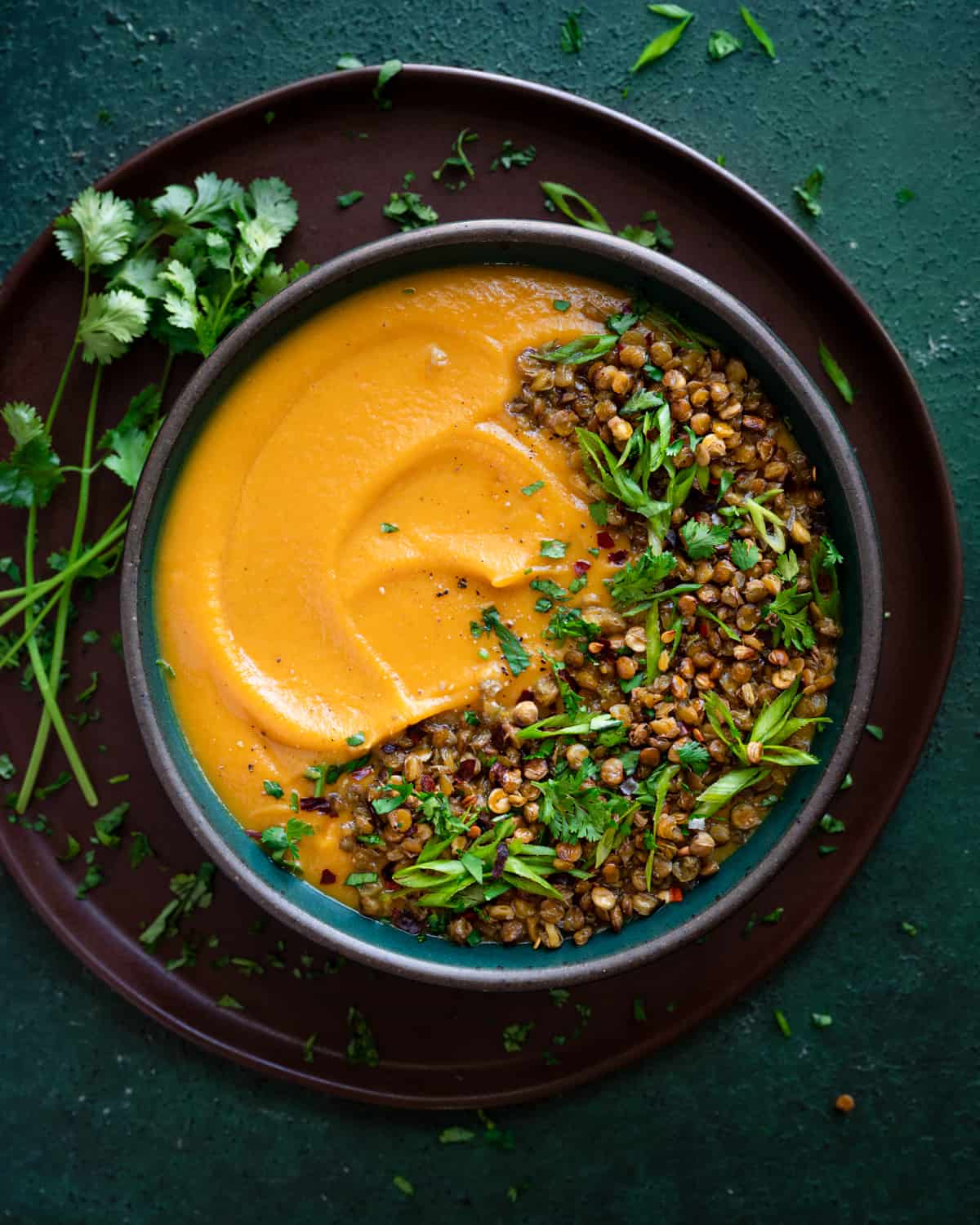 Frequently Asked Questions
Do you have to remove the the butternut squash peel before blending?
Technically, you can eat the skin from roasted butternut squash. It doesn't affect the flavor when blended, but it will slightly affect the texture. I prefer to peel the squash after it's done roasting (when the squash is tender, it almost slips out of the peel).
How long does this soup last in the fridge?
The leftover soup will last for 5 or 6 days when it's stored in an airtight container in the fridge. Keep the lentils in a separate jar at room temperature with the lid ajar to help them stay crisp for about 1 day. 
Can you freeze leftovers?
Yes, you can freeze the soup for 3 to 4 months. When reheating, add broth as needed to help thin it out and freshen up the flavor with a splash of red wine vinegar or lemon juice. The crispy lentils cannot be frozen though.
More Vegan Butternut Squash Recipes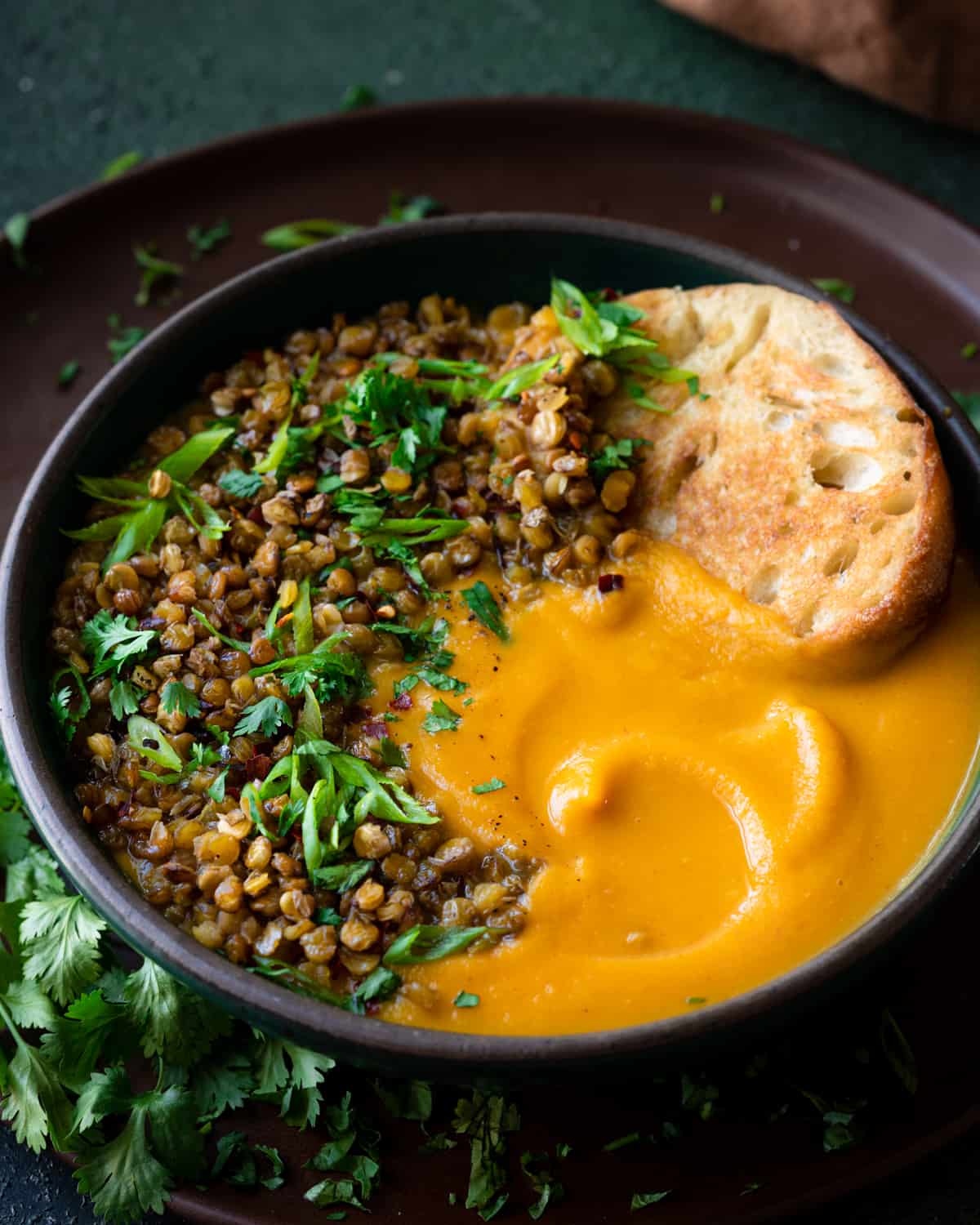 I hope you love this vegan butternut squash soup as much as we do! Be sure to visit your local ALDI to stock up on all of the warm and comforting essentials for fall and if you try this recipe, leave a rating and review below with your feedback!
Butternut Squash Soup with Crispy Lentils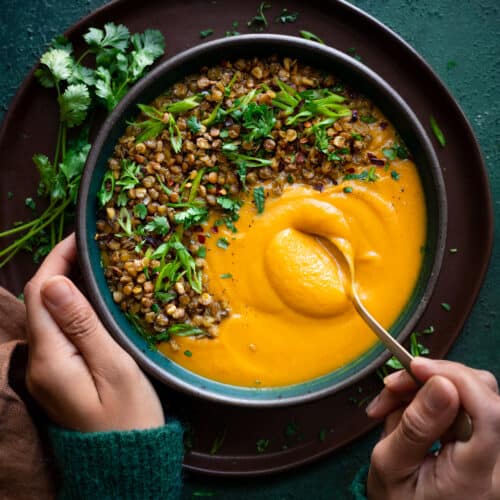 This cozy Butternut Squash Soup with Crispy Lentils is the ultimate fall recipe. Featuring creamy pureed squash and a crunchy surprise topping, you'll want to indulge in bowl after bowl!
Ingredients
1

large or 2 small butternut squash

(weighing 3 to 3.5 lbs or 1.4 to 1.6 kg total)

3

tablespoons

Simply Nature Organic Extra Virgin Olive Oil,

plus more for roasting squash

1

heaping teaspoon kosher salt,

plus more for seasoning

Freshly cracked black pepper

3

cups

(720 mL) Simply Nature Organic Vegetable Broth

¾

cup

(140g) green or brown lentils

1

large yellow onion,

finely chopped

8

garlic cloves,

finely chopped

1

teaspoon

red wine vinegar,

plus more as needed (or freshly squeezed lemon juice)
Spice Blend
1

teaspoon

Stonemill Paprika

1/2

teaspoon

Simply Nature Organic Ground Cumin

1/2

teaspon

Simply Nature Organic Crushed Red Pepper

1/8

teaspoon

Simply Nature Organic Ground Cinnamon
For Serving
1

handful

cilantro leaves and tender stems,

chopped

2 to 3

green onions,

thinly sliced on a bias (optional)

Specially Selected Italian Bread Loaf or French Baguette,

sliced into rounds
Instructions
Preheat the oven to 400ºF/205ºC. Arrange two oven racks, one on the bottom and one in the middle.

Cook the lentils. Bring a Dutch oven or large saucepan of water to a boil. Add a pinch of salt, then lentils. Reduce heat to maintain a simmer for about 8 minutes. Taste a lentil—it should be cooked through but with a bite to it (you don't want it to get soft).

Drain well and transfer to a large kitchen towel to dry out. You can gently run your hands through the lentils to help them dry quicker (it takes about 10 minutes).

Prep and roast the squash. While the lentils are cooking, slice the squash in half, vertically, then scoop out the seeds in the cavities (no need to peel the squash).*

Take a paring knife and make some crosshatch marks in the flesh, but don't cut all the way through to the skin. Drizzle each half, flesh side up, with some of the olive oil and rub in. Season the flesh with salt and pepper.

Line a rimmed sheet with parchment paper. Place flesh side down and roast on bottom rack for 50 to 55 minutes, or until somewhat browned and tender.

Roast the lentils. Add the lentils to a second rimmed sheet pan and toss with 1 TBSP olive oil and sprinkle with a few pinches of salt and pepper. Spread the lentils out and shake the pan back and forth to evenly distribute so there's no overlap. Set aside for now.

When the squash has 25 minutes left, add the pan of lentils to the middle oven rack. Roast for about 25 minutes, or until browned and crisp, shaking the pan halfway through to toss.

Cook the aromatics. When the squash has about 15 minutes left**, heat 2 TBSP of the olive oil in the saucepan used earlier over medium-high heat. Once hot, add the onions and season with a pinch of salt. Cook for about 7 minutes, or until softened and turning color. Add the garlic and cook for another 2 minutes, stirring frequently. Add the Spice Mix and stir for 30 seconds. Pour in the broth, scraping up any browned bits. Bring to a simmer and simmer for 5 minutes.

Toast the bread (now or before serving the soup). If you have a few minutes before the squash is done, toast your bread using a toaster oven. Alternatively, you can toast your bread in a frying pan with a bit of olive oil and toast on both sides until golden brown. Or, you can wait until the squash is done roasting and toast the bread in the oven for a few minutes on both sides.

Blend the soup. When the squash is done, remove skin (it should come off easily with your hands). Transfer flesh to a stand blender.

Carefully pour in the onion-broth mixture and season with 1 heaping teaspoon kosher salt, lots of black pepper, and red wine vinegar. Remove the center cap and cover with a dish towel to allow steam to vent.

Turn the blender to low, then slowly increase speed and blend for a few minutes until the soup is smooth, creamy, and warmed through.***

Taste the soup seasonings and add more salt/pepper or vinegar or lemon juice as needed.

Pour the soup into bowls, top each with crispy lentils, and chopped cilantro and green onions, if using. Drizzle a bit of olive oil on each slice of bread, sprinkle with a pinch of salt, and serve alongside the soup.
Notes
*If you're having trouble slicing your squash, nuke it in the microwave for 2 to 3 minutes to soften the flesh.
** These times are provided to make things efficient, but you can also assemble this soup component ahead of time, or roast the squash ahead of time.
*** No stand blender? Leave the onion-broth mixture in the soup pot, add the squash flesh, salt, pepper, and vinegar, and blend everything with an immersion blender. It won't get as silky smooth as a stand blender and will be more of a rustic soup.
---
Calories:
340
kcal
|
Carbohydrates:
52
g
|
Protein:
12
g
|
Fat:
11
g
|
Saturated Fat:
2
g
|
Polyunsaturated Fat:
1
g
|
Monounsaturated Fat:
8
g
|
Sodium:
721
mg
|
Potassium:
1107
mg
|
Fiber:
16
g
|
Sugar:
8
g
|
Vitamin A:
20676
IU
|
Vitamin C:
46
mg
|
Calcium:
135
mg
|
Iron:
5
mg