Cold weather calls for the best comfort food, like warm soups and spicy curries, and this Thai Pumpkin Soup features everything you love about cozy comfort food in one bowl!
Bursting with proper Thai flavors, this gourmet pumpkin soup is surprisingly easy. It's made with roasted winter squash, a bundle of aromatics, spices, and coconut milk. Blend them all together and you have a rich and indulgent soup with gourmet Thai flavor.
The best part is it only gets better with time. Let the soup chill in the fridge overnight, then dig into the best leftovers you'll ever have the next day.
If you love Thai food and soup season, this recipe is a match made in heaven.
Table of Contents
1. Why this recipe works
2. Ingredient notes
3. Step-by-step instructions
4. Tips for making this recipe
5. Frequently Asked Questions
6. Recipe card with notes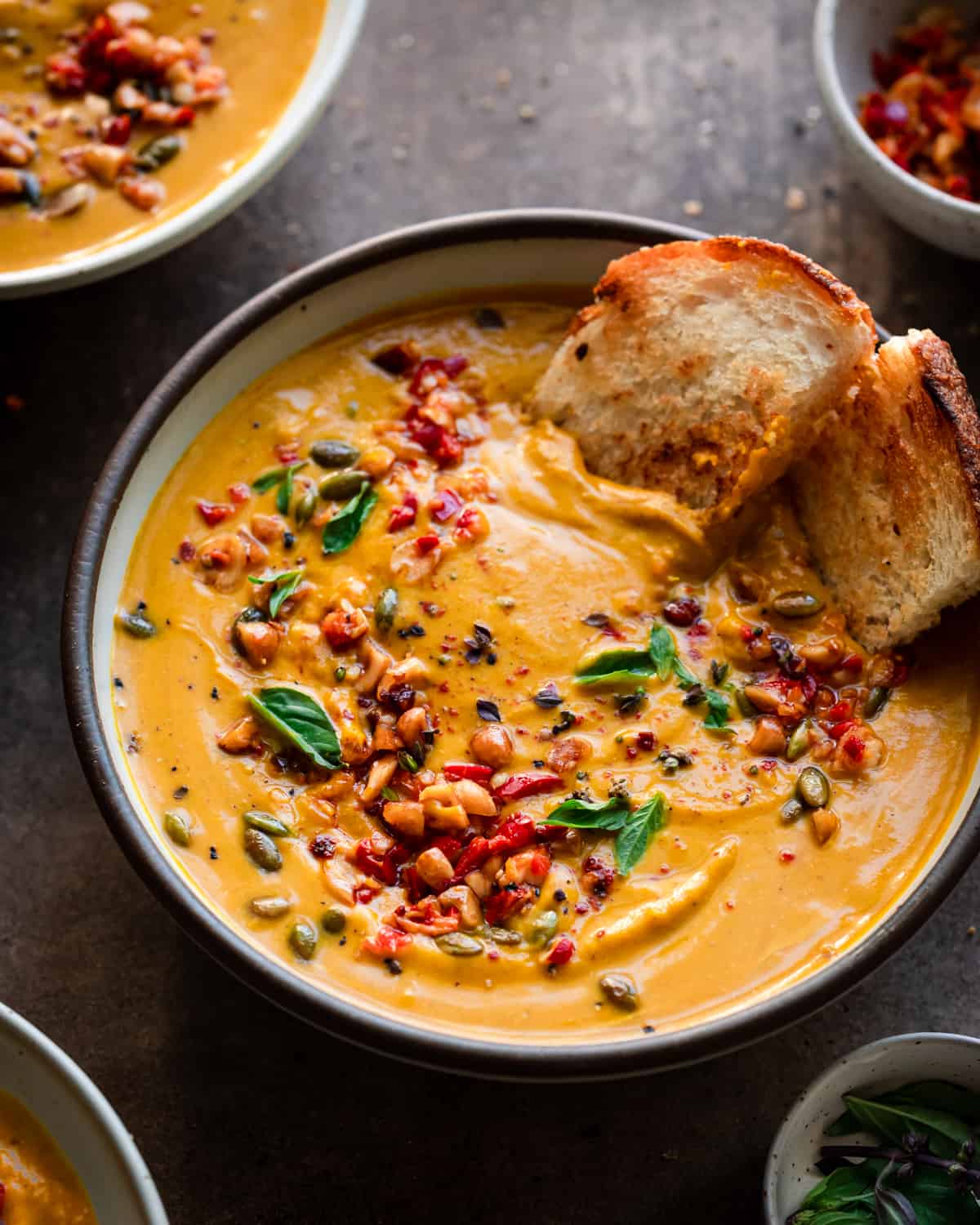 Why this recipe works
As close to authentic Thai flavors as it gets.
You can find "Thai pumpkin soups" made with pumpkin puree and curry paste, and that's all fine and dandy if you want a 10-minute recipe. But c'mon – that's not really a Thai soup.
The authentic Thai flavors in this soup come from a careful blend of aromatics, spices, curry paste, soy sauce, and classic Thai ingredients like lemongrass, lime leaves, and Thai basil. They work together to create a deeply layered soup that will blow your mind.
A streamlined process with gourmet results.
Usually, peeling and dicing winter squash takes a fair amount of time and puts unnecessary stress on our wrists (which, let's face it, makes cooking much less fun).
To avoid that, here, the pumpkin is simply sliced in half, rubbed with oil and spices, then roasted as-is. While you wait, prep and sauté the aromatics and spices. That's it!
This streamlined process makes it easy to scoop the tender flesh out of the peel and blend it in a blender. No peeling or dicing involved!

Plus, with all the other flavors involved, the soup needs just 10 minutes to simmer!
Creamy yet indulgent.
My magical and fan favorite Thai Butternut Squash Curry with Chickpeas is a creamy and indulgent masterpiece, and this Thai soup is no different.

Coconut milk and pureed roasted pumpkin become a luscious sauce when blended together, tasting like super cozy fall comfort food rolled in one aromatic Thai package. And just because it feels indulgent and rich, it doesn't mean it's lacking in nutrients.
The aromatics, chiles, and spices are rich in antioxidants and anti-inflammatory compounds. Pumpkins are also rich in antioxidants and beta-carotene, which our bodies turn into vitamin A. This helps protect your eyes, immune system, and can lower your risk of certain cancers.
Fun fact: Both white pepper and black pepper contain piperine, which activates the compound curcumin (it's what gives turmeric its yellow color and anti-inflammatory properties). This makes it up to 2,000%(!) times easier for your body to absorb!
PS: If you have my cookbook, The Vegan Instant Pot Cookbook, the Thai Red Curry Noodle Soup and Lemongrass-Ginger Kabocha Squash Soup feature similar Thai-inspired flavors you will love!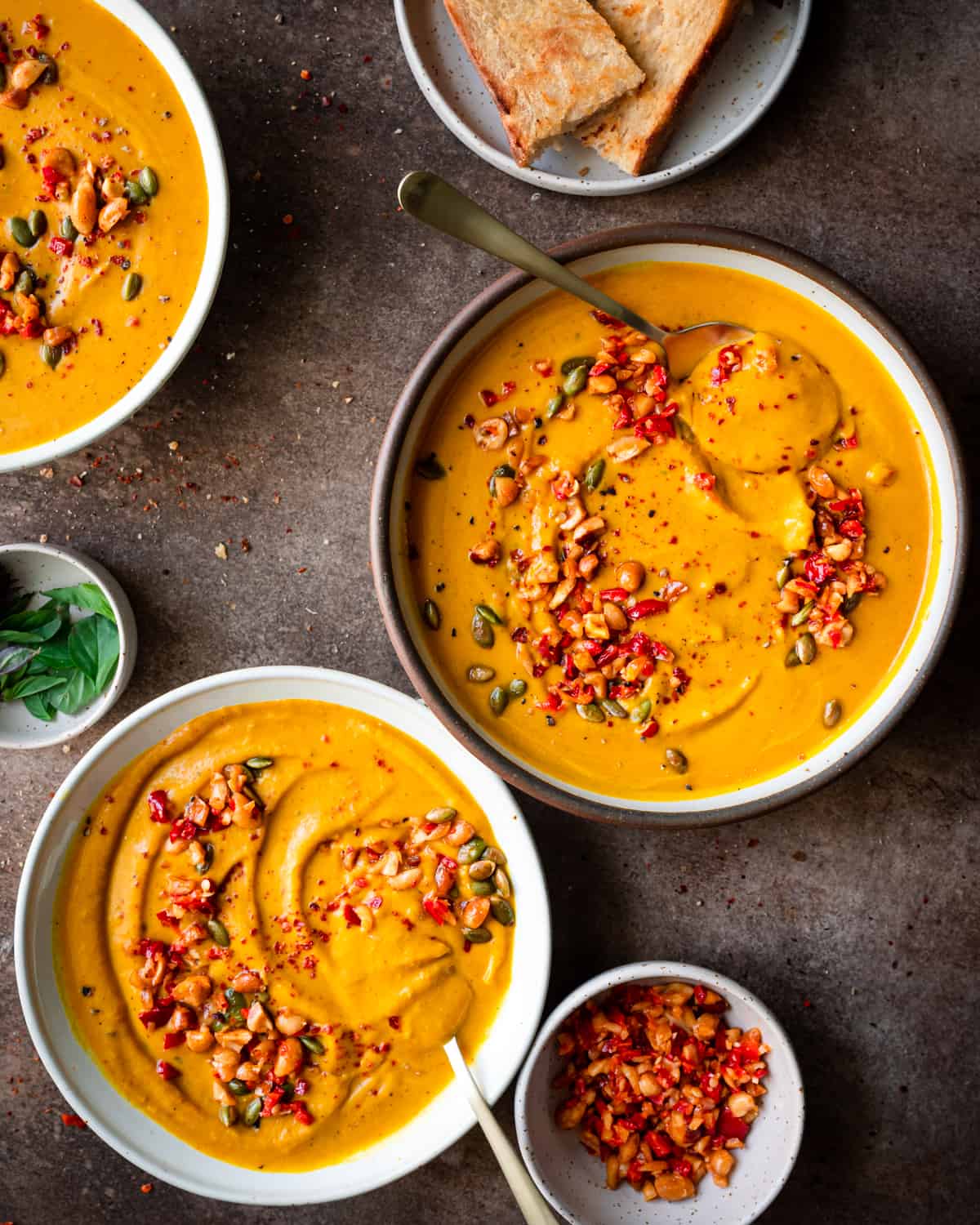 Ingredient notes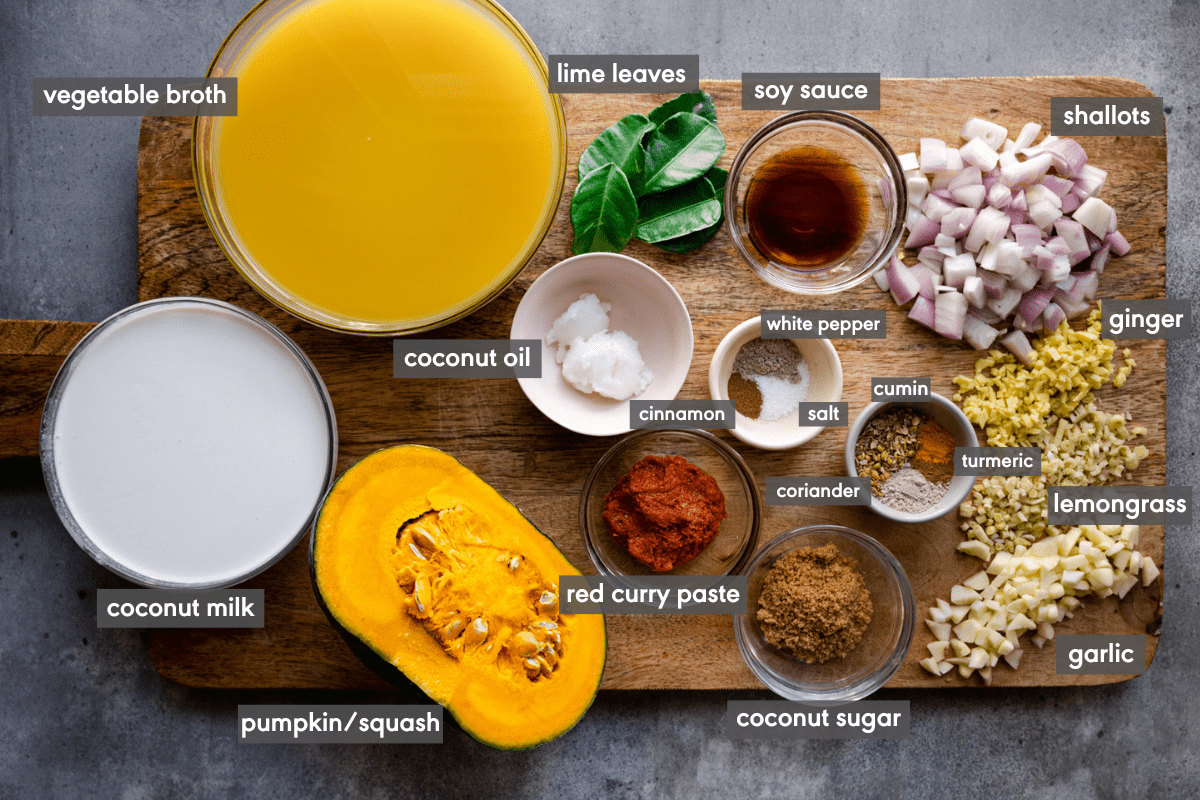 Pumpkin or winter squash. You could totally make this with a roasted sugar pumpkin to maintain its classic pumpkin soup appeal, but we found that the best flavor came from roasted kabocha squash. It's velvety smooth when blended and has a delightfully nutty flavor.
If you stock up on extra kabocha squash, make my Thai Kabocha Squash Curry the following week.
Substitute: We haven't tried other pumpkin varieties but think they'd work nicely, including red kuri squash or Thai pumpkins. Roasted butternut squash works well, too!
Red curry paste. For a ton of Thai flavor in one convenient package. Maesri red curry paste is our favorite brand because it's vegan-friendly and packs in the heat.
Aromatics. Ginger, garlic, and shallots are all commonly used in Thai cooking. Here, they're sauteed in coconut oil to give the soup a punchy and savory baseline of flavor.
Spices. You need cumin seeds, coriander seeds, and white pepper. Cumin and coriander may sound surprising, but they're commonly used in many Thai curries. Here, cumin adds warmth while the coriander enhances the citrusy flavors.
Substitute: I love using white pepper for its unique sharp yet bright flavor, but if you don't have it, use freshly cracked black pepper instead.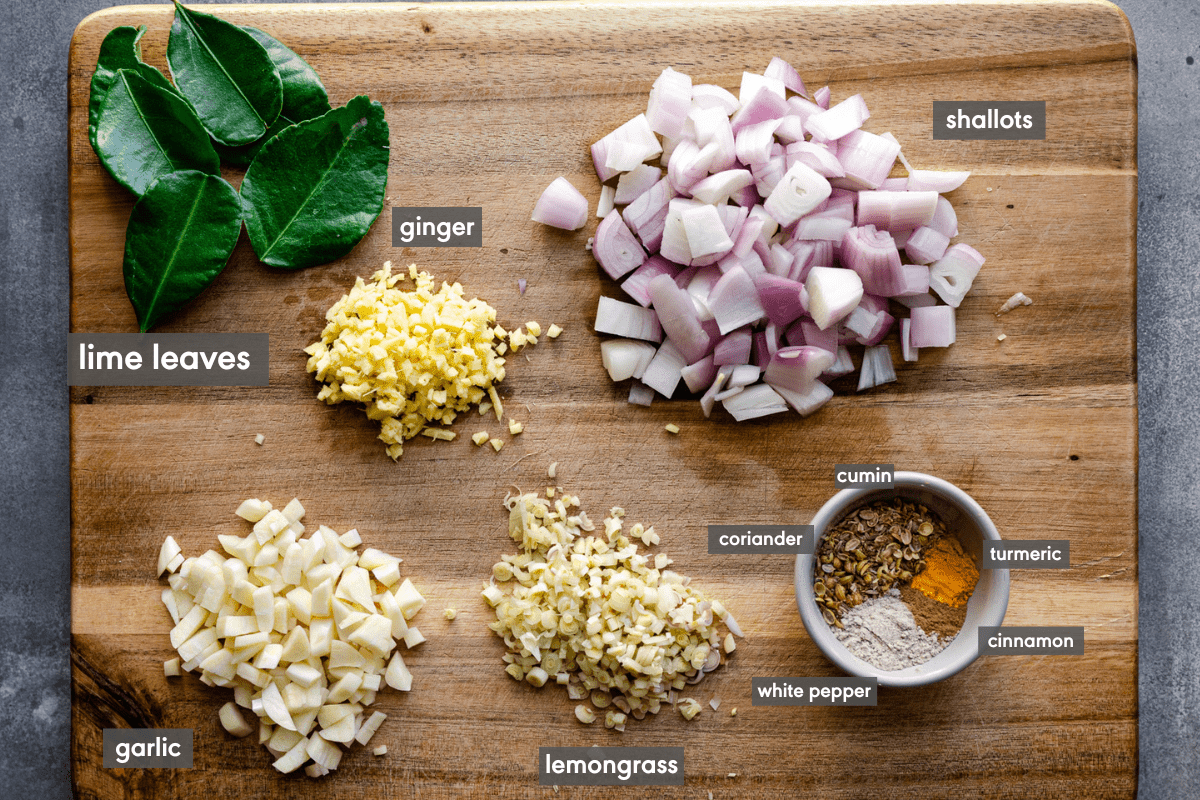 The Thai trio: lemongrass, lime leaves, and Thai basil.
These bring the quintessential flavors that make Thai curries so irresistible and take this from good pumpkin soup to great pumpkin soup.

So, if you have a local Southeast Asian or East Asian grocery store, seek these ingredients out!
Lemongrass is refreshing with notes of ginger, mint, and lemon; fresh lime leaves are so unique and intoxicatingly bright; and Thai basil adds slightly spicy notes of anise when used as a garnish at the end.

Skip to the FAQ section for where to buy these ingredients.
Substitutes: Lemongrass: you can try lemongrass powder (we love this one from Burlap and Barrel). DO NOT use lemongrass essential oil (it's not edible!). Fresh lime leaves: order dried lime leaves online, which work well; there is no other real substitute, but you can stir in some lime zest and lime juice to taste after blending the soup. Thai basil: use cilantro (different flavor but still nice).
Coconut milk. This brings body and richness to the soup, adds a luscious finishing mouthfeel, and balances the chile heat. It's a must in many Thai curry and soup recipes, like my Thai Red Curry Sweet Potato Soup.
Substitute: Full-fat coconut milk will yield the richest flavor and texture, but you can use "lite" coconut milk for a lighter soup. If allergic to coconut, check out the FAQ section for our suggested alternative.
Soy sauce. A star ingredient in many Thai recipes, soy sauce infuses a savory depth of flavor throughout the soup.
I use Thai soy sauce, which is saltier than regular grocery store soy sauce. If using regular soy sauce (e.g., Kikkoman), use 2 tablespoons + 1 teaspoon.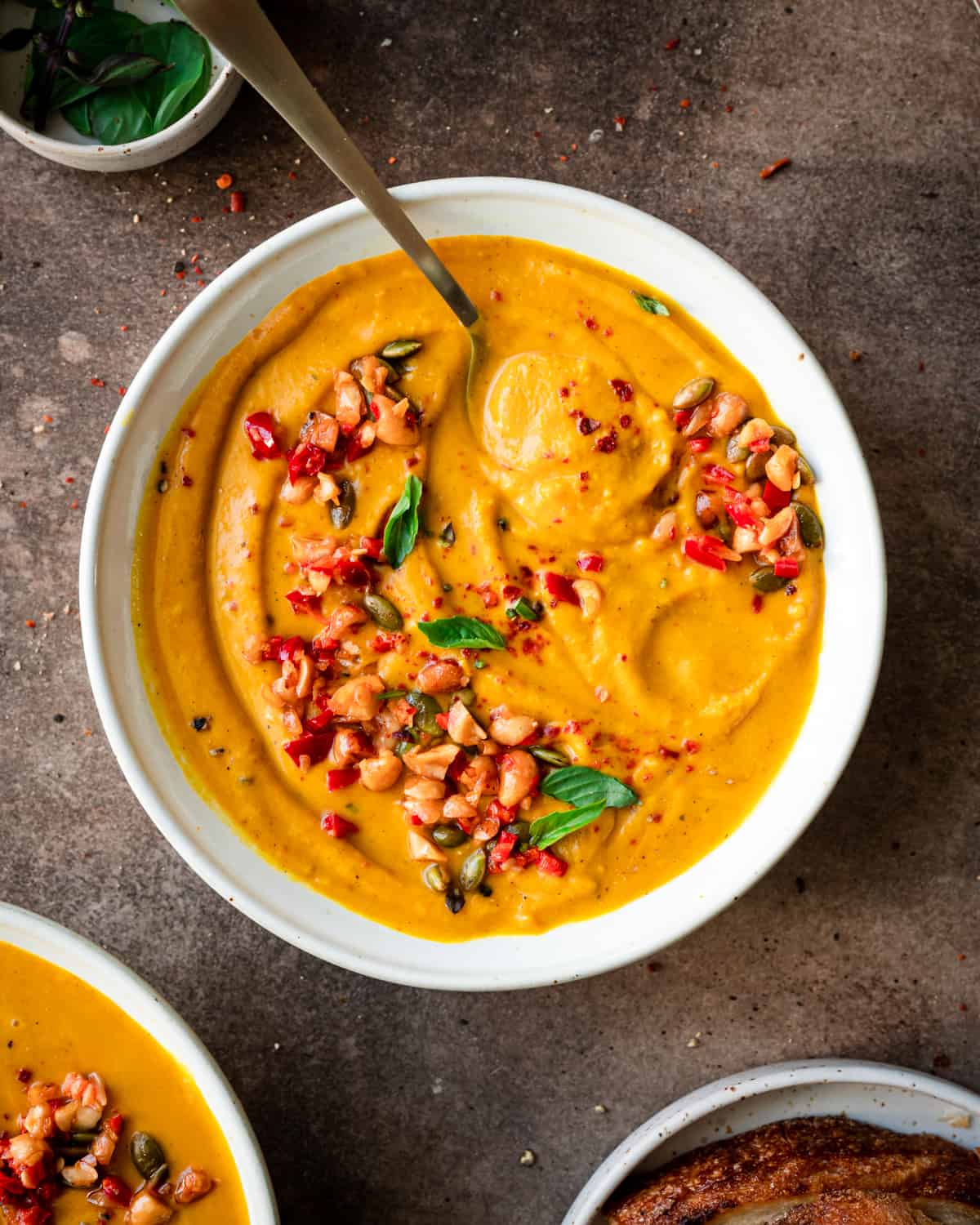 Step-by-step instructions
Roast the pumpkin. Slice the sugar pumpkin (or winter squash) in half and scoop out the seeds. Brush the flesh with the oil and spice mixture, then place it flesh side down on a parchment-lined baking sheet. Roast until the pumpkin is very soft.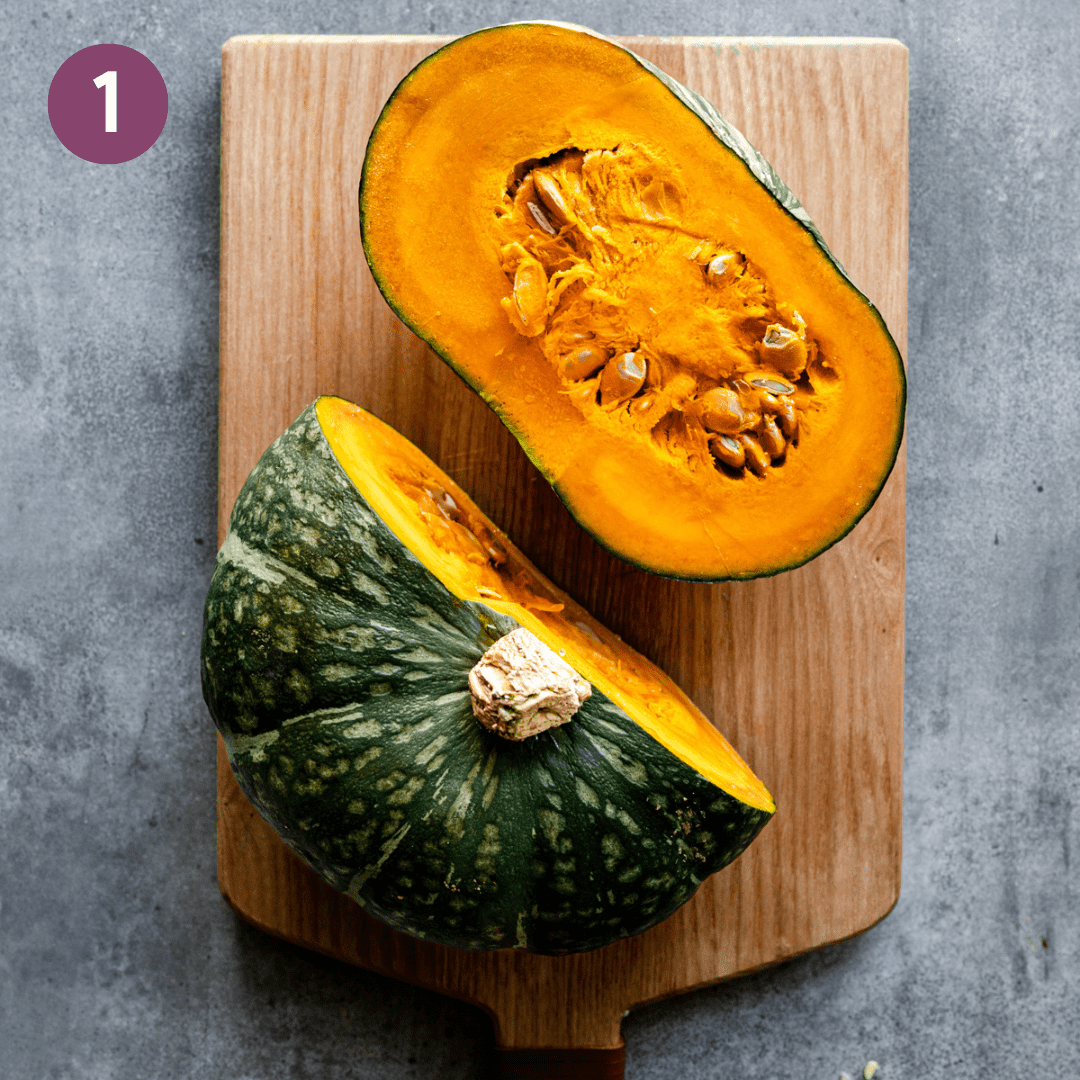 Make the soup. Heat the coconut oil in a saucepan over medium-high heat. Sauté the shallots, garlic, ginger, and lemongrass until soft, then add the spice mix to toast for 30 seconds.
Deglaze the pot with a little coconut milk. Once it begins to bubble, stir in the curry paste.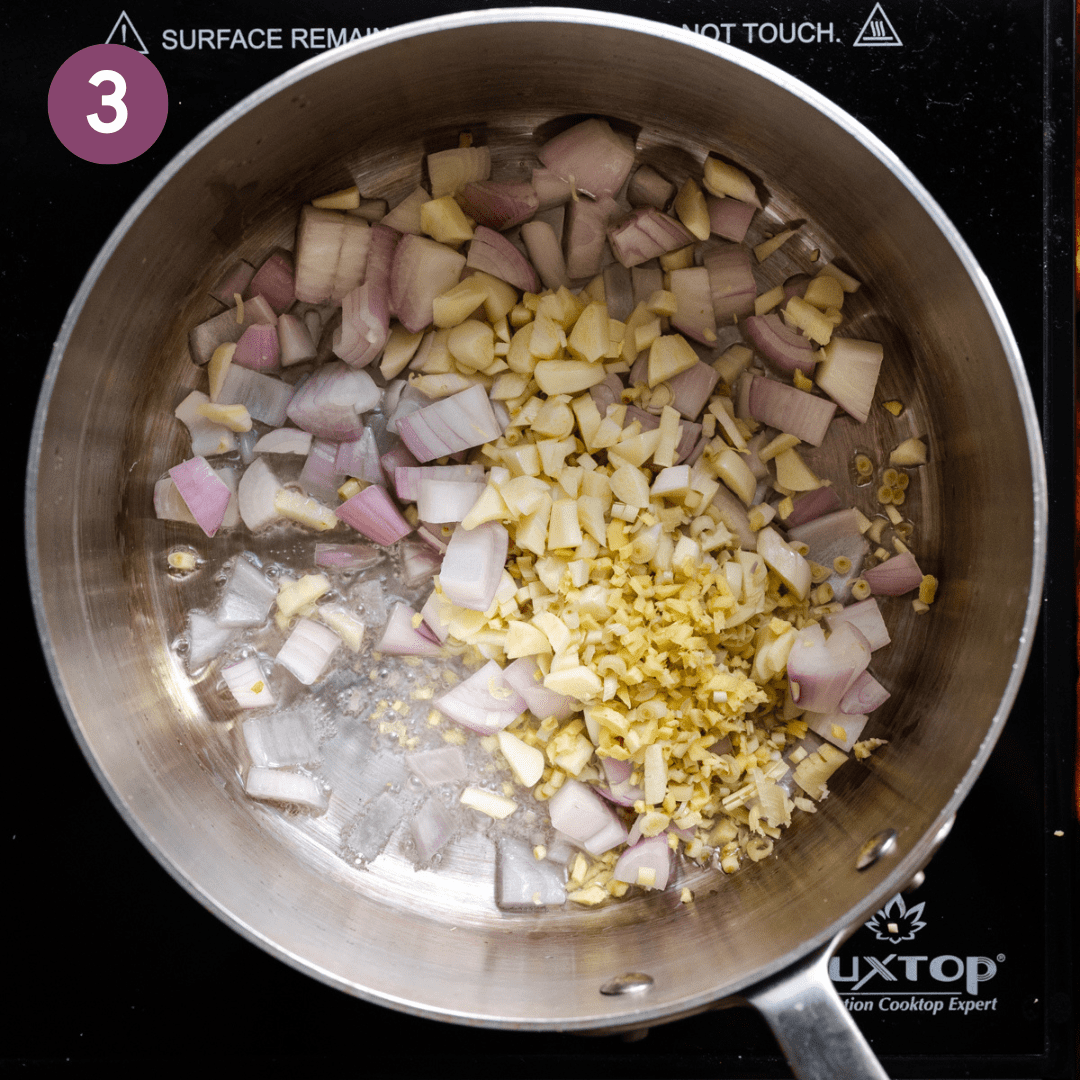 Cook the curry paste and stir frequently for a few minutes to prevent it from sticking. Now pour in the rest of the coconut milk, the broth, lime leaves, sugar, and soy sauce.
Bring the mixture up to a boil. Lower the heat and simmer for 10 minutes.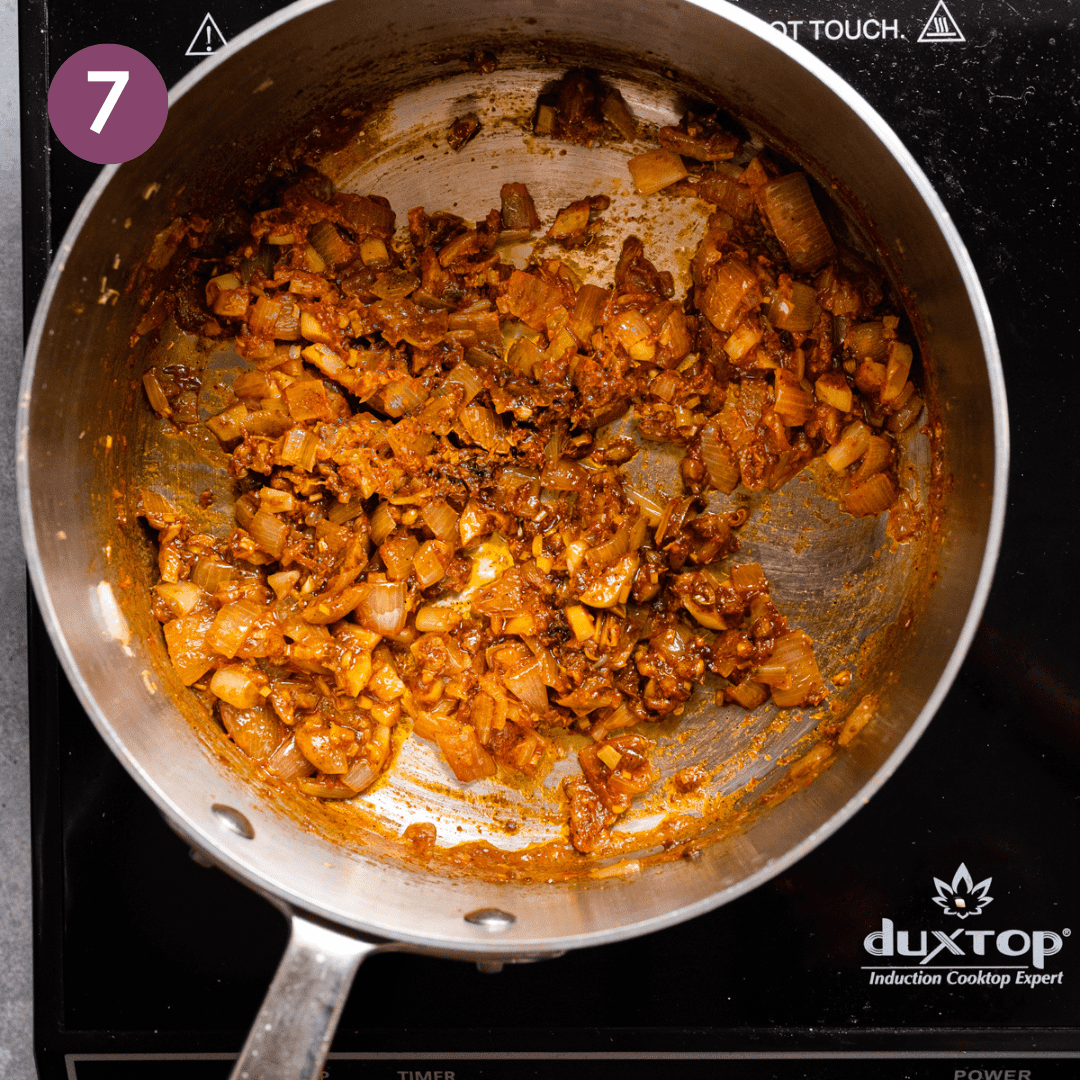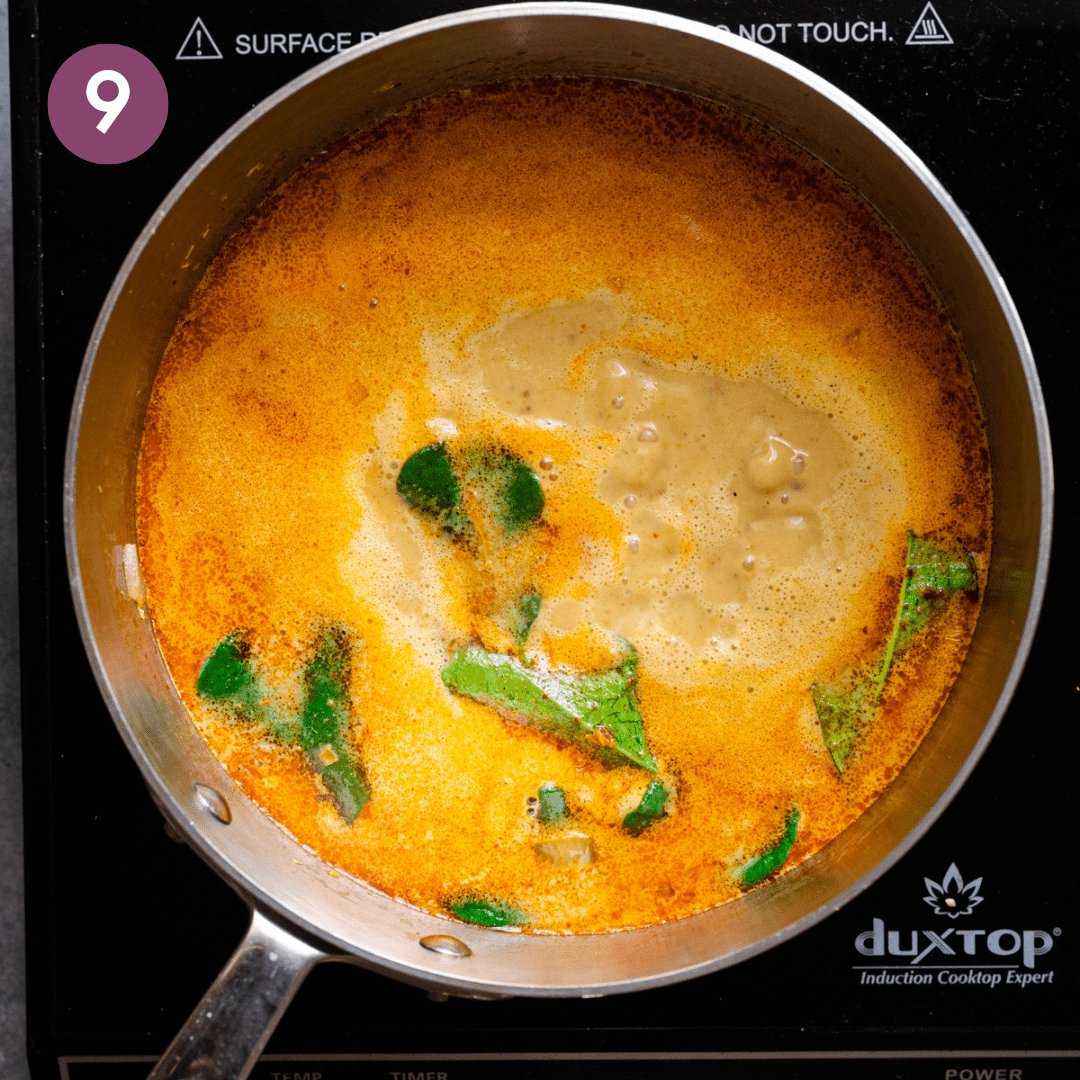 Blend the soup. Scoop out the warm roasted pumpkin flesh from the skin and place it in a blender. Pour in the coconut milk mixture. Blend the soup until it's smooth and creamy (working in batches if needed).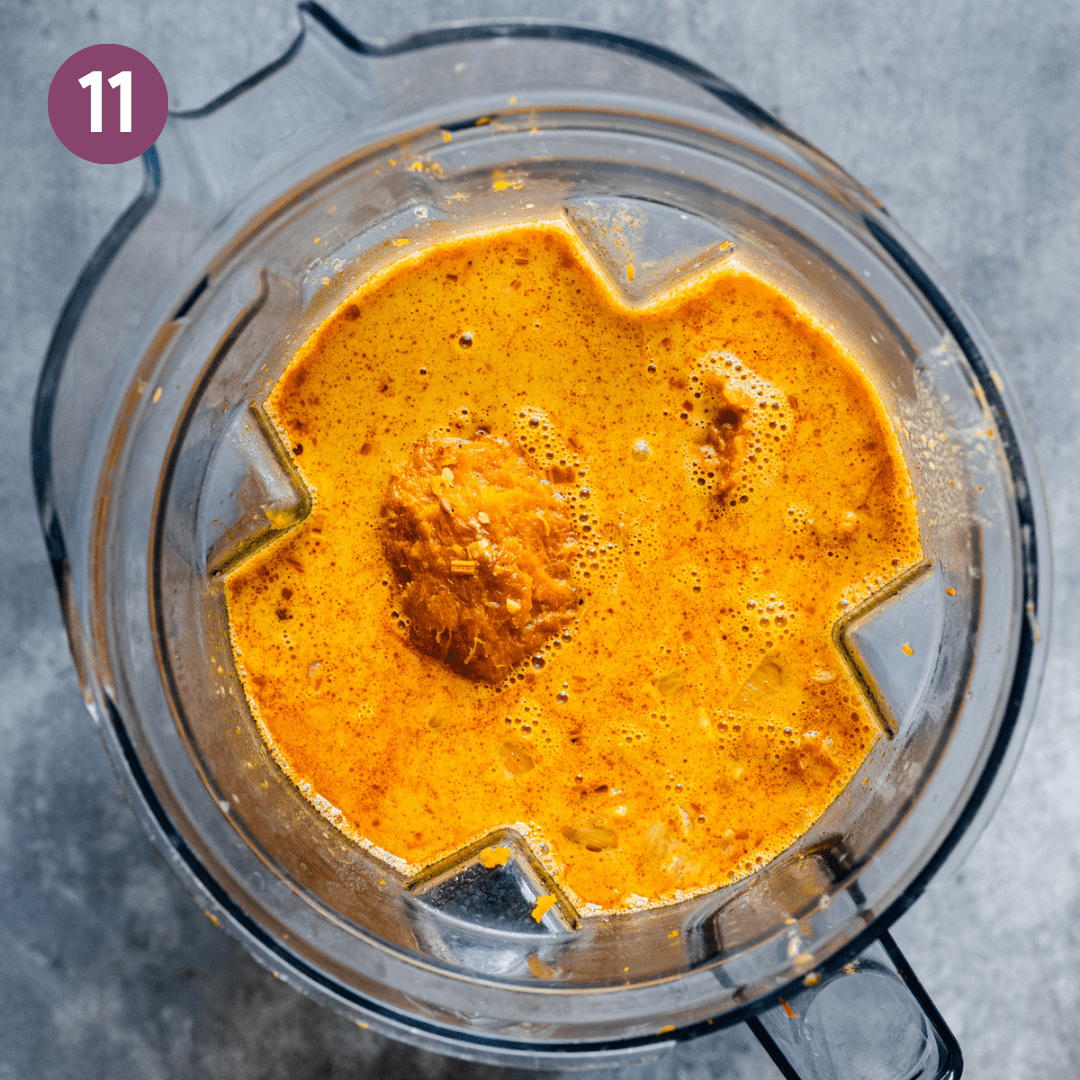 Let the blended soup rest for a few minutes so the flavors have a chance to mingle. Then transfer to bowls and top with the optional peanut chile crunch.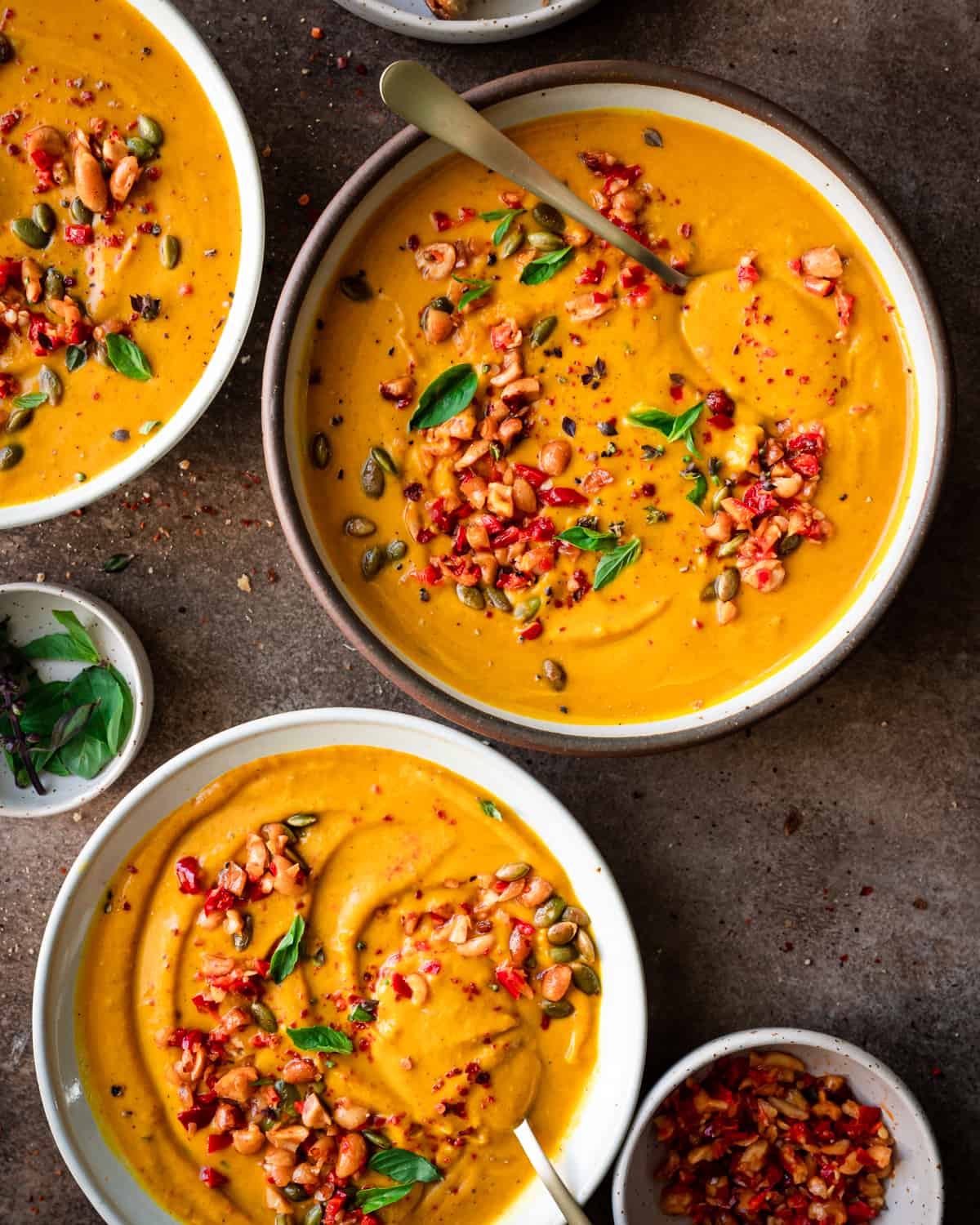 Tips for making this recipe
Toppings = even better soup! Take each bowl of pumpkin soup over the top with the peanut chile crunch if you like spicy food. It takes minutes to make and is the perfect nutty, crunchy, spicy, and salty topper.

For a non-spicy option, garnish with roasted pumpkin seeds and/or fresh lime leaves, very finely slivered.
If you're looking for a protein topper, you can try the pan-fried tempeh crumbles in my tempeh kecap recipe or crispy lentils in my butternut squash soup recipe.
And as always, a creamy soup is even better with a toasted slab of good-quality bread.
Find the right amount of spice. Despite being made with only 2 tablespoons of red curry paste, the soup still turns out to be quite spicy. The curry paste we use, Maesri, is spicier than standard grocery store curry pastes (like Thai Kitchen).
If you want to use the same brand (Maesri) but yield a less spicy soup, lower the amount of curry paste to 1 to 1 ½ tablespoons.

If using a more standard curry paste, 2 tablespoons will yield a soup with moderate heat.
Crush the spices whichever way you can. If you don't have a mortar and pestle or spice grinder, roughly crush the cumin and coriander seeds with the back of a heavy mug or a cast iron skillet; or, add them to a ziploc bag and roll back and forth with a rolling pin or smash with a mallet.
Give the soup a breather. Once it's ready, let the blended soup rest for 15 minutes (or longer). This gives all of the amazing Thai flavors a chance to mingle together.
Resting also gives the soup a chance to thicken. If you like soup on the thinner side, use 4 cups broth instead or thin out the texture with broth when reheating.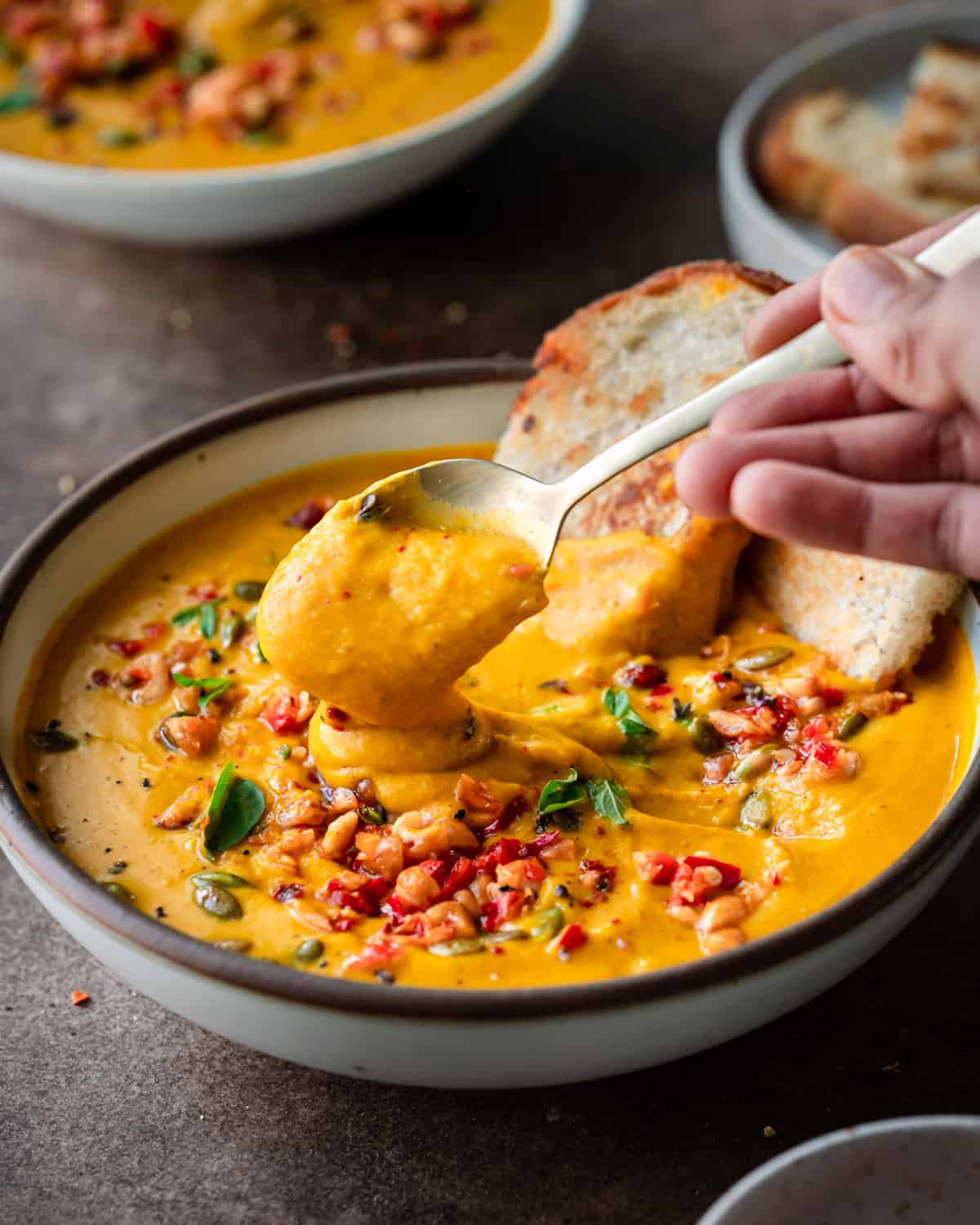 Frequently Asked Questions
Where can I buy lemongrass? Lime leaves? Thai basil? 
Lemongrass can be found at Asian grocery stores and sometimes at well-stocked grocery stores like Whole Foods and Albertsons. 

Fresh lime leaves and Thai basil can be found at Southeast Asian and some pan-Asian grocery stores. Lime leaves may be sold as just lime leaves, Makrut lime leaves, or kaffir lime leaves. Dried makrut leaves are a great option that can be purchased online (they'll stay good for months). Fresh leaves are more potent than dried. 

You can also find my recommended curry paste (Maesri brand) at many Asian grocers. Aroy-D also makes a good vegan one, but they sell versions with shrimp / fish products as well, so read labels.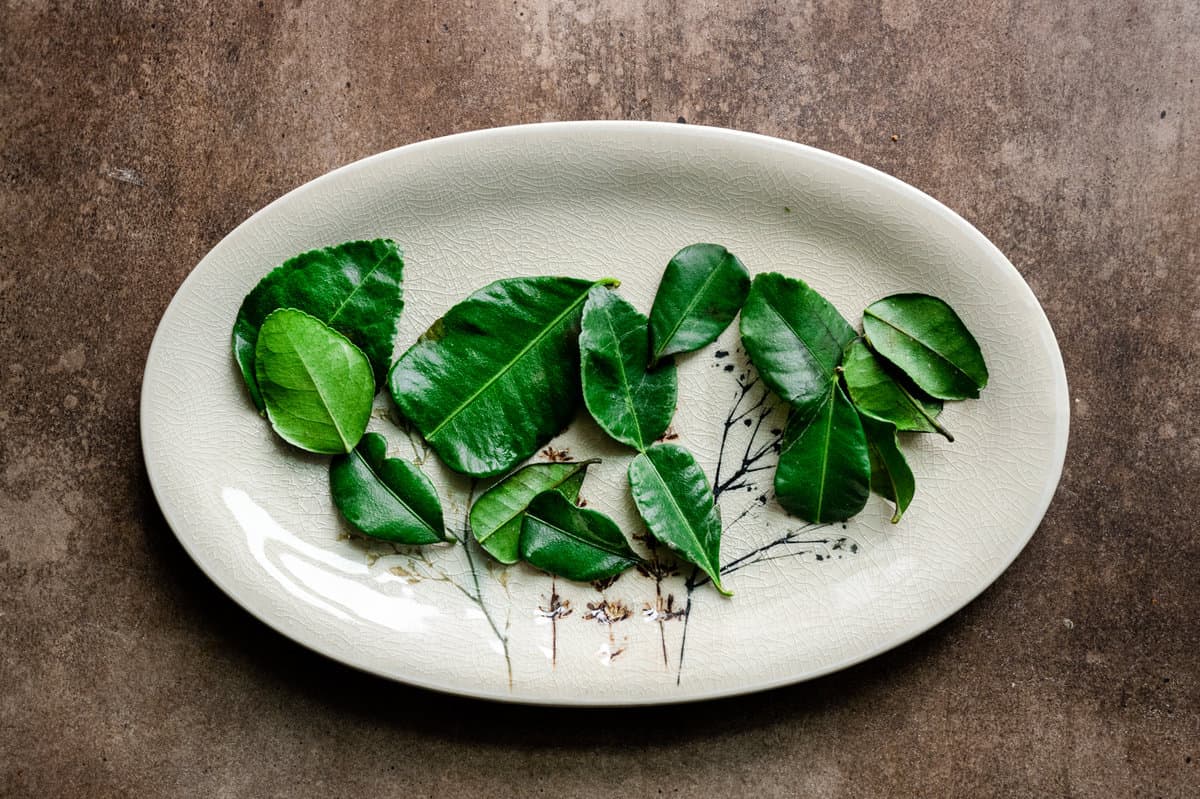 Can I replace the coconut milk?
If you're looking for a lighter soup with fewer calories, you can use canned "lite" coconut milk. If allergic to coconut, I suggest making your homemade cashew cream using the instructions:

1. Cover ⅔ cup (90g) raw cashews with water and soak overnight. Or quick soak: add the cashews to a saucepan, cover with water, and boil for 15 minutes. Drain and rinse. 

2. Blend the soaked cashews in a high-powered blender with 1 heaping cup of water (280 mL) and a pinch or two of salt. Blend for a few minutes until smooth. 
How should I store this soup?
Store the leftover soup in an airtight container in the fridge for 5 to 6 days. The peanut chile crunch can be stored in a separate jar in the fridge for about 1 week.
Can I freeze this Thai pumpkin soup? 
Yes, it freezes well for about 3 months. I like to freeze the soup in single-serve Souper Cubes (affiliate link) so they defrost in a breeze.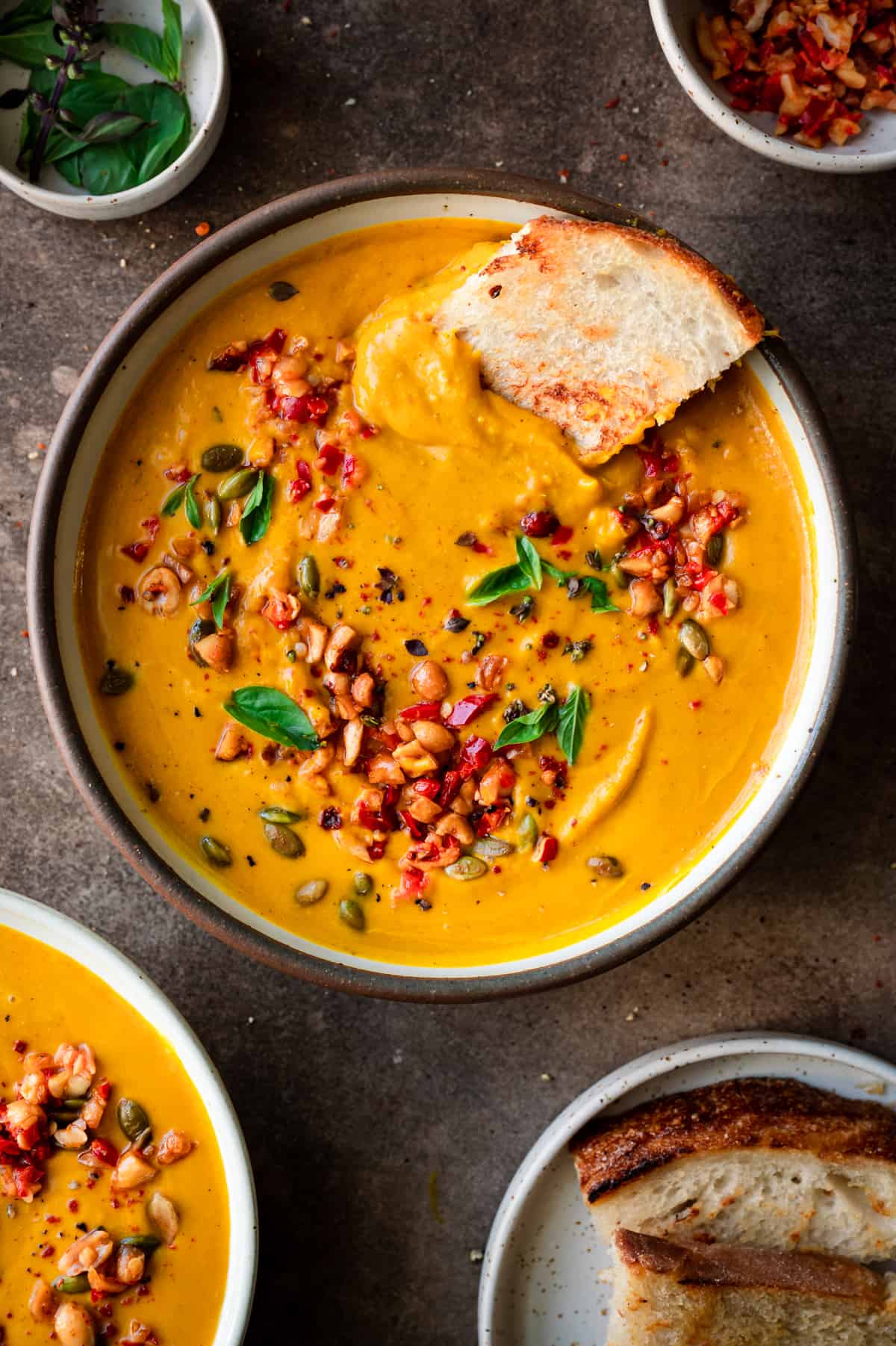 If you love this Thai Pumpkin Soup as much as we do, please rate and review the recipe with your feedback below :) It's always very much appreciated :)
Thai Pumpkin Soup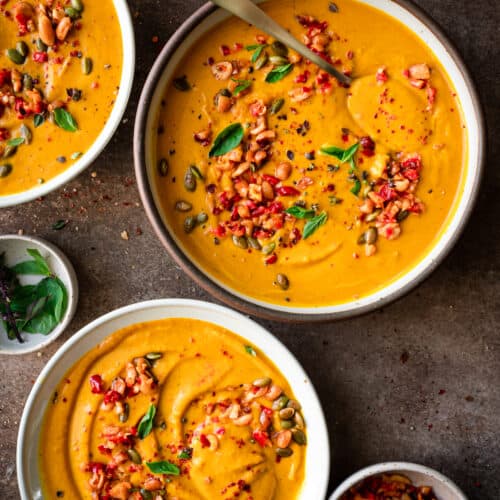 This Thai Pumpkin Soup gives you a gourmet Thai experience without any of the extra work. It's creamy, easy to make, and layered with winter squash, warm and spicy aromatics, and bold spices and herbs. Quite possibly the most flavorful soup you'll ever try!
Ingredients
Roasted Pumpkin
3

pound

(1.3 kg) pumpkin or winter squash

(we like kabocha squash best)*

½

tablespoon

coconut oil,

or neutral-flavored oil of choice

½

teaspoon

kosher salt

½

teaspoon

white pepper

¼

teaspoon

ground cinnamon
Soup
1

teaspoon

cumin seeds

(or ¾ teaspoon ground cumin)

1

teaspoon

coriander seeds

(or ¾ teaspoon ground coriander)

1/2

teaspoon

white pepper

(or freshly cracked black pepper)

¼

teaspoon

ground cinnamon

¼

teaspoon

ground turmeric

1 ½

tablespoons

coconut oil,

or neutral-flavored oil of choice

3

large shallots,

chopped (or 1 small yellow onion)

6

garlic cloves,

chopped

2

inch

piece ginger,

grated or minced (okay to leave peel on)

2

stalks

fresh lemongrass**

outer papery layers removed, then minced

1

13.5-ounce (400 mL)

can full-fat coconut milk

2

tablespoons

red curry paste

3

cups

(720 mL) vegan "chicken" broth

or good-quality vegetable broth***

12

dried Makrut lime leaves

or 6 fresh lime leaves****

1 ½

tablespoons

coconut sugar or organic brown sugar,

more as needed

1

tablespoon

+ 1 teaspoon Thai soy sauce

(or 2 TBSP + 1 tsp regular soy sauce)

1

handful of Thai basil leaves,

chopped or torn
For serving
Crusty bread,

toasted

Peanut Chile Crunch

(optional, see next recipe card)
Instructions
Preheat oven to 400ºF/205ºC. Using a sharp knife, slice the pumpkin in half. If too hard, microwave the whole squash for 2 minutes to soften. Scoop out the seeds using a spoon.

Roast the pumpkin. Mix together the ½ tbsp of the oil, salt, white pepper, and cinnamon in a small bowl until it's almost like a paste. Use a pastry brush or your hands to brush inside the cavities of the pumpkin/squash only, but not on the top outer rims. For the top outer rims, just brush lightly with oil (no spices, or they will burn).

Place the pumpkin halves, flesh side down, on a rimmed sheet pan. Prick the skin with a knife to allow venting. Roast until the pumpkin is very soft, about 40 to 45 minutes.
While the pumpkin roasts, prep and make everything else in the next 3 steps.
Crush the spices. Using an electric spice grinder or mortar and pestle, grind up the cumin and coriander seeds but don't fully grind, leaving a little texture. Stir in the white pepper, cinnamon, and turmeric for your spice blend.

If you don't have either, crush them using the back of a heavy mug or a cast iron skillet, or add them to a ziploc and roll back and forth with a rolling pin or smash with a mallet.

Make the soup. Heat a medium saucepan over medium-high heat with the 1 1/2 tbsp coconut oil. Once hot, add the shallots, garlic, ginger, and lemongrass with a pinch of salt, and cook for 3 to 4 minutes, or until shallots and garlic just start to get some color. If it starts to stick, add a splash of water to scrape up the food bits. Add the spice mix and stir almost constantly for 30 seconds.

Add a few tablespoons of coconut milk to deglaze and pick up food bits. Once bubbling, add the curry paste. Fry for a few minutes, tossing frequently to prevent sticking. Pour in the rest of the coconut milk, broth, lime leaves, sugar, and soy sauce. Bring to a boil, then simmer for 10 minutes. Scoop out the lime leaves but keep them for now.

Blend the soup. While pumpkin is still warm, scoop out the flesh using a large spoon or peel the skin with your hands. Transfer the flesh to the blender; discard the skin. Add the warm soup and blend until smooth and creamy.

Taste the soup. If you want a stronger flavor from the lime leaves, add some to the soup and blend again (you need a fairly powerful blender). Note: if your blender container is smaller than 64 ounces, blend in two batches.

Rest for 15 minutes to meld the flavors. Taste, adding more soy sauce or sugar as desired. Garnish each bowl with a handful of Thai basil and a spoon of Peanut Chile Crunch, if using. When reheating, thin as needed with broth or water, as it thickens.
Notes
For ingredient substitutions, read the Ingredient Notes section or FAQ section. To keep gluten-free, use tamari instead of soy sauce. 
*We love the velvety texture and nutty flavor of kabocha squash here. Butternut squash also works great. A sugar pie pumpkin works, but it had the least flavor and texture in comparison. 
** To prepare lemongrass: cut off the tough bottom nub and the tough top green stalks. Peel the papery outer layers until you reach the tender, flexile inner white core. Smash down on it with a rolling pin or mallet, then mince. 
*** Our favorite brand of store-bought broth is Imagine Organic. 
**** For fresh lime leaves, lightly crush them with your hands to release aroma. For dried leaves, gently crumple them. 
---
Calories:
399
kcal
|
Carbohydrates:
48
g
|
Protein:
6
g
|
Fat:
23
g
|
Saturated Fat:
20
g
|
Polyunsaturated Fat:
0.5
g
|
Monounsaturated Fat:
1
g
|
Sodium:
1388
mg
|
Potassium:
1504
mg
|
Fiber:
7
g
|
Sugar:
16
g
|
Vitamin A:
6221
IU
|
Vitamin C:
46
mg
|
Calcium:
145
mg
|
Iron:
4
mg
Peanut Chile Crunch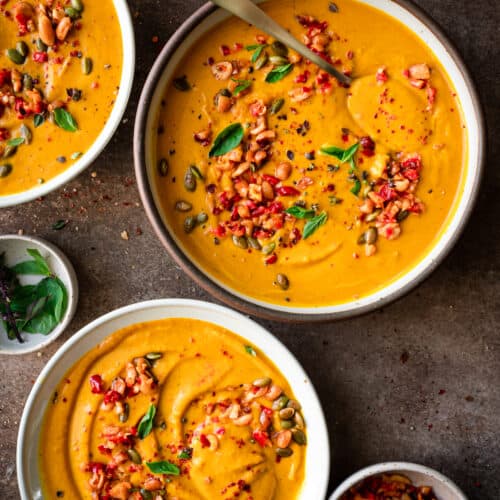 A simple and quick condiment to add as a topping for soups, rice bowls, curries, and salads. Spicy, salty, savory, and nutty, it's utterly delicious!
Ingredients
½

cup

(70g) salted peanuts

(raw or dry roasted)

1

tablespoon

coconut oil,

or neutral-flavored oil of choice

1 to 2

Fresno peppers,

diced**

A few dashes of soy sauce

(or tamari for GF)

Freshly cracked black pepper

Kosher salt
Instructions
Heat a frying pan over medium heat. Once hot, add the peanuts and toast until fragrant, 3 to 5 minutes. Take off the heat and set aside for now.

​​To the same pan, add the oil. Once hot, add the chile peppers. Cook for 60 to 90 seconds, then transfer to a bowl to stop cooking.

Use a knife to mince the peanuts. Add the peanuts to the chile peppers and toss to combine. Add a few dashes of soy sauce, a few cracks of black pepper, and toss again. Season to taste with salt as needed.
Notes
*Use cashews if allergic to peanuts. 
** Use another medium-heat chile pepper if you can't find Fresno peppers. Use 2 peppers for lots of heat! 
---
Calories:
69
kcal
|
Carbohydrates:
2
g
|
Protein:
3
g
|
Fat:
6
g
|
Saturated Fat:
2
g
|
Polyunsaturated Fat:
2
g
|
Monounsaturated Fat:
2
g
|
Sodium:
54
mg
|
Potassium:
80
mg
|
Fiber:
1
g
|
Sugar:
0.1
g
|
Vitamin A:
38
IU
|
Vitamin C:
4
mg
|
Calcium:
10
mg
|
Iron:
0.2
mg