For newbie vegans, one of the hardest things to give up is eggs, and the standard tofu scramble just doesn't cut it.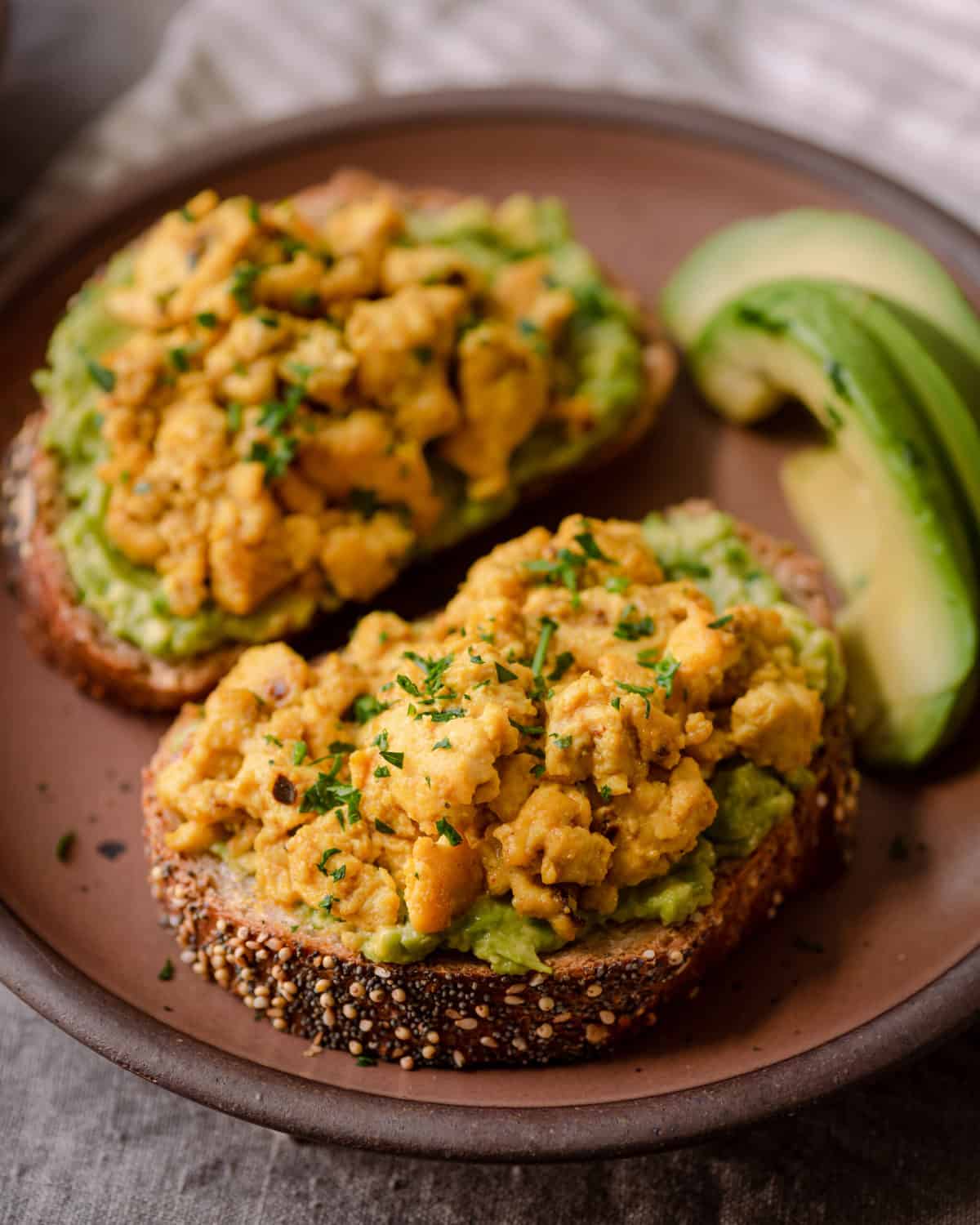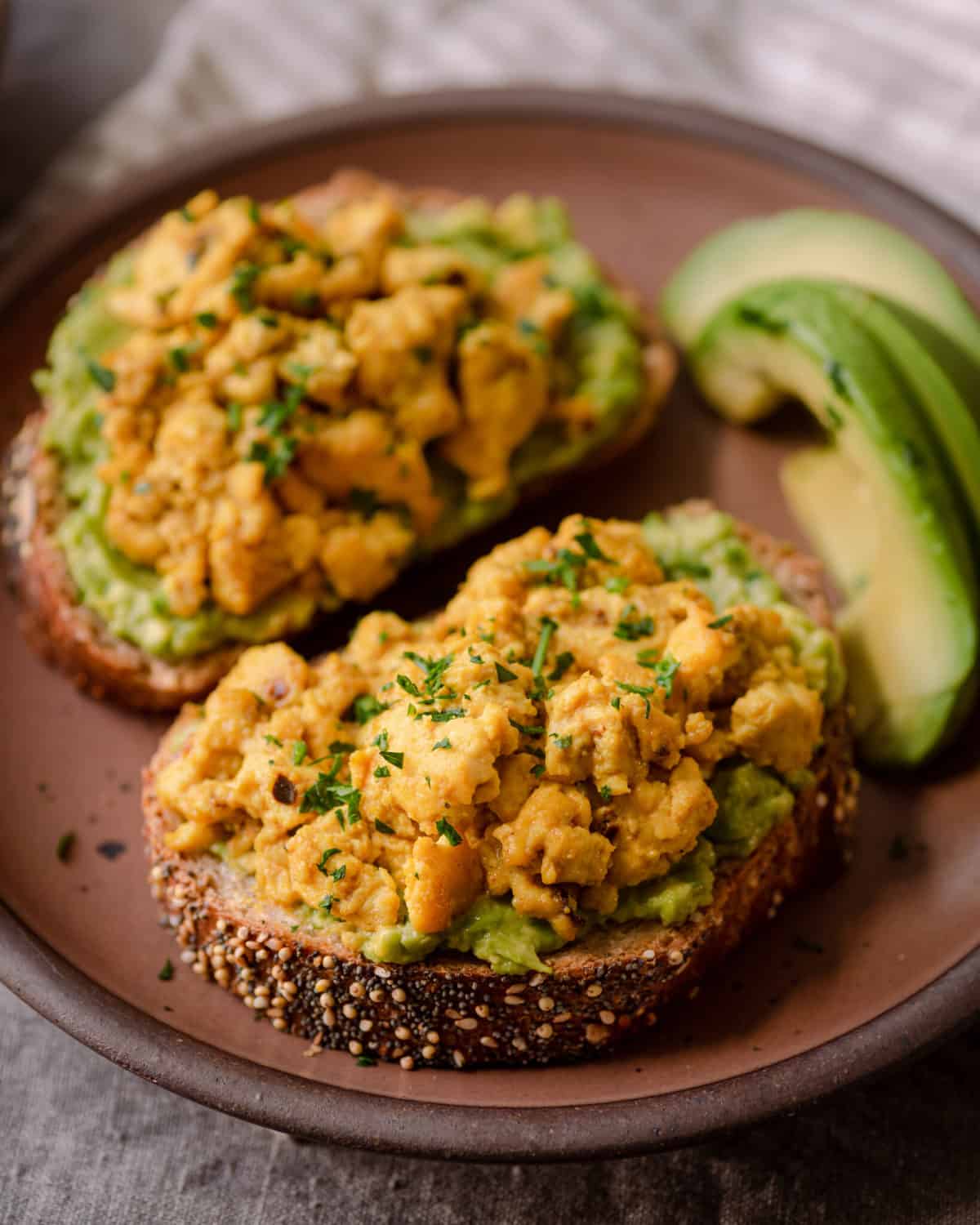 What makes this recipe different
If we're being honest, most tofu scramble recipes fall flat for two reasons: texture and flavor. Let's address each of these in turn.
Getting the texture right
Texture-wise, your typical tofu scramble is either a dry pile of crumbly tofu or a hot wet mess. Nothing like the soft, creamy texture in scrambled eggs (which are often cooked in butter and milk/cream).
To avoid such a wicked fate, this recipe calls for a sauce made from a mix of tahini and full-fat oat milk. Together, they give the tofu a remarkably creamy and rich consistency similar to what you'd find in scrambled eggs (but in healthier plant-based way).
We'll also need to choose the right kind of tofu, but more on that in the FAQ section.
Making an actually flavorful tofu scramble
Tofu is pretty flavorless on its own. So when you cook with it, you need to react accordingly and add a lot of seasoning. In other words, if you see a tofu scramble recipe whose only spice is turmeric, run for your life.
This recipe uses variety of spices to flavor our tofu including garlic powder, onion powder, turmeric and paprika.
But the star ingredient just might be kala namak. Also known as Indian black salt or Himalayan black salt, kala namak brings that distinctive umami-rich, egg-like flavor, similar to the yolk of a hard-boiled egg.
It's not a super well known ingredient, so I've added more details in the tips section about how to use it and where to buy it.
When you get the texture and flavor right, magic happens. Here's what readers are saying about this recipe:
Bretanne says, "GAME CHANGER! I've been being tofu scramble for years, trying tons of different recipes, and always thought it was just so-so. I was floored with how good this turned out!"
Lizzi says, "COMPLETELY BLOWN AWAY. Kicking my standby tofu scramble recipe to the curb and I plan to exclusively use this one going forward."
James says, "I have tried four or five tofu scramble recipes, and this has been the best by far. The spices work really well with the tofu, and the whole thing comes together so quick…. A+++!"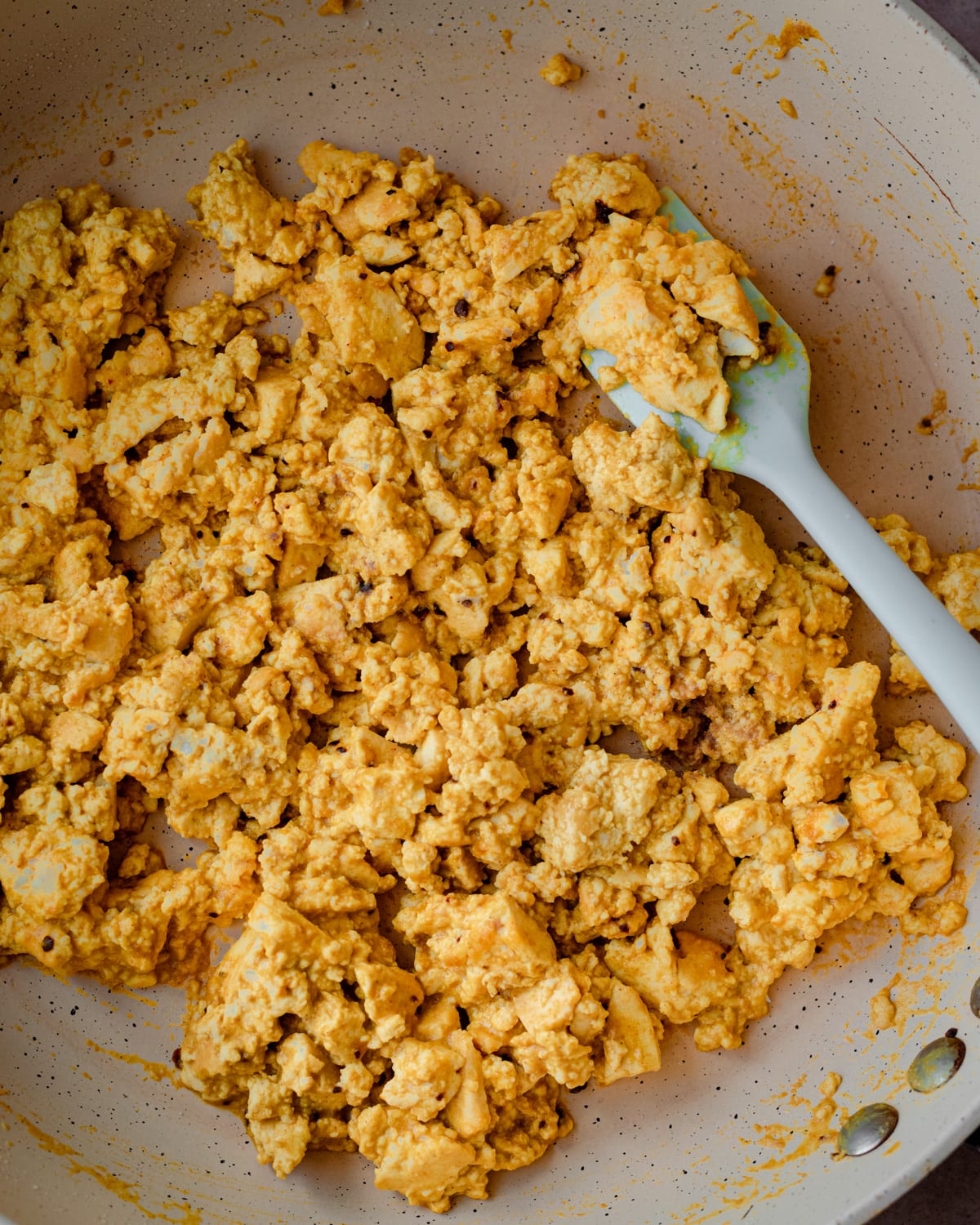 Step-by-step instructions
Drain the tofu, then press for 15 minutes. Crumble the tofu with your hands into chunks.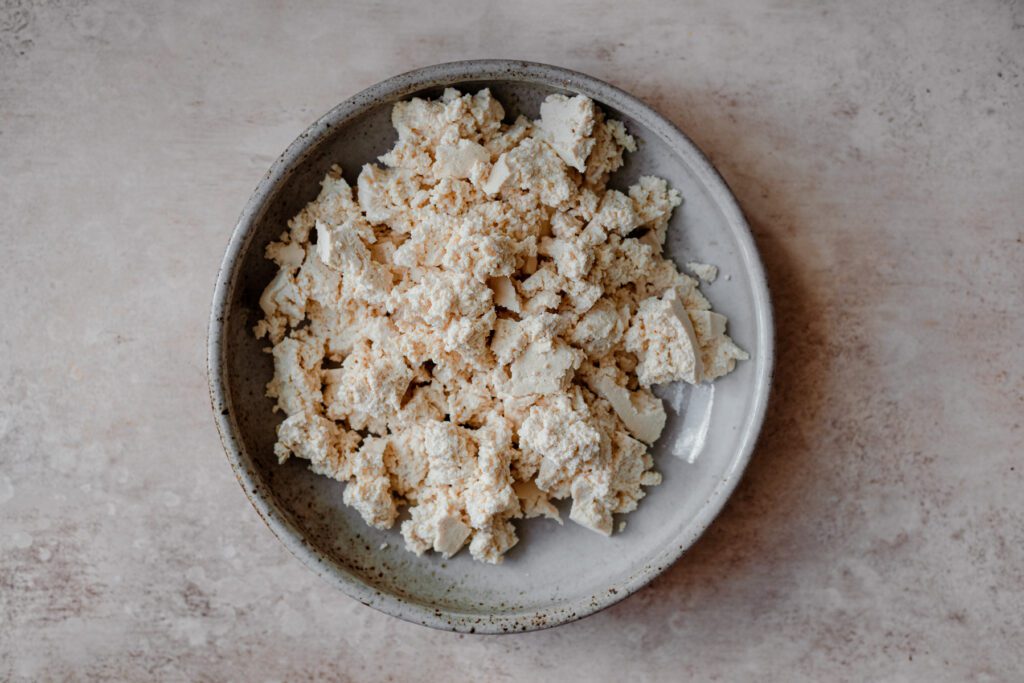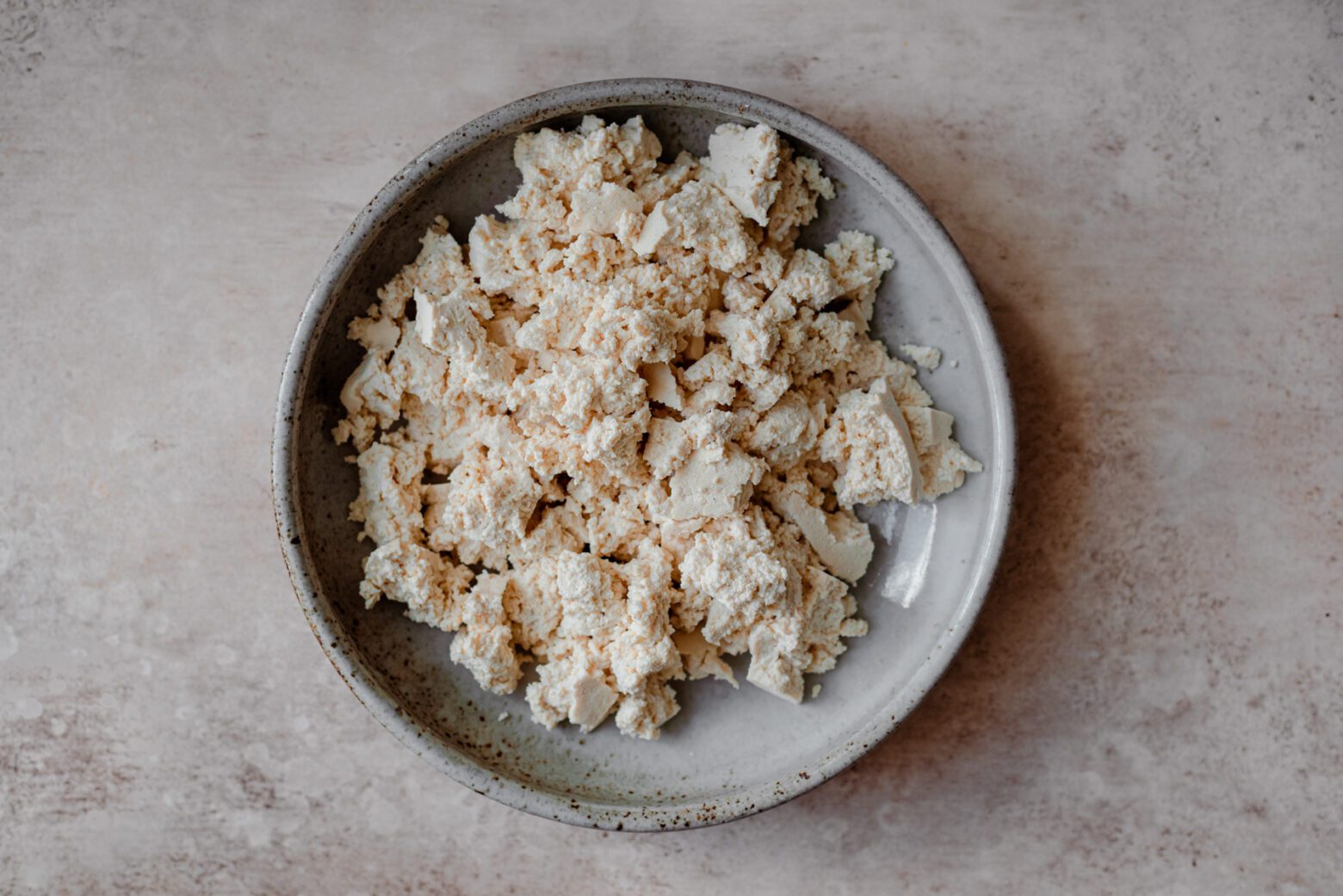 Make the spiced eggy sauce: whisk together the spices, tahini, nutritional yeast, and plant milk.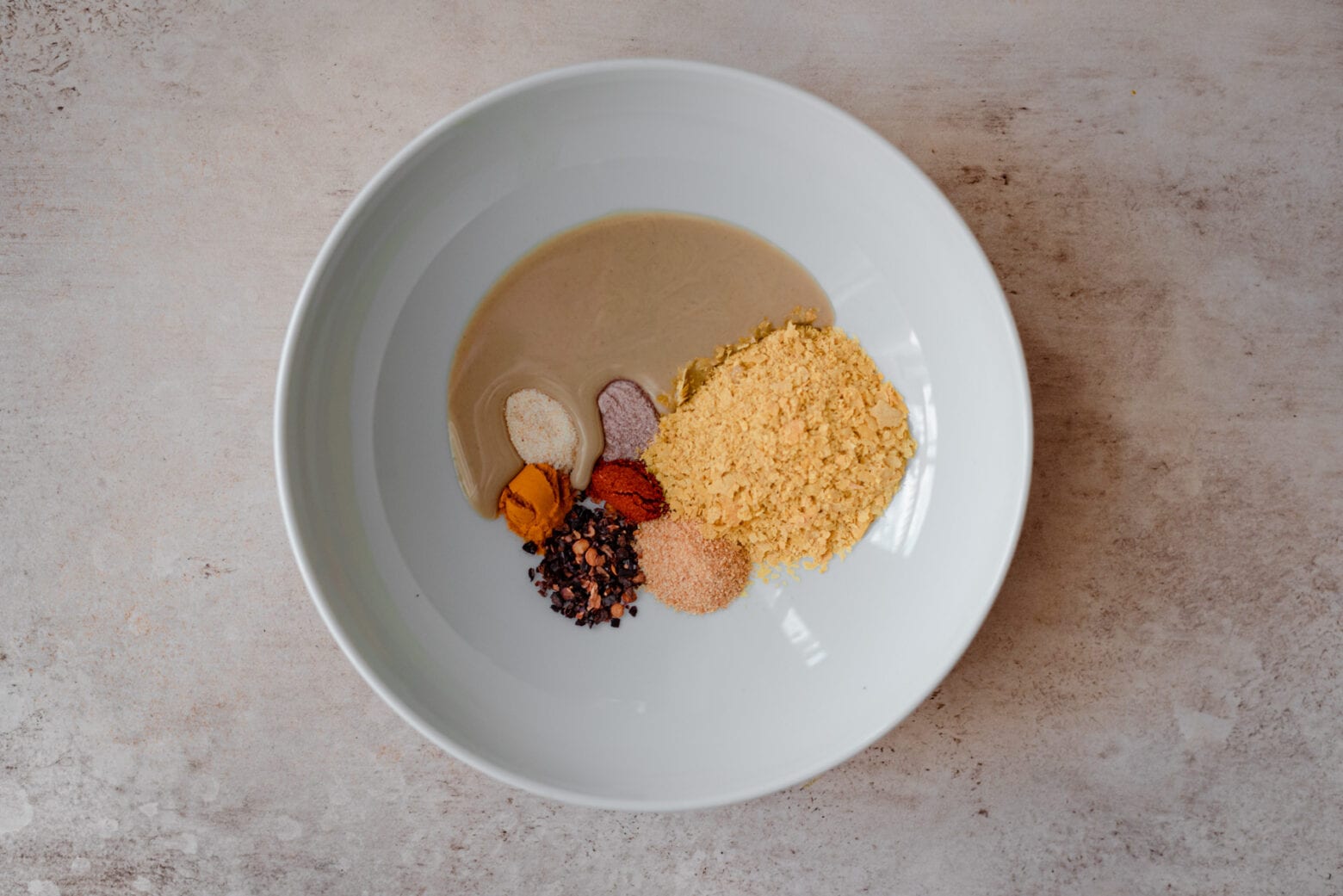 Heat oil in a nonstick frying pan. Once hot, add the tofu. Let cook undisturbed for 1 or 2 minutes, then toss occasionally, and cook for a total of 5 to 7 minutes until the outside is lightly golden.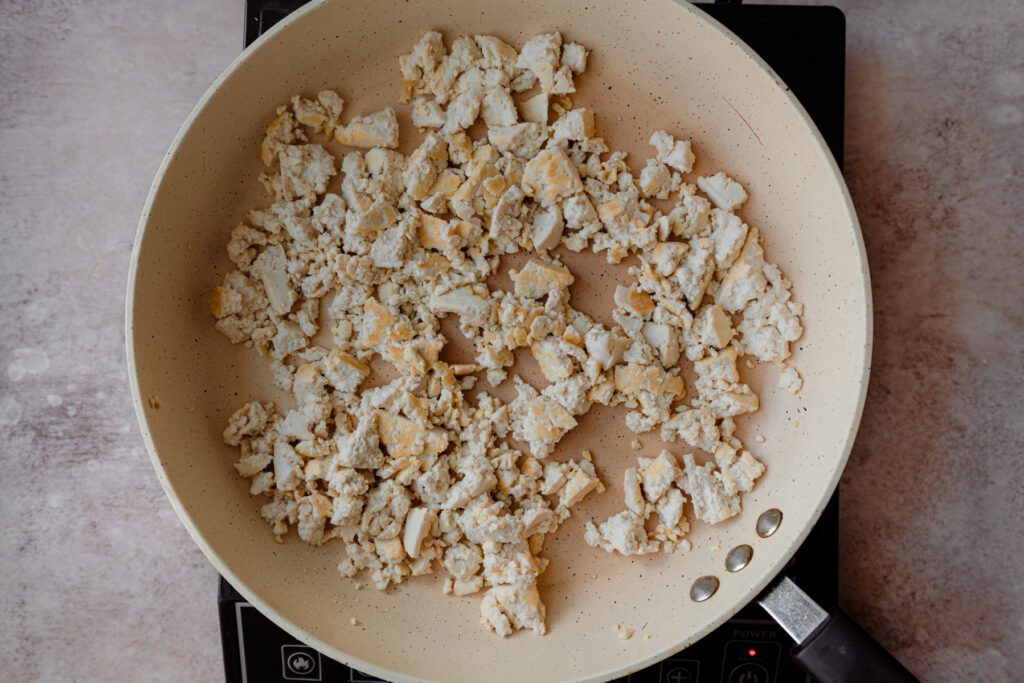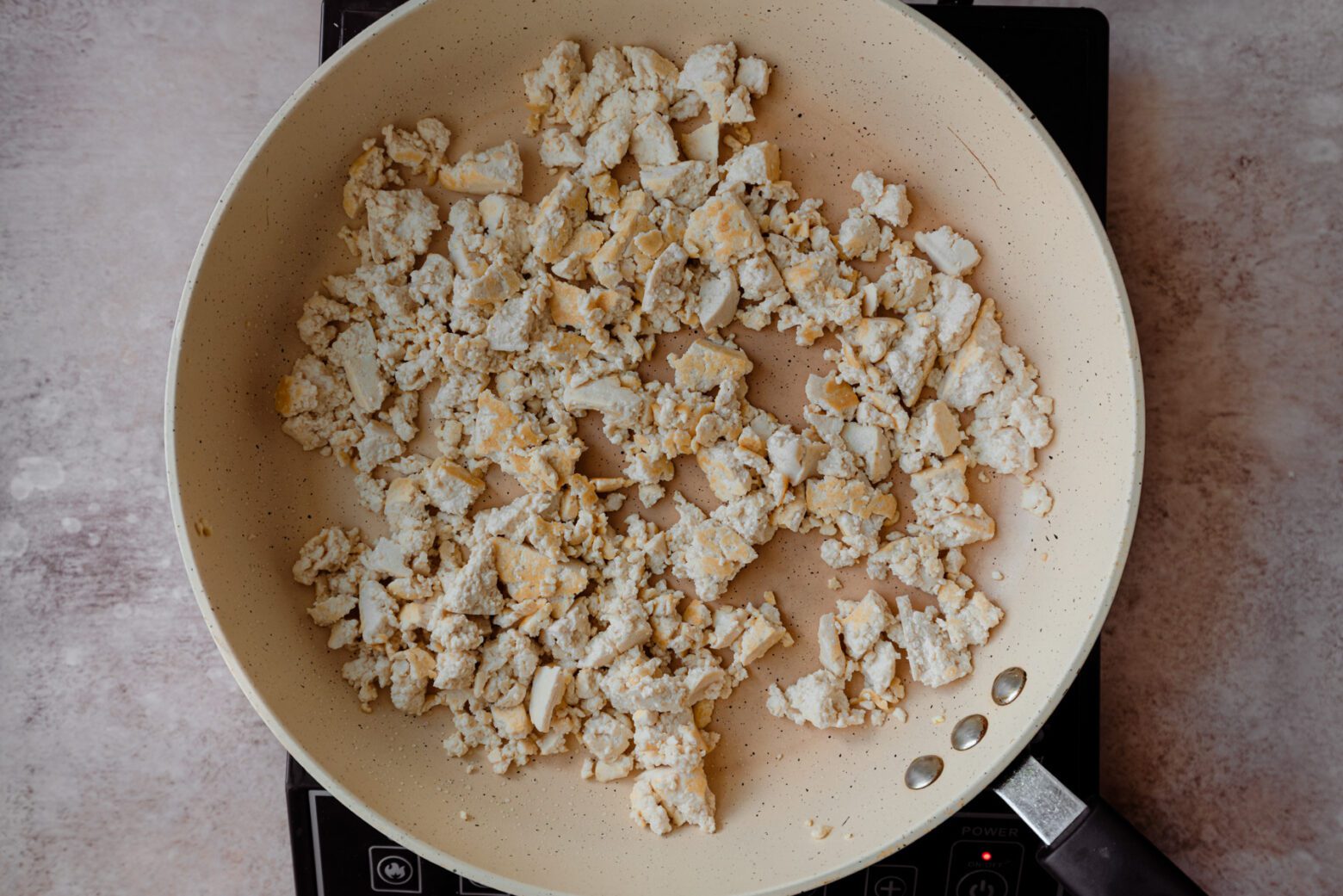 Pour the sauce over the tofu and use a silicone spatula to make sure that it fully covers the tofu and gets into every little crevice. Cook down for a few minutes until you reach your desired consistency.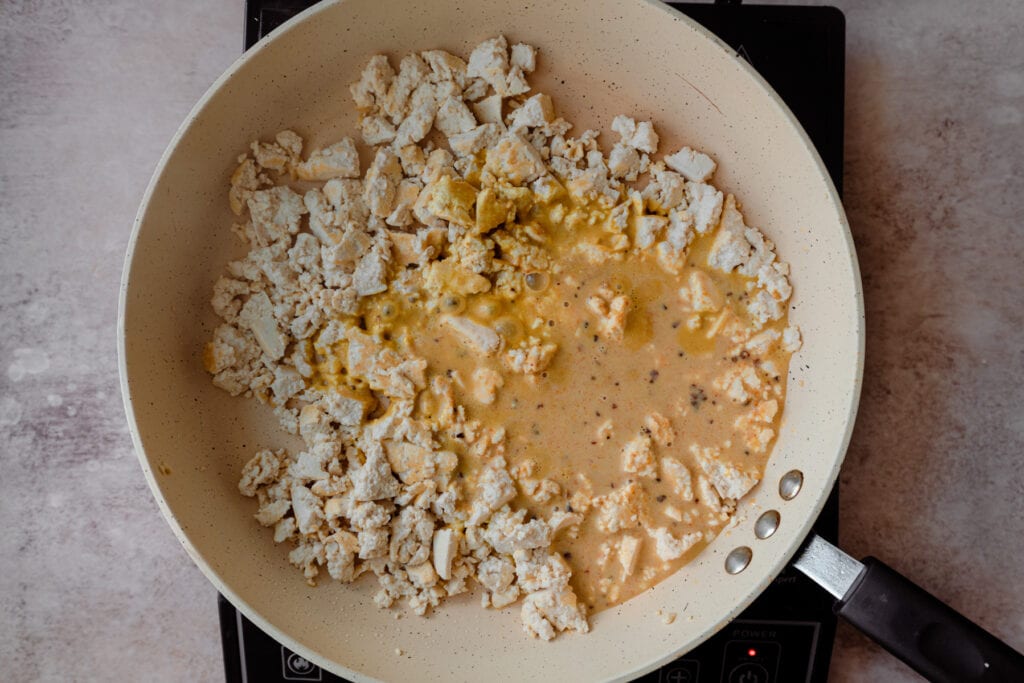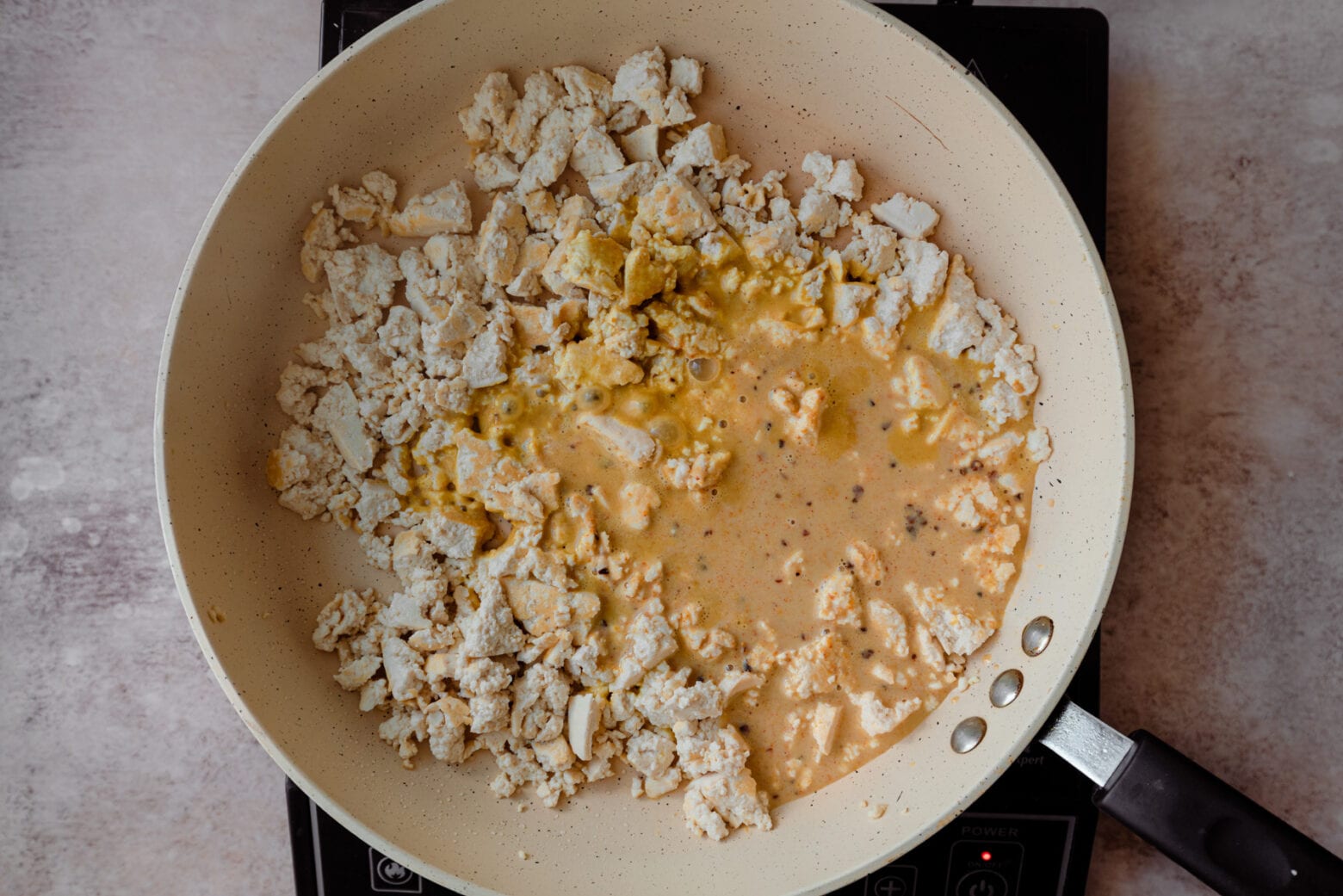 Tips for making this tofu scramble
Press the tofu
Yes, it's an extra step, but it's really worth it. Tofu is very watery, and water-logged tofu doesn't absorb other flavors well. Hi, bland scramble. If you want to make this recipe more quickly in the morning, press your tofu the night before and store in the fridge.
Don't overcrowd your pan
To ensure that nice golden coating on the tofu, use a large non-stick pan (12-inch). That way, you can spread the tofu out into a single layer. Crowding the pan results in steamed tofu. If you don't own a 12-inch pan, divide the tofu in half and cook it in two batches.
Another strategy to help brown the tofu: don't stir it constantly. First, allow the tofu to cook undisturbed for 1 to 2 minutes to develop a beautiful, light golden-brown color. Then, begin stirring lightly for the remainder of the cooking time.
Don't skip the kala namak
Kala namak is a genuine game changer when it comes to tofu scramble. Once you try it, you'll never go back to making tofu scramble the same way again.
Although there is ½ teaspoon already in the sauce, kala namak loses its potency as it cooks. I like to add a couple of dashes of it on top, right before serving.
Note: when you first add kala namak to the sauce, it emits a very pungent, sulphurous odor. But, not to worry, the smell dissipates fairly quickly (and I promise your finished dish will taste and smell delicious).
You can find kala namak in South Asian grocery stores, as well as online retailers like Amazon (affiliate link). It's a great addition to your spice rack because it lends that classic eggy taste to vegan egg recipes. AND it's also used in several Indian dishes like chutneys and spicy pickles. More ideas for how to use it can be found here black salt here.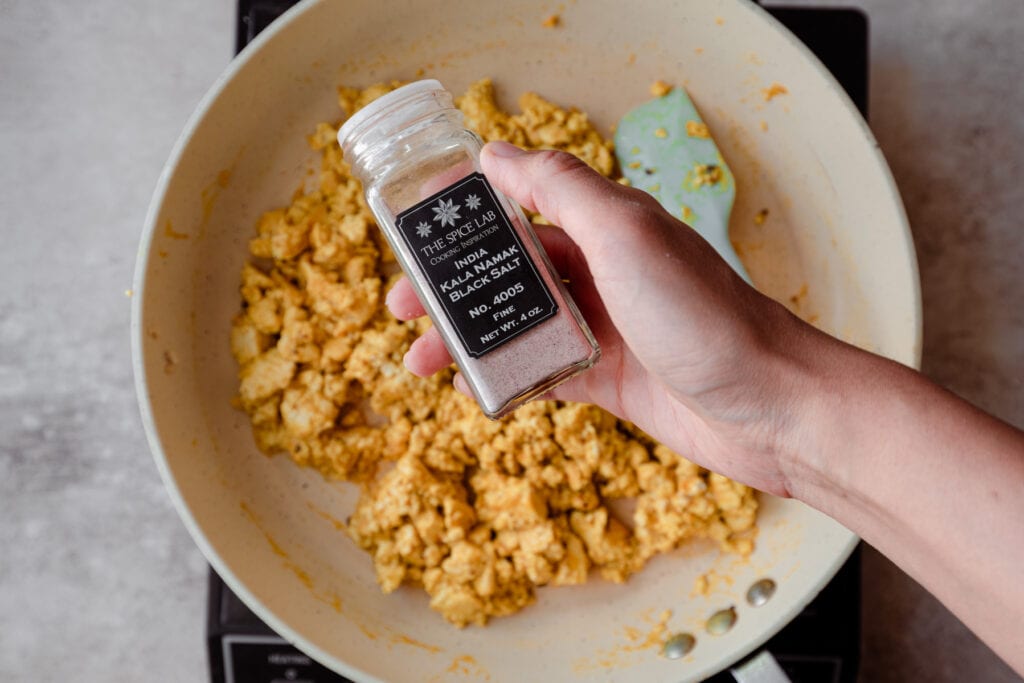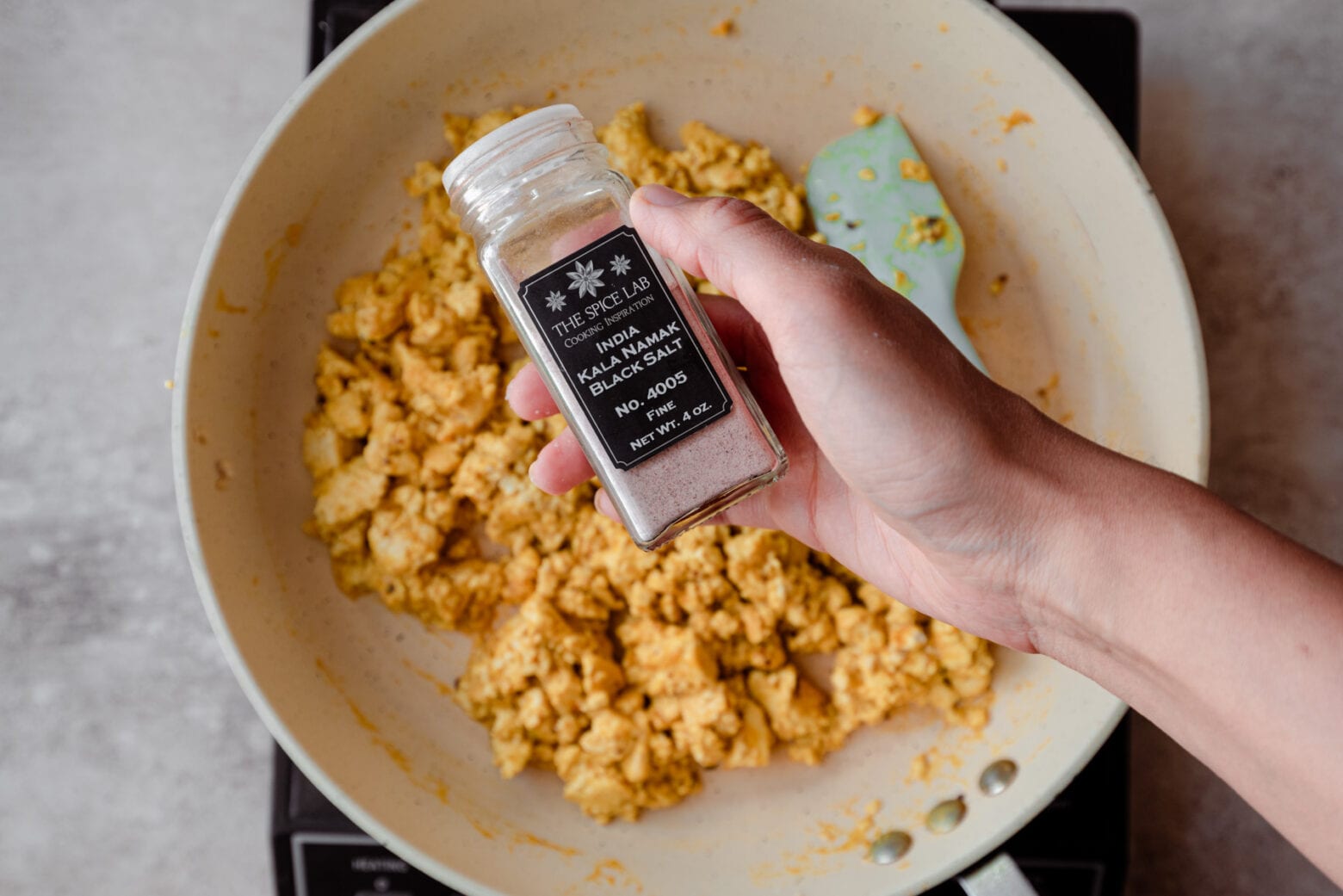 Frequently Asked Questions
What kind of tofu should I use for tofu scramble?
Firm tofu mimics the texture of scrambled eggs brilliantly.  When you pan-fry firm tofu, it becomes lightly golden on the outside, while remaining soft and pillowy on the inside. As mentioned in the tips section, It does require around 10 minutes of pressing to remove some excess water.

But if all you have is extra-firm tofu, that works well too. Since it has lower water content, you can gently squeeze out the water with your hands instead of pressing it.
What if I don't have kala namak?
You can find kala namak at South Asian grocery stores and on Amazon (affiliate link).

If you don't have kala namak (Indian black salt), use kosher salt or sea salt instead. Your tofu scramble will lack that characteristic eggy flavor though.
What should I serve tofu scramble
with?
If it's the weekend, PLEASE make these Vegan Breakfast Burritos. These burritos combine the eggy tofu scramble with vegan queso sauce, pico de gallo, crispy roasted potatoes, and creamy avocado to yield a legit fire brunch that will please everyone. 

For another very hearty option that comes together more quickly, serve the tofu scramble on top of toasted bread with avocado smashed with lemon juice + sea salt + chili flakes (as see in some of the photos).

This tofu scramble would also work wonderfully as part of a larger brunch spread that includes my Vegan Pumpkin Pancakes or my Simple Vegan French Toast or my Vegan Blueberry Muffins.  Round out this decadent breakfast feast by whipping up either my Creamy Vegan Protein Mocha Latte or my Sweet and Spicy Almond Butter Date Latte or some breakfast cookies.

For more delicious vegan breakfast ideas, check out my round-up of 40 fantastic vegan breakfast recipes!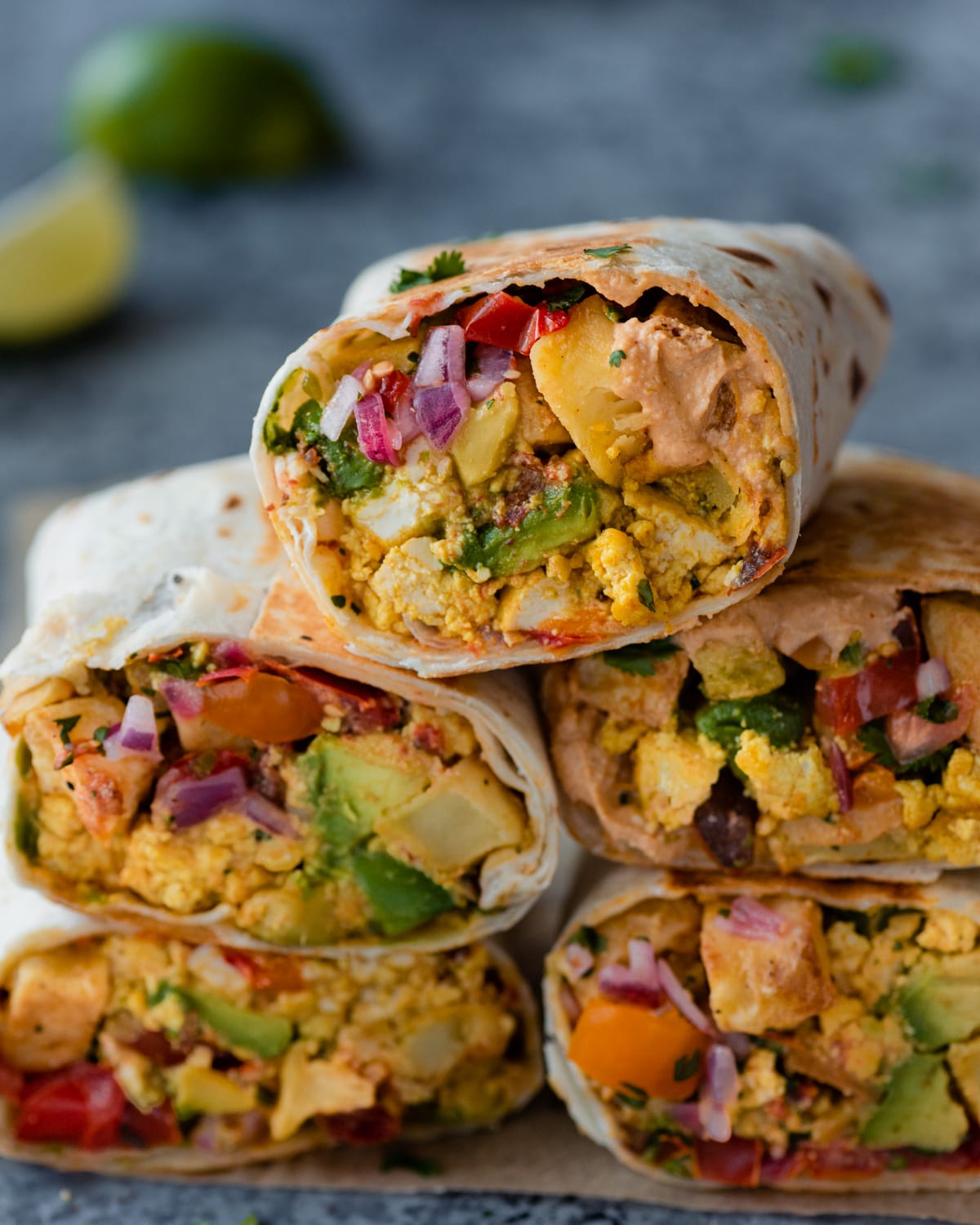 How do I add vegetables tofu scramble?
Before pan frying the tofu, sauté a handful of your favorite veggies and then set them aside. If you cook the tofu and veggies simultaneously in the pan, it will be too crowded and the tofu will steam instead of fry.

Some great veggie options to sauté include sliced mushrooms, finely chopped kale or baby spinach, thin strips of bell pepper, diced tomatoes, sliced or diced onions/shallots, and sliced scallions.  And a little garlic tossed into the mix never hurt anyone ;)

Or, for something super quick, after you add the sauce, fold in a couple handfuls of finely chopped baby spinach. It'll wilt quickly and tastes great.
How should I store and reheat leftover scramble?
The scrambled tofu should be stored in an air-tight container and can be kept in the fridge for up to 5 days.

Leftovers reheat well in the microwave. If you want to add back the slight crispiness the outside of the tofu had when freshly prepared, reheat the scramble for a couple of minutes in a non-stick pan with a touch of oil, with minimal stirring.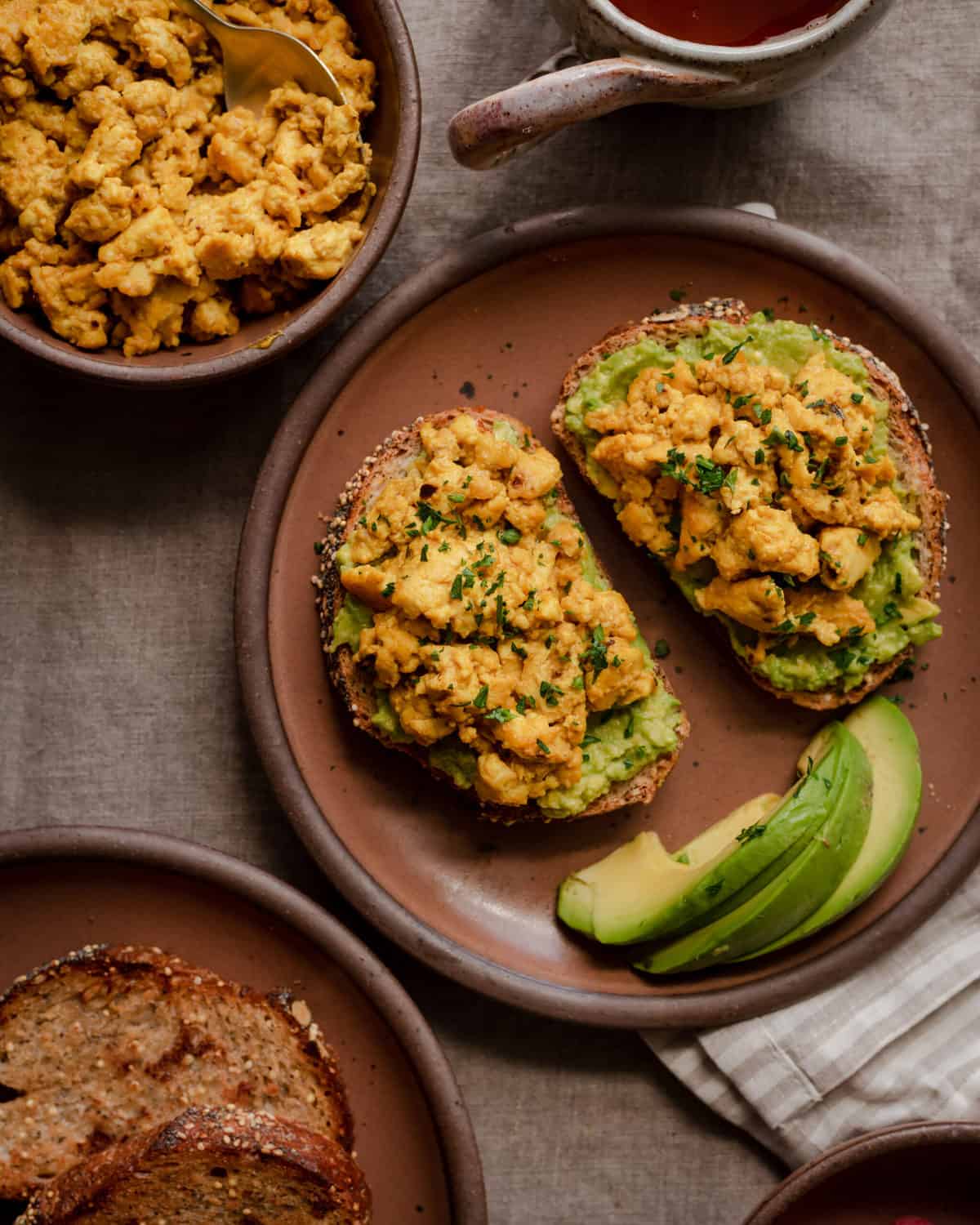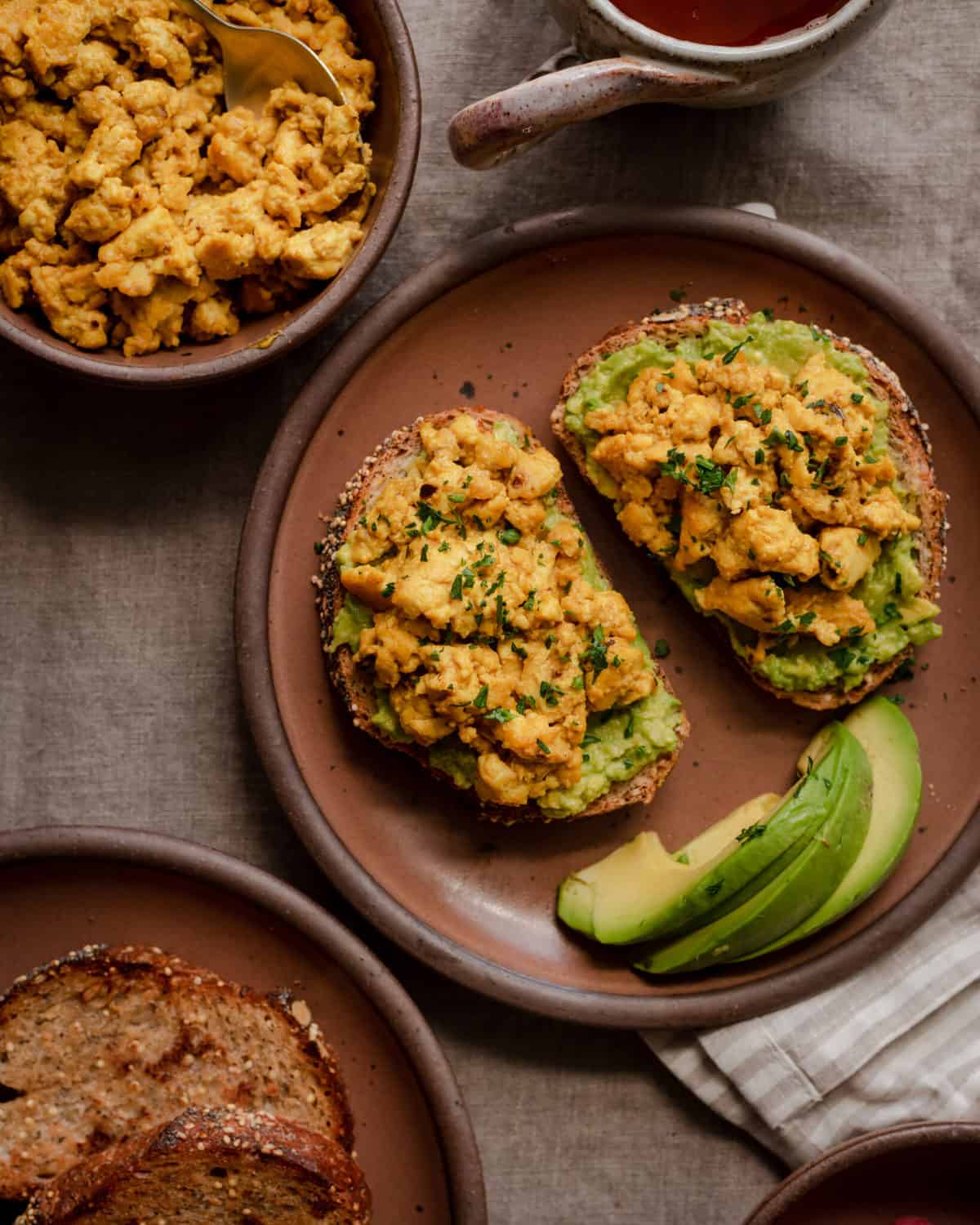 Watch! How to make Tofu Scramble
That's all you need to make this tofu scramble! Hope it becomes a go-to in your breakfast routine and if you love it, please rate and review the recipe below!
The Best Tofu Scramble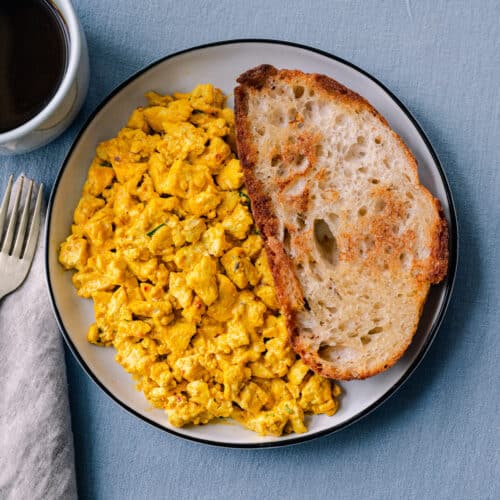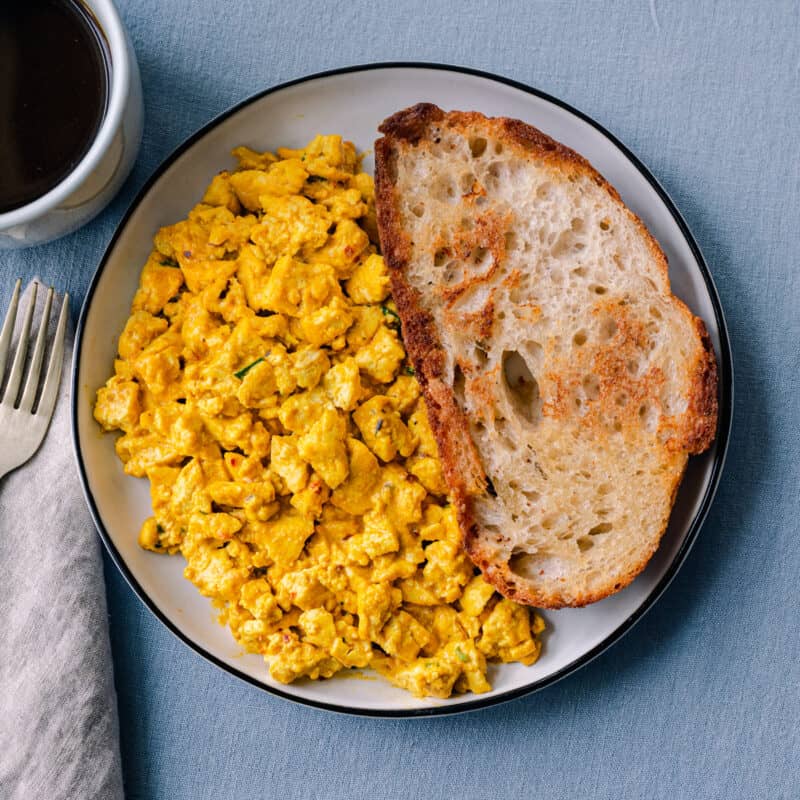 This tofu scramble tastes uncannily similar to scrambled eggs – rich, creamy, and flavor-packed, and the perfect recipe to try if you're tired of dry, bland tofu scrambles. Best of all, it's quick and easy and uses just one pan, so there's minimal cleanup.
Ingredients
1

14- or 16-ounce

(400/454g) block of firm tofu

1/4

teaspoon

ground turmeric

½

teaspoon

garlic powder

½

teaspoon

onion powder

¼

teaspoon

paprika

½

teaspoon

chipotle chile flakes

(crushed chipotle chilies)

½

teaspoon

kala namak (AKA Indian black salt),

plus more to finish

Freshly cracked black pepper to taste

1

generous tablespoon

tahini

2

tablespoons

nutritional yeast

½

cup (120 mL)

plant-based milk of choice,

such as oat, cashew, or almond

1

tablespoon

olive oil or cooking oil of choice

Sea salt or kosher salt to taste
Instructions
Drain the tofu. Line a cutting board with a few layers of paper towels or a clean dish towel. Place the tofu on top, then weigh it down with a heavy cookbook, or a large plate weighed down by a few cans of beans. Press the tofu for 15 minutes.

Make the eggy sauce. In a bowl, whisk together the turmeric, garlic powder, onion powder, paprika, chipotle, kala namak, tahini, and nutritional yeast. Pour in the milk gradually and whisk until you have a nice sauce.

Crumble the pressed tofu with your hands into chunks, not too big or too small.

Heat a large nonstick frying pan over medium-high heat with the oil. Once the oil is hot, add the tofu to the pan, and fry until it's lightly browned, 5 to 7 minutes. Stir occasionally but not too often to allow the exterior to get lightly browned. Break up any large chunks of tofu with your spatula but don't break it up too finely.

Add the eggy sauce and fold to combine, using a silicone spatula to coat each piece of tofu with the sauce. Continue frying the tofu until you reach your desired texture and consistency. If you prefer your scramble on the dry side, cook for a few minutes. If you prefer it on the wet side, cook for just 30-60 seconds (I prefer slightly drier for a breakfast burrito).

Finish the scramble with a few shakes of kala namak. Taste, and add a pinch of kosher salt or sea salt as needed. Reheat leftovers in a frying pan or in the microwave.
---
Calories:
158
kcal
|
Carbohydrates:
5
g
|
Protein:
15
g
|
Fat:
10
g
|
Saturated Fat:
1
g
|
Polyunsaturated Fat:
4
g
|
Monounsaturated Fat:
5
g
|
Sodium:
276
mg
|
Potassium:
108
mg
|
Fiber:
2
g
|
Sugar:
1
g
|
Vitamin A:
86
IU
|
Vitamin C:
1
mg
|
Calcium:
169
mg
|
Iron:
2
mg