If you were a vegetarian in the '90s, one of the few options you'd find at a standard American restaurant was stuffed peppers. Unseasoned peppers stuffed with white rice and a bit of cheese, these were halfhearted attempts to produce edible fare beyond a garden salad, but they were always presented with great fanfare, as if the chef had taken special care in whipping up something exotic. Luckily, vegetarian and vegan cuisine have come a long way since then, and stuffed peppers feel like a nostalgic throwback amidst all the variety today.
Which is why we're making Burrito Bowl Stuffed Peppers! All the things you love about burritos and burrito bowls, conveniently stuffed into a healthy bell pepper!
And in case you're wondering why you should make stuffed peppers in your Instant Pot instead of in your oven, let me tell you!
For one, you don't have to turn on your oven, which is a wonderful relief in the summer. Two, traditional recipes in the oven usually take upwards of an hour. Many recipes call for parboiling the peppers before stuffing and baking them to ensure that the peppers cook through. Plus, you have to pre-cook the filling. All these steps make for a not-so-quick dinner.
In contrast, these Instant Pot Stuffed Peppers come together in a short period of time and require very little prep work. If you already have cooked grains on hand, the only things you need to do are: slice off the pepper tops, and mix together your cooked burrito bowl ingredients. Finally, Instant Pot stuffed peppers turn out juicy and tender every time.
When buying bell peppers, look for large peppers with wide tops, as the surface area will give you more stuffing room. A 6-quart Instant Pot will comfortably fit 4 large peppers or 5 small-to-medium ones. Depending on their size, you might have a little extra stuffing, but you can always repurpose that for another meal or stuff it into a tortilla for an actual burrito
Instant Pot Burrito Bowl Stuffed Peppers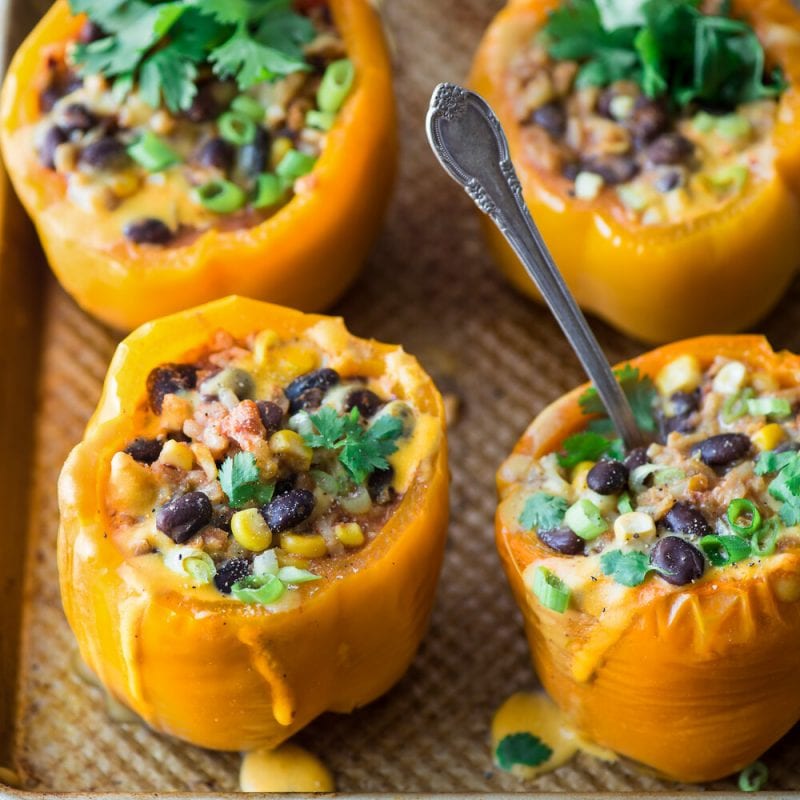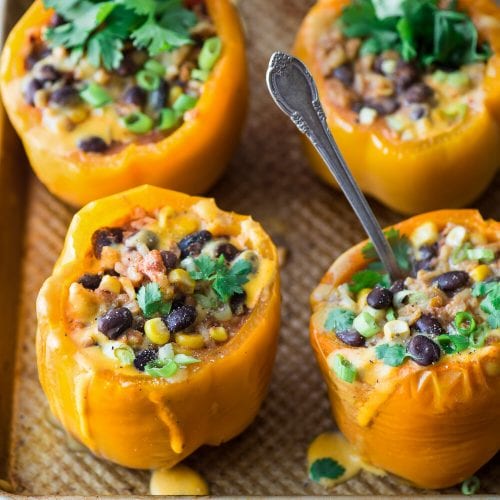 All the things you love about burritos and burrito bowls, conveniently stuffed into a healthy bell pepper!
Ingredients
Stuffed Peppers Ingredients
4

medium to large bell peppers

(red, orange, or yellow)

1 1/2

cups

cooked brown rice

(can substitute another cooked grain of choice)

4

cloves

garlic,

crushed

1/2

cup

sweet corn

1 (15-

ounce)

can black beans,

drained and rinsed

1

teaspoon

EACH: ground chili powder,

onion powder, cumin, and paprika

3

tablespoons

nutritional yeast

1

tablespoon

agave nectar

(or organic cane sugar)

1/2

cup

salsa of choice,

plus more for serving

3/4

teaspoon

kosher salt

1/2

teaspoon

black pepper

1/2

cup

Vegan Mexican Cheese Sauce

(recipe below, or store-bought shredded vegan cheese)

1

lime,

juiced

Chopped cilantro for serving
Vegan Mexican Cheese Sauce Ingredients
1

cup

(~120g) raw cashews, soaked in water overnight (or soaked in boiling water for 1 hour; soak overnight if you don't have a high-powered blender)

1/2

cup

(~112g) vegan unsweetened plain yogurt

2

tablespoons

water or vegetable broth

1/2

cup

(~120g) salsa of choice, (I used this one)

1

teaspoon

ground cumin

1/2

teaspoon

chili powder

1/2

teaspoon

smoked paprika

1

teaspoon

kosher salt

2

tablespoons

nutritional yeast
Instructions
Stuffed Peppers Directions
In a bowl, mix together the cooked brown rice, garlic, black beans, corn, spices, nutritional yeast, agave, salsa, salt and pepper. Taste the mixture and adjust seasonings accordingly.

Cut off the top parts of each bell pepper and remove the membranes and seeds. Fill each pepper with the rice filling, but do not overstuff.

Pour 1/2 cup of water in the inner pot of the Instant Pot. Place the stuffed peppers on top of a steamer rack and place inside the inner pot.

Secure the lid and select the Pressure Cook or Manual setting at high pressure and reduce the cook time to 5 or 6 minutes (use 5 minutes for medium peppers, 6 minutes for larger peppers).

Once the timer is done, perform a quick pressure release by switching the Pressure Release knob from Sealing to Venting.

Open the lid and spoon some of the Vegan Cheese Sauce or shredded vegan cheese on top of each stuffed pepper. Close the lid for 2 minutes to heat up the cheese. Or, transfer the cheese-topped peppers to an ovenproof dish and place under your oven's broiler for a few minutes until the cheese has melted.

Sprinkle on some lime juice and chopped cilantro. Serve with salsa of choice.
Vegan Mexican Cheese Sauce Directions
Drain the soaked cashews and pat dry. Add the cashews, along with the remaining cheese sauce ingredients, to a high-powered blender (or food processor). Blend until thick, creamy, and smooth. The sauce should be quite thick and creamy. Taste for seasonings.
---
Calories:
336
kcal
|
Carbohydrates:
60
g
|
Protein:
16
g
|
Fat:
6
g
|
Saturated Fat:
1
g
|
Polyunsaturated Fat:
1
g
|
Monounsaturated Fat:
2
g
|
Sodium:
960
mg
|
Potassium:
988
mg
|
Fiber:
14
g
|
Sugar:
12
g
|
Vitamin A:
4028
IU
|
Vitamin C:
160
mg
|
Calcium:
86
mg
|
Iron:
4
mg