Think of this Vegan Sweet Potato Casserole as the grown-up version of the classic Thanksgiving side dish. Instead of adding a ton of sugar to the mashed sweet potatoes and topping them with marshmallows, this recipe uses comforting winter spices and a crunchy oat-nut crumble to enhance every bite.
Just like my Vegan Mashed Potatoes, this dish is a must-have on every vegan Thanksgiving menu. Best of all, you don't have to be vegan to love it!
Table of contents:
1. Why this recipe works
2. Ingredient notes
3. Step-by-step instructions
4. Tips for making this recipe
5. Frequently Asked Questions
6. Recipe card with notes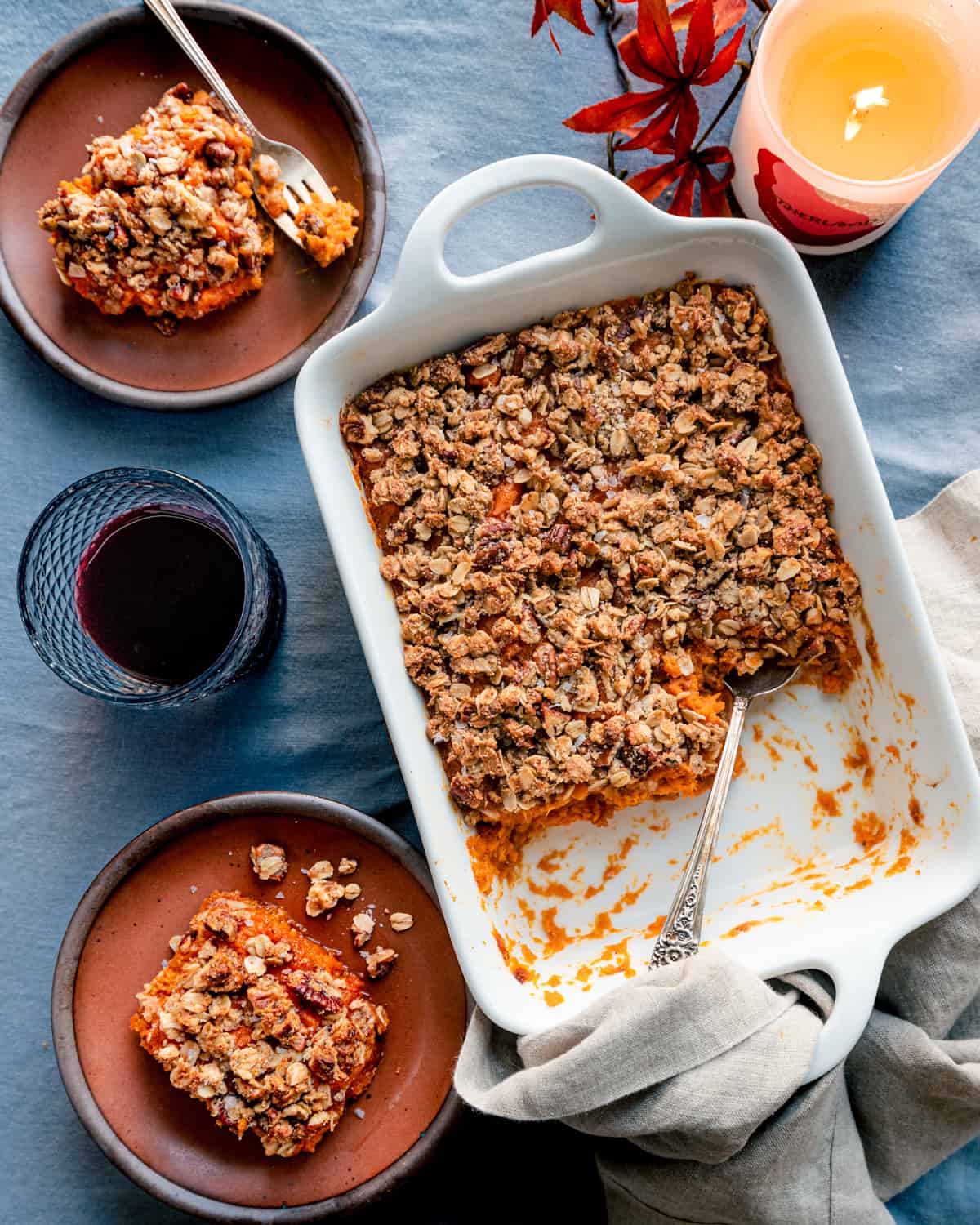 Why this recipe works
Dreamy fall comfort food
What do you get when you combine mashed sweet potatoes, browned butter, and crunchy toasted nuts and oats? The most indulgent and savory vegan sweet potato casserole!
It's what fall comfort food is made of, plain and simple. The filling is sweet but salty and features complex flavors thanks to browned vegan butter and freshly grated nutmeg. And who needs marshmallows when you can have the deeply flavored, crunchy, and rustic oat and walnut/pecan topping?
A traditional Thanksgiving side with a twist
Forget everything you know about traditional sweet potato casserole with marshmallows. My elevated vegan version is just as comforting and crowd-pleasing as the classic but comes with a few modern twists. It also happens to be naturally gluten-free.
It's surprisingly easy
You won't find any complicated steps, techniques, or ingredients in this casserole. All you need to do is roast the sweet potatoes, mash them with vegan butter and spices, then mix the simple crumble ingredients together with a fork. Assemble the two in a baking dish, bake, and you're done!
The process is even easier when you set some time aside to prep it in advance. You'll find all kinds of time-saving and make-ahead tips in the Tips section below to help keep your holidays stress-free.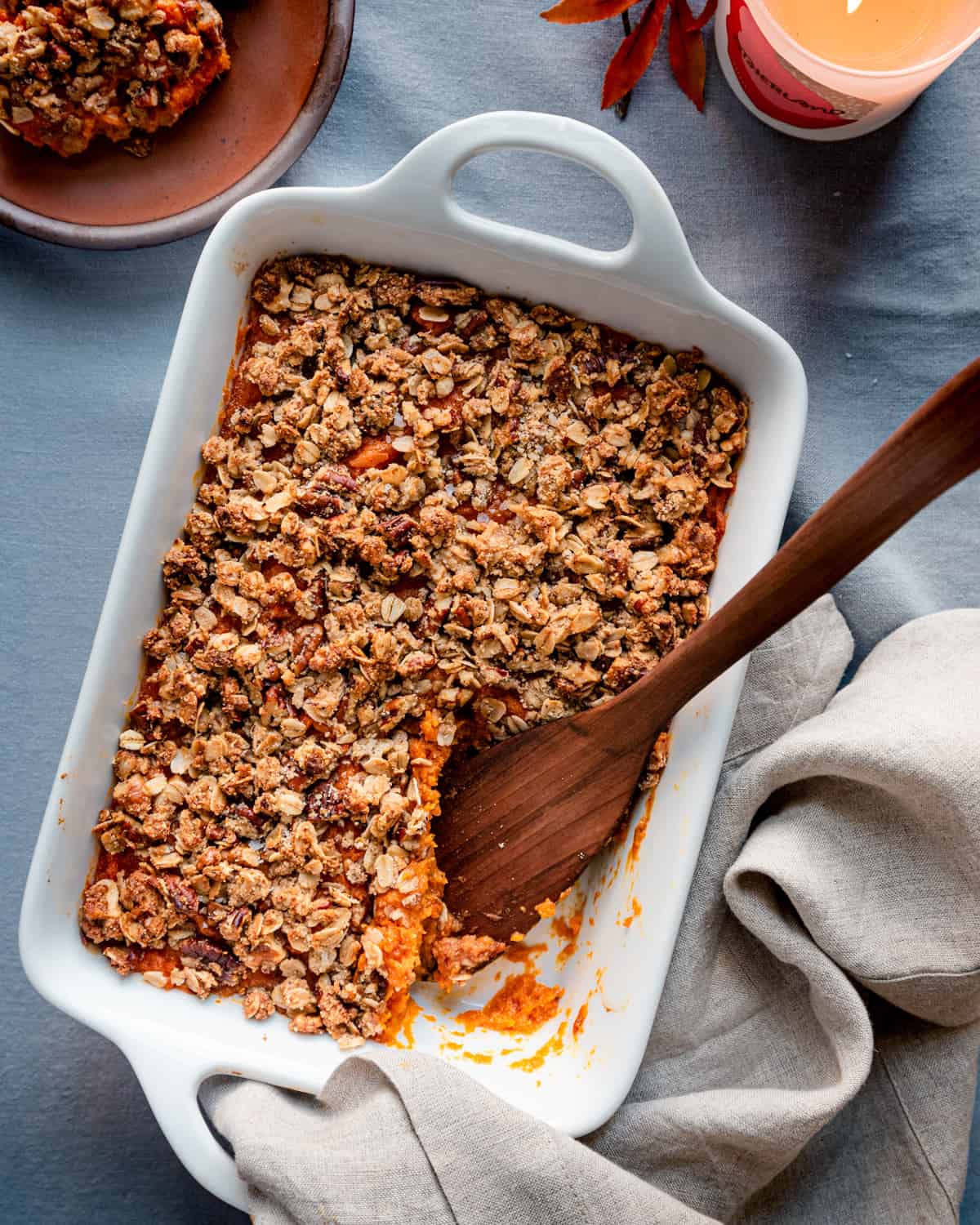 Ingredient notes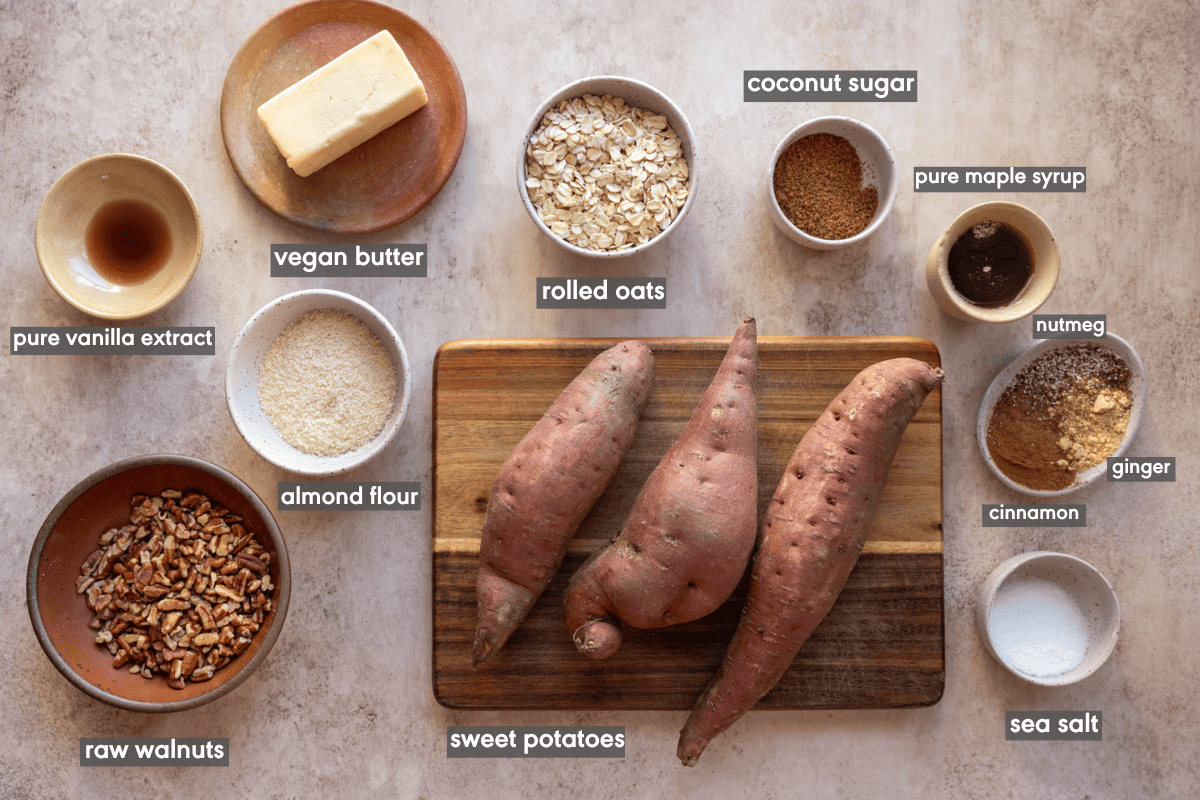 Sweet potatoes
Mashed sweet potatoes are the star of this recipe, of course. They're naturally sweet and creamy but get even better when vanilla and warm spices are stirred into the batch.
Sweet potatoes are available in most major grocery stores year-round but they're at their best from late summer and throughout fall. When you're shopping, pick up medium to large-sized potatoes that feel firm and have minimal dents or blemishes on the skin.
Vegan butter
Just when you think butter can't get any better, you learn about brown butter. Yes, you can brown vegan butter pretty well! It works differently than dairy-based butter, but it does get nice and toasty in flavor and works perfectly in my epic Brown Butter Peach Cobbler as well as this vegan sweet potato bake.
Vegan butter brands: I've had the best luck making vegan brown butter with Miyoko's vegan butter, Violife Plant Butter, and Country Crock Plant Butter. Earth Balance tastes fine but doesn't really brown. Miyoko's browns quite well since it has some protein in it (similar to the milk proteins in dairy-based butter), but it browns very quickly so beware. Violife has a small amount of faba bean protein, which helps it brown well.
Warming spices
You need a blend of ground cinnamon, ginger, and nutmeg. This blend of warm spices is key in this classic Thanksgiving side, just as they are in other fall comfort foods, like Vegan Pumpkin Bread, Vegan Apple Crisp and Apple Cinnamon Bundt Cake. 
If you can, use freshly grated nutmeg instead of ground nutmeg. It's super fragrant and has a powerful depth of flavor, helping the sweet potato filling taste its best.
You should be able to find whole nutmeg seeds in the bulk or spice section of well-stocked grocery stores. Grate them on a microplane directly over the filling and enjoy!
PS: Feel free to add a dash of cloves or allspice if you have it on hand.
Walnuts or pecans
Instead of marshmallows, the casserole is topped with a nut and oat-based crumble made from either walnuts or pecans. They add a soft crunch and an incredibly rich and nutty flavor to each bite. Seriously, the aromas that come from the oven as the nuts bake are next level.
Nut-free substitute: Try making the topping with a mixture of pepitas and thick coconut flakes or coconut chips (not the skinny shredded coconut) instead of the nuts.
Rolled oats
The other half of the crumble topping is made from old-fashioned rolled oats. Similar to the nuts and just like in homemade granola recipes, the oats become delightfully crunchy as they bake, adding a nice crispy crunch to every bite.
To keep it gluten-free: Not all rolled oats are naturally gluten-free. So, if you want this to stay as a gluten-free vegan sweet potato casserole, make sure you use certified gluten-free rolled oats.
Step-by-step instructions
Start by baking the sweet potatoes in the oven until they're fork tender. Set them aside to cool.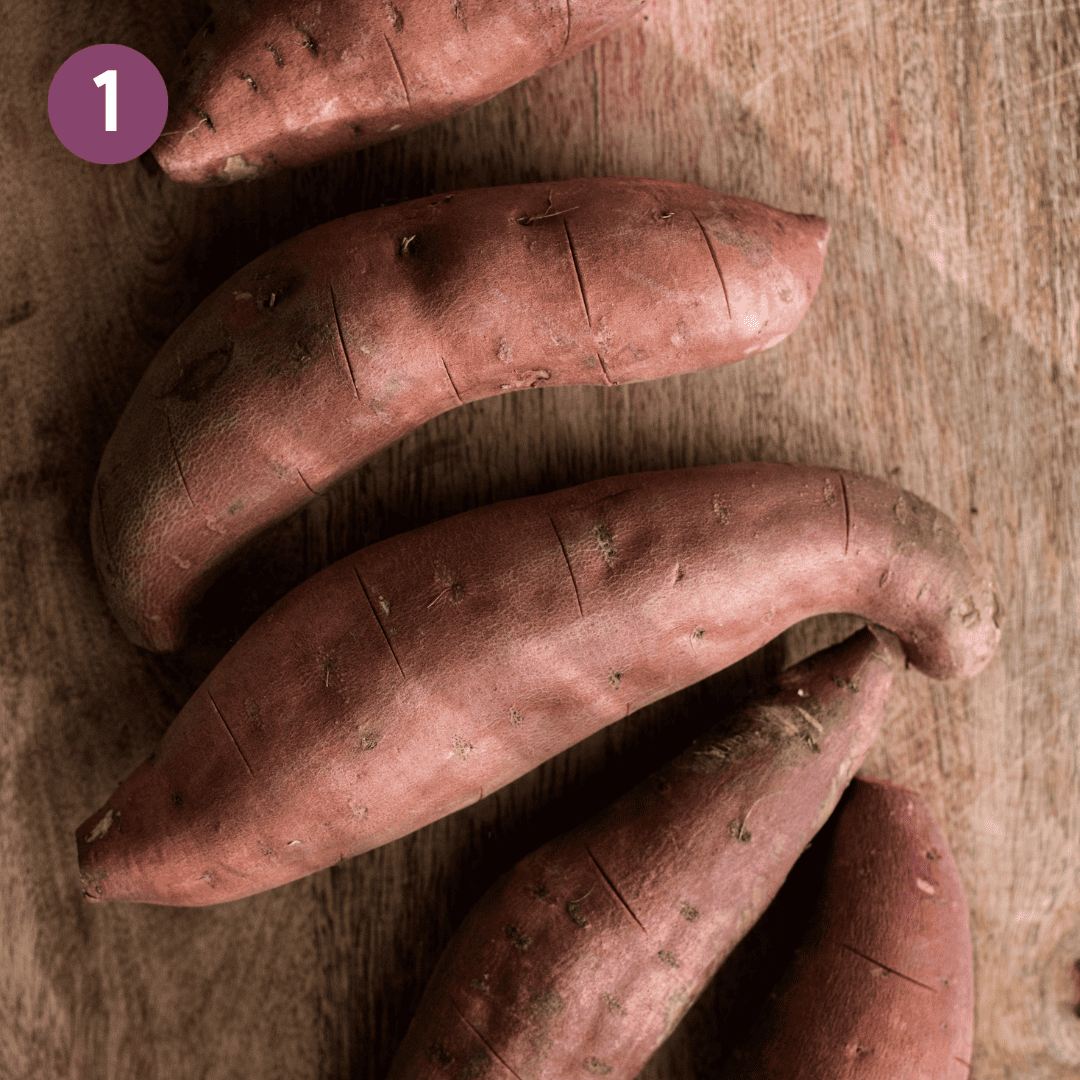 Meanwhile, make the crumble topping by mixing the oats, nuts, almond meal, sugar, and spices in a bowl. Pour the melted butter and maple syrup over top and mix with a fork until it's crumbly.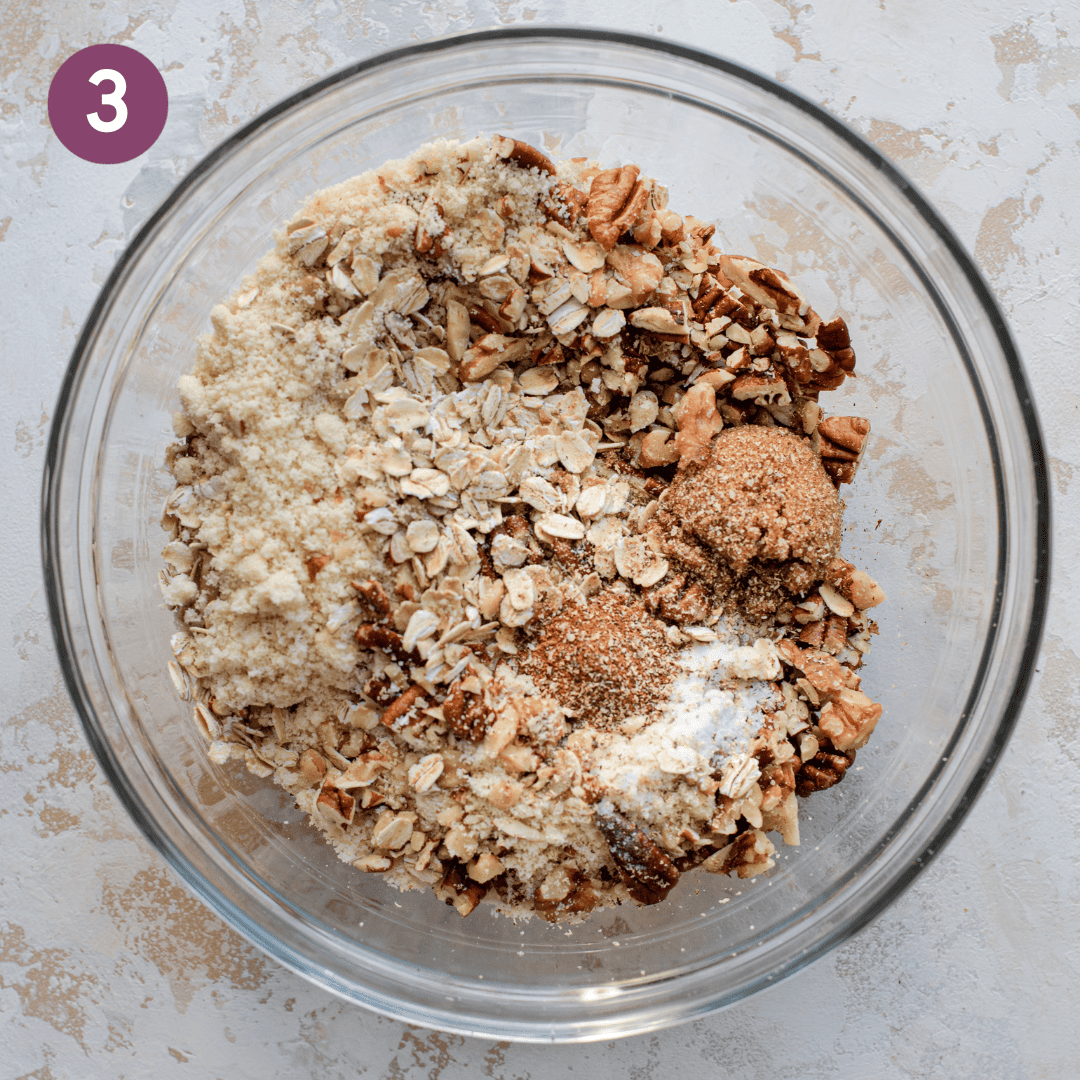 Scrape off the sweet potato skins once they're cool and transfer the flesh to a large bowl. Mash the potatoes with a potato masher, ricer, or handheld electric mixer.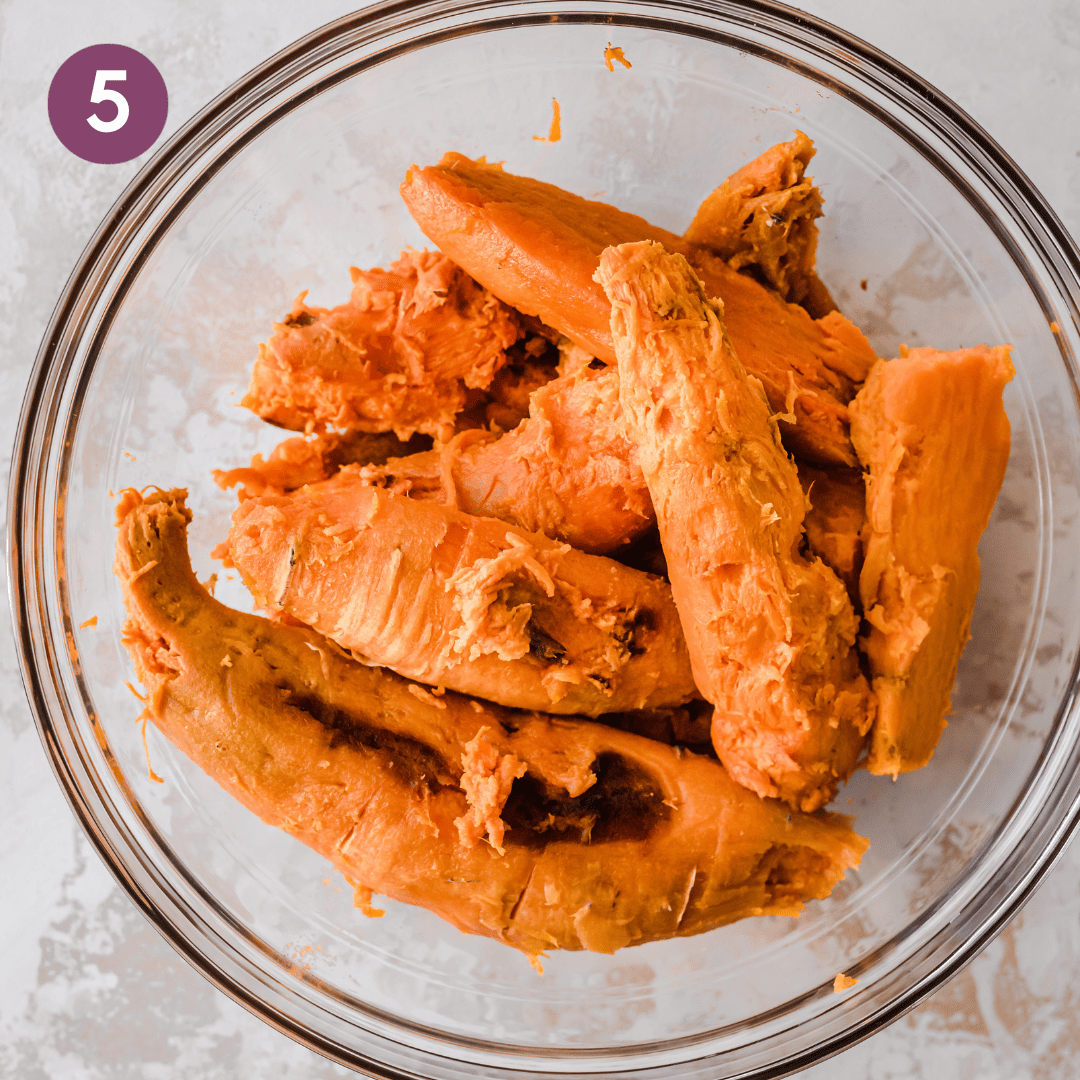 Next, brown the vegan butter. Heat the butter in a light-colored skillet over medium heat, stirring often and swirling the pan. You'll know it's ready when it foams, turns brown, and smells nutty.
Pour the browned butter into the bowl with the mashed sweet potatoes, folding the two together with a spatula or wooden spoon. Finish the filling by folding in the vanilla extract and spices until it's creamy and smooth.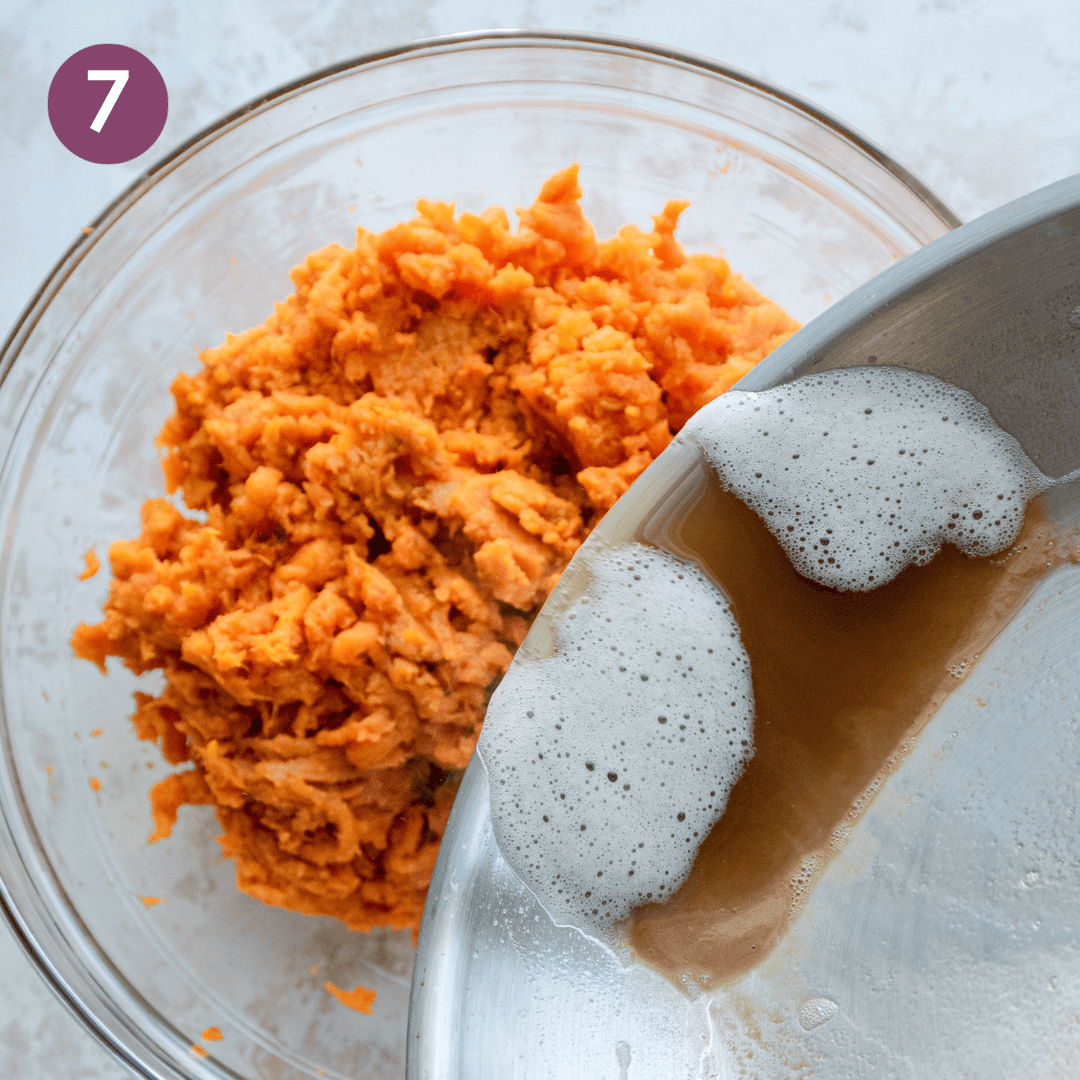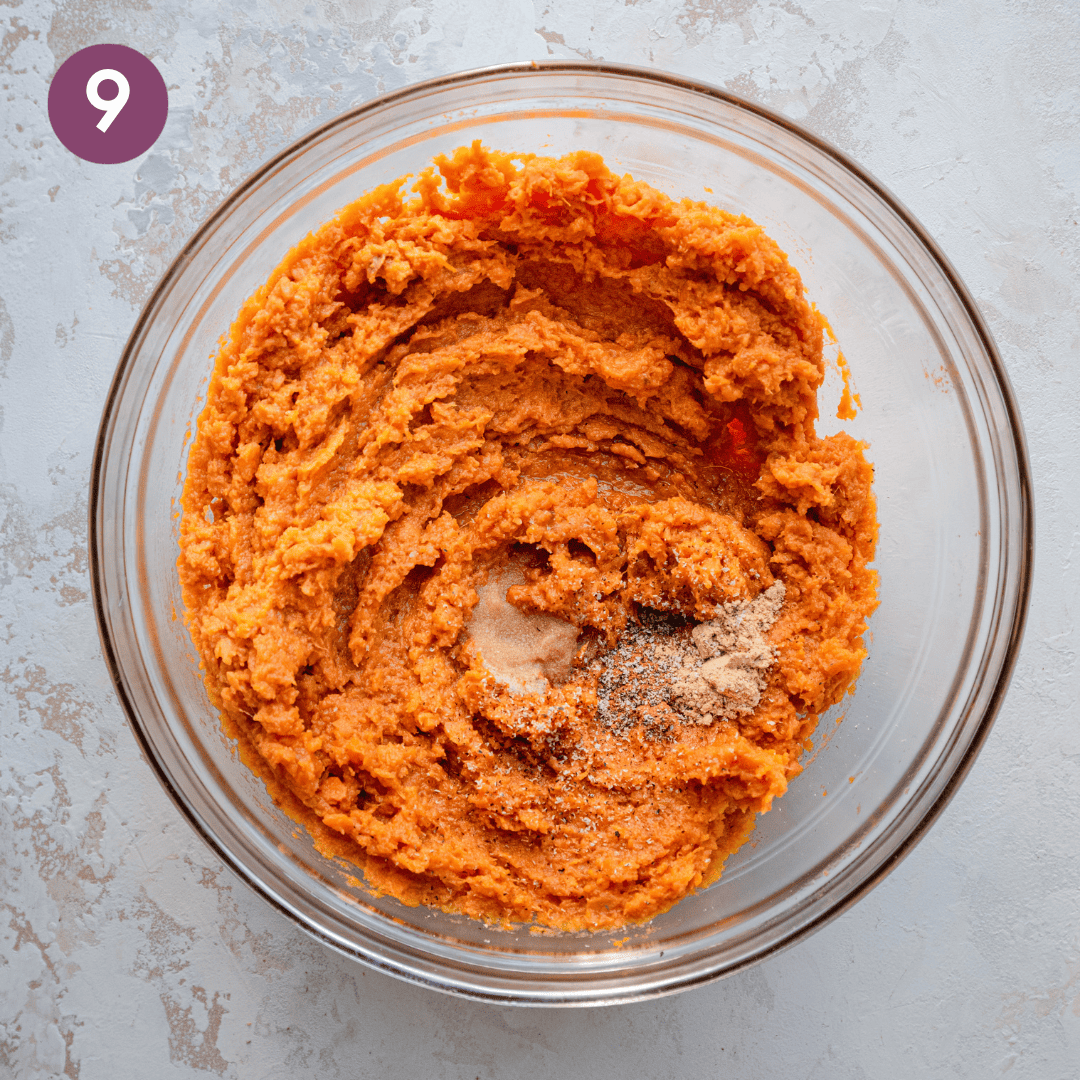 To assemble, dump the potato filling into the baking dish and smooth out the surface. Sprinkle the crumble topping on top.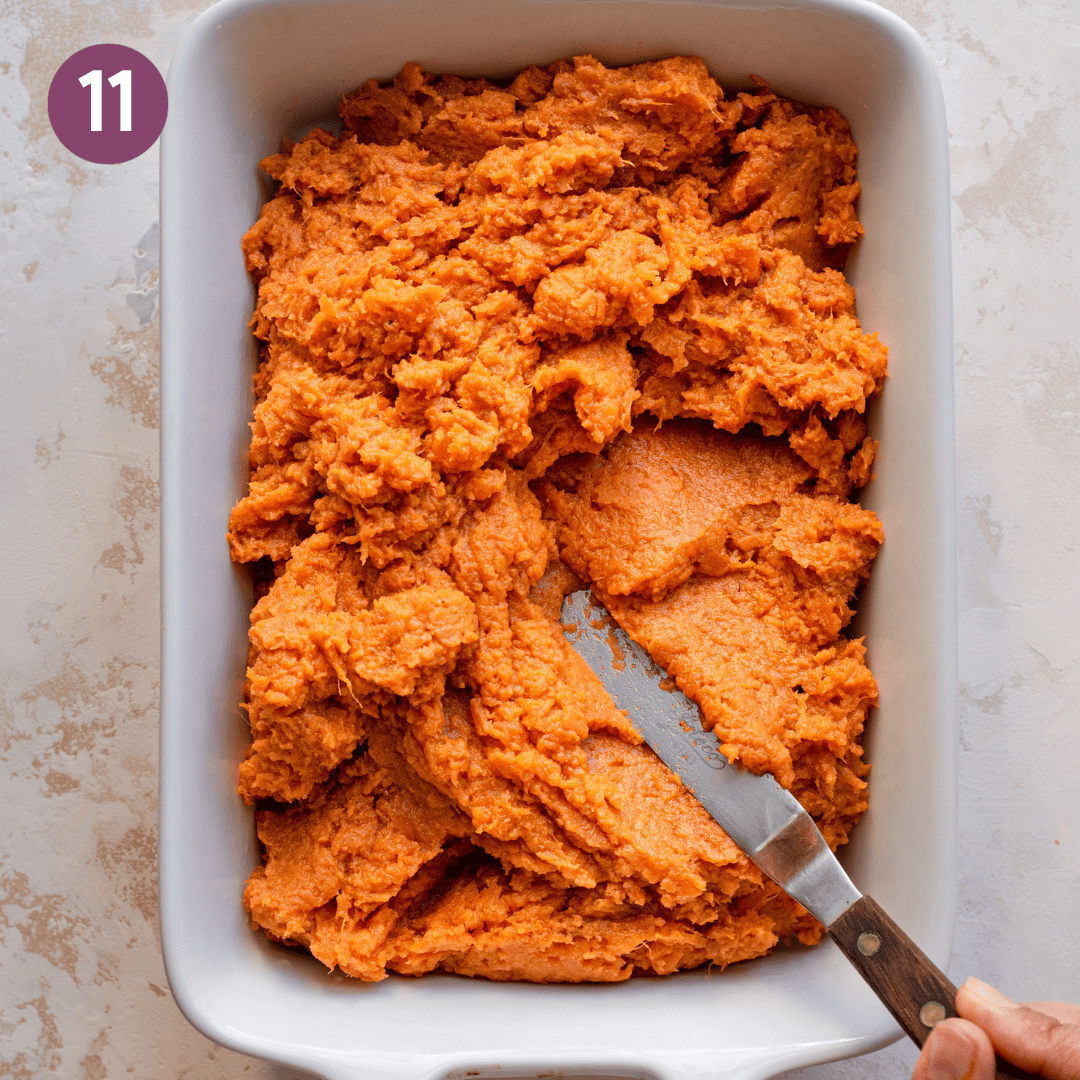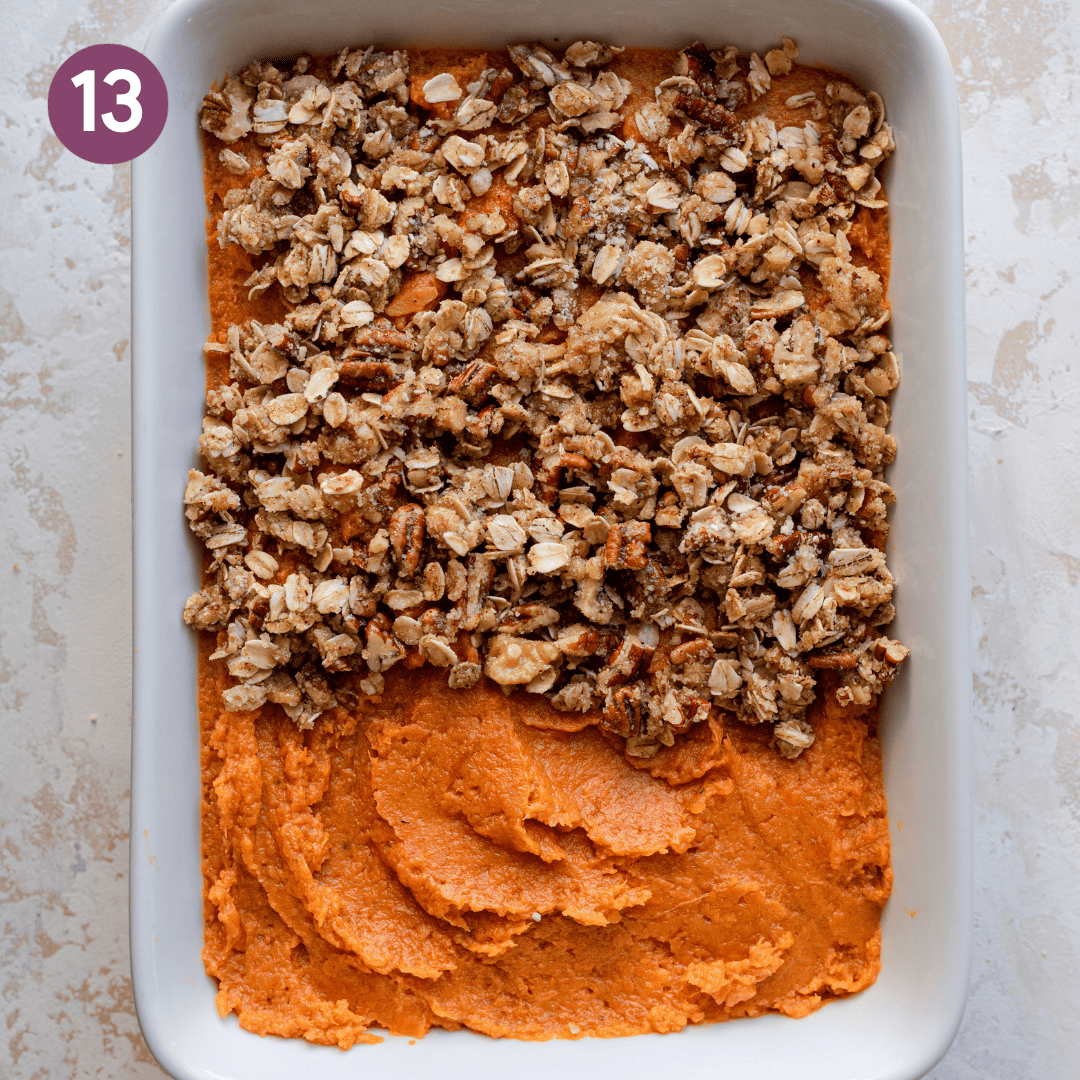 Bake the casserole until the sweet potato mixture just starts to pull away from the edges of the pan and the topping is nicely golden brown. Let it cool before serving, then enjoy!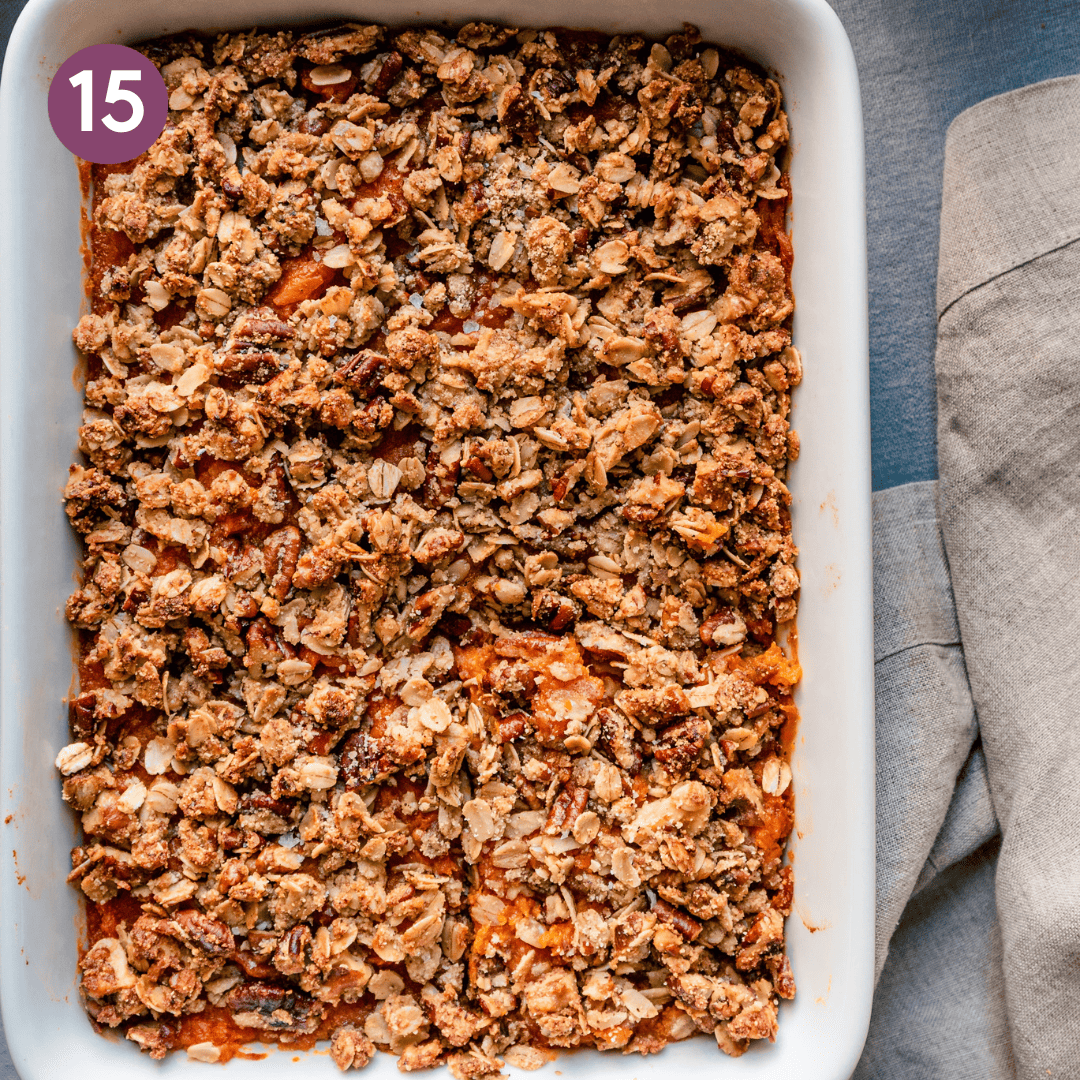 Tips for making this recipe
Save time by prepping ahead
Save yourself some time and stress by preparing the elements or the entire casserole ahead of time. Here's how it's done:
Bake the sweet potatoes 1 to 3 days ahead of time. Keep them in an airtight container or ziplock bag in the fridge until it's time to make the filling.
Make the mashed sweet potatoes 1 or 2 days in advance and store them in the fridge.
Make the vegan brown butter 1 week in advance. It'll stay rich and nutty when you keep it in an airtight container in the fridge.
Make the crumble topping and keep it in a glass jar or airtight container in your pantry for a few days.
The night before serving, assemble the whole dish, cover it with a lid, and store it in the fridge. Bring it to room temperature the day of serving, then bake as normal.
Browning butter tips
Browning vegan butter isn't exactly the same as regular dairy butter because there are no milk proteins. It still works fairly well and the nutty flavor is delightful. I recommend browning the butter in a light-colored pan so you can clearly see when the butter has browned.
Wait for it to cool
The texture and consistency of the sweet potato filling will be best if you wait for the casserole to cool for at least 20 minutes before serving. This time helps the filling solidify a bit, making it easier to scoop.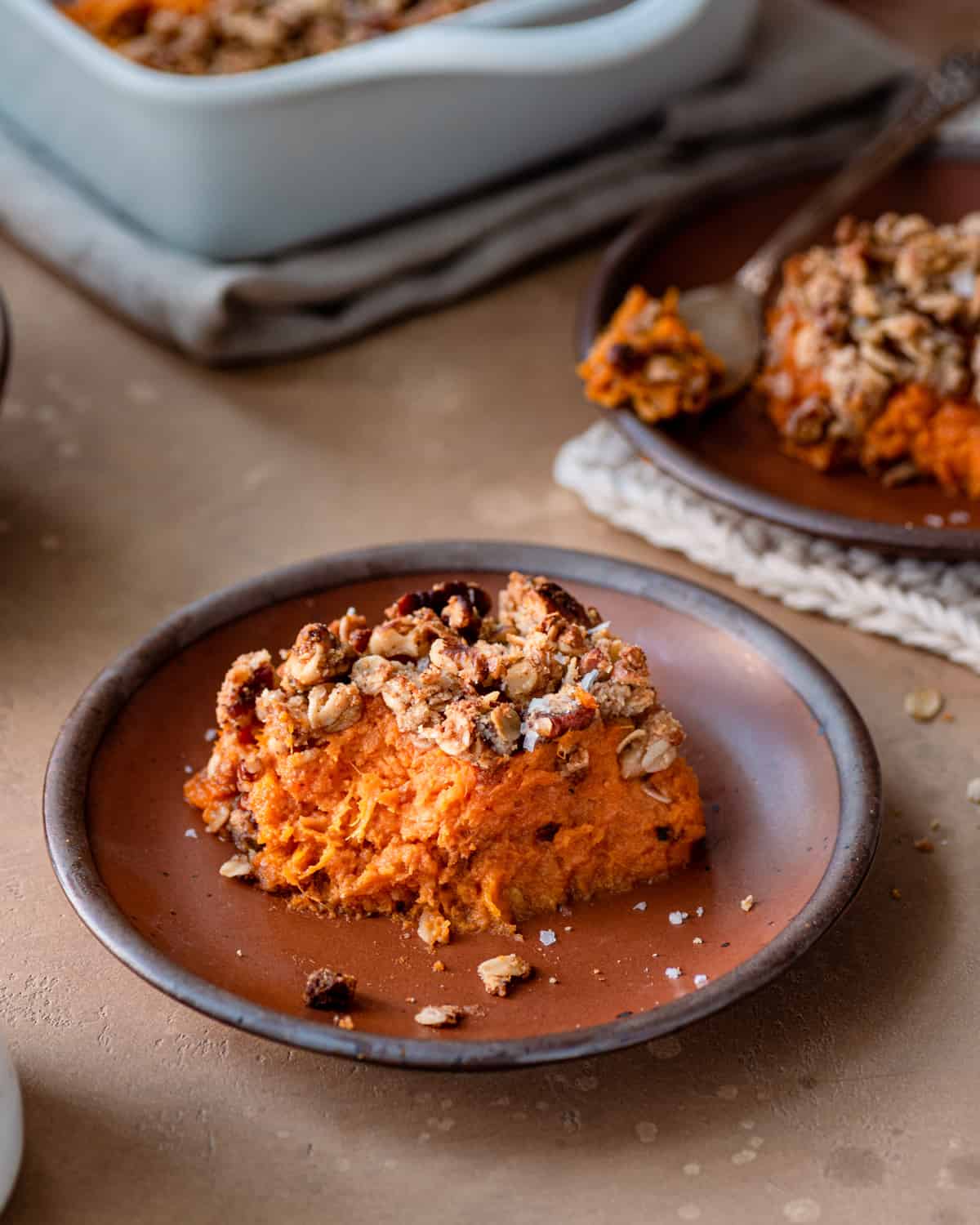 Frequently Asked Questions
Should you bake or boil the sweet potatoes for sweet potato casserole?
Bake, definitely! As the sweet potatoes slowly roast, the dry heat of the oven draws out their natural sugars, yielding sweeter results. The orange flesh also becomes softer and yields the best texture in the filling.

Boiling sweet potatoes may be the best option when you want to retain their nutrients but all of that excess water can lead to a watery, soggy, and loose filling.
Do you have to brown the butter?
I love how the browned butter deepens the flavor and adds a toasty element to the sweet potatoes, but if you're in a hurry, you can simply use melted vegan butter instead.

Or, if you mash the sweet potatoes when they're still warm, just use softened vegan butter and let the heat of the sweet potatoes melt the butter.
How else can you use brown vegan butter?
Brown butter can be used almost anywhere but it's especially perfect for vegan baked goods. You can use it in most recipes that call for melted butter or neutral oil, like in my Vegan Banana Bread and Vegan Apple Cinnamon Bundt Cake.
How do you store the leftovers?
Store the leftovers in an airtight container in the fridge for 2 to 3 days. If you can, store the mashed potatoes and crumble separately. Otherwise, the nuts and oats will lose their crispy, crunchy texture.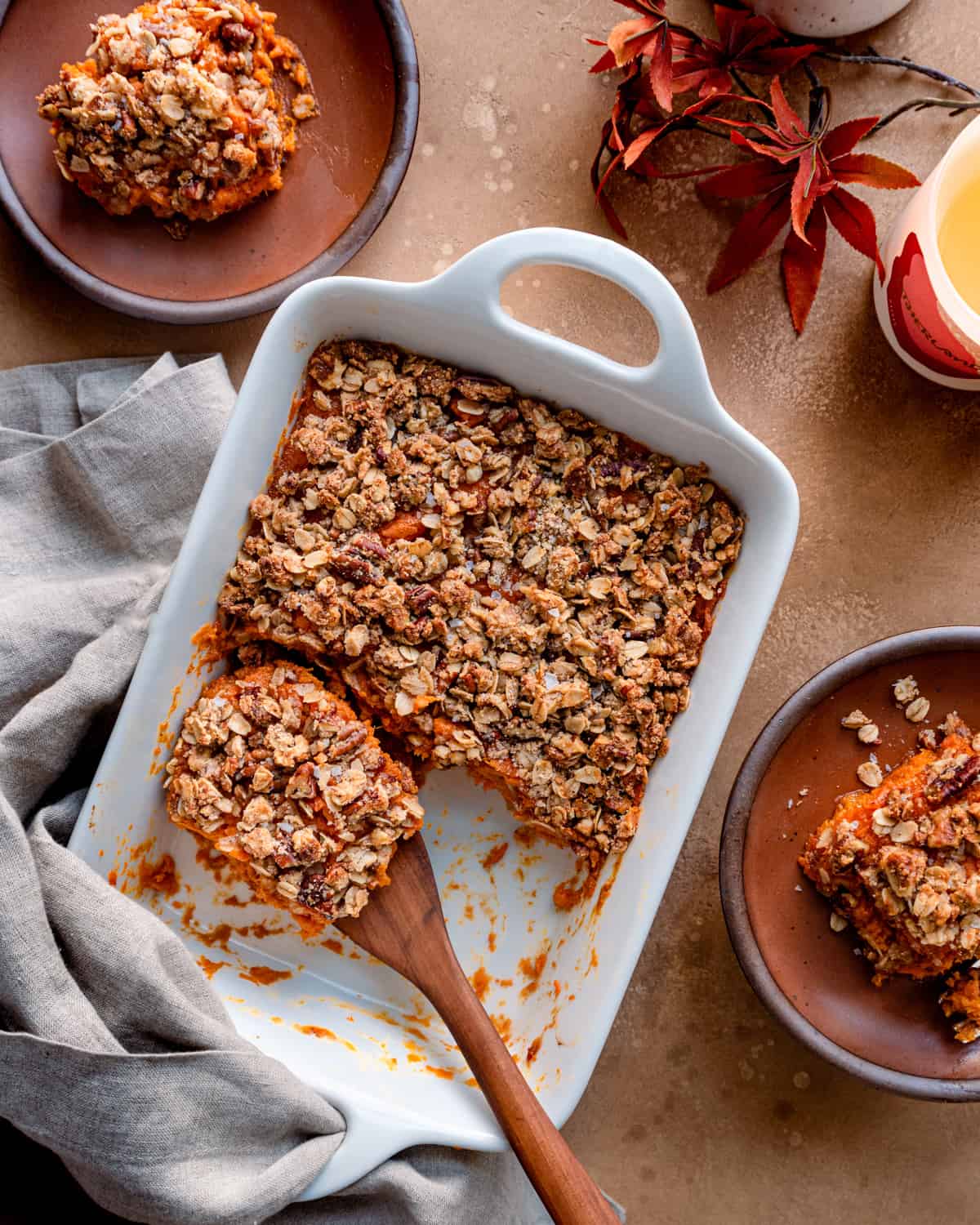 If you give this Vegan Sweet Potato Casserole recipe a try, be sure to tag me on Instagram with your recreations and please comment with your feedback below!
Vegan Sweet Potato Casserole
This elevated yet easy Vegan Sweet Potato Casserole is a must-have side dish for the holidays! Brown butter-mashed sweet potatoes are infused with warm spices, then topped with a sweet and salty oat-nut crumble and baked in the oven. Comforting fall weather food doesn't get much better than this!
Ingredients
Mashed Sweet Potatoes
4

pounds (1.8kg)

sweet potatoes,

scrubbed but kept whole

6

tablespoons (84g)

vegan butter,

sliced into pieces

1

teaspoon

pure vanilla extract

1

teaspoon

ground cinnamon

1

teaspoon

ground ginger

1/4

teaspoon

freshly grated nutmeg

Scant 1

teaspoon

sea salt
Crumble Topping
1/2

cup (50g)

gluten-free rolled oats

1

cup (105g)

raw walnuts and/or pecans

6

tablespoons (42g)

almond flour

or almond meal

2 1/2

teaspoons

brown sugar or coconut sugar

Scant

1/4 teaspoon

sea salt

3/4

teaspoon

ground cinnamon

1/8

teaspoon

freshly grated nutmeg

2

tablespoons + 1 teaspoon

vegan butter,

melted

1 1/2

tablespoons

pure maple syrup
Instructions
Bake the sweet potatoes. Preheat the oven to 425°F/218°C. Lightly slash the sweet potatoes several times with a sharp knife to allow for even ventilation. Place the potatoes on a baking sheet (I line mine with parchment paper for easy cleanup). Bake for 45-55 minutes, or until the potatoes are fork tender.

Meanwhile, prepare the crumble topping. In a medium bowl, mix together the oats, walnuts, pecans, almond meal, brown sugar or coconut sugar, salt, cinnamon, and nutmeg. Then pour in the melted vegan butter and maple syrup and fold in with a fork until crumbly and just slightly sticky.

Brown the vegan butter. Set aside a bowl near the stove. Add a light-colored skillet to the stove and add the butter. Heat over medium and stir occasionally.

Once the butter is melted and foamy, stir often and swirl the pan to ensure even browning and cooking, until it foams and then eventually browns and smells nutty, a total of 5 to 7 minutes (will depend on brand of butter).

Immediately pour the butter into the bowl to stop cooking.

Once the baked sweet potatoes are cool enough to handle, slip off the peels and discard. Transfer the potatoes a large bowl.

Reduce the oven temp to 375°F/190°C. Lightly grease a 2-quart / 2 liter baking pan.

Mash the potatoes. Use a potato masher, ricer, or handheld electric mixer to break up the sweet potatoes and mash them but not until completely smooth.

Make the mashed sweet potatoes. Pour the browned butter over the mashed sweet potatoes, and use a silicone spatula or wooden spoon to fold it in.

Add in the vanilla extract, cinnamon, ginger, nutmeg, and salt. Fold until all ingredients are incorporated and potatoes are creamy and smooth. Taste, adding more salt to taste.

Assemble. Add the mashed sweet potatoes to the prepared baking dish and smooth out the surface. Sprinkle the crumble topping over the mashed sweet potatoes.

Bake in the preheated oven at 375°F/190°C for 35-40 minutes, or until the sweet potato mixture just starts to pull away from the edges of the pan and the topping is nicely golden brown.

Allow to cool for 15 to 20 minutes before slicing.
---
Calories:
385
kcal
|
Carbohydrates:
46
g
|
Protein:
7
g
|
Fat:
20
g
|
Saturated Fat:
3
g
|
Polyunsaturated Fat:
8
g
|
Monounsaturated Fat:
4
g
|
Trans Fat:
0.1
g
|
Sodium:
460
mg
|
Potassium:
694
mg
|
Fiber:
8
g
|
Sugar:
11
g
|
Vitamin A:
26215
IU
|
Vitamin C:
5
mg
|
Calcium:
95
mg
|
Iron:
2
mg