Thanksgiving is one of my favorite times of year. It's an opportunity to test out comfort food recipes and eat as much as my body can handle. But I'm not a huge fan of the really traditional Thanksgiving recipes.
Mashed potatoes? Yes. Green beans smothered in cream of mushroom soup. No. Sweet potato casserole smothered in marshmallows? Absolutely no. Sweet potatoes are naturally sweet, so adding marshmallows and a generous amount of sugar has never made sense to me.
Instead, I prefer this more grown up Vegan Brown Butter Sweet Potato Casserole. It's sweet but salty and features complex flavors thanks to browned (vegan) butter and freshly grated nutmeg. It's easy to make, can be assembled ahead of time, and definitely deserves a seat at your holiday table!
Why you'll love this Vegan Brown Butter Sweet Potato Casserole 
Comfort food heaven. Sweet potatoes meet brown butter meet sweet and salty nutty crumbly topping. Need I say more?
Traditional but with a spin. Sweet potato casseroles are a favorite at Thanksgiving tables, but with a few modern twists, this version is better than ever. Brown butter instead of regular butter, lots of warming spices, and a naturally gluten-free oat-nut crumble.
Easy to make. Nothing complicated here! All you need to do is roast sweet potatoes, mash them up with vegan butter and spices, then mix together a simple crumble with a fork. Pop that into the oven and that's it!
Make ahead. You can assemble this dish ahead of time, which is great for busy holiday meals. Check out the "Frequently asked questions" section for instructions.
Ingredient Spotlight
Vegan Butter
I only recently learned that you could brown vegan butter. The experiment resulted in my epic Brown Butter Peach Cobbler (which I highly recommend when peaches are in season).
I've had success browning Earth Balance vegan buttery sticks and Country Crock Plant Butter (Miyoko's vegan butter browns as well, but browns very quickly because of the protein content). When you brown butter, it becomes nuttier and toastier in flavor, which yields a unique and complex depth of flavor to this casserole.
Sweet Potatoes
Obviously, a sweet potato casserole needs some sweet potatoes! I've noticed that most sweet potato casseroles call for boiling peeled sweet potatoes, but I opted for baking whole sweet potatoes for two reasons.
One, baked sweet potatoes have more flavor than steamed because the dry heat of the oven draws out the natural sugars, making the end result sweeter. And two, you can bake sweet potatoes whole, so you don't need to spend time peeling or chopping them.
Crumble Topping
This crumble topping is addictively good and perfectly sticky, crumbly, and sweet but salty! It features walnuts and/or pecans, almond flour, oats, cinnamon, freshly grated nutmeg, salt, just a tad of brown sugar or coconut sugar, maple syrup, and melted vegan butter.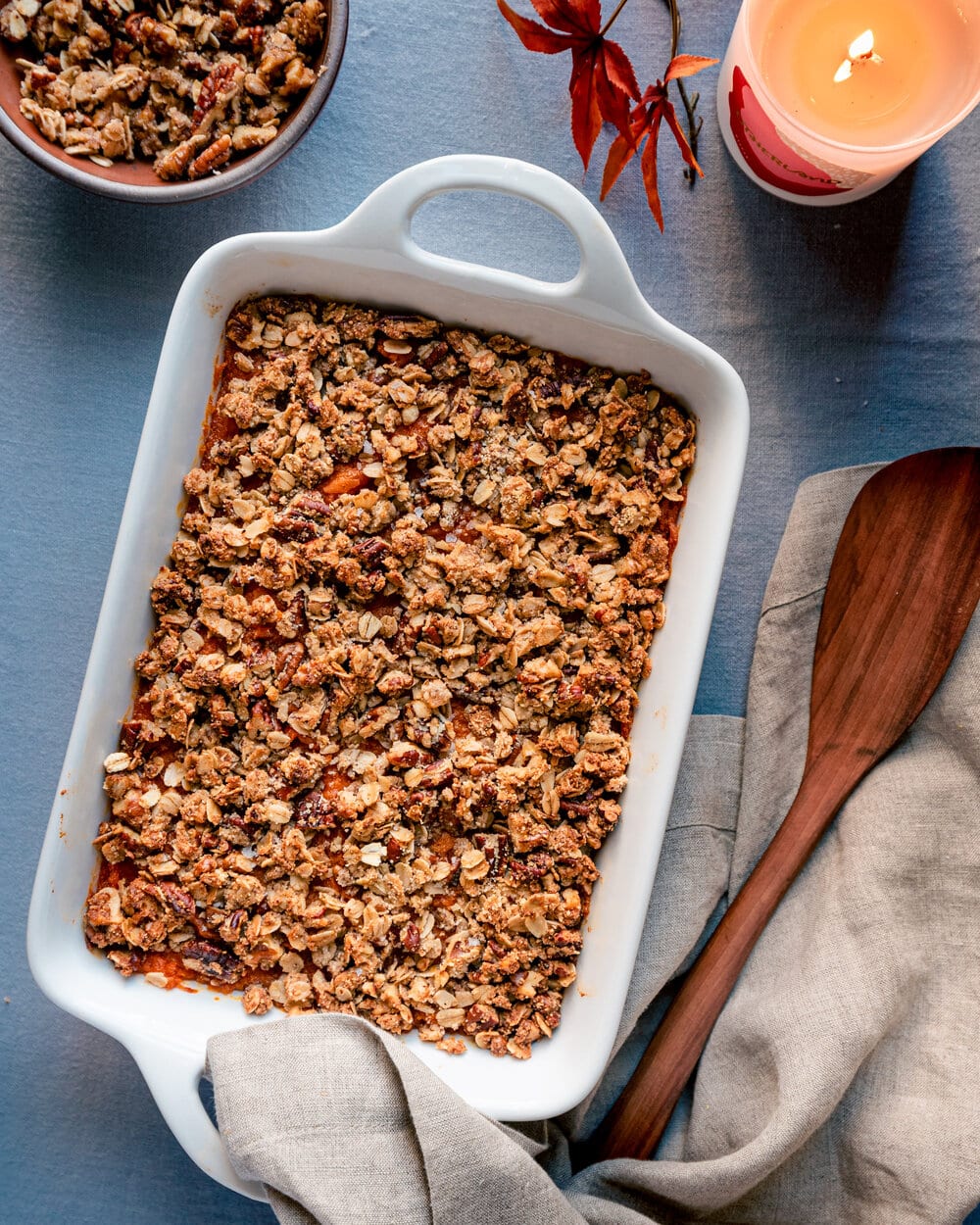 How to brown vegan butter 
Browning vegan butter is remarkably similar to browning regular butter! All you need is a skillet and vegan butter.
First, slice your vegan butter into even sized pieces. I sliced them into ~1 tablespoon pieces. Even-sized pieces means the butter will cook evenly. Second, heat a light-colored skillet (a stainless steel skillet works great) over medium heat.
Next, add your vegan butter pieces, and once they're melted, stir the butter frequently. Frequent stirring is important for even browning and to prevent burning. Also, frequent stirring or swirling the pan allows you to see your browning progress. The butter will start to foam after several minutes, and then shortly afterwards, it will become this beautiful amber-golden brown color. You'll also start to smell that toasty, nutty aroma.The entire process took me 5-7 minutes.
Finally, as soon as the butter is browned, take it off the heat to stop it from overcooking.
How to make this Vegan Brown Butter Sweet Potato Casserole
Prick the sweet potatoes all over and bake at 425°F for 45-55 minutes until fork tender.
Add the vanilla, cinnamon, ginger, nutmeg, salt and pepper. Mash everything together.
Add the mashed sweet potatoes to a baking pan. Smooth out the surface.
Tips for making this recipe
When mashing the sweet potatoes, you can use a potato masher, ricer, or handheld electric mixer. I personally love using a ricer like this.
While I really don't recommend using a food processor when making traditional mashed potatoes (it makes them gummy – more tips on the best mashed potatoes here), the texture of roasted sweet potatoes is considerably different than boiled white/yellow potatoes, so if you want to use a food processor, you can do that.
Keep an eye on the browning butter. You can't just walk away from the kitchen when you're browning butter. You need to keep your eyes on the pan to ensure the butter browns evenly and doesn't burn.
Can I make this sweet potato casserole ahead of time? 
Yes, mostly! Roast the sweet potatoes several days in advance and store them tightly wrapped or in an airtight container in the fridge.
Make the mashed sweet potatoes a day or two in advance and store in the fridge.
You can make the crumble topping several days in advance and store it in a glass jar or airtight container in your pantry.
The night before, you can assemble the whole dish and wrap it tightly, stored in the fridge.
On the day of serving, bring it to room temperature and then pop the pan in the oven!
Is browned butter essential? 
I love the browned butter since it deepens the flavor and makes it toasty, but if you would rather not brown the butter, you can just use melted butter instead.
Or, if you mash your sweet potatoes when they're still warm, you could just use softened butter and let the heat of the sweet potatoes melt the butter.
Do I need to wait for the sweet potato casserole to cool before slicing into it?
Yes. If you want the sweet potato casserole to solidify a bit so that it's easy to scoop (see photo below), then yes, I recommend cooling for at least 20 minutes.
Don't care about the solidified appearance? I'd still wait 5-10 minutes before slicing in.
If you give this Vegan Brown Butter Sweet Potato Casserole recipe a try, be sure to tag me on Instagram with your recreations and please comment with your feedback below!
Vegan Brown Butter Sweet Potato Casserole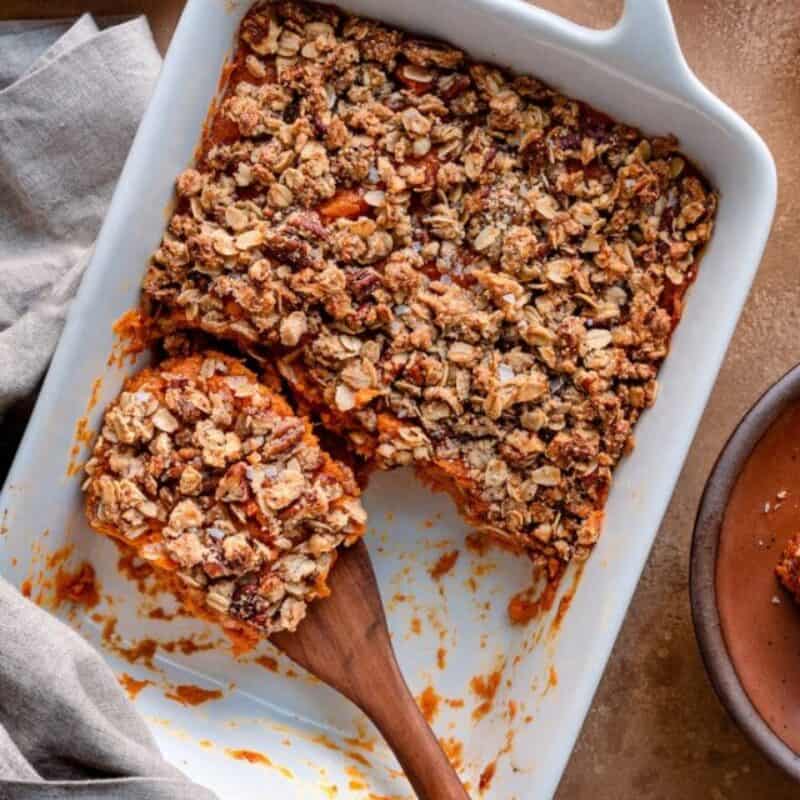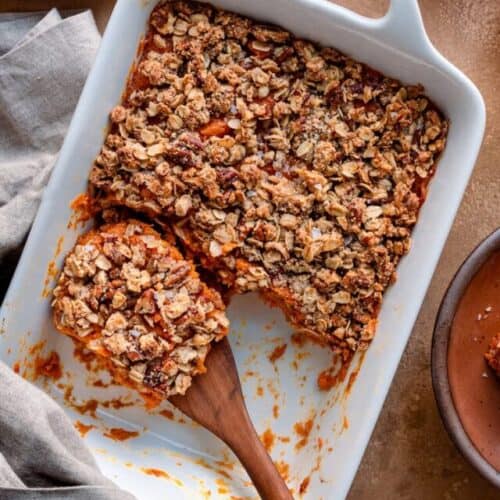 This Vegan Brown Butter Sweet Potato Casserole is fall weather comfort food and a must-make holiday side dish! Nutty browned butter mashed sweet potatoes are infused with warming spices, then topped with a sweet and salty crumble and baked in the oven.
Ingredients
Mashed Sweet Potatoes
4

pounds

(1.8kg) sweet potatoes, scrubbed but kept whole

6

tablespoons (84g)

vegan butter

1

teaspoon

pure vanilla extract

1

teaspoon

ground cinnamon

1

teaspoon

ground ginger

1/4

teaspoon

freshly grated nutmeg

Scant 1 teaspoon sea salt

Freshly cracked black pepper
Crumble Topping
1/2

cup

(50g) gluten-free rolled oats

1

cup

(105g) raw walnuts and/or pecans

6

tablespoons

(42g) almond meal or flour

2 1/2

teaspoons

brown sugar or coconut sugar

Scant 1/4 teaspoon sea salt

3/4

teaspoon

ground cinnamon

1/8

teaspoon

freshly grated nutmeg

2

tablespoons

+ 1 teaspoon vegan butter

melted

1 1/2

tablespoons

pure maple syrup
Instructions
Bake the sweet potatoes. Preheat the oven to 425°F/218°C. Lightly slash the sweet potatoes several times with a sharp knife to allow for even ventilation. Place the potatoes on a baking sheet (I line mine with parchment paper for easy cleanup). Bake for 45-55 minutes, or until the potatoes are fork tender.

Meanwhile, prepare the crumble topping. In a medium bowl, mix together the oats, walnuts, pecans, almond meal, brown sugar or coconut sugar, salt, cinnamon, and nutmeg. Then pour in the melted vegan butter and maple syrup and fold in with a fork until crumbly and just slightly sticky.

Once the baked sweet potatoes are cool enough to handle, slip off the peels and discard. Transfer the potatoes a large bowl.

Reduce the oven temp to 375°F/190°C. Lightly grease a 2-quart / 2 liter baking pan.

Mash the potatoes. Use a potato masher, ricer, or handheld electric mixer to break up the sweet potatoes and mash them but not until completely smooth.

Brown the vegan butter. Heat a light-colored skillet over medium heat, then add the butter. Once the butter is melted, stir often and swirl the pan to ensure even browning and cooking, until it foams and then eventually browns and smells nutty, about 5-7 minutes.

Make the mashed sweet potatoes. Take the browned butter off the heat and immediately pour into the mashed sweet potatoes (if your potatoes aren't ready yet, pour it into a bowl to prevent the butter from burning). Use a silicone spatula or wooden spoon to fold the browned butter into the mashed potatoes. Add in the vanilla extract, cinnamon, ginger, nutmeg, salt and black pepper to taste. Fold until all ingredients are incorporated and potatoes are creamy and smooth.

Assemble the casserole. Add the mashed sweet potatoes to the prepared baking dish and smooth out the surface. Sprinkle the crumble topping over the mashed sweet potatoes.

Bake the casserole in the preheated oven for 35-40 minutes, or until the sweet potato mixture just starts to pull away from the edges of the pan and the topping is nicely golden brown. Let the casserole cool for 10-20 minutes before serving.
---
Calories:
353
kcal
|
Carbohydrates:
45
g
|
Protein:
6
g
|
Fat:
18
g
|
Saturated Fat:
3
g
|
Polyunsaturated Fat:
8
g
|
Monounsaturated Fat:
4
g
|
Trans Fat:
1
g
|
Sodium:
408
mg
|
Potassium:
689
mg
|
Fiber:
7
g
|
Sugar:
11
g
|
Vitamin A:
25986
IU
|
Vitamin C:
4
mg
|
Calcium:
85
mg
|
Iron:
2
mg