This Vegan Thai-Inspired Kabocha Squash Curry is the perfect fall recipe. It's easy to make, jam-packed with flavor, and so comforting on cold fall days.
And since my Thai Butternut Squash Chickpea Curry from earlier this year has been so popular, I was inspired to make a similar curry but using kabocha squash.
This post covers everything you need to know – how to cut kabocha squash (it's easy), how to cook it, and how to make this delicious curry. Buckle up!
What is Kabocha Squash?
If you're not familiar with kabocha squash, it's a variety of winter squash also known as a Japanese pumpkin and commonly used in Japanese cooking. It's one of the more unique-tasting winter squash varieties. IMO, it's like the more refined cousin of butternut squash (you know, the one who studied abroad in Vienna during college).
Kabocha squash usually comes with a dark green skin, but you might also find the red-orange varieties as well. In either case, the flesh is a vibrant orange color.
When you bake kabocha squash, the texture becomes almost velvety, which I absolutely love. But if you don't know what you're doing, you can end up with dry, mealy squash.
Regarding the taste, it's a bit sweeter than pumpkin and butternut squash, so it adds a subtle natural sweetness to recipes. It has a characteristic nutty taste with undertones of chestnut.
Kabocha squash peak season is late summer through the fall, but you can sometimes find it year round. You can find kabocha squash at farmers markets as well as many grocery stores these days (I've purchased it at Whole Foods, Trader Joe's, and Sprouts).
Looking for more kabocha squash recipes? This Thai Pumpkin Soup is FANTASTIC with kabocha squash!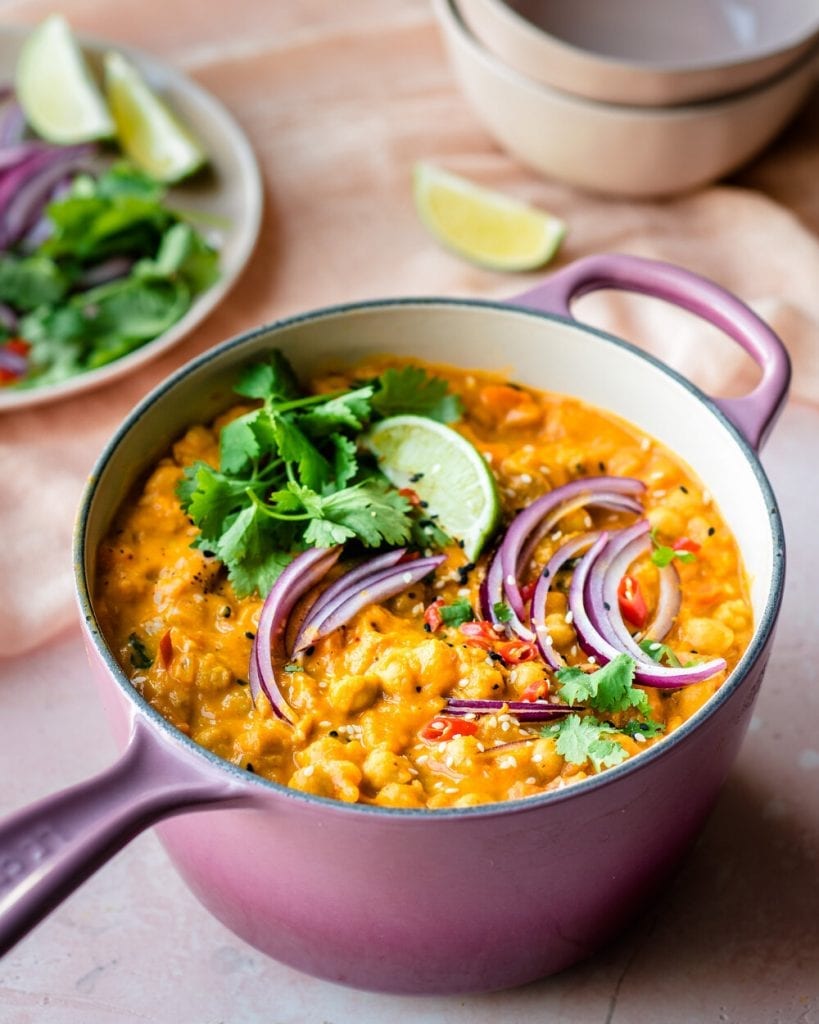 Like many a winter squash, cutting kabocha squash can be difficult. But it needn't be!
First, you'll need a long, sharp, and sturdy knife. A really good chef's knife or a serrated knife works great. As when you're cutting a pumpkin or butternut squash, you want to use a slow, steady rocking motion. Don't try to slice the squash in one fell swoop (you will be disappointed and may cut yourself).
Before you slice into it, though, there are two tricks to cutting kabocha squash. First, try slicing a thin layer off the top and bottom of the squash so you expose the flesh of the squash. It can be a bit difficult to slice off a clean layer on the top of the squash if the stem is attached, but even getting some flesh exposed is helpful. That's because your knife will have a much easier time slicing through the squash if the knife hits the flesh first, rather than the much thicker skin.
And second, if you're still having trouble cutting the squash (for instance, if your knife hasn't been sharpened in awhile), just microwave the whole squash for 1-2 minutes. This will lightly soften the squash (but not cook it) and make it easier to slice.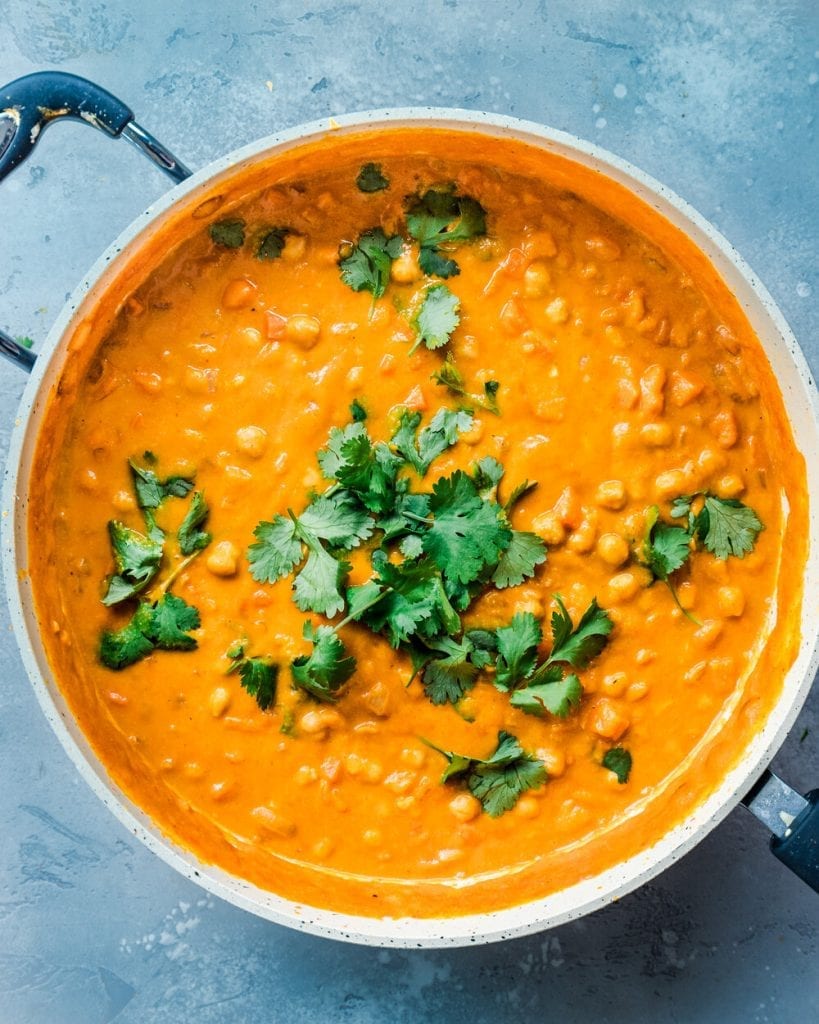 Why you'll love this Vegan Thai Kabocha Squash Curry
Super creamy. This curry is incredibly creamy despite not using full-fat coconut milk. The secret? Kabocha squash puree! When you roast winter squash and then puree it, it becomes so silky smooth and luxurious (have you seen my pumpkin mac and cheese??). Adding the squash puree directly to the curry makes it really thick, and means you can save some calories by using reduced-fat coconut milk instead of full-fat.
Maximal flavor. Packed with the flavors of ginger, garlic, and chili peppers, this dish reminds me of the incredibly fragrant, aromatic curries I happily devoured in Thailand.
Well-balanced. What I learned from Thai cooking is that every dish should be well-balanced in flavors: a little spicy, a little sweet, a little sour, and plenty of umami. A good-quality curry paste and Thai chili peppers, coconut sugar, lime juice, miso paste, and tamari take on those roles in this recipe.
Decadent yet healthy. Just as is the case with my vegan curry with tofu, This curry is oh-so-creamy and tastes indulgent. But it's also really nourishing and packed with antioxidants, protein, and fiber, thanks to a garlic-ginger duo and plentiful amount of chickpeas and kabocha squash.
Meal prep-friendly. This dish makes excellent leftovers and will stay good in your fridge for 4-5 days.
PS: If you're looking for a more traditional Thai Curry, make my Homemade Thai Green Curry Paste to enjoy a world class Vegan Thai Green Curry!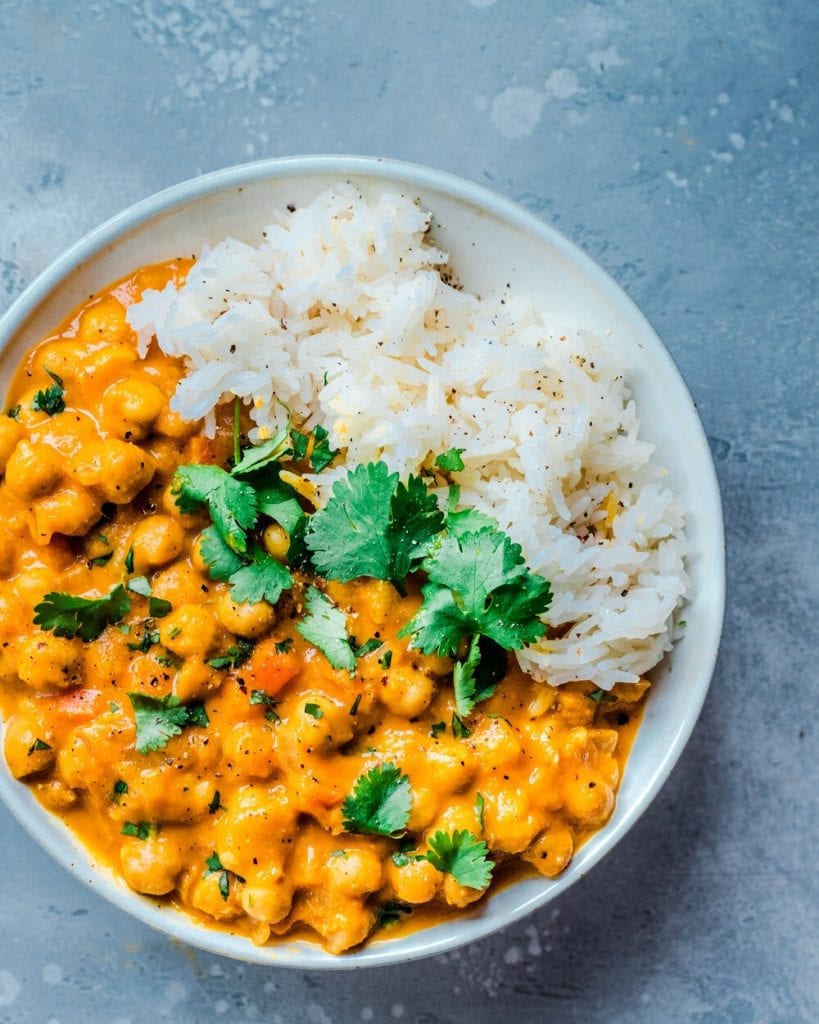 Watch! How to make Thai Kabocha Squash Curry
Tips for making this Vegan Thai Kabocha Squash Curry
If spicy food ain't your thing, you may want to use a bit less curry paste than the recipe calls for. On the other hand, if you love spicy food, I recommend adding those Thai chili peppers. The spiciness balances out the sweetness of the curry.
For curry paste, my favorite brand is Maesri. More commonly available is the Thai Kitchen brand. You can also try the Mekhala organic curry paste. If you can't find any of these brands, just be sure to read the ingredients to ensure it's vegan (many curry pastes contain shrimp paste).
If you are allergic to coconut milk or don't want to use it, you can use oat milk or cashew milk. Be sure to use an unsweetened variety. I don't recommend using almond milk, as it is quite thin and not good for curries.
I know this is a kabocha squash curry, but if you can't find kabocha squash (it's not always available outside of its peak season), feel free to substitute with butternut squash, pumpkin, or red kuri squash. As I mentioned, these varieties are a bit less sweet than kabocha, so taste the curry before finishing and add a tiny bit more sugar or maple syrup as needed.
Don't skip the final step, which is to add a bit of lime juice. Finishing a rich dish like this curry with a splash of acid at the end helps balance the spicy flavors, enhances the salty and umami flavors, and brings some freshness to this creamy dish.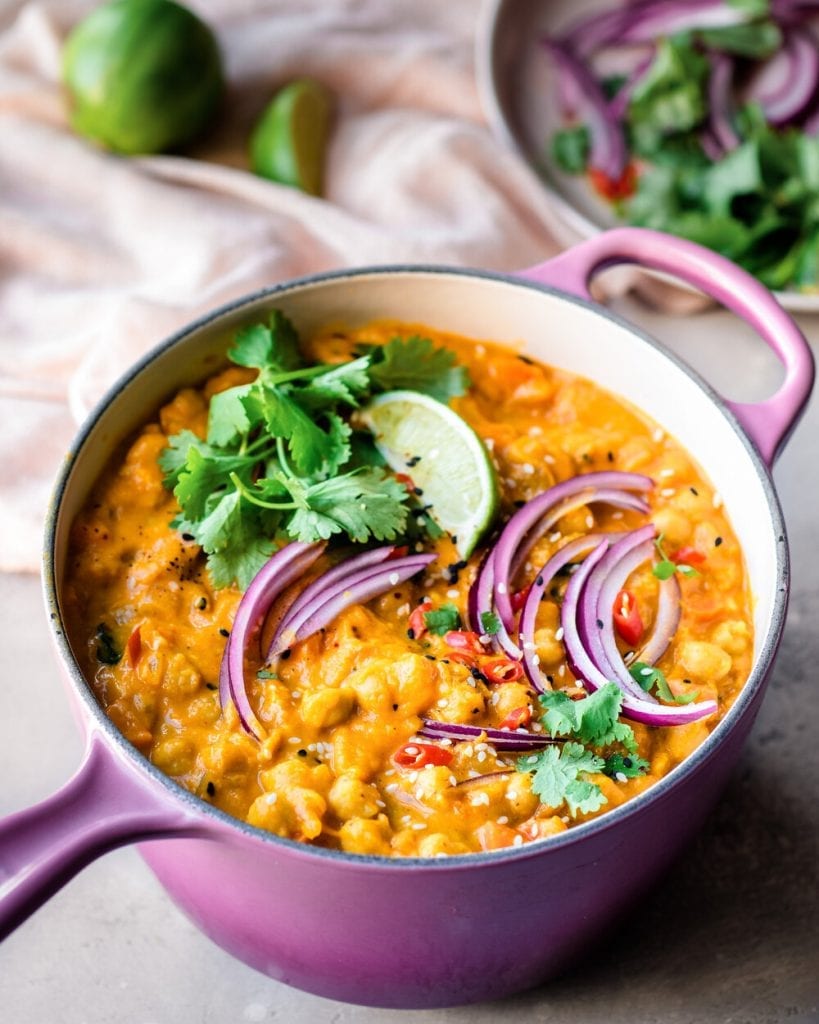 That's all you need to know to make this Vegan Thai Kabocha Squash Curry! If you make the recipe, drop a comment below or over on Youtube!
Vegan Thai Kabocha Squash Curry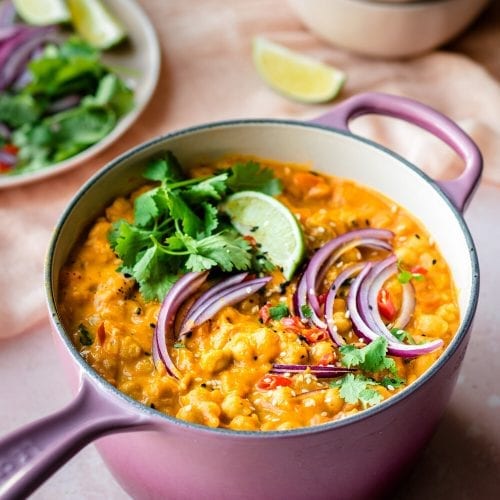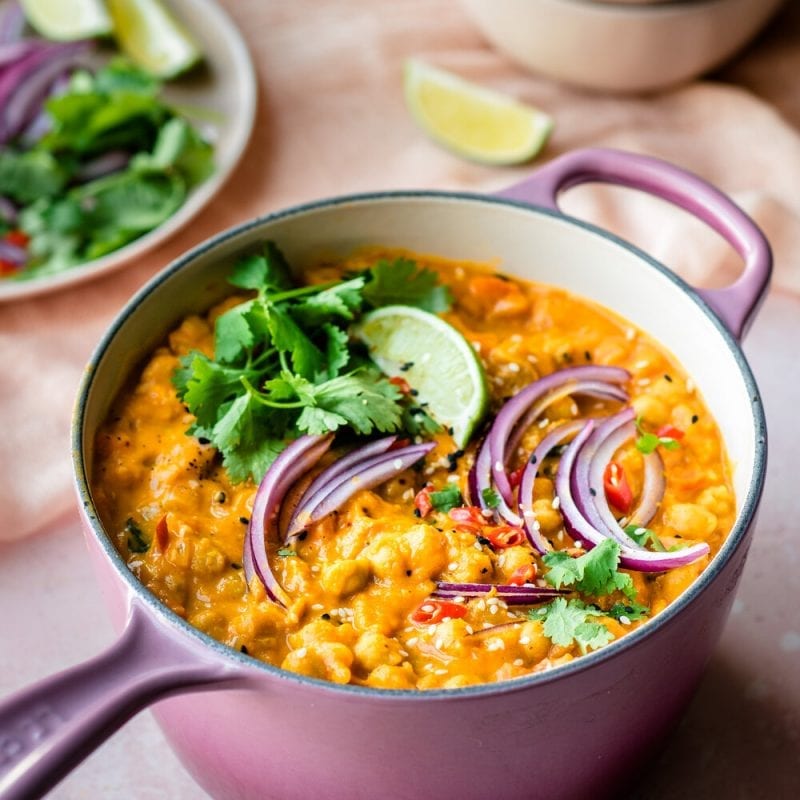 This Vegan Thai Kabocha Squash Curry is super creamy, packed with flavor, and an easy comfort food recipe for the fall! Plus, no need to use full-fat coconut milk to get the creamiest curry ever when you use my trick for cooking kabocha squash!
Ingredients
1

medium kabocha squash

1/2

cup

water

(or vegetable broth)

1 - 1 1/2

tablespoons

coconut oil*

(or oil of choice)

1

large yellow onion,

diced

2

medium carrots,

peeled and diced

Kosher salt or sea salt to taste

Black pepper to taste

4

cloves

garlic,

minced

2-

inch

piece ginger,

grated or finely minced

1-2

Thai bird's eye chili peppers,

thinly sliced*

¼

cup

cup red curry paste

(use less to make it less spicy)

1

(13.5 ounce) can "lite" or reduced-fat coconut milk

1

tablespoon

maple syrup,

agave nectar, or coconut sugar

1

tablespoon

reduced sodium tamari**

(gluten-free soy sauce)

1

tablespoon

miso paste***

(optional but recommended)

1

teaspoon

ground turmeric

2

(15 ounce) cans chickpeas, or about 3 cups cooked chickpeas

1-2

tablespoons

freshly squeezed lime juice

½

cup

fresh cilantro,

roughly chopped

For serving: white rice or grains of choice
Instructions
Preheat the oven to 400°F (205°C) and line a sheet pan with parchment paper for easy cleanup.

Use a large, sharp knife to slice the kabocha squash in half. For tips on how to slice the kabocha squash, see the blog post section on "how to cut kabocha squash." Once sliced in half, use a spoon to scoop out the seeds. Lightly brush each squash half with a bit of oil (coconut oil or avocado oil) and sprinkle with salt and pepper.

Place the squash halves, flesh side down, on the sheet pan. Roast for 40-45 minutes until the flesh is very tender. If your squash is large, bake for an additional 10 minutes.

Once it's cool enough to handle, use a spoon to scoop the flesh out of the skin, and discard the skin. Place the kabocha squash flesh in a blender and add ½ cup water (or vegetable broth) and puree until very smooth. You should end up with approximately 3 cups of liquid.

While the kabocha squash is roasting, prepare the rest of the ingredients. Chop the onions, carrots, garlic, ginger, and chile peppers, and measure out the spices and other ingredients.

Heat a Dutch oven or a large nonstick saucepan over medium-high heat. Add the coconut oil, and once it's shimmering, add the onions and carrots along with a pinch of salt and pepper. Cook the vegetables for 7-8 min, or until they are very tender and lightly browned.

Add the garlic, ginger, chile peppers (if using) and the red curry paste. Cook for 2 minutes, stirring to coat the vegetables in the aromatics. If you aren't using a nonstick skillet, you may need to add a tablespoon of water to prevent the mixture from drying out and burning.

Pour the pureed kabocha squash sauce into the pan, then add the lite coconut milk, tamari, miso paste (if using), maple syrup, and turmeric, and black pepper to taste. Stir or whisk until the mixture is smooth and creamy.

Add the canned chickpeas and stir to combine. Bring the mixture to a simmer and cook for 15-20 minutes, or until the curry has become thick and creamy, and the veggies are fully softened.

When ready to serve, stir in the lime juice and cilantro. Serve with white rice or grains of choice.
Notes
*If you are sensitive to spicy food, omit the chile peppers. Alternatively, you can use a less spicy pepper, such as a jalapeño pepper.
**Tamari is gluten-free but soy sauce is not, so if you use soy sauce, just keep in mind that the recipe won't be gluten-free.
***The miso paste adds a deep, complex umami flavor. If you don't have any, you'll want to add a bit of salt at this stage.
---
Calories:
331
kcal
|
Carbohydrates:
44
g
|
Protein:
10
g
|
Fat:
14
g
|
Saturated Fat:
10
g
|
Polyunsaturated Fat:
2
g
|
Monounsaturated Fat:
1
g
|
Sodium:
679
mg
|
Potassium:
895
mg
|
Fiber:
10
g
|
Sugar:
8
g
|
Vitamin A:
7154
IU
|
Vitamin C:
25
mg
|
Calcium:
131
mg
|
Iron:
3
mg