One of the most popular recipes across India and Pakistan is Aloo Gobi. In my version, potatoes and cauliflower are roasted to golden perfection before being tossed in a deeply flavorful, warm, and slightly tangy masala. It's hearty and nourishing while still being budget-friendly, easy to make, and naturally vegan.
Table of Contents:
1. What is Aloo Gobi?
2. The best method to cook aloo gobi at home
3. Ingredient notes
4. Step-by-step instructions
5. Tips for making this recipe
6. Frequently Asked Questions
7. Recipe card with notes
What is Aloo Gobi?
Aloo gobi is an Indian dish made from potatoes (aloo) and cauliflower (gobi) as well as Indian spices, aromatics, and herbs. It's (1) hearty and flavorful, (2) budget-friendly, and (3) naturally vegan. AKA it checks all the boxes!
The aloo gobi recipe originated in the Punjab region of India. It's such a simple and comforting dish, and you can find all kinds of variations of the recipe across the regions of India and from family to family.
There are typically two types of aloo gobi: the dry version, also called a sabji in Hindi, and the curried version, which contains gravy/sauce.
The former is most associated with home cooking and involves just two components: (1) the vegetables (aloo and gobi) and (2) the masala (a blend of spices, aromatics, and usually tomatoes). That's the version I've made for you!
At restaurants, the potatoes and cauliflower are typically deep fried before being cooked in a rich, oily gravy. While I'm not opposed to deep frying, I prefer to limit it to recipes that give you something that is both crunchy and significantly better than the alternative, like in my Gobi Manchurian.
And the best news: you can achieve incredible results at home by taking a slightly non-traditional and more hands off route. More on that below.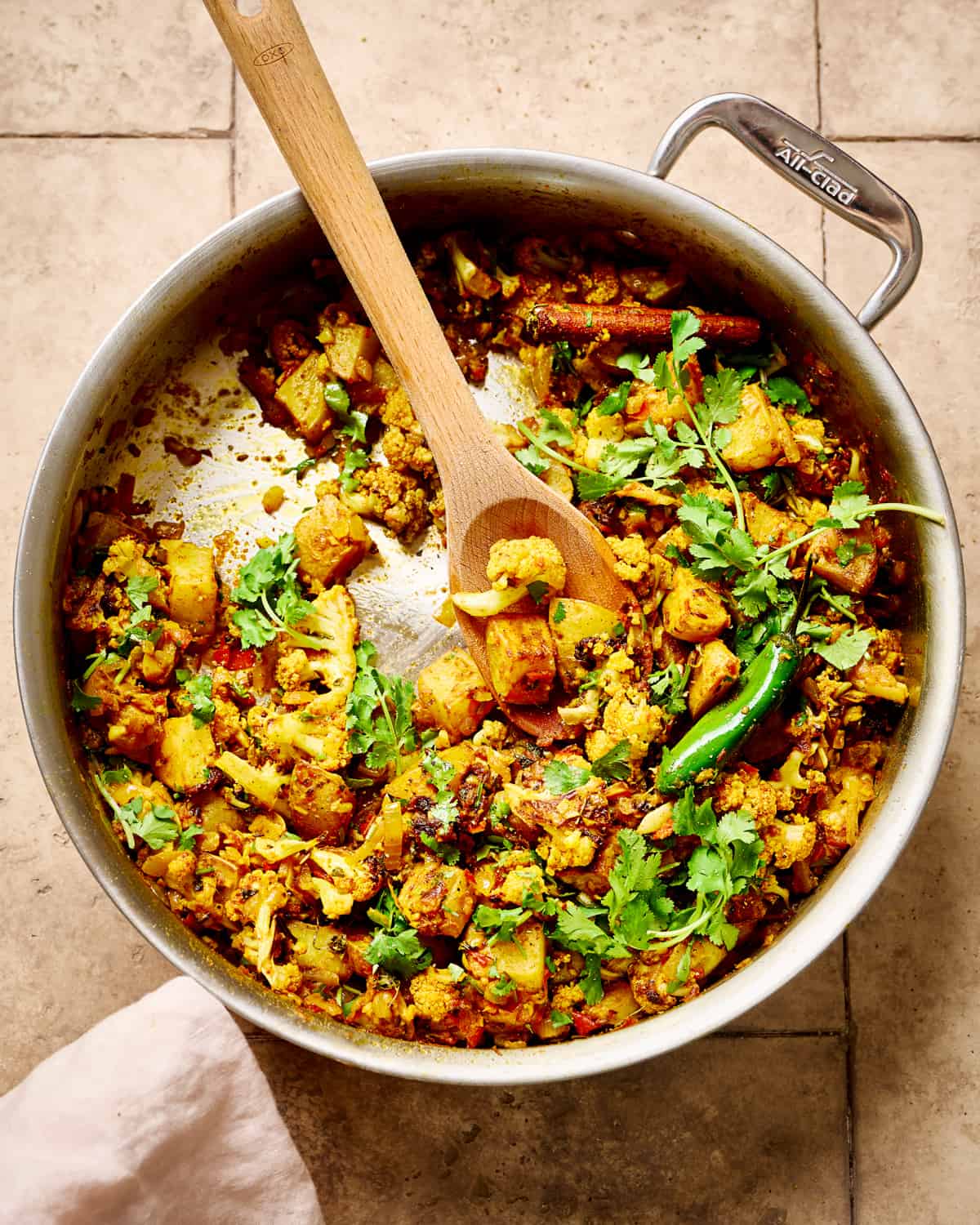 The best method to cook aloo gobi at home
Traditionally, aloo gobi is made by toasting the aromatics and spices in a skillet, then adding the cauliflower and potatoes to steam-sauté. While this sounds like an easy one-pot meal, this method comes with several obstacles:
Cauliflower and potatoes don't cook at the same rate. The cauliflower may be soggy by the time the potatoes are done.
They have to be cooked on low heat to prevent burning. And to prevent the vegetables from drying out, you need to add some water to the pan. This waters down the flavor and leads to some sogginess.
You could be waiting for them to cook through for up to 45 minutes!
Solution 1?
You can try avoiding some of these issues by deep frying or pan frying the veg beforehand.
Deep frying is delicious but can be messy and intimidating and not necessarily weeknight-friendly. And pan-frying requires you to cook the potatoes and cauliflower separately. That's at least 20 extra minutes of active cooking (you can't just walk away from the pan).
Solution 2?
You pre-cook the vegetables by steaming them instead. However, when we tried this, the entire dish tasted like sad steamed cauliflower (the same goes for boiling and blanching).
Five tests into this experiment, I remembered the method I already rely on for cauliflower and potatoes… Roasting!
Roasting cauliflower and potatoes is superior for home cooks for a few reasons:

1. It's hands-off. No need to flip the veg at all! That extra time can be used to prep your masala and start cooking it on the stove.

2. It's SO delicious. The veg takes on a gorgeous golden brown color and their natural sugars caramelize in the dry heat of the oven. Roasted cauliflower = 100x better than steamed cauliflower.

3. It's easy. Toss your veggies with oil, salt, and pepper, then pop the pans in the oven!

4. Maximal flavor with maximal efficiency. The combination of dry heat + fat infuses a lot more flavor into the veggies than if they were steam-sautéed in a pot together. As a result, they only need a quick 5 minutes to be coated in the masala.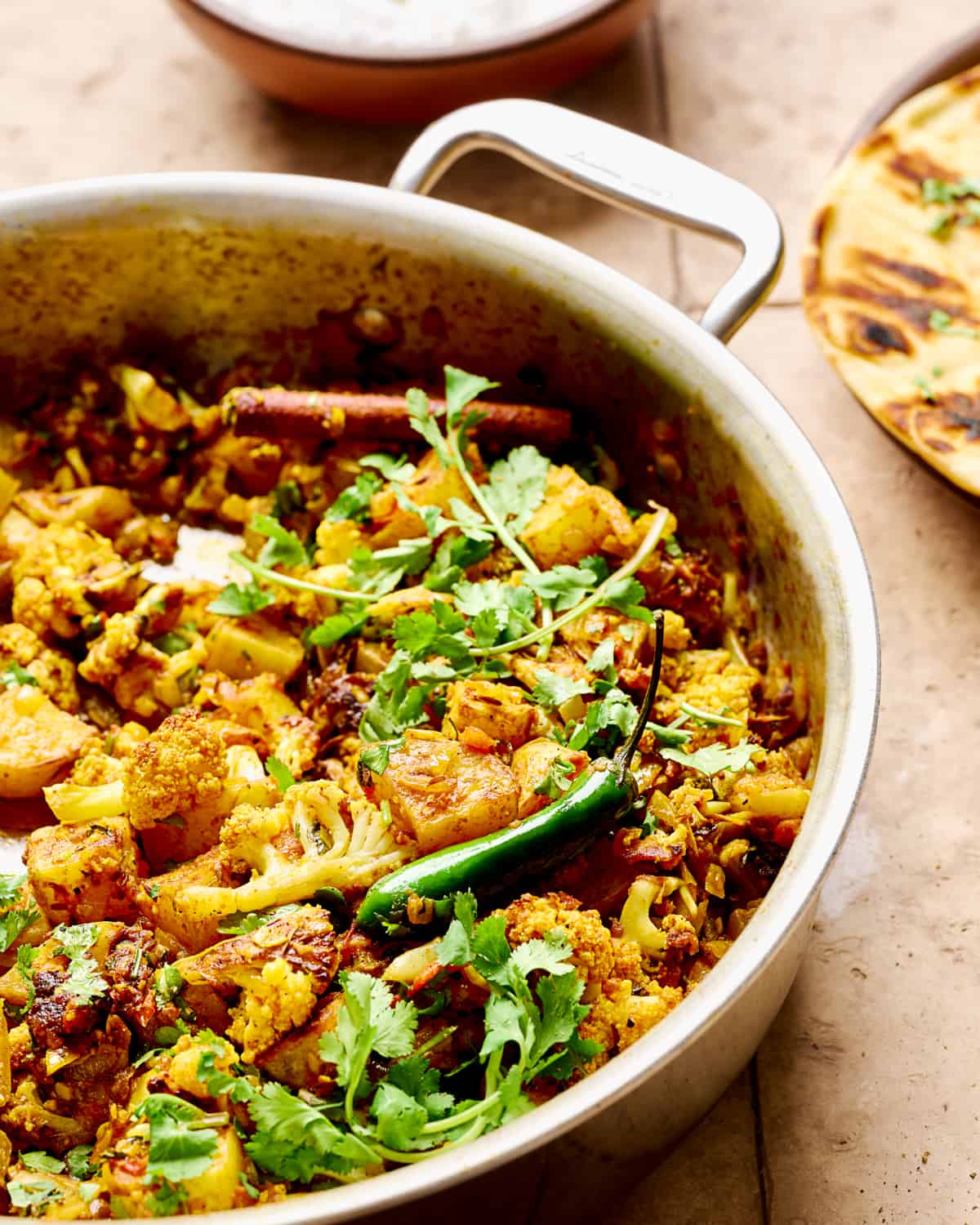 Ingredient notes
Roasted vegetables are tossed in an aromatic and beautifully spiced masala made from these ingredients: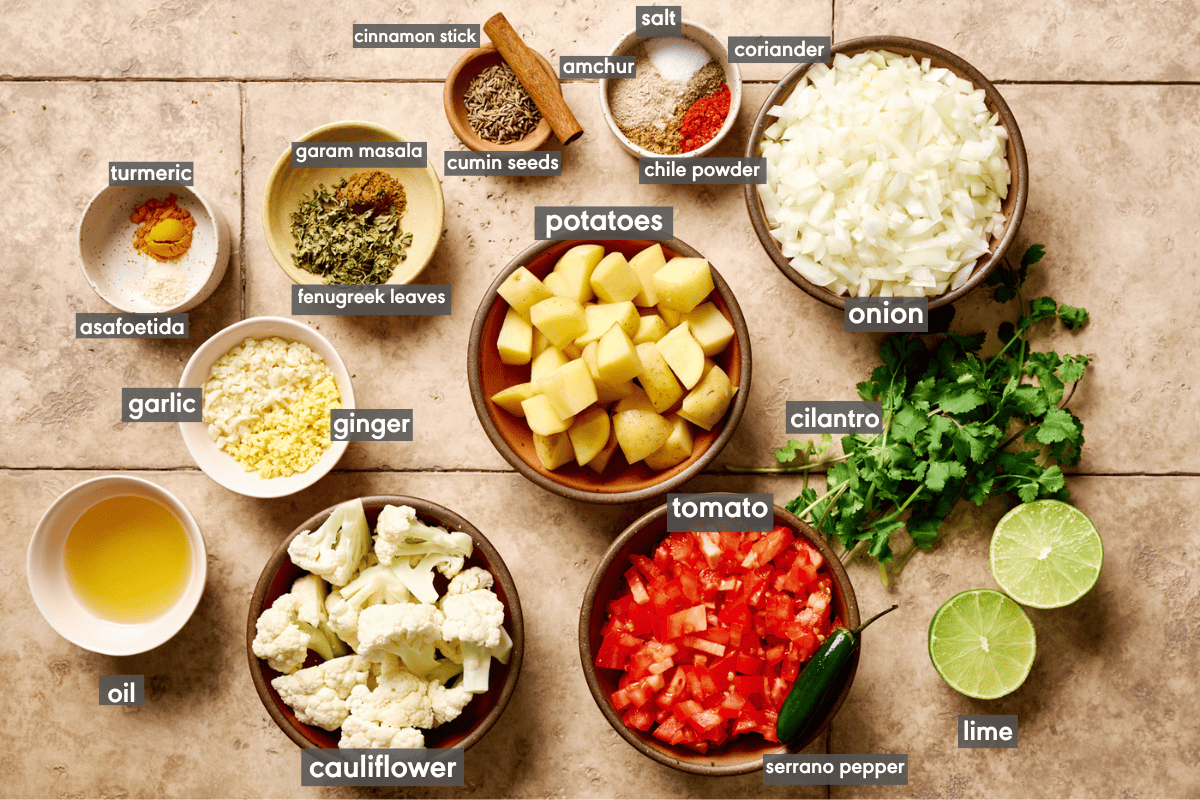 Potatoes and cauliflower
AKA aloo and gobi! For the potatoes, go with a waxy yet starchy variety, like Yukon Golds. Their starchy, waxy, and creamy interior is what makes them the "Goldilocks" of the potato world.
Substitute: Russet potatoes will work if that's all you can find but they may get a little softer in the oven.
As for the cauliflower, a medium or small-medium-sized cauliflower head will work great.
Classic Indian aromatics
The masala includes a handful of classic aromatics used in Indian cooking. Onions, ginger, garlic, and green chiles start this recipe off on a super flavorful journey before tomatoes come in and add the necessary tang and very subtle sweetness.
Substitute: You can sub canned diced tomatoes in place of fresh tomatoes in an equal amount.
Whole spices
The beauty of aloo gobi is that there is no one way to make it. I like to start mine by toasting whole cumin seeds and a small piece of cinnamon stick. You won't usually find cinnamon in aloo gobi but it added something special to our test #7 that the other versions were missing.
Ground spices
You'll almost always find turmeric, coriander, and red chili powder in aloo gobi. There are two more spices you may not be as familiar with: amchur powder and asafoetida (known as hing in Hindi).
Amchur is the powder from dried, unripe mangoes. It's tangy and refreshing, making it a bright addition to chutneys, marinades, and many other Indian dishes. You can read more about amchur in this article by Serious Eats.

Asafoetida lends a quintessentially Indian flavor that is hard to describe in words. It's noticeably pungent and a bit funky, but don't let this dissuade you because it really adds a special something. But if you're allergic to gluten, skip it, as most varieties contain small amounts of gluten. The brand Pure Indian Foods has a GF option.

Tips for buying: You can buy all these spices at your local Indian grocer, or online. This is the brand of asafoetida my mom has used for decades (affiliate link). 

Substitute: No amchur? Stir in extra lime or lemon juice at the end to achieve that tangy flavor. No asafoetida? Just omit it. And if you don't have a mild red chili powder like Kashmiri chili powder, use ¾ tsp paprika + ¼ tsp cayenne instead. 
Finishing spices
Last but not least, my aloo gobi is finished with two more spices: garam masala and fenugreek leaves, AKA kasoori methi. They add a distinctively bold, savory, and pungent flavor that can't be replicated with anything else.
The two are technically listed as optional ingredients but if you visit an Indian grocery store, I'd consider them a must-buy! As they come together, they add the je ne sais quoi flavor that you usually only find in Indian restaurants and dishes like my Tofu Tikka Masala and Malai Kofta.
Step-by-step instructions
Cut the potatoes into 1-inch chunks/cubes. Cut the cauliflower into small-medium sized florets.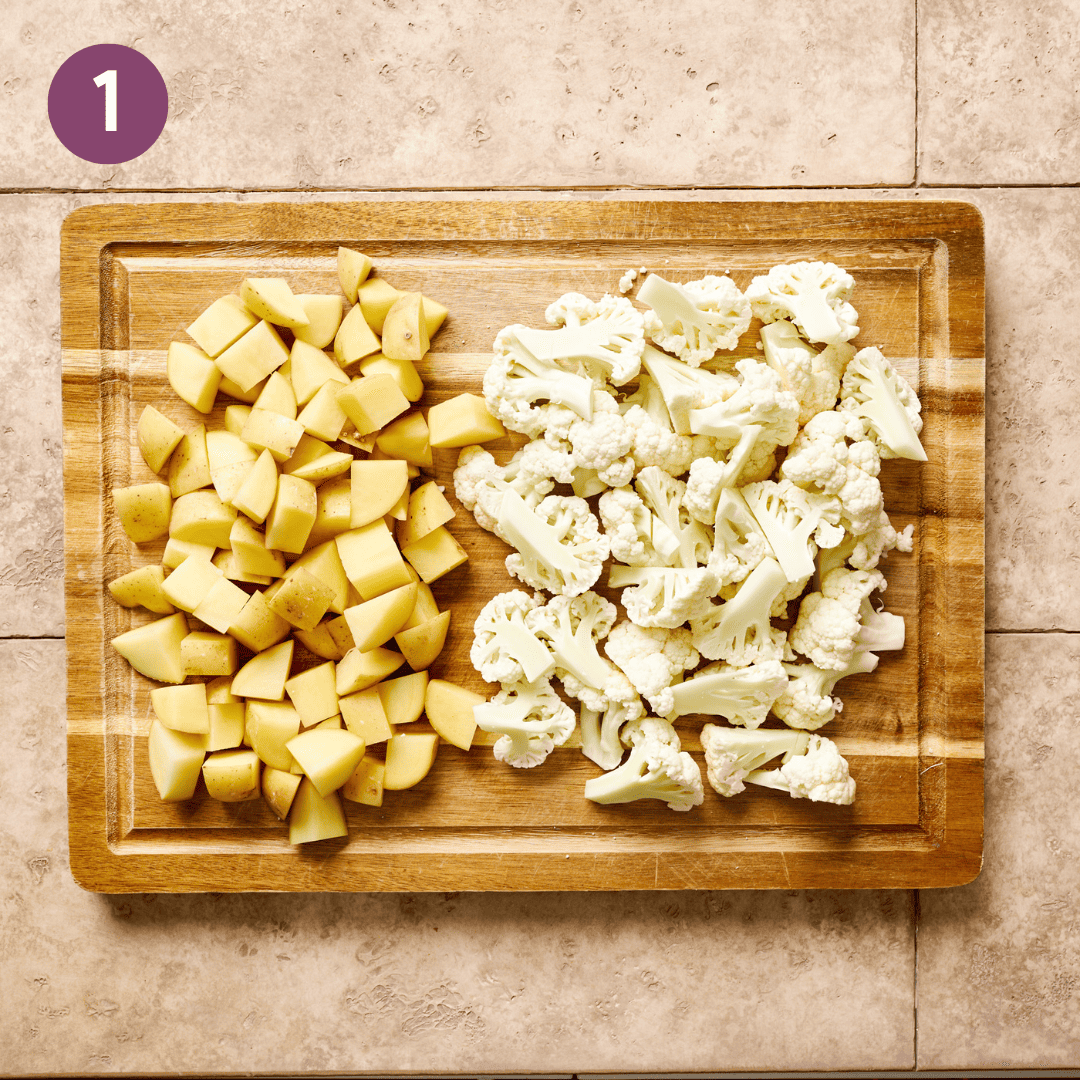 Roast the vegetables. Lay the potatoes on a parchment paper lined baking sheet. Drizzle them with some oil and a few pinches of salt and pepper, then toss to combine.
Add the cauliflower to a second baking sheet (without parchment, for better browning). Season with oil, salt, and pepper.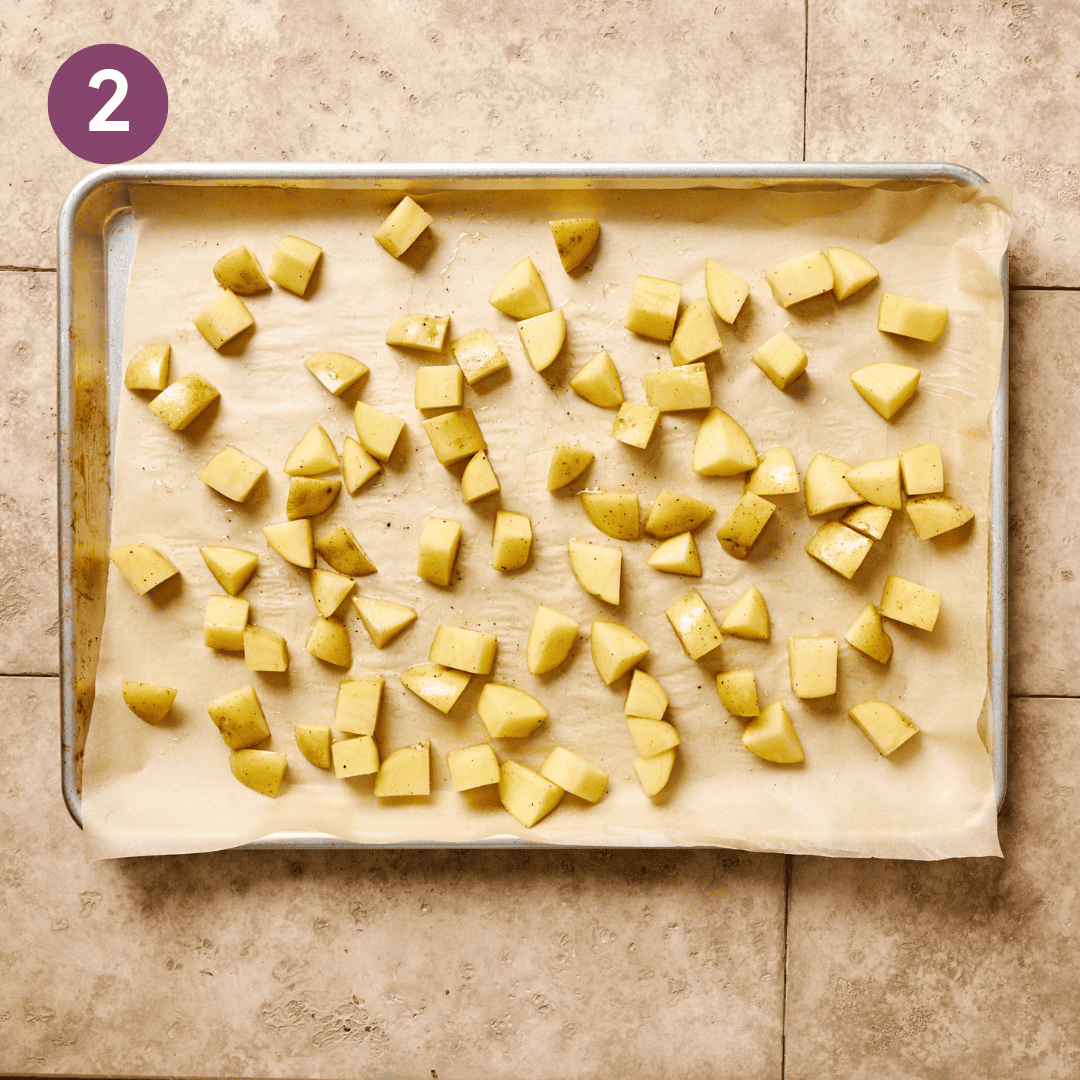 Roast both pans until the cauliflower and potatoes are starting to brown in some spots and feel tender, but not soft.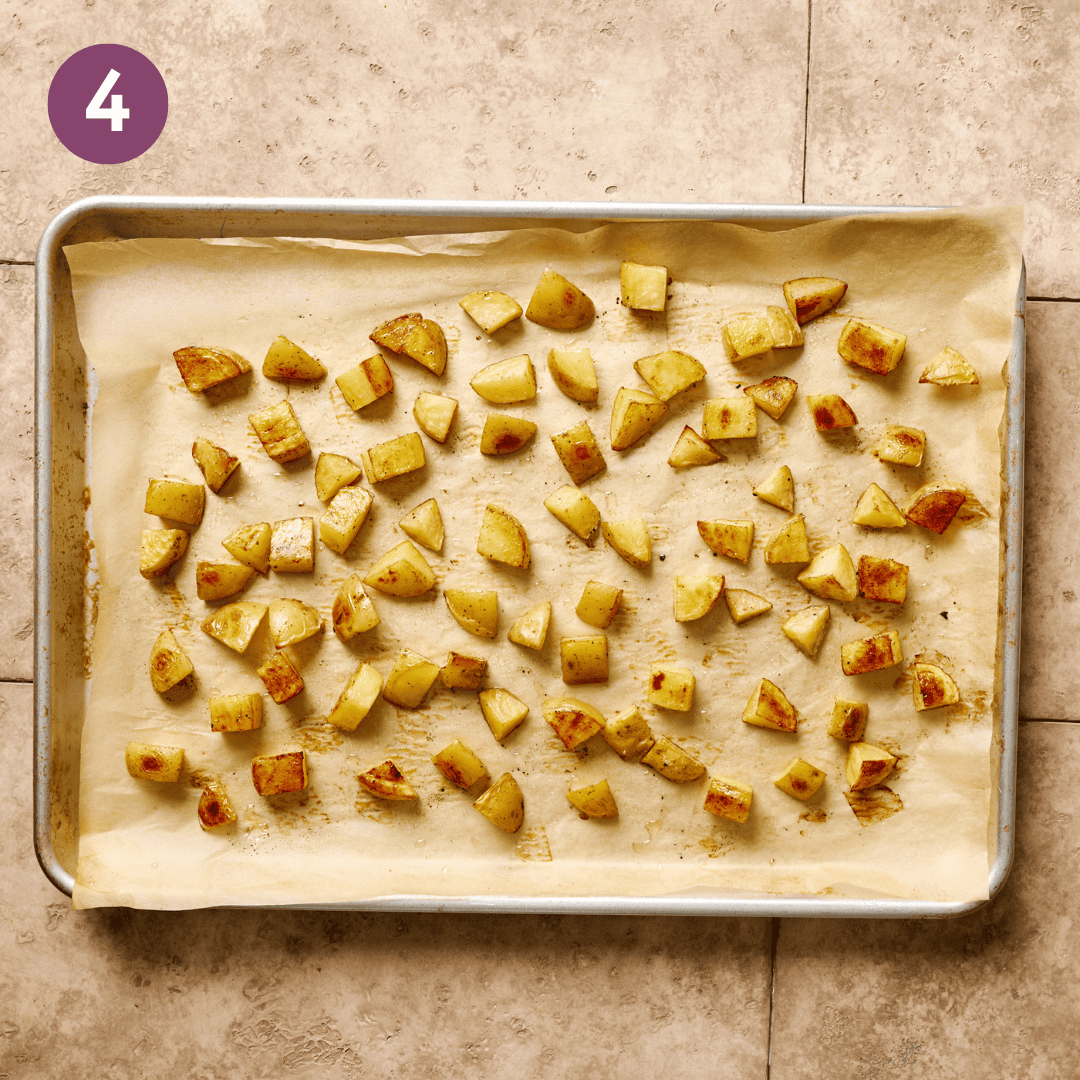 Prepare the masala while you wait. Heat some oil in a deep sauté pan. Once it shimmers, add the cinnamon stick and cumin seeds. Toast and stir until they darken in color and the cumin seeds start dancing in the pan.
Now add the onions.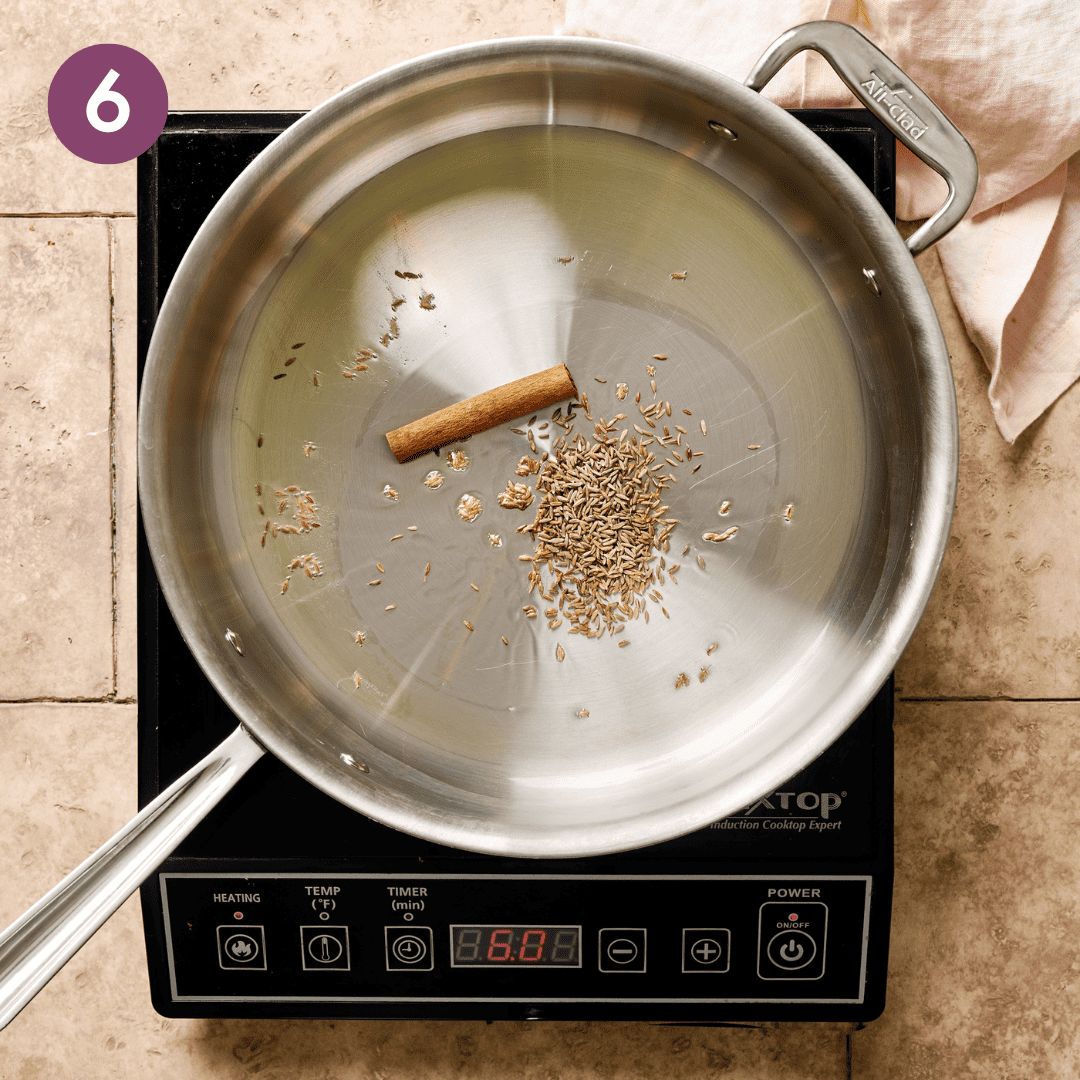 Once the onions are golden brown, add the garlic, ginger, turmeric, and asafoetida. Stir frequently for 1-2 minutes.
Stir the amchur, coriander, chile powder, serrano pepper, tomatoes, salt, and pepper into the pan.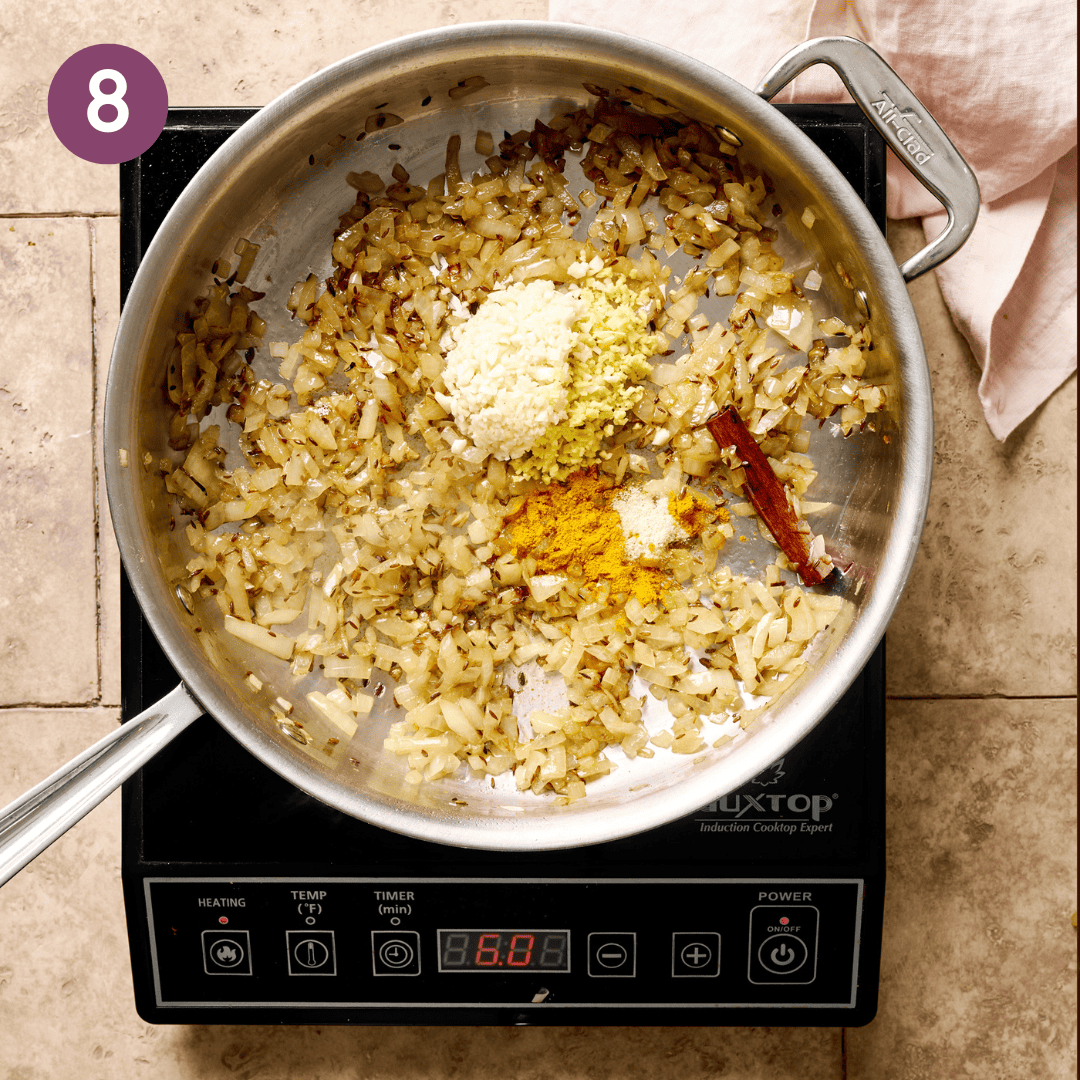 Let the mixture simmer until the tomatoes have almost melted into the masala.
Now add in the roasted cauliflower and potatoes.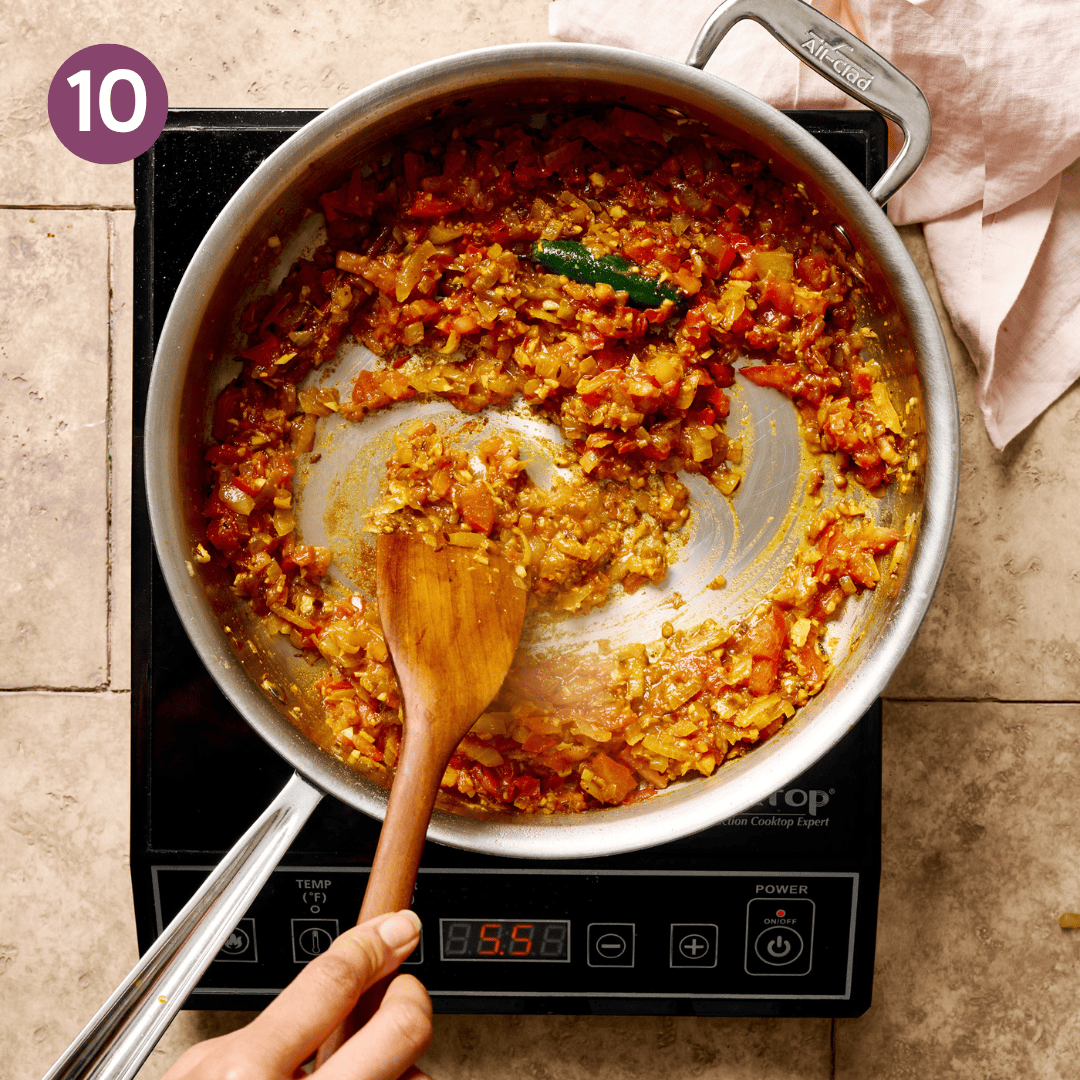 Gently stir to coat the veggies in the masala. Cook for 5 minutes, tossing occasionally to make sure every piece is well coated and cooks evenly.
Crush the kasuri methi with your hands. Stir them into the pan, along with the garam masala and vegan butter.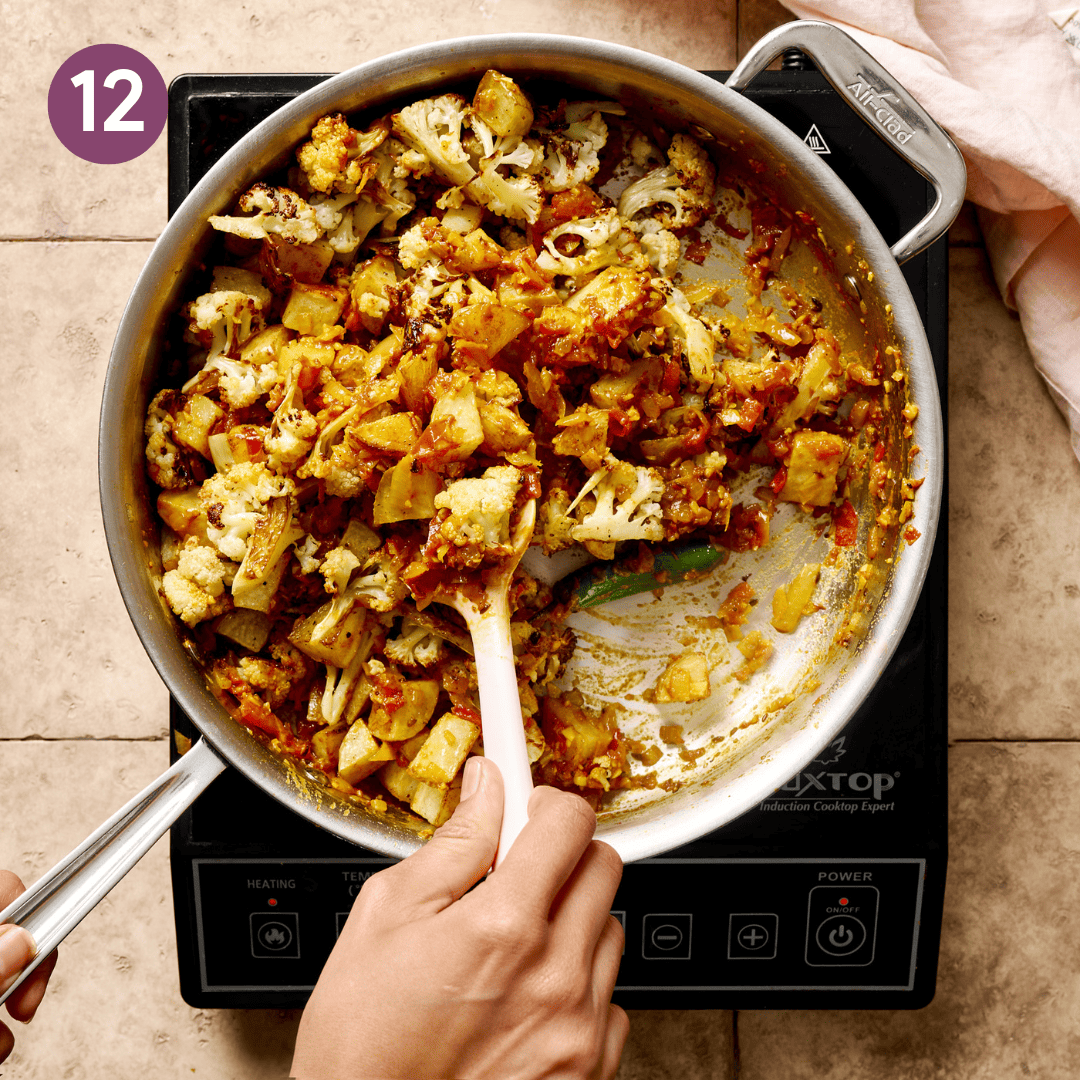 Turn off the heat and let the aloo gobi rest for 5 minutes.
To finish, stir in the cilantro and the lemon or lime juice. Season to taste with more salt and/or garam masala. Discard the cinnamon stick and enjoy!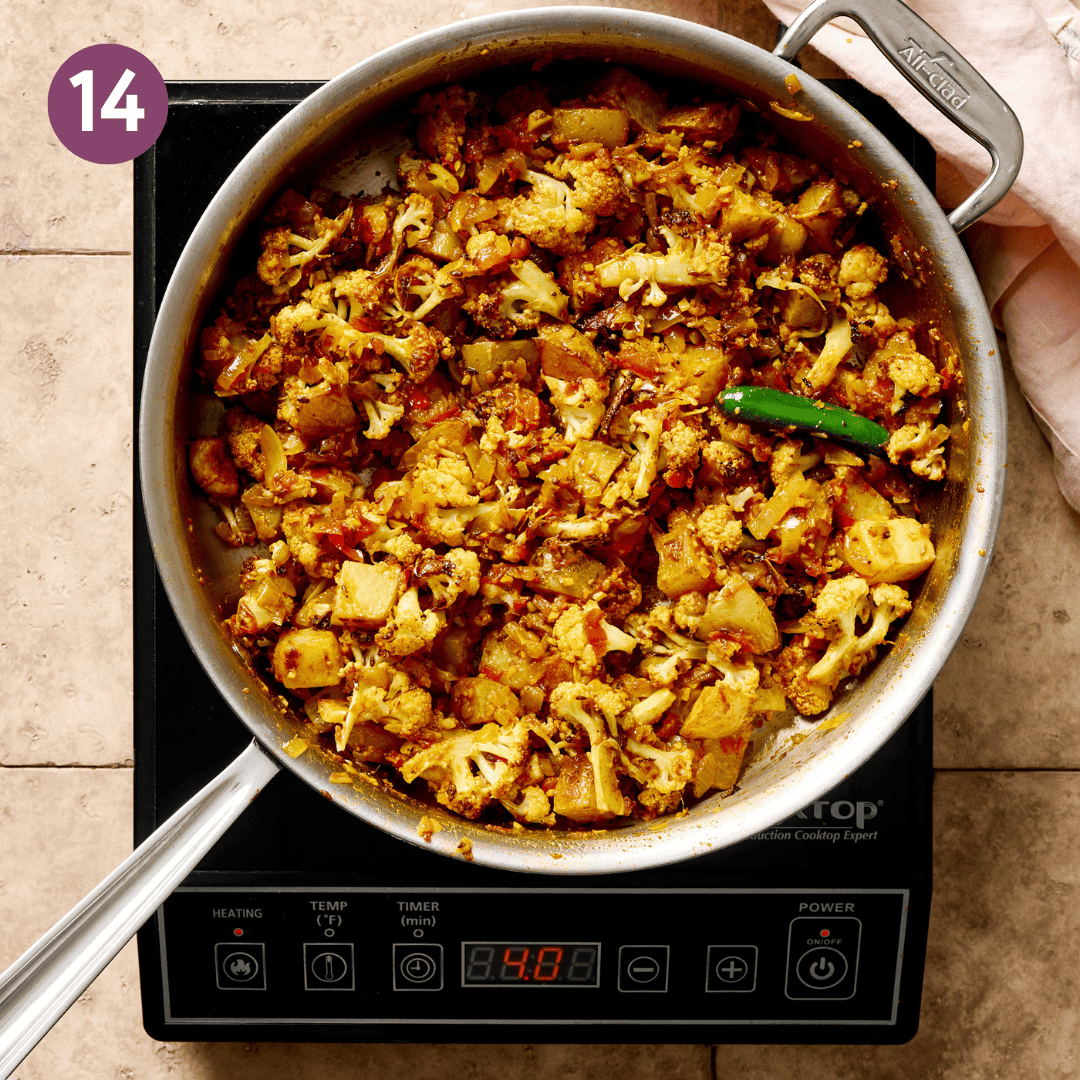 Tips for making this recipe
Use these helpful recipe tips to make the best version of this Indian side dish or main:
Make a trip to your Indian market.
Unless your pantry is already stocked with Indian spices, I highly recommend visiting your local Indian grocery store. It's the best place to find spices you might not already have, and you'll be able to make the best possible version of this dish. Plus, they're so much more affordable than your standard grocery store!
Remember to look for amchur powder during your visit, as it's commonly used in aloo gobi. My favorite online spice brand, Burlap & Barrel, also sells a fantastic amchur powder grown on a family farm in the most famous mango-growing region of India.
Roast the veggies on two sheet pans.
I know it's tempting to shove both the cauliflower and potatoes onto the same sheet pan, but an overcrowded pan leads to steamed (AKA sad) vegetables. Giving the veggies room to sprawl out on their own pans allows for the heat to circulate around each piece, leading to beautifully browned and tender vegetables.
Quick tip: Roast the potatoes on a parchment paper-lined pan to prevent sticking. Cauliflower, on the other hand, browns better on an unlined pan (but if you want to save time on cleanup, line the pan).
Go gentle on the spiciness
Most of the heat in this dish comes from the serrano pepper. To avoid overwhelming this dish, I just make a small slit in the pepper instead of dicing it up and sauteeing it like usual. However, if you don't like spicy food at all, omit it.
If you like spicy food, make an even bigger slit. This really brings the heat! I love spicy food but I still prefer to use a small slit so the heat isn't overpowering.
For extra richness, add a little butter
Vegan butter, of course! Stirring in a knob of butter when you add the garam masala and fenugreek leaves adds an indulgent mouthfeel to the finished dish.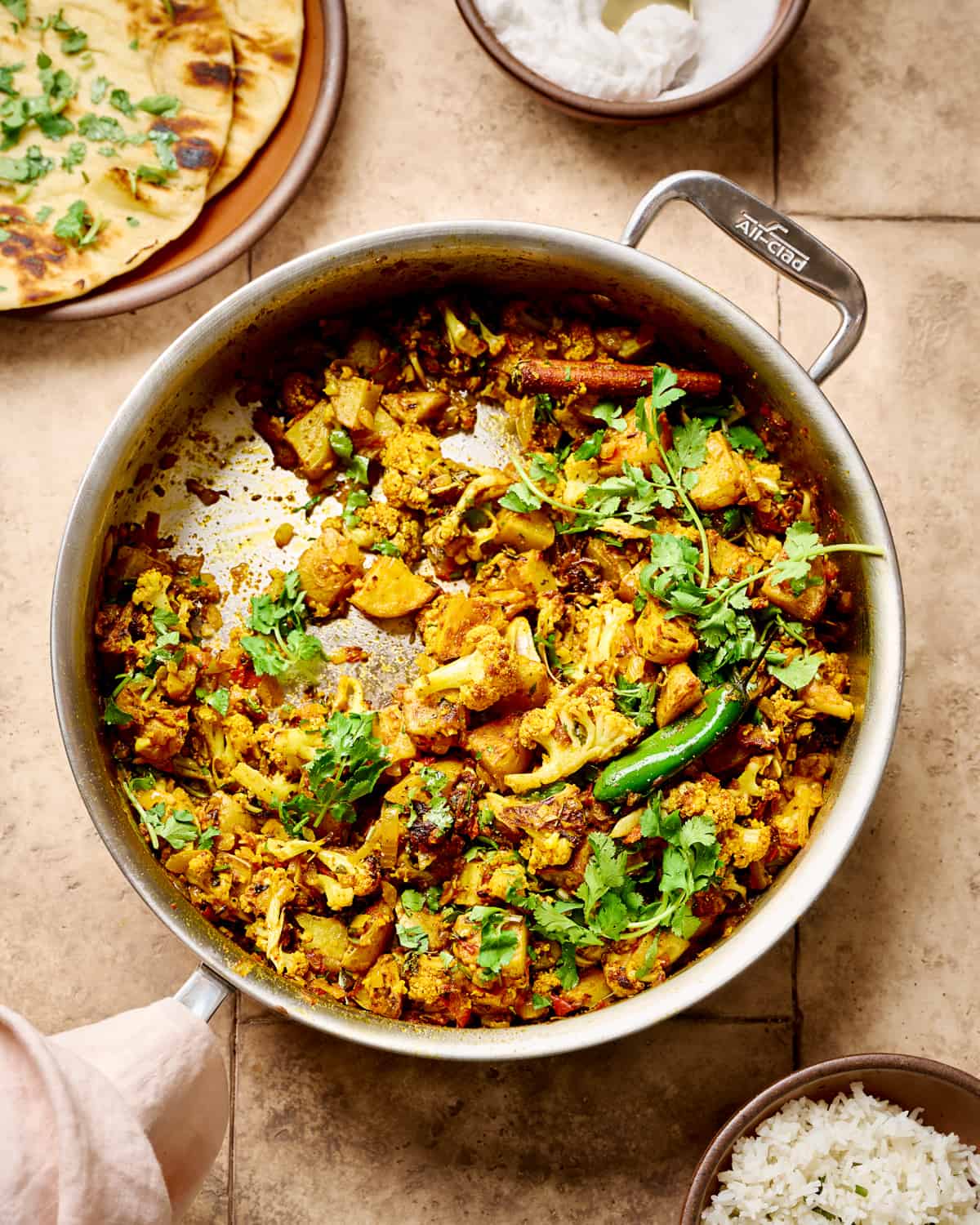 Frequently Asked Questions
Where can I buy the spices needed for this recipe?
All of the spices you need will be at your local Indian grocery store! If you don't have one, you can order them online instead.

Rani is a reputable brand that is sold on Amazon that I use with good results. And as I've mentioned, my favorite sustainable spice brand, Burlap and Barrel, sells most of these spices.
How should I serve aloo gobi?
It's traditionally served as-is with roti and chapati on the side to scoop up every bite. It's also fantastic served over rice with a scoop of coconut yogurt or Vegan Raita.

If you have extra time, make my Vegan Naan to serve on the side as well. Even store-bought pita bread would be good. I like to char it over an open flame to give it more dimension, then brush some melted vegan butter or oil over each piece.

But what about the protein, you ask? Well, that's not really how most vegetarian Indian families think of meals. We eat a protein-rich diet full of lentils/beans/split peas, but we don't evaluate protein content on a meal-by-meal basis.

That said, if you want to eat your aloo gobi with a protein, my favorite (very untraditional) option is to serve roasted chickpeas or baked/fried tofu on the side and mix it all together with the rice. 

You could also serve aloo gobi as a side dish to a bigger entrée, like chickpea curry, palak paneer, or red lentil curry. 
Can you air fry the potatoes and cauliflower?
I don't recommend it. You would need to work in two batches because most air fryer baskets aren't big enough, which defeats the purpose of using a hands-off, low-fuss method. Roasting is truly superior here because you can cook both veggies at once and a simple toss in oil is all it takes to bring out their flavors. 
How should I store and reheat this dish?
Any leftovers can be stored in an airtight container in the fridge for 4 days. 

The best way to retain the great textures is by reheating the leftovers in a frying pan until heated through (as opposed to the microwave).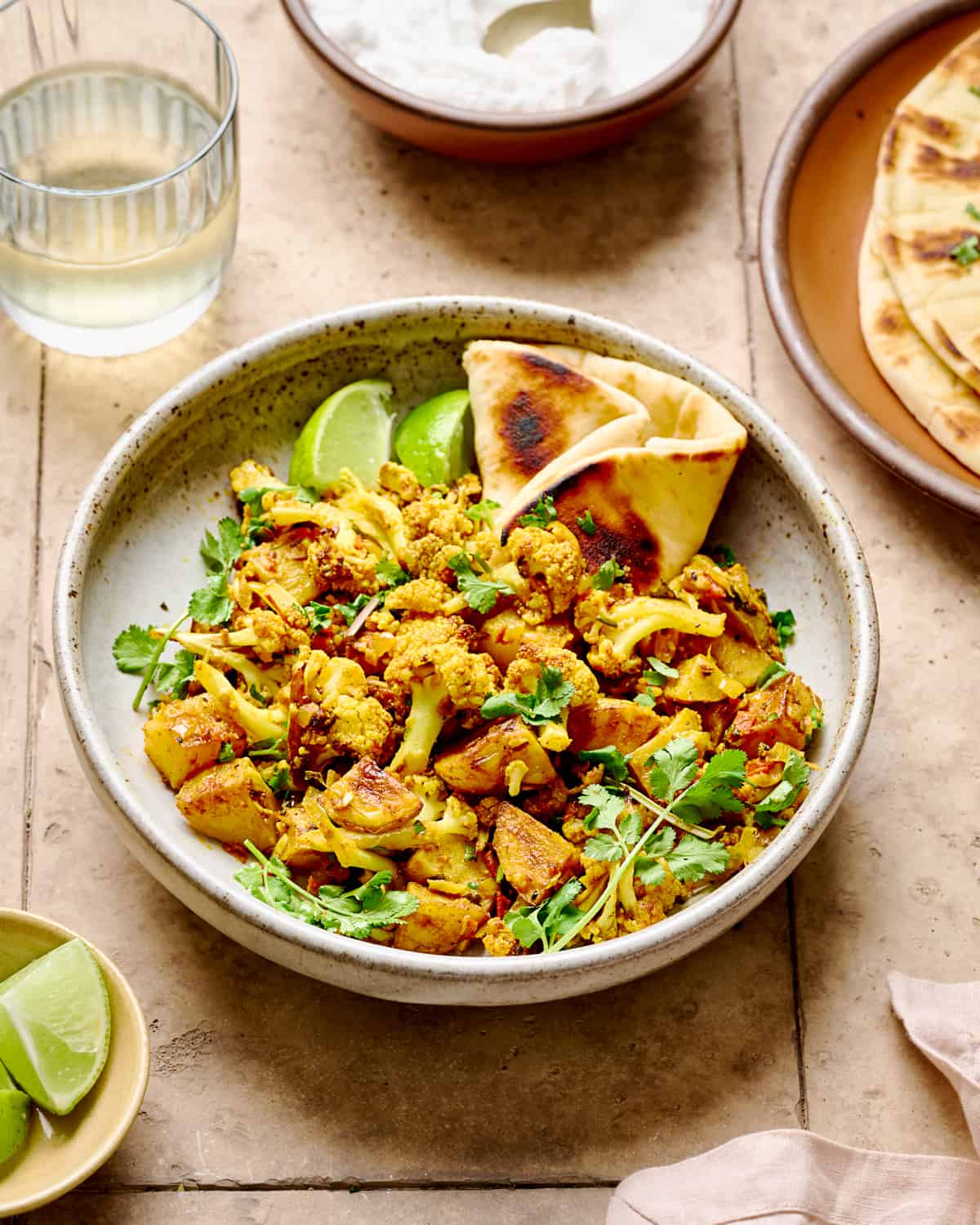 If you give this Aloo Gobi recipe a try, be sure to tag me on Instagram with your recreations and please comment with your feedback below!
Aloo Gobi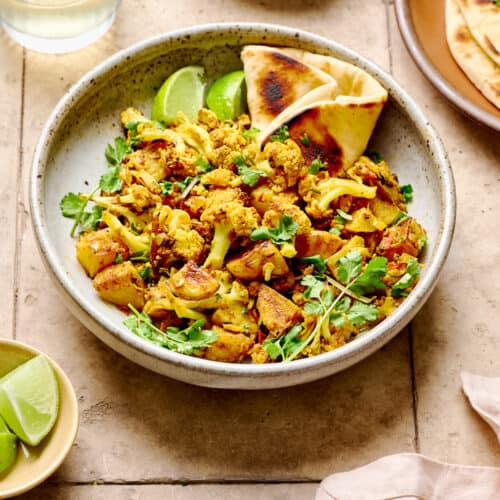 Aloo Gobi is a classic Indian main dish or side that marries perfectly tender potatoes and cauliflower with a blend of spices, aromatics, and tomatoes. It's deeply nourishing and comforting, easy to make, and budget-friendly!
Ingredients
Potatoes and Cauliflower
1

pound

(450g) Yukon gold potatoes

1

small head of cauliflower

(500g of florets)

3

tablespoons

neutral-flavored oil

(can use olive oil if you want)

Salt and pepper
Masala
2 ½

tablespoons

neutral-flavored oil

(see Note 2)

1 ½

teaspoons

cumin seeds

1-

inch

piece of a cinnamon stick

(break in half as needed)

1

medium yellow onion,

diced

6

garlic cloves,

finely chopped

1-

inch

piece ginger,

peeled and finely chopped (see Note 3)

½

teaspoon

ground turmeric

¼

teaspoon

asafoetida

AKA hing; optional (see Note 4)

1 ½

teaspoons

amchur powder

see Note 4

2

teaspoons

ground coriander

½ to 1

teaspoon

mild red chile powder such as Kashmiri chili powder

(Note 4)

1

serrano pepper,

slit down the middle just a little (see Note 5)

2

Roma or plum tomatoes

(about 8 ounces/227g), finely chopped

1 ½

teaspoons

kosher salt

Freshly cracked black pepper

1

tablespoon

fenugreek leaves

(kasuri methi) (optional but recommended) (see Note 6)

½

teaspoon

garam masala,

plus more to taste

1

big handful cilantro leaves and tender stems

Freshly squeezed lime juice

(or lemon juice)
Instructions
Roast Potatoes and Cauliflower
Preheat the oven to 425ºF. Arrange an oven rack in the top third and in the bottom of the oven.

Scrub the potatoes clean (I don't peel). Slice into 1-inch chunks/cubes. Cut the cauliflower into small-medium sized florets.

Transfer potatoes to a parchment paper-lined sheet pan. Drizzle potatoes with 1 TBSP oil and season with a few pinches of salt and pepper. Spread out in a single layer.

Add cauliflower to a second sheet pan (I don't use parchment paper for cauliflower because it browns better, but you can for easier cleanup). Drizzle cauliflower with 1 ½ TBSP oil, and massage it into the nooks and crannies; season with salt and pepper.

Transfer the cauliflower to the top third rack and the potatoes to the bottom. Bake both for 22 to 25 minutes without flipping, or until browned in spots and tender but not super soft. Meanwhile, prep the masala and start cooking it (see Note 1).
Make the Masala
Heat the 2 ½ TBSP oil in a 12-inch deep sauté pan or Dutch oven over medium-high heat. Once it shimmers, add cinnamon stick and cumin seeds and toast for 1 to 1 ½ minutes, stirring or shaking the pan frequently, until darker in color and aromatic. Add the onions, season with a pinch of salt, and cook until nicely browned, 7 to 8 minutes.

Add in the garlic, ginger, turmeric, and asafoetida, if using. Cook for 1 to 2 minutes, stirring very frequently.

Add the amchur if using, coriander, chile powder, serrano pepper, tomatoes, salt, and crack in some pepper. Lower the heat as needed if the spices start to stick. Stir well, using the tomato juice to scrape up the browned bits. Simmer for 4 to 5 minutes, or until the tomatoes have softened and almost melted, and the oil starts to separate from the tomatoes.

Add roasted cauliflower and potatoes plus any browned bits on the pans. Gently mix to coat in the masala and cook, uncovered, for about 5 minutes. Toss occasionally, until potatoes and cauliflower are well-coated and tender but not soggy, lowering the heat if it starts to stick.

Crush the kasuri methi with your hands. Add them into the pan, along with the garam masala. Toss to coat briefly. Turn off the heat and rest for 5 minutes.

Meanwhile, chop the cilantro. Add the cilantro and a couple squeezes of lime or lemon juice to the aloo gobi (more if you didn't use amchur). Season to taste with salt and more garam masala if desired. Remove the cinnamon stick pieces.
Notes
1. While the cauliflower and potatoes roast, chop the onion, ginger/garlic, and prep the spices. While the onions cook, chop the tomatoes. This multitasking is factored into the prep and cook time.
2. A decent amount of oil is necessary to brown the onions and draw out the most flavor from the aromatics, spices, and tomatoes. We tried this recipe with less oil and it just wasn't as flavorful and didn't have the right mouthfeel.
3. If using a stainless steel pan, I prefer to mince or finely chop the ginger (and garlic). If grated very finely, they stick quite a lot to the pan.
4. Asafoetida is known as hing in Hindi and adds a quintessential Indian flavor; omit if you don't have it or allergic to gluten (it has a small amount). If you don't amchur, add more lime or lemon juice at finishing. If you don't have a mild red chile powder, sub with ¾ tsp paprika + ¼ tsp cayenne. All spices are sold at Indian grocers or online.
5. Make just a small slit or incision in the pepper. This adds a gentle heat to the masala. If you want it spicy, make a bigger slit.
6. Fenugreek leaves add a lot of flavor at the end. You can find them at Indian grocers or online. If you don't have it, you may want to add more garam masala to taste.
---
Calories:
320
kcal
|
Carbohydrates:
33
g
|
Protein:
5
g
|
Fat:
20
g
|
Saturated Fat:
2
g
|
Polyunsaturated Fat:
14
g
|
Monounsaturated Fat:
3
g
|
Sodium:
458
mg
|
Potassium:
925
mg
|
Fiber:
6
g
|
Sugar:
5
g
|
Vitamin A:
642
IU
|
Vitamin C:
67
mg
|
Calcium:
69
mg
|
Iron:
2
mg
Recipe: Nisha Vora / Rainbow Plant Life | Photography: Megan Morello