When it comes to a coffee-based beverage, I have two criteria: (1) it shouldn't be too sweet and (2) it should be satiating. Enter this Creamy Vegan Protein Mocha Latte!
While I have a huge sweet tooth when it comes to dessert, I don't like having something sweet first thing in the morning. And I sort of despise sugary beverages.
And I want something satiating because, well, if I didn't, I would just drink my usual calorie-free decaf Americano.
And that's how I came up with this Creamy Vegan Protein Mocha Latte! Unlike most coffee beverages, it is packed with protein! Hence the name protein latte, obvi.
Why you're going to like this recipe
A fun breakfast alternative. Now that many of us are eating three meals a day at home, it can get a bit boring to eat the same meals over and over. So if you feel like a drinkable breakfast that will keep you full, switch things up with this protein mocha latte! I've also rounded up some fantastic vegan breakfast ideas in case lattes aren't your thing.
Protein-packed. Protein lattes are now a thing! Each serving has 15 to 16 grams of protein in it! The main sources of protein come from soy milk and hemp seeds, but there's also a decent amount of protein in the raw cacao powder (1 gram per teaspoon).
Wholesome. Unlike many coffee-based beverages that are loaded with sugar and dairy (I'm looking at you Starbucks), this mocha latte is a healthy alternative made with whole foods and packed with antioxidants, thanks to raw cacao powder, hemp seeds, and a trio of warming spices.
Tips for making this recipe
I use soy milk since it contains the most protein out of all plant-based milks, but if you don't consume soy or just don't have soy milk, you can easily make this with your favorite creamy plant-based milk (it will have less protein, obvi).
Raw cacao powder is packed with health benefits and antioxidants, but if you don't have it, feel free to use unsweetened cocoa powder.
If you don't have a high-powered blender, I recommend simmering the mixture on the stove for longer than the stated 5 minutes. It'll help soften up the hemp seeds a bit more, making the pulverizing a bit easier on your blender.
This drink is best when you first make it, but leftovers do keep decently well in the fridge for a few days.
More delicious breakfast beverages
Looking for even more delicious breakfast beverages? Give these two a try:
That's all I got for this Vegan Protein Mocha Latte. But of course, as always, be sure to tag me on Instagram with your recreations and leave a comment with your feedback below!
Creamy Vegan Protein Mocha Latte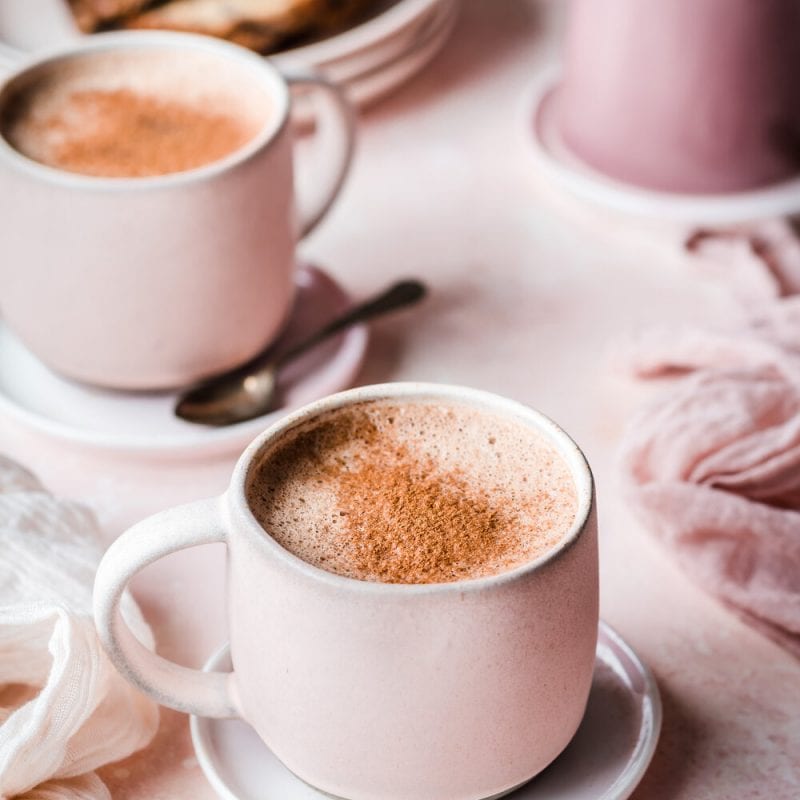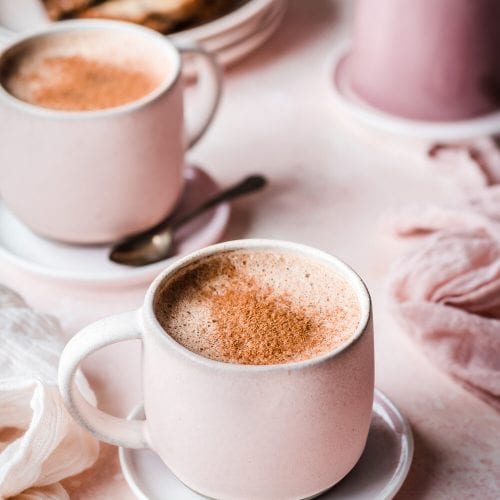 Perk up your morning with this Creamy Vegan Protein Mocha Latte! Unlike most mocha lattes that are laden with sugar and dairy, this one is vegan, refined sugar-free, and packed with 15 grams of protein!
Ingredients
2

cups

(480 mL) unsweetened soy milk*

1

cup

(240 mL) very strong brewed coffee, or an American (espresso + water)**

1/2

cup

(80g) shelled hemp seeds (also known as hemp hearts)

2

tablespoons

raw cacao powder

1

tablespoon

unrefined coconut oil

Heaping 1/2 teaspoon ground cinnamon,

plus more to taste

A couple pinches of ground ginger***

2-3

teaspoons

pure maple syrup,

plus more to taste
Instructions
Add the soy milk, coffee, hemp seeds, cacao powder, coconut oil, cinnamon, ginger, and maple syrup to a small or medium saucepan. Whisk well to combine and bring to a gentle boil over medium heat.

Reduce the heat to maintain a simmer for 5 minutes, then pour the mixture into a blender.

1. NOTE: if you don't have a high-powered blender, I recommend simmering this mixture a bit longer (10-15 minutes) so the hemp seeds have a chance to soften.

Start blending on low speed and gradually increase to medium or high speed. Blend until frothy and the hemp seeds have been fully blended up.

Pour coffee into a mug and dust with additional cinnamon, if desired.
Notes
* If you are intolerant/allergic to soy or just don't like it, feel free to substitute with your favorite creamy plant-based milk (my favorites would be oat, cashew, or coconut), though it won't have as much protein. 1 cup (240 mL) of soy milk has 7-8 grams of protein. If you have only sweetened plant-based milk, you may want to omit the maple syrup.
** Feel free to use decaf coffee as needed (that's what I use)! And the coffee can be hot or at room temperature.
*** You can add other warming spices such as a pinch of cardamom, cloves, nutmeg, or allspice.
---
Calories:
309
kcal
|
Carbohydrates:
11
g
|
Protein:
18
g
|
Fat:
23
g
|
Saturated Fat:
6
g
|
Polyunsaturated Fat:
14
g
|
Monounsaturated Fat:
3
g
|
Sodium:
63
mg
|
Potassium:
298
mg
|
Fiber:
3
g
|
Sugar:
4
g
|
Vitamin A:
509
IU
|
Vitamin C:
1
mg
|
Calcium:
262
mg
|
Iron:
6
mg