I have been sharing A LOT of pumpkin recipes with you lately. For the savory fans, I've recently made Pumpkin Mac and Cheese, Pumpkin Chickpea Curry, and Stuffed Pumpkin Ricotta Shells. For the dessert aficionados, we have Pumpkin Bread with Maple Tahini Icing and Pumpkin Tahini Chocolate Chip Muffins. Oh, and for brunch, we have Pumpkin Stuffed French Toast.
So, I'll give you a break from pumpkin and move onto my next holiday favorite flavor: gingerbread! Specifically, a gingerbread cake. But not just any old gingerbread cake. This is a hidden poached pear gingerbread cake.
I've been wanting to make a hidden pear cake (or sunken pear cake) ever since I came across a gorgeous photo on Pinterest a few years ago of what appeared to be a whole pear miraculously floating inside of a cake. I took a screenshot of that beauty in 2016 and two years later, I found it while clearing out photos on my phone, and thought I'ma finally make me one of these pear cakes!
I decided to bake such a cake the day after I had already decided to bake a gingerbread cake, so I had no choice but to flex my creative culinary skills and combine the two into one cake.
From my research on the interwebs, you can make a hidden pear cake such as this one using unpeeled and uncooked pears. However, poached pears are one of my favorite desserts, so I opted to poach the pears in this cake. The poaching liquid is plain old water, but it gets a flavorful infusion from freshly grated ginger, lemon peel, and maple syrup. If you'd like to make this cake even more elegant, you can try poaching the pears in a dry white wine such as Pinot Grigio.
When selecting pears, be sure to look for pears that are ripe but still firm. If they're soft, they'll fall apart inside the cake. A standard 9×5-inch loaf pan can fit 3 small pears or 2 medium-sized pears.
Oh, and if you don't like pears (not sure why you wouldn't because they are pear-fect), you can just use the recipe for the gingerbread cake and bake it solo. Just reduce the bake time slightly and bake for about 45-55 minutes.
Regarding the actual gingerbread loaf, it is what I like to refer to as an adult cake. It is rich, sultry, and full of warming spices and complex flavors.
I also call it an adult cake because it is not very sweet, as the whole cake has only a half cup of actual sugar. The other sweeteners are applesauce and blackstrap molasses. The molasses is what gives this cake its quintessential gingerbread flavor, adding sweet yet slightly bitter and smoky notes, as well as incredible depth of flavor and body. If you aren't keen on that slightly bitter, grown-up taste, I recommend using dark molasses instead of blackstrap molasses. That substitution will make the cake sweeter, so you may want to omit the Orange Icing or not use as much.
While you will need to let this cake cool before slicing to prevent it from falling apart, I do recommend serving it warm (even though refrigerated leftovers for breakfast were surprisingly very good). If your pears are a bit on the soft side to begin with, they might slide right out of the cake when you slice the loaf. Unless you're being graded on presentation, that's A-okay. Just reserve any pear pieces that have fallen out of the cake and use as a topping for the cake once you've drizzled on the Orange Icing.
I hope you try out this elegant and festive poached pear gingerbread cake!
Poached Pear Gingerbread Cake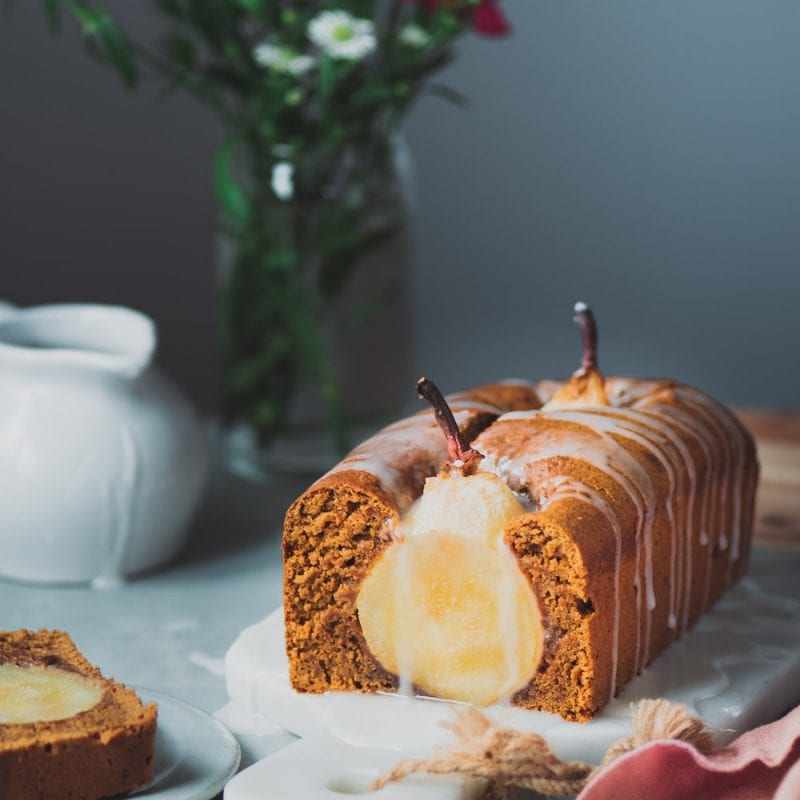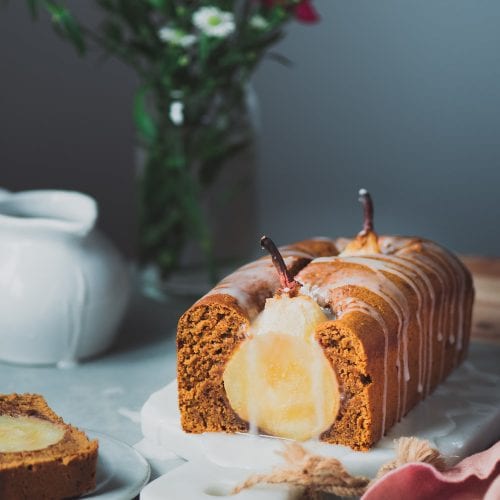 An elegant sunken pear cake meets a warming gingerbread cake in this vegan Poached Pear Gingerbread Cake. It's an absolute showstopper that will wow your friends and family at the holidays!
Ingredients
Poached Pears
3

small or 2 medium pears,

firm but ripe

2

strips of lemon peel

3-

inch

piece of fresh ginger,

peeled and sliced thinly

4

tablespoons

pure maple syrup

3

cups

water
Gingerbread Cake
1

cup

unsweetened plant milk

(such as oat milk, almond milk, or soy milk)

1 1/2

teaspoons

apple cider vinegar

(or lemon juice)

1/2

cup

applesauce

1/2

cup

brown sugar

1/3

cup

blackstrap molasses

(see notes above for substitution)

1/3

cup

melted coconut oil or light-tasting olive oil

1

teaspoon

pure vanilla extract

2

cups

all-purpose flour

1

tablespoon

aluminum-free baking powder

1 1/2

teaspoons

ground ginger

1 1/2

teaspoons

cinnamon

1/2

teaspoon

ground nutmeg

1/4

teaspoon

ground cloves

1/4

teaspoons

fine sea salt
Orange Icing
1 1/4

cups

organic powdered sugar

Juice of 1 medium orange
Instructions
Preheat the oven to 350°F (or 175°C) and line a standard 9×5 loaf pan with parchment paper.

Make the Poached Pears: Peel the pears but leave the stalks attached. Slice the bottom off of each pear so they can stand upright with falling over.

In a large saucepan, add the lemon peel, fresh ginger, and maple syrup. Place the peeled pears in the pan so they stand upright and then add 3 cups of water. Bring the mixture to a boil, then reduce the heat to a simmer and cover for 6-8 minutes, until the pears are just starting to soften. Carefully pick up the pears by the stem and set aside.

Make the Gingerbread Cake: Mix together the almond milk and apple cider vinegar. Stir and set aside for 5 minutes until it is slightly curdled.

In a medium bowl, whisk together the applesauce, brown sugar, molasses, coconut oil, vanilla extract, and the almond milk mixture until smooth and well incorporated.

a large bowl, whisk together the flour, baking powder, ginger, cinnamon, nutmeg, cloves and sea salt.

Add the wet ingredients to the dry and beat with an electric mixture on low speed until the batter is just combined.

Pour the batter into the prepared loaf pan. Gently submerge the poached pears into the batter so that they are standing upright in the pan, surrounded by the batter.

Bake the cake in the preheated oven for 35 minutes, then cover the cake pan lightly with aluminum foil and bake another 20-25 minutes or until a toothpick in the center comes out clean. Transfer cake to a wire rack to cool for a bit, then drizzle with the Orange Icing and serve warm.

Make the Orange Icing: Add the powdered sugar to a medium bowl and add 2 tablespoons of the orange juice, whisking until smooth. Add more juice as needed until you have a smooth and thick but pourable icing.
---
Calories:
443
kcal
|
Carbohydrates:
87
g
|
Protein:
4
g
|
Fat:
10
g
|
Saturated Fat:
8
g
|
Polyunsaturated Fat:
1
g
|
Monounsaturated Fat:
1
g
|
Sodium:
249
mg
|
Potassium:
406
mg
|
Fiber:
4
g
|
Sugar:
57
g
|
Vitamin A:
57
IU
|
Vitamin C:
11
mg
|
Calcium:
224
mg
|
Iron:
3
mg