It's not every day that you'd find "bacon" and "good for you" in the same sentence, but this Tempeh Bacon recipe is changing things up.
This easy vegan bacon is the best way to indulge in the rich and smoky flavors of traditional bacon without any of the meat. Tempeh just happens to be loaded with protein and fiber too, helping you feel great with every bite!
Smoky, crispy, and sticky tempeh bacon is a seriously fun choice for anyone looking for a wholesome yet tasty breakfast, lunch, or dinner option (vegan and gluten-free!).
Stuff the bacon strips into an epic breakfast sandwich or vegan burrito, or quickly fry the strips for a smoky and hearty topping on a vegan Caesar salad or grain bowl for dinner.
Table of Contents:
1. What is tempeh?
2. Why this recipe works
3. Ingredient notes
4. Step-by-step instructions
5. Tips for making this recipe
6. How to use tempeh bacon
7. Frequently Asked Questions
8. Recipe card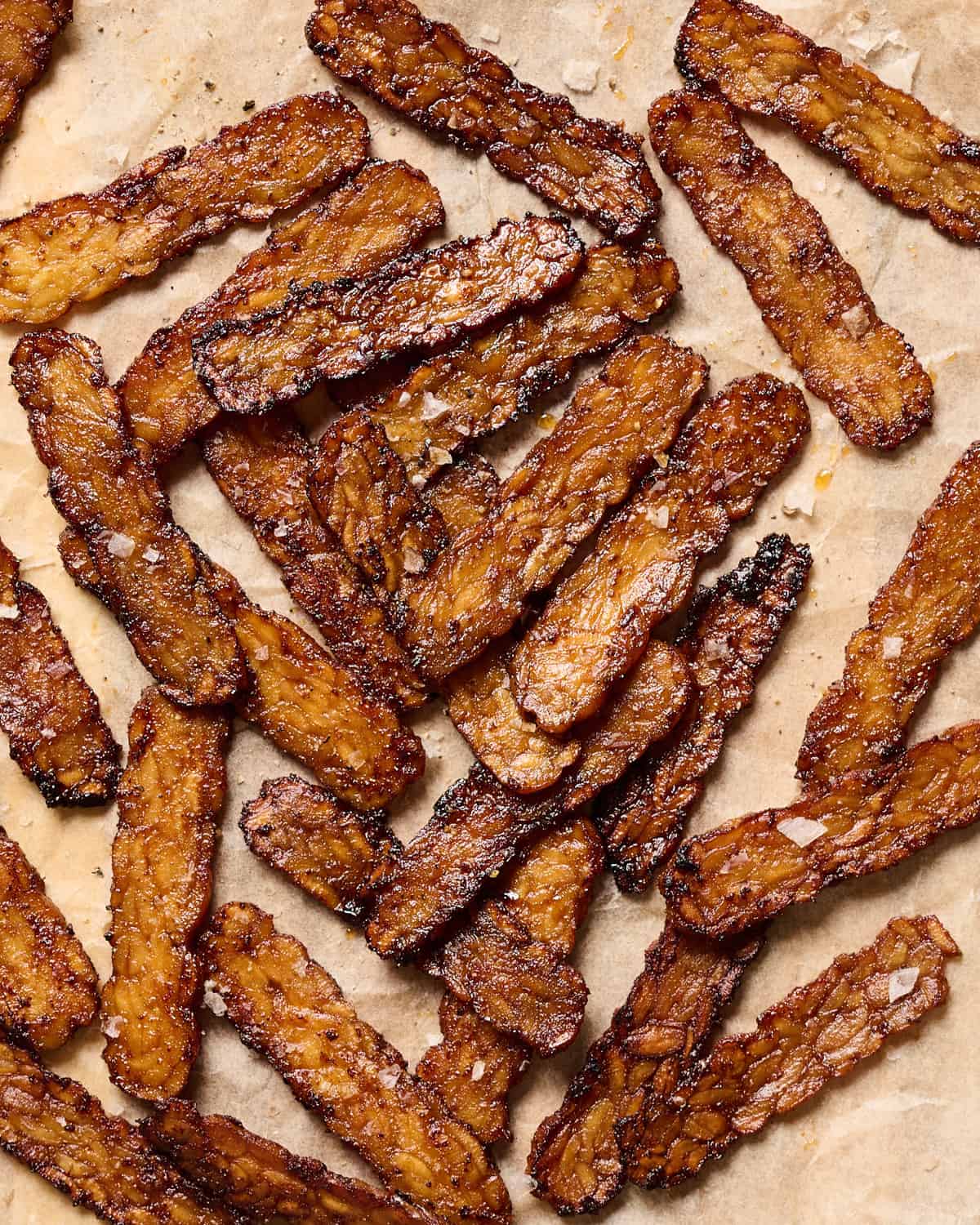 What is tempeh?
Tempeh is an Indonesian plant-based meat alternative made from soybeans. What is essentially a fermented soybean cake, tempeh is typically sold in rectangular blocks or strips and can be unflavored or pre-flavored.
Plain tempeh has a meaty, nutty, and subtle umami flavor that's similar to mushrooms. Its crumbly texture is unique but becomes more crispy and tender when cooked.
Note: The tempeh brick will sometimes have dark black or blue-ish spots. This isn't a sign of mold or spoilage. Even with these spots, the tempeh is still safe to eat and will taste fine.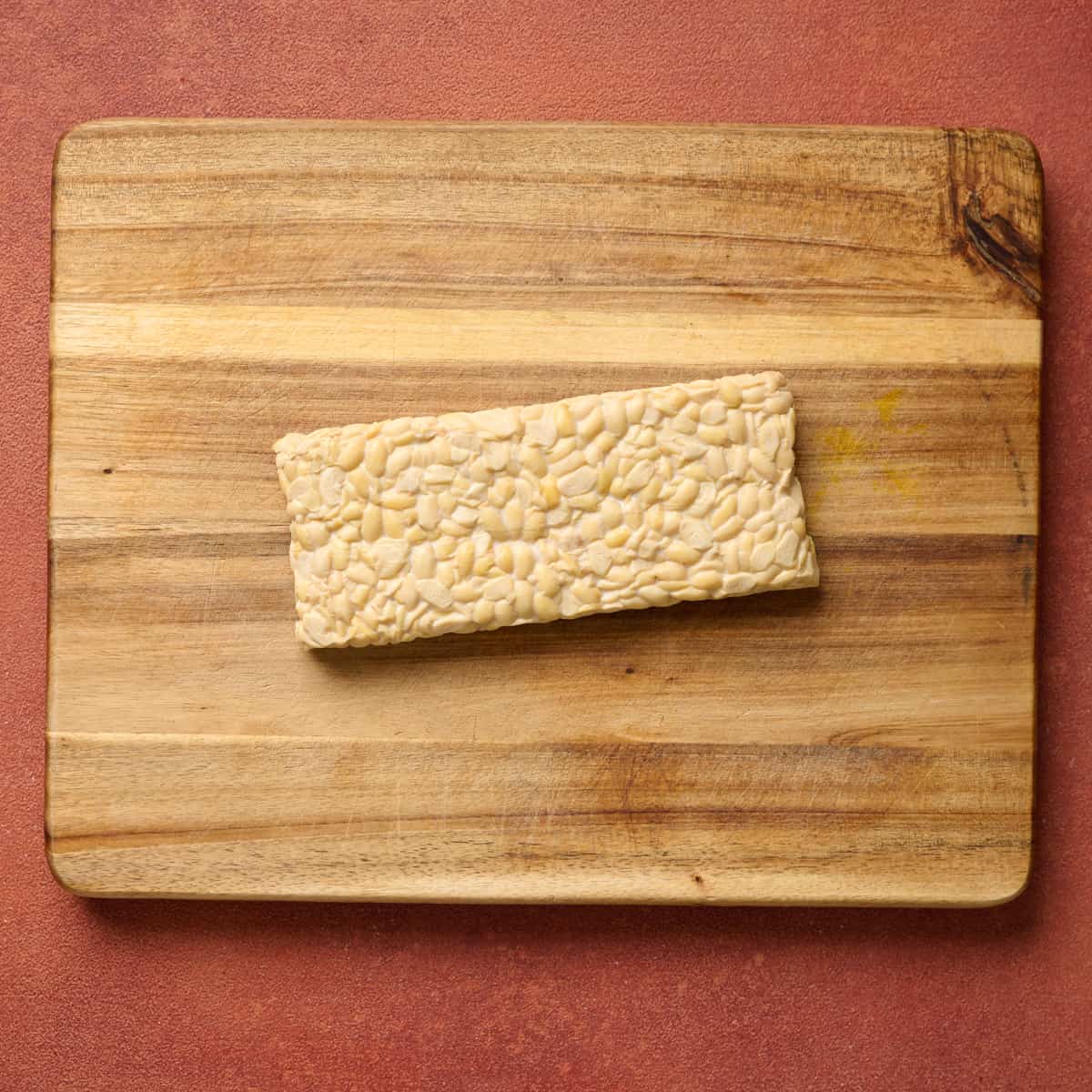 Why this recipe works
Tastes so much like bacon!
One of the main secrets to making vegan bacon taste as close to real bacon as possible is a really great marinade.
Here, a blend of pantry-staple ingredients is used to give you a tangy, sweet, spicy, salty, and smoky marinade. The result? Tempeh bacon with the same rich, smoky flavors as traditional bacon.
Another factor in creating a vegan bacon alternative is the texture. Look, I won't tell you that the texture of tempeh is the same as bacon. It never will be. But there are things you can do to make tempeh a more satisfying bacon alternative.
Here, I pan fry very thin slices so the tempeh not only cooks quickly but also ends up with satisfyingly crispy edges and a chewy middle. Baking the tempeh, in contrast, dries out the tempeh and doesn't make it crispy.
Quick and easy
This is a straight-up quick and easy recipe because:
It takes less than 10 minutes to prep;
You can leave the tempeh in the marinade for hours; and
The bacon pan-fries and is ready to eat in less than 15 minutes.
It's perfect for both weeknight dinners and weekend breakfasts or brunch. Layer the smoky tempeh bacon strips into a BLT for quick dinners or fry up some slices to pair with tofu scramble and vegan pancakes for brunch!
Protein-packed and made with pantry staples
Tempeh is a nutritional rockstar. It's very high in protein (18 grams in just 3 ounces!) as well as fiber (6 grams). You can pretty much find bricks or slices of tempeh in most major grocery stores nowadays.
And there's no competition when comparing the health benefits of real bacon vs. tempeh bacon – tempeh is the clear winner!
Plus, the marinade is made with mostly everyday pantry staples.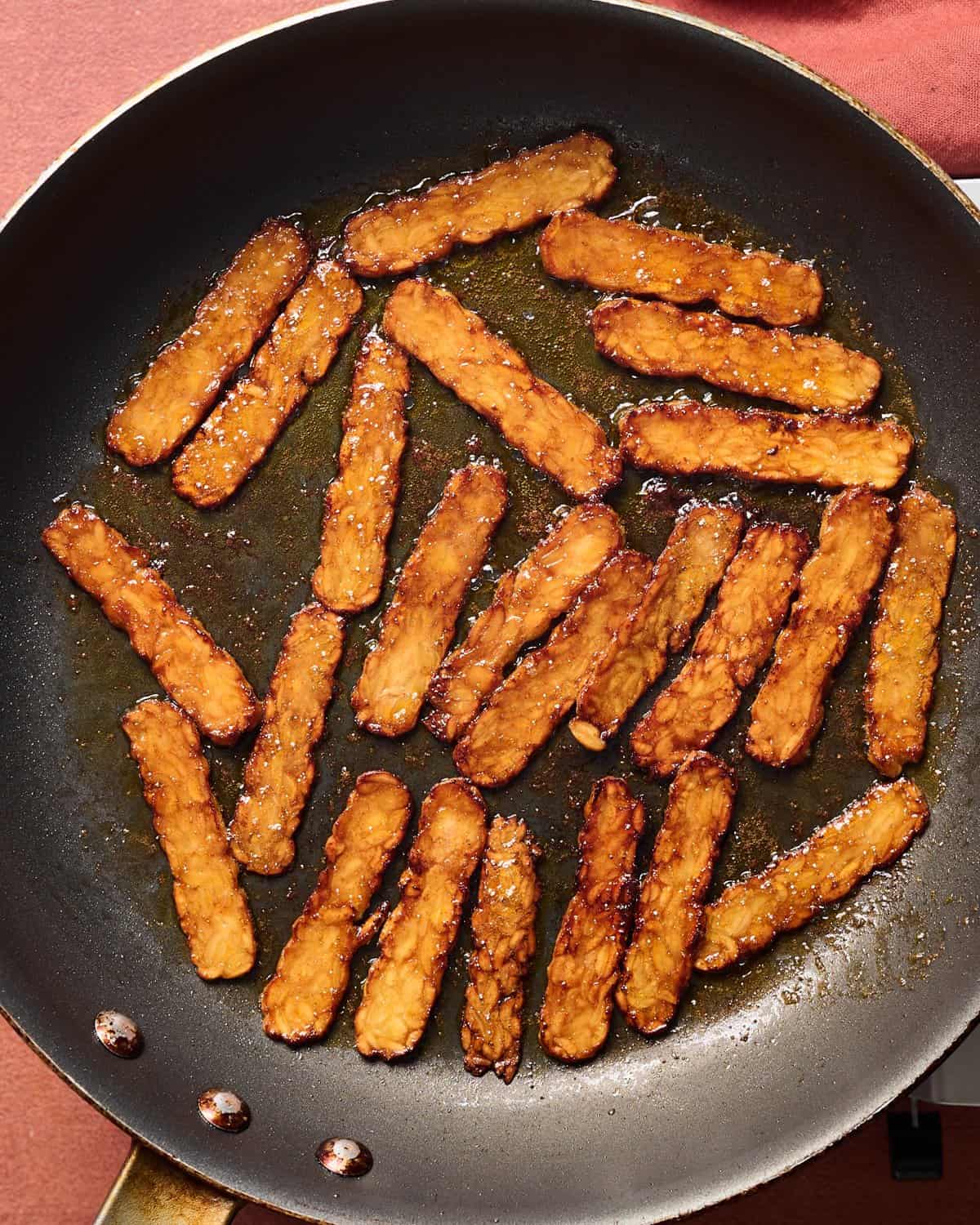 Ingredient notes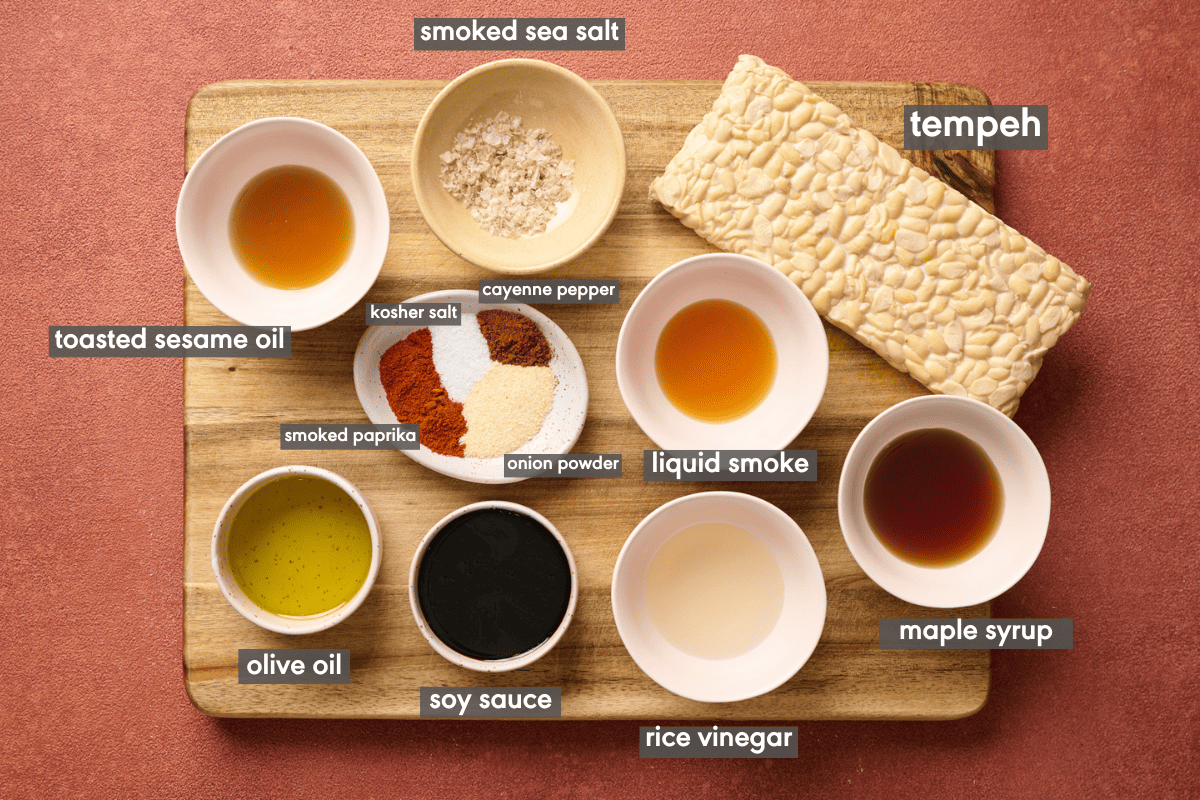 Tempeh
Tempeh is a fermented soy product with a nutty, almost bitter flavor and unique texture. It's a fantastic source of protein and fiber, soaks up flavor quite well, and only gets better when it's marinated and pan-fried. If you've tried my Marinated Tofu recipe, then you know the power a marinade can have over plant-based proteins.
Just like in my BBQ Tempeh recipe, the naturally bitter flavor of the tempeh is masked behind a flavor-rich tangy, slightly sweet marinade. This method will truly change how you feel about tempeh (it turned me from a tempeh hater into a lover).
Tips for buying tempeh: You can find tempeh alongside tofu and vegan deli meats in most major grocery stores and Target nowadays. We enjoy the brand Lightlife but any "original" variety should work well.
Skip the "three grain" varieties, as they get too crunchy, as well as anything flavored (like pre-flavored "tempeh bacon" or "buffalo tempeh").
Liquid smoke
This magical, naturally vegan shelf-stable condiment is made by condensing smoke from burning wood chips. All you need are a couple of teaspoons of liquid smoke to give the tempeh bacon a nice depth of smoky flavor, just like real smoke-cured bacon.
As Serious Eats puts it, "It replicates the flavor produced by smoke-curing without actually requiring you to smoke anything."
Tips for buying: I typically buy liquid smoke online (affiliate link). There's no substitute for this, as the hickory flavor of liquid smoke really shines in a bacon substitute. In a pinch, you can go heavier on the smoked paprika.
Tamari or soy sauce
A small dash of gluten-free tamari or soy sauce gives the vegan bacon marinade its savory and salty depth of flavor.
Maple syrup
This infuses the marinade with a natural sweetness, helping to balance the stronger savory flavors and enhancing the rest of the salty, savory ingredients in the tempeh.
Smoked paprika
For another layer of smoky flavor in the marinade.
Smoked sea salt
Have you had Morton's regular flakey sea salt? They're like little crunchy chips made from salt only. Now smoke it and you have a divine finishing salt that adds that last hint of smokiness!
Where to buy: You can find smoked sea salt with other spice blends at well-stocked grocery stores and health food stores. You can also find it online (affiliate link).
Substitute: Regular flakey sea salt or kosher salt can be used as a substitute. Add a small amount to start, then taste and adjust accordingly.
Step-by-step instructions
Make the marinade. Whisk the oil, sesame oil, vinegar, maple syrup, tamari/soy sauce, salt, cayenne, onion powder, smoked paprika, and liquid smoke together in a medium bowl.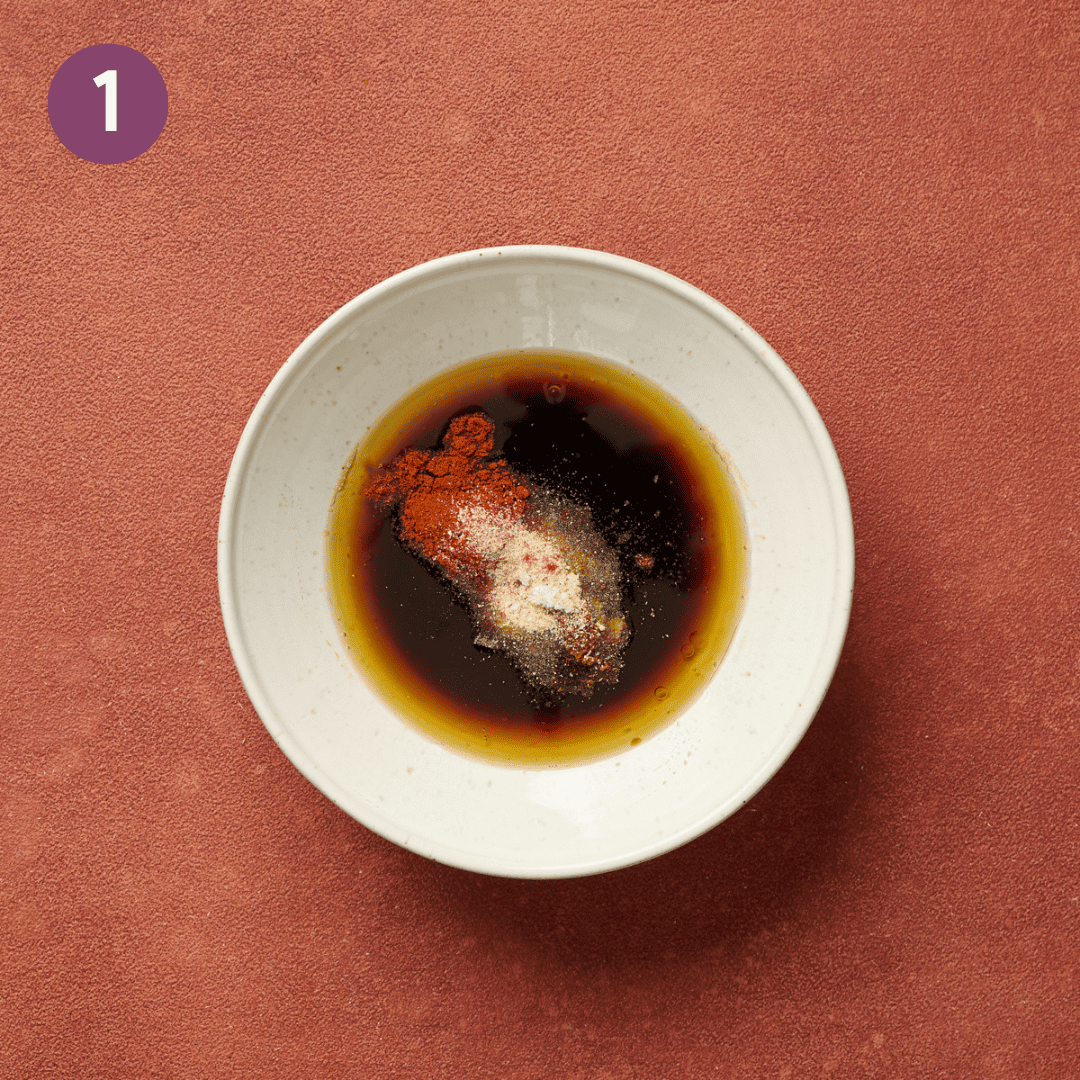 Next, slice the tempeh into thin strips (as thin as you can). Transfer the strips to a sealable bag or shallow container, then pour the marinade over top.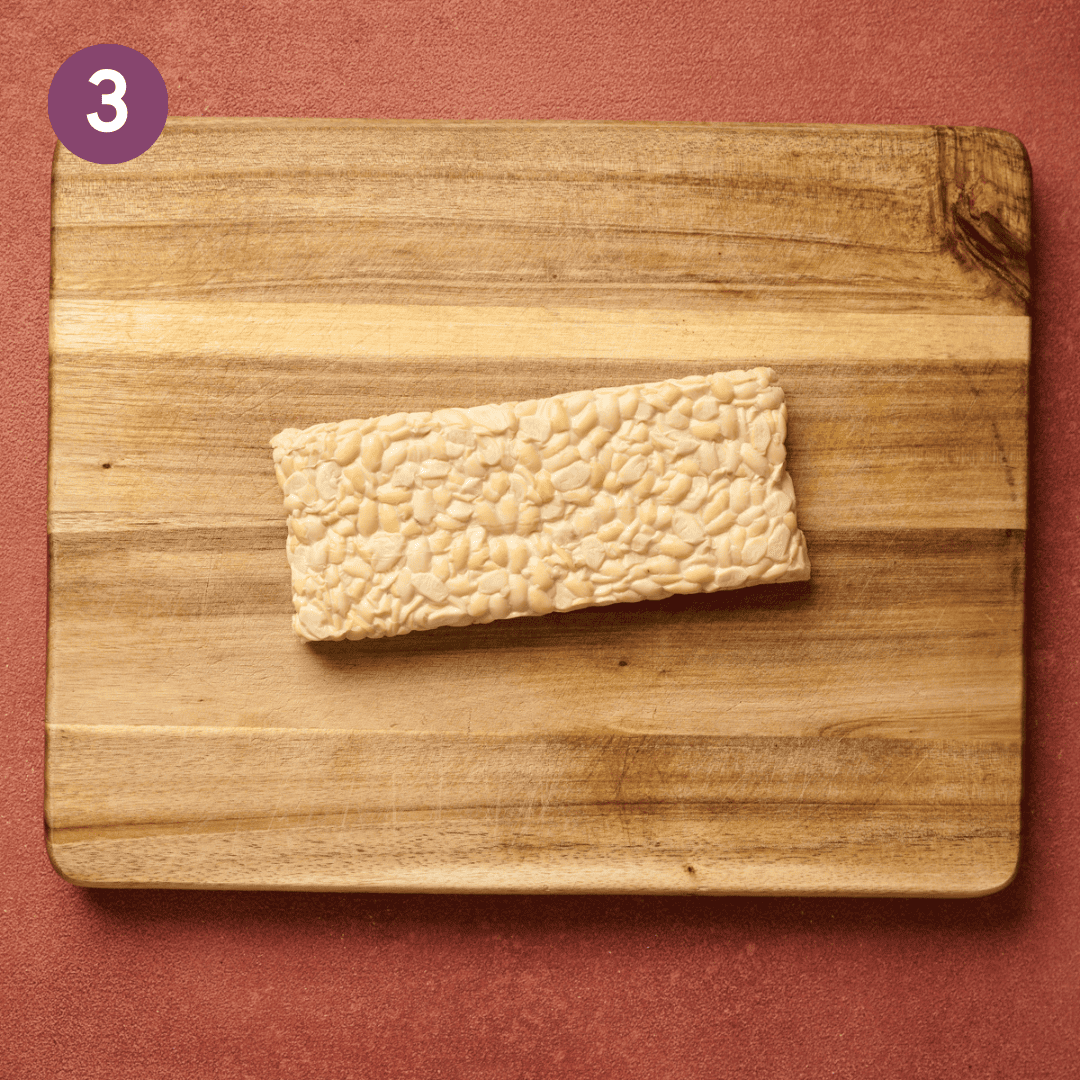 Marinate the tempeh strips for at least 1 hour or up to 8 hours.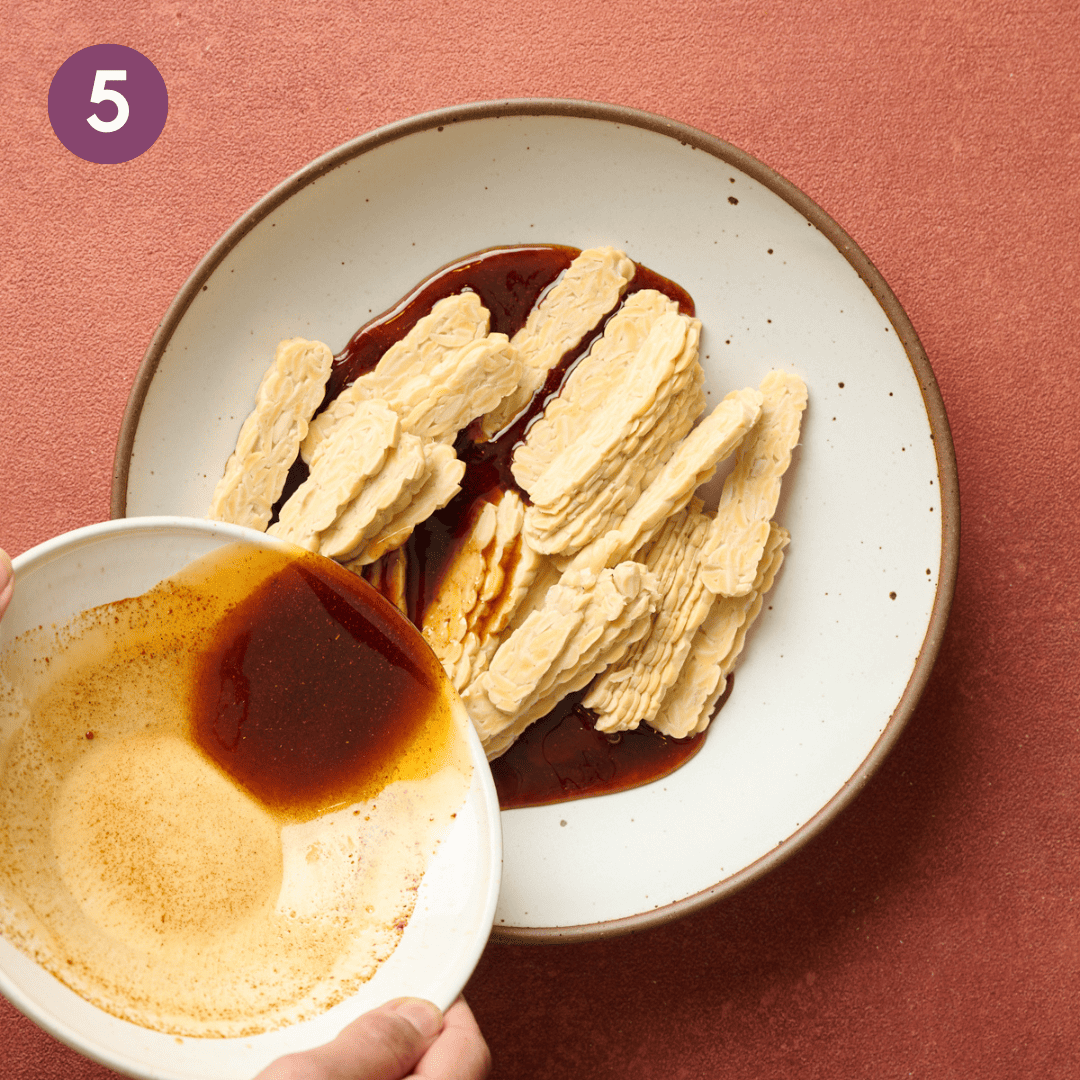 When it's time to eat, heat a lightly oiled nonstick skillet over medium heat. Once it's hot, lay the tempeh slices in a single layer in the skillet. Work in batches if your skillet isn't big enough to fit all of the strips.
Fry the tempeh bacon. Flip after a few minutes, then brush on the reserved marinade on the top side of each piece.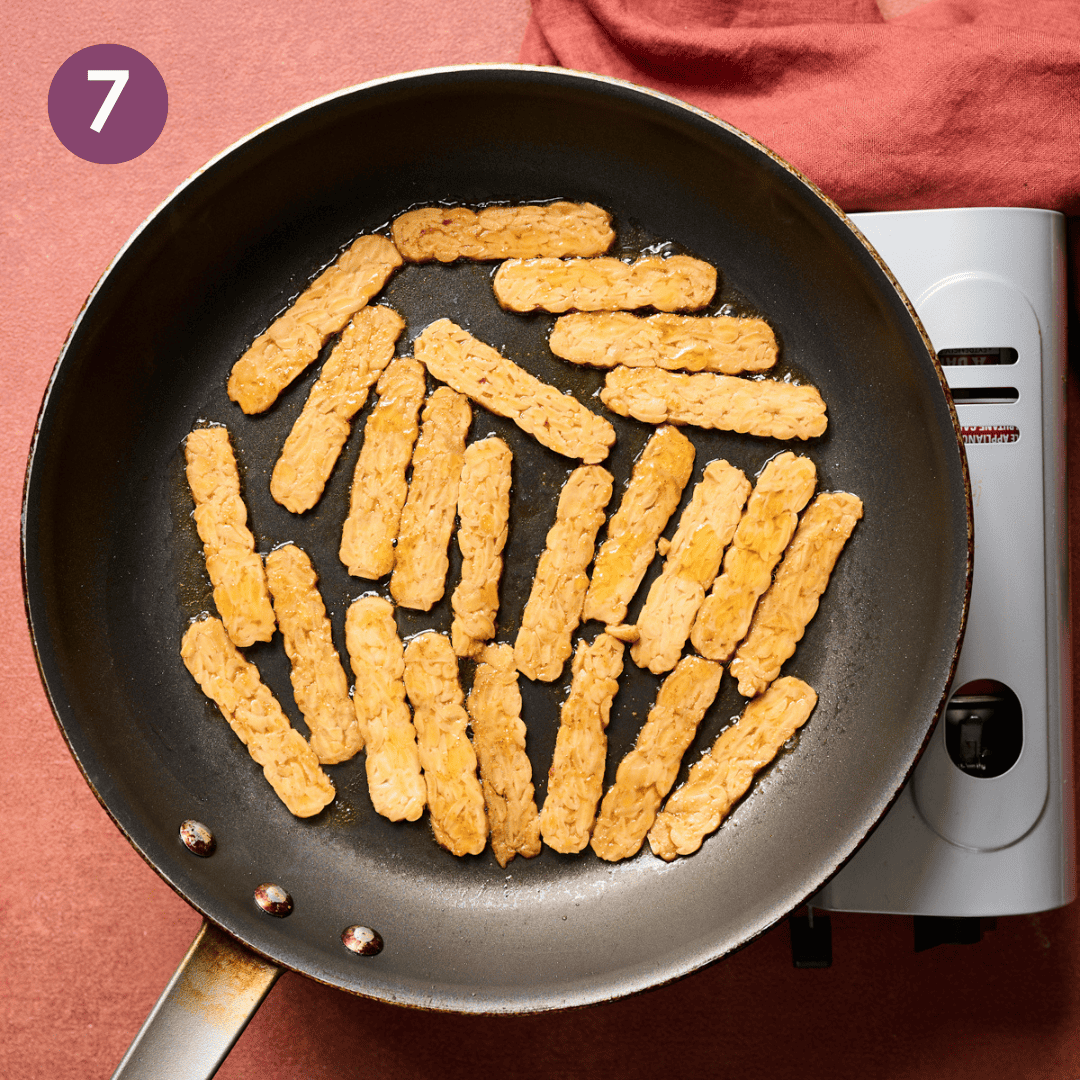 Flip the pieces once more and fry until seared on the other side. Keep brushing on more marinade.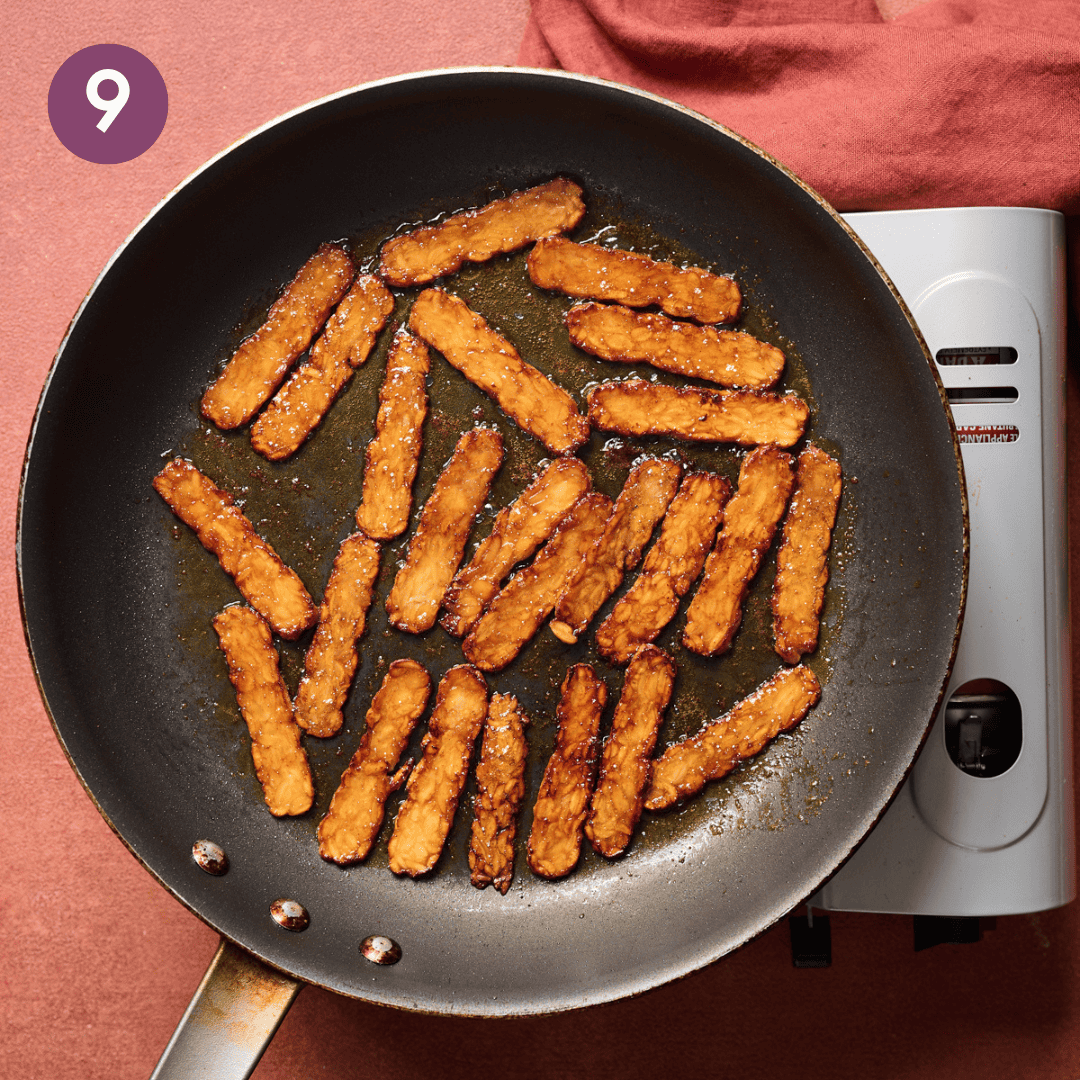 To finish, sprinkle some smoked salt over the tempeh bacon for extra flavor and texture. Enjoy!
Tips for making this recipe
The slices should be thin
Use a sharp chef's knife to slice the brick of tempeh into very thin slices, about ⅛ inch thick. The thinner the slices, the crispier the texture will be. Thicker slices will feel more like traditional tempeh and less like an alternative to bacon.
How to marinate tempeh
The tempeh strips need to be marinated for a minimum of 1 hour to allow the flavors to absorb.
However, in our tests, a longer marinade of 8 hours yielded two benefits. The tempeh (1) had a more developed and rich flavor profile, and (2) got a bit sticky and almost caramelized with really excellent crispy edges.
Always leave the tempeh in a sealed ziptop bag, airtight shallow container, or covered bowl in the fridge while it's marinating.
Cook in batches
You must pan-fry the tempeh in batches if you want it to crisp up, even if you're using a large 12-inch pan! Luckily, the tempeh only takes about 6 minutes to cook and the second batch always cooks faster because the pan is already hot.
While it's frying, use a silicone basting brush or pastry brush to brush the reserved marinade on top of each piece. This infuses the tempeh with extra flavor and gives it a caramelized, crispy exterior. You should have little to no marinade left at the end.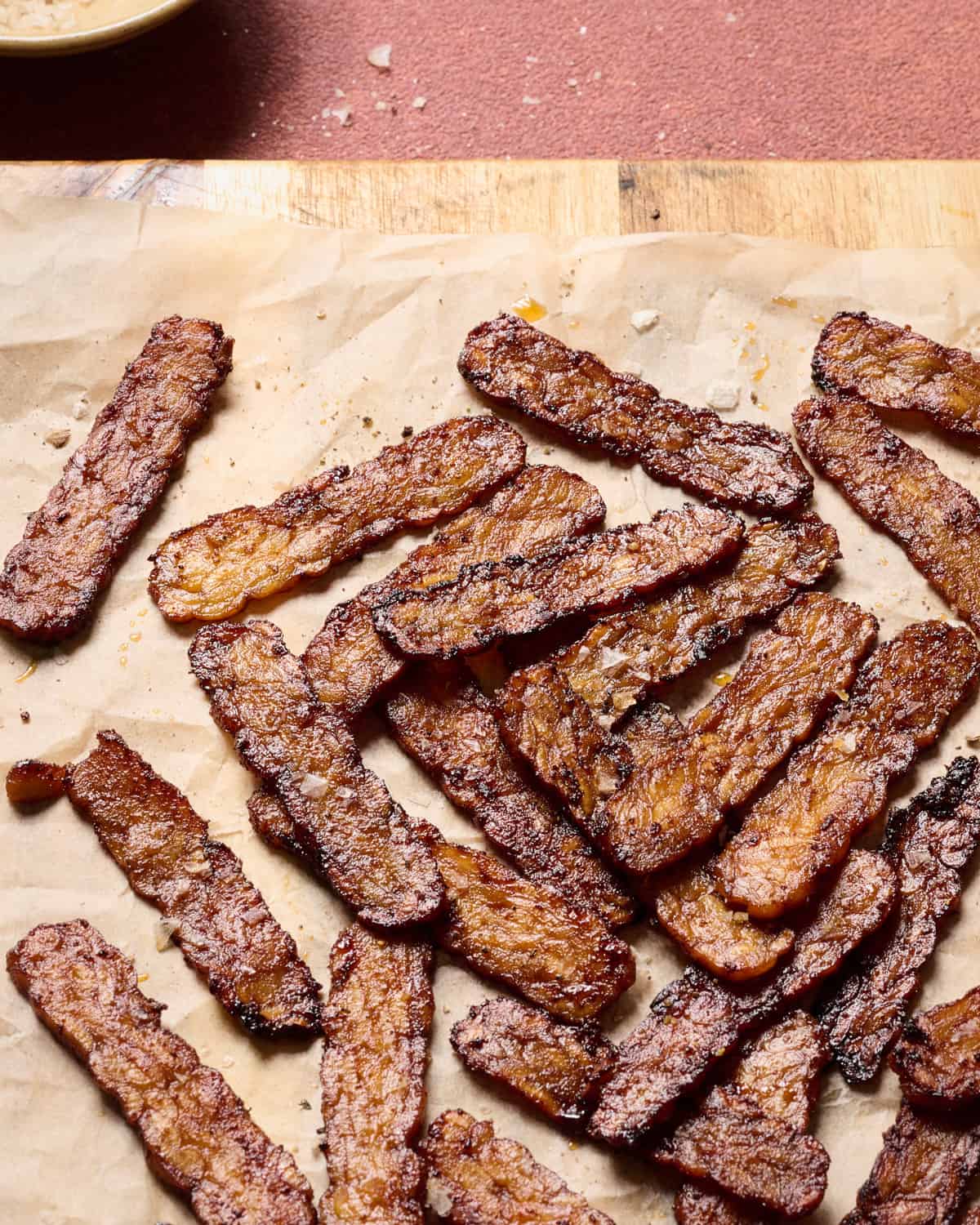 How to use tempeh bacon
It's an epic addition to breakfast or brunch. Serve it with toast or roasted potatoes and Tofu Scramble, or a store-bought alternative like Just Egg.
Layer or crumble the bacon on your avocado toast or a Stuffed Breakfast Sweet Potato to take it up a notch. When you're on the go, stuff a couple of strips of bacon into a Vegan Breakfast Burrito with Vegan Queso or shredded vegan cheese!
Use it to make the vegan breakfast sandwich of your dreams:
Spread some vegan cream cheese on a bagel.
Layer on strips of tempeh bacon, avocado, and sliced tomato.
Top with sprouts or leafy greens, then enjoy!
Vegan BLTs are the answer when you need a satisfying, yet easy lunch, like in the photo below. Spread vegan mayo on your favorite bread, then add the tempeh bacon, lettuce, tomato, and if you'd like some heat, add thinly sliced chile peppers or pickled jalapeños. Finish with a layer of sprouts, then enjoy.
Make a killer sandwich for picnic lunches. Layer my Vegan Egg Salad on bread, and crumble the tempeh bacon on top as "bacon bits."
When dinner rolls around, crumble the bacon over a vegan Caesar salad or Cobb salad with Vegan Ranch. It also makes for a protein-packed topping on all kinds of grain bowls, like my Mediterranean Lentil Grain Bowl.
Frequently Asked Questions
Can I bake the tempeh instead?
We don't recommend it. When testing this recipe, we found that pan frying the tempeh bacon allowed the tempeh to hold onto the marinade best. In contrast, baking the tempeh dried out the tempeh. The baked version wasn't as moist or flavorful.
Can tempeh bacon be cooked in the air fryer?
Although we haven't tested this recipe in the air fryer, the strips would likely dry out quickly and change the texture of the dish entirely.
Is this tempeh bacon gluten-free?
Yes, as long as you use tamari or gluten-free soy sauce instead of regular soy sauce.
Can I use another type of vinegar in this recipe?
Yes, you can substitute the rice vinegar for apple cider vinegar, white vinegar, or red wine vinegar.
Do I need to use liquid smoke?
Liquid smoke adds an extra smoky flavor to the dish, as well as added depth. The marinade would be completely different without it, which is why we don't recommend skipping it.

However, if you find yourself without it, add an extra 1/2 teaspoon of smoked paprika, and be sure to finish the slices with smoked sea salt.
Can I make the tempeh bacon ahead of time?
Yes! This is a great make-ahead meal because the tempeh can be left in the marinade for 8 hours (or even up to 12 hours), then cooked in the morning for an easy breakfast. You could also pan-fry the strips in the morning, then serve them at dinner time.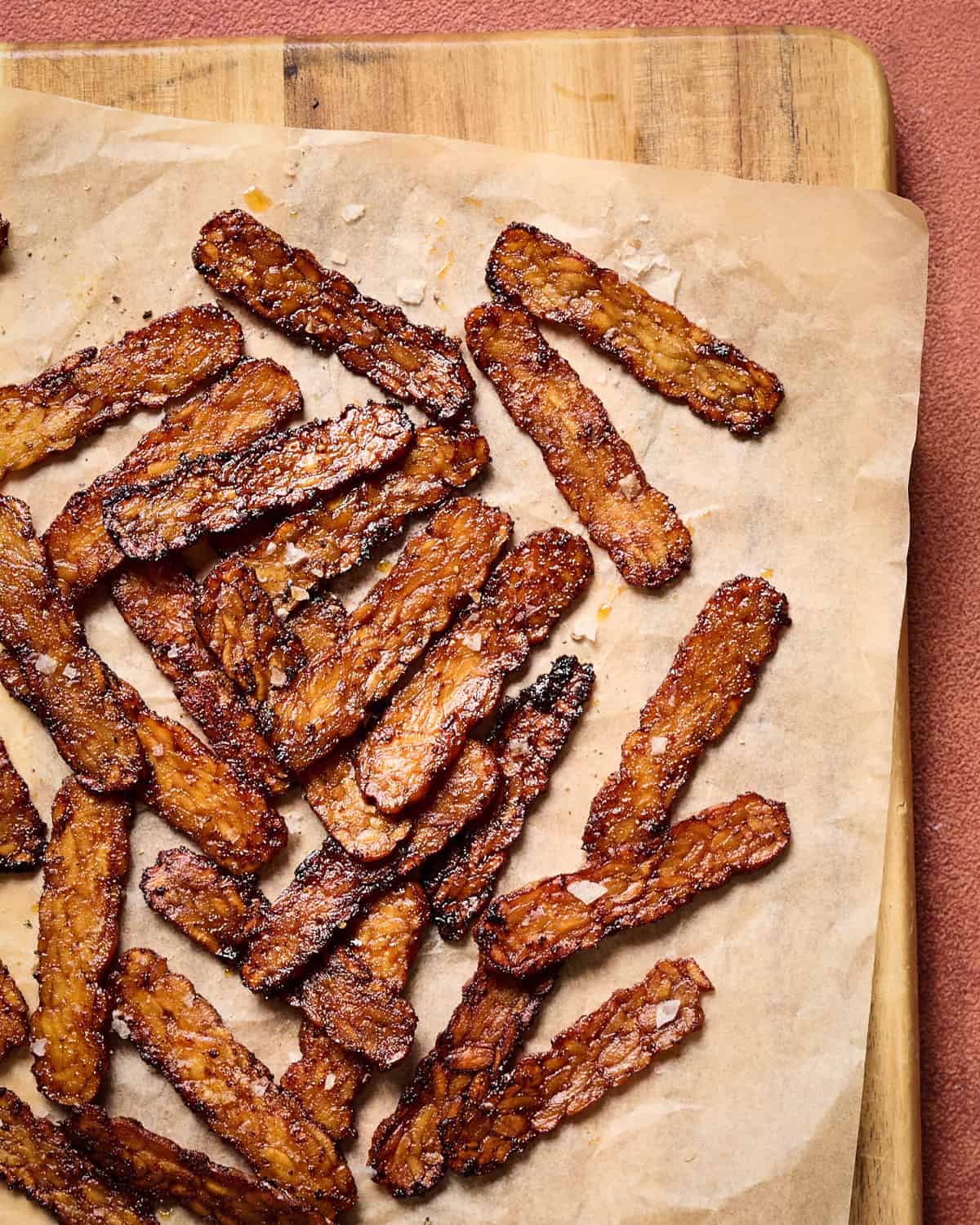 If you love this Tempeh Bacon recipe, please be sure to leave a rating and review below! It's always much appreciated :) And tag me on Instagram – I love hearing your feedback.
Tempeh Bacon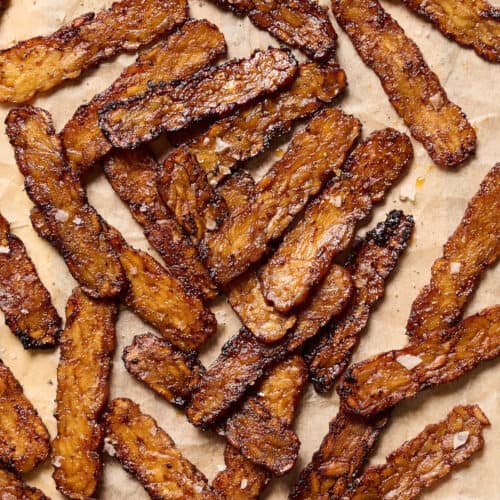 Learn how to make protein-packed vegan bacon at home with this easy Tempeh Bacon recipe! By soaking tempeh strips in a simple marinade, every piece soaks in the classic maple-smoked flavors before being pan-fried to crispy and chewy perfection. Great for weeknight dinners or weekend breakfasts!
Ingredients
1

(8-ounce/230g)

block tempeh

(see Ingredient Note 1)

2

tablespoons

olive oil or neutral-flavored oil of choice,

divided

1 ½

tablespoons

rice vinegar or apple cider vinegar

1 ½

tablespoons

maple syrup

3

tablespoons

tamari or soy sauce

(see Ingredient Note 2)

2 ½

teaspoons

toasted sesame oil

(see Ingredient Note 3)

2 ½

teaspoons

liquid smoke

(see Ingredient Note 4)

1/4

teaspoon

kosher salt

¼

teaspoon

cayenne pepper

(optional for a little heat)

½

teaspoon

onion powder

¾

teaspoon

smoked paprika

Smoked sea salt for finishing
Instructions
Whisk together ½ tablespoon of olive oil, sesame oil, vinegar, maple syrup, tamari, salt, cayenne, onion powder, smoked paprika, and liquid smoke in a medium bowl.

Slice the tempeh crosswise into thin strips, almost as thin as you can, about ⅛ inch thick (.3 cm thick).

Marinate the tempeh. Transfer the tempeh to a ziploc bag or a shallow pan (like a pie plate) and pour on the marinade. Seal the bag and massage to coat. Marinate in the fridge for at least 1 hour, or 8 hours or overnight for the most flavor. Gently shake or flip the bag a few times during this time to evenly distribute the marinade, or toss the tempeh in the shallow pan.

Cook the tempeh bacon. Heat a 12-inch nonstick frying pan over medium heat with 1 tablespoon of olive oil. Once the oil is shimmering (it might take a few minutes), arrange about HALF of the tempeh slices or as many as you can in a single layer, leaving behind excess marinade.

NOTE: Don't try to cook all the tempeh at once, or it won't crisp up.

Cook for 3 ½ to 4 minutes. About 1 minute before flipping, generously brush the top side of each tempeh piece with some of the reserved marinade.

Now flip each piece and cook on the second side for 2 to 2 ½ more minutes until seared on the other side, generously brushing more marinade on the top in the last minute.

Wipe out the pan.

Repeat with the rest of the tempeh and ½ tablespoon of olive oil (you shouldn't need a full tablespoon since there's oil residue in the pan). The second batch usually cooks quicker because the pan is hotter, 2 ½ to 3 minutes on the first side, and 2 minutes on the second side.
Notes
You're looking for plain tempeh, not any pre-seasoned tempeh or any other varieties like "three grain tempeh" (the grains get crunchy and detract from the texture). 
Use tamari or gluten-free soy sauce to keep this recipe gluten-free.
Toasted sesame oil adds a subtle nutty flavor and richness that I love here. This is my favorite brand of toasted sesame oil. 
Liquid smoke is really what gives the tempeh that smoky bacon-esque flavor. You can find it online. 
---
Calories:
211
kcal
|
Carbohydrates:
14
g
|
Protein:
14
g
|
Fat:
11
g
|
Saturated Fat:
2
g
|
Polyunsaturated Fat:
3
g
|
Monounsaturated Fat:
7
g
|
Sodium:
630
mg
|
Potassium:
248
mg
|
Fiber:
4
g
|
Sugar:
5
g
|
Vitamin A:
185
IU
|
Vitamin C:
0.1
mg
|
Calcium:
72
mg
|
Iron:
2
mg