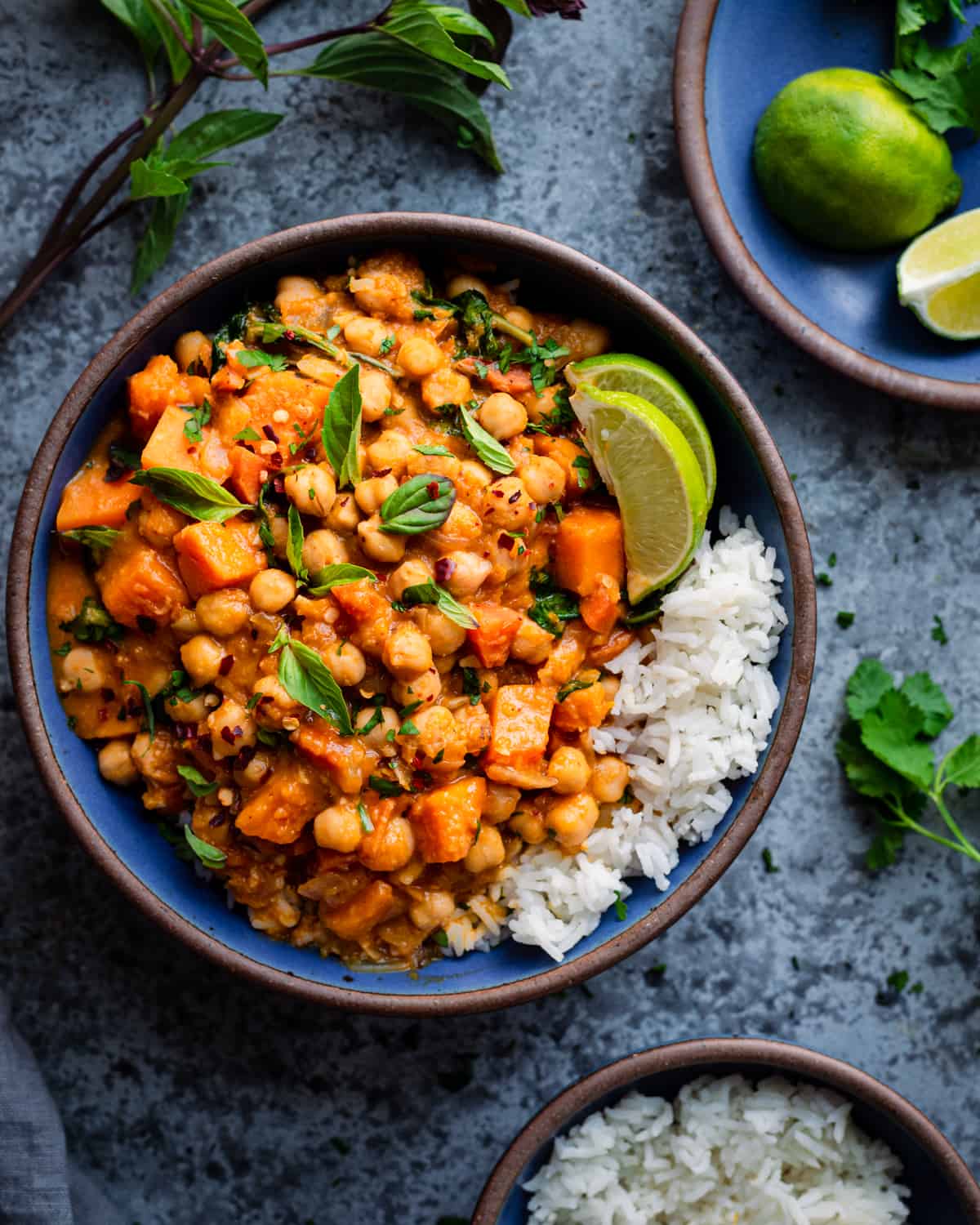 Why this recipe works
The perfect creamy texture.
Partially pureeing the curry thickens it incredibly well. Butternut squash, when pureed, is naturally velvety. With the addition of coconut milk, a required ingredient in a Thai curry, you get the most unbelievable luxurious mouthfeel and texture.
A well-balanced dinner.
This curry has it all: complex carbs from the butternut squash and chickpeas, protein and iron from the chickpeas, antioxidants from the chile peppers, satiating fats from the coconut milk to keep you full, and even leafy greens for good measure.
A careful flavorful balance.
I learned quite a lot of cooking during my month in Thailand. One of the most important lessons was that each dish should be an art in balancing flavors. Here's how that shakes out in this recipe:
Spicy: heat comes from a good-quality red curry paste and Thai chile peppers.
Sweet: subtle sweetness comes from butternut squash and coconut sugar; also balances the spiciness and sourness, as well as enhances the salty, umami.
Sour: acidity comes from lime juice or rice vinegar; also balances the spiciness and enhances the salty, umami flavors.
Umami: savory notes come from the soy sauce.
Authentic Thai flavors with a twist.
While butternut squash and chickpeas are not traditional in Thai cuisine, I've combined them with traditional Thai ingredients (e.g., lemongrass, red curry paste, soy sauce, coconut milk) so you get all the incredible flavors of a Thai curry.
For more Thai-inspired curries, check out my hands-off Instant Pot Thai Red Curry Sweet Potato Soup or Thai Kabocha Squash Curry. If you have my cookbook, The Vegan Instant Pot Cookbook, the Red Curry Rice Noodle Soup and Thai Vegetable Green Curry in Chapter 6 are not to be missed!
But if you're looking for a more traditional Thai curry, whip up a batch of my Homemade Thai Green Curry Paste for a spectacular Vegan Thai Green Curry at home!
No need to roast the squash.
There is so much other flavor going on in this dish from the aromatics and curry paste that you absolutely don't need to roast the squash. Skip the extra time and extra dish to wash.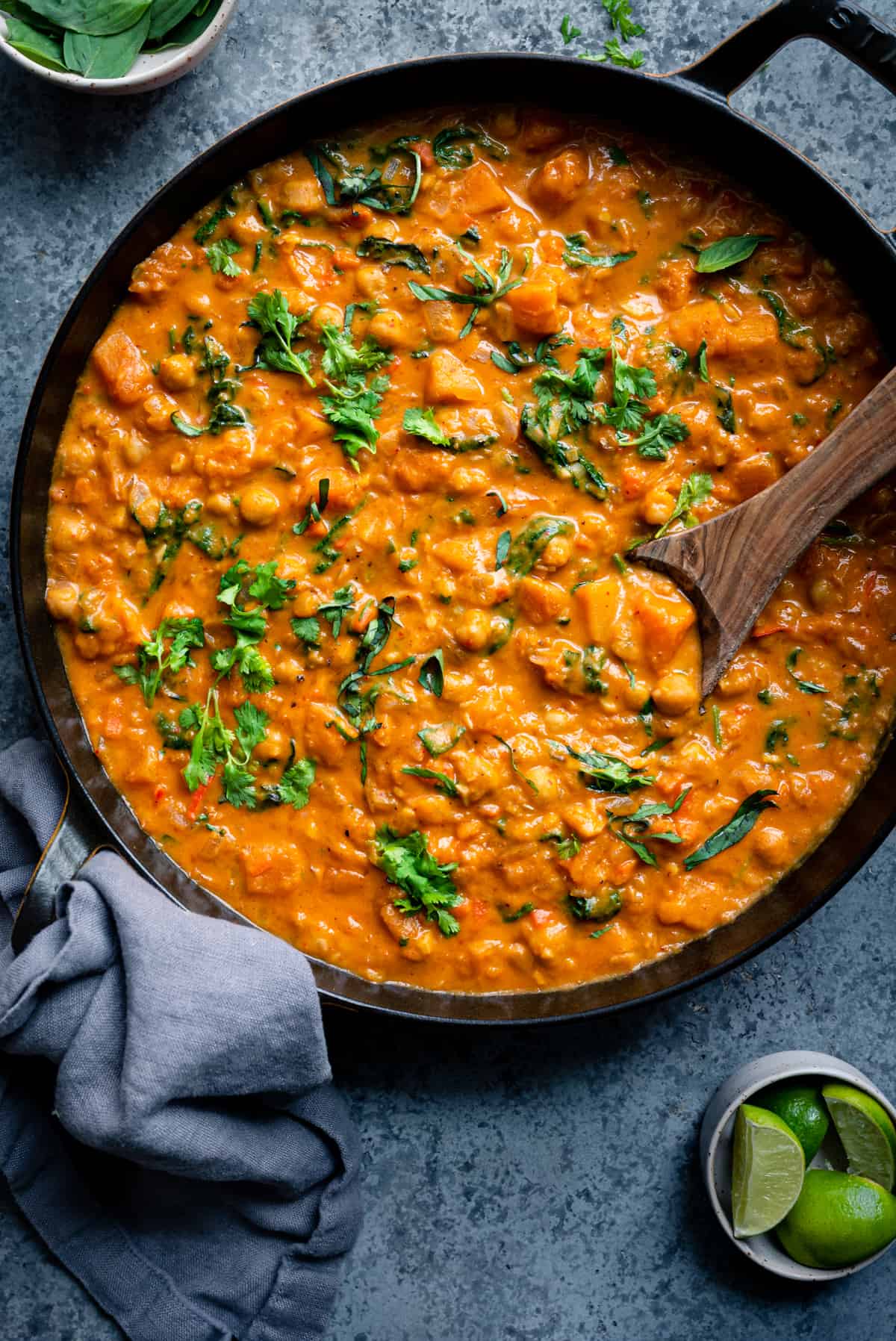 Ingredient Notes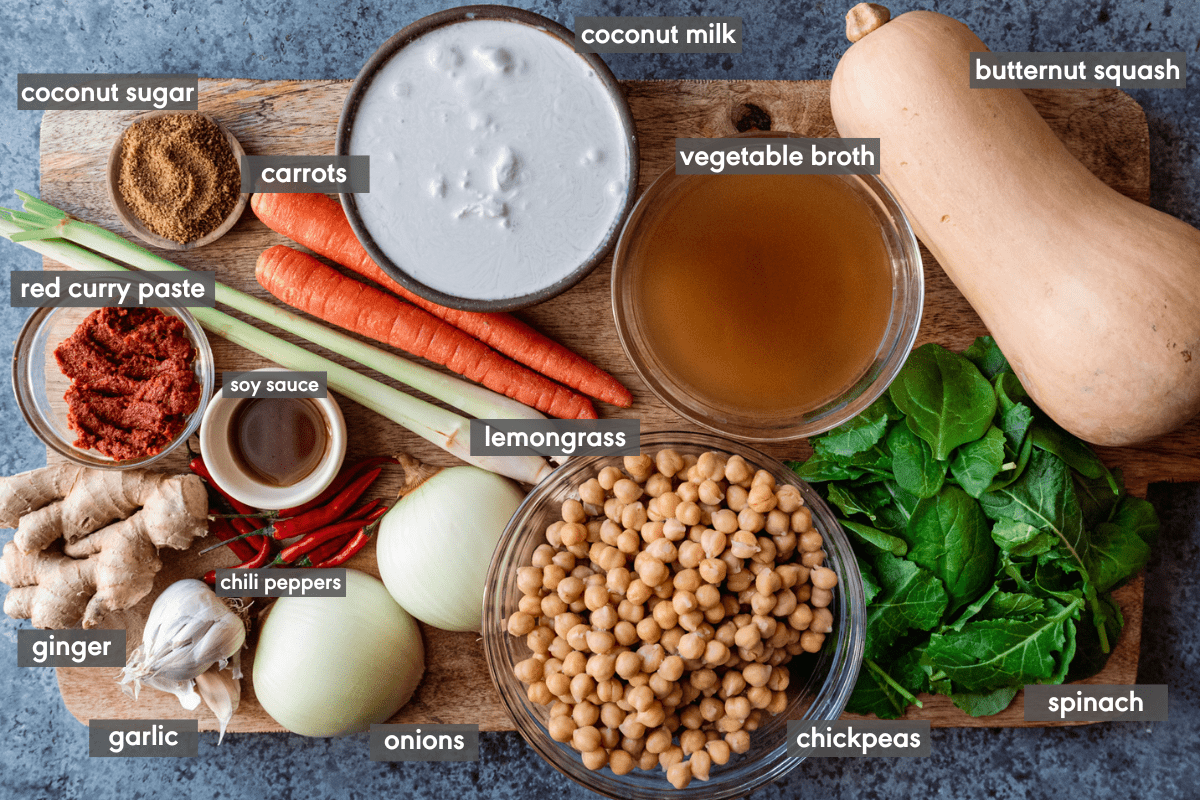 Butternut squash. Save some prep time and buy pre-chopped butternut squash. If using a whole butternut squash, you'll need approximately a 2 1/2 pound (1.1 kg) squash.
Lemongrass. Optional if you can't find it, but if you have access to an East or Southeast Asian grocery store, I promise it will take your curry over the top. The lemony, minty aroma and flavor is so bright and unique. Some higher-end grocery stores like Whole Foods will sell lemongrass pre-trimmed in packages.
Red curry paste. For the best flavor, I recommend seeking out a legit Thai curry paste. My favorite curry paste is from Maesri (available online or at Southeast Asian grocery stores). Aroy-D also makes a good vegan one, but they sell versions with shrimp / fish products as well, so read labels.
If the commonly available Thai Kitchen red curry paste is all you can find, it will do (but it's fairly flat in flavor).
Remember: (1) Read ingredient labels—some pastes include fish sauce or shrimp paste. (2) Spiciness varies (e.g., if using Thai Kitchen curry paste, use a tablespoon more, as it's milder than Maesri).
Chile peppers. Optional, but recommended if you like a little heat in your curry. Bird's eye chile peppers (aka Thai Chile peppers) are recommended.
Everyone's spice tolerance is different so you should customize the amount of peppers to your preference.

My personal preference is to use 3 peppers, but I eat spicier food than most of my readers. If you can only tolerate some heat, use 1-2 peppers. And if you can barely tolerate heat, use a single pepper with the membrane (e.g., the white parts) removed or omit the peppers entirely.
Thai basil. For garnish at the end. Another optional ingredient, but worth seeking out if you have an East Asian or Southeast Asian shop in your area. It adds the classic flavors of Thai cooking with its subtle anise and cinnamon flavors.
If you can't get Thai Basil, don't substitute with Italian basil. The flavor is totally different and it won't work well here. Instead, use cilantro.
Lime juice or rice vinegar. Finishing a rich dish like this curry with a splash of acidity at the end helps balance the spicy and sweet flavors, and also brings some freshness to the dish, so definitely don't skip it!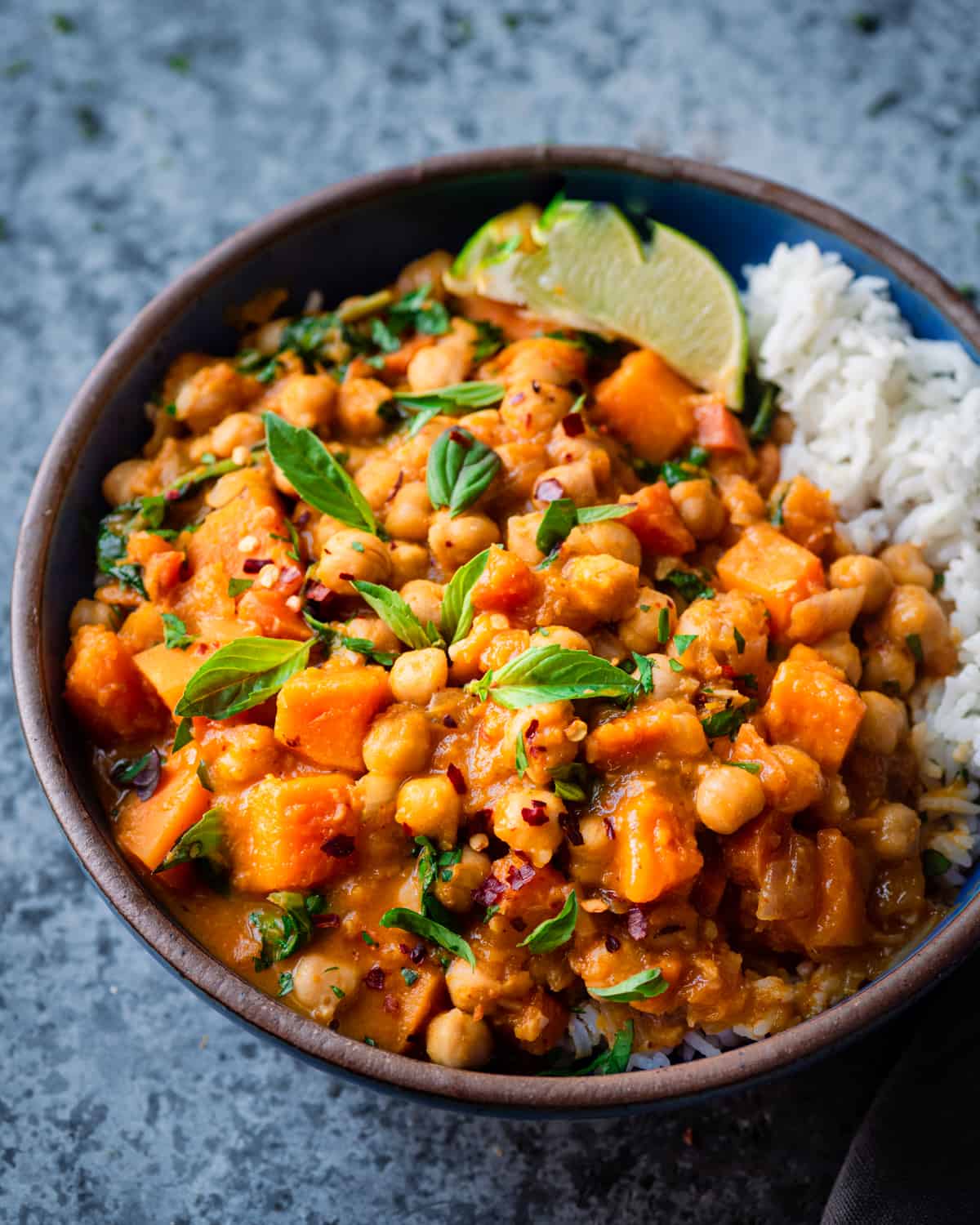 Step-by-step instructions
Dice the onion and the carrots. Chop the butternut squash into cubes (or use pre-chopped butternut squash).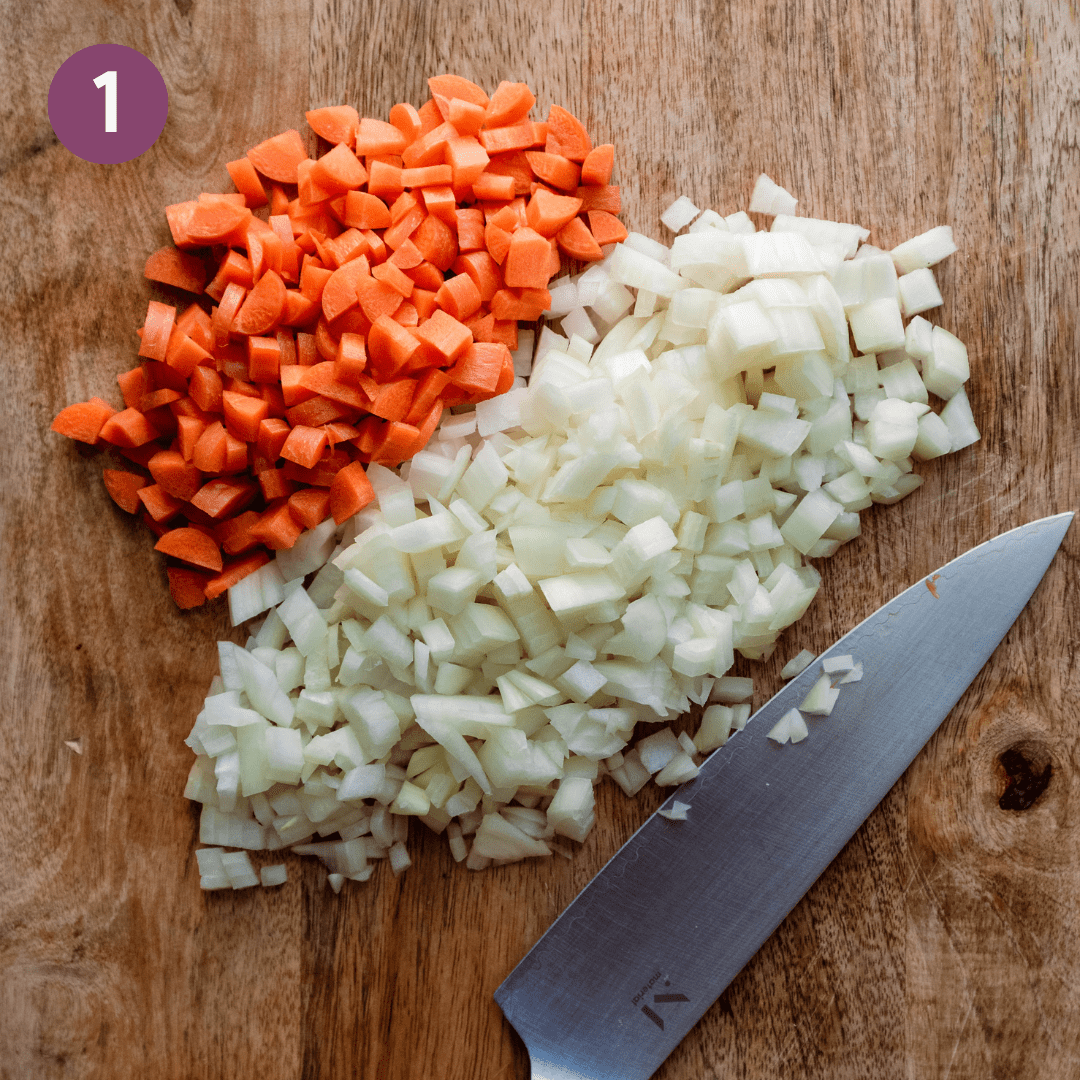 Mince the garlic, mince or grate the ginger and lemongrass, and thinly slice the Thai chile peppers (if using).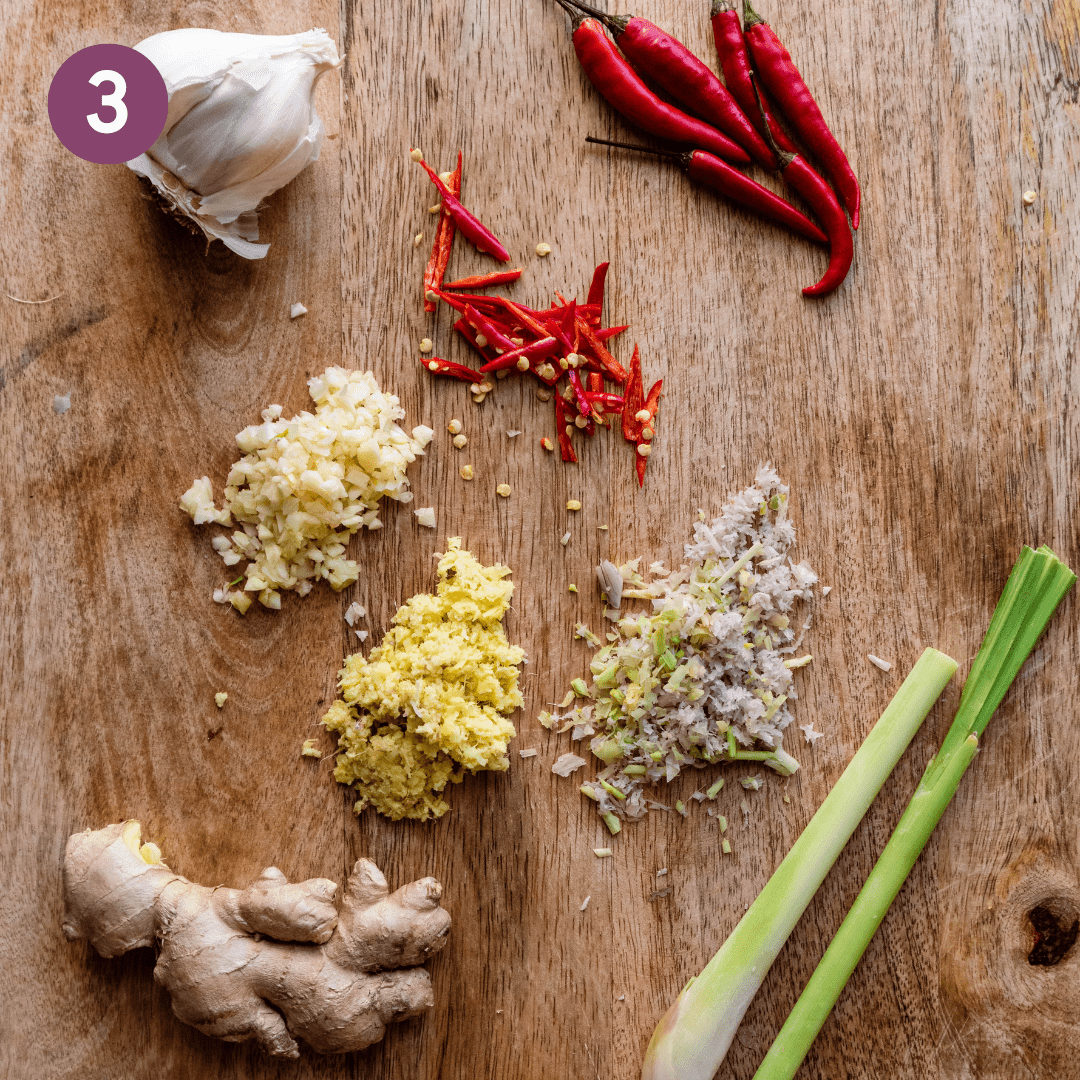 Sauté the diced onions and carrots in a bit of coconut oil in a deep sauté pan or Dutch oven until lightly browned. Add the garlic, ginger, lemongrass, chile peppers, and curry paste, and stir frequently for 2 minutes.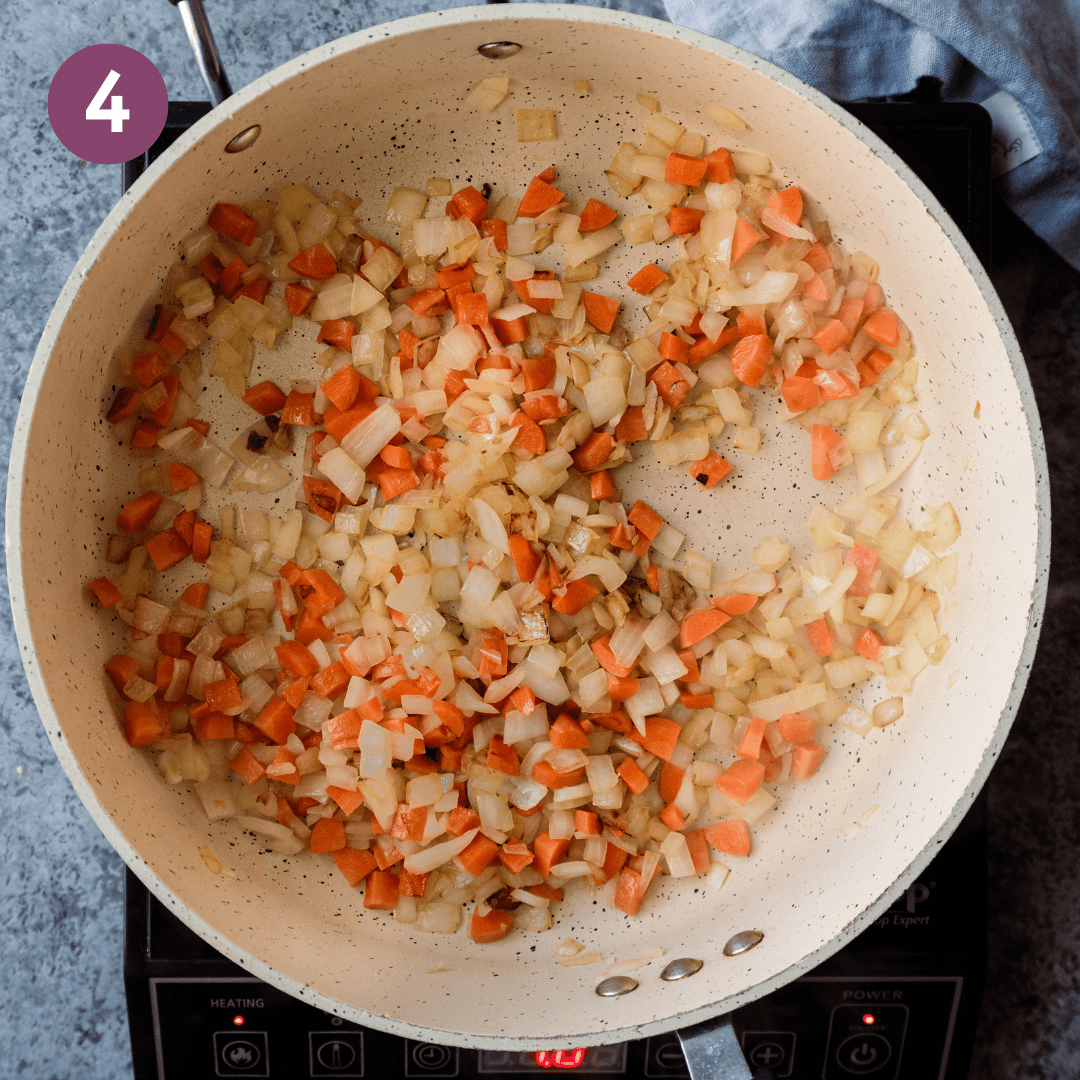 Deglaze the pan with vegetable broth, then add in the coconut milk, butternut squash, coconut sugar, and soy sauce.
Simmer the curry for 20 minutes, until the squash is tender. Then, blend about half of the curry using an immersion blender. If using a stand blender, transfer half of the curry, blend, then return it to the pan.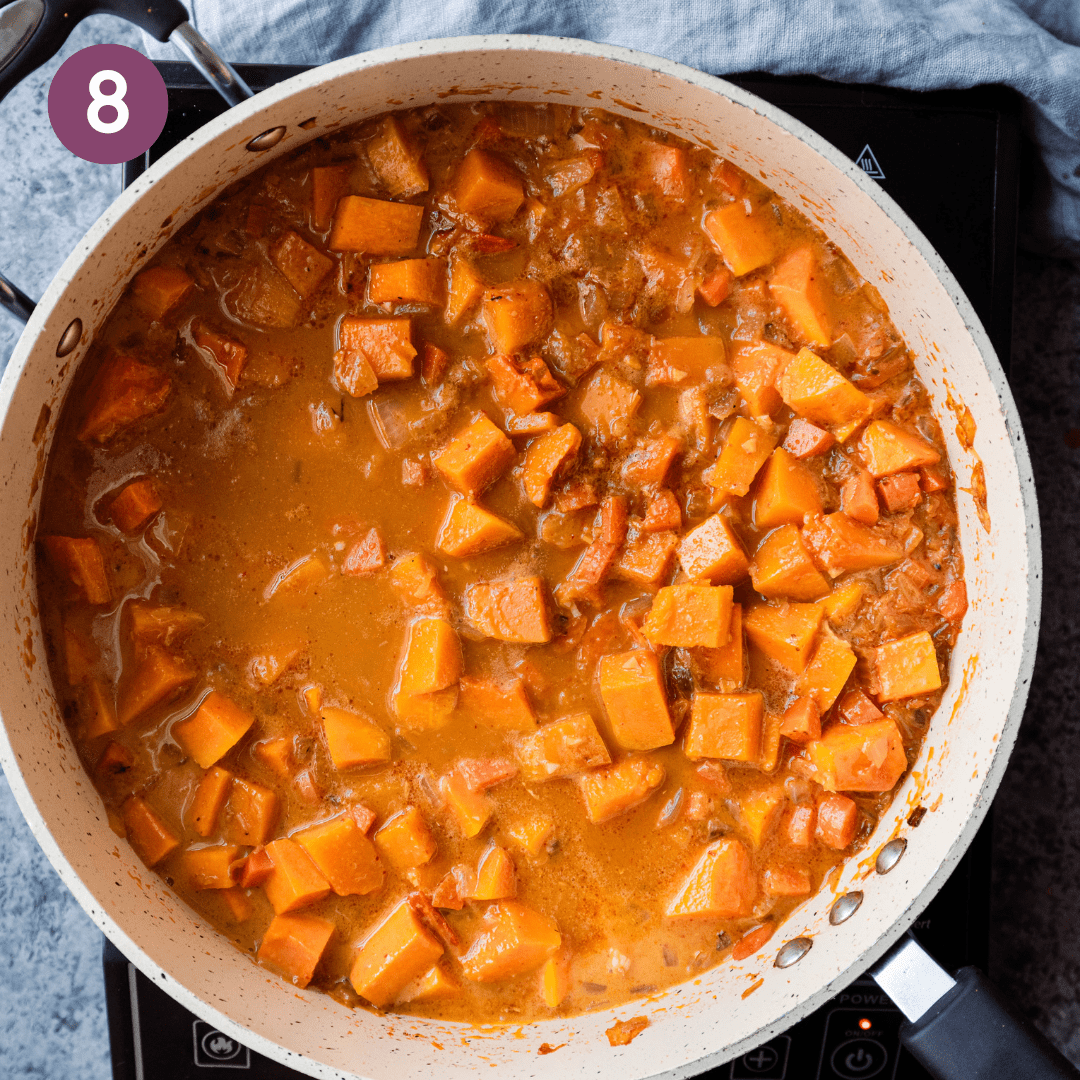 Add the chickpeas to the pan and bring to a simmer. Then add in the baby spinach or kale and cook until wilted. Finally, stir in the Thai basil (if using) and/or chopped cilantro.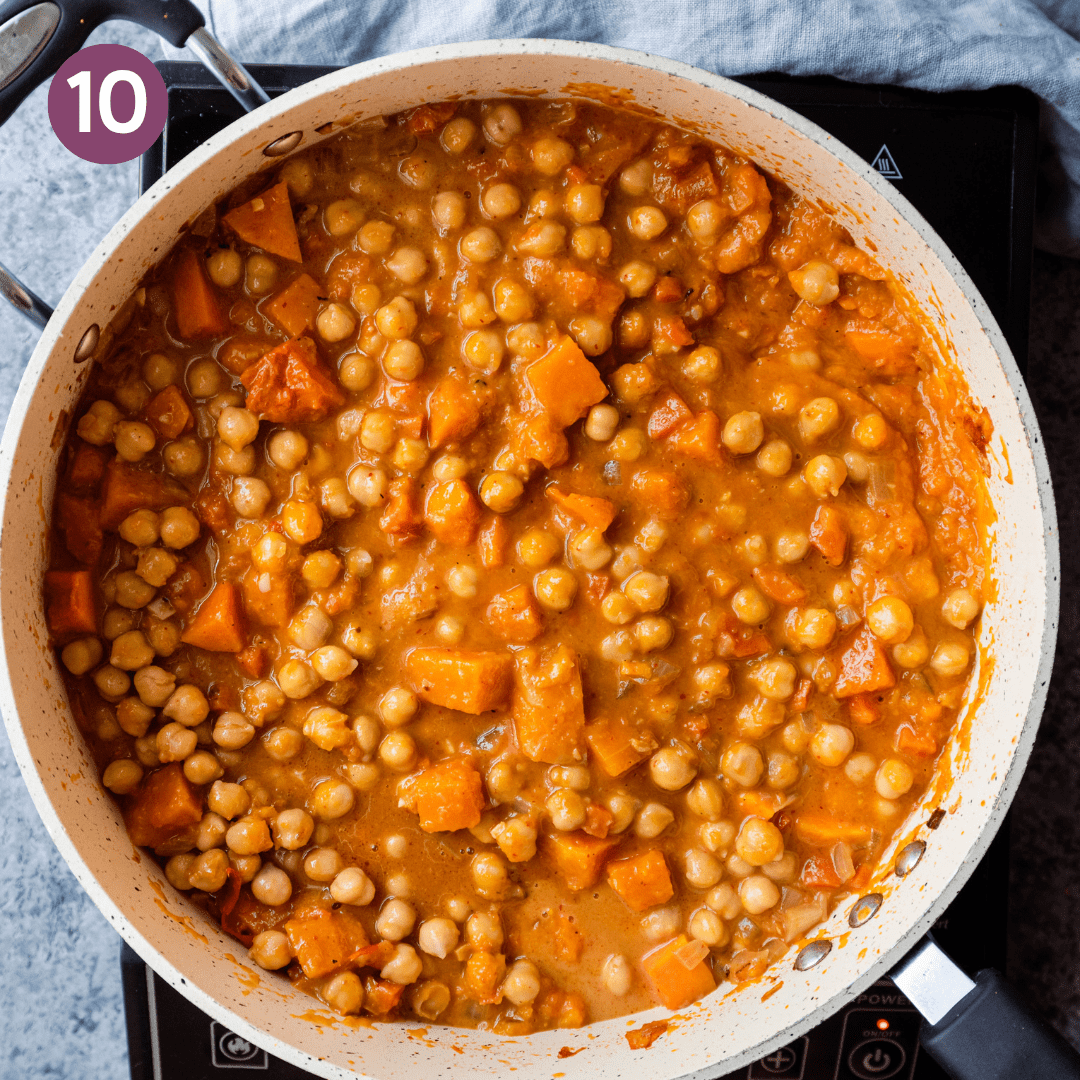 Tips for making this butternut squash curry
Visit your local Southeast or East Asian market (if you have one).
For the best version of this recipe with truly authentic Thai flavors, it's worth seeking out the lemongrass, high-quality curry paste, and Thai basil, all of which you can find at your local Southeast or East Asian market. Smaller markets are almost always family owned and operated, so you'll also be supporting a small business.
If you can't make it to a South East Asian market, you can still make this recipe with a few substitutions.

For your curry paste, most grocery stores carry Thai Kitchen Red Curry paste, so use that. Some stores also carry Mekhala curry paste, which is better.

Lemongrass may be available at higher-end grocery stores, though omit if you can't find it, as there's no substitute. In place of the Thai basil, use cilantro.

If you can't find Thai/bird's eye chile peppers, try using 1 serrano pepper (2 for spicy!).
Nuke your squash to make it easier to cut.
If you're using a whole butternut squash and struggling to slice it in half, pop it in the microwave (whole, as is) for 2 minutes to soften it up. If it's still too hard, nuke it for another minute.
Try this recipe with other winter squash.
Kabocha squash or red kuri squash would be great here. If you want to use standard pumpkin, consider adding a bit more sugar, as it's less sweet than butternut squash. You could also use sweet potatoes, but I'd omit the sugar entirely.
New to lemongrass? Watch the video.
To see how to peel and prepare lemongrass, watch the Youtube video below (starting at the 3:09 mark).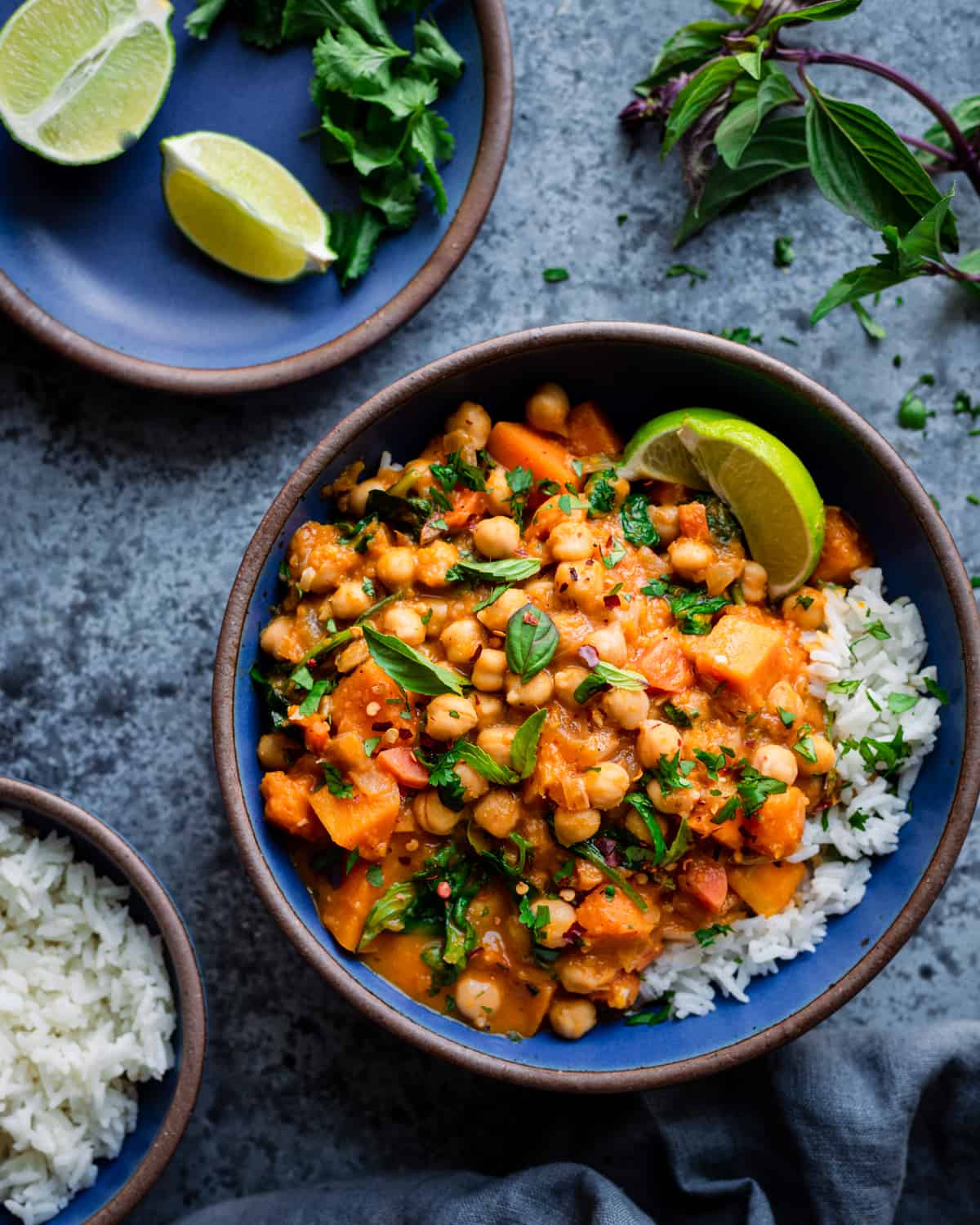 Frequently Asked Questions
Can I make this butternut squash curry without coconut milk?
If you are simply watching your calorie intake, use lite coconut milk instead of the full-fat variety. The reason I recommend still using coconut milk is that this is an essential ingredient in any Thai curry.

If you are allergic to coconut, make a homemade cashew cream: 

1. Soak 1 cup (140g) raw cashews in water overnight. For a quick soak, add to a saucepan, cover with water, and boil in a saucepan for 15 minutes. 
2. Blend the soaked cashews with 3/4 to 1 cup water (180 to 240 mL) in a high-powered blender for several minutes until smooth and cashew bits have been pulverized. 

A spicy curry like this needs something high-fat and creamy, so I do not recommend using a thin plant-based milk such as almond milk.
Where can I find lemongrass? Thai chile peppers? Thai basil?
All are commonly available at pan-Asian and Southeast Asian grocery stores. You can sometimes find bird's eye chile peppers and pre-trimmed lemongrass at well-stocked grocery stores like Sprouts and Whole Foods.

The Tips section of this post has instructions for how you can substitute in the absence of an Asian market.
How should I store and reheat this curry? Can I freeze it? 
Store leftovers in an airtight container in the fridge for 5 to 6 days. When reheating, add a few splashes of water or vegetable broth to loosen it up, as it will thicken quite a bit in the fridge. You can also freeze this curry. There may be some minor texture changes, but overall, it works great. 
What's the easiest way to dice butternut squash?
To make it easier to cut butternut squash, microwave it for 1-2 minutes to slightly soften the flesh. Then slice off the stem from the top. Use a sharp vegetable peeler to peel the squash until the flesh is vibrant orange. Slice the squash in half, horizontally. Then cut the rounded bottom portion of the squash in half, and scoop out the seeds with a spoon.

Cut the bottom halves into wedges, then cube. Slice the top half of the squash in half, vertically. Finally, cut the halves into spears, then cube.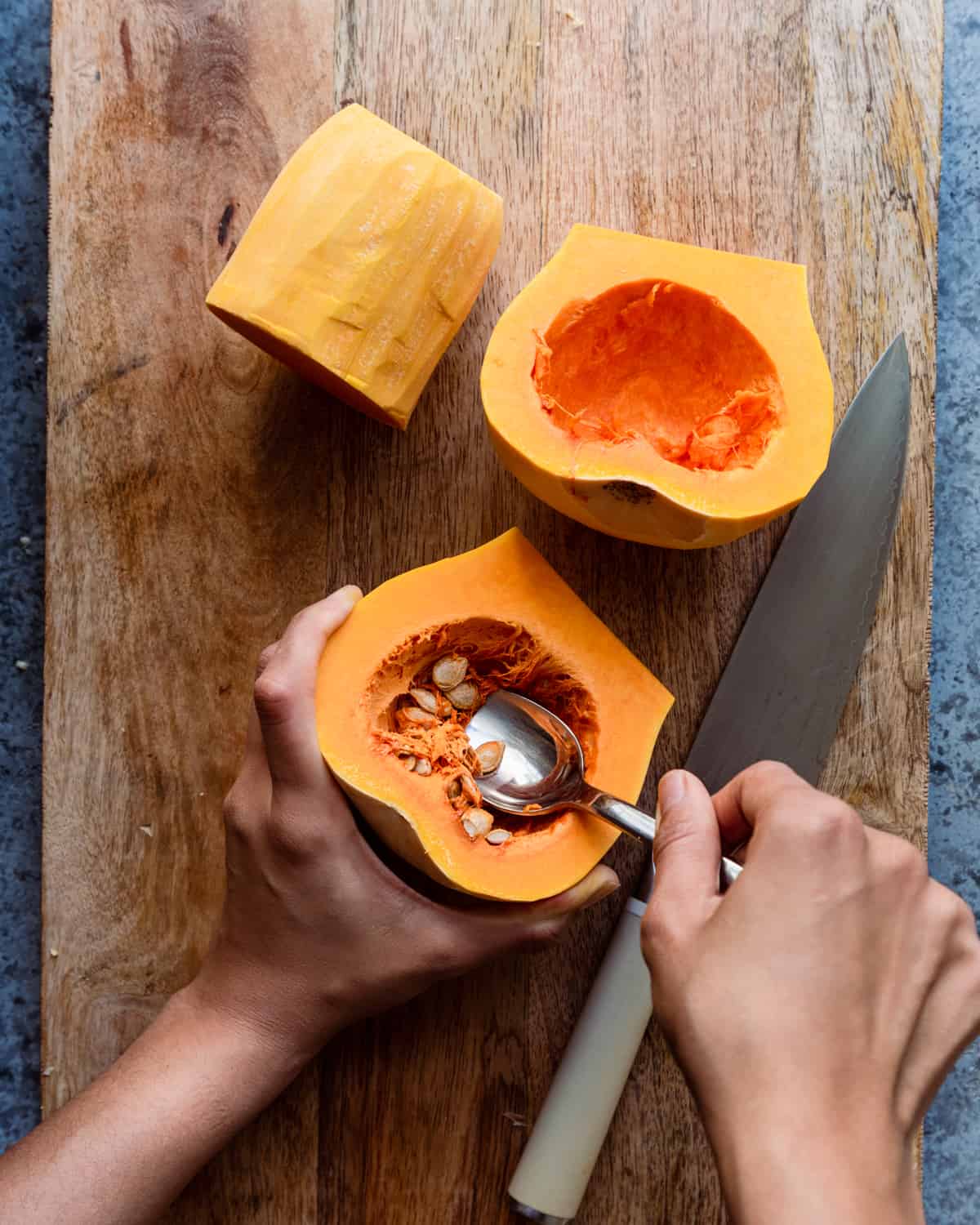 More delicious chickpea recipes to try: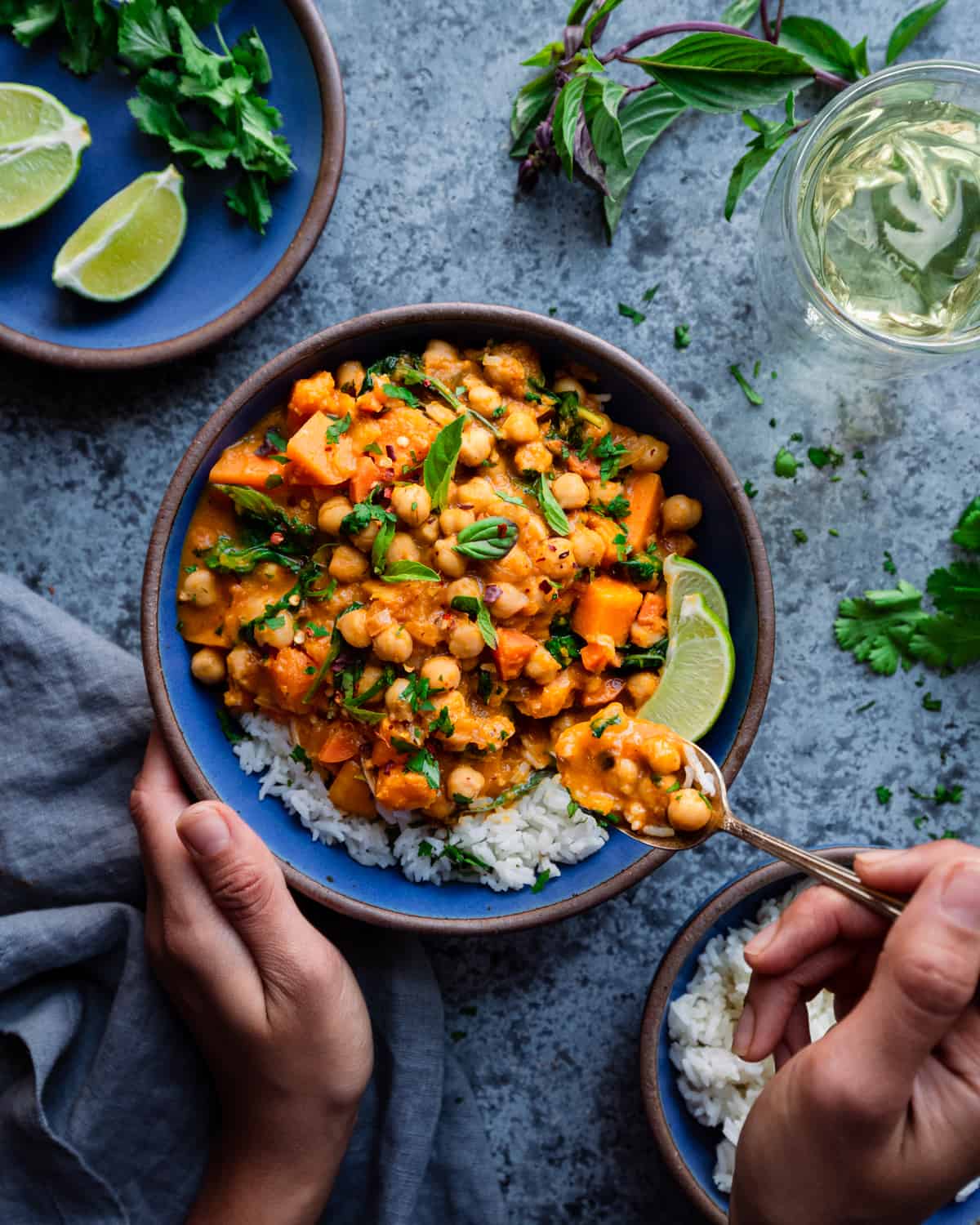 If you love this Butternut Squash Curry as much as we do, please rate and review the recipe below :) It's always much appreciated!
Watch! How to make Butternut Squash Curry
Butternut Squash Curry with Chickpeas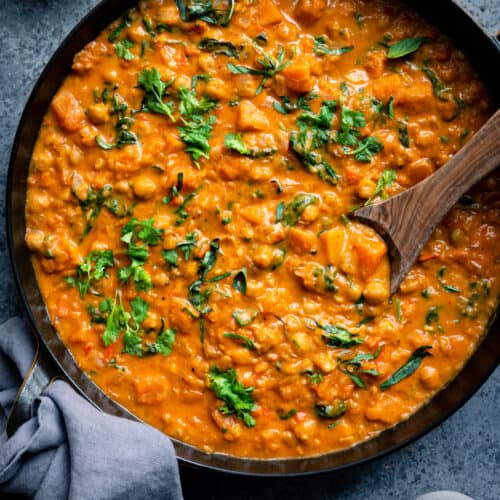 This Butternut Squash Curry is the most delicious Thai-inspired vegan curry you'll ever try! Packed with aromatic Thai flavors, well balanced in nutrients, and indulgent yet wholesome, it's a complete one-pot weeknight meal that's meal prep- and freezer-friendly.
Ingredients
1 1/2

tablespoons

unrefined coconut oil

(use refined for a neutral taste, or a neutral oil of choice)

1

large onion,

diced

2

medium carrots,

diced

Kosher salt to taste

4

cloves

garlic,

minced

2-

inch

piece ginger,

grated or finely minced*

1-3

bird's eye chili peppers,

thinly sliced (optional; only use for spicy!)**

2

stalks

fresh lemongrass,

minced or grated (optional but recommended)***

5

tablespoons

red curry paste

(see Notes below on spiciness level and brands)****

1

(13.5-ounce)

(400 mL) can full-fat coconut milk

1

cup

(240 mL) low-sodium vegetable broth

(or water)

5

cups

(700-730g) of peeled and cubed butternut squash

(~ 2.5 pound butternut squash)

2 1/2

tablespoons

reduced-sodium soy sauce

(or 1 tablespoon Thai Light Soy Sauce)*****

1 1/2

tablespoons

coconut sugar

(or pure maple syrup)

2

15-ounce

(425g) cans of chickpeas, rinsed and drained

4

cups

(60g) baby spinach or baby kale

(about 4 large handfuls)

1

tablespoon

lime juice or

rice vinegar

1

large handful

fresh cilantro,

roughly chopped

1

handful

Thai basil leaves

White rice or brown rice

(for serving, optional)
Instructions
Heat a Dutch oven or a large saucepan over medium-high heat. Add the coconut oil, and once shimmering, add the onions and carrots along with a pinch of kosher salt. Cook the vegetables for 7-8 minutes, or until they are tender and lightly browned.

Add the garlic, ginger, chili peppers (if using), lemongrass (if using), and red curry paste, and cook for 2 minutes, stirring frequently to coat the vegetables & prevent burning. If not using a nonstick pan, you'll likely need to add a tablespoon or two of water to prevent the mixture from drying out, sticking, and burning.

Pour in a couple spoons of the coconut milk and allow it to bubble for a minute, stirring well. Add the vegetable broth, stirring with a spatula to scrape up any browned bits stuck to the bottom of the pot. Pour in the remaining coconut milk, cubed squash, soy sauce, and coconut sugar, stirring to combine.

Bring the mixture to a boil, then reduce the heat to low or medium-low to maintain a rapid simmer for 20 minutes, or until the squash is tender and cooked through.

Turn off the heat and use an immersion blender to blend roughly half of the curry. Make sure to leave some chunks of squash intact. Alternatively, transfer half of the curry to a stand blender. Blend until the mixture is puréed and mostly smooth, then return it to the pan and stir to combine.

Stir in the chickpeas and bring the curry to a gentle simmer. Once simmering, stir in the baby spinach or kale, stirring until the greens have wilted.

Turn off the heat, and stir in the lime juice or rice vinegar. Taste for seasonings, adding salt as needed. Tear the Thai basil leaves to release their oils; add them to the curry, along with the chopped cilantro.

Serve the curry over rice. Garnish with additional cilantro or Thai basil as desired.
Notes
* Traditionally, galangal is used instead of ginger in Thai curries. If it's , feel free to use galangal instead. 
** Use bird's eye chili peppers only if you like spicy food. My personal preference is to use 3 of them, but I like my food spicier than most of my readers. For most, start with 1 pepper. If not available, use 1 serrano pepper.
*** You need to peel several layers of lemongrass, then use only the tender, inner white bulb at the bottom. For tips on how to peel/cut lemongrass, watch the Youtube video starting at the 3:09 mark. 
**** There is variability in spiciness across curry paste brands. The best Thai curry paste that's vegan is Maesri, which is spicier than, say, the Thai Kitchen, brand. For a spicy version, I use 5 tbsp Thai Kitchen paste. 
***** Thai Soy Sauce, aka Thin Soy Sauce or Light Soy Sauce, can be found at Southeast Asian grocery stores. It is much saltier than a standard grocery store soy sauce (e.g., Kikkoman). If using the latter, use 1 1/2 to 2 tablespoons. If using reduced-sodium soy sauce, use 2 1/2 tablespoons. To keep this recipe gluten-free, use tamari. 
---
Calories:
400
kcal
|
Carbohydrates:
48
g
|
Protein:
12
g
|
Fat:
21
g
|
Saturated Fat:
16
g
|
Polyunsaturated Fat:
2
g
|
Monounsaturated Fat:
2
g
|
Sodium:
880
mg
|
Potassium:
1079
mg
|
Fiber:
11
g
|
Sugar:
8
g
|
Vitamin A:
19817
IU
|
Vitamin C:
55
mg
|
Calcium:
179
mg
|
Iron:
6
mg