The first time I nailed this Vegan Cornbread recipe, my jaw was on the floor.
You see, there are a lot of of mediocre cornbreads out there that taste like mild-flavored corn cakes.
I'm proud to report this vegan cornbread is anything but mediocre. It has the coveted crispy crust and edges, a buttery richness, tons of corn flavor, the perfect amount of crumble, and just the right amount of sweetness.
Table of Contents
1. Why this recipe works
2. Ingredient notes
3. Step-by-step instructions
4. Tips for making this recipe
5. Frequently Asked Questions
6. Recipe card with notes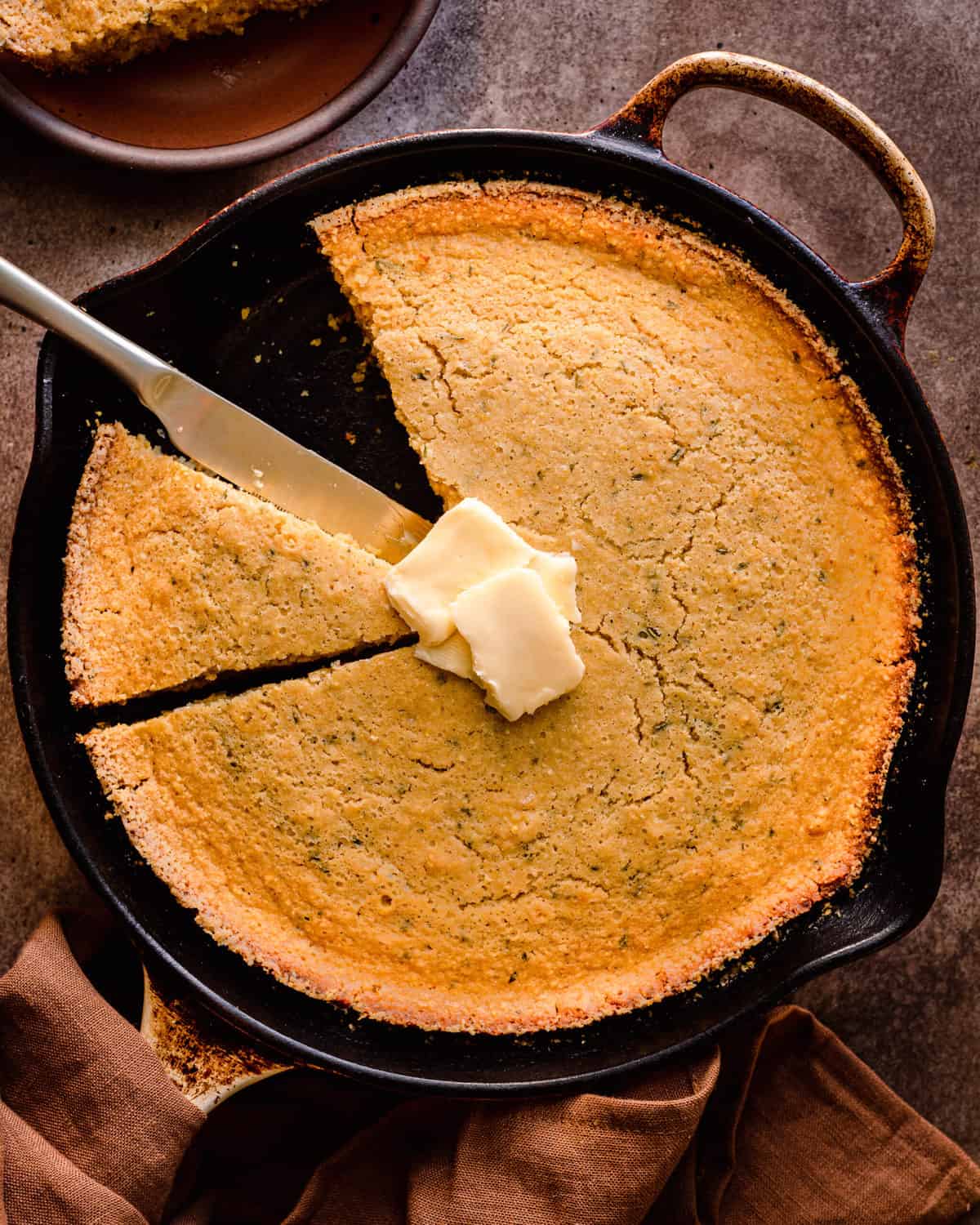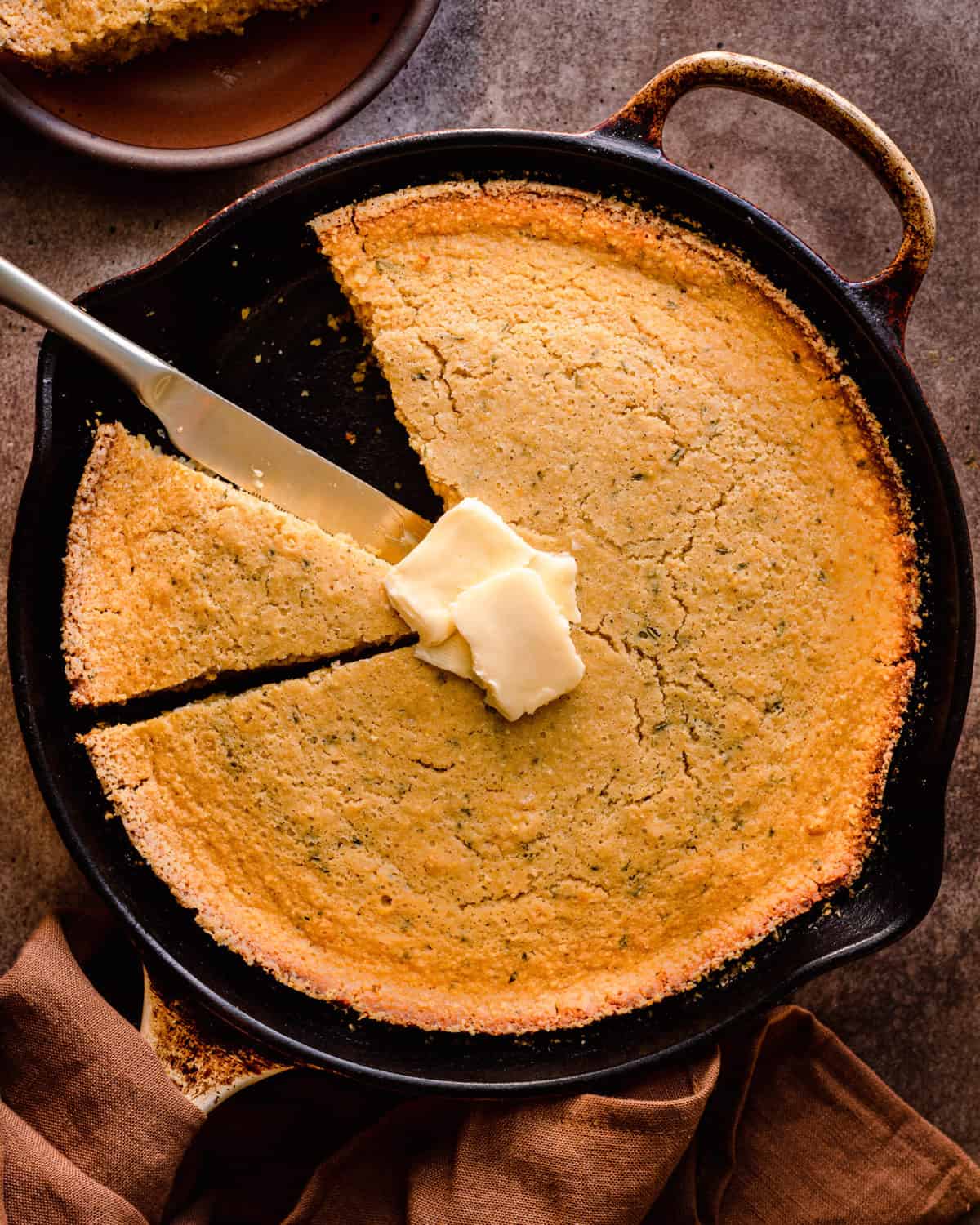 Why this recipe works
After doing a serious deep dive on cornbread—including days of research on traditional Southern cornbread, watching endless Youtube videos, and testing this recipe 20 times—here's what I learned about making an epic vegan cornbread.
Crispy crust and edges
Cornbread is all about the crispy crust, and IMO, it's non-negotiable. To achieve this, I do three things.
(1) Pour the batter into a sizzling hot skillet to kickstart the crunchy crust;
(2) Add vegan butter to the hot pan + a dusting of cornmeal to enhance the crispy edges (and for that buttery taste);
(3) Bake in a cast iron skillet for deeply golden edges and a caramelized crust.
If you don't have a cast iron skillet, check out the FAQ section.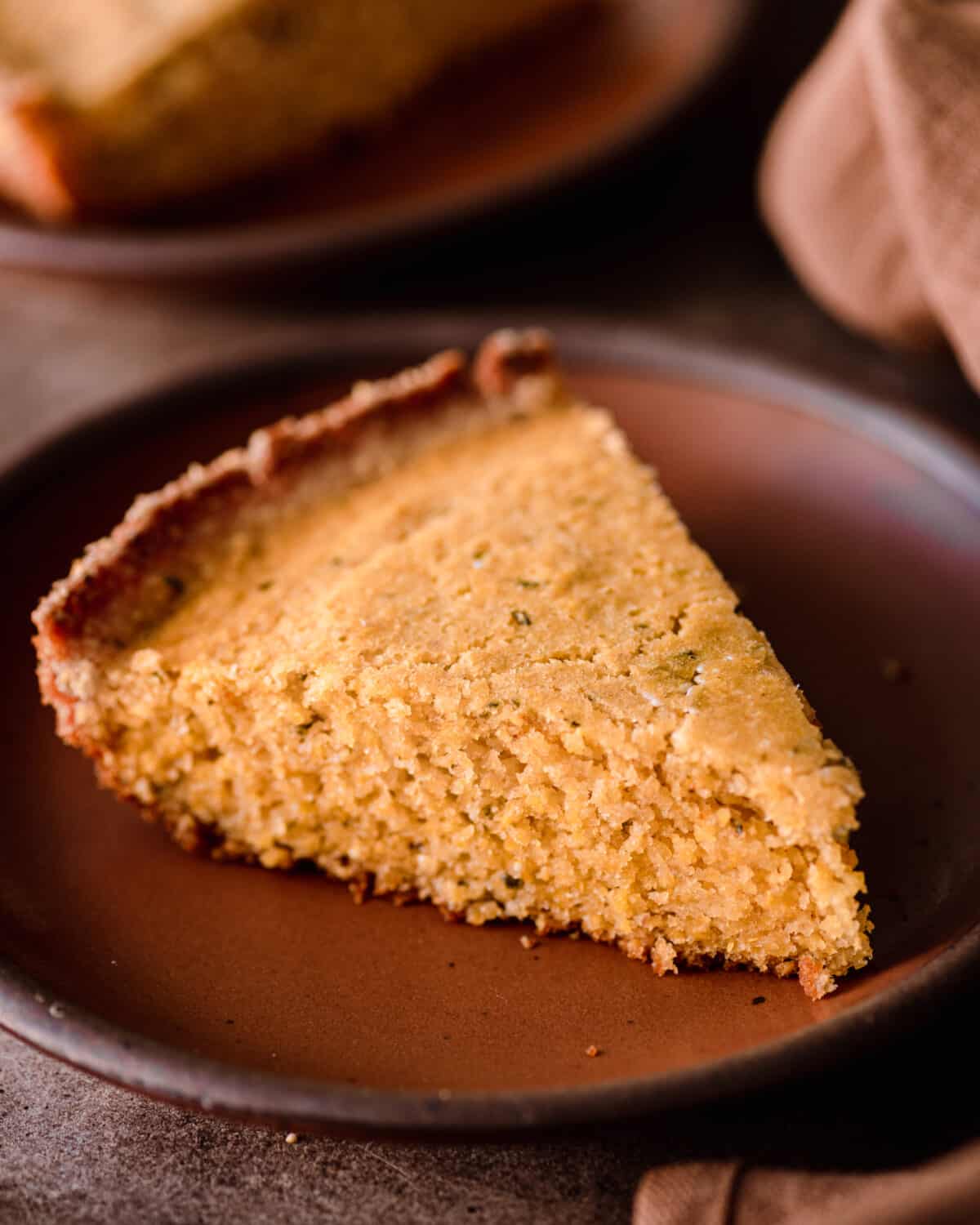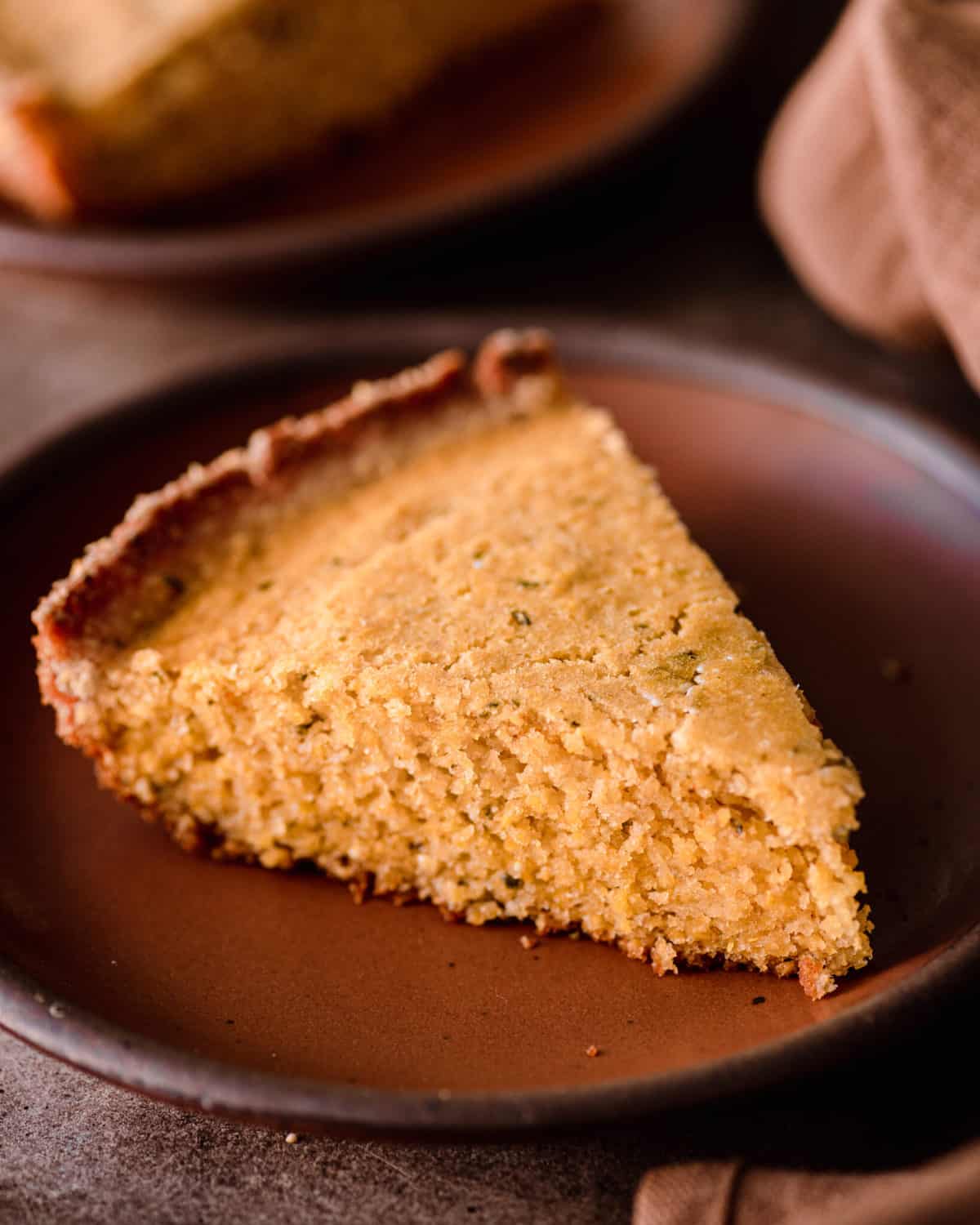 Buttery and moist, not dry
To avoid the dry texture common in many vegan cornbreads (the kind that makes it difficult to swallow), this recipe does a few things.
(1) Adds a fair amount of vegan "buttermilk" (full-fat oat milk mixed with apple cider vinegar);
(2) Mixes agave nectar and brown sugar, which have more moisture than white sugar;
(3) Mixes olive oil (adds lots of moisture) and vegan butter (which brings that essential buttery taste).
Cornbread, not corn cake
Many popular cornbread recipes that show up in Google use about a 1:1 cornmeal:flour ratio. But, most traditional Southern cornbread recipes use significantly more cornmeal than flour.
In my tests, I found that the popular recipes which used more flour than cornmeal resulted in cornbread with (1) a diluted corn flavor and (2) a cakey texture (e.g., they felt like corn cake).
So this recipe uses a 2:1 ratio of cornmeal to flour, which (a) helps the corn flavor shine and (b) produces the classic cornbread texture: it crumbles a little but still holds together; it's moist but has a slightly grain texture from the corn grits.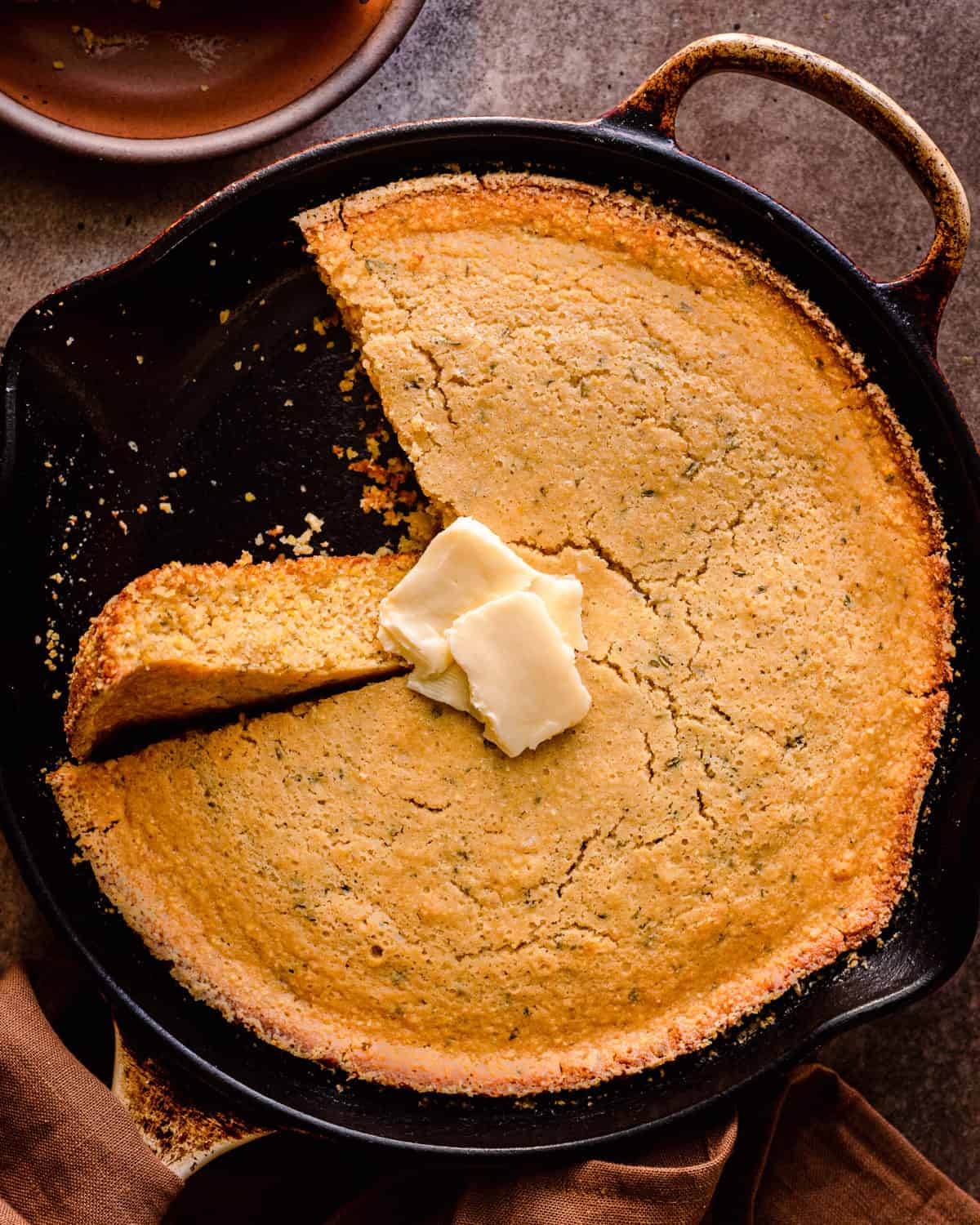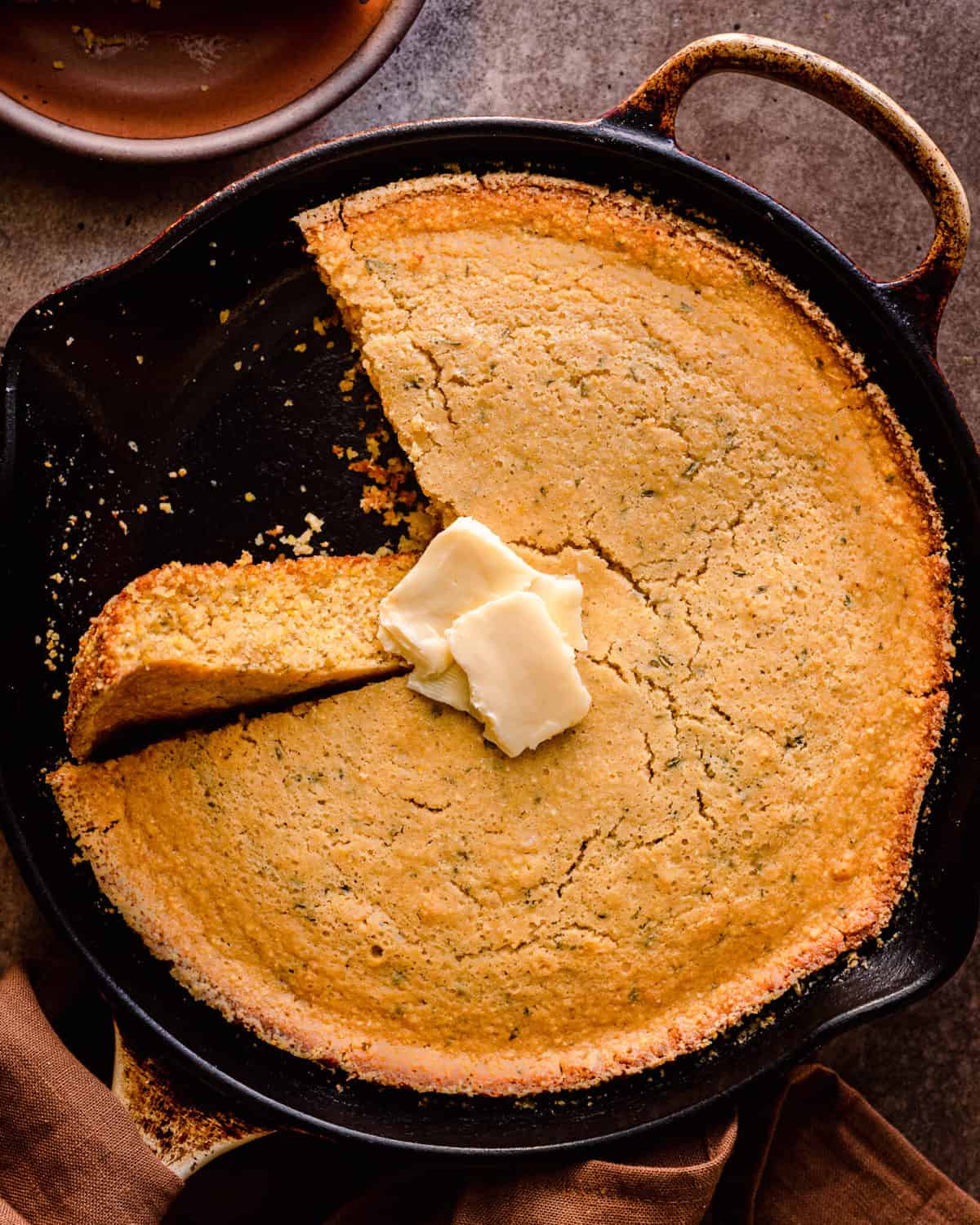 Ingredient notes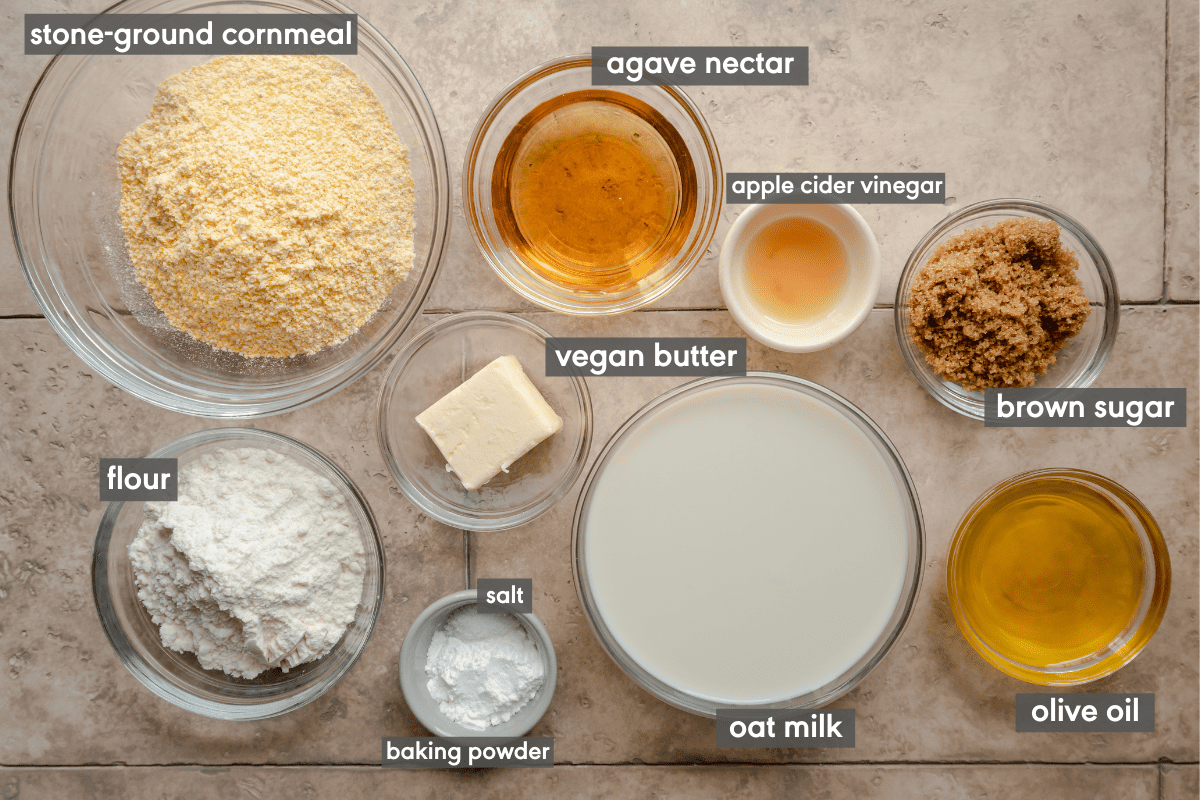 Vegan butter. Traditional cornbread has a rich buttery flavor. Luckily, that can be easily replicated with vegan butter. I like using Earth Balance buttery sticks, but they also make a soy-free version if you need that.
Substitute? The vegan butter takes this cornbread over the top in a way that oil alone cannot, so please don't just use oil instead!
Olive oil. Oil brings more moisture than butter alone, so I use a mix of olive oil and vegan butter here. The combo makes this cornbread perfectly moist.
Substitute: You can sub olive oil with a neutral-flavored oil if you prefer.
Oat milk. Oat milk does a great job at browning baked goods, and the fat content helps compensate for the generous amount of fat used in classic cornbread. I like using full-fat oat milk (Oatly brand or Califia extra creamy oat milk) for the best texture.
Substitute: Soy milk or cashew milk would probably work too, but I haven't tested those.
Apple cider vinegar. When mixed into plant milk, it acts as a vegan buttermilk substitute. The acidity helps tenderize the cornmeal.
Brown sugar + Agave. These add subtle sweetness to complement the corn flavor and moisture.
Substitute: You can try coconut sugar or cane sugar for brown sugar, but it may have a tad less moisture.
Flour. You need some flour to bring structure to vegan cornbread, as eggs can't do the heavy lifting. But not too much.
Substitute: This cornbread works great with gluten-free flour (check out the FAQ section for details).
Stone-ground cornmeal. Stone-ground cornmeal is ground between slowly moving stones, so it retains the corn hull and germ. This makes for cornmeal with excellent texture: tender with pleasant crunchy bits of corn grit throughout.
I do not recommend using standard supermarket boxed cornmeal, which is industrially processed in steel mills. The degermination process makes the kernels lose some of their fat content and moisture, leaving you with cornbread with a uniform texture, muted corn flavor, and a less moist crumb.
Tip: A widely available option is Bob's Red Mill medium-grind stone-ground cornmeal.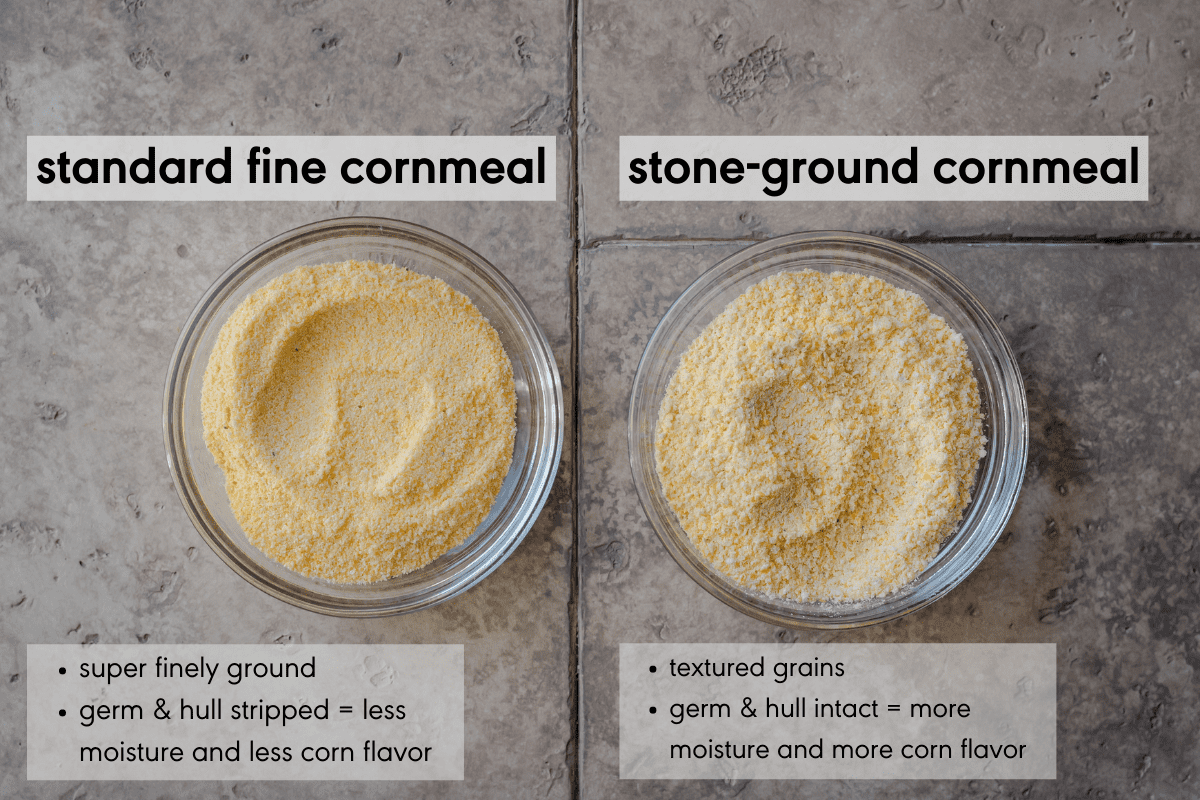 Step-by-step instructions
In a large bowl, whisk together the cornmeal, flour, salt, and baking powder. Make a well in the dry mix.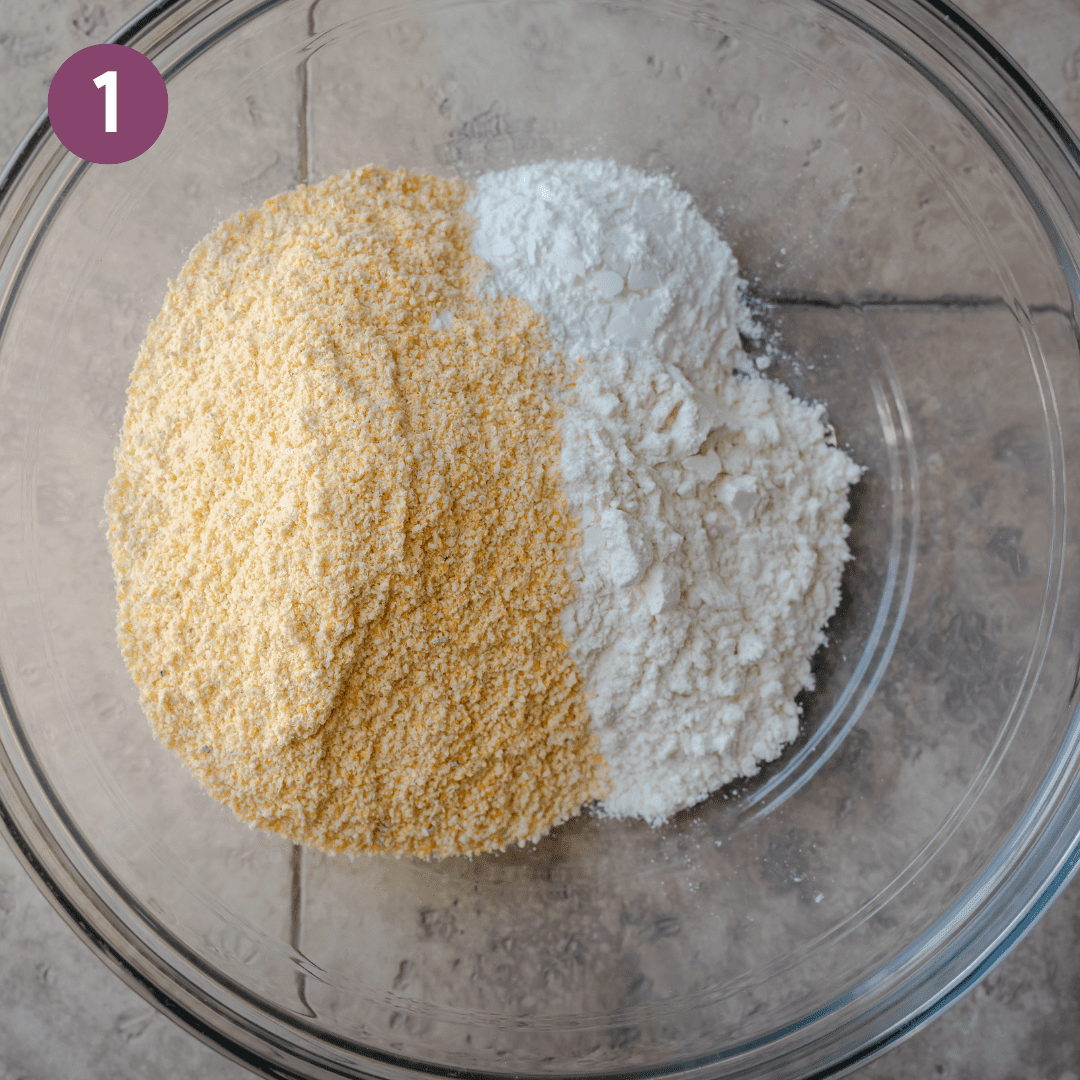 Add the buttermilk, olive oil, melted vegan butter, brown sugar, and agave nectar.
Gently mix with a whisk, and do not over mix. The batter will have some lumps. Fold in the chopped fresh rosemary. Allow the batter to rest for 10 minutes (or up to an hour).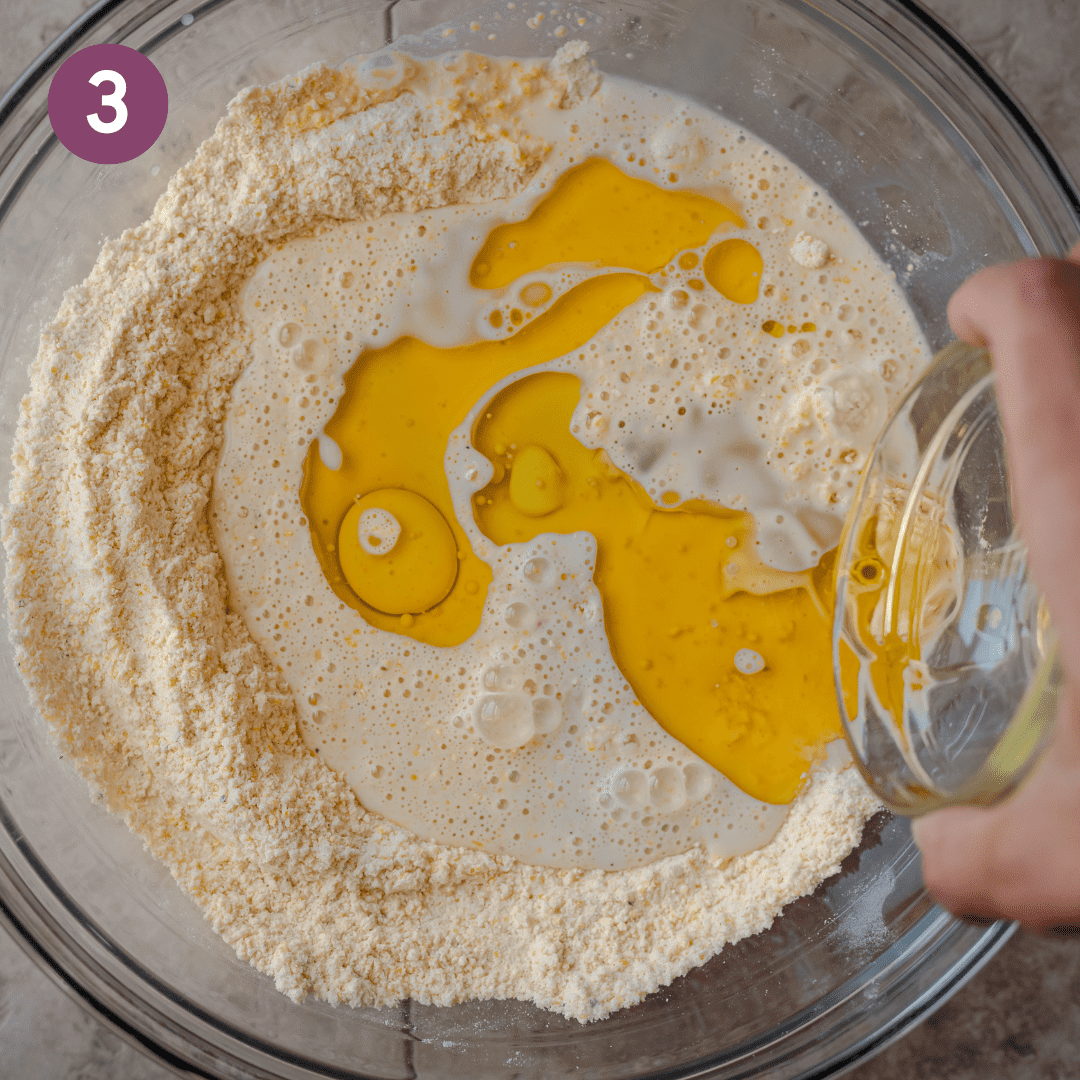 While the batter rests, heat a 9 or 10-inch cast iron skillet in the oven at 400ºF/204ºC for 10 minutes. Remove the hot pan from the oven and 2 tablespoons of vegan butter.
Once it melts, dust lightly with cornmeal. Slowly pour the batter into the hot pan (avoid pouring it quickly all at once).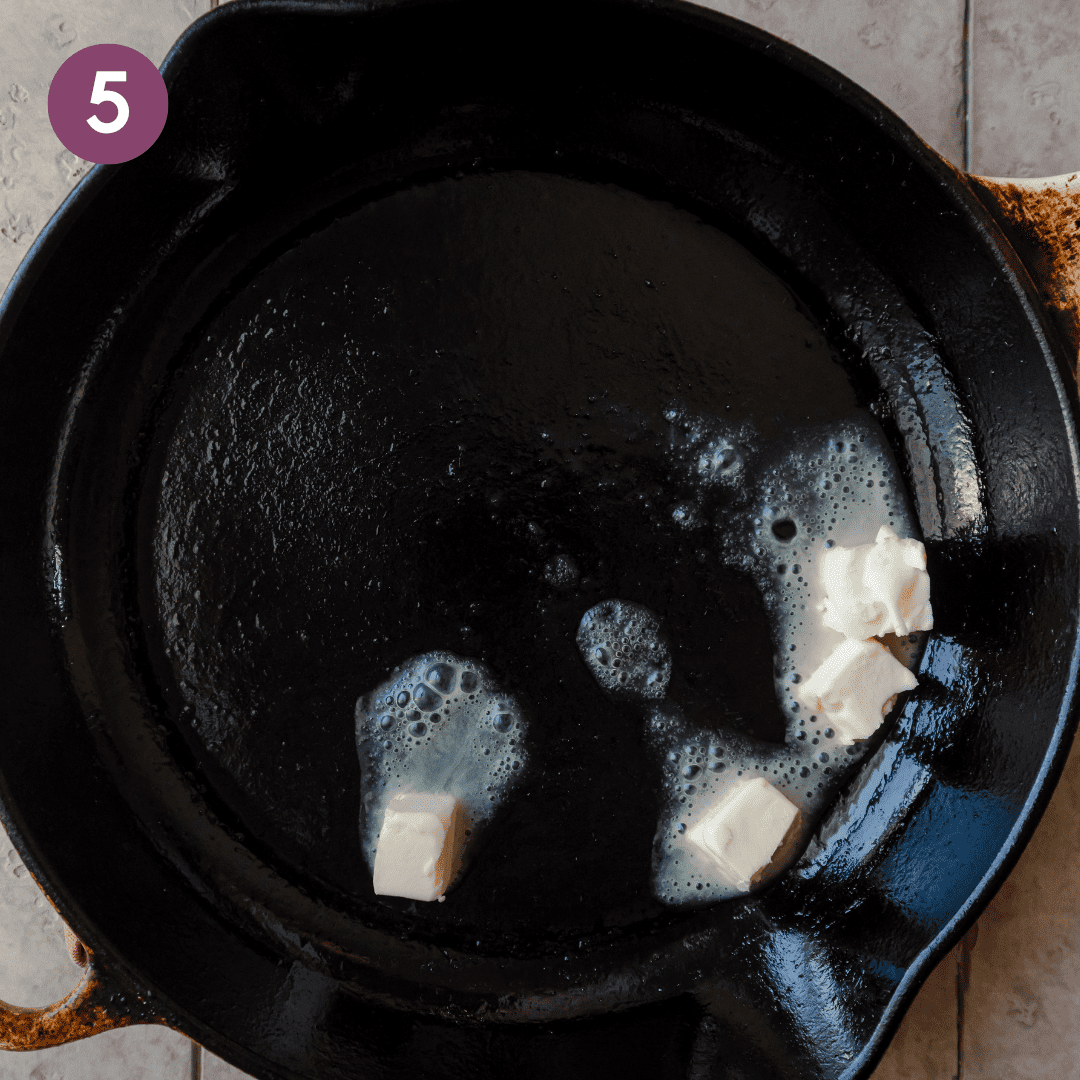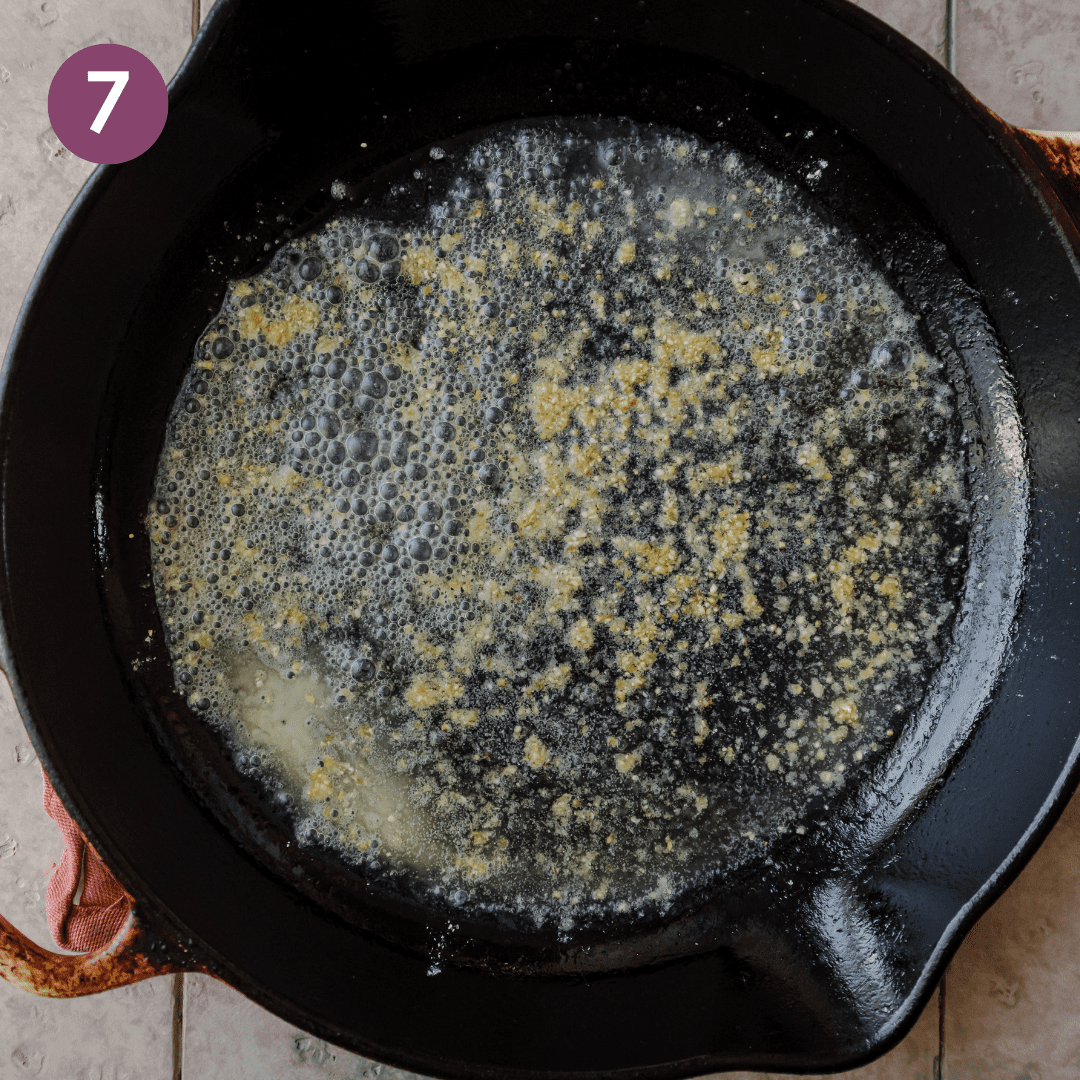 Bake for 25-28 minutes, until the top is golden brown and a toothpick inserted in the center comes out clean. Cool on a wire rack for 15-20 minutes, then slice and serve warm.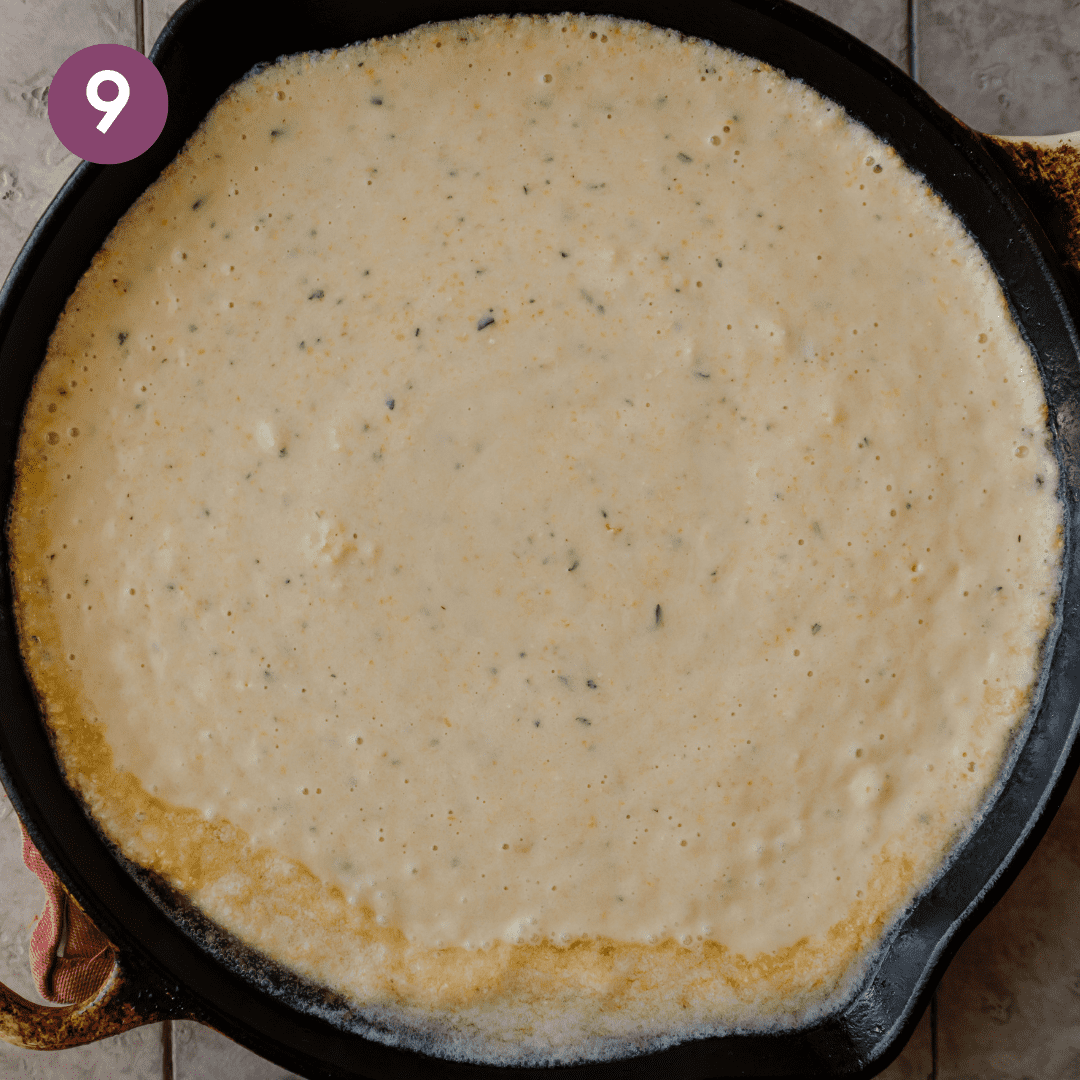 Tips for making the best vegan cornbread
Hydrate the batter.
Allow the cornbread batter to rest for just 10 minutes (while the skillet heats up in the oven), or up to an hour. This hydrates the cornmeal, making the crumb more moist and tender. This is important because cornmeal, especially larger-grained cornmeal made with stone-ground grains, needs more hydration than flour.
Don't skimp on the fat.
For cornbread that is perfectly moist, slightly dense and incredibly buttery, you need a decent amount of fat (otherwise, you end up with dry cakey cornbread that's hard to swallow).
Here, I us a combo of vegan butter, olive oil, and oat milk. I can't vouch for this recipe if you alter those ingredients.
Just a little sweet.
This cornbread is subtly sweet and is meant to be eaten as a side dish, either plain with a pat of vegan butter, or alongside savory foods.
It's not a cake or dessert. But, if you want additional sweetness, there's a recipe for a maple butter topping in the recipe card. Or, you could spread some jam on top!
A rustic batter + patience
When mixing the batter, use a whisk and don't be worried that the batter has lumps. The bread won't be lumpy.
And try to pour the batter fairly slowly; if you pour the batter quickly, it will cause the hot butter to pool up at the surface.
Rosemary or not.
I add fresh rosemary to the batter, which adds so much interesting flavor. Many of my taste testers particularly loved this addition. If you prefer a classic flavored cornbread, just omit the rosemary.
If you love the corn-rosemary flavor combo as much as I do, be sure to try the Sweet Corn Rosemary Cake in my cookbook, The Vegan Instant Pot Cookbook.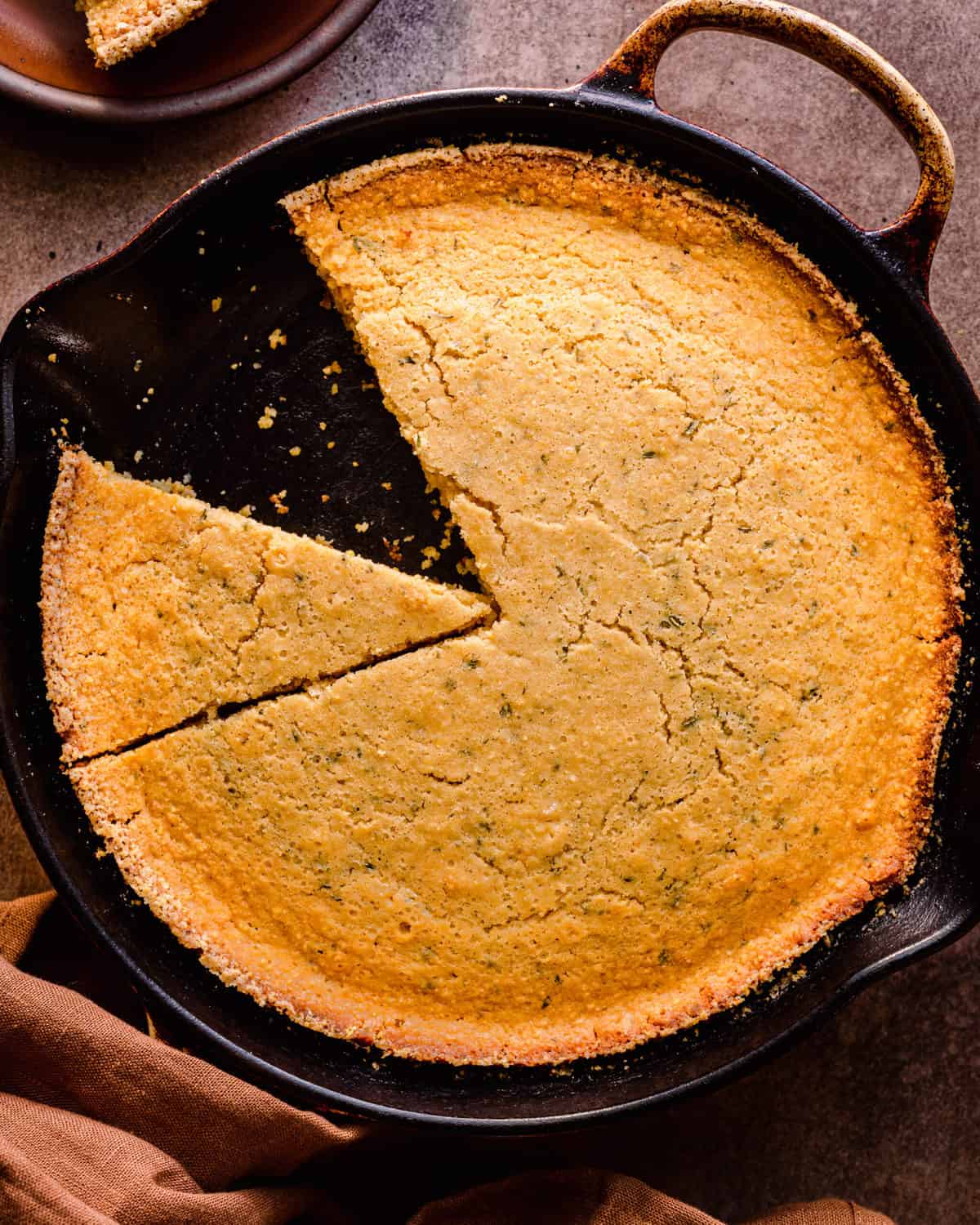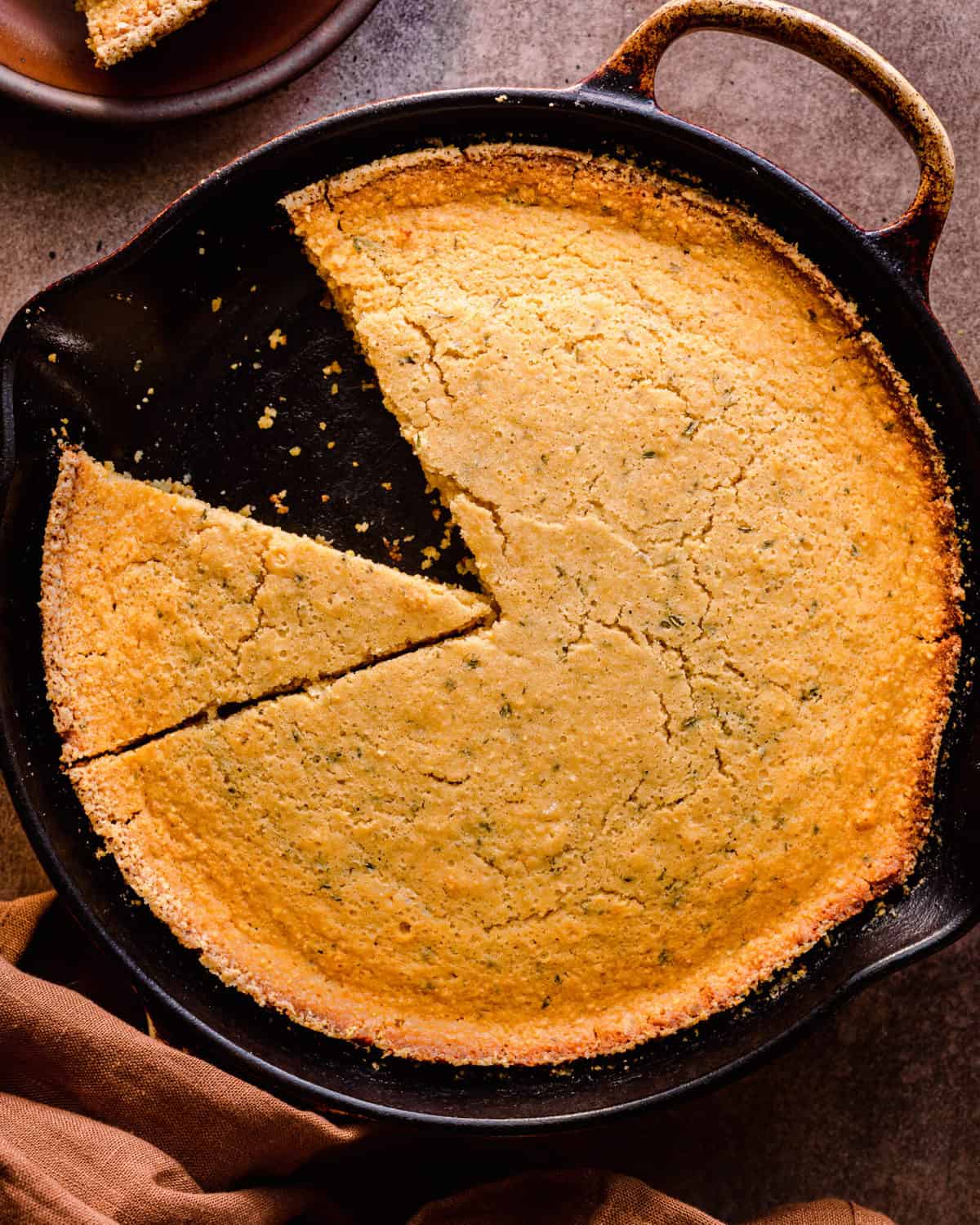 Frequently Asked Questions
Can I make this cornbread gluten-free?
Yes! We tested this with King Arthur's measure-for-measure gluten-free flour (affiliate link) and it worked great. I recommend a brand of GF flour that has xanthan gum, which helps with binding and structure.

Changes to make
(1) Use the same amount of flour in the recipe card.
(2) Since GF flour absorbs more liquid, add an extra 1/4 cup (60 mL) oat milk.
(3) Given the extra moisture, let the cornbread to rest for a bit longer (30 minutes) before slicing.

The GF version is slightly more moist and more crumbly than the original, but still the best vegan and gluten-free cornbread I could imagine.
Should I use white or yellow cornmeal?
Short answer: Either, as long as it's stone-ground cornmeal.

Longer answer: Many Southern cooks insist on using only white cornmeal based on tradition. It has a slightly more subtle corn flavor than yellow cornmeal. But, it's pretty difficult to find a stone-ground white cornmeal here in California, so I stick with yellow. I did order this white cornmeal online and it worked great in this recipe if you're a stickler for tradition.
How can I make this recipe without a cast iron skillet?
Use a 9×9 metal baking pan instead. The crust doesn't get as crispy or crunchy, but it is still very good.

If using this method, add only 1 tablespoon of butter to the hot cast iron skillet (instead of 2). And it may need an extra 5 minutes bake time to get nicely golden.
Can I make this recipe oil-free?
Sorry, no. For cornbread that is perfectly moist, slightly dense, and buttery in flavor, you need a decent amount of fat.
I don't like my cornbread sweet. Can I omit the sugar?
This cornbread is only mildly sweet. I did try making vegan cornbread without sugar, but it was not great, so some sugar is needed. You can try scaling it down by 1/4 to 1/3 but we haven't tried this ourselves.

PS: Here's a fascinating read on why Southern cornbread doesn't have sugar.
How long does cornbread last? How should I store and reheat it?
Cornbread is the best on day 1, but leftovers will stay good up to 3 days (the texture will be a bit softer). Store in an airtight container, not in a reusable bag (it will get soggy), for up to 3 days.

To reheat cornbread, reheat in the oven at 375ºF/190ºC. Reheat for 10-15 minutes, either (1) unwrapped on a baking sheet – this returns some of the crispiness; or (2) wrapped in foil – this makes it softer and moister.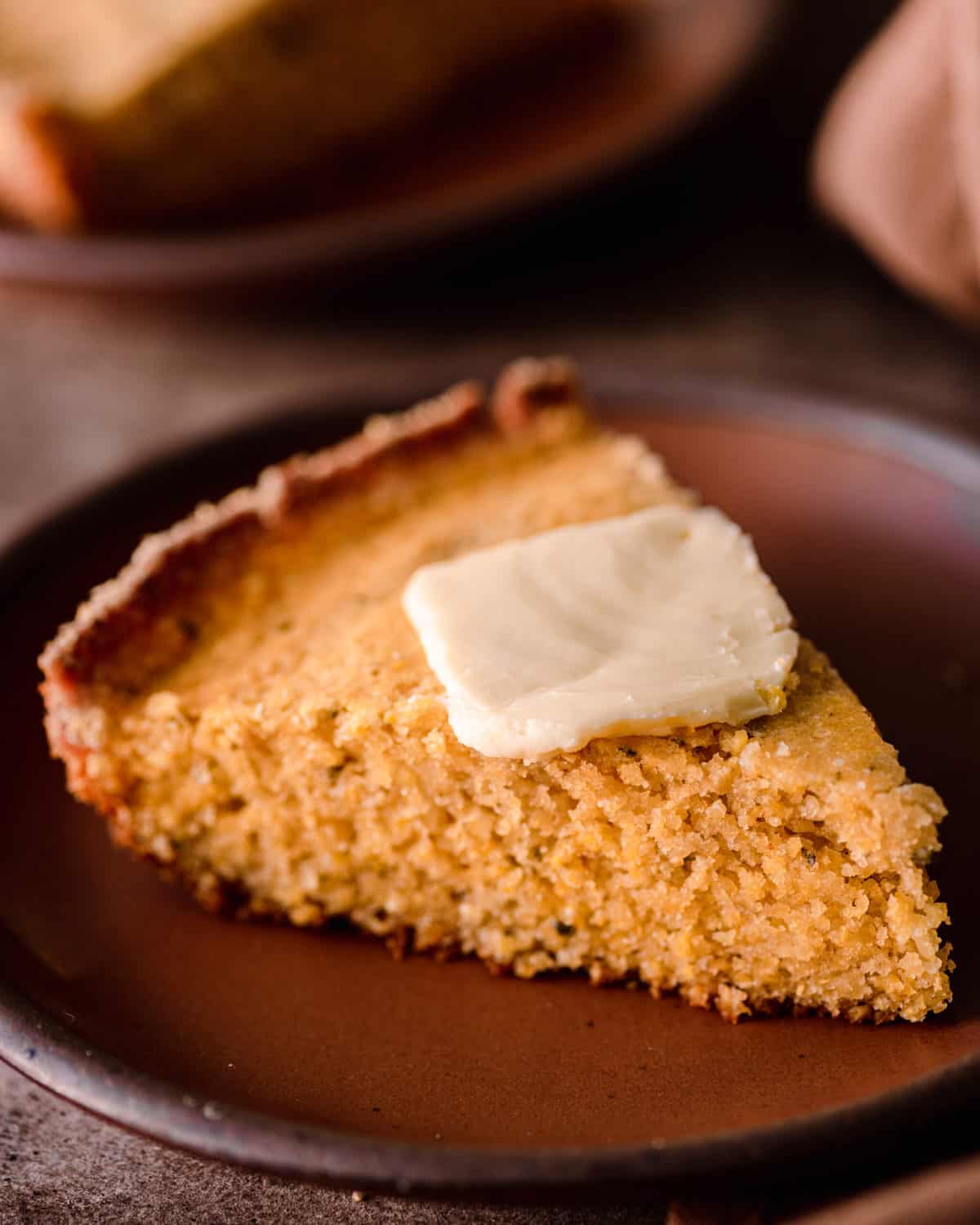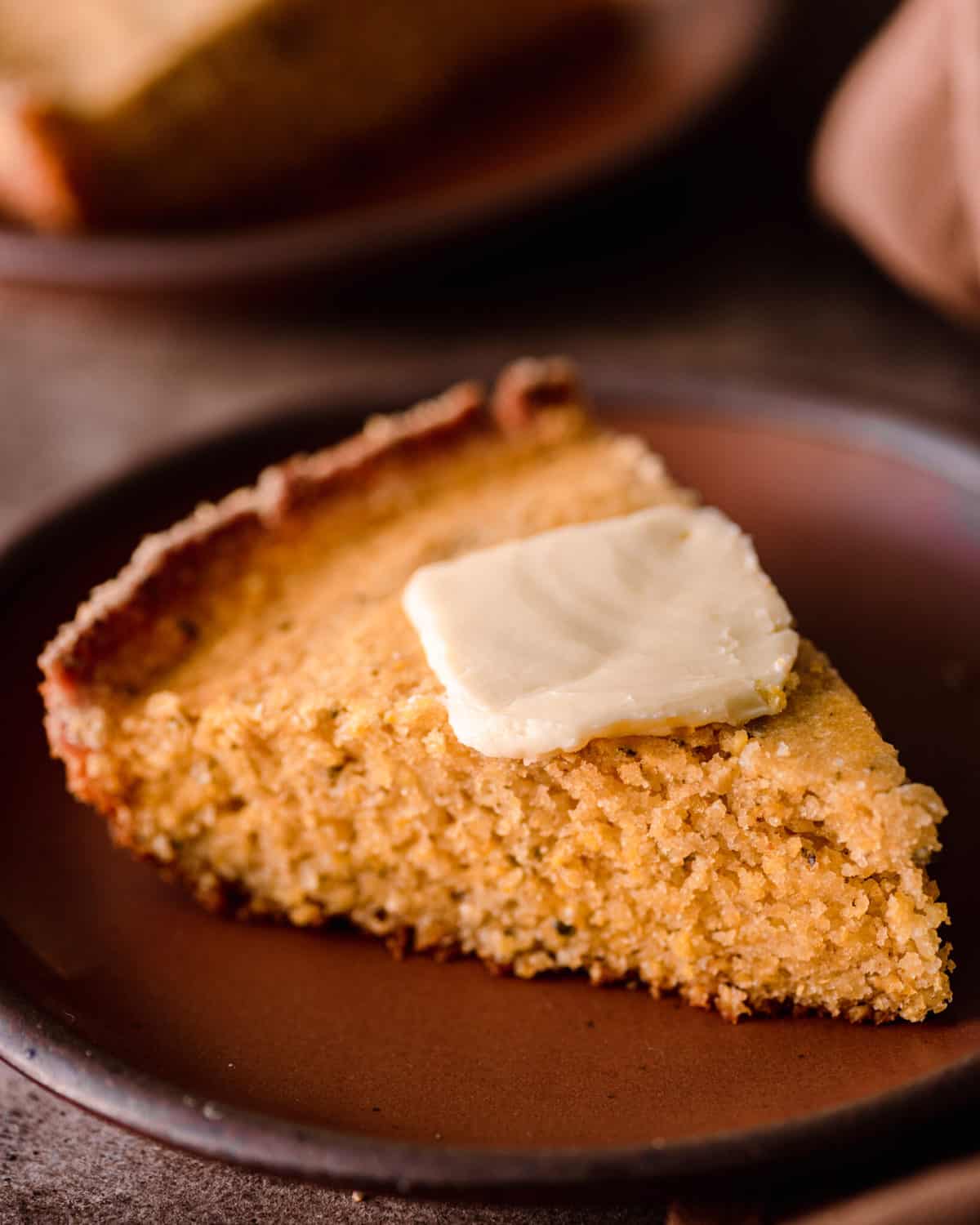 What to serve cornbread with
You can serve cornbread plain or with a pat of softened vegan butter (we eat it for breakfast like this all the time). Or, if you like it sweeter, with some jam or maple butter (maple butter recipe is in the recipe card).

Cornbread is also excellent served with savory dishes. Some favorite ideas:
That's everything you need to know about how to make *incredible* vegan cornbread! I hope you'll love this recipe as much as we do. If you do, please rate and review the recipe below :)
The Best Vegan Cornbread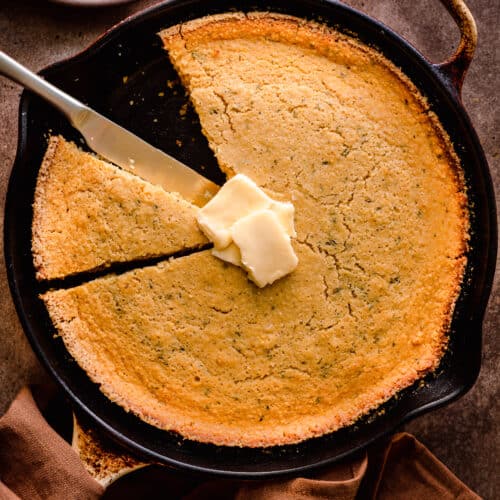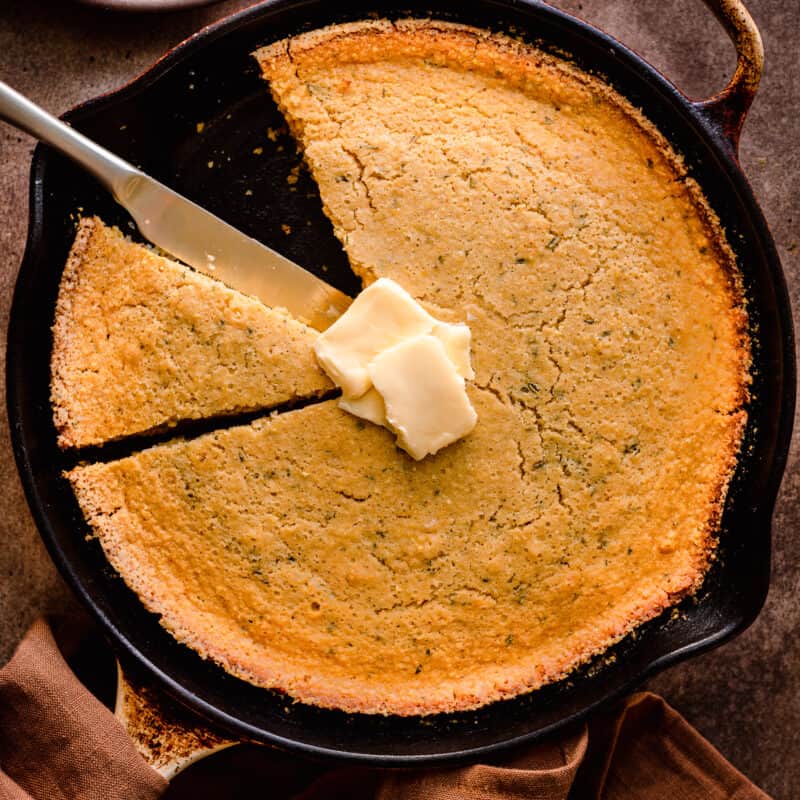 This crispy-crusted, buttery, and moist vegan cornbread is truly the best cornbread you'll ever eat. A must-make, whether paired with vegan chili or on your holiday table! No one will know it's vegan (easy to make GF).
Ingredients
1 ½

cups (360 mL)

full-fat oat milk

2

teaspoons

apple cider vinegar

1 ½

cups

(195g) stone-ground yellow or white cornmeal

(medium-grind is my preference)**

3/4

cup

(94g) all-purpose flour***

1

tablespoon

+ 1 teaspoon baking powder

Heaping 1/2

teaspoon

sea salt

4

tablespoons

(56g) vegan butter, melted + 2 tablespoons for greasing the skillet

¼

cup

(56g) extra virgin olive oil or neutral-flavored oil of choice

1/4

cup

(40g) organic brown sugar

1/4

cup

(84g) agave nectar

1

heaping tablespoon of finely chopped rosemary (4g)
For serving (optional)
Softened vegan butter; OR

Maple Butter: 2 tablespoons vegan butter + 2 teaspoons maple syrup
Instructions
Preheat the oven to 400ºF/204ºC and arrange a middle rack in the oven. Stir the vinegar into the oat milk and set aside for 5-10 minutes to slightly curdle.

In a large bowl, combine the flour, cornmeal, baking powder, and salt. Whisk well to break up any clumps.

Make a well in the center and pour in the 4 tablespoons melted vegan butter, oil, brown sugar, agave, and buttermilk. Gently mix with a whisk until just smooth, taking care to not overmix – there will be lumps, that's okay!

Fold in the rosemary using a silicone spatula. Allow the batter to rest for 10 minutes, or up to 1 hour. It should look somewhat like a pancake batter.

Meanwhile, transfer a 9- or 10-inch cast iron skillet to the pre-heated oven to heat up for 10 minutes. Remove the pan from the oven (use oven mitts!) and add the 2 tablespoons of vegan butter. It will start melting almost immediately. Dust the pan lightly with a sprinkle of cornmeal, about 1 teaspoon.

Pour the cornbread batter into the hot skillet (but not too quickly or the butter will pool up to the top). Bake for 25 to 28 minutes (check at 25 minutes), until a toothpick inserted in the center comes out clean and the top is golden brown.

Transfer to a wire rack and allow to cool for 15 to 20 minutes before slicing. Serve warm, or with a pat of softened vegan butter on top of each slice, if desired.

Store leftovers in an airtight container for up to 3 days on the counter.

If making the maple butter, add the softened butter to a small bowl and whisk vigorously until it starts to get fluffy. Add the maple syrup and whisk until well combined and smooth.
Notes
*If you don't have a cast iron skillet, use a 9×9 metal baking pan. In step 5, add only 1 TBSP butter to the bottom of the pan (instead of 2 tbsp). It may need an extra 5 minutes bake time to get nicely golden.
** I strongly recommend stone-ground cornmeal, either yellow or white is fine. I've included brands I've tested this recipe with in the FAQ section in the post. Bob's Red Mill stone-ground medium-cornmeal is widely available and works great. 
*** To make gluten-free, make three changes
(1) use 3/4 cup gluten-free flour (ideally, one that has xanthan gum in it; we used King Arthur's measure-for-measure GF flour);
(2) Add an extra 1/4 cup (60 mL) oat milk, or a total of 1 3/4 cups (420 mL) oat milk.
(3) Allow the cornbread to rest for 30 minutes before slicing. 
---
Calories:
330
kcal
|
Carbohydrates:
48
g
|
Protein:
5
g
|
Fat:
14
g
|
Saturated Fat:
2
g
|
Polyunsaturated Fat:
3
g
|
Monounsaturated Fat:
7
g
|
Trans Fat:
0.03
g
|
Sodium:
375
mg
|
Potassium:
145
mg
|
Fiber:
4
g
|
Sugar:
15
g
|
Vitamin A:
367
IU
|
Vitamin C:
1
mg
|
Calcium:
163
mg
|
Iron:
2
mg
Sources referenced in writing this post:
I referenced a number of posts in writing this post. If you're interested in learning more, please do give them a read:
Happy baking!