You guys, we have to talk about this Vegan Pumpkin Bread, which is truly the best pumpkin spice bread I've had, vegan or not. It's moist and tender, not too dense like many pumpkin breads, and is packed with a warming homemade pumpkin spice! It's loved by tough critics and vegan skeptics, and unless you announce it ahead of time, no one will ever guess it's vegan!
I baked this bread four times in 10 days, so let's just say it's extremely delicious and extremely easy to polish off!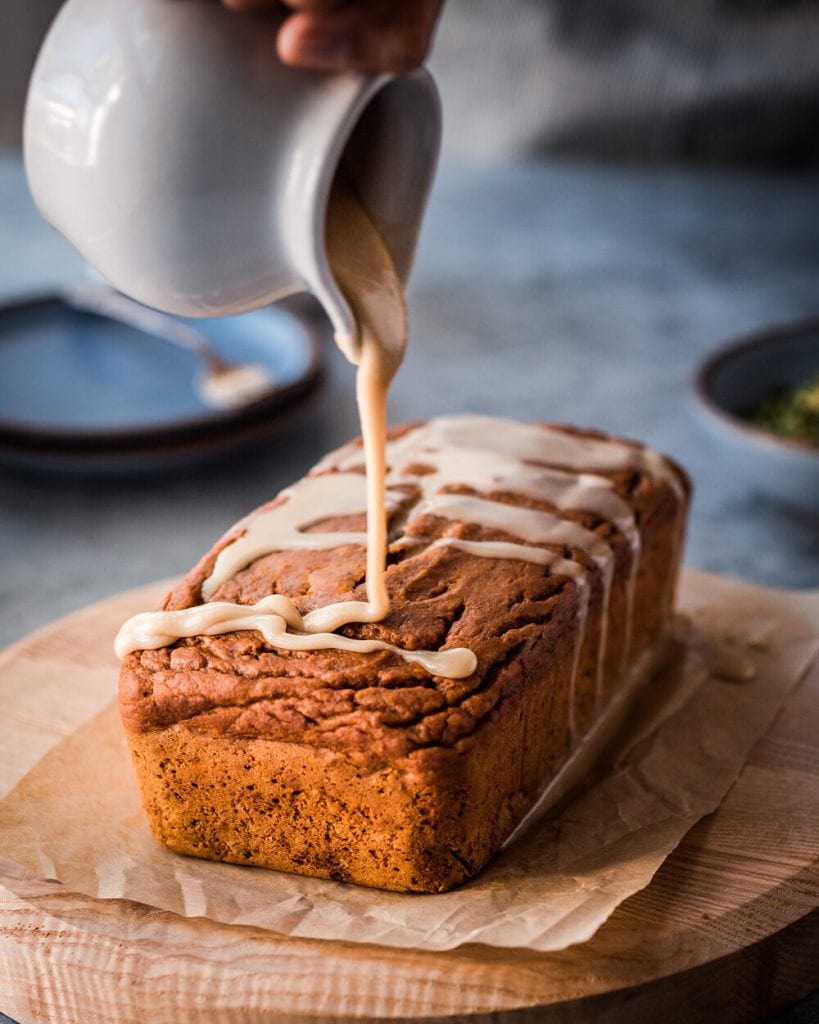 Why you'll love this Vegan Pumpkin Spice Bread
Simple to make. Like many loaf cakes/quick breads, this pumpkin bread is easy to make! The ingredients are simple, the method is simple, and no fancy baking equipment is needed. It's adapted from my fan favorite Vegan Banana Bread recipe (a must-make!).
Tender and moist. Most pumpkin breads I've head, especially vegan ones, are too dense and heavy for my liking. Don't get me wrong – pumpkin bread should be a bit dense, but it shouldn't be heavy. This pumpkin spice bread is the most tender and moist variety I've tried, thanks to a few secret ingredients/tips (more info in the "Ingredient Rundown" section below).
Pumpkin Spice, for reals. Many pumpkin desserts I've had in the past have not been pumpkiny enough for my taste. Oftentimes, this is because the recipe uses store-bought pumpkin spice or because it doesn't include enough spices in general. In contrast, this recipe uses a generous amount of my homemade pumpkin spice blend and it really tastes like a pumpkin party in your mouth.
Warm and Cozy. This recipe features a generous 4 teaspoons of homemade pumpkin spice, along with brown sugar, maple syrup, and tahini (in the icing). The combination is so satisfyingly cozy and warming, which is everything I want this time of year!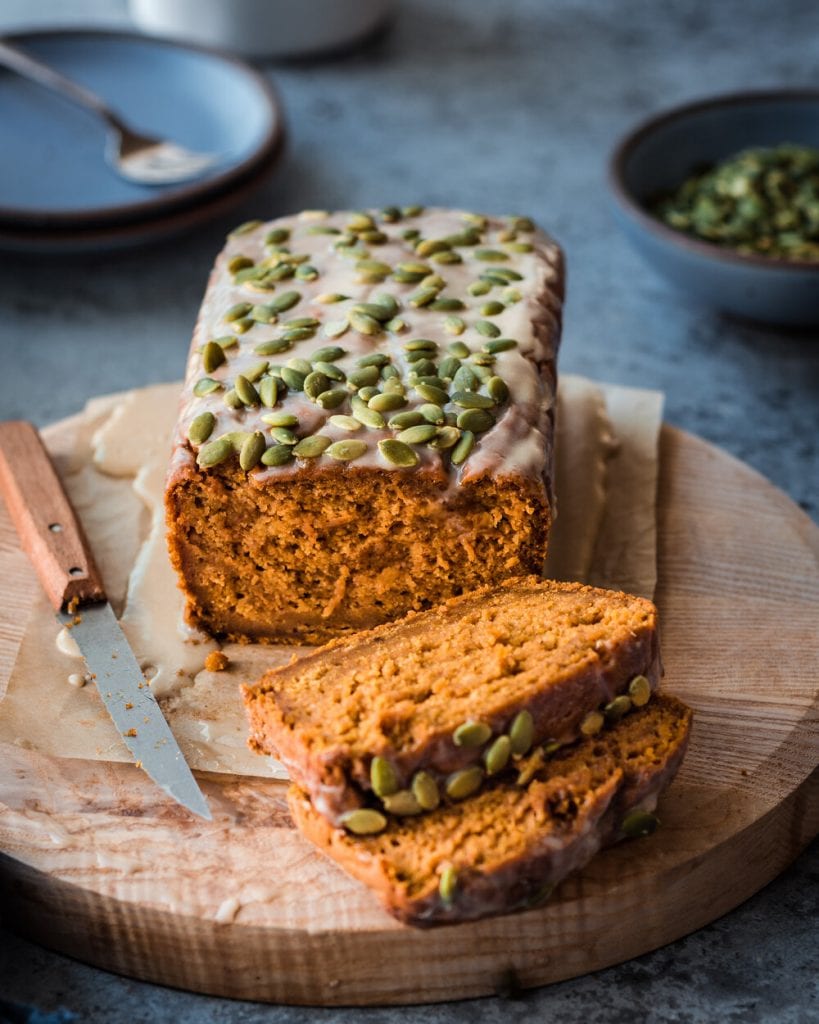 Ingredient Rundown
Pumpkin Puree. This recipe uses an entire 15-ounce can of pumpkin puree, so it's the real deal!
If you can't find canned pumpkin in grocery stores near you, you can substitute with homemade pumpkin puree. To see how to make homemade pumpkin puree, watch the video below at the 03:14 mark, or read the "Frequently asked questions" section.
Since pumpkin puree is very dense and vegan loaf cakes can already be quite dense, I counteract the density with two ingredients: aquafaba and vegan buttermilk.
Aquafaba. The type of vegan egg substitute you use should depend on the type of baked good you're making and your desired texture. I have a whole blog post on the topic of vegan egg substitutes in baking (including a handy dandy infographic) if you'd like to learn more!
With a cake, I want the texture to be airy and light, so I like to rely on aquafaba, which is simply the liquid leftover from cooked or canned chickpeas. When you lightly whip aquafaba, as is done in this recipe, it turns foamy and light, which then helps to create a light and fluffy texture and gives a nice lift to cakes.
Since loaf cakes are naturally quite dense, this pumpkin spice bread isn't going to be light and fluffy, but it will be significantly lighter and more tender than if you used a different egg substitute (e.g., applesauce or flax eggs) or omitted the aquafaba entirely.
Vegan Buttermilk. Vegan buttermilk couldn't be simpler to make. Simply mix a plant-based milk (I use oat milk for its superior browning capabilities in baking, but most plant-based milks work well) with a source of acid (typically, lemon juice or apple cider vinegar) and set aside until it curdles.
As with traditional buttermilk, the vegan buttermilk's acidity, when combined with baking soda during the baking process, will bring tenderness and lightness to the cake.
Brown Sugar. I opt for brown sugar over white sugar because I love the subtle molasses flavor in combination with pumpkin.
Sunflower Oil. I like using sunflower oil in baking because it's fairly neutral in flavor and a better option, health-wise, than plain vegetable oil or canola oil.
Maple Syrup. The first time I made this pumpkin bread, I used 1 1/4 cups brown sugar and no maple syrup. It was delicious, but I wanted a bit more maple flavor to go with the maple tahini icing, so I changed the recipe and swapped out 2 tablespoons of brown sugar for 2 tablespoons maple syrup.
Note: I would be hesitant to replace a greater quantity of brown sugar with maple syrup because the latter is a liquid sweetener, so you'd have too many liquid ingredients relative to dry ones.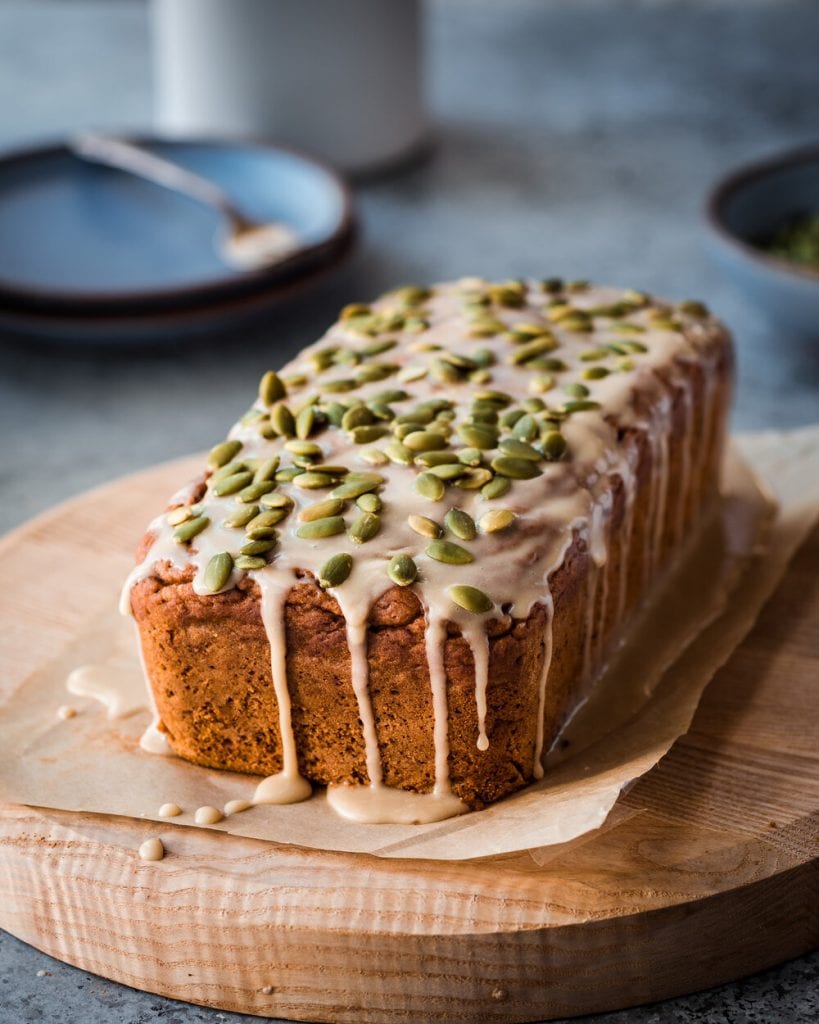 All-Purpose Flour. All-purpose flour is my ride-or-die when it comes to baking. Is it the healthiest? No. But baked goods are meant to be a treat!
So, if you can tolerate gluten (i.e., you're not allergic or seriously intolerant), make this recipe recipe as written! The texture will be significantly better and your taste buds will thank you. Remember, loaf cakes already tend to be dense, and gluten-free cakes are almost always denser than gluten-ful cakes.
Baking Soda + Baking Powder. I use both of these ingredient as leaveners, along with the vegan buttermilk discussed above.
Baking soda requires a bit of acid in the recipe in order start reacting. In this recipe, the acid is the vegan buttermilk (plant milk + vinegar). It helps activate the leavening action of baking soda, enhancing the amount of rise in the cake. And the alkaline nature of baking soda (as opposed to the acidic nature of vinegar) cancels out any sour buttermilk flavor so you don't end up with an unwanted tangy taste.
Homemade Pumpkin Spice. This is one of the most important parts of this recipe! Read more about why my homemade pumpkin spice is key in the section "Frequently asked questions."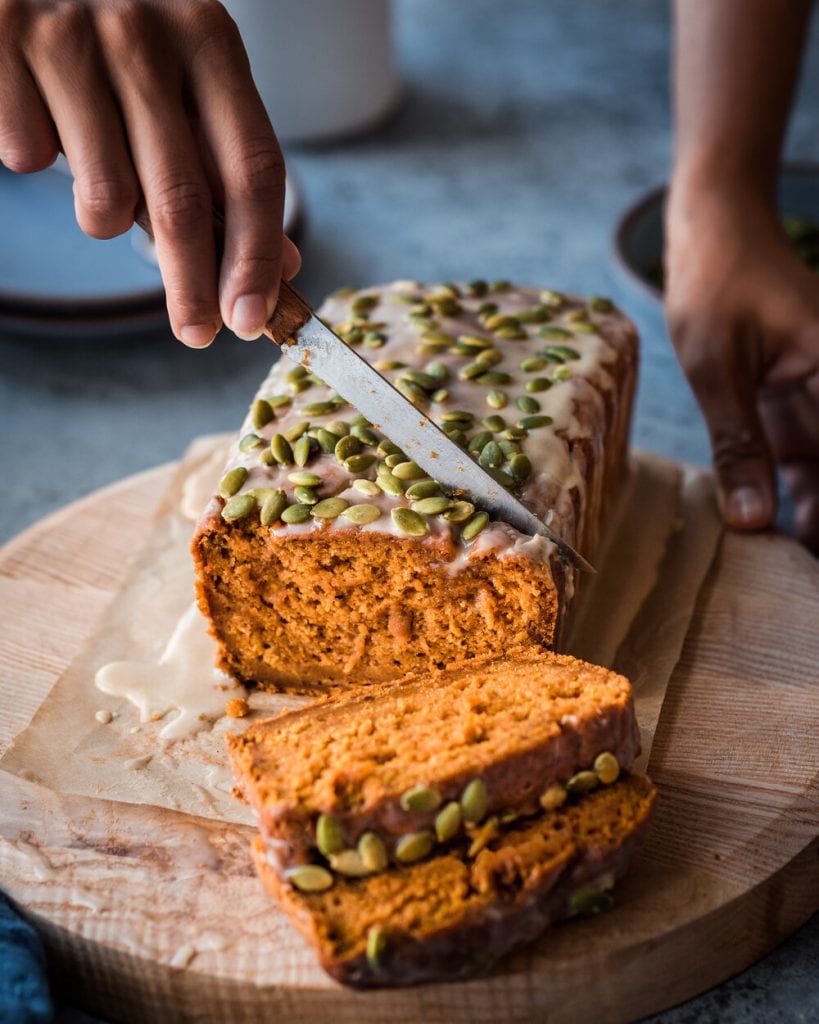 Watch! How to make The Best Vegan Pumpkin Spice Bread
Tips for making Vegan Pumpkin Spice Bread
I noticed a difference in canned pumpkin brands when making this recipe. When I used organic canned pumpkin puree instead of the conventional canned pumpkin from Libby's, the pumpkin puree was more watery, resulting in a somewhat more liquid-y batter. Whether you use canned pumpkin puree or homemade pumpkin puree, if your batter seems more liquid-y than the batter shown in the video at the 6:39 mark, be sure to strain the pumpkin puree until all the excess water runs off.
Use a digital scale and/or measure your flour properly. I am a strong proponent of using a digital scale for all baking purposes, as it yields the most exact results.
But if you don't have a digital scale, please do not scoop the flour straight out of the bag or container. This always results in getting too much flour in your measuring cup, and too much flour = dry baked goods. Typically, when you scoop 1 cup of flour straight out of the bag/jar, you're actually scooping closer to 1 1/4 cups in grams. In this recipe, that means, instead of using 2 cups of flour, you're getting 2 1/2 cups of flour (not an insignificant difference)
Instead, use the spoon and level method. Spoon your flour out of the bag/jar into the measuring cup until almost full, then use a butter knife to level it off.
No overmixing! Once the wet and dry ingredients are just incorporated and flour pockets are gone, stop mixing. The batter doesn't need to be (and shouldn't be) smooth. Lumps are okay because pumpkin bread is rustic! Overmixing is one of the most common baking mistakes, and it can cause the gluten to overdevelop. This can result in cakes that are dry, tough, dense, or gummy.
I use a standard 9×5-inch loaf pan (23×13 cm), but if your pan is slightly smaller (e.g., 8×4-inch), there will be a bit of excess batter. Don't try to fit it all into the loaf pan, or it might rise too high and make a mess in your oven. Also, an 8×4" pan will produce a taller, more compact cake, so you might need to add 5 minutes extra to the bake time.
Get an oven thermometer and allow adequate time to preheat! Every oven is different, and if yours hasn't been calibrated, chances are it's a bit off. Plus, most home ovens don't reach the stated temperature when the preheat cycle is over.
Use a toothpick for doneness. To test whether a loaf cake is done, insert a toothpick in the top sides of the cake (insert the toothpick at an angle, not straight down). This angled position is a much more reliable indicator of whether a loaf cake is baked through. If there are just a few moist crumbs, the cake is done.
I like to check the cake at 50 minutes and insert a toothpick in. If the toothpick reveals batter that is still a bit gooey, return the pan to the oven for 5-10 more minutes. If you're worried about the top overbrowning, you can loosely tent the pan with aluminum foil.
Frequently Asked Questions
Can I use Homemade Pumpkin Puree to make Pumpkin Spice Bread?
Yes. Here's how to substitute canned pumpkin puree with homemade pumpkin puree.
Slice a sugar pumpkin or pie pumpkin in half using a sharp knife and rocking motion. If it's too tough to slice, pop it in the microwave for 30 – 60 seconds.

Note: Don't use the really large carving pumpkins – they are pretty flavorless and don't have much flesh.

Lightly salt the flesh of the pumpkin, then place the pumpkin halves on a parchment paper lined baking sheet, cut side down. Bake in the oven at 400°F/205°C until fork tender, about 30 minutes for a small pie pumpkin, or 40-45 minutes for a larger one.

Once the pumpkin is cool enough to handle, the skin should peel off easily. Add the flesh to a food processor and puree for about 2 minutes, or until you have a really smooth puree.

Place the puree over a fine mesh sieve and stir with a spoon to let any excess water drain out. If you have cheesecloth, line the sieve with that and drain.

Note: This step is essential since homemade puree is more watery than canned.

Finally, measure out the appropriate amount of pumpkin puree for this recipe: 425 grams, or about 2 tablespoons shy of 2 cups.
Is the Maple Tahini Icing Essential?
No, it's optional but it does take this bread over the top! The tahini in the icing brings a unique earthy-nutty flavor that pairs beautifully with the classic pumpkin spice flavors. Max said that this icing tastes like halva, a delightful Middle Eastern dessert made from tahini and sugar, and I'd have to agree with him.
And, obviously, the additional sugar makes it more decadent, taking this pumpkin bread a breakfast/snack to a dessert.
I recommend pouring the icing only on the amount of bread you plan to eat to prevent any sogginess.
Does Homemade Pumpkin Spice Make a Difference?
If you want the best-tasting and most flavorful pumpkin bread, then YES.
The third time I baked this bread, we had just moved into our new house and I hadn't unpacked all of my spices, so I just used a store-bought pumpkin spice blend. And let me tell you, there was a marked difference in taste. The pumpkin bread made with homemade pumpkin spice had more warming notes and more depth of flavor and was was overall much tastier.
The version with homemade pumpkin spice tasted like the essence of pumpkin encapsulated into one cake. When my dad tried it, he kept making oohing and ahhing, noises and giddily said "Oooh, I taste cloves, I taste nutmeg, I taste cinnamon. The version with the store-bought spice blend was nice and fairly tasty, but it didn't scream "PUMPKIN" in the same way.
Here's why using my homemade pumpkin spice is key in this recipe. Store-bought pumpkin spices are made with a blend of pre-ground spices. Spices lose some of their potency shortly after being ground, so any store-bought spice is going to be less flavorful than its freshly ground counterpart. On top of that, there's no way to tell how fresh (or not fresh) the pre-ground spices are when the commercial manufacture bottles that pumpkin spice blend.
Plus, if you're relying on last season's pumpkin spice bottle shoved way back in the cupboard, it's going to be lacking that rich flavor that takes this recipe from a pumpkin bread to a pumpkin spice bread.
My homemade pumpkin spice blend contains cinnamon, ginger, allspice, cloves, and freshly grated nutmeg. I might sound like a broken record player on this point, but freshly grated nutmeg makes a noticeable difference in baked goods. It's sweeter, spicier, and more potent in flavor. And my version has more cloves than most store-bought versions, which brings a uniquely pungent warming-sweet-hot flavor that is missing in most pumpkin-flavored baked goods.
Can I substitute [X] for [Y]?
Brown sugar? I haven't tried this recipe with coconut sugar, but it should work well (the cake will be slightly less moist but still good).
Sunflower oil? Any neutral-flavored oil will work.
All-purpose flour? I haven't tried this recipe with any other flour. If you're allergic to gluten, your best bet is a good-quality gluten-free all purpose flour. But remember, gluten-free cakes are almost always denser, so you won't get the same tender texture.
Aquafaba? Aquafaba is one of the ways I keep this bread light and tender, so I wouldn't recommend substituting it. Plus, as long as you have a can of chickpeas, you have yourself some aquafaba!
Apple cider vinegar? You can sub lemon juice or white vinegar.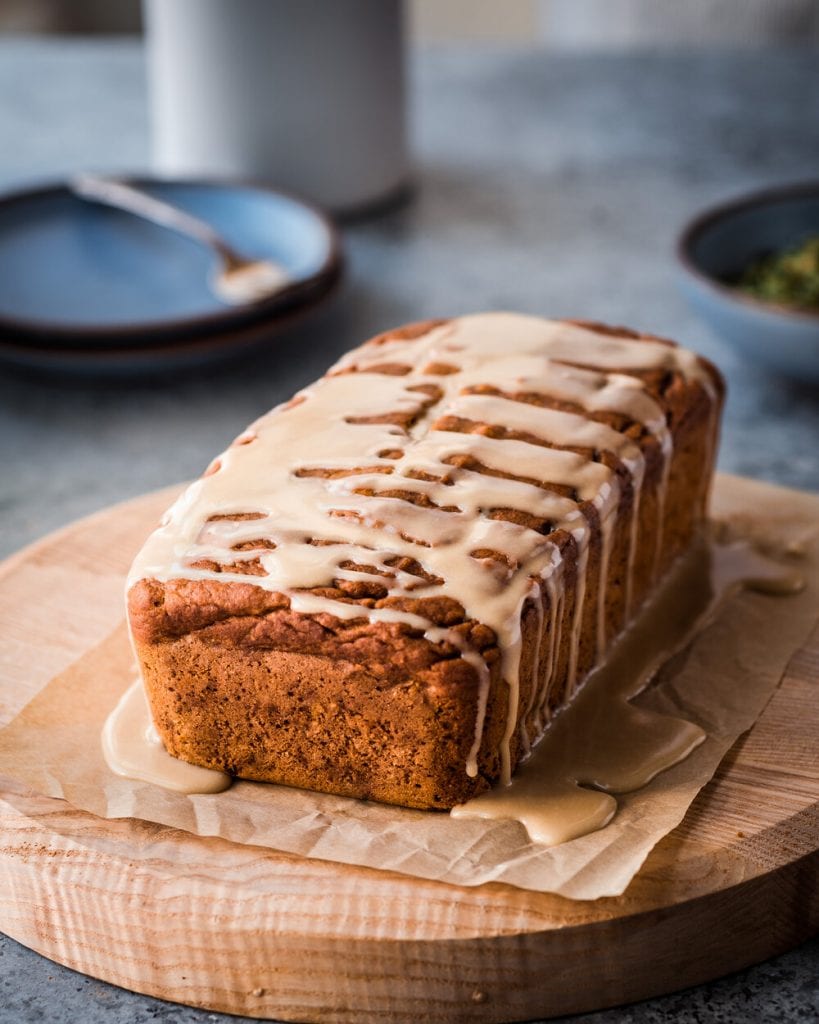 More delicious pumpkin treats
For more pumpkin desserts, you could check out my Pumpkin Miso Tart, my Pumpkin Spice Muffins, or just check out this round-up of 10 vegan pumpkin desserts. Can you tell I like pumpkin?
And if you give this Vegan Pumpkin Spice Bread recipe a try, be sure to tag me on Instagram with your recreations and please comment with your feedback below!
The Best Vegan Pumpkin Bread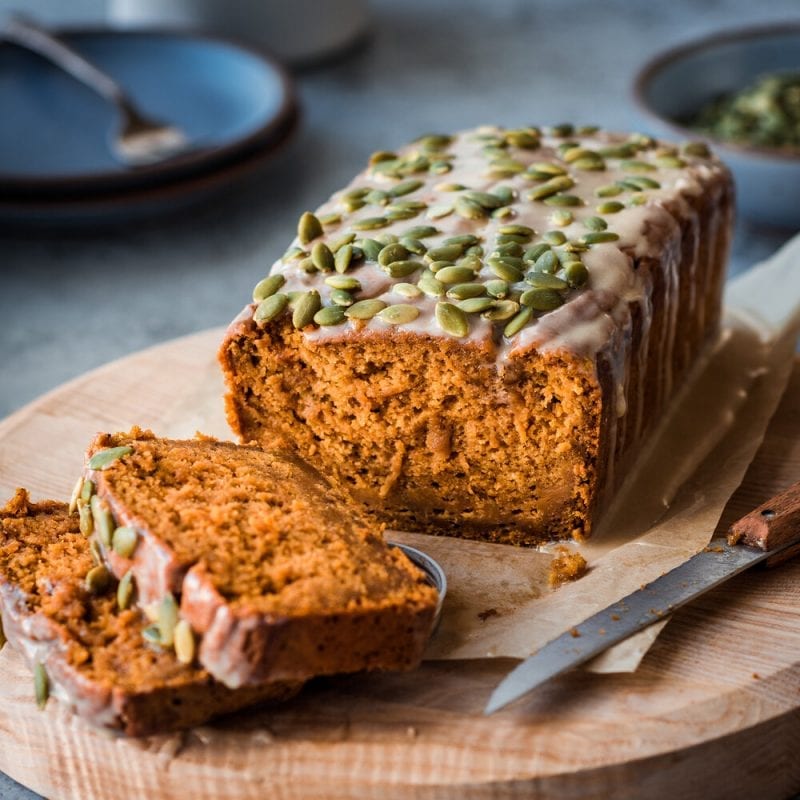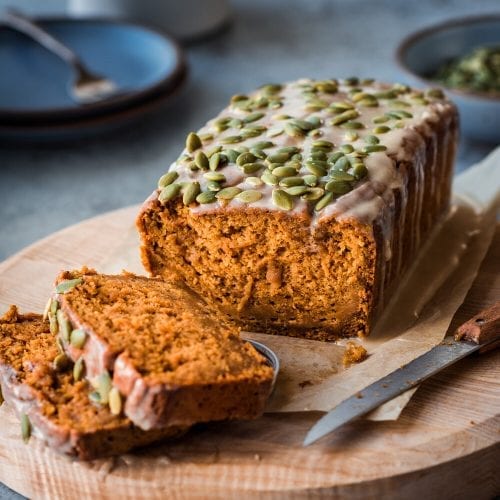 This is the BEST vegan pumpkin spice bread you'll try! It's incredibly moist and tender, uses simple ingredients, and features a homemade pumpkin spice blend that takes the flavor over the top. A must make during pumpkin season!
Ingredients
Pumpkin Bread Ingredients
6

tablespoons

(~90 mL) aquafaba

1/4

cup

(60 mL) oat milk,

or unsweetened plant-based milk of choice

1

tablespoon

apple cider vinegar

1/3

cup

(75 -80 mL) sunflower oil

1

cup

+ 2 tbsp (170g) organic brown sugar, loosely packed

1

15-ounce (425g) can pumpkin puree

(I recommend not using organic canned pumpkin)*

2

tablespoons

maple syrup

1

teaspoon

pure vanilla extract

2

cups

(240g) all-purpose flour, spooned and leveled

(see "Tips" section above)

1

teaspoon

baking soda

1/2

teaspoon

baking powder

1/2

teaspoon

fine sea salt
Homemade Pumpkin Spice
2

teaspoons

ground cinnamon

1/2

teaspoon

ground ginger

1/2

teaspoon

freshly grated nutmeg

1/4

teaspoon

ground allspice

3/4

teaspoon

ground cloves
Optional Toppings
Maple Tahini Icing

Pepitas or finely chopped pistachios

optional
Maple Tahini Icing
1

cup

(120g) organic powdered sugar

2

tablespoons

good-quality tahini**

3

tablespoons

oat milk,

or unsweetened plant-based milk of choice

1

teaspoon

pure maple syrup
Instructions
Preheat the oven to 350°F/176°C. Arrange a rack in the middle or bottom third of the oven. Line a 9x5-inch loaf pan (23x13 cm) with parchment paper, letting the excess hang over the long sides to form a sling.

Stir the vinegar into the plant-based milk and set aside to curdle. This is the vegan "buttermilk."

Pour the aquafaba into a small bowl. Using a handheld electric mixer, whip the aquafaba on medium speed for 45 seconds, or until uniformly foamy.

In a large mixing bowl, add the brown sugar and oil. Mix using the electric mixer or a whisk until well combined.

Add the whipped aquafaba into the oil-sugar mixture and mix until well incorporated. Add in the "buttermilk", pumpkin puree, maple syrup, and vanilla. Mix until smooth and the ingredients are well incorporated.

In a medium bowl, combine the flour, baking soda, baking powder, salt, and all of the pumpkin spices. Whisk well to ensure the leaveners and spices are evenly distributed.

Using a silicone spatula or large wooden spoon), add the dry ingredients into the wet ingredients and gently stir until the ingredients are just barely combined and no flour pockets remain, then stop mixing! The batter doesn't need to be (and shouldn't be) smooth. Some lumps are normal.

Pour the batter into the prepared loaf pan and smooth out the top of the batter using a spatula or spoon.

Bake in the preheated oven for 55 to 60 minutes, or until a toothpick inserted into the top sides of the cake comes out mostly clean with just a few moist crumbs.

Note: I like to check the cake at 50 minutes. If the toothpick reveals batter that is still a bit gooey, return the pan to the oven for 5-10 more minutes. If you're worried about the top overbrowning, you can loosely tent the pan with aluminum foil.

Transfer the pan to a wire rack and cool for 10-15 minutes. Then, using the parchment paper handles, remove the bread from the pan and cool on the rack for at least 30 minutes before serving.

When ready to serve, drizzle the Maple Tahini Icing on top of the amount of bread you plan to eat (or serve it on the side) and scatter with pepitas or pistachios (if using). Store leftovers in an airtight container at room temperature or in the fridge for 2-3 days.
Maple Tahini Icing
Sift the powdered sugar into a large bowl (sifting gets rid of the lumps in the sugar). Add in the tahini, milk, and maple syrup. Whisk to combine until the icing is thick but pourable. If too thin, add more sugar. If too thick, add more milk.
Notes
Organic canned pumpkin tends to be more watery than regular. If that's all that is available, strain it to get rid of excess water. To make homemade pumpkin puree, read the "Frequently asked questions" section,
** My favorite brands for tahini are Soom Foods and Seed and Mill. The Whole Foods 365 brand is also quite good.