My earliest memories of milkshakes involve the McDonald's drive-thru. My dad would order one chocolate milkshake and one strawberry milkshake, and we'd pass the cups around the car to share them both, until all of the thick, sweet goop had been sucked through the straw. My father grew up without much in India, so trust me when I say that he finished every last drop of the milkshake.
If no one was paying attention, I'd furtively dip a French fry or two into one of the milkshakes, savoring the bizarrely delicious sweet-salty combo as it instantly dissolved in my mouth. Now, as an adult, I know that the fast food industry gods had literally chemically engineered these foods to be addictive, but at eight years old, I was just living that ignorance-is-bliss chocolate milkshake life.
Fast forward many years later when I came to the belated realization that dairy is really bad for your body, animals, and the planet. Did this mean the era of milkshakes (and French fries) was over??
Not in the least! Because it is so easy to make dairy-free milkshakes! You can make them decadent by using vegan ice cream, or you can keep them on the healthy side for more of a vegan breakfast idea, like in this Vegan Chocolate Sweet Potato Milkshake!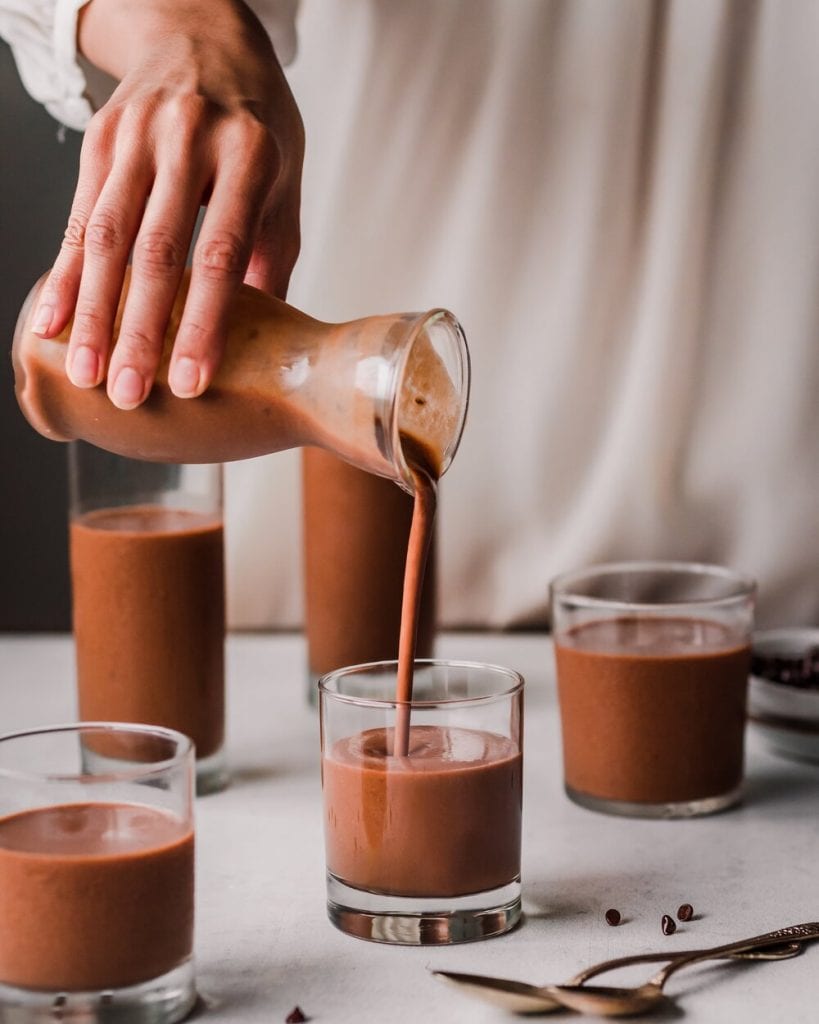 Why you'll love this recipe
You can have your cake (milkshake) and eat (drink) it too. This milkshake tastes like an indulgent chocolate milkshake but it's secretly so good for you! The main ingredients are sweet potatoes, bananas, raw cacao powder, and plant milk, so you're getting lots of fiber, Vitamin, and antioxidants!
Minimal ingredients. This recipe requires just six main ingredients!
Too easy to make. Just dump everything in a blender and blend away until you have a creamy, frosty milkshake!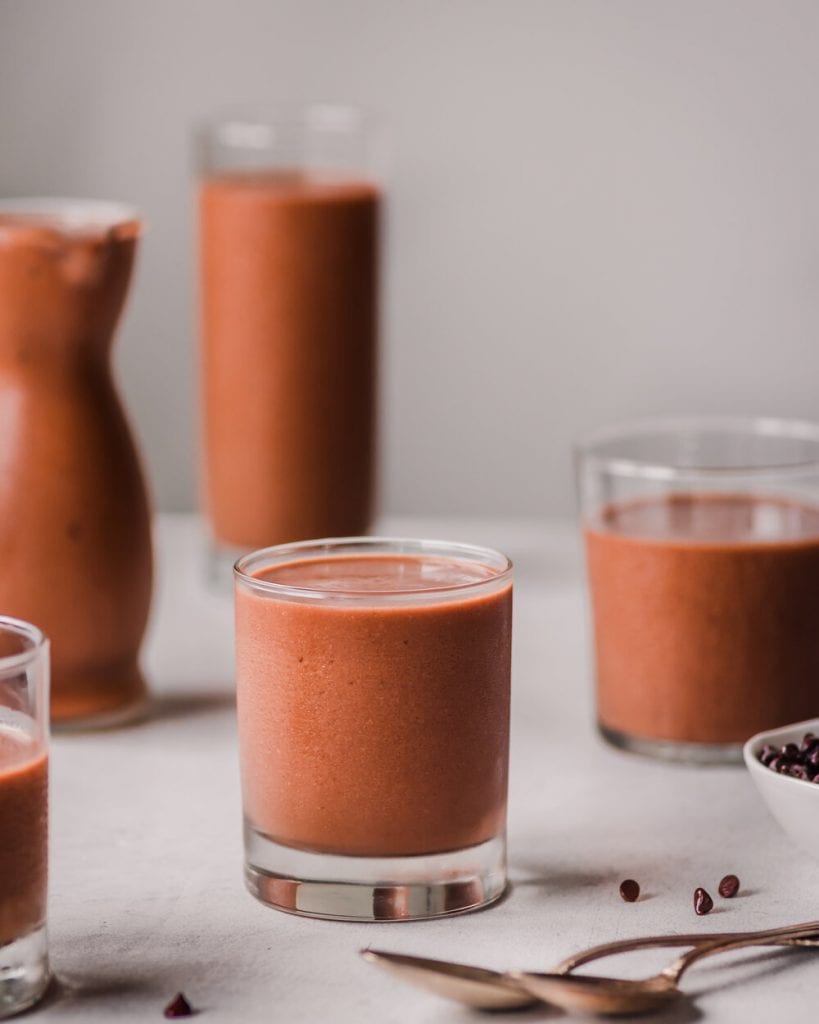 Ingredient Rundown
Sweet Potatoes. Sweet potatoes sound like an unusual ingredient for a milkshake, but I promise they work beautifully here, yielding that creamy texture that defines a milkshake (while also adding a healthy dose of nutrients).
I used the classic orange-flesh sweet potato, but I've also used Japanese sweet potatoes before, so use whatever variety you have!
To get the most sweetness out of your sweet potatoes, I recommend baking them. First, scrub them, then use a knife to slash several holes through the skin – this helps with even baking. Bake the potatoes (whole, unpeeled) on a baking tray at 400°F/200°C for 40-60 minutes (depending on their size). Once cool, remove the skins and scoop out the flesh.
That said, if you are in a rush and don't have pre-cooked sweet potatoes in your fridge, you can microwave the sweet potatoes. Wrap them in a damp paper towel and microwave on high for 4-6 minutes (depending on their size).
Looking for another fun sweet potato recipe? Try my Vegan Sweet Potato Casserole!
Bananas. Another plant-based star that brings a creamy, thick texture to this milkshake. If you've ever made nice cream, you know that bananas are the perfect ingredient in a healthy milkshake. The key is to use really ripe bananas. Once your bananas are speckled with brown spots all over, peel them, slice into rounds, and place them in the freezer.
When bananas are really ripe, they make for extra creamy milkshakes. While overripe bananas are not great for snacking (to be honest, they make me vomit), they are incredibly sweet and when in frozen form, they are not only edible but in fact delicious.
The sweetness of the ripe bananas means you may not even need to add any sweetener, though there is an option to add maple syrup to taste because, after all, this is dessert.
Creamy plant-based milk. I recommend something creamier than your standard store-bought almond milk because this is a milkshake and you're looking for that luscious texture. I have made this milkshake with oat milk and macadamia nut milk, and both are great, but you could also use cashew milk, soy milk, carton coconut milk, or canned lite coconut milk.
Cacao powder. For the chocolatey factor, I use raw cacao powder. I like using raw cacao powder here since the cacao powder isn't getting cooked, which means it retains all of its nutrients . Unlike cocoa powder, raw cacao powder is unprocessed and a good source of polyphenols, antioxidants, calcium, iron, magnesium, and zinc. That said, it's totally fine to use unsweetened cocoa powder—the taste will be the same.
Cinnamon and ginger. Cinnamon pairs beautifully with chocolate, and ginger gives the milkshake a subtle background zing.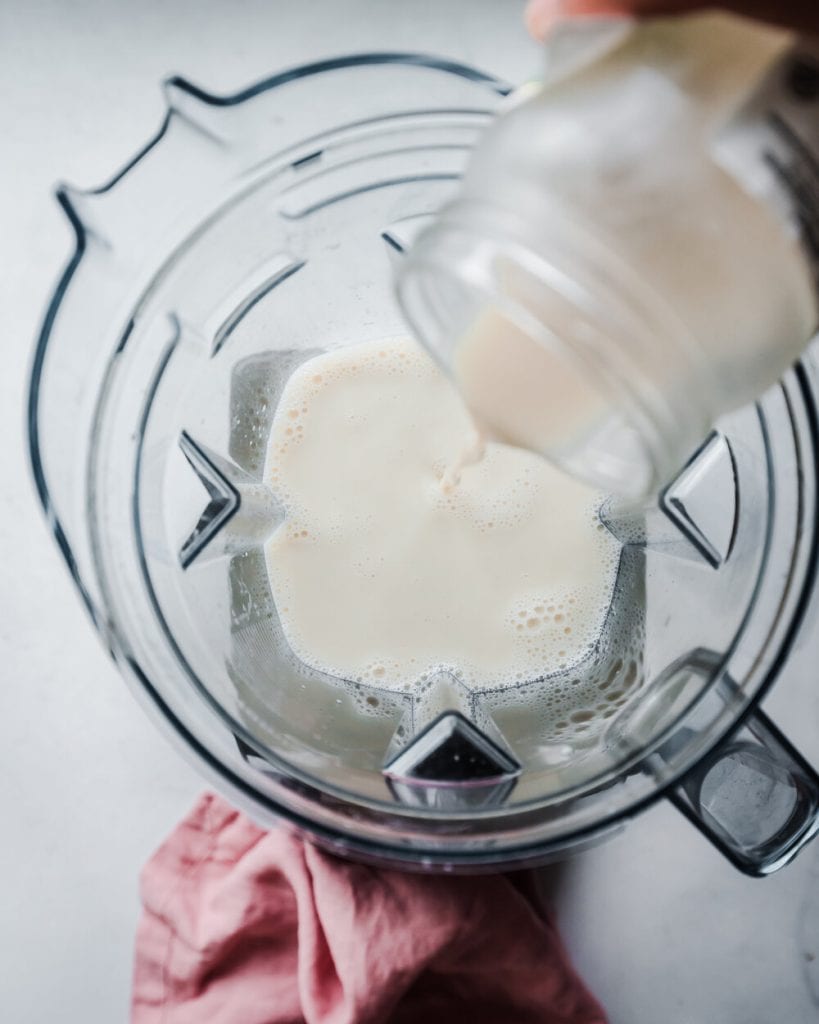 How to serve this milkshake
This milkshake is quite versatile and can be served in a number of ways. First, it's healthy enough for breakfast, and that's how I've been enjoying it recently.
But, you could also boost it with a scoop of protein powder as a post-workout shake. Since most protein powders contain sugar or sweetener, omit the optional maple syrup.
And obviously, you can serve this milkshake for dessert! To make it a truly decadent milkshake for dessert, dollop with some homemade vegan whipped cream or store-bought nondairy whipped topping (I use So Delicious Coco Whip), vegan chocolate chips or shredded dark chocolate, or swirl in some melted dark chocolate.
And if you're a serious chocolate fiend looking for serious chocolate treats, my rich and luxurious Vegan Hot Chocolate and Vegan Chocolate Mousse are not to be missed!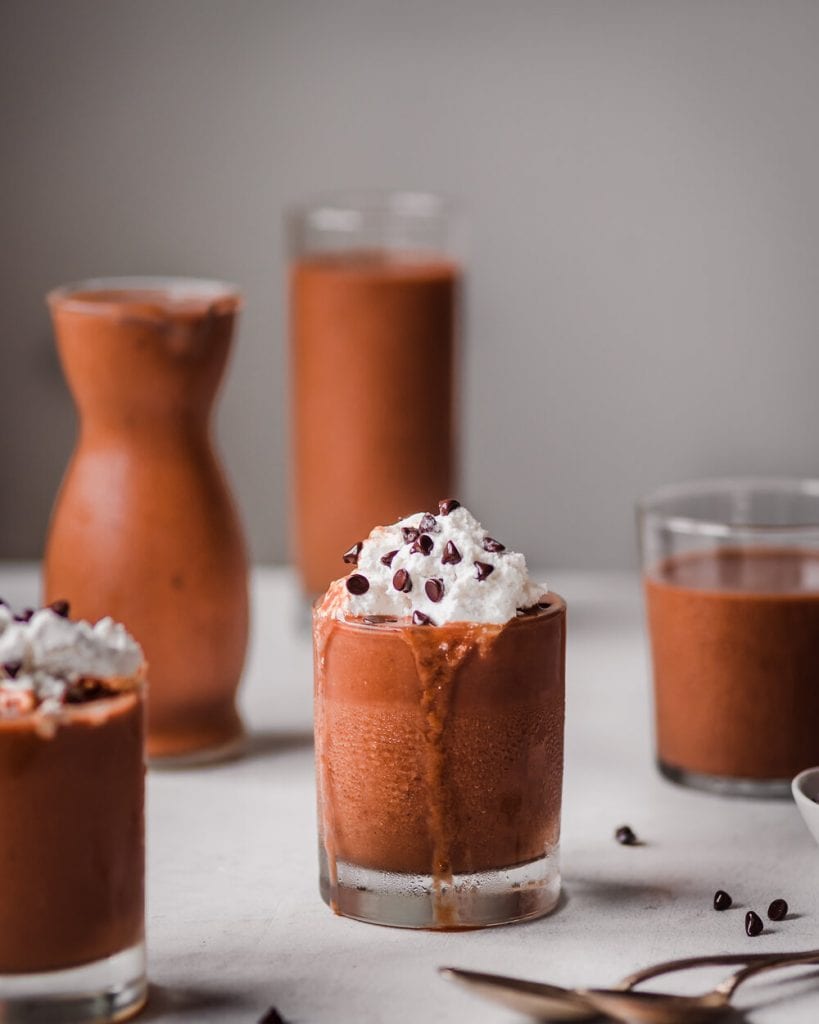 If you give this Vegan Chocolate Sweet Potato Milkshake recipe a try, be sure to tag me on Instagram with your recreations and please comment with your feedback below!
Vegan Chocolate Sweet Potato Milkshake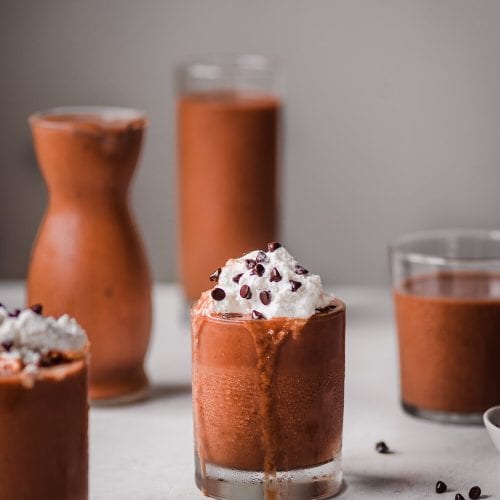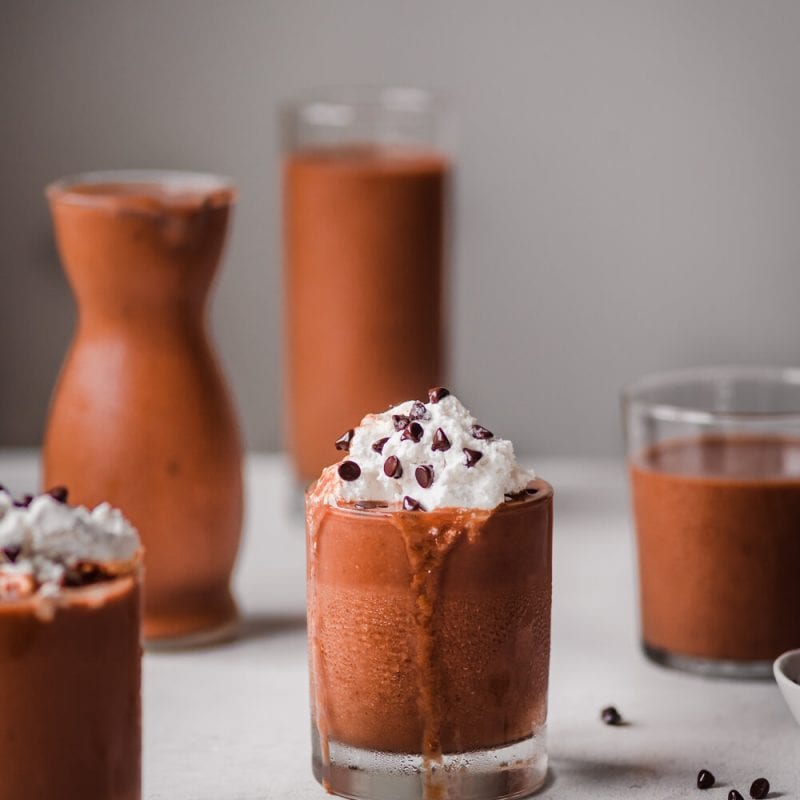 This vegan chocolate milkshake is just as luscious and creamy as the classic but it's packed with nutrients and antioxidants! Made with sweet potatoes, frozen bananas, and raw cacao powder, it's a milkshake you can feel good about!
Ingredients
2

medium-sized sweet potatoes

(about 14 ounces or 400g)

3

cups

(720 mL) creamy plant-based milk (something like oat milk, coconut milk, cashew milk, soy milk or macadamia nut milk; use a nut-free or soy-free milk as needed)

3

large,

ripe frozen bananas

1/4

cup

(20-24g) raw cacao powder or unsweetened cocoa powder

2

tablespoons

maple syrup

(optional, sweeten to taste)

1

teaspoon

ground cinnamon

1/2

teaspoon

ground ginger

Optional garnishes: melted dark chocolate,

vegan chocolate chips, coconut whipped cream or nondairy whipped topping
Instructions
To bake the sweet potatoes in the oven, preheat the oven to 400ºF/200ºC. Use a knife to slash several holes through the skin. Place on a parchment paper-lined baking sheet and bake for 40-60 minutes (depending on size), until completely fork-tender. Allow the potatoes to cool slightly until you can handle them, and then slide the skins off.

In a high-powered blender, add the plant-based milk, sweet potato flesh, frozen bananas, cacao powder, maple syrup (if using), cinnamon, and ginger. Blend until the bananas and sweet potatoes are completely pureed and you have a thick, smooth, and creamy texture. Taste, and add maple syrup to sweeten, as needed.

Pour the milkshake into glasses and top as desired. Store leftovers in the fridge for up to 2 days.
---
Calories:
361
kcal
|
Carbohydrates:
71
g
|
Protein:
10
g
|
Fat:
6
g
|
Saturated Fat:
1
g
|
Polyunsaturated Fat:
3
g
|
Monounsaturated Fat:
1
g
|
Sodium:
194
mg
|
Potassium:
1385
mg
|
Fiber:
12
g
|
Sugar:
28
g
|
Vitamin A:
19933
IU
|
Vitamin C:
32
mg
|
Calcium:
393
mg
|
Iron:
3
mg