Your summer picnics and weekday lunches just got 10x better and even exciting thanks to this Actually Good Quinoa Salad. It's bursting with irresistible and complex flavors and textures and is nothing like the boring quinoa salads I know you've had in the past.
This over-the-top quinoa chickpea salad is made with crispy toasted quinoa, roasted seasonal vegetables, marinated chickpeas, and fun mix-ins. Take it from a former quinoa hater, this salad is SO good that everyone in your life will love it.
Table of Contents:
1. Why this recipe works
2. Ingredient notes
3. Step-by-step instructions
4. Tips for making this recipe
5. Variations
6. Frequently Asked Questions
7. Recipe card with notes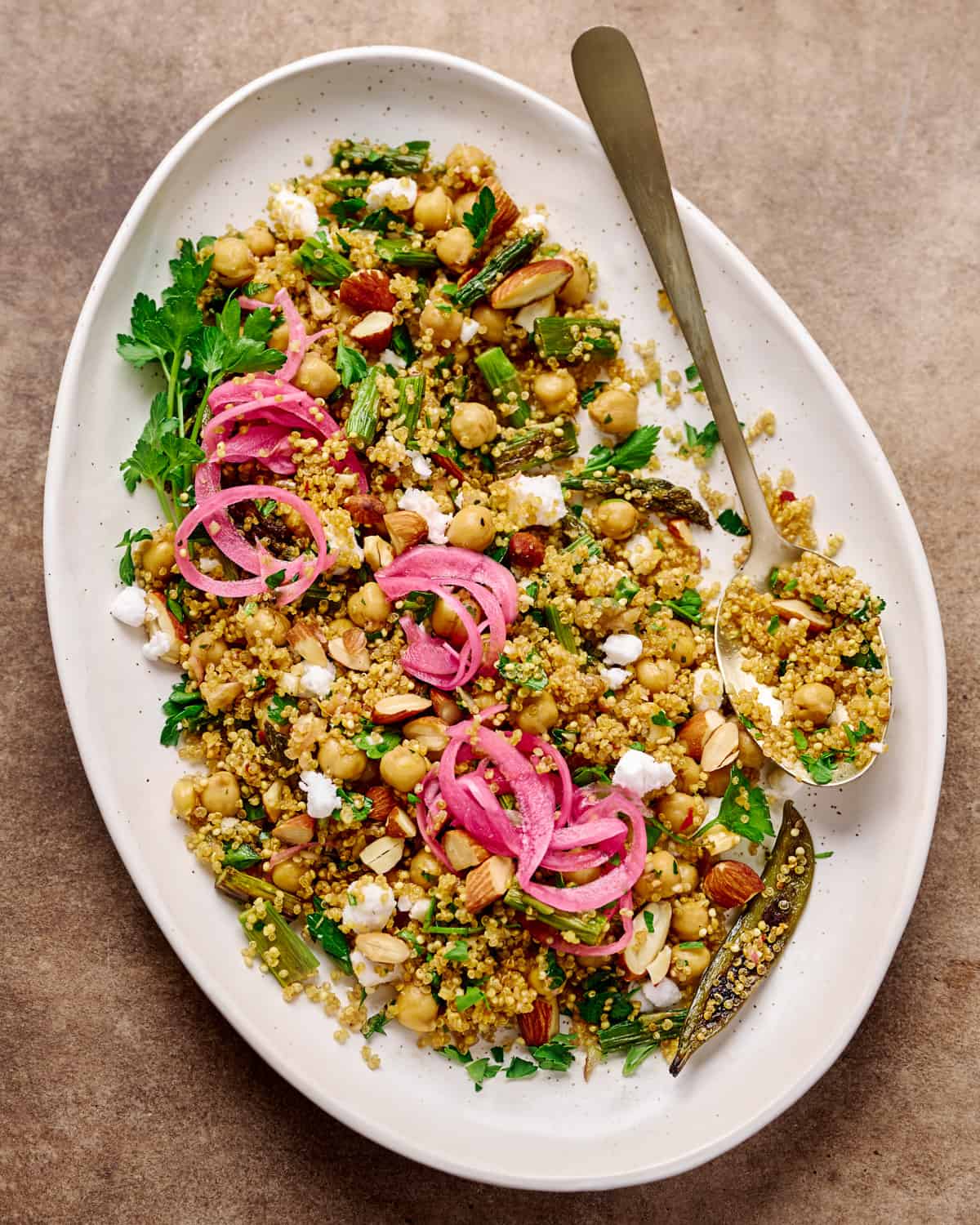 Why this recipe works
Quinoa just got exciting.
Do "quinoa" and "exciting" even belong in the same sentence? 99% of the time, I'd say absolutely not.
I know. I'm vegan. I'm supposed to love quinoa. But I don't. The flavor is meh at best, and the texture is almost like pebbly sand.
Toasted quinoa, however, is a totally different story. Toasting cooked quinoa in some olive oil in the oven takes it from boring to fantastic.

The combo of heat + fat works brings out the grain's natural nutty flavors. It's a simple method that turned me and my culinary assistant Hannah (and even my picky partner Max) into quinoa lovers.
The warm, nutty quinoa is complemented by tangy marinated chickpeas, tender-crisp roasted vegetables, and crunchy nuts. They're all tossed together, giving you peak texture wonderland and (most importantly) an actually good quinoa salad.
Well-balanced with nourishing ingredients.
This salad is not only flavor-packed but is also nourishing and well-rounded thanks to the variety of complex carbs, vegetables, protein, and healthy fats.
Both quinoa and chickpeas are wonderful sources of protein and fiber, while vegetables provide a wide range of vitamins and minerals (plus more fiber). Almonds add healthy fats and even more fiber, vitamins, and minerals!
This wide array of nutrients will keep your tummy full and happy for hours!
Versatile ingredients make it perfect for any season.
One of the best things about this quinoa salad recipe is just how versatile it is.

You can use any combination of in-season vegetables to bulk it up, as well as your choice of fresh herbs and mix-ins. Or just use whatever you already have on hand!
We tested several variations of this salad to make sure it works no matter the time of year, and it seriously delivered. You can find all kinds of ideas in the Variations section below.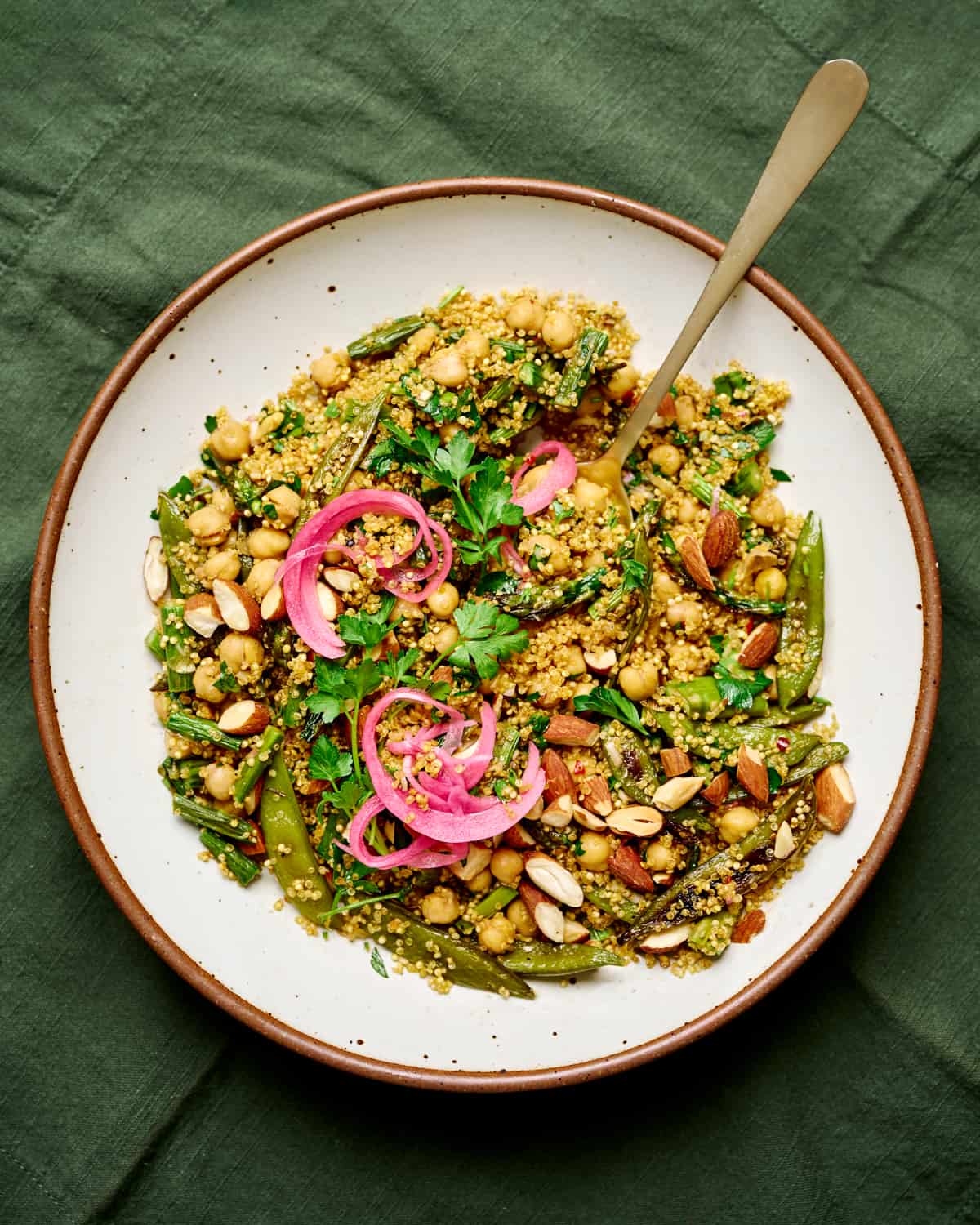 Ingredient notes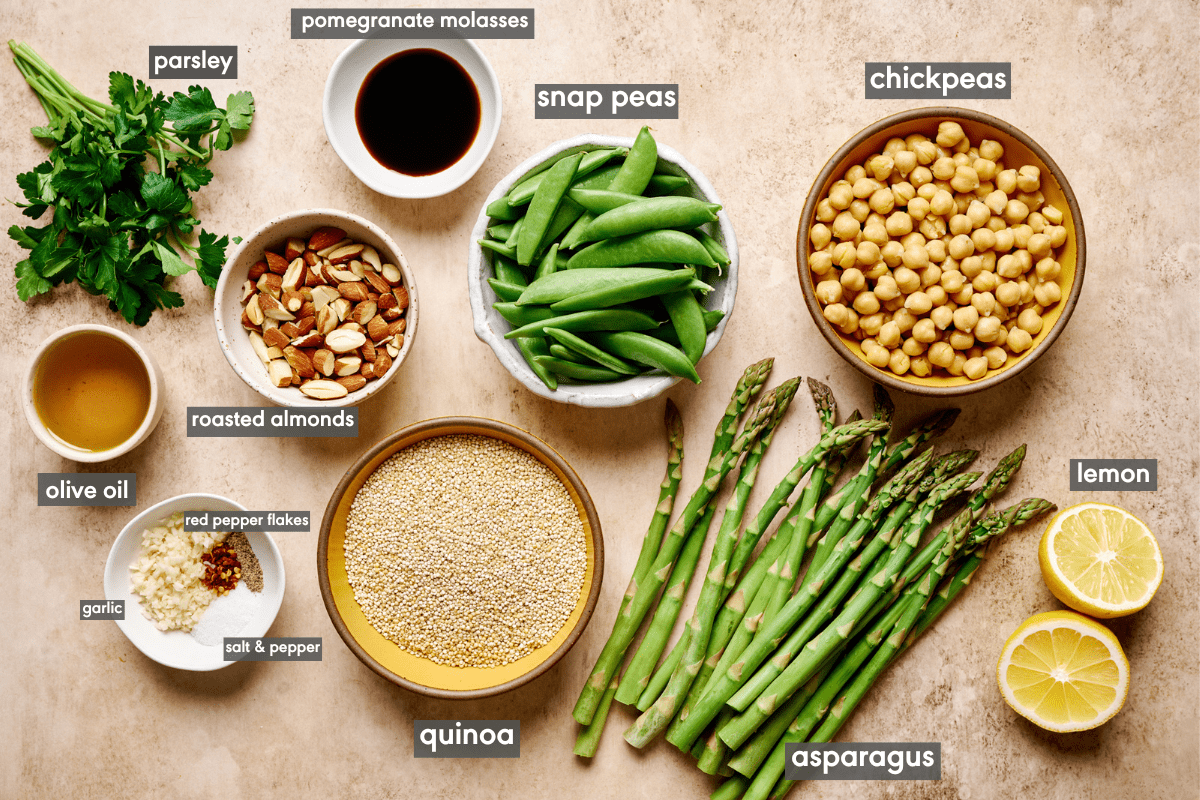 Quinoa
Quinoa is a seriously nutritious grain. Actually, it's technically a seed, so it's a pseudo-grain.
It's naturally gluten free, loaded with protein (8 grams per 1 cup), and a fantastic source of dietary fiber (5 grams per 1 cup).
If you enjoy quinoa, you can use it to bulk up salads, soups, and even chili, or even pulverize into flour to make healthy "alternative" Quinoa Pancakes.
Quinoa comes in three different colors: white, red, and black (or a mix of all three). I typically use white quinoa, but any variety will do.
Vegetables
Before you decide on which vegetables to toss in this salad, consider the season and/or what you already have on hand. We love making this recipe with asparagus and snap peas for a fresh spring flavor but often turn to cauliflower or winter squash once the cold weather rolls in.
Chickpeas
Regular canned chickpeas are soaked in a simple marinade made from pantry staples, flavor boosters, and fresh herbs. The beans take on big flavors (think tart, garlicky, and lemony) and a creamy texture without taking much extra time to prepare.
Pomegranate molasses
The star ingredient in the marinated chickpeas is pomegranate molasses, a thick, tangy syrup made from boiled pomegranate juice. It adds this amazingly unique and delightful sweet-tangy flavor that compliments the earthy taste of the quinoa and the fresh flavors of the vegetables. I can't recommend it enough in this recipe!
Where to buy: I've tried several different brands of pomegranate molasses, and the clear winner is the brand "Al Wadi". Find it directly from Amazon.com (affiliate link) or OliveNation.com. Or, if you have a Middle Eastern market near you, you'll find options there too.

Substitute: Use a good-quality aged balsamic vinegar instead. Start with just 1 tablespoon, give it a taste, then add more as needed. You can really use any vinegar, as long as it's a good-quality one that's not too harsh in flavor. Champagne vinegar would also be lovely.
Almonds (or pistachios)
Roasted nuts give this quinoa salad an amazing crunch that plays off the crispiness of the toasted quinoa. They're a healthy addition, too, filling each bite with plenty of fiber and heart-healthy fats (AKA monounsaturated and polyunsaturated fats).
Substitute: If allergic to nuts, try pepitas instead. Make sure to toast them in a dry frying pan over medium heat for about 3 to 5 minutes. This will bring out their natural nutty flavors and oils, which add even more dimension to the salad.
Vegan feta (optional)
Quinoa salad and feta go hand in hand. Whether you use your favorite brand of vegan feta or make your own using my Greek-Style Vegan Feta recipe, it adds a tangy, salty flavor and creamy texture that contrasts with the crunchy and crispy textures. If you don't have access to vegan feta, chunks of ripe avocado add a lovely creamy texture instead.
Where to buy: I've had my fair share of store-bought vegan feta, with Trader Joe's and Violife being two of my favorites. Follow Your Heart also has a good vegan feta.
Step-by-step instructions
Simmer the quinoa in a pot of water until all of the liquid has evaporated and the grains are tender.
Fluff the quinoa with a fork once it's done, then transfer it to a sheet pan. Use a spatula to spread it into an even layer and let it cool for a few minutes.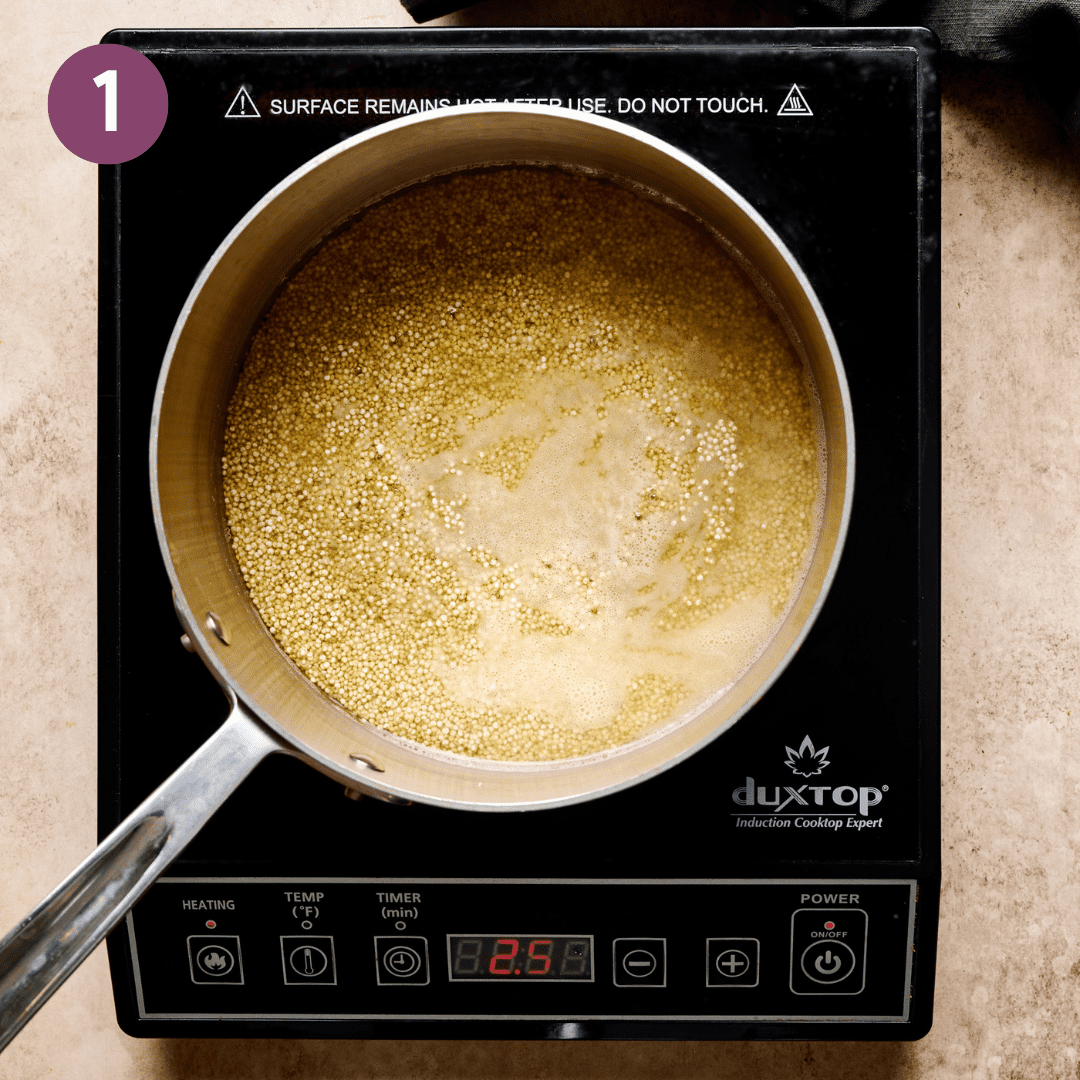 Meanwhile, slice the vegetables. Lay them in an even layer on a sheet pan and toss them with a bit of oil, salt, and pepper.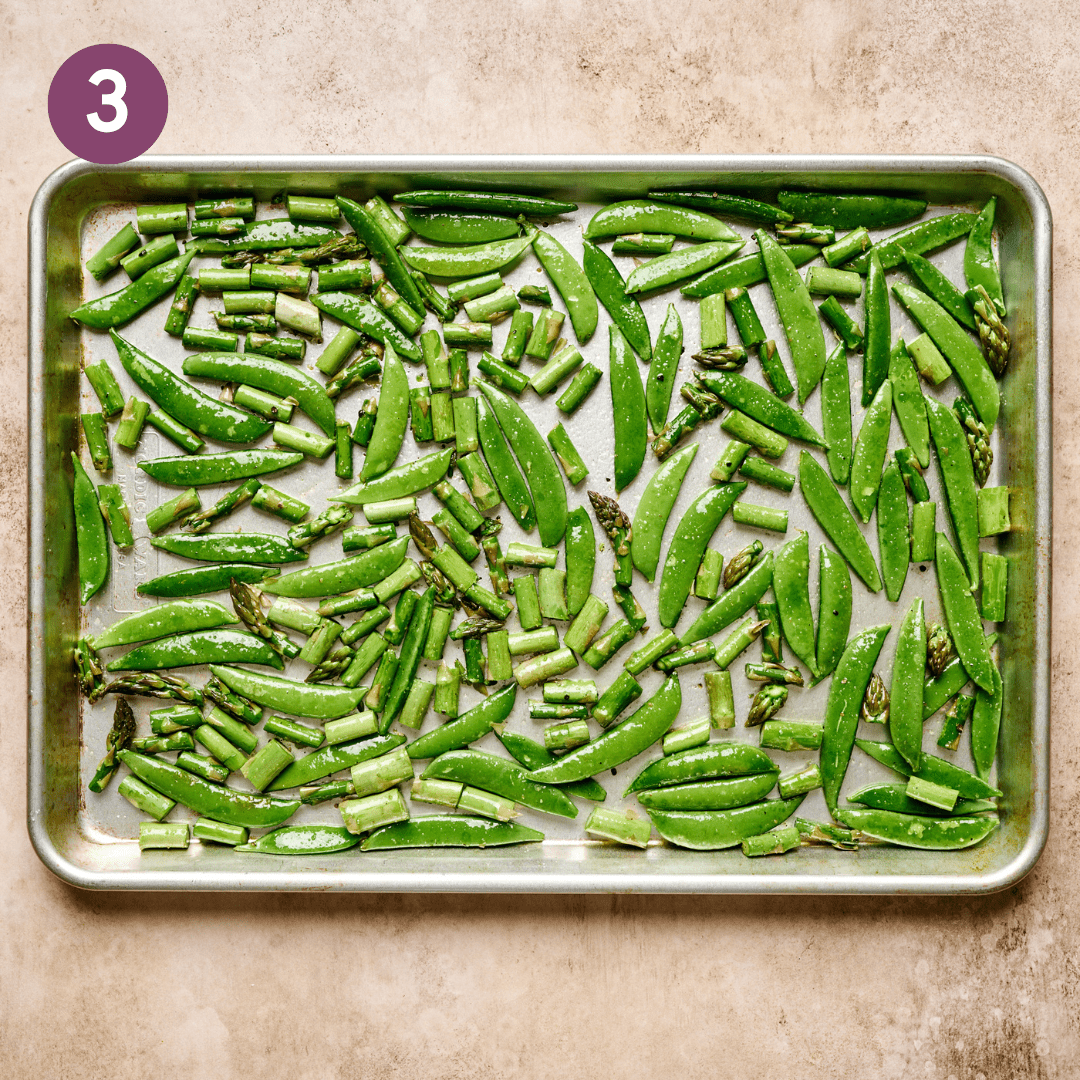 Toss the cooked quinoa on the sheet pan with a bit of olive oil and salt.
Roast the quinoa and vegetables in the oven until the quinoa is crispy and golden brown in spots and the vegetables are tender and lightly browned.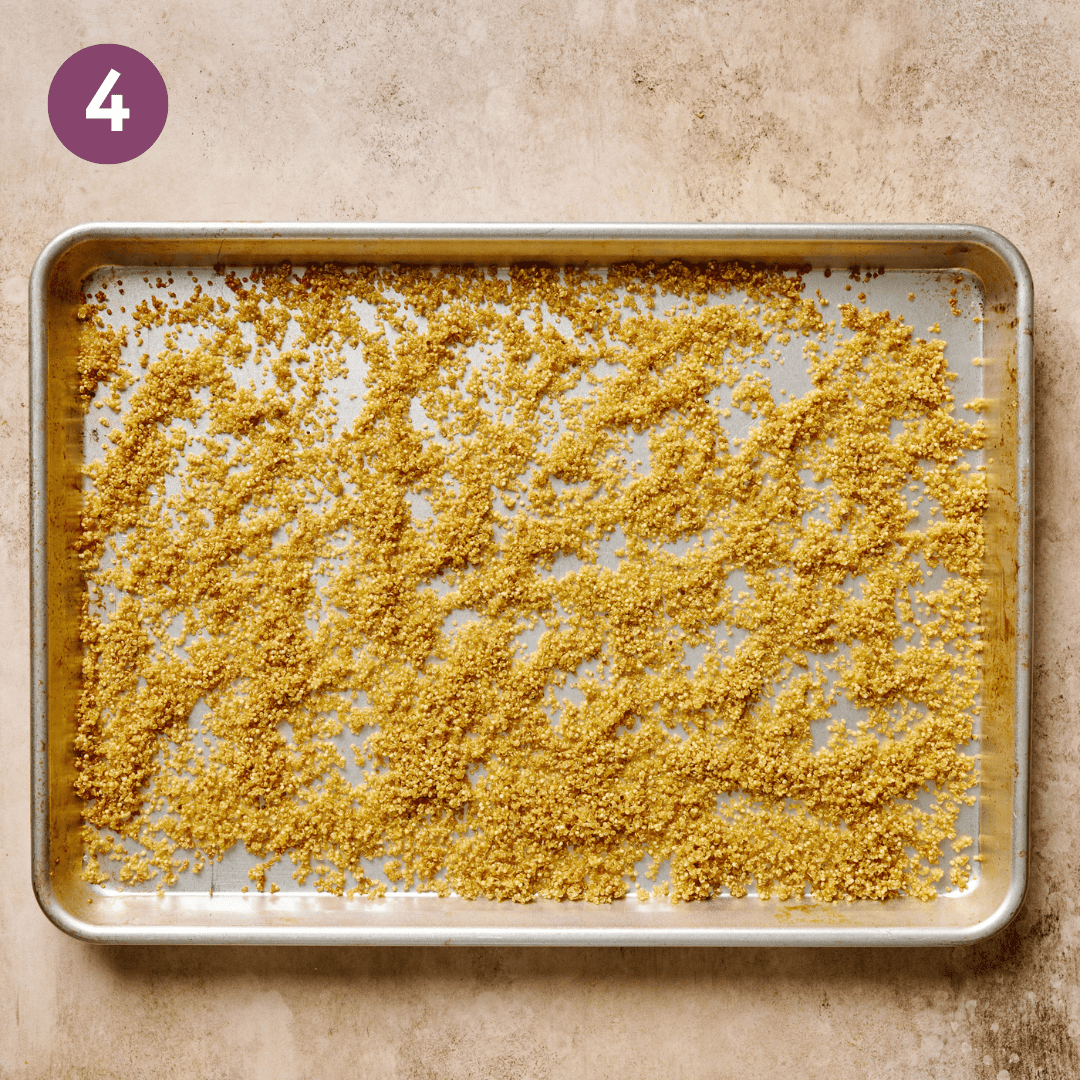 While you wait, marinate the chickpeas in a large bowl with the shallot, garlic, olive oil, lemon zest and juice, pomegranate molasses, herbs, salt, pepper, and red pepper flakes. Toss them a few times as they marinate for about 10 minutes.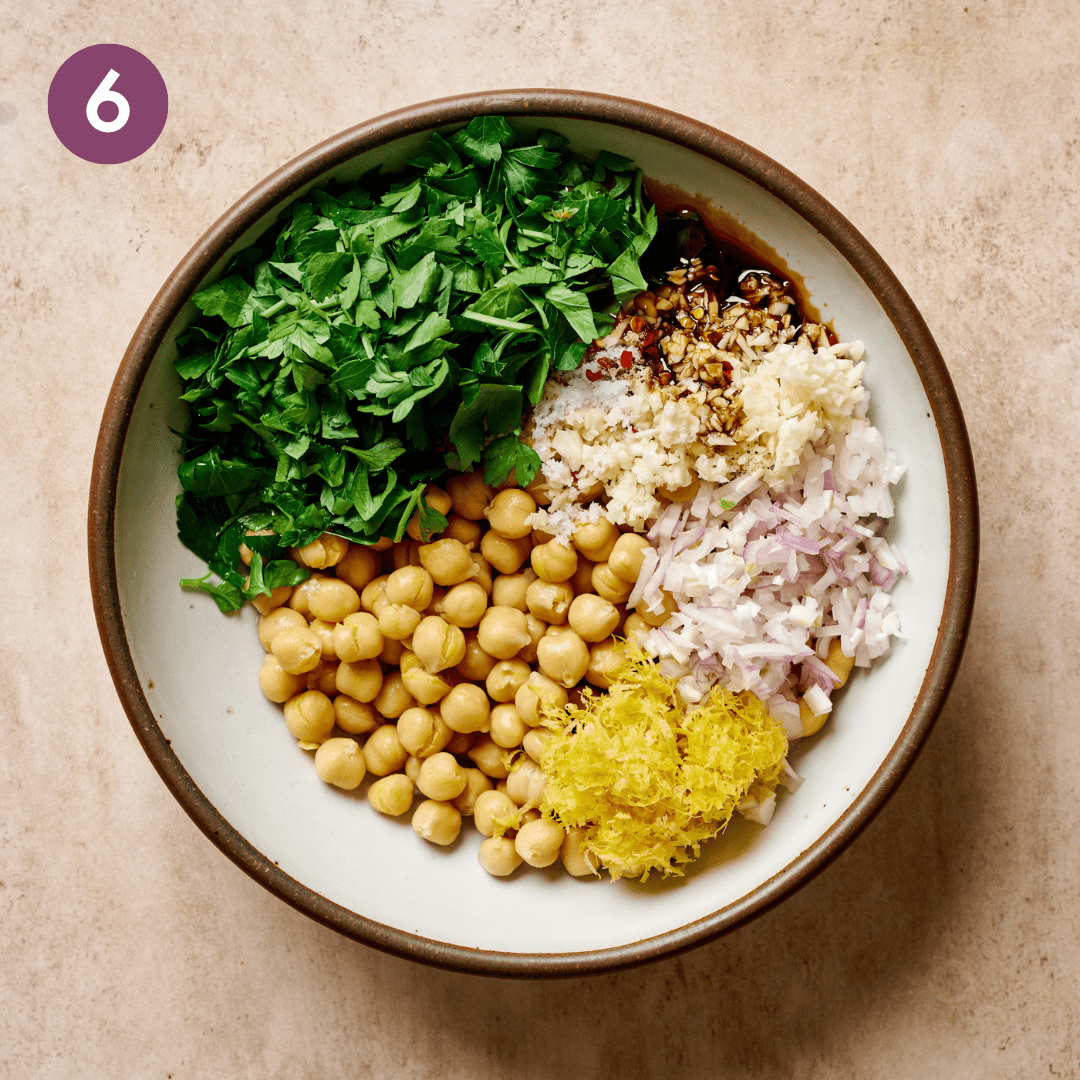 Combine. Add the roasted vegetables, toasted quinoa, and nuts to the bowl with the marinated chickpeas. Add in any mix-ins like vegan feta or pickled onions. Gently toss to combine. Finish with a spritz of lemon juice, then enjoy!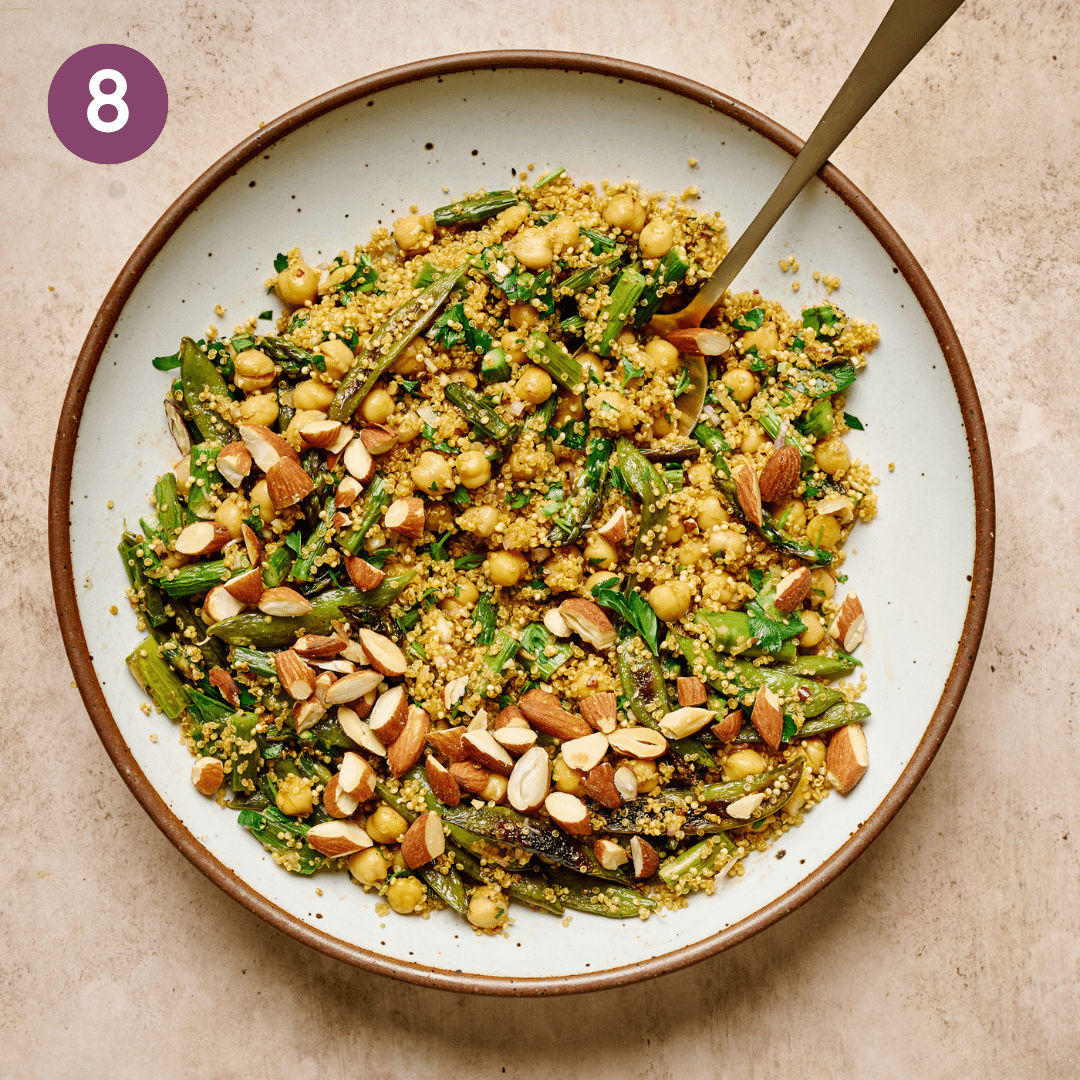 Tips for making this recipe
These simple tips will help you turn this salad into an over-the-top meal.
Seek out the pomegranate molasses.
This magical ingredient does some serious heavy lifting in this recipe. It adds a hint of richness and a depth of flavor, making it more complex and tastier than if you just used lemon juice or vinegar.
It comes with plenty of other uses, too. Pomegranate molasses is a wonderful addition to salad dressings and vinaigrettes, tahini sauces, yogurt sauces, hummus, and drizzled over roasted vegetables (especially winter squash, eggplant, zucchini, and cauliflower).
Tips for cooking quinoa
One of the mistakes I see around quinoa is using too much water. In our tests, the common 2 cups water to 1 cup quinoa left the quinoa water-logged, which made it difficult to fluff up.
Instead, we use just 1 1/4 cups (300 mL) water for 1 cup quinoa and the quinoa was not water logged and easy to fluff up. You do want to keep a few things in mind:
The key to cooking quinoa in minimal water involves (1) keeping the heat level on low (actually low, not medium-low) and (2) cooking the quinoa in a small or medium saucepan with the lid on. If you go above low heat, the water will absorb too quickly before the quinoa finishes cooking. If you use a large saucepan, the water won't be sufficiently high in the pan to cook the quinoa.
Tips for toasting quinoa
Remember to spread the rinsed quinoa in an even layer across the pan so it toasts evenly. Let it roast without tossing for 15 minutes. Or, if you're using a well-worn sheet pan, check it after 10 minutes. The quinoa tends to get crispy fastest around the edges, so when you toss the quinoa, mix well so the edges don't burn.
Get creative with the vegetables
Let the seasons and your imagination guide you! Once you make this recipe, try it with new vegetables, herbs, and mix-ins. This salad is flexible, versatile, and so fun to play with.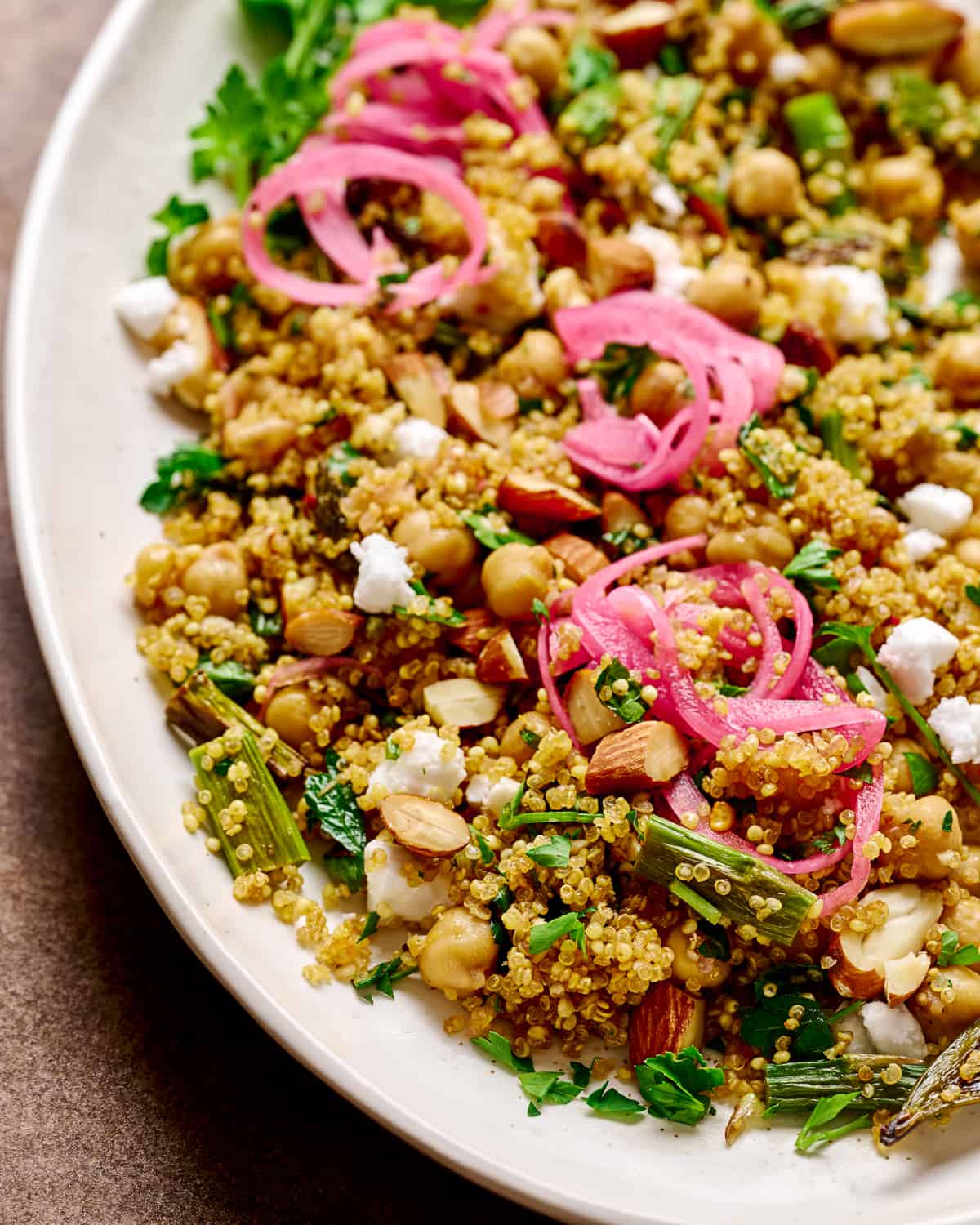 Variations
You can make a quinoa salad with any combination of in-season vegetables and mix-ins that you like but these ideas will help get you started:
Roasted vegetable options
Asparagus: bottoms trimmed and then cut into one-inch pieces. Great in spring and early summer.
Snap peas: kept whole. Best in spring and summer.
Fennel: cut the bulb in half lengthwise, then cut crosswise into ⅓ inch slices. Keep the fronds for garnish. Great in fall, winter, or spring.
Cherry tomatoes: halved. These are perfect for summer!
Broccoli or cauliflower: cut into small-to-medium florets. Usually good year round.
Carrots: slice diagonally (no fatter than ½-inch thick). Use these during fall, winter, and spring.
Winter squash: thinly sliced or cubed. Best in fall and winter.
Brussels sprouts: halved (quartered if large). Best in fall and winter.
Raw vegetables options
Fold in finely diced cucumbers. English cucumbers are great but Persian cucumbers are extra crunchy and fresh.
Pick up some extra sweet golden cherry tomatoes during the summer.
Finely diced red onions (instead of shallots) add more crunch and a tart flavor. To tone down this tartness, soak the onions in cold water for 10 minutes beforehand.
Other optional mix-ins
Vegan feta for a creamy texture and salty, tangy flavor.
Pickled items, like pickled red onions (2nd to last recipe card in the linked blog post) or sauerkraut, give the salad a tangy, salty flavor and subtle crisp texture.
Add hemp seeds for extra protein.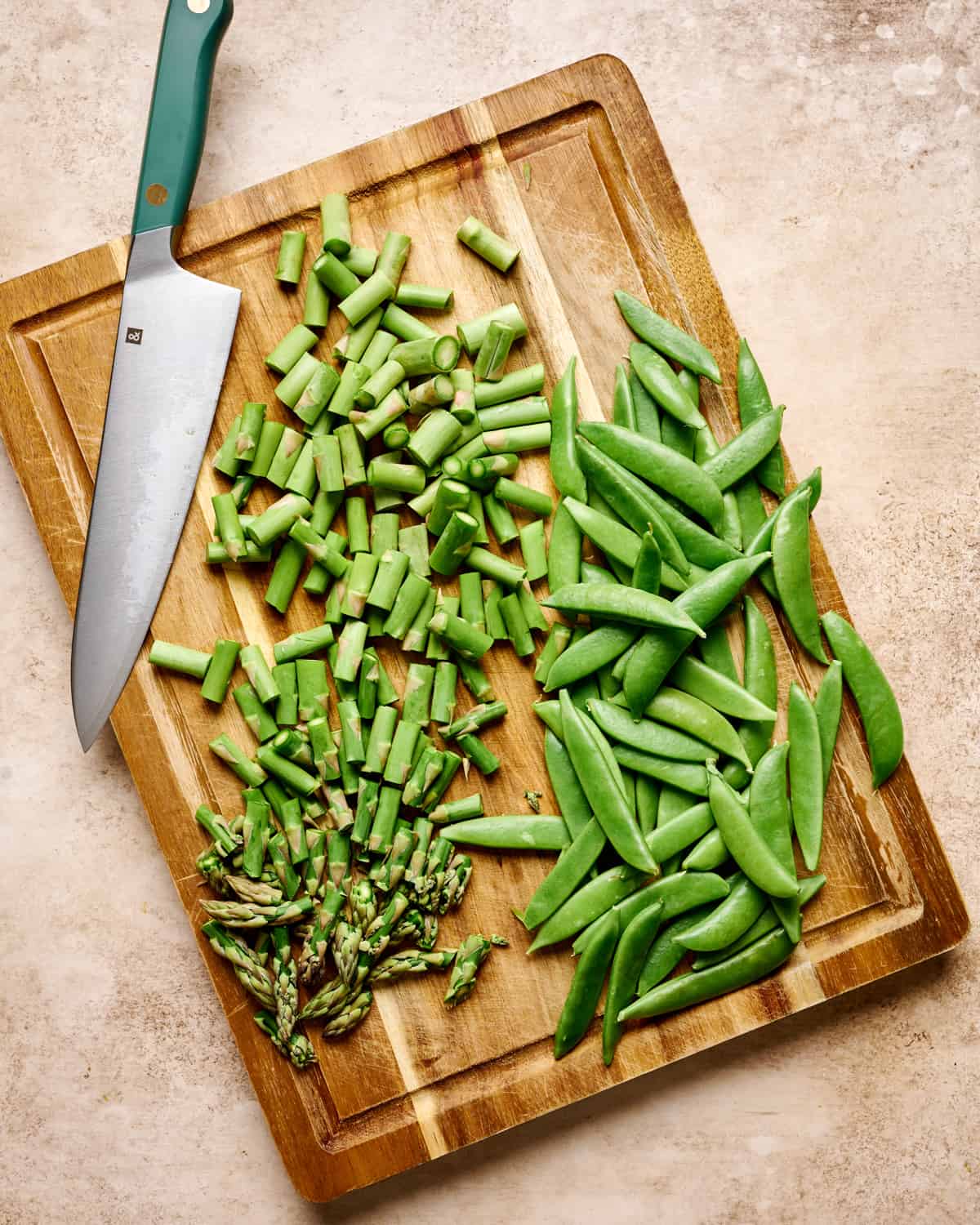 Frequently Asked Questions
Is quinoa salad healthy?
This quinoa salad is the answer to feeling nourished and satisfied. Almost every ingredient is packed with plant-based protein and fiber (the quinoa and chickpeas especially), along with a long list of vitamins, minerals, complex carbs, and healthy fats.
Can I make this nut free?
We find that the addition of almonds and/or pistachios gives the salad the most crunch and flavor. However, if you have an allergy, feel free to omit them or use pepitas (or sunflower seeds). 

Can I substitute chickpeas? 
Chickpeas are our favorite because they're firm, yet creamy. However, you can use white beans if that's what you have on hand.
Can I substitute the shallot?
Yes, you can substitute 1 medium shallot for ¼ cup diced red onion (30g).

How do I store this dish?
While the salad is best eaten on day 1, it will stay good for 2 to 3 days in the fridge. If you want to best preserve the textures, you can store leftover components (e.g., toasted quinoa, roasted vegetables, marinated chickpeas) separately in the fridge.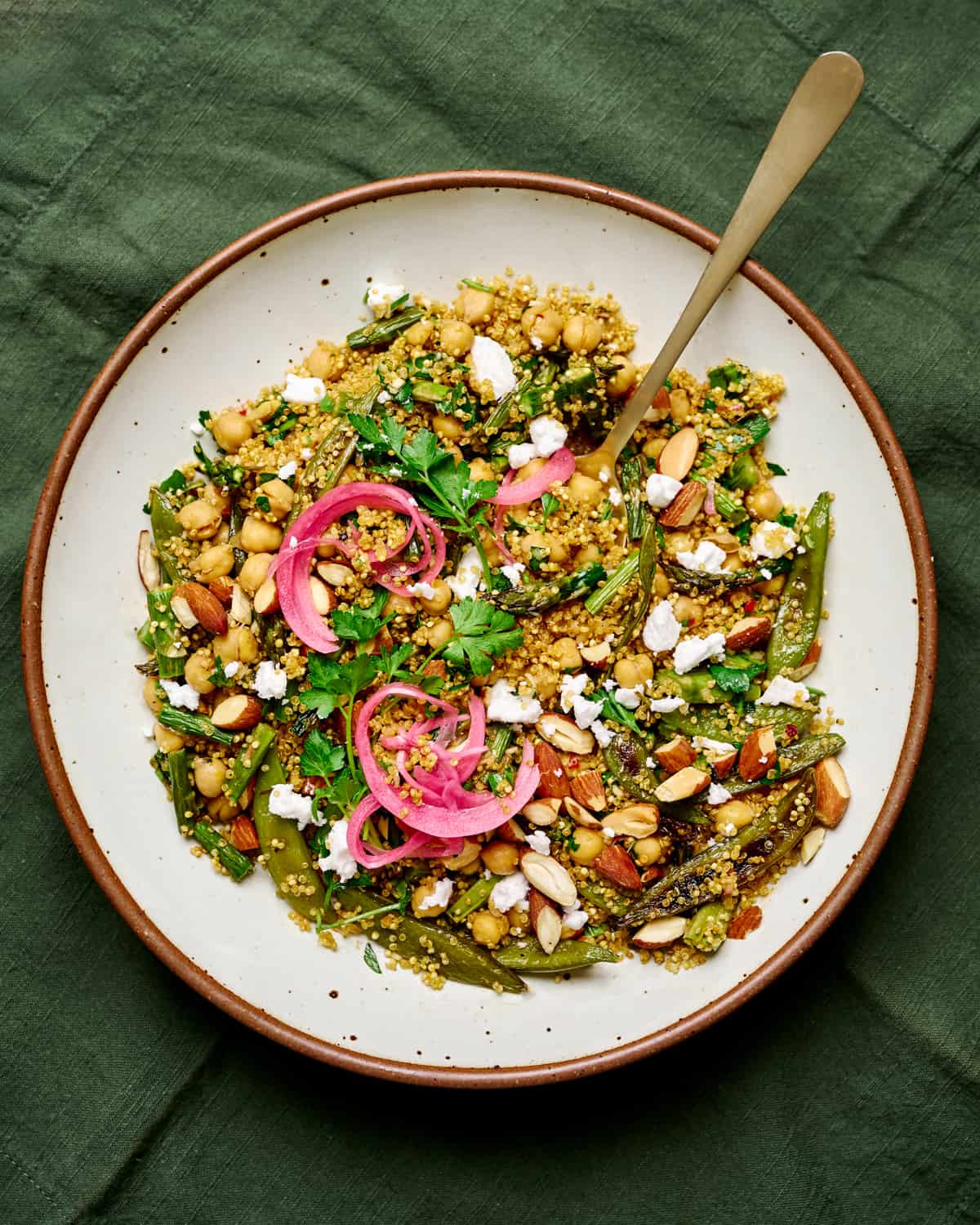 Watch: How to Make Quinoa Salad
Check out the YouTube video for a step by step guide to making this recipe!
If you also loved this quinoa salad, please be sure to leave a rating and review below! It's always much appreciated :) And tag me on Instagram – I love seeing your feedback!
Actually Good Quinoa Salad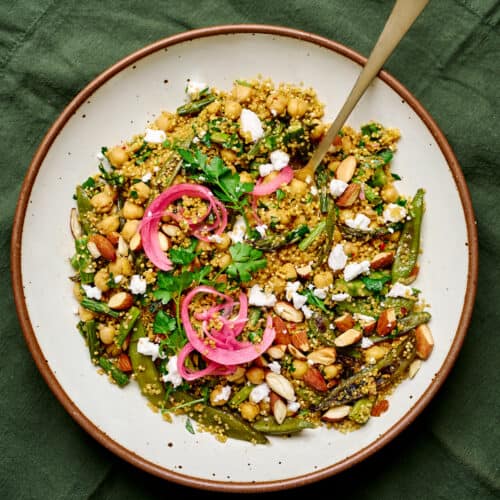 This Actually Good Quinoa Salad is no ordinary quinoa salad. Featuring toasted quinoa tossed with marinated chickpeas and seasonal vegetables, it's a textural feat with layers of complex, mouth-watering flavors! It's still quick and easy to make, and perfect for lunches, weeknight dinners, picnics, and potlucks.
Ingredients
1

cup

(180g) uncooked quinoa

4

tablespoons

extra virgin olive oil,

divided
1 pound (450g) Vegetables (pick 2 or 3; see Note 1)
Spring: asparagus, snap peas, fennel (early spring)

Summer: sweet cherry/grape tomatoes,

halved

Fall: any winter squash

Winter: fennel, broccoli or cauliflower or Brussels sprouts
Marinated Chickpeas
1

(15-ounce/425g) can chickpeas,

drained and rinsed

1

medium shallot,

finely diced (or ¼ cup / 30g finely diced red onion)

1

medium lemon,

zested + 2 tablespoons juice (more juice for the end)

1 1/2

tablespoons

pomegranate molasses

(or aged balsamic vinegar, see Note 2)

1

big handful

(1 cup / 16g) of flat-leaf parsley leaves

(or basil or dill, depending on vegetable used), chopped

2

garlic cloves,

crushed with a press or grated finely

1

teaspoon

kosher salt

Freshly cracked black pepper

¼

teaspoon

red pepper flake

(optional for a touch of heat)

1/2

cup

(70g) roasted almonds and/or pistachios,

chopped (optional; see Note 3 for nut-free)
Optional mix-ins
½

cup

(60g) vegan feta,

crumbled

Something pickled, like pickled onions

A big handful of sweet cherry tomatoes,

halved or quartered
Instructions
Bring 1 ¼ cups of water (300 mL) to a boil. Meanwhile, rinse the quinoa in a fine mesh sieve under cool running water.

Once the water is boiling, add the rinsed quinoa and a pinch of salt. Reduce the heat to low and cook, covered, until the liquid has evaporated and quinoa is tender, about 12 minutes. Open the pot and fluff with a fork. Transfer quinoa to a sheet pan and spread out in an even layer. Allow to cool somewhat.

Preheat the oven to 425ºF/218ºC. Arrange a rack in the bottommost and in the top third of the oven.

Meanwhile, slice your vegetables (see Note 1).

Spread the vegetables out on a sheet pan in a single layer as much as possible. Drizzle with about 1 tablespoon of olive oil. Season with salt and pepper to taste.

a. If the quinoa is not done yet, start on the chickpeas (step 8).

To the cooked quinoa on the other sheet pan, toss with 1 ½ tablespoons oil and ½ teaspoon kosher salt. Mix with your hands to coat. Spread out with as little overlap as possible.

Roast the quinoa and veggies: Transfer the vegetables to the bottom rack and quinoa to the upper rack. After 15 minutes, toss the quinoa (no need to toss veggies). Continue baking, checking the quinoa every 5 minutes until the quinoa is crispy and golden brown in spots and the vegetables are tender and browned in spots (they both should take about 25 minutes).

Meanwhile, in a large bowl, combine the chickpeas, shallot, 1 ½ tablespoons olive oil, lemon zest and 2 tablespoons juice, pomegranate molasses, herbs, garlic, salt, pepper to taste, and red pepper flakes if using. Toss well and set aside to marinate for 10 minutes or longer. Toss a few times.

Add the roasted vegetables, toasted quinoa, and toasted nuts to the marinated chickpeas. Gently toss. Crumble in the feta if using and sprinkle with a pinch of salt and pepper to taste. Before serving, squeeze a little lemon juice on top if you have leftover lemon from the marinated chickpeas.
Notes
General note: The prep time says 0 minutes because you'll prep while other things are cooking (e.g., you'll slice the vegetables while the quinoa cooks, you'll marinate the chickpeas while the vegetables and quinoa roast).
Note 1
Asparagus: trim ends and cut into one-inch pieces.
Snap peas: keep whole.
Fennel: cut the bulb in half lengthwise, then cut crosswise into ⅓ inch slices (keep fronds for garnish).
Cherry tomatoes: halved.
Winter squash: Cube into bite-size pieces or thinly slice.
Broccoli or cauliflower: small-medium sized florets.
Brussels sprouts: small ones, halved; larger ones, quartered.
Note 2
My favorite pomegranate molasses brand is Al Wadi 100% natural. Find it directly from Amazon.com (affiliate link) or OliveNation.com. Or, if you have a Middle Eastern market near you, you'll find options there too. You can substitute it with a good-quality aged balsamic vinegar instead. Start with just 1 tablespoon, give it a taste, then add more as needed.
Note 3
Sub with toasted pepitas or sunflower seeds; no need to chop. If raw, toast them first. Add to a dry frying pan over medium heat. Toast, stirring occasionally, until nutty and a few shades darker, 4 to 5 minutes.
---
Calories:
443
kcal
|
Carbohydrates:
56
g
|
Protein:
15
g
|
Fat:
19
g
|
Saturated Fat:
3
g
|
Polyunsaturated Fat:
4
g
|
Monounsaturated Fat:
11
g
|
Sodium:
907
mg
|
Potassium:
708
mg
|
Fiber:
11
g
|
Sugar:
6
g
|
Vitamin A:
1375
IU
|
Vitamin C:
41
mg
|
Calcium:
110
mg
|
Iron:
6
mg
Recipe: Nisha Vora / Rainbow Plant Life | Photography: Megan Morello