Y'all know that I take flavor very seriously, and one of the best (and easiest) ways to boost the flavor in your savory dishes is with preserved lemons.
Preserved lemons are basically lemons that have been cured in salt. Over time, the salt softens and tames their peel, taking it from hard and somewhat bitter to very soft and salty/tart.
When I think of preserved lemons, I think of bold, concentrated lemon flavor without the mouth-puckering acidity and liquidness of lemon juice. And while regular lemons are associated with acidic ingredients, preserved lemons are a great plant-based source of umami. Lots of lemon AND umami = culinary gold in my book.
Just a small amount of preserved lemon adds a background depth of flavor to so many savory dishes that will keep you asking "what is that amazing flavor?" It's hard to pinpoint but it adds a special something, a certain je ne sais quoi.
While most home cooks are familiar with lemons (both the juice and zest), many are not yet acquainted with preserved lemons. Learning how to make preserved lemons can take your home cooking to the next level, and in this post, I'll teach you what preserved lemons are, how to make them, and how to use them in all kinds of savory dishes (including a few easy recipes at the end of this post).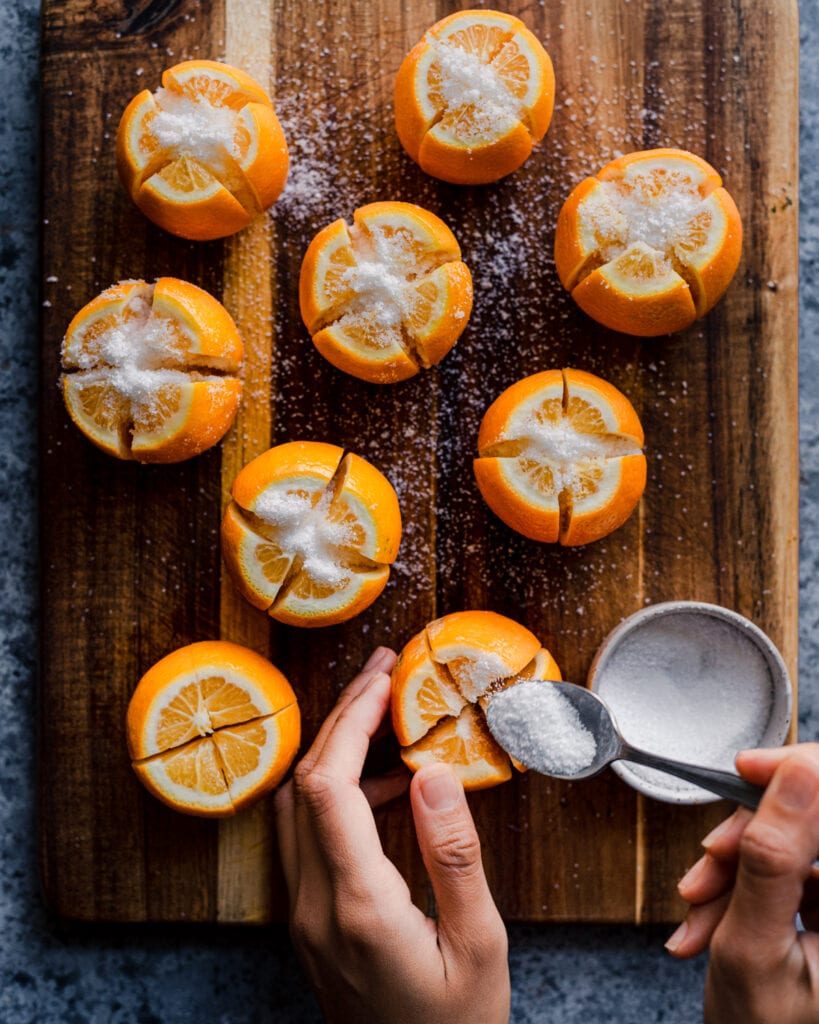 What are preserved lemons?
Preserved lemons are fresh lemons that have been fermented or pickled (or ahem, preserved) in lots of salt and their own juices. Essentially, fresh lemons are covered in a mixture of salt and lemon juice (sometimes, spices) and left to ferment at room temperature for several weeks (or even longer). This process essentially concentrates the lemon flavor but mellows out the acidity, as well as the bitterness of the peel.
Preserved lemons have long been used as a condiment and flavor booster in North African cuisine (Morocco, Algeria, Tunisia), as well as South Asian cuisine. They originated as a way to enjoy lemons long after their season (at a time before refrigerators existed).
If you've been to a North African restaurant, your tagine or couscous salad may well have had preserved lemon in it. In Indian cuisine, pickled lemons are called nimbu ka achar (nimbu in Hindi = lemon), and the lemons are usually chopped up into small pieces and pickled with spices such as turmeric, cumin, coriander, fenugreek, and/or chili powder (and sometimes sugar). Click here for an Indian preserved lemon recipe.
Preserved lemons are slowly making their way to Western cuisines, and for good reason. They're absolutely delicious and bring lots of unique flavor.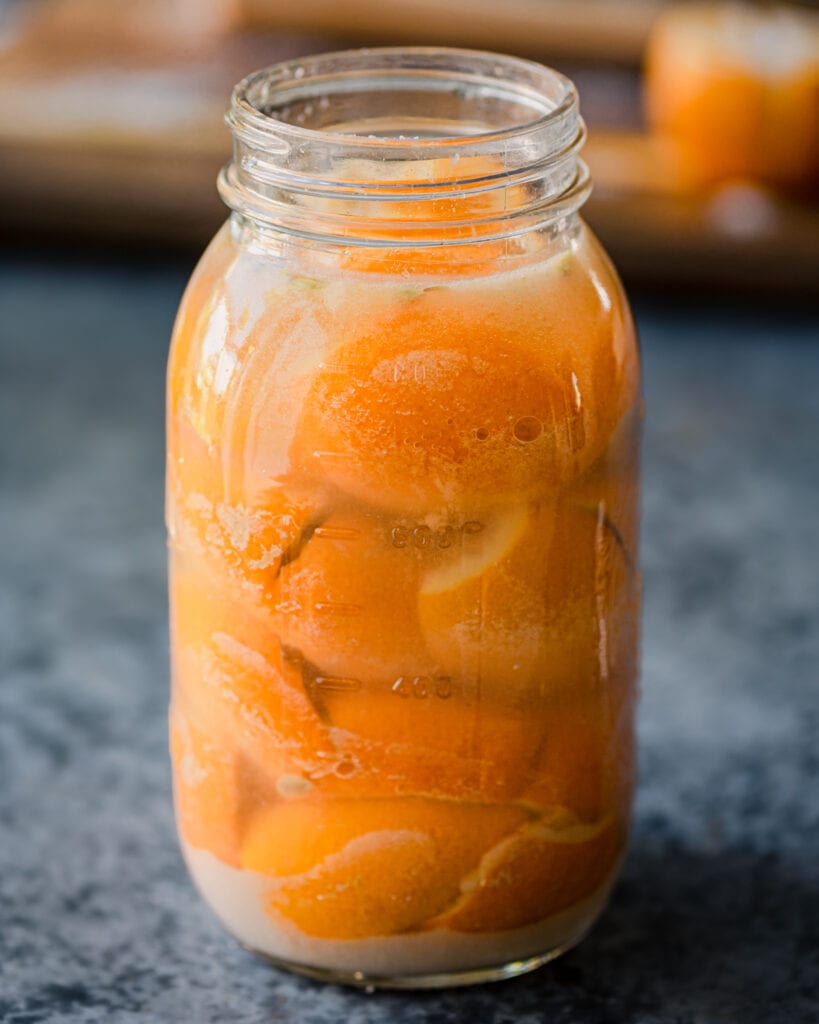 What you need to make preserved lemons
Lemons (obviously). Not all lemons are created equally though. I prefer small, thin-skinned Meyer lemons. More on that in the "Tips" section.
Salt. Not all salt is created equally either! I use kosher salt (my go-to salt in the kitchen) because it tastes great and is inexpensive.
A sterilized glass jar. Pick your jar size depending on how many lemons you want to preserve. The lemons will get smashed down and packed in tightly, so the jar will hold more lemons than you think. I prefer a jar with a rubber gasket like this (affiliate link) to prevent the acidity from oxidizing (rusting) the lid.
A muddler, large wooden spoon, pestle. You'll need to press down on the lemons so that (a) their juices start to cover them and (b) to make room for more lemons. Any of these tools works fine, though the muddler (affiliate link) is easiest for me.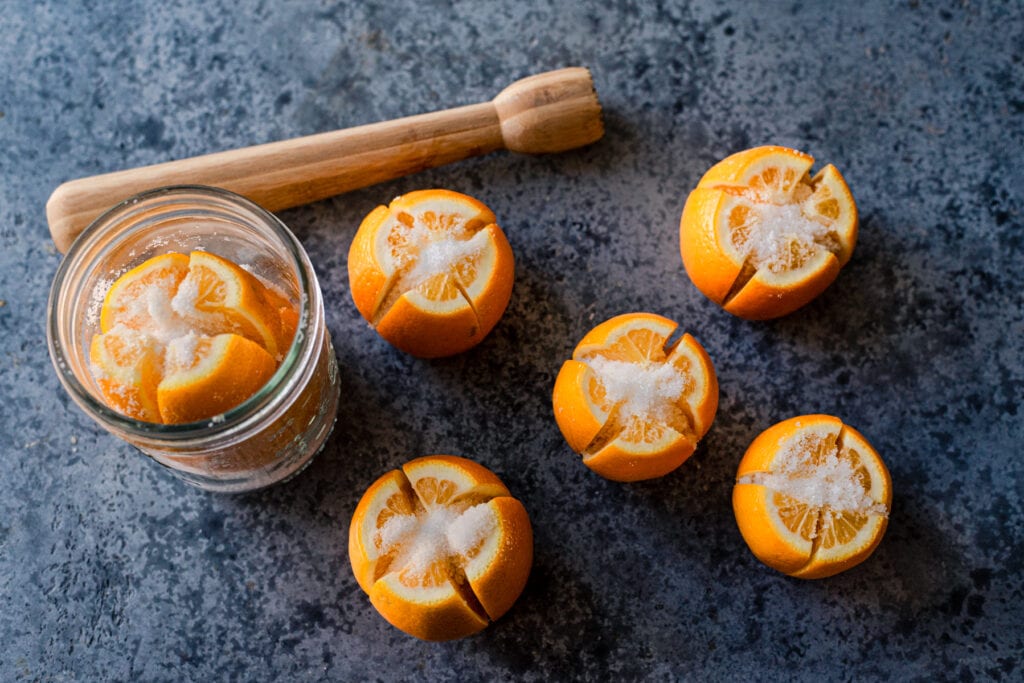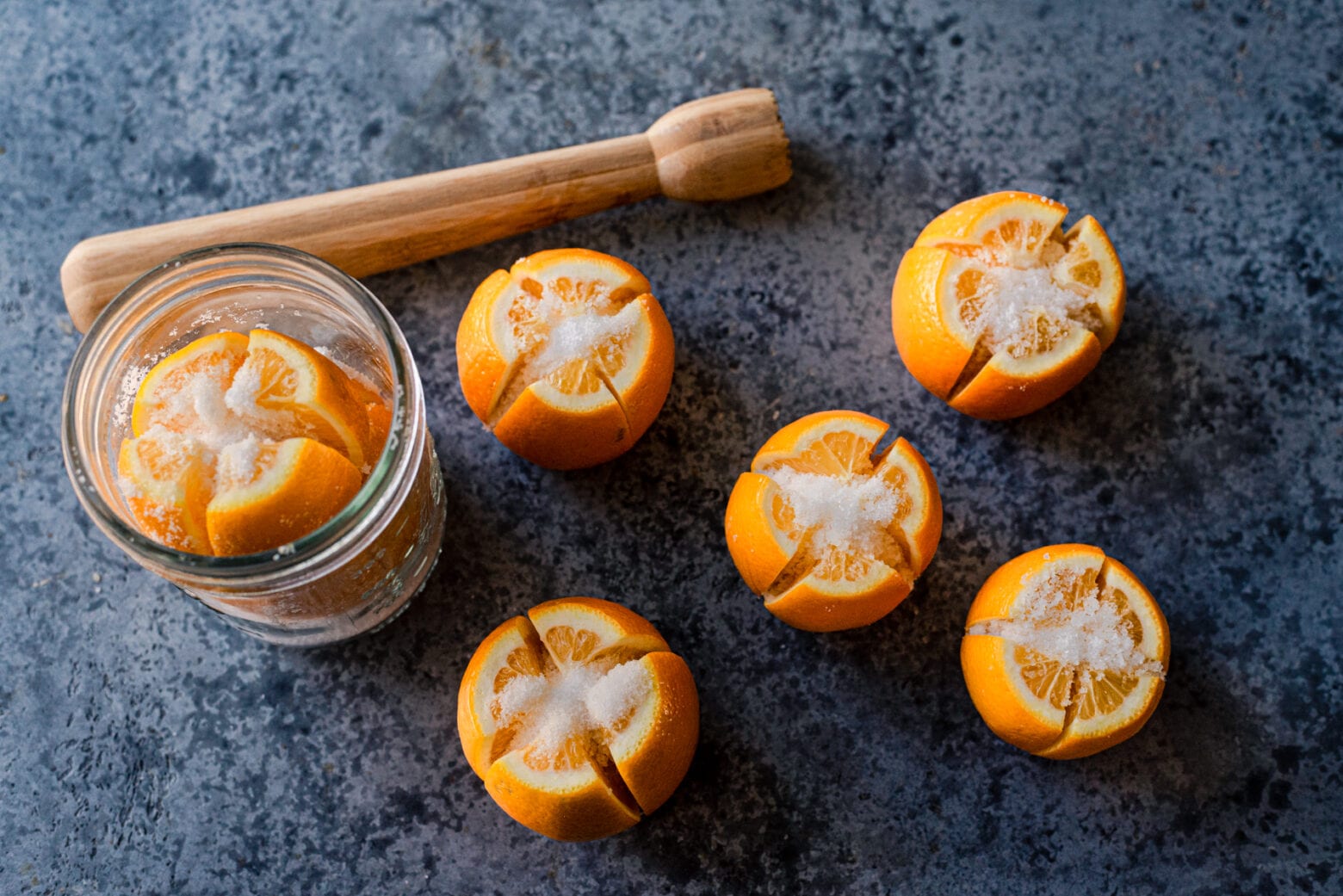 How to make preserved lemons
Scrub and wash your lemons well. You'll be eating the peel, so this step is important.
Lay each lemon on its side. Cut off a thin slice from each end to create a flat surface.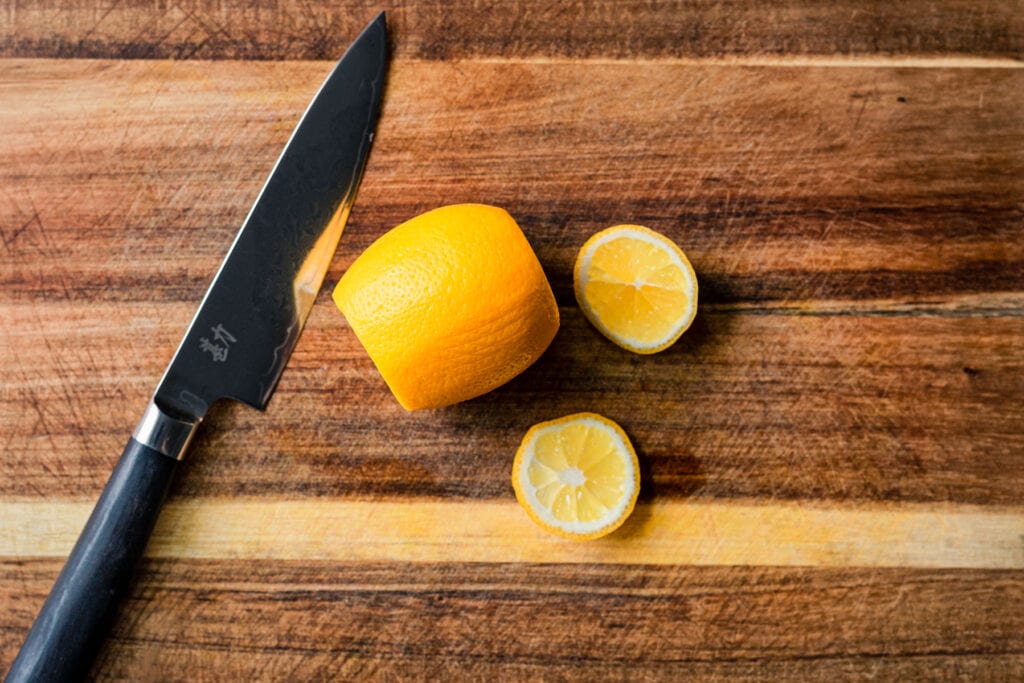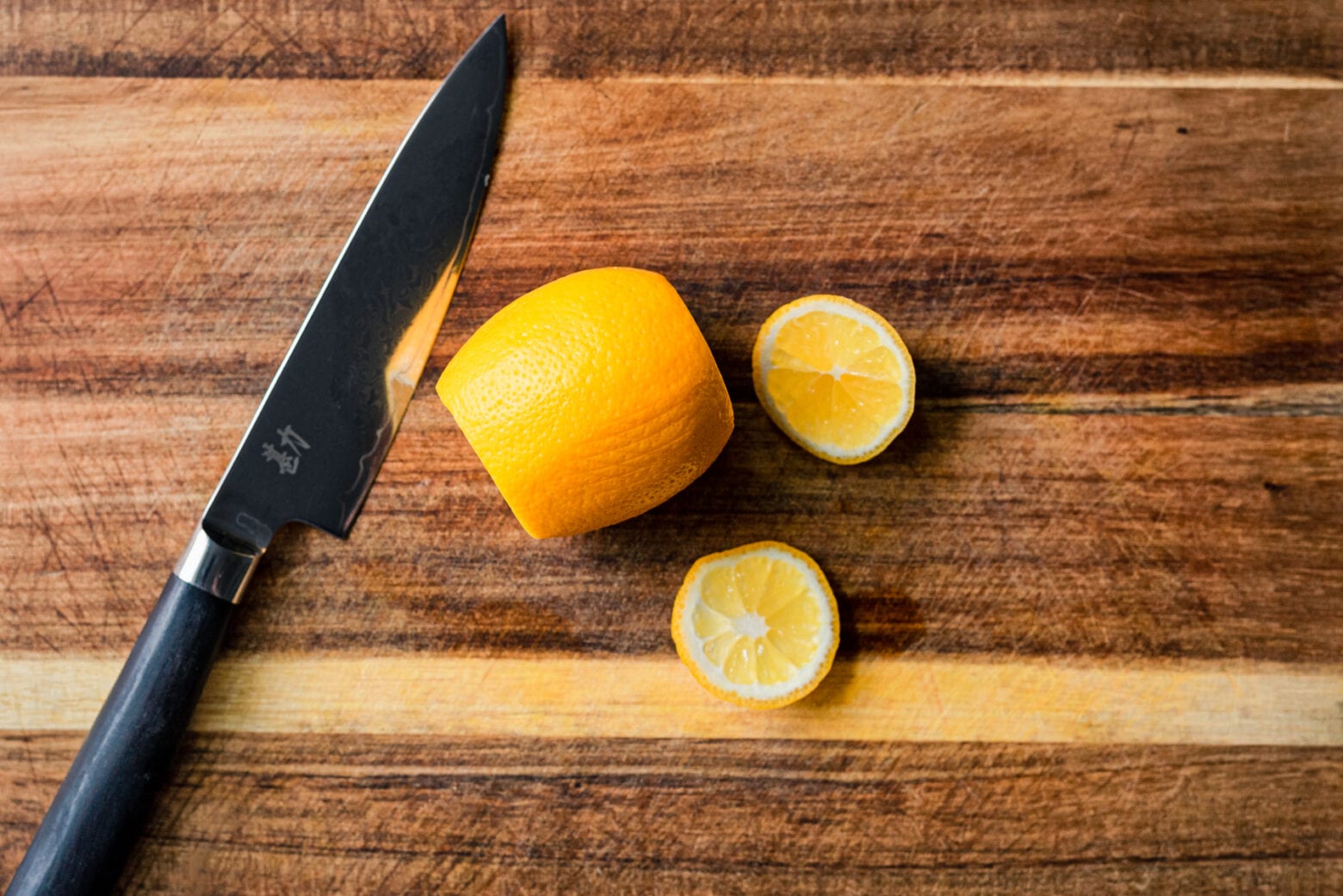 Stand the lemon up and slice down vertically, as if you were going to half the lemon, but don't cut all the way through. Cut about 80% through to keep it attached at the base. Flip the lemon by 90º and repeat, as if you were going to quarter the lemon into wedges, but don't cut all the way through.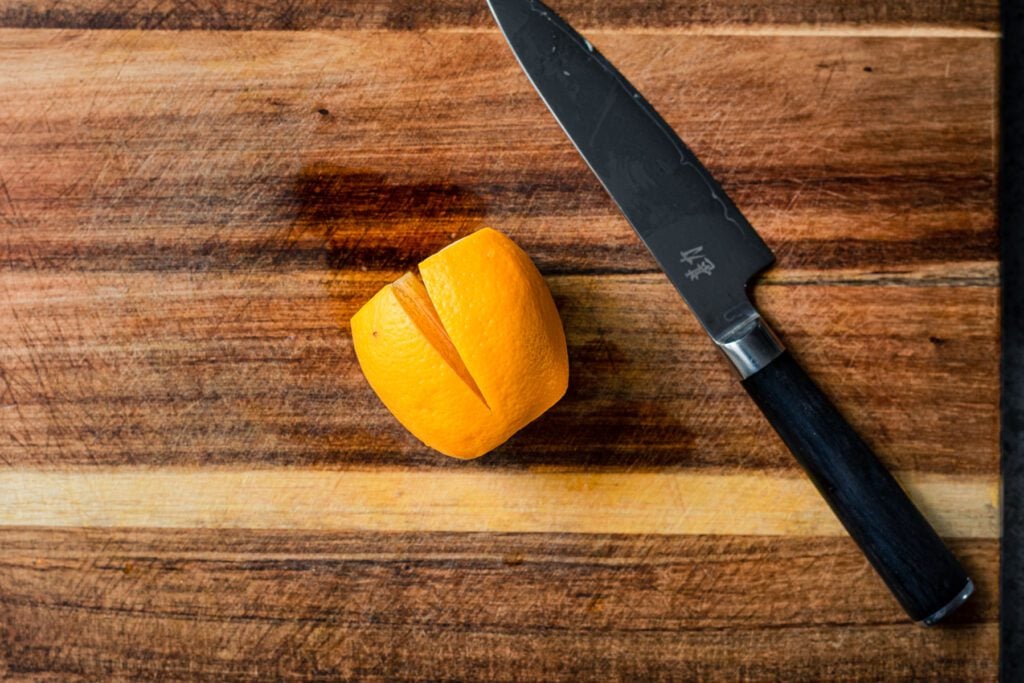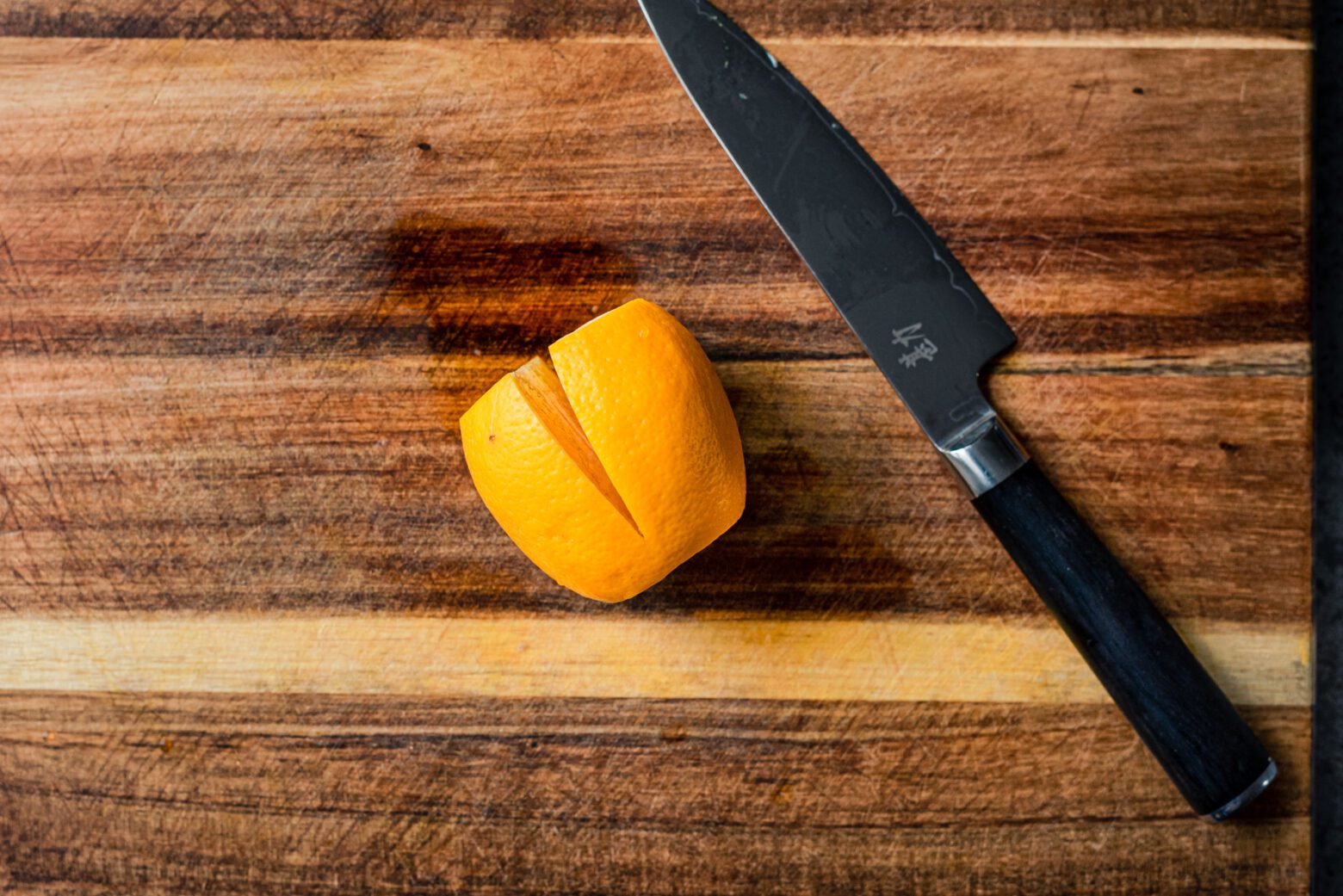 Pry open the lemon but do not detach it.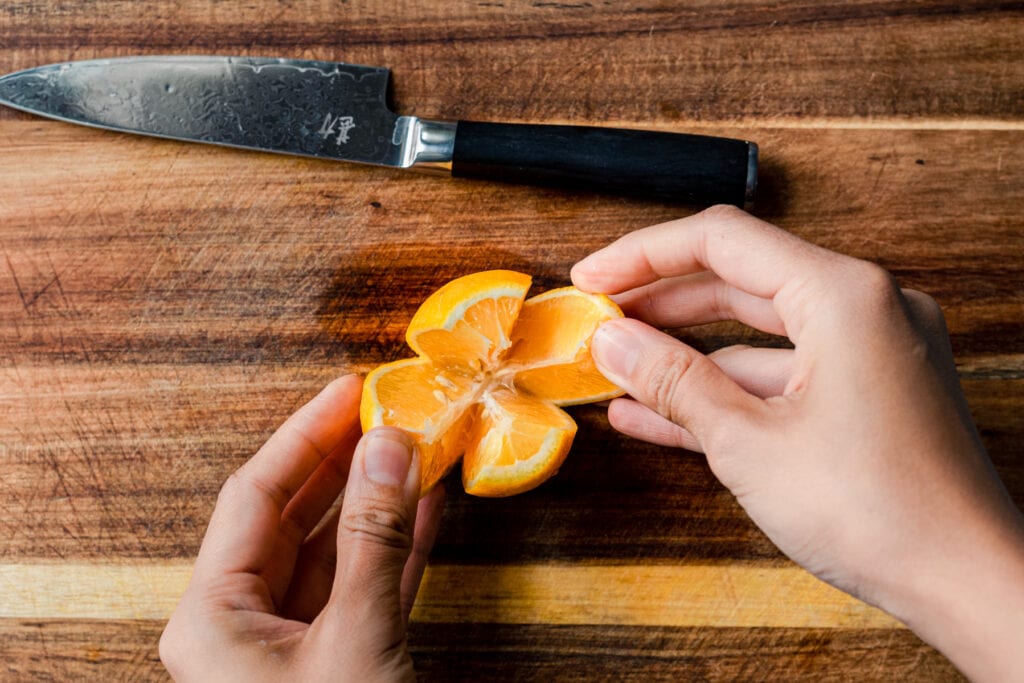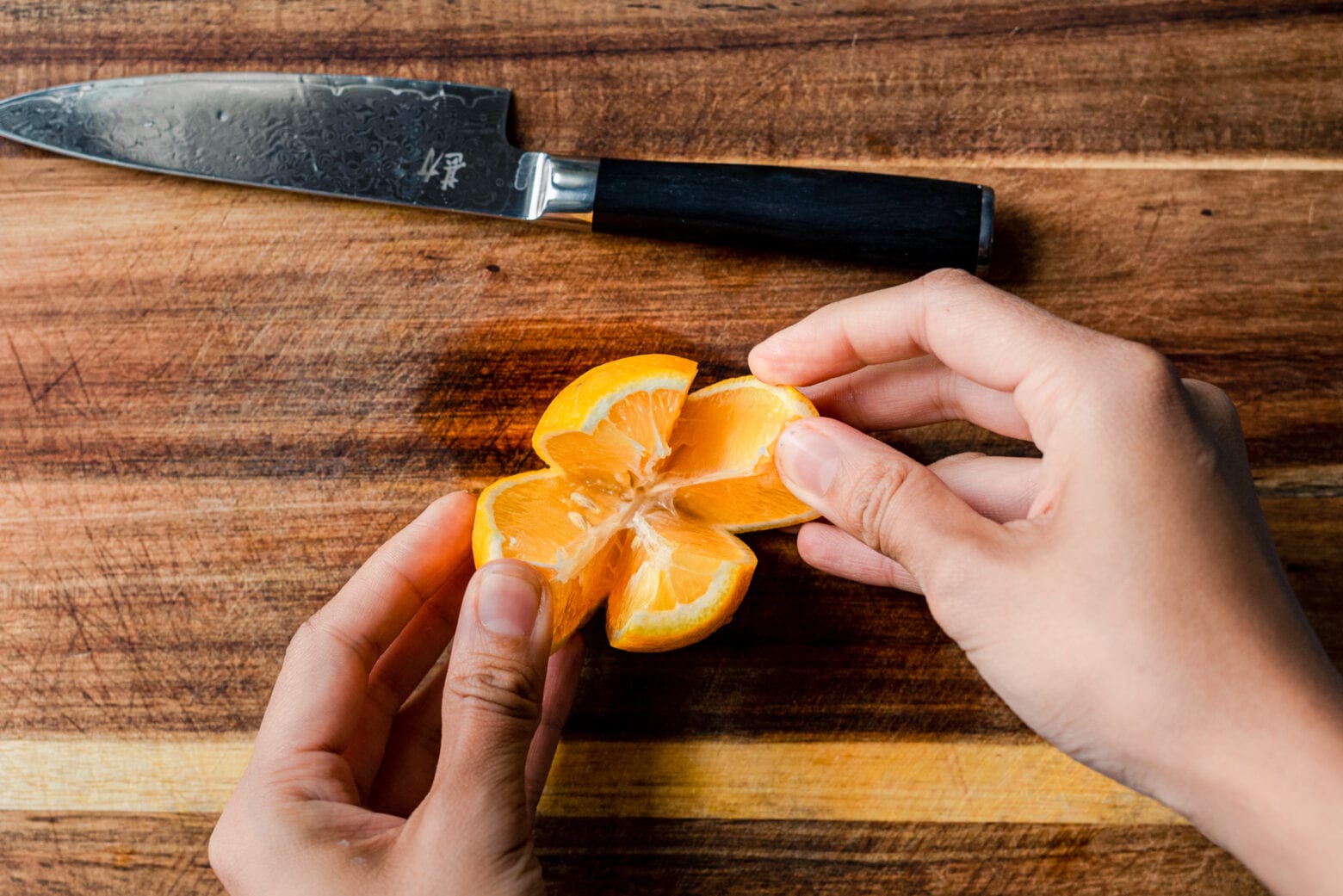 Pour a generous amount of salt and pack the salt into the crevices. I never measure this, but I'd estimate about a generous tablespoon of kosher salt per lemon. Squeeze the lemons shut as best you can. Repeat with the remaining lemons.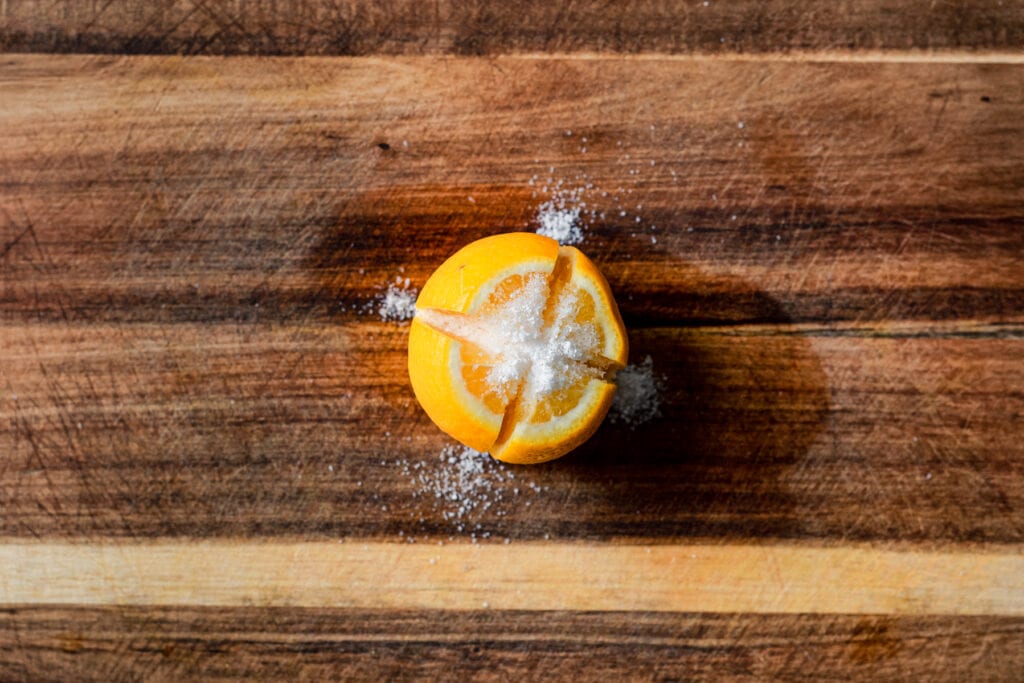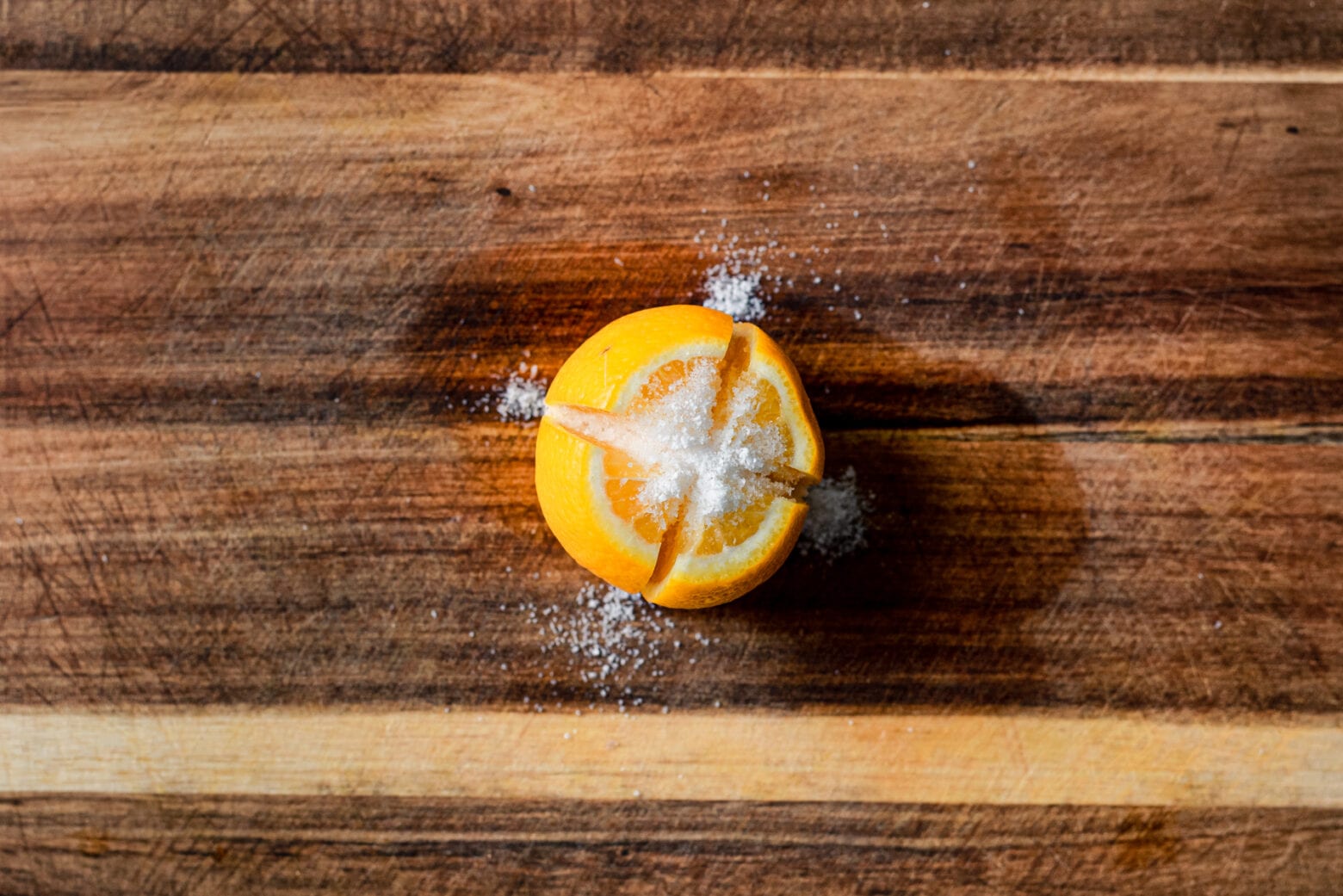 Add 1 to 2 tablespoons of kosher salt to your glass jar to cover (1 tablespoon if using a smaller jar).
Add a few lemons to the jar, then start pressing down on them with your muddler/spoon/pestle. The juices should start to flow out.
Tip: Pack the lemons in the jar as tightly as you can. This is key to proper fermentation. If there is too much room in the jar, the uppermost lemons will not be covered in juices and can develop mold.
If lemons are not covered in their juices, squeeze some fresh lemon juice on top to cover. Sprinkle with 2 tablespoons of kosher salt (1 tablespoon is fine if using a small or medium jar). Seal the jar and transfer to your pantry, a cabinet, or on the counter.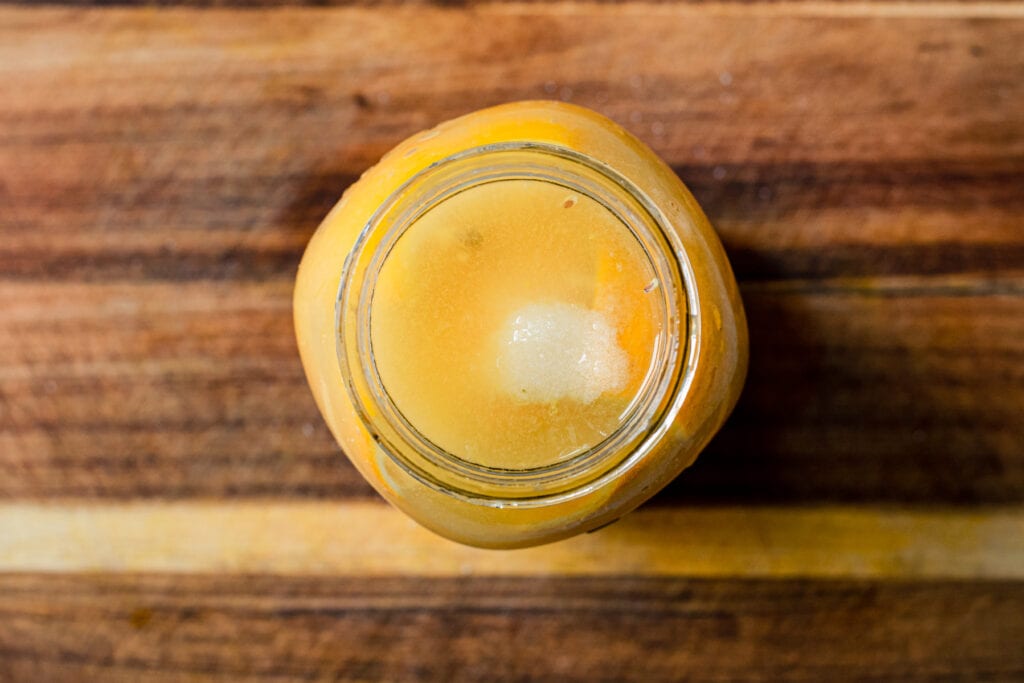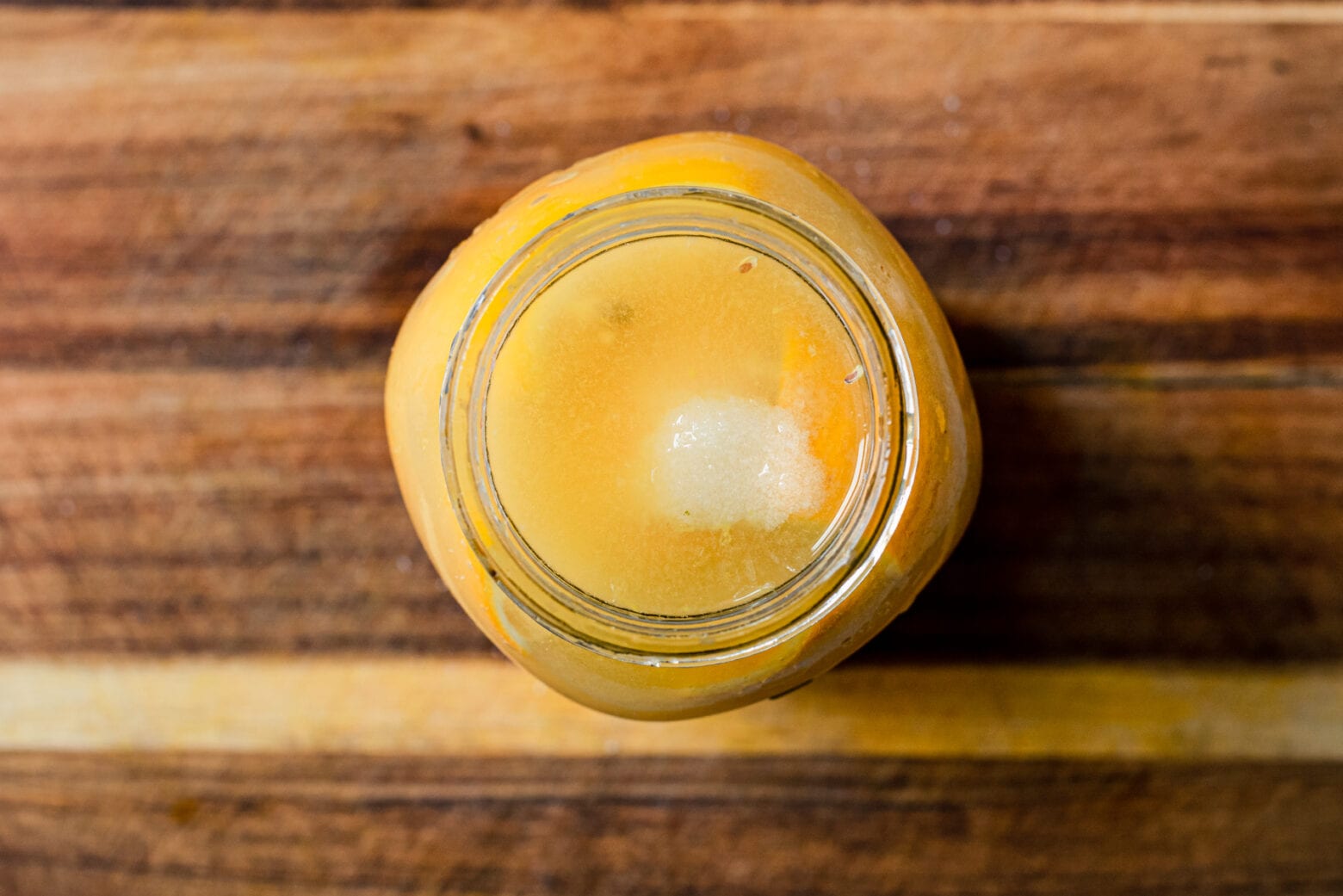 During the first two weeks, once a day, gently tip the jar upside down once or twice. Leave to ferment for at least three weeks (or longer).
Once the lemons have softened, transfer the jar to the fridge. They will stay good for a very, very long time (for a year, maybe longer).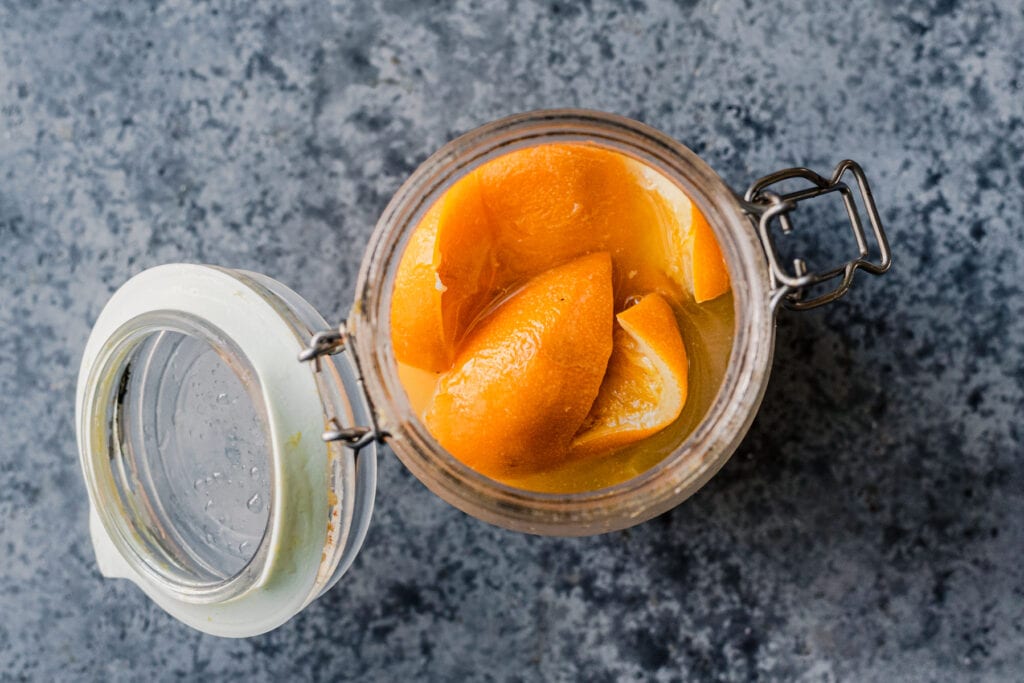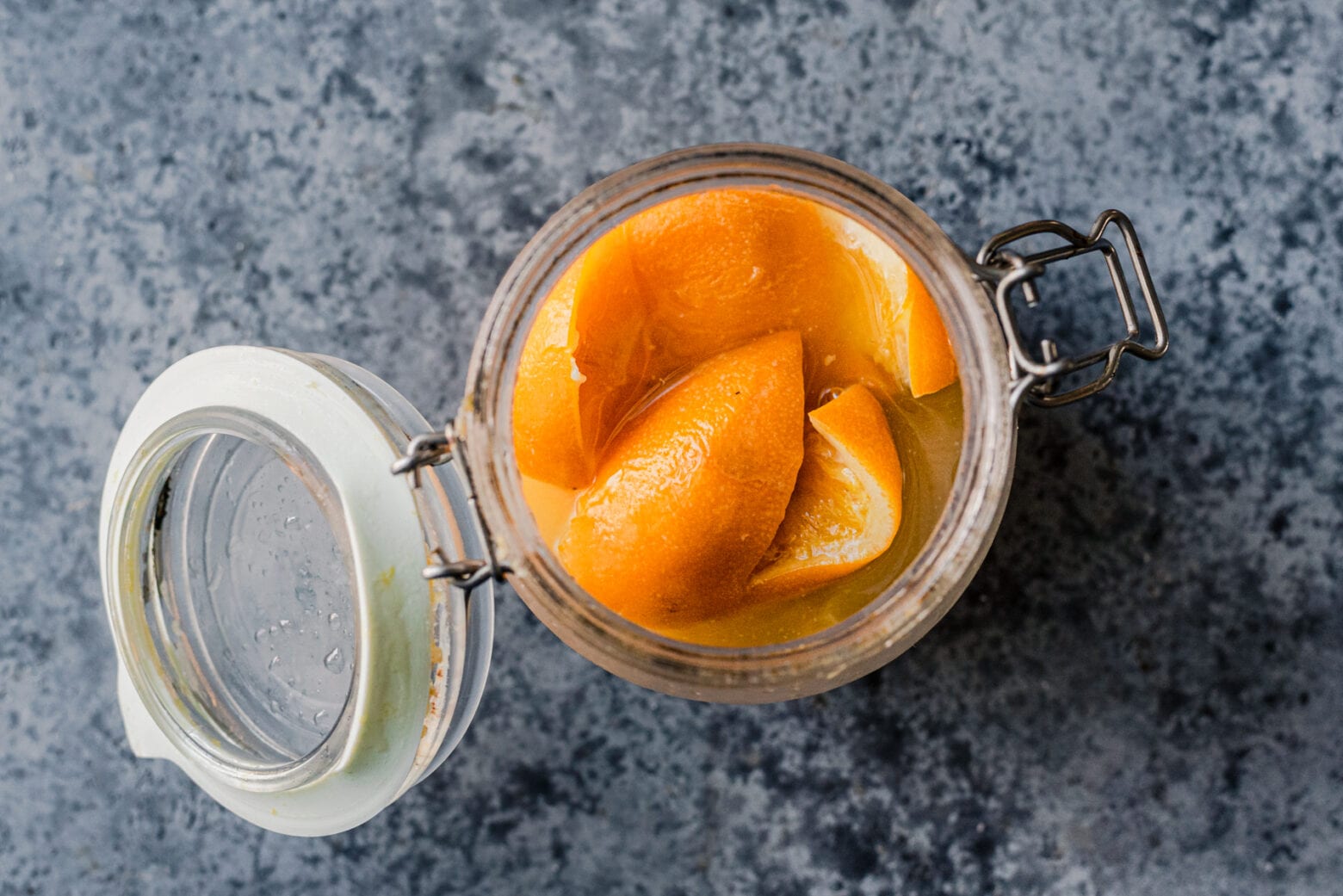 How to use preserved lemons
Once the lemons are preserved, it's more common to use just the peel. The flesh is quite mushy and very salty at this point, though you can rinse it and toss into soups or stews to infuse the flavor.
I usually use a spoon or paring knife to scoop the flesh away from the peel. Then, depending on the recipe, I chop or mince the peel, or slice it very thinly into strips.
You can use preserved lemon peel in a variety of different dishes, but here are some of my go-tos.
Stews and Soups
This is perhaps the most common way to use preserved lemons, particularly in North African cuisine and in Moroccan stews like this Vegan Chickpea Tagine. Adding preserved lemon peel infuses hearty stews, tagines, and soups with a contrasting brightness and background depth of flavor that is, again, hard to place but delicious.
A few soup/stew recipes on my blog that you might want to experiment with (add a tablespoon or so of chopped preserved lemon peel before simmering or pressure cooking):
Salad Dressings/Vinaigrettes
I'm a sucker for citrus vinaigrettes, and adding minced preserved lemon peel just takes it up another notch. I've included my recipe for a preserved lemon vinaigrette with a carrot salad below, but you can also add a bit of preserved lemon peel to the citrus-date vinaigrette in this Roasted Beet and Fennel Salad.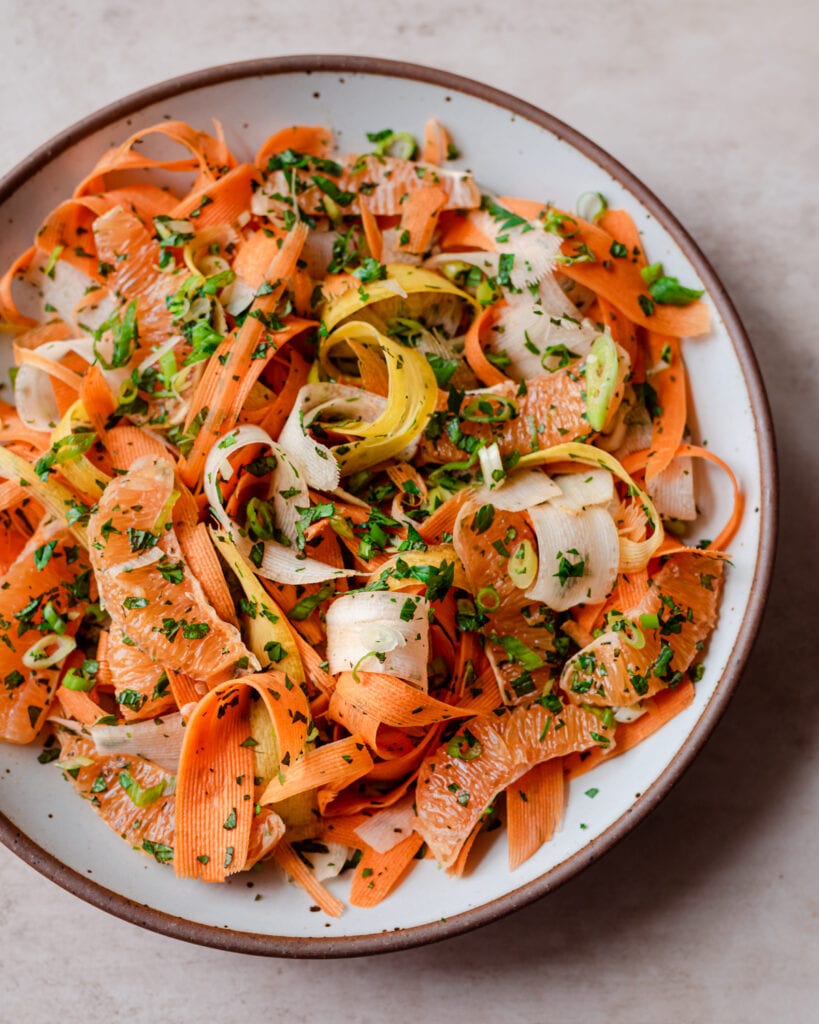 Grain and Legume Salads
Preserved lemons are also lovely in grain dishes and grain salads (think rice, couscous, farro, or bulgur), as well as lentil and chickpea salads.
One of my favorite easy meals or crowd pleasing side dishes is to combine pearl couscous with cooked or canned chickpeas, chopped bell peppers, and cherry tomatoes. Add lots of chopped fresh herbs (think mint, basil, cilantro, and/or parsley). And then toss in the preserved lemon vinaigrette (recipe below). Gourmet flavors but so simple!
An even easier idea? Toss together canned chickpeas, good-quality extra virgin olive oil, fresh lemon juice, chopped preserved lemon peel, a bit of ground cumin, salt, and Aleppo pepper (or crushed red pepper flakes). Toss together, and you've just elevated canned chickpeas a few notches!
You could also try adding in some chopped preserved lemon peel in this Instant Pot Pearl Couscous and Lentil Salad when you add the fresh herbs.
Sauces, Dips, and Spreads
Similarly, preserved lemon peel can amp up the flavors in lots of sauces. I particularly love it in yogurt-based and tahini-based sauces, which are common in Middle Eastern cooking.
The next time you make a tahini-based sauce, such as the tahini dressing in my Asparagus and Green Bean Salad (the third recipe in the blog post), add a bit of minced preserved lemon peel for a fun twist. And while I love the classic lemon flavors in my Creamy Lemon Asparagus Pasta, try adding some preserved lemon peel to the lemon olive oil sauce for a less traditional but delicious spin.
Preserved lemon also makes store-bought spreads, like vegan mayo, a little fancier. For every 1/2 cup of mayo, use about 1 or 1 ½ tablespoons of chopped preserved lemon peel. Great for sandwiches, burgers, or even potato/macaroni salad.
And of course, there's hummus! If you've made my Amazing Hummus recipe and love it, the next time, add a quarter or half preserved lemon peel and puree it into the hummus for something a bit different.
Finally, I've included a preserved lemon yogurt sauce recipe below. Pair it with lentils and beans, falafel, roasted potatoes, or simply as a dip with toasted pita chips or pita bread (don't forget the tahini!).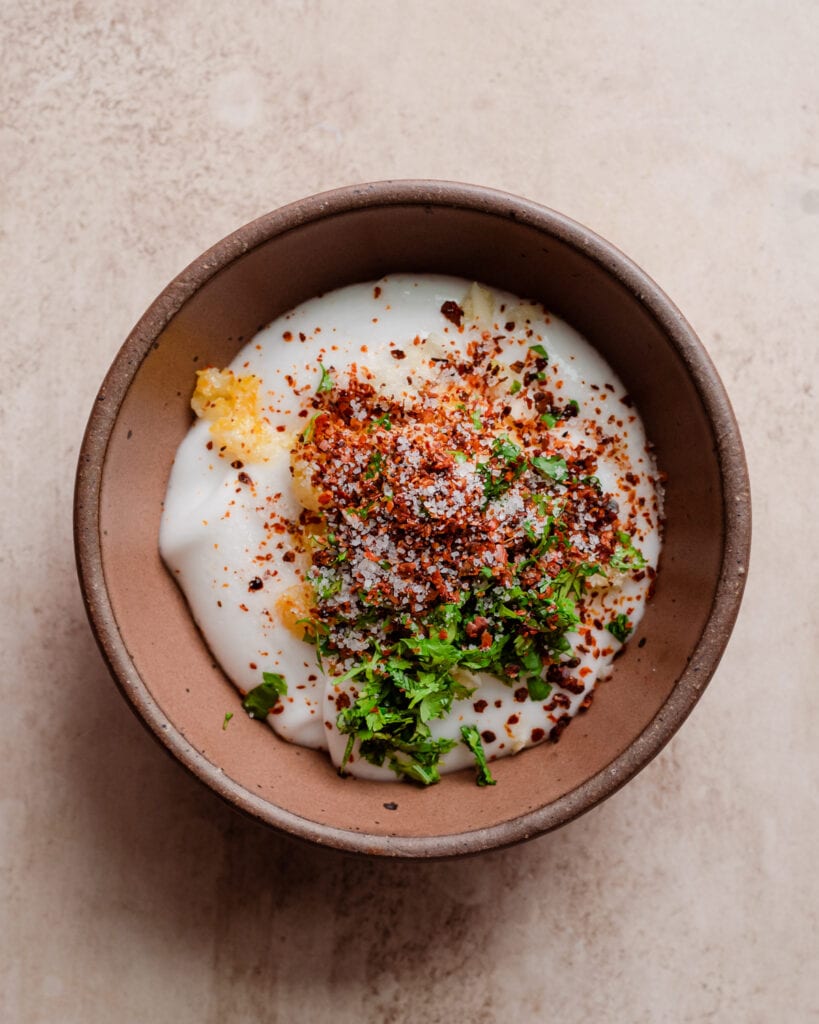 Avocado Toast
We all know avocado toast is a basic B, but you can make her less basic by mashing your avocado with preserved lemon! It makes it a little more unique and little less overplayed. For one medium avocado, start with 1 teaspoon of minced preserved lemon peel (also add lemon juice, salt, pepper, crushed red pepper flakes, etc.). Taste, and add more as desired.
Cocktails and Mocktails
Here's one of my favorite refreshing summer beverages. Add a quarter peel of preserved lemon to a glass jar along with 1/2 tablespoon organic cane sugar. Use a muddler to mash into a paste. Add crushed ice and top off with sparkling water. Stir well, and enjoy! Or add in a shot of gin for an adult treat.
You can also try adding thin strips of preserved lemon to cocktails such as martinis, Bloody Marys, or gin and tonics.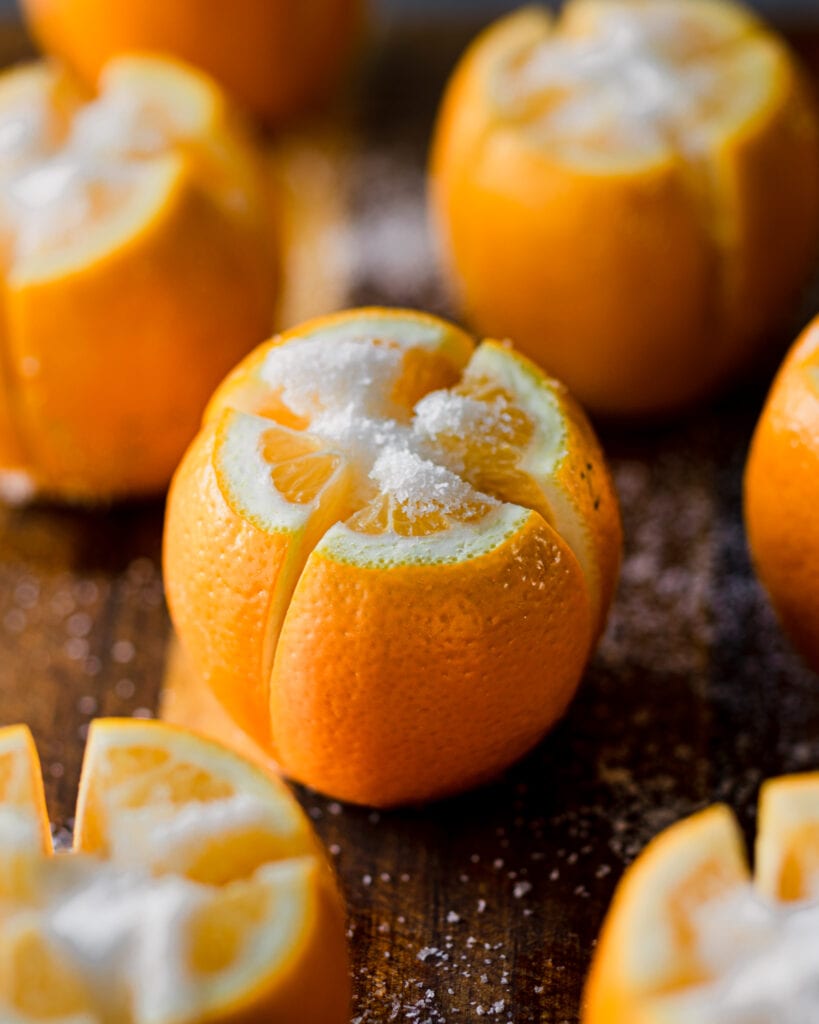 Tips for making preserved lemons
Preserved lemons are best with smaller, thin-skinned lemons. Traditionally, in Morocco, they're made with doqq, beldi, or boussera, all of which are small varieties. In the U.S., meyer lemons make a good substitute. They're less sour and more fragrant than regular (Eureka) lemons, and typically have a thinner skin.
If you can't find meyer lemons, use regular lemons but try to use the smallest lemons you can find. Thick-skinned varieties will not adequately soften, or take much longer to soften (I tried using the thick-skinned large lemons from my backyard lemon tree and they never fully softened).
Also, since you'll be eating the peels, it's essential to scrub and wash the lemons well. If you can find organic lemons, that is ideal.
Lots of juice and pack them in tight. It's important to pack the lemons in tightly and to submerge them in their juices. This prevents too much air exposure, which can cause mold to develop. In case your lemons aren't very juice, keep an extra lemon or two on hand for juicing at the end. If the juices don't cover the lemons, you'll need to squeeze extra lemon juice on top.
Use kosher salt (or sea salt). I use kosher salt because it's cheap and tastes good, but you can also use sea salt (keep in mind: it is pricier and saltier than kosher salt). Do not use iodized table salt, as the iodine can interfere with fermentation.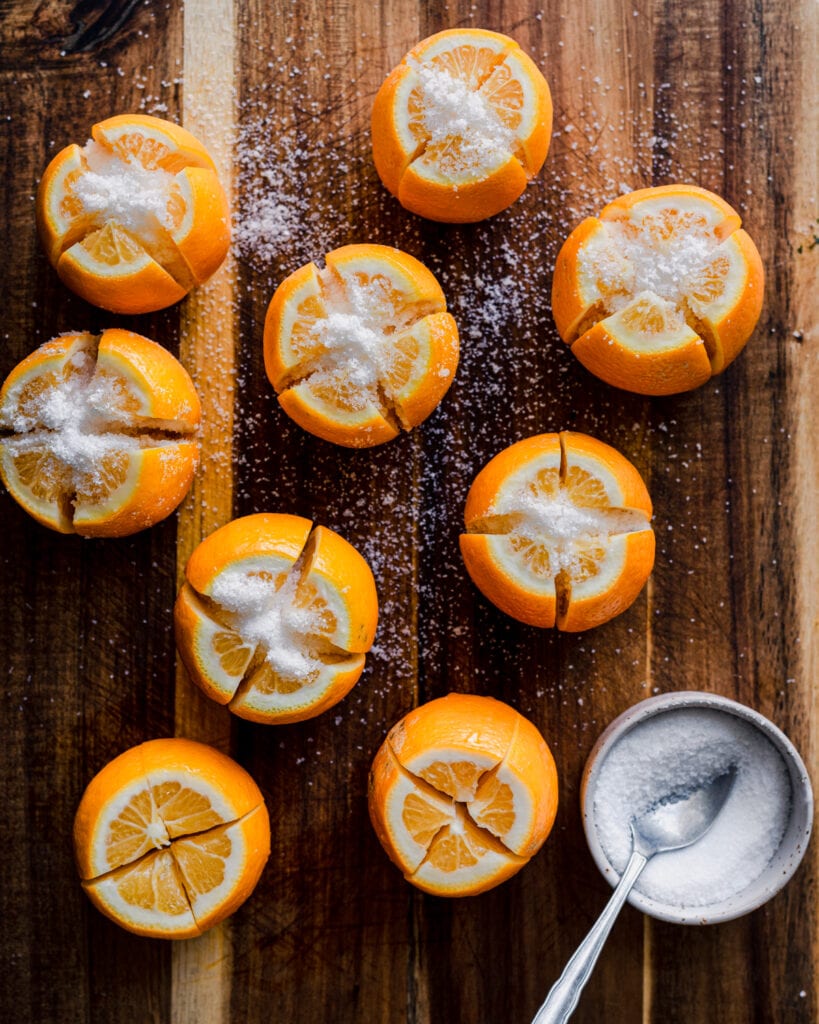 Frequently Asked Questions
How long do preserved lemons last in the fridge?
At least six months, but they can last up to one year.
Can I add any flavoring agents?
Sure, though I usually keep them neutral-flavored so they're more versatile.

You could try adding any of the following: 1 cinnamon stick; 1/2 teaspoon of black peppercorns; 1/4 to 1/2 teaspoon coriander or fennel seeds; 3 to 4 whole cloves; or 1 bay leaf.

Make sure to cover the optional flavoring agents with lemon juice and salt before sealing.
Do I need to wash preserved lemons before using?
I typically don't, but if you're adding them to a dish that's already quite salty or perhaps a beverage where you don't want to add salt, it's helpful to rinse them to remove excess salt.
Can I cut this recipe in half?
Yes, you can, but you'll want to use a smaller jar (perhaps a 16 ounce jar).
Watch! How to make preserved lemons
That's all you need to know about how to make and use preserved lemons! If you try out the method, please be sure to leave your feedback below.
How to make Preserved Lemons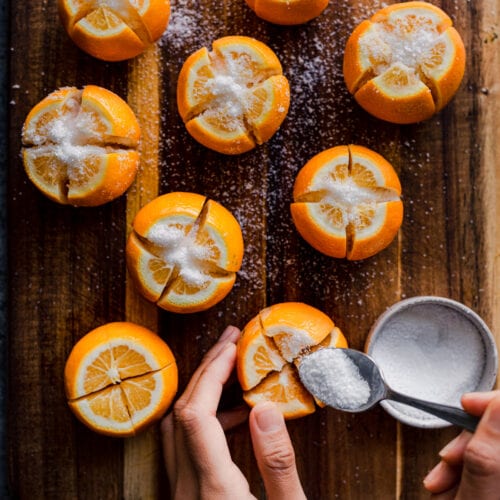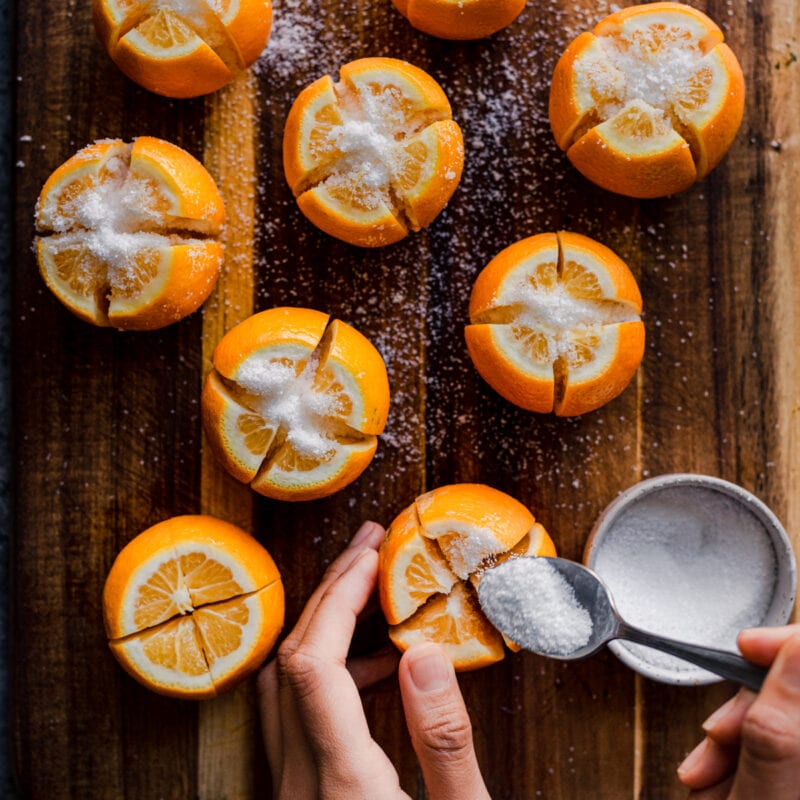 Preserved lemons are the ultimate flavor booster that will elevate your home cooking! All you need are lemons, salt, a jar, and time (10-15 minutes of prep and 3 weeks to ferment). They add a brightness and depth of flavor to stews and soups, grain and legume salads, dressing, sauces, and more!
Ingredients
7 to 10

Meyer lemons

(or regular lemons if not available), plus 1-2 extra lemons for juicing*

Kosher salt

(lots of it)
Instructions
Grab a large canning jar that is just large enough to hold the lemons (a 32-ounce jar will hold about 7 to 10 Meyer lemons; if you want to halve this recipe, use a smaller jar). Cover the bottom of your canning jar with 1 to 2 tablespoons of kosher salt.

Note: I like to use a canning jar with a rubber gasket to prevent the lid from corrosion.

Rinse the lemons and scrub them really well. Set aside 1 or 2 lemons for juicing at the end.

Cut off a thin slice from both ends of each lemon so they have a flat bottom. Stand the lemon up and slice lengthwise, almost all the way through but keep the lemon attached at the base. Flip the lemon by 90º and slice lengthwise again, as if quartering the lemons into wedges, but not all the way through.

Gently pry the lemons open but do not detach them. Fill each crevice with a generous amount of kosher salt (a generous tablespoon in my estimation). Seal the lemons up to close.

Add a few lemons to the jar. Press them down with a muddler, a pair of tongs, a pestle, or a sturdy spoon so that they release their juices and you can make room for more lemons. Pack the jar as tightly as you can with the salted lemons, pressing down to cover them with their juices.

NOTE: If the juice released does not cover the lemons, squeeze the juice from the reserved 1 or 2 lemons on top. If covered by their juices and you have a little extra space, you can salt the remaining lemons and add them to the jar.

Cover the lemons with 2 tablespoons of kosher salt (and any optional flavorings). Seal the jar and let it sit at room temperature (I store it in my pantry) for at least 3 weeks, or until the lemon rinds are very soft. Gently shake the jar every day, turning upside down, for the first 2 weeks.

When ready to use, you can use the entire lemon, but it's more common to scoop out the flesh and use only the peel. If desired, wash the lemon peel before using to make slightly less salty (I don't typically do this).
Notes
*If your lemons are very small, you'll need more of them. Regular lemons tend to be a bit bigger than Meyer lemons, so you might not need as many. If organic lemons are available, choose those since you'll be eating the peel. 
For optional flavoring ideas, see the "Frequently Asked Questions" section
---
Calories:
50
kcal
|
Protein:
1
g
|
Sodium:
234
mg
|
Potassium:
192
mg
|
Fiber:
2
g
|
Vitamin A:
0.1
IU
|
Vitamin C:
47
mg
|
Calcium:
19
mg
Carrot Salad with Preserved Lemon Vinaigrette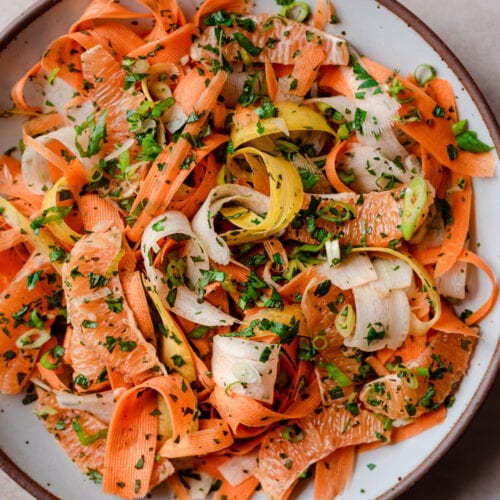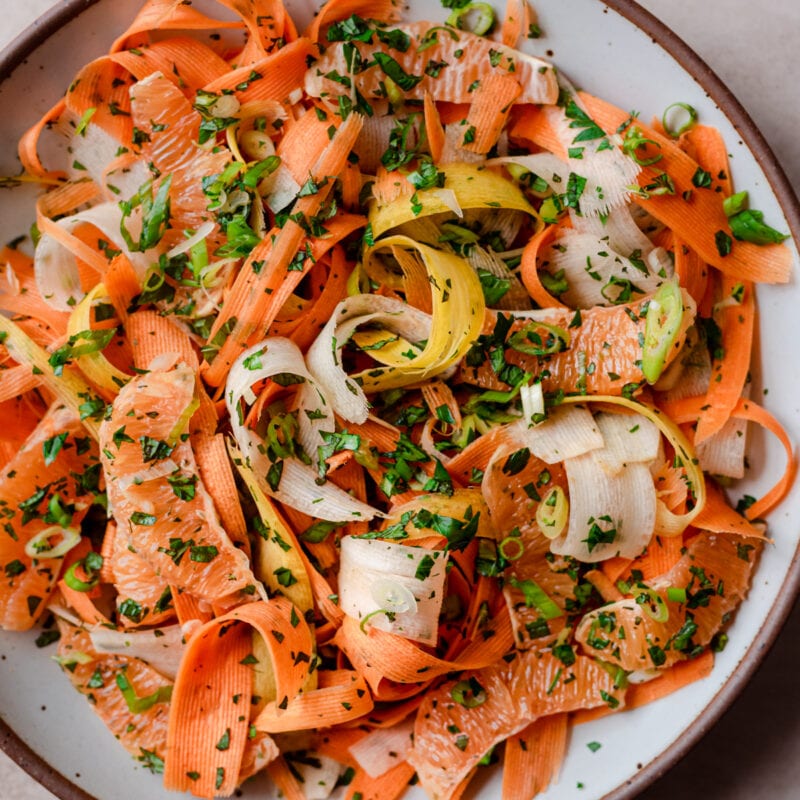 A light and refreshing salad that doesn't skimp on flavor. Shaved carrot ribbons are paired with fresh herbs and orange segments, all tossed in a preserved lemon vinaigrette that's bright, fresh, and tangy. Use rainbow carrots for an even prettier presentation!
Ingredients
1 ½

pounds

carrots,

peeled

1

cup

fresh mint leaves,

finely chopped*

1 ½

cups

fresh parsley leaves,

finely chopped

6

scallions,

sliced very thinly on a bias (top ½-inch and end roots trimmed off)

1

navel or Cara Cara orange,

sliced into segments
Preserved Lemon Vinaigrette
¼

cup (60 mL)

freshly squeezed lemon juice

1

teaspoon

maple syrup

1

tablespoon

preserved lemon rind

1

garlic clove,

minced or crushed with a press

½

of a medium shallot,

minced

¼

cup (56 mL)

extra virgin olive oil

2

tablespoons

fresh mint,

finely chopped

¼ to ½

teaspoon

sea salt, plus more to taste

Freshly cracked black pepper
Instructions
Using a wide (Y-shaped) vegetable peeler, peel the carrots vertically in ribbons until you get to the point where you can't peel anymore. Laying the carrot flat on a cutting board helps to get the most ribbon. Save any inner carrots for snacks or for another recipe (such as pickled carrots).

In a bowl, combine the carrot ribbons with the mint, parsley, scallions, and oranges. Sprinkle with a pinch of salt.

Make the vinaigrette: In a bowl, whisk together the lemon juice, maple syrup, preserved lemon, garlic, and shallot. Stream in the olive oil, whisking as you go. Stir in the chopped mint and season with the salt and pepper to taste.

Or, add all of the ingredients to a jarred lid and shake vigorously until emulsified.

Drizzle the vinaigrette on top of the carrot salad and toss gently.
Notes
To make the prep quicker, you can add the mint, parsley, and scallions to a food processor and pulse repeatedly until finely chopped. 
---
Calories:
161
kcal
|
Carbohydrates:
19
g
|
Protein:
2
g
|
Fat:
10
g
|
Saturated Fat:
1
g
|
Polyunsaturated Fat:
1
g
|
Monounsaturated Fat:
7
g
|
Sodium:
189
mg
|
Potassium:
592
mg
|
Fiber:
5
g
|
Sugar:
9
g
|
Vitamin A:
20775
IU
|
Vitamin C:
50
mg
|
Calcium:
103
mg
|
Iron:
2
mg
Preserved Lemon Yogurt Sauce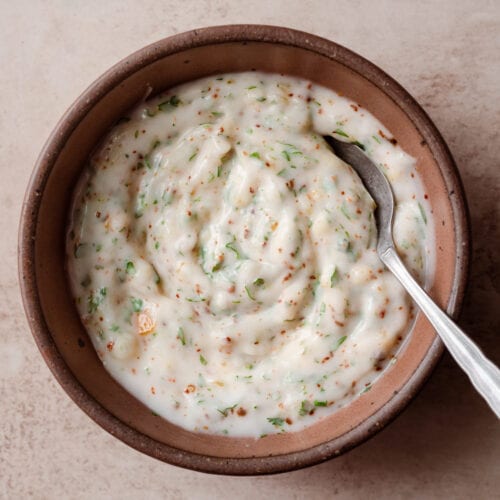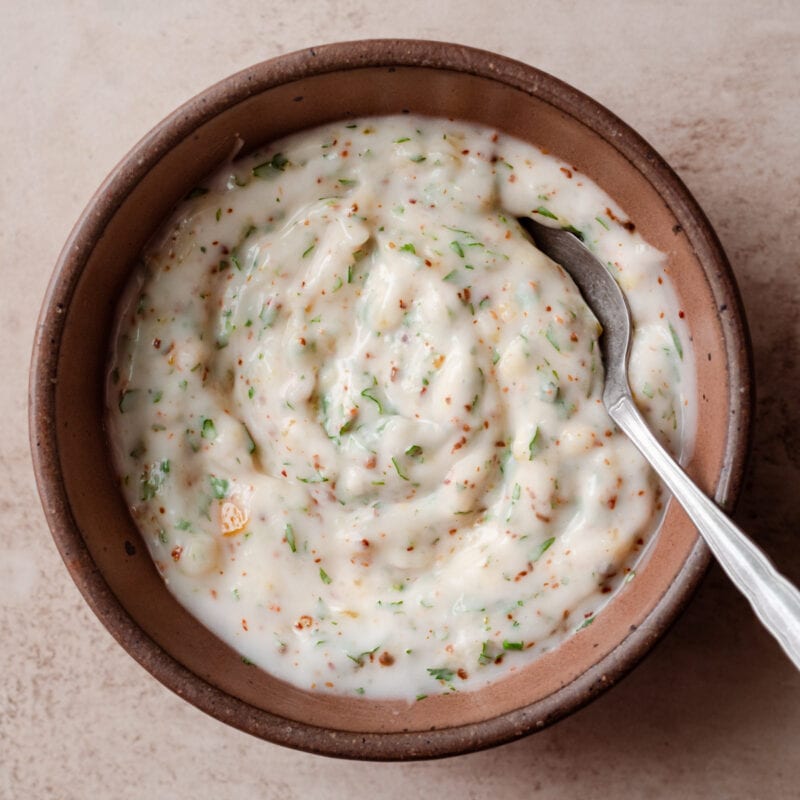 Preserved lemons perk up this simple yogurt sauce, which is fabulous with falafel, lentils and chickpeas, roasted potatoes, or even as a dip with toasted pita bread. It takes just 5 minutes to make!
Ingredients
1/2

cup

(113g) good-quality unsweetened coconut yogurt*

1 to 1 ½

tablespoons

preserved lemon rind,

minced

¼

cup

(3g) cilantro leaves,

finely chopped and divided

1

large garlic clove,

grated or crushed with a press

1

teaspoon

Aleppo pepper

(or 1/4 to 1/2 teaspoon crushed red pepper flakes)

Sea salt to taste
Instructions
Mix together the yogurt, 1 tablespoon of preserved lemon peel, cilantro, garlic, and Aleppo pepper. Season to taste with salt. Taste, and add more preserved lemon peel or salt as desired.
---
Calories:
23
kcal
|
Carbohydrates:
3
g
|
Protein:
1
g
|
Fat:
1
g
|
Saturated Fat:
1
g
|
Polyunsaturated Fat:
1
g
|
Monounsaturated Fat:
1
g
|
Sodium:
87
mg
|
Potassium:
17
mg
|
Fiber:
1
g
|
Sugar:
2
g
|
Vitamin A:
199
IU
|
Vitamin C:
4
mg
|
Calcium:
41
mg
|
Iron:
1
mg