These meat-free Sofritas are the copycat version of the popular Chipotle plant-based protein. But I'll let you in on a secret: homemade sofritas taste 10x more flavorful and fresh!
Layers of broiled poblanos, chipotle peppers, a few spices, and aromatics come together to make the star of the show in this recipe: the sauce. Pour this deeply layered sauce over a skillet packed with lightly fried tofu and briefly simmer.
In the end, you're left with an irresistibly smoky, slightly spicy, burrito (or burrito bowl) topping that's shockingly wholesome (12g protein + 5g fiber per serving!).
These sofritas are so good you'll want to just eat them on their own, or over a simple bowl of rice. If you have more time, stuff them into vegan burritos, tacos, or go all out with a vegan crunchwrap supreme.
Table of Contents:
1. What is sofritas?
2. Why this recipe works
3. Ingredient Notes
4. Step-by-step instructions
5. Tips for making this recipe
6. Frequently Asked Questions
7. Recipe Card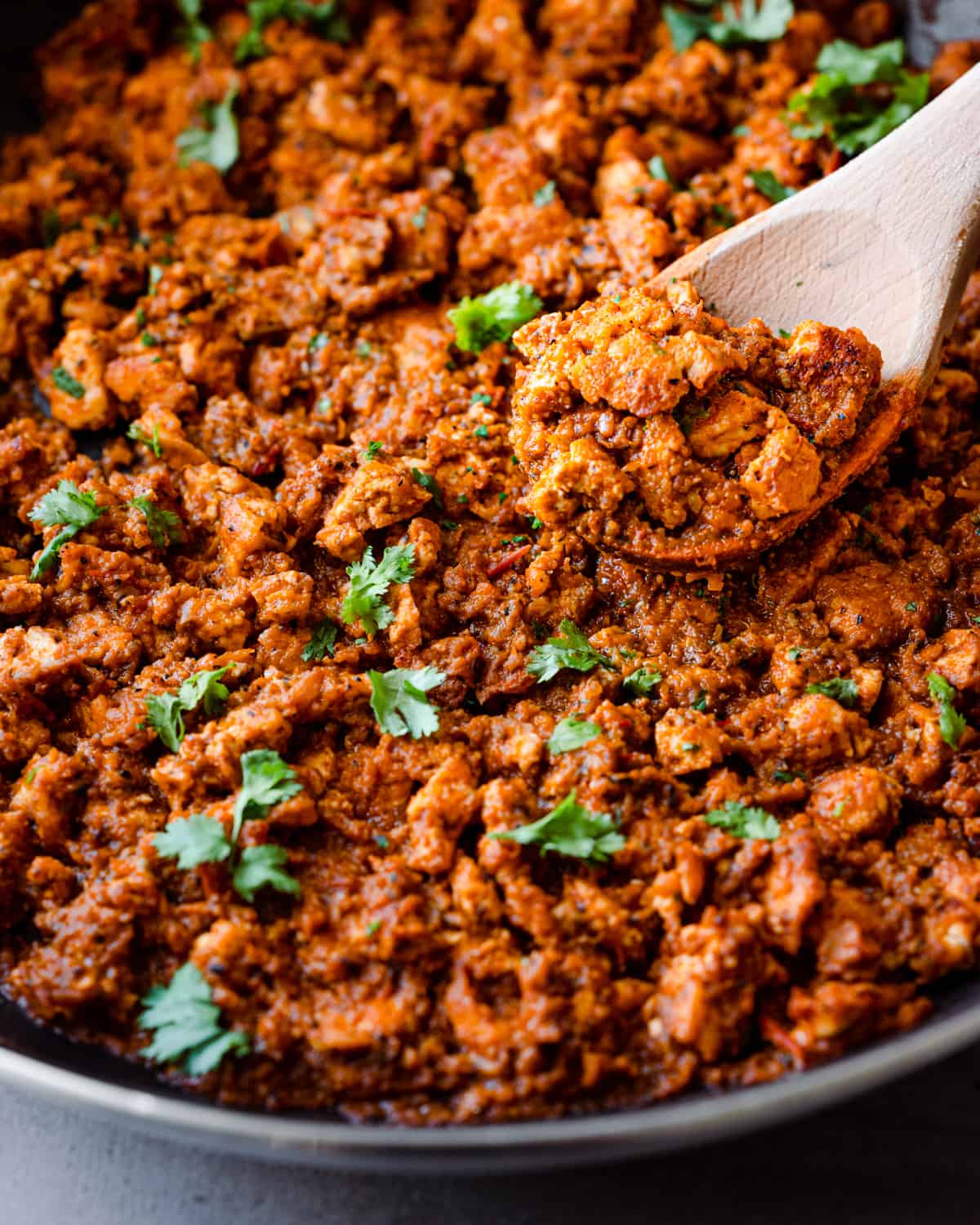 What is sofritas?
Sofritas is Chipotle's answer to plant-based protein. It's a fabulous taco, burrito, or quesadilla filling made from crumbled tofu that's been simmered in an aromatic sauce made from poblano peppers, chipotle peppers, tomatoes, and spices.
They've been around since 2014, but I wanted to share how to make a copycat Chipotle sofritas at home because (1) it tastes way better, and (2) it's a wholesome, protein-packed versatile option you can meal prep, or pile on top of vegan nachos, use in Chipotle copycat vegan burrito bowls or breakfast burritos, or fold into tacos or quesadillas.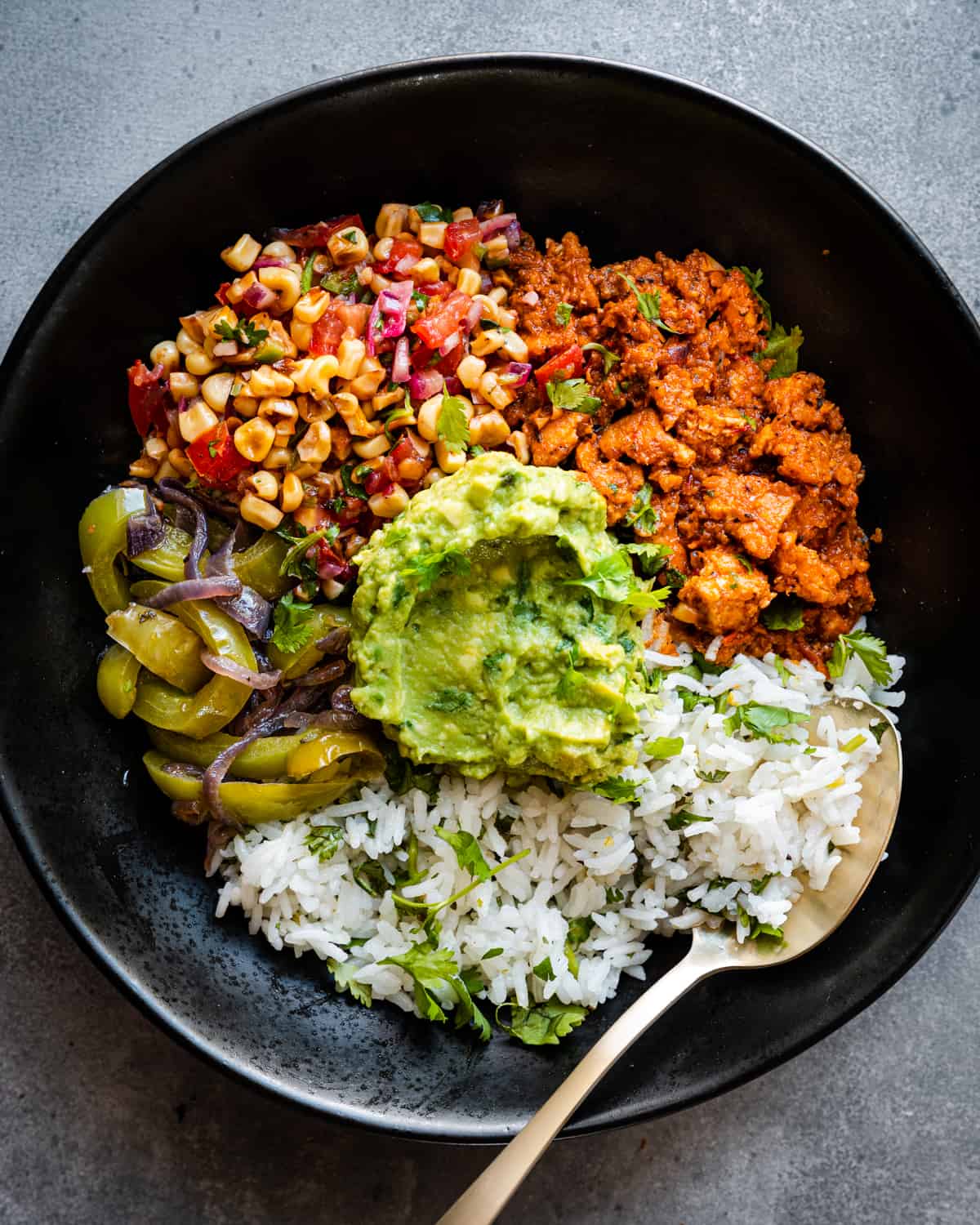 Why this recipe works
They have the same texture as the original.
After ordering several rounds of sofritas-and-rice-only bowls from Chipotle, I've gotten to know the taste and texture of sofritas very well. It's chewier, firmer, and meatier than standard extra-firm tofu you get at the grocery store. And that's because Chipotle makes its own tofu from soybeans.
To make things easier, I rely on super firm tofu instead. It's the best option for replicating the meaty texture of Chipotle's sofritas. It also has very little moisture, meaning there's almost no prep work (e.g., pressing) involved.
And they're so much more flavorful.
The deeply layered, smoky sauce here helps this Chipotle sofritas recipe stand out from the rest. Many other recipes just blend all of the raw sauce ingredients in a blender and call it a day. Sure, that's easy, but it results in a bland, unmemorable sofritas.
Here, the poblano peppers are broiled to bring out their naturally smoky and sweet flavor. In addition, the aromatics and spices are sautéed to bring out their richness. Everything is blended together to leave you with a deep, rich, and layered sauce.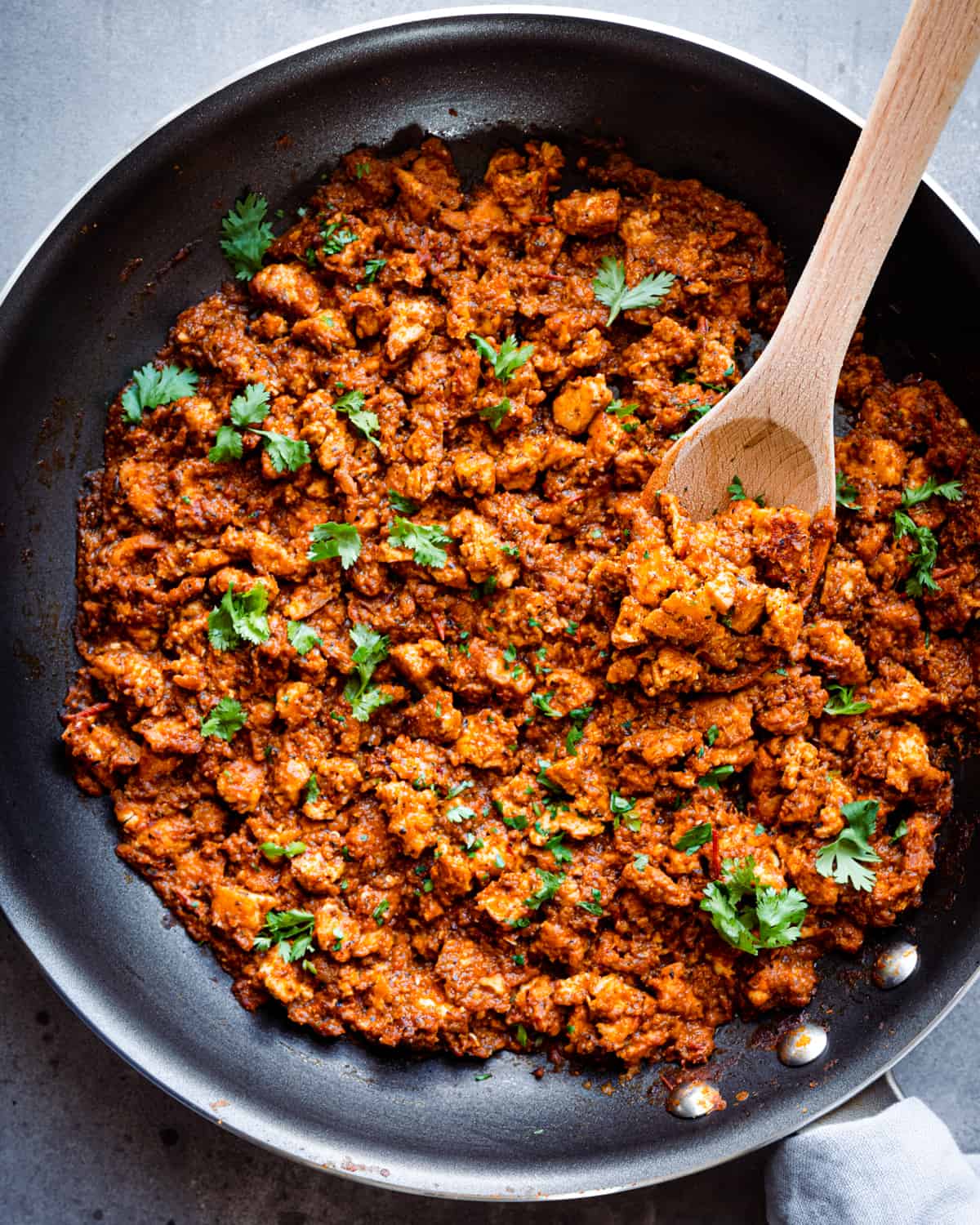 Ingredient notes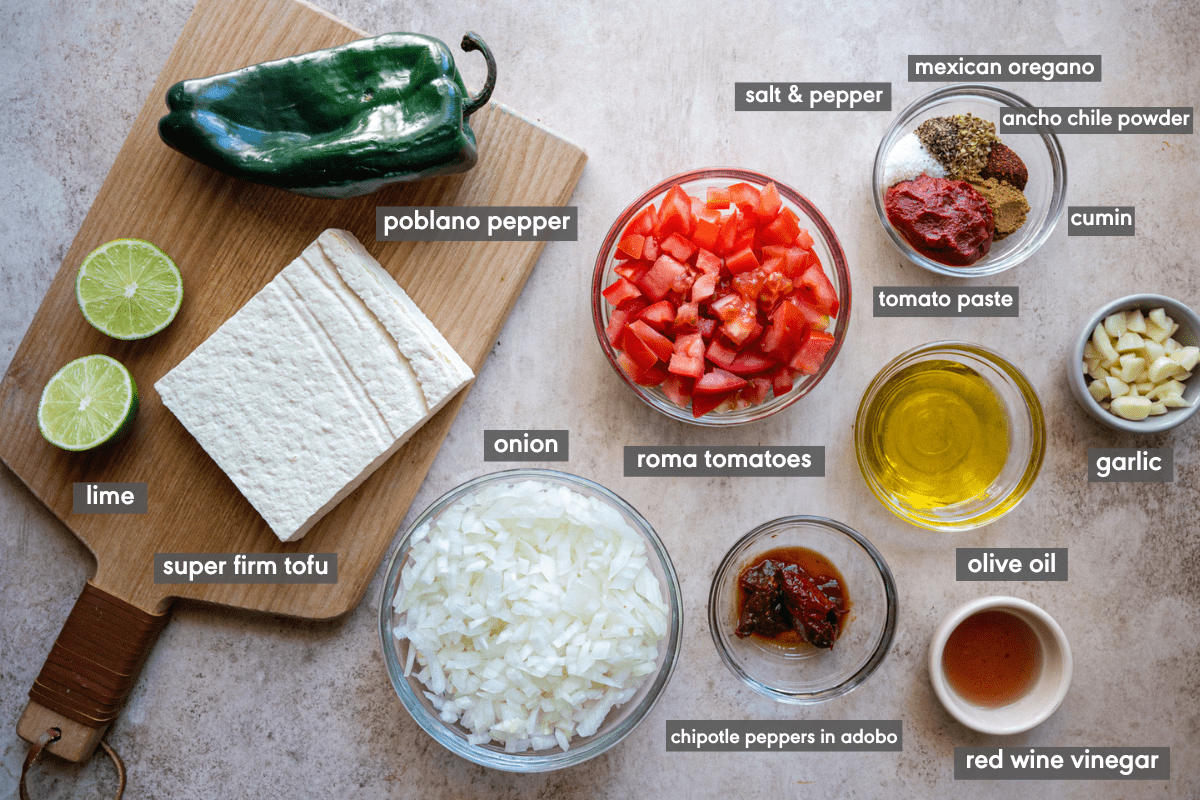 Super firm tofu. Also known as high-protein tofu. It has the least amount of water of any variety of tofu, which means (1) you don't need to press it beforehand, and (2) it has the same chewy, firm texture as the OG Chipotle sofritas.
Where to buy: Well-stocked grocery stores, including Whole Foods, Sprouts, and Trader Joes, as well as Asian grocery stores. Popular brands include Wildwood, Nasoya, and House Foods.
Substitute: Extra-firm tofu but with a couple changes. Check out the FAQ section for details.
Poblano pepper. This is similar to a green bell pepper but it has a bit more of a kick and a slightly richer flavor.
Substitute: If you don't have access to poblanos, a small or medium green bell pepper will also work well.
Chipotle pepper in adobo sauce. A little goes a long way! If you like your sofritas on the mild side, use less of the adobo sauce.
Tomatoes. For tangy, fresh, and very subtly sweet flavors.
Spices. A blend of cumin, Mexican oregano, and ancho chile powder adds plenty of warmth and flavor. Feel free to use regular oregano and chile powder if that's what's available to you.
Acidic ingredients. Chipotle uses white vinegar (most likely to keep costs down). I opt for red wine vinegar, as it adds more flavor and enhances the tang of the tomatoes. And finish with a squeeze of lime for a fresh zing at the end.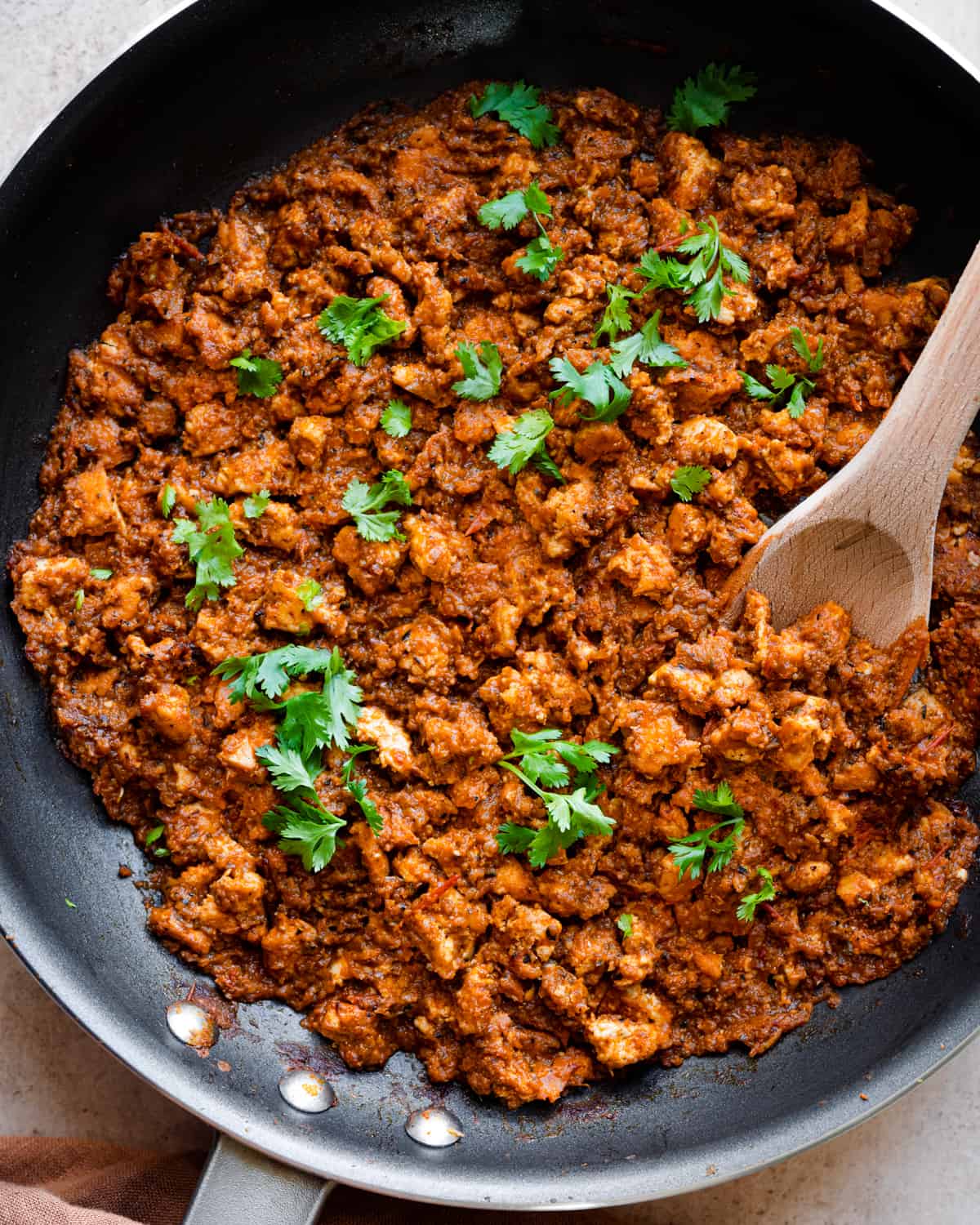 Step-by-step instructions
Broil the poblano pepper. There are two ways to do this:
Underneath the broiler in the oven.
Over a gas burner on high heat (stem removed first).
Once it's broiled, blistered, and blackened, that's it. No need to peel or de-seed.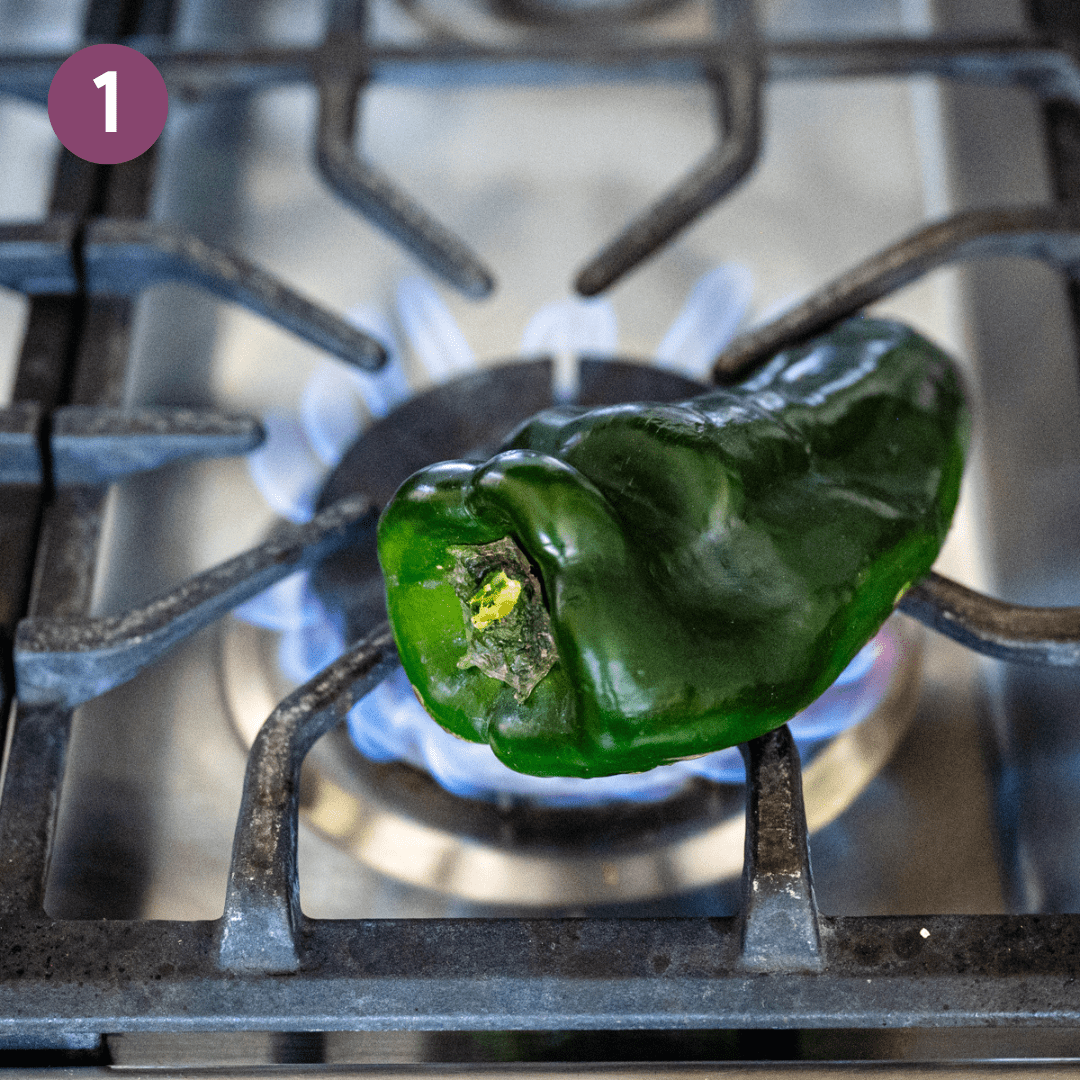 Saute the aromatics. Add the onions to a hot pan with oil. Saute until they start to get some color, then add the garlic. Stir in the tomato paste, cumin, oregano, chile powder, salt, and pepper.
Finish by stirring in the chopped tomatoes. Cook until they're soft, then transfer the mixture to a blender and clean out the pan.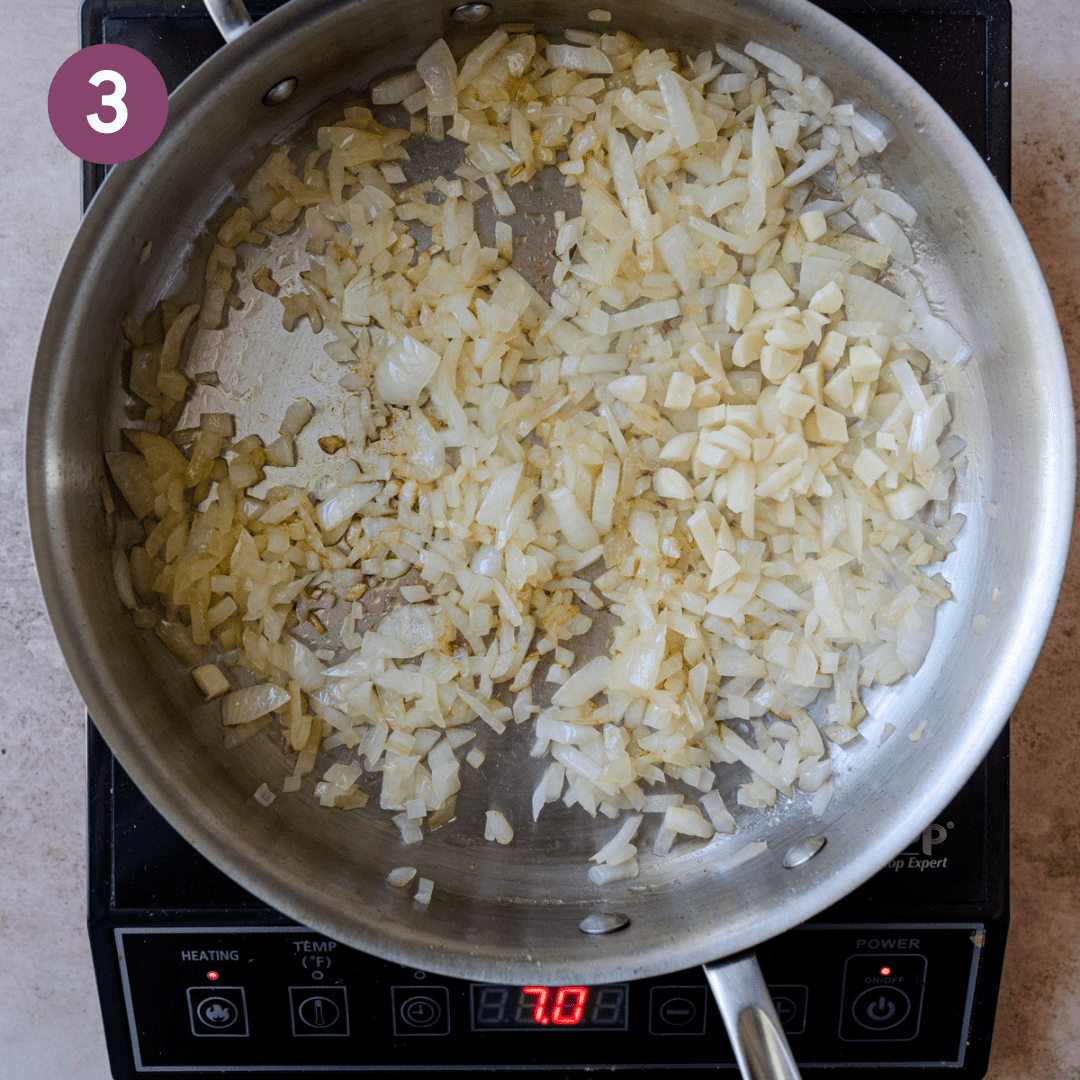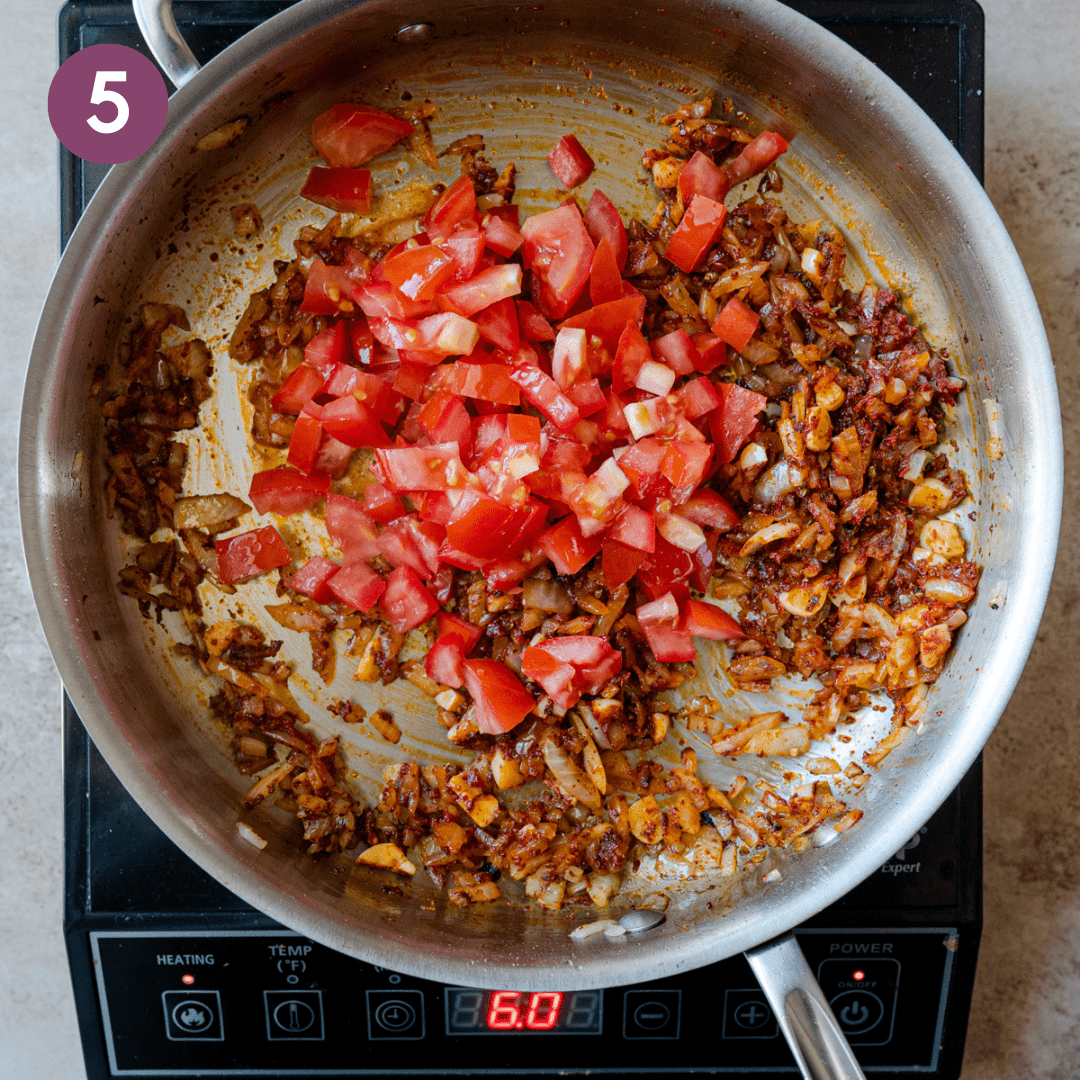 Blend the sauce. Add the broiled poblano pepper, chipotle peppers in adobo, vinegar, and water to the blender with the tomato mixture. Blend until relatively smooth. Taste, adjusting seasonings as desired.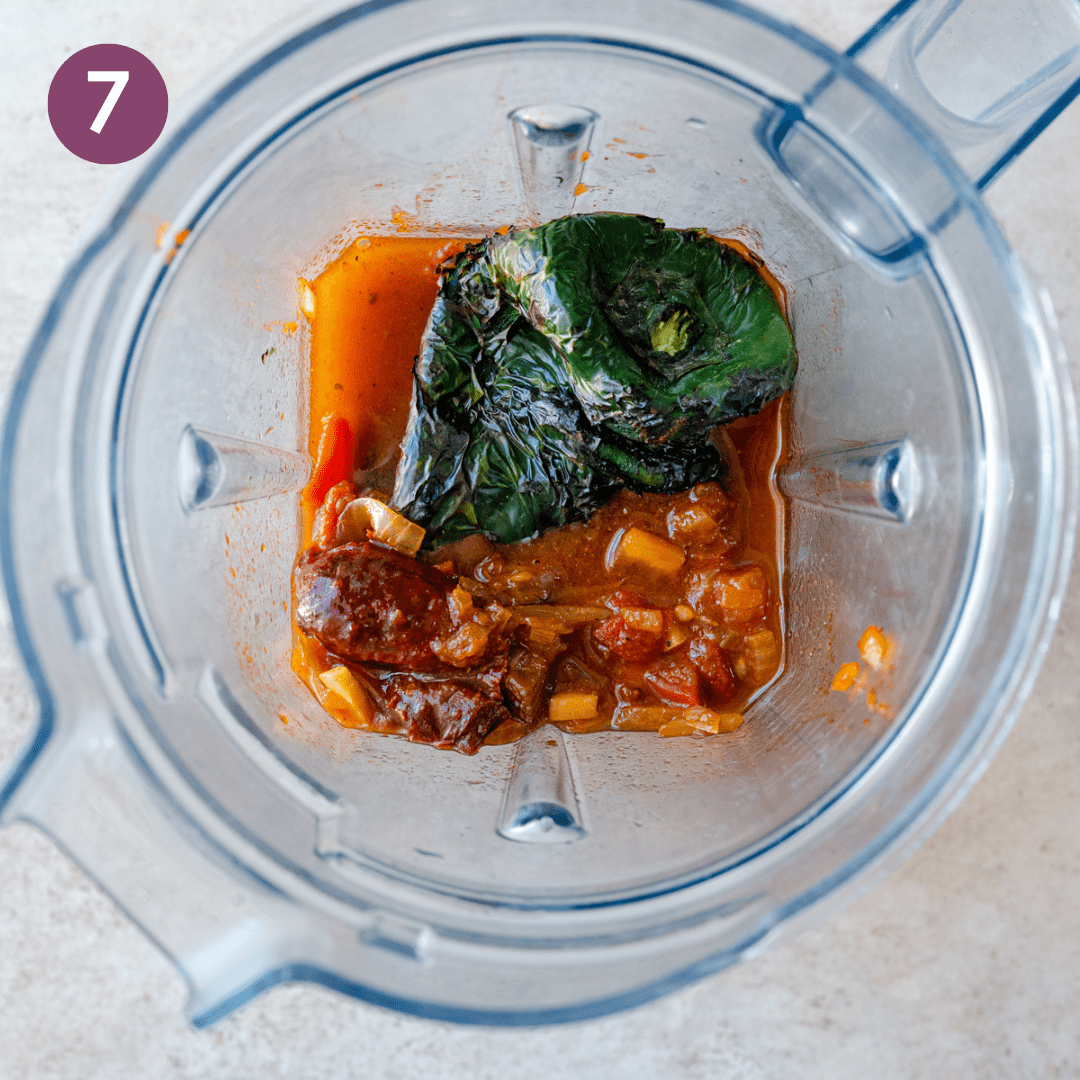 Slice the tofu into 4 slabs and gently press with a towel to remove some water. Crumble the tofu into small pieces into a bowl.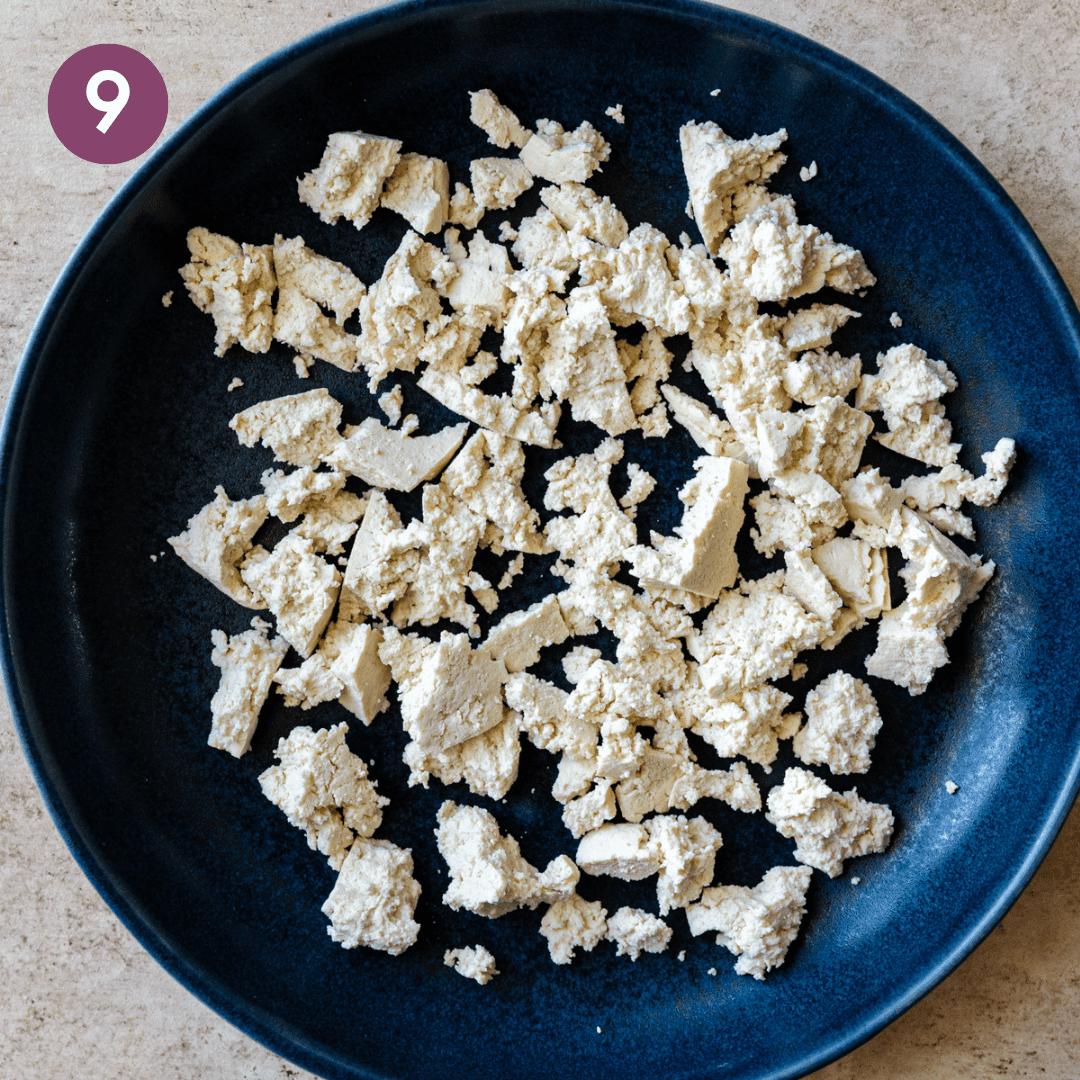 Heat the rest of the oil in a frying pan and add the crumbled tofu in a single packed layer. Cook undisturbed for a few minutes, then flip and repeat a few times, until mostly browned.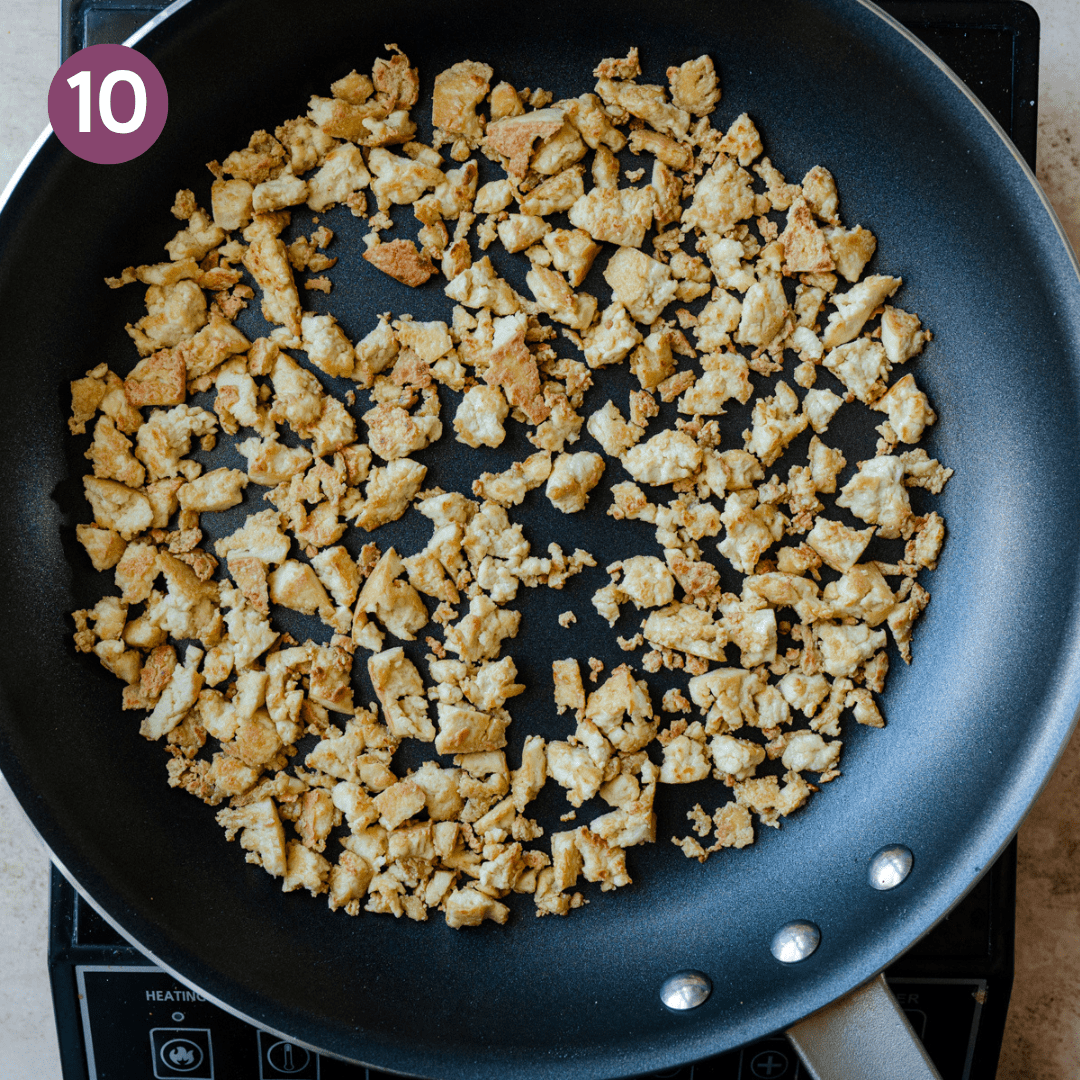 Add the sauce. Pour the blended sauce over the tofu in the pan and simmer until thickened and saucy, stirring occasionally until it starts to thicken.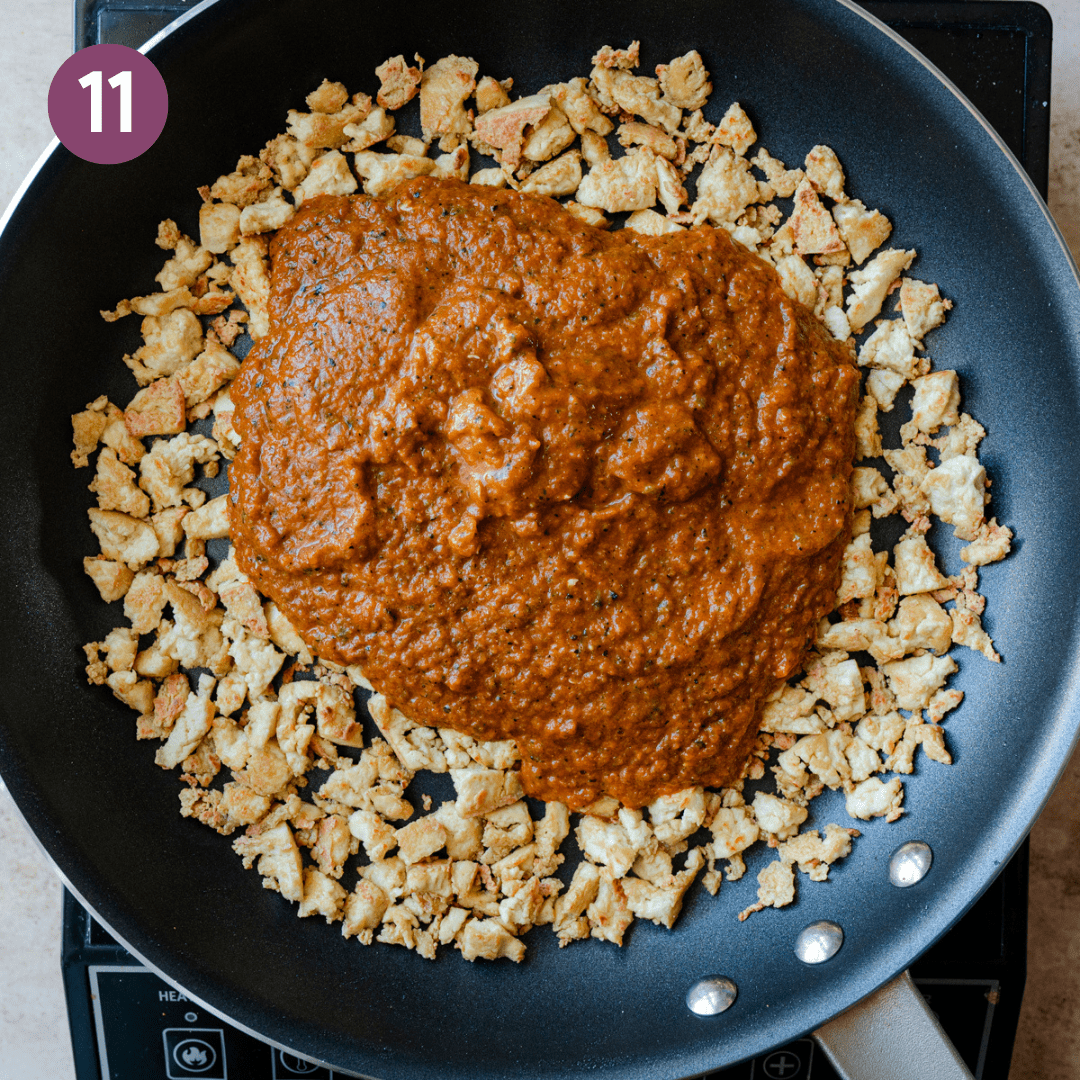 Adjust the flavor as needed and finish it off with fresh lime juice and cilantro, if desired. Enjoy!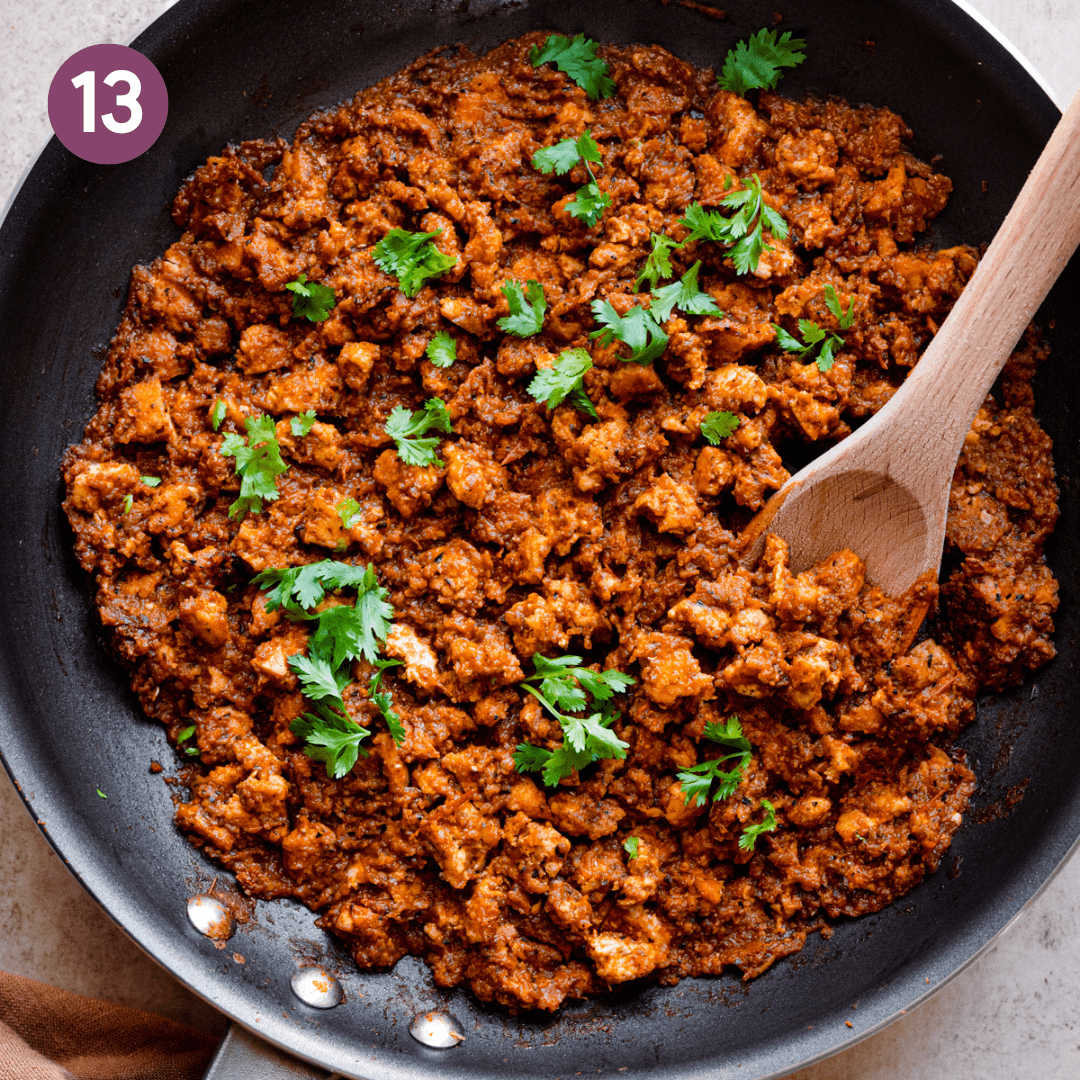 Tips for making this recipe
Super firm tofu is your best option.
It has a similar meaty texture to the tofu Chipotle uses, lending a more realistic result. You can use extra firm tofu instead, but you'll need to follow the instructions in the FAQ section before getting started.
You need blueberry-sized tofu crumbles.
If you've ever made tofu scramble, then you should be familiar with crumbling tofu.
Sofritas recipes require the tofu to be crumbled but smaller: you're going for crumbles about the same size as a blueberry.

Any larger and it starts to feel more like tofu scramble and less like sofritas; plus, the sauce won't penetrate all the way through the tofu.
Don't skip the broiled pepper.
Broiling the poblano lends a nice smoky undertone and a subtle sweetness to the sofritas sauce.
Broiling the pepper over the flame on a gas stove is my preferred method, as it results in a smokier flavor. Alternatively, go with the oven broiler method if you want to keep this recipe as hands-off as possible.
Multitask!
Want to save 10ish minutes? Cook the tofu and the aromatics in separate pans on the stove at the same time.
Use it in so many ways.
Sofritas are an absolute must in vegan burritos and burrito bowls! Add some white or brown rice to a bowl (or tortilla) and layer the sofritas over top along with more toppings, like:
And that's not even all. Sofritas can be used anywhere else you need a protein-packed filling or topping. Sprinkle them on top of a platter of nachos, stuff them in tacos or quesadillas, stir them into vegan chili mac, and more. For breakfast, pair with Just Egg for breakfast burritos.
And if you have my cookbook, The Vegan Instant Pot Cookbook, make the Frijoles in Chapter 3 alongside these sofritas for a Mexican-inspired meal prep.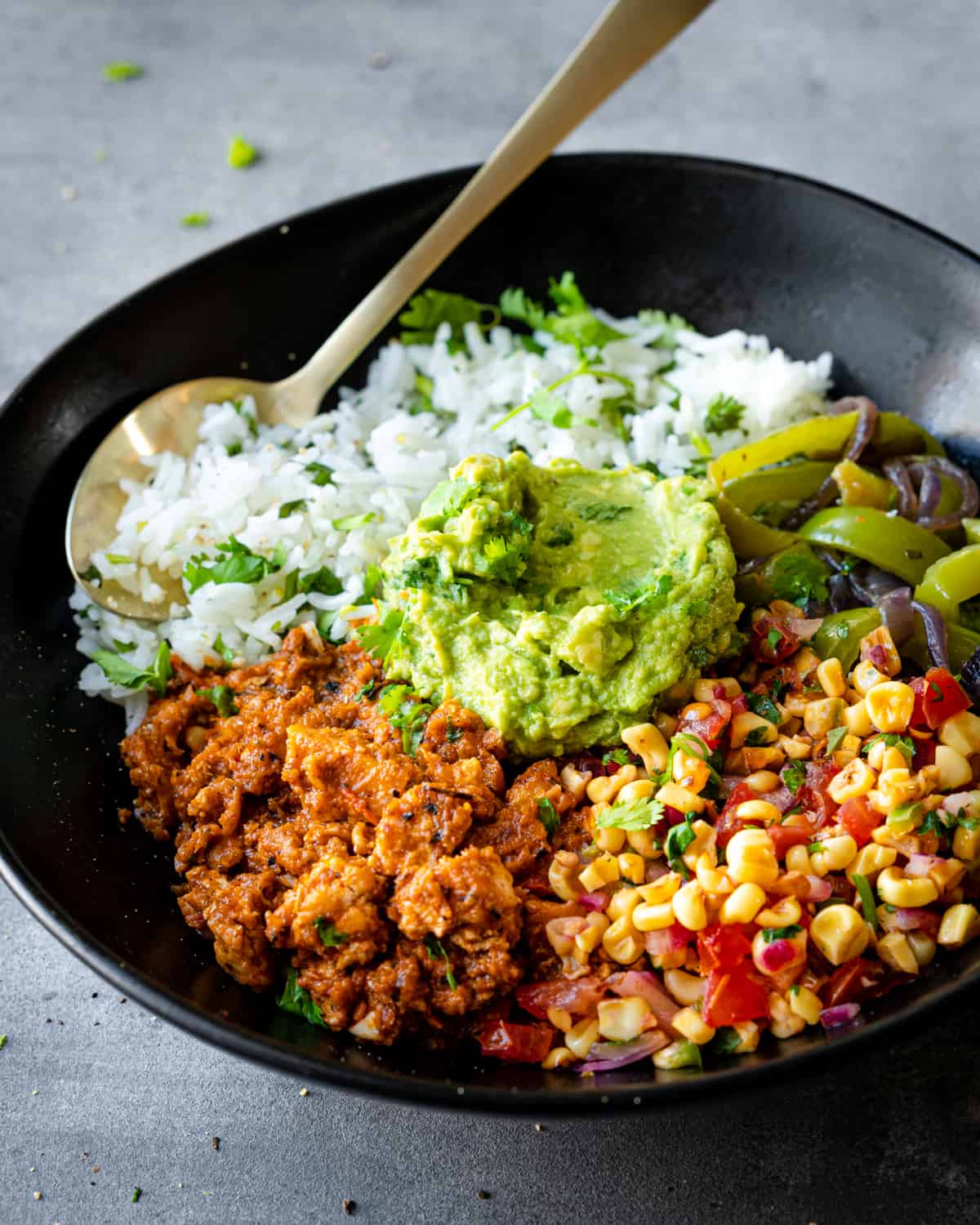 Frequently Asked Questions
I can't find super firm tofu. What else can I use?
Use extra firm tofu instead, but follow these instructions instead of those in the recipe card:

1. Press the tofu: Cut the brick of tofu into 4 slabs, then cover them with clean kitchen towels and place something heavy on top to help squeeze out the water. Press for 15 to  20 minutes, ideally changing the towel halfway through. Or, use a tofu press (affiliate link). 
2. Crumble the tofu into blueberry-sized chunks.
3. Coat the chunks in 1 tablespoon of cornstarch and a pinch of salt. 

Don't skip the cornstarch. It's necessary for crispy tofu crumbles with extra chew, helping them taste just like Chipotle's version.

Is there another substitution for the tofu?
You could use tempeh or soy curls, or a soy-free protein like pumfu (pumpkin seed tofu) or jackfruit if you have a soy allergy. Just know that the texture will be very different from the original.
Do you need to remove the skin or seeds from the poblano?
You don't have to. The blistered skin adds a nice charred smokiness to the sauce, and the seeds are mild and just get blended into the sauce.
Is sofritas spicy? Can I make it mild?
This sofritas is fairly spicy. If you want milder heat, use less of the adobo sauce from the can of chipotle peppers. If you want even more heat, taste the sauce, then add another teaspoon of adobo sauce as desired.
How do you store and reheat the leftovers?
Keep the leftovers in an airtight container in the fridge for 5 days. They're just as delicious when reheated the next day! I prefer to spread them out in a frying pan until warmed through and a bit crisp, but you can microwave them in a pinch.
Can you freeze sofritas?
You can freeze the sofritas once cooled, but the texture will not be quite the same.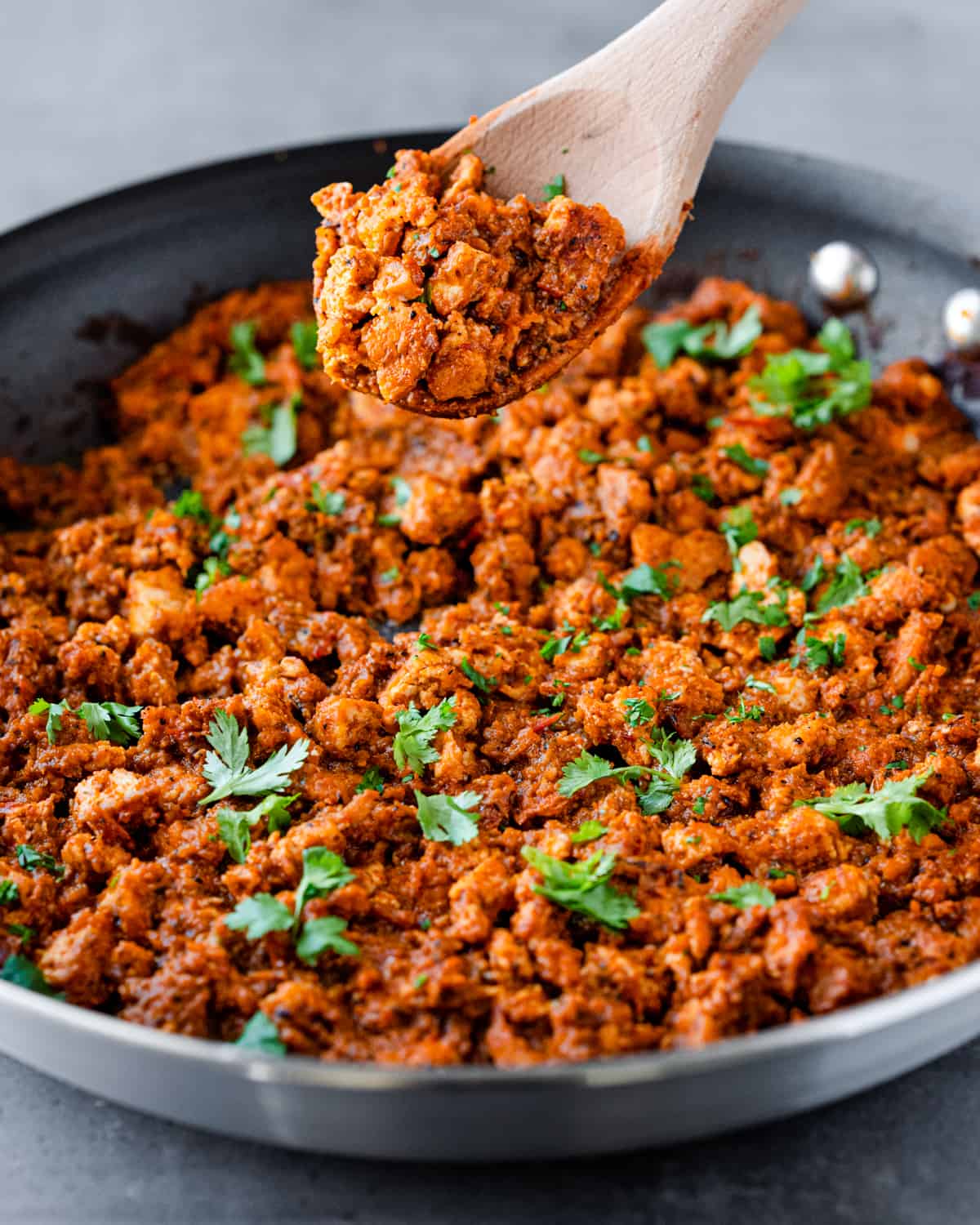 If you love this Chipotle Copycat Sofritas recipe as much as we do, please be sure to leave a rating and review below :) It's always much appreciated!
Sofritas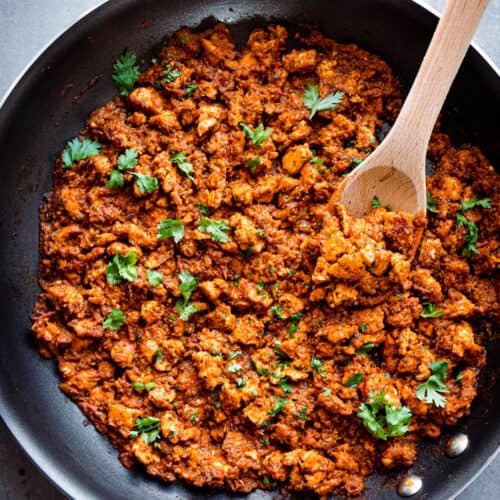 You may never go back to Chipotle after trying this copycat Sofritas recipe! Meaty tofu crumbles are simmered in a deeply smoky and tangy sauce made from chile peppers and spices. It's deceptively healthy and truly the best vegan burrito bowl topping!
Ingredients
1

poblano pepper or green bell pepper,

kept whole

3

tablespoons

olive oil or avocado oil,

divided

1

medium yellow or red onion,

finely chopped

4

garlic cloves,

chopped

2

tablespoons

tomato paste

1 ½

teaspoons

ground cumin

1

teaspoon

Mexican oregano

or regular oregano

½

teaspoon

ancho chile powder

1 ½

teaspoons

kosher salt,

divided

A generous amount of freshly cracked black pepper

1

(12 to 16-ounce) block of super firm tofu (also sold as high-protein tofu)*

2

roma tomatoes,

chopped

1

chipotle pepper in adobo + 1/2 tablespoon adobo sauce**

2

teaspoons

red wine vinegar

½

cup

(120 mL) water

Lime juice

to finish
Instructions
Broil the poblano pepper or green bell pepper. You have two options; the gas flame gets you a smokier flavor. No need to peel or remove the seeds when done.a. Broiler: Arrange an oven rack 6 inches underneath the broiler flame. Lightly oil the whole poblano pepper. Add the pepper to a sheet pan and broil for 5 minutes, flip, and repeat. Allow to cool a bit, then remove the stem and seeds inside.b. Gas flame: Cut the stem off from the pepper. Turn a gas burner to high heat. Use metal tongs to arrange the pepper on top of the flame. Using tongs, turn the pepper occasionally, about every minute, until the skin on all sides is blackened and blistered, about 4 minutes total, but do not allow it to turn to white ash or catch fire.

Cook the aromatics. Heat 1 ½ tablespoons of oil in a medium nonstick frying pan over medium high heat. Once the oil is hot, add the onions and season with a pinch of salt. Cook for 5 to 6 minutes, or until just starting to get some color. Add garlic and cook for 2 minutes, stirring frequently. Add tomato paste, cumin, oregano, chile powder, 1 teaspoon of salt, and pepper and cook for 1 minute. Add the tomatoes and cook until they've softened, about 5 minutes. Clean out the pan.***

While the onions are cooking, cut the tofu into 4 slabs. Squeeze out as much water as you can. Crumble tofu into small pieces, about the size of a blueberry. See the photo for reference.

Transfer the onion-tomato mixture to a blender or food processor. Add the broiled poblano pepper, chipotle peppers in adobo, vinegar, and water. Blend until relatively smooth. Taste the sauce, adding any sweetener as needed or more vinegar or salt.

Heat the remaining 1 ½ tablespoons oil in the frying pan over medium-high heat. Once hot, add the tofu and spread out in a single packed layer and season with ½ teaspoon kosher salt. Allow to cook 2 to 3 minutes undisturbed. Flip and continue cooking for a total of 12 minutes, stirring only every 2 to 3 minutes, until most of the tofu is browned.

Pour in the sauce and simmer for 5 minutes, stirring occasionally. It'll start to thicken, so turn the heat to medium or medium-low and cook for another 5 minutes, or until flavors have developed and tofu is saucy. If it gets too thick, add a few splashes of water.

Taste, adjusting seasonings as needed. If it's a bit tangy, add a pinch of organic brown or cane sugar. Finish with a squeeze of lime juice.
Notes
* If super firm tofu is not available, use extra firm tofu. Crumble the tofu into small pieces but not as small as the super firm tofu: if you crumble really small, it will get mushy. Check out the reference photo in the FAQ section. Then, coat the tofu crumbles with 1 tablespoon cornstarch and ½ teaspoon kosher salt. Coating the tofu in cornstarch improves its texture quite a bit, giving it a slightly crisp coating and more chew, similar to Chipotle's sofritas.
** Use ½ teaspoon adobo sauce for mild heat.
*** Want to save ~10 minutes? Cook the tofu in a separate pan while you cook the aromatics. 
---
Calories:
216
kcal
|
Carbohydrates:
13
g
|
Protein:
12
g
|
Fat:
15
g
|
Saturated Fat:
2
g
|
Polyunsaturated Fat:
4
g
|
Monounsaturated Fat:
9
g
|
Sodium:
546
mg
|
Potassium:
485
mg
|
Fiber:
5
g
|
Sugar:
4
g
|
Vitamin A:
771
IU
|
Vitamin C:
33
mg
|
Calcium:
188
mg
|
Iron:
4
mg