This homemade Vegan Tzatziki is just as tasty as the classic made with Greek yogurt. Made with tangy and creamy vegan yogurt, garlic, cucumbers, olive oil, and dill, it's a rich yet refreshing sauce you can serve with pretty much everything.
Whip up a batch in 10 minutes and use it with grain bowls, salads, mezze platters, sandwiches, and more!
Table of Contents:
1. What is tzatziki?
2. Why this recipe works
3. Ingredient notes
4. Step-by-step instructions
5. Tips for making this recipe
6. Frequently Asked Questions
7. Recipe card with notes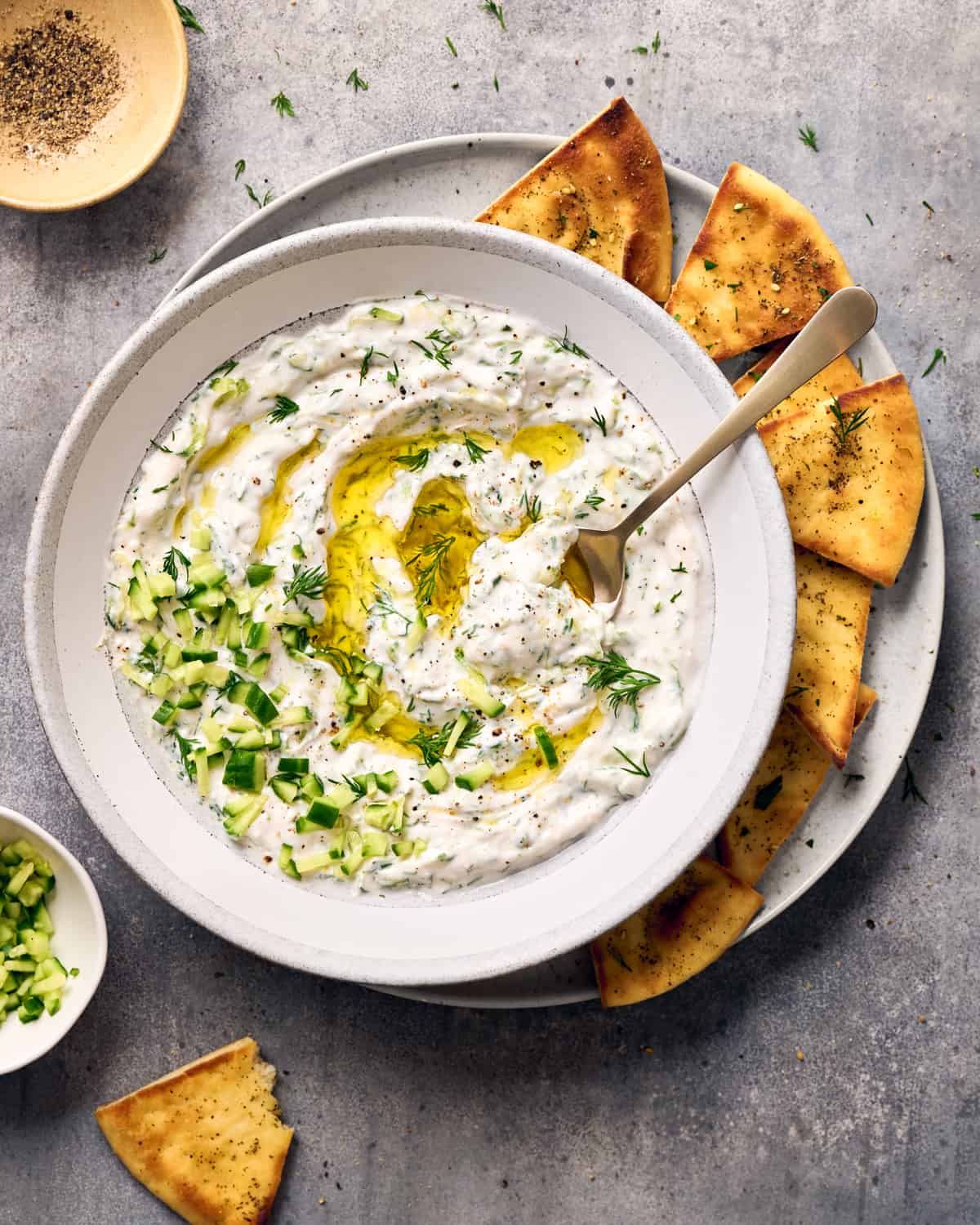 What is tzatziki? 
Tzatziki is a creamy yogurt sauce popular in Greece and throughout the Middle East. It's traditionally made with strained sheep or goat yogurt stirred together with minced garlic, drained cucumber, lemon juice, salt, fresh herbs, and olive oil.
It's often paired with gyro or souvlaki, grilled meats, roasted vegetables, drizzled on Greek salad, or used as a dipping sauce for vegetables, pita, and kebabs.
It's traditionally made with Greek yogurt (known for its creamy and thick consistency), but when you use the right ingredients, creating a dairy free version isn't all that difficult. A tangy and thick coconutyogurt, high-quality vinegar, and fresh dill give my non-dairy tzatziki recipe a restaurant-quality flavor and perfect texture.
PS: Greece isn't the only country to have a signature yogurt sauce. Raita is commonly used to tame the fiery heat of Indian food, and Turkish cacik is similar to tzatziki but more herbaceous and sometimes served as a soup.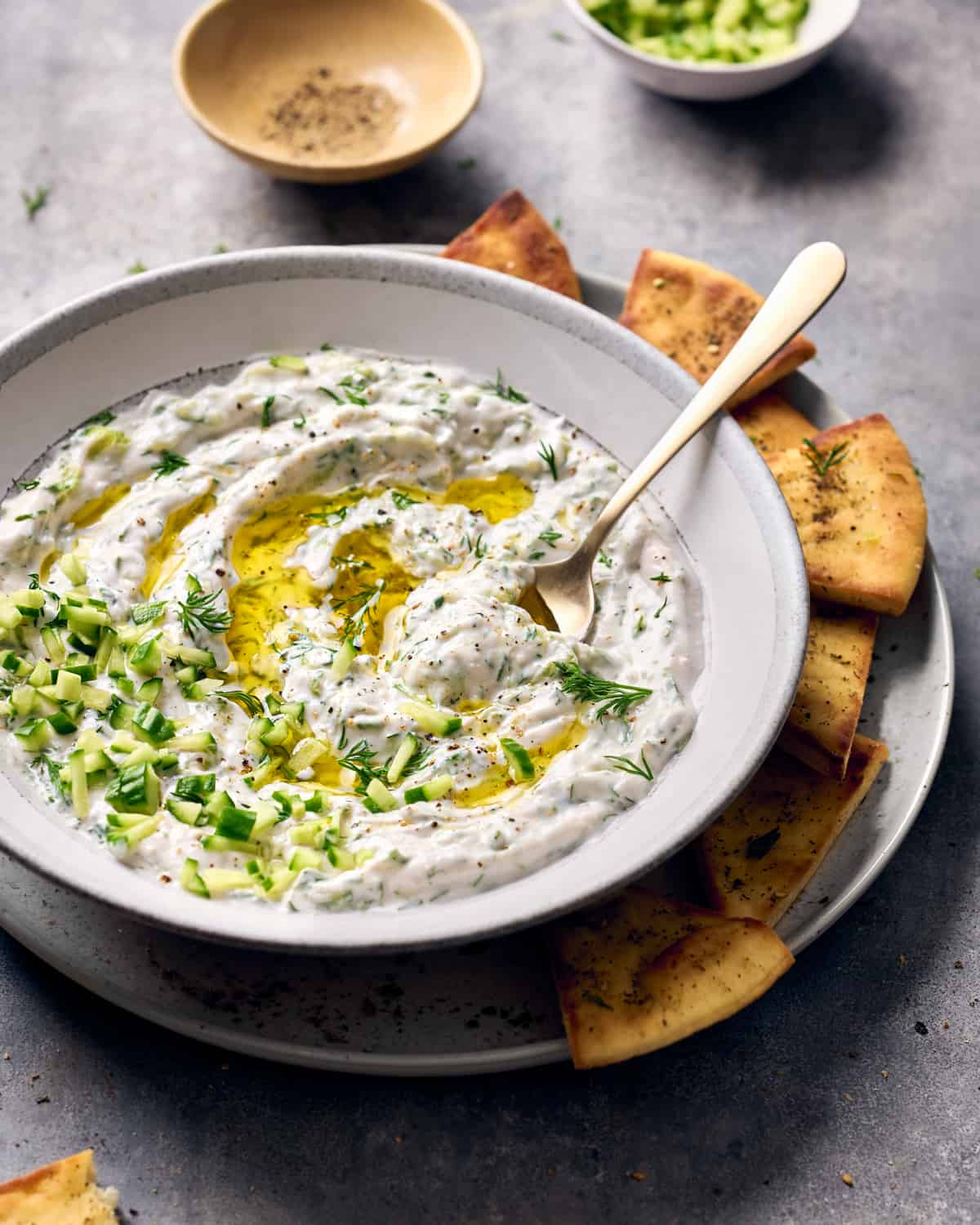 Why this recipe works
Savory and garlicky yet cooling.
Cucumber and yogurt give this sauce its light, refreshing, and cooling qualities. Garlic, however, adds a robust and garlicky flavor that awakens the whole sauce.
All in all, it's the perfect condiment to enjoy with vegan Greek-style gyros, roasted vegetables, or anywhere else you could use the vibrancy of a creamy, garlicky, herby sauce.
Quick and easy.
Yogurt sauces are known for having layers of dynamic flavors, but that doesn't mean they take long to prepare. All you need is 10ish minutes to put this dairy-free tzatziki together!
The process is as simple as stirring the ingredients together in a bowl. But for the richest and creamiest results, exercise some patience and squeeze out the water from your cukes (it takes 5 minutes or less). No one wants a watery tzatziki sauce!
Comes with endless uses.
The long list of serving suggestions in the How To Serve section below is all you need to make this sauce a staple in your fridge and meal prep arsenal.
From pairing it with crudites, olives, and pita for a mezze platter to drizzling it over Greek salad, the uses for tzatziki are endless!
Ingredient Notes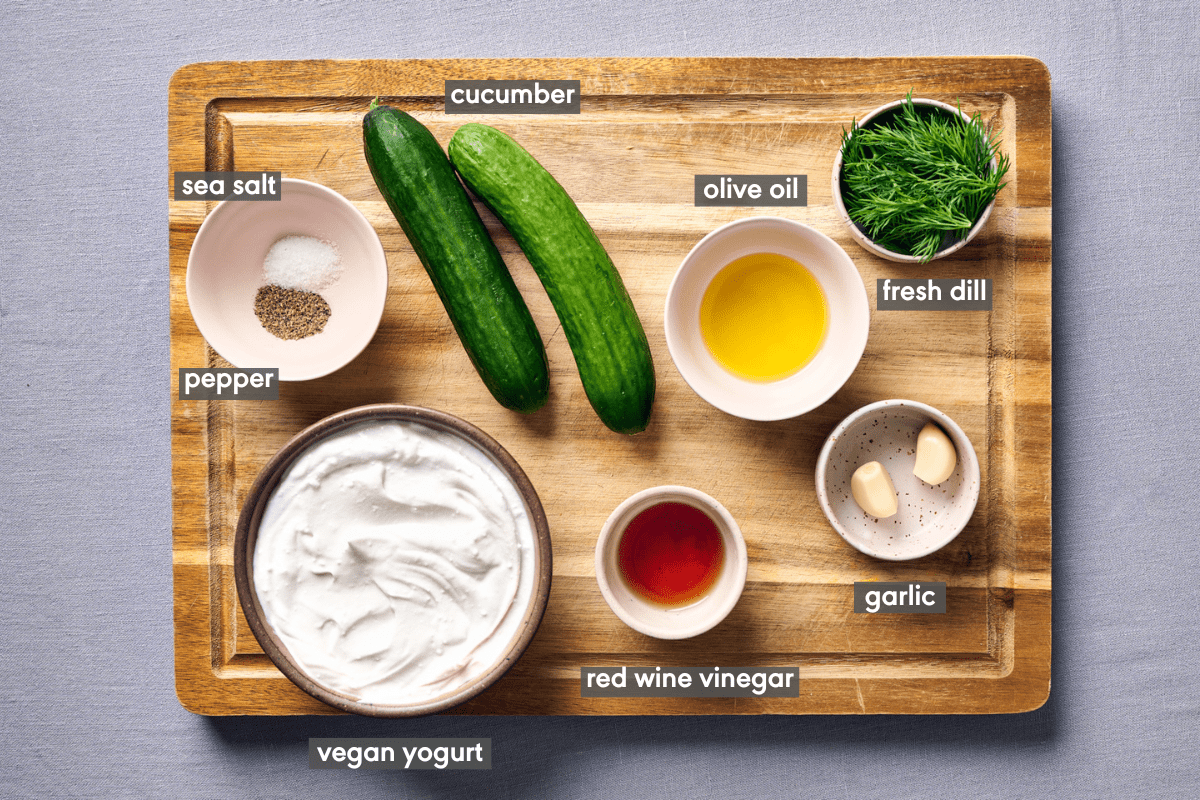 Vegan yogurt. Try to get your hands on the thickest, creamiest vegan yogurt you can find; Greek-style vegan yogurt or full-fat coconut milk-based yogurt is best. Standard thin vegan yogurts are too light and watery to use as a substitute for dairy-based Greek yogurt.
Check out my suggested dairy free yogurt brands in the FAQ section below.
Cucumber. English or Persian cucumbers are best because they're tart, crisp, sweet in flavor, and have mild-tasting seeds. Any cucumber will be watery, though, which is why draining it is such a crucial step in making tzatziki sauce.
Garlic. Fresh garlic is essential! It gives the sauce an assertive warmth and pungency and lots of savory flavors.
My Greek Dish
says, "a great Tzatziki sauce is all about the garlic". That's your cue to add as much garlic as you need to achieve the best flavor!
Fresh dill. A classic tzatziki ingredient that brings an herbaceous, bright, and almost savory flavor.
Substitute: Some recipes use fresh mint in lieu of dill. You can do this, or use both dill and mint.

Dried herbs do not work very well. Their flavor is more concentrated, which makes it easier to overwhelm the sauce.
Red wine vinegar. For a clean and bright acidity that makes the tzatziki pop.
Substitute: White wine vinegar or freshly squeezed lemon juice also work nicely. Regardless of the acidic ingredient you use, make sure it's of the best quality since every flavor is on display.
Extra virgin olive oil. A must! The oil adds richness and a smooth mouthfeel. It complements the creamy consistency of the yogurt and ties the whole recipe together.
Step-by-step instructions
First, grate the cucumber. I like to do this using the wide holes on a box grater.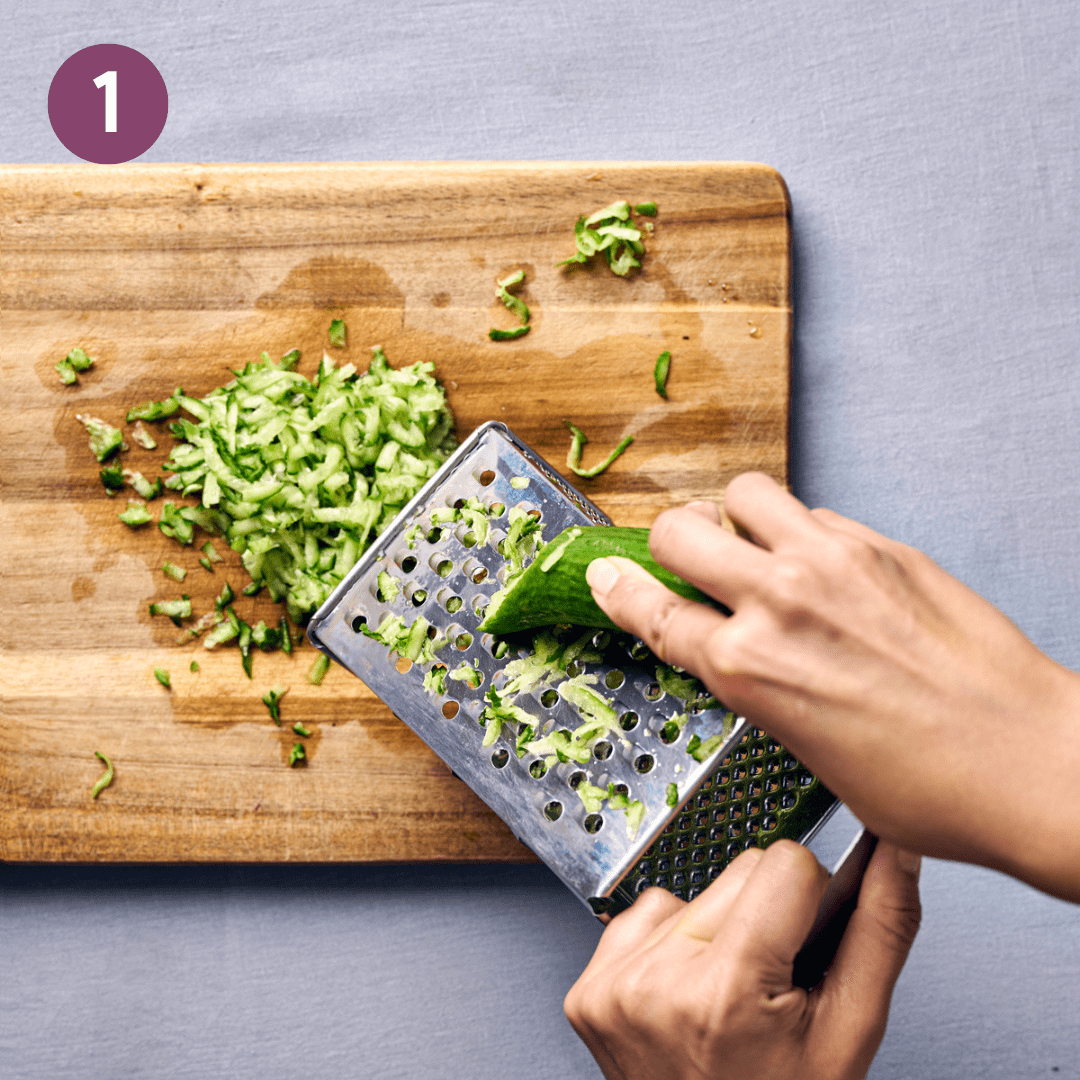 Transfer the grated cucumber to a clean dish towel. Wrap it up and squeeze out as much water as you can over the sink. Repeat a few times.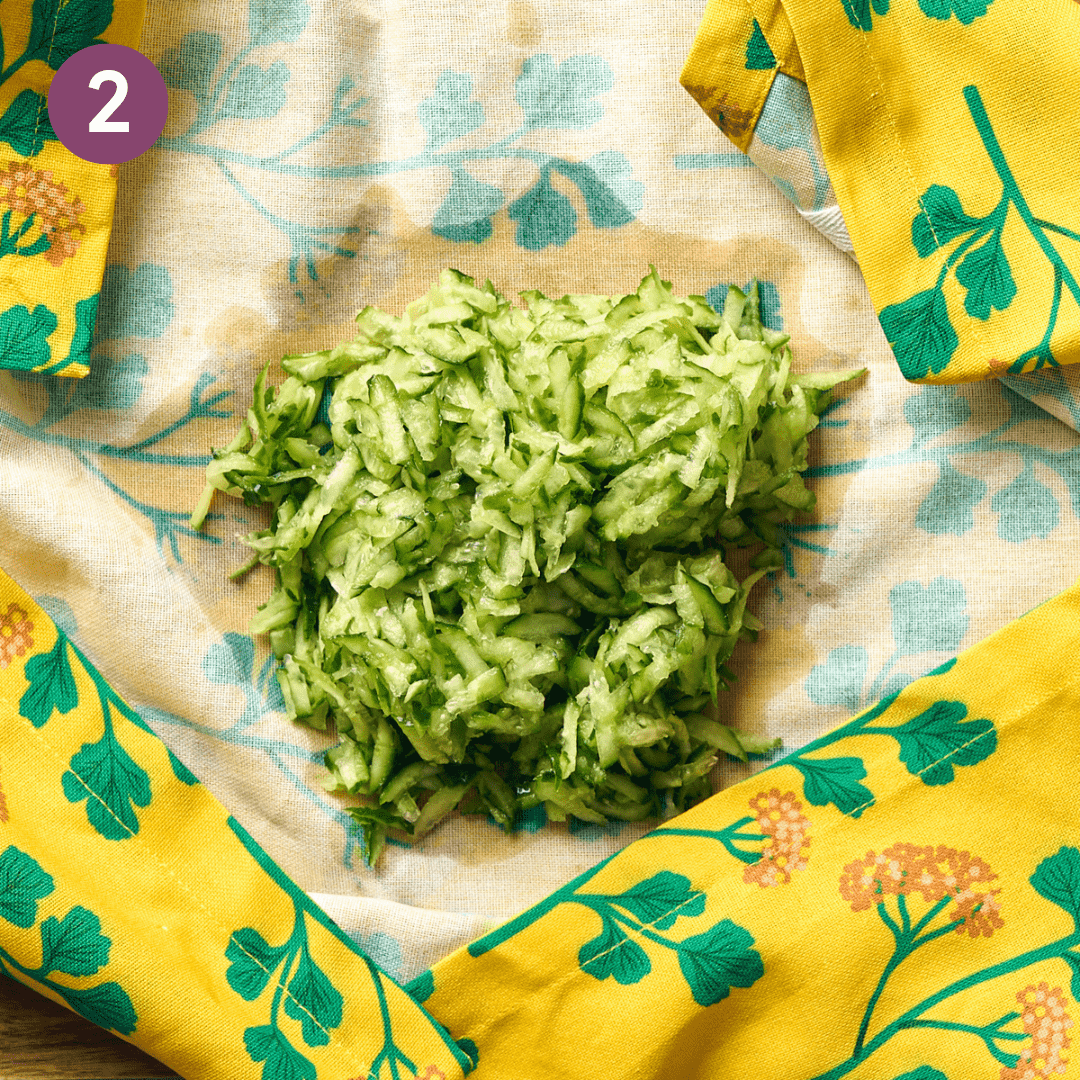 Next, add the yogurt to a bowl. Add the grated cucumber, dill, garlic, vinegar, salt, pepper, and olive oil. Stir to combine, then give it a taste and add more seasonings or herbs as needed.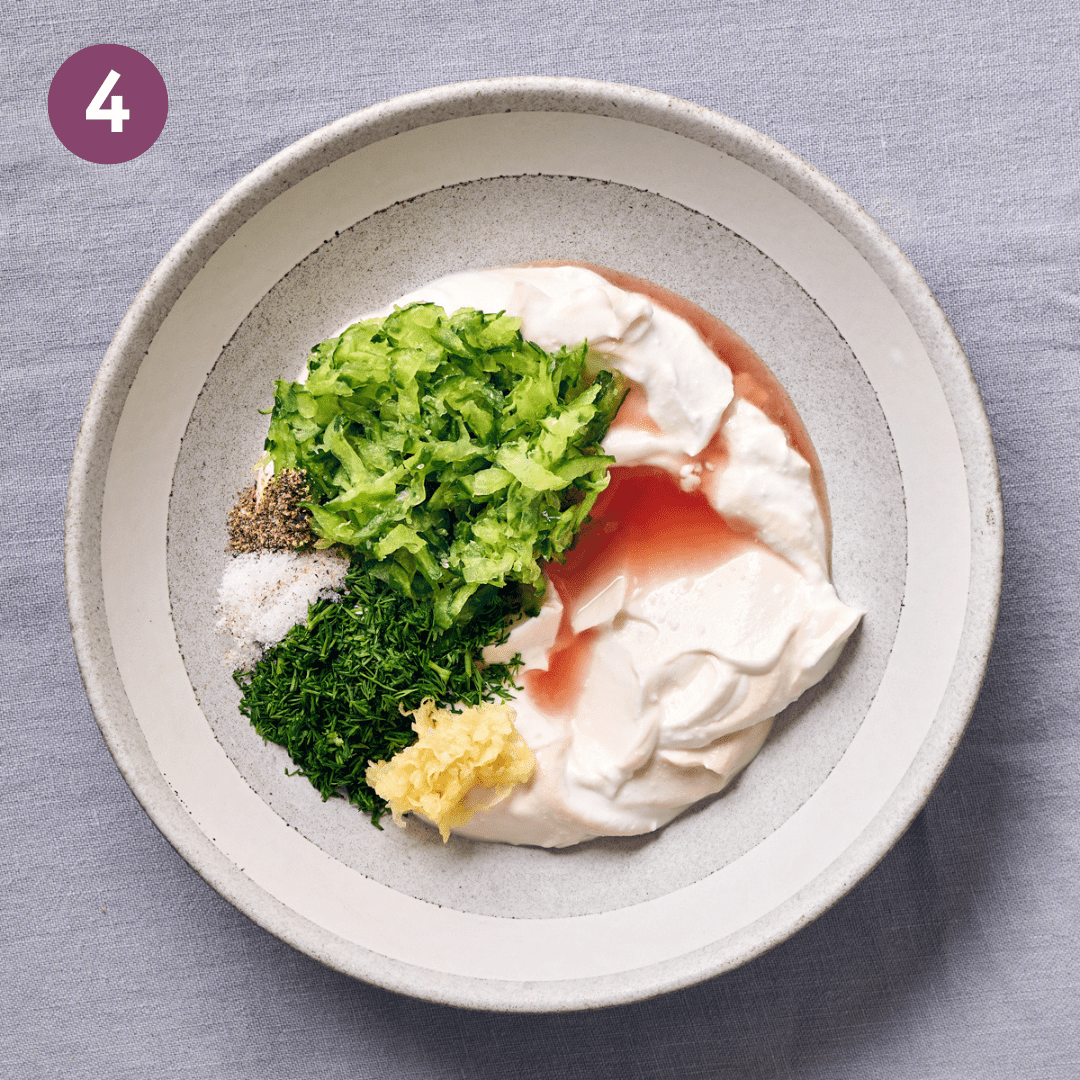 You can use the sauce right away or, for the best flavor, chill in the fridge for a minimum of 15 minutes (or several hours).
Drizzle olive oil on top before serving, then enjoy!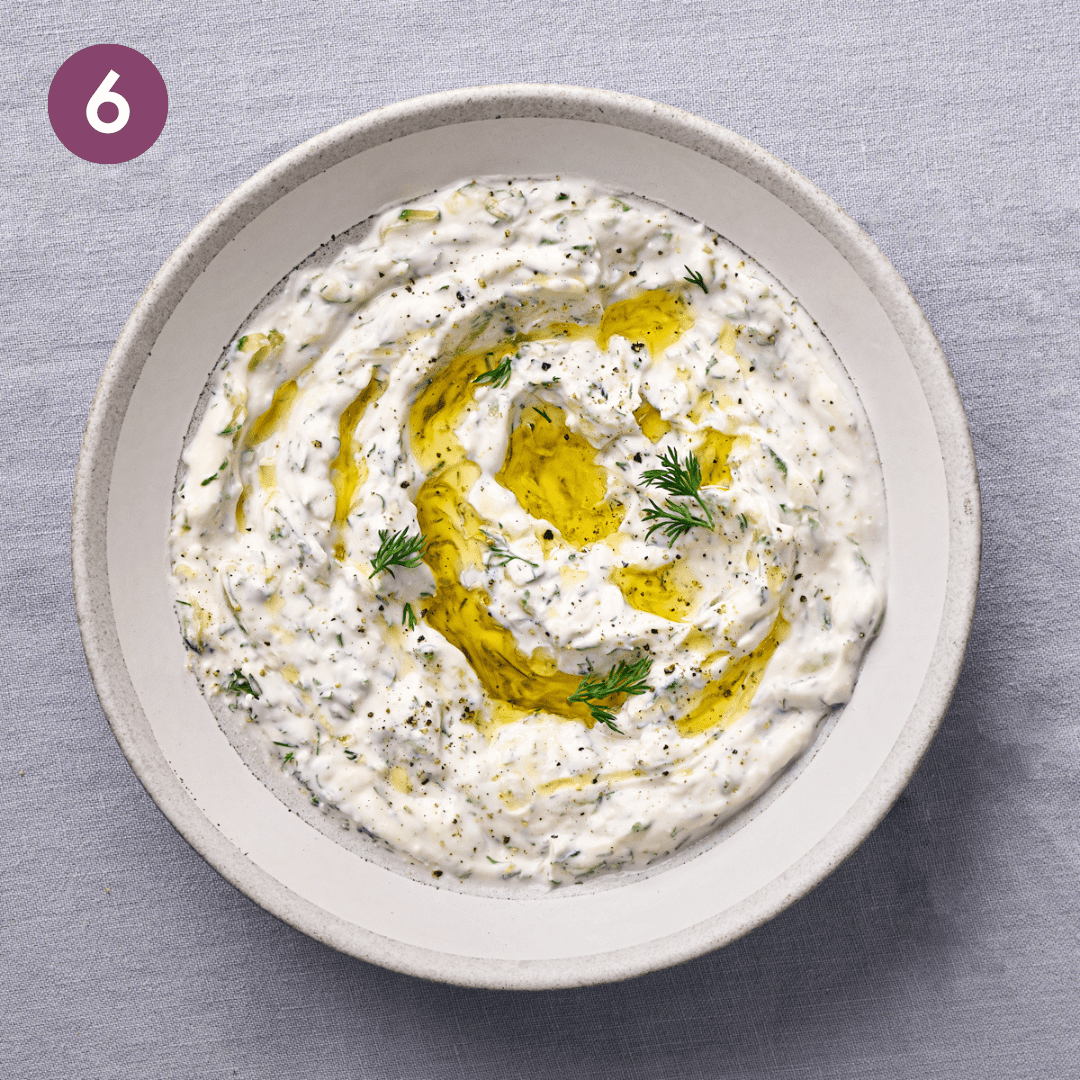 Tips for making this recipe
Drain the cucumber water REALLY well. Squeezing out as much water as you can will prevent a watery tzatziki sauce and leave you with a creamy and thick consistency.
If you have extra time, place the grated cucumber in a colander and sprinkle salt on top. Rest for 20 to 30 minutes, then squeeze out the water as normal. The salt will extract even more water and make the cucumbers delightfully crisp.
For the best-tasting tzatziki, you need a thick, creamy vegan yogurt with a tangy/tart flavor and no sweet aftertaste.

Many vegan yogurts, even the plain versions, are slightly sweet in taste: these will not work well here. You can find my preferred vegan yogurt brands in the FAQ section.
Grate the garlic. Use a microplane, fine grater, or garlic press to get the job done. Roughly chopped or minced garlic will leave you with small chunks, which are much too strong and potent here.
How to serve tzatziki
The creamy and refreshing qualities of tzatziki make it one of the best dipping sauces to include on a mezze platter. Pair it with my Beet Hummus and surround these Mediterranean dips with pita, crudités, olives, vegan feta, and warm and crusty bread.
For something simpler, just serve with homemade pita chips (find the recipe in the recipe card) and cut veggies.
Add dollops of tzatziki on top of zucchini fritters or falafel. Serve with tabbouleh on the side for a light and refreshing lunch.
Make a Greek plate: My favorite way to enjoy this flavor-packed plate is to pair Greek salad, roasted chickpeas, toasted pita bread, and/or cooked grains (like farro) together.
Gyros wouldn't be complete without tzatziki. For an incredible vegan gyro recipe, check out my cookbook, The Vegan Instant Pot Cookbook!
Thin it out with a little vinegar or lemon juice and olive oil to use it as a simple salad dressing.
When all else fails, think of tzatziki as an "everything sauce". The cooling and refreshing bites are fantastic on a grain bowls, drizzled over roasted vegetables, spread on sandwiches, and so much more.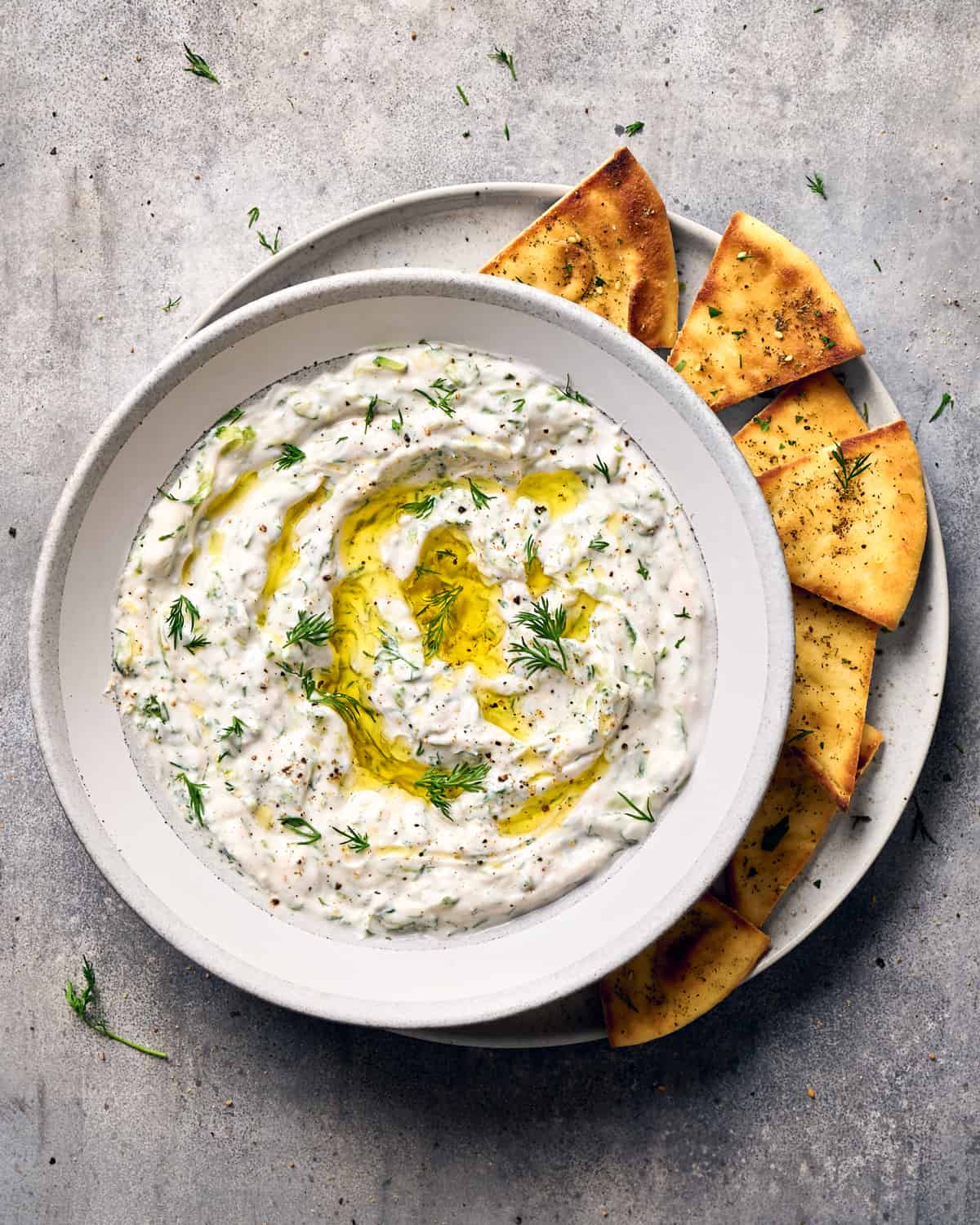 Frequently Asked Questions
Do you need to peel the cucumber?
If you're using English or Persian cucumbers, leave the peel on (it's thin and delicate). If you can only find standard pole cucumbers, I'd peel them, as the peel is thicker.
Which vegan yogurt brands do you recommend?
Culina and CocoJune are two of my favorite coconut milk-based vegan yogurts. They're thick and creamy with a subtly tangy, tart flavor. They don't have the sweet aftertaste that many vegan yogurt brands have.

Kite Hill Foods also makes a Greek-style almond milk yogurt that works here. The taste is quite unique, so I recommend adding more vinegar, lemon juice, and/or salt to help balance the flavors.

GT's CocoYo and Anita's coconut yogurt are two more great options but they tend to be a bit pricey.

Lastly, while I haven't tried this recipe with Oatly's unsweetened yogurt, I have tried it with other yogurt sauces with pretty good results.
How do you store vegan tzatziki?
The tzatziki is truly the best on the day it's made, as the cucumber releases more water as it sits. But leftovers are still tasty and can be stored in an airtight container in the fridge for 4 or 5 days.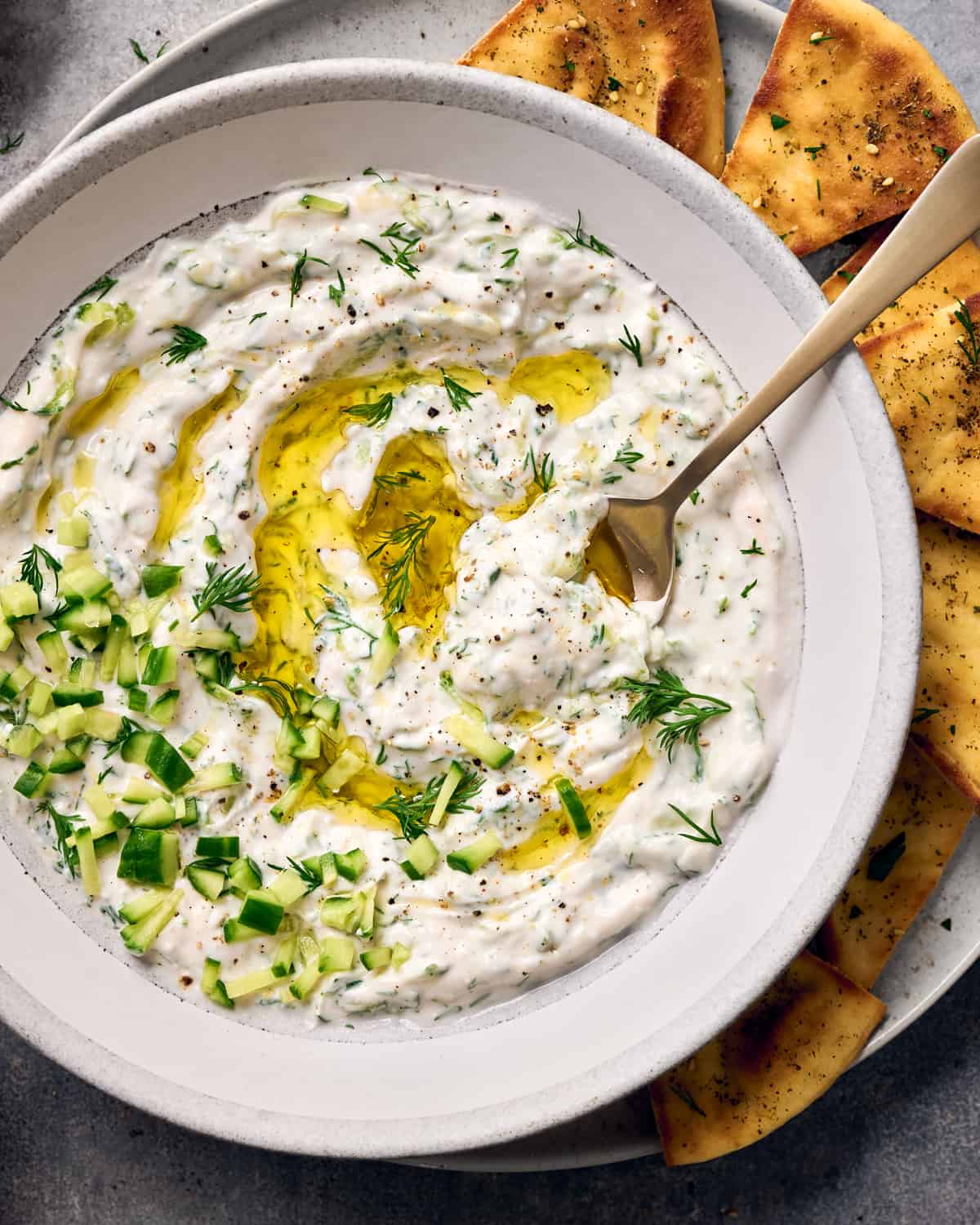 If you love this Vegan Tzatziki, please be sure to leave a rating and review below! It's always much appreciated :) And tag me on Instagram – I love hearing your feedback.
Vegan Tzatziki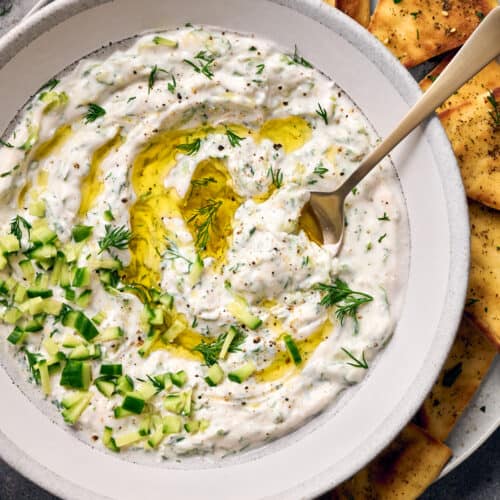 This restaurant-worthy Vegan Tzatziki is a yogurt, cucumber, and garlic sauce that's easy and quick to prepare and tastes irresistibly rich. It goes well with everything, from Greek salad and falafel to salads and sandwiches!
Ingredients
10

ounces

(280g) plain-flavored thick and tart vegan yogurt

(Note 1)

8

ounces

(227g) English or Persian cucumber,

unpeeled (Note 2)

3

tablespoons

minced fresh dill (7g)

(Note 3)

2

fat garlic cloves,

grated or crushed in a press

2

teaspoons

good-quality red wine vinegar (or white wine vinegar),

more as needed (Note 4)

1/2

teaspoon

sea salt,

plus more to taste

Freshly cracked black pepper to taste

1 to 1 1/2

tablespoons

good-quality extra virgin olive oil
For serving (optional)
Homemade Pita "Chips," store-bought pita chips, or crudites

(Note 5)
Instructions
Use the wide holes on a box grater to grate the cucumber.

Add the grated cucumber to a thin dish towel, nut milk bag, or cheesecloth. Squeeze or wrap it tightly, and wring out as much water as you can.

Add the yogurt to a medium bowl. Add in the grated cucumber, dill, garlic, 2 tsp vinegar or lemon juice, salt, pepper to taste, and 1 tablespoon olive oil. Mix well. Taste for seasonings, adding more salt, vinegar, or olive oil as needed.

If possible, rest in the fridge for 15 to 30 minutes (or for several hours) to allow the flavors to marry.

If desired, drizzle with olive oil before serving.
Notes
Note 1: A thick yogurt is essential because it will be watery otherwise. Also, a naturally tangy/tart yogurt helps, as naturally sweet varieties taste a bit strange in savory dip like this. My preferred yogurt brands for this recipe are Culina (favorite), CocoJune (favorite), GT's CocoYo, Anita's coconut yogurt, or Kite Hill Greek-style almond milk yogurt.
Note 2: I prefer English cucumbers or Persian cucumbers, as they're sweeter and seedless, but you can use a regular cucumber if needed (the skin is a little tough, so you may want to peel it).
Note 3: You can sub dill with fresh mint. Start with half the amount, add more as needed.
Note 4: You can sub with freshly squeezed lemon juice if you don't have a good-quality vinegar
Note 5: Homemade pita "chips"
Preheat the oven to 400F. Arrange an oven rack in the second shelf of your oven, the second shelf from the broiler. Take a few whole pita rounds and brush the top sides only with olive oil. Now slice each pita into 8 triangles each. Transfer pita wedges to a sheet pan, lined with parchment paper for easy clean. Bake at 400F for 6 minutes, then turn your oven broiler on (use a medium setting if you have it).Broil on the second shelf for 1 ½ to 2 minutes, keeping a close eye to prevent burning, until nicely browned on the edges.
---
Calories:
69
kcal
|
Carbohydrates:
5
g
|
Protein:
1
g
|
Fat:
2
g
|
Saturated Fat:
0.3
g
|
Polyunsaturated Fat:
0.2
g
|
Monounsaturated Fat:
1
g
|
Sodium:
131
mg
|
Potassium:
46
mg
|
Fiber:
0.3
g
|
Sugar:
2
g
|
Vitamin A:
41
IU
|
Vitamin C:
6
mg
|
Calcium:
53
mg
|
Iron:
0.1
mg
Recipe: Nisha Vora / Rainbow Plant Life | Photography: Megan Morello