Whether you're a diehard football fan or just there for the halftime show and snacks, here are 12 Incredible Vegan Super Bowl Recipes perfect for the big game, from appetizers to main dishes to desserts. You don't have to miss out on favorite game day comfort foods with these mouthwatering plant-based recipes.
12 Incredible Vegan Super Bowl Recipes
This Instant Pot Cheesy Buffalo Cauliflower Dip is a must-make for the Super Bowl, but also for any game day, picnic, or potluck! It's spicy, cheesy, and creamy, and you'd never guess it's healthy, vegan, gluten-free, and oil-free! Plus, it's made with just 10 ingredients and everything gets dumped in the Instant Pot! *includes stovetop instructions*
Check out this recipe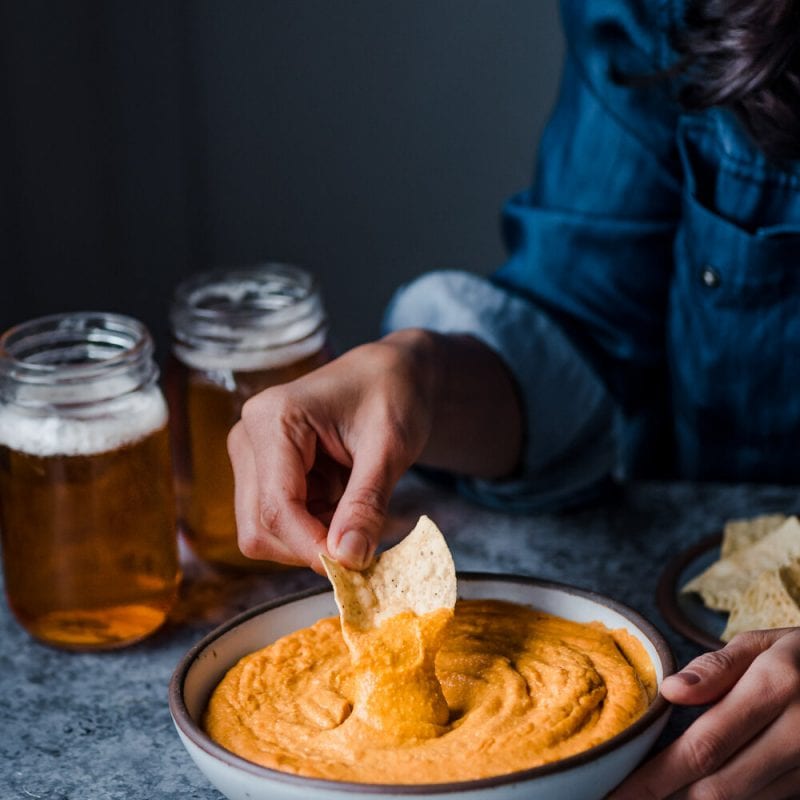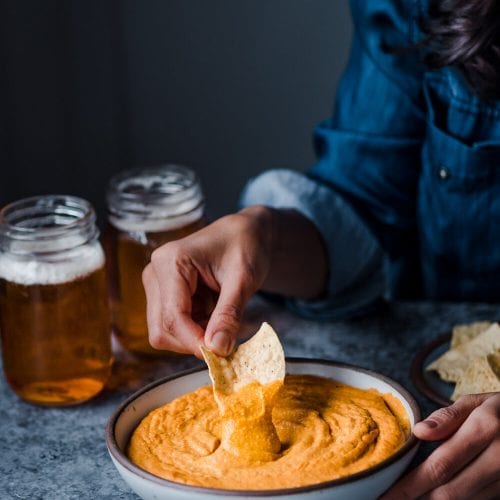 What people are saying about this recipe
Blog reader Josh H. says, "OMG. This. Is. Phenomenal. I've never found a vegan queso that tasted this this good – both flavor and texture."
Blog reader Larissa says, "Tried this over the weekend and it was oh-so-good! It keeps really well, and makes the best leftovers, too! I served it with some flatbread, sliced bell peppers, carrots and celery and it was a total hit!"
Blog reader Ashley says, "We are obsessed with this dip. Looking to incorporate more vegan foods into our diet and this is a great way to do it. Freezes great, btw. I've also used water when I've been out of almond milk and it's still incredible. This dip is everything."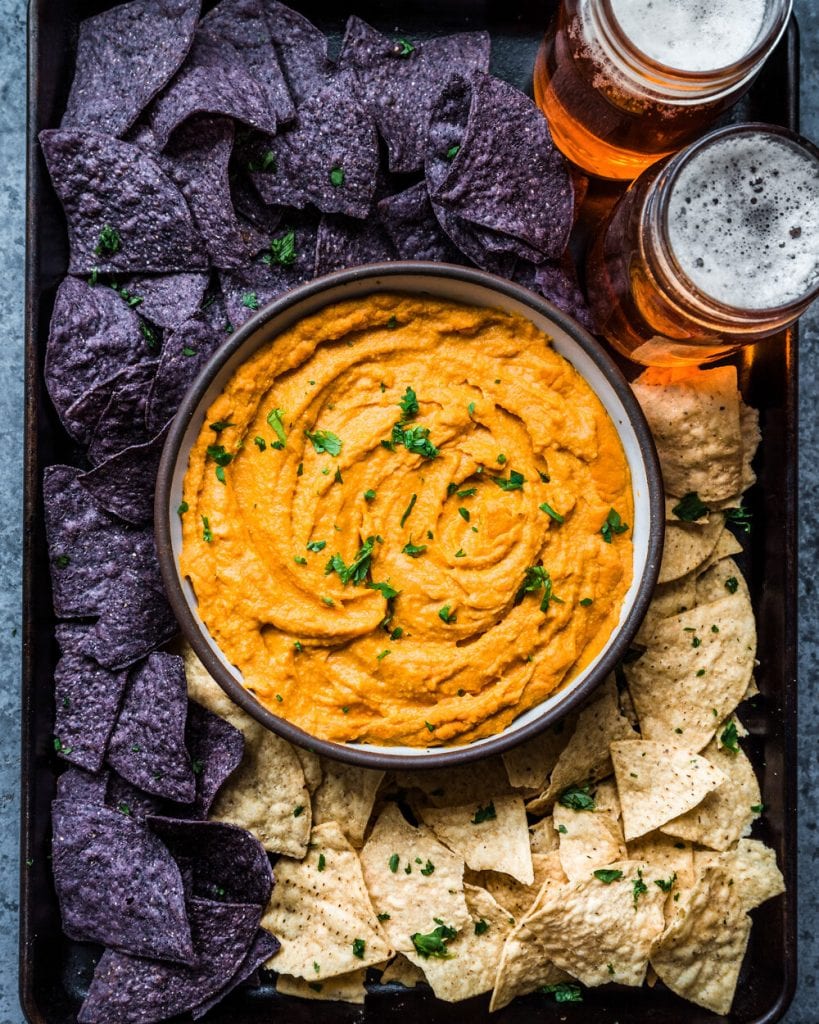 Made with juicy mangos and creamy avocado, this Mango Avocado Salsa is sweet yet tangy, refreshing yet a little spicy, and perfect for summer grilling season and barbecues.
Check out this recipe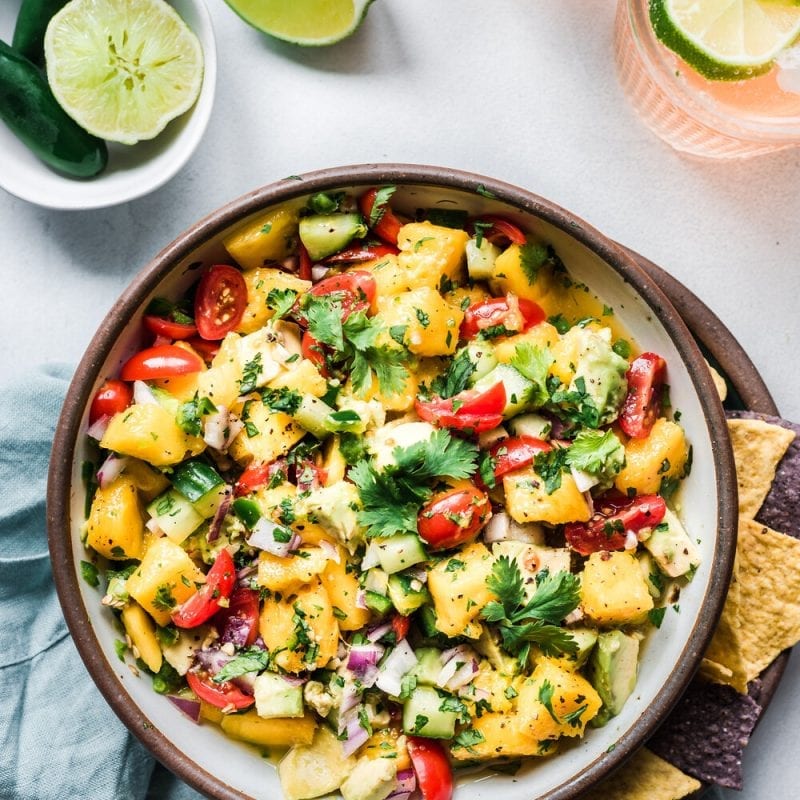 What people are saying about this recipe
Blog reader Lindsey says, "This is the most delicious mango salsa ever! It's perfectly balanced, heavenly summer in a bowl. Served this in lettuce wraps with some chickpeas grilled in coconut oil and finished with lime and orange zest/juice, and a healthy spoonful of cashew sour cream – to die for. This salsa was the star of the show!"
Blog reader Vivianne says, "Such an amazing recipe and quick and easy to do. The ingredients and colors immediately got my attention and it tastes so delicious!! Of course I had to add extra red chilli and bird chilli peppers to it :-9"
Blog reader Gen says, "I made your salsa last night and it was delicious! I didn't add the hot peppers since I can't handle them well and it tasted great even without it. I'd say that good ripe mangoes are keys in here which is what I had on hand!"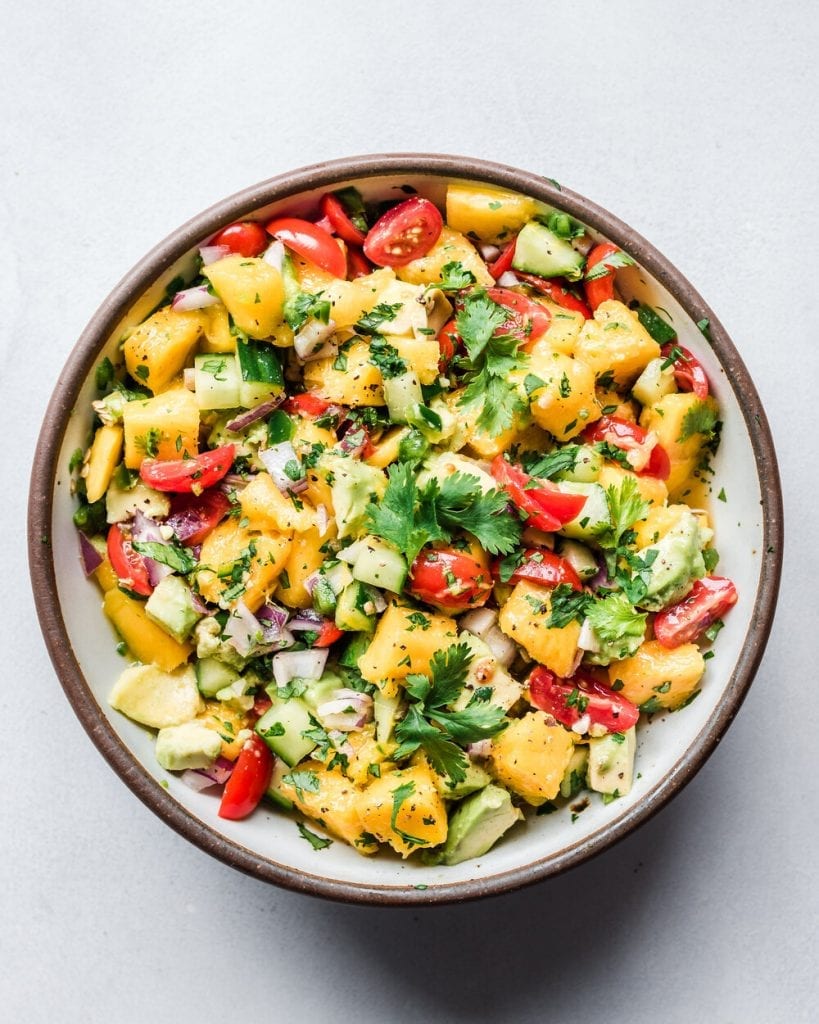 A protein-packed chili meets pasta in this One-Pot Vegan Chili Mac! Easy and quick and made with simple ingredients, this is a perfect hearty weeknight-friendly and budget-friendly dinner! Easy to make gluten-free, soy-free, and oil-free.
Check out this recipe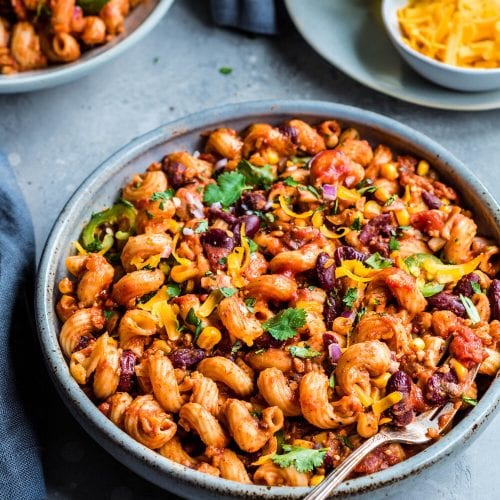 What people are saying about this recipe
Blog reader Diane says, "Hi Nisha, I just made this for the Super Bowl. So simple to put together and the flavors are delish. I made just as your recipes reads and it's perfect as is. Love your recipes!!"
Blog reader Erin says, "I made this the other night and added in Beyond Meat instead of the tempeh and a second can of beans (kidney and black) – this was bomb and will definitely be adding to my list of regular recipes! It tastes even better the second and third day too! :P"
Blog reader Monica says, "Made this tonight and it was a big hit. My hubby and 2 boys loved it as much as I did! Thank you for this great recipe!"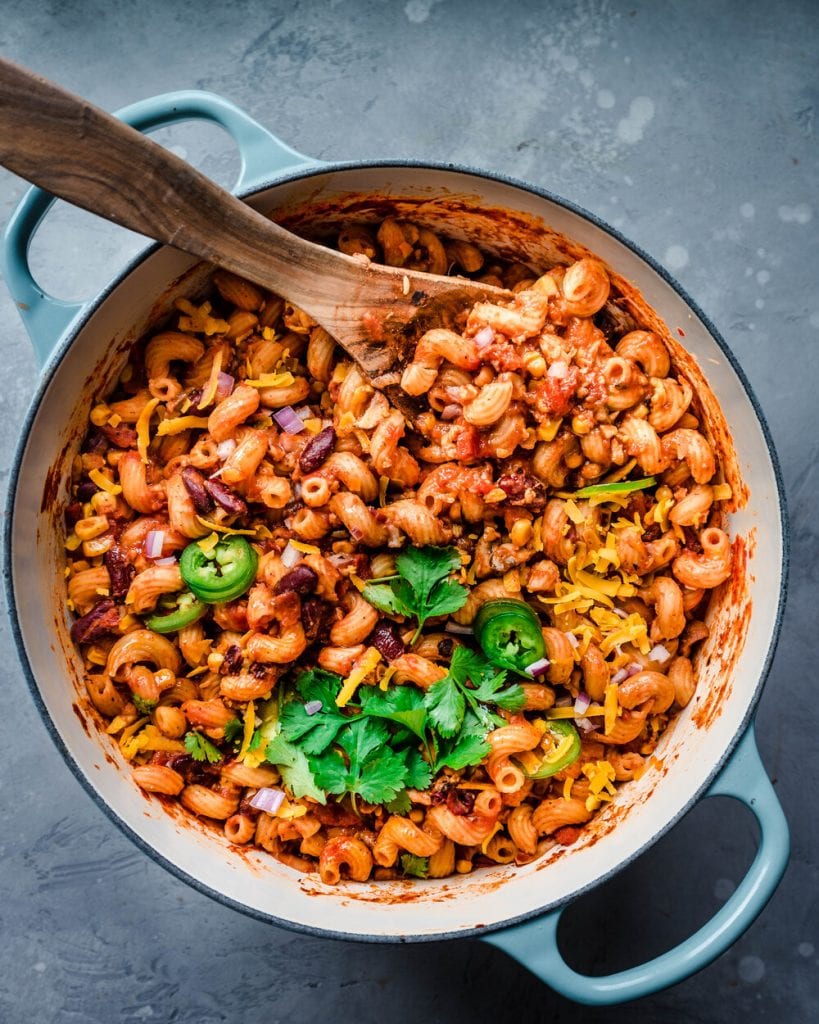 Just like the Crunchwrap Supreme from Taco Bell but VEGAN! Layers of vegan nacho cheese sauce, homemade vegan taco meat, sour cream, guacamole, crispy tostadas, and more! The most unbelievably delicious copycat fast food recipe you will ever taste!
Check out this recipe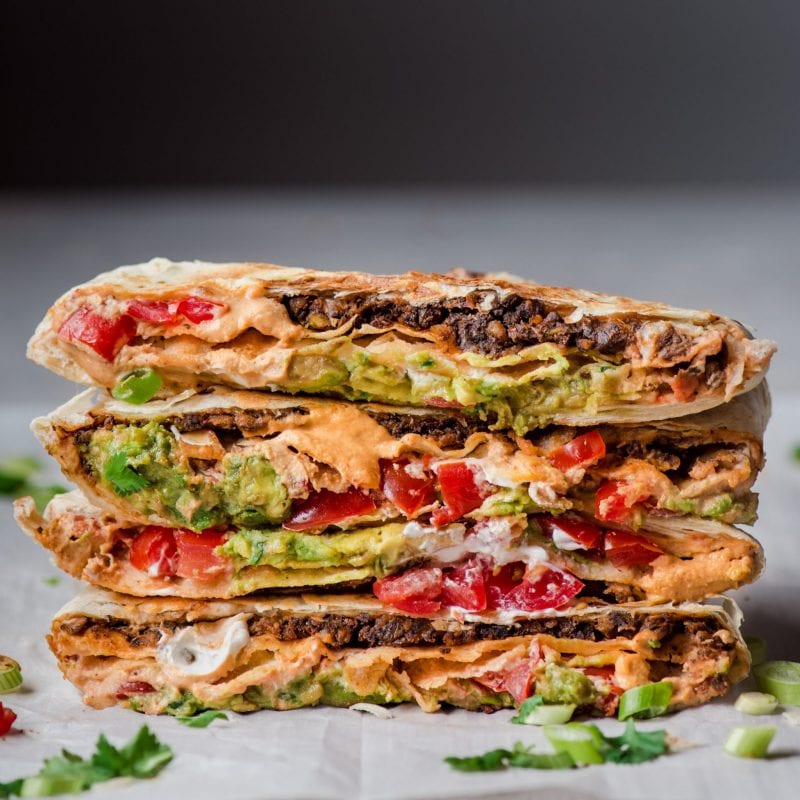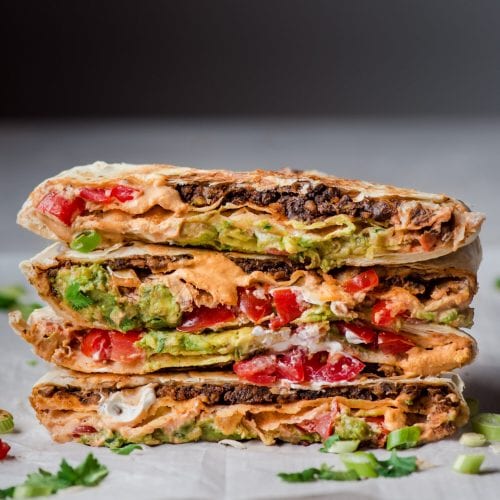 What people are saying about this recipe
Blog reader Mandi says, "So good. I made this for my boyfriend and a couple of his friends. They were raised SDA and have never eaten meat before. They thought it was so great to eat a more healthful version of a "junk food". Thank you again for a great, fun recipe."
Blog reader Brianne says, "Loved making this recipe, Nisha!! Thank you for vegan-izing one of my all-time favorite dishes. It was truly delicious!"
Blog reader Teiana says, "Wow! This recipe is absolutely amazing. I made this for my family a few nights ago and it was a hit among vegans and non-vegans alike."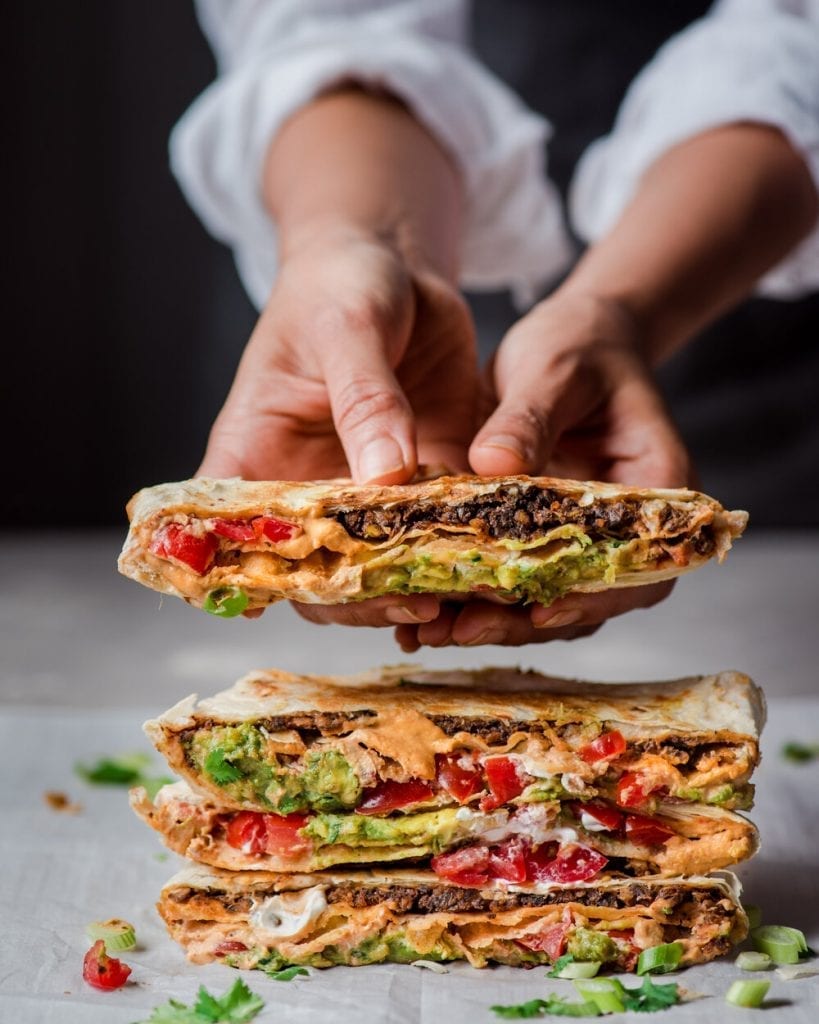 These Crispy Spicy Vegan Cauliflower Tacos are so flavorful that no one will miss the meat! Made with crispy baked cauliflower coated in a buttery hot sauce, a cooling jicama-carrot slaw, and a delicious cilantro crema. Vegan, nut-free, soy-free, and easy to make gluten-free.
Check out this recipe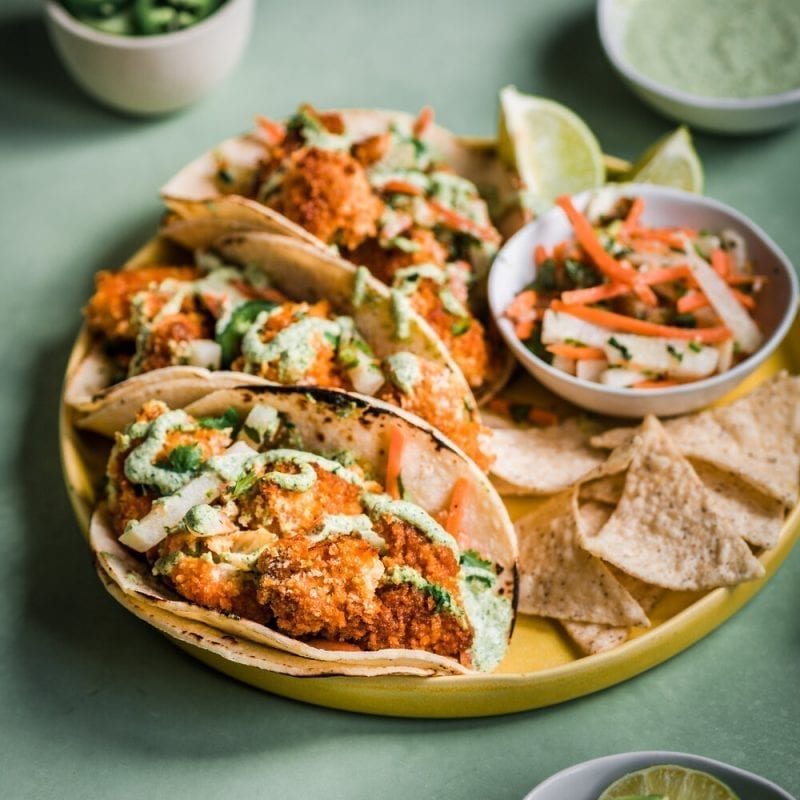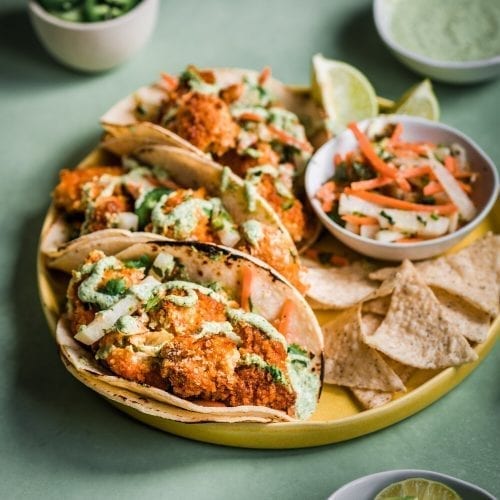 What people are saying about this recipe
Blog reader Diana says, "I followed the recipe to a T!! Did not even leave out the dates 😂 (yes I was going to leave them out). The layered flavors were amazing! Worth the effort. Thanks Nisha!!"
Blog reader Ashley H. says, "We made these for dinner tonight and couldn't stop saying how delicious they were after each bite. Nisha is a food genius. I'm obsessed with every recipe."
Blog reader Jackalyn says, "I made this for dinner tonight and my husband and I both agreed that these were better than any restaurant tacos we've had! So fresh and flavorful with wonderful crunch."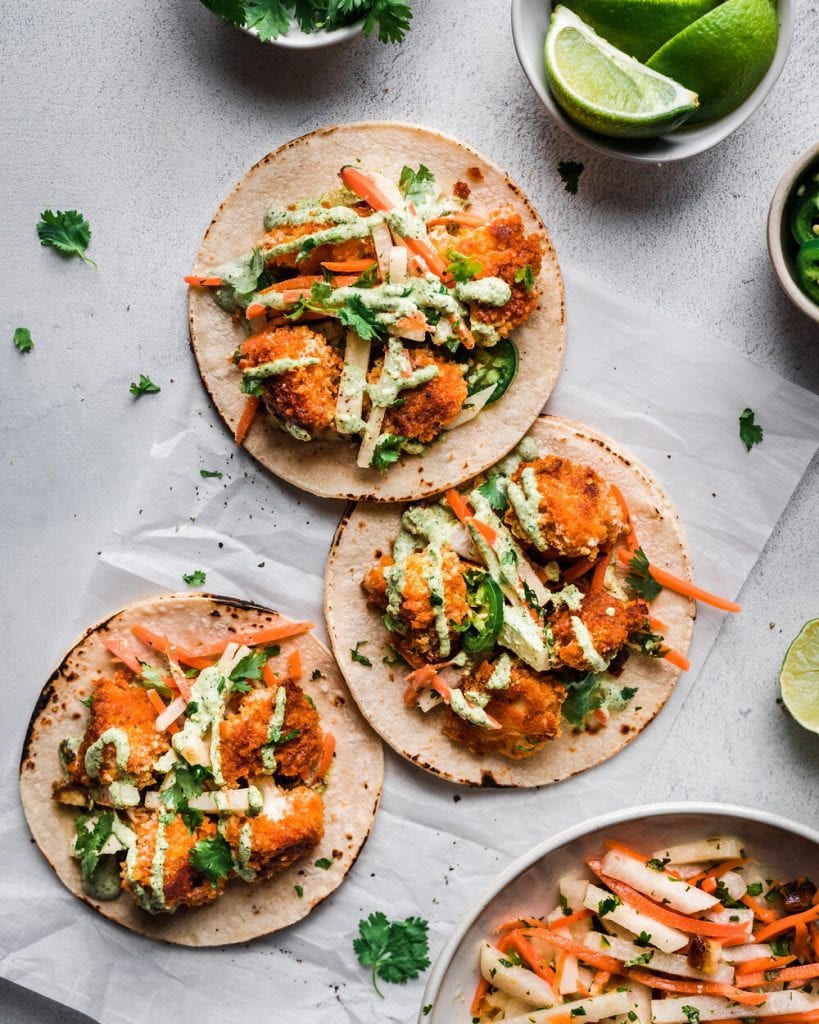 These vegan quesadillas are made with a spreadable smoky cashew cheese, easy spiced refried beans, and sticky sweet onions, making them the ultimate comfort food! Plus, they're made with exclusively pantry ingredients!
Check out this recipe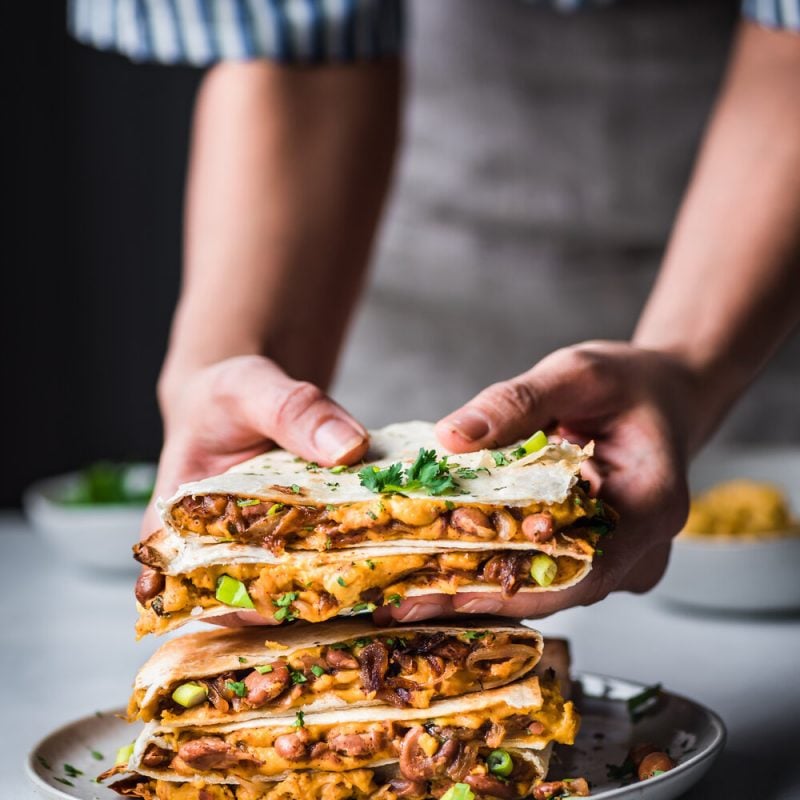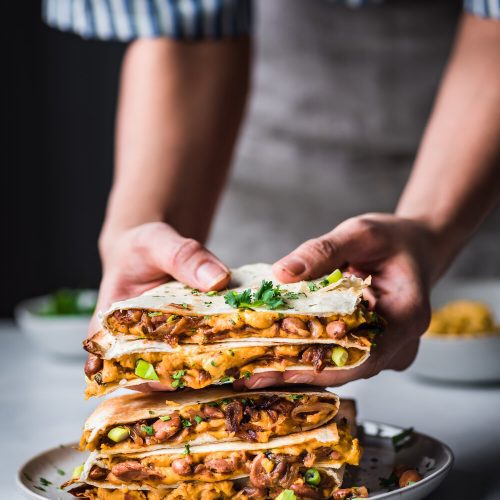 What people are saying about this recipe
Blog reader Rita says, "Every single recipe I've made of yours, whether it's been from your instantpot cookbook or your blog has been out of this world, and this one was no different. Absolutely delicious. The cheese was super flavorful and since I had leftover it made for a fantastic addition to my drunk nachos a couple days later."
Blog reader Sarah says, "Made this today and had mostly everything on hand. Came out so good! I did the spreadable cheese without a thickener and it is incredible. Thank you Nisha!"
Blog reader Jenny says, "Made this on a whim after seeing your Instagram post and LOVED it! Easy, tasty, and I had all the ingredients already."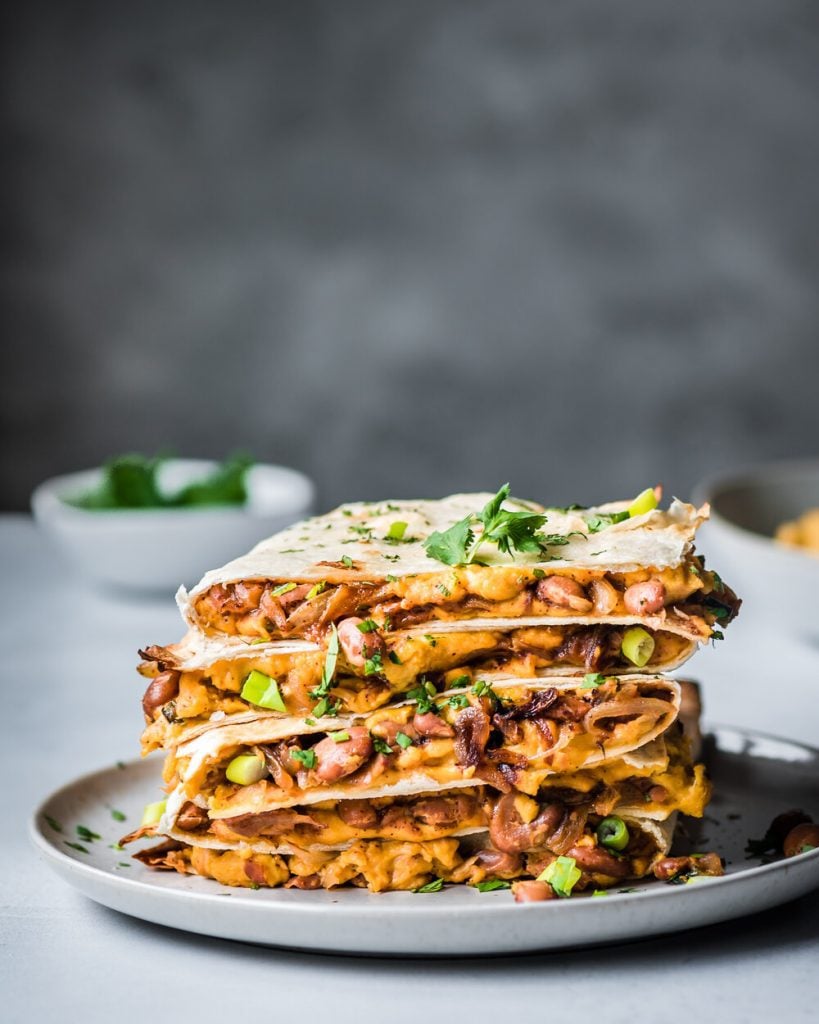 This Crispy Baked Vegan Mac and Cheese is the ultimate comfort food. An incredibly creamy (and easy) vegan cheese sauce gets paired with elbow macaroni, covered in a crispy and buttery breadcrumb, and then baked in the oven.
Check out this recipe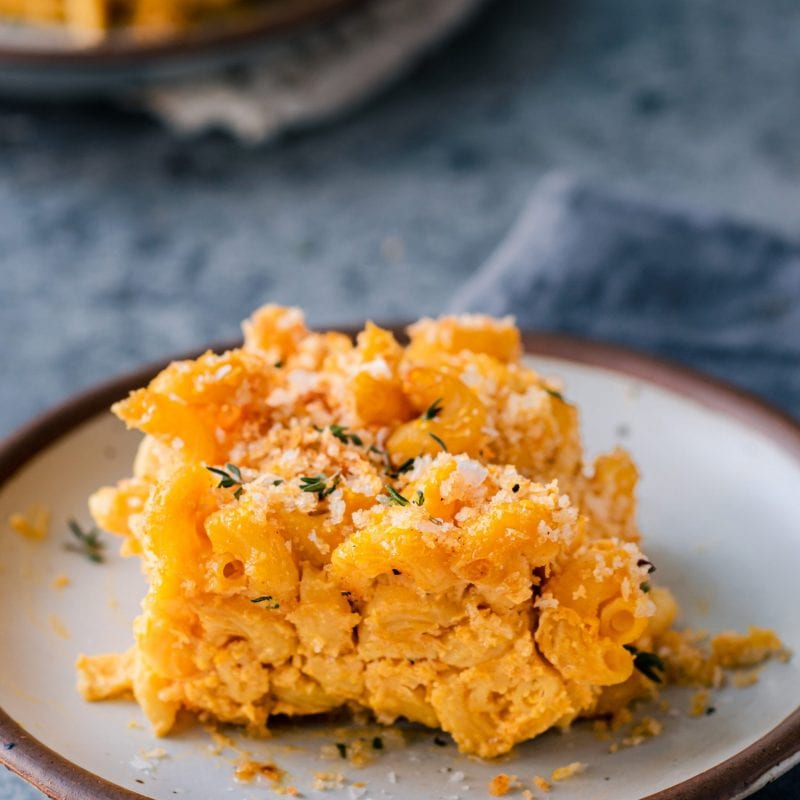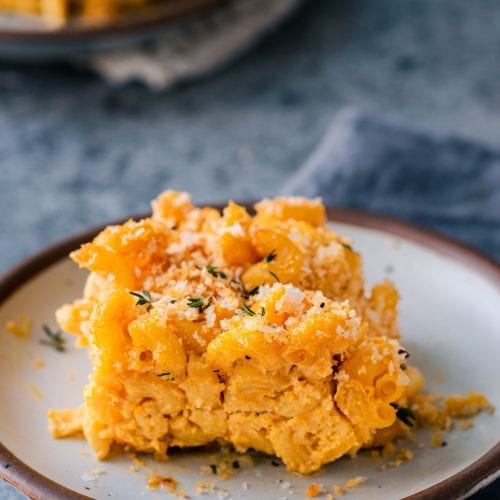 What people are saying about this recipe
Blog reader Michelle R. says, "Amazing!!! Going to my go-to cheesy macaroni recipe for life. Simply delicious. Thank you."
Blog reader Valentina says, "It's the best mac n cheese recipe I've ever made! I've been making vegan mac n cheese for the 10 years I've been vegan – this is the best one!"
Blog reader Alison says, "This was hands-down the BEST mac and cheese, vegan or otherwise, EVER!!! The crispy topping is delightful, and the pasta underneath is so creamy! The butternut squash in the sauce especially adds a wonderful texture and taste. Thank you so so much for this amazing recipe, it's a keeper for sure!"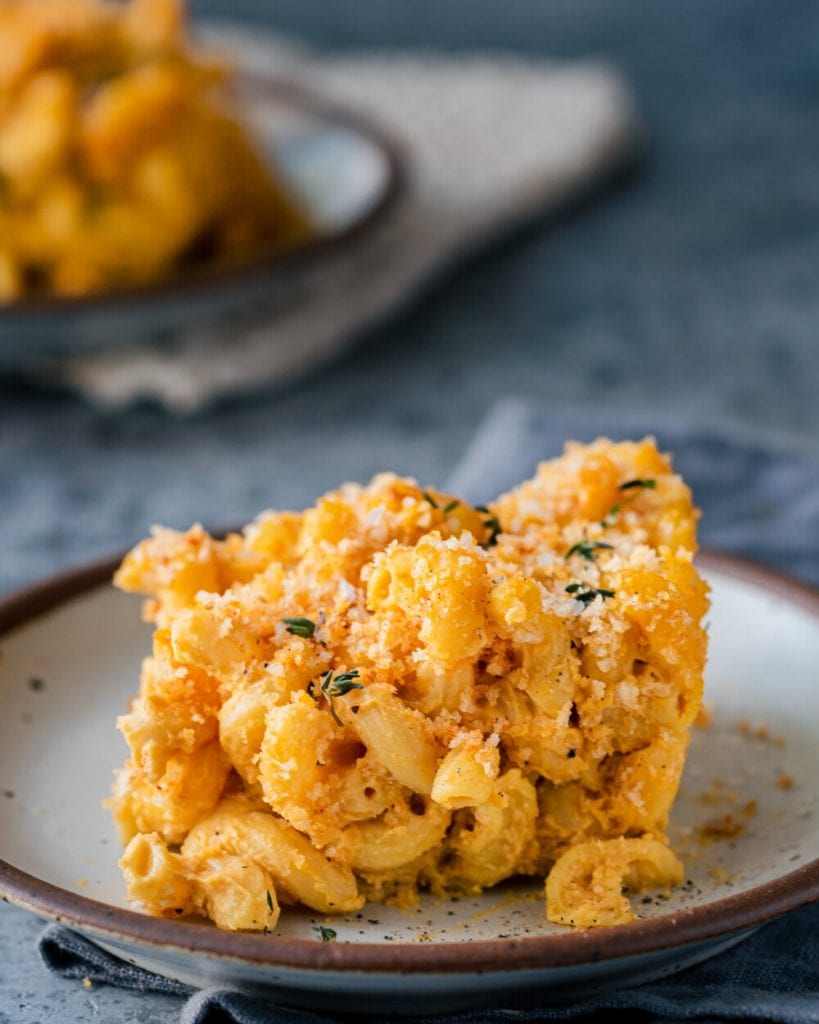 This Smoky Sweet Potato and Pinto Bean Chili is pantry-friendly, budget-friendly, meal prep-friendly, and freezer friendly! It's hearty, velvety, and sticks to your ribs but is healthy, vegan, and gluten-free. Includes Instant Pot directions!
Check out this recipe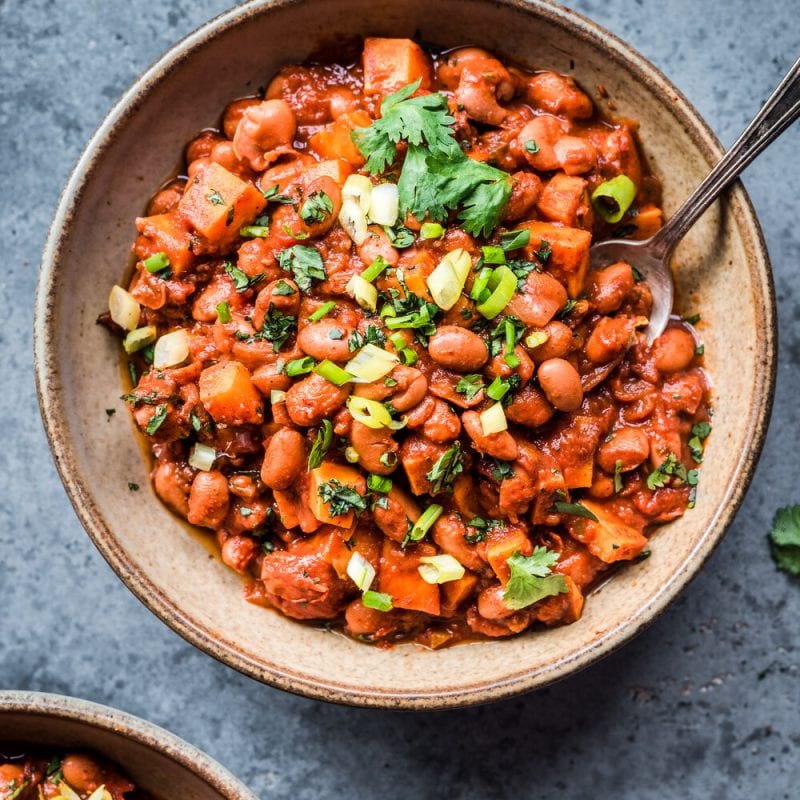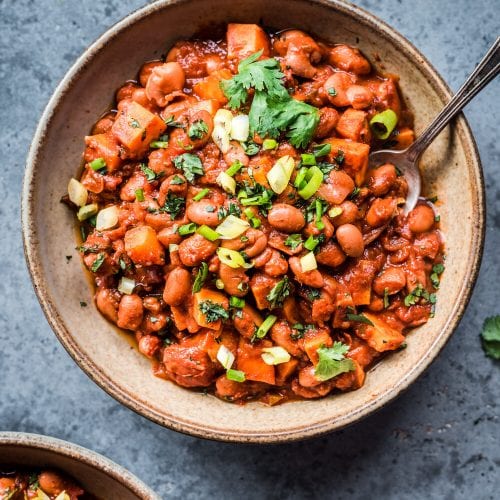 What people are saying about this recipe
Blog reader Luna says, "Oh my…. i tried making this Smoky Sweet potato , Pinto beans chilli and i can't believe it turned out soooo good! We ate it with toasted garlic bread and put vegan cheese on top and some nutritional yeast . Very rich flavour!"
Blog reader Alexis says, "This was a great change of pace from our usual chili recipe! Made it in the pressure cooker and gave it a little mash to thicken it. Thanks for a quick and delicious recipe!"
Blog reader Nicole says, "Wow, what a delicious chili! I scaled back on the peppers since I have a bad case of baby mouth (lol) but it was still so flavorful and yummy. Definitely making it part of my rotation!"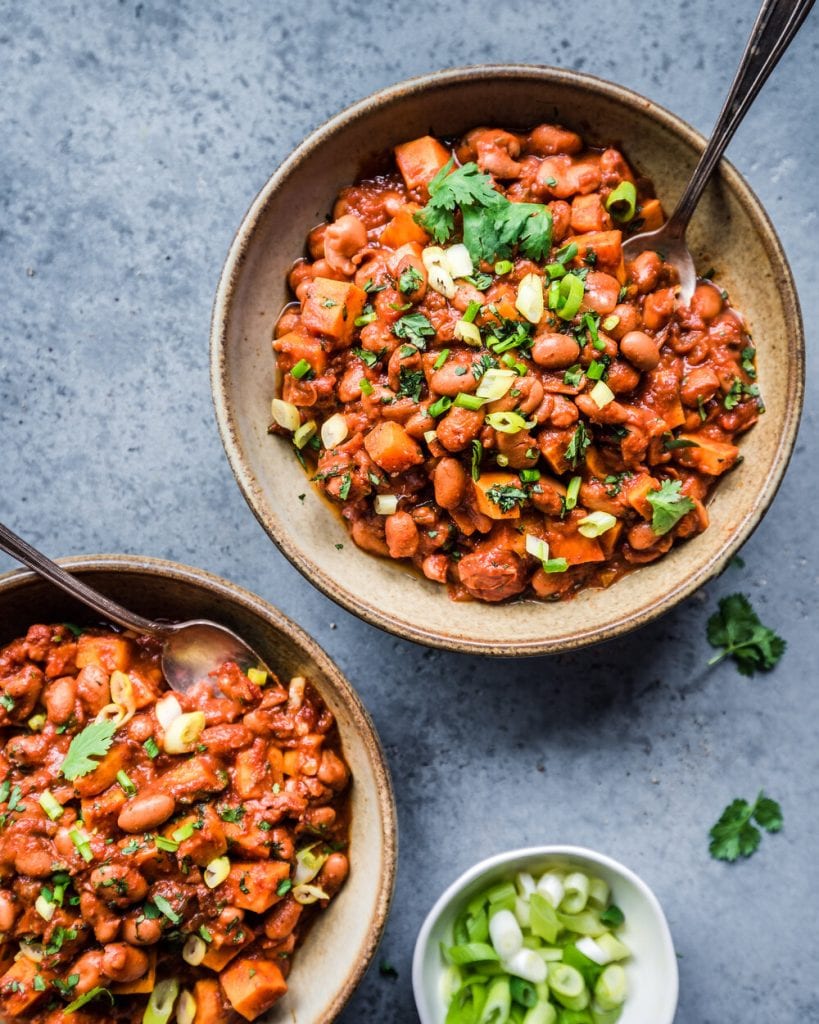 These Vegan Buffalo Chickpea Quesadillas are the absolute best vegan quesadillas you'll ever try! Made with a spicy buffalo sauce, chickpeas, and a Mexican cheese sauce, this is the ultimate comfort food! 
Check out this recipe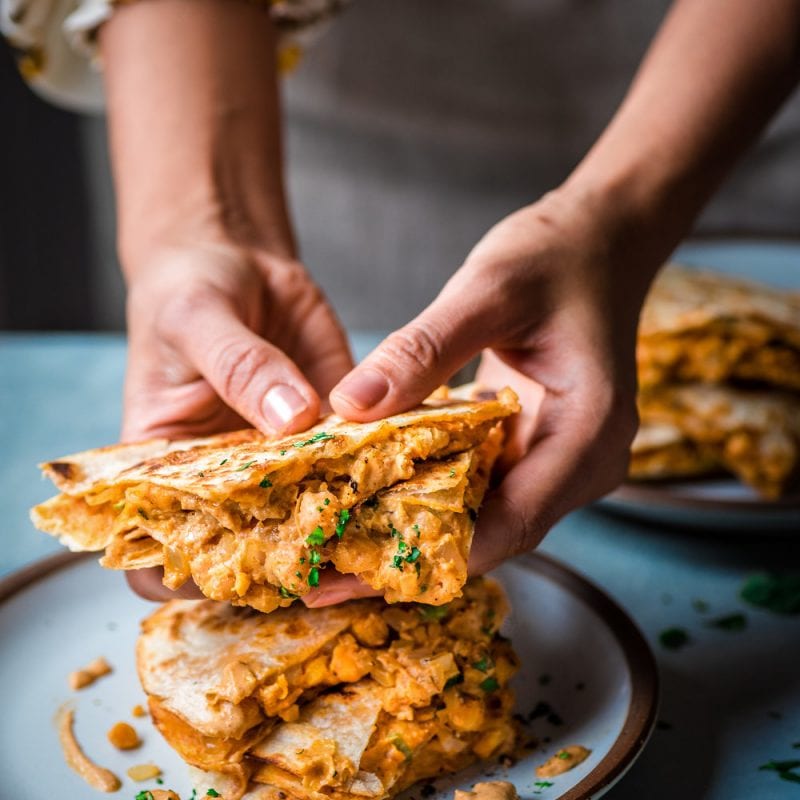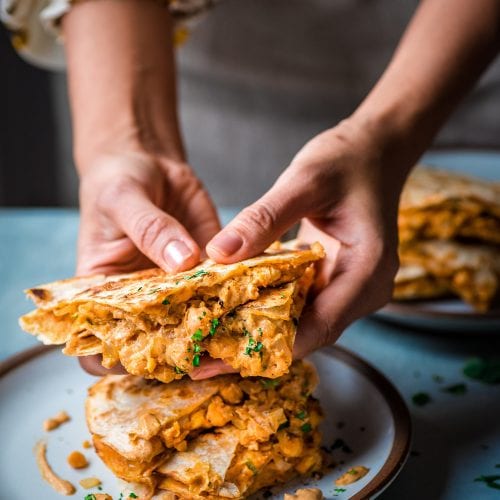 What people are saying about this recipe
Blog reader Kristina says, "It is probably the best dish vegan or not that I have ever made!…I'm a newer vegan and my boyfriend is not vegan so I was hoping this would satisfy us both and it definitely did. I now make the cheese sauce for other Mexican dishes, it's so so good!"
Blog reader Luke says, "This recipe is sooo good, thank you for sharing! These taste uncannily like Taco Bell quesadillas but in the best way possible. It almost feels like a copycat recipe except that it tastes better, is made with far healthier ingredients, and doesn't give me gut rot – I'll call that a win!"
Blog reader Amanda says, "WOW! My family and I are blown away by how amazing these are! One of the most delicious vegan recipes I've followed."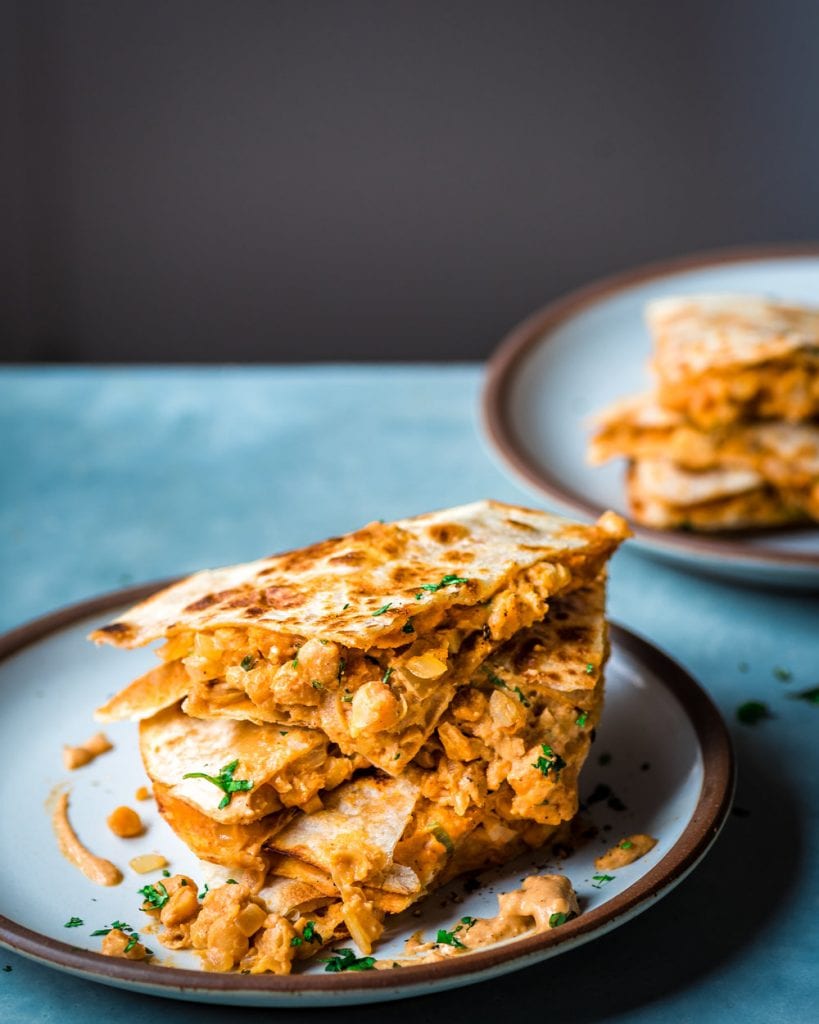 These are the BEST cookie dough bars you will ever try! Made with just six ingredients, they're an easy no-bake treat to satisfy any sweet tooth. Plus, they're vegan, gluten-free, soy-free, nut-free, and oil-free so they're a healthy, allergen-friendly, feel-good treat.
Check out this recipe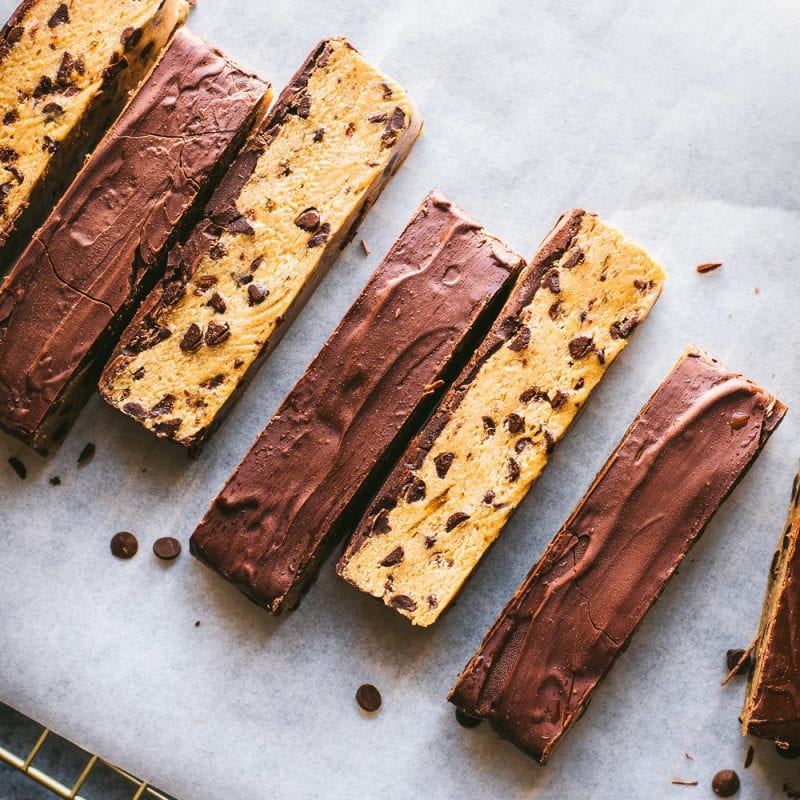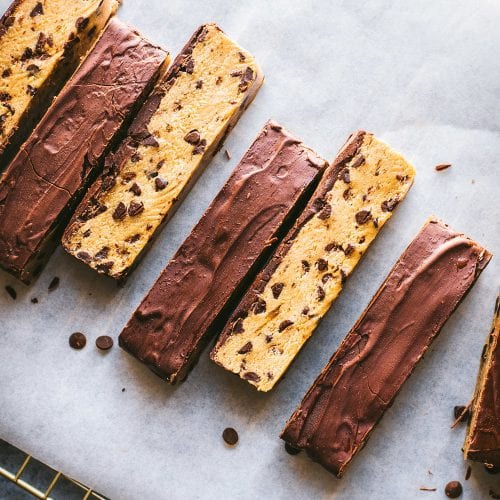 What people are saying about this recipe
Blog reader Arcelia says, "What's not to love about this recipe? Not only is it SUPER EASY to follow, contains a small # of common and easy to find ingredients, and it comes together so quickly!…I don't have to worry about dessert for the holidays, parties, or gatherings – this recipe is all I need moving forward to satisfy anyone's sweet tooth."
Blog reader Brandy says, "These are AMAZING!! Our family has been whole Foods plant based for almost 8 years and tonight (first time serving these bars), we have a new #1 dessert!"
Blog reader Erin says, "Wow!!! These far exceeded expectations. Sooooo much better than I imagined they could be. Thanks for the lovely treat Nisha!!!!"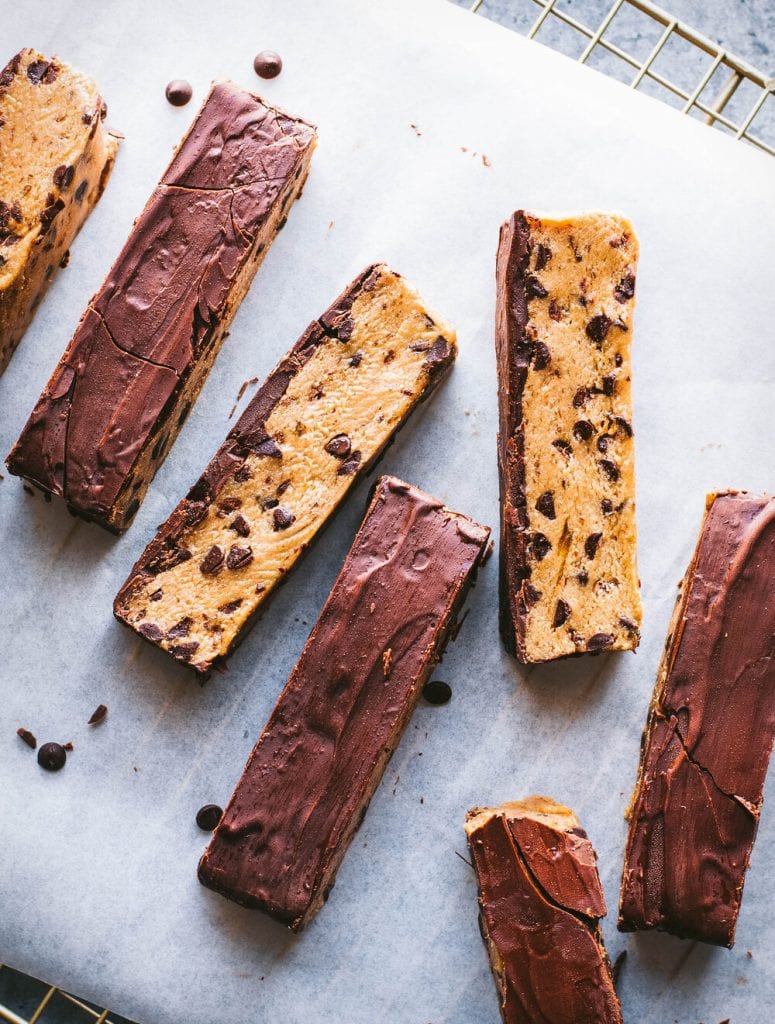 These Fudgy Vegan Chocolate Glazed Brownies are so rich and indulgent, you'd never guess they're vegan! Made with dark chocolate and featuring a 3-ingredient chocolate glaze, these are the best vegan brownies and a must-try for any chocolate lover!
Check out this recipe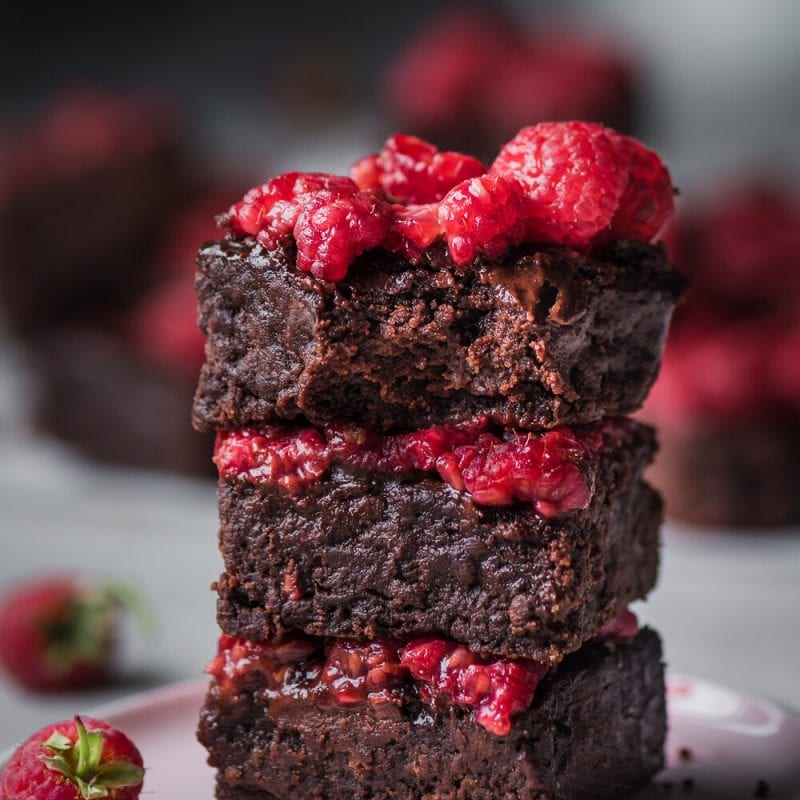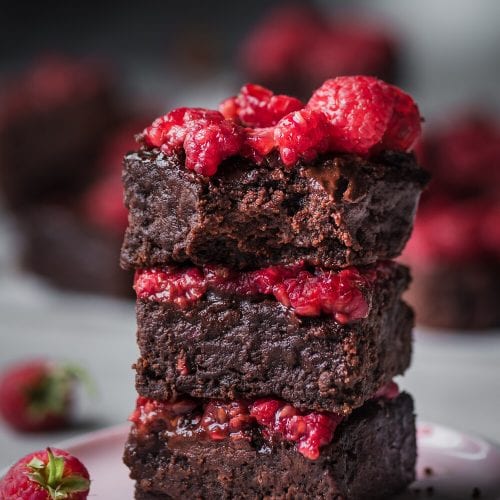 What people are saying about this recipe
Blog reader Ellen says, "I made this for my sisters birthday, none of my family are vegan (I including myself but I opt for vegan alternatives as much as possible) and honestly theses were inhaled in 0.5 seconds! They are INCREDIBLE!! They're so rich and indulgent and gooey they are better than any brownie I have ever tasted and that is no exaggeration… nobody guess they were even vegan!"
Blog reader C. Browning says, "Oh my, oh my!!! I made this today and it was absolutely amazing! Best vegan sweet I've made yet! My Dad said I could stop with this recipe. He wanted another piece- he's 87 & very set in his ways."
Blog reader Lena says, "I made them with strawberries on top and the brownies were amazing! The recipe is easy to make and it took almost only half an hour! Totally worth it to make them, even as a non-vegan!"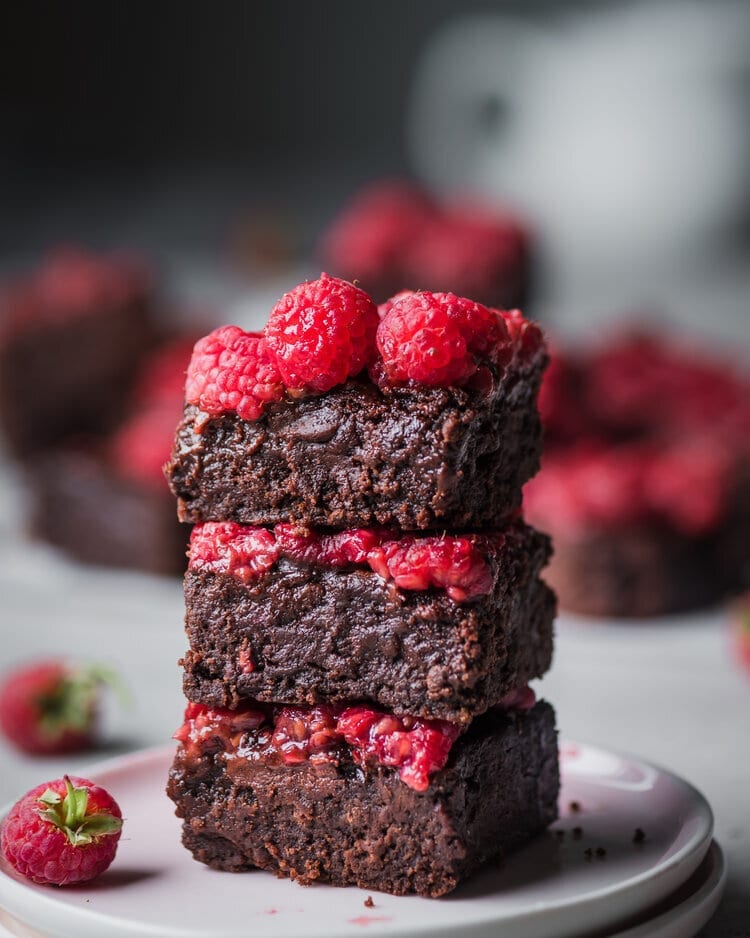 These Chocolate Chunk Vegan Pantry Cookies are made with all your favorite vegan cookie ingredients, like chocolate chunks, oats, nuts, and dried fruit. They're perfectly chewy, indulgent, and irresistible!
Check out this recipe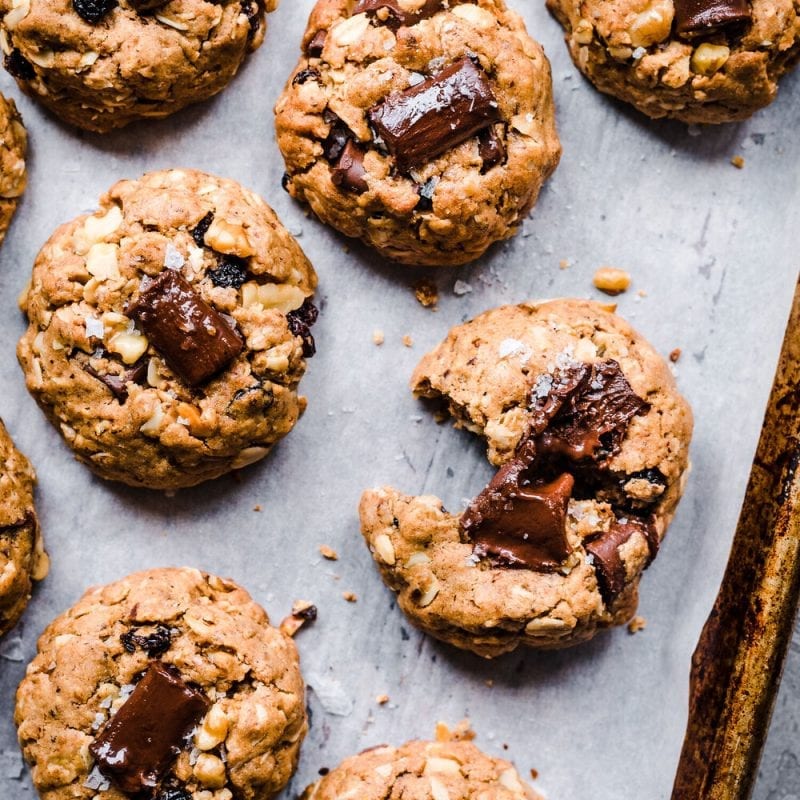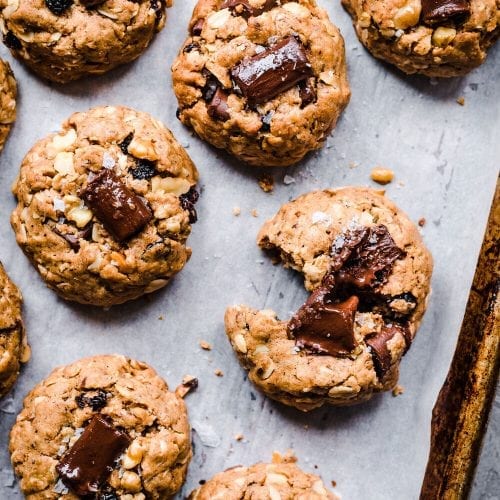 What people are saying about this recipe
Blog reader Gaby says, "The best cookies ever! Easy to follow recipe as well as the additional notes!"
Blog reader Lauren says, "These might be my new favorite cookie!I am a big time savory over sweet person, so I don't often bake, but these cookies are incredibly easy to make."
Blog reader Baker in CA says, "This recipe is easy to follow and very flexible! I didn't have raisins or currants so left them out and used cashew butter in place of almond butter. They are delicious!"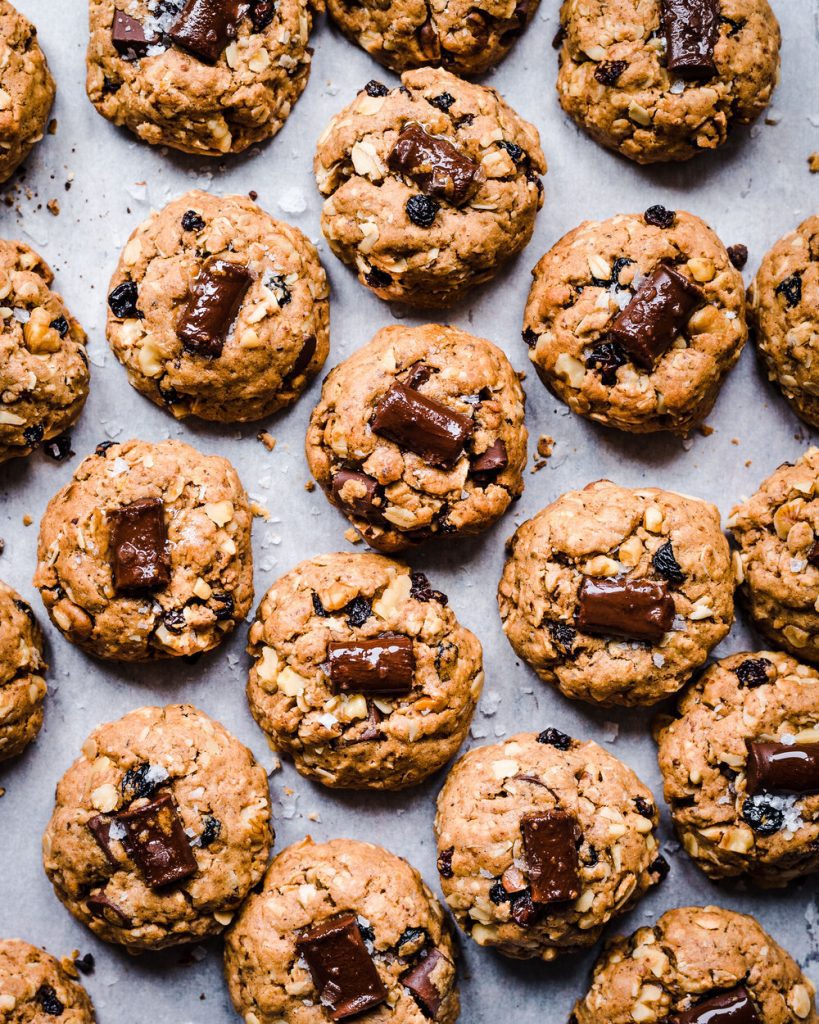 If you try out one of these Vegan Super Bowl Recipes, be sure to rate and review the recipe and tag me with your remakes on Instagram :)
More recipe roundups to check out