I always have a can of chickpeas in my pantry. They're a nutrition powerhouse packed with protein, fiber, and iron, and they're dang delicious to boot.
Despite all that, chickpeas remain underutilized by most home cooks. Sure, some folks might add them to a salad straight out of the tin. But canned chickpeas can provide so much more. So, today, we're breaking down 13 fun ways you can incorporate them in your cooking:
How to Use Canned Chickpeas:
1. Make a quick but better-than-store-bought hummus
2. Roast canned chickpeas
3. Pan fry chickpeas
4. Mash chickpeas for a sandwich
5. Mash 'em in a quesadilla
6. Make chana masala
7. Or another chickpea curry!
8. Bulk up your soups or stews
9. Make a faux tuna salad sandwich
10. Marinate them
11. Use that aquafaba for tender baked goods
12. Or all sorts of other desserts
13. Make dessert hummus!
But first, let's answer a few of the most frequently asked questions:
Canned Chickpeas 101
Are canned chickpeas cooked?
Yes, they are cooked. Most people know this, but a certain someone in my life (okay, fine…it was my sister…she never cooks) once asked me if she had to cook canned chickpeas. You don't. Which means you can eat them straight out of the can, but there are so many ways to jazz them up (keep reading!).
Chickpeas vs. Garbanzo Beans: What's the Difference?
The difference lies in the name only. They're the same thing. Linguist enthusiasts, check out this post for more deets.
Canned Chickpeas vs. Dried Chickpeas: What's the Difference?
Canned chickpeas, as said above, are cooked. Dried chickpeas are uncooked and, like other beans, cannot be eaten raw (they're hard as pebbles). You can usually find dried chickpeas in the grocery aisle that also sells rice and grains, or in bulk bins, or at Middle Eastern grocery stores.
Interested in how to cook chickpeas from scratch? Check out my post on cooking beans in the Instant Pot.
What are the components in a can of chickpeas?
There are two components: the beans themselves and the bean liquid, aka the aquafaba. The aquafaba can be used in several ways, so don't let it drain down the sink. Instead, store it in a jar or airtight container in the fridge for up to 1 week. Then, use it in your baked goods (see tips 10 and 11, below).
1. Make hummus!
Homemade hummus > store-bought hummus
For years, I bought store-bought hummus. There were a few brands that got the job done, and a lot of frankly terrible brands. A few years ago, I started making my own hummus and, no joke, it has been life changing. Okay, life changing in the kitchen.
Disclaimer: I do prefer using dried chickpeas cooked from scratch to make hummus. But, using canned chickpeas is more convenient and enables you to whip up a batch of hummus on a moment's notice (it literally takes 5 minutes). And homemade hummus made with canned chickpeas is still better than than any store-bought brand I've tried.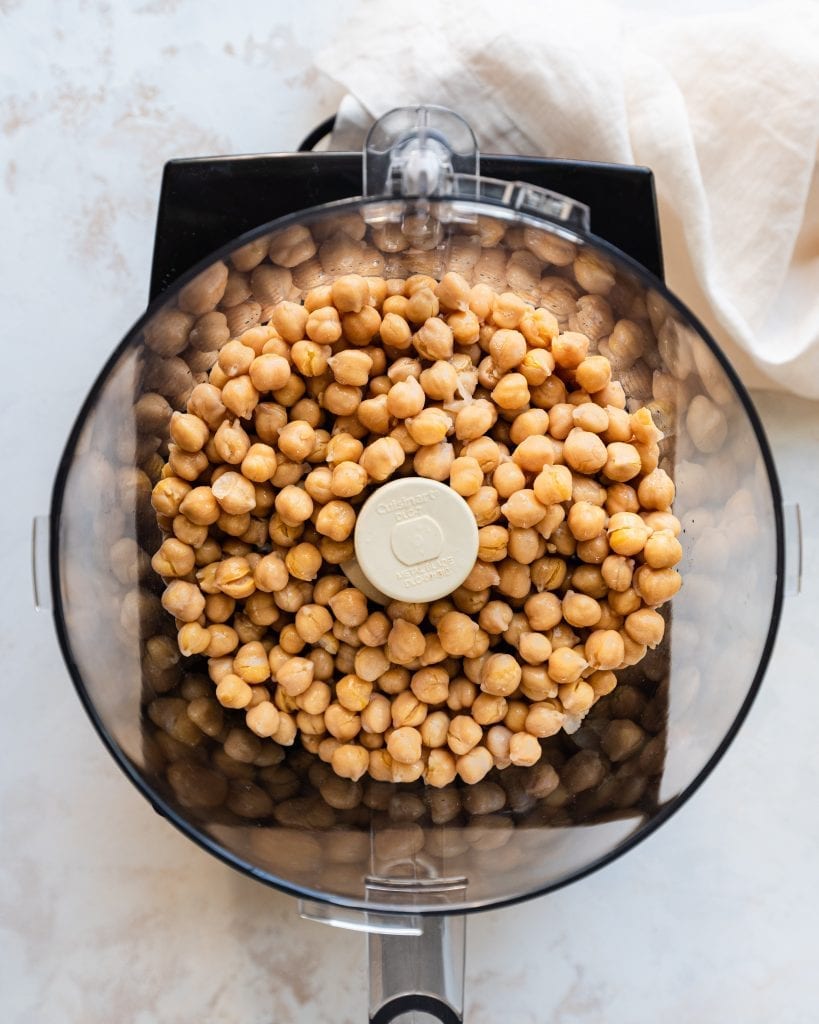 What you need to make hummus
For a really good hummus, all you need are (1) a food processor and (2) 8 ingredients: canned chickpeas, lemon juice, fresh garlic, salt, pepper, cumin, good-quality tahini, and ice water. I say "good-quality" because many brands of tahini can be bitter, and you don't want your hummus to be bitter.
My favorites are Soom Foods (available on Amazon, affiliate link) and Seed & Mill (available at Whole Foods or at their website). And the Whole Foods 365 brand is a pretty good affordable option. I also recently tried Baron's tahini and thought it was quite good, but haven't used it as frequently as the other brands.
Recipe: You can find my homemade hummus recipe in this post. You can also find instructions for hummus made with the help of the Instant Pot in chapter 1 of my cookbook, The Vegan Instant Pot Cookbook.
I promise you these hummus recipes are creamy and dreamy, not at all grainy or gritty.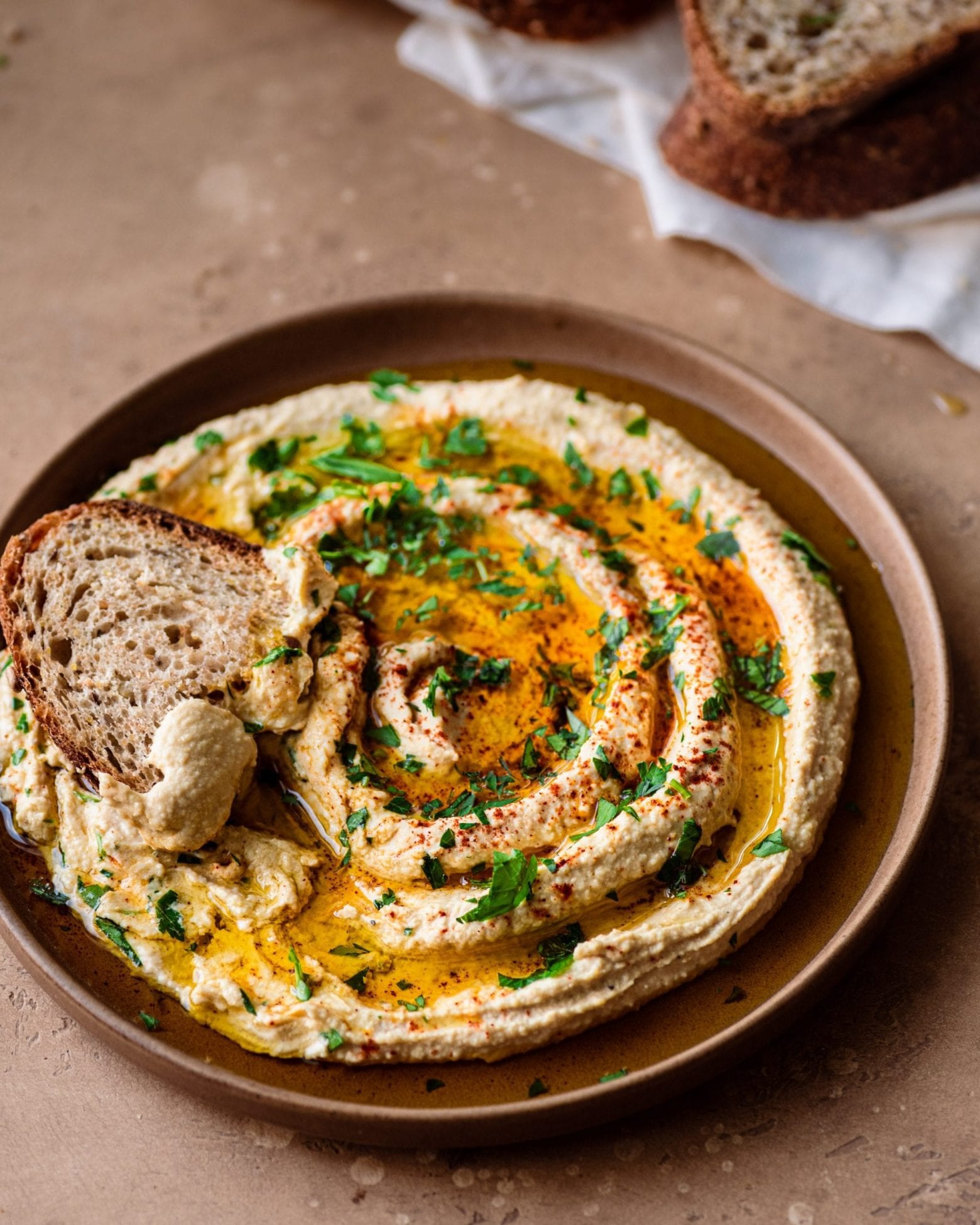 How to Use Hummus in Cooking
Use as a dip or spread with pita bread, or really, any good bread; or with crackers or crudités
Use in lieu of mayo as a sandwich spread, or spread into pita bread and stuff with your fillings
Use it to top baked sweet potatoes (search "double chickpea stuffed sweet potatoes" in this post)
Pair it with falafel (obviously)
Round out a grain bowl or salad with a scoop of hummus
Use as a dressing for salad or noodles (search "creamy hummus sauce" or "hummus dressing" in this post)
How to Store Hummus
Store leftover hummus in an airtight glass container in the fridge for up to 1 week (it never lasts that long in my house).
Hummus has the most flavor at room temperature, so if you can wait, allow it to come to room temperature for 20-30 minutes before serving.
To increase its shelf life, drizzle a thin layer of olive oil over the hummus before storing in the fridge. You can also freeze hummus with decent results. Drizzle a thin layer of olive oil on top, don't stuff it to the top of the container, and defrost in the fridge before serving.
2. Roast canned chickpeas
If you've never roasted chickpeas (or any beans, really), you're missing out. When roasted in the oven, chickpeas get irresistibly crispy and crunchy.
How to roast chickpeas
Rinse and drain the canned chickpeas. Thoroughly dry the chickpeas with a clean dish towel or paper towels to ensure they crisp up in the oven. As you're drying them, if any chickpea skins get loose, discard them.
Coat the chickpeas with oil, salt/pepper, and your favorite spice blend.
Spread them out on a rimmed baking sheet and bake at 425°F/218°C for 20 minutes, until blistered in some spots and crunchy in texture.
Recipe: Tandoori Roasted Chickpeas Stuffed Sweet Potatoes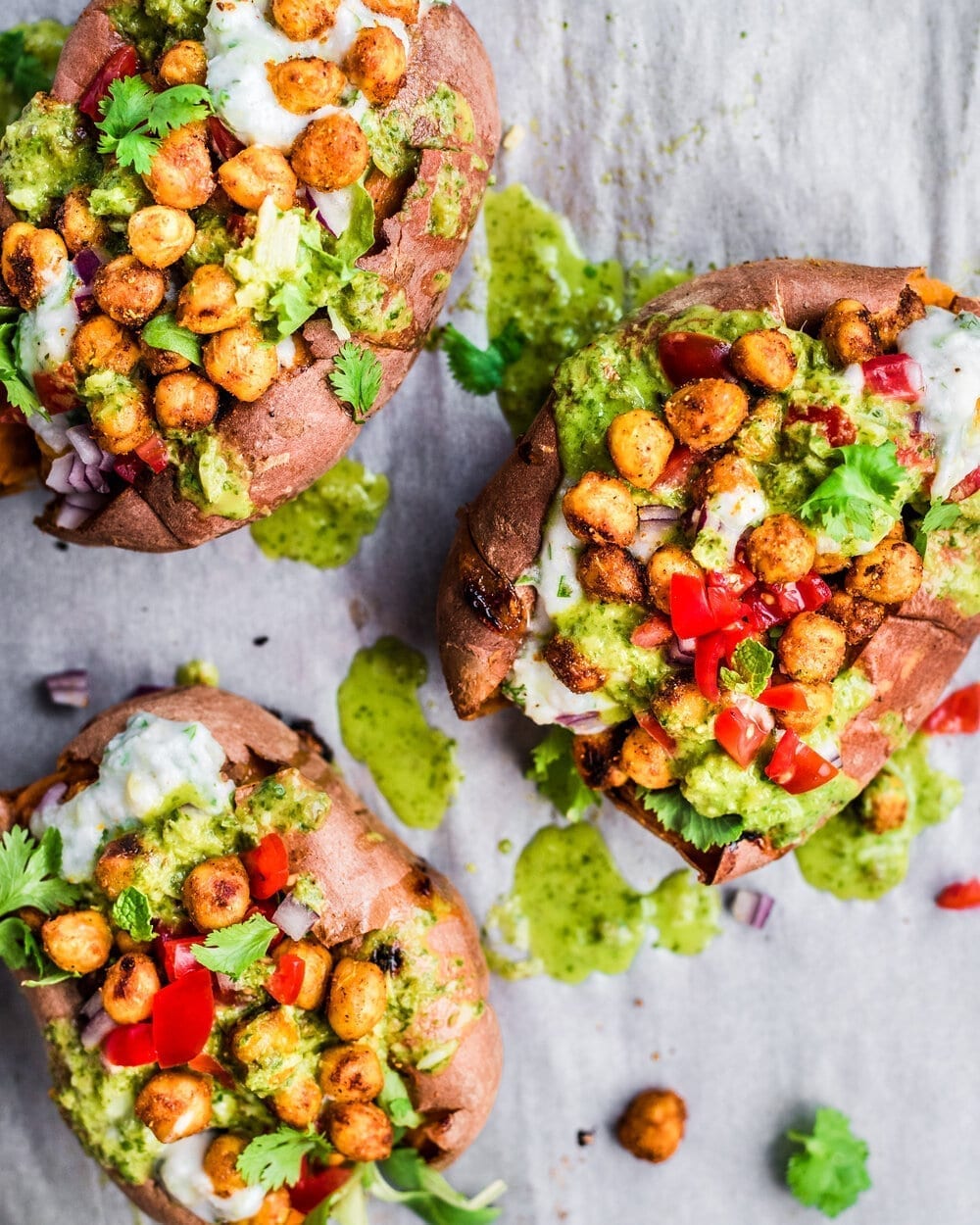 How to Use Roasted Chickpeas in Cooking
Sprinkle them onto a soup as a wholesome alternative to croutons
Sprinkle over a salad for a crunchy topping and protein boost
Pair with your favorite grain and sauce for a quick bowl meal
Add to a wrap with hummus or guacamole
Snack on them!
Stuff them into baked sweet potatoes
How to Store Roasted Chickpeas
Store roasted chickpeas on the counter, loosely covered (with a paper towel, foil, etc.). Don't refrigerate, as they'll become chewy instead of crispy. Note: they do lose some crispiness after the first few hours, but are still quite tasty.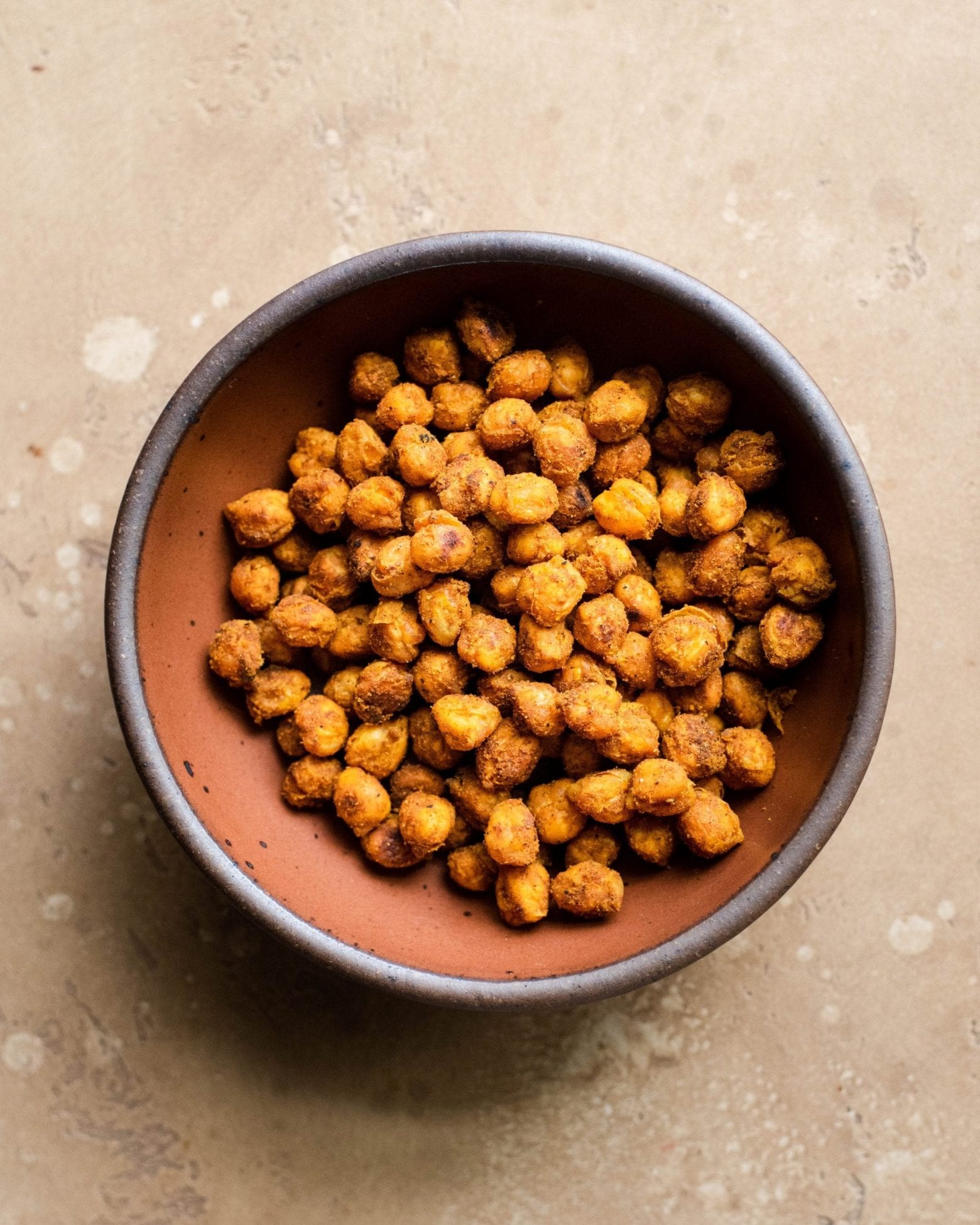 3. Pan fry chickpeas
If you don't have time to roast chickpeas but still want to crisp them up and infuse more flavor into them, pan frying them is a great option that takes 10 minutes.
How to Use Pan-Fried Chickpeas in Cooking
One of my favorite ways to use pan-fried chickpeas is to make chickpea tacos. Spiced pan-fried chickpeas pair great with cilantro pesto and avocado for a quick weeknight meal.
Or, I like to use them as a main component in my 20-minute dinners, like in my Charred Broccoli and Za'atar Chickpeas.
You can also check out the ideas under "how to use roasted chickpeas in cooking."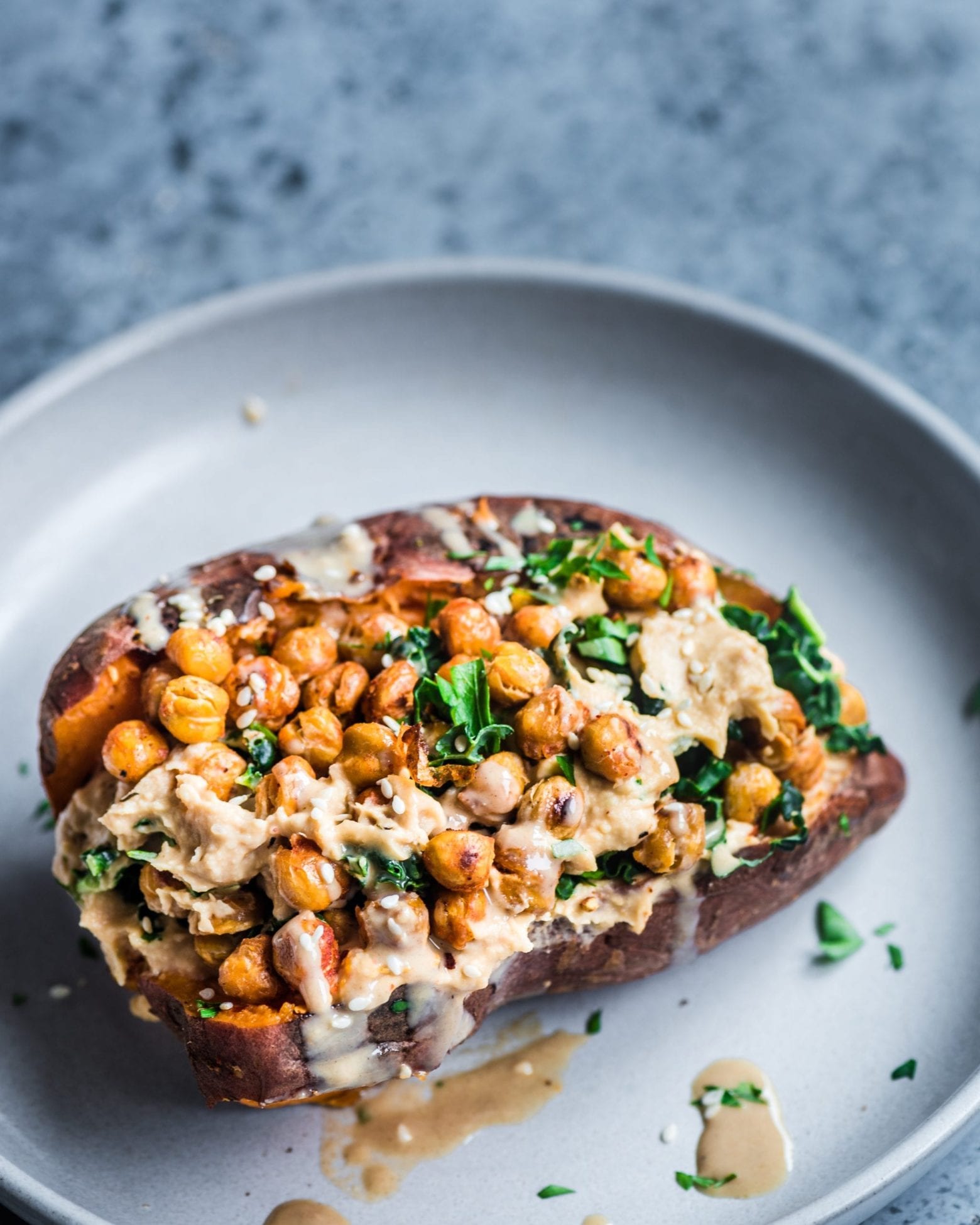 4. Mash chickpeas for a sandwich
Mashed chickpeas make a fantastic easy option for a sandwich. My favorite way to do this is with mashed avocado, but you could also use vegan mayo.
Recipe: Avocado Smash Chickpea Sandwich within Budget-Friendly Vegan Lunches for the Week (it's Thursday's meal within this blog post).
5. Or, mash chickpeas for a quesadilla
Admittedly, "mashed chickpeas for a quesadilla" sounds weird. But when you mash them, cook them with onions and garlic, and coat them in a buttery hot sauce, they become delicious. And when you pair them with a vegan nacho cheese sauce and griddle them between flour tortillas, they become irresistible.
Recipe: these buffalo chickpea quesadillas are a fan favorite for a reason. Try 'em; you won't regret it.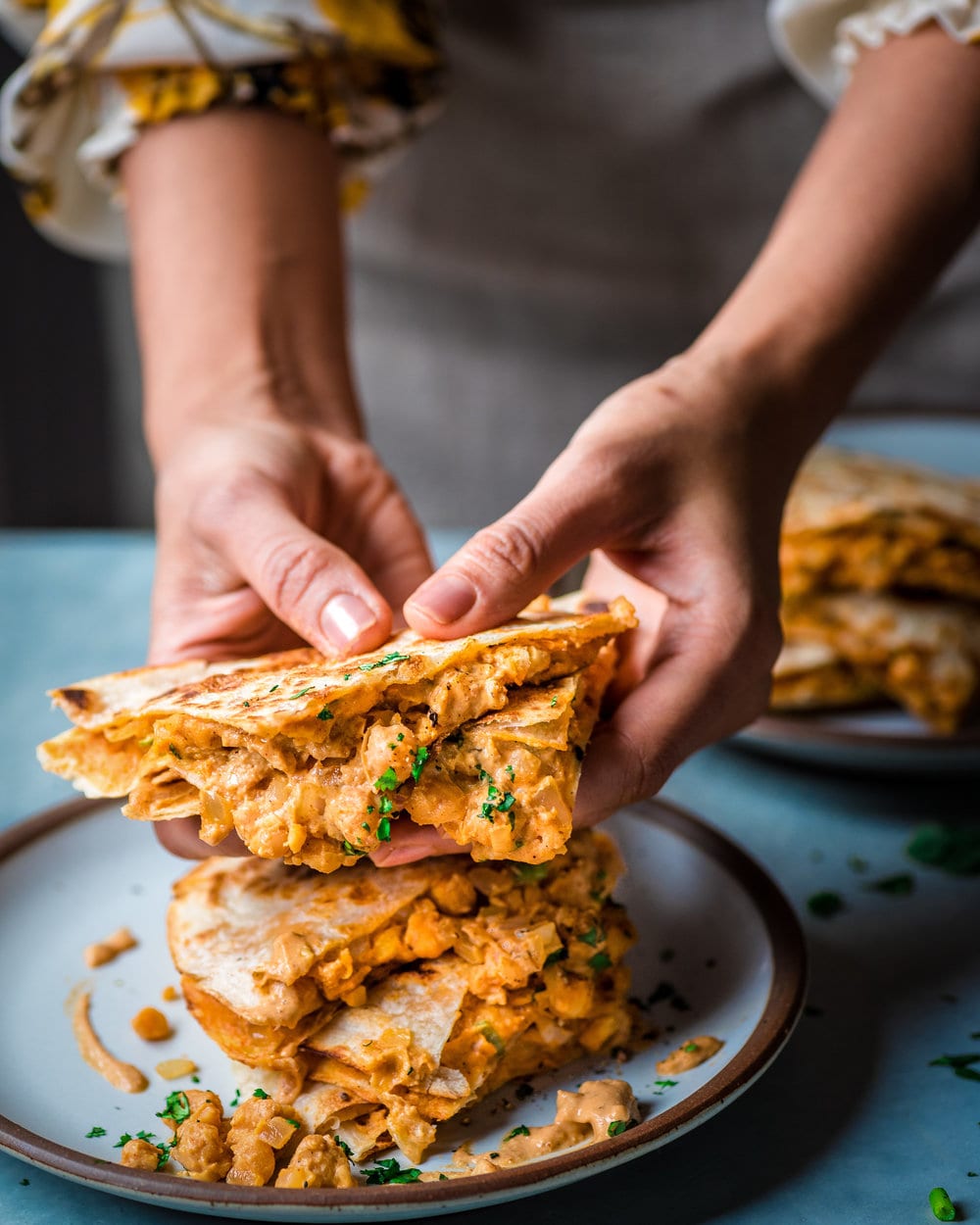 6. Make chana masala
Chana masala, aka everyone's favorite Indian chickpea curry, is a great way to use canned chickpeas. And a great way to bring some global inspiration to your cooking routine.
Disclaimer: As with hummus, I prefer chana masala with dried chickpeas cooked from scratch. That said, it's still pretty dang tasty with canned chickpeas.
Recipe: Chana Masala. You can also find a similar recipe in chapter 6 of my cookbook, The Vegan Instant Pot Cookbook.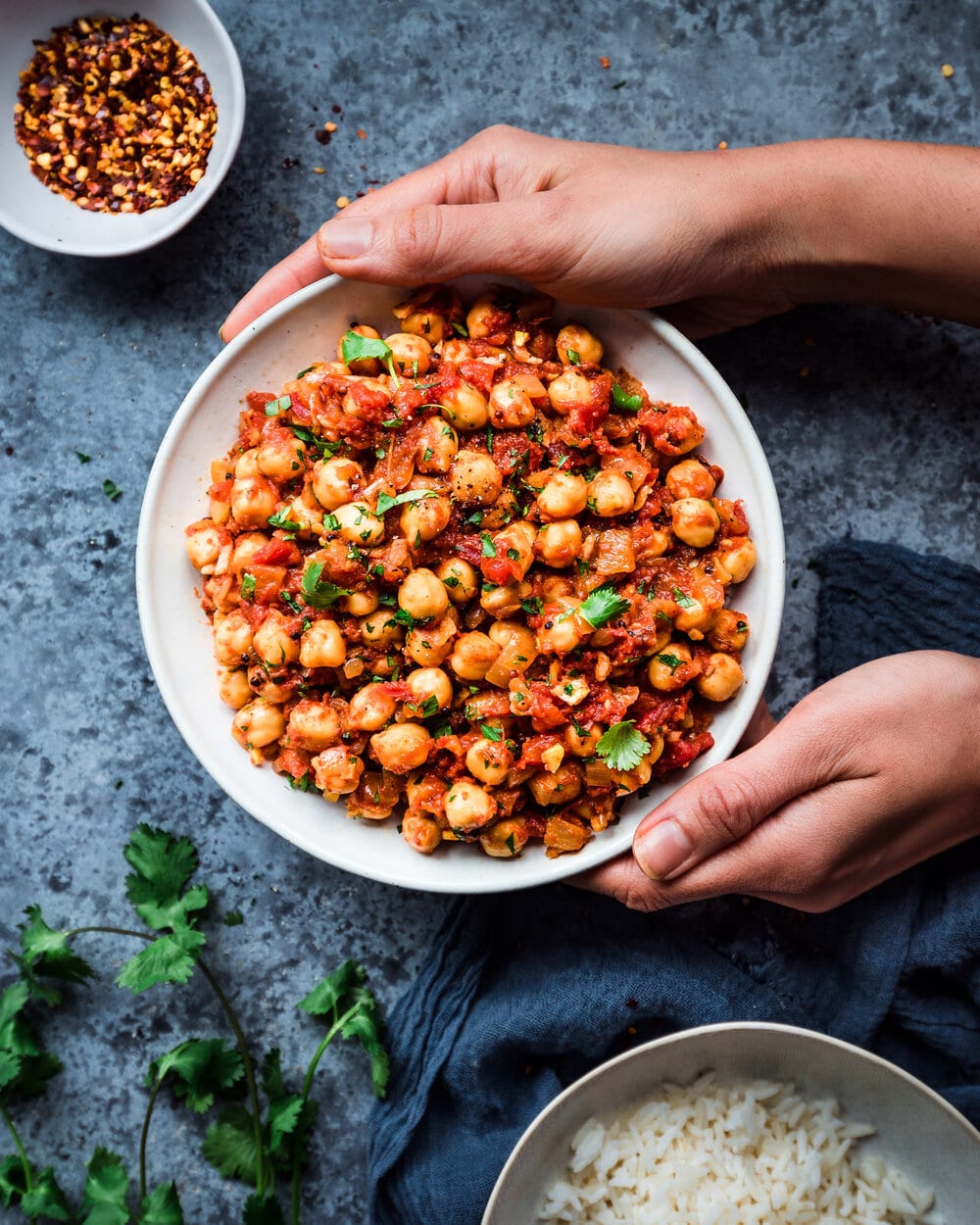 7. Or make another chickpea curry!
Chana masala is great, but don't let that be the end of your chickpea exploration. Try my hearty and indulgent Thai-inspired butternut squash chickpea curry for a flavor-packed gourmet dinner. It's perfectly balanced between salty, sour, sweet, and spicy.
Or, try this Thai-inspired kabocha squash curry during kabocha squash season. Or, try this Indian-spiced chickpea sweet potato stew (it's a mashup between a curry and a stew).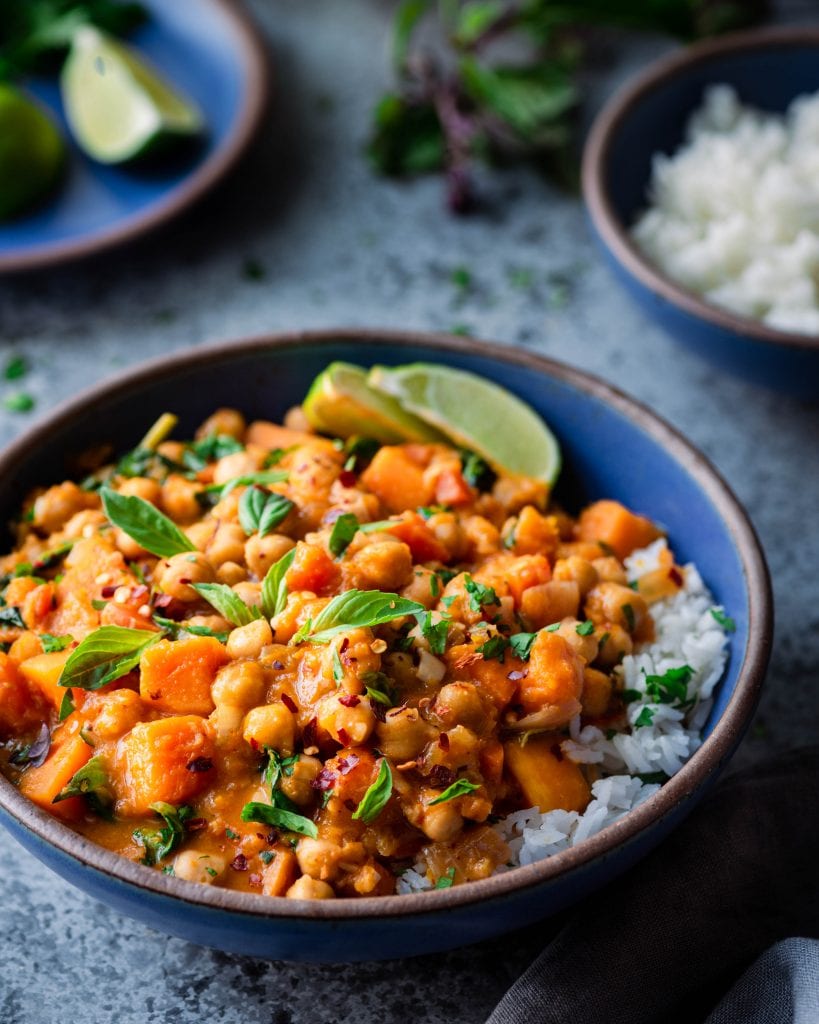 8. Bulk up soups or stews with chickpeas
Soup might not sound like a complete meal, but add in some chickpeas, and you've got yourself a complete meal. Since canned chickpeas are already cooked, you can add them in toward the end of simmering for a firmer texture. Or, add them at the start so they soften up.
If you have an Instant Pot, this Spiced Chickpea and Orzo Soup is a must-make. It's incredibly easy, hearty yet healthy, and is great for meal prep.
Another incredible way to use chickpeas in a stew is in pasta e ceci, a rustic Italian pasta and chickpea stew. I have a recipe for Vegan Italian White Bean and Pasta Stew. uses cannellini beans so it's not exactly pasta e "ceci", but you could easily sub in chickpeas.
For something indulgent and creamy, try this fan favorite Pumpkin Lasagna Soup. Fall flavors meet lasagna meet soup, and chickpeas bulk it up into a complete meal (along with the 5-minute tofu ricotta).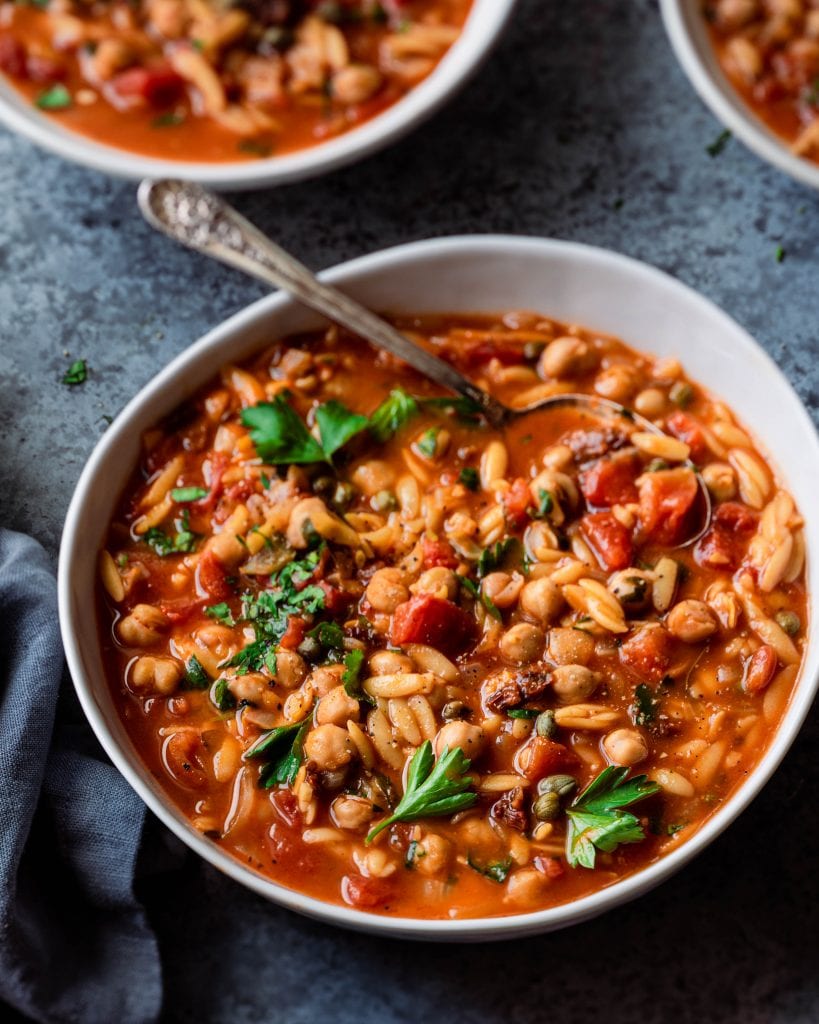 9. Make a faux tuna salad sandwich
In college and law school, one of my go-to lunches was a tuna salad sandwich. It was cheap and quick, but I hated how it made my apartment smell like tinny fish. Now that I'm vegan, I get my tuna sandwich fix with a vegan version that's significantly tastier, not at all smelly, and better for the environment (and the fish).
To mimic the texture of tuna, I pulse chickpeas with hearts of palm in a food processor. Chickpeas bring heartiness, while the hearts of palm bring a buttery flakiness. Mix with a few vegan superstar ingredients and it truly tastes just like tuna salad but is 100% vegan.
Recipe: Vegan Tuna Salad Sandwich.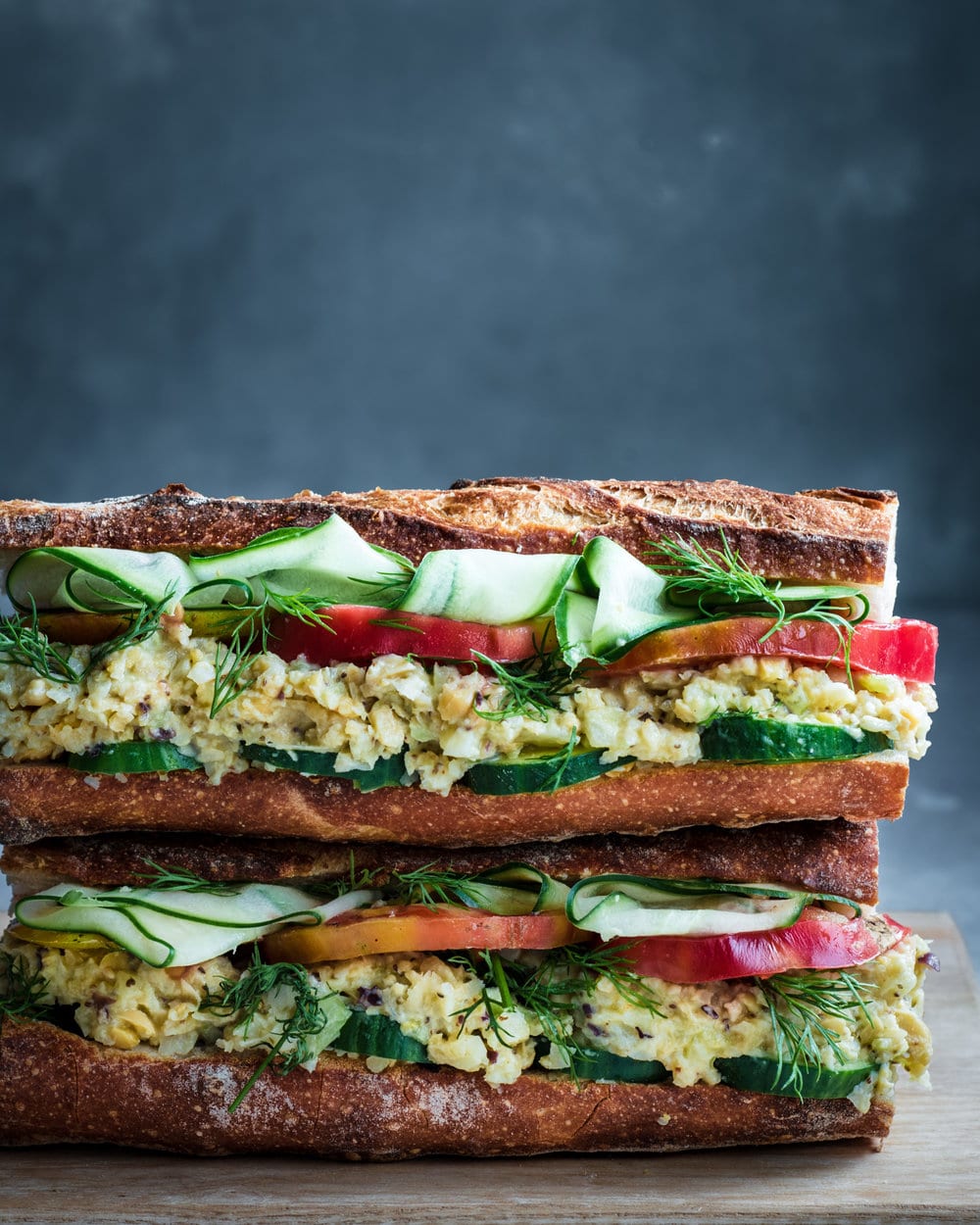 10. Marinate them
Quickly marinating chickpeas in a vinaigrette is one of the easiest ways to whip up an easy lunch. It takes canned chickpeas from okay to fantastic.
Try this method out in my Actually Good Quinoa Salad!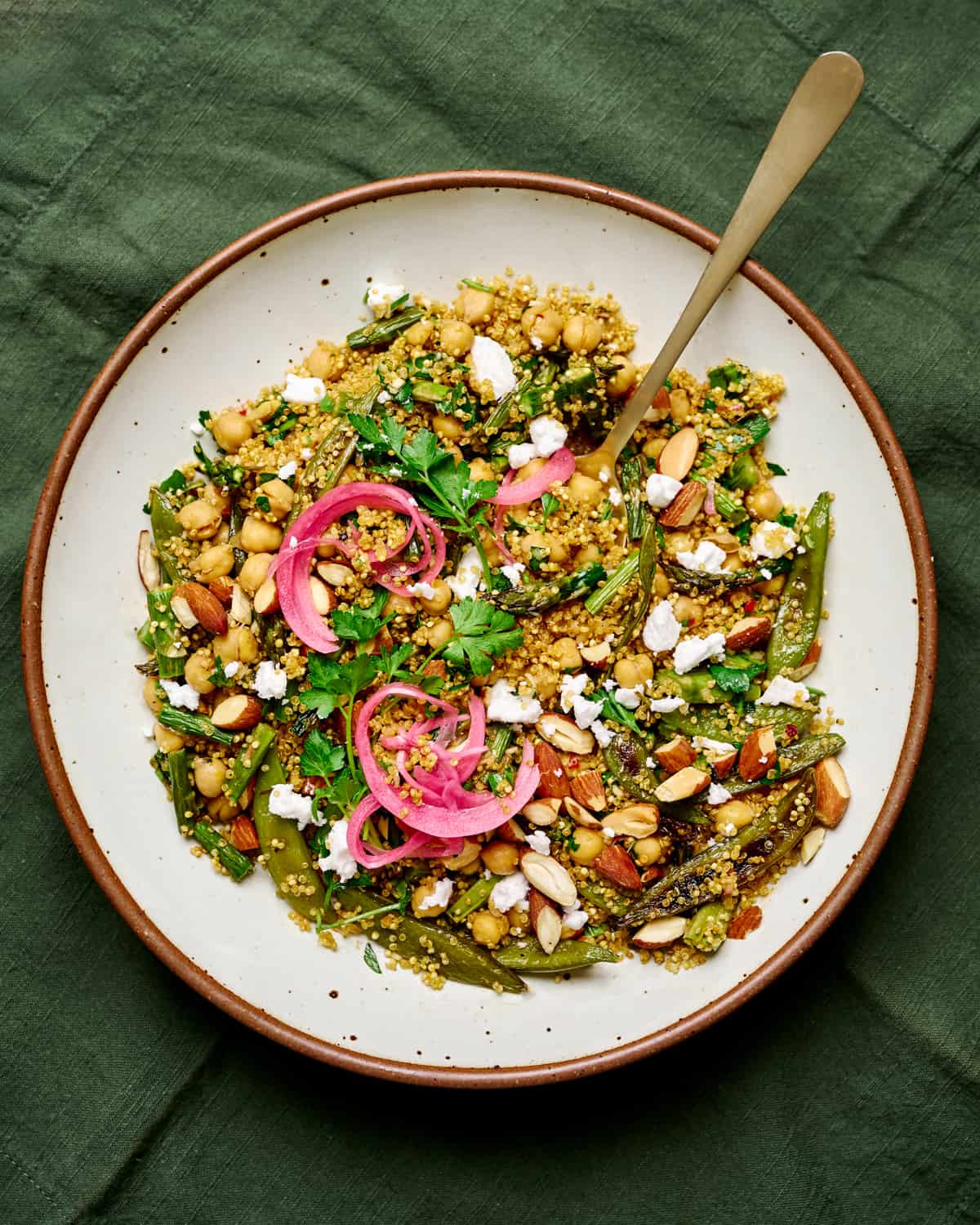 11. Use the aquafaba for tender baked goods
That sorta gloopy liquid in a can of chickpeas? That is precious gloop! It's chickpea water, aka aquafaba, and it is a vegan baking goddess.
When you lightly whip aquafaba, it gets foamy and becomes a fantastic egg substitute. If you want to learn more about vegan egg substitutes and what to use when, check out this post. It brings a welcome lightness and lift to vegan baked goods.
You can find it in my fan favorite easy banana bread, as well as pumpkin spice bread, vegan lemon cake, gingerbread cake, just to name a few. All of these baked goods are tender and light, never dry or dense. Thanks, aquafaba!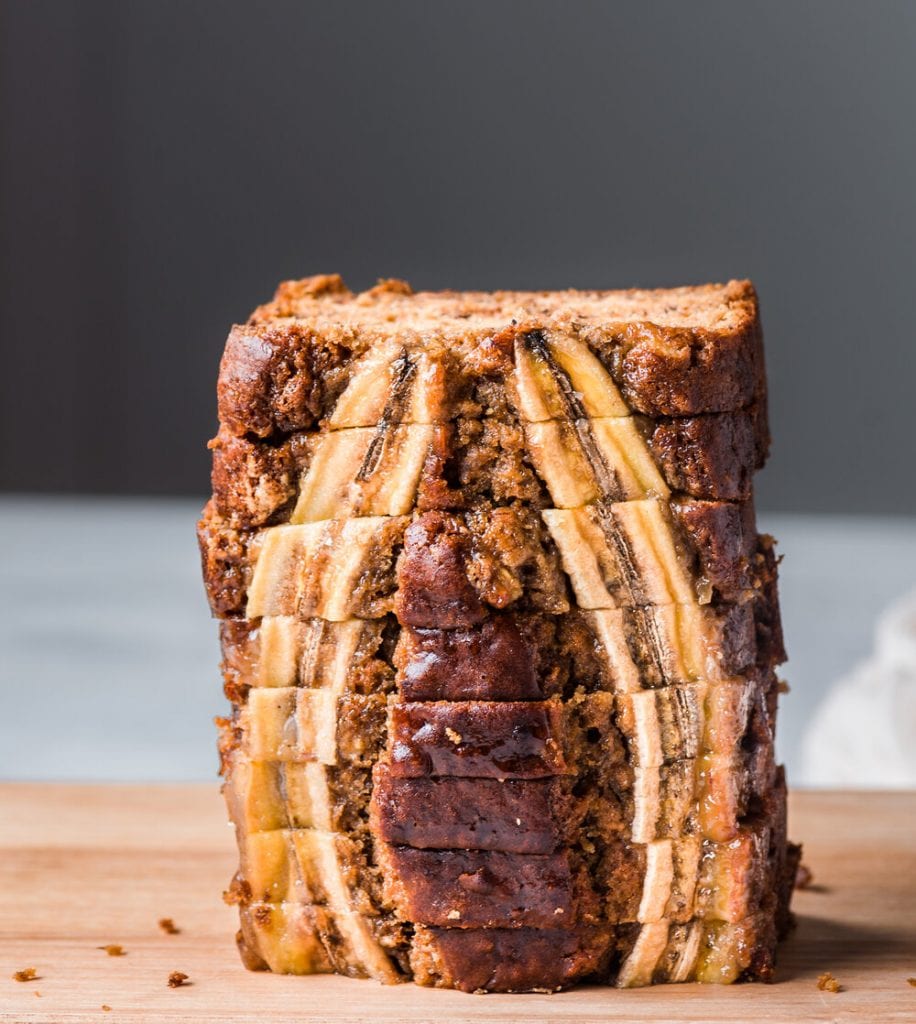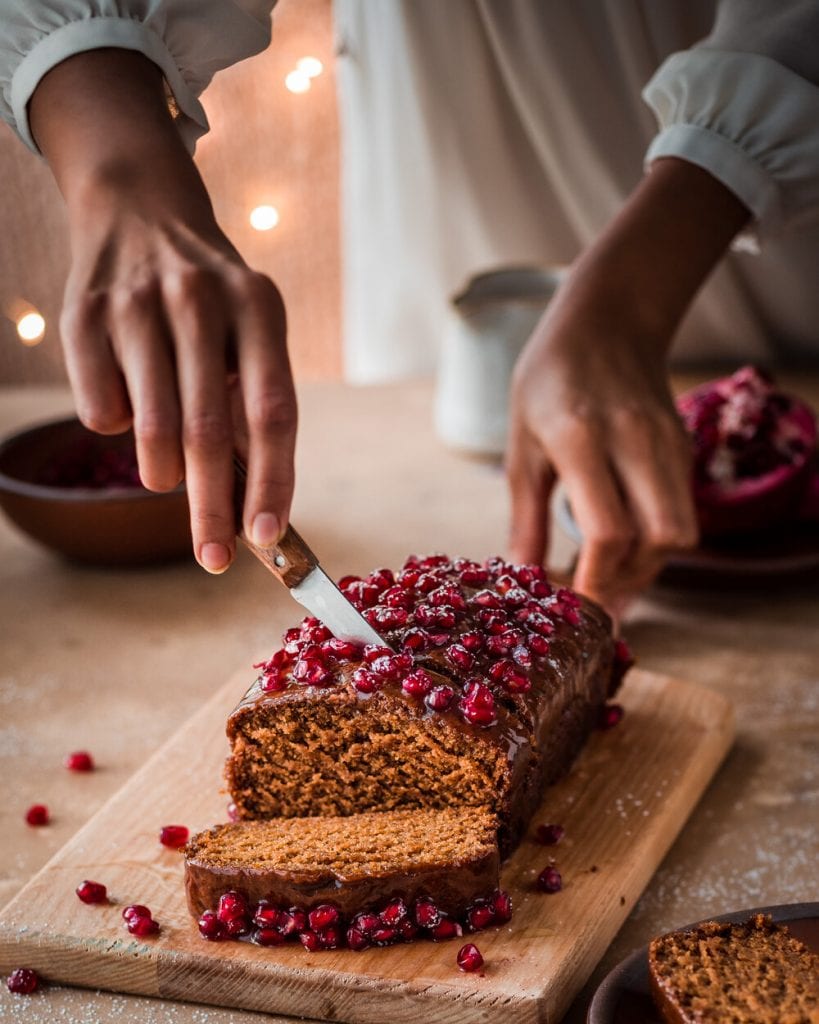 12. Or use aquafaba in all kinds of other desserts
They're a must in my absolute best vegan brownies!
Or try these vegan meringue cookies from It Doesn't Taste Like Chicken.
Want a lighter frosting option? Try this aquafaba frosting from Halfway Homesteaders.
13. Use the chickpeas for wholesome desserts
To be honest, I'm often skeptical of "healthier" desserts that substitute ingredients like oats or chickpeas for flour. I'm sure they taste fine, but having tasted actual brownies and blondies, I'd rather just have a decadent brownie and call it what it is.
That said, here's something I think actually tastes good: chocolate dessert "hummus." It has the consistency of a whipped chocolate frosting but is wholesome and makes a great snack.
Chocolate Dessert Hummus Recipe
1 (15-ounce / 440g) can chickpeas, rinsed very well (2-4 times)
4 tablespoons (56g) good-quality tahini
4-5 tablespoons maple syrup (I use 5)
4 tablespoons raw cacao powder or unsweetened cocoa powder
1 1/2 teaspoons vanilla extract
1/4 teaspoon sea salt, plus a pinch more as needed
1 tablespoon ice water, plus more as needed
Add the chickpeas to a food processor and blend for 1-2 minutes until you have a paste-like puree, scraping down the sides with a silicone spatula as needed.
Add the tahini, maple syrup (start with 4 tbsp), cocoa, vanilla, and salt. Start blending, and once it comes together with the motor still running, stream in the ice water. Taste for seasonings, adding another tablespoon of maple syrup or a pinch of salt as needed.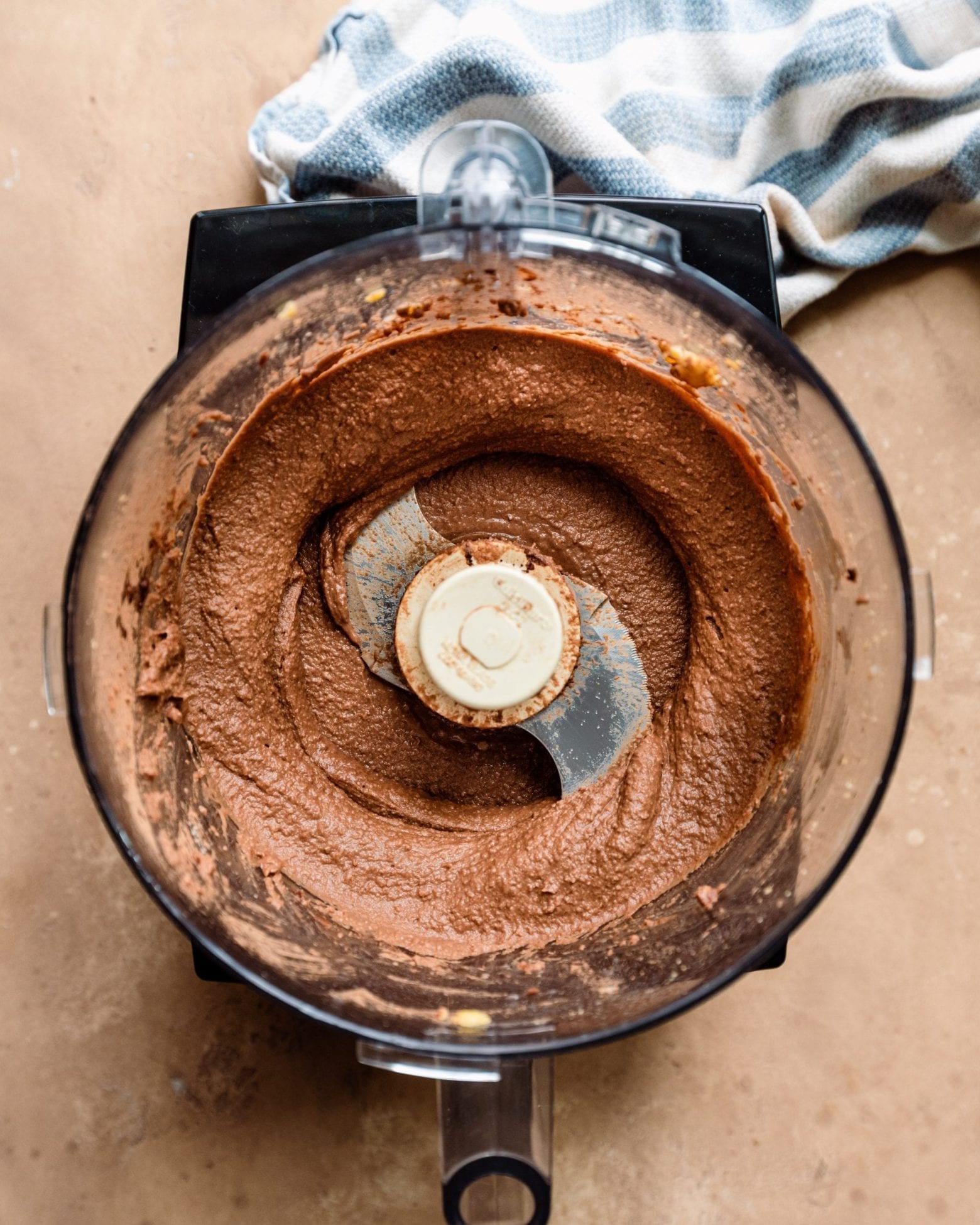 How to serve chocolate dessert hummus
By the spoon for a healthy yet sweet snack
Pair with fruit, such as whole strawberries, sliced apples/pears or bananas
Pair with pretzels for an irresistible sweet & salty snack
Spread over graham crackers (click here for a list of vegan-friendly graham crackers)
How to store dessert hummus
Store leftover dessert hummus in an airtight glass container in the fridge for up to 1 week.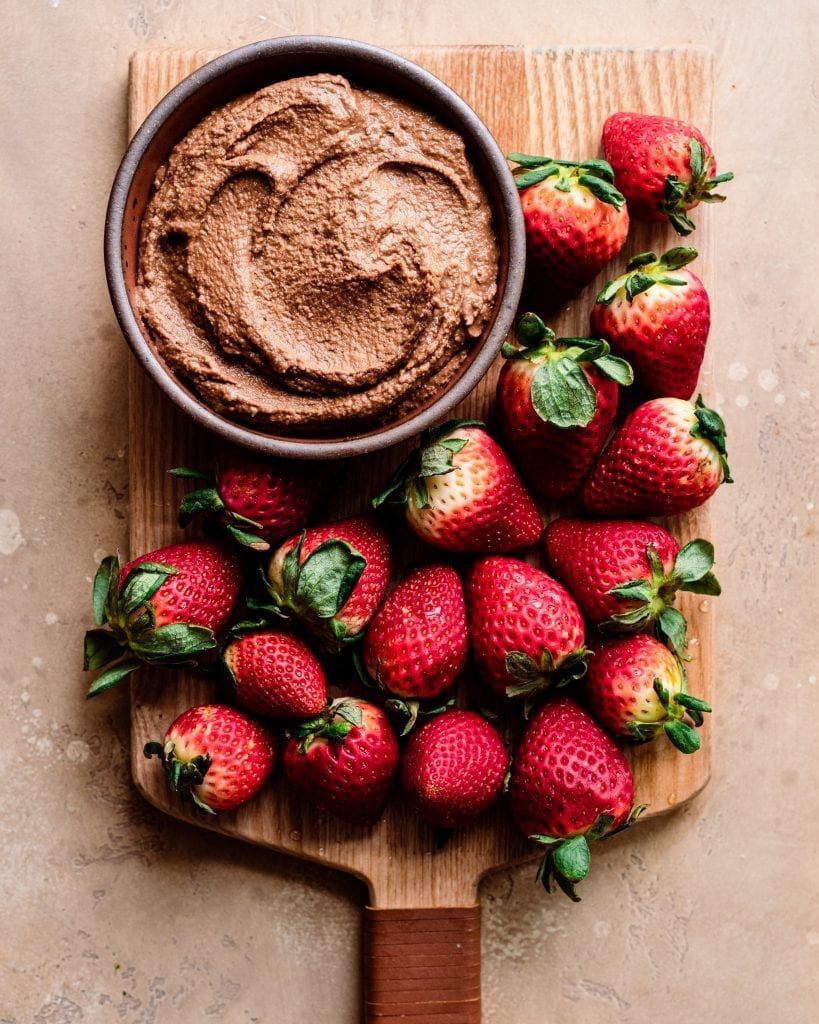 Did I miss any other ways to use canned chickpeas? What are your favorite ways to use canned chickpeas? Let me know in the comments!