If you're looking for fun and flavorful ways to use the canned chickpeas in your pantry, you have to give this Beet Hummus a try! It tastes just as good as it looks, with subtly sweet and earthy notes from roasted beets mixed with a creamy, nutty chickpea-and-tahini base.
I've been making hummus from scratch for years, and my Amazing Homemade Hummus recipe is a must-try. That said, occasionally, I like to jazz up the flavors with creative add-ins.
That's where nutrient-dense beets come in. They're roasted, then blended with classic hummus ingredients, like chickpeas, tahini, and garlic. Every bite is so uniquely delicious and gorgeously vibrant that you won't want to put the pita down.
Table of Contents:
1. Why this recipe works
2. Ingredient Notes
3. Step-by-step instructions
4. Tips for making this recipe
5. How to serve this hummus
6. Frequently Asked Questions
7. Recipe Card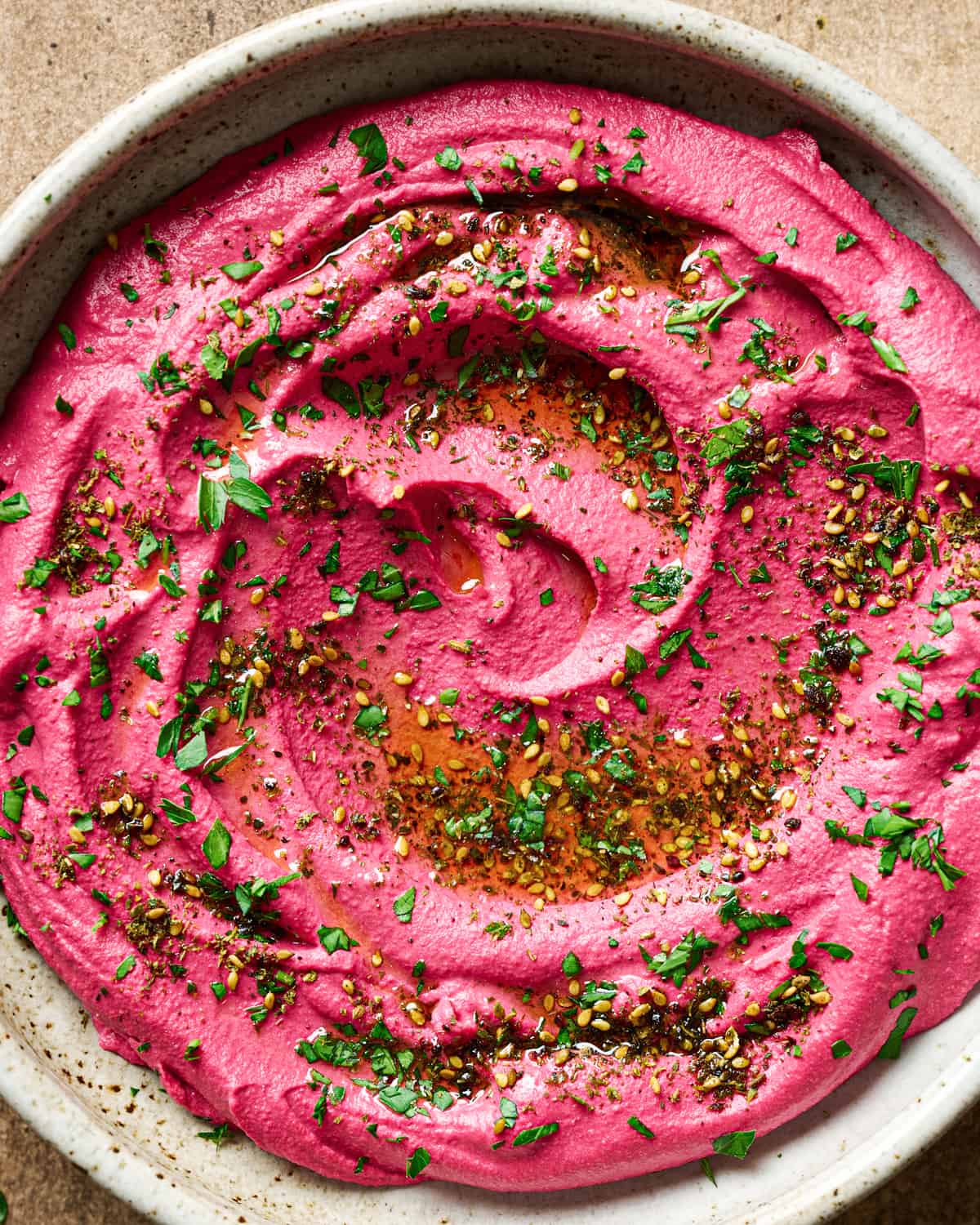 Why this recipe works
Adapted from my tried-and-tested hummus recipe.
With 3 million views on YouTube and 280+ 5-star reviews, my homemade hummus recipe is a fan favorite. So using it as the base for this beet hummus (also known as beetroot hummus, outside of the U.S.) was a no-brainer!
Ultra-creamy texture without too much extra work.
In a classic hummus recipe, dried chickpeas cooked from scratch definitely lend the best flavor and texture. Some recipes even have you peel the skin form each chickpea to achieve that dreamy texture.
BUT, when making beet hummus, there's plenty of moisture from cooked beets, so from-scratch beans aren't essential to getting the perfect dreamy, creamy texture.
This recipe keeps it simple by using canned chickpeas (without sacrificing flavor or texture). But when blended, plain canned chickpeas are a bit chunky and stiff.

Solution: Briefly simmer the chickpeas until really soft! They soften and blend into pure creaminess in this hummus (check those photos for the silky smooth texture!).
Vibrant and appealing.
One look at a bowlful of bright pink hummus and your guests will be swooning over this wholesome dip. The presentation is just so dang appealing while the flavors are well-balanced, nutty, subtly sweet, and divine. It's the best of both worlds!
Ingredient notes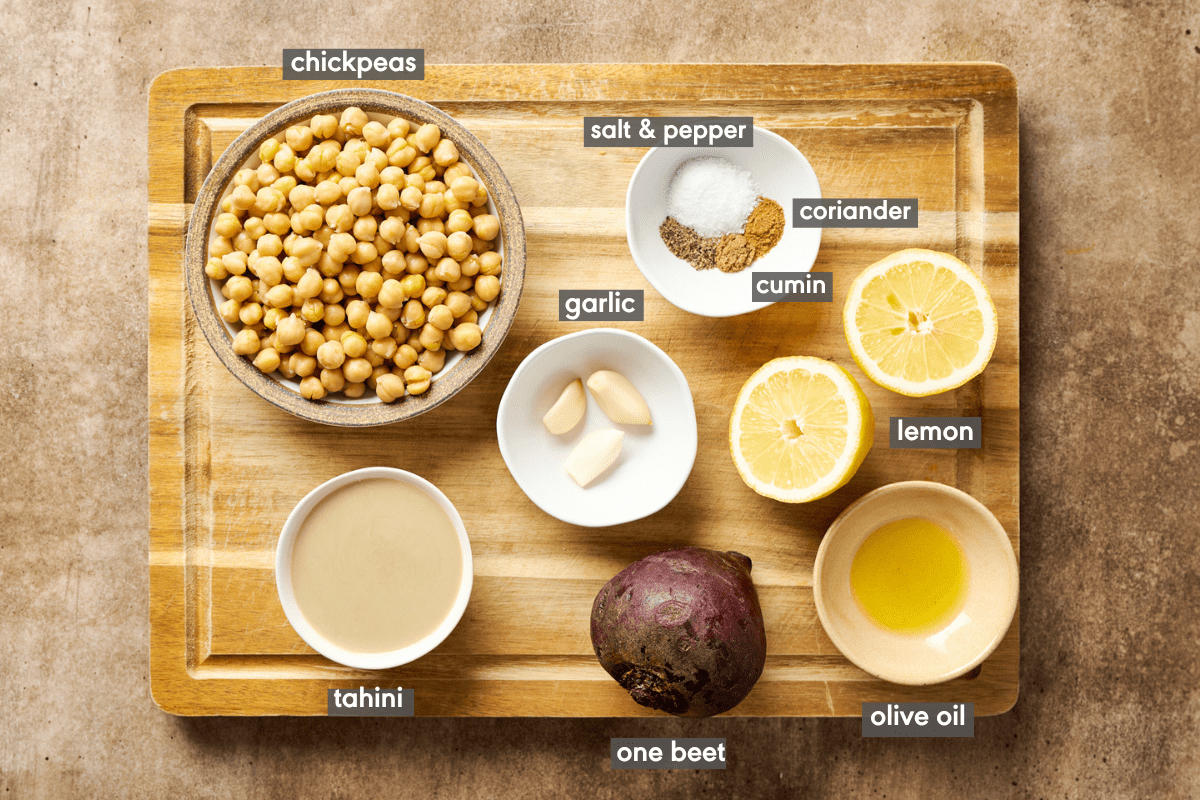 Beets. Adding roasted beets gives hummus a very subtle earthy sweetness that pairs amazingly well with chickpeas, tahini, garlic, and lemon. Also, would you look at that color? You can't replicate that hot pink hue with anything else.
In addition to color and flavor, beets are packed with a ton of vitamins and minerals. They're loaded with folic acid (just one beet has 25% of your daily value), copper, manganese, and more.
Substitute: While I highly recommend roasting the beets yourself for the best flavor, pre-cooked store-bought beets (sold in the refrigerated or produce section) will work in a pinch.
Tahini. Tahini is a paste made from unhulled or hulled sesame seeds. It's essential in hummus and is what gives the dip its nutty flavor and richness.
You need a generous amount of tahini, so a high-quality brand made from hulled sesame seeds is key (tahini from unhulled sesame seeds is bitter).

Check out my suggested tahini brands in the FAQ section below.
Chickpeas. Hummus literally means chickpeas in Arabic, so these are essential. While you can certainly make use dried chickpeas cooked from scratch, we got excellent results using canned chickpeas that were briefly simmered until fully softened.
Lemon. Acidic citrus juice brightens up this hummus with its noticeable zippiness. It awakens every part of this rich vegan dip and also balances the natural bitterness of tahini and the earthiness of beets.
Garlic. Raw garlic gives the hummus a nice zing and great savory flavor. If you don't love the sharpness of raw garlic, use just 1 or 2 cloves.
Cumin + coriander. Warm earthy cumin tones down the sweetness of the beets, while citrusy coriander accents the lemon. Both complement the chickpeas and tahini so well.
Za'atar (optional). This fragrant Middle Eastern seasoning is citrusy, herbaceous, and slightly nutty. I like to sprinkle some on top of the hummus before serving. My favorite store-bought za'atar is from Z&Z (affiliate link), a Palestinian family-run business.
For a simple homemade za'atar: In a small bowl, mix 1 TBSP minced fresh thyme, 1 TBSP toasted white sesame seeds, 1 tsp sumac, and 1/4 tsp coarse or flaky sea salt. Mix well and store the leftovers in the pantry for a few weeks.

Use leftovers in my Charred Broccoli & Za'atar Chickpeas dinner plate.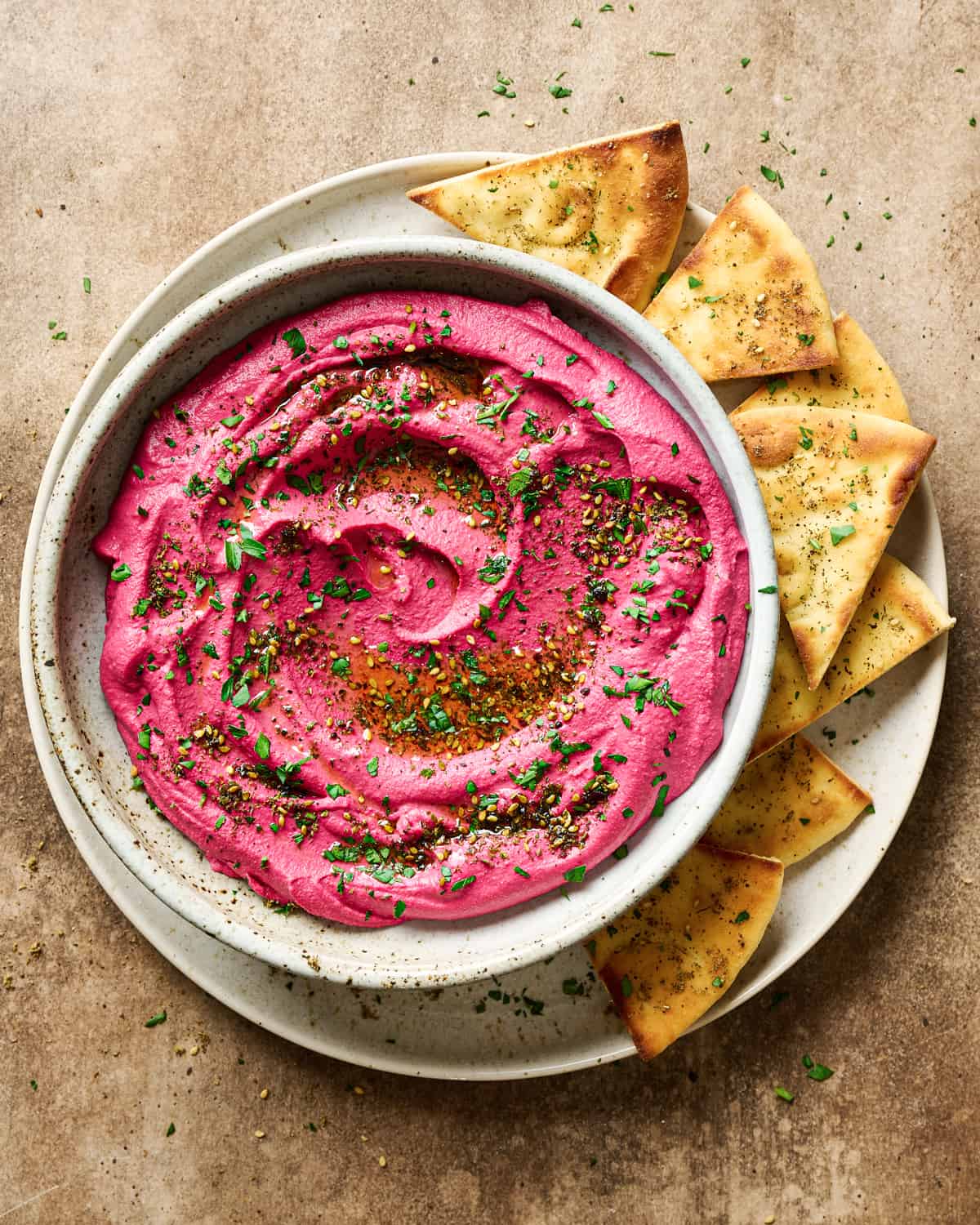 Step-by-step instructions
Roast the beets. Massage a thin layer of olive oil on the washed and scrubbed beets. Place them in a baking dish filled with some water, then cover and bake until fork tender.
Once cool enough to touch, run the roasted beets under running water to remove the peel. Roughly chop them.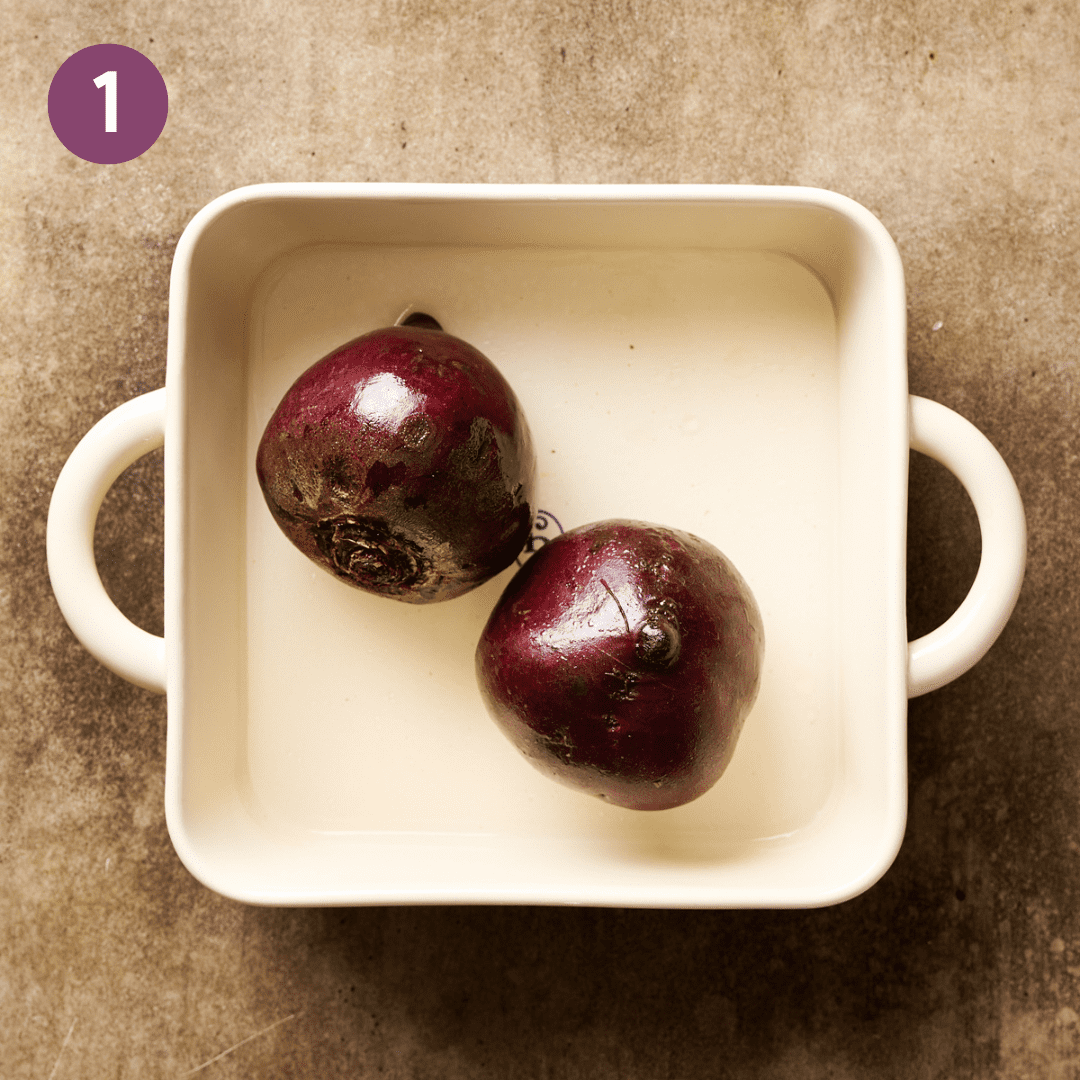 Simmer the chickpeas. Add the chickpeas to a saucepan and cover with water; add the baking soda. Bring to a boil, then simmer for 20 minutes until the chickpeas start falling apart.
Drain and discard any loose skins left behind. No need to peel the rest!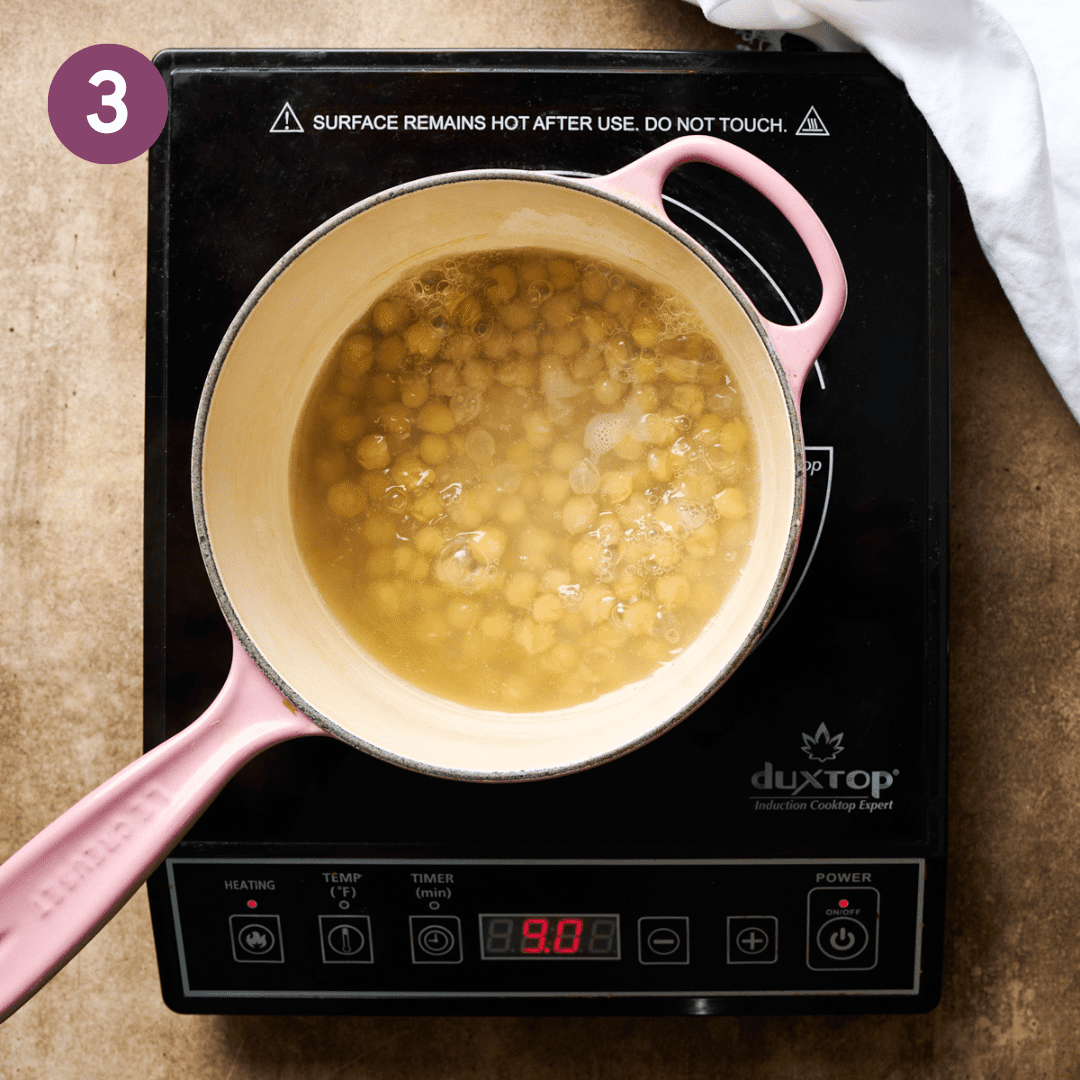 Transfer cooked chickpeas to a food processor. Blend the chickpeas until you end up with a smooth puree.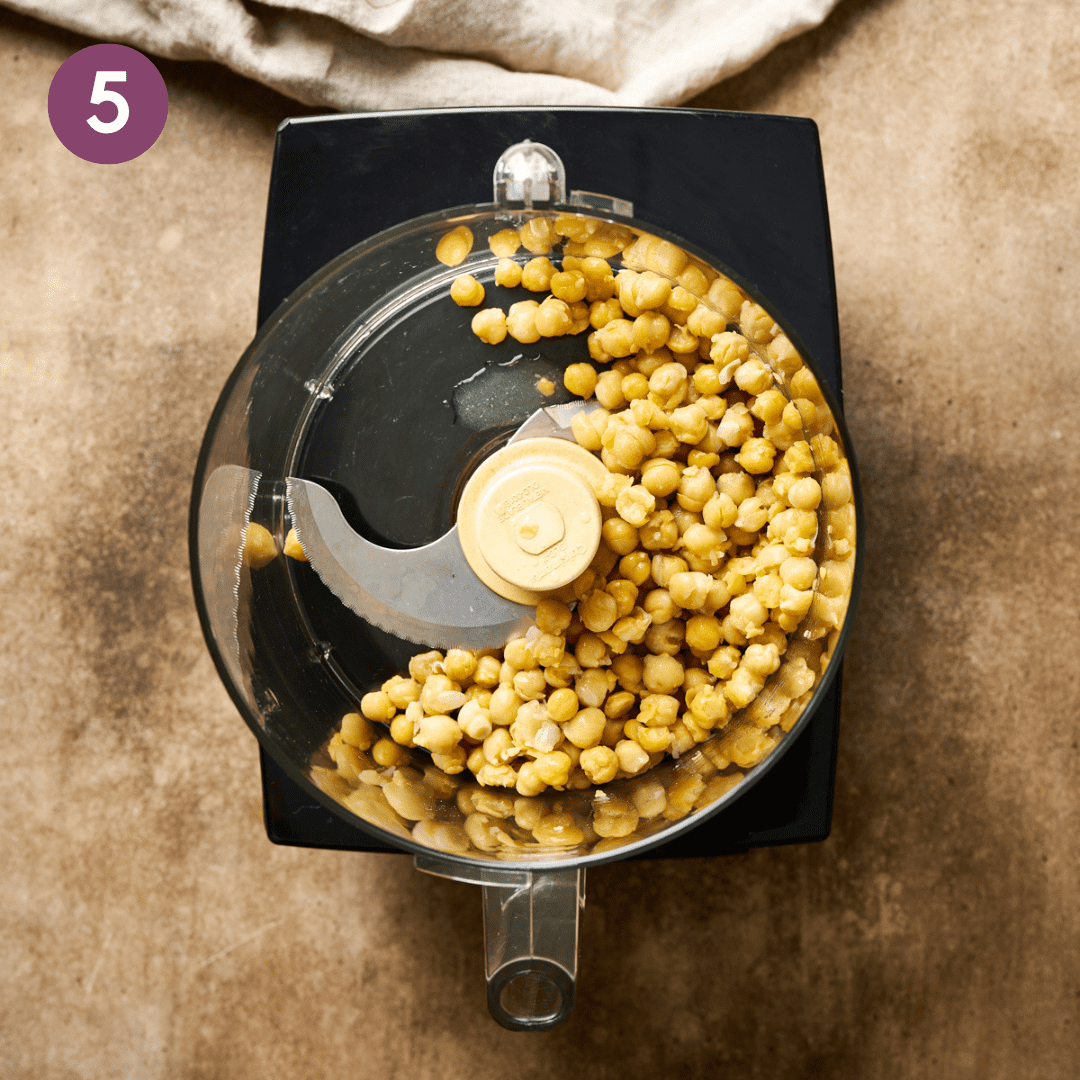 Add the beets, tahini, lemon zest, lemon juice, garlic, olive oil, and spices to the processor. Blend the ingredients until they turn into smooth, bright pink hummus. Taste for seasonings, adding more salt, lemon, garlic, etc. as needed.
Tip: The texture shouldn't be too thick, but if it is, you can thin it out slightly by blending in 1 tablespoon of ice water.
Transfer the finished hummus to a serving bowl, add your garnishes on top, then serve!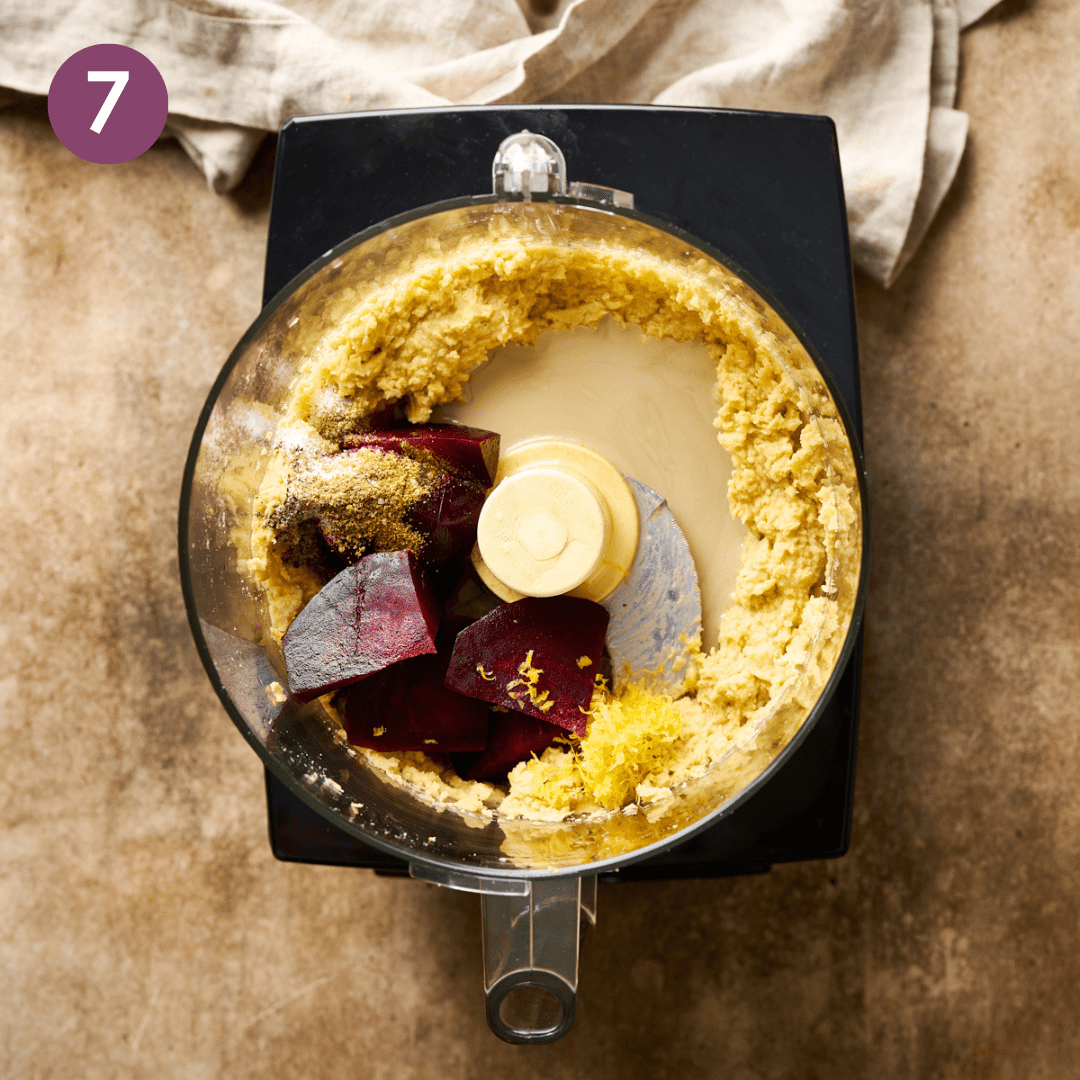 Tips for making this recipe
For the pinkest hue and best flavor. Roast or steam whole beets rather than using store-bought pre-cooked beets.
Sure, pre-packaged beets are convenient, but your hummus won't be nearly as vibrant or flavorful. Plus, cooking whole beets is a very hands-off process!
Tip: Roast a bunch of beets all at once. Then you can incorporate them into meals all week, such as this beet and fennel salad, grain bowls, grill them like this, or puree them into a creamy pasta sauce.
Wear gloves to avoid pink hands. Wear food-safe gloves to avoid temporarily staining your hands. If you don't have gloves or the beet juice has traveled elsewhere, use this guide EatingWell to get beet stains out of clothes, skin, and cutting boards.
Also, peel roasted beets while they're still warm (it's easier).
Canned chickpeas are cooked…but they need to be cooked again. Canned chickpeas are quite firm, which is great for salads, but not so great for blending into creamy, smooth hummus.
Simmer the chickpeas with baking soda for 20 minutes. Baking soda helps soften them more quickly and removes quite a lot of the chickpea skins, resulting in creamy, smooth beans that blend like a dream.
Tip: Try multi-tasking to make the most of your time. Start boiling the water and simmering the chickpeas when the beets are roasting or as you're waiting for them to cool.
Prep ahead of time. Save even more time by roasting the beets and/or simmering the chickpeas 2 to 3 days ahead of time. Store them in separate containers in the fridge until it's time to blend.
How to serve this hummus
Drizzle extra virgin olive oil on top of beetroot hummus, sprinkle on Za'atar and chopped flat-leaf parsley. Serve with grazing bites, such as toasted pita triangles, homemade naan, fresh-cut veggies, pita chips, or crackers.
Have you ever used hummus as a salad dressing? It's convenient and delicious. Thin out a scoop or two with water, lemon juice, or champagne vinegar, then pour it over a simple green salad or grain bowl. I like it with these 3 Delicious Vegan Salads for Summer.
Slather beet hummus onto some good, crusty bread and top with pan-fried tofu, sprouts, cucumbers, pickled onions, and crumbled vegan feta for an epic vegan sandwich.
Serve this gorgeous dip at parties and get-togethers, along with any of these other 30 Delicious Vegan Dips.
Pack as a healthy snack in your weekly lunches with carrots, cucumber, celery, and pita for dipping.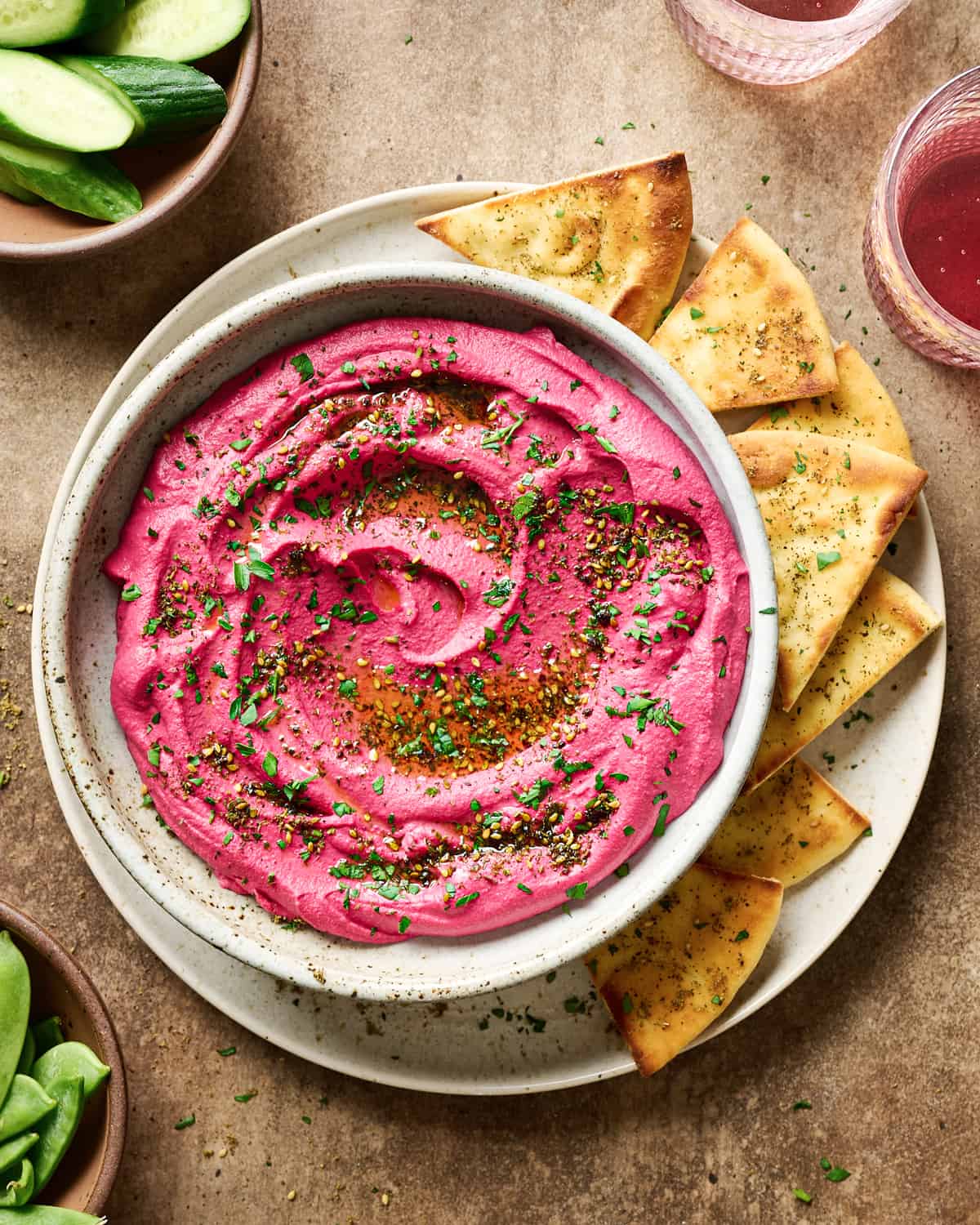 Frequently Asked Questions
Can I use store-bought cooked beets instead of roasting fresh beets?
Sure. The color of the hummus won't be as vibrant and it won't taste as flavorful, but it will still work.
Do I have to simmer the chickpeas or can I just use chickpeas straight from the can?
I recommend simmering the chickpeas for the best, smoothest texture. If you don't mind a rougher, chunkier consistency, you can skip this step.
What tahini brands do you recommend?
My two favorite brands of tahini are Soom Foods and Seed + Mill. Soom Foods (affiliate link) is easily available on Amazon. Seed + Mill is a smaller operation local to New York and sold at some Whole Foods; if you can find it, it's liquid gold.

For options that are a bit cheaper, I like Beirut sesame paste, Baron's is quite good, and the Whole Foods 365 brand is decent
How do you store beet hummus?
Pack the leftover hummus into an airtight container and store it in the fridge for up to 1 week. Before serving, allow the leftovers to come down to room temperature or warm them up on the stove with a splash of water.

Can you freeze hummus?
You can freeze this, but you'll lose some of the fabulous texture. Freeze it in an airtight container but leave room at the top for expansion. Thaw it in the fridge before serving.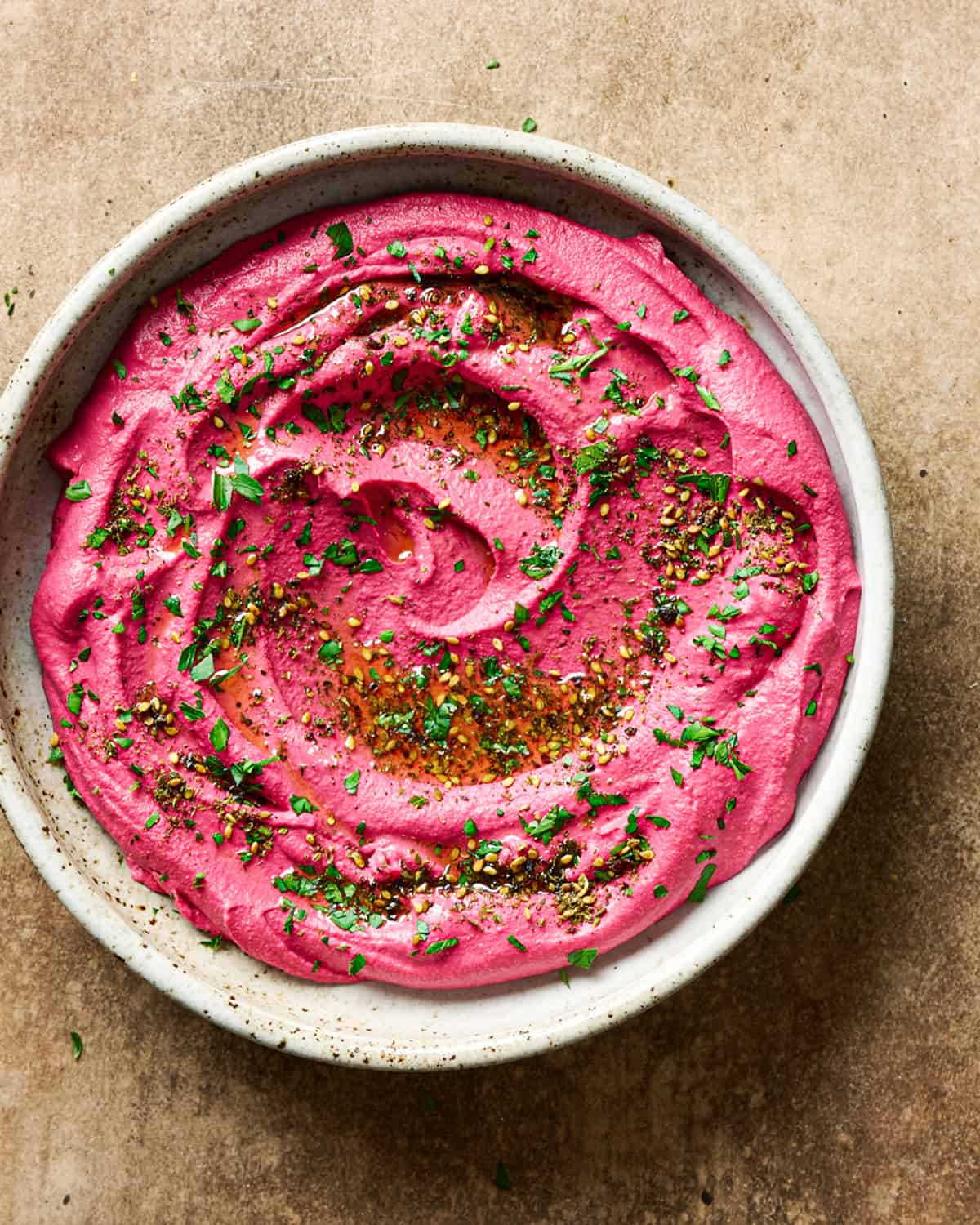 If you love this Beet Hummus, please be sure to leave a rating and review below! It's always much appreciated :) And tag me on Instagram – I love hearing your feedback.
Beet Hummus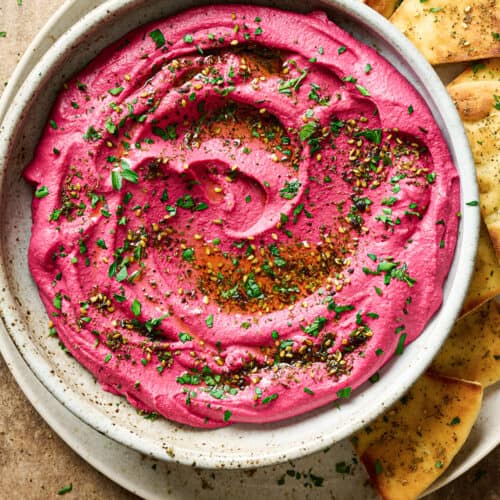 Lay your eyes on this beautiful and vibrant Beet Hummus – a creamy, subtly sweet, and earthy vegan dip. It's surprisingly easy to make with a handful of ingredients, giving you gourmet flavors every time.
Ingredients
1

small-medium beet

(~5 ounces or 140g) (Note 1)

1

(15-ounce/425g)

can chickpeas,

drained and rinsed (Note 2)

1/4

teaspoon

baking soda

Heaping 1/3 cup

(90g) good-quality tahini (Note 3)

1

large lemon,

zested and juiced (~ 3 TBSP juice) more as needed

3

garlic cloves,

chopped

¼

teaspoon

ground cumin

¼

teaspoon

ground coriander

1

heaping teaspoon kosher salt

Freshly cracked black pepper

½

tablespoon

extra virgin olive oil

(optional, for richness)
For serving
Extra virgin olive oil

1

tablespoon

Za'atar (optional; store-bought or homemade, see Note 4)

Chopped flat-leaf parsley

Homemade toasted pita chips, warm pita or flatbread, crackers, or crudités

(see Note 5)
Instructions
Prep the (beets). Preheat the oven to 425°F/218°C. Trim off any beet greens and most of their attached stalks (leave some of the stalk intact to prevent beets from "bleeding" in the oven). If the beets have any skinny tails, don't trim them, as it results in less juicy beets. Wash and scrub the beets.

Roast the beet(s). Rub beets with a bit of olive oil so they have a thin coating. Transfer to an ovenproof baking dish or ovenproof pan for which you have a tight-fitting lid. Add ½ cup (120 mL) water, and cover tightly with foil or the lid.

Roast for 45 to 60 minutes, or until fork-tender (medium-sized beets usually take 60 minutes; small beets 45 minutes).

While still warm but not hot, run the beets under cool water and peel off the skins (they're easier to peel when warm). Wear food-safe gloves to avoid temporarily staining your hands. Cut the stems off and discard. Roughly chop the beets.

Simmer the chickpeas. Add the drained and rinsed chickpeas to a saucepan, cover with an inch or two of water, and add 1/4 teaspoon baking soda. Bring to a boil over high heat, then reduce the heat to maintain a rapid simmer for 20 minutes, or until the chickpeas start falling apart.

Drain and rinse cooked chickpeas. Remove any loose skins, but no need to peel the rest. Transfer chickpeas to a food processor or small-capacity high-powered blender (Note 6). Blend for 1 to 2 minutes until you have a smooth puree, scraping down the sides as you go.

Blend the hummus. Add the cooked beet, tahini, 2 teaspoons lemon zest, all of the lemon juice, garlic, cumin, coriander, ½ heaping teaspoon kosher salt, and pepper to taste. Add the olive oil for a richer mouthfeel. Blend until smooth, scraping down the sides with a silicone spatula as you go. Check the consistency. To make it a bit looser, add 1 tablespoon of ice water and blend again. If you prefer a thicker texture, omit.

Once you reach your desired texture, taste for seasonings, adding more salt, lemon zest, lemon juice, garlic, or cumin/coriander as needed.

Transfer the hummus to a large plate and use the back of a spoon to make waves or to make a well in the center. Drizzle with olive oil in the well and garnish with Za'atar if using, cilantro or parsley, and a pinch of flaky salt.
Notes
Note 1. This is about 5 ounces/140g of a cooked beet

.

I recommend roasting a few beets at once and then you can incorporate the other beets into your weekly meals. You can buy steamed beets from the produce section at the grocery store, but you'll get more flavor if you roast them yourself. 
Note 2. Again, you can just use plain canned chickpeas without simmering them, but the texture will be less smooth and more chunky. 
If you want to make this with dried chickpeas, use 4 ounces (113g) dried chickpeas* (½ cup + 1 tbsp). Soak the chickpeas overnight by covering with cold water and 1/4 teaspoon baking soda; drain and rinse.
Then, cook the chickpeas in a medium saucepan with 1/4 teaspoon baking soda and 3 cups (720 mL) of water. Bring to a boil over medium-high heat. Cover the pot, and rapidly simmer for 30 minutes. Uncover and add 1 tsp kosher salt; cook for 10 to 15 minutes, or until the chickpeas are very soft and smush when pressed, Drain well.
Note 3. For tahini brand recommendations, check out the FAQ section.
Note 4. For a simple homemade Za'atar: In a small bowl, mix together 1 TBSP minced fresh thyme, 1 TBSP toasted white sesame seeds, 1 tsp sumac, and 1/4 tsp coarse or flaky sea salt. Mix well and store leftovers in the pantry for a few weeks.
Note 5. For toasted pita "chips," p

reheat the oven to 400ºF/200ºC. Arrange a rack in the second shelf below the broiler. 

Brush the top sides only of a few whole pita rounds with olive oil. Slice each into 8 triangles. Transfer wedges to a sheet pan. Bake for 6 minutes, then turn on your broiler on (use a medium setting if you have it). Broil for 1 ½ to 2 minutes, keeping a close eye to prevent burning, until nicely browned on the edges.
Note 6. If you want the ultimate smooth texture as you see in these photos, use a high-powered blender. You'll need a small blender container though, as there isn't any liquid in this recipe. I used a 32-ounce (1 L) Vitamix container with the tamper. 
---
Calories:
142
kcal
|
Carbohydrates:
13
g
|
Protein:
5
g
|
Fat:
9
g
|
Saturated Fat:
1
g
|
Polyunsaturated Fat:
1
g
|
Monounsaturated Fat:
2
g
|
Sodium:
344
mg
|
Potassium:
213
mg
|
Fiber:
4
g
|
Sugar:
1
g
|
Vitamin A:
182
IU
|
Vitamin C:
8
mg
|
Calcium:
45
mg
|
Iron:
2
mg
Recipe: Nisha Vora / Rainbow Plant Life | Photography: Megan Morello