It isn't always easy to breathe new life into a side dish like broccoli salad. The classic mix of broccoli, dried fruit, and nuts tossed in a mayo-based dressing may be popular, but I think we can do better than that!
And this Vegan Broccoli Salad takes it all to an entirely different level. Broccoli and fennel are mixed with toasted nuts and breadcrumbs before being coated in a superstar of a salad dressing. The complex flavors are out-of-this-world and the blend of textures always keeps you coming back for more!
Every crunchy-crisp bite is so satisfying, but it's the sweet and spicy dressing that takes this vegan broccoli salad over the top. It has the perfect balance of sweet, spicy, and savory flavors, complementing the crisp vegetables beautifully. No mayo needed!
Table of Contents:
1. Why this recipe works
2. Ingredient notes
3. Step-by-step instructions
4. Tips for making this recipe
5. Variations
6. Frequently Asked Questions
7. Recipe card with notes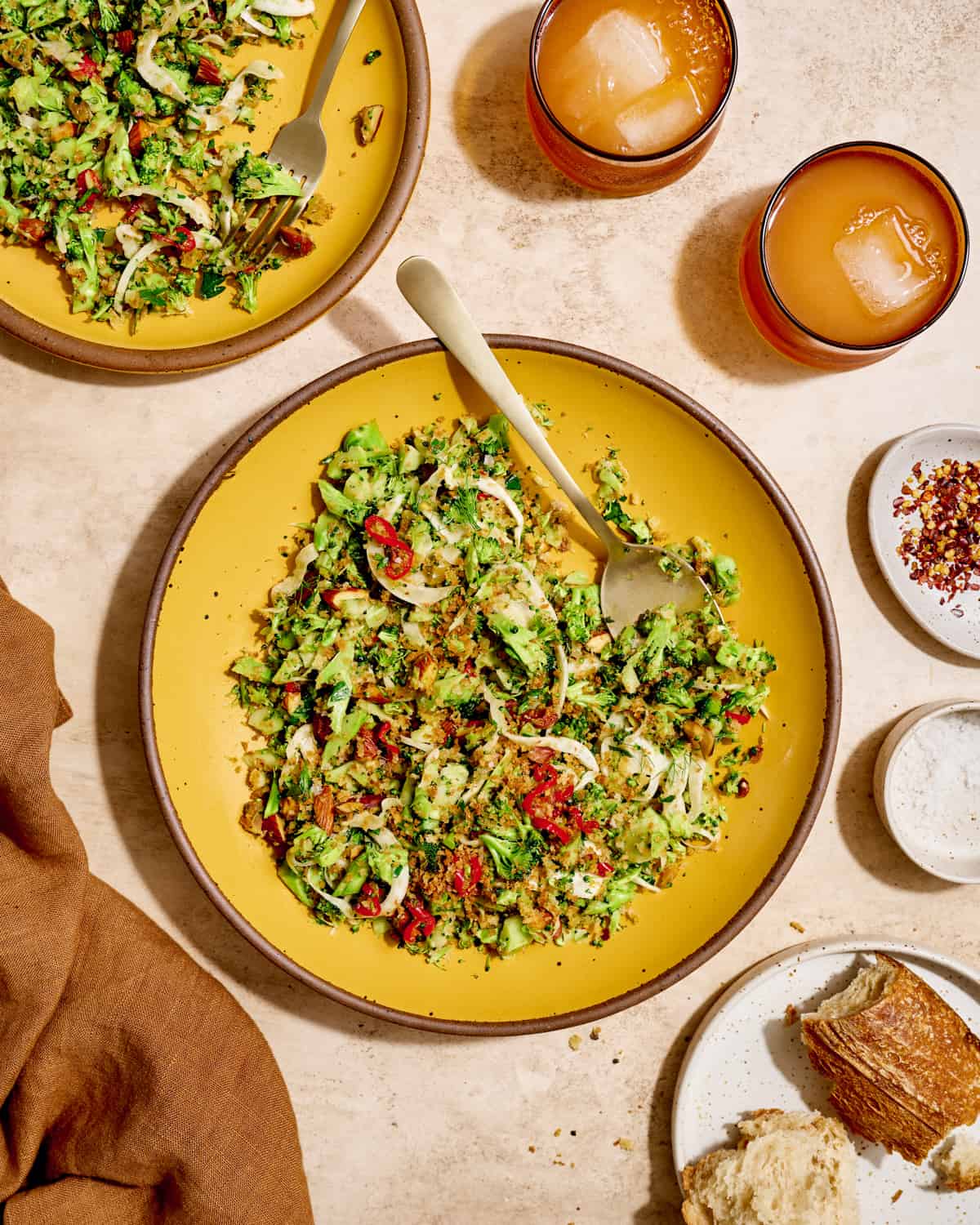 Why this recipe works
Sweet and spicy dressing
The number one step in My Formula for Fantastic Salads is to make your own salad dressing. And here, the dressing is practically the star of the show.
It's a unique recipe made by simmering sweet and juicy raisins, spicy fresno peppers, and shallots together before being stirred with tangy Dijon, lemon, and oil. The mix has just the right amount of spicy, zesty, creamy, and savory flavors that it's practically addicting!
Shoutout to my awesome recipe tester Hannah for coming up with the fun blend of flavors and textures in this salad!
The best way to eat broccoli
Broccoli is a delicious and nutritious cruciferous vegetable that's loaded with immune-boosting vitamins, fiber, iron, potassium, and so much more. You can use it in endless dishes, too, like creamy soups, quick 20-minute dinners, and stir fries.
We're putting the whole vegetable to use in this vegan broccoli salad, including the stems! Both the stems and florets are pulsed in a food processor until they're bite-sized, creating a unique and tasty texture with a delightful crunch. This method keeps prep time minimal, too, meaning you can have broccoli salad in a flash!
Texture heaven!
Classic broccoli salad recipes are somewhat crunchy and creamy. In this upgraded version, chopped nuts add the most satisfying crunch, while toasted panko breadcrumbs give the salad another layer of airy crunchiness that compliments the crisp vegetables.
Quick and easy with gourmet flavors
With gourmet and restaurant-quality flavors in every bite, you'd never guess that this broccoli and fennel salad only takes about 30 minutes to put together.
Enjoy the fresh salad right away or make it for meal prep! The leftovers are flavorful days later, even after it's tossed in the dressing (unlike regular leafy green salads).
Looking for more easy yet gourmet salads? Try this Lentil Salad with Fresh Herbs!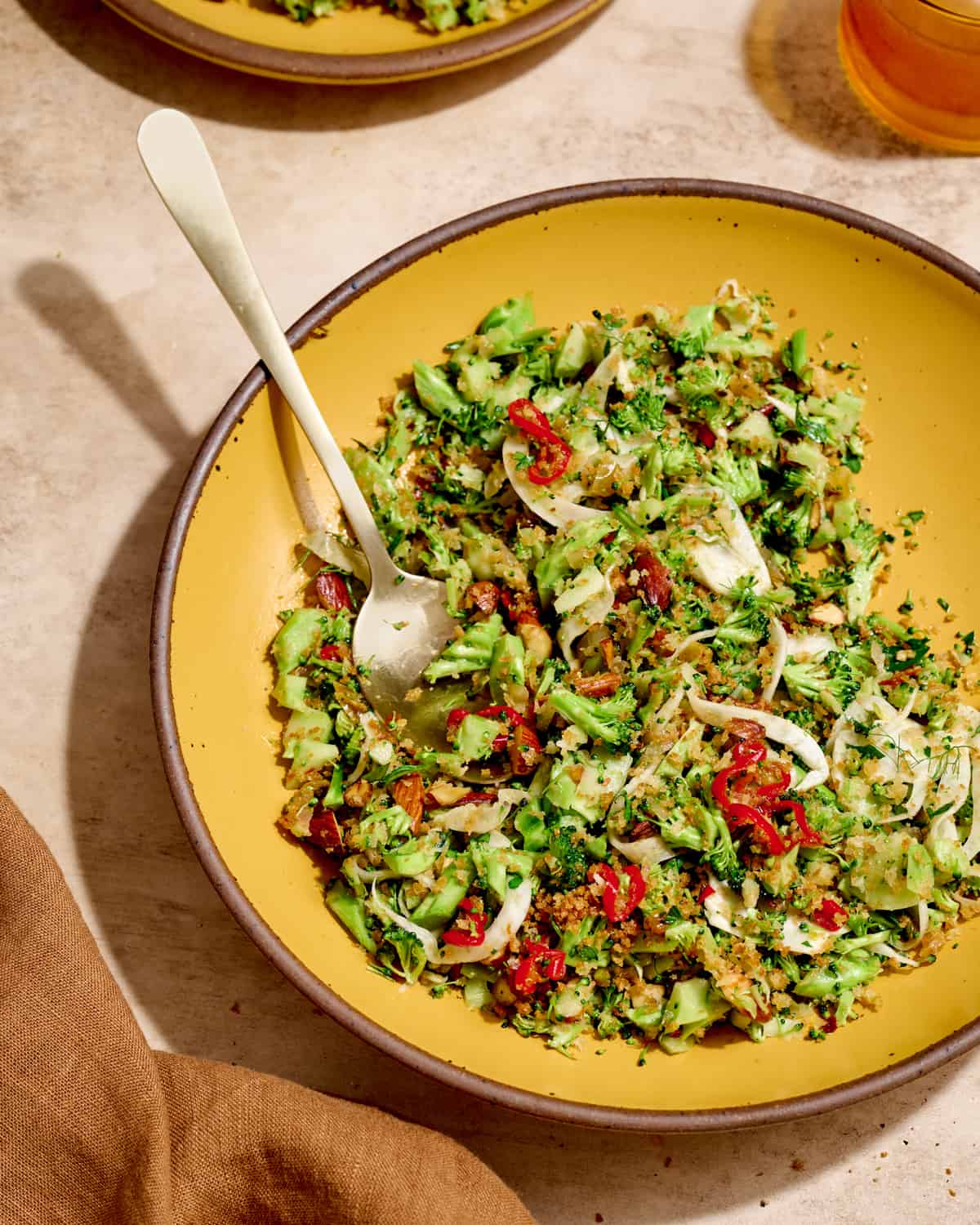 Ingredient notes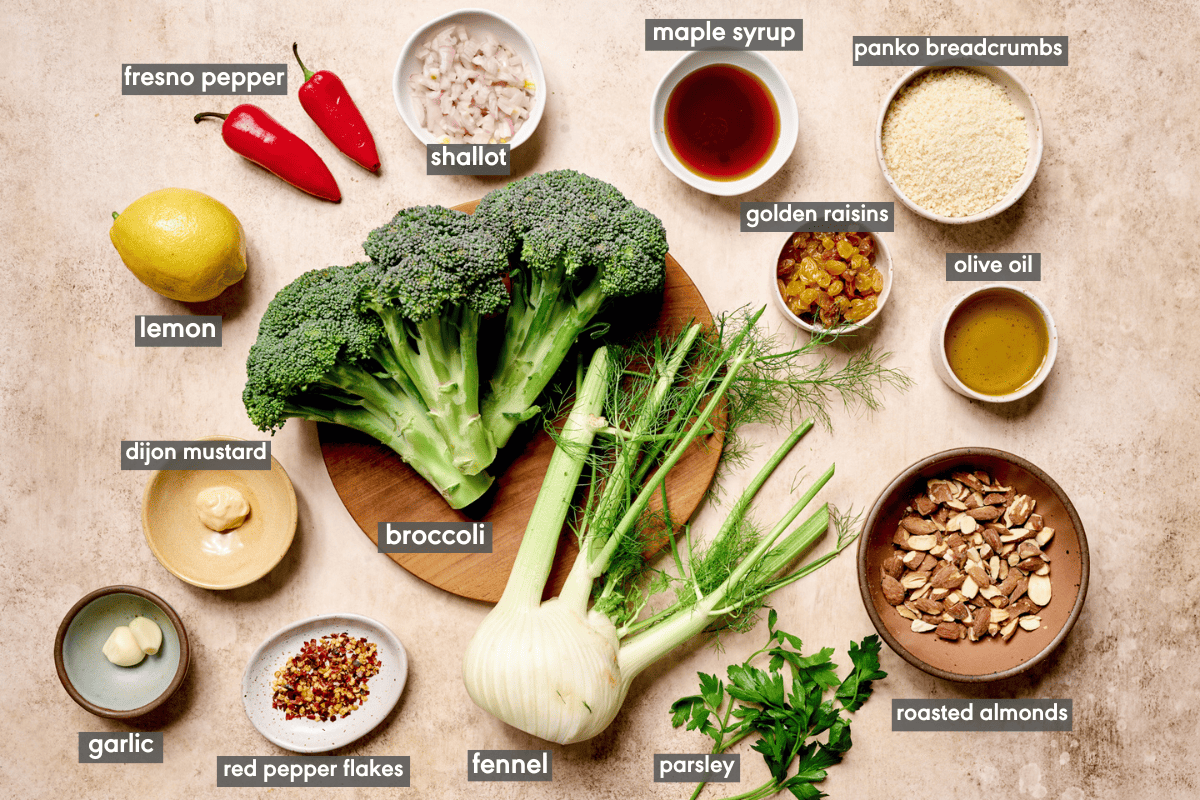 Broccoli (the whole thing!)
You'll find broccoli year-round in well-stocked grocery stores in North America, but the best bundles are in season from October to April. Pick up the freshest broccoli you can find; the stems should be firm and bright green, and the buds should be tightly closed and have a dark green or blue-green color.
The whole broccoli is pulsed into bite-sized pieces for this salad – stems and all! A food processor can do this very quickly, but if you don't have one, use a sharp knife instead.
Fennel
Mild-flavored, slightly sweet fennel is so lovely here, though optional. It's a fab addition to salads salads, like this Roasted Beet and Fennel Salad. The thin slices give the salad a nice amount of crunch, while its licorice flavor pairs perfectly with the spicy dressing.
Substitute: Fennel is technically an optional ingredient, but the salad is much more nuanced when it's included. Thinly shaved carrots will also work if you can't find fresh fennel.
Fresno peppers
Fresno peppers are a medium spicy red pepper, with about the same amount of heat as a jalapeño. What makes them different is their complex fruity flavor.
They're the perfect choice for the broccoli salad dressing because they add just the right amount of heat and complexity, balancing the entire batch with a spicy-sweet flavor. And gorgeous color.
Substitute: You can swap the fresno peppers for jalapeños. For a spicier kick, use a serrano pepper instead.
Raisins
Raisins or dried fruit, like dried cranberries, are a popular ingredient in broccoli salad recipes. I prefer using golden raisins, which Epicurious calls the "superior raisin" because they're extra plump and have a distinctly fruity and light flavor compared to brown raisins.
Golden raisins add the "sweet" in the sweet and spicy dressing. They meld together with the agave and fresno peppers to help balance the other flavors and add a nice chewiness for another layer of textural dimension to the salad.
Substitute: Use regular brown raisins (Thompson raisins) if you don't have golden raisins.
Roasted nuts
Roasted almonds or pistachios are chopped and added for extra texture, flavor, and nutrients. Their satisfying crunch and deep flavors are another reason why this vegan broccoli salad has such a heavenly texture. And the healthy fats are a nice bonus.
Substitute: Allergic to nuts? Use pepitas or sunflower seeds, but first toast them in a frying pan until toasty (unless already roasted).
Step-by-step instructions
Make the dressing by adding the fresno peppers, golden raisins, and maple syrup to a small saucepan. Bring the mixture up to a simmer for 5 minutes, then add the shallots for 2 to 3 minutes.
Pour the pepper-shallots mixture into a glass jar and leave it to cool slightly. Add the garlic, lemon zest and juice, mustard, red pepper flakes, and olive oil. Shake well to combine.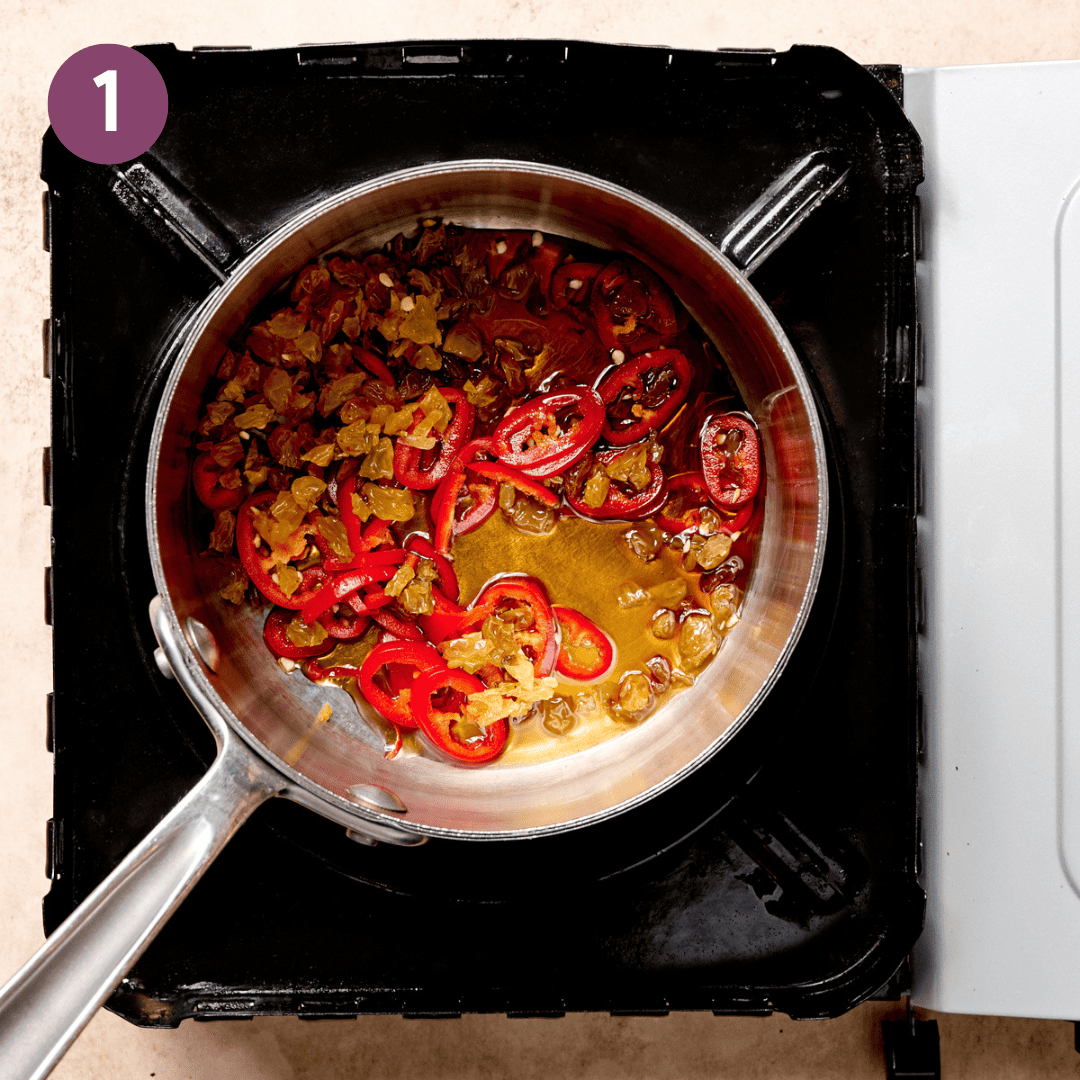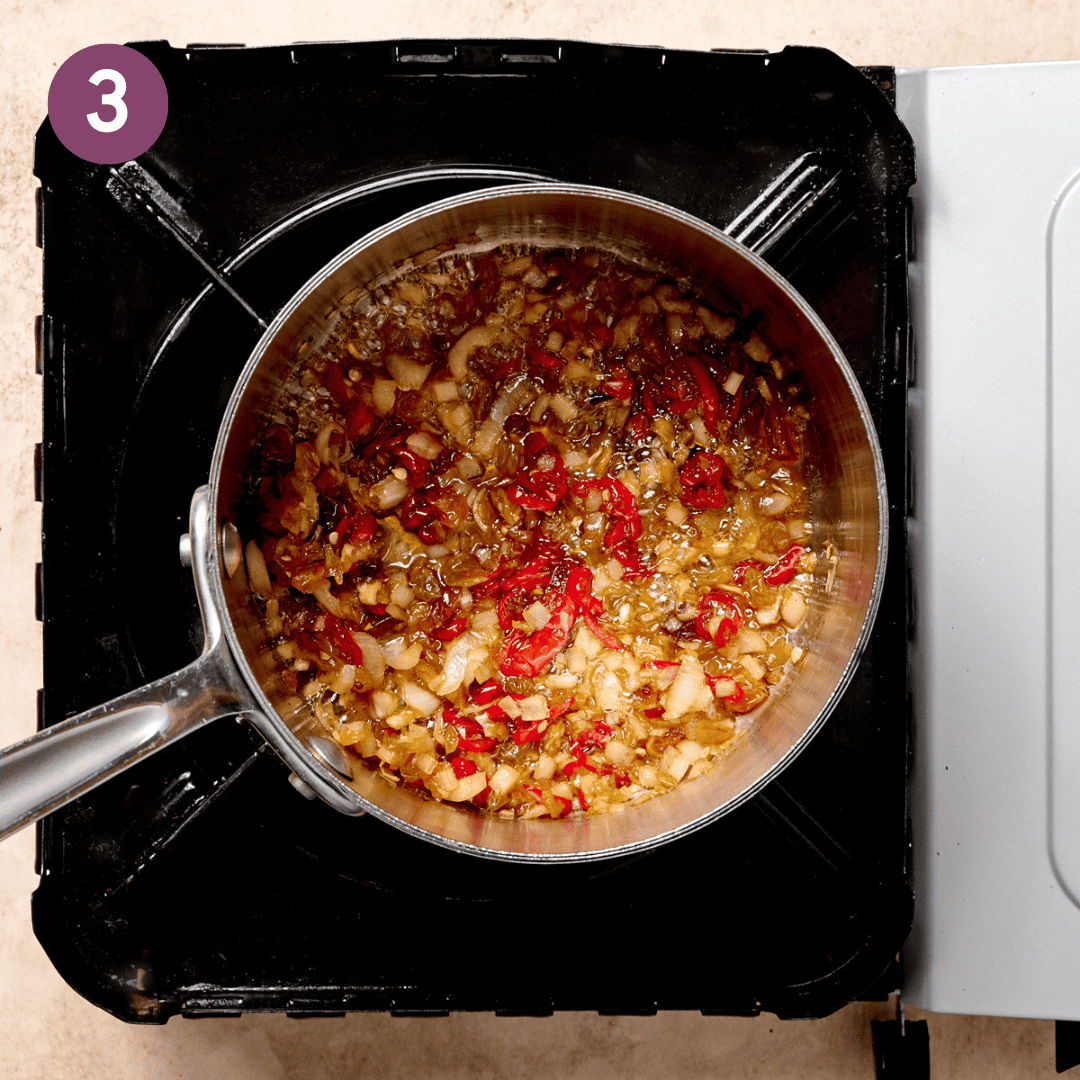 Next, prepare the broccoli. Peel the stalks and slice off the woody bottom inch, then roughly chop the stems and crowns.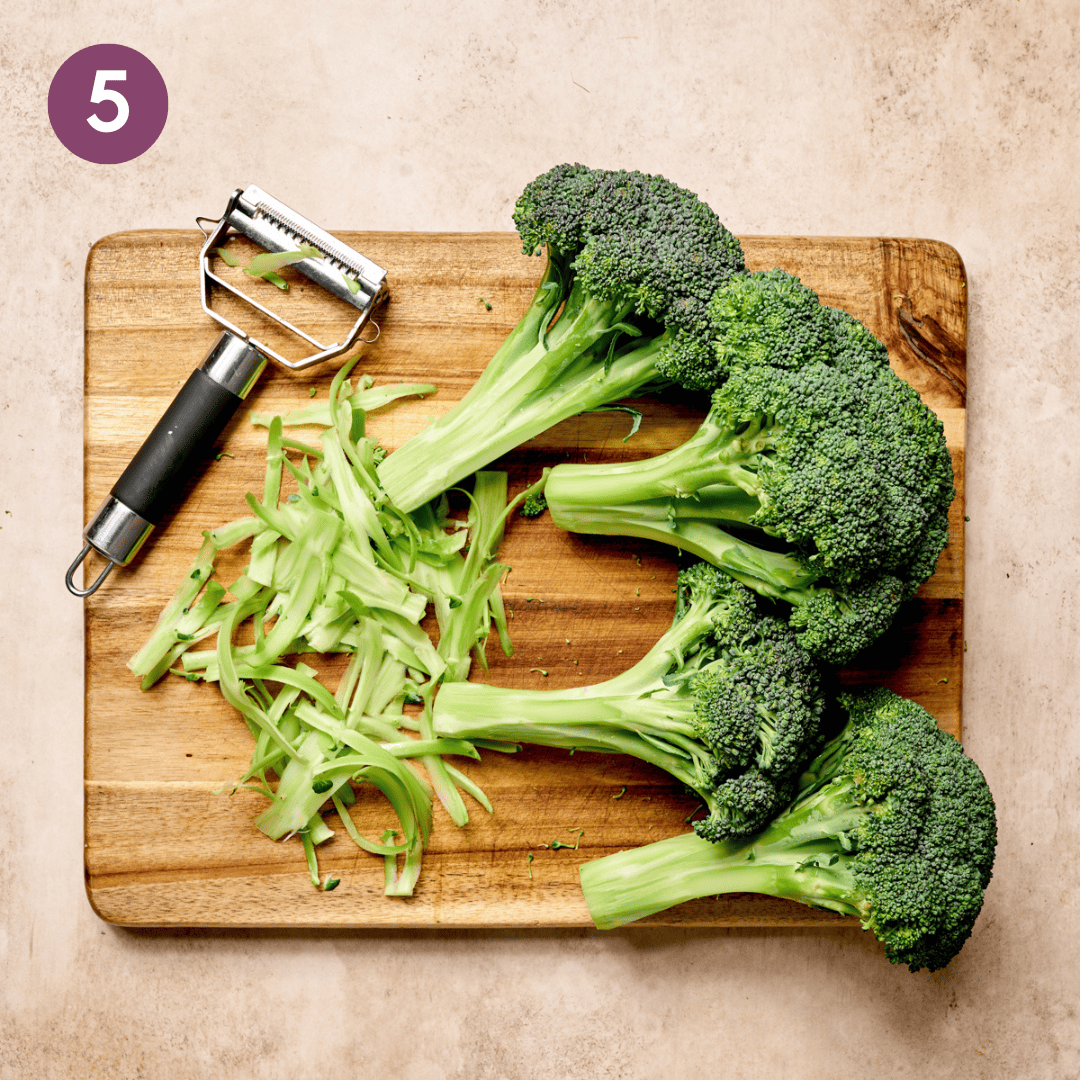 Add the broccoli stems to a food processor and place the florets on top. Pulse until the broccoli is finely chopped but not riced.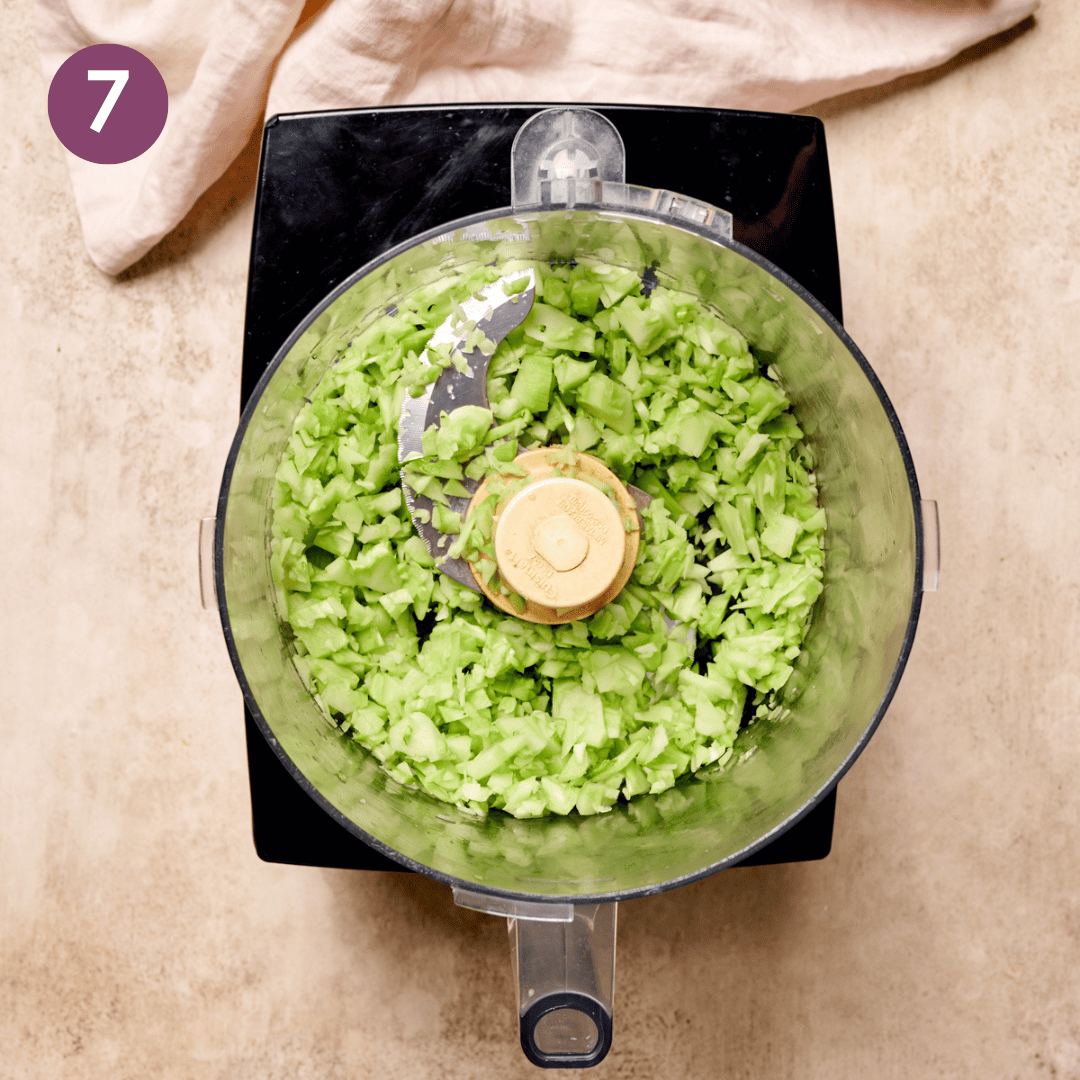 To prep the fennel, cut off the stalks and reserve the wispy fronds. Slice the fennel bulb in half, lengthwise. Thinly slice the bulb crosswise using a mandoline or a very sharp knife. If slicing by hand, this video by The New York Times will show you how to prep fennel.
Next, heat some olive oil in a small skillet over medium heat. Add the panko, season with salt and pepper, and toast the breadcrumbs until they're golden brown.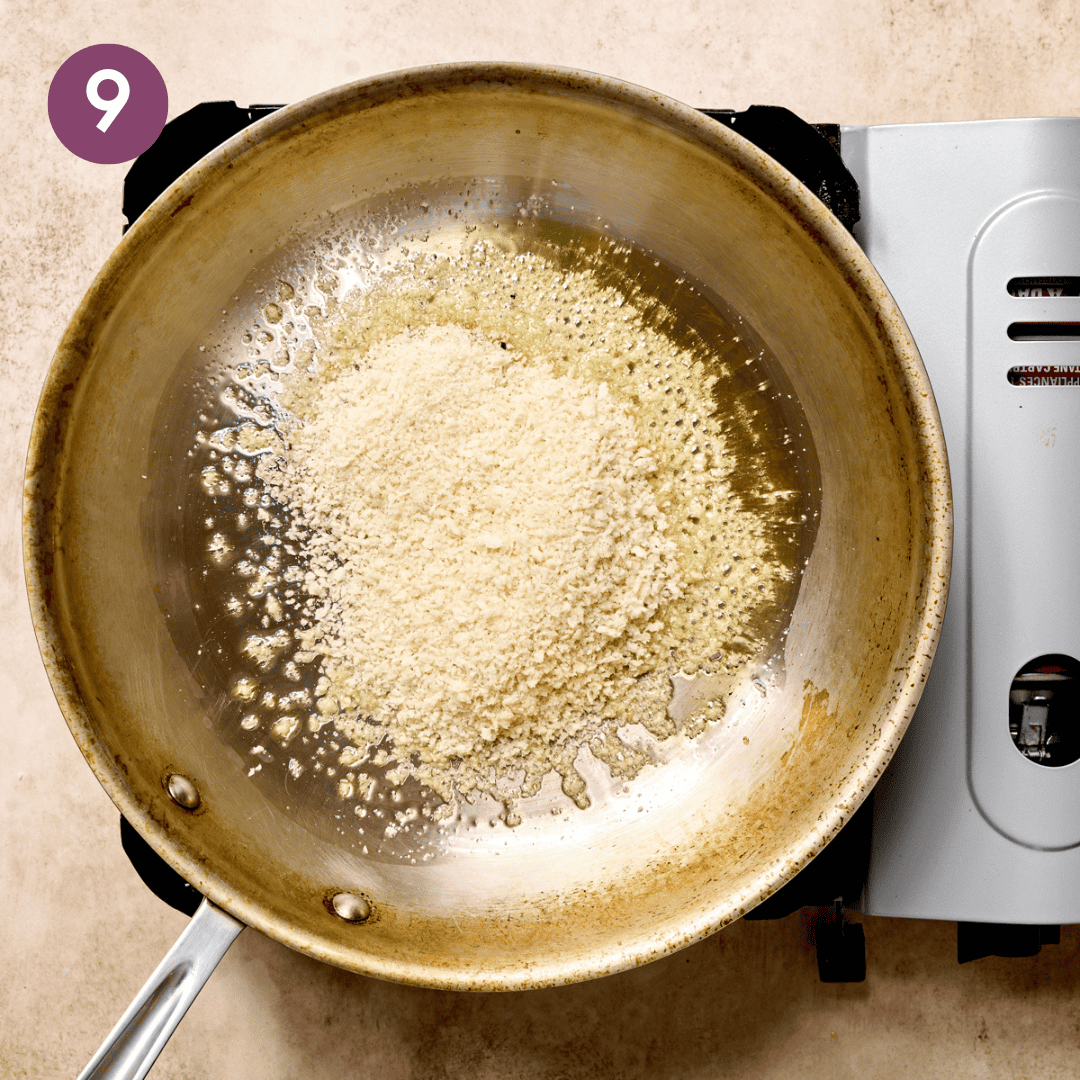 To assemble the salad, add the broccoli, fennel, and parsley to a large serving bowl. Pour some of the dressing over top and toss the coat. Keep adding more dressing and tossing until you reach your desired amount.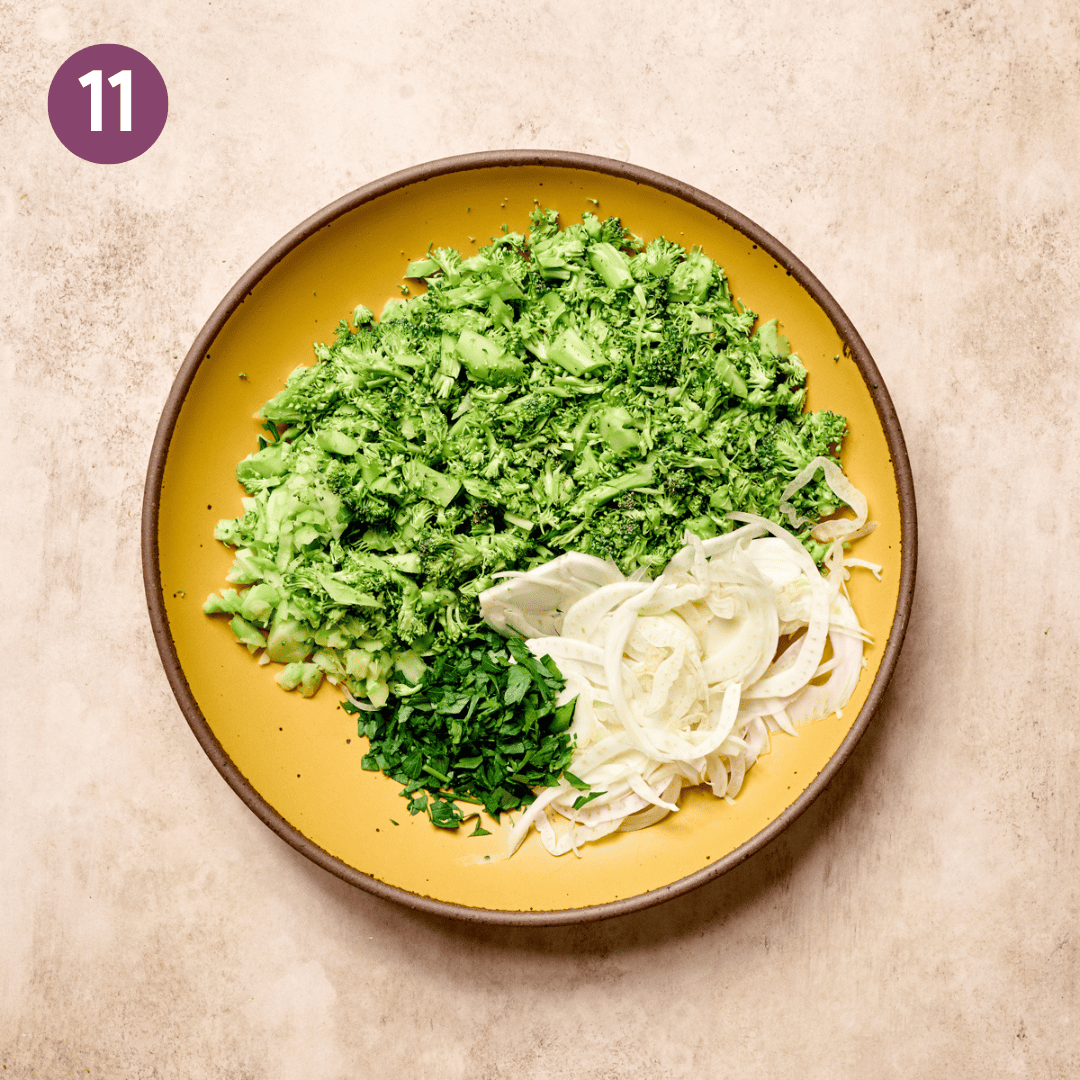 Season with salt and pepper, then toss in the panko crumbs and nuts. Enjoy!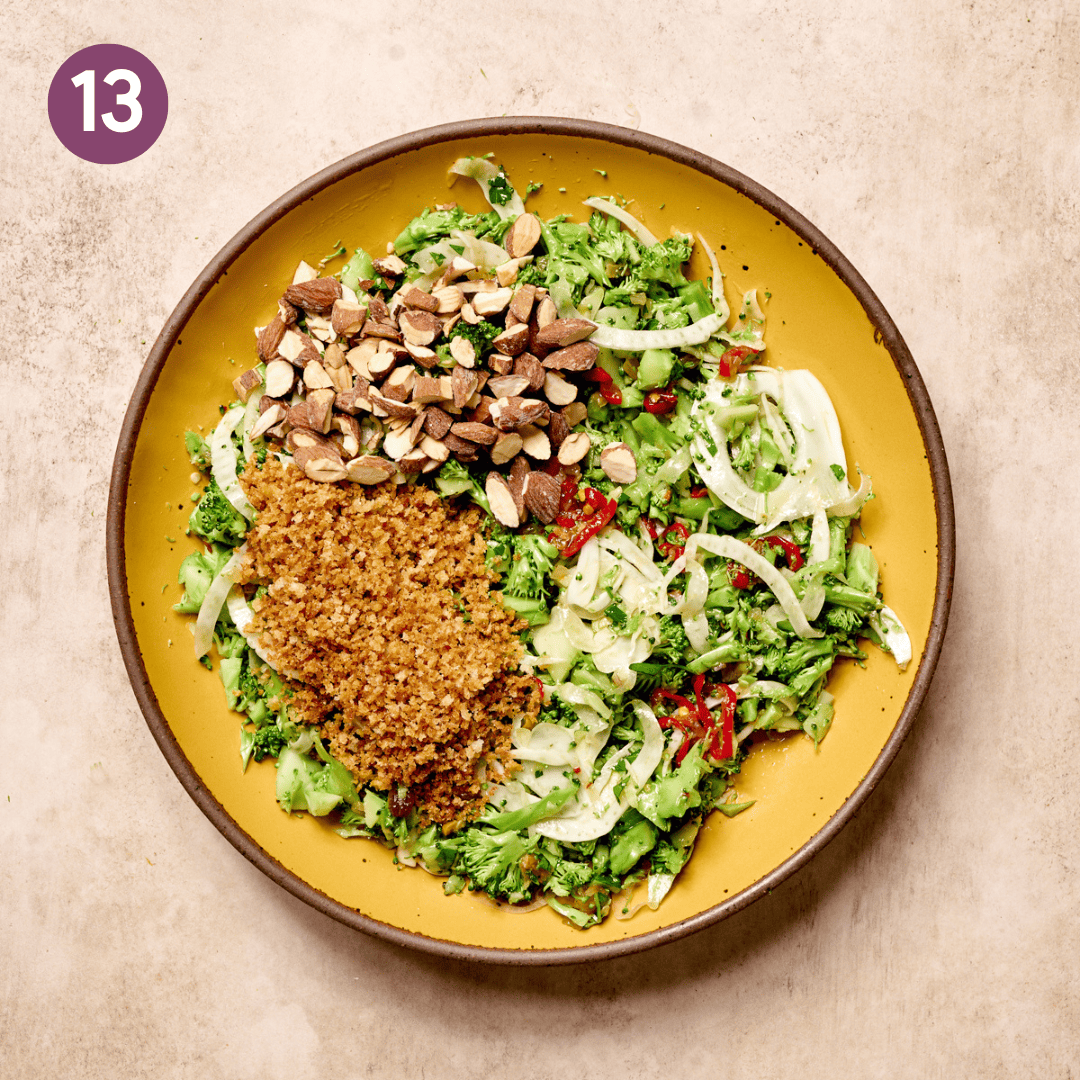 Tips for making this recipe
The food processor is queen
The prep time is much quicker with a food processor. Just add peeled and chopped broccoli stems to the processor first and pulse until very finely chopped (bite-sized pieces, but not riced).
Transfer the broccoli stem pieces to a bowl, and now pulse the florets.
If you don't have one, you'll need to finely chop both stems and florets with a knife.
Toast the panko breadcrumbs
This step is key to achieving a crispy texture and bringing out the bread's hidden flavor. Remember to stir the breadcrumbs frequently to prevent burning!
Tip: Allergic to gluten? You can sub gluten-free panko, or omit the bread crumbs entirely.
Use a mandoline
A mandoline is the supreme tool when you want paper-thin fennel slices. It slices evenly sized pieces every time!
Remember: The mandoline blade is very sharp, so use a hand guard and cut-safe glove to prevent injury. I love this handheld mandoline from OXO. It's inexpensive, works great, and takes up minimal drawer space (affiliate links).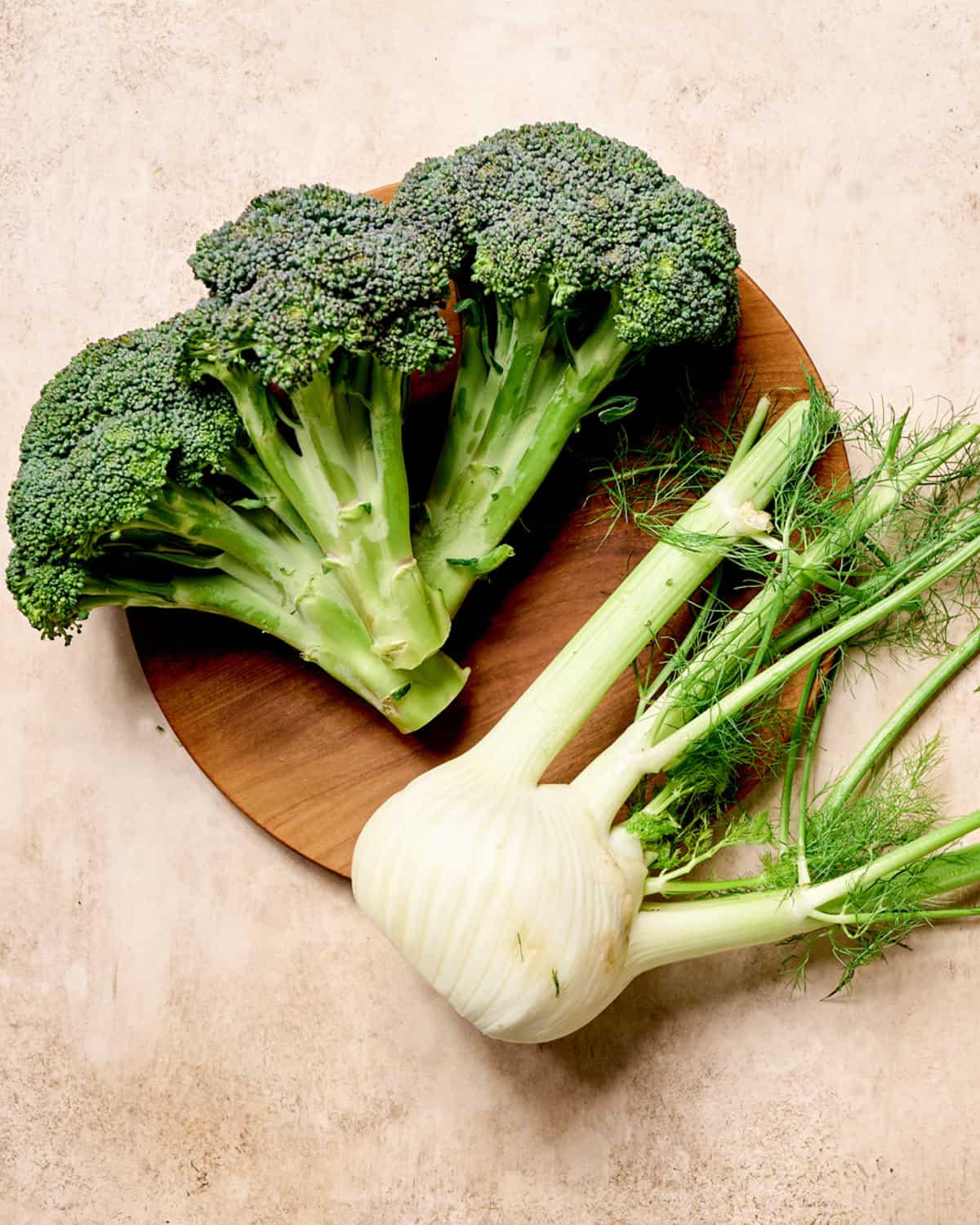 Variations
There are a handful of ways to customize the flavor profiles in this crowd-pleasing salad to make your taste buds sing:
While broccoli is the star here, you could use half broccoli and half cauliflower instead.
For an Asian-inspired flavor profile, use lime zest and juice instead of lemon, cilantro instead of parsley, and roasted peanuts instead of almonds. Replace a few teaspoons or a tablespoon of the olive oil with toasted sesame oil.
Use another dried fruit in place of the raisins, like dried cranberries. Or finely chop finely dates, dried mango, or dried apricots.
You can give the dressing extra heat by stirring in some harissa or adding pickled chile peppers to the salad.
Use your favorite nut or seed instead of the almonds or pistachios. Roasted cashews, hazelnuts, pecans, or pepitas would be delicious.
Garnish the salad with store-bought or homemade vegan feta right before serving.
For a unique salty-lemony flavor, replace the lemon zest with about 1 tablespoon of finely chopped preserved lemon peel.
For a salty tang and good gut bacteria, add some sauerkraut.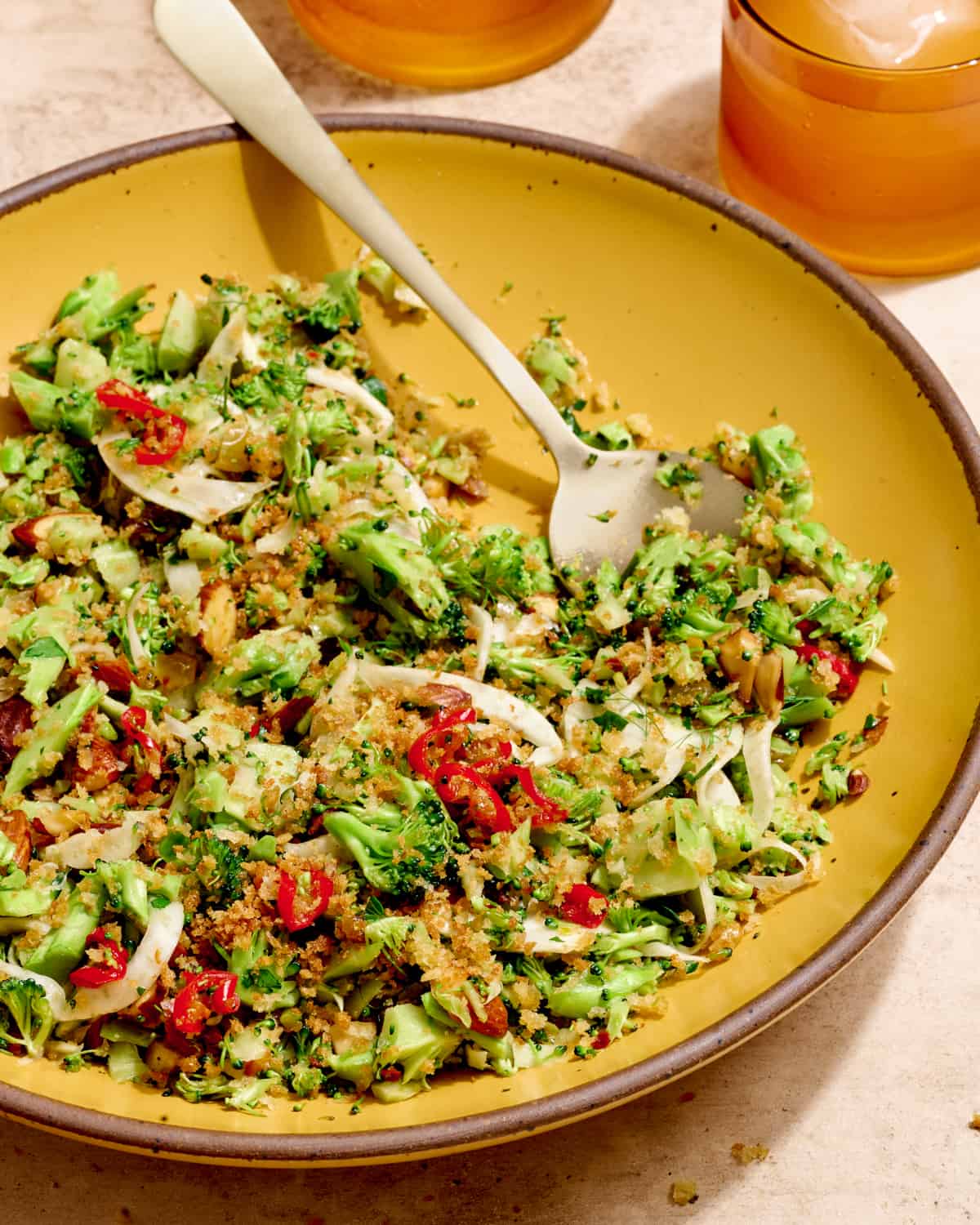 Frequently Asked Questions
Can I make this ahead of time? 
Yes, the salad can be assembled 1 or 2 days ahead of time, but don't add the nuts and breadcrumbs until right before serving so they stay crunchy. Store the nuts and breadcrumbs in a container or bag on the counter.

You can dress the salad in advance, but for the best results, keep the dressing in a separate jar in the fridge. 

Note: If you're planning on saving the leftovers for later, add the panko and nuts only to the amount of salad you plan to eat.
How can I make this gluten-free?
Substitute gluten-free panko breadcrumbs for the regular panko. Or omit the panko entirely and use something crunchy in its place, like toasted pepitas or sunflower seeds, or more almonds/pistachios.

How spicy is this broccoli salad? 
Two fresno peppers are enough to give the dressing and salad a nice, noticeable but not overwhelmingly hot heat. If that still sounds too spicy for you, use only 1 small fresno pepper or even half of a small pepper.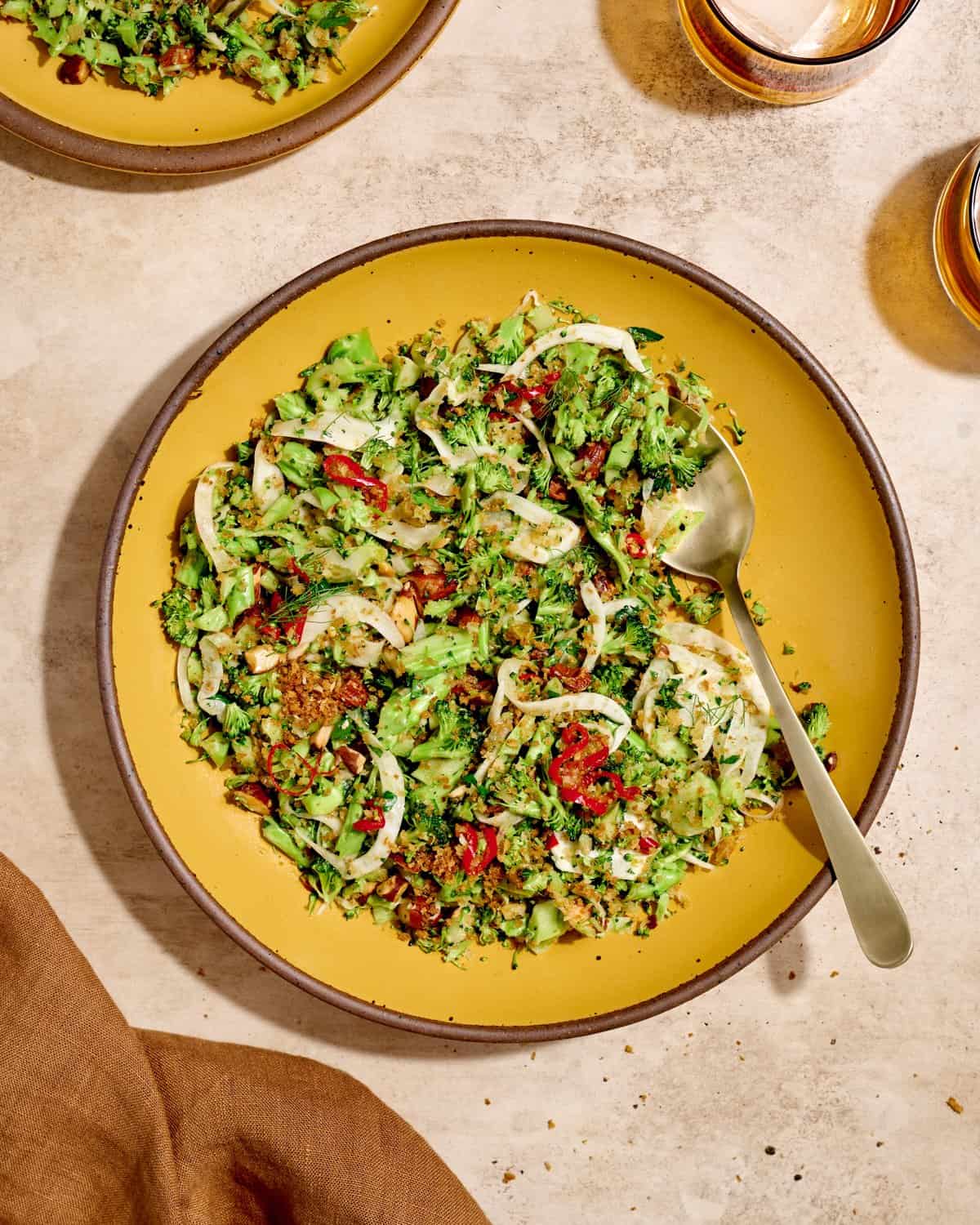 If you love this show-stopping Vegan Broccoli Salad, please leave a rating and review with your feedback and tag me on Instagram with your remakes :)
Really Good Vegan Broccoli Salad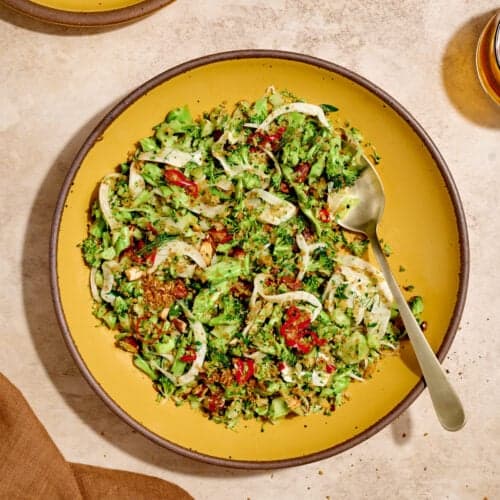 Broccoli goes from boring to bold in this vegan broccoli salad! This classic potluck dish is taken up a notch with a sweet and spicy dressing, roasted nuts, toasted breadcrumbs, and a winning combination of broccoli and fennel. The perfect side dish for BBQs, potlucks, parties, and more!
Ingredients
1

large head of broccoli

(1 ½ pounds or 680g)

1

medium fennel bulb,

very thinly sliced (optional, see note 1)

1

large handful of flat-leaf parsley,

chopped

1

tablespoon

extra virgin olive oil

½

cup

(40g) panko breadcrumbs

(see note 2 for GF sub)

½

cup

(70g) roasted almonds or pistachios,

chopped (see note 3 for nut-free sub)
Dressing
1 to 2

fresno peppers,

thinly sliced (2 for a good level of heat)

3

tablespoons

golden raisins

(or brown / Thompson raisins), chopped

3

tablespoons

maple syrup or agave nectar

1

medium shallot,

diced

2

garlic cloves,

minced or grated with microplane

1

medium lemon,

zested + 2 to 3 tablespoons lemon juice

1

teaspoon

Dijon mustard

½

teaspoon

red pepper flakes

(optional, for more heat)

¼

teaspoon

kosher salt,

more to taste

Freshly cracked black pepper

¼

cup

(56g) extra virgin olive oil
Instructions
Make the dressing. Add the fresno peppers, raisins and maple syrup to a small saucepan or small non-stick skillet. Bring to a simmer, and simmer at a decent simmer for 5 minutes, stirring occasionally. The mixture will froth and bubble as the chiles release their water. Add the shallots and simmer for 3 more minutes.Transfer the mixture to a glass jar and allow to cool slightly. Add in the minced garlic, lemon zest, 2 tablespoons of lemon juice, mustard, red pepper flakes, ¼ teaspoon kosher salt, several cracks of pepper, and olive oil. Shake well to combine.

Taste, adding more salt or pepper to taste, and 1 more tablespoon of lemon juice as desired. The dressing will be thick.

Prep the broccoli. Use a vegetable peeler to peel away the tough outer layer from the stalks, then roughly chop the stalks. Cut the crowns into large pieces. Add the broccoli stalks and stems only to your food processor. Pulse in short bursts until the stems are finely chopped. Scoop them out into a bowl.

Now add the florets and pulse in short bursts (8 to 10 times) until the broccoli is finely chopped but not riced. It's fine to have some variation in size, but if any large pieces remain, scoop them out and finely chop with a knife (or re-pulse separately in the food processor).

Prep the fennel. Slice off the fennel stalks and discard or freeze for stock. Pick off the wispy fronds and save for garnish. Remove any tough outer layer from the fennel bulb, then slice the bulb in half, lengthwise. Using a mandoline or very sharp knife, very thinly slice the bulb crosswise.

Toast the panko. Heat 1 tablespoon olive oil to a small skillet over medium heat and allow to warm, about 1 minute. Add the panko bread crumbs and season with a pinch of salt and pepper. Stir frequently, especially once the panko starts to turn color, 3 to 5 minutes, until most of it is golden brown.

Assemble. Add the broccoli, fennel, and parsley to a large serving bowl. Pour in some of the dressing and toss. Add more dressing as desired and toss again. Season to taste with salt and pepper. Add your panko crumbs and nuts and toss again. Enjoy.

Note: If planning to keep leftovers, add the panko and nuts only to the amount of salad you plan to eat. Store the toasted panko in a jar in the pantry.
Notes
If you can't find fennel, you can omit it or use a few carrots. Peel them and shave them with a wide Y-shaped vegetable peeler, use a mandoline to thinly slice, or julienne them.
Allergic to gluten? Use gluten-free panko breadcrumbs. Or omit the panko entirely and use something crunchy in its place, like toasted pepitas or sunflower seeds, or more almonds/pistachios.
Allergic to nuts? Try toasted pepitas or sunflower seeds.
---
Calories:
442
kcal
|
Carbohydrates:
48
g
|
Protein:
13
g
|
Fat:
22
g
|
Saturated Fat:
2
g
|
Polyunsaturated Fat:
5
g
|
Monounsaturated Fat:
19
g
|
Trans Fat:
0.003
g
|
Sodium:
253
mg
|
Potassium:
1113
mg
|
Fiber:
10
g
|
Sugar:
23
g
|
Vitamin A:
1338
IU
|
Vitamin C:
173
mg
|
Calcium:
209
mg
|
Iron:
3
mg
Recipe: Nisha Vora and Hannah Hairston of Rainbow Plant Life | Photography: Megan Morello